When planning your wedding, you may be wondering how to make it memorable. One great way is by making it more intimate. Here are some of the best reasons to consider a small wedding. Check these small wedding ideas!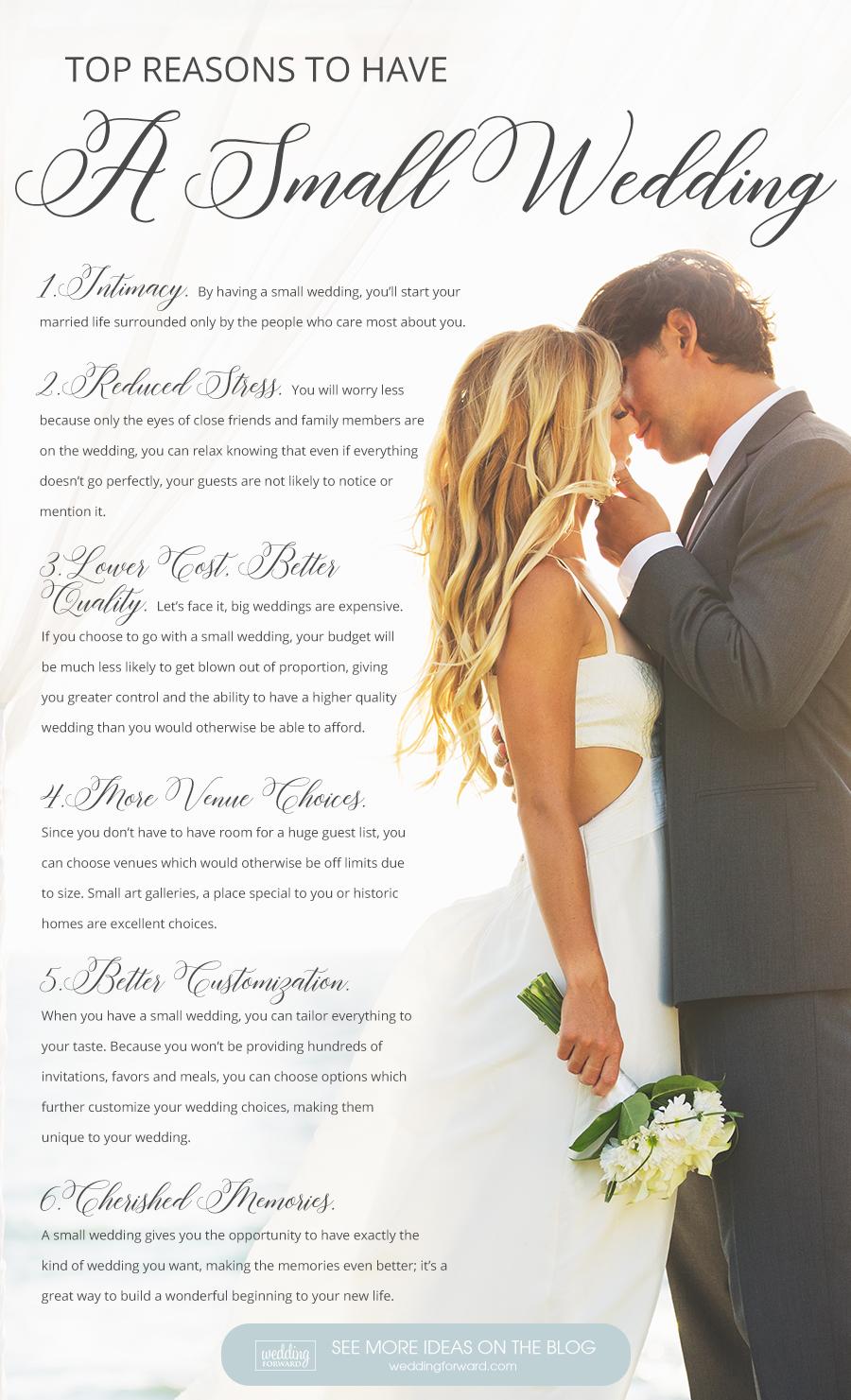 1. Intimacy
When you marry your love, you can choose to make it a huge affair where everyone and their brother attend, or you can choose to cut the guest list and impart a sweet intimacy to your wedding day. Such intimacy is impossible when you've got hundreds of guests, but by having a small wedding, you'll start your married life surrounded only by the people who care most about you.
2. Reduced Stress
When you have a small wedding, it's much easier to worry less about everything being perfect and more about enjoying your big day. Because only the eyes of close friends and family members are on the wedding, you can relax knowing that even if everything doesn't go perfectly, your guests are not likely to notice or mention it. A small wedding can feel much more like a celebration of your vows than a big, overdone, rehearsed production.
3. Lower Cost, Better Quality
Let's face it, big weddings are expensive. If you choose to go with a small wedding, your budget will be much less likely to get blown out of proportion, giving you greater control and the ability to have a higher quality wedding than you would otherwise be able to afford. With a small guest list, you'll be able to really focus on the things that are most important to you. For some brides, this is a better quality venue, gourmet offerings at the reception or a particular wedding gown. You can even use some of your savings to take a first-class honeymoon.
4. More Venue Choices
Since you don't have to have room for a huge guest list, you can choose venues which would otherwise be off limits due to size. Small art galleries, a place special to you or historic homes are excellent choices. Another option is to choose a bed and breakfast for your wedding and then stay there for your honeymoon, or at least your wedding night.
5. Better Customization
When you have a small wedding, you can tailor everything to your taste. Because you won't be providing hundreds of invitations, favors and meals, you can choose options which further customize your wedding choices, making them unique to your wedding. A small wedding offers easier tailoring to reflect your style.
6. Cherished Memories
No matter what kind of wedding you have, you'll always cherish your memories of the beginning of your life together. A small wedding gives you the opportunity to have exactly the kind of wedding you want, making the memories even better; it's a great way to build a wonderful beginning to your new life.