Time flies and the best bridal designers all over the world are about to present their wedding dresses 2020 collections! Definitely something worth waiting for! What do the world's most renowned designers have to offer this time? Which wedding dresses trends are going to make it this year? We can't wait to see new bridal outfits, so stylish they will make everyone's head turn in awe. Jumpsuits, mock turtlenecks, 50 shades of lavender, ball gowns, simple dresses, regal trains and more! All the latest trends from Limor Rosen, Julie Vino, Marchesa, Berta, Vera Wang and Galia Lahav, Reem Acra and Heyley Paige. Pronovias and Lela Rose, Pnina Tornai and Sareh Nouri, Oksana Mukha and MIllaNova, Monique Lhuillier and Eddy K – all your favorites are here! Pin and enjoy these stunning bridal collections!
Top Wedding Dresses 2020
To give you an exclusive preview of all hits of the year, we have scored some photos of the latest wedding dresses. Get your first look at marvelous wedding gowns by some of the most amazing designers.
Source: Oksana Mukha, Limor Rosen, Berta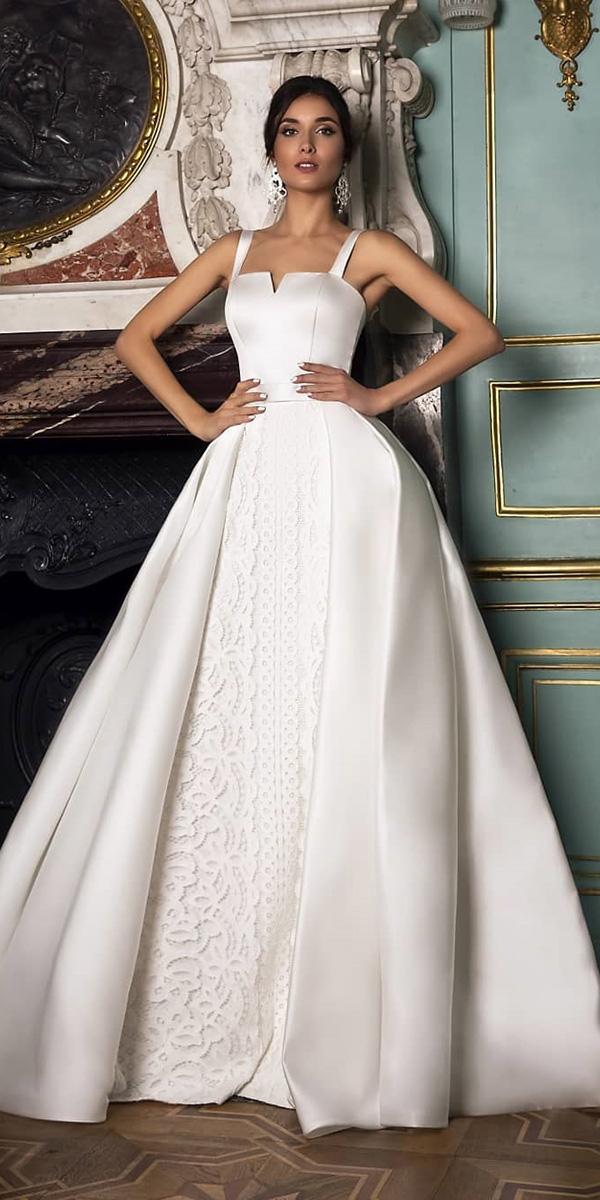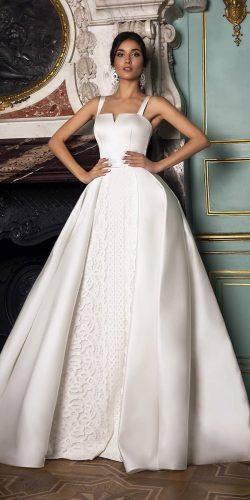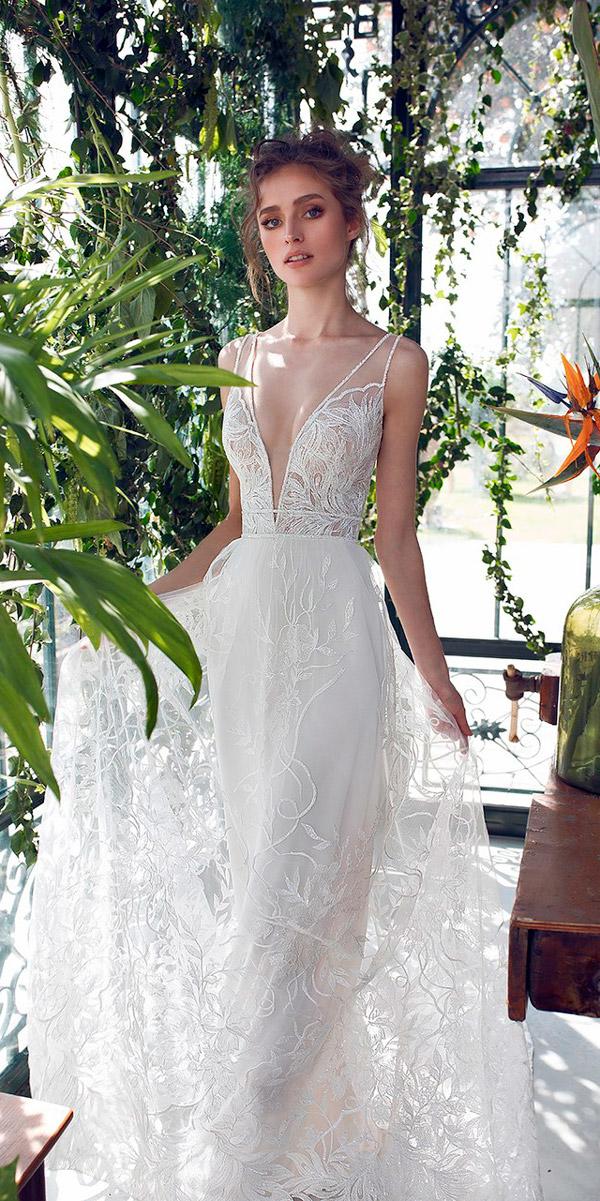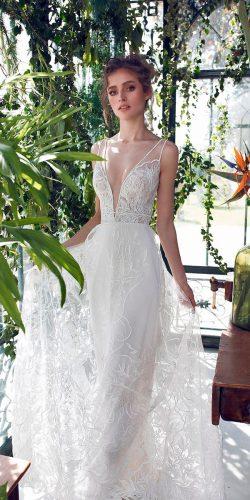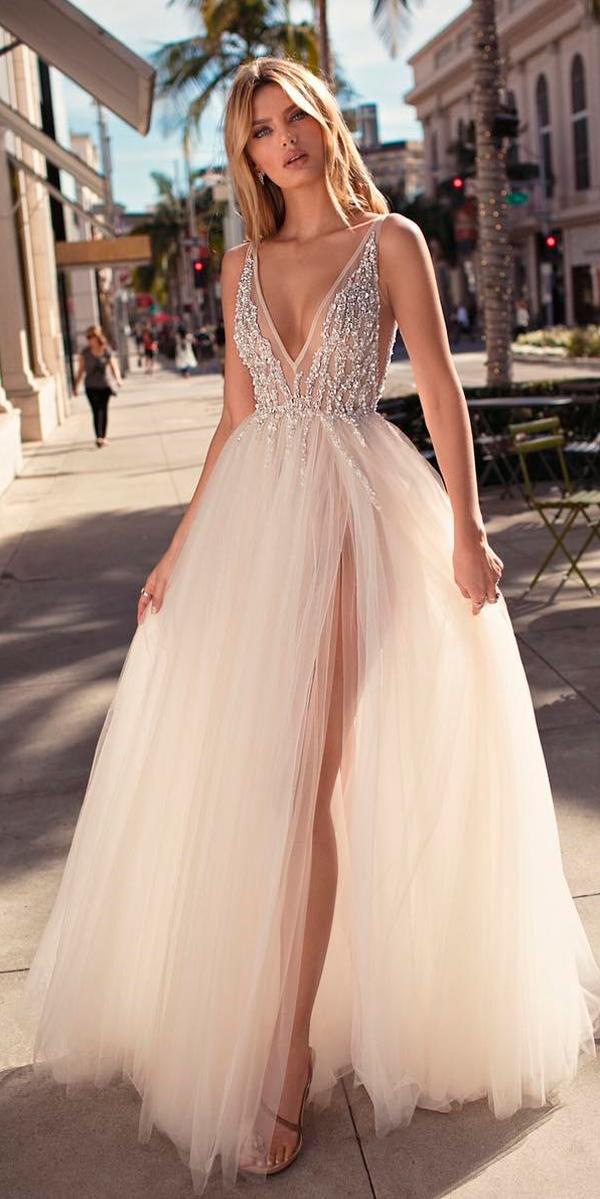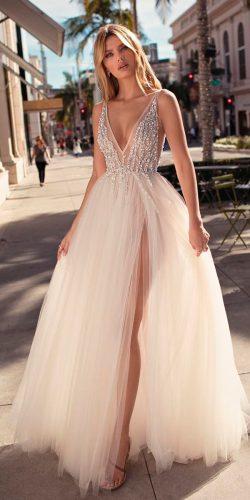 We want to show you wedding dresses 2020 with the modern details as deep v-neckline, floral appliques and bows for every shape and taste. Look at the most stunning bridal gowns from Julie Vino, Eddy K., Berta, Pnina Tornai, Sareh Nouri, MillaNova etc.
Source: Eddy K, Galia Lahav, Oksana Mukha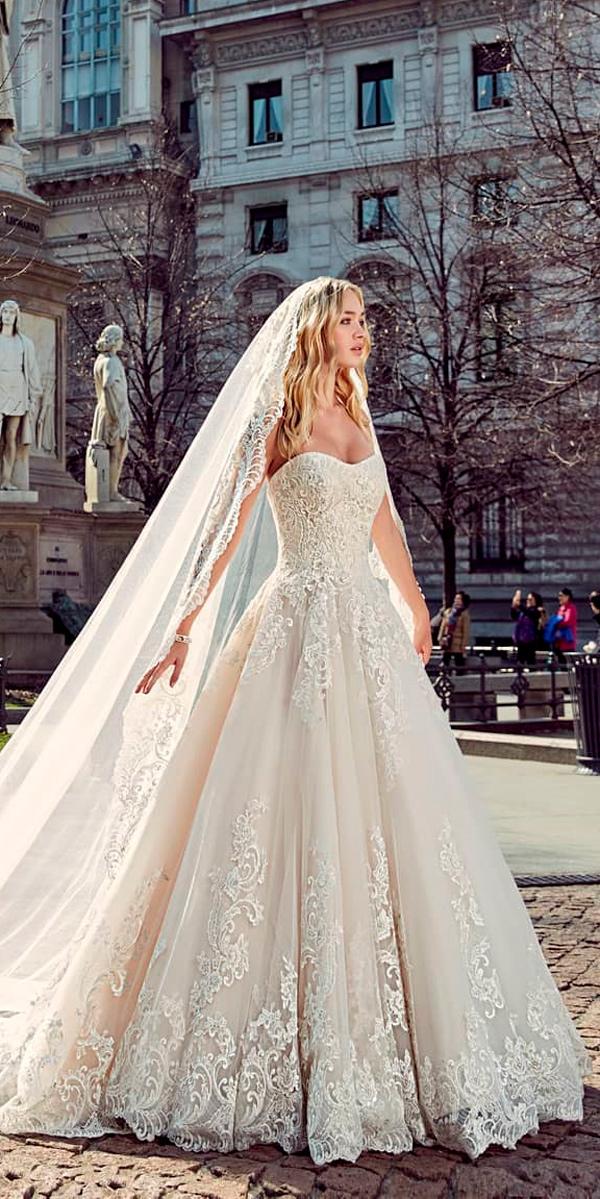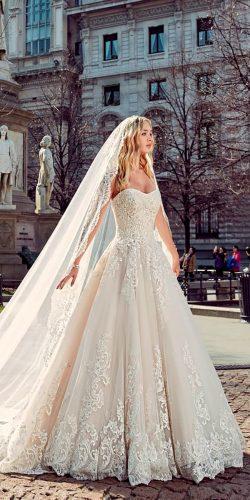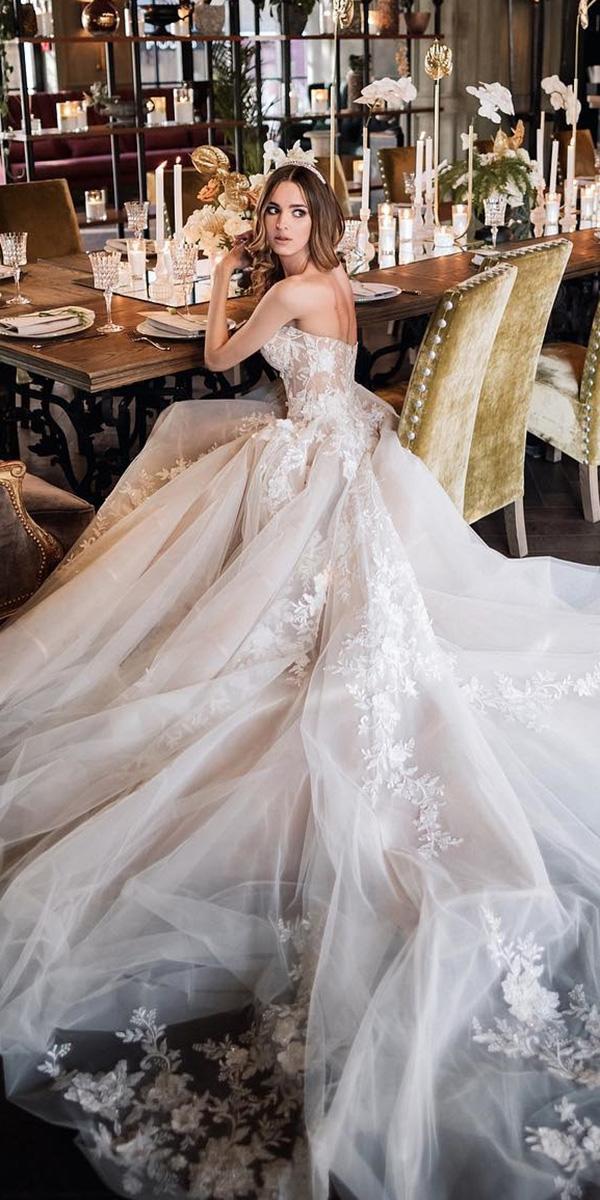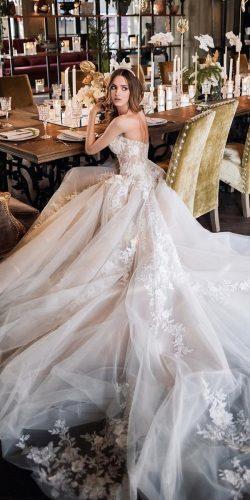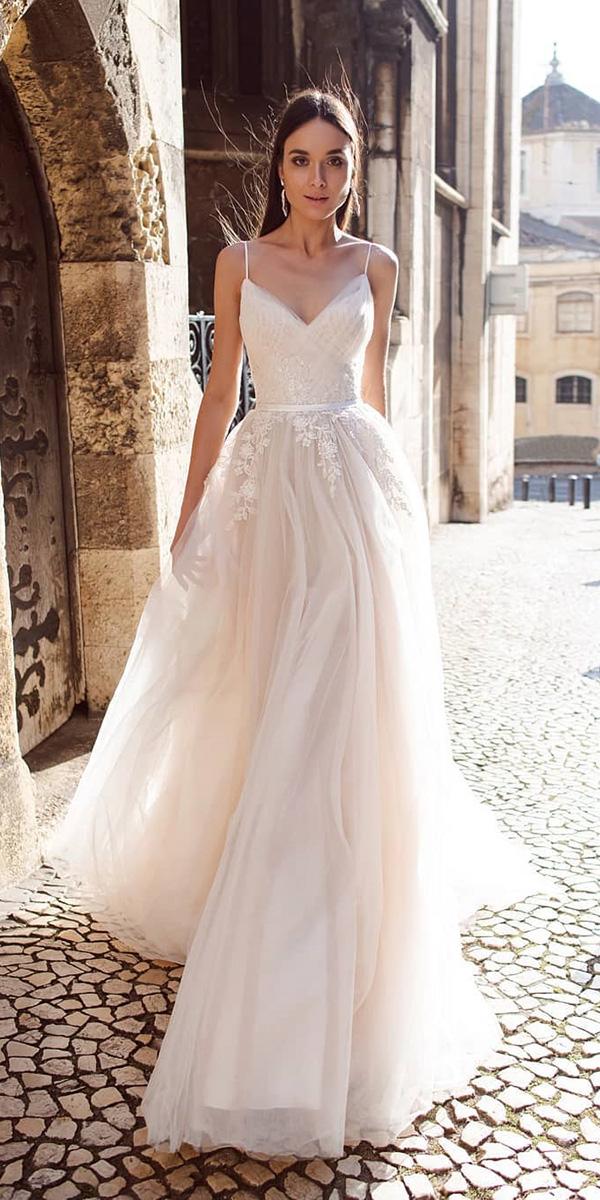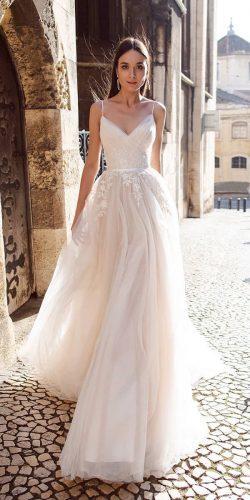 Wedding Dresses 2020 By Eddy K.
Plunging necklines and thin, almost non-existent straps, heavy embellishments – a classical wedding gown with a modern twist. Elegance, worthy of a royal wedding. No doubt, this new collection by Eddy K is definitely a sensation! Inspired by the designer's sea voyage, it has this feel of Good Old Europe. These amazing dresses will be the highlight of any European destination wedding. Classical, yet very up-to-date, a perfect combination of modern trends and timeless grace.
Source: Eddy K.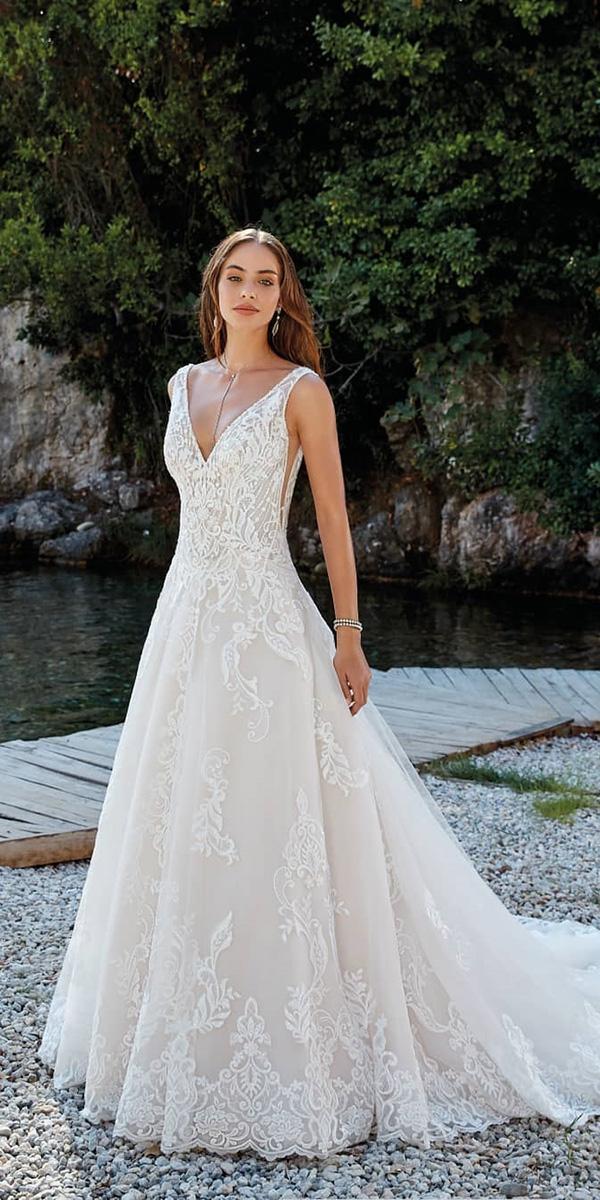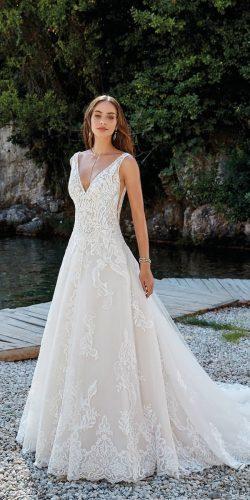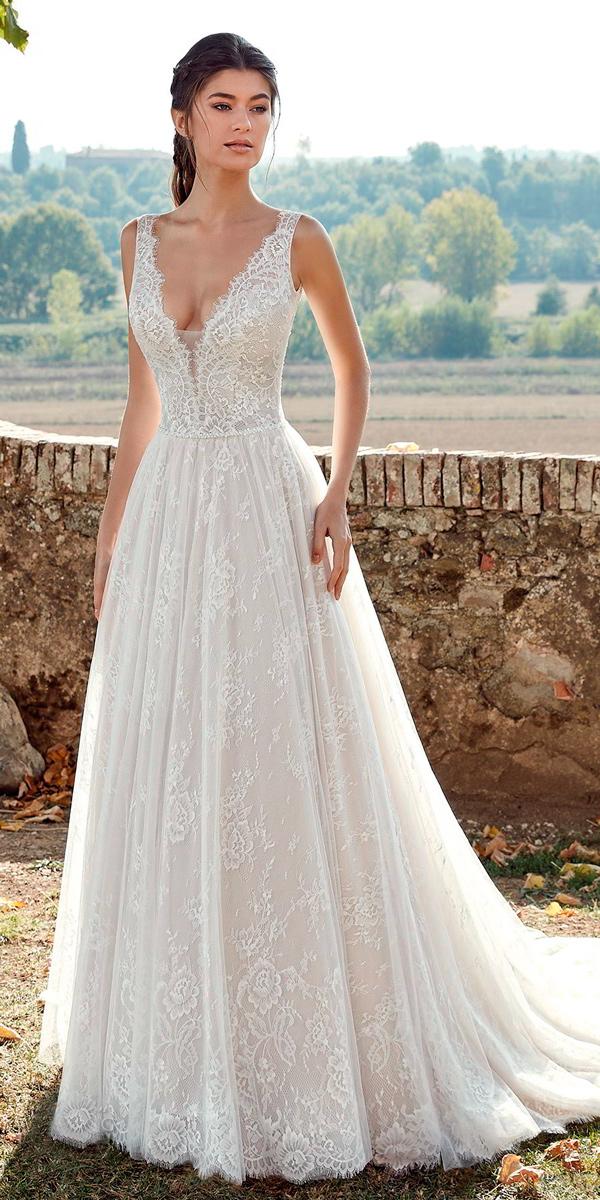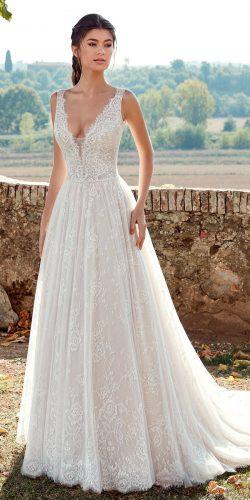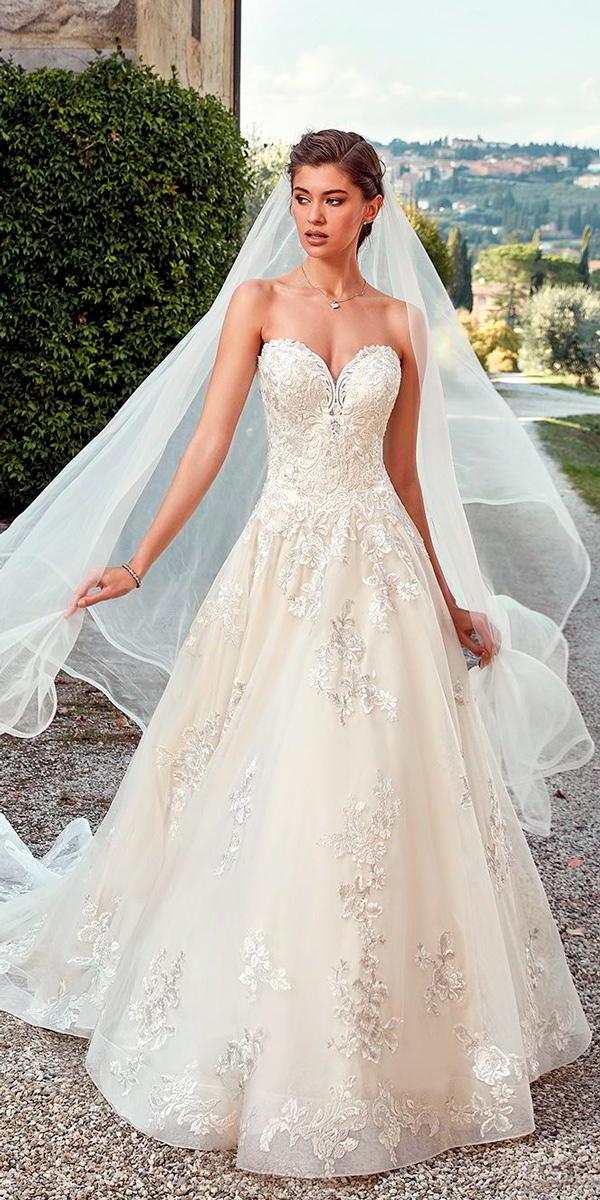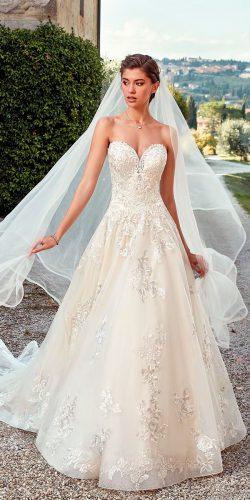 New spring wedding dresses 2020 by Eddy K are full of Mediterranean sunshine and the sound of waves. Intricate lace and rich beading, long flowing trains and tulle – the Dream collection has all of your beloved features. Inspired by freedom, that only a deep blue sea can give, this collection is perfect for a beach photoshoot. Clear blue sky, white sand, screaming seagulls, and a white yacht – an ideal set for an ideal wedding! 'Dream' is one of those bridal collections that successfully combine tradition with the latest fashion trends.
Bridal Dresses From Sophia Tolli
One more example of 2020 collections that follow the trends are the latest bridal collection by Sophia Tolli. Rich floral patterns, plunging necklines and flower crowns at the 2020 fashion show give their praise to neo-hippie boho chic. A majestic ivory wedding gown must be a tribute to three 2020 trends at a time. The Megham Effect, ivory color and the comeback of a grand ball gown are all in one gorgeous dress. All the dresses of Sophia Tolli can be easily combined with a gauze royal cape. Quite an ethereal piece of garment! And the designer doesn't stop with rich floral embellishments, ruffles, and mock turtlenecks! The collection also offers several simple clean dresses without any lace or embroidery.
Source: Sophia Tolli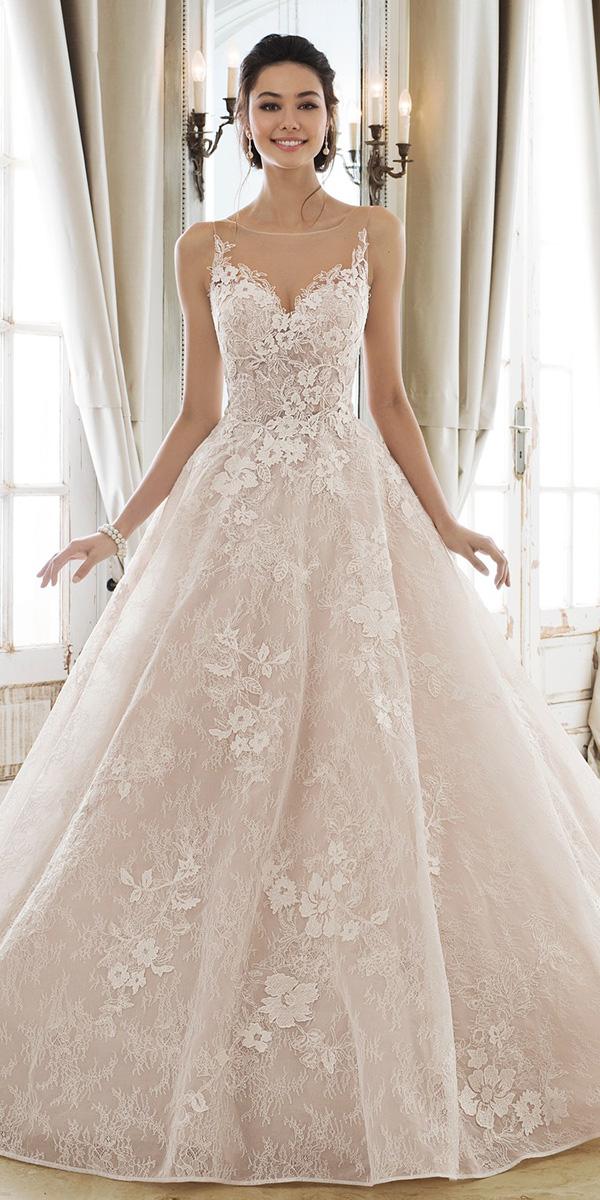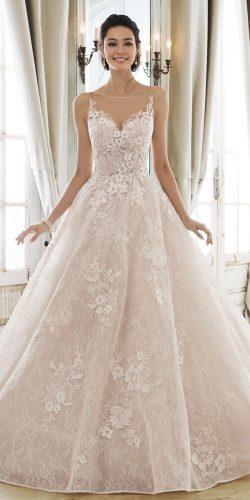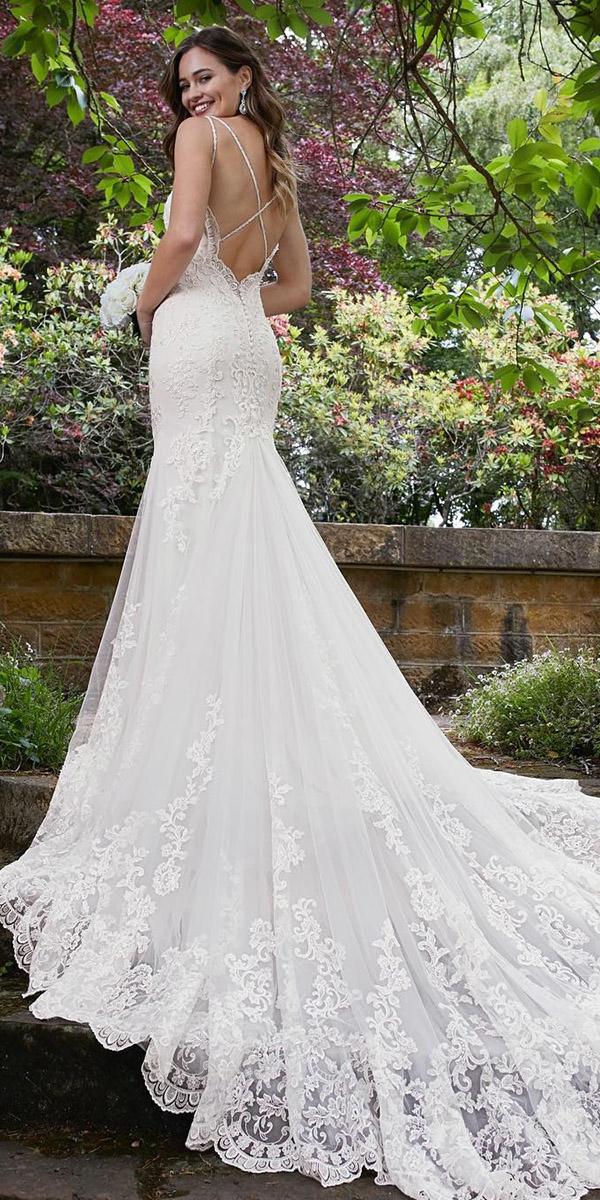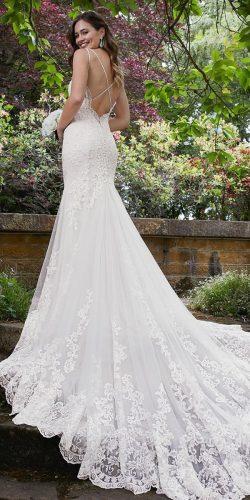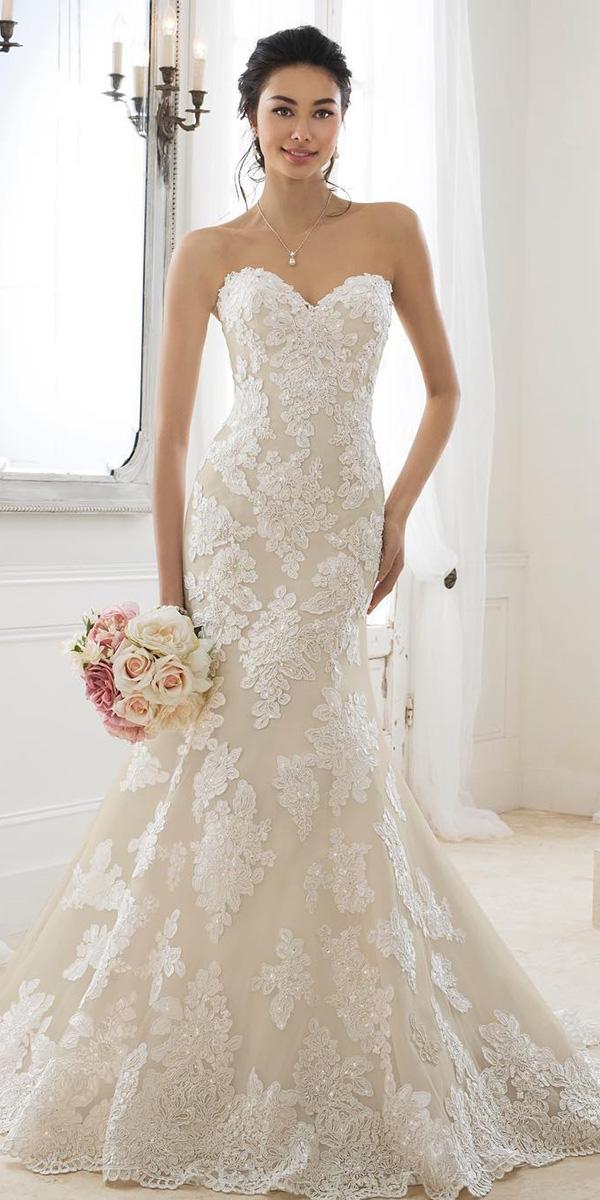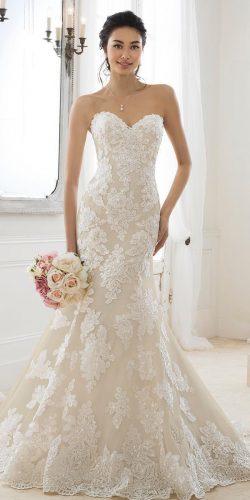 Romantic Julie Vino Bridal Dresses
Ruffles are one of the top trends this season – these are more than one high fashion wedding dress, that shows off this feature. If you are into a flamenco-style silhouette and tiered tulle skirts, take a look at the newest collection by Julie Vino. 'Paris' has that irresistible air of romance about it that makes this collection a true masterpiece of bridal fashion.
Source: Julie Vino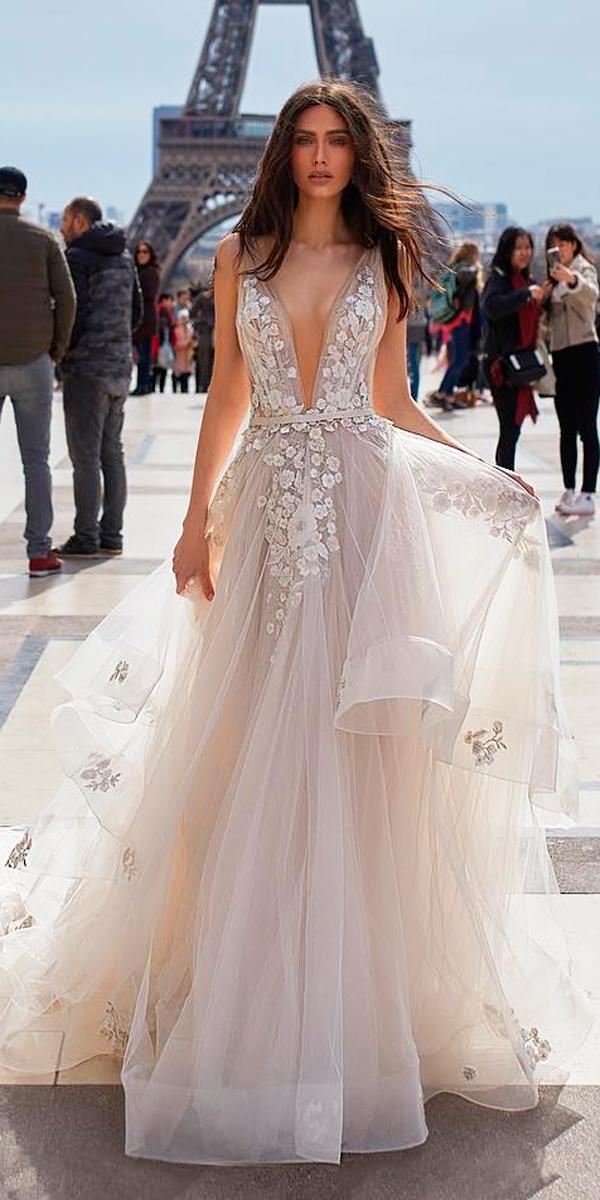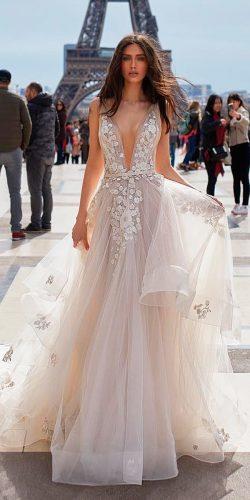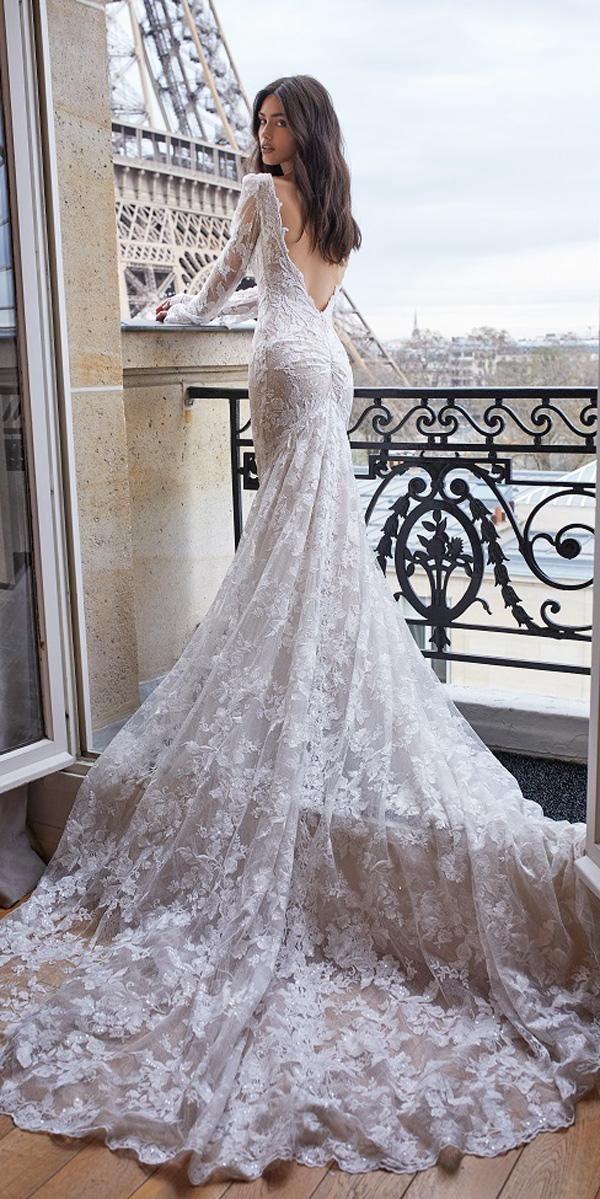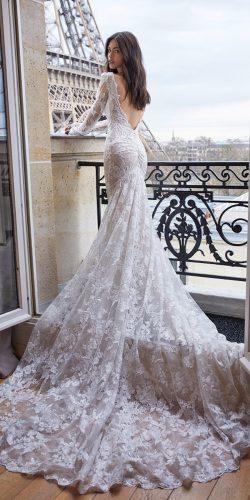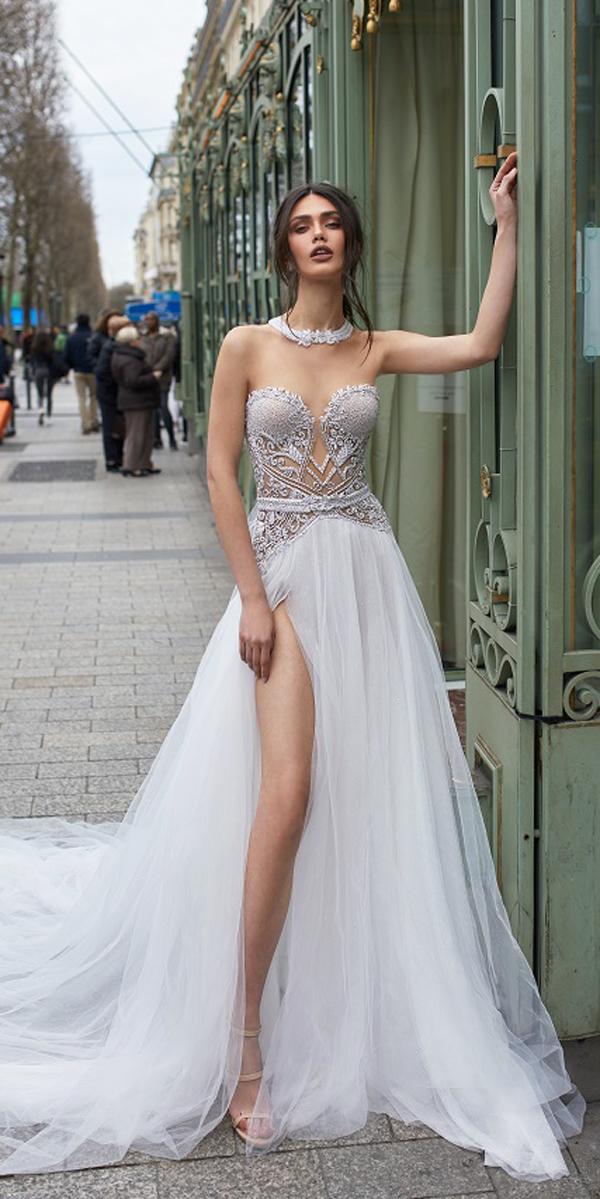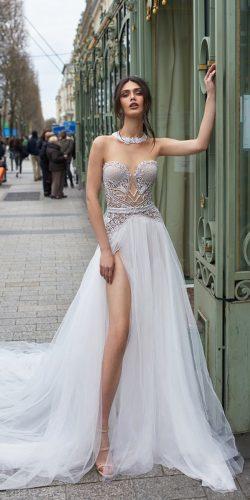 After all, what can be more romantic, than a night in Paris? This year dresses seem to evoke the very spirit of this amazing city. Julie Vino's new collection is a lot about the trends of 2020. Plunging neckline and flowery lace patterns – all the trends that are on the rise of popularity this year. These flowing ultra-feminine lace and tulle dresses are perfect for a boho or a country style wedding. Their light fabrics and delicate flower patterns will look amazing outdoors. All you need is to add a flower crown to that tender forest nymph look.
Berta Bridal Collection 2020
No wedding fashion week show would be complete without Berta Bridal. This year Berta Bridal has the deepest plunging neckline you can imagine and 3D floral embellishments. Shimmering designs and lightweight fabrics, thin straps and long trains…The brand creates perfectly tailored wedding dresses 2020 that are both feminine and ultra-appealing. These see-through nude garments create a seductive image, that is no way modest. Beads, feathers and tulle – a bold combination of trends, that makes a bridal masterpiece.
Source: Berta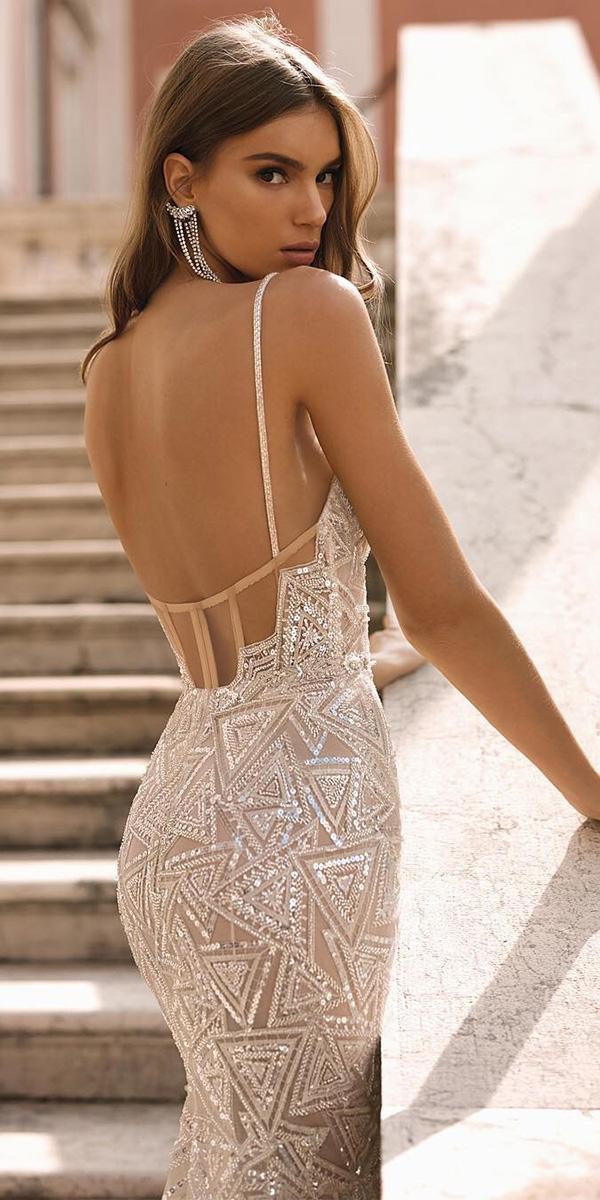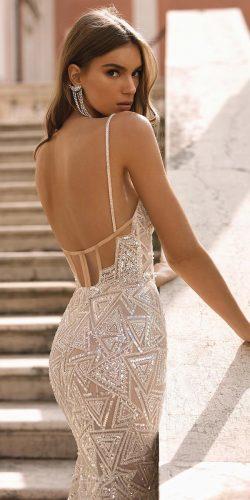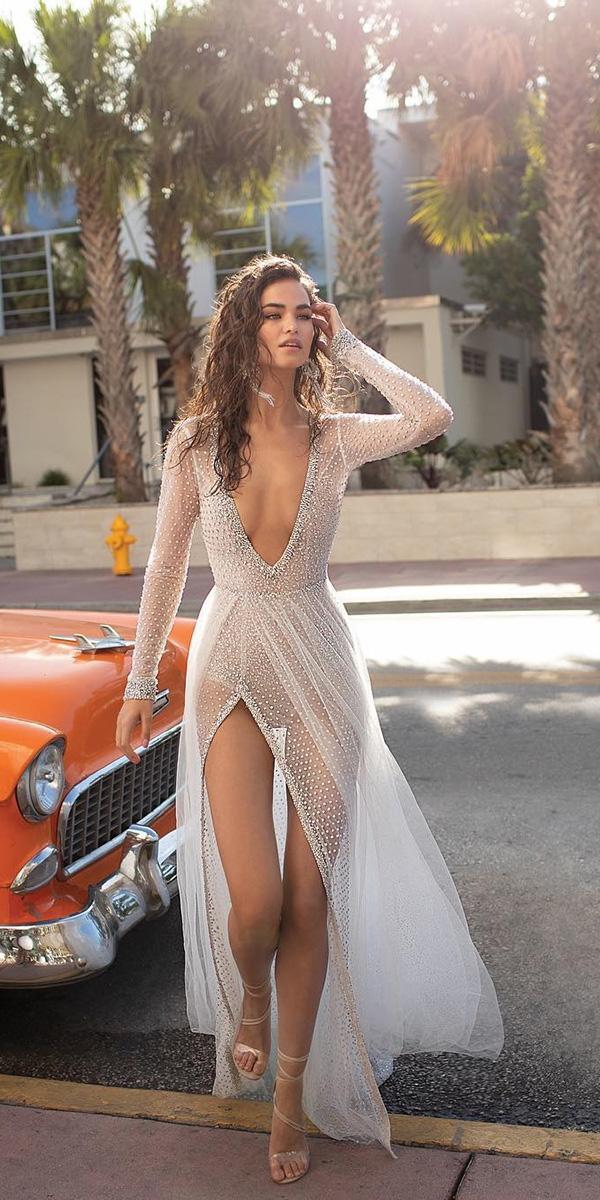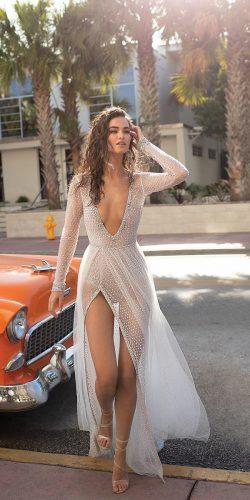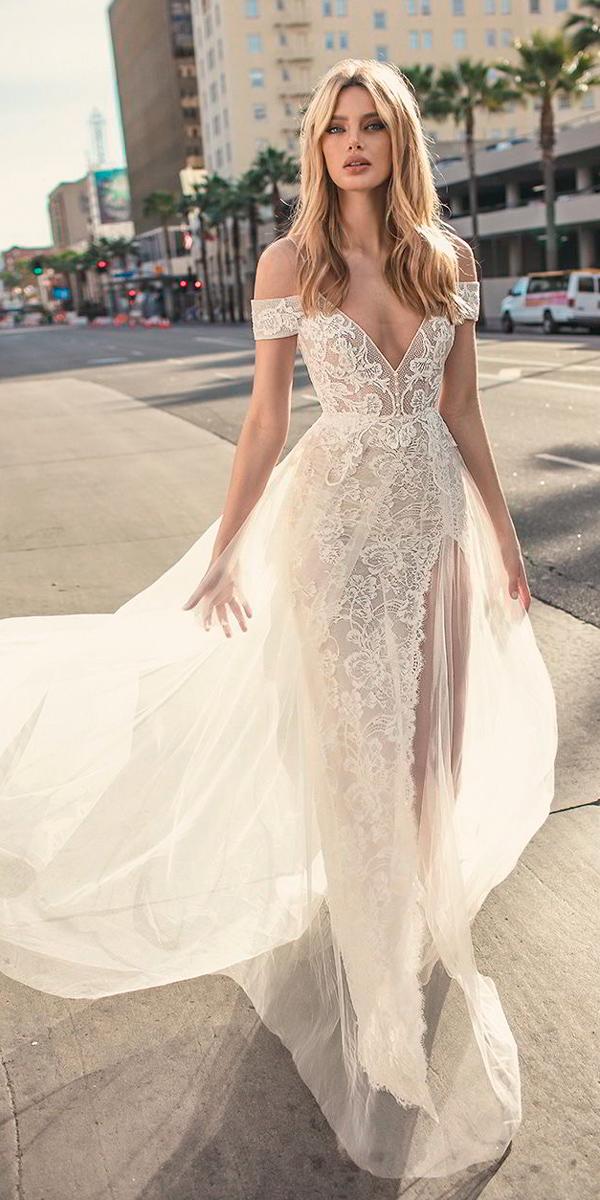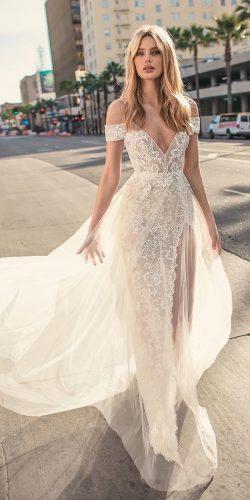 "Wanderlust" Bridal Collection By Anna Campbell
If there is a trend that is as festive as possible – it is the sparkle. And this year's collections by Anna Campbell definitely got it. Year after year, the talented Australian dress designer creates iconic sparkling gowns. The "Wanderlust" bridal collection features contemporary designs in exclusive embroidered fabrics, unique laces, sparkling glass beads and pearls. Anna Campbell wedding dresses 2020 are bohemian, sparkle, that just shimmer with splendor. Looking for glamour? So, you are on the right path.
Source: Anna Campbell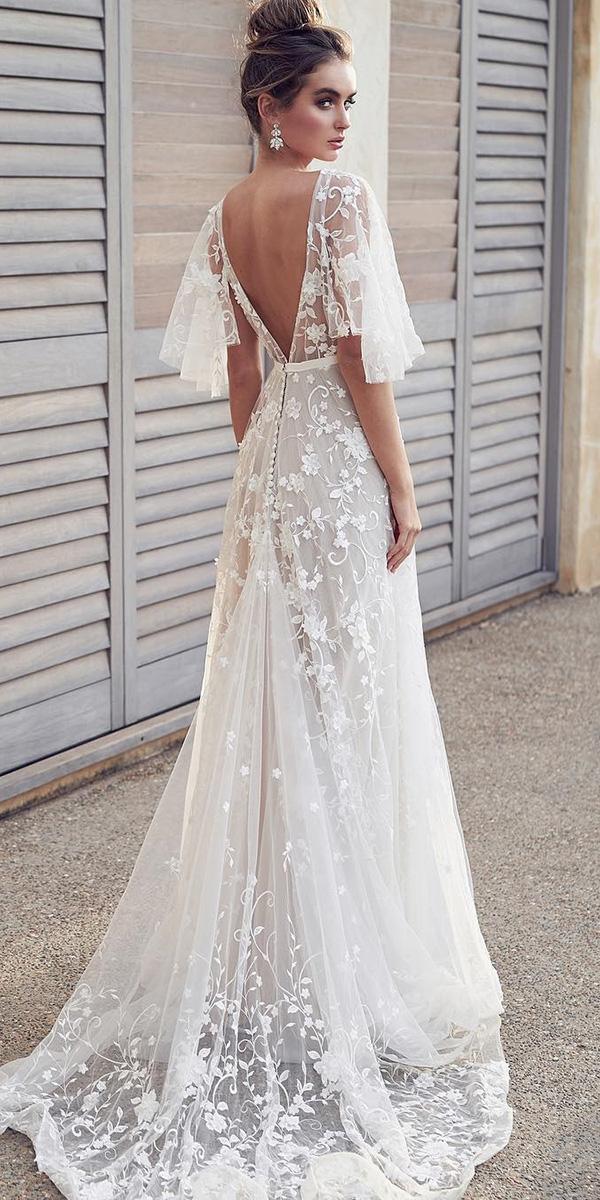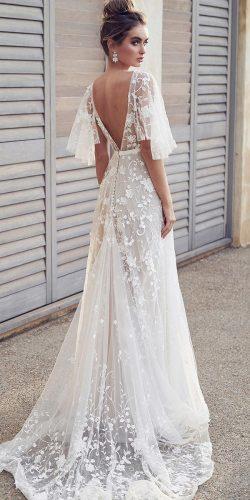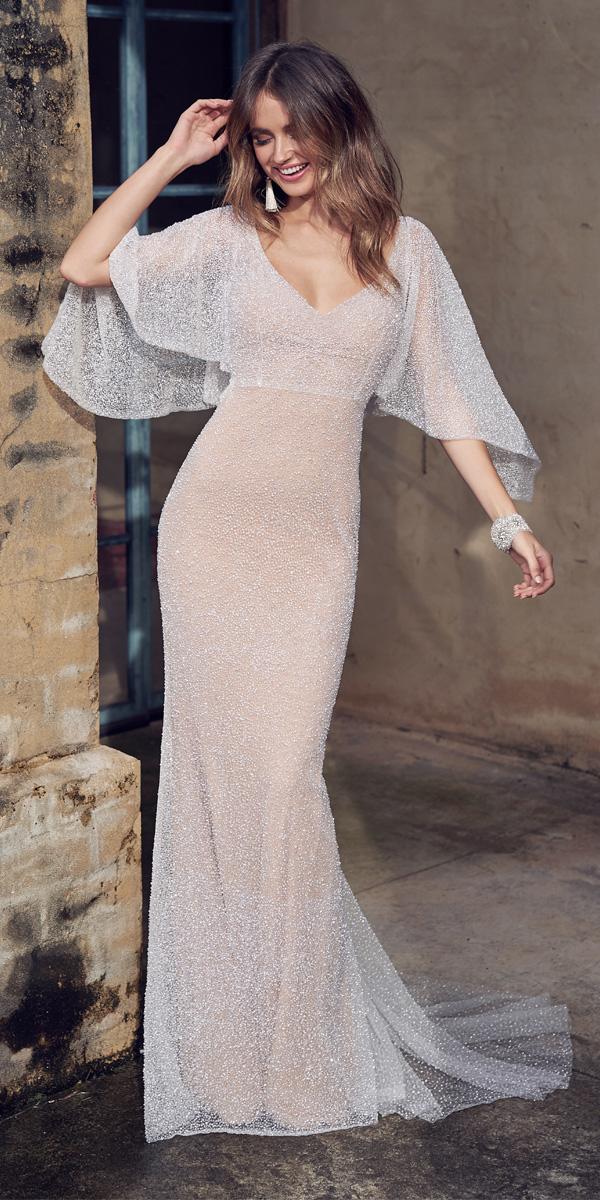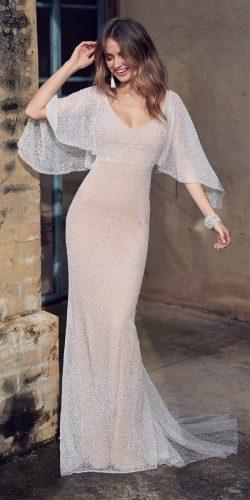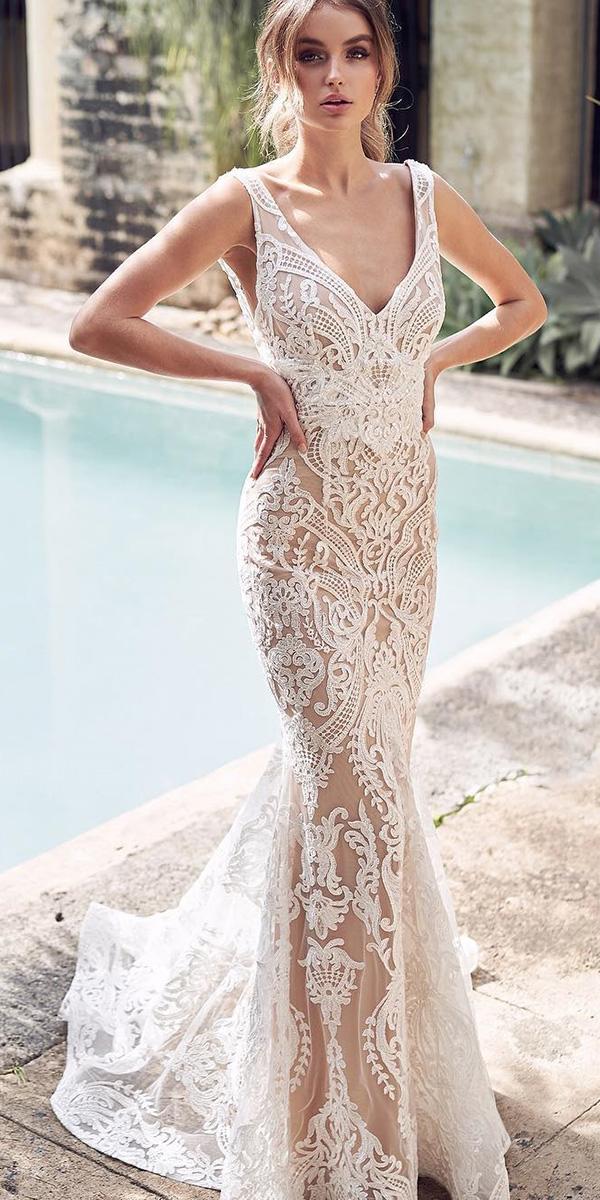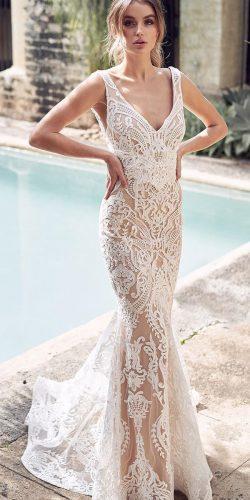 Bridal Gowns By Oksana Mukha
Rich embellishments, Swarovsky crystals, see-through lace and mermaid silhouettes… This year collections have all the trademark features of Oksana Mukha design. But at the same time, one can't help noticing presence of trendy lavender color dresses.
No more pure whiteness of snow – nude and ivory are taking the lead. And – the top trend of this season – lavender! Modern brides go for all shades of lavender: from the soft pastel lavender and Lilac to the vivid violet and plum. Definitely not for a shy bride, but for a woman with the purest vision of her own way and style. Rich fabrics, gauze, and lace, embroidery and beading – everything you need to stand out on your wedding day.
Source: Oksana Mukha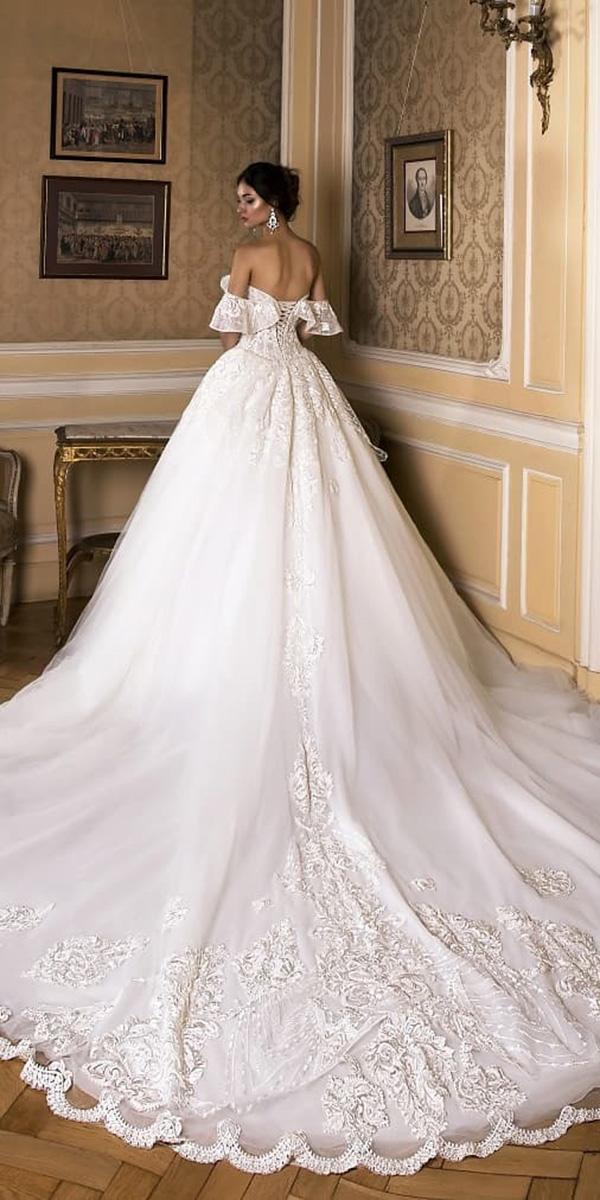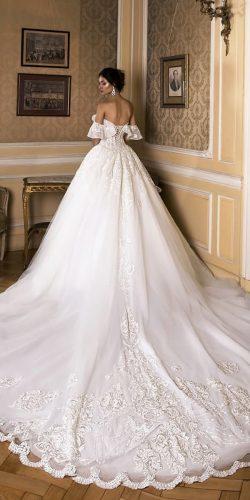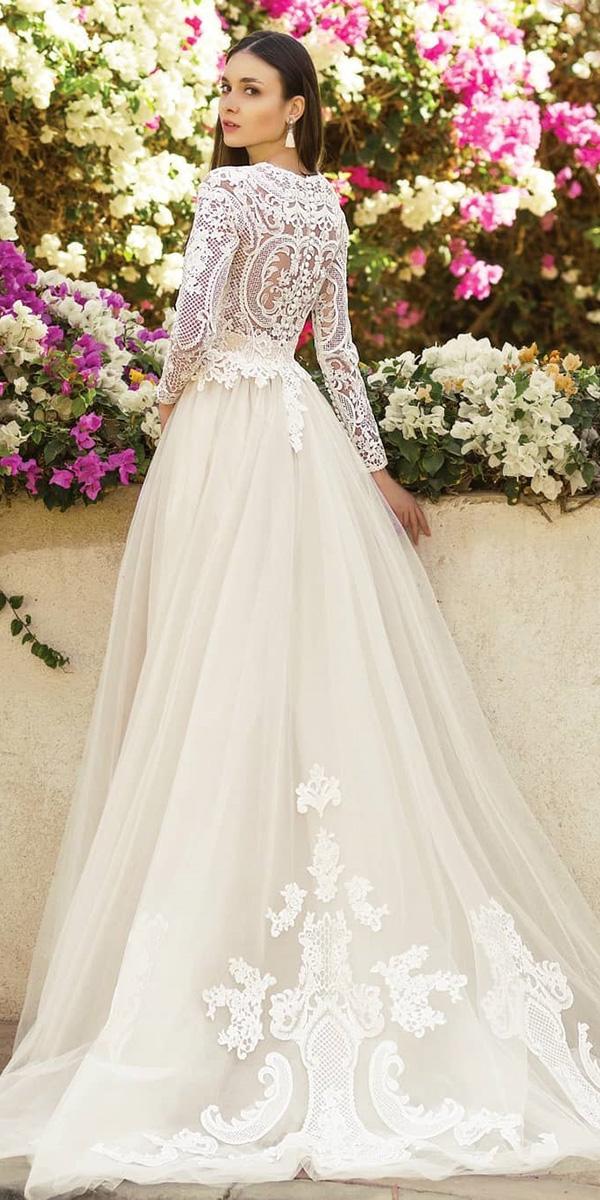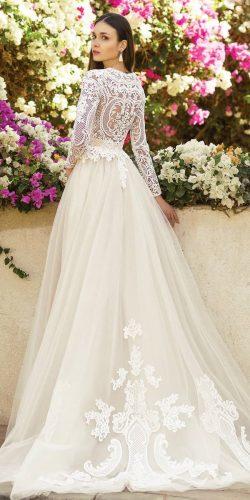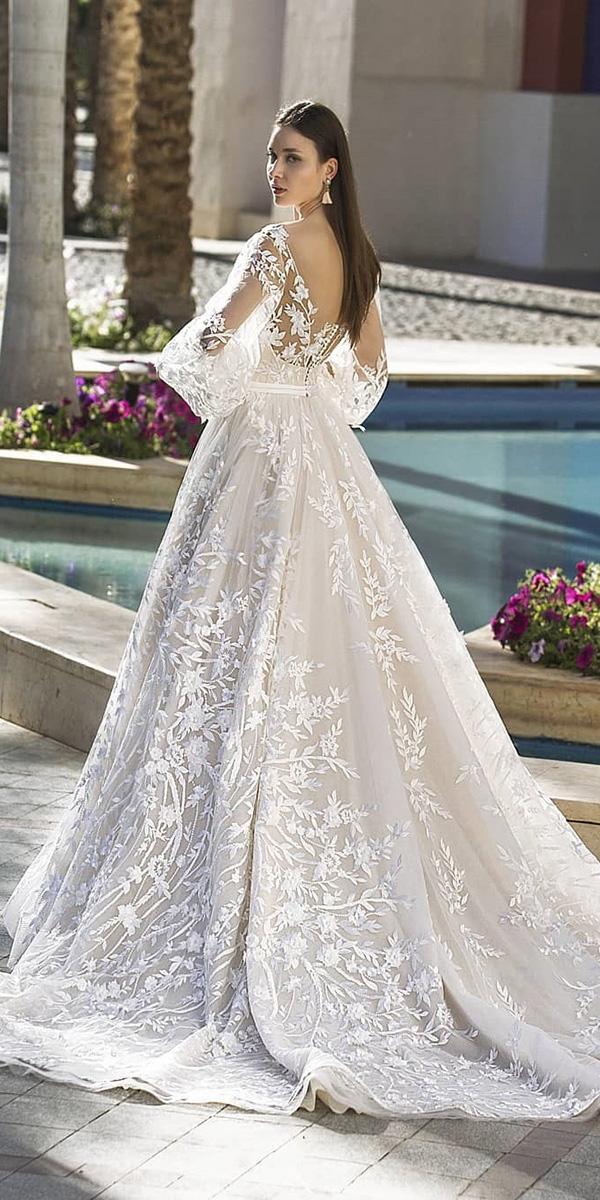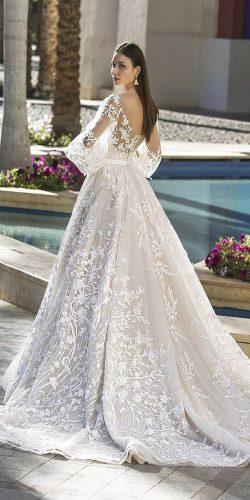 These sumptuous wedding dresses 2020 will take everyone's breath away. 3D floral prints are also one of the top trends this season, and Oksana Mukha is not afraid to use them! This year the signature textured bodices and flowing tulle skirts are all covered in voluminous floral motifs.
New Collections By Pronovias & Sareh Nouri
If you are looking for a designer that unites almost all of the existing trends of the upcoming season, you should pay attention to these two designers. Pronovias 2020 has some heavily embellished dresses with flower motifs, plunging necklines and voluminous multilayered skirts. 2020 collection has something to please everyone. Every bride will find her perfect dress. Mermaid silhouetted boho chic and grand ball gowns, simple sophisticated dresses, and tea-length dresses. Pronovias has it all.
Sareh Nouri presented a collection that's nice and sweet. Sareh Nouri 2020 is mostly minimalist dresses – one more rising trend of this season. Simple and completely unadorned gowns, pure beauty of style and silhouette. Sareh Nouri 2020 is all elegance and sophistication without extra glitz and a couple of eloping tea-length dresses.
Source: Pronovias, Pronovias, Sareh Nouri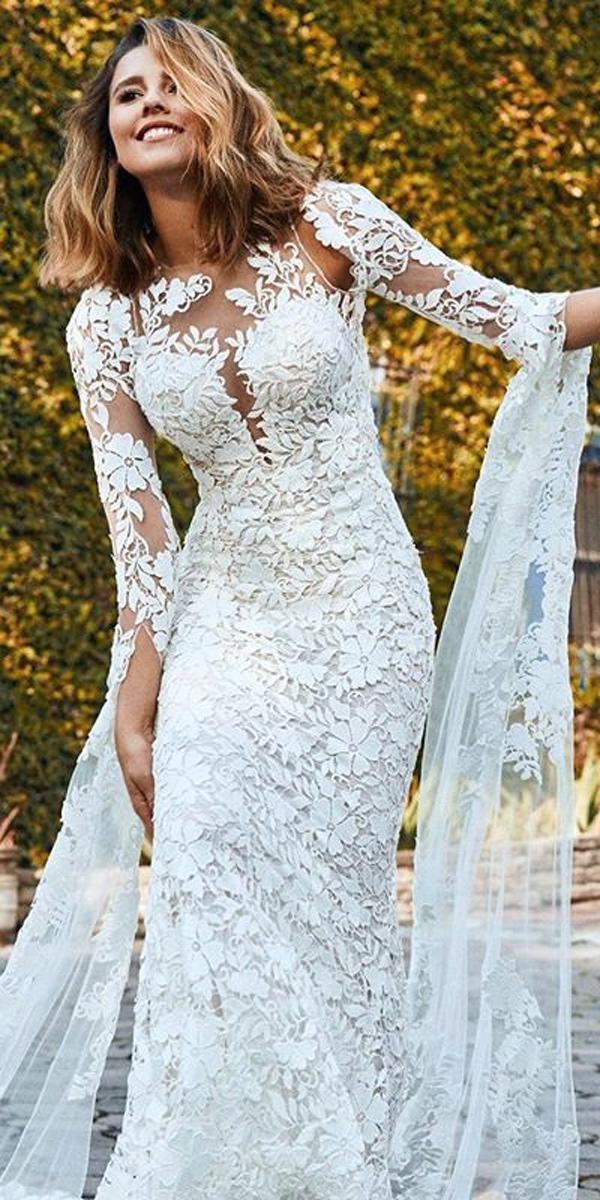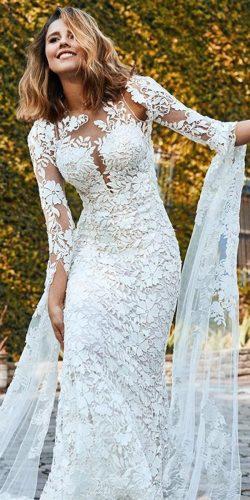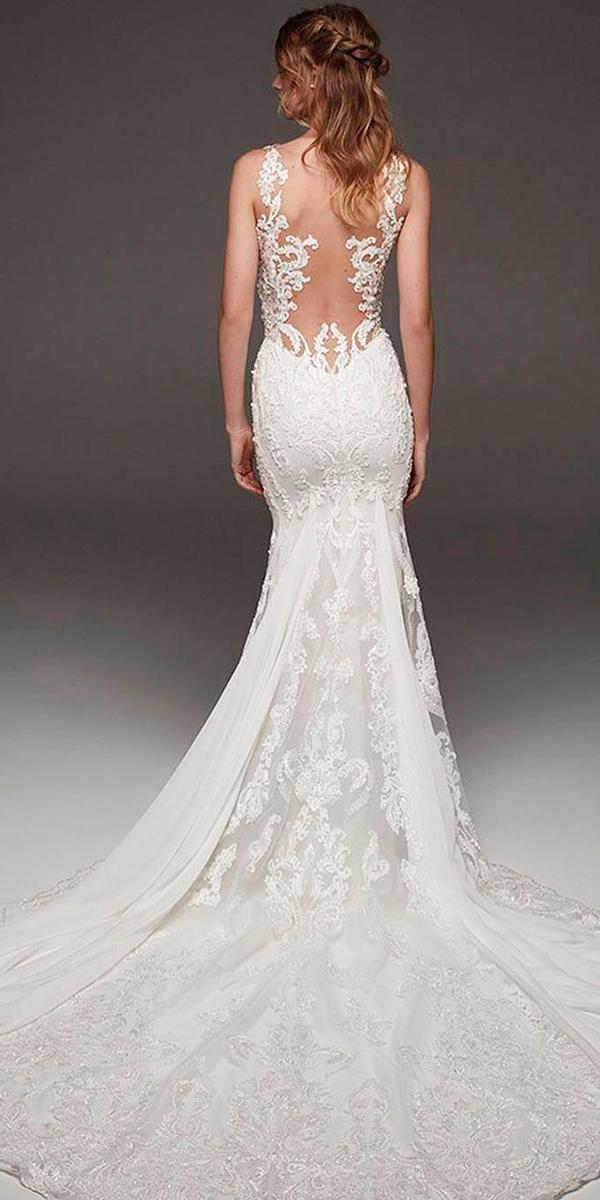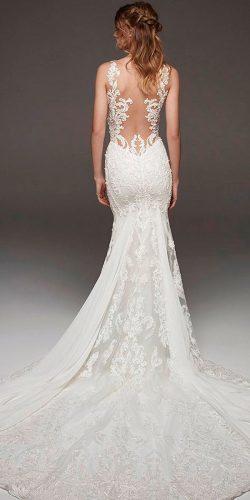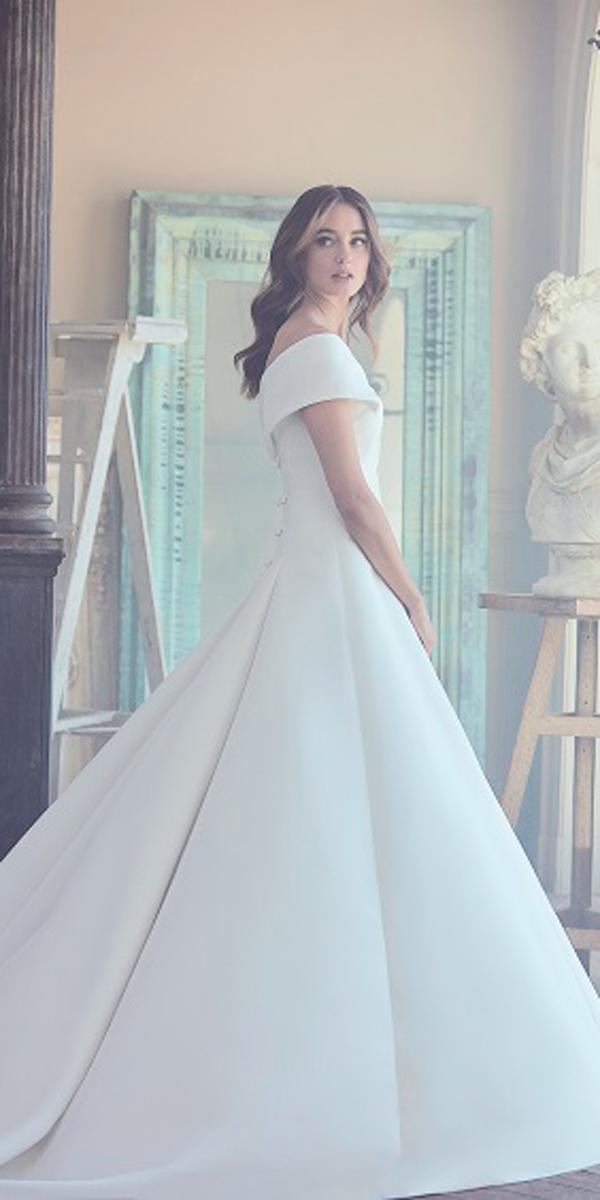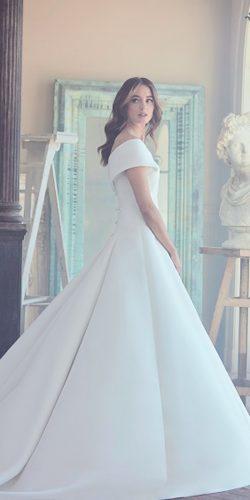 Wedding Gowns By Hayley Paige For Spring 2020
Hayley Paige bridal dresses 2020 are full of romantic. Blush and light blue colors added something fresh to these design. Brides who want to be like a princess should choose these awesome ballgowns. Heyley Paige cannot boast such a variety of dresses, but each and every dress is a true masterpiece. Thin straps, tiered skirts, and a breathtaking silhouette – that's the essence of what Heyley Paige has to offer next season.
Source: Hayley Paige Bridal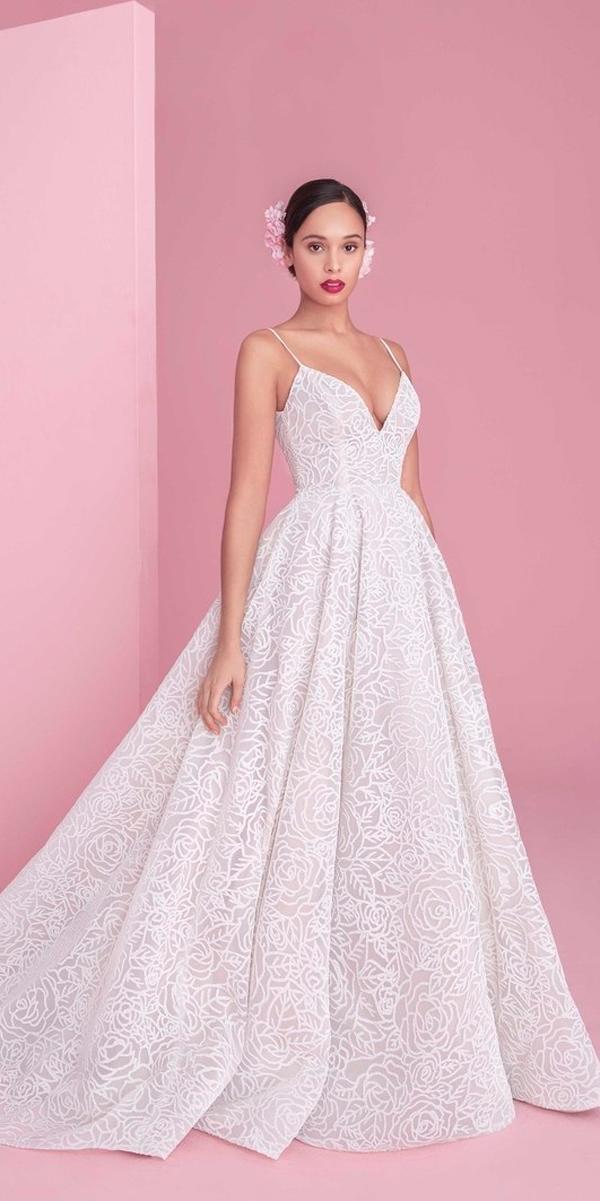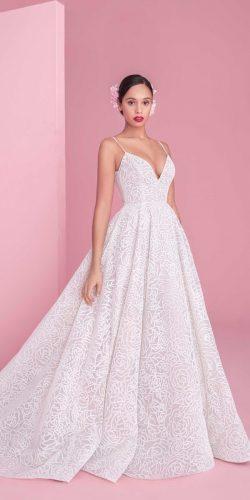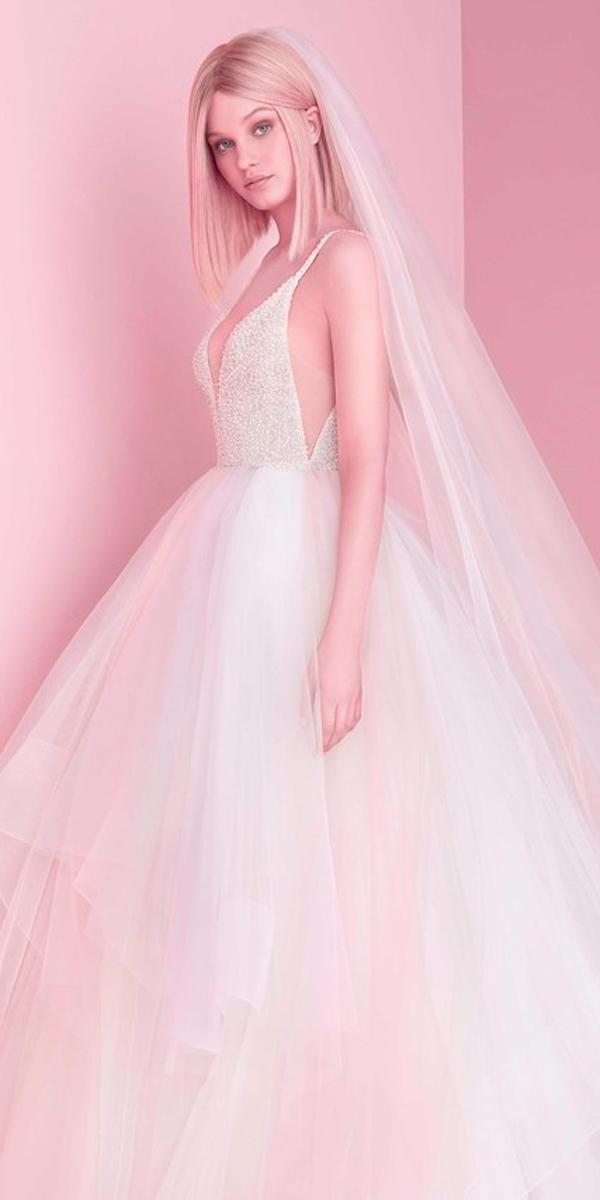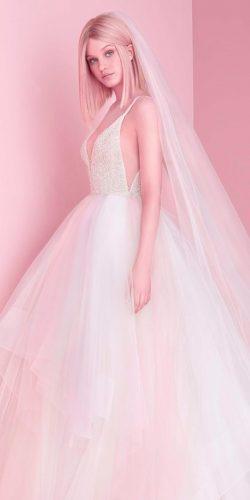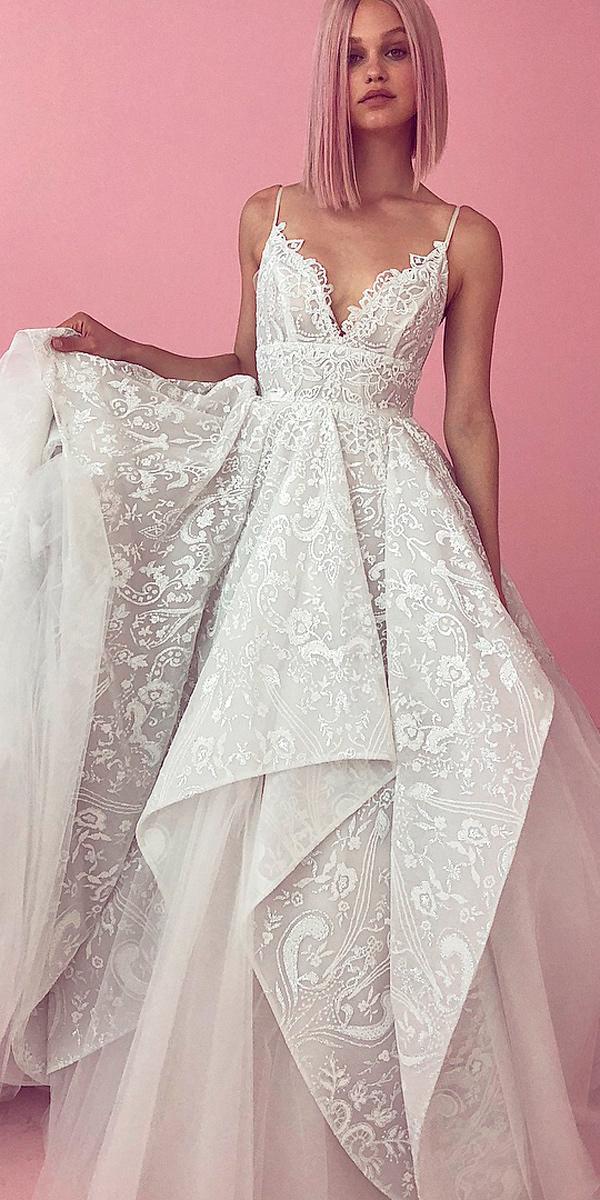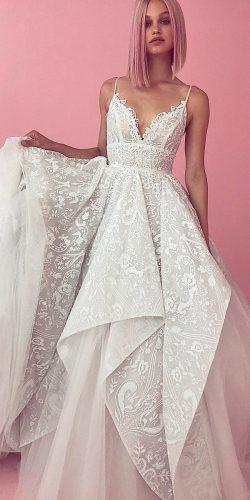 Monique Lhuillier 2020 Bridal Gowns
Inspired with the old-fashioned tradition to pass down the wedding gowns to the next generations, much like the family heirlooms, a designer Monique Lhuillier presented her Moniquel Hullier 2020 collection that celebrates the grand return of the ball gown. Definitely, a must if you want to feel royal on your big day! Tiered voluminous skirts and long trains will make you look majestic. The designer also loves trending deep plunging neckline – most dresses of the 2020 collection can boast this feminine feature. These dresses will be perfect for a bride who wants an exquisite dress, full of details and nuances. Monique Lhuillier wedding gowns combine highest quality and timeless elegance. These handmade lavish wedding dresses 2020 are definitely worth a princess. Their silhouettes remind us of the fairy-tales, fairy godmothers and chivalry.
Source: Monique Lhuillier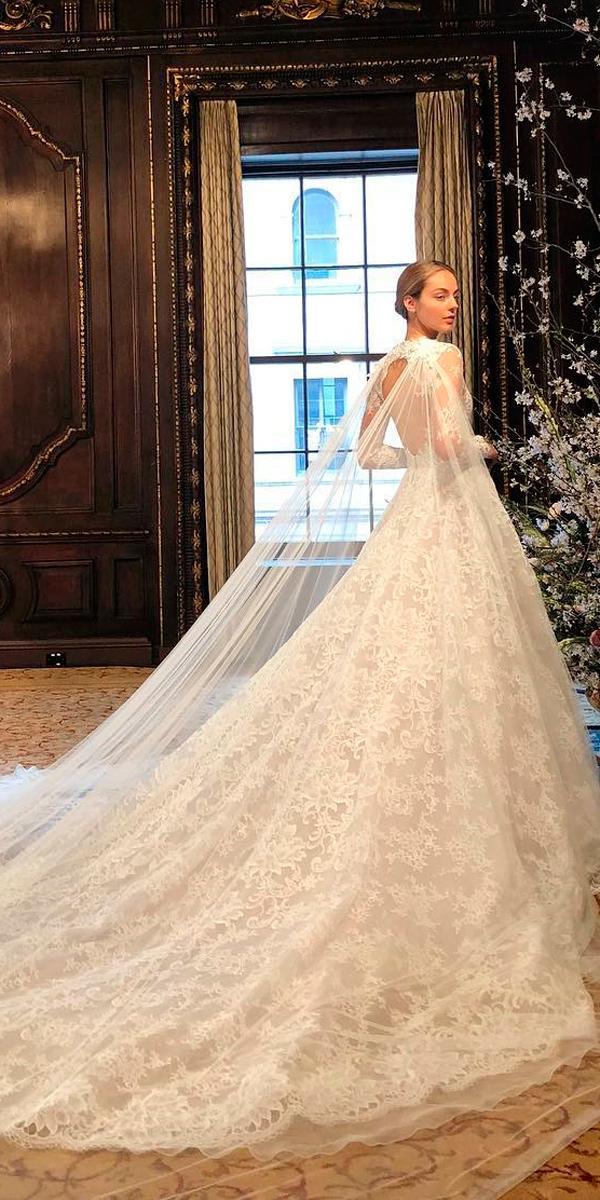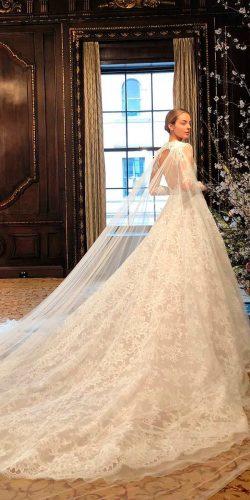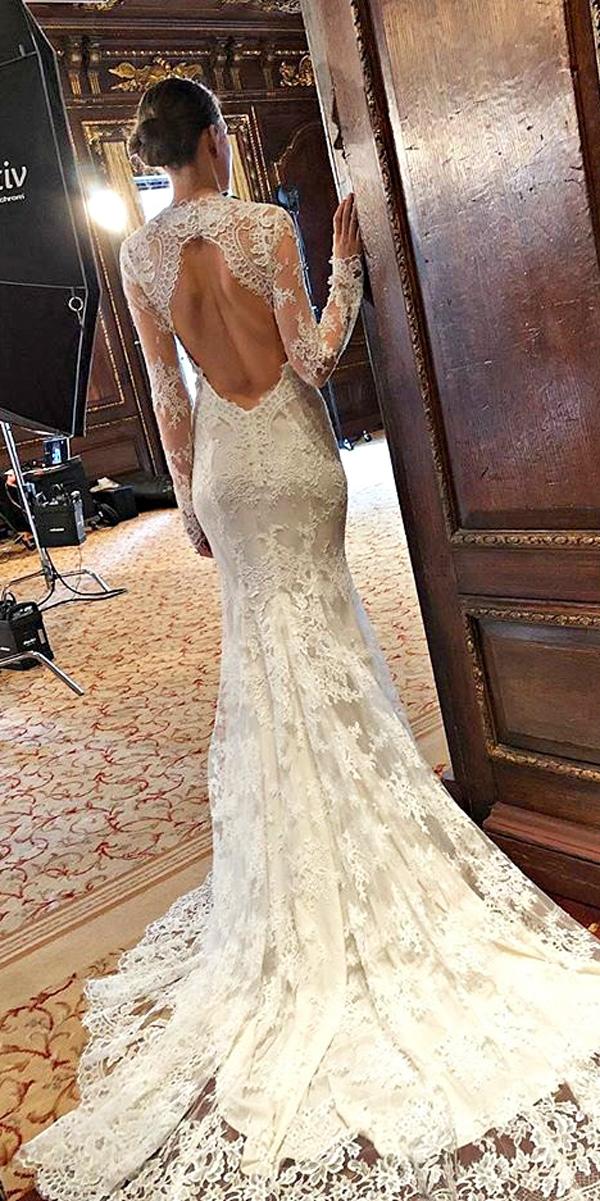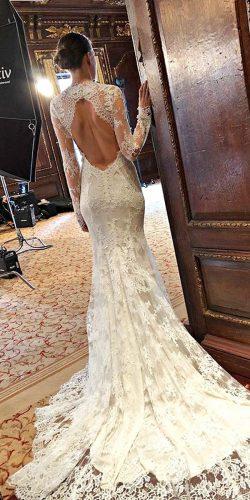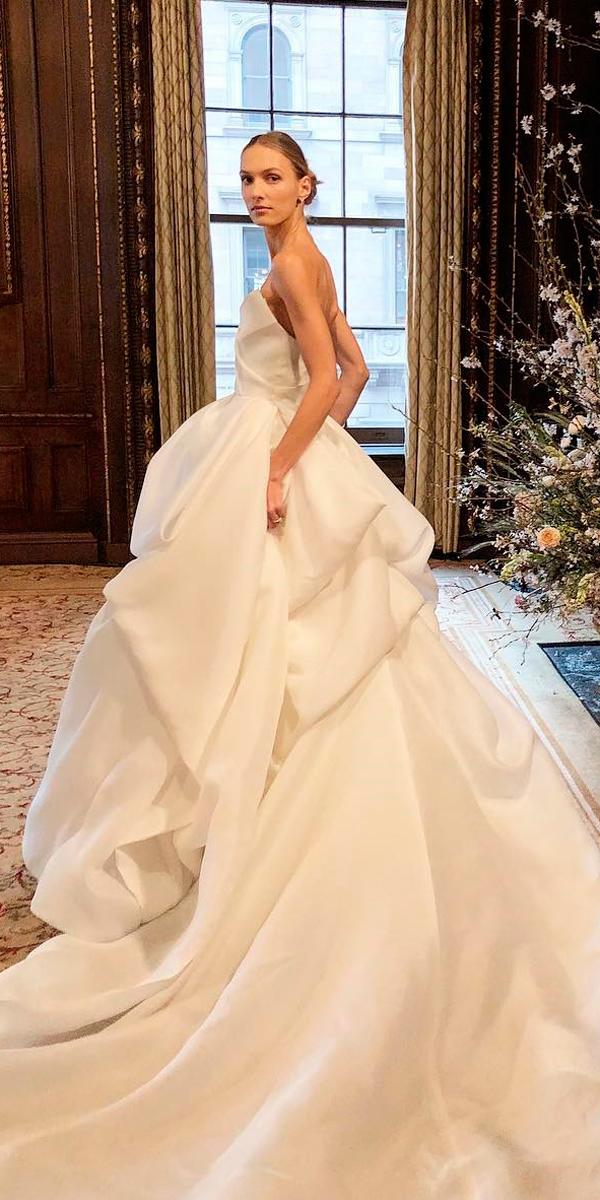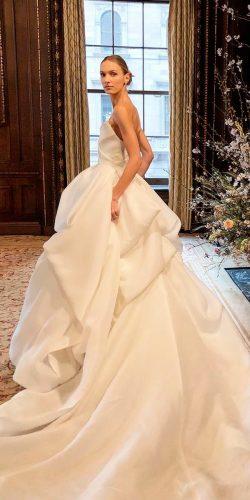 Magic Limor Rosen & Flora Haute Couture
Flower patterns and light textures are definitely in the spotlight. One look at 2020 collections of two more wedding designers is enough to prove it. Limor Rosen and Flora Haute Couture have that unmistakable air of boho chic about them. Ethereal aesthetics of these dresses will make you forget yourself. Deep plunging necklines, heavy embellishments and yards of tulle show off free rebellious spirit, as glamorous as possible. Flower motifs and applications make these collections perfect for a beach wedding. Simple silhouettes of sheath, mermaid and classical A-line dresses add elegance to the romantic image of a glamorous neo-hippie bride.
Source: Flora Bridal, Limor Rosen, Flora Bridal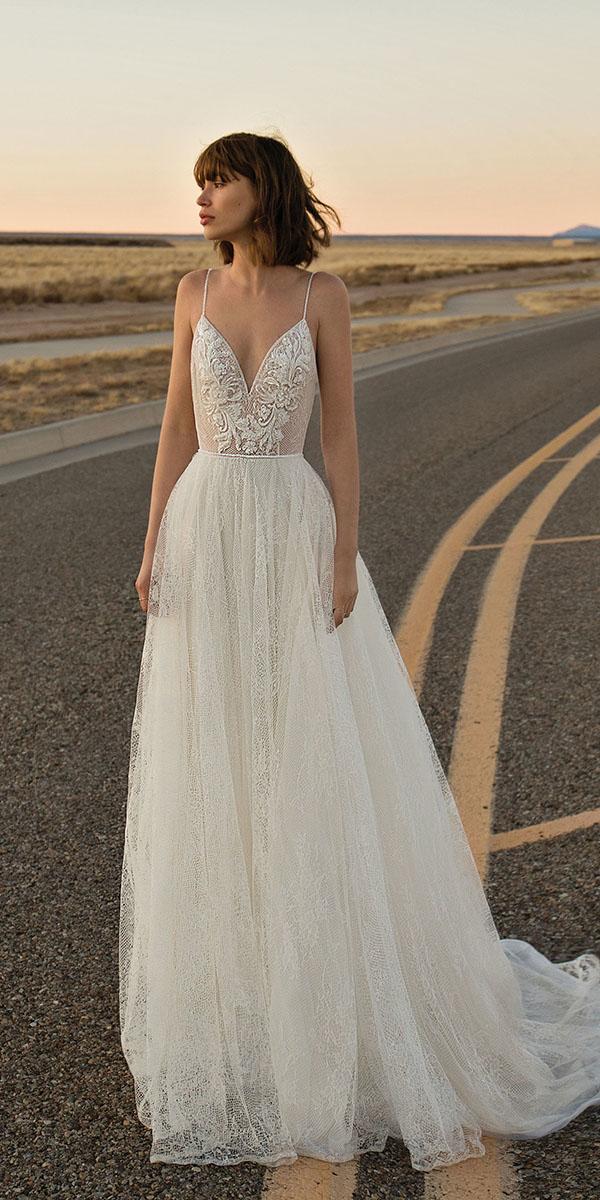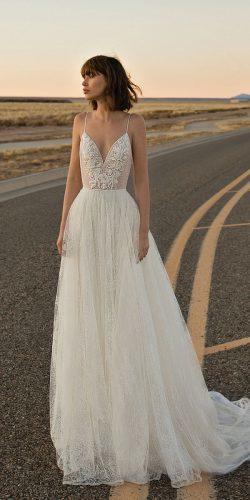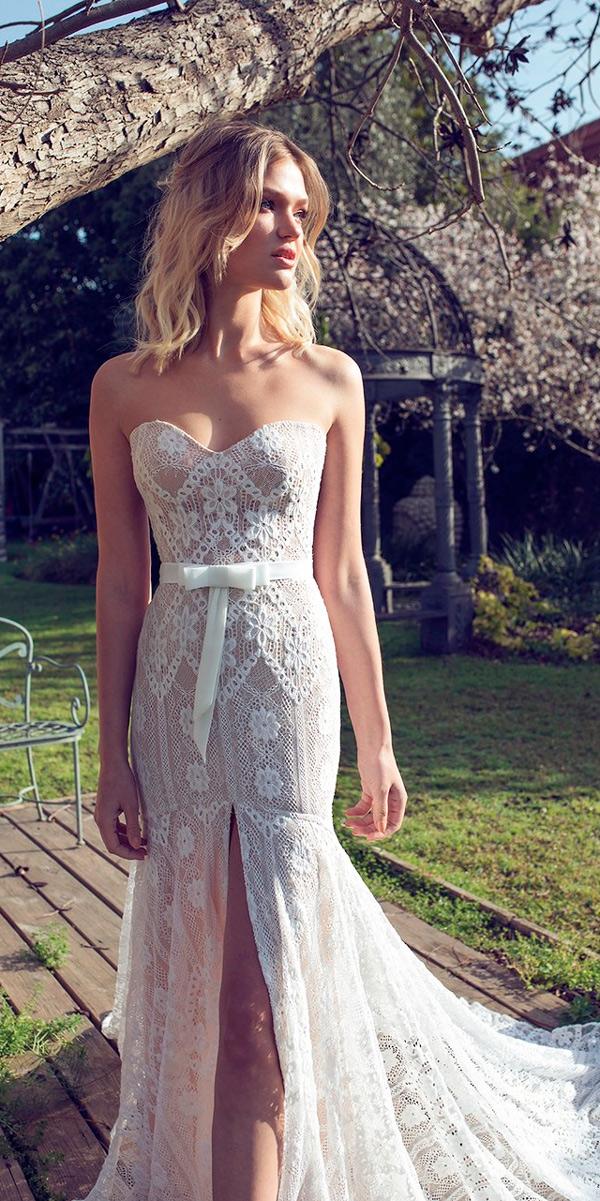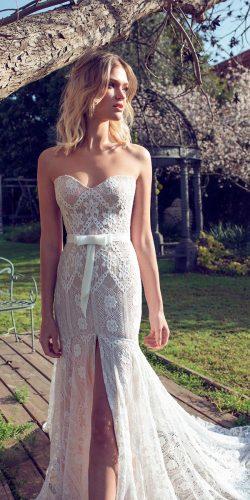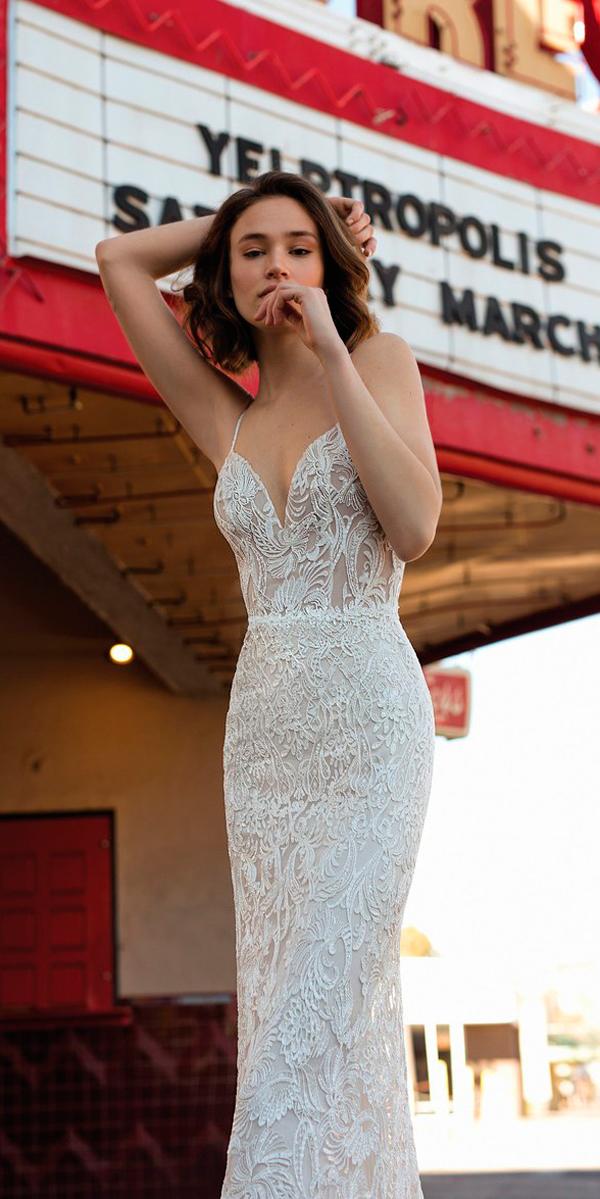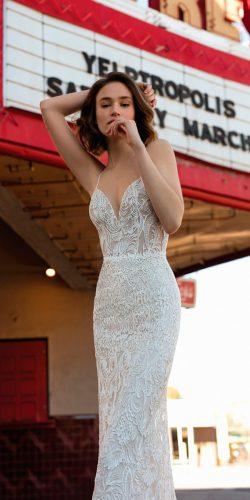 Flora Bridal off-the-shoulder and plunging neckline dresses seem to be the best choice for a romantic elope wedding. Imagine just the two of you on a far-away beach, your gauzier boho-chic dress and white sand under your feet. The wedding sundresses from 2020 collection are simple but as airy and elegant as it can be.
Amazing La Petra & Galia Lahav Dresses
Just one look at La Petra bridal collections makes you a total fan of this astonishing designer. Long forgotten is the simplicity of white. You want to stand out on your wedding day! La Petra offers a splash of delicate lace bridal gowns. La Petra wedding dresses 2020 look totally out of this world and offers every bride bold enough to make a fashion statement.
Galia Lahav 2020 is very much into layers of tulle. Filigree embroidery makes this collection even more feminine. The latest collection paid tribute to the fashionable metallic glitter with an innovative combination of silver and ivory. Floral motifs are everywhere: from a dramatic cherry blossom embroidered tulle, to 3D floral embellishments on a bodice. Deep plunging necklines and mock turtlenecks – Galia Lahav dresses have it all.
Source: La Petra, Galia Lahav, La Petra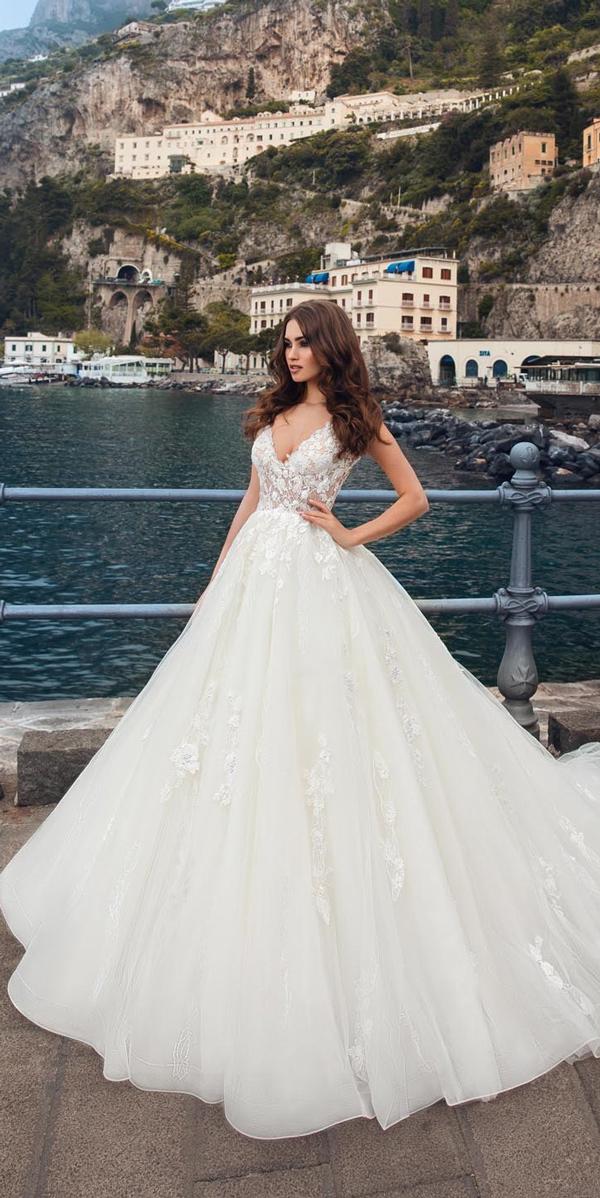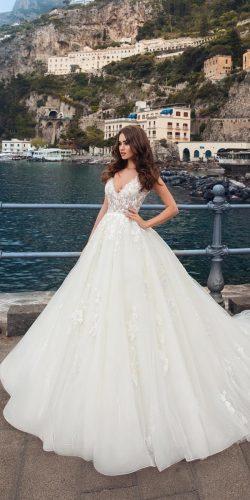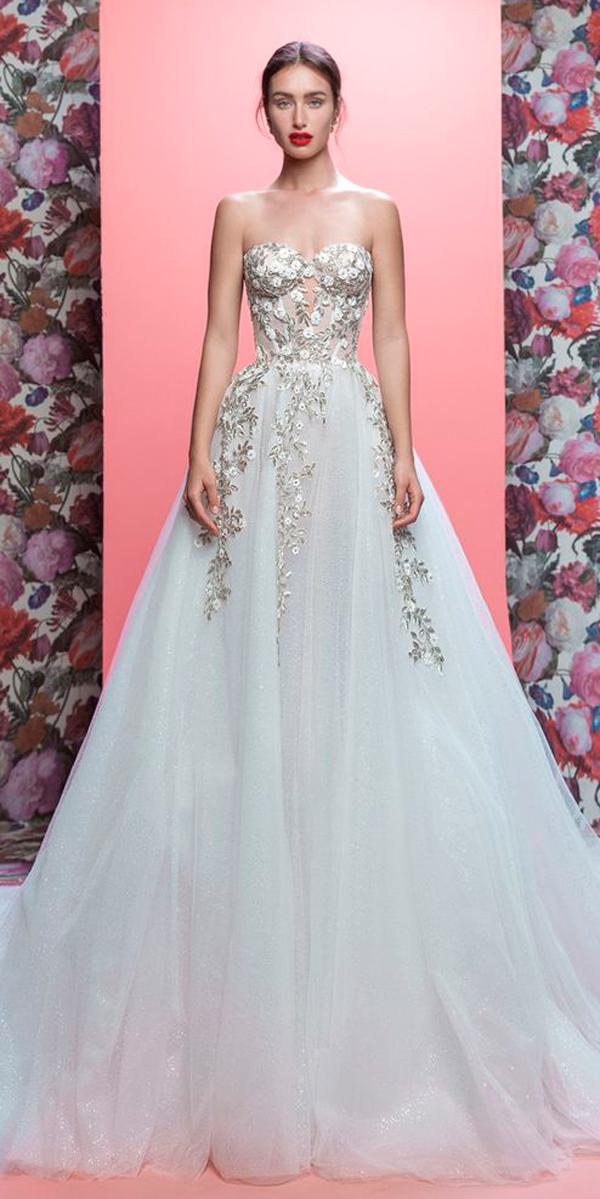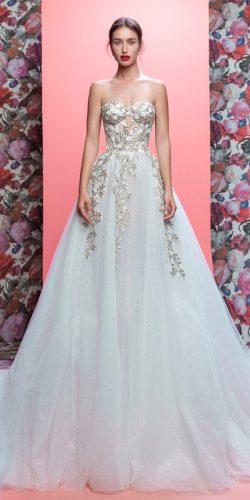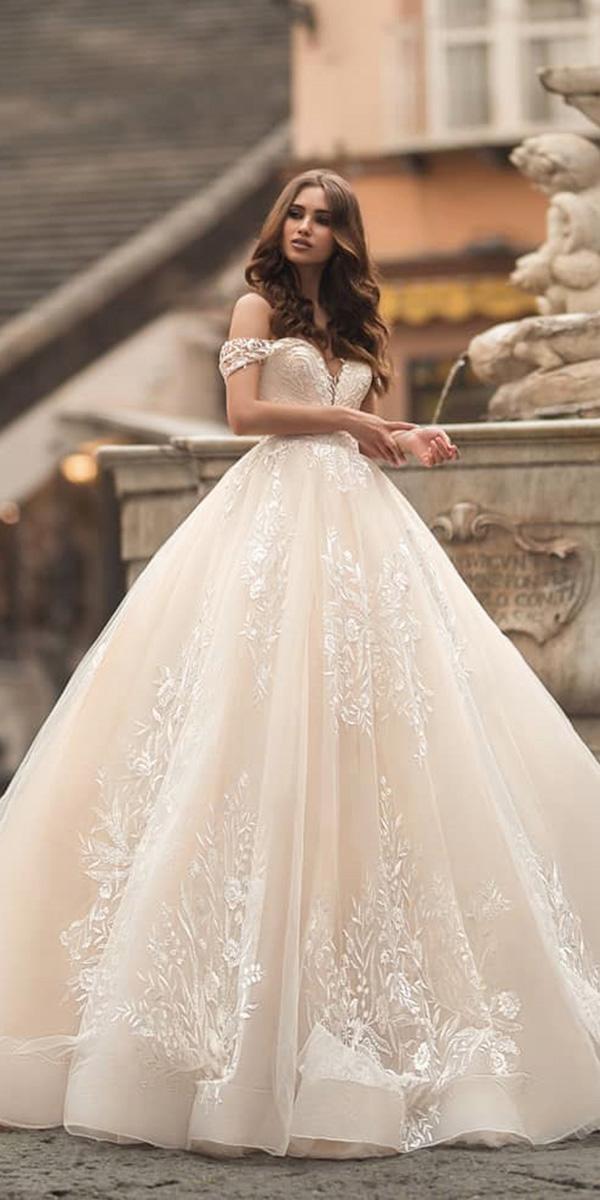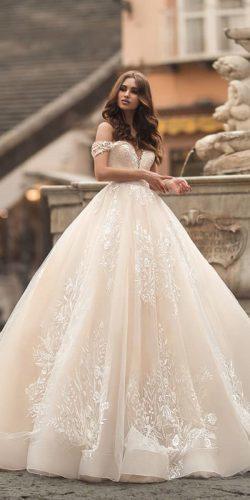 All in all, it seems like 2020 collections have two different destinations at the same time. First one is minimalism. Sophisticated simplicity and elegance of zero embellished dresses and white jumpsuits. Another one can be best described as lavish luxury: feathers, glitters, voluminous ball gowns and 3D floral embellishments. Mix all the trending features in one to get a perfect fashion show for wedding dresses 2020.