Rustic style is now at the peak of its popularity. You can definitely find it in design solutions, interior and, of course, in clothing. And wedding outfits have not been exempt from this style. Rustic wedding dresses are brimming with simplicity and naturalness, just like those charming vintage wedding dresses.
In fact, a rustic bride doesn't need any crinoline, rushes or sparkling details in her wedding attire, but a floor-length cocktail dress in pastel white, milky or beige color would be the most successful option in this case.
However, finding your very own rustic wedding dress is not that simple as it seems due to a plethora of styles featuring lace, sleeves, open back, length and accessories presented in wedding fashion. All of those little but important details you will find in our article full of rustic solutions for your big day!
Gorgeous Rustic Backless Wedding Dresses
Source: Wear Your Love via Instagram, Lisa Rutledge Photography, Rodrigo Vipych Photography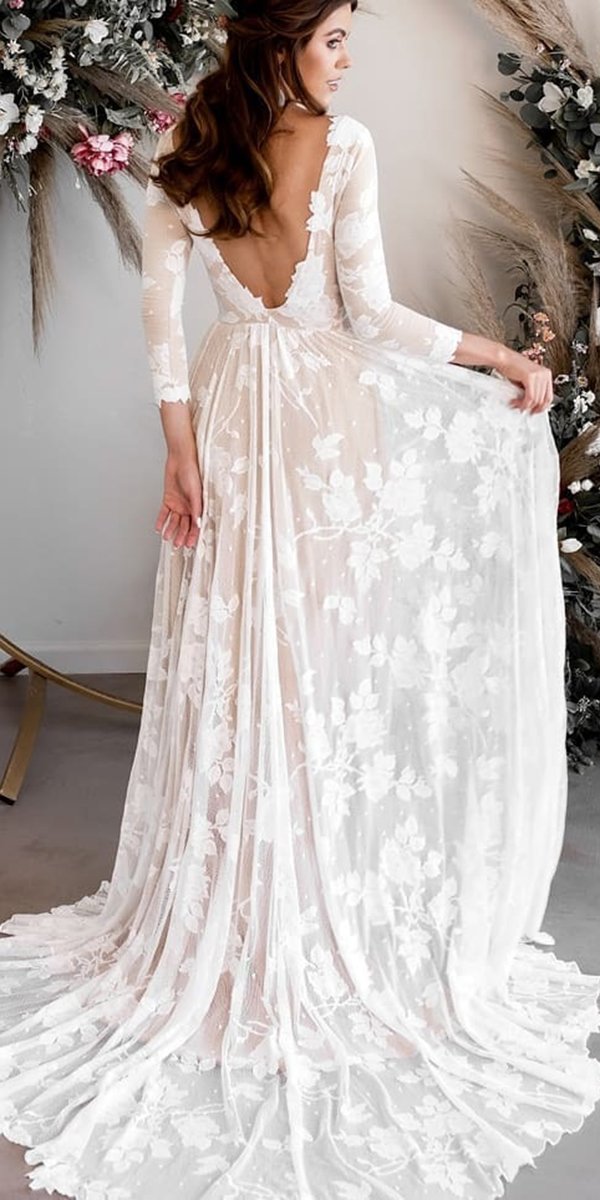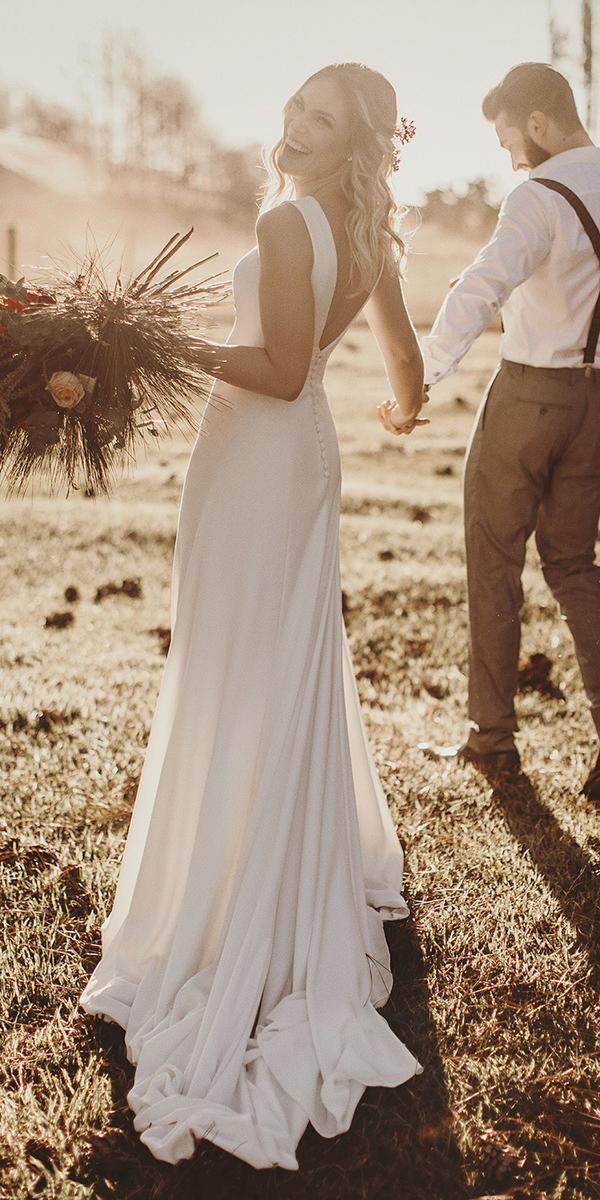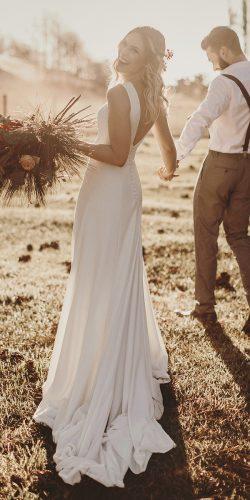 Source: Olvi's, Luke and Mallory Photography, Anna Campbell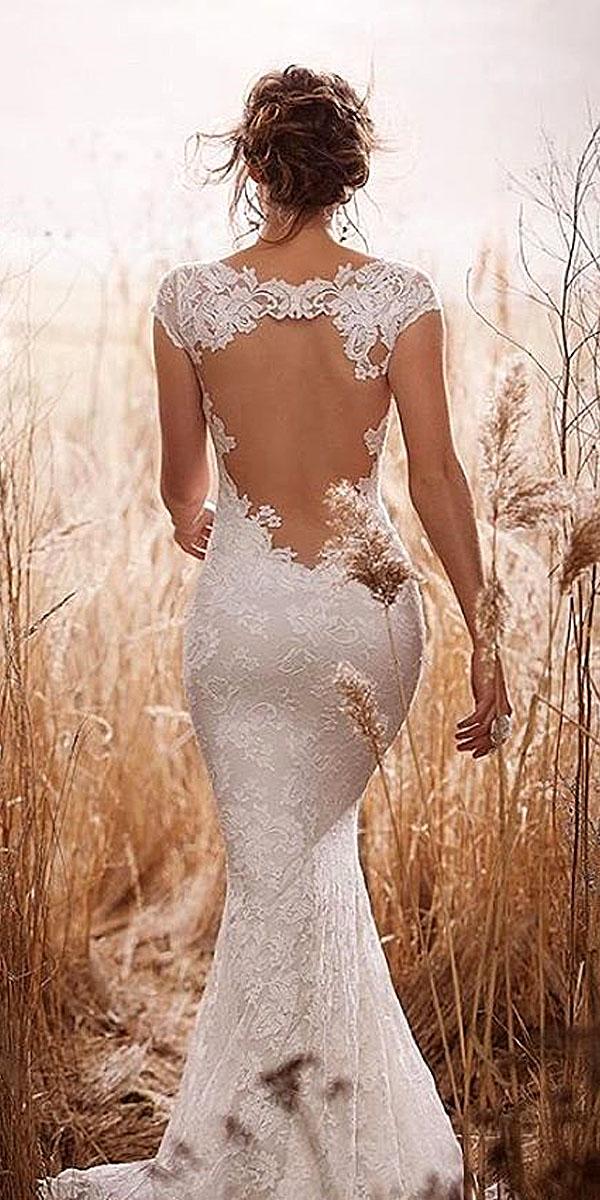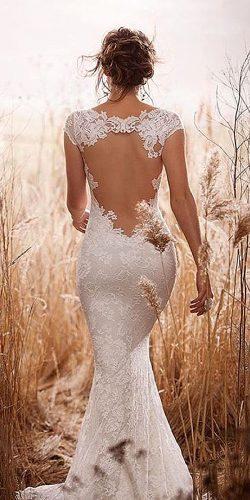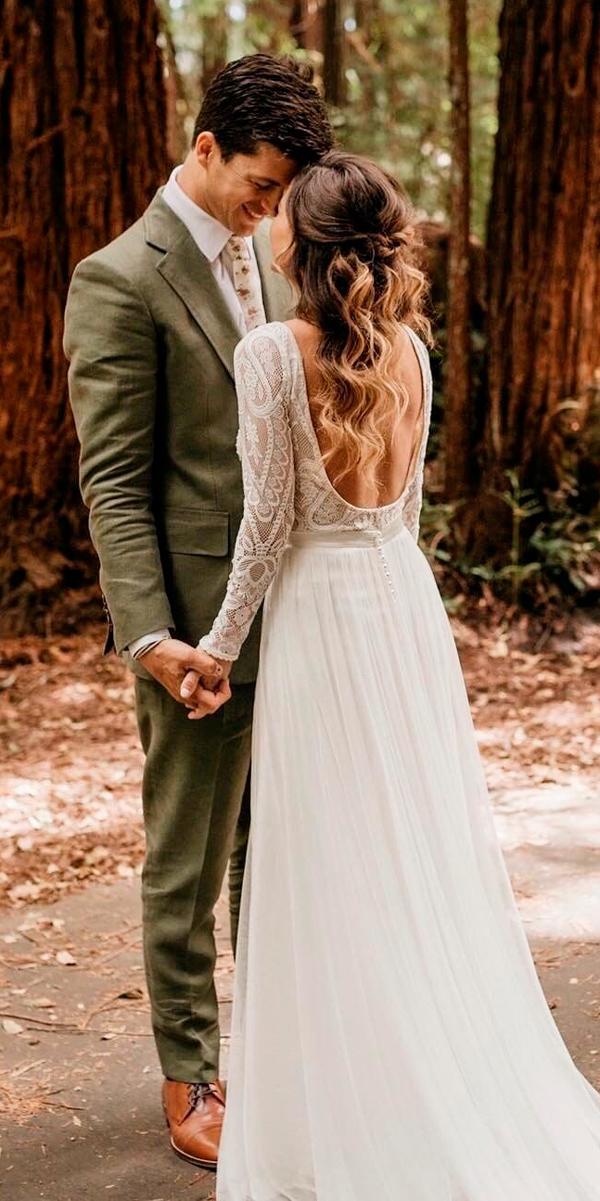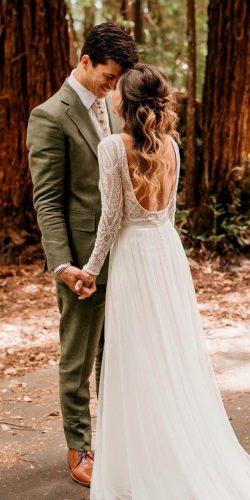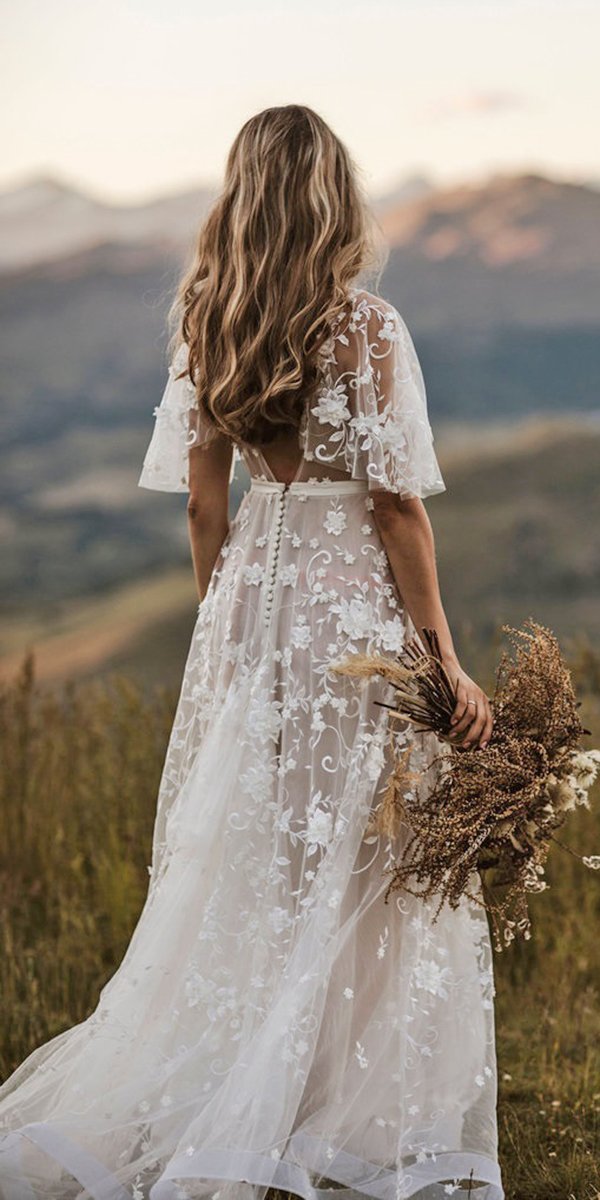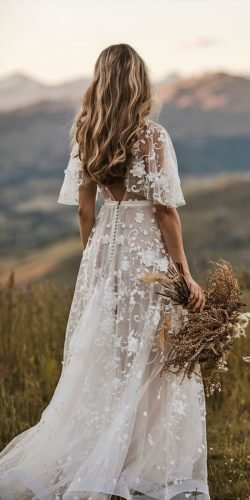 Regardless of the theme open back can be a great look, and country wedding dresses are no exception! But, be aware. The assortment of fabrics and textures means you'll have to pay particular attention to the cut of your open back. Make a wrong move, and your gown may begin to lose shape and start to droop. But, add the right touches in the right places. Check out our Pro tips below:
DON'T spoil all the backless beauty by letting your down. Consider some ponytails, buns and braids.
DO add a fashionable and elegant back necklace to complement your open back.
DON'T use a regular bra, instead go with a simple strapless bra if your back cut is too low or choose a popular sticky bra giving that natural look and feel.
DO wear a backless gown if only you have toned and clear skin. Thus, prepare yourself by proper moisturizing and exfoliating of your body in advance.
DON'T buy backless wedding gown without testing it before. Try sitting down, bending and walking to prevent any gapes when you sit down.
DO work out! Backless bridal gown requires toned back muscles, thus start your fitness journey as early as possible to improve any back flabs if needed.
Long Sleeves Wedding Dresses
Source: Bliss Tulle, Daalarna Couture, Rue De Seine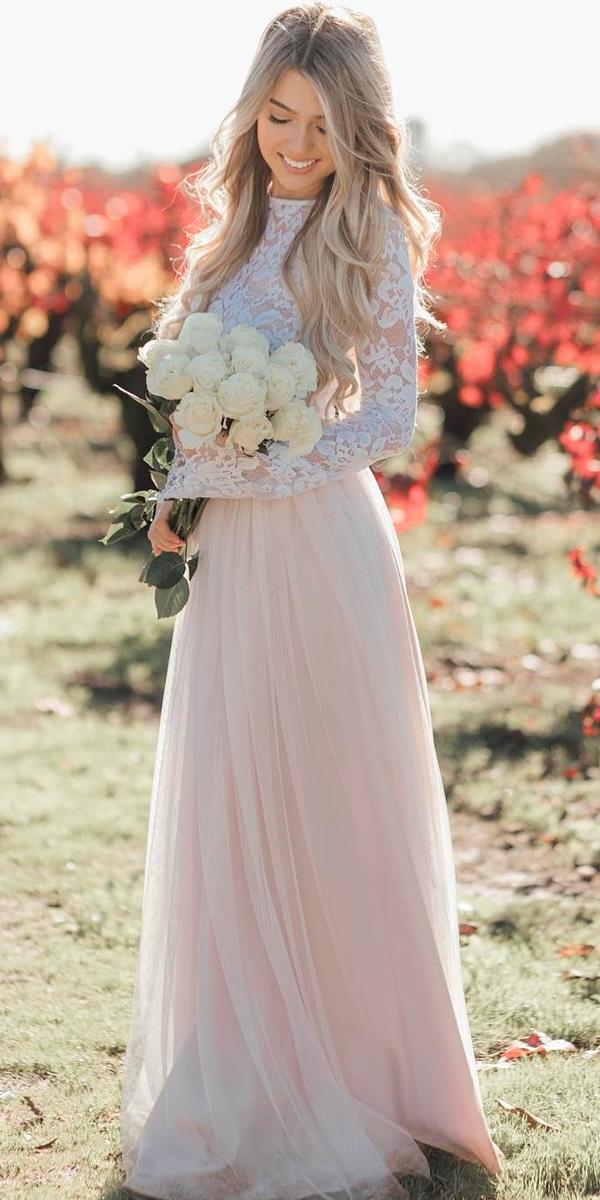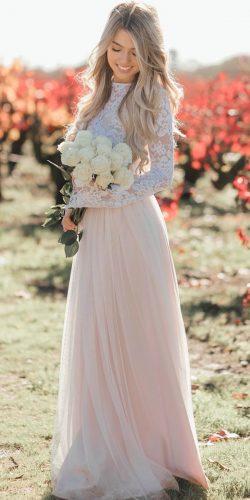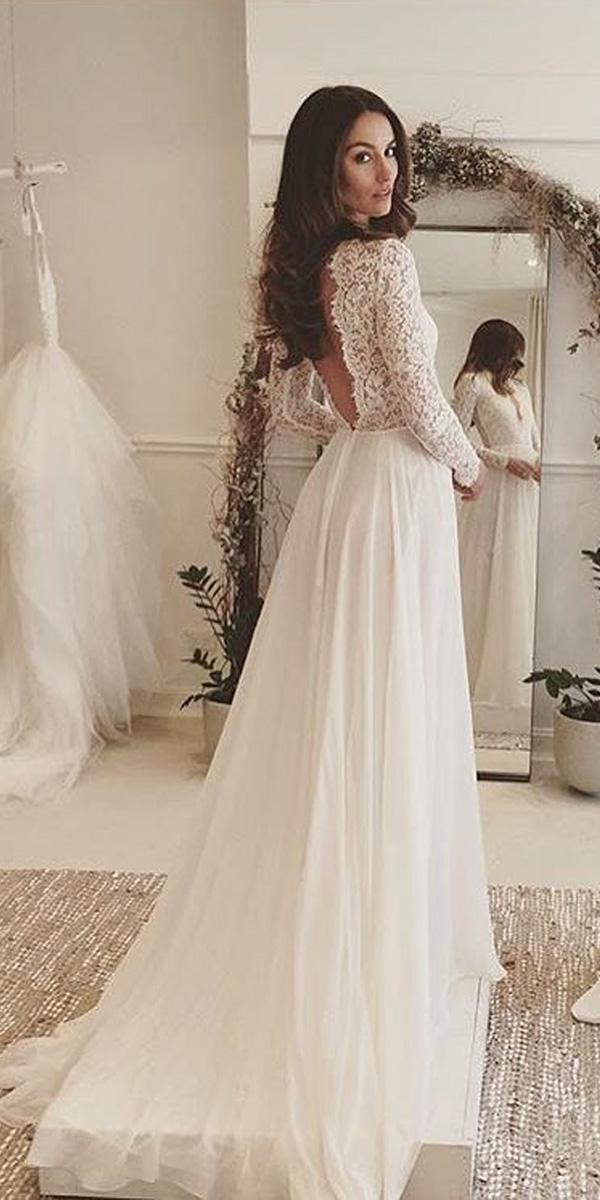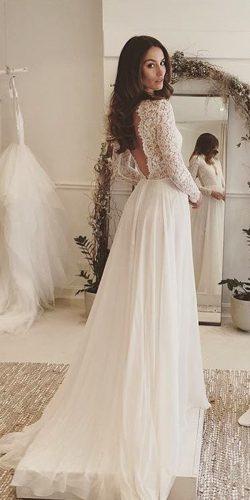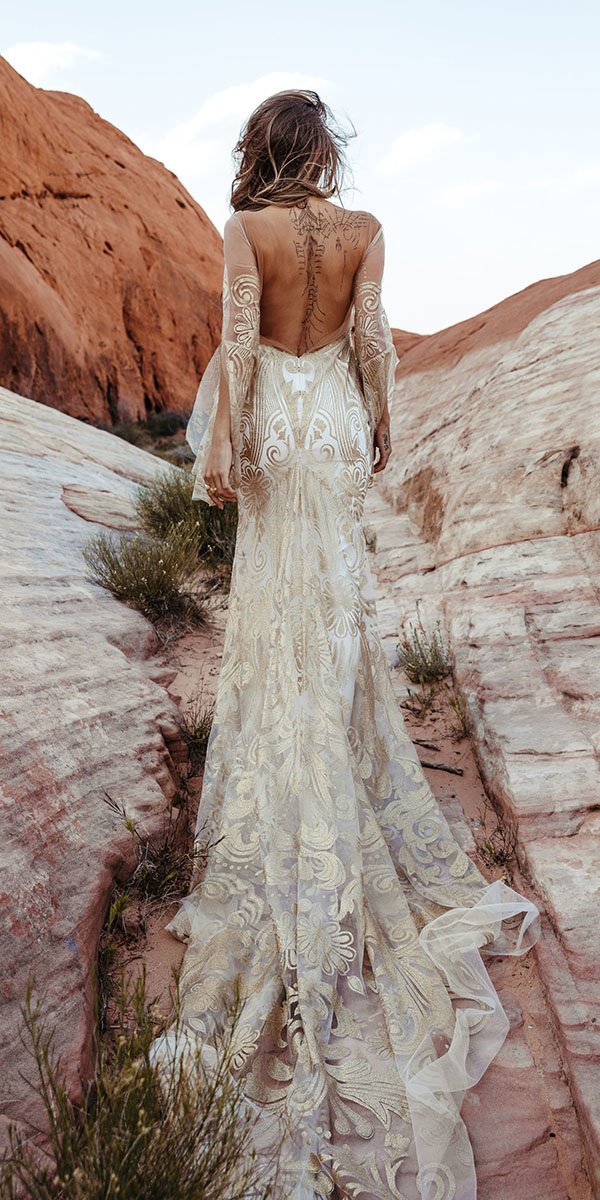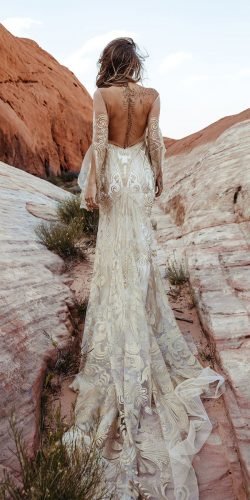 Source: Wona Bridal, Alex Veil, Wear Your Love via Instagram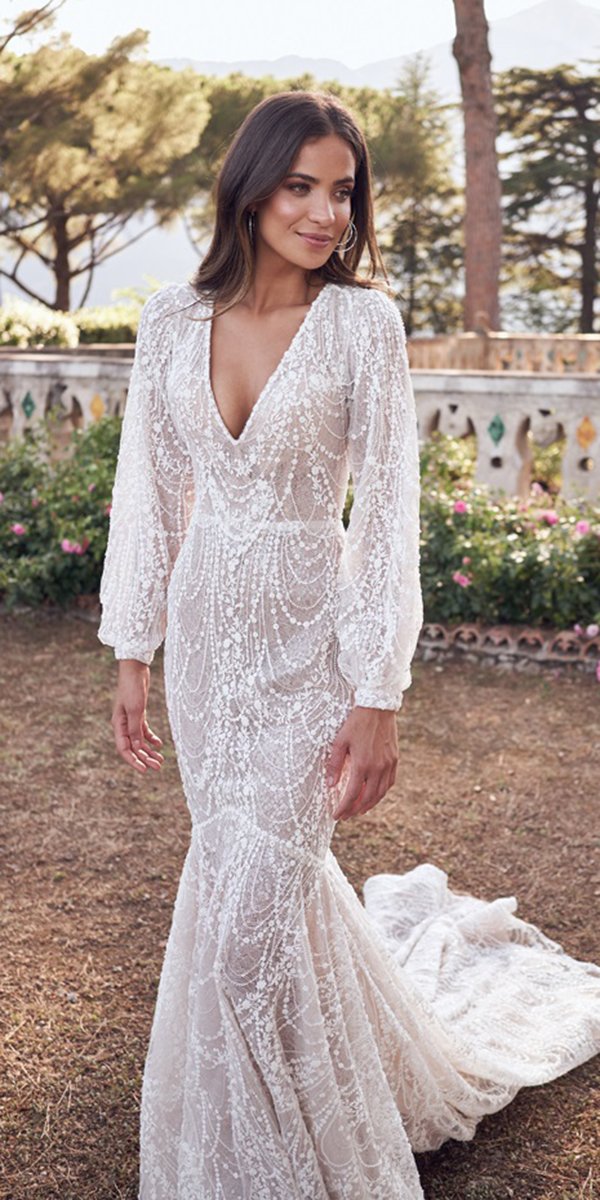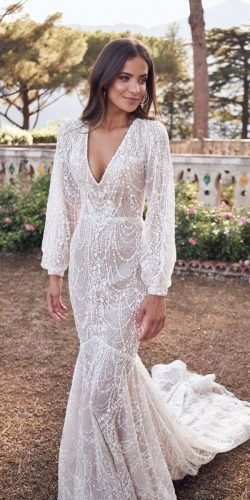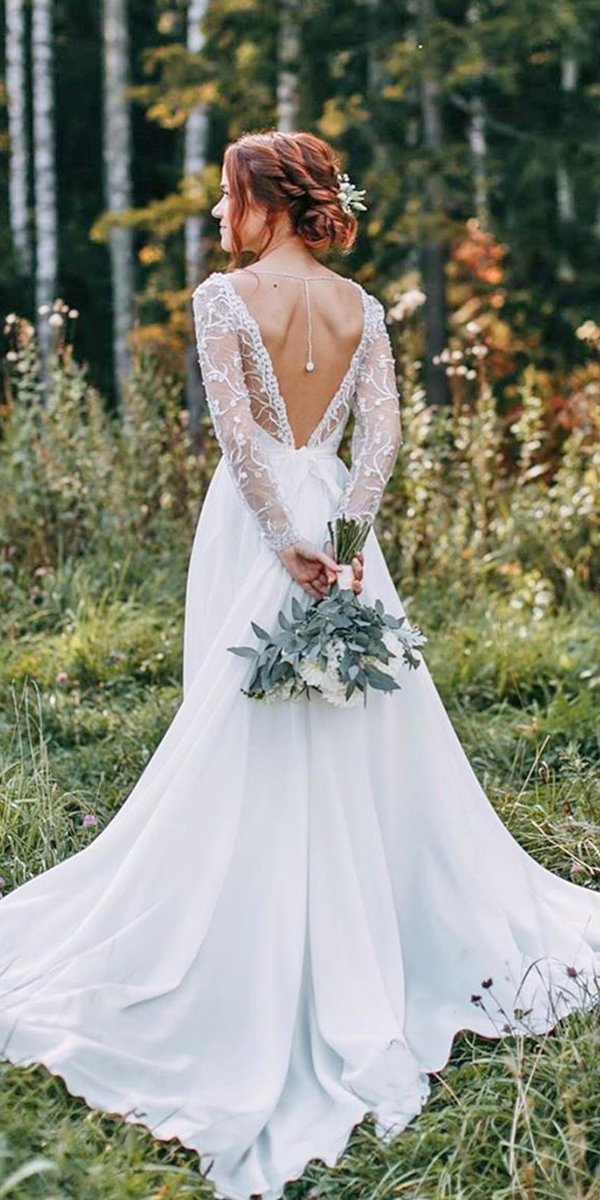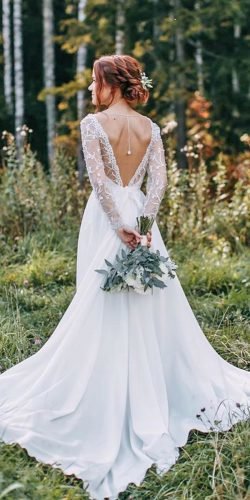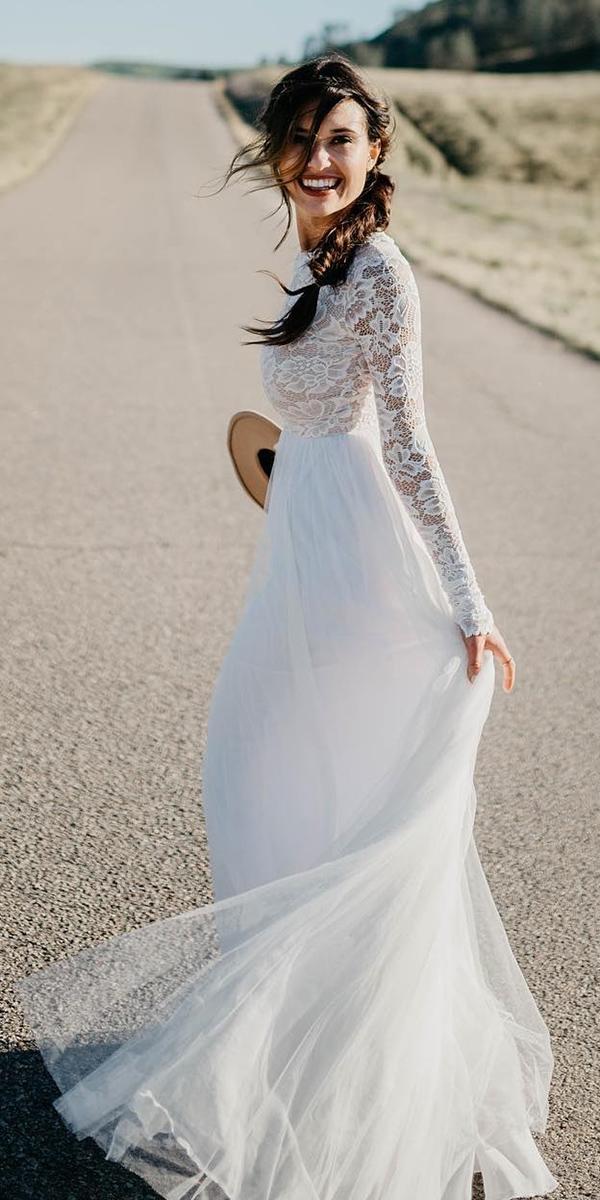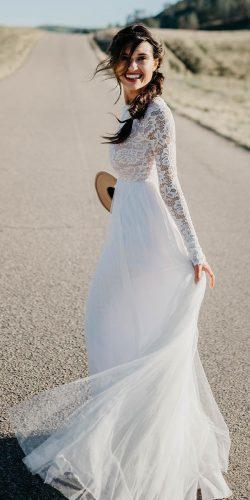 A modern rustic wedding has a common theme to the look and feel of the gown. The look itself supposes a minimalist approach featuring flowing accents – usually lace, ruches, or fringes. Denim isn't usually fit for a bride, but expect to see enough of it on the dance floor.
The first rule, with rustic or any other theme, don't make the decision on your own. You're bound to see and try on a million dresses which can muddy your opinion, and it's simply impossible to see yourself from every angle. A second opinion will help you be certain that you've made the right choice. The last thing you want is to second guess your gown just before your walk down the aisle. A trusted advisor will keep you on the straight and narrow.
The second rule for the best gowns and rustic bridesmaid dresses is to dress for the occasion.
All of the dresses involved must be multifunctional. The primary concern is how you'll float down the aisle and how your wedding photo album will turn out. But, your guests aren't there to stare at you. They are there to celebrate who you are to them, your new family, and your future. That means dancing! Your gown needs to anticipate all of the action of the night, and look good through each step. This style handles it all.
Before you choose a cut, it's wise to decide on a sleeve length. Rustic weddings are equally perfect both indoors and outdoors. Or, we hope you prefer in a country barn which is a little bit of both. Between the ceremony and reception, you could be dealing with both days a night time. Country weather tends to cool off a lot quicker once the sun goes down. Consider all of this and what you'll be doing at certain times of day when you're deciding on your rustic outdoor wedding dresses and potential alternative wardrobe for the reception. This is when layers come in handy. Wearing some leather or denim over a traditional gown keeps the jaws dropping and allows you to be flexible throughout the festivities.
The sleeves we're showing offer up the perfect example of elegance synced with the telltale fringes of rustic chic wedding dresses. Pay particular attention to the weight of the fabric. Some are warmer than they seem, and some are surprisingly light. You absolutely want to look your best, and comfort goes hand in hand with (the forever beautiful) confidence.
Beautiful Rustic Wedding Dresses
Source: Val Stefani, Kookla, Grace Love Lace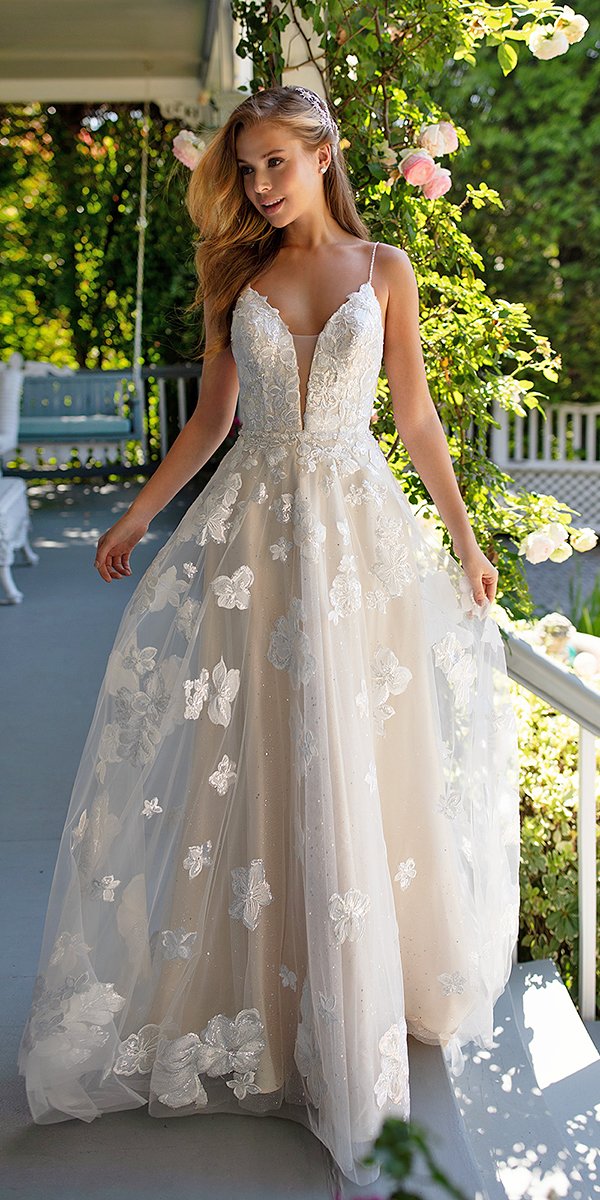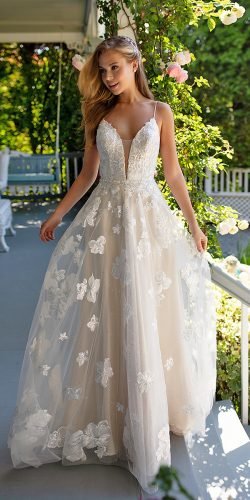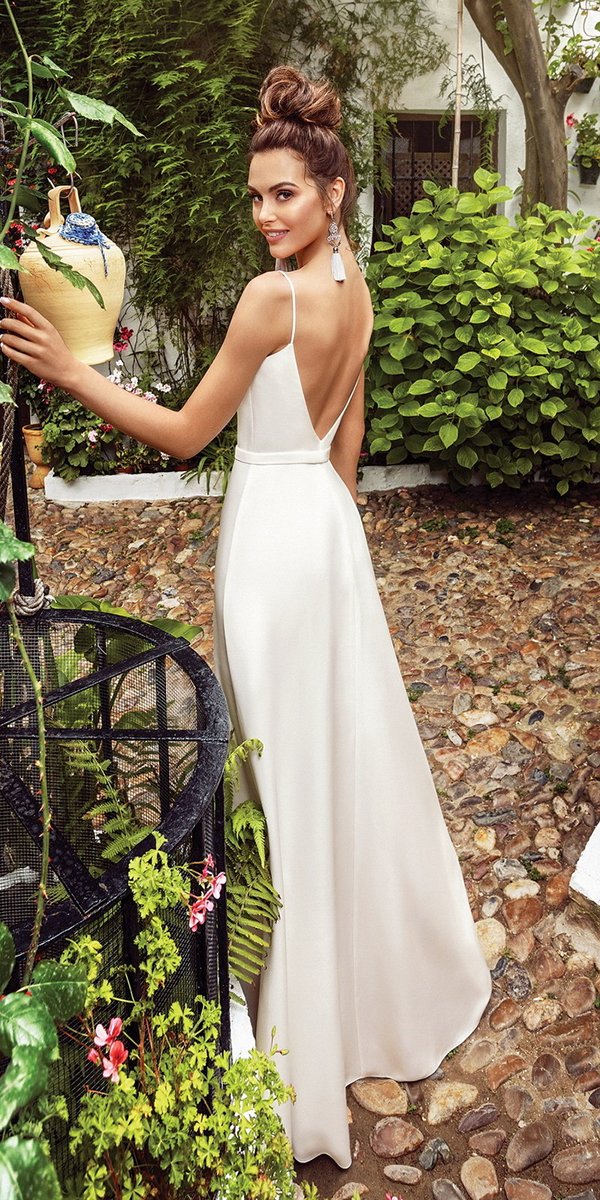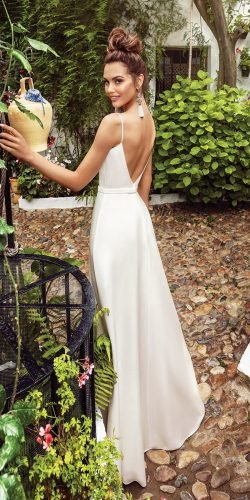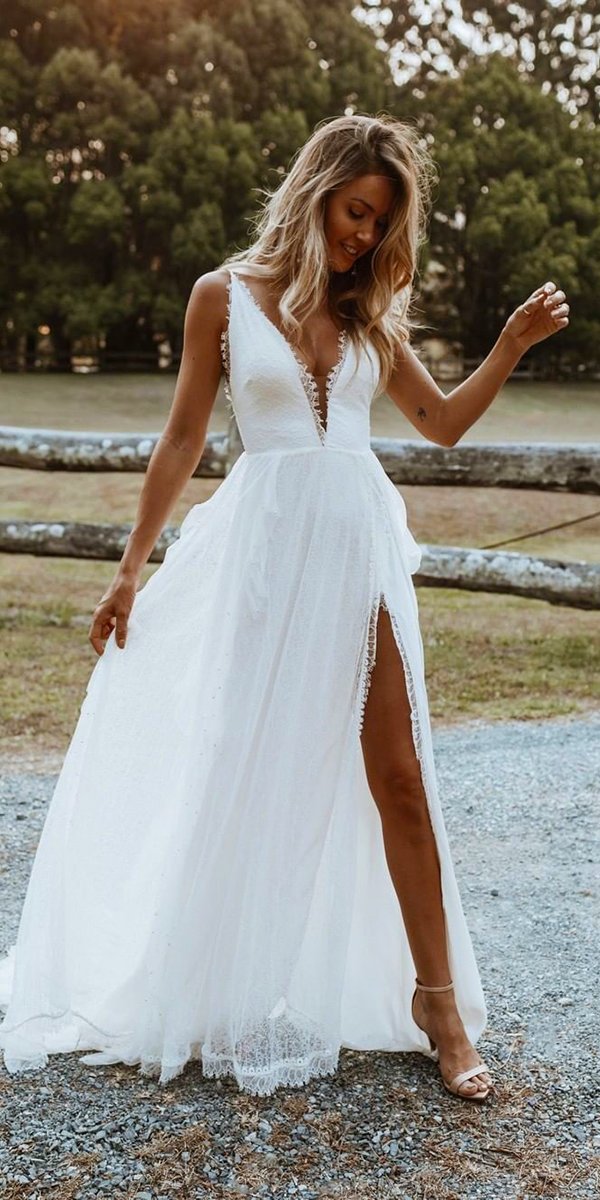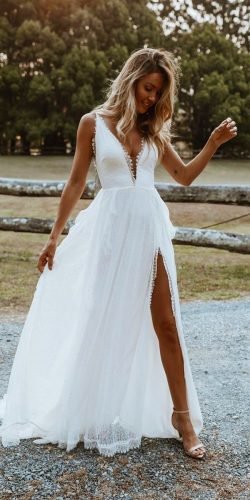 Source: Madi Lane, Dreamers and Lovers, Galia Lahav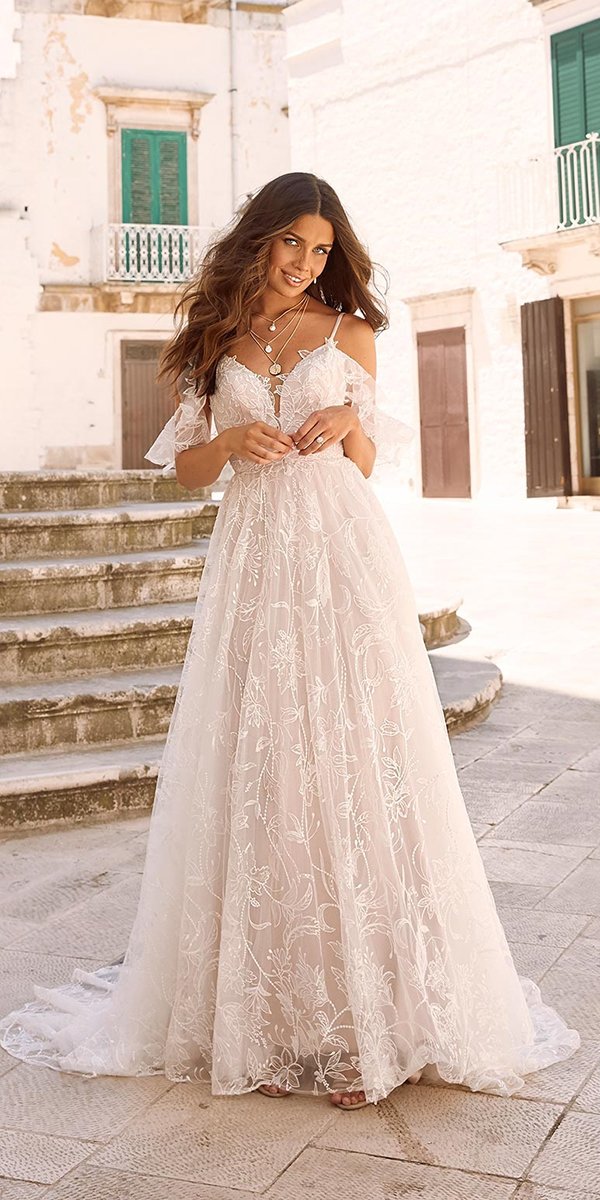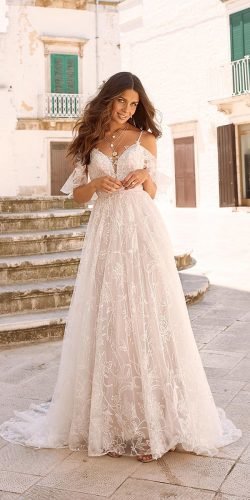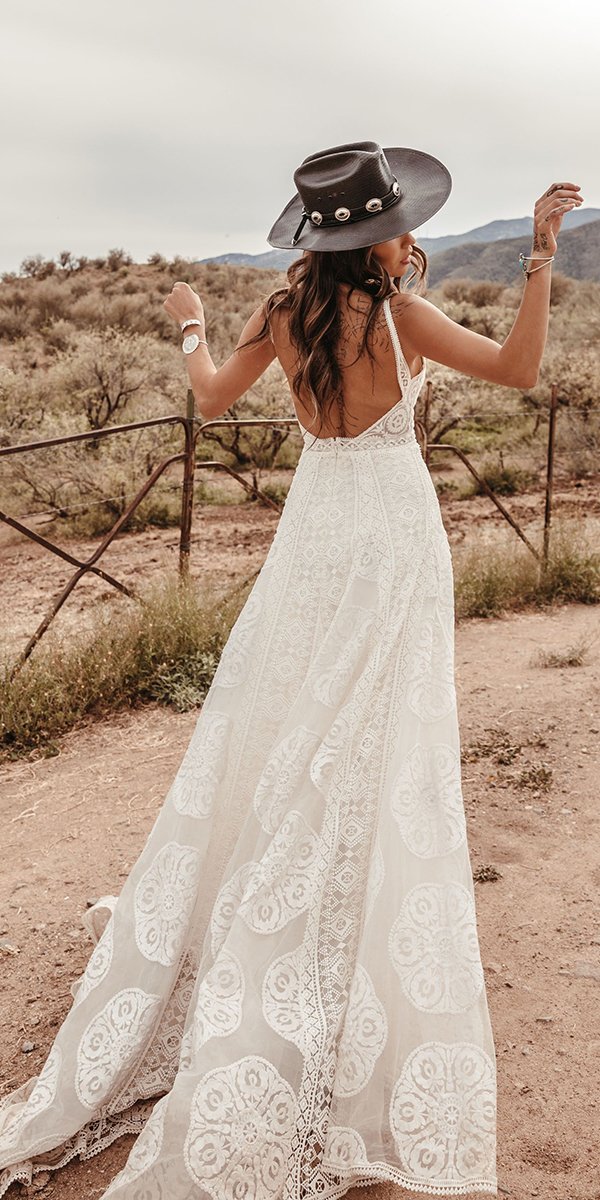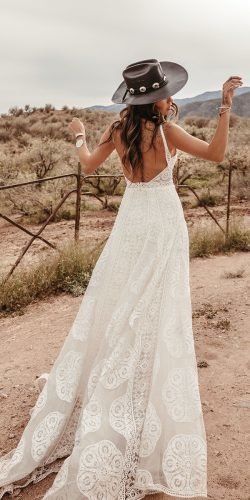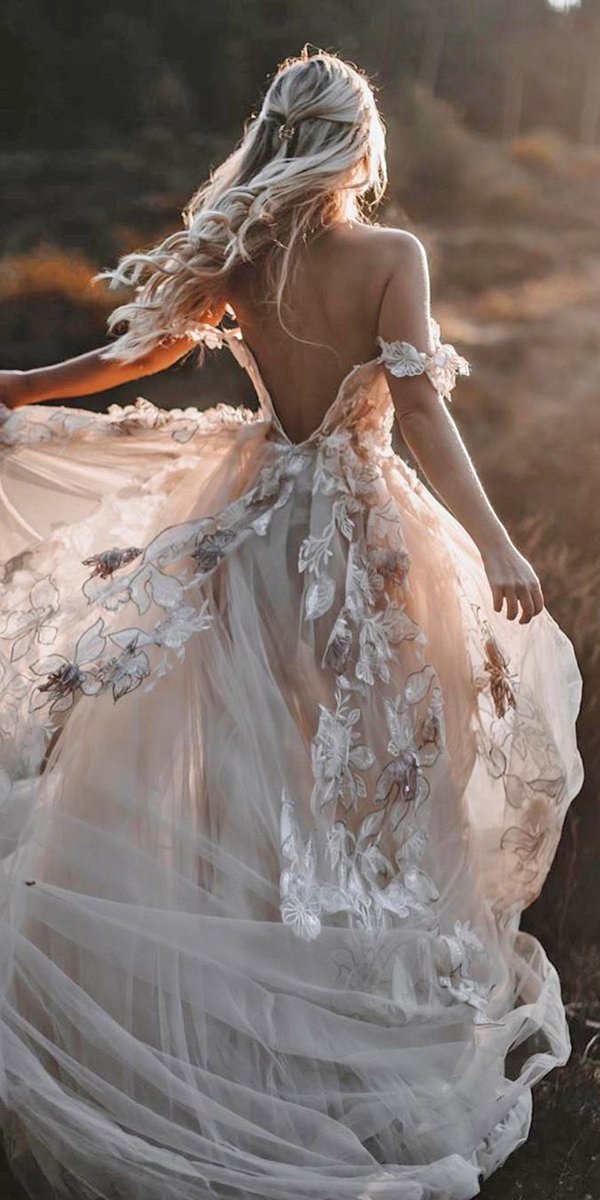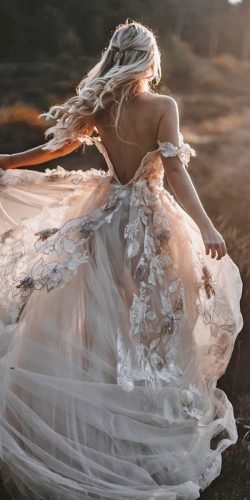 Arguably, the best part of a rustic wedding is the accessories. Who wouldn't go crazy over the wooden earrings, bracelets, necklaces, bolo neckties, and – of course – the cowboy boots and hat!?
All of these are a match between heaven and your perfect barnyard wedding dresses. And, all of these are well and good for the bride but more so for the bridesmaids. To pair accessories with the perfect rustic lace wedding dresses, think simple and delicate.
Hair accessories need to be simple (not too ornate or diamond encrusted) and nature-inspired. But don't feel as if you have to "dress-down" to pull off the perfect rustic wedding. In fact, to reach perfection you'll have to be conscious of the delicate balancing act between the beautiful bride and the character of her surroundings. When in doubt, a simple rustic wedding dress is always a surefire hit.
The texture of the lace and fringes allow you to visually balance a wider range of hair accessories and earrings than usual. Take advantage of this and be a little daring. Maybe a little larger than you would have expected, or maybe a little more ornate. As you select all of your accessories, keep the Goldilocks rule in mind. You need something just between natural and grandiose.
The family is essential to the country living lifestyle which makes a rustic vintage wedding dress a very attractive option. As you keep the look in mind, remember to keep the meaning/theme in mind as well. Rustic weddings have a certain way of being really approachable and accessible. This should be part of your decision-making process.
Lace Rustic Wedding Dresses
Source: Oved Cohen, Allure Bridals, Beccy Smith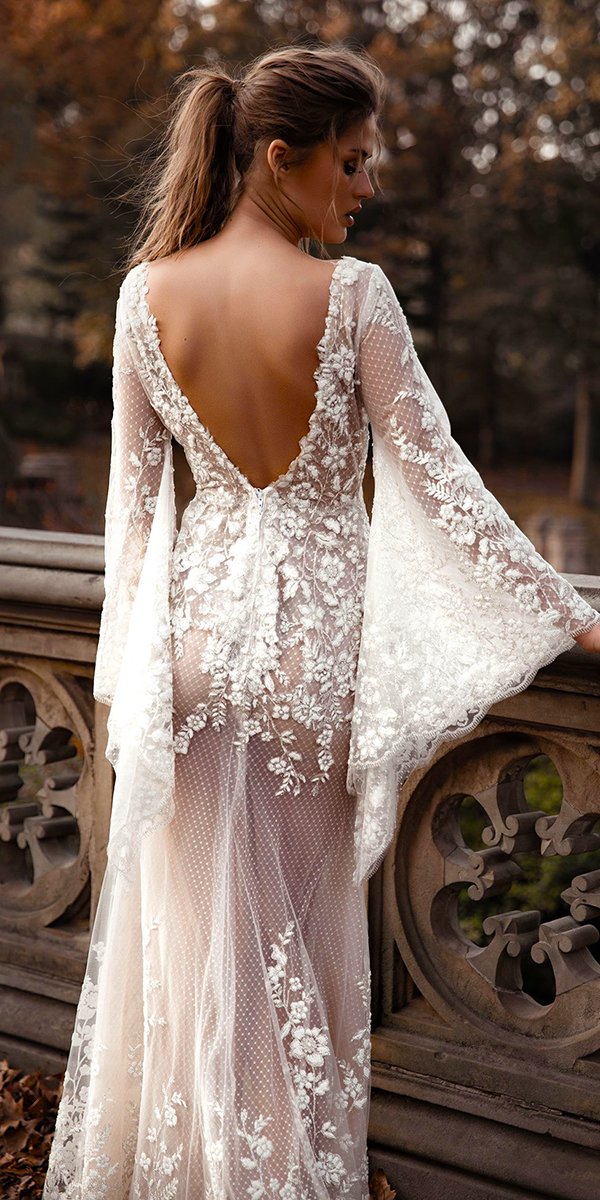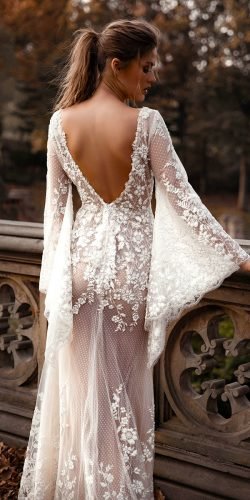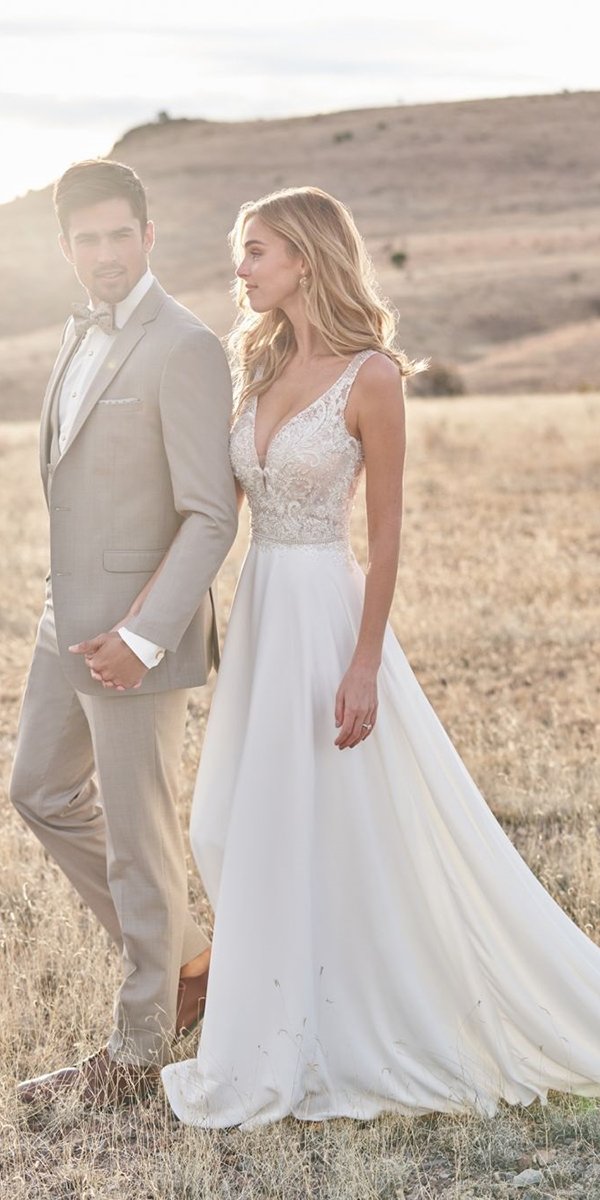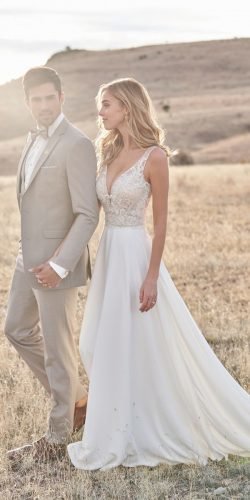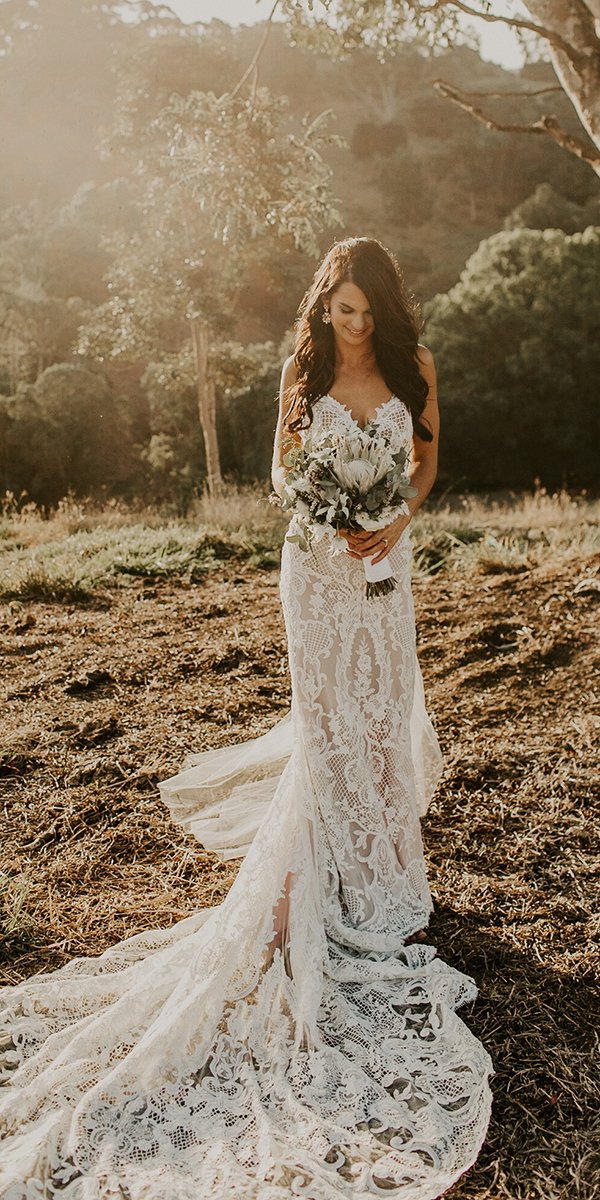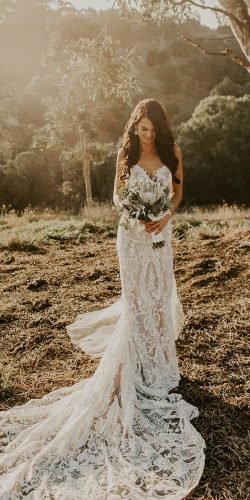 Source: Galia Lahav, Grace Love Lace, Vagabond Bridal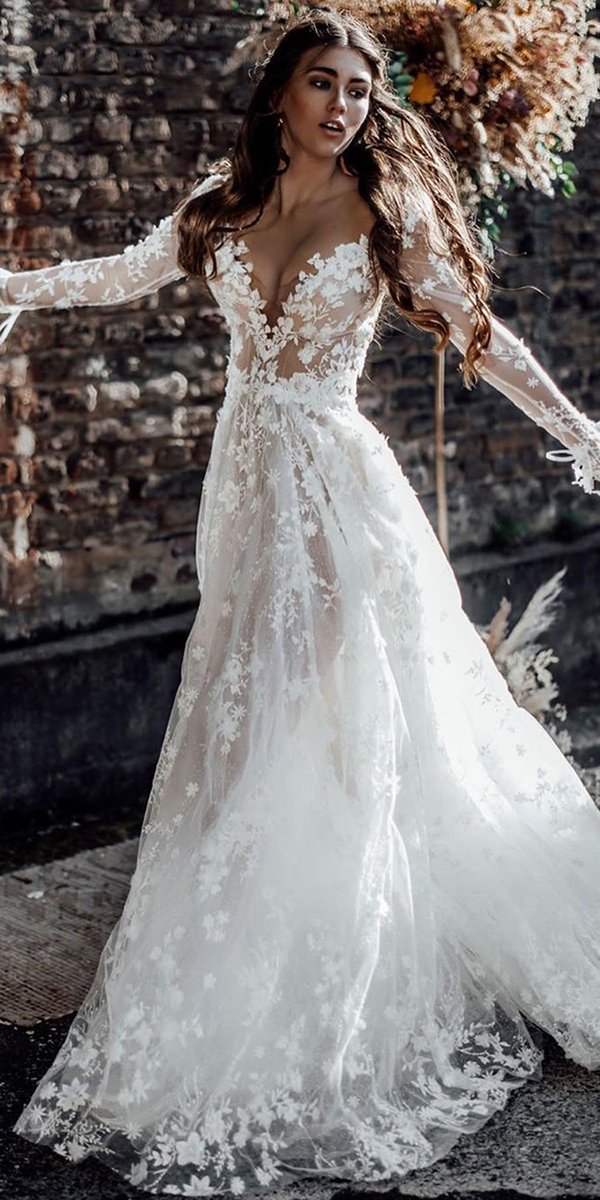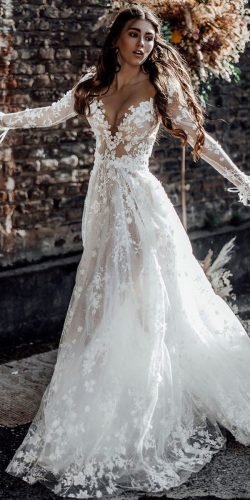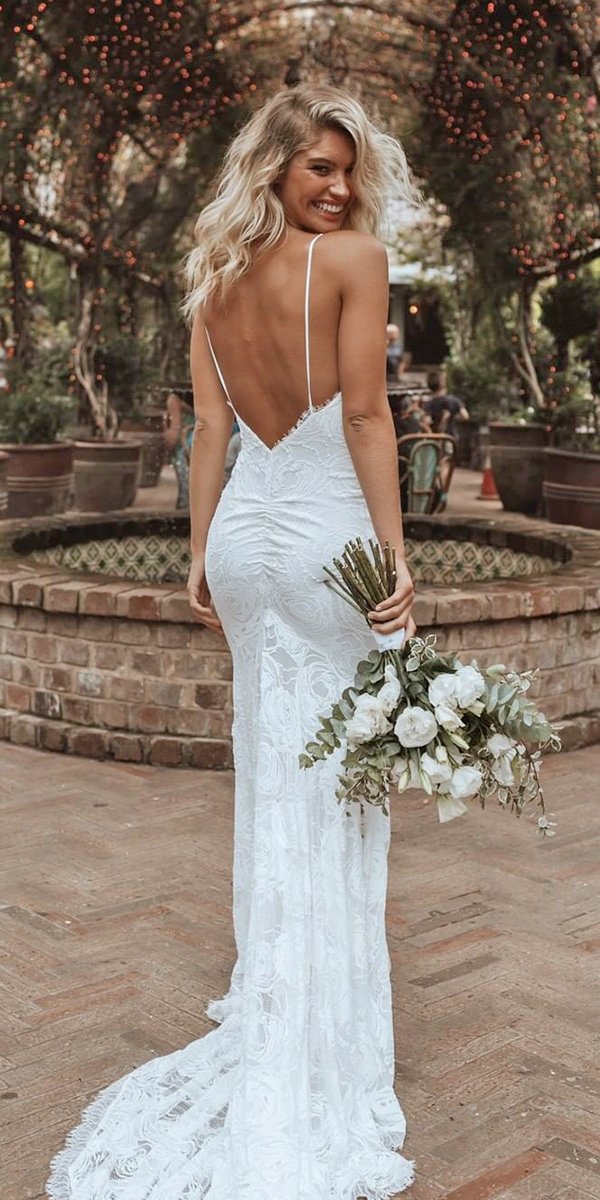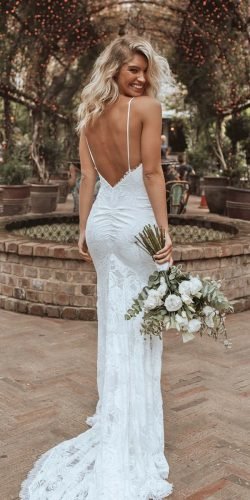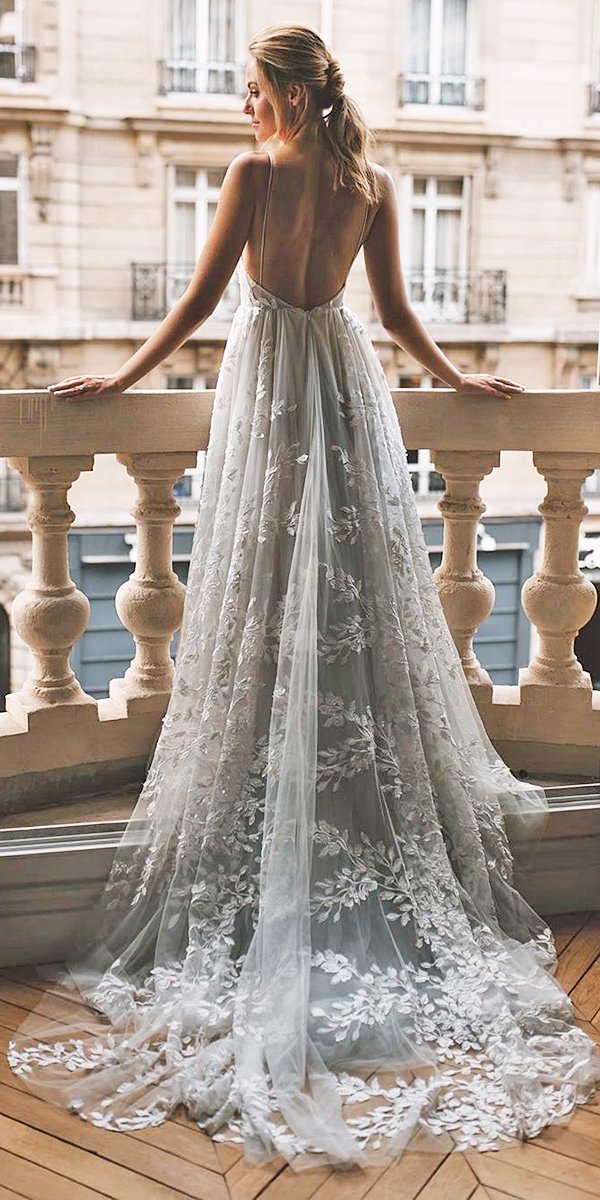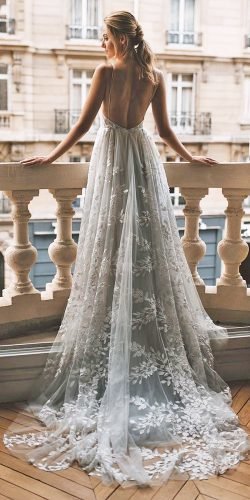 Rustic just wouldn't be rustic without a little (or a lot!) of lace. Now that you know your sleeve type, your cut, and your accessories, it's time to choose your fabric! To do that, you'll need a rundown of all the lovely lace options.
Knit, guipure, embroidered, chantilly, brocade, and eyelet are all different types of laces that you'll want to get familiar with. Each has a distinct look, process of creation, and history. Because of this, each style will add different characteristics to the ensemble.
Using a little lace to enhance a bridesmaid dress is a wonderful idea. Pair these lace dresses with boots to tie the look together. If you don't want to go full country there's no need to include the hat. A sweet dress and authentic set of boots are more than enough to capture that rustic charm.
Stunning Barn Wedding Dresses
Source: Made With Love, Made With Love, Mikaella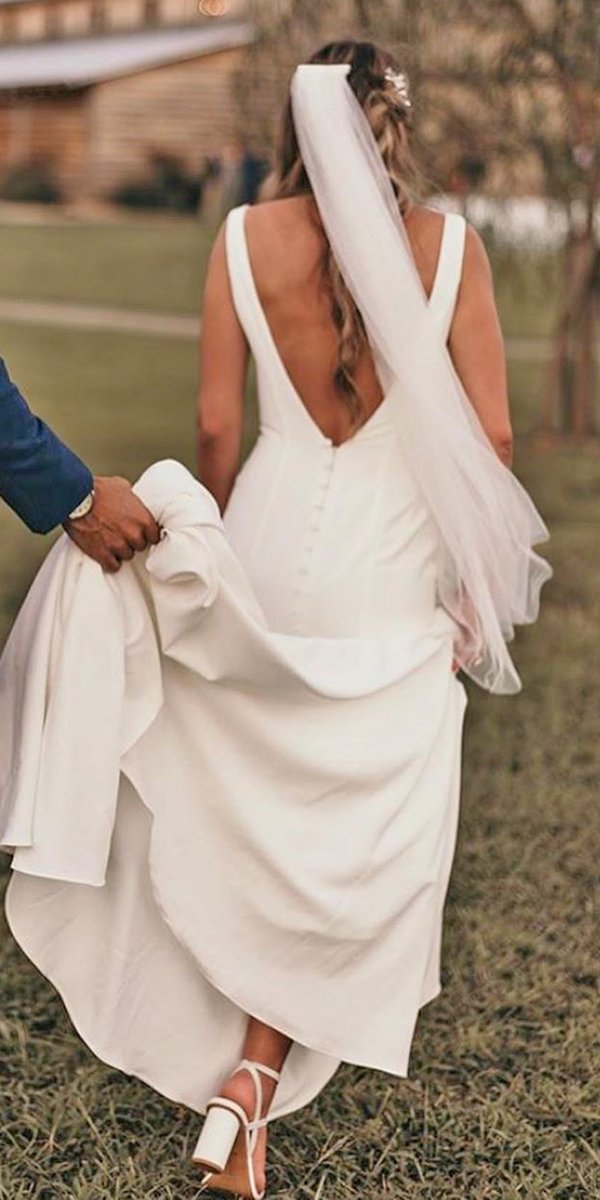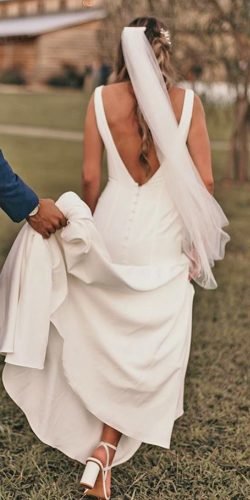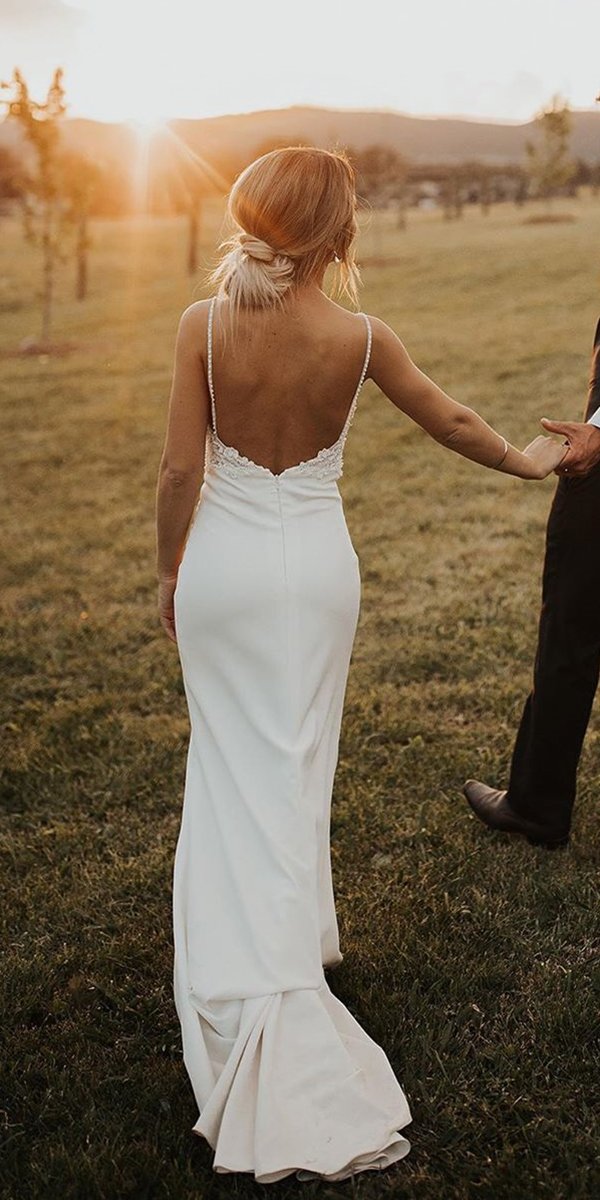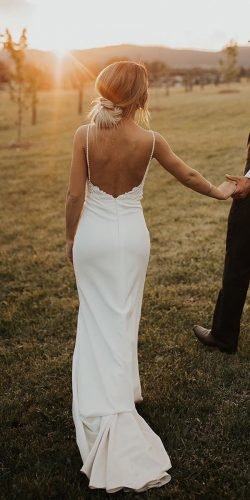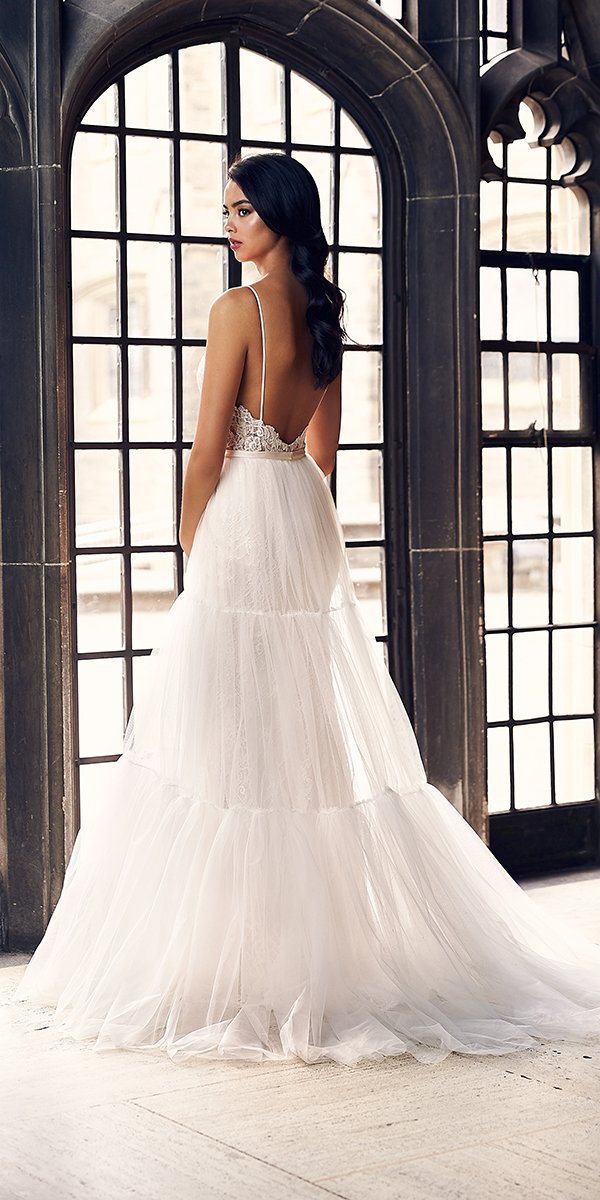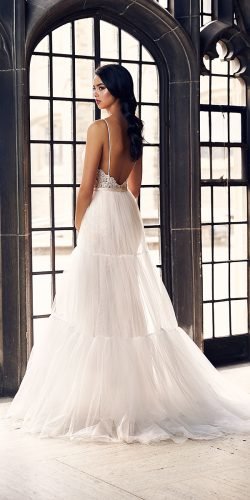 Source: Made With Love, Grace Love Lace, Allure Bridals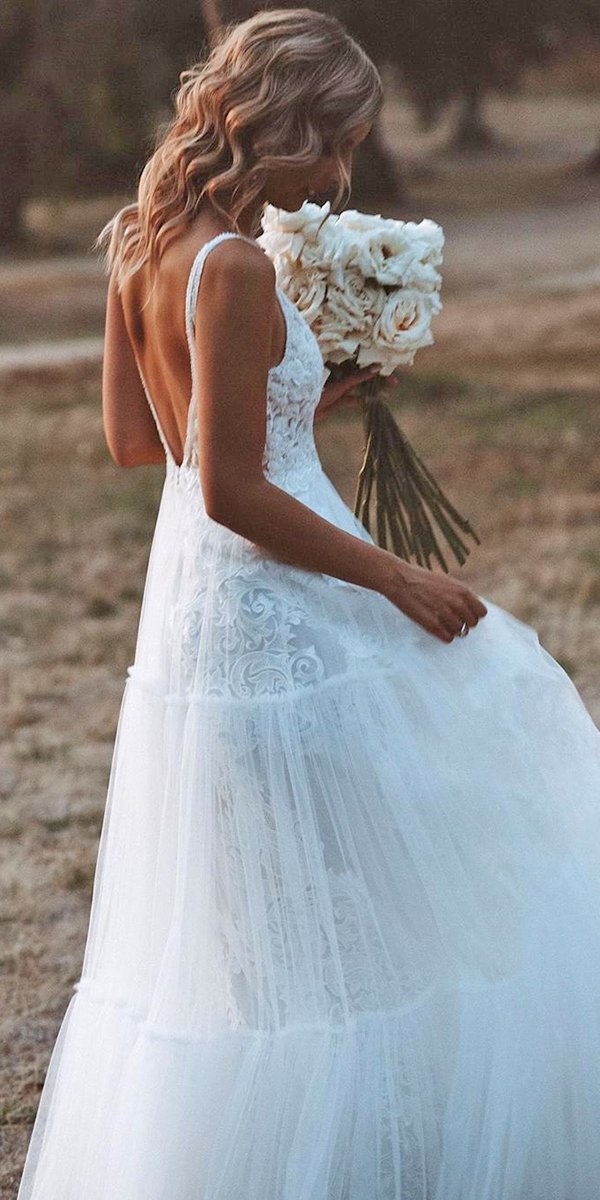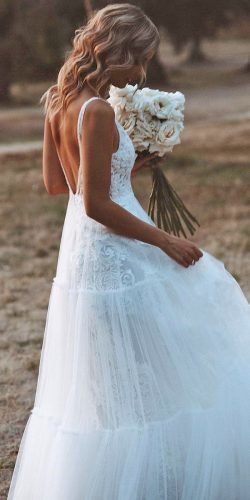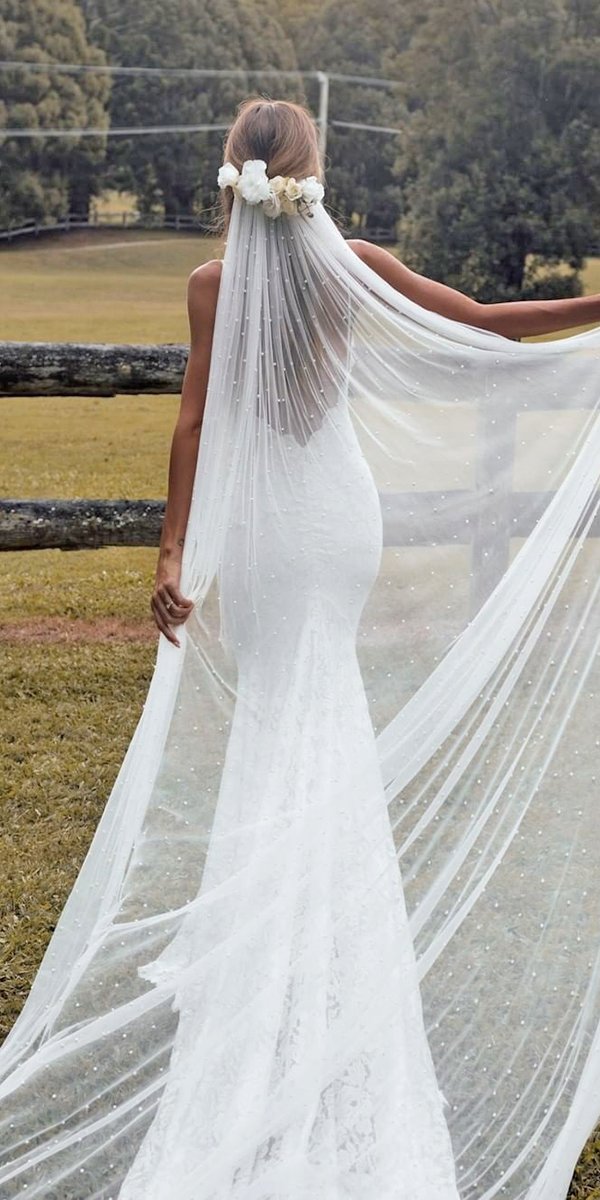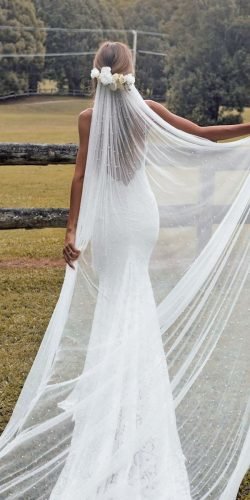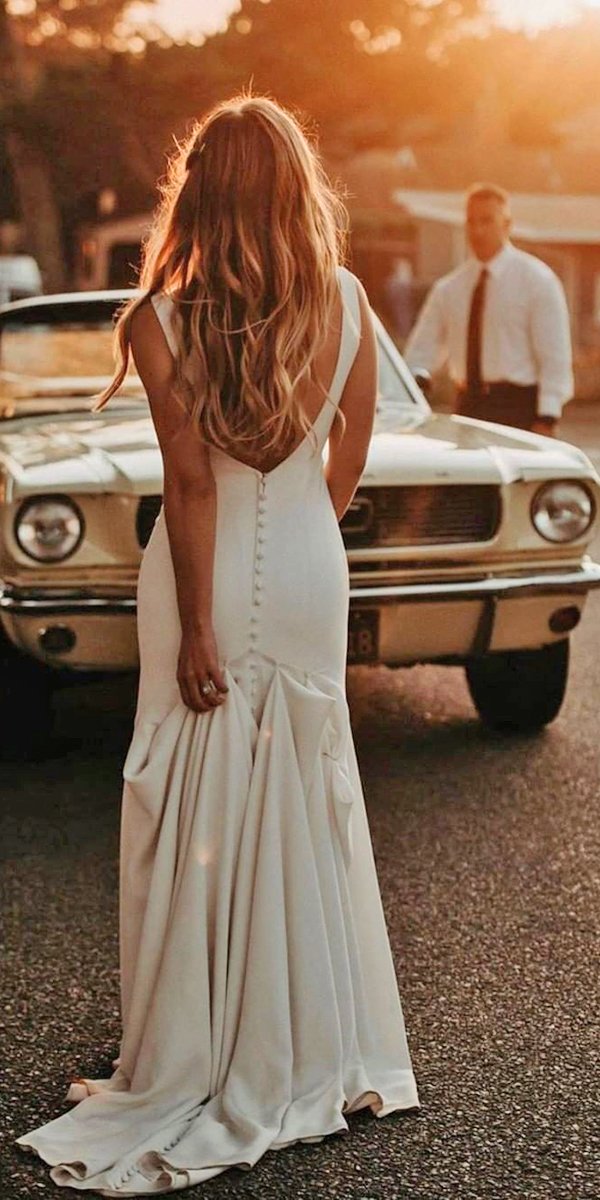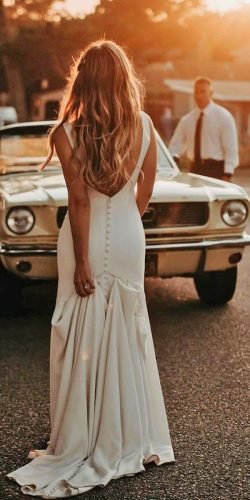 Perhaps the best reason to opt for a rustic theme is your opportunity to get hitched in a barn! The juxtaposition of beautiful western wedding dresses and the decor of a lovingly adorned barn create simply stunning photos.
Another benefit to the rustic theme is the cost. Everything is supposed to look natural. Cheap rustic wedding dresses can save you tons of money while looking and feeling absolutely perfect alongside your 'rough around the edges' DIY decor.
The last thing to consider when putting your entire look together is the lighting. You'll be inside, you'll be outside, you'll be under a dark sky peppered with hundreds of little lights. Test your dress, shoes, hair, and accessories under different lighting conditions prior to making any commitments. This is why you brought your friend along!
Not to fret, all the trouble is worth it. As long as you make sure that your photographer applies these transitions, you'll wind up with a perfect wedding album bursting with smiling wedding party and guests.
Pretty Rustic Bridal Gowns
Source: Asaf Dadush, Galia Lahav, Lovers Society