Choosing wedding shoes can just be as important as choosing your wedding dress. Style and comfort are the core words that come to mind when thinking about this important pair. However, comfort does not often go with style; this is why finding the perfect pair might take some time and strategy. The ongoing year of 2019 promotes the rule "No rules" offering very diverse and progressive trends for brides such as comfy flats, classy shoes embedded with snazzy decorations, interesting lace-up models and many others up-to-date examples we've provided for you in our material below.
Best Wedding Shoes To Choose
Source: Madeline Jane Photograthy, Bella Belle Shoes, Anna Campbell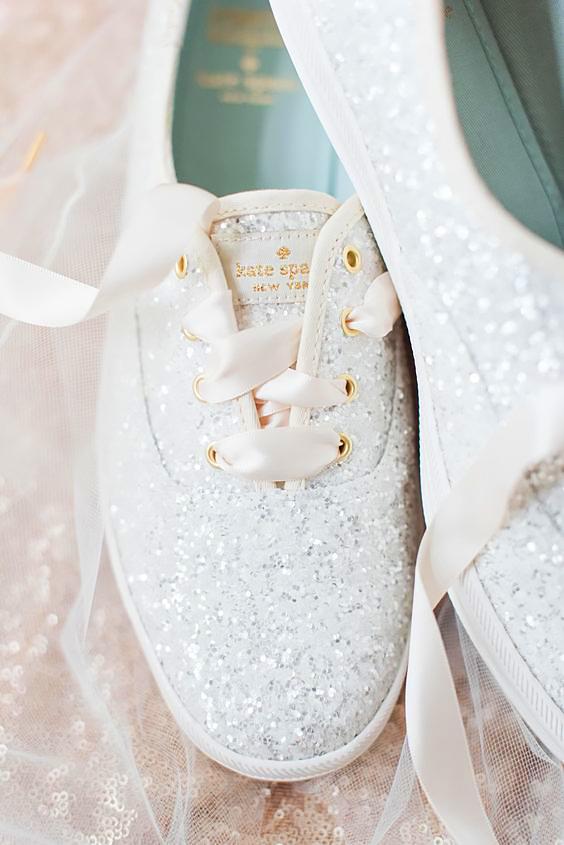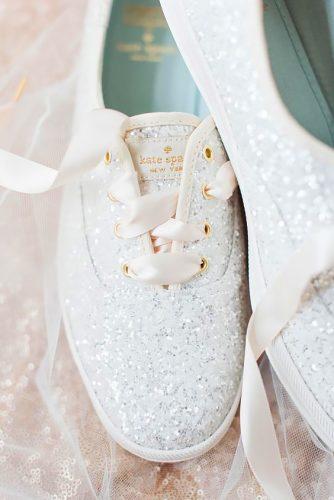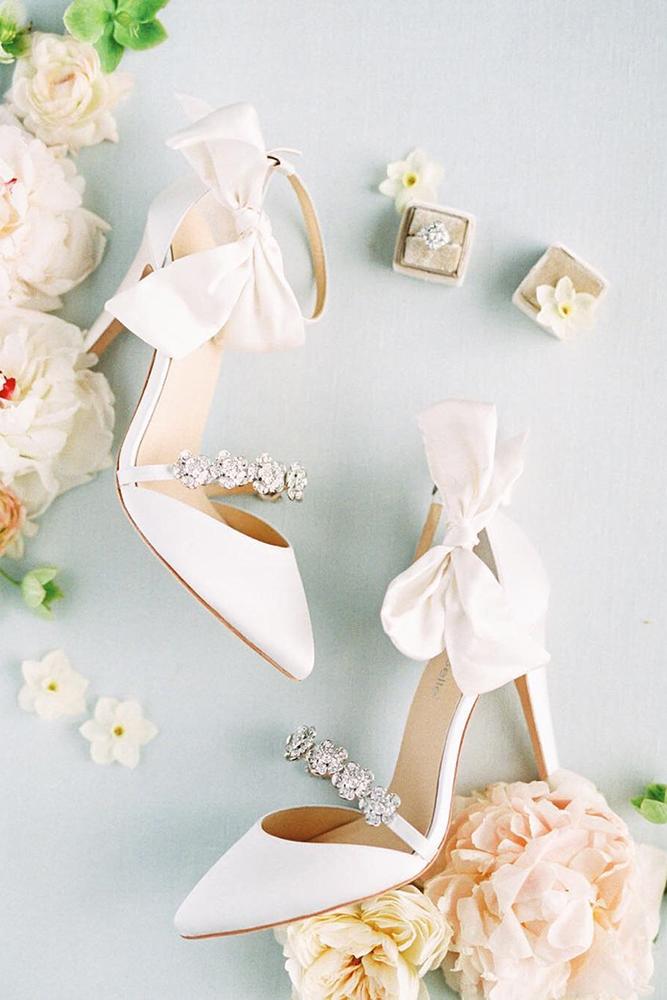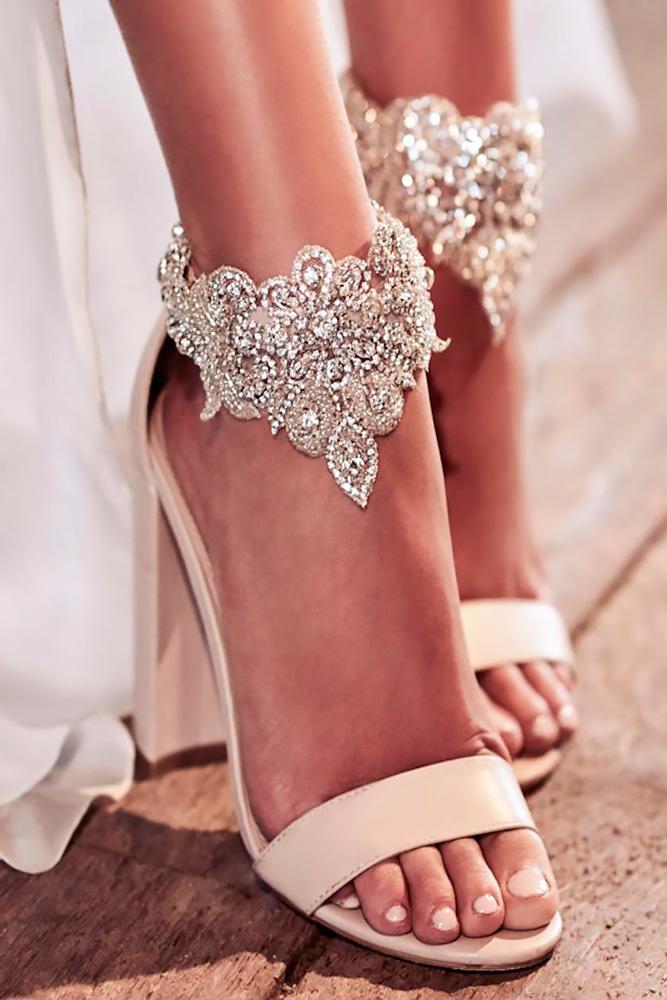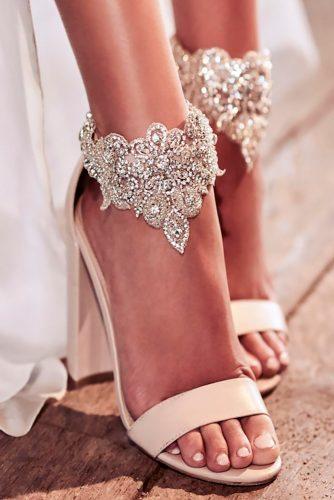 Every bride wants the cutest wedding shoes for that one special day. However, the choice of shoes is often determined by many factors. The preference of the bride, the style of her gown, the location of the wedding and sometimes even the theme of the wedding. Thus, we've developed a compilation of questions every bride should ask herself when picking up shoes for a wedding. By answering them, you'll find your very own wedding pair!
Should I choose my wedding shoes before or after the dress? It is usually best to choose your shoes after you have found your wedding dress. This is because the dress will contribute to determining the type of shoes you would go for.
Which heel height is best? In general, it is best to go with the heel height you are used to and most comfortable heels for the wedding. If you are going to be wearing your shoes for up to twelve hours, you are going to want a pair that doesn't pinch.
Is it compulsory for my shoes to be white? While a number of brides would want white shoes to match their dress, it is not a hard and fast rule. As long as the color of the shoes complements the wedding dress, all is well and beautiful.
Should I break in my shoes? Breaking in your new wedding shoes before your big day is a great idea for maximum comfort. Just ensure not to scuff them in any way so they remain as perfect as you want them to.
Which shoes would pair well with a vintage style wedding dress? Perhaps your wedding has a vintage theme or you have chosen a vintage dress. You're going to want to choose shoes from the same era as your dress; be it the 50's 40's or earlier. Also, don't be afraid to go for dramatic shoes with pops of color; these go well with vintage styles.
Should the venue be considered when buying my shoes? For a beach wedding, you might want to consider comfortable flat wedding shoes. If you're having a party filled Vegas wedding, comfortable dancing wedding shoes come to mind.
What exactly does the silver sixpence tradition mean? This old tradition has brides wearing a sixpence in their shoe to bring their marriage wealth and prosperity. Rarely do brides place a sixpence in their cutest wedding shoes. However, this old custom symbolizes love, happiness, and prosperity in a marriage.
What if I don't want to overspend on my shoes? If you are planning a wedding on a budget, it is possible to find cheap comfortable shoes for your great day. There are many choices to make in bridal shoes from high-end shops to low. Just make your pick.
Is it all right to customize my own pair of wedding shoes? It is definitely a great idea for adding a touch of zest to your wedding attire if done well. You could turn an old pair of wedges into comfortable wedge wedding shoes. You could bedazzle the heels of an old black pair, your choice.
Can I wear my wedding shoes again? If they are a bit too much for normal wear, it is possible to make some changes. You can dye your glitter wedding shoes all in one color to tone it down, remove frills or ribbons to make them casual.
This stunning wedding shoes by Anna Campbell complete your look and make you the most beautiful bride. Silver hand-beaded foot cuff is worn beautifully with bare feet or over your favorite pair of heels. An ideal variant for the beach wedding or for a vintage-inspired look. Click here to browse full 2018 collection.
Gentle Sandals For Summer Weddings
Source: Magdalena Studios, Melissa Schollaert, Badgley Mischka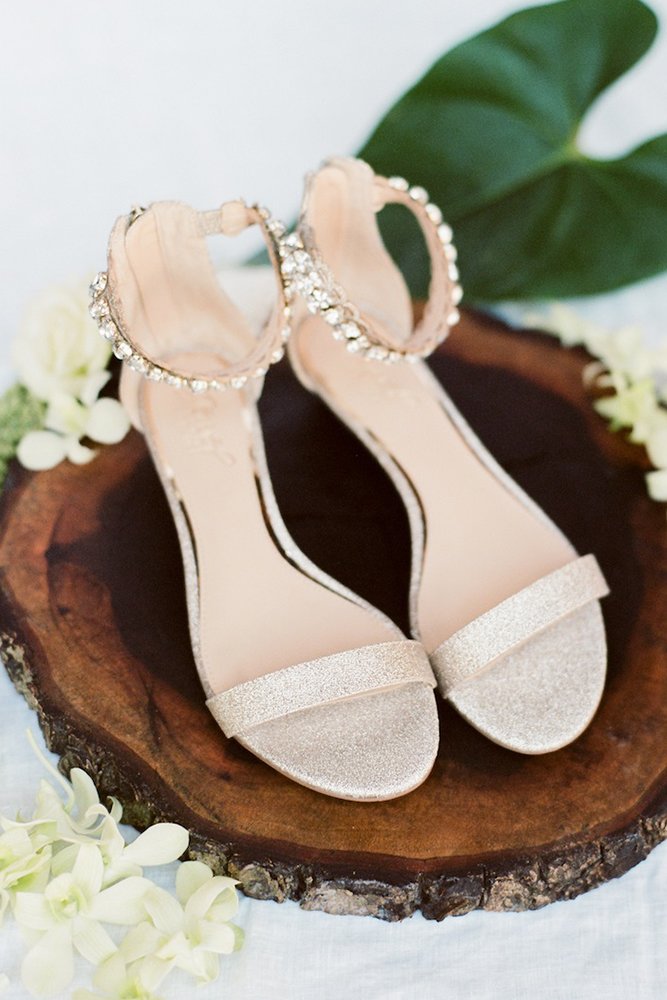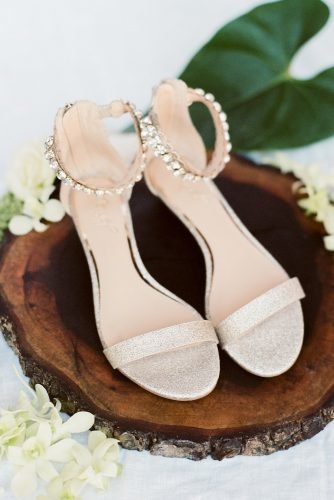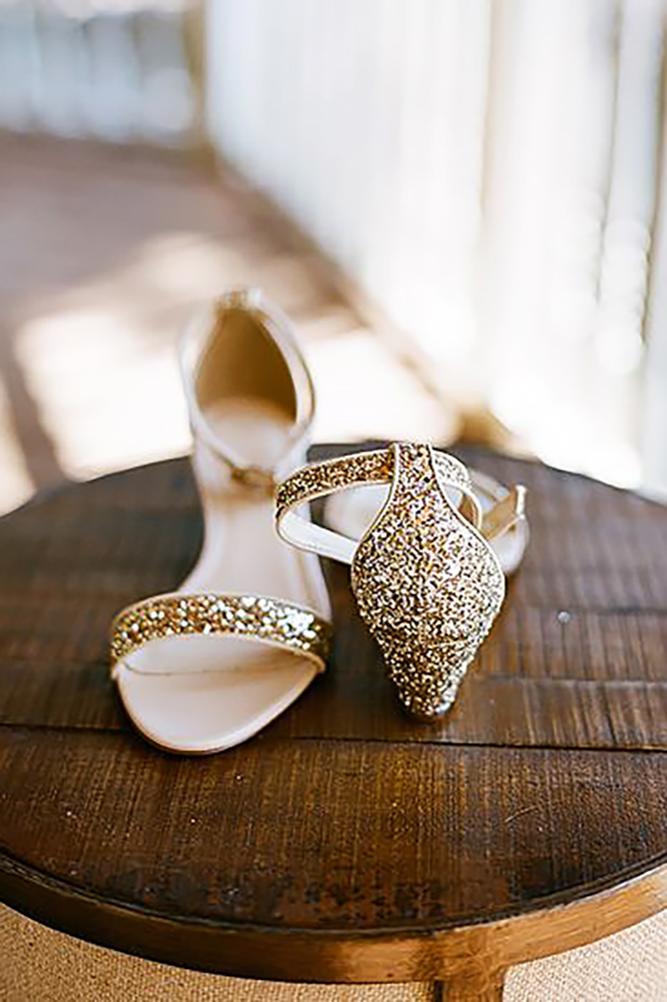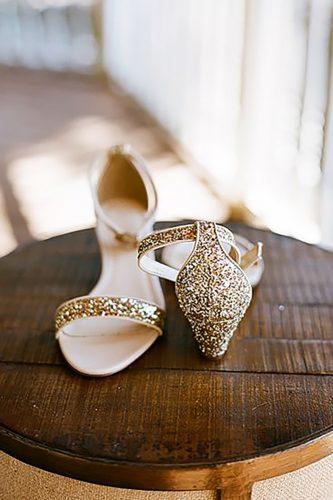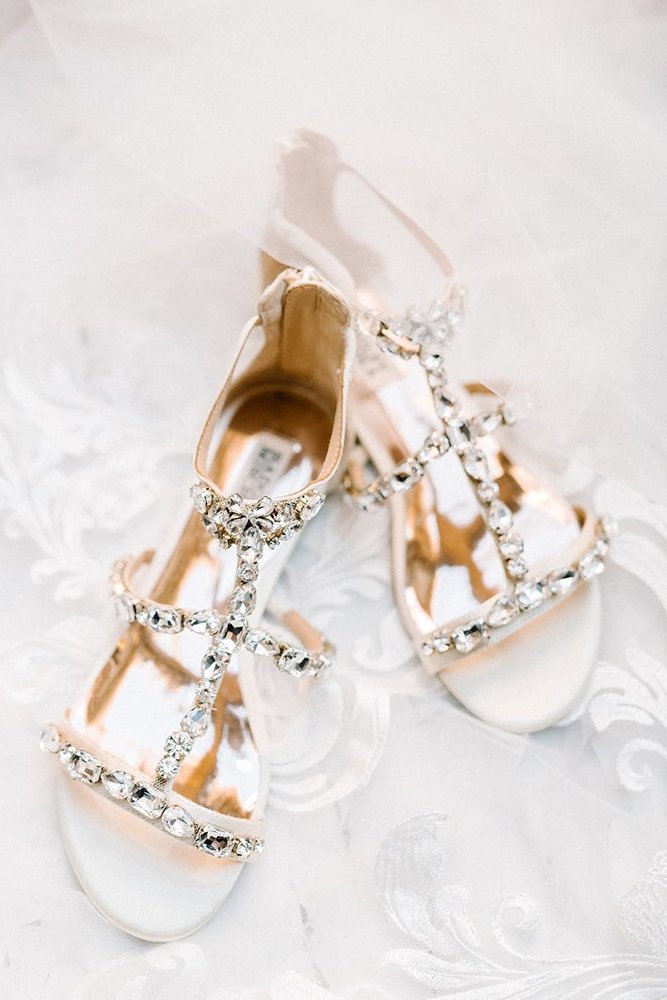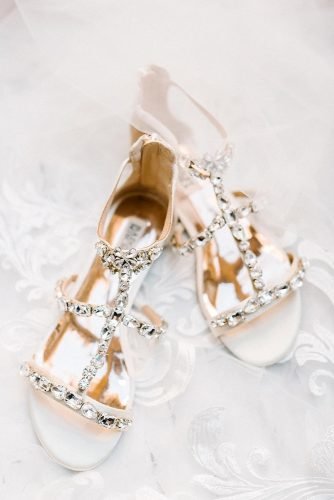 Source: uoionline, Davids Bridal, Katherine Elizabeth Photography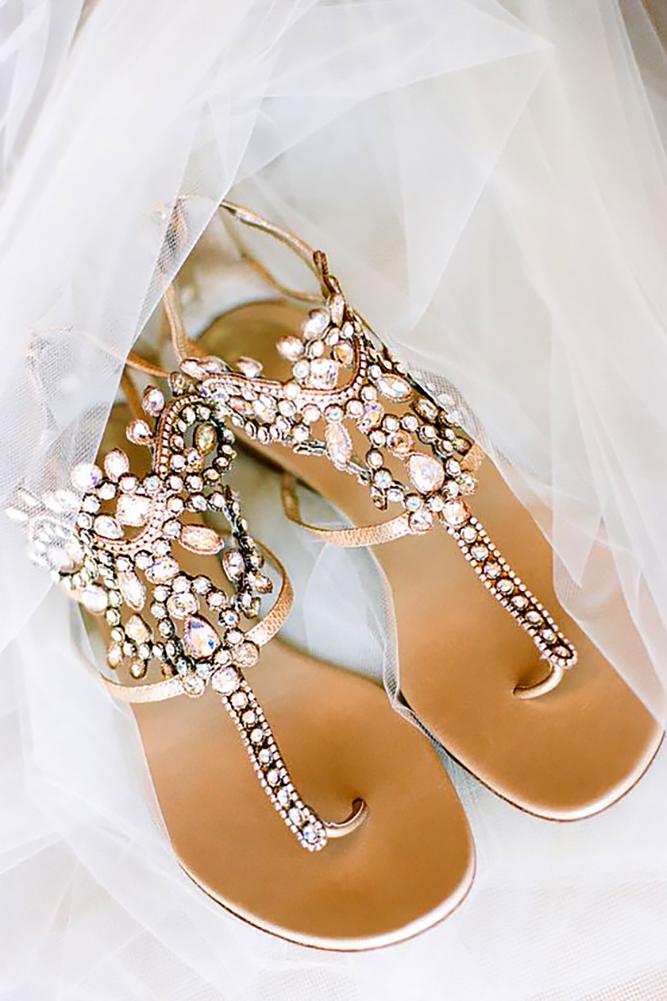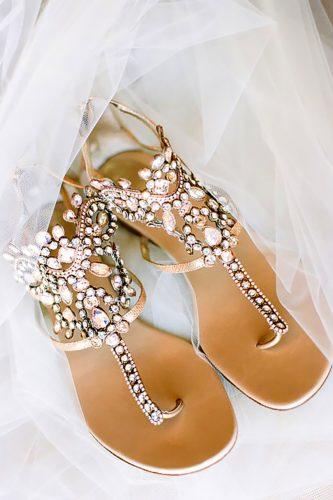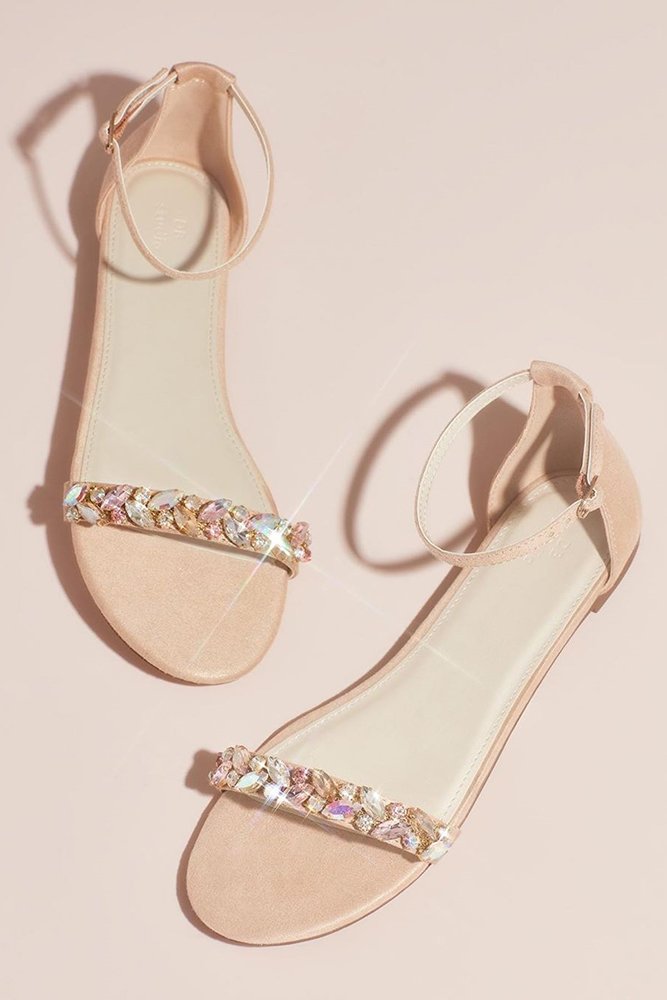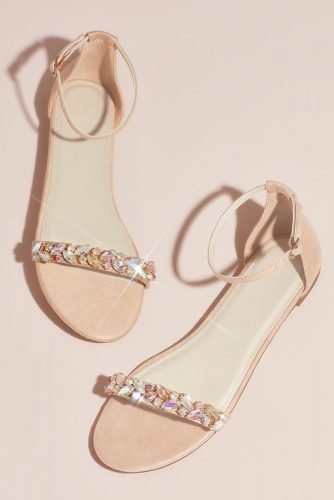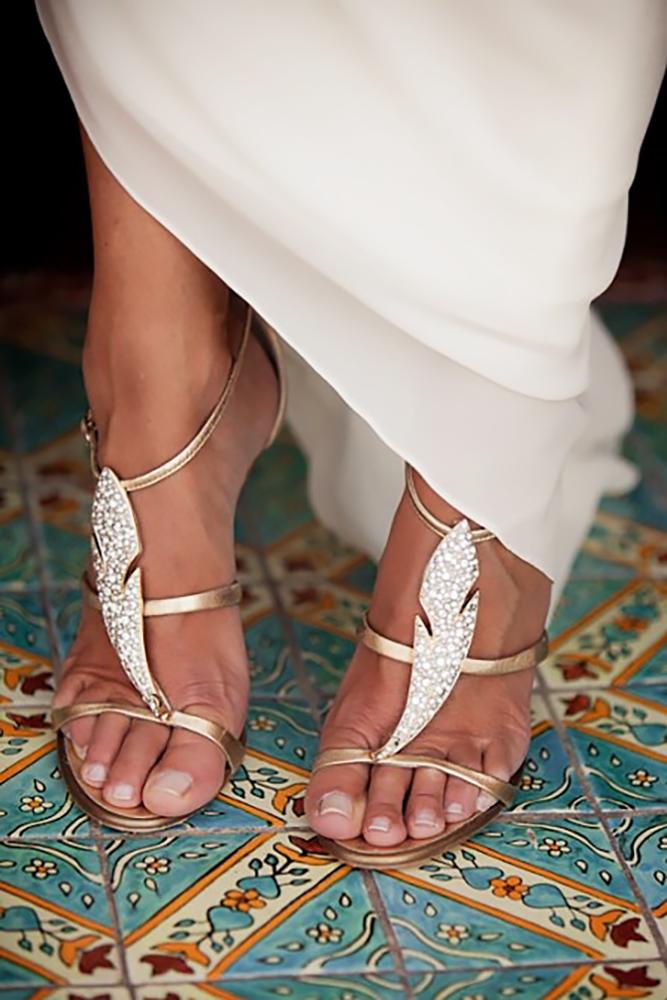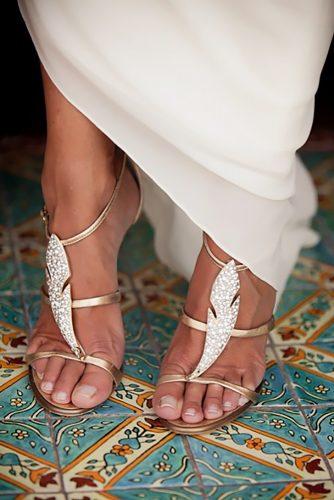 Summer weddings are for strapless dresses, beachside occasions, and, you guessed it, sandals. Below we have some tips on choosing the right sandals for your feet on your special day.
Consider your outfit. Lots of sandals come with some of the most comfortable heels for the wedding. However, when choosing the right pair, you must consider the dress you will be pairing it with. This would decide the color and style of the sandals as well as the heels.
Leather Sandals. It is best to choose leather sandals for a formal occasion. Even though they come in different colors and types, they always look good.
The heel. If you have multiple locations for your wedding program and need to walk long distances, try to choose a sandal with a low heel. This would give added comfort and not wear you down. Some sandals with wedge heels also make comfortable wedge wedding shoes.
Gorgeous Flats With A Romantic Look
Source: Badgley Mischka, Say Yes to the Dress via Instagram, Jen Huang Bogan Photography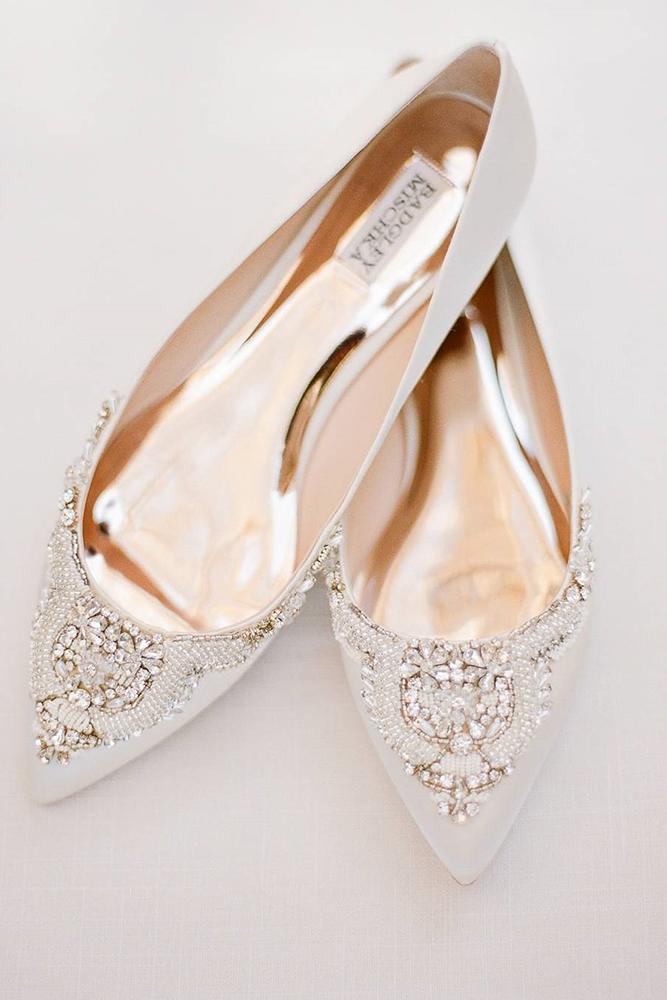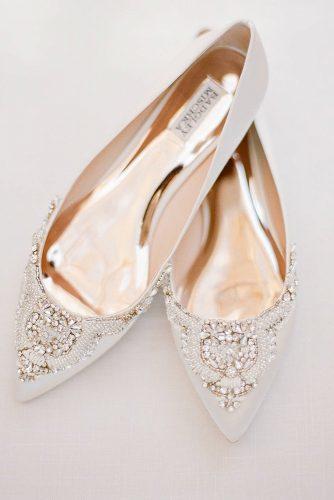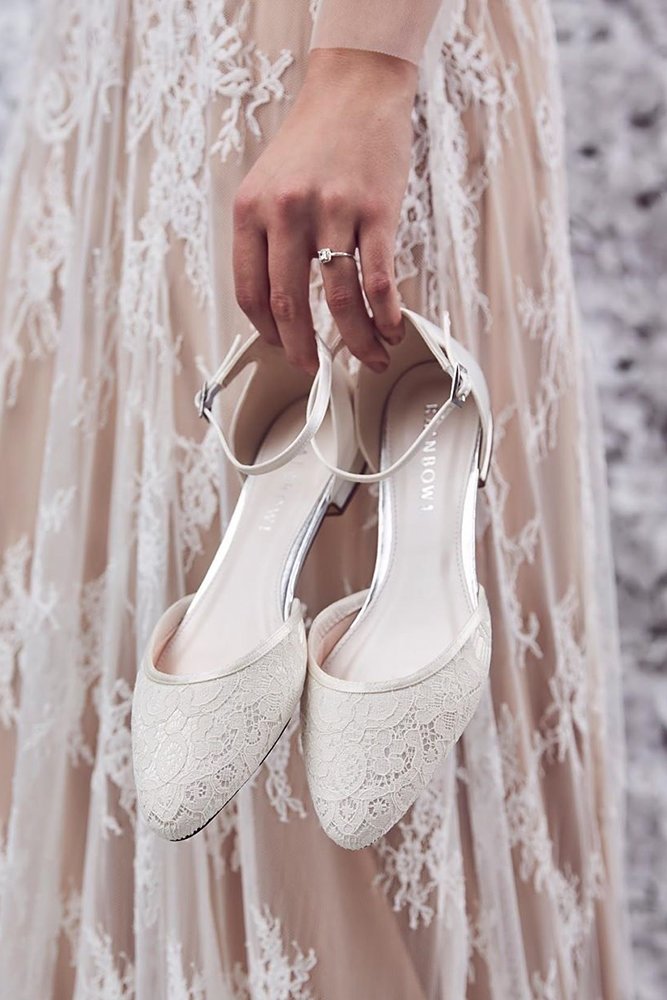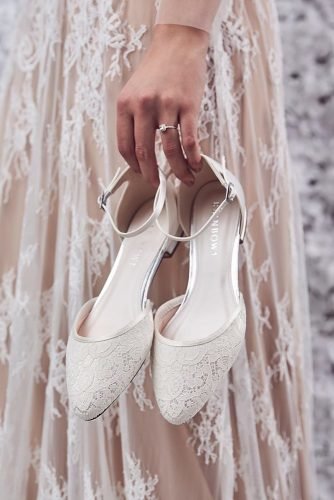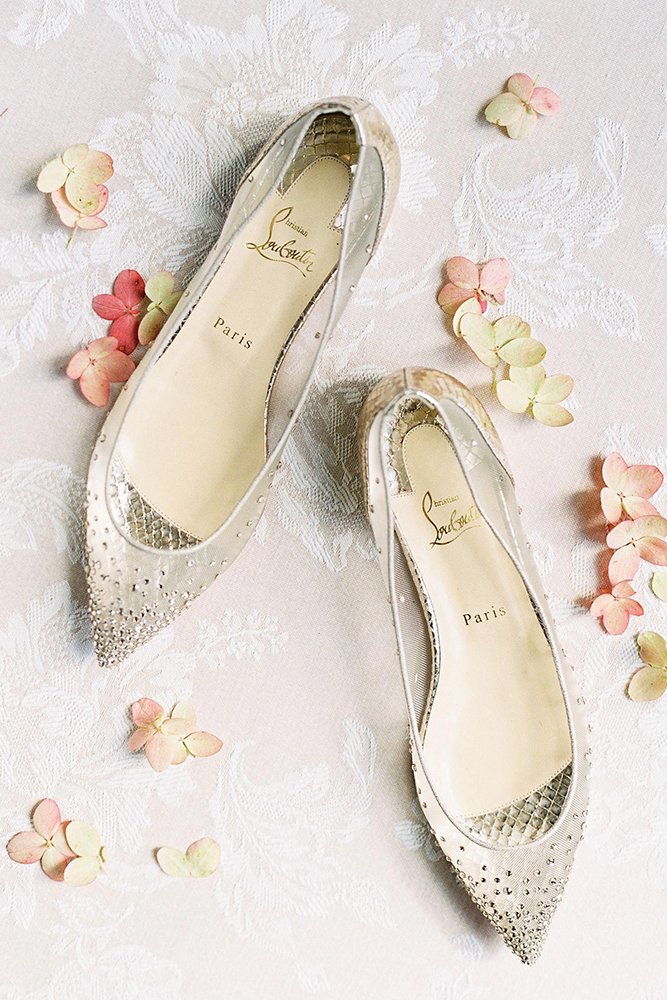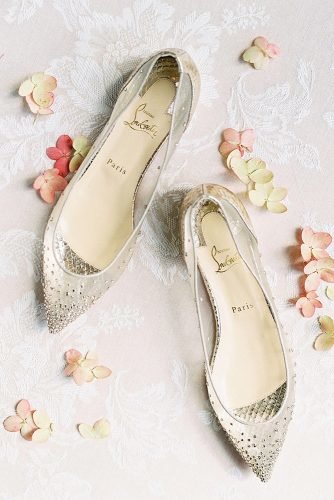 Source: Bella Belle Shoes, Bella Belle Shoes, Zara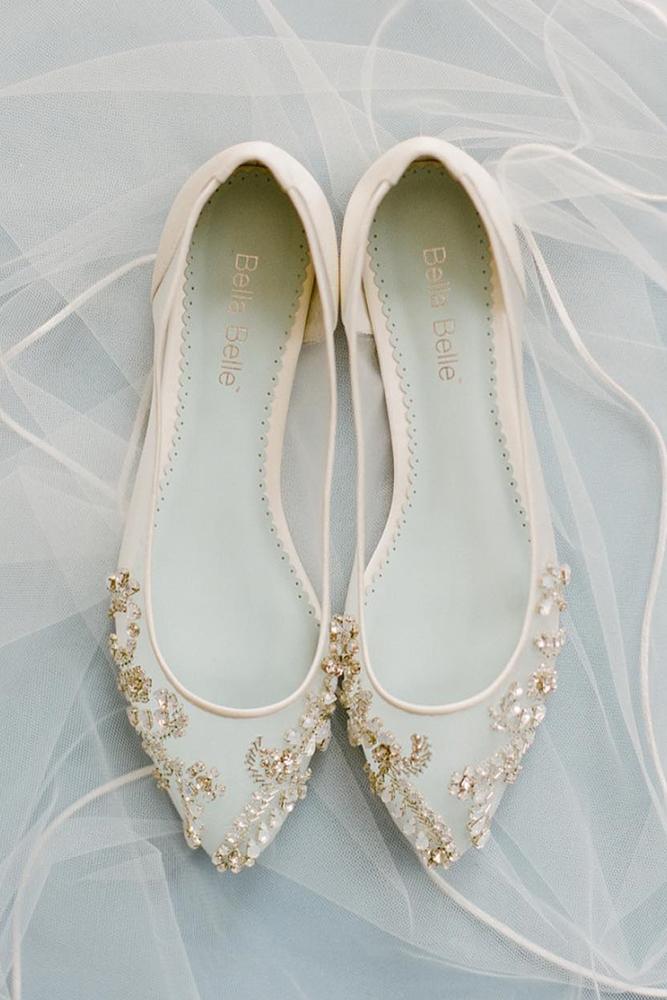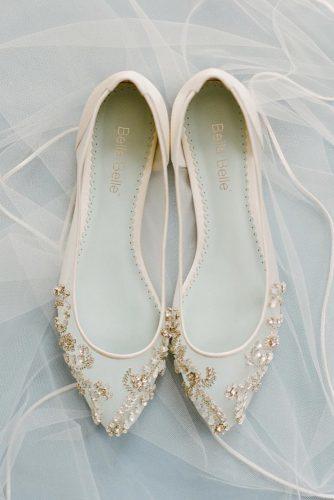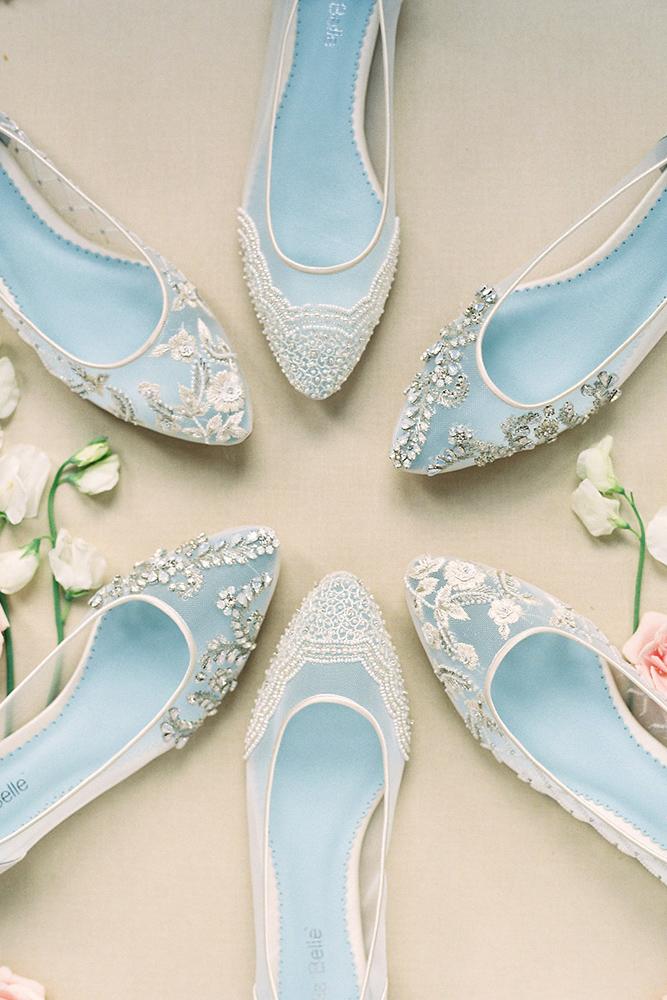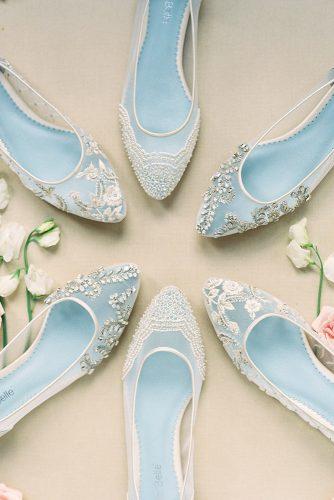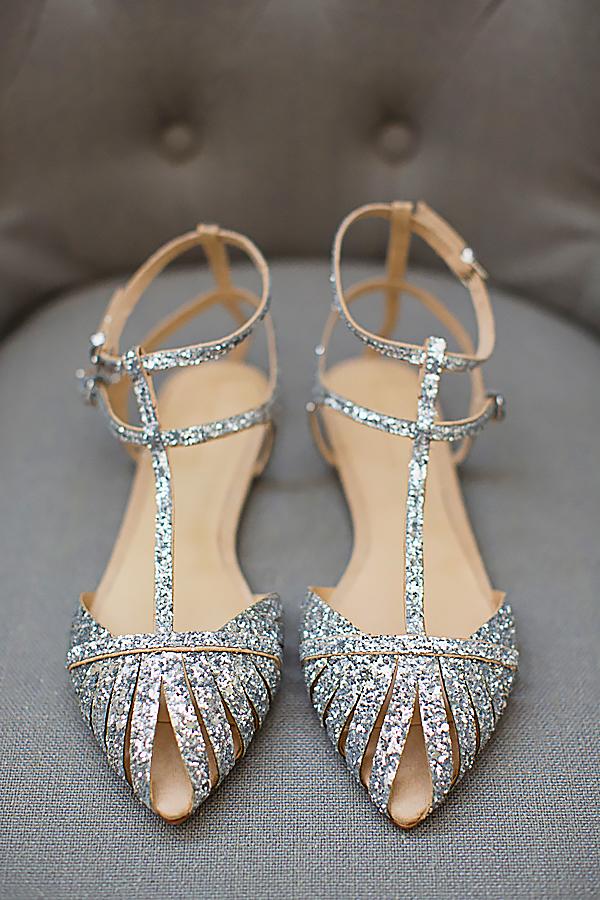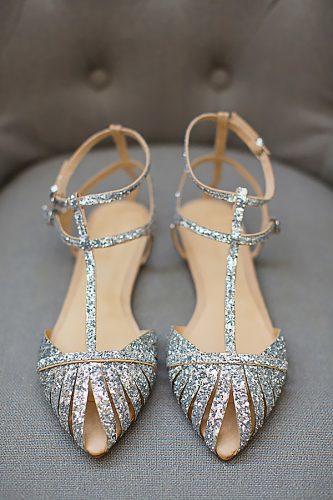 While stilettos look great paired with a variety of dresses, they don't feel so great after a few hours of standing in them. Since comfort should be a priority for a bride, some brides opt for flats for their wedding day. By the way, flats do not at all mean boring, but they are arguably the most comfortable wedding shoes.

Pros: We all know the pros of wearing flats for a wedding. There is nothing quite like comfortable flat wedding shoes in the feelings department. Where comfort is key they are supreme.
Cons: It is not as easy to find flats for wedding shoes. There are many different types of wedding shoes, but most come with heels. I am afraid of flats there will be a lot less variety. Unless of course, your target is simple wedding shoes.
Pros: Flats make the most comfortable dancing shoes wedding. You can choose to wear your heels for the ceremony, and then change to flats for the reception. This would give you relief for the second half of the wedding. With your comfortable wedding reception shoes, you'd be able to dance well into the night and not feel a thing.
Cons: While flats maximize comfort, not all dresses pair well with flat wedding shoes. So, while choosing the heel height for your dress, flat or not, consider which would be the best match.
Comfortable But Still Stylish Wedding Shoes
Source: Emmy London, Forever Soles, Jimmy Choo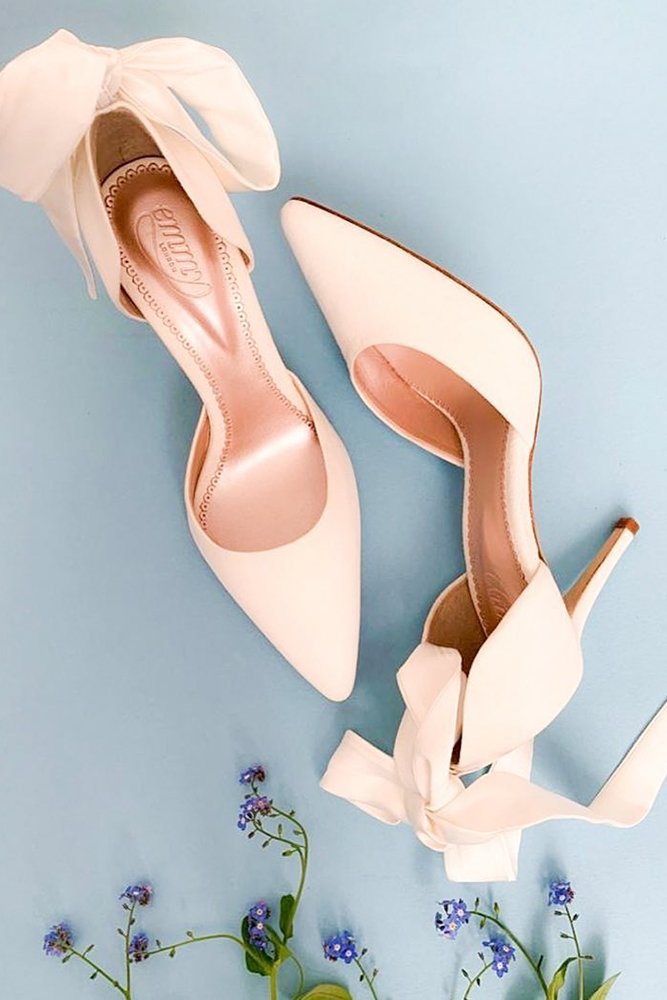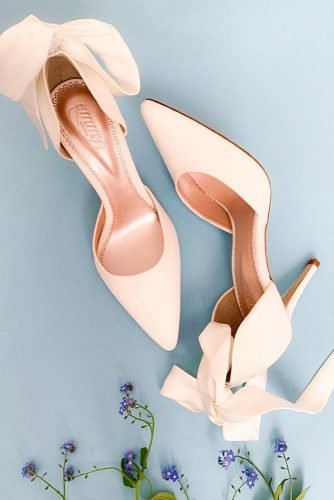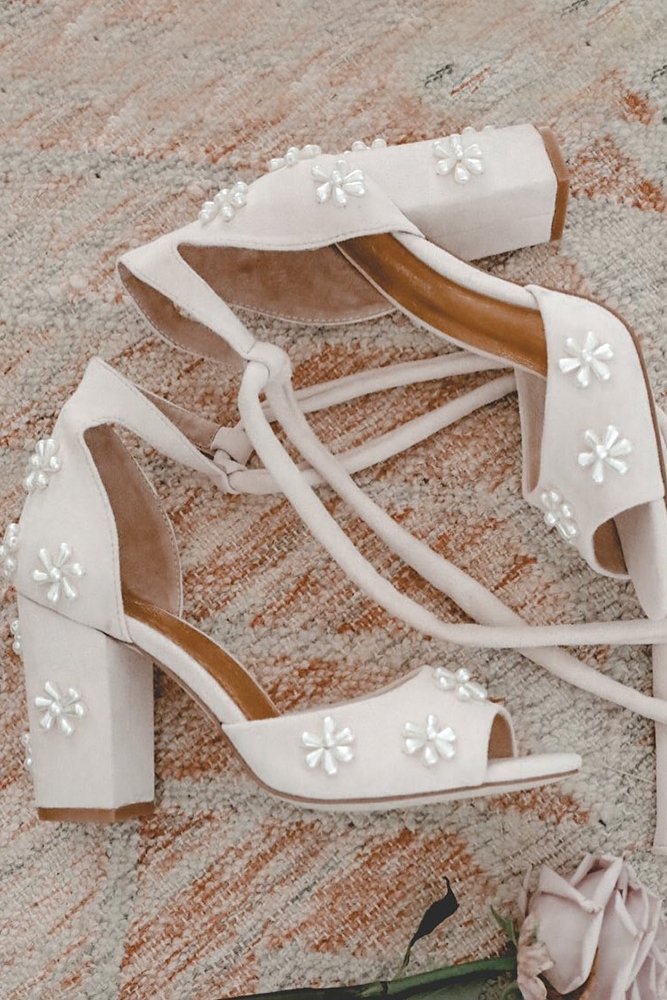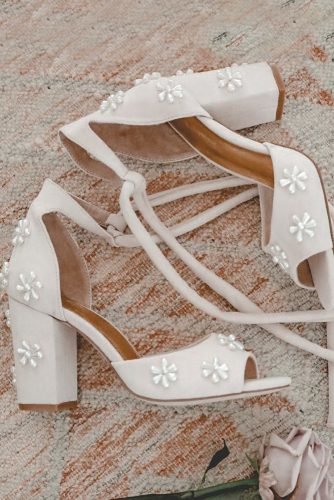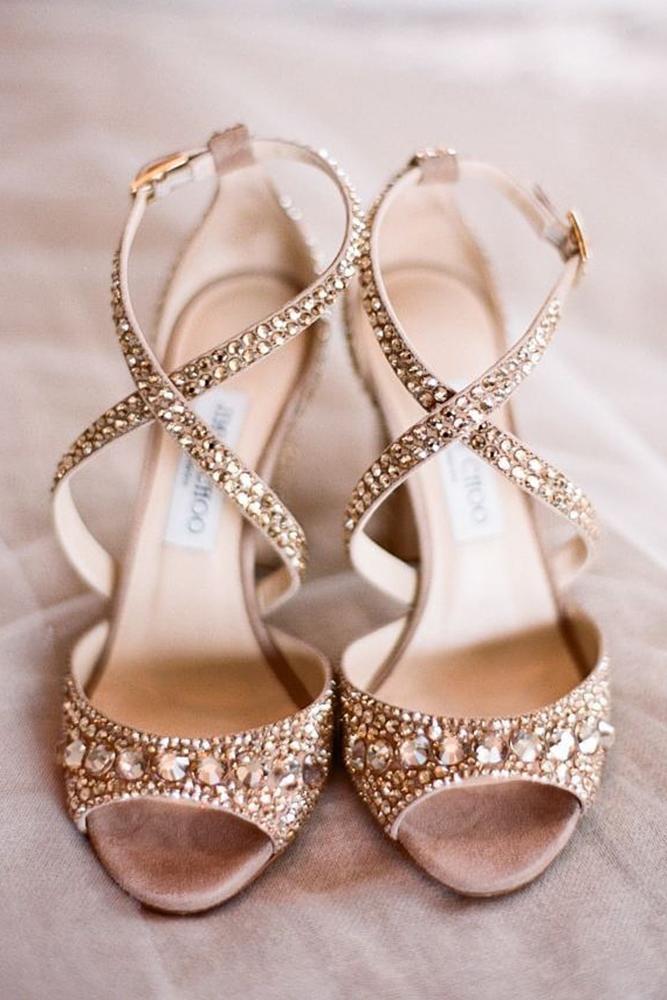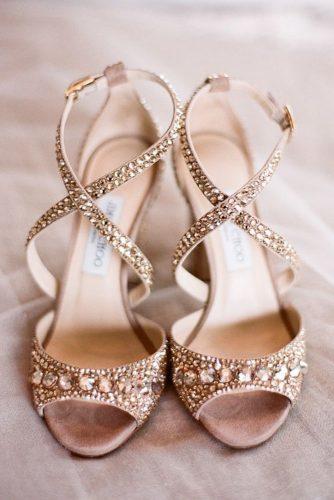 Source: Harriet Wilde, Badgley Mischka, Paul Andrew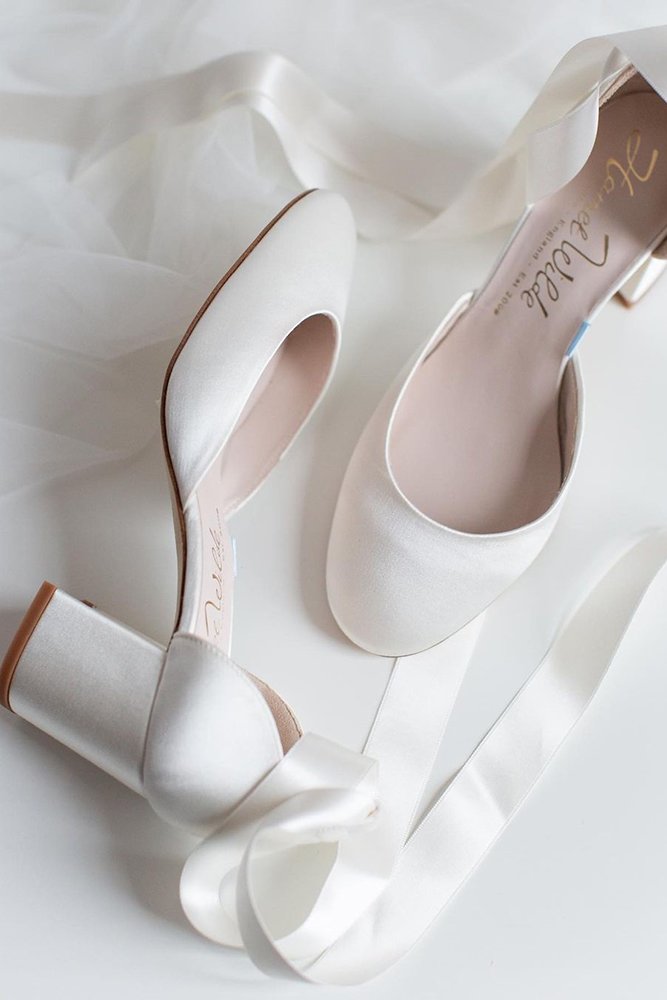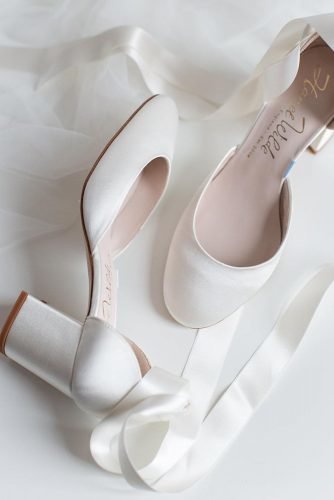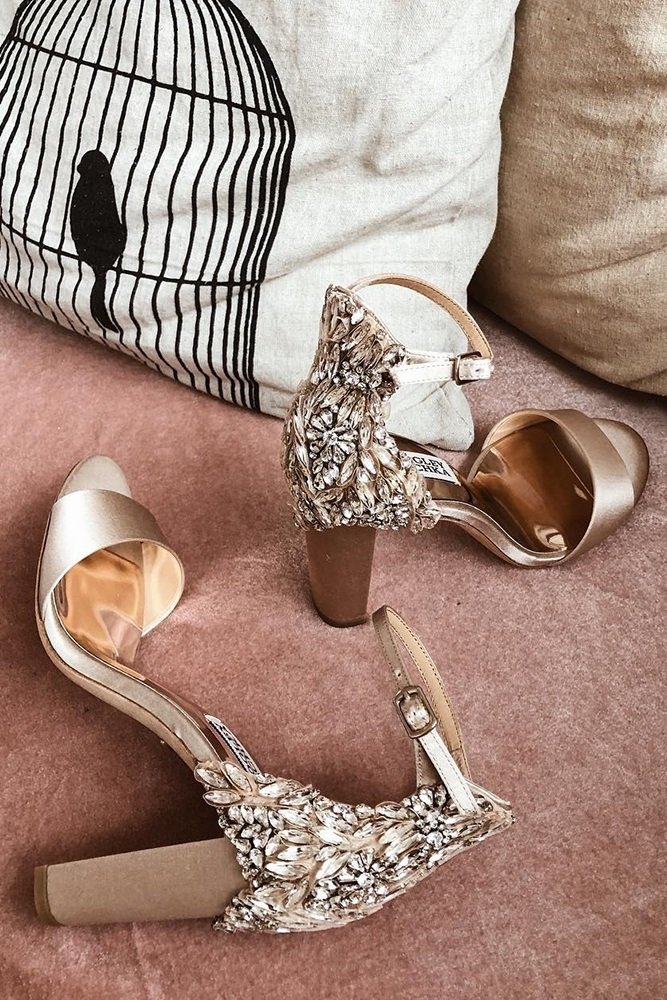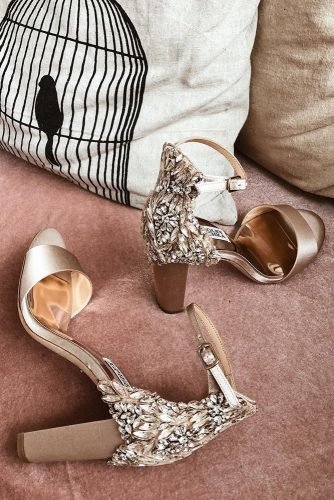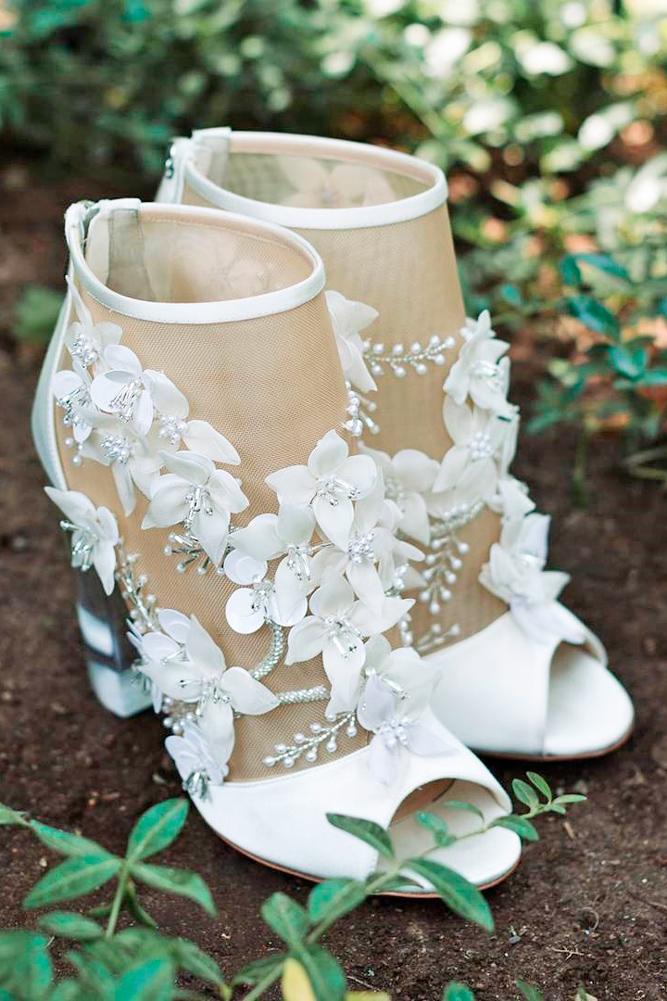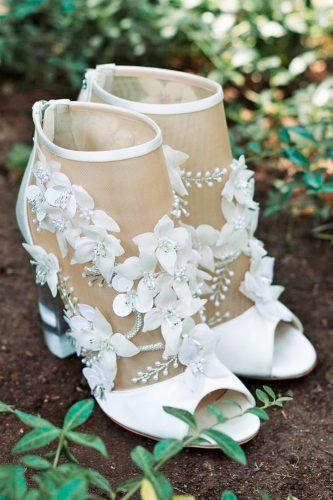 It is important to find the perfect shoes for a day like your wedding day. However, finding a beautiful pair does not always mean they will be comfortable. Those comfortable gold shoes for a wedding might not stay as comfortable throughout the day. This is why you will need some tips and hints to give some added comfort and not blister your heels.
Make sure to schedule a pedicure before your big day. Pamper those feet in the best way possible and have them looking their best.
Consider trying on shoes that are half a size bigger than your usual size. This will allow for more comfort and convenience.
If your shoes don't come with extra padding for comfort, then buy some and make sure to try them on several times. This will help ensure the comfort you need and less stress on your heels.
Remember that lower and thicker heels take the stress off the balls of your feet. So when choosing heels beware the height and try to prioritize comfort.
Comfortable Wedding Shoes For Creative Brides
Source: Lovestruck Pictures, Rue de Seine, Casablanca Bridal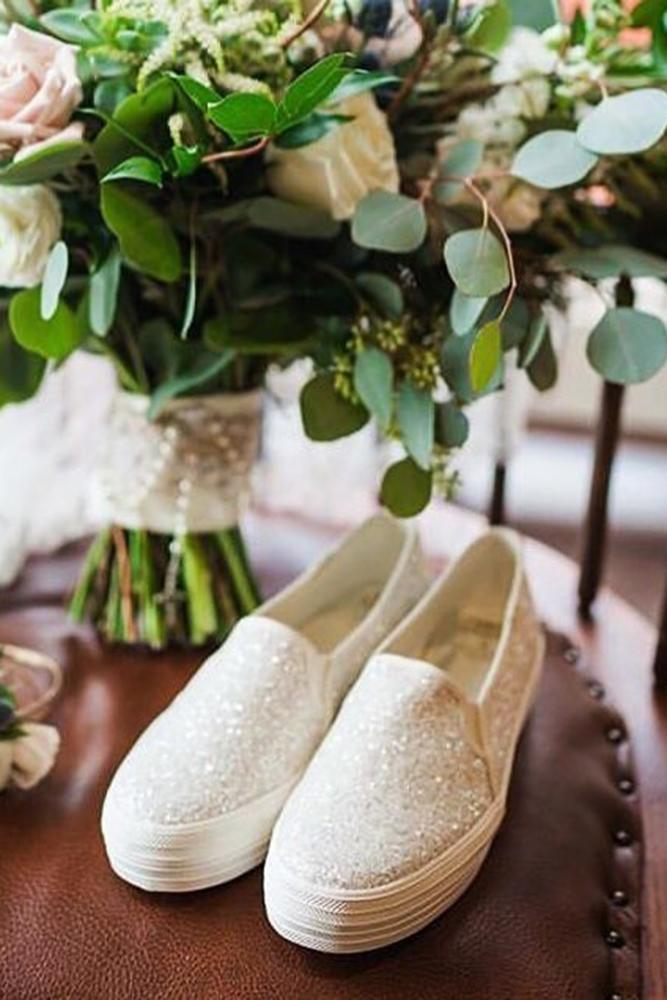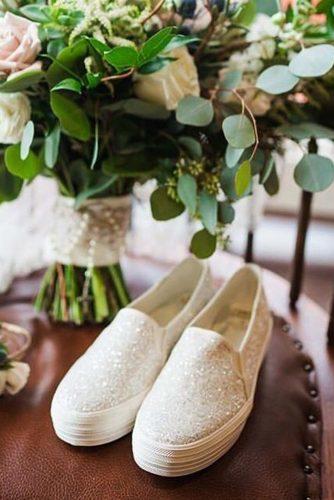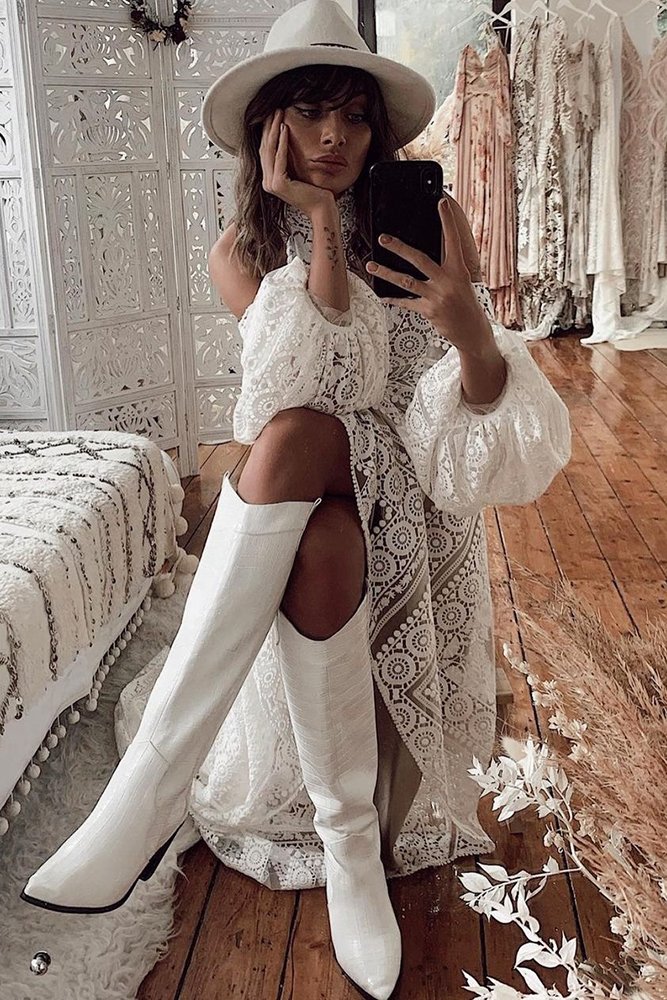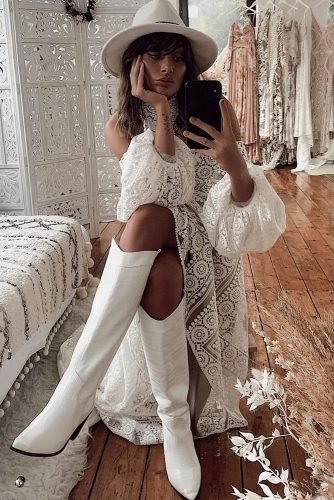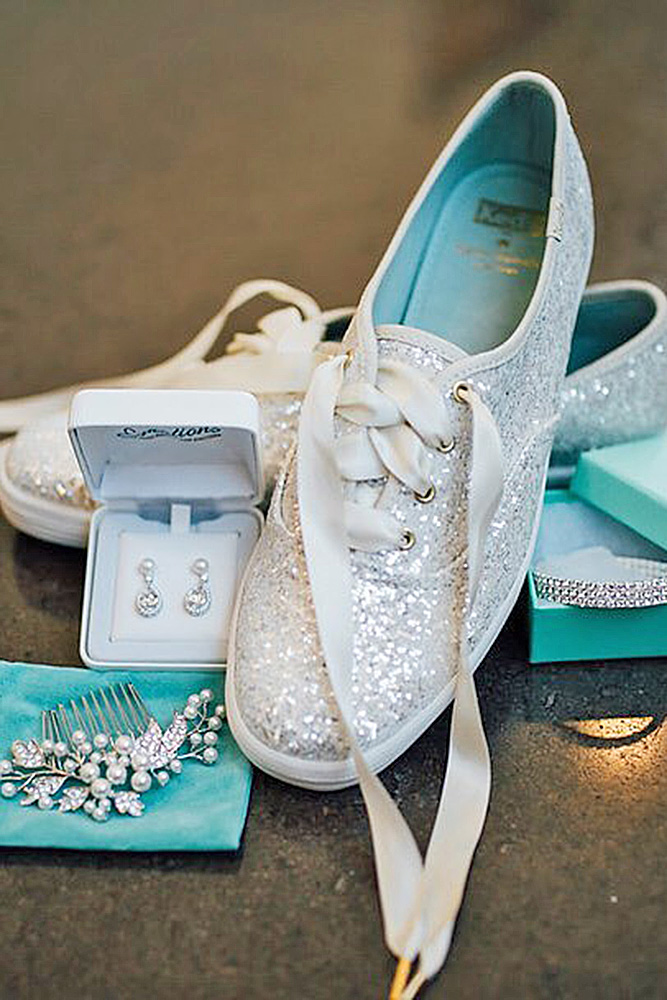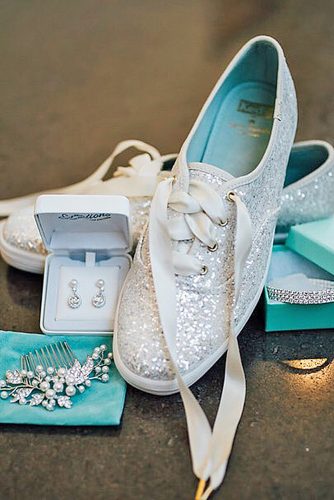 Source:
Shanell Photography
,
Beck Rocchi Photography
, Badgley Mischka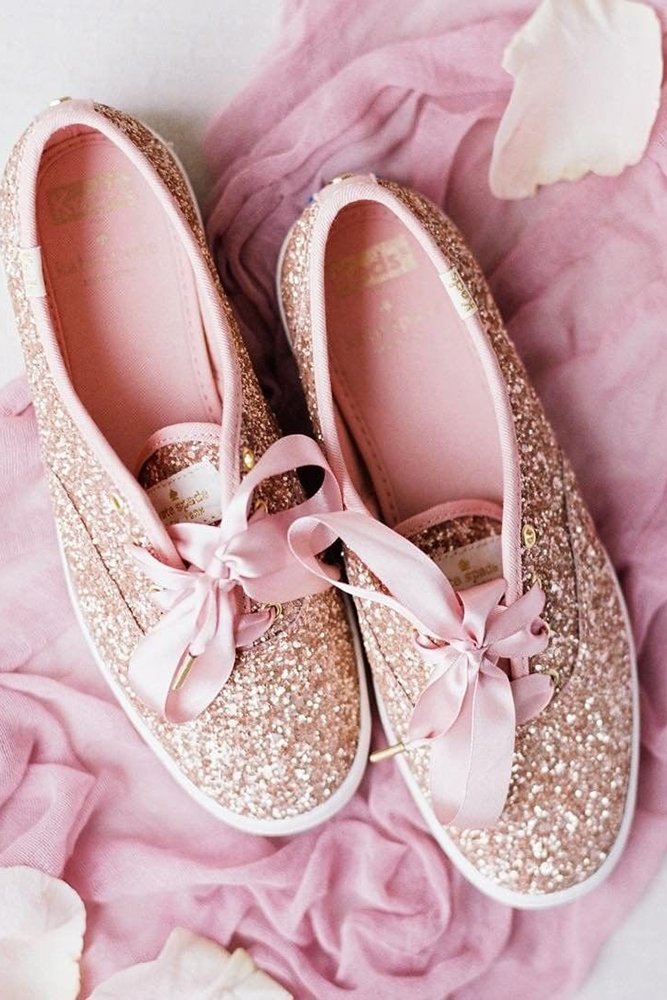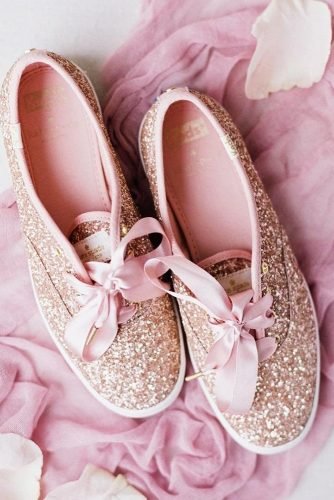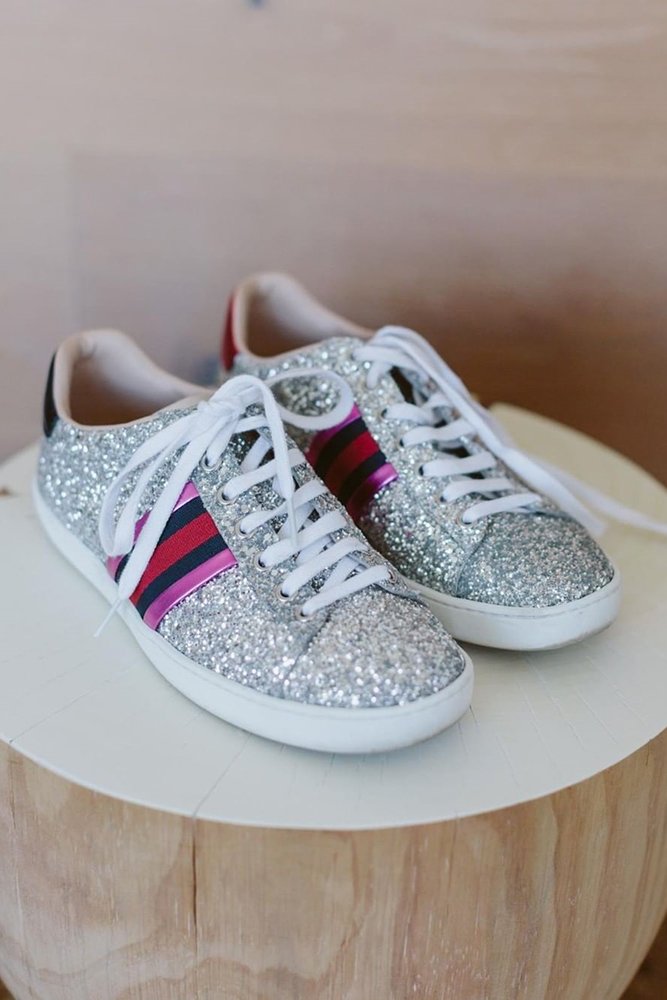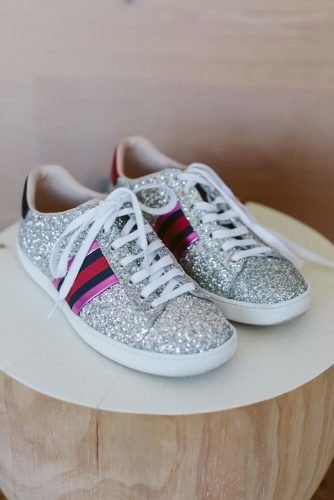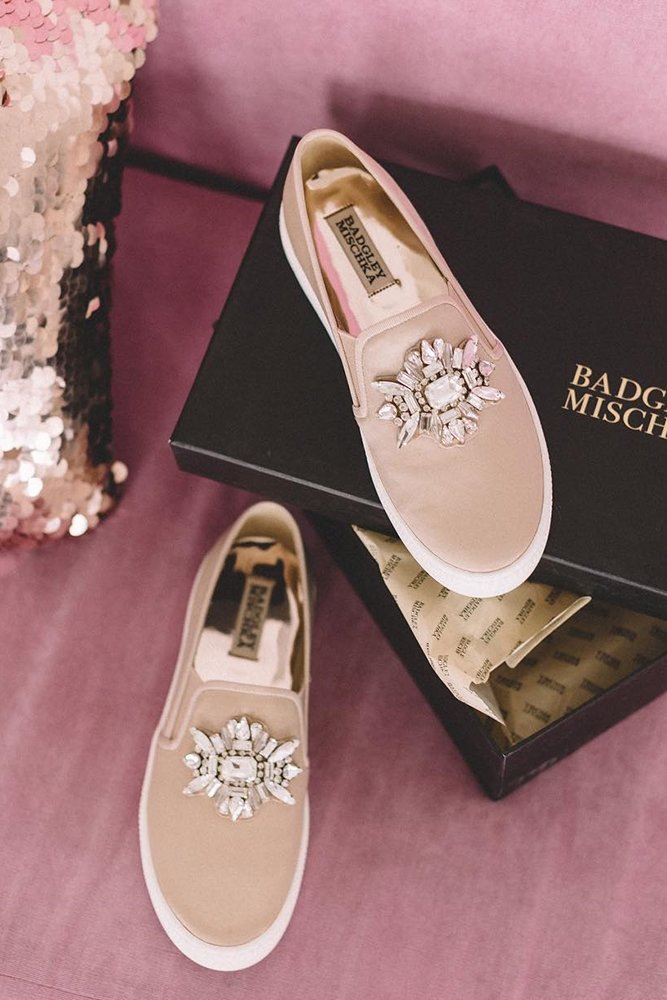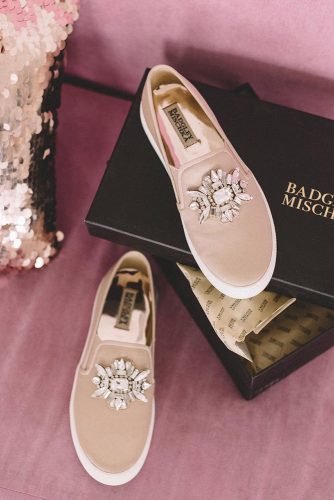 Not all brides are conventional, and some prefer styles that are much different from the classic gown and shoes. Some brides prefer comfortable pumps for a wedding, or even slingbacks or slipons. Where comfortable wedding shoes are concerned, there are many options to choose from for the offbeat bride.
Outstanding colors and patterns: Bright colored or patterned comfortable pumps for the wedding can be a really great choice. The lively colors would pop against the background that is your wedding gown.
Flowers: Just like the colors, flowers are another lovely idea. On comfortable ivory wedding shoes or any other for that matter, flowers add a fragile beauty.
Sneakers: Sneakers are as unconventional as a bride can get for wedding shoes. And these days there are a lot of sneakers to choose from for comfortable wedding shoes. Pure white, glittery, some with lights, even silver for comfortable silver shoes for the wedding. Sneakers are the ultimate in maximizing comfort and come in all shades and sizes.
Platforms: Not often mentioned when on the topic of bridal shoes. Might make them even more appealing to a creative bride. In addition, platforms have quite wide and comfortable heels which are even better in a moderate heel height. With a good pair of comfortable platform wedding shoes, a bride can be on her feet for hours and not feel the strain.
Boots: They could be cowboy boots for a country themed wedding or ankle boots for a boho wedding. Whatever your preference, boots can be a great choice for comfortable bridal shoes.
Sparkle Wedding Shoes For Brides
Source: Davids Bridal, Alicia Rueda Atelier,Pepper Nix Photography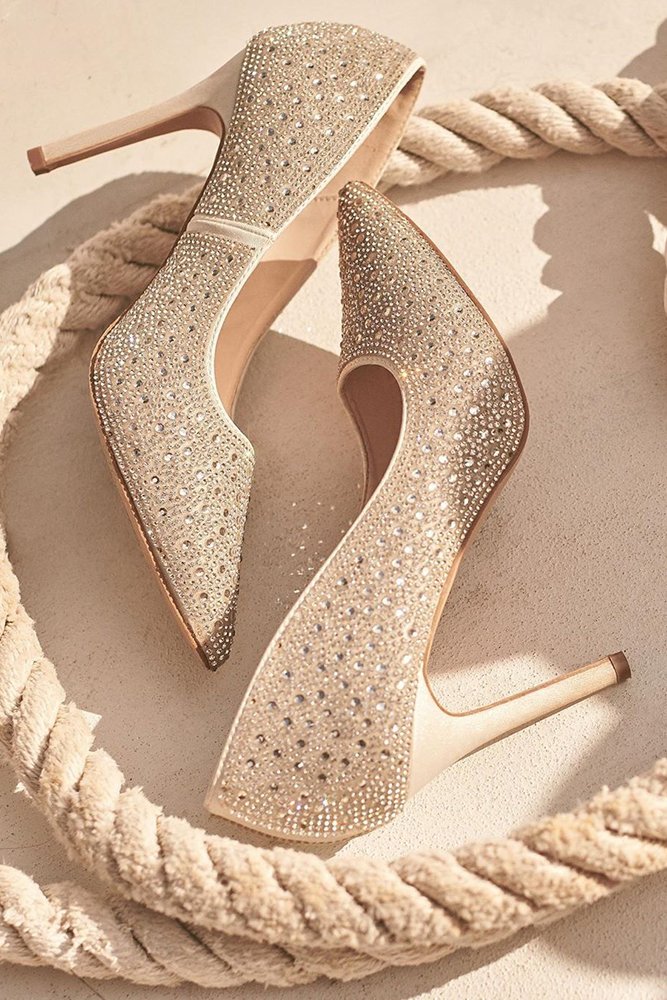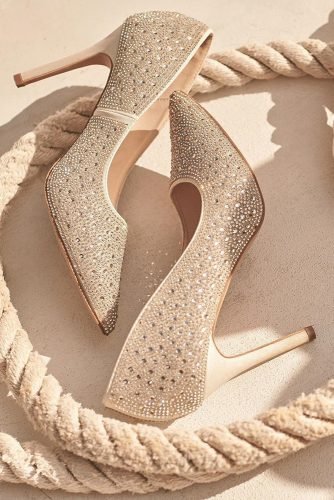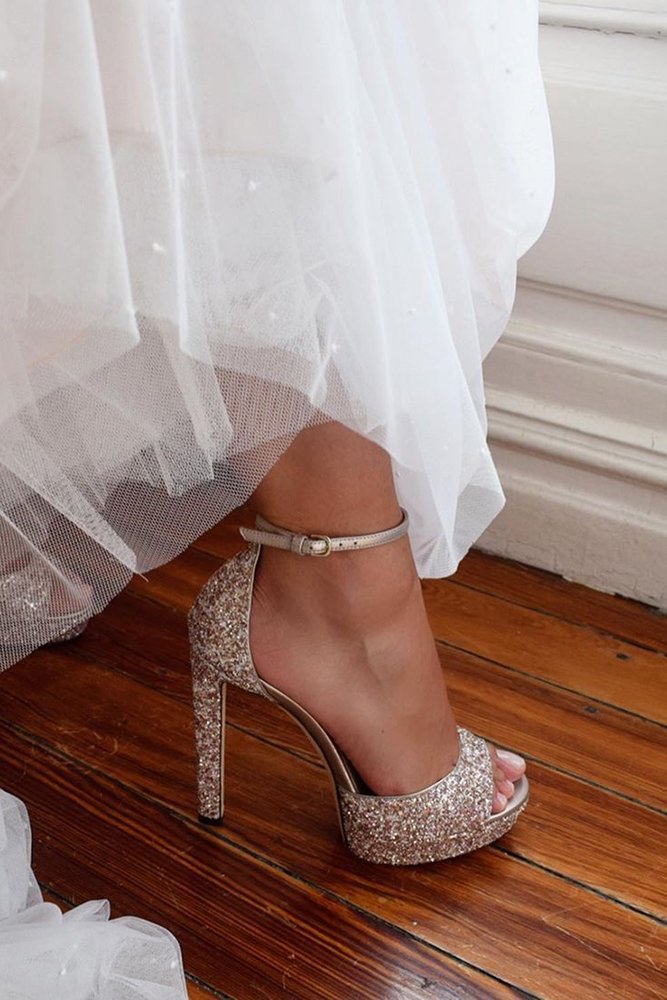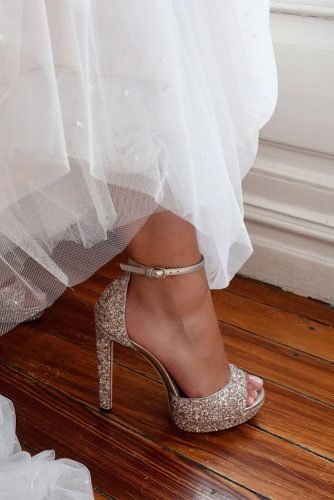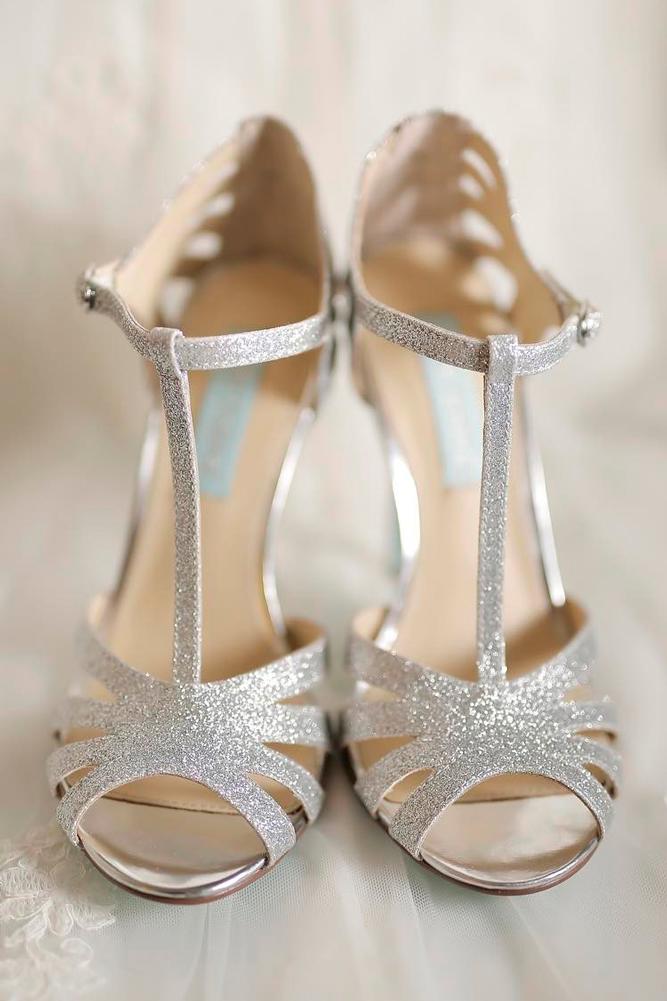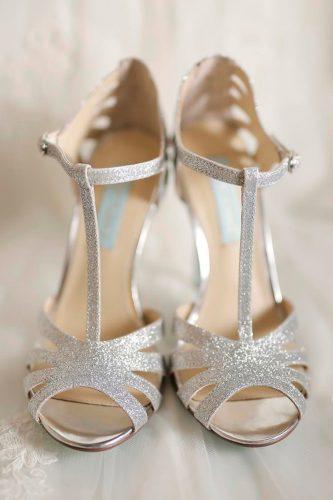 Source: Jimmy Choo, Bashful Captures Photography, Erin Wilson Photography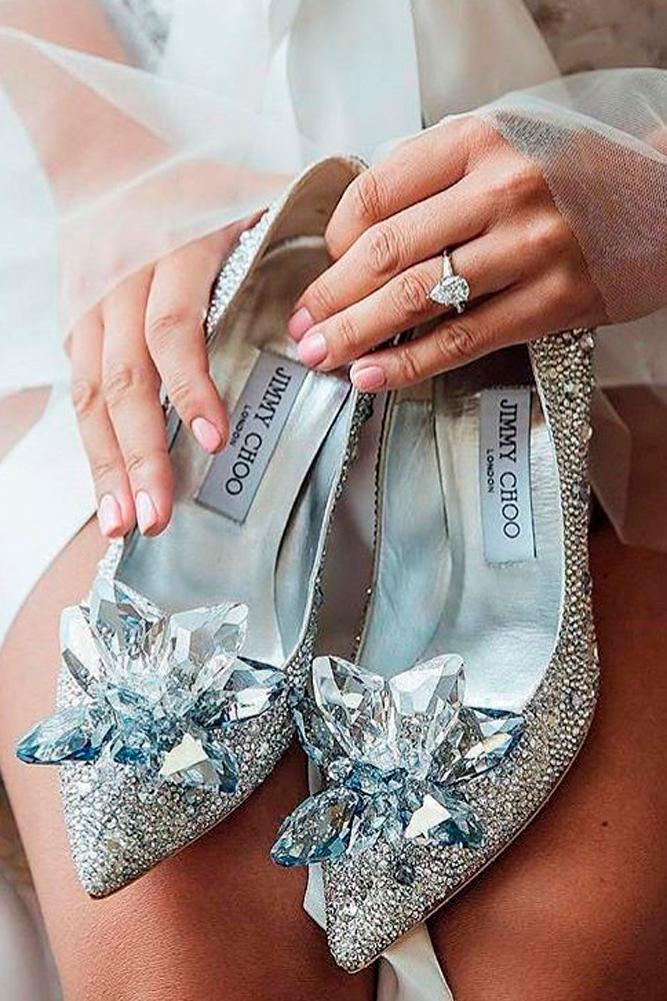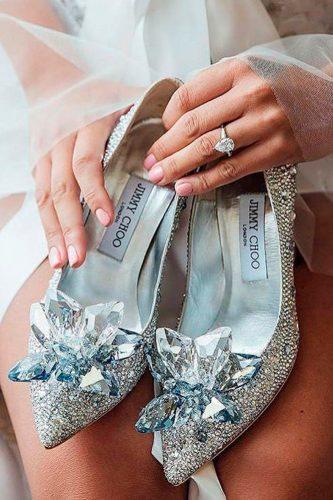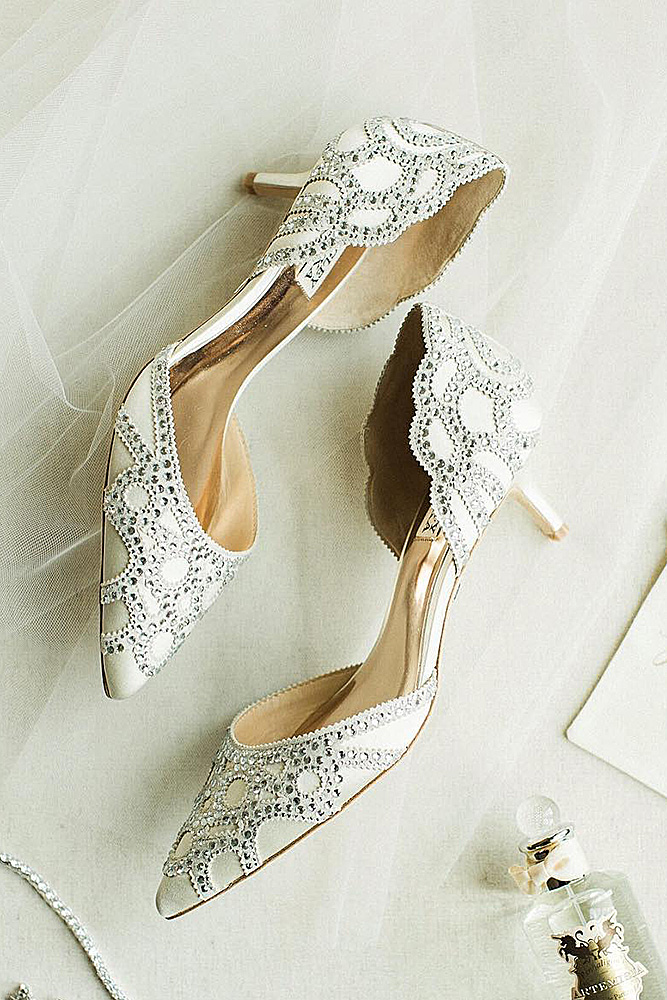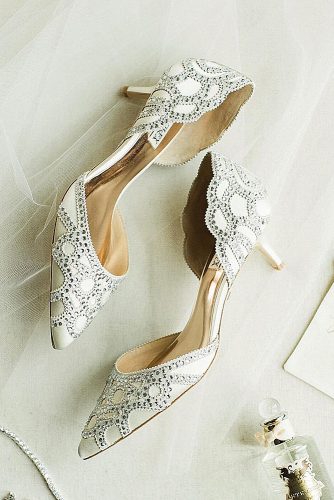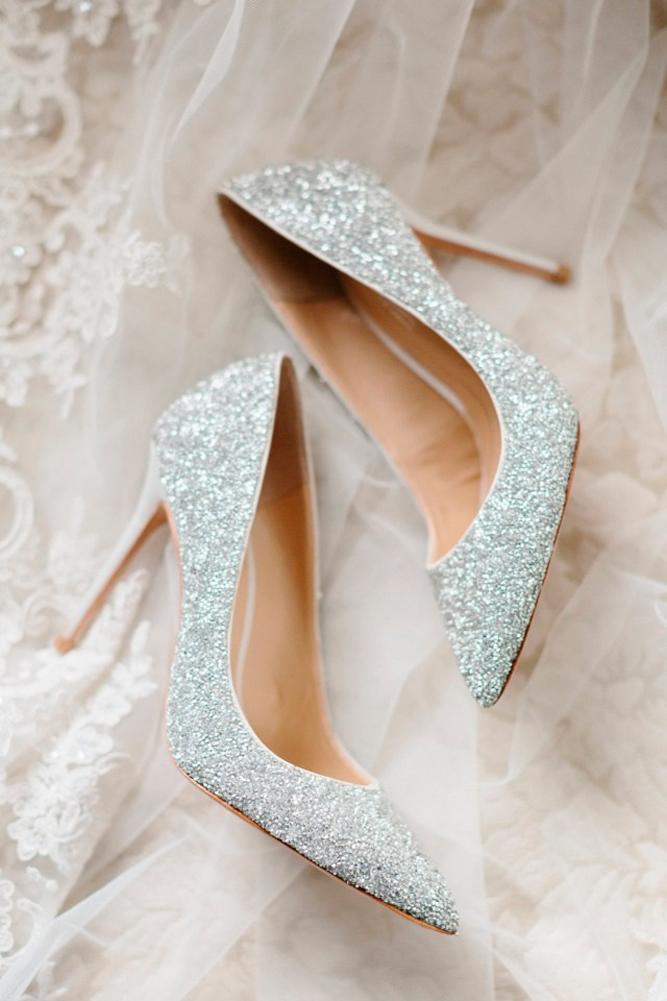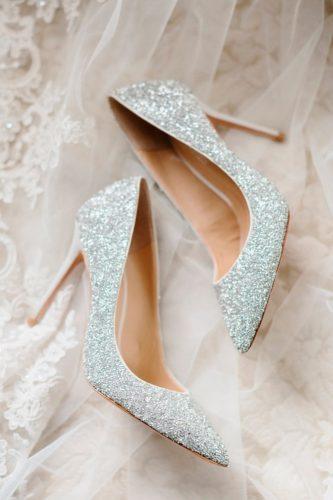 There is nothing that attracts quite like a sparkle. For some brides, finding comfortable silver shoes for a wedding over white or ivory is a marvelous idea. Shiny and glittering things attract the feminine eye and are certainly beautiful to behold. These glitter wedding shoes are usually top on the list to be chosen over comfortable black heels for a wedding or any other.
These sparkling wedding shoes can be used after the wedding in different ways. They'd be great to wear on a night out with the girls for sure. They could also be used at other formal events and celebrations. They are rarely out of style. So instead of just being your comfortable wedding shoes, they could be your go-to shoes long after the wedding is done.