Most couples that dream of a country wedding want it to have that country feel of organic elements such as sprawling florals, wood, country aesthetics, and clothing. This, even if their chosen venue is a modern location. There are numerous ways of incorporating country wedding ideas into your event planning to get the best western theme weddings.
We have put together some of the best country style weddings ideas to help you make the most of your country themed wedding. From country music to cowboy hats and boots, the smell of hay and wood, burlap, lace, and homemade pies. Every couple seeking a country wedding deserves to have the best of country.
Country Wedding Aisle Ideas
Country theme wedding ideas cover every single aspect of a country chic wedding, from the wedding ceremony to the reception and even the after-party if any. There are no limitations, and you can make your walk down the aisle just as memorable and dreamy as your walkout. While a barn or farm wedding would be the ultimate as country wedding venues go, it is not compulsory to marry in either to get that country feel. You can give your aisle that country wedding vibe with easy to implement and beautiful country wedding aisle ideas. Achieve your dreams whether your wedding holds on a farm or in the most modern location ever.
1. Ride in style
For some extra rustic décor, you could use this idea for the walk down the aisle. Find a rustic little wagon and some extra help to pull your little ring bearer and flower girl in and down the aisle. One of many shabby sheek wedding ideas, the wagon could have a 'here comes the bride' banner draped around it for effect. This cute little pair will have their moment just before you walk down the aisle and it would be a perfect addition to a perfect country wedding.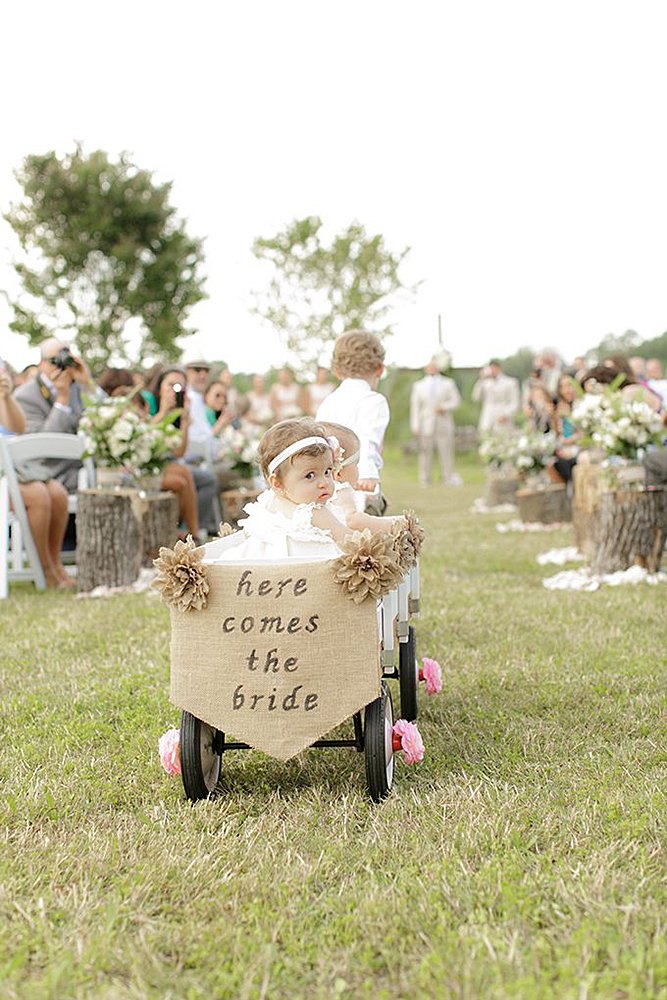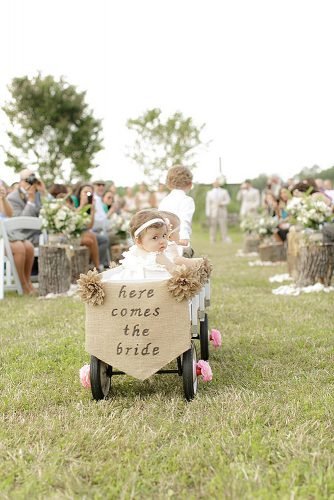 Line the aisle with timbre logs all of a predefined height, possibly at the edge of each row of chairs. You can sit a bouquet of wildflowers at the top of each log for a most beautiful country wedding theme look. A country wedding would be incomplete without some cute rustic logs to complete the picture.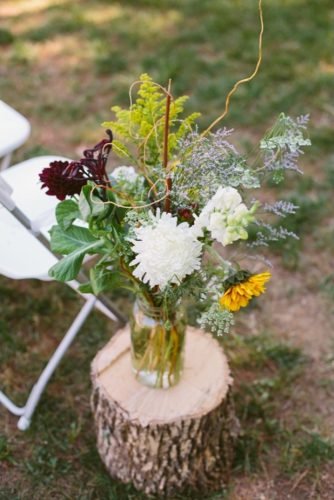 Make the perfect flower vessels with cowboy boots and use them to line your aisle. A great example for thinking outside the box, and easy to DIY, you can place a little vase inside each boot for this beautiful and yet simple country décor. Add picture perfection with this simple but effective aisle decoration for your country themed wedding.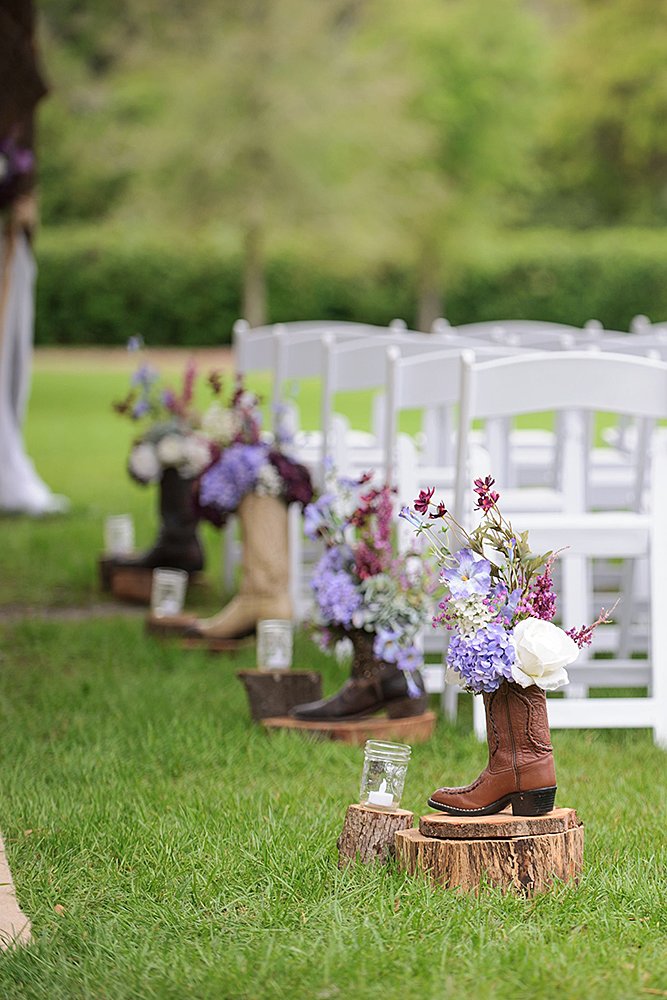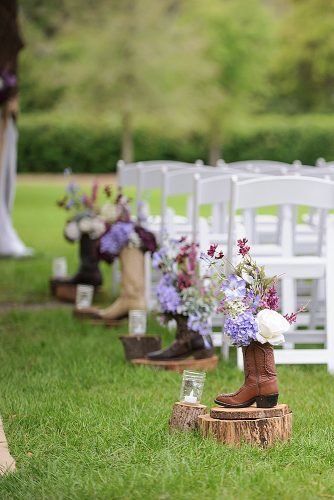 Country Wedding Attire Ideas
A country wedding wouldn't be complete without country wedding ideas for the attire of the day. From the couple to the wedding party, to even the attending guests if it will add some fun. There are no strict rules, so whatever your heart desires to complete the picture for your chosen theme, is a go.
1. Flower girl and ring bearer
Have these cuties incorporate cowboy hats in their ensemble. The ring bearer can wear his hat, while the flower girl uses hers as a hold for the flower petals she throws as they walk down the aisle, or ride down as the case may be.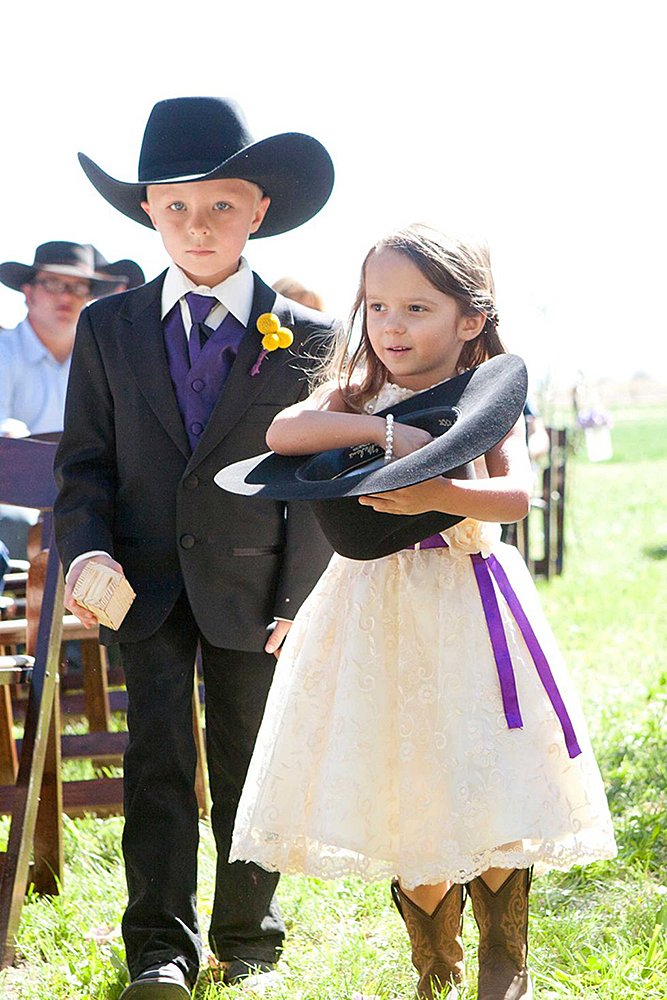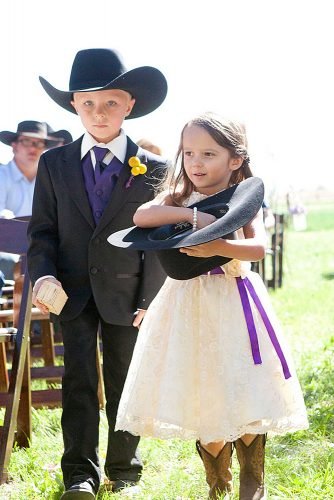 Pair your tulle, chiffon and lace gowns with colorful plaid or denim shirts and jackets. Have your bridesmaids join you in wearing cowboy boots under their wedding-ready dresses and show them off during the photoshoots. You could stand out by wearing cowboy boots in your favorite color; it doesn't have to be brown. If you're not worried about messing up your hair, you can add cowboy hats to complete the picture.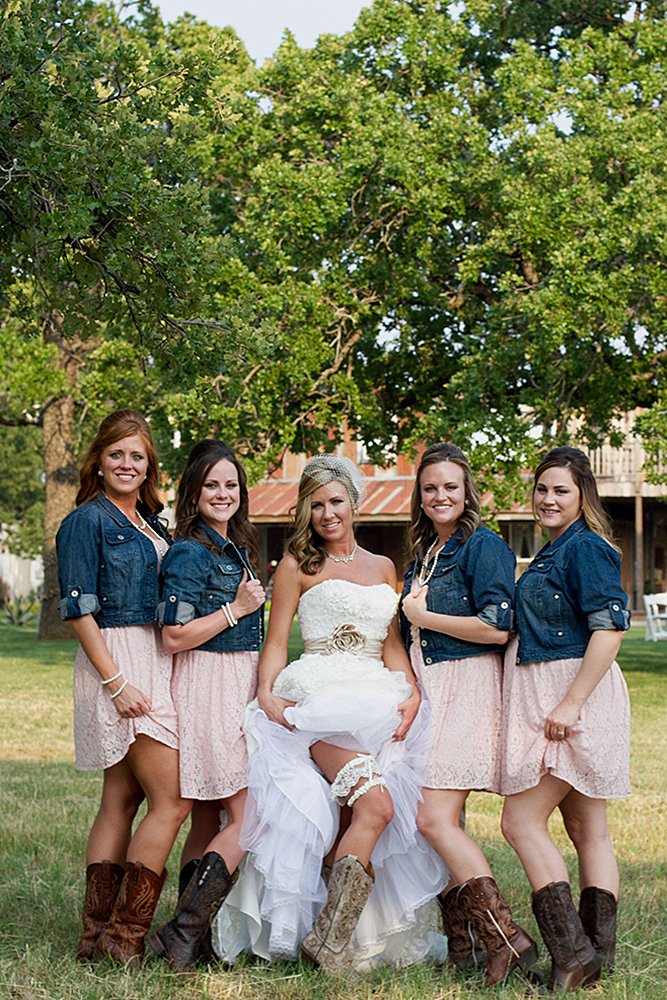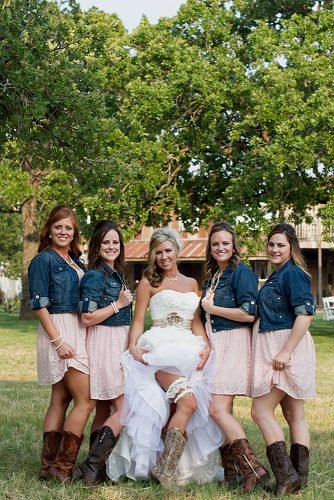 For men at country weddings, the standard is usually tweed, linen or cotton, depending on the season. However, for some additional rustic groom attire, the gentlemen could have bright wildflowers added to their lapels or some other creative accessory like a bullet shell boutonniere.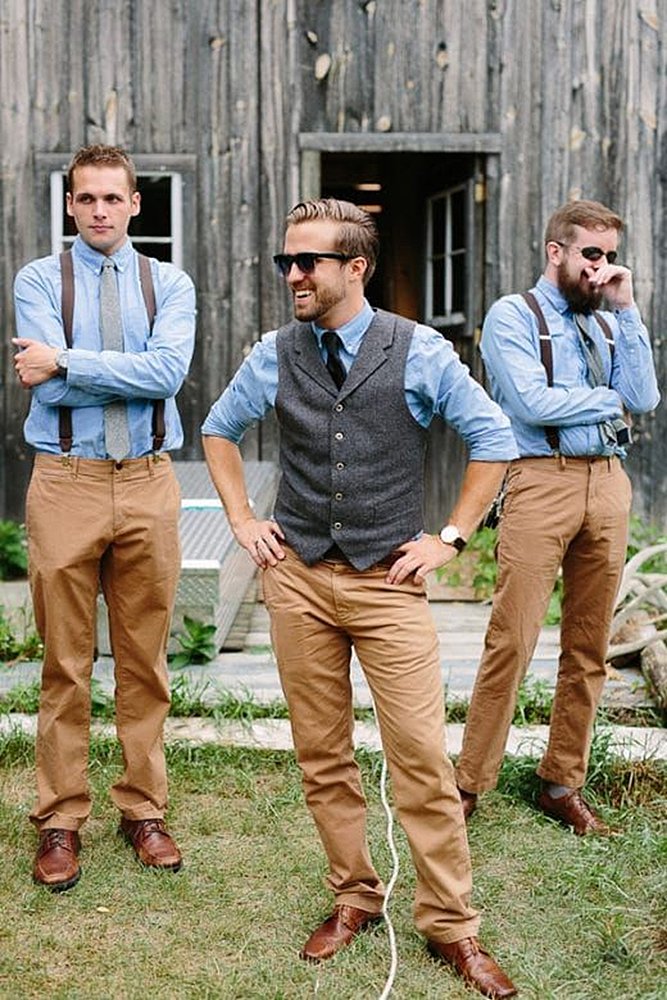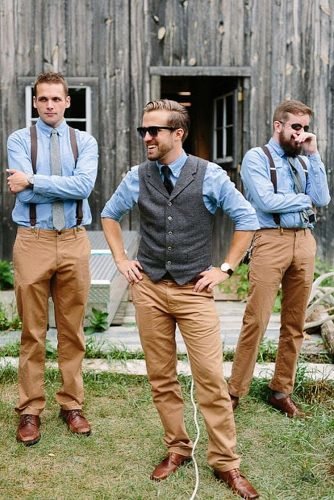 Country Theme Wedding Décor Ideas
Rustic themed weddings are more sought after now than ever before. Add the country vibe and you have a completely customized and personalized wedding, different from the usual classic weddings we have all become accustomed to. From western themed centerpieces to wood adornments, wildflower wedding bouquets, burlap accents, and neutral soft hues, there is an abundance of ways to include western wedding décor in your celebrations.
A country themed wedding usually has a laid back appeal. And so, whether you choose to use a barnyard venue or not if you pick the right type of rustic country décor, you are sure to create that country vibe for your nuptials.
1. Message in a bottle
Quite a functional piece of décor, this is a creative way to get your guests involved in your big day. Instead of the standard wedding guest book, get a bottle appropriate for the job and stand it either at the entrance to your reception or close to the bar, so each person approaches by choice. Your guests get to jot down their messages and well wishes for you and place it in the bottle. This can serve as a memorable home décor even after the wedding day and can be a lot of fun too.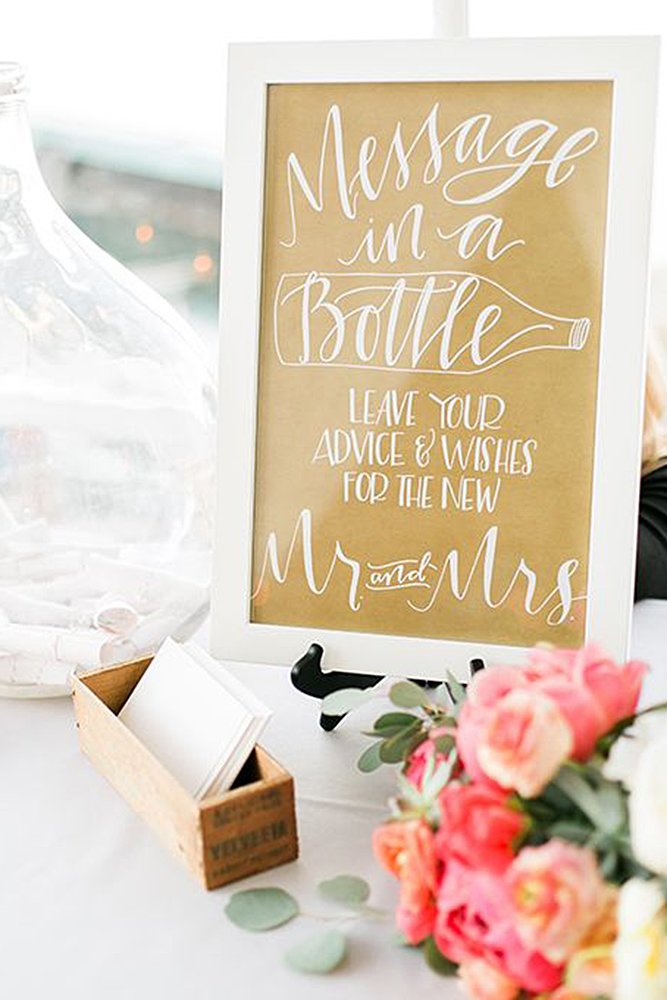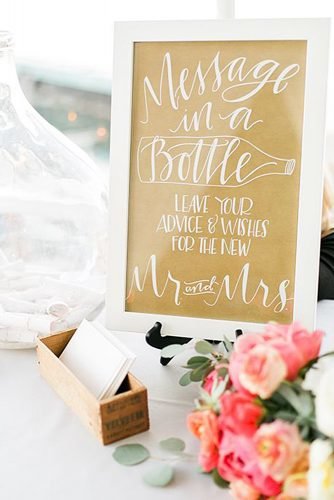 Source: mastin studio 2. The perfect seating
Set up the perfect seating for the wedding ceremony with mustard or yellow streamers, hay bales covered with blankets, parasols, pillows for that country chic look. When you're thinking western wedding decorations, this type of seating arrangement can be made in a classic way with the wedding platform in front, or in a half arc where the platform stays mostly in the middle and each guest gets a perfect view of the couple.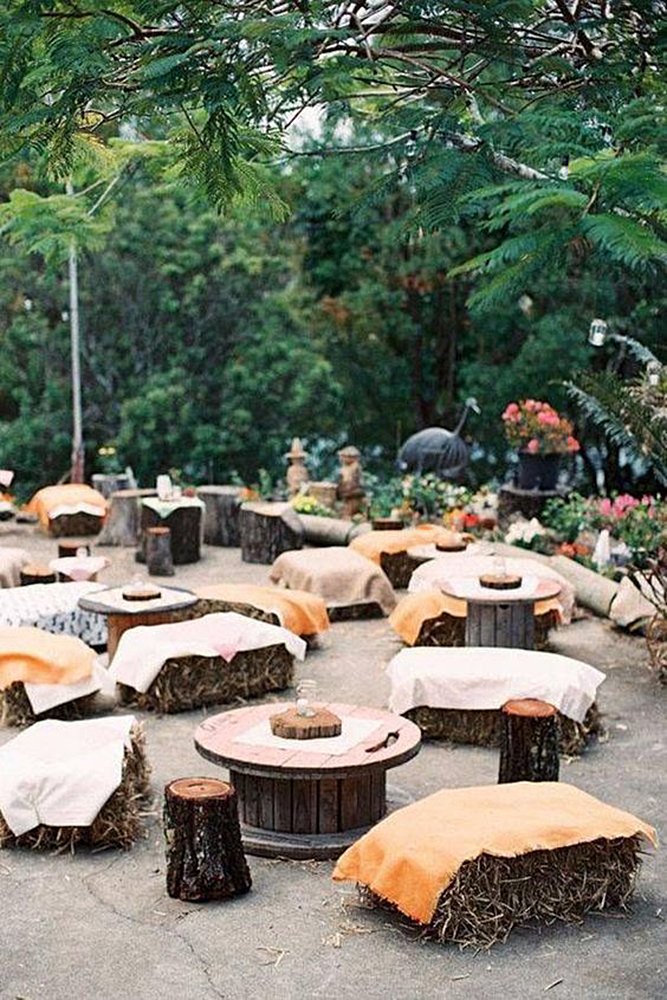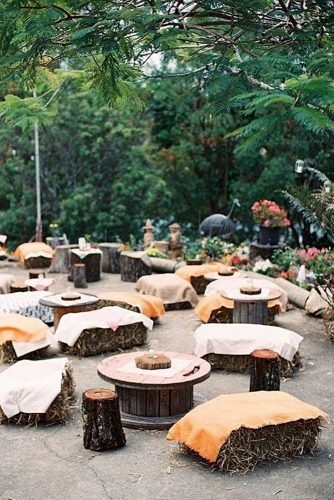 Your country wedding theme would be incomplete without Mason jars. Use these to create a dreamy ambiance, works even better at twilight weddings and would be perfect under a tree. Hang candlelit jars from the branches of the tree or trees at the venue for the ceremony or reception. This décor is cost-effective and makes a huge statement at your wedding, not to mention picture perfection.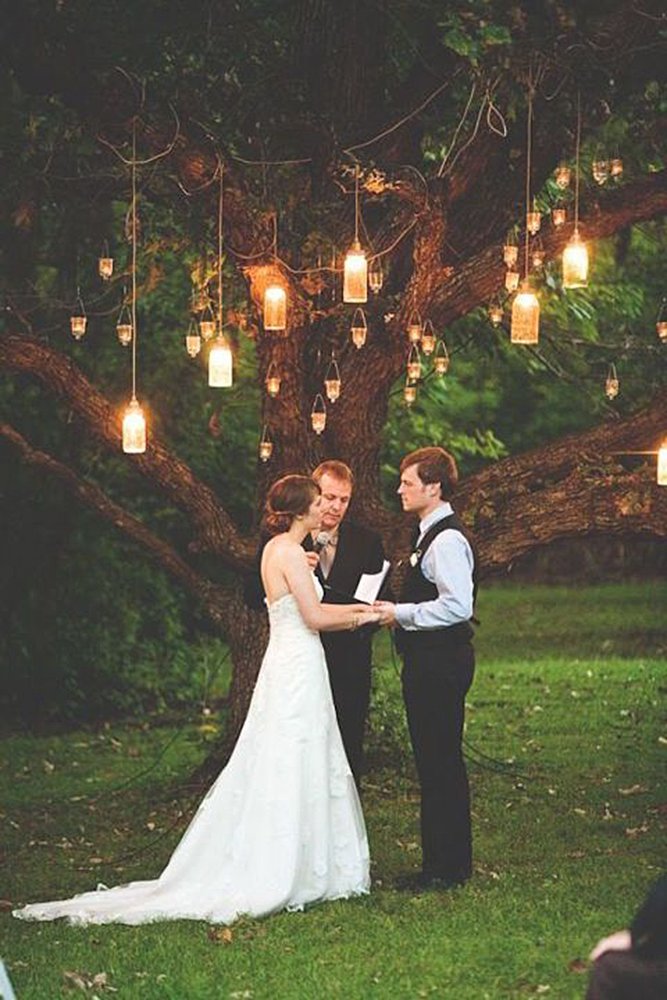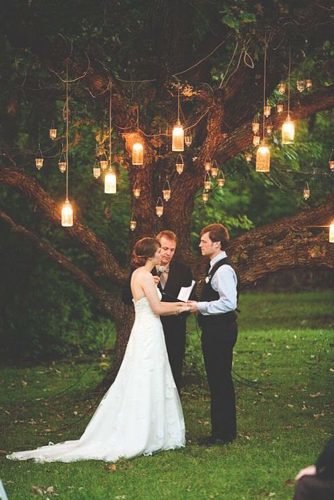 Country Weddings Flowers
Flowers are a sure item on the planning list for any wedding. The right type of bouquets and flower decorations will go a long way in enhancing your wedding venue and the overall celebration. From wildflower wedding bouquets to textured grasses for the aisle, muted hues, combined with bright yellow, red and orange blooms well arranged in beds of greenery. You can't go wrong especially if you use the blooms in the season for your western wedding ideas.
1. Crated
Replace classic centerpieces with wooden crates. You can fill these with bright wildflowers or fresh cuisine right from the farm to the table. Create a purposely imperfect arrangement that transforms your wedding reception tables into mini gardens.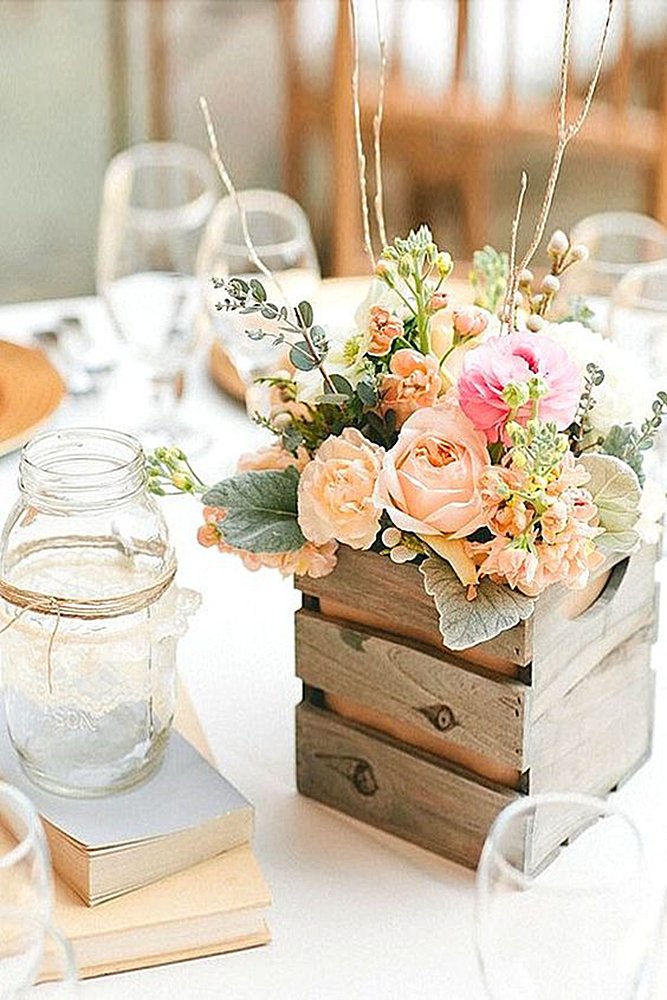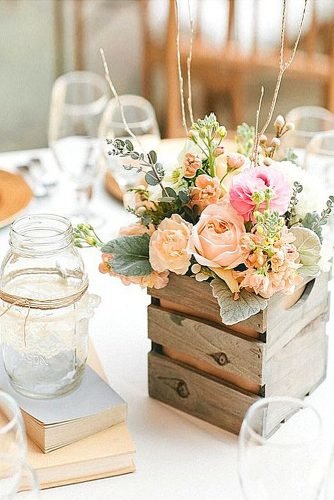 For your bouquet of country weddings flowers, you can never go wrong combining muted colors with a few bright ones. Choose cheery sunflowers with some added lavender for contrast. You can also have your bridesmaids carry their bouquets in Mason jars or even cowboy hats for a more creative effect. If you're in need of something extra you can incorporate some wool and cotton into your flower bouquet.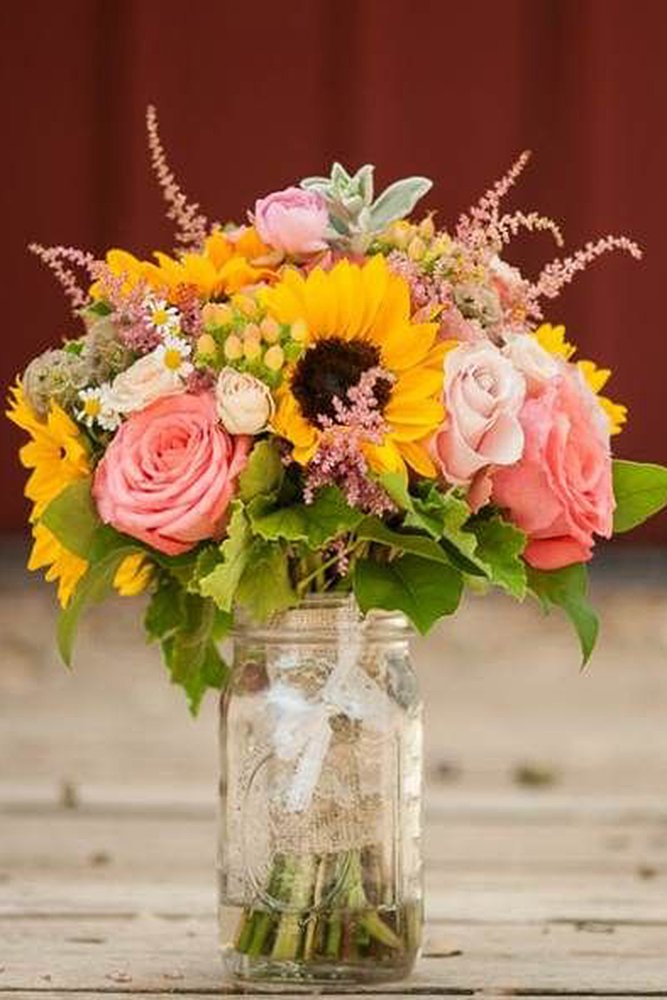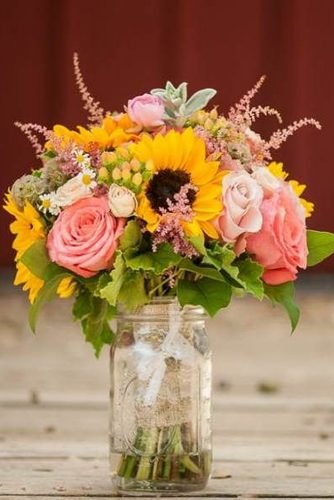 Source: cbrphotos 3. Boot centerpieces
For some more centerpiece alternatives, use mini rain boots or cowboy boots as vases, and also to enhance any wedding signs at your reception. Rain is a good sign for a wedding day, so this can be a subtle way of including some good luck in your festivities.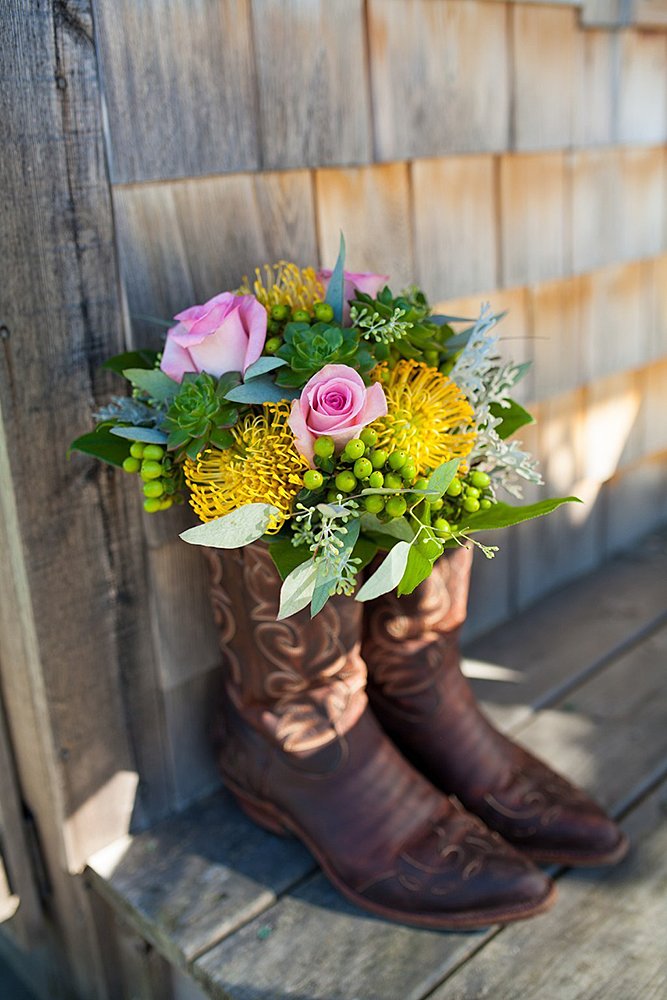 Country Themed Wedding Reception
The charm of western-themed weddings usually lies in the chosen venue and the décor. Whether your venue is a modern setting or a countryside location of rustic barns and rolling hills, it is possible to get the right vibe and ambiance of a country wedding either way. For sure you will need less décor in the countryside as nature takes the cake where scenic beauty and idyllic settings are concerned. However, some nice centerpieces, a country themed cake, pickup trucks and motifs made out of horseshoes; all of these can come together to enhance your countryside setting.
1. Vintage candy land
Make a creative dessert buffet stand out of a variety of vintage tables and dressers under a huge parasol or a tree. You can line cake stands with snacks or even cake. Use apothecary jars to serve candies, place party favors in open drawers and so on. You can also have lemonade and punches to keep your guests hydrated, and for extra take-home gifts, place small pots or jars of locally made honey for easy pickings by your guests. For a better visibility, you could display weddings favors on top of rustic crates.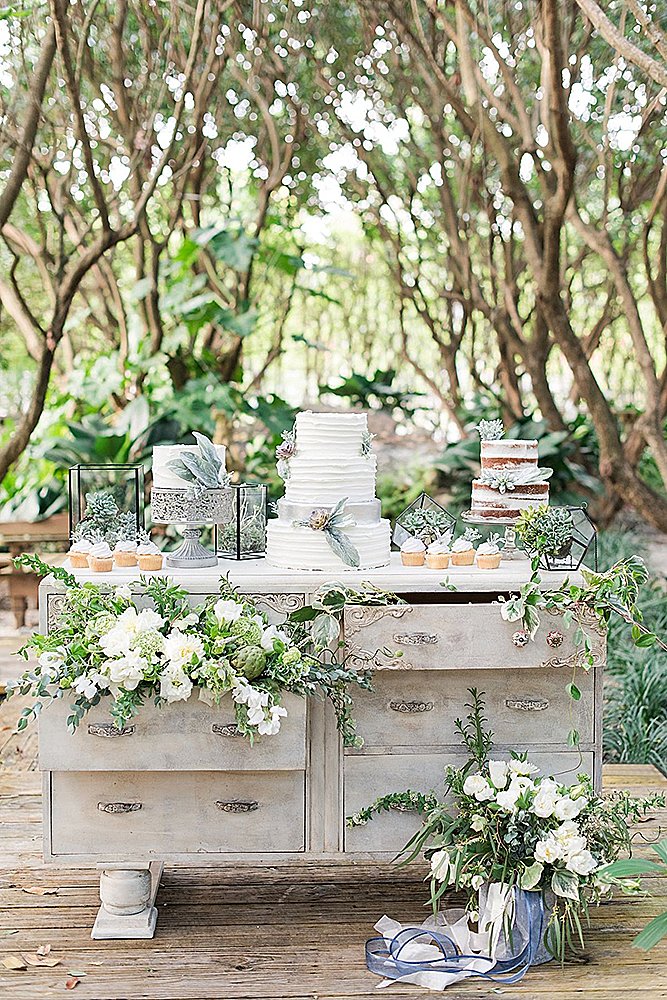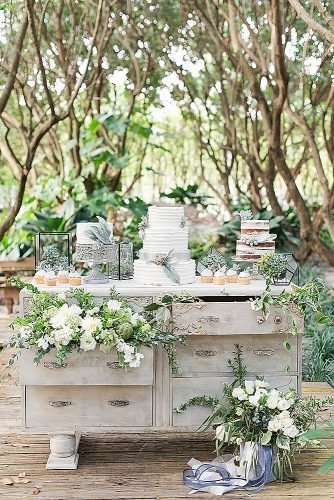 A country themed wedding would be incomplete without country wedding songs. And so, to add to that overall country feel, be sure to put together a playlist that would be the envy of every one guest. If you and your loved one have a few favorite country love songs, this would be the time to use them. Each aspect of your country themed wedding deserves a soundtrack of its own.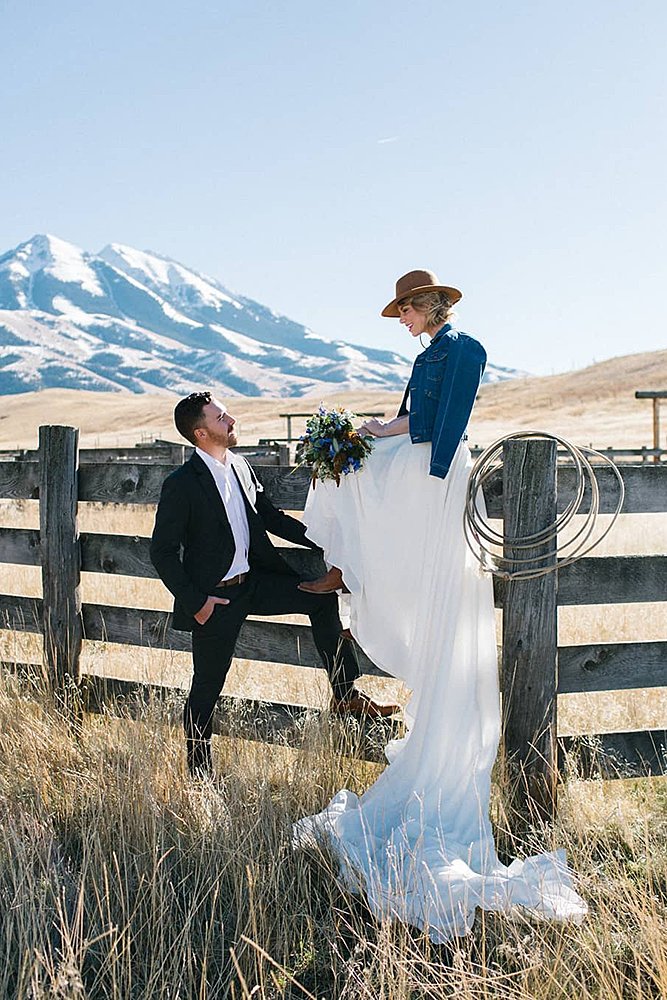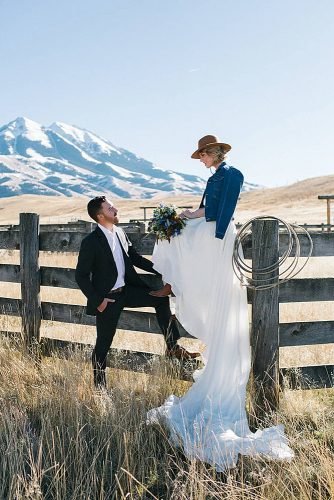 Source: kacieq photo 3. Mix and match
For a more homey or eclectic vibe, use mix and match chair designs for the seating at your wedding. Choose colors that go with your theme and mix and match them in style. Keep the size and style of chairs consistent if possible and even the repetition of colors for a great look. You could use the same mix and match for your dinnerware as well to stay within the theme.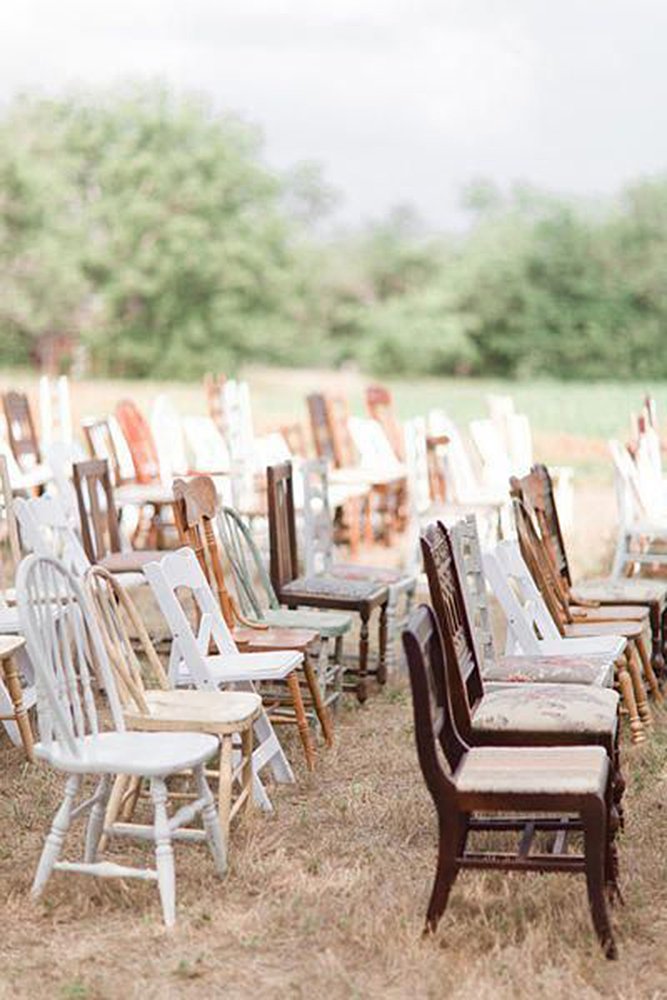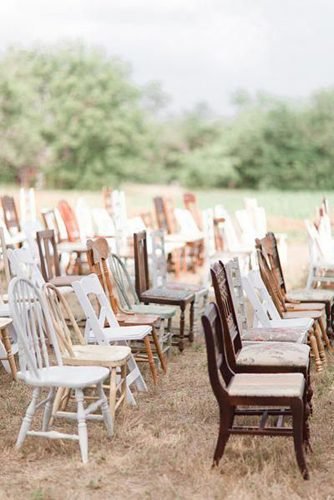 Since the rustic country theme is mostly a relaxed and laid back one, there are no limits to the ideas you can explore for your wedding bars. You could come up with creations from scratch where rustic meets vintage and give your guests the time of their lives as they walk down memory lane.
1. On Tap
Create a DIY outdoor beer bar for your guests where they can serve themselves on tap. Use Mason jars for glasses and have chalkboard signs lead them to the brew of their choice. How much more fun can your countryside or ranch wedding bar be, than a serve-yourself bar on tap for your guests to enjoy.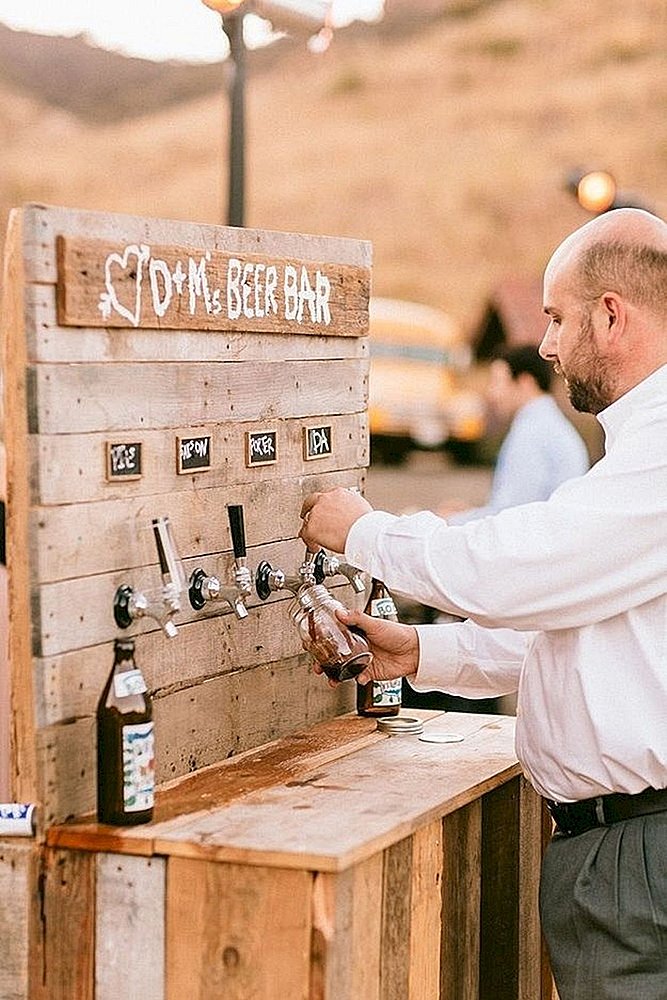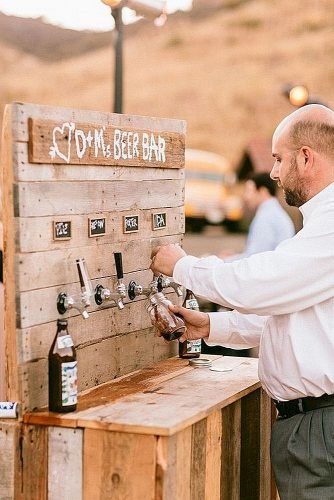 Another idea that would definitely be sitting outside of the box would be a snack stand with chocolate candies, popcorn, nuts, pretzels and more. Guests can fill cellophane bags with their choices for a healthy trail mix to add to the fun. This trail mix bar can stand on vintage tables and dressers, or on a set of barrels.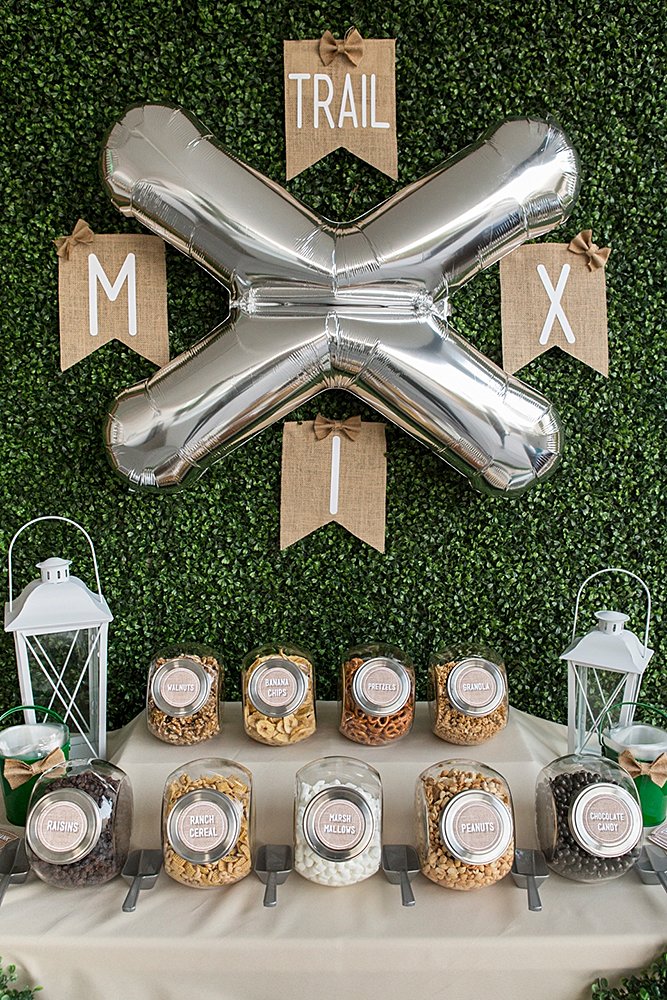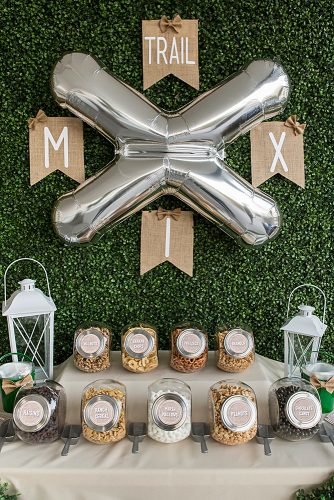 For a fun DIY bar, offer popcorn in different fun flavors to your guests from a popcorn bar. Guests can snack on these before the reception, choosing from a variety of seasonings. Each guest can also take home an extra bag as a party favor. Who doesn't love popcorn?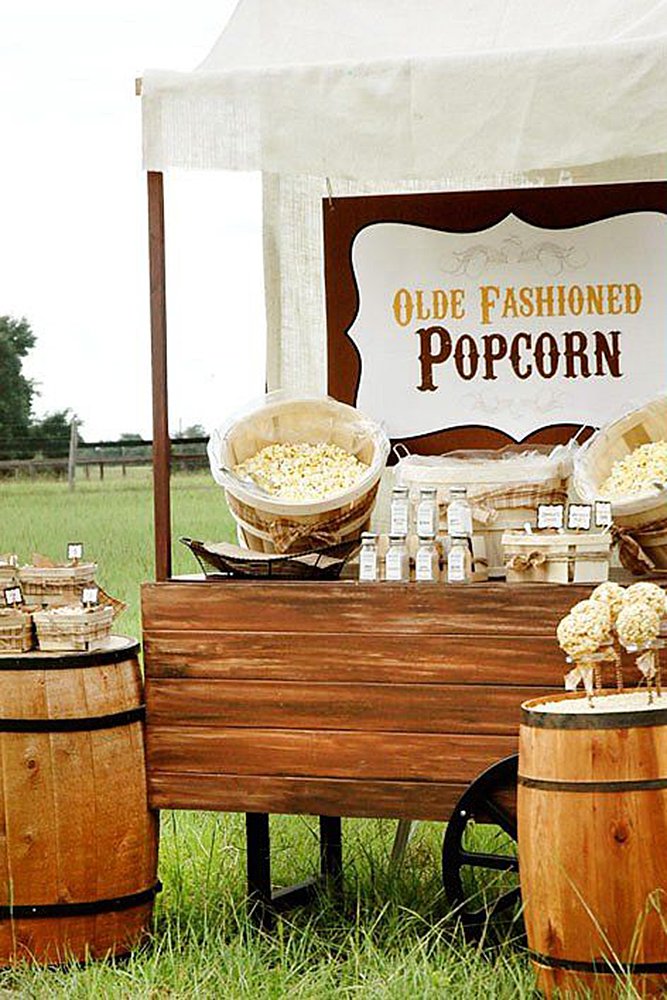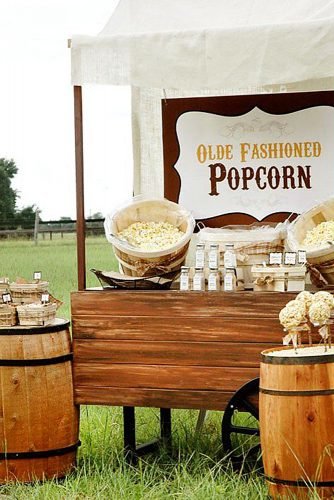 Country Wedding Cake
Explore some more laid back, country-style options for wedding cakes at your rustic country themed wedding. From naked cakes to cakes that aren't even really cake, there are a lot of options for the couple in love with this rustic theme.
1. Cowboy boots
Create your country wedding cake in the shape of country wedding boots. This chocolate cake with a chocolate finish can come complete with floral garnishes to design the deep brown boots. Place the pair on a wood cake stand and you have the perfect presentation. Or you can use country boots cake topper. After the wedding, you can use the topper as decoration as a reminder of your big day.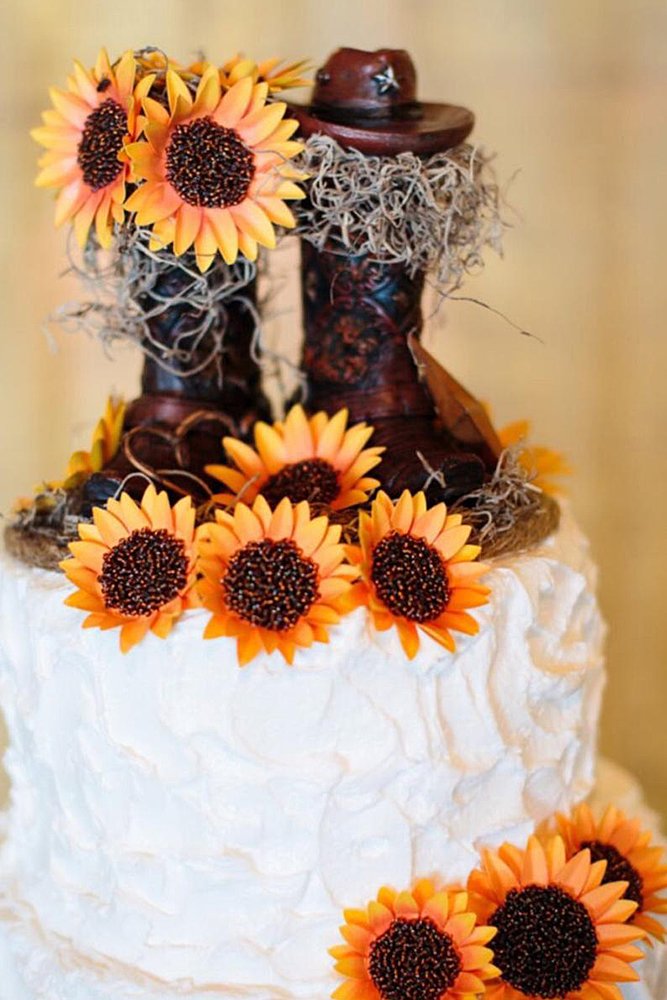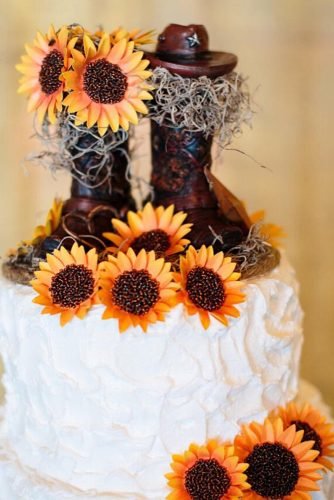 A great option for rustic country weddings, naked cakes already have a rustic look. Top them with flowers and fruits and you have perfection. You can also introduce a jam filling that drips down the cake for a better effect, and finish it off with a dusting of powdered sugar.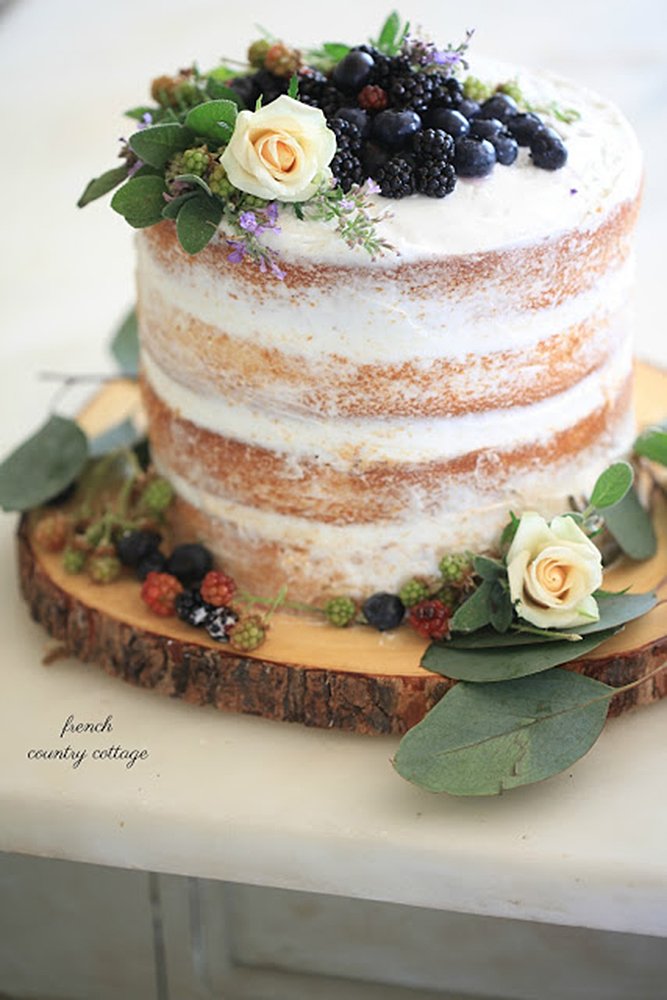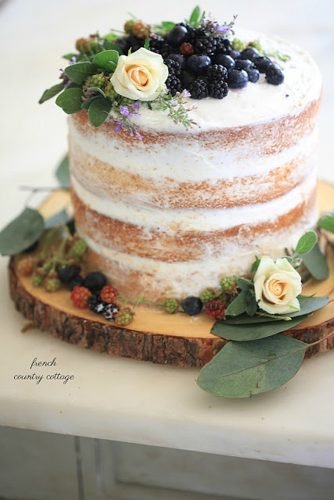 Attractive in tiers, you can make your black forest cake in two, three or four tiers. Adorn with red and green foliage for contrast and to bring out the beauty of this daring creation.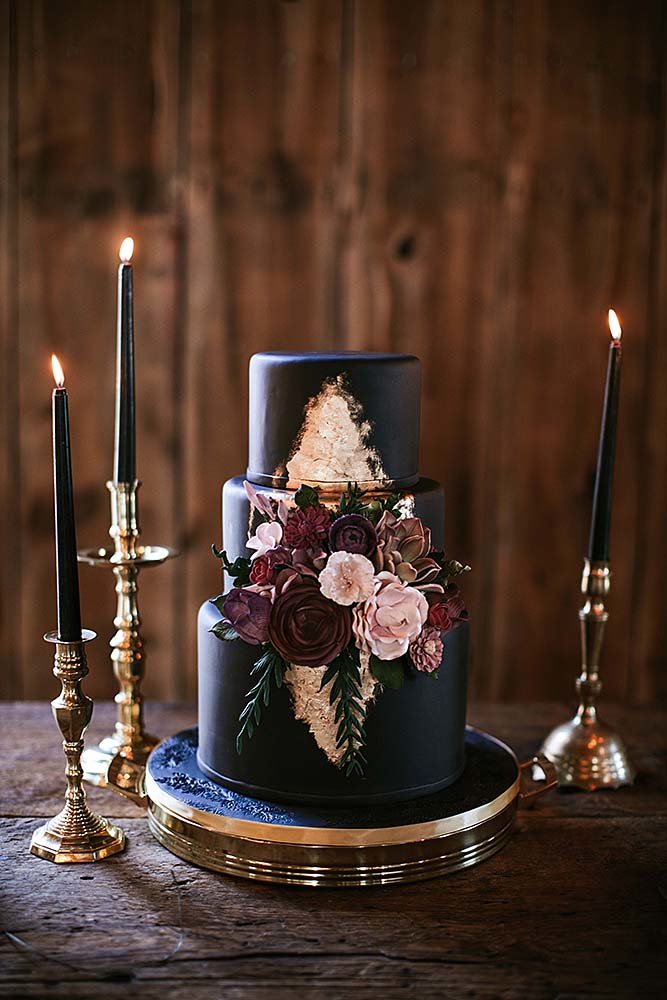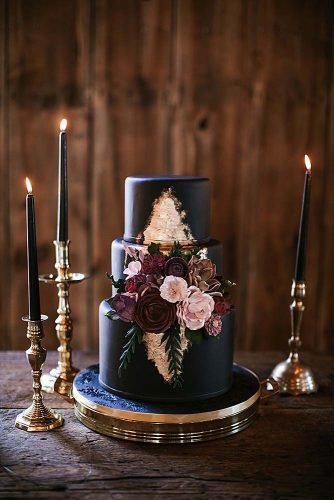 Choose the backdrop that will make even the simplest of country wedding dresses pop. When thinking of backdrops for your wedding, you have to keep photoshoots in mind and how the backdrop fits in with the rest of the wedding theme. For a rustic country themed wedding, there is quite a number to choose from.
1. Simply magical
Whatever your chosen words might be, "L-O-V-E", "F-O-R-E-V-E-R Y-O-U-R-S", marquee them under a string of lights to proclaim your love for each other and the reason behind this union. Whether it be a barnyard wedding or even outdoor, this backdrop will be a great choice for a photo op for the couple or even their guests.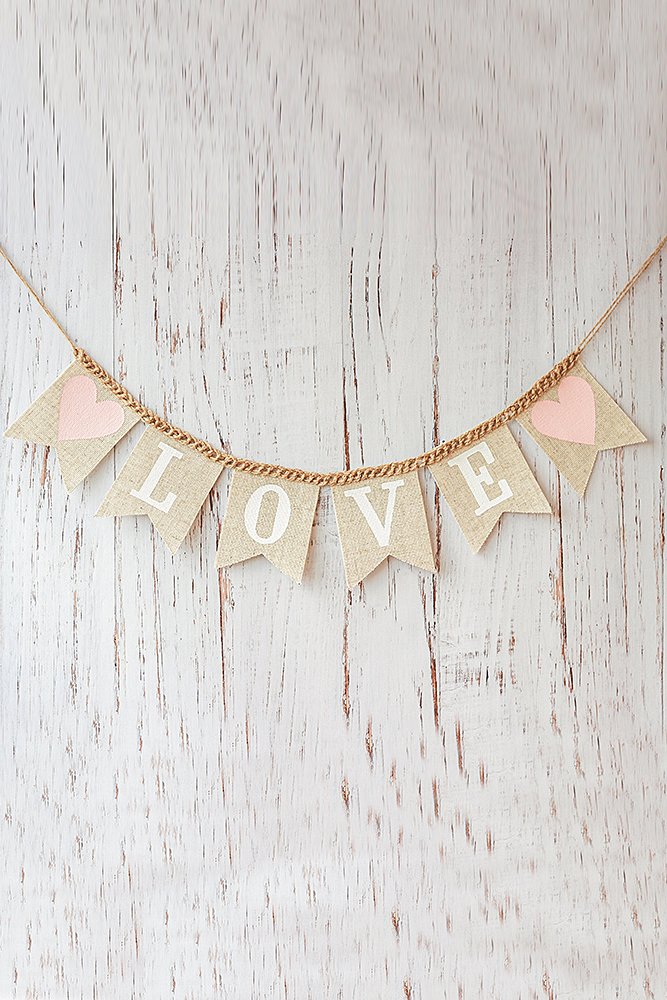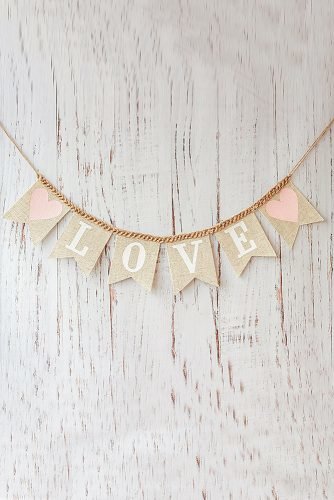 Put bales of hay to good use, stand them on their side and use for an impressive décor sign, like the names of the couple, or a floral monogram that says Mr. & Mrs.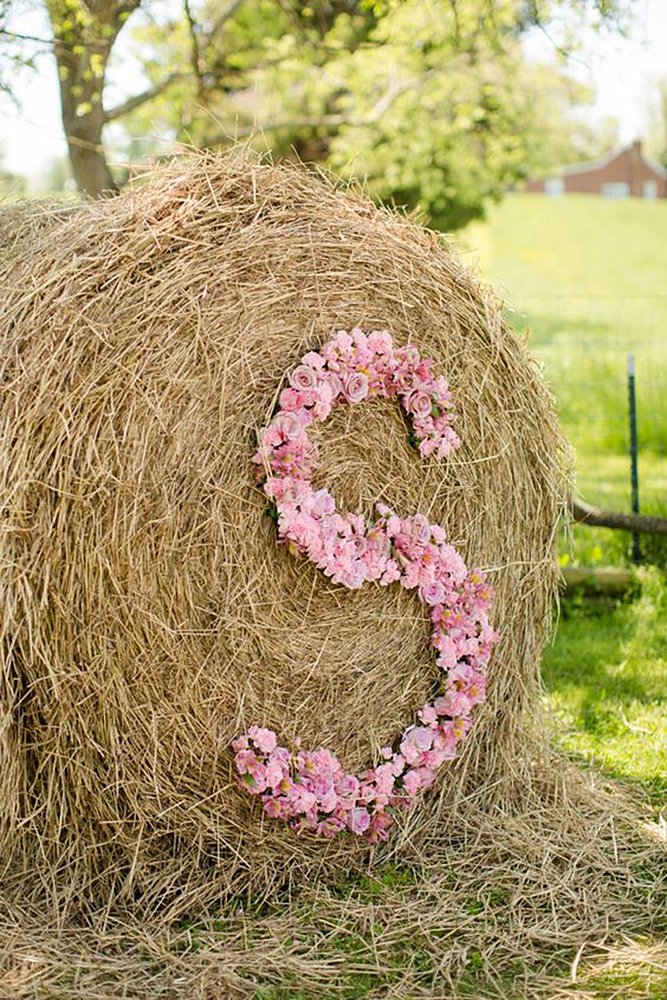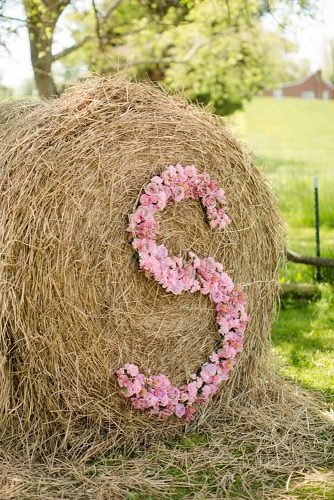 If your wedding is taking place on a farm, you can use a corn maze as a great backdrop with a decorated haystack entrance. Whether this is for the ceremony or reception, it would be a truly genius idea.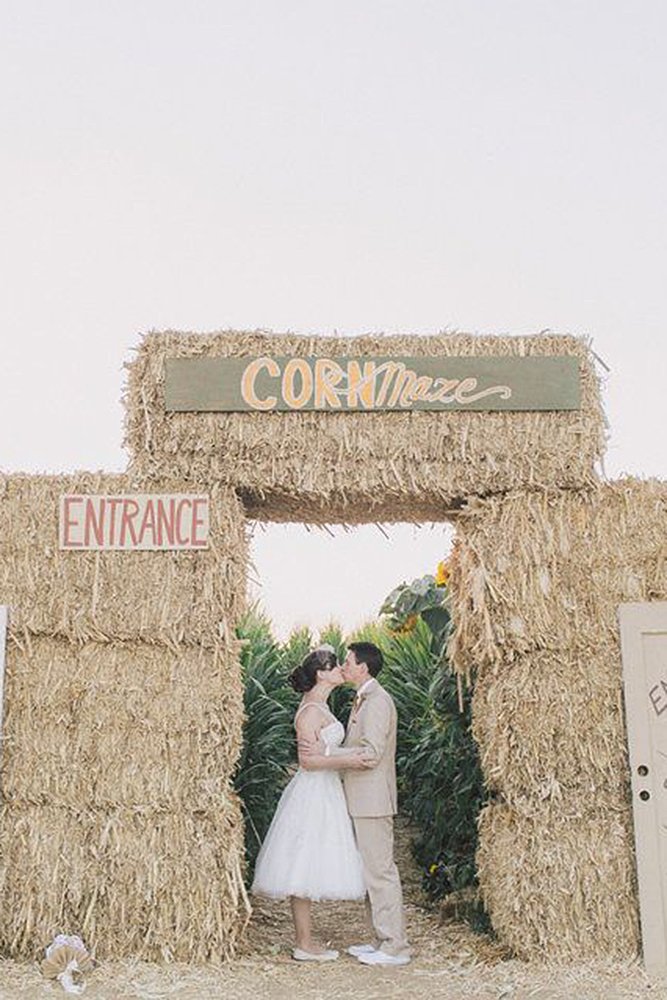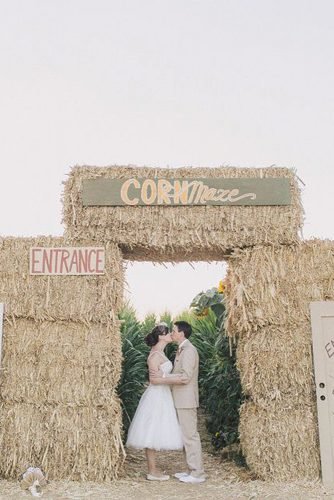 Source: anna delores
There are so many country wedding ideas for a rustic country wedding, and they can be as laid back as you would like. Whether your wedding is holding in a loft, barn, farm or modern building, you can only be held back by your imagination. So, break out of those traditional boxes, put on some country love songs and begin to plan the best country wedding ever. From chic bohemian decorations to cozy lanterns candles and the smell of wood and cowboy boots, planning a country themed wedding can be lots of fun from beginning until the end.