A good photographer creates magic with a camera and the subjects of the photoshoot. Therefore, to get the job done, and done well, it is necessary to know how to pose people. When it comes to couple poses, you will have to learn how to pose couples; it is very different from posing individuals. With couples, you will need to arouse emotions and capture the spark between them with the camera.
We have created a posing guide, which can help you create dynamic couple poses by allowing these couples to express their emotions in front of the camera. So, if you were in search of instructions on how to photograph couples, this just might be it.
Popular DIP Pose
Source: Mandy Leonards Photography, Kristen Swanson Photography, Matthew Morgan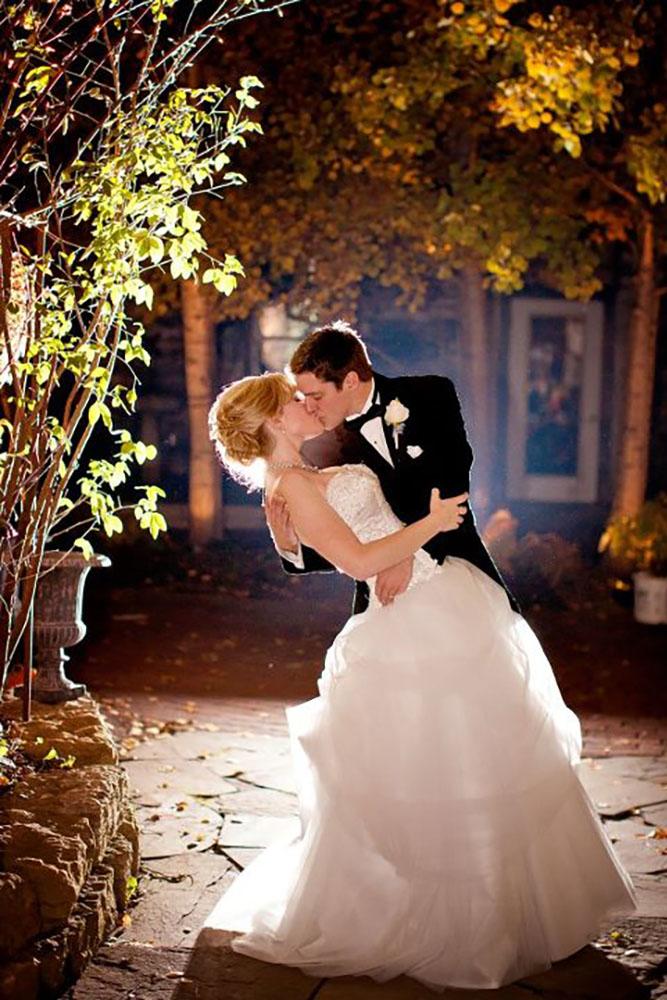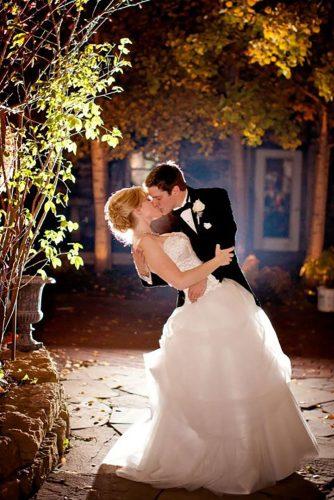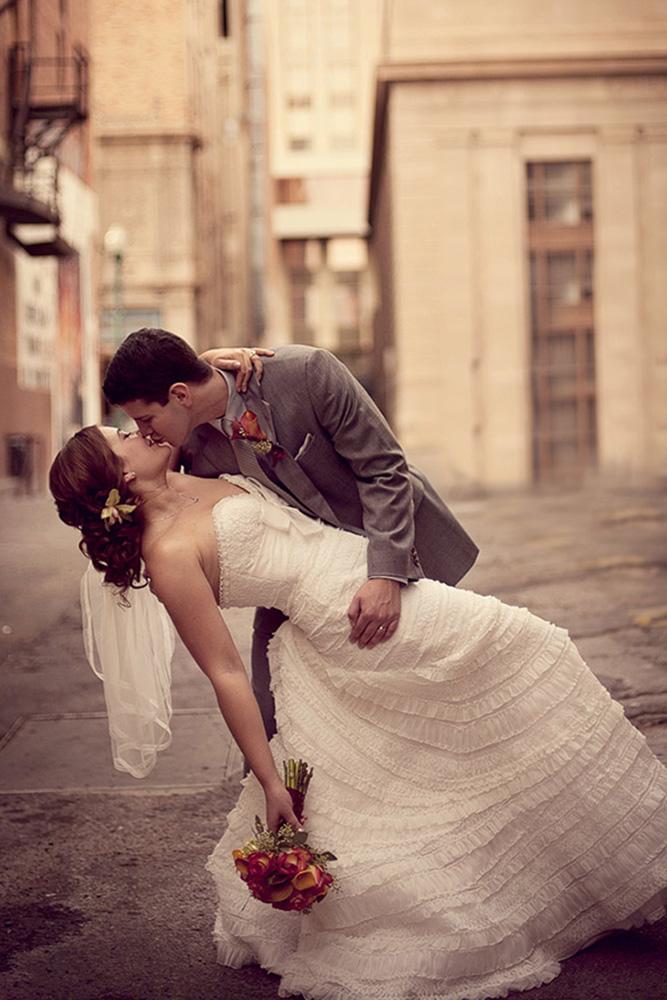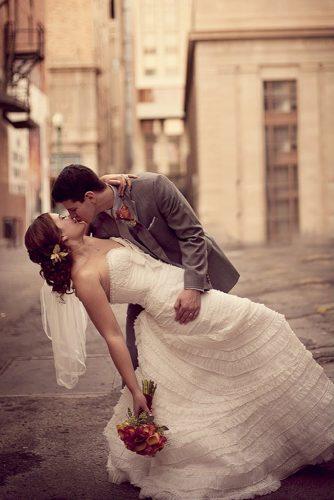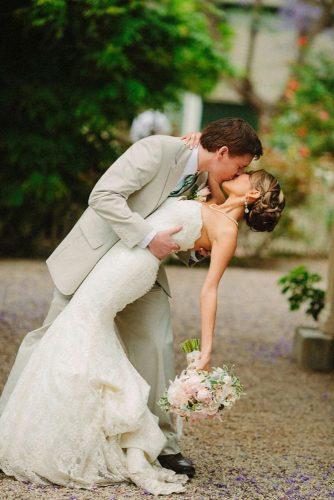 The DIP is a classic pose that most always work for couples. In this pose, you get the couple to pose in a seeming dance move where the groom holds the bride, with one hand clasped in hers and the other supporting her back. He bends his knee and they both dip, just like in popular dance moves.
This is much easier than it seems and you, the photographer would have to guide them through it all to achieve the best couple poses.
Tip: If you have the pose on your phone, show it to them, for guidance. Also, one of the photo shoot essentials, be mindful of your background. Rhythmic elements like bridges or archways or textured walls like fences can help you achieve the much-desired beauty.
Eye to Eye Couple Poses
Source: Saidmhamadphotography via Instagram, PEYTON RAINEY BYFORD, Saidmhamadphotography via Instagram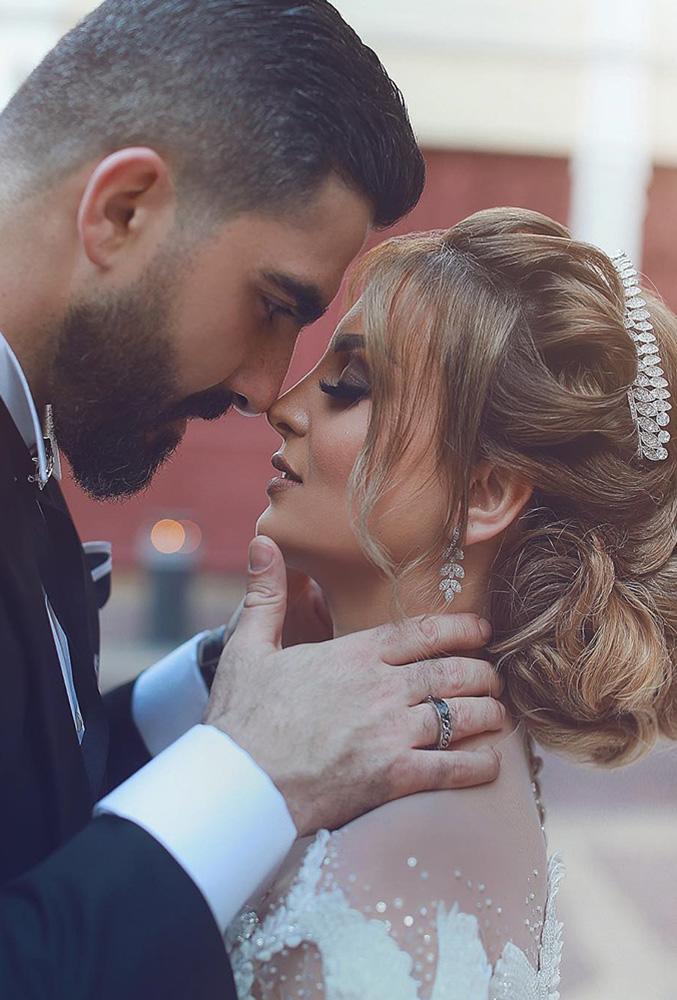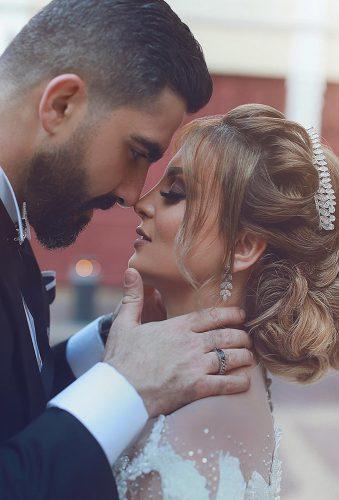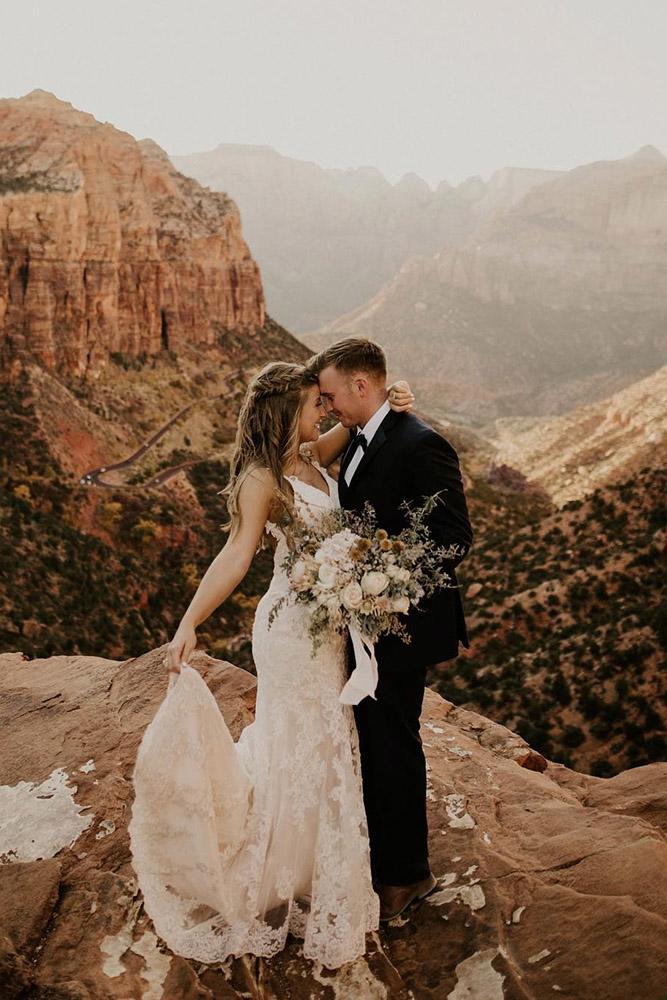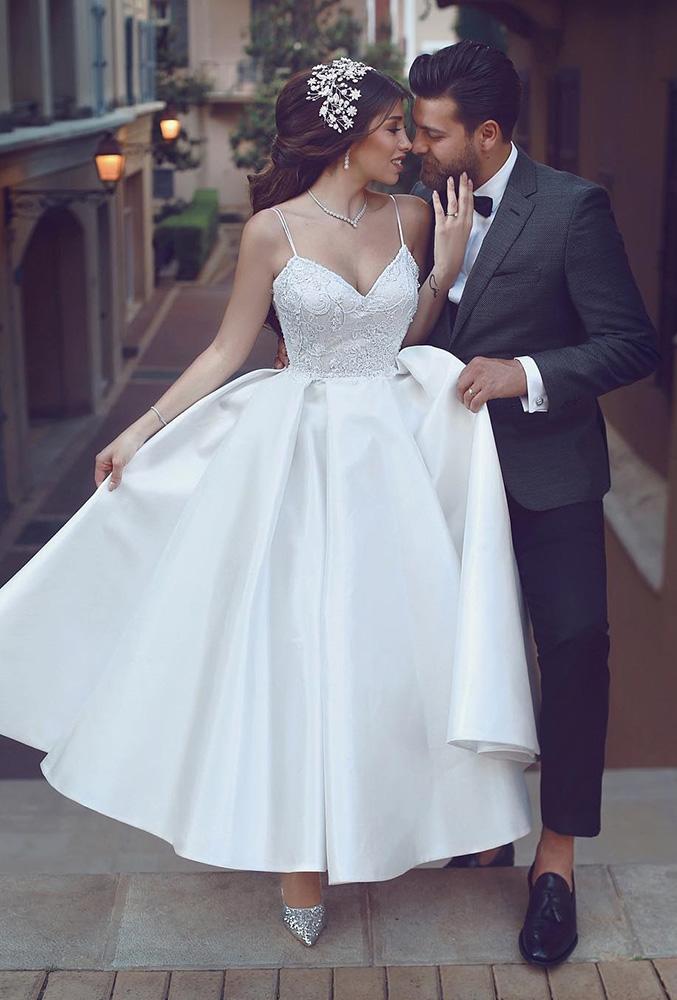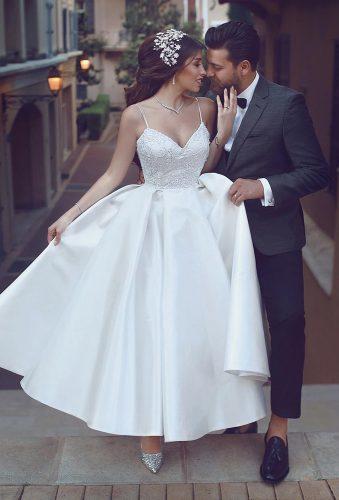 A good way to capture the emotions between your subjects is to have them stare into each other's eyes one way or another. Eye contact between a couple is crucial and helps you capture the relationship between them.
The power of this gaze can release a multitude of reactions on their faces or their body language. It might be laughter or just innate joy. Either way, you will be capturing these real expressions in your photos and this is the reason behind intimate poses for couples.
Tip: Have them sit while gazing at each other, or stand to hold each other, with their foreheads touching. If one person's eyes close during a shot, it might be just as captivating, so don't be quick to delete it.
Couple Sitting Poses
Source: Olguin Photography, PEYTON RAINEY BYFORD, Inframesphotography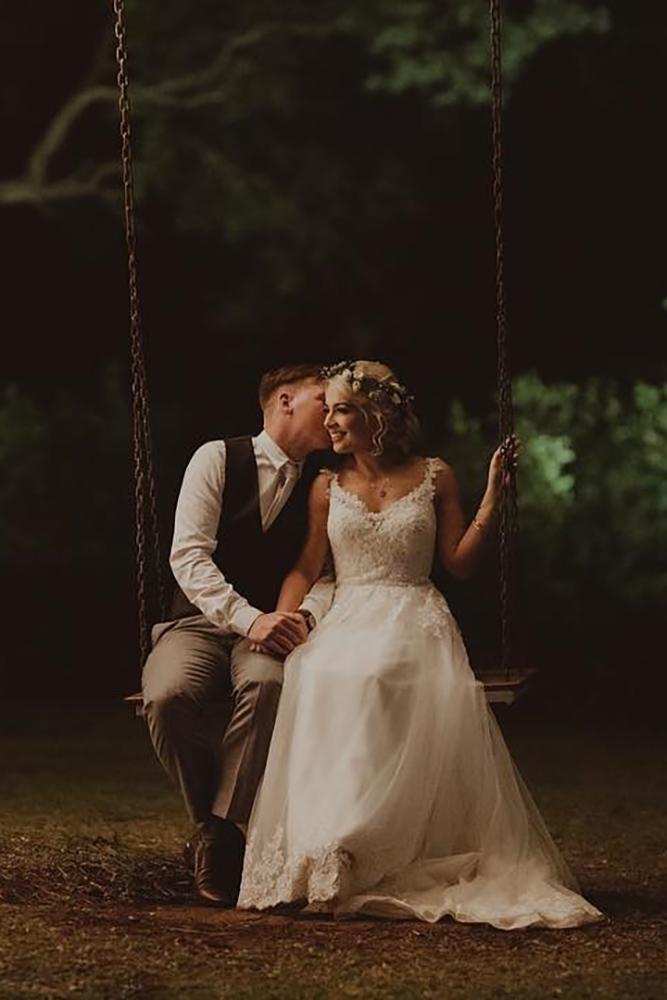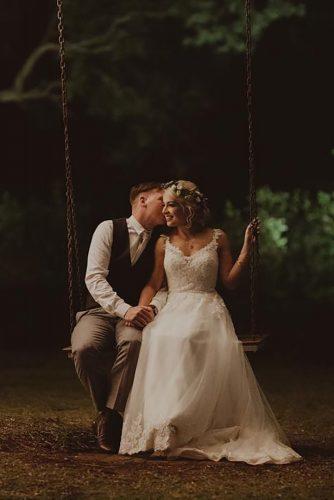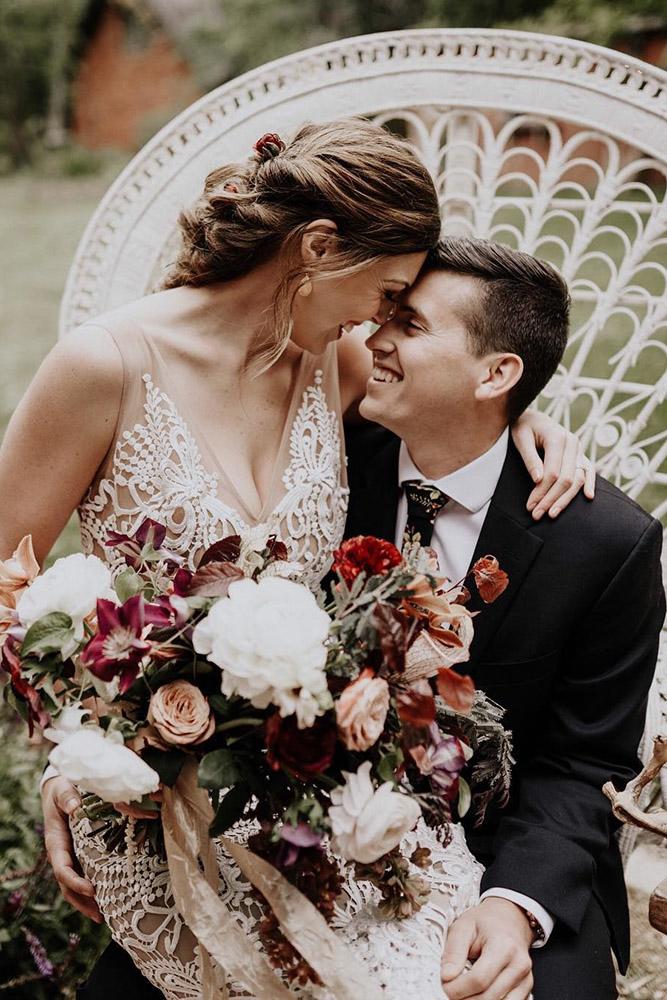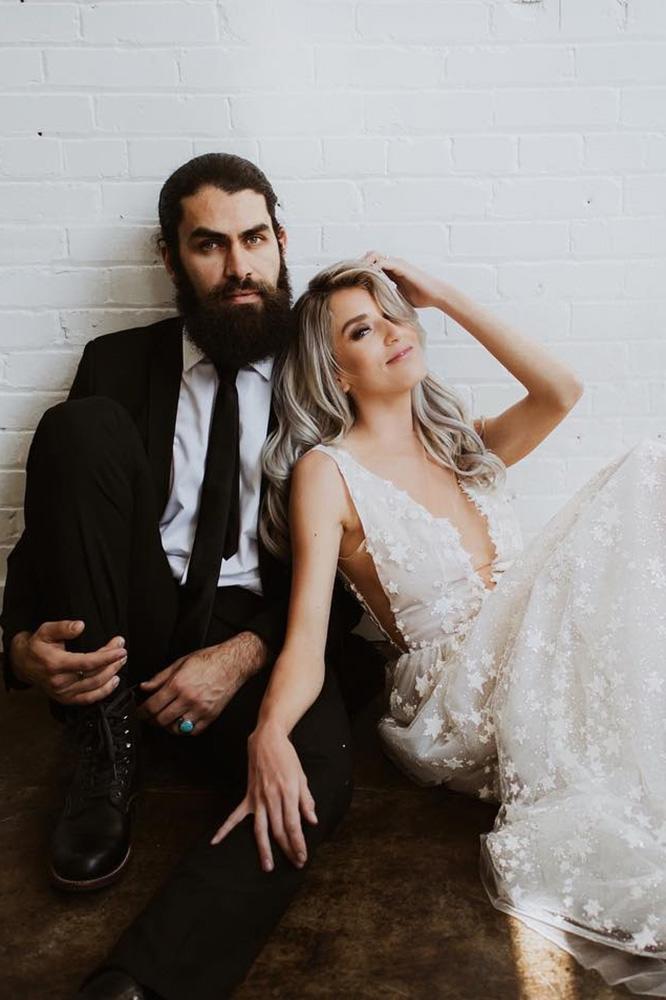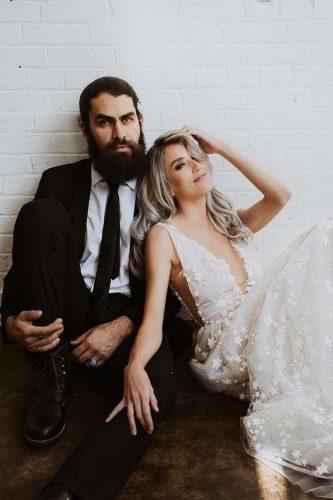 Sitting poses are great as couple portrait poses. Sitting down is a comfortable state to be in, so allow them to relax, talk to each other. You can even ask them questions about their relationship to get them comfier.
Give them a few suggestions for the poses and see what they do with it. They could sit side by side, she could lay in his lap, or her in his; whatever comes naturally to them.
Tip: Keep things casual and be ready to adapt and change poses if one doesn't seem to be producing the required magical results.
Cute Couple Poses with Delicate Hugs
Source: Julie Bulanov, Laura Olson, Chardphoto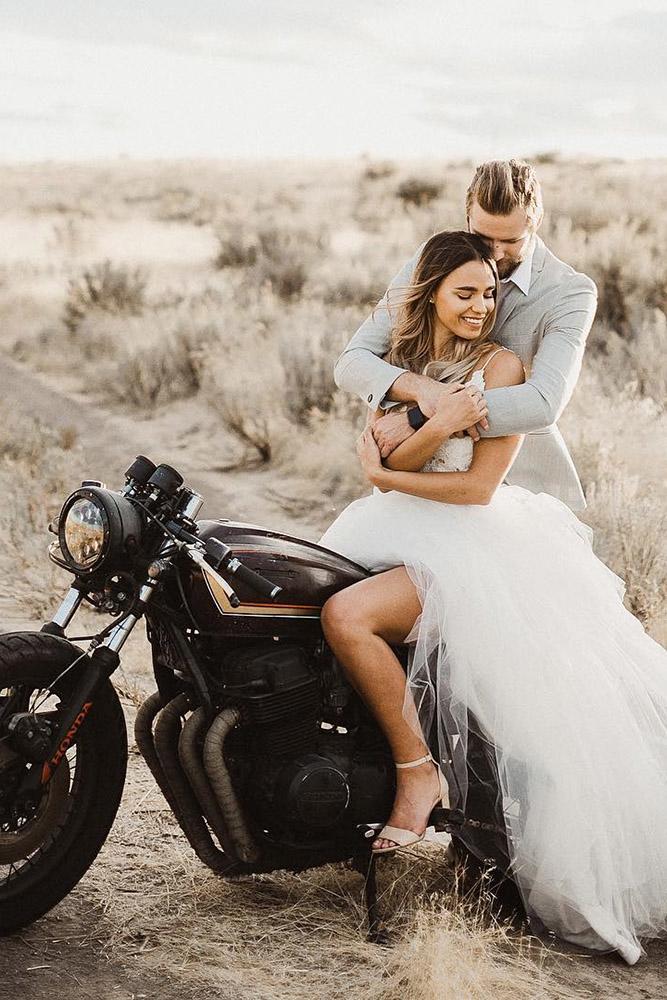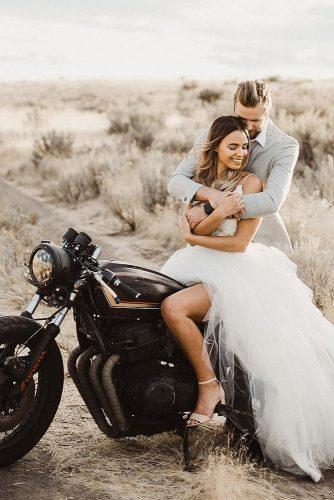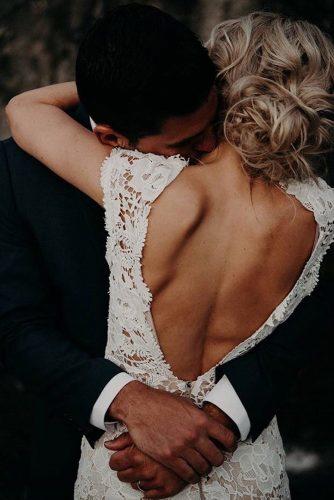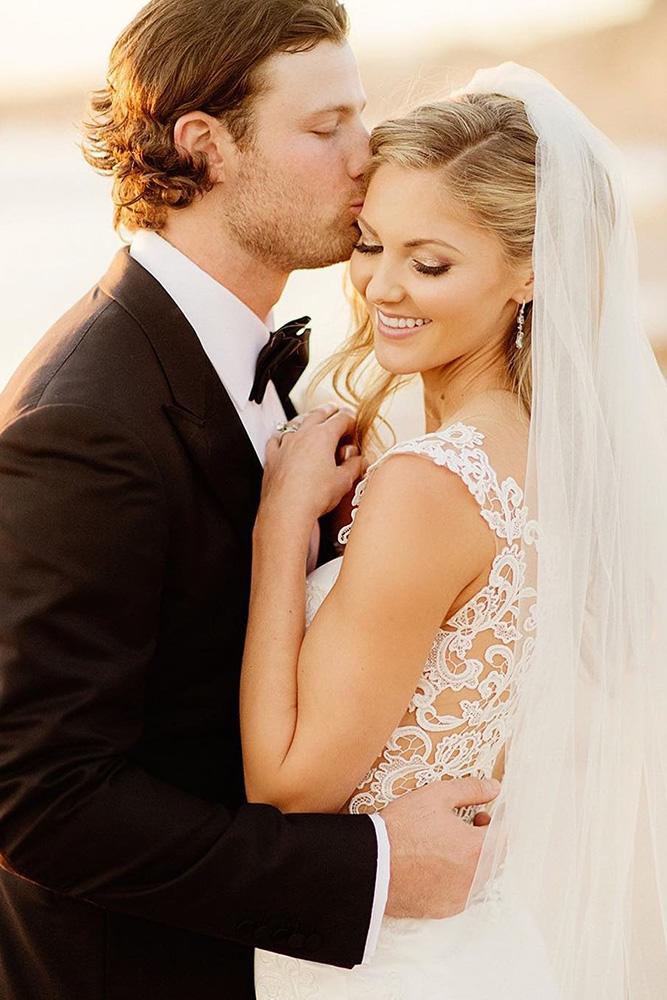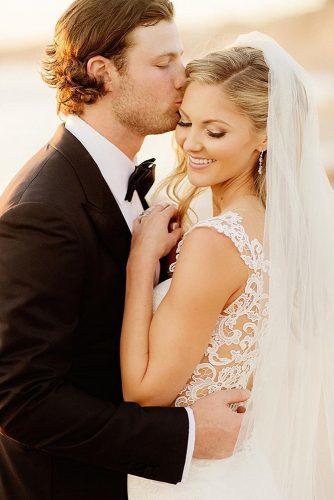 Body contact is important in achieving a romantic couple poses. Delicate and yet intimate poses; the couple can be spooning or facing each other. It is just important that they have their arms wrapped around each other, pulling each other close as they would normally do.
One could rest their head on the other's chest, or they could rest their heads together. One person could stand behind the other, with both of them staring at a location beyond the frame.
Tip: Hugging doesn't mean it has to be void of kissing. While hugging, you could capture one of them planting a kiss on the cheek or shoulder of the other for creative kiss photos.
Sweet Wedding Kiss
Source: Lauren Scotti, digitaldreamer via instagram, Mangostudios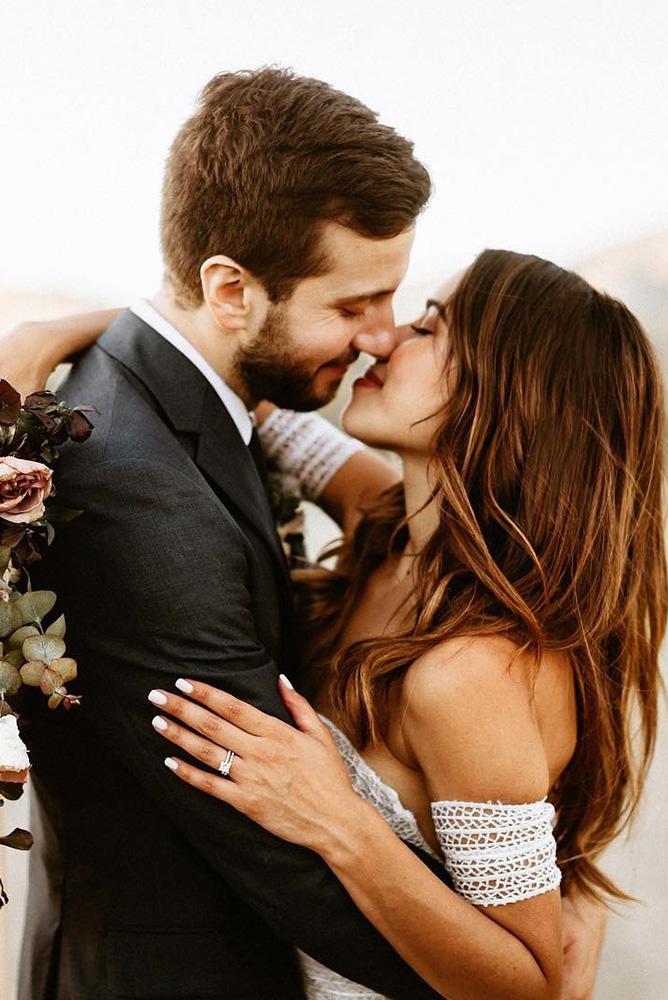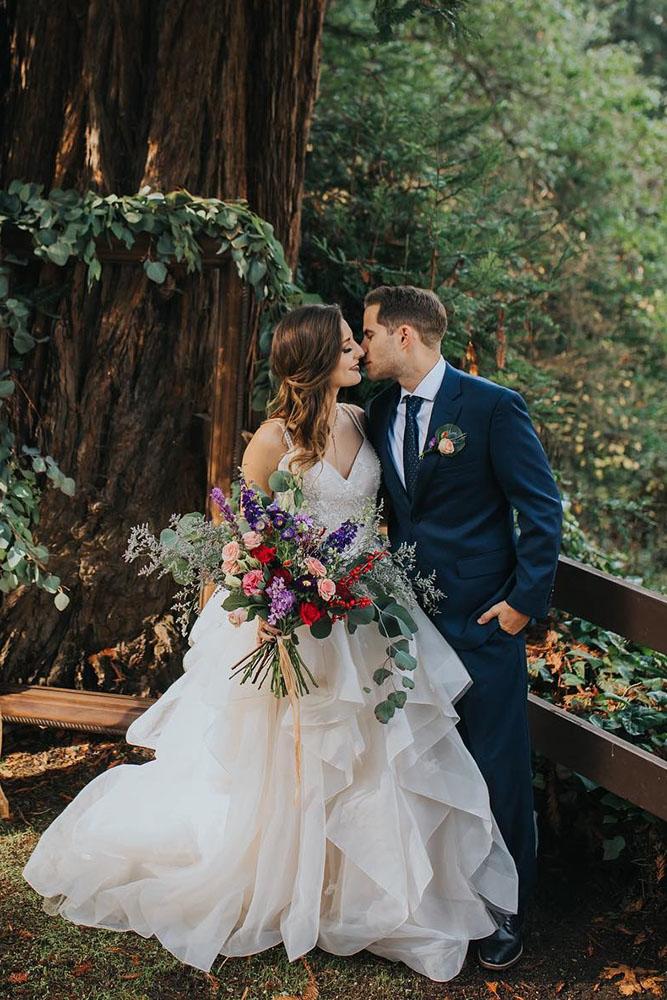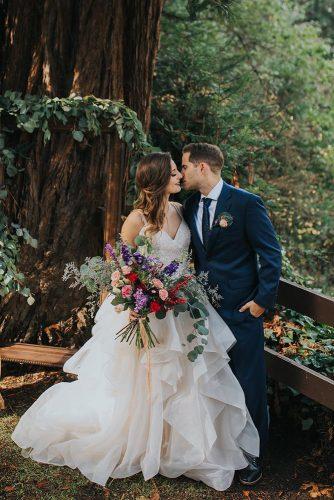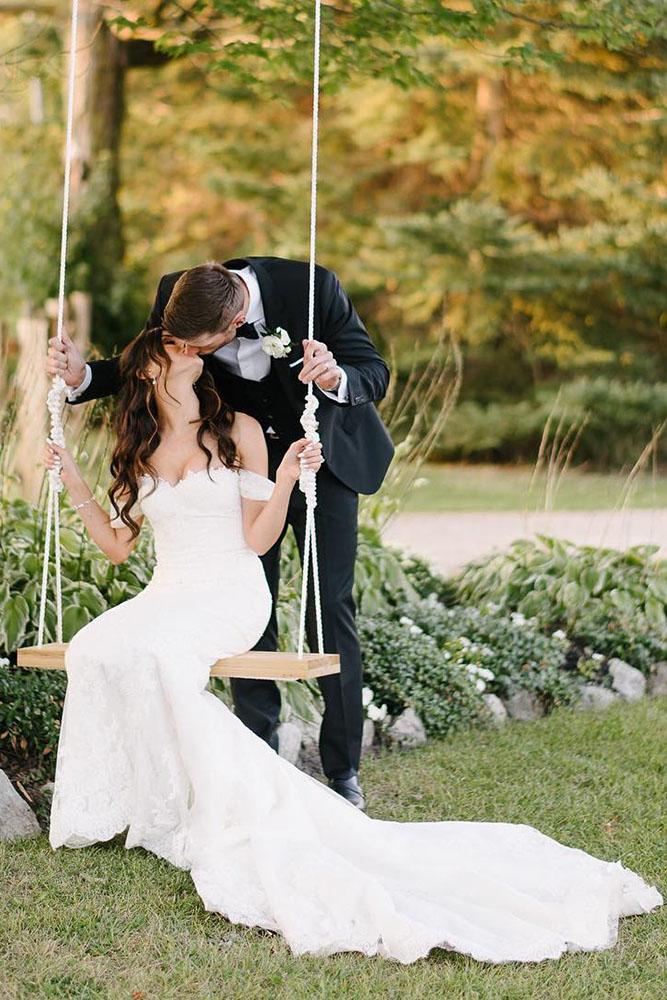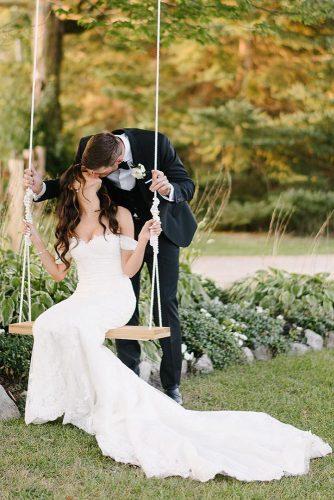 Couple photos are incomplete without some kissing because the kiss is a quintessential and timeless aspect of human relationship. It is a natural interaction between couples and photographers often have to find ways of getting perfect couple photoshoot poses for the perfect kiss.
A real deep kiss might not be that much beautiful to capture because of how people's faces naturally smash together in a kiss. So, there is a key to getting the perfect picture.
Tip: Ask your couple to try to kiss in slow motion. This will help you capture all the moments and emotions just before the kiss, and then the kiss itself.
Wedding Couple Poses with Veil
Source: Chardphoto, Olguinphotography via instagram, Olguin Photography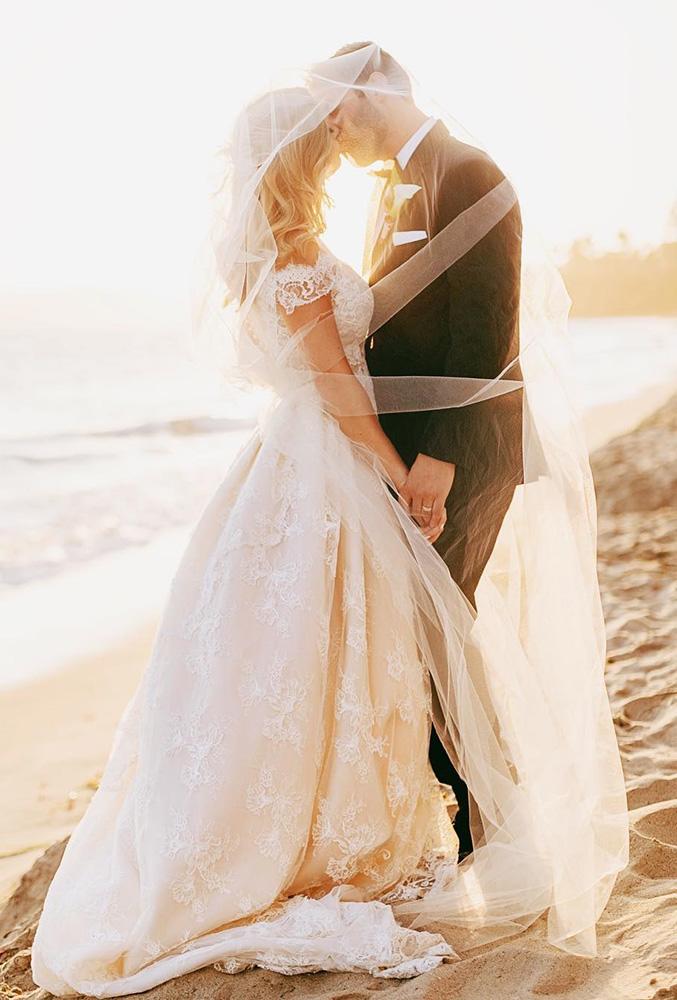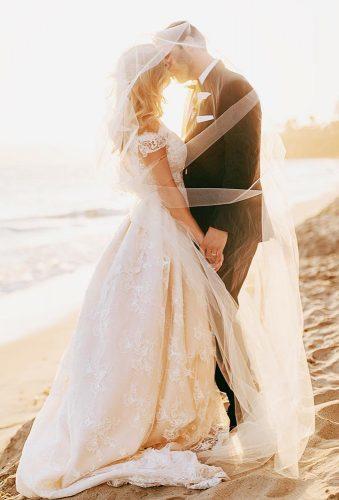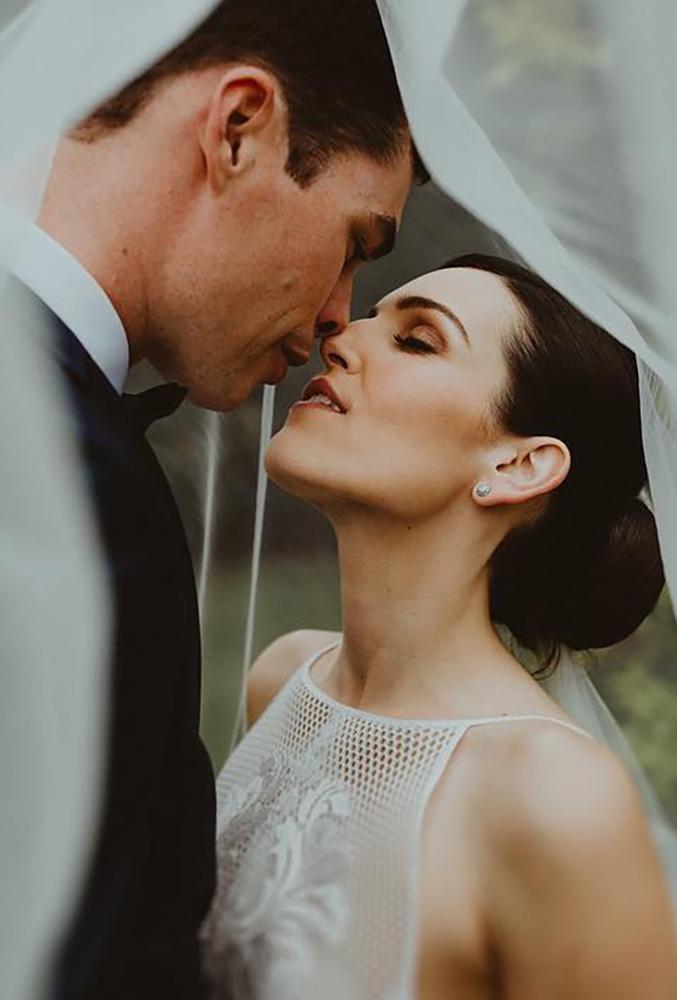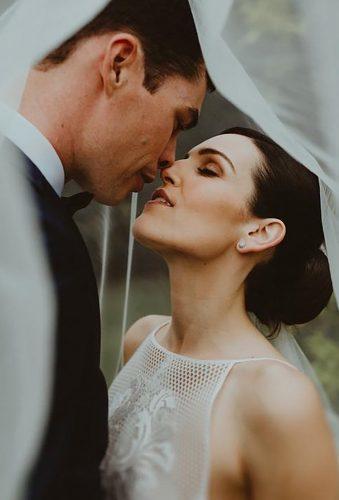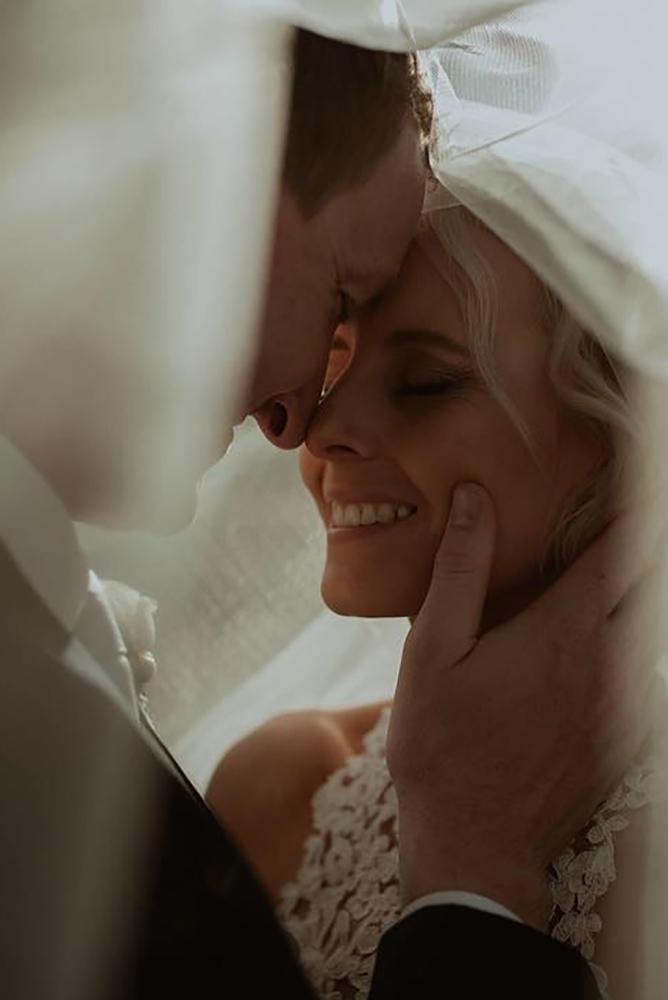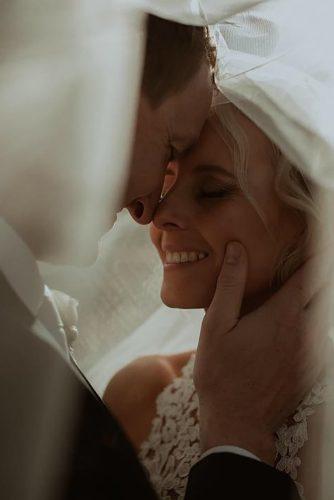 The wedding veil is a significant item in a wedding. When creating positions for photography of a wedding, it's a great idea to include the wedding veil as the main subject in a frame. While it is not necessarily a pose, the wedding veil can create a dreamy and almost magical aesthetic for a captivating picture.
There are several tricks that can be used to get a great photo. A photo of the bride getting ready, while they're fixing on the veil, a photo of the bride through the veil while holding her bouquet. You could also try one with the veil all flowy and catching a glint of light or a photo of the couple kissing under the veil for great wedding photos.
Tip: Make sure that your main focus is still the bride or the couple, and not the veil material, which is a secondary subject.
Bride In The Arms Of The Groom
Source: Tessa Tadlock, Hochzeitsfotografie Koeln, Tessa Tadlock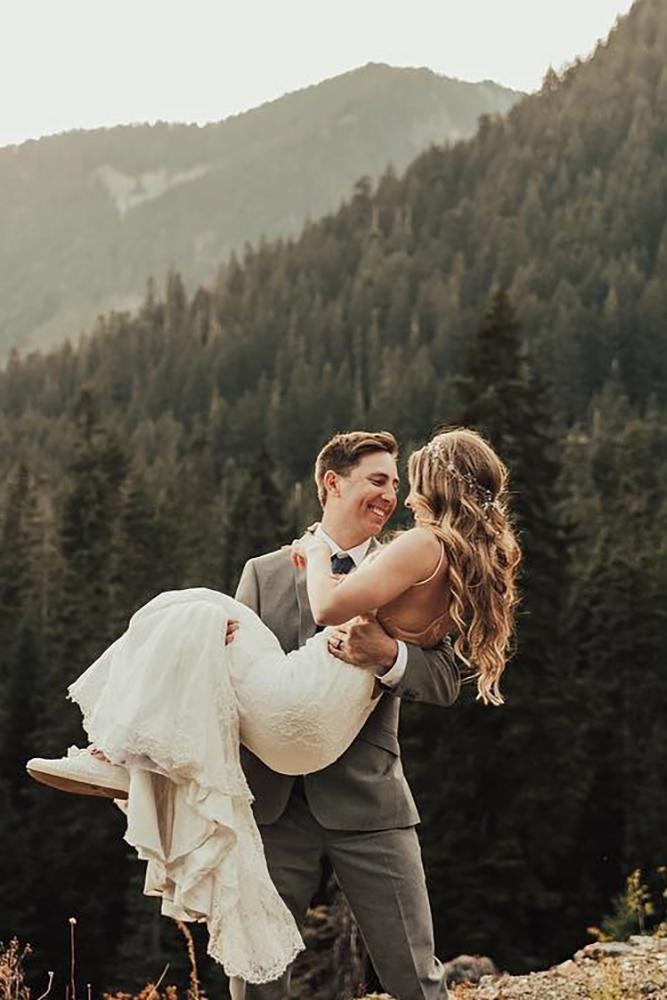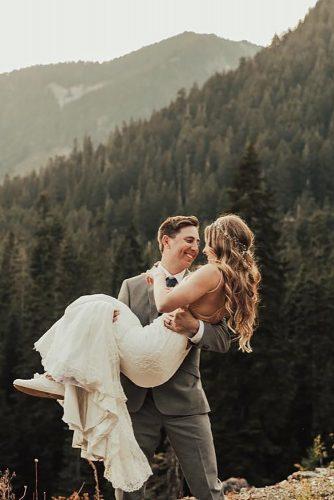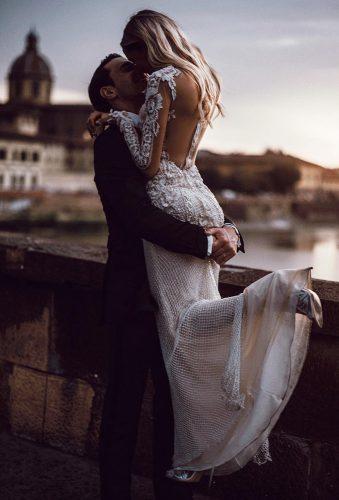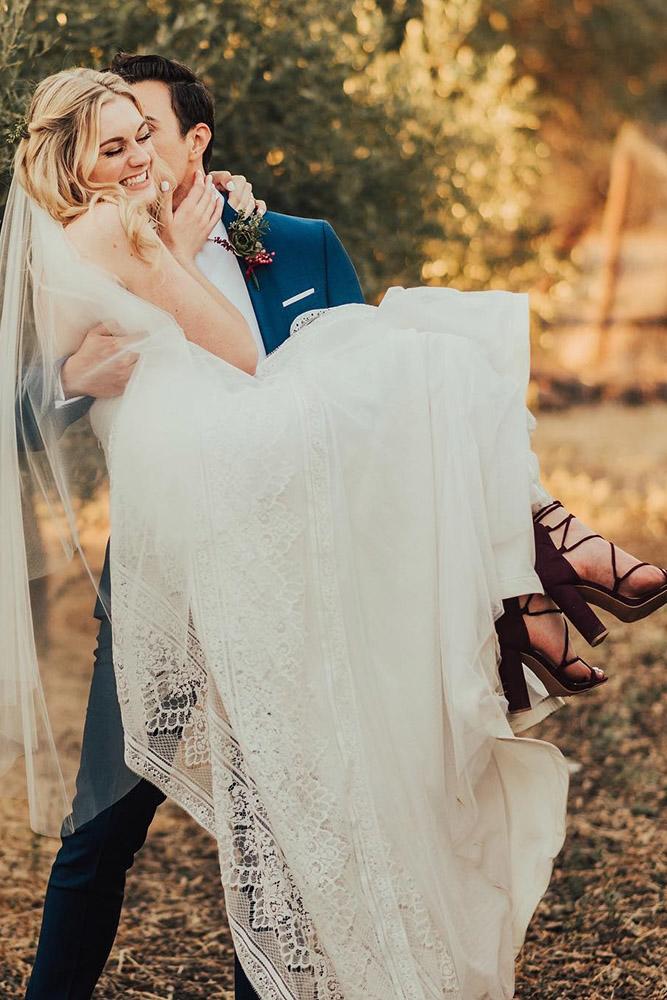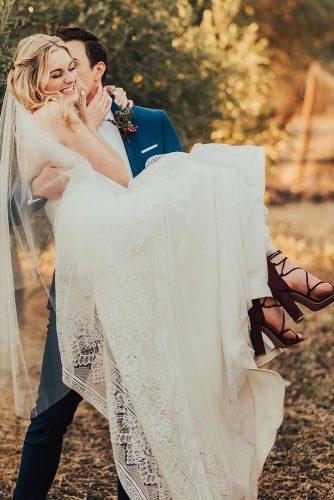 This could be a sitting, standing, or even leaning pose. The bride in the arms of the groom shows his protective side and her trusting one. He could be behind her or they could be facing each other. What matters is that you capture the details of his arms wrapped around hers and the emotions they express.
For a wedding photographer, this could also be a great way to show off their ring by letting it show in the picture. They could pose with the ring finger facing the camera, or you could blur parts of the photo to lay focus on the ring.
Tip: For a depth of field effect you could try taking a few shots with the tele photo lens and a few others with the wide angle.
Unusual Photo Ideas
Source: Donmashelen, Hannahcostello, Angie & Marko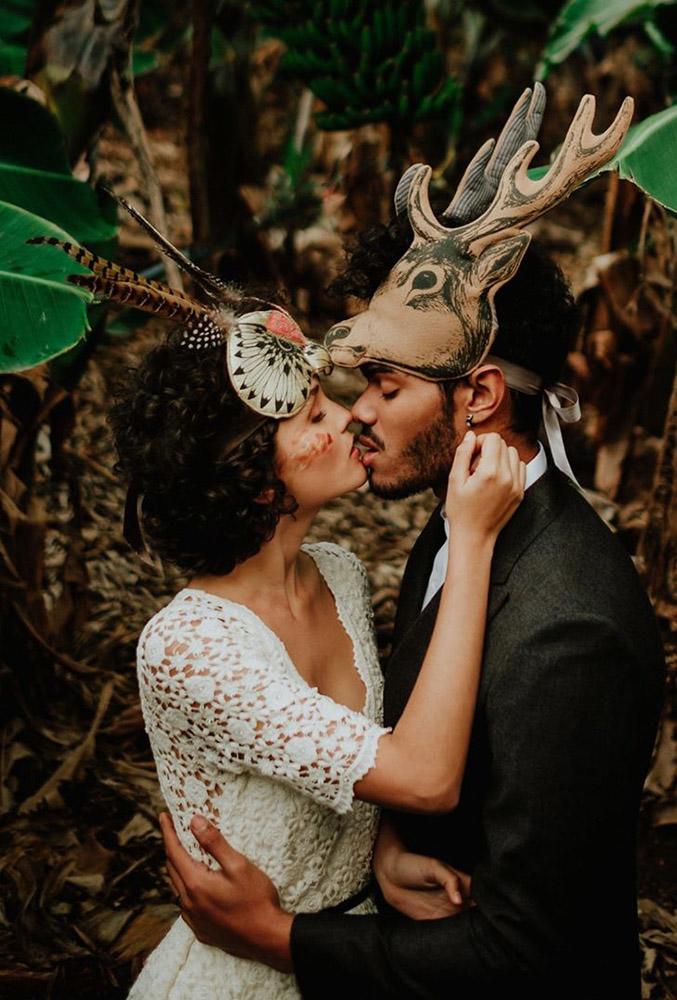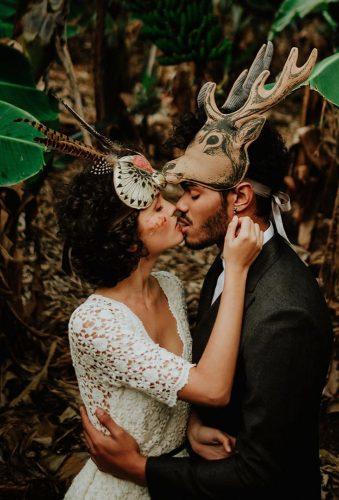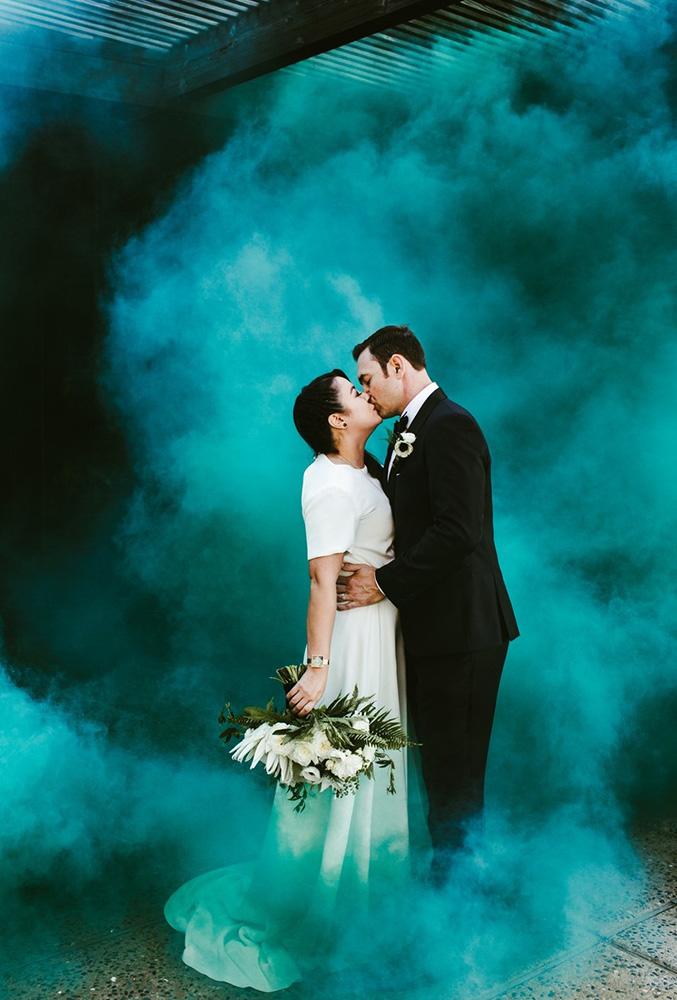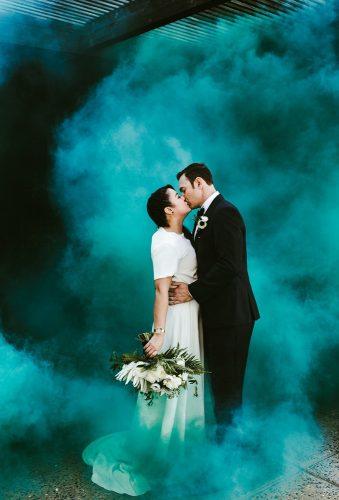 For something unusual try a weird location, or have the couple wear interesting masks. You could play with the background and make everything seemingly disappear or go up in smoke, except your romantic subjects. You could even take a picture of them half submerged in water.
Take snapshots of the different poses from above and even below, if laying on the ground will give you a spectacular perspective. This would be one fun shot if they are up to it.
Tip: The fact that it's an unusual photo doesn't mean they have to be doing something unusual. You could have them kiss, embrace or lean on each other, just as with other poses.
Romantic From the Back Couple Poses
Source: chardphoto via instagram, Chardphoto via Instagram, Blue Rose Pictures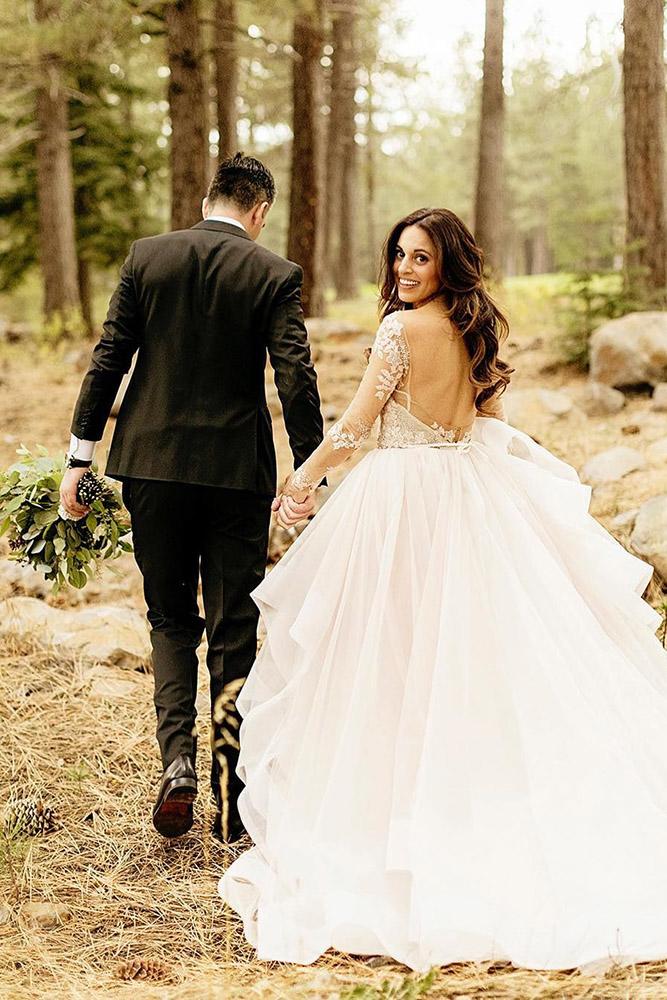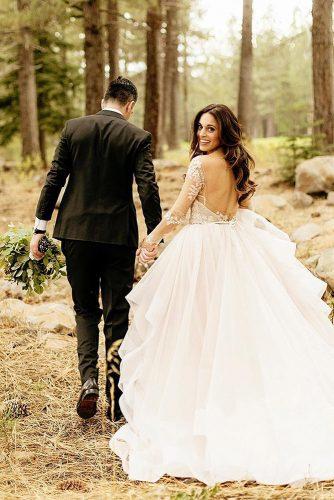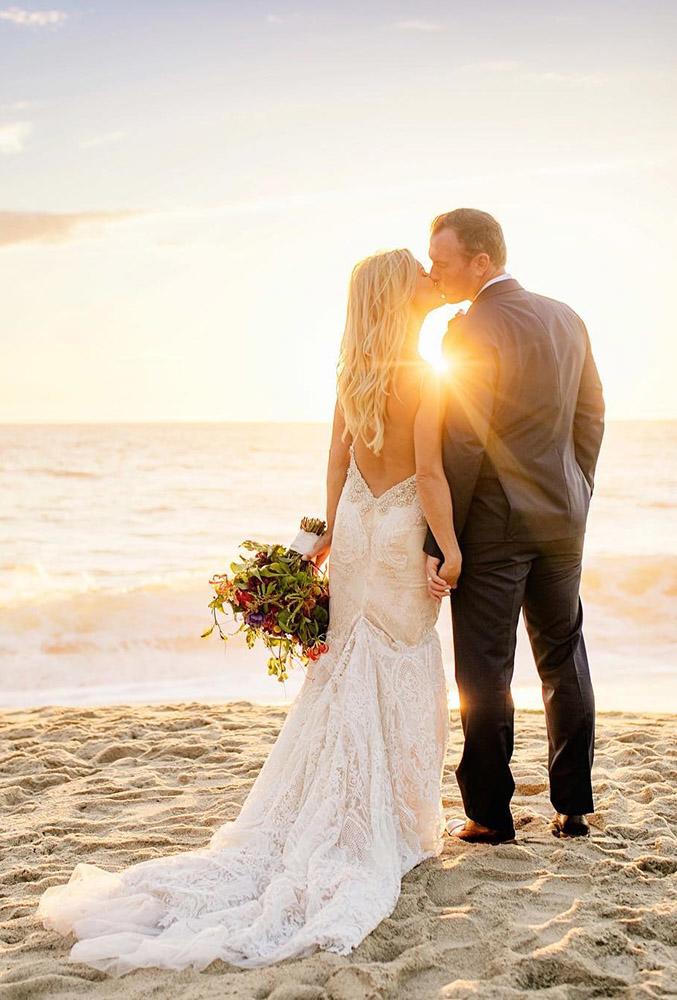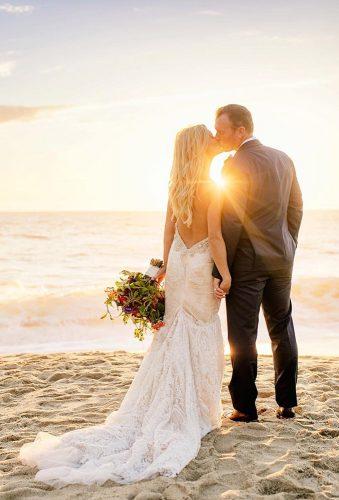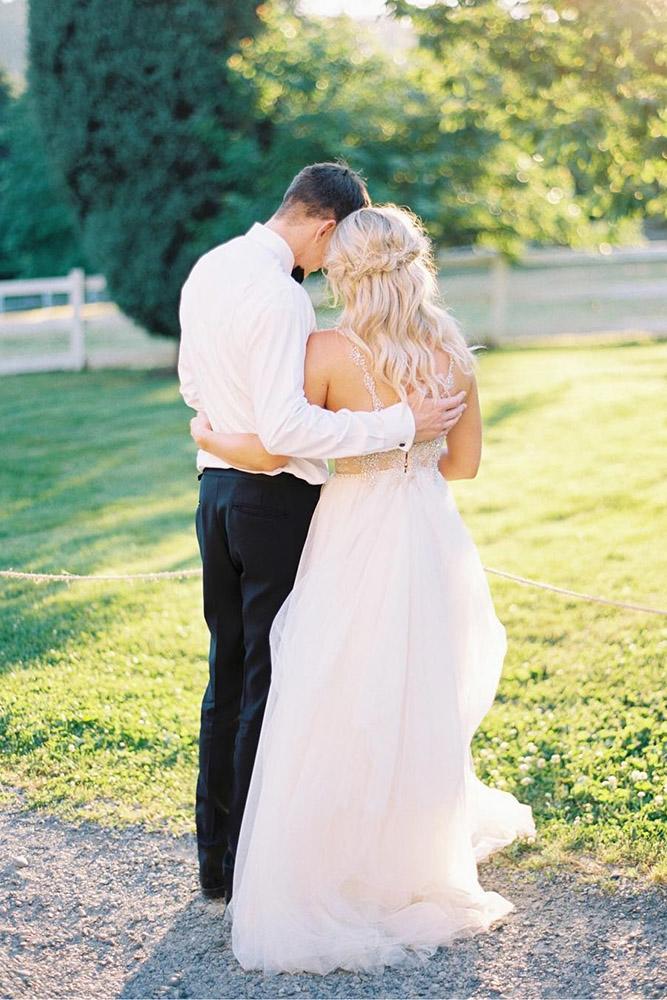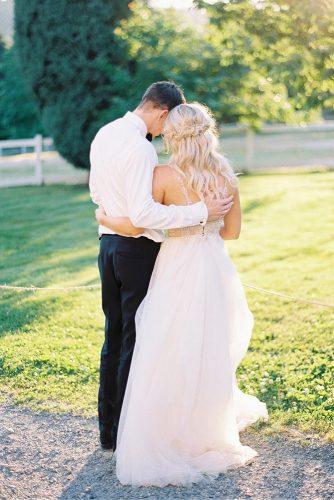 Not all poses have to be facing the camera, you can pose the couples to have their backs to the camera, while you incorporate the background or their line of sight into the picture. This would be great for a beach styled shoot where the beautiful environment is almost as captivating as the couple themselves.
While posing their backs to the camera, you could have one person, or both even turn and make eye contact with the camera while they hold on to each other for a looking behind the pose. There are numerous ways to pose a couple backing the camera.
Tip: Allow them to relax and enjoy the view, take in the scenery and express away while you do your thing. Instruct them, but don't restrict them, for the most natural couple poses.
A Gentle Kiss On The Shoulder
Source: Lauren Fair, Susan Stripling Mautner, PEYTON RAINEY BYFORD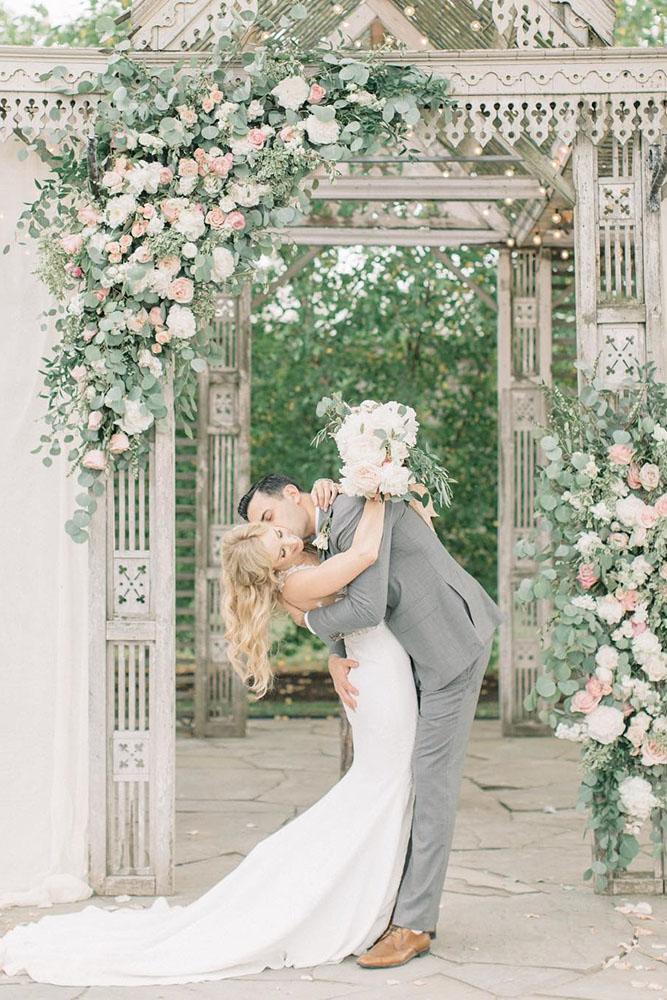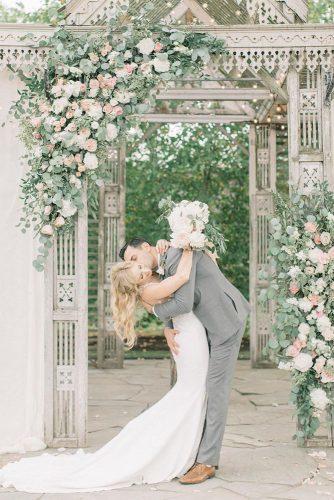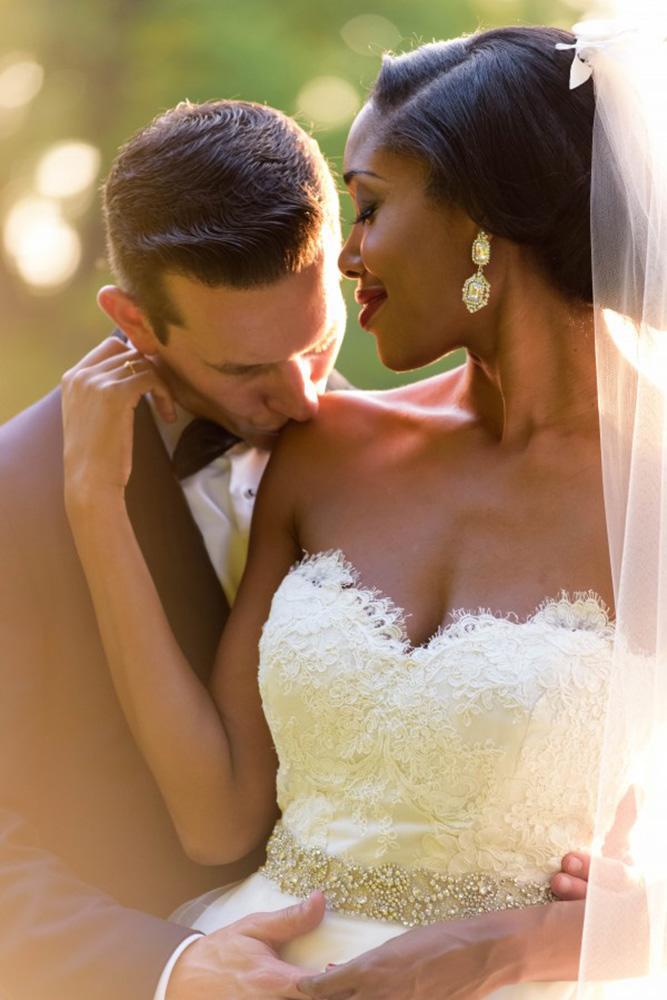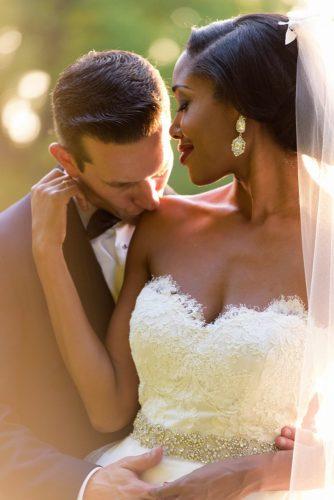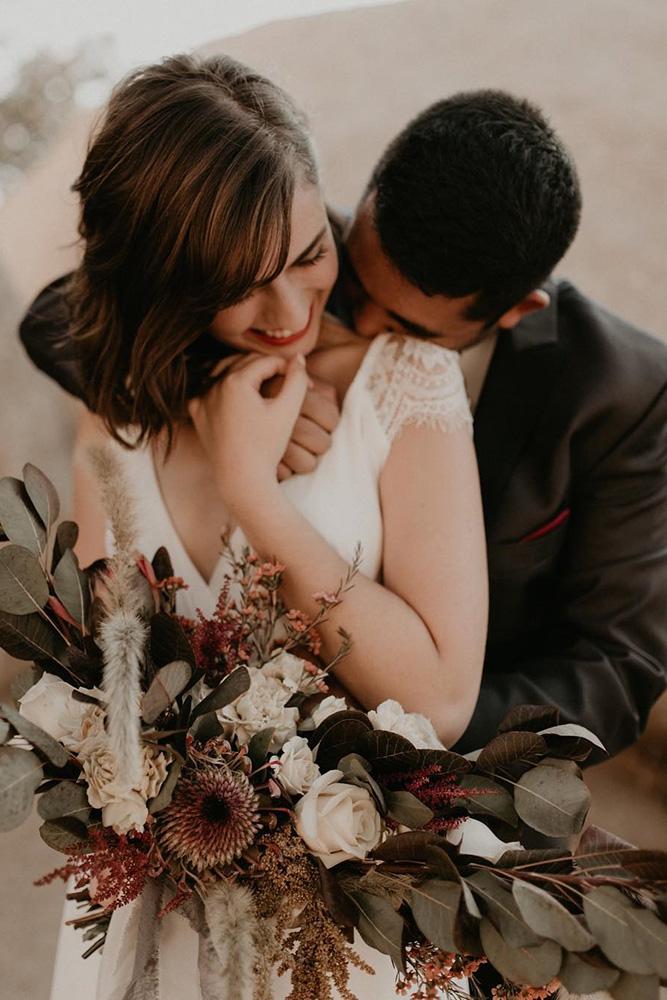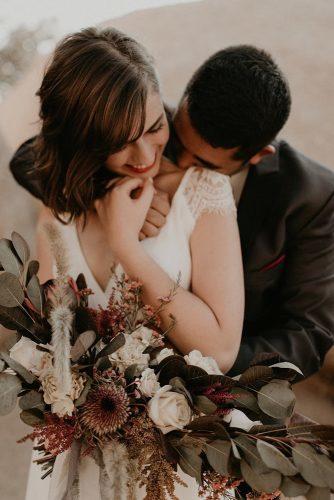 This usually works best with one person, usually the taller one, standing behind the other. Both may be smiling, or the person in front staring dreamily into the distance.
For a nice effect, have them share a joke, or some meaningful words, while the person behind whispers into the ear of their partner or plants a kiss on his/her shoulder.
Tip: Try a lot of takes, t capture the natural reactions and maybe even laughs.
Funny Couple Poses
Source: abbyclaydenphoto, whitelakeweddings, inframesphotography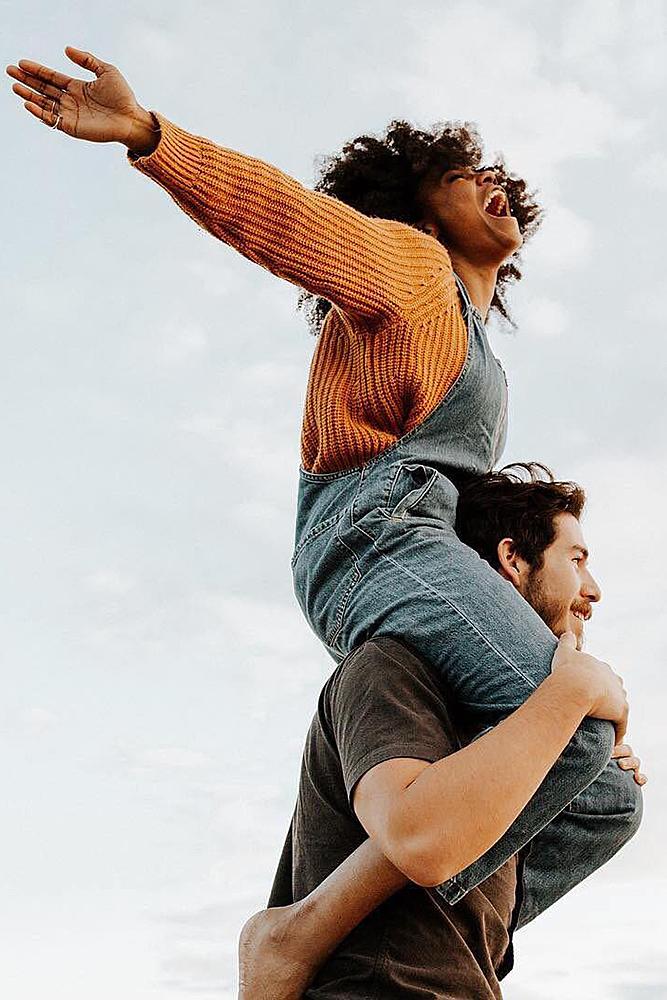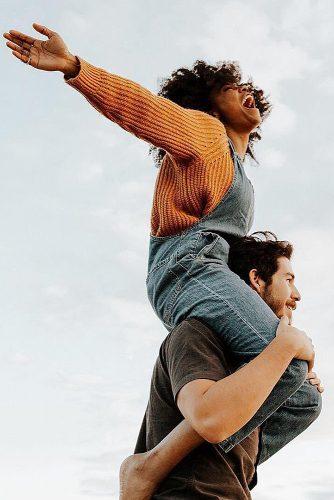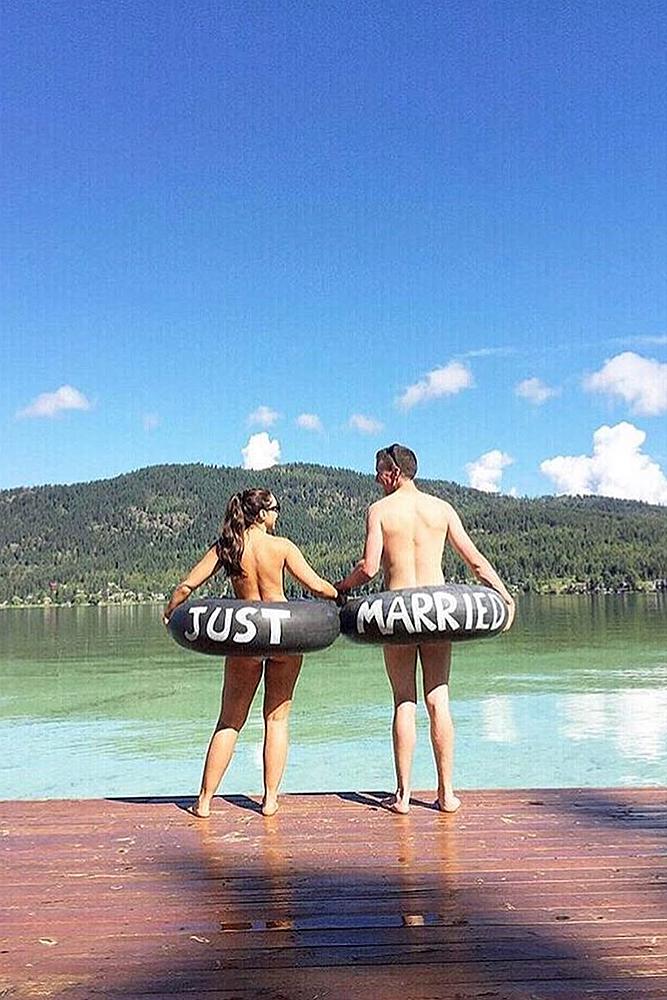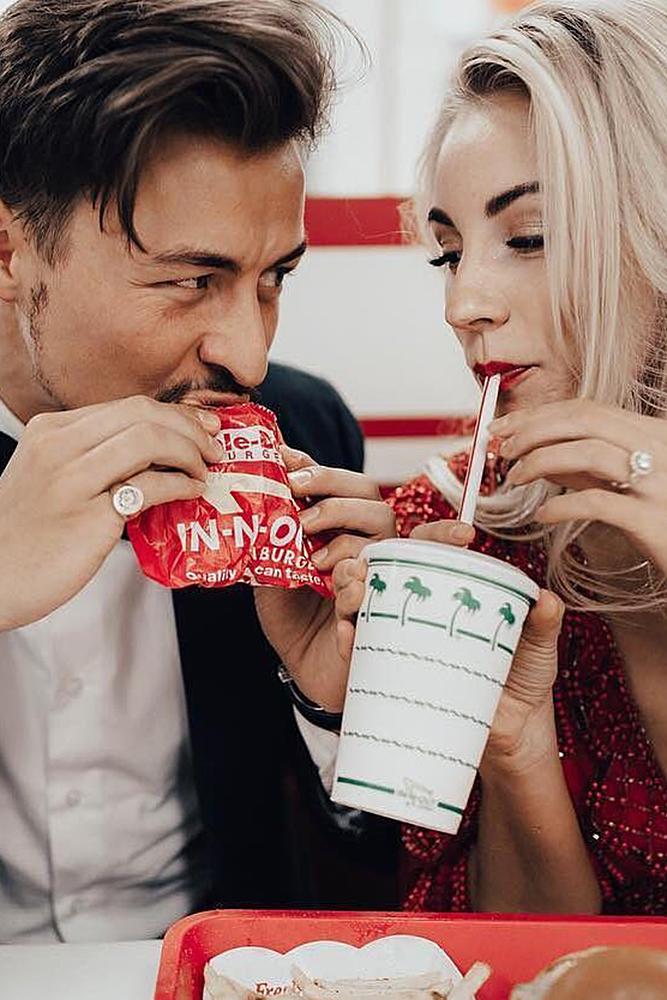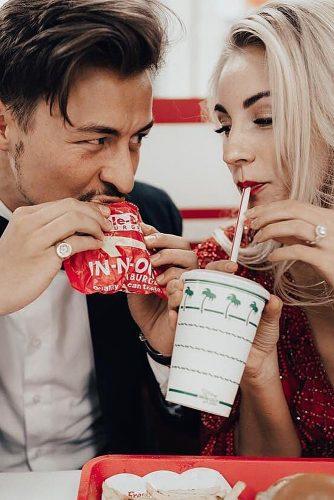 Think of situations and scenarios that would make them laugh. They could be sharing a scooter or drinking with two straws from the same cup, or chasing each other into the ocean. Think playful and fun when capturing a funny couple pose.
Tip: They don't both have to be laughing for a funny pose. One person could be laughing while the other sports a serious look. This would indicate that it was him/her who initiated the joke and tells a story on its own.
Photo Shoot Posing Guide
There are several vital aspects to taking perfect shots, some of which include:
Choose several locations

Sometimes location can be everything, and a picturesque site adds texture to your photos. For outdoor locations, you might need a lot of natural light and nature, like a stream, lake or the beach. Large and interesting trees make a good prop and backdrop too. For indoors you'll need to incorporate soft lighting techniques and a color theme that works with your vision for the couple.
Prepare your list of shots
After deciding on our locations, prepare a list of the shots you have in mind so that everything can flow seamlessly during the shoot. Show the plan to the couple and listen to their feedback and suggestions. To fail to prepare they say is to prepare to fail, so try to have your photo checklist, if you will.
Shoot them unexpectedly
The best shots are usually the unguarded ones, where the couple is in a pose, but you take the pictures unexpectedly and you catch them in their natural state. Allow them to gaze at each other, romance each other, talk and walk together, and be there, ready to capture any romantic moments between the two of them. These types of shots are the ones that tell a story.
A photo shoot can be fun, especially with couples where you get a lot of interaction and couple poses. However, a lot of preparation, tips, and tricks are needed to get the best shot. Work with your couple to understand what they want, and determine how much of their budget they are willing to spend on photographer costs. Add all this to the guide we have put together, and you will possibly have a delightful couple photo shoot whether for male coupe poses, the female couple poses or male/female, these tips should do the trick.