Kelly Faetanini 2019 wedding dresses have got brides really excited and it's not even 2019 yet. Talk about outdoing one's self and leaving the audience with their jaws on the floor. This 2019 Provence inspired collection is it. Yes, she takes us to her happy place as we see Provence through her art.
Kelly Faetanini 2019 spring collection got its inspiration from the beautiful and romantic city of Provence. Yes! Your guess is as good as ours. The Provence inspired collection is centered on romance, passion, florals, nature, and unequaled beauty.
These bridal gowns are timeless and they feature many sleeve styles and necklines. Provence collection is of lace, soft Mikado, and crepe fabrics. These come together to form jaw-dropping and show-stopping wedding dresses.
In this collection, we see the Provence through the art of Kelly Faetanini. Every piece evolves from inspiration by the floral romance of France. Like rows of flowers, we see vines of luxe beaded embroidery run up and down the skirts and sleeves.
We viewed 18 regal beauties on this collection and we have put some down for your viewing pleasure.

Off The Shoulder Dresses 2019 By Kelly Faetanini
Off the shoulder remains one of the most romantic styles. Kelly Faetanini 2019 wedding dresses collection offers a variety of most tender off the shoulder bridal gowns. Soft pastel colours, original ombre skirts, flattering silhouettes and best fabrics – everything a modern bride can wish for!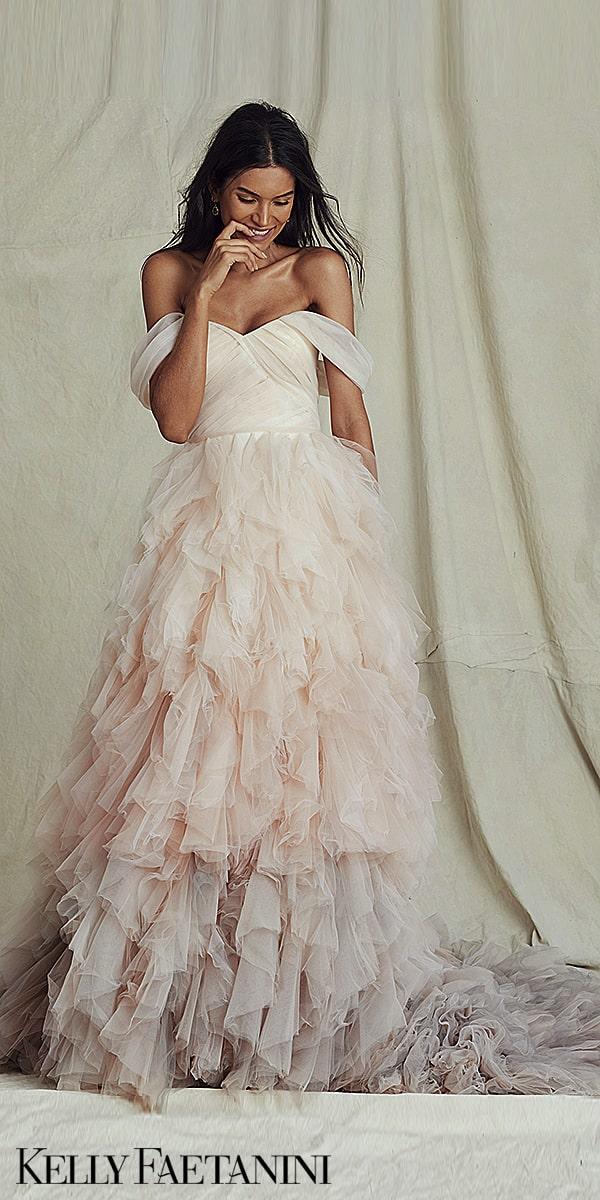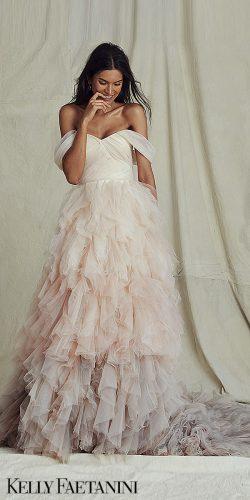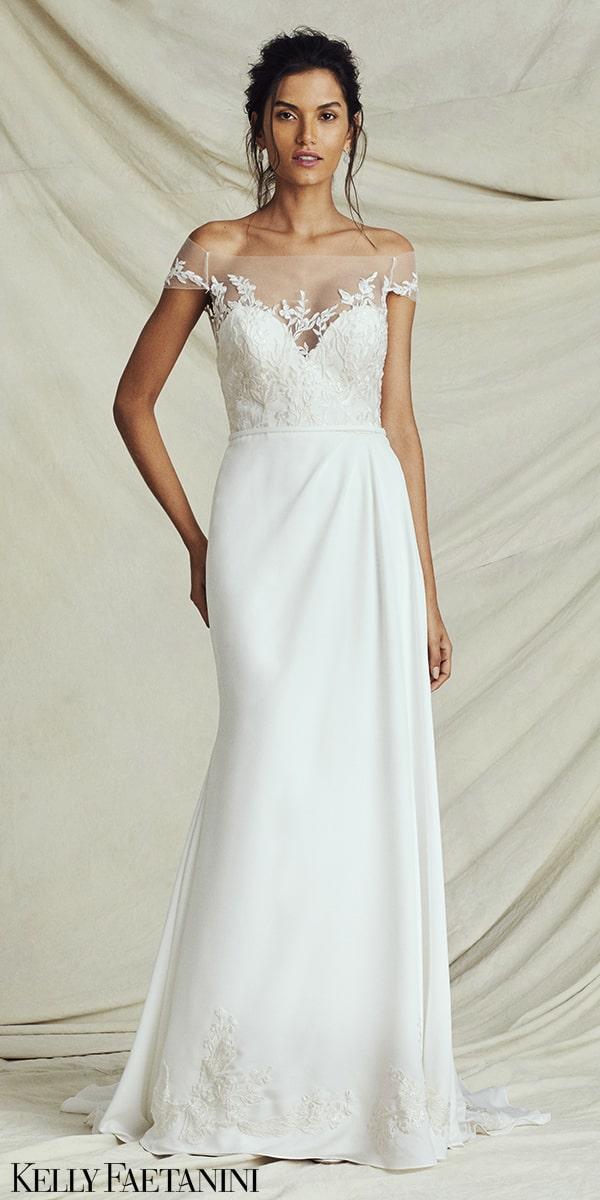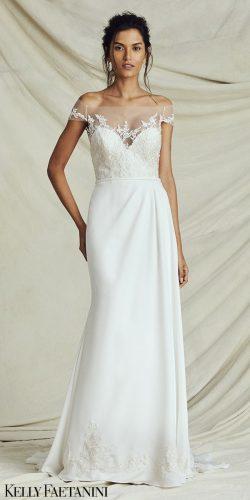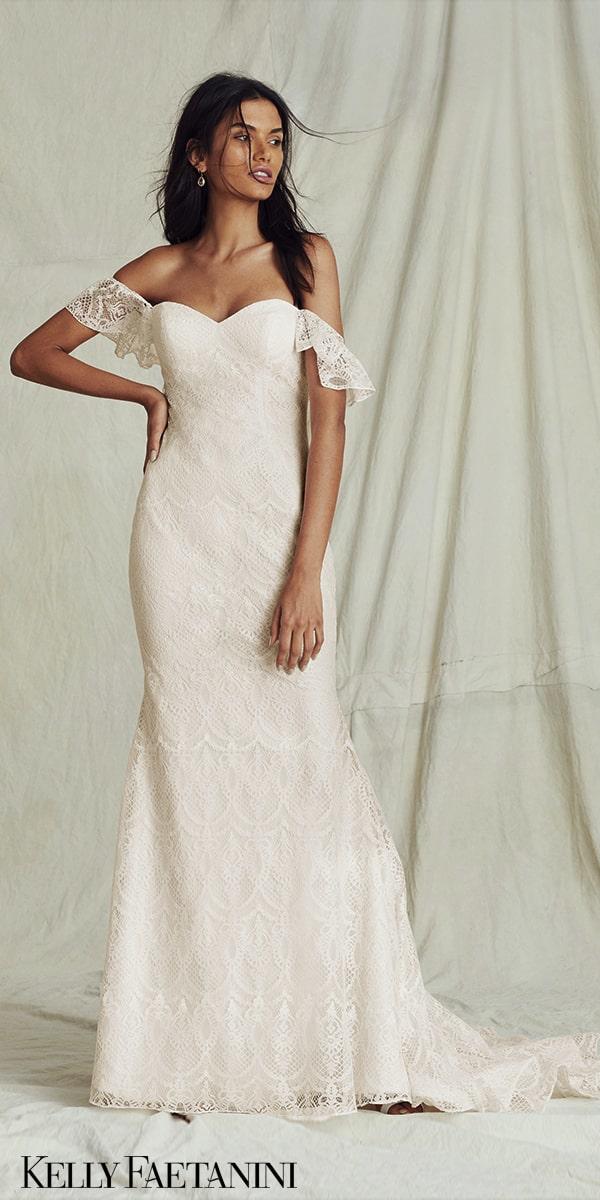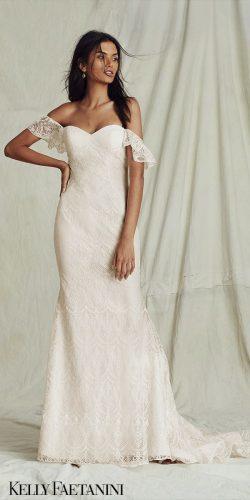 Uma dress is a perfect choice for a trendy bride with its ombre pastel-coloured multi-layered tulle skirt and draped off-the shoulder sleeves. A sweet and simple Joy dress is like a breath of fresh air with its delicate lace bodice, plain lines and romantic illusion neckline. Stella dress has a clear boho vibe with its off-the shoulder lace ruffle sleeves, free-cut sheath silhouette and laced train.
Amazing Strapless Wedding Dresses
The new Kelly Faetanini 2019 wedding dresses collection is all about modern trends. Strapless gowns by Kelly Faetanini look elegant and trendy, while their deep plunging necklines add sexuality to these amazing feminine styles.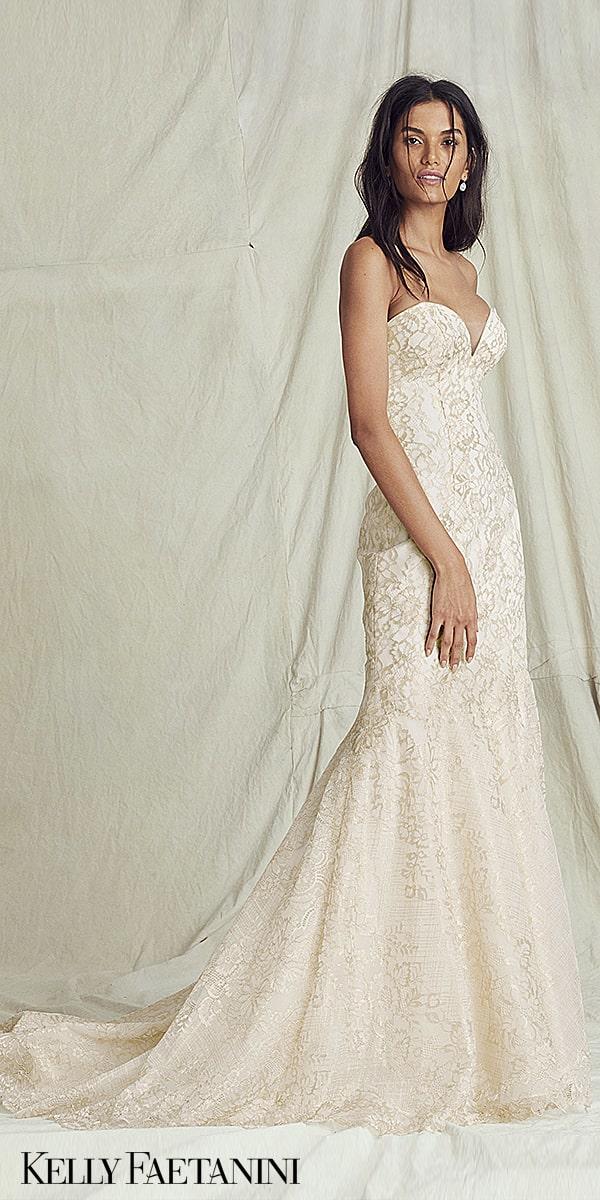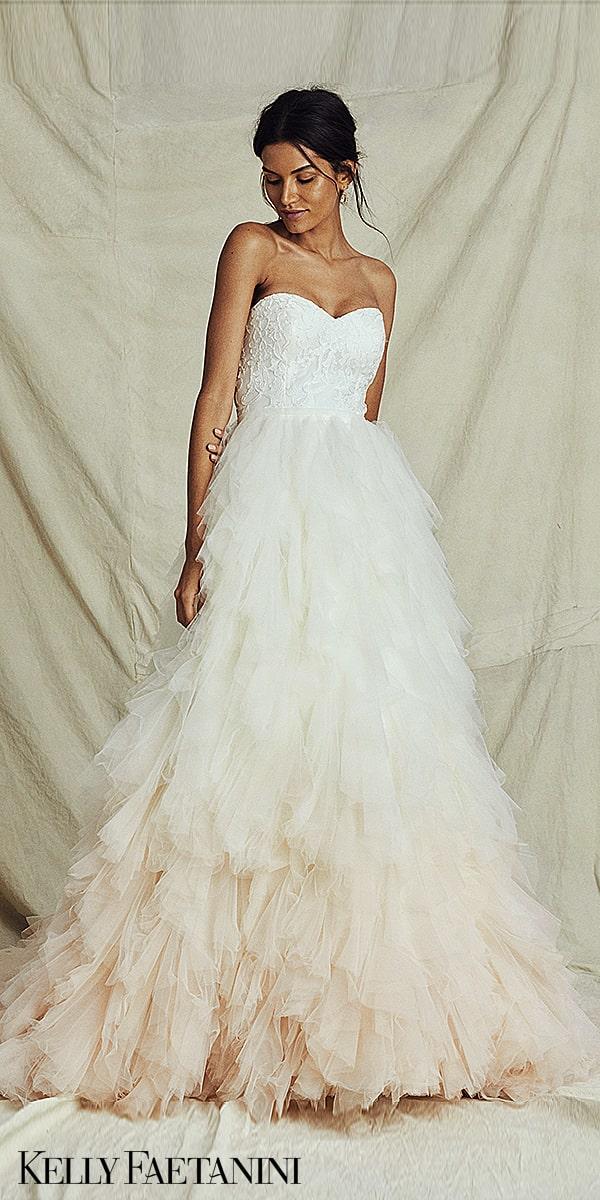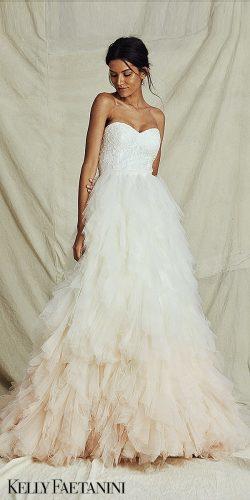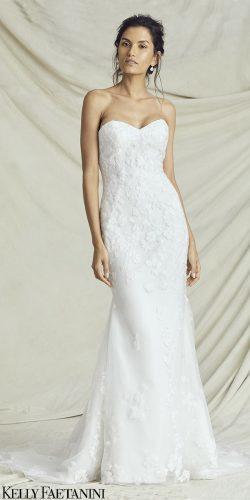 Ivory colour of Hannah dress and its intricate patterned trumpet silhouette make it a wonderful choice for a modern bride. You are going to love Tiana dress for ombre layers of its long tulle skirt and white embellished bodice. Trendy 3D embellishments of Leticia dress and its romantic sweetheart neckline will make you look gorgeous on your wedding day!
Simple Bridal Gowns by Kelly Faetanini
Simple wedding dresses from Kelly Faetanini 2019 collection are a combination of simplicity, chic, and class. A way for the minimalist and simple bride to bring on her sexy while maintaining simplicity. With Kelly Faetanini simple wedding gowns, a bride will be missing or sacrificing nothing from elegance, class, and grace.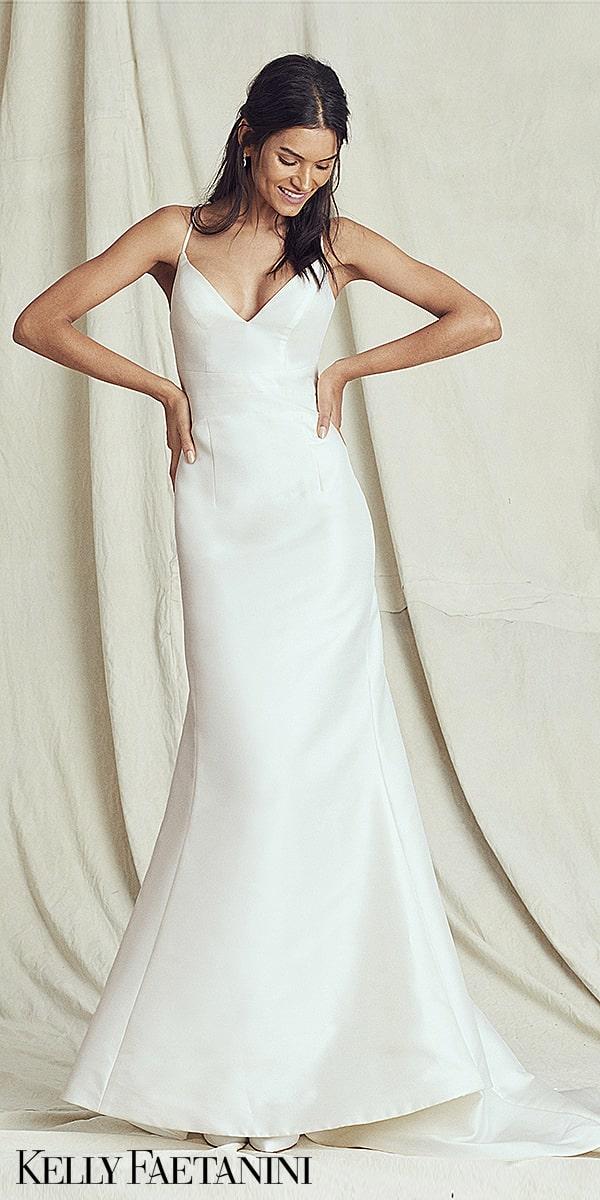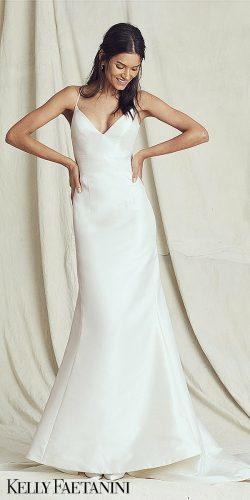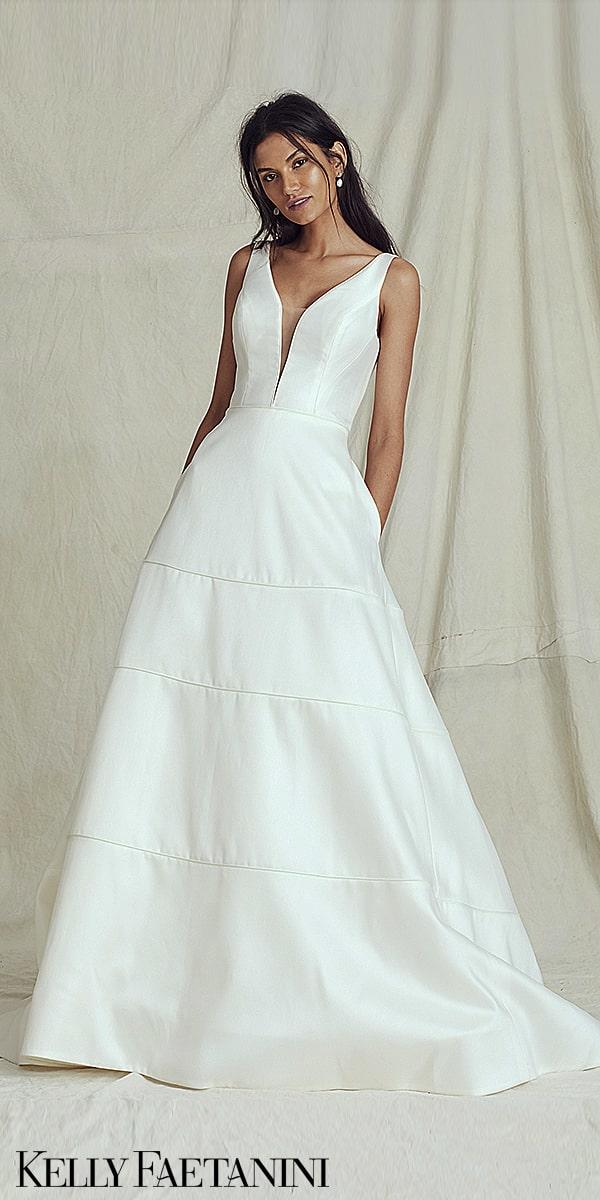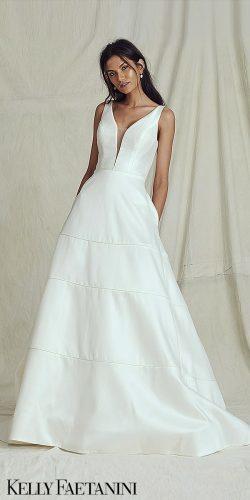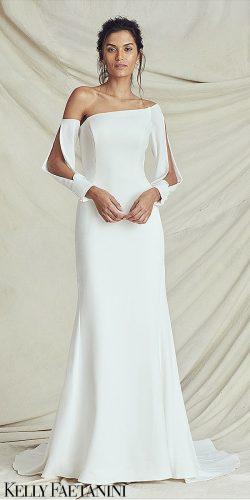 Maeve is a snow-white classical sheath atlas wedding gown with spaghetti straps – amazingly elegant in its simpicity. Deep plunging neckline and a classical A-line silhouette, nothing extra – Blythe dress is all about bringing out your natural beauty. Assymetric neckline of Abi dress is as trendy, as its elegantly simple skirt and long slit sleeves: this dress is magnificent in its modern beauty.

Lace Kelly Faetanini Wedding Dresses 2019
A lace dress bridal gown has a form of imperial presence, class, and sophistication attached to it. It gives brides presence and their entrance, a grand one. Kelly Faetanini 2019 Provence collection of lace dresses uses the best and most beautiful laces to define romance, sensuality, passion, and natures glory.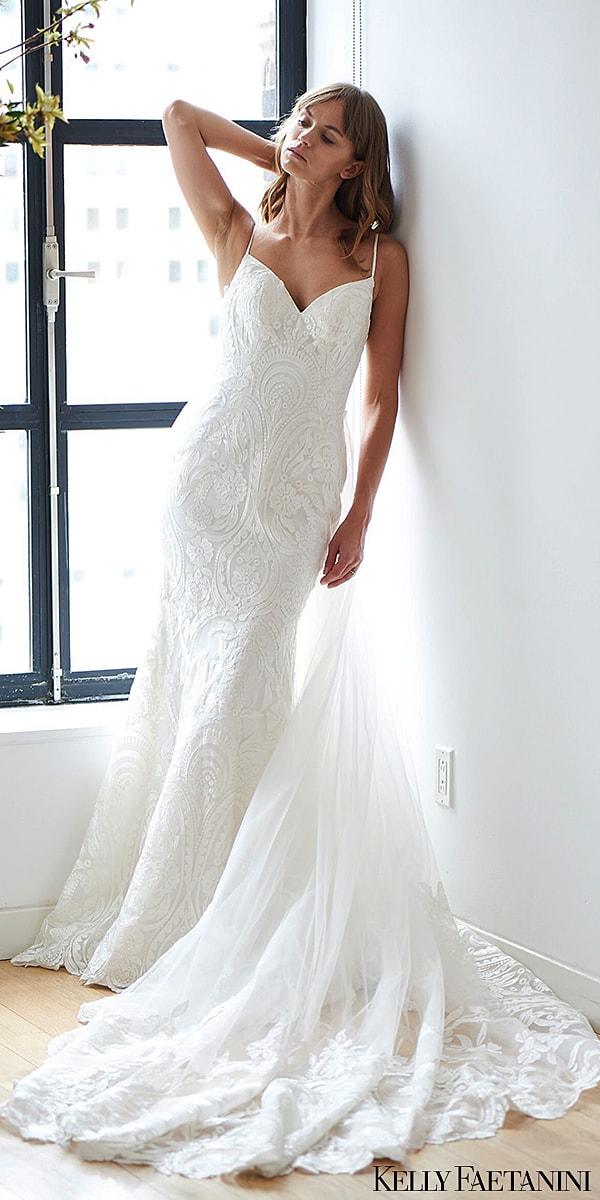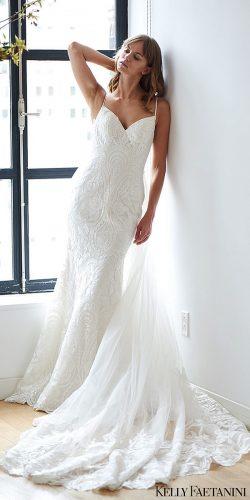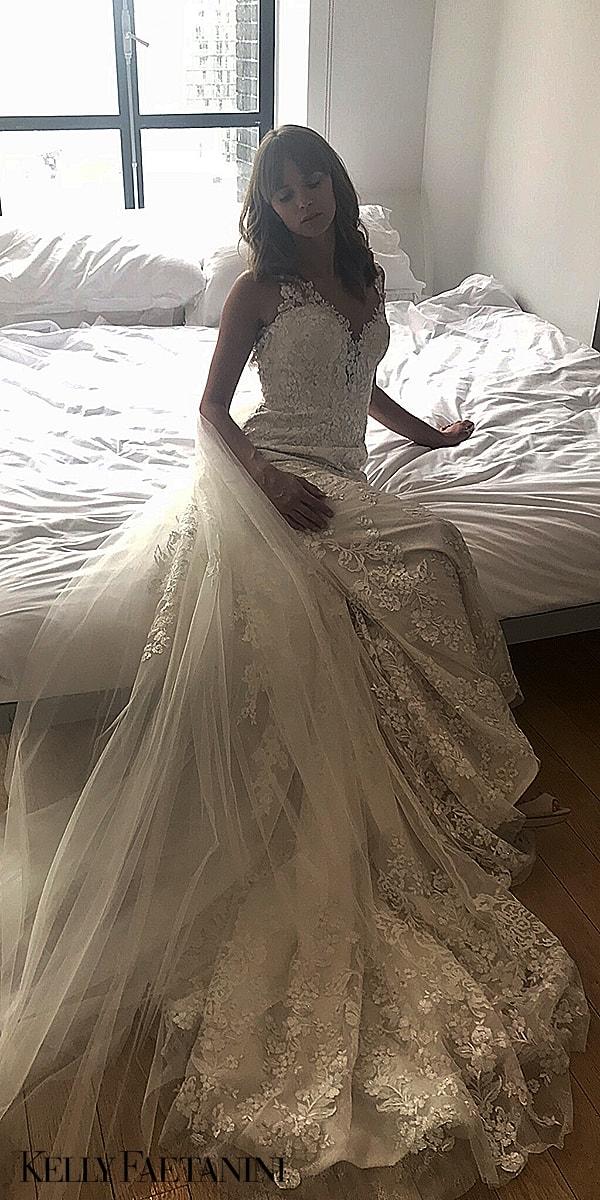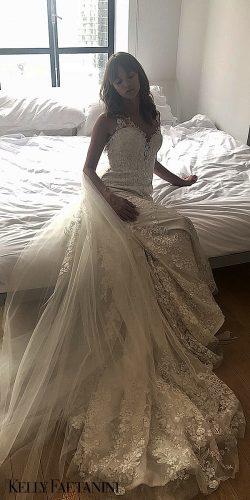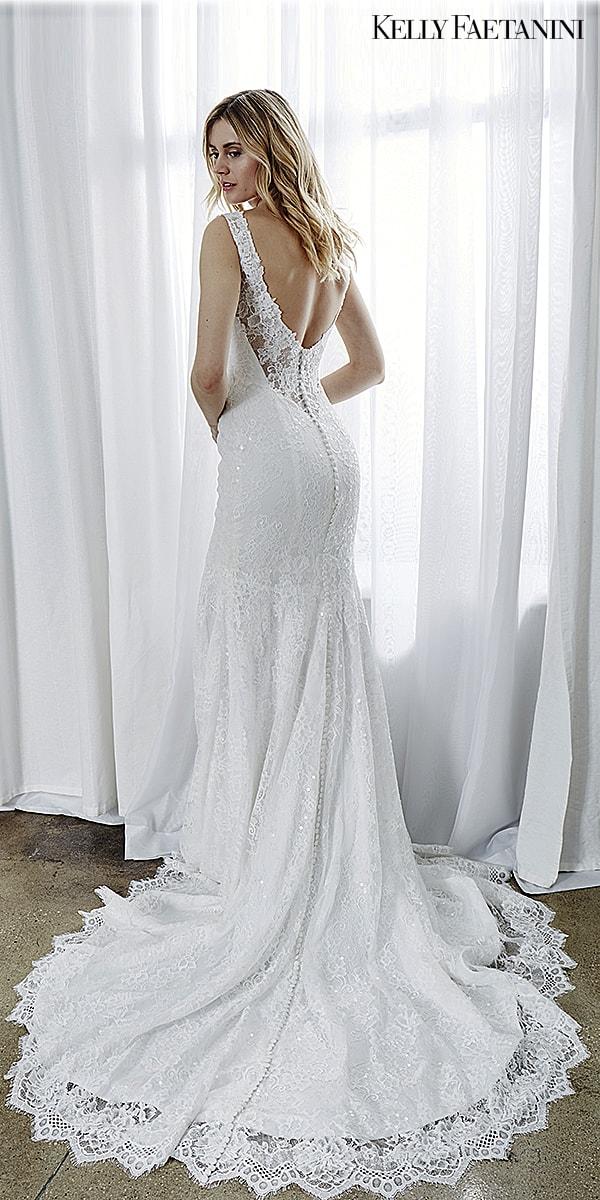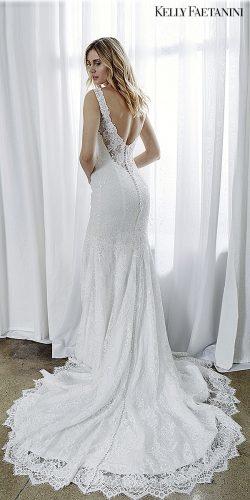 Giselle lace wedding dress with beaded embroidery is fit to flare with a dramatic and detachable train. The gown is a simple silhouette paired with a dramatic train and available in ivory. Taylor dramatic beaded lace and tulle bridal gown is laced from the straps down to the train forming a plunging low back. It also forms a sexy peek-a-boo plunging V neckline and a completely detachable full lace train. Lara is a simple lace wedding dress with discreet sequins and a subtly deep V neckline. It also features a voluminous falling train rolling down like springs for the bombshell bride!
Romantic Wedding Dresses 2019 With Straps
Provence is a city of romance and Kelly Faetanini 2019 collection with straps show us that. These romantic gowns from Kelly Faetanini give brides the feeling of the magical mystery of love, passion, and romance. Created to flatter all brides and skin tones, this category is the essence of Provence.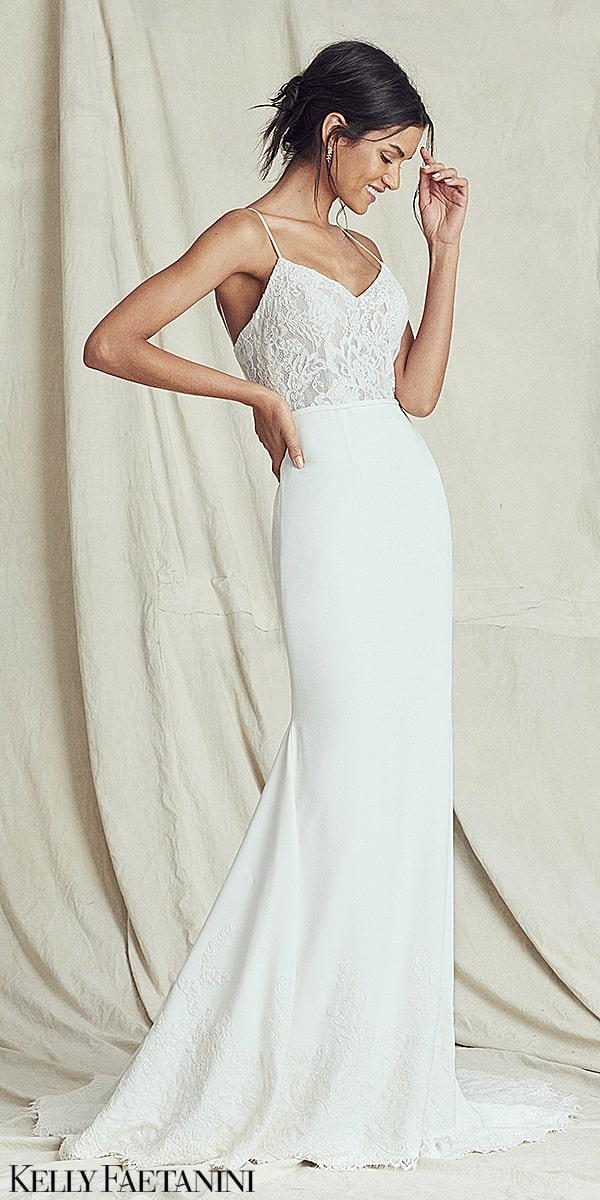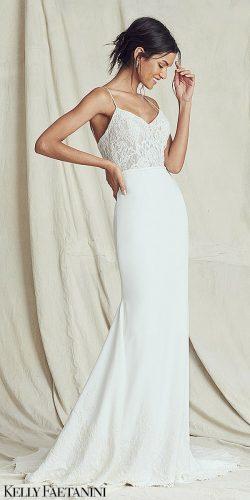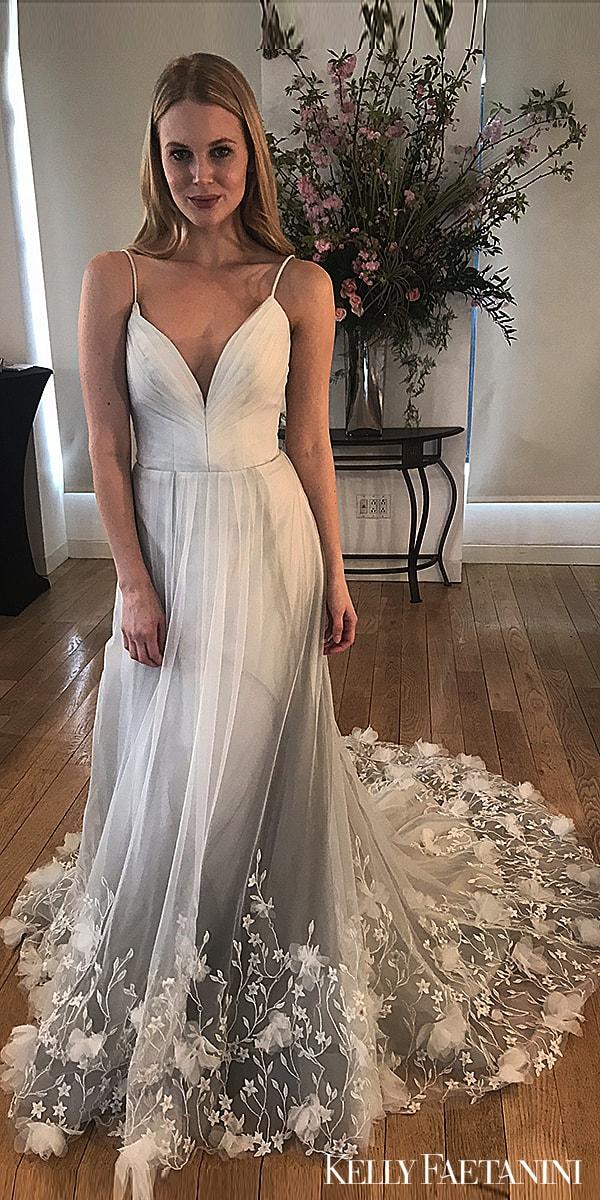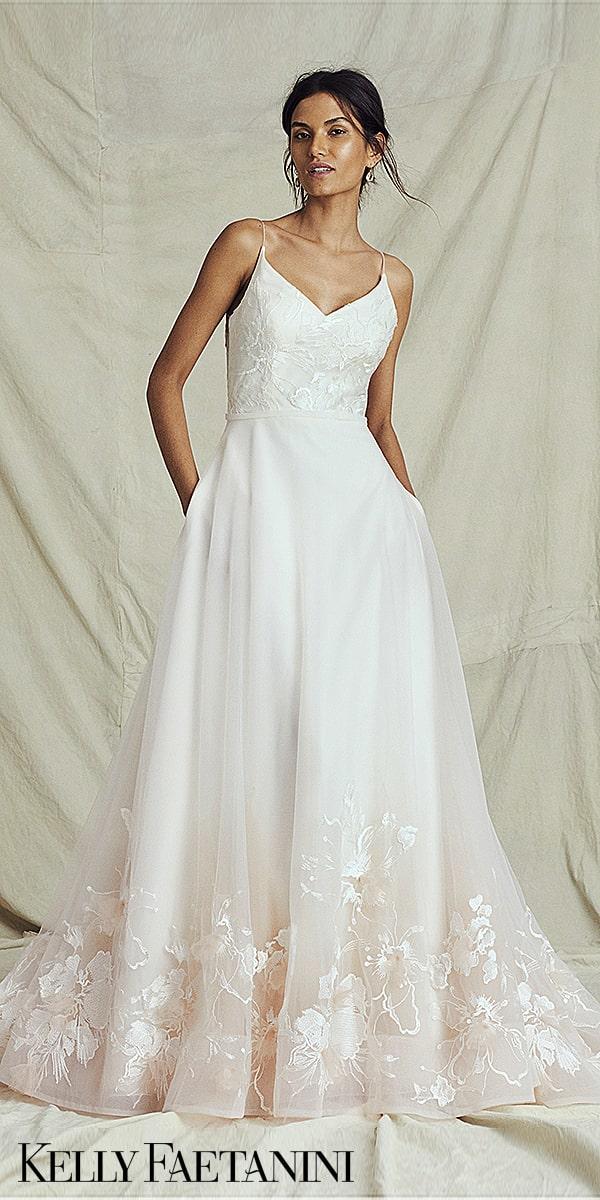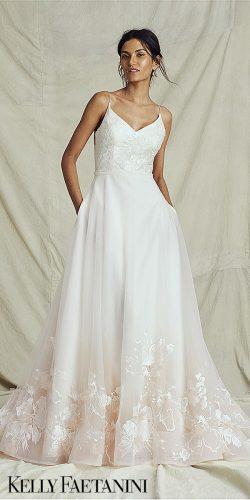 Cher dress will add its ultimate chic to any boho bride with its lace bodice, spaghetti straps and long plain atlas skirt: classy! Penelope is a tulle and embroidery gown with a V neck illusion neckline, pleated bodice and thin straps to the back. The weightless train has 3D floral embroidery running down Cinderella rain and pockets. Tenderness of Tilli dress will win your heart the moment you see it: its ombre skirt with large flower ornaments along the hemline and spaghetti straps give it an original look that is hard to forget.
A-Line Silhouette Bridal Dresses
A-line wedding dress is figure-hugging, regal, sensual, flattering of body types and is in trend now. Kelly Faetanini 2019 Provence collection features gorgeous A-line bridal wedding that builds brides into astonishing silhouette. It does a lot for the bride who wants a slimming effect and illusion of elongated body.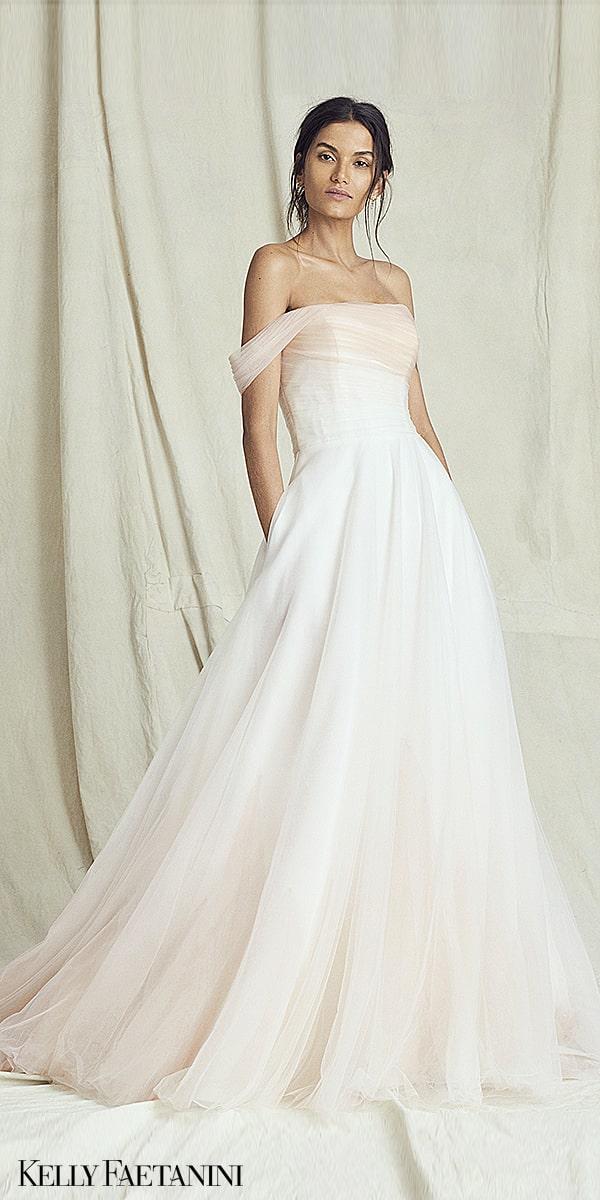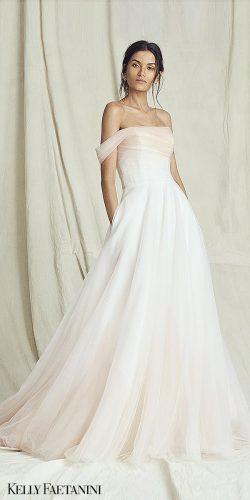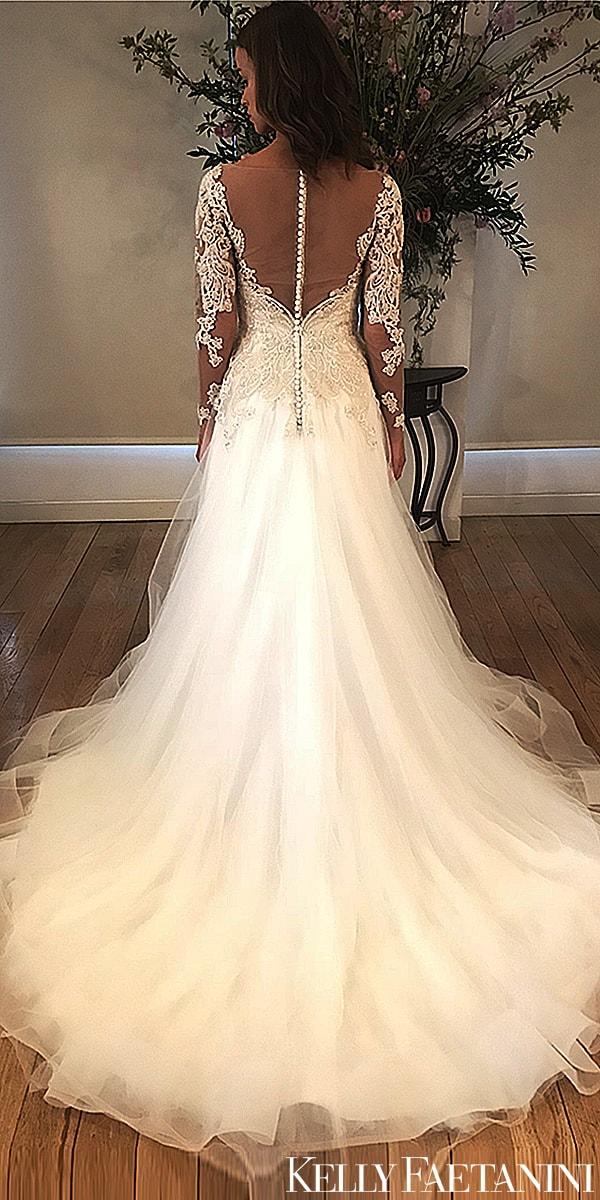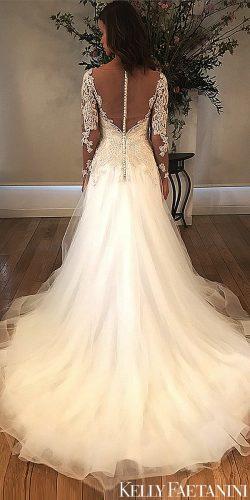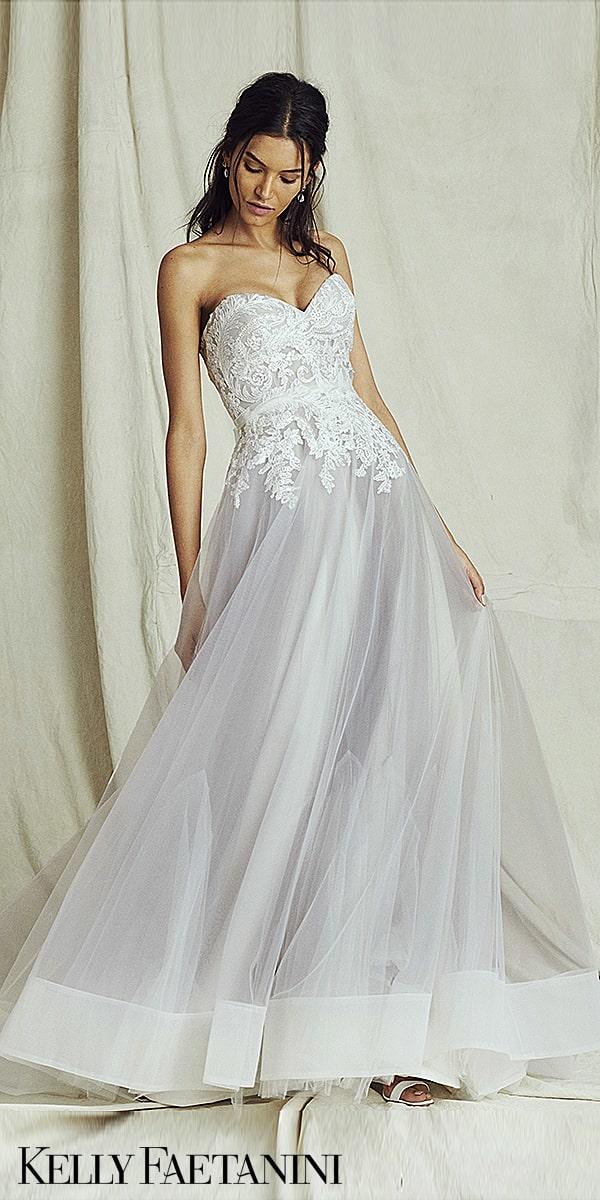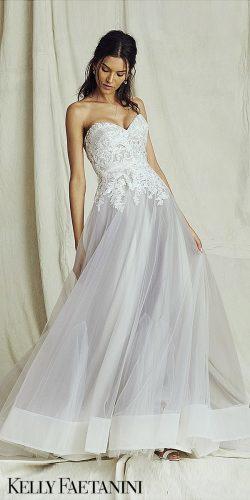 The simple elegance of Ferrah dress with its open shoulders and classical A-line silhouette is highlighted by a delicate peach draping. Vivianne wedding dress has sheer lace embroidered sleeves with a lace detailed bodice. The A-line skirt has pockets and carries layers of lightweight tulle that creates a bulky illusion. Floral patterns of Margo dress lace bodice and its long plain tulle skirt is all you need for that ultimate romantic look.
Check for the full Provence spring 2019 collection on Kelly Faetanini's website.

With this new collection of popular bridal gowns we have sampled here, we are sure you've had an eye full. It will be easier to make a selection of your wedding dress now. Every single one of them is a beauty unparalleled! Find the one that speaks to you and be a stunning Kelly Faetanini bride!