Kelly Faetanini are lucky charms for brides! Synonymous with elegance, opulence, simplicity, timeless romance and feminity, Kelly Faetanini brides look a vision as they walk down the aisle. Known for her signature touches with customized beadings, special corsetry technology, and detachable necklines, Kelly Faetanini puts her brides first. She also pays attention to the necklines of her wedding dresses and they come out detailed, flattering and comfortable.
This American based brand has something for all brides regardless of your sense of style, specifications or size. Kelly Faetanini collection is a fusion of simplicity and elegance and as a Kelly Faetanini bride, the spotlight stays on you. Collections like the Garden of Eden, celestial dream, Victorian, modern muse and lots more transform brides to princesses. Kelly Faetanini pays absolute attention to the very intricate details.
From the delicate necklines to the corsets, flowing ball or mermaid bodies, to the ornate embellishments. They are perfectly handmade with creativity and love.
Check out divine pieces from some amazing collections Kelly Faetanini.

Simple Kelly Faetanini Wedding Dresses
This category is for the simple bride that wants a divine look at her wedding. These Kelly Faetanini bridals are chic and classy. Simplicity combined with trendy is sometimes difficult to achieve, but Kelly Faetanini did well. The simple and minimalist bride will look a bombshell in any of these.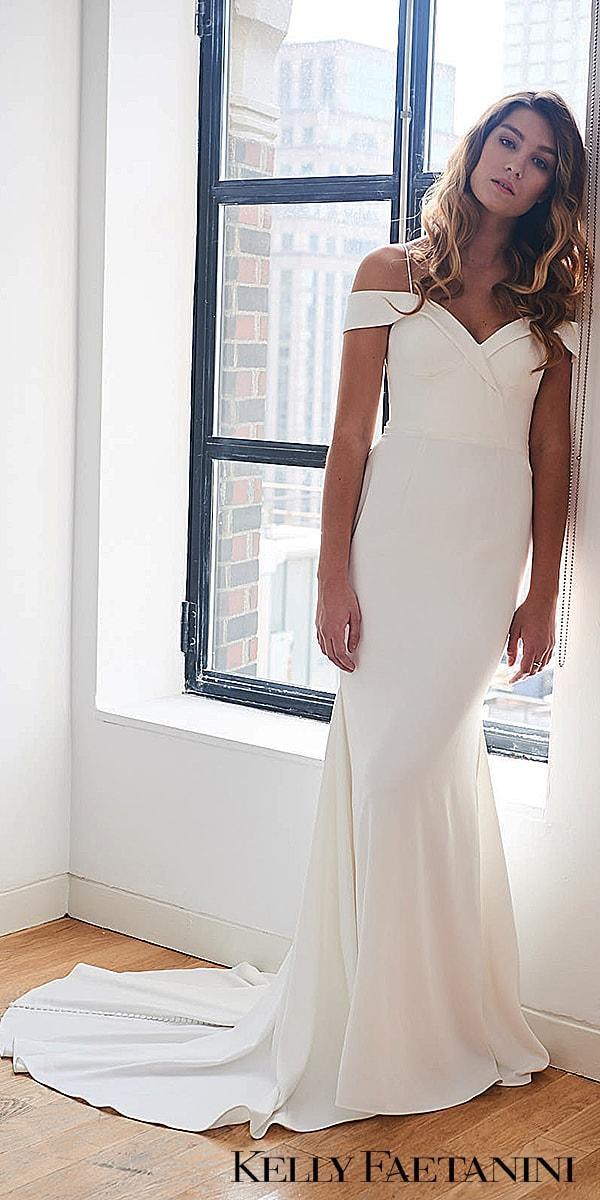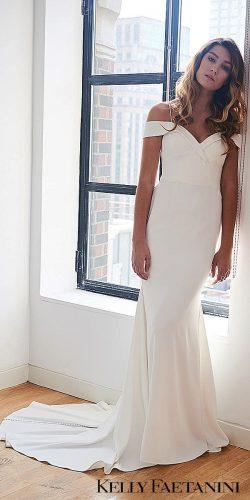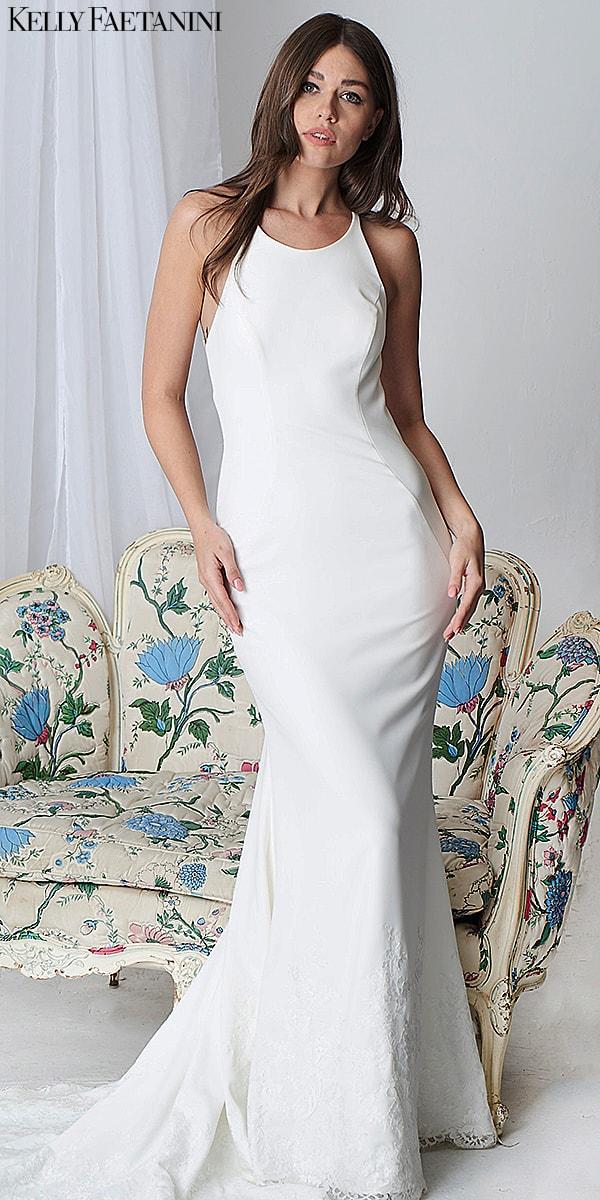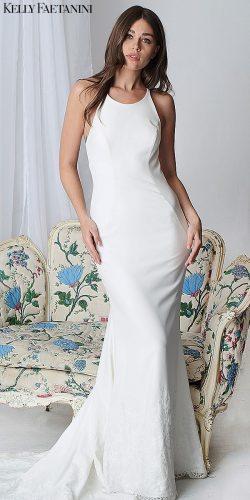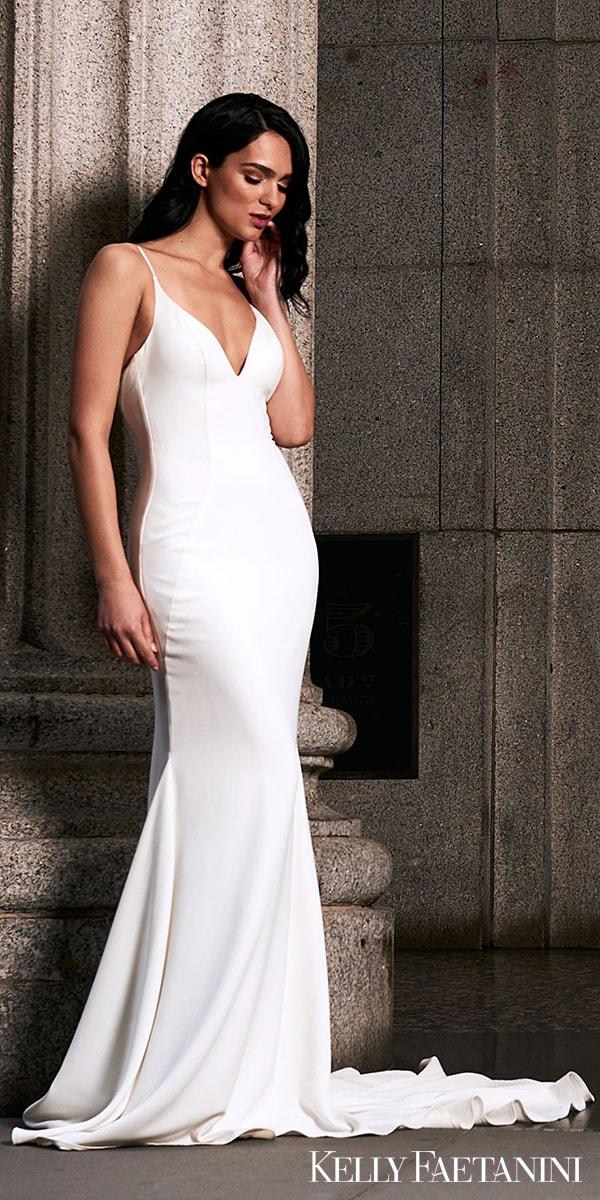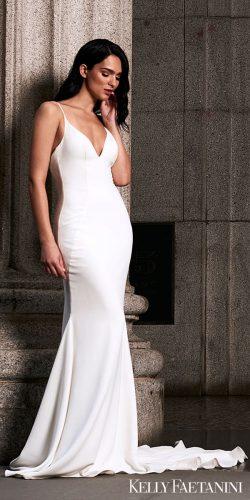 Going by the saying that less is more, Phoebe dress has Grecian inspired draped sleeves and sweetheart shaped bodice. It also has detachable spaghetti straps and covered buttons which run from bodice to the skirt. Aria wedding dress brings on the vintage flavor with its high halter neck. It also features a sheer lace back that kisses the skin. Tamora is a simple and elaborate crepe wedding dress with a deep V neckline and sexy low back. It has covered buttons that run down the skirt like a swirl in a lavender field.
Amazing Mermaid Wedding Dresses
Mermaid gowns flatter every shape and size, kissing every curve and sinews. They emphasize the curves and hide the flaws. Kelly Faetanini mermaid dresses are to fit brides and making them into visions. Made from the best materials, these mermaid gowns are lightweight and make brides into bombshells!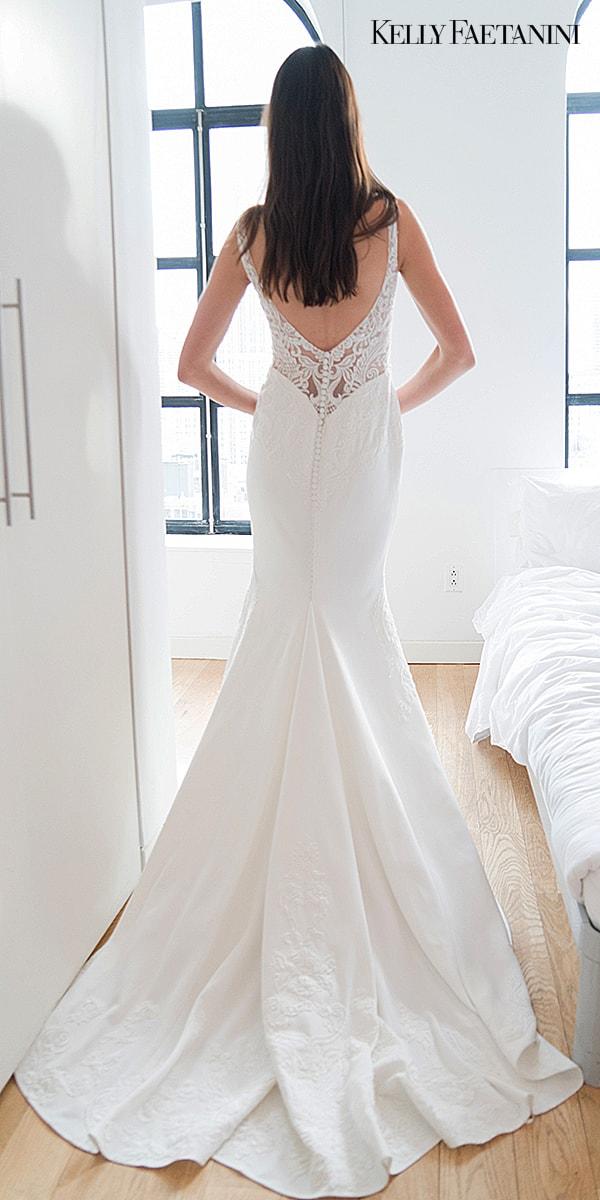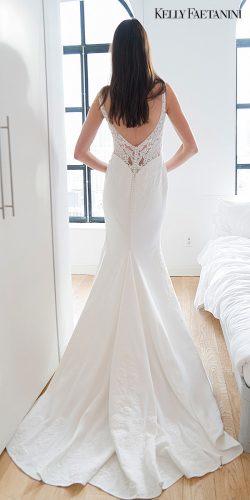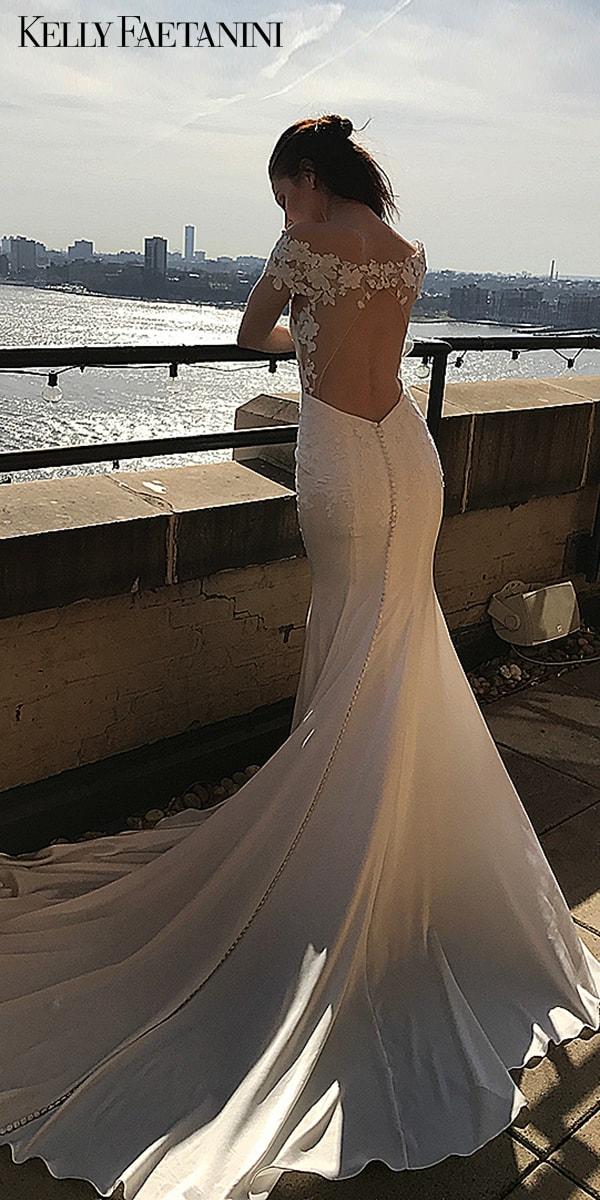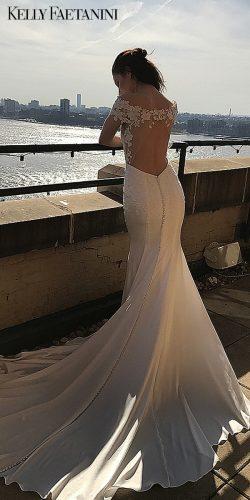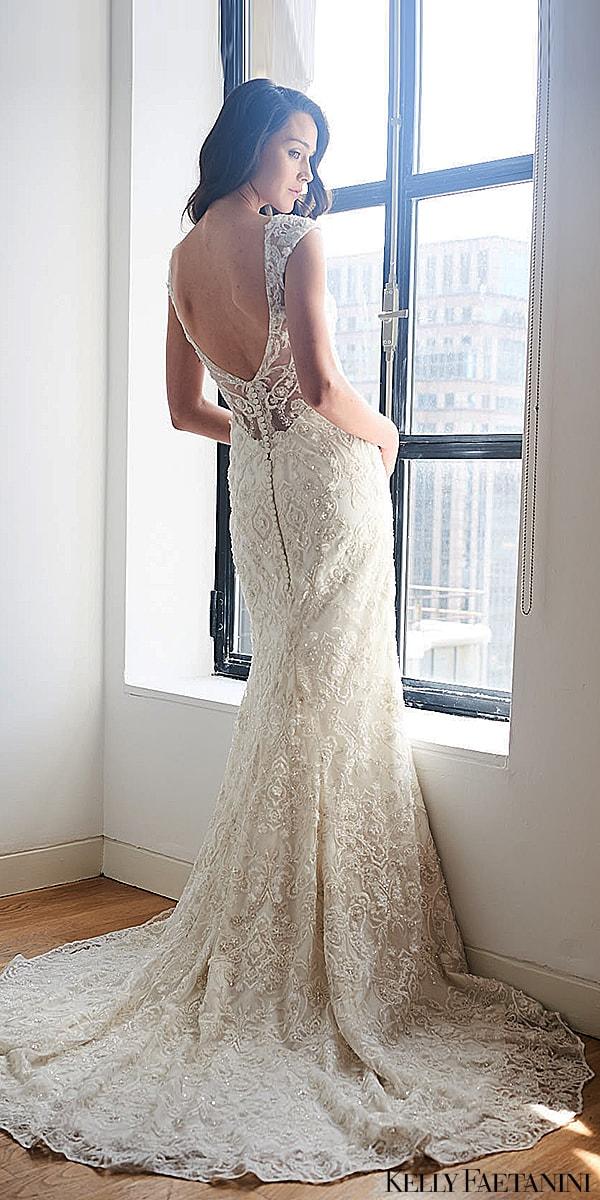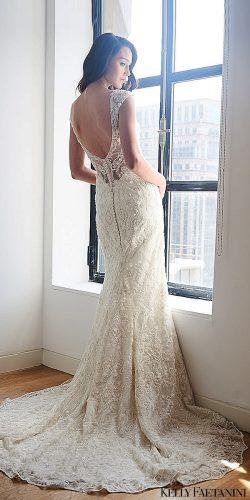 Roxy is a lace and matte crepe mermaid gown with embroidery and illusion V neck. It has an open back and is built into a silhouette which elongated the body. The silk stretch crepe Emilia wedding dress in a fitting off shoulder style. It has an illusion lace bodice and bias skirt that flows down in rivulets, up to the train. Kalinda is a beaded embroidery fit to flare natural waist figure-hugging mermaid wedding gown. It has a sweetheart neckline, intricate beadwork, silver embroidery.
Lace Wedding Dresses By Kelly Faetanini
Lace wedding dresses are in a class of their own. They are regal, distinctive and classes. Kelly Faetanini lace wedding dresses are unique and pretty glamorous. Lace paired with tulle and florals kiss the skin, fitting it like a lover not wanting to let go. This is for a sensual bride.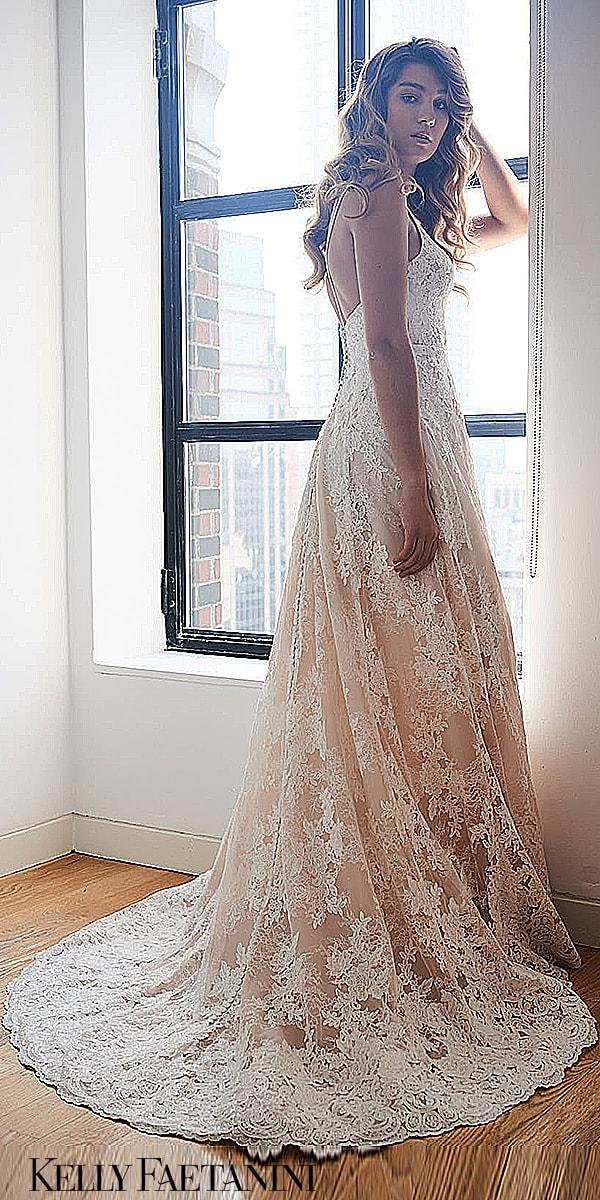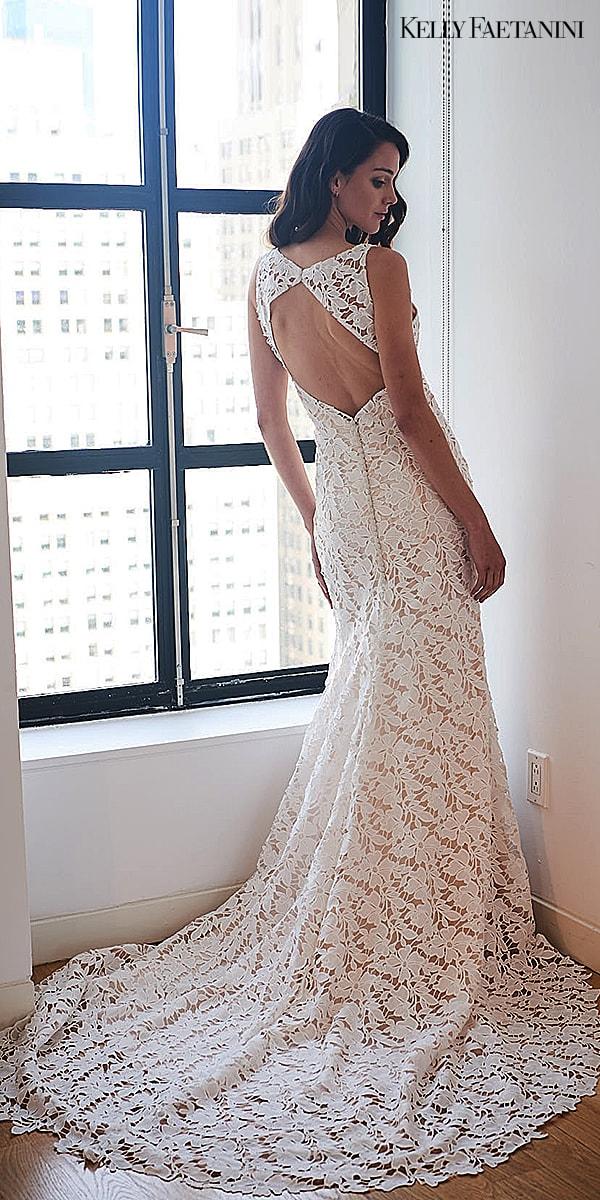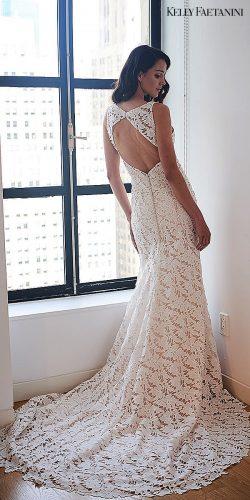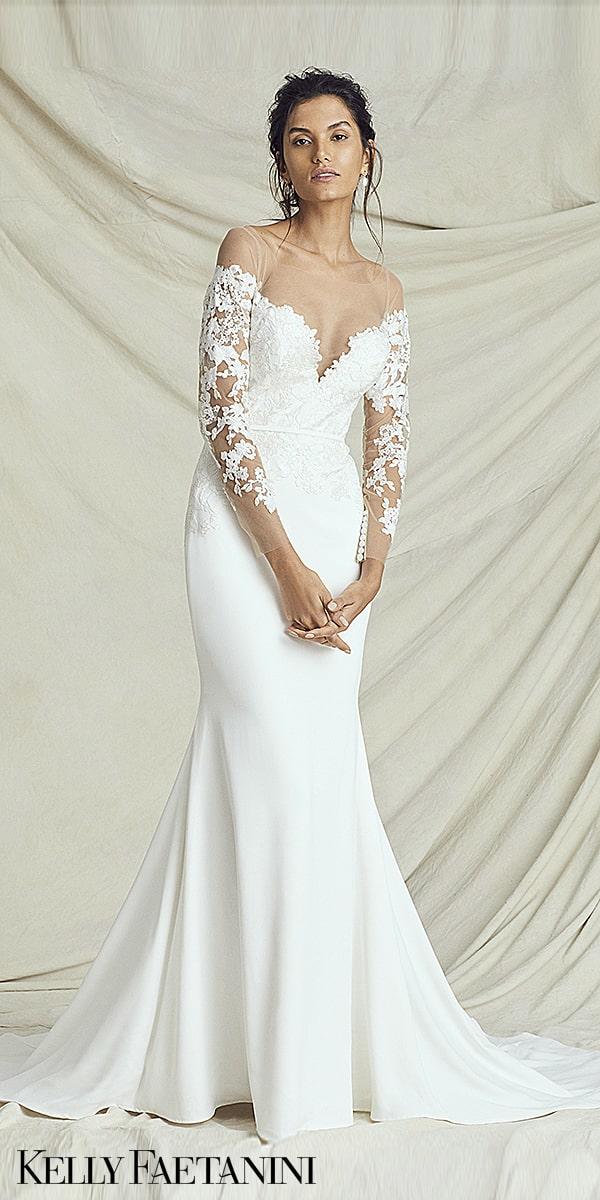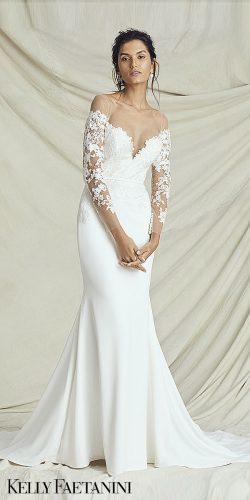 Maia is a lace wedding dress made of Chantilly lace and an overlay of modern embroidery applique. It's marked with floral motif and a crisscross thin V strap sheer illusion back design. Skye Blush lace bridal gown is fit to flare with round illusion classic bateau neckline. It has an open back with covered buttons that run down the skirt, merged into an endless train. Deep plunging neckline, long see-through lace sleeves, rich embellishments and romantic trumpet silhouette will make you fall in love with Aurora wedding gown.

Charming Blush Bridal Gowns
Getting married in a blush bridal gown makes a statement of grace and elegance! Blush wedding dresses leave brides looking innocent and angelic, even while confident. Imagine strolling through a lavender field and inhaling its fragrance, that's how blush bridal gowns make us feel. See some Kelly Faetanini blush wedding dresses.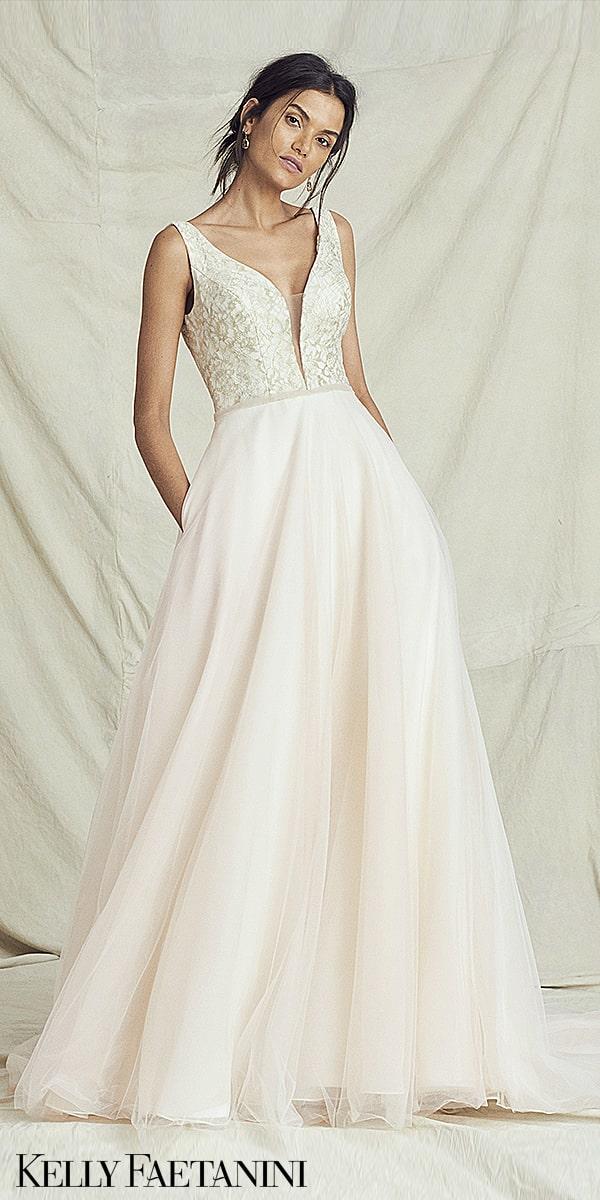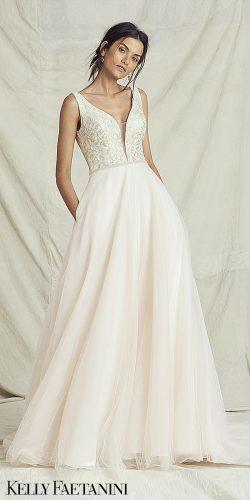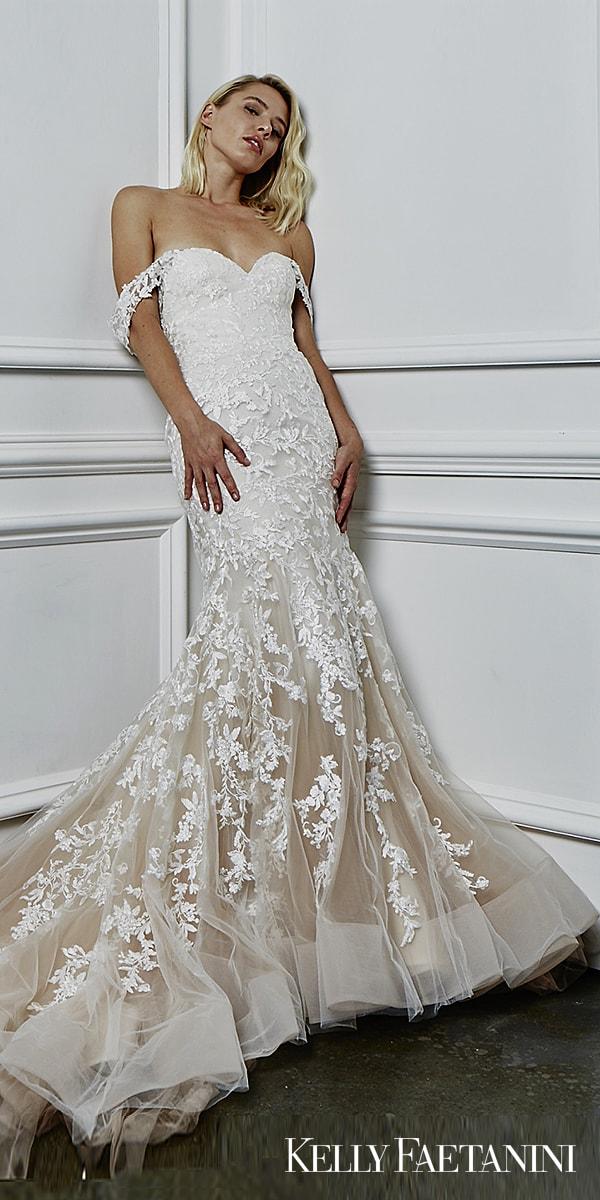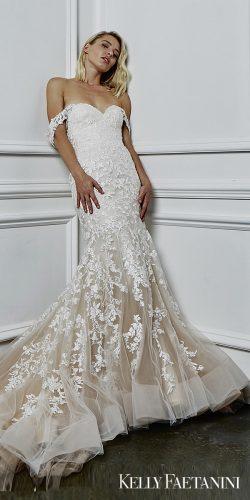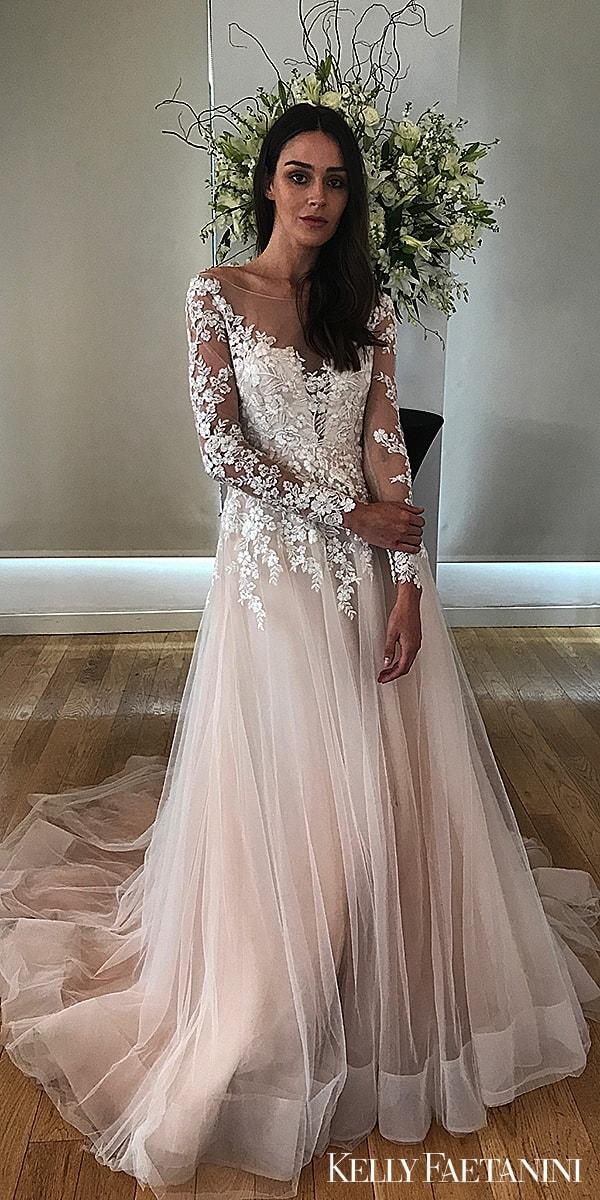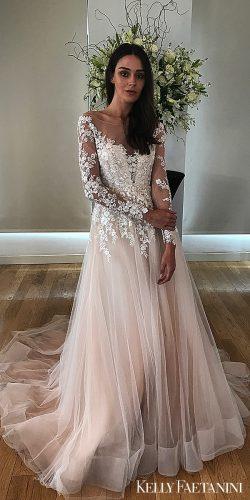 Deep plunging neckline and a simple long multi-layered skirt the colour of blush of Sicilia dress is all you need to look stunning. Luna is a sexy fit to flare mermaid gown that subtly transitions from ivory to blush at the skirt. It has a sweetheart neck with blending colors that run continuously to the hemline of this wedding dress. Alba blush bridal gown made of tulle and embroidery has a plunging bateau illusion neckline and back. It has barely-there floral embroidery motif sleeves and also available in strapless.
Black And White Kelly Faetanini Wedding Dresses
Choosing your wedding dress is a sentimental task. It's all about you, comfort and personality. The white and black wedding dresses by Kelly Faetanini have a Shakespearean inspiration. It brings to fore weird, independence, confidence and out of box creativity with its mystery and edgy color combo. Some of the below.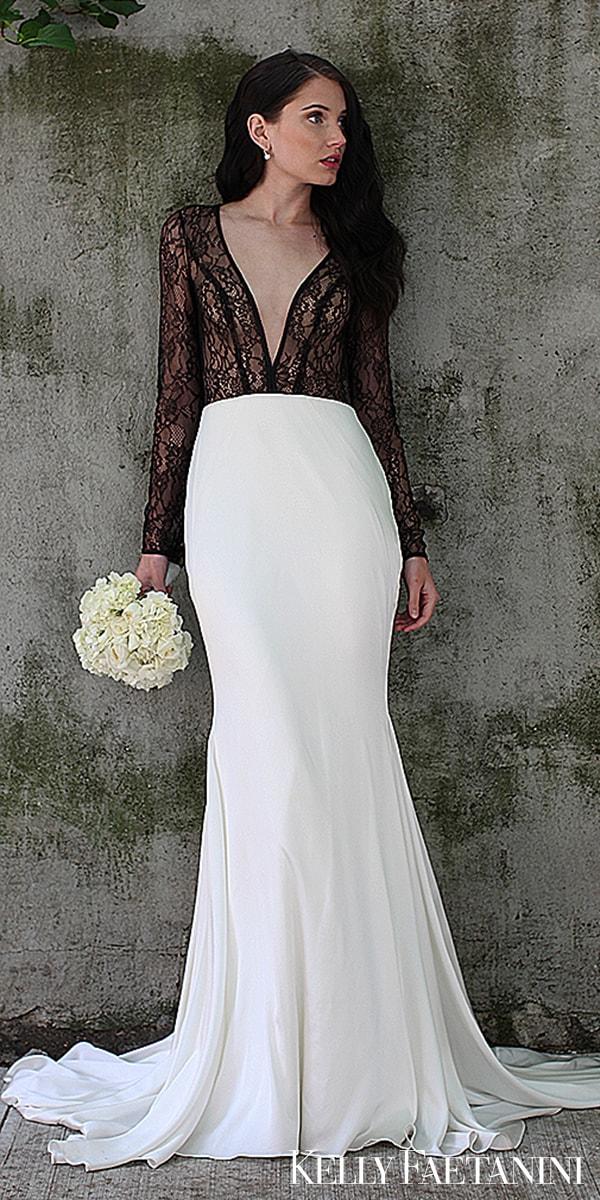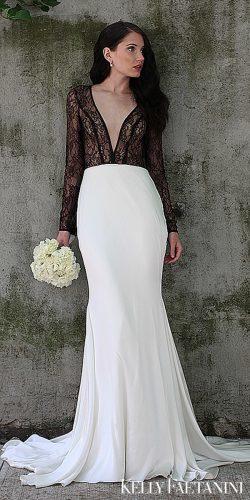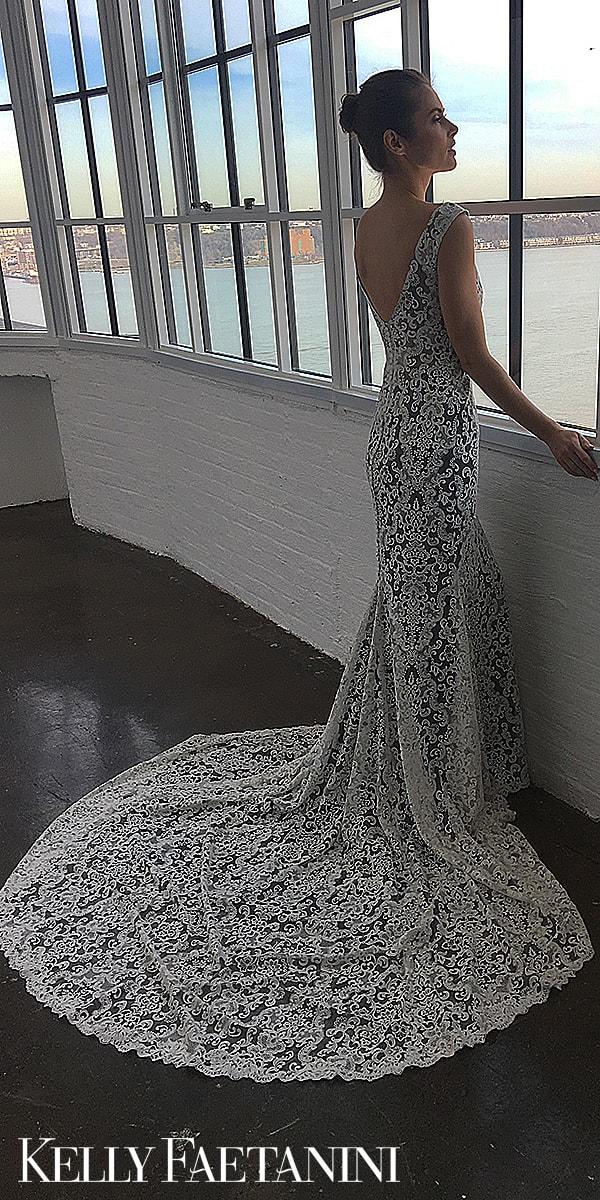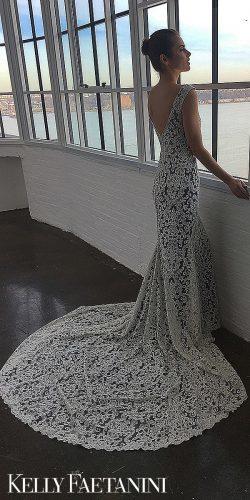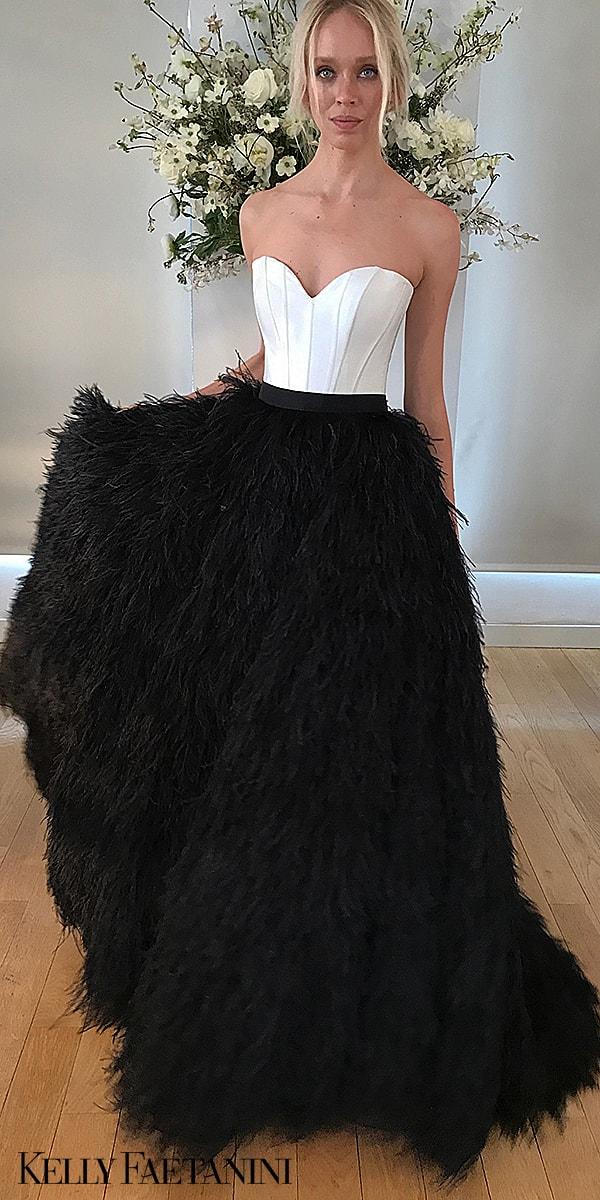 Portia is a sexy wedding dress with a plunging illusion lace V neckline attached to a tiny waist. The skirt, made of silk is lightweight and pools at the hem of this sexy gown. Cleo is a striking figure-hugging gown with a sensual black platform that gives the dress a mysterious and elegant look. It has a double front and back, V illusion lace and covered buttons all the way down the back. 30 yards of airy and delicate ostrich feathers made Macbeth's full skirts. The strapless bone bodice is firm and created from silk mikado material.
Amazing Ball Gown Wedding Dresses
Getting married in a blush bridal gown makes a statement of grace and elegance! Blush wedding dresses leave brides looking innocent and angelic, even while confident. Imagine strolling through a lavender field and inhaling its fragrance, that's how blush bridal gowns make us feel. See some Kelly Faetanini blush wedding dresses.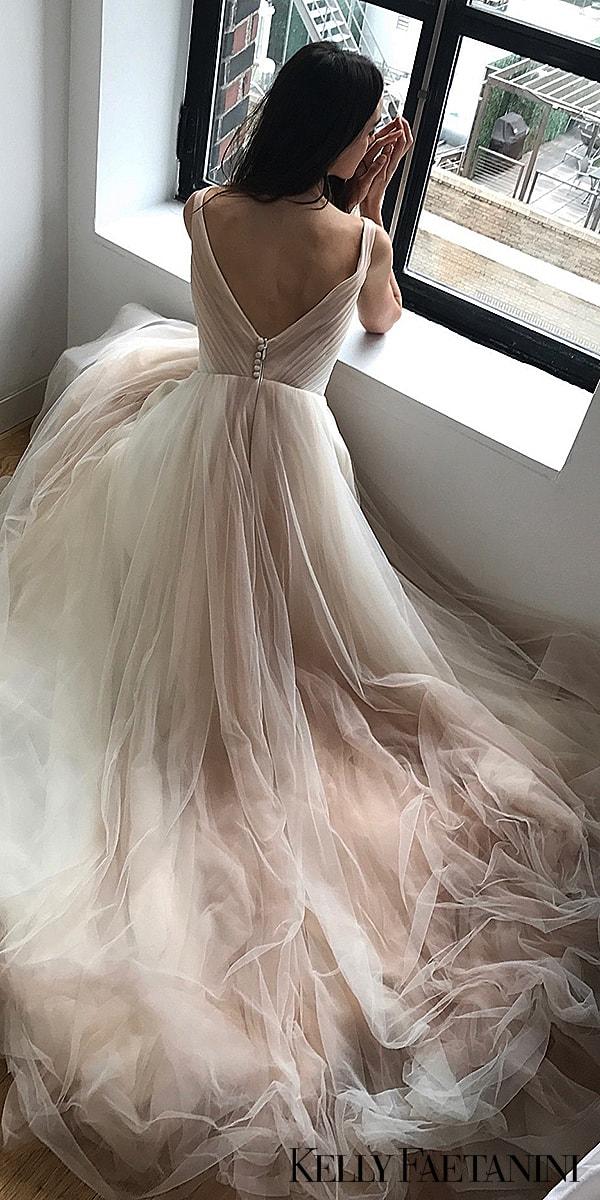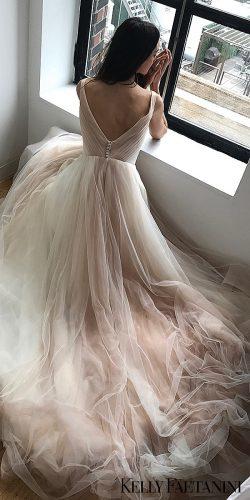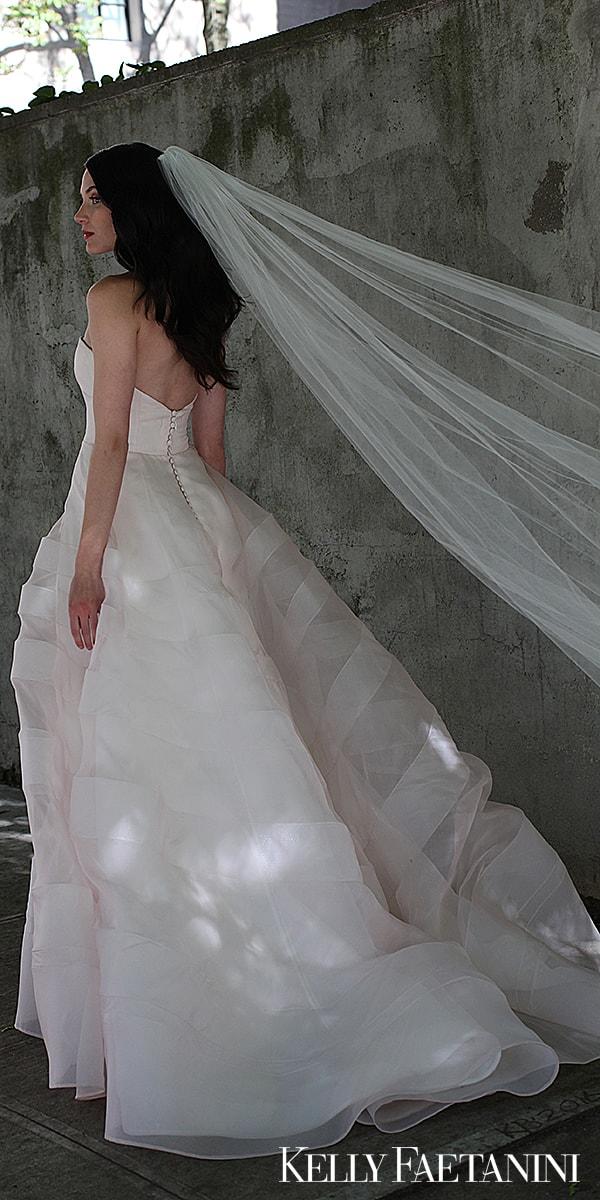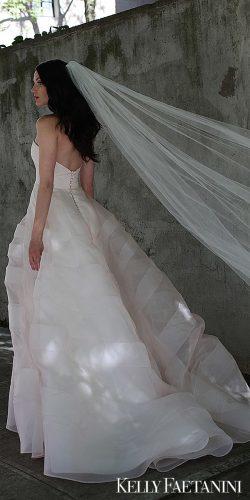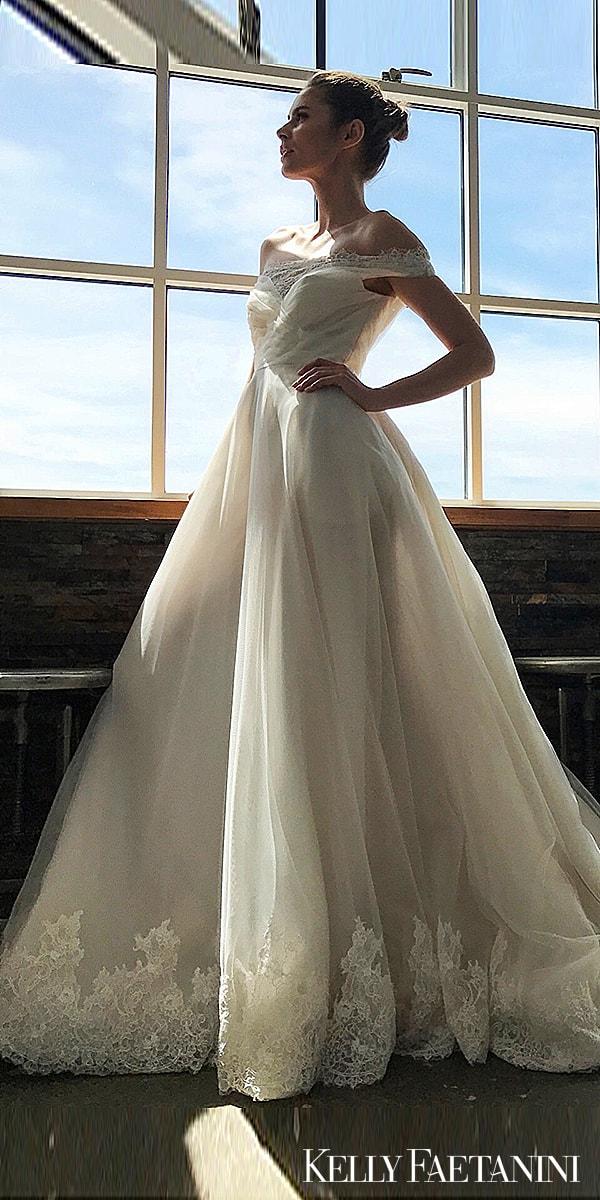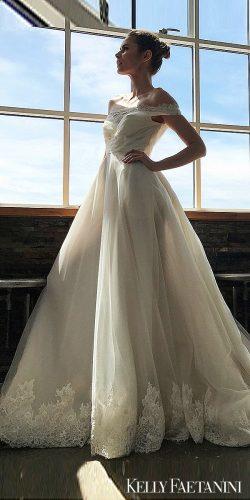 Dawn like the sunrise features a gorgeous V neckline, embroidered bodice with beading and waist embroidery that trails off. It has endless layers of blush train, transitioning ombre hue and a waist that gives a slimming effect on brides. Juno is a matte silk organza ball gown with a crisp bodice and full-length skirt. It features Horsehair moving steadily from waist to the hemline and ends in a cathedral length train. Miranda corded Alencon lace strap off-shoulder ball gown has a sweetheart plunging neckline. The torso is pleated with delicate tulle to flatter, has pockets and a full scallop lace hem.

A-Line Wedding Dresses By Kelly Faetanini
A-line wedding dresses by Kelly Faetanini come in different colors that complement and give the bride a grand entrance. They are beautiful and made of durable tulle that gives the skirts some kind of subtle firmness. The skirts pour down in rivulets, landing softly on the ground, making an A-line.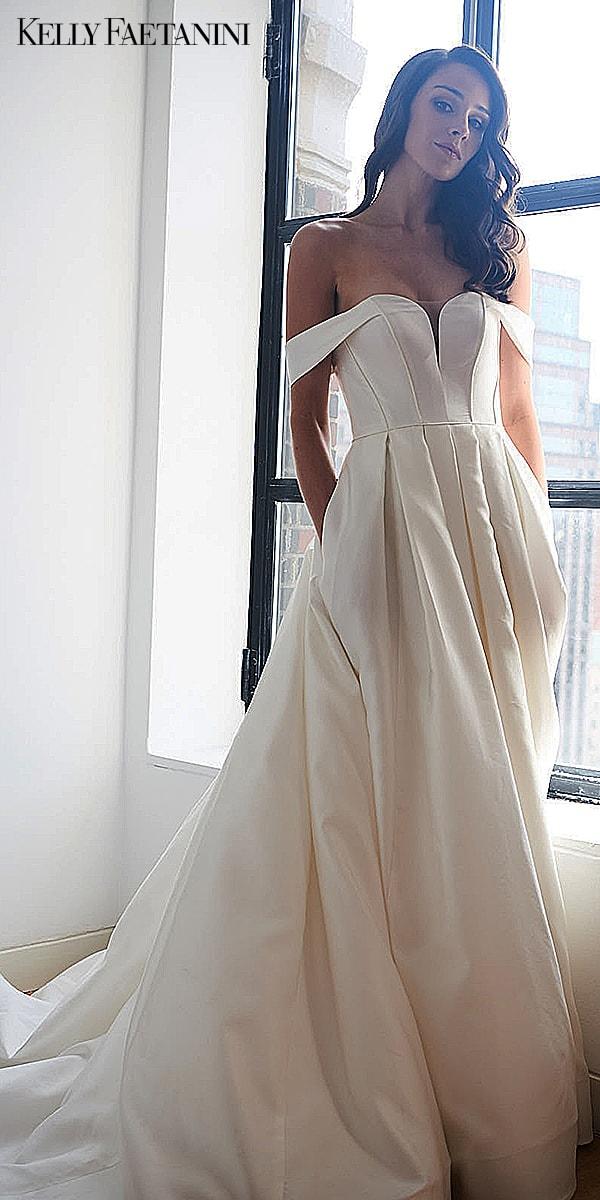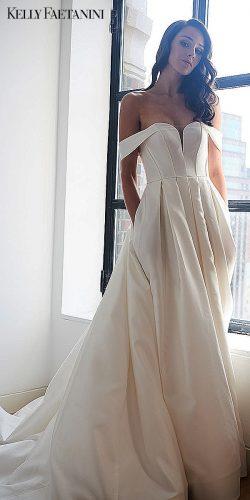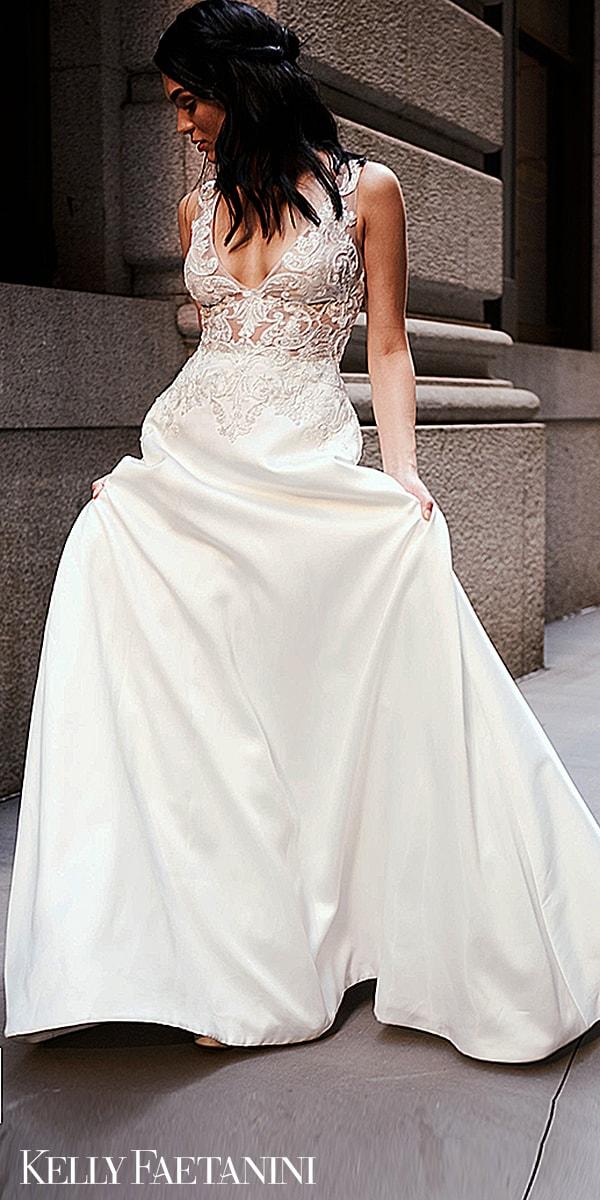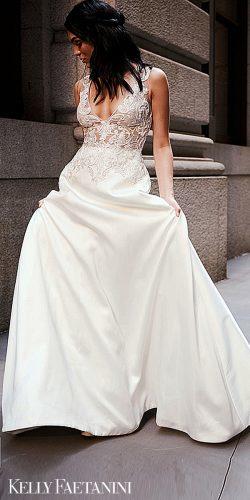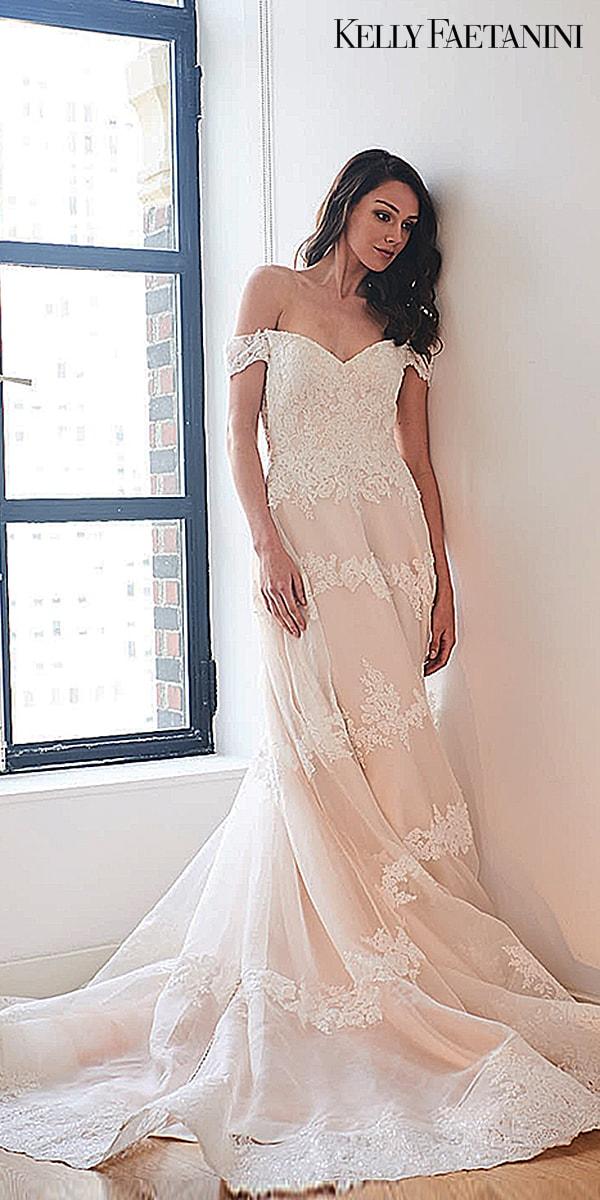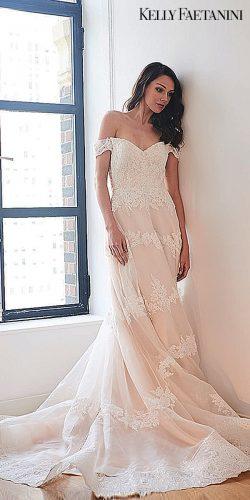 Nova, made from mikado fabric is a flowing A-line gown with a slimming waist and perky plunging neckline. It has off the shoulder straps and also comes strapless. Lavancher is an A-line gown with a fitted embroidery top and a curvy plunging neckline. Lace flares to the torso to flatter, matching silk organza full skirts. Zora A-line gown has off-shoulder straps, sweetheart neckline and vertical rows of crystal beaded lace. The back and sides are sheer illusions and you can order it in plain skirts, strapless or ivory.
Kelly Faetanini is a brand that has carved a niche for itself in the bridal outfit world. While she's committed to creating outstanding wedding dresses, she makes sure she's affordable to every bride. Kelly Faetanini wedding dresses retail between $2300 – $4000.
Dear potential Kelly Faetanini brides, costs should not be a barrier to adorning your dream wedding dress. Distance should not be a barrier either, as there are bridal locations all over America, UK, and Canada etc. They do international shipping/deliveries. Kelly Faetanini wedding dresses come in sizes 0 – 24. Follow updates of Kelly Faetanini trunk shows and don't miss out on your chance of getting a magnificent dress.

Check up all other vital information on Kelly Faetanini website