Making up a collection of the best love songs for him is quite a task. Softer than a breath, yet stronger than any words you can string together, love songs have a power like no other.
It is not easy finding songs that ignite the magic between both of you all the time. Yet, we have put together different love songs for him below. These include modern, romantic, country music, R&B, and rock music.
The ideas in this post have been updated to 2020, so plug in your earphones and enjoy the music!
Romantic Songs For Him – Best All Times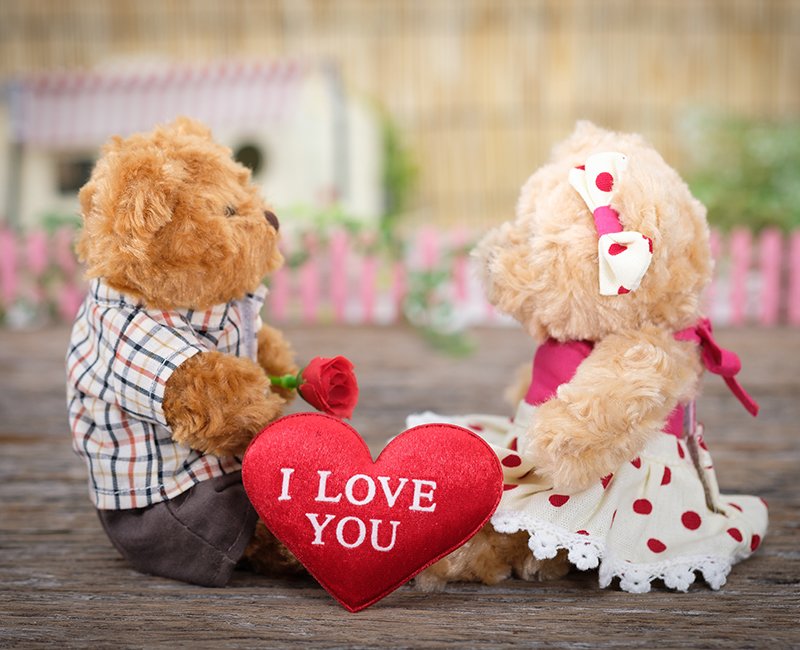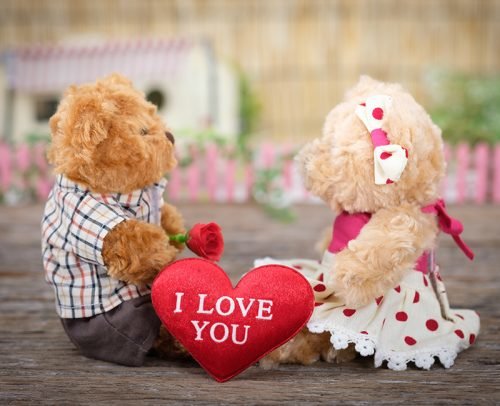 Romance is incomplete without music. Whether music to dance to, sing to, or just love to. Below is an array of songs with that romantic vibe. The kind of music just perfect; and some of the greatest love songs from a woman to her man. Find sweet romantic songs for him bellow.
Cute Country Love Songs For Him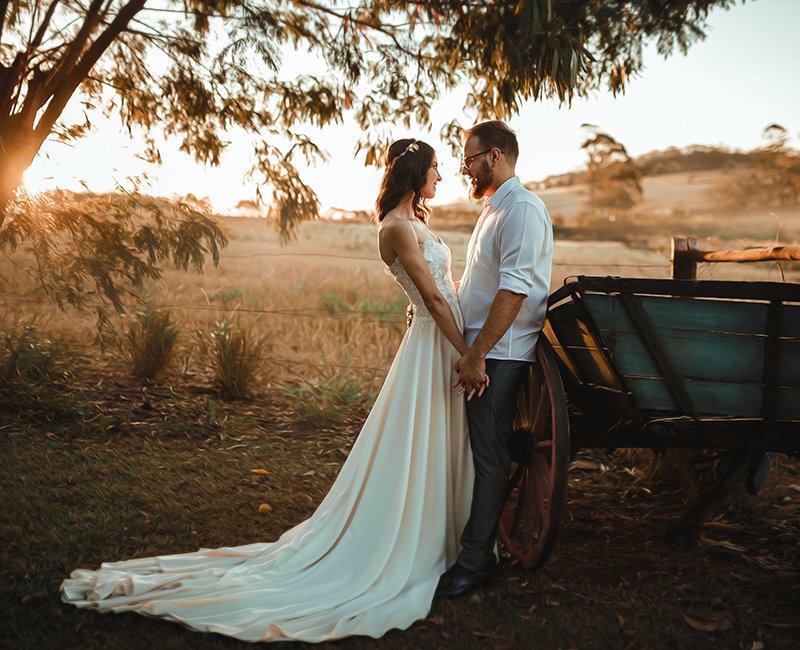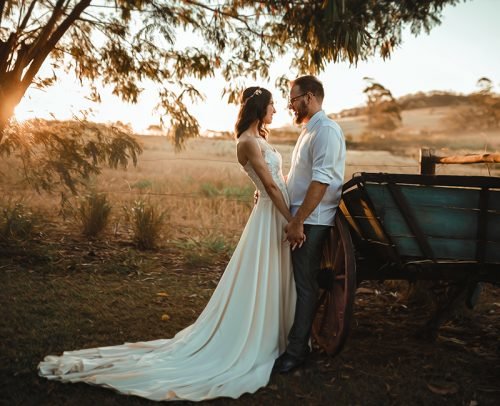 Some of the best love songs out there are country love songs. And if your man is moved by country music, then these are some you should consider as the best love songs for him. Here are country love songs for him from as recent as 2020 to much earlier that have also featured as country wedding songs. Country love songs for boyfriend are some of the best music for expressing the feelings of the heart, so dig in and enjoy.
Best Modern Love Songs Of 2020 From Girl to Guy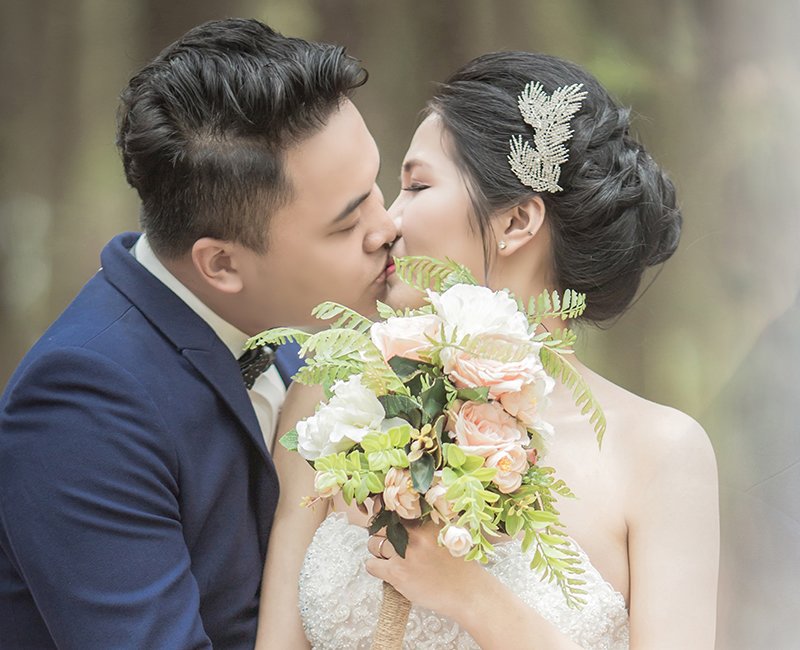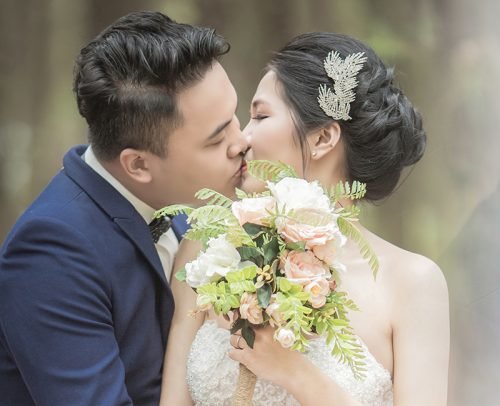 There are many love songs released this year already. Whether you're looking for the best love songs for him to dance to or something soft with a lot of feel for both of you. The list below has is a mix of both, and we hope you'll love these recent love songs as much as we do.
Teyana Taylor – Gonna Love Me
G Flip – About You
Troye Sivan – My My My!
Kacey Musgraves – Butterflies
David Guetta feat Anne-Marie – Don't Leave Me Alone
Calvin Harris, Dua Lipa – One Kiss
Yo La Tengo – For You Too
Janelle Monae – Make Me Feel
Beyoncé / Jay-Z – Summer
Robyn – Missing U
Rita Ora – Let You Love Me
Rock Love Songs For Your Boyfriend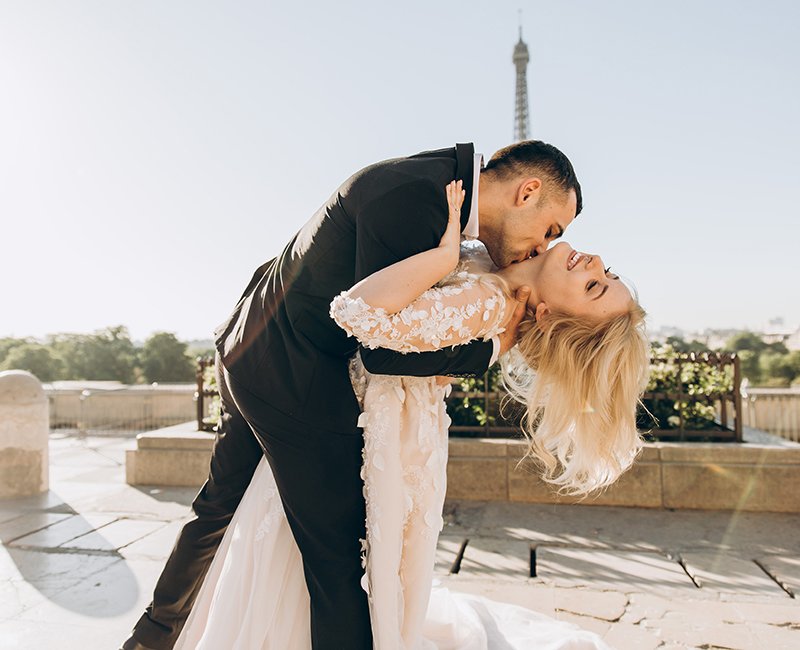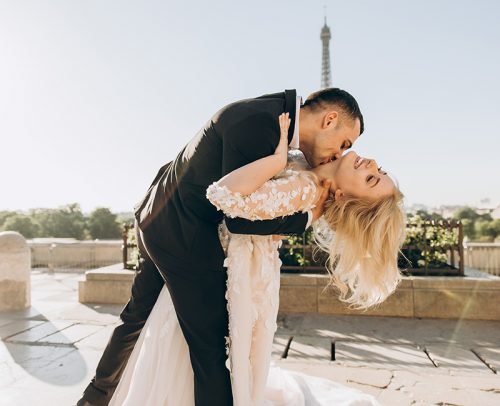 While romantic songs are heartwarming and sensational, a little rock is great for just the right moments.
Looking for rock love songs from 2020 for him or earlier?
Here you are sure to find one or two love songs to dedicate to your boyfriend!
Paul McCartney – Maybe I'm Amazed
Derek and the Dominos – Layla
Hedley – 3. For The Nights I Can't Remember
Fleetwood Mac – You Make Lovin' Fun
Heart – Crazy on You
U2 – All I Want Is You
The Rolling Stones – Wild Horses
Vertical Horizon – Best I Ever Had
Led Zeppelin – Whole Lotta Love
Chicago – You're The Inspiration
R&B Songs About Loving Your Man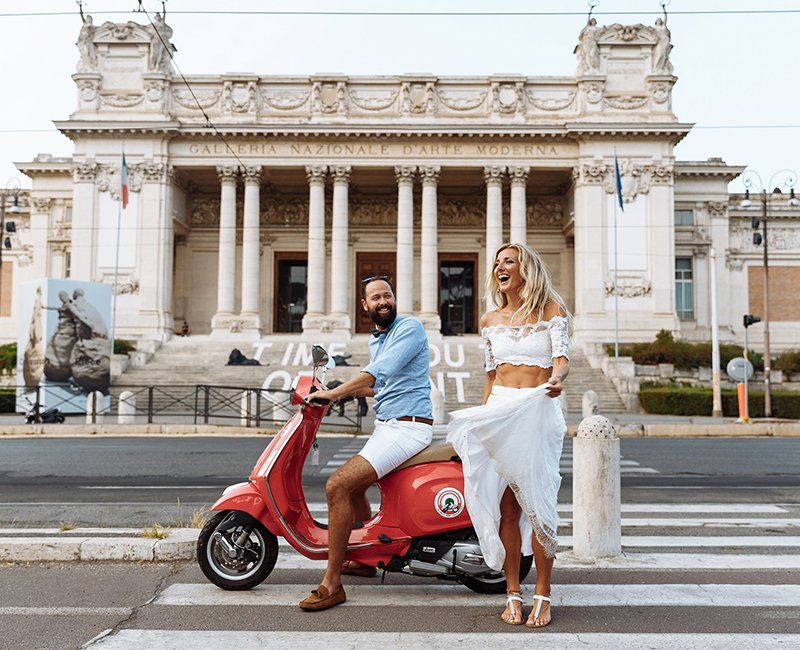 If there's any type of music that can best stir emotions, it's R&B. And if you can find a list of songs that can make your man feel nostalgic about love or your relationship, then you have hit a nerve right there. Even if you're just looking for R&B songs to sing to your boyfriend or songs for your lover, you have come to the right place. These rhythm and blues are sure to evoke memories and feelings of love.
Music plays a huge role in love and relationships. For an old flame, sometimes you might hear "songs that remind me of him". For a lover, you might use songs to tell him you love him. Either way, we cannot diminish the part of music in our love lives and lives as a whole. Love songs trail us from the beginning of the relationship to the end, if it crashes and burns, or to the point where we're searching for wedding songs and music. We hope you enjoyed our collection of love songs for him.
Bridal Box Subscription: NOW To Honeymoon
You are engaged in the age of all the best bridal swag. Brides often forget to enjoy their engagement due to wedding stress and forget to treat themselves while trying to make everyone else happy.
This is the time to treat yourself too and also discover things you may not have thought of yet. What is a Bridal Box Subscription? Bridal box subscription is a service that sends you a box full of wedding themed goodies to make wedding planning more fun and also help plan & prepare for the big day.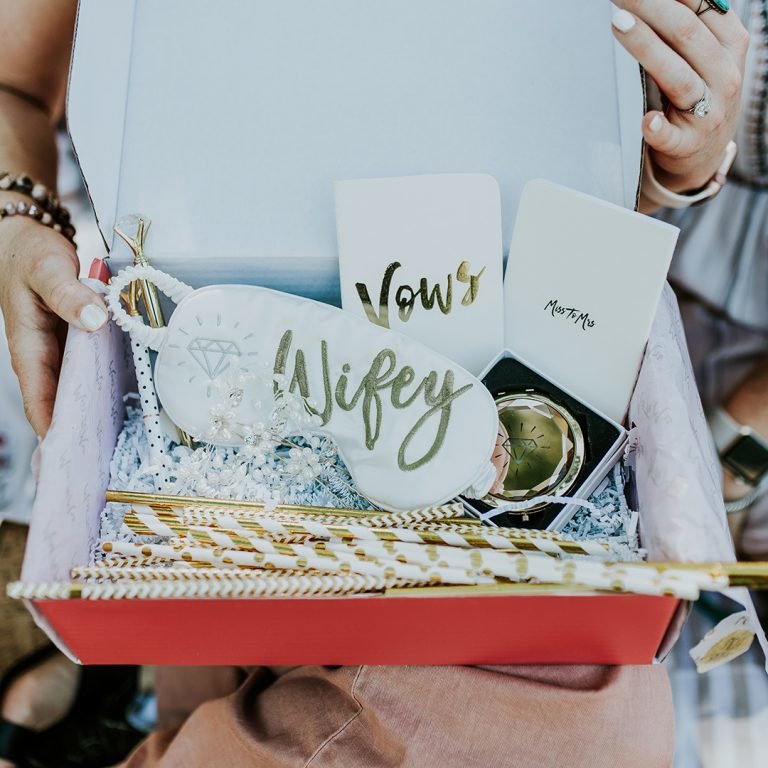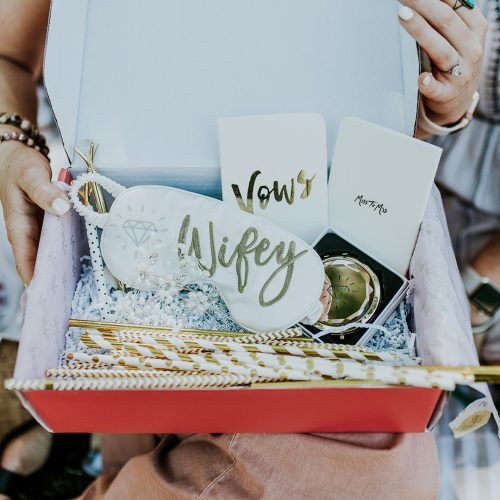 How does it work?
This part is super simple. Select a plan for the number of months left till your wedding day and enjoy a box full of bride-to-be goodies delivered to your doorstep.
When is best time to subscribe?
Most brides said they got the best experience when they subscribed right after engagement. Even if you have a few month left its still totally worth it, just make sure to go with the company that tailors box contents to your wedding date.
Which Subscription Box should I get?
We have reviewed top 6 bridal box companies and have been most impressed with Miss To Mrs Bridal Box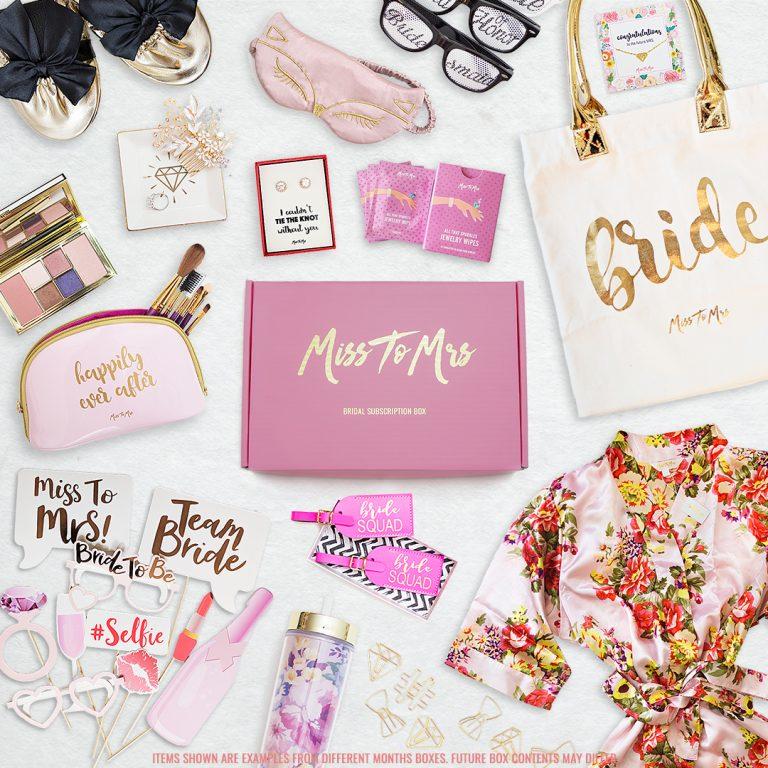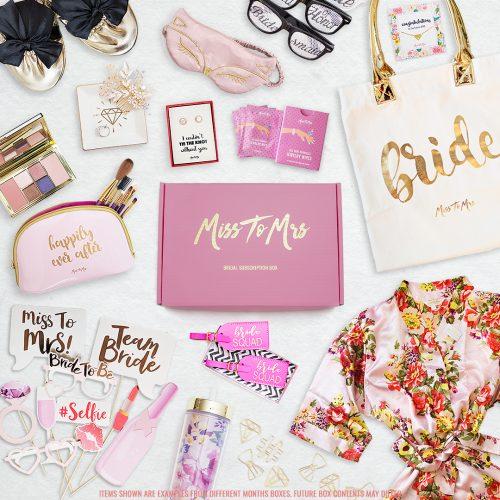 Here is why Miss To Mrs Box is a winner:
At least 7 items per box
Boxes are tailored to your wedding date
$20.99 first box w/ code BOX30
Ships Worldwide
Monthly, Bi-Monthy ot Quarterly plans
Perfect for weddings in 2020 & 2021
Previous Miss To Mrs boxes included such items like wedding planners, vow books, cake toppers, robes, bridal Tshirts, party essentials and lots more exclusive, fun and useful items to help with planning journey and pamper bride-to-be!