Love songs are songs about romantic love, the ups, and downs that come with it, joys and heartbreak, and everything in between. Dance songs have transcended time and generation because it is impossible to live and ignore love. This is why we are bringing you modern love songs, including the latest from 2021 for your listening pleasure.
love songs
8 Slow Dance Modern Love Songs
Choosing the right music for a wedding is a big deal for couples, wedding planners, even family members involved in the planning. When searching for slow dance songs for your big day, you might find some of the best modern waltz songs, if this is your preference. You could also get some acoustic love songs for weddings.
Or even better.
Choose from some of the slow dance wedding songs we have here for 2022.
Be sure to fill your wedding with love, fun, and dancing, by choosing some of the best modern wedding music you can find.
Your guests will not be disappointed with our slow dance songs 2021.
Modern Fast Love Songs For Your First Dance
For the first dance as an official couple, you are going to want to choose music that is special to you and close to your heart. The kind of music that communicates your love to your audience and to each other. If you prefer fast music for your first dance, it is okay; there is no hard and fast rule. Below we have listed a few first dance wedding songs 2021. For this, we have chosen current love songs; an upbeat song about love for that special first dance. Nothing but the best for our readers and listeners of good, quality love songs.
Plus 8 More Modern Love Songs for Your Wedding
You want your wedding to be perfect and to go on without a hitch. Well, the music plays an important role in this and is the emotional backdrop for every aspect of the event. Be sure to take your time; choose carefully and wisely. Create that musical playlist that will transport your wedding party to perfection.
And so, if you are in search of some top modern wedding love songs for your day, we've got your back. Create the playlist of a lifetime; find some popular modern love songs. Feel the inspiration with some of our new love songs. Find below a few of the best modern love wedding songs.
Upbeat Wedding Duets Songs
Duets are the source of some truly beautiful music from very talented singers. Two voices coming together in melodious unity, capturing the essence of love. Duets take music and singing to another level and can be a great joy to listeners. Wedding duets songs have the benefit of being able to communicate the feelings of two individuals in a single song. This is why they are great for weddings; some classics as well as some most recent love songs.
Below we have listed for your choosing, a few duet upbeat love songs 2021.
Current R&B Love Songs
Rhythm and blues are perfect for capturing the emotions behind love songs, especially at a wedding. The words in a love song are gently and clearly expressed in an R & B song with soothing smoothness. Nothing like the sultry voice of Jagged Edge or even Adele songs for the wedding to make your day special. Whether for wedding reception music or cute slow love songs, some R & B will surely do the trick.
Here we have a list of a few songs for slow dancing from the best rhythm and blues crooners of our time. These old and new slow songs are sure to set the tone on your special day.
Modern Rock Love Songs
For lovers of rock, there is nothing like rock modern songs to dance to on a special day and at a special event. Hard or soft rock; the options depend on the listener, and we have quite a few to choose from. For the wedding reception, a couple's dance or even a final dance, either of these would be perfect.
If the rock is your poison, you are going to want to take a look at the few rock wedding love songs 2021 we have for you. Fewer as they may be, you are sure to find something you are looking for.
Trendy Country Love Songs
Save to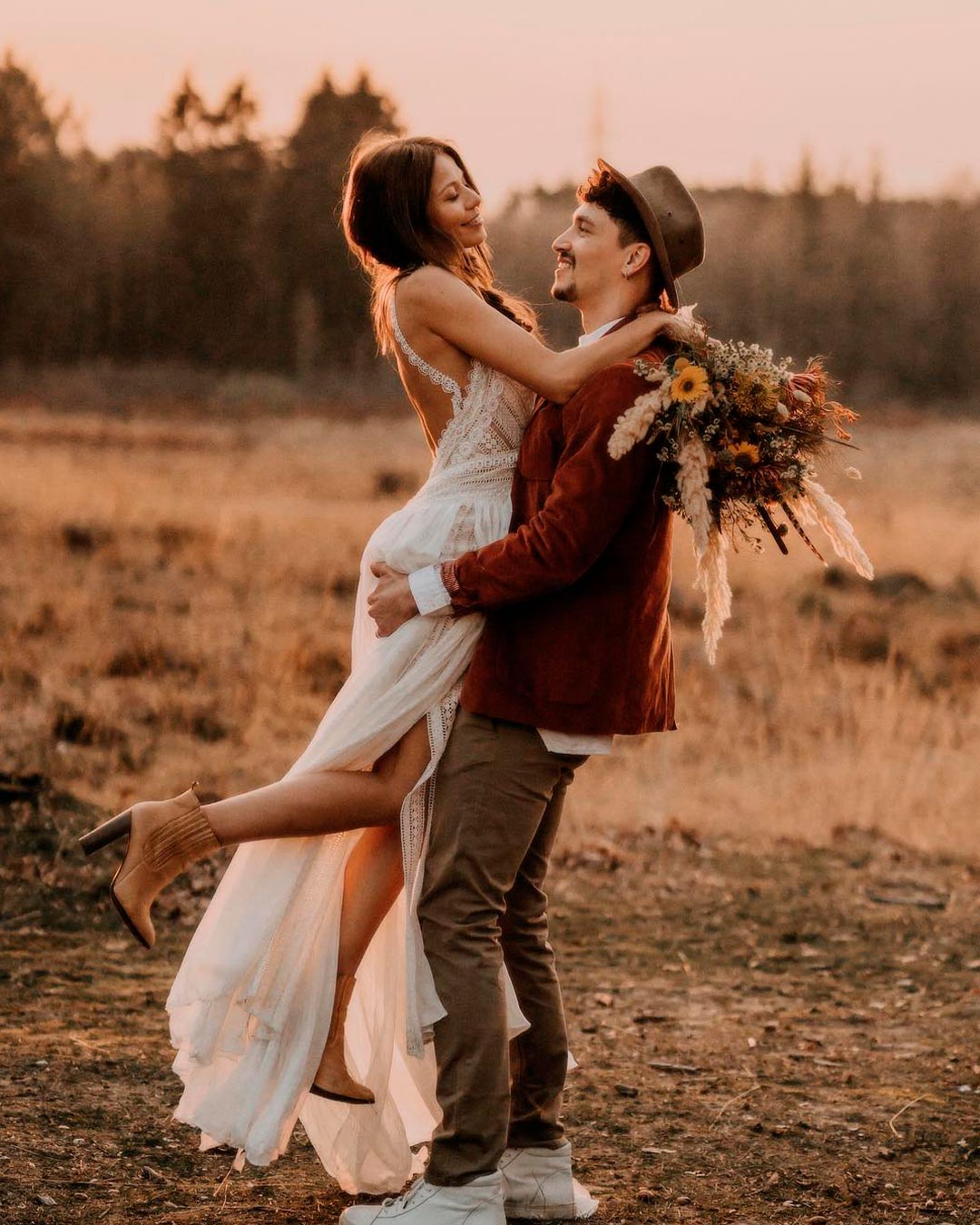 Country love songs have been known to capture love in the most unique of ways. And country singers have excelled at pleasing lovers to no end; providing music that expresses love to the fullest. To some people, you do not know love until you have had some good ol' country lovin'. This is why we are concluding our collection with a list of new couple songs from this genre. They make great romantic love songs for the wedding and sometimes include a Christian wedding song or two.
Whichever your preference, you are sure to find a pick here.
Find below our list of trendy country love songs for your listening pleasure.
Best Modern Love Songs for Him
A relationship is much like a roller coaster ride, with so many ups and downs. However, we would much rather live our lives in one than out. That said, music plays a huge part in relationships, and at every point where there is something to celebrate, like at a wedding. So, if you are that contemporary bride looking for modern-day love songs to celebrate your man, you have come to the right place.
Romantic songs that are perfect for either your first dance, last dance, or even the procession at your wedding, are a great way to get started building your wedding playlist. Some of the best modern love songs describe relationships in the most beautiful way and are also easily relatable. So, while the classics have their place and can also be used during certain parts of your day, do not hesitate to pick one or two top modern love songs to complete your list.
Greatest Modern Love Songs for Her
We all love hearing the popular classics at weddings, but there is also a place for popular current love songs too. Any celebration would be perfect with a blend of the old and new that would greatly represent the age range of all the guests attending. And so, it is not out of place to have a list of contemporary love songs on your playlist for your bride.
You want to choose music that will make these moments as memorable as possible, so make sure you pick the great modern love songs that best resonate with your relationship. Weddings are a joy for all who attend, but even more so for the two being celebrated. So make the effort, and choose the best modern love songs for weddings that you will enjoy.
There are all kinds of modern love songs to choose from to create that unique playlist you require for a great wedding. Depending on the vision you have for this great day, you might need fun love songs for a wedding. Certain couples would even consider contemporary waltz. There is quite a lot to choose from, and it's best to have a combination of genres for different aspects of the event.

First dance music is usually very different from the type of music required for a father-daughter dance at the reception. The music selection for the procession might also be quite different from the collection used at the reception. A lot of thought goes into the music at a wedding because it sets the background and sends a message. Even couples having a second marriage consider special second wedding songs. So take your time, find the music that is just right for you from our careful selection of modern love songs.