If there was a prize for a bridal trend, that is truly timeless and classical, it would definitely go to off the shoulder wedding dresses. Their romantic image is the first thing that comes to mind when you think of a fairy-tale princess attire. And every woman wants to look majestic on her wedding day, doesn't she? Off the shoulder gowns are amazing in any silhouette, be it A-line, ball gown, mermaid or sheath. Take a look at our wonderful collection of off the shoulder wedding gowns to admire. Choose the one you like, and don't hesitate to pin and share!
Incredible Off The Shoulder Wedding Dresses
Source: Galia Lahav, Nora Naviano Sposa, Leah Da Gloria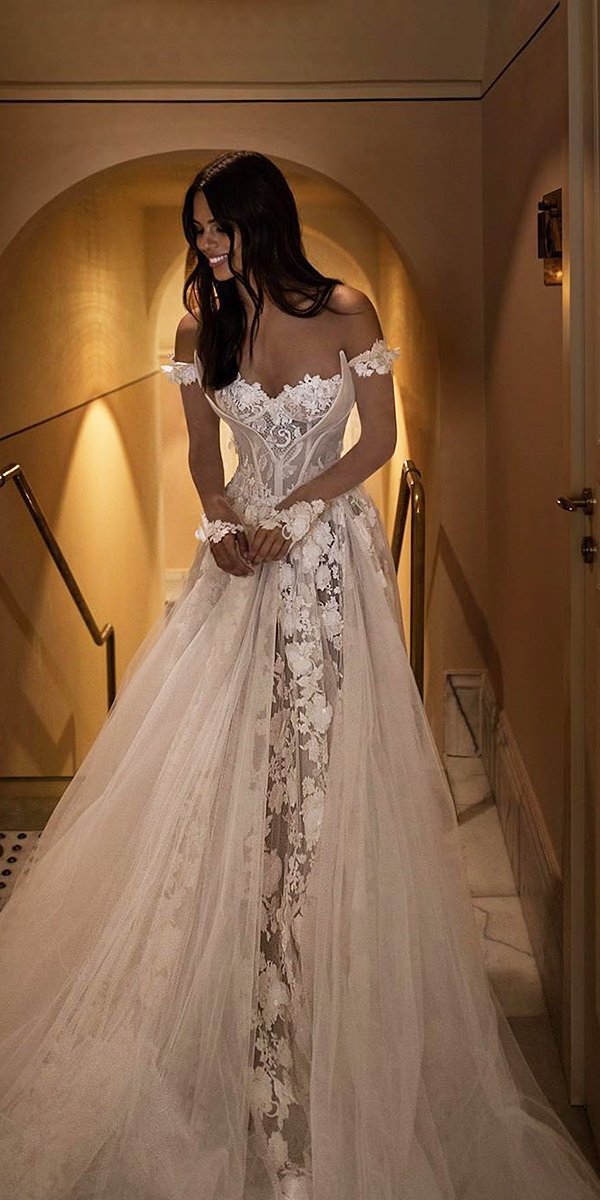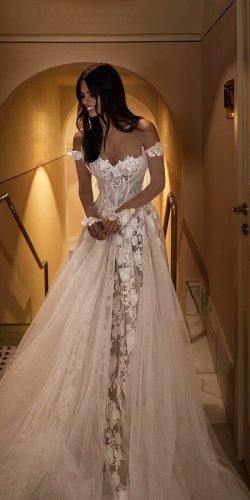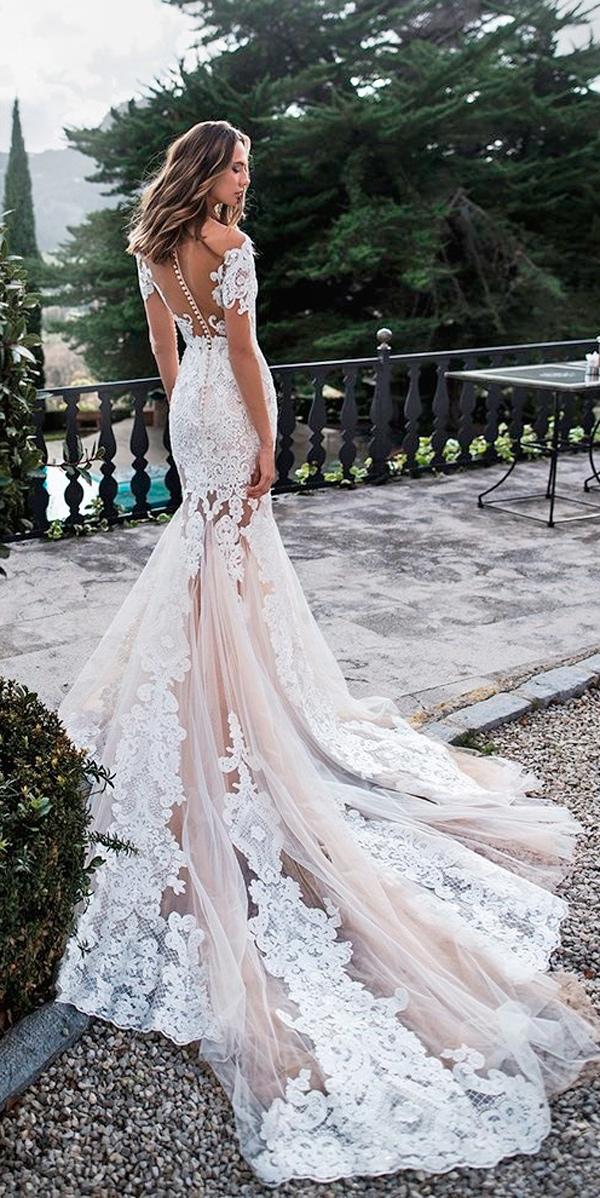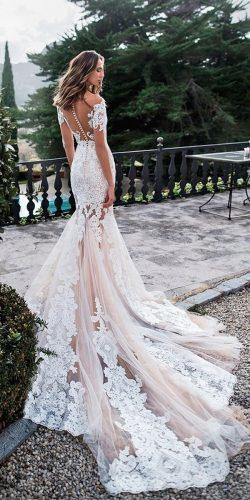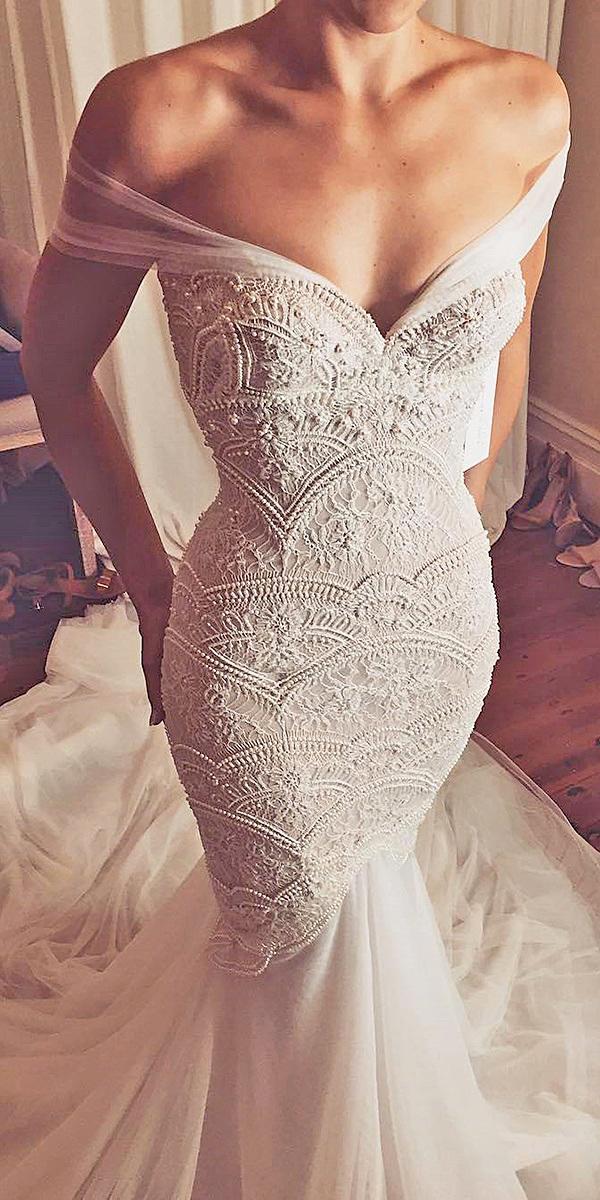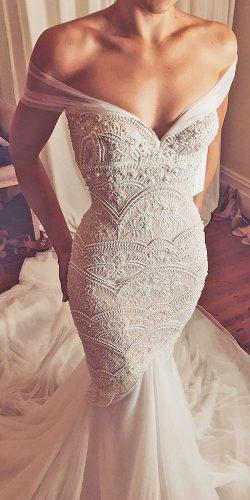 Of course, there are certain secrets if you want to rock off the shoulder bridal gowns. First of all, don't forget to visit your beautician: your skin needs this delicate glow that drives men mad. It's also important to make sure your make up doesn't have that obvious line between your face, neck, and shoulders. And last, but not least – don't forget your posture. Princesses do not slouch!

Romantic Bridal Gowns
Source: Rosa Clara, Steven Khalil, Grace Loves Lace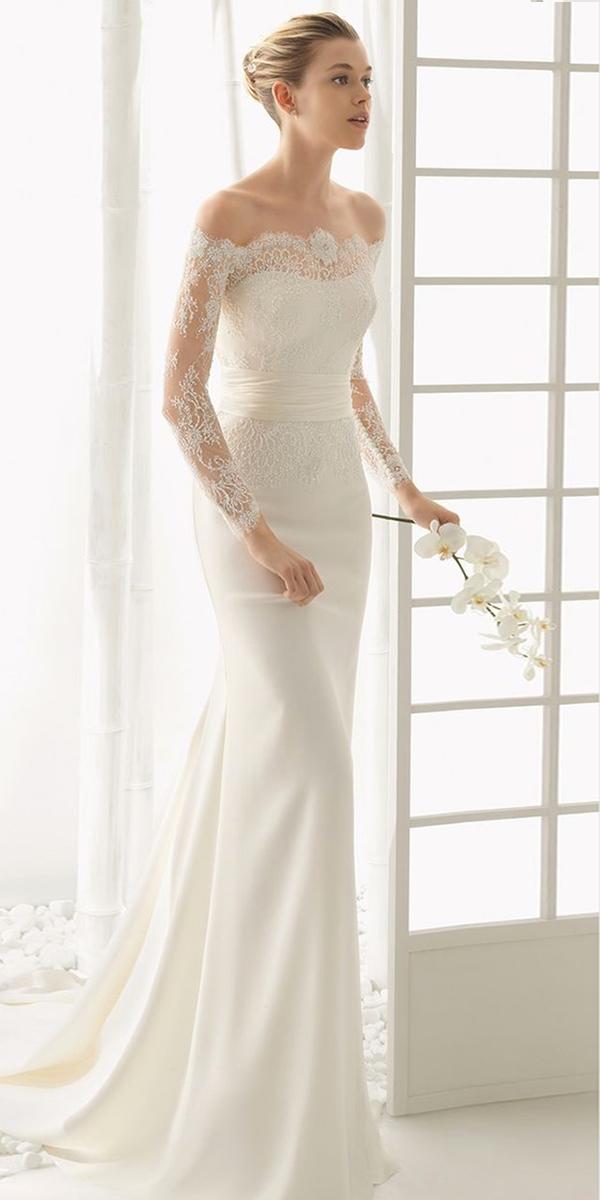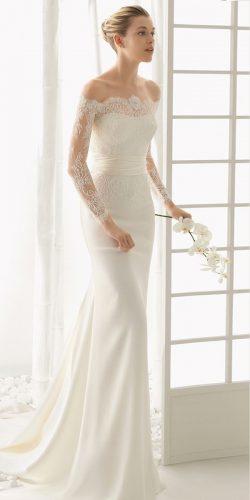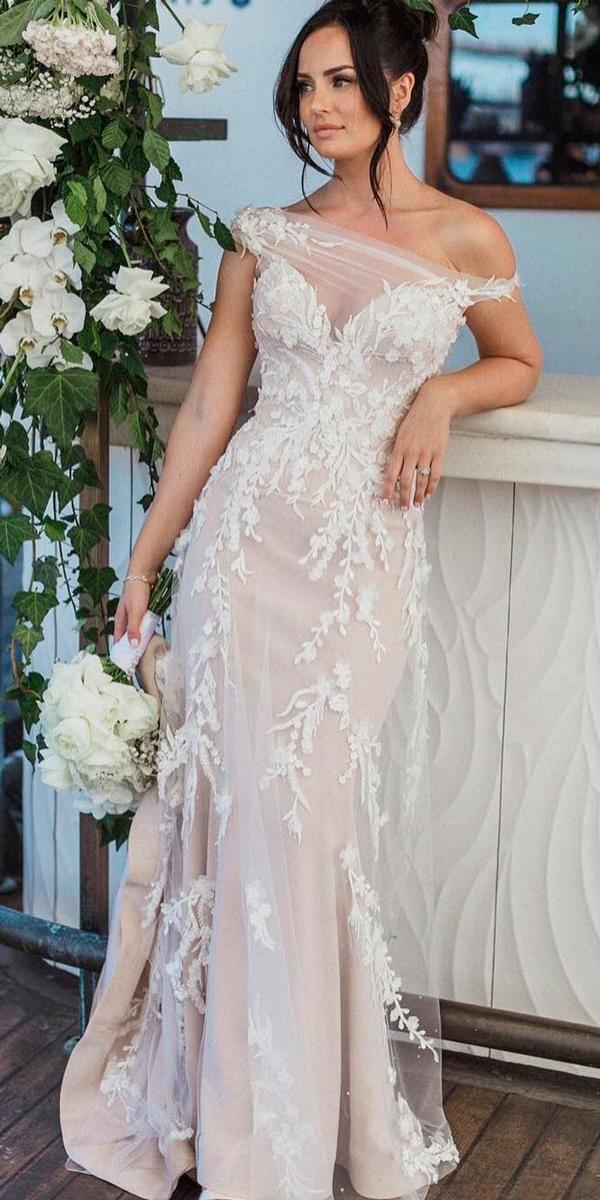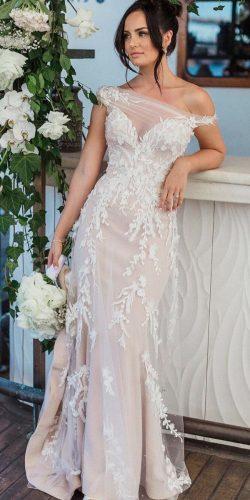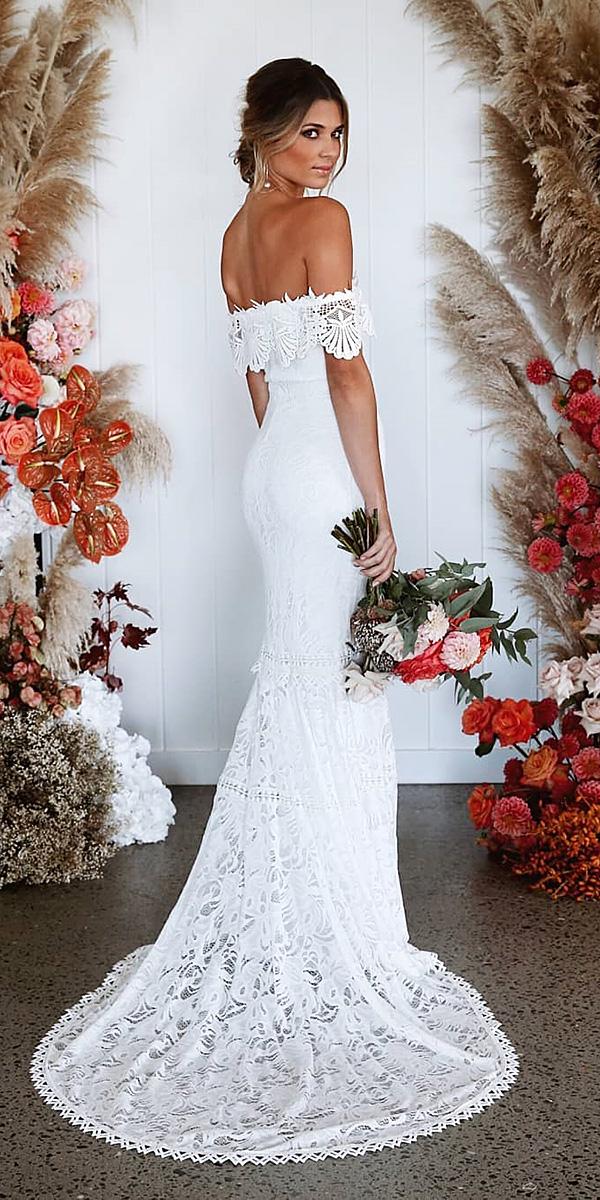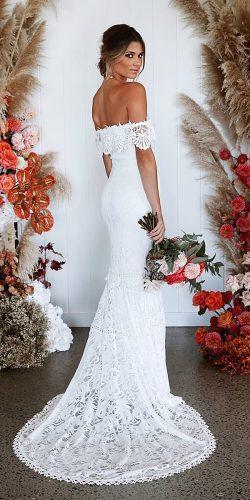 Your romantic look should be completed with a beautiful hairstyle! Click to see the most adorable wedding hairstyles ideas on Pinterest!
Magnificent Off The Shoulder Dresses
Source:Tali Photography, Eve of Milady, Sarah Seven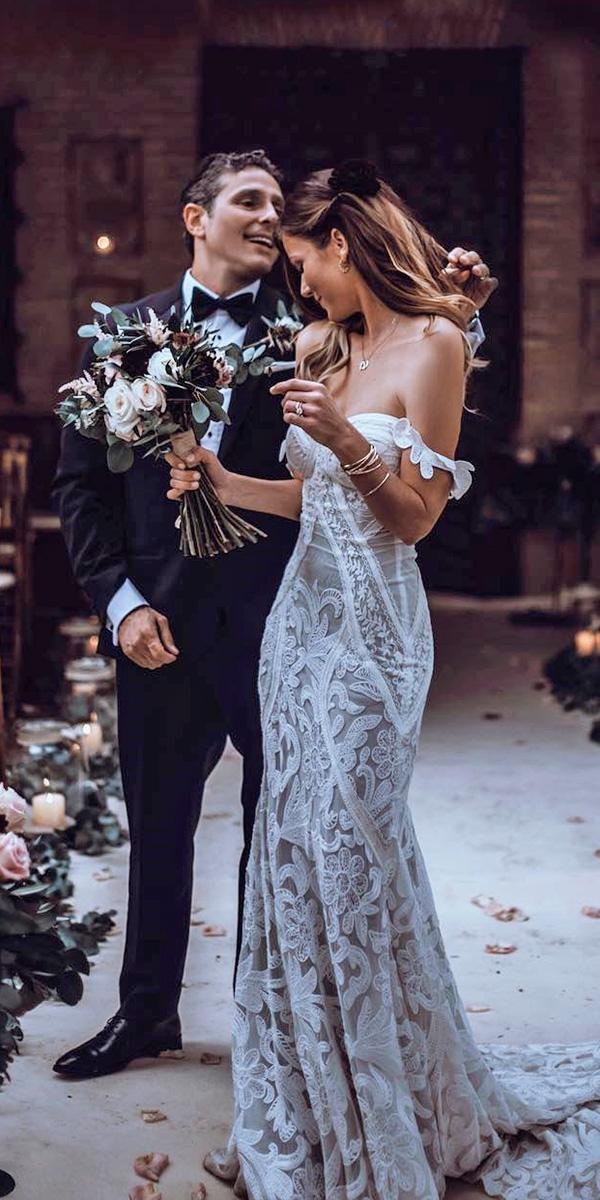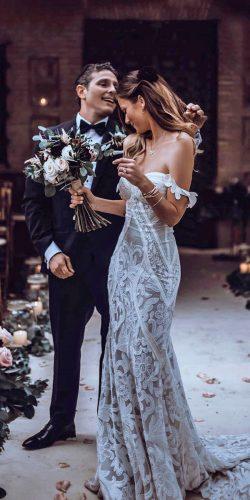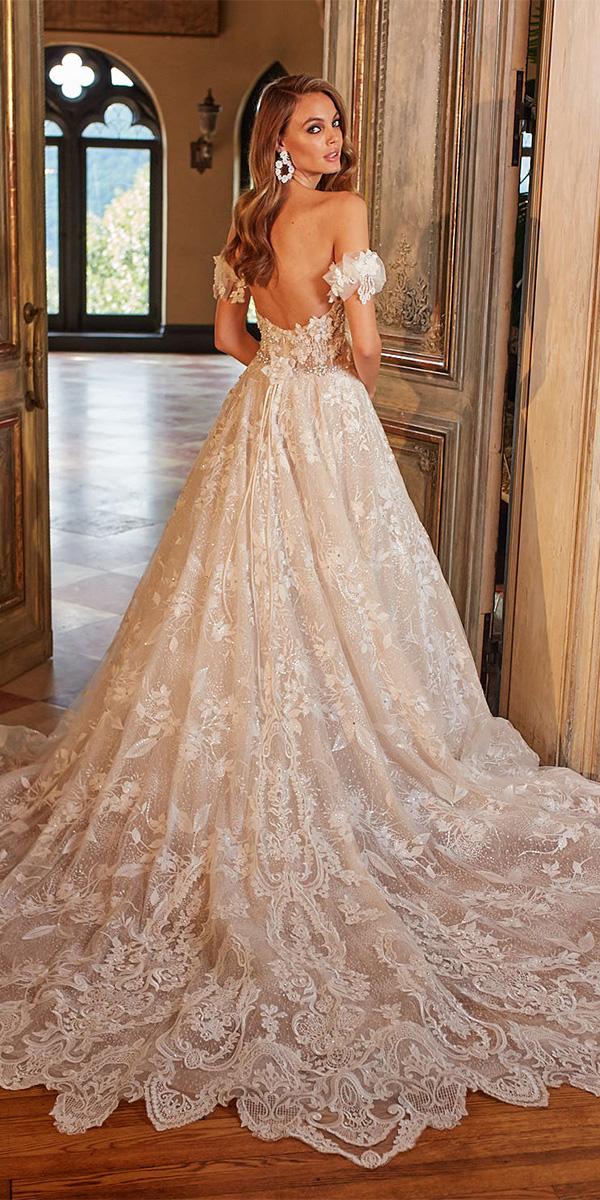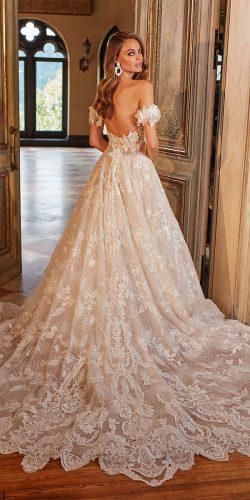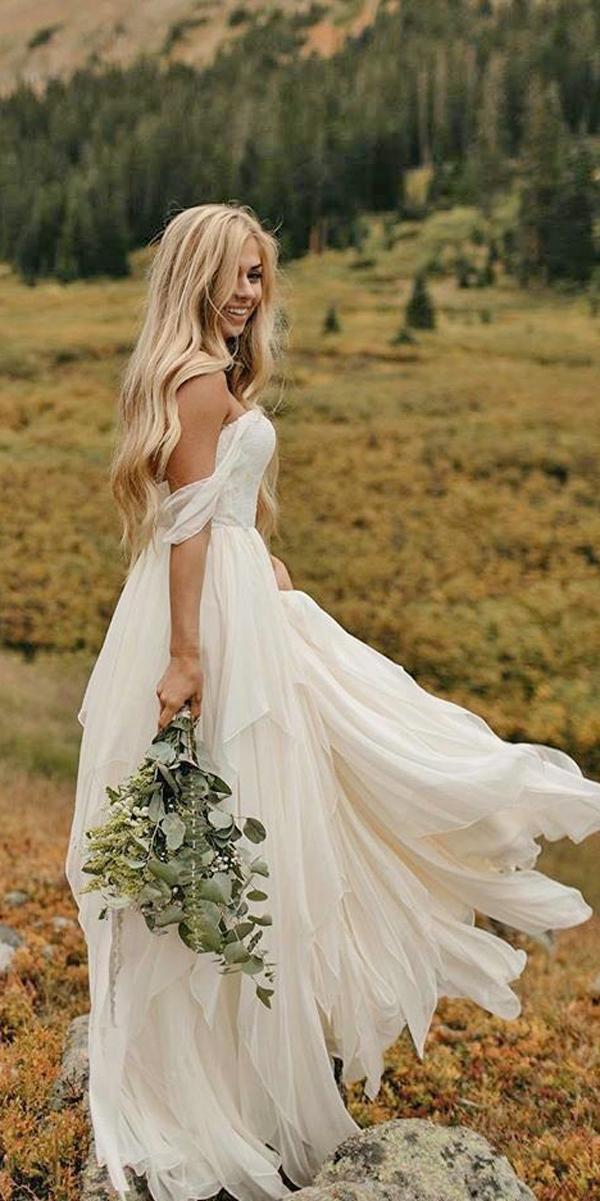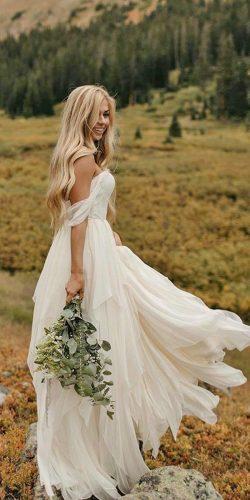 Breathtaking wedding gowns from Leah Da Gloria, one of Australia's premier couture designers, boast the finest imported silks, laces and embroideries. The designer's unique stylistic approach and opulent detailing have won hearts of brides around the world.

Wedding Dresses To Fall In Love
Source: Rodrigo Vipych Photography, Stephanie Allin, Naviblue Bridal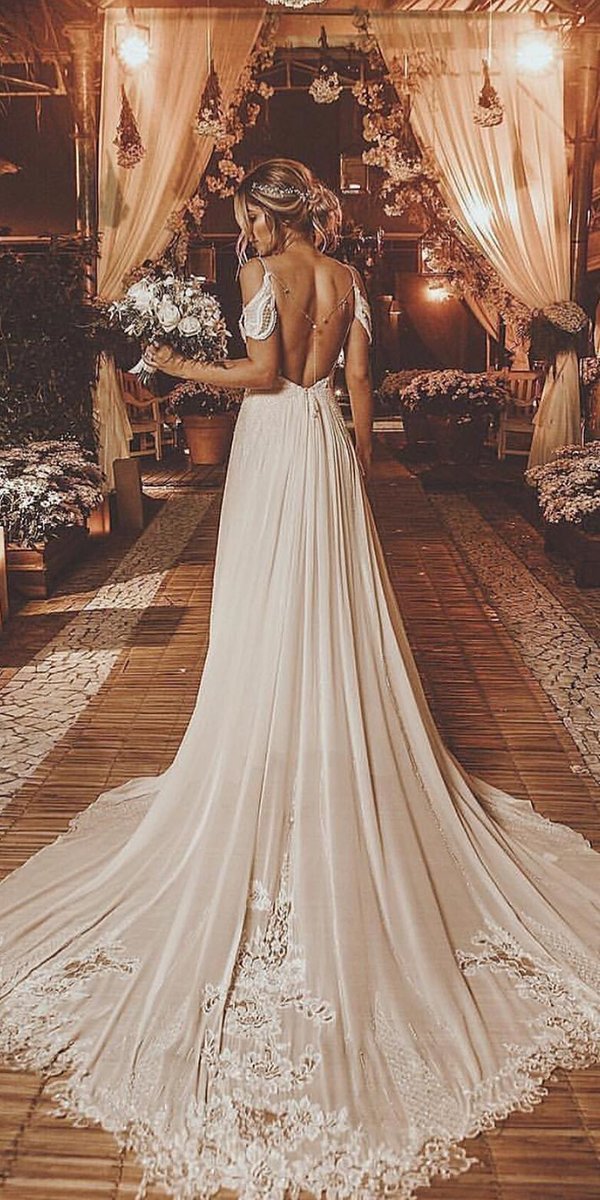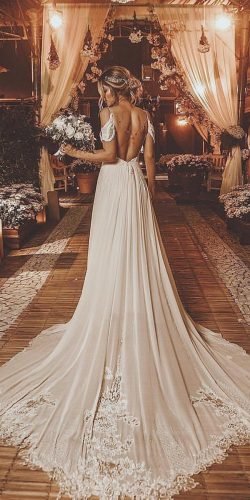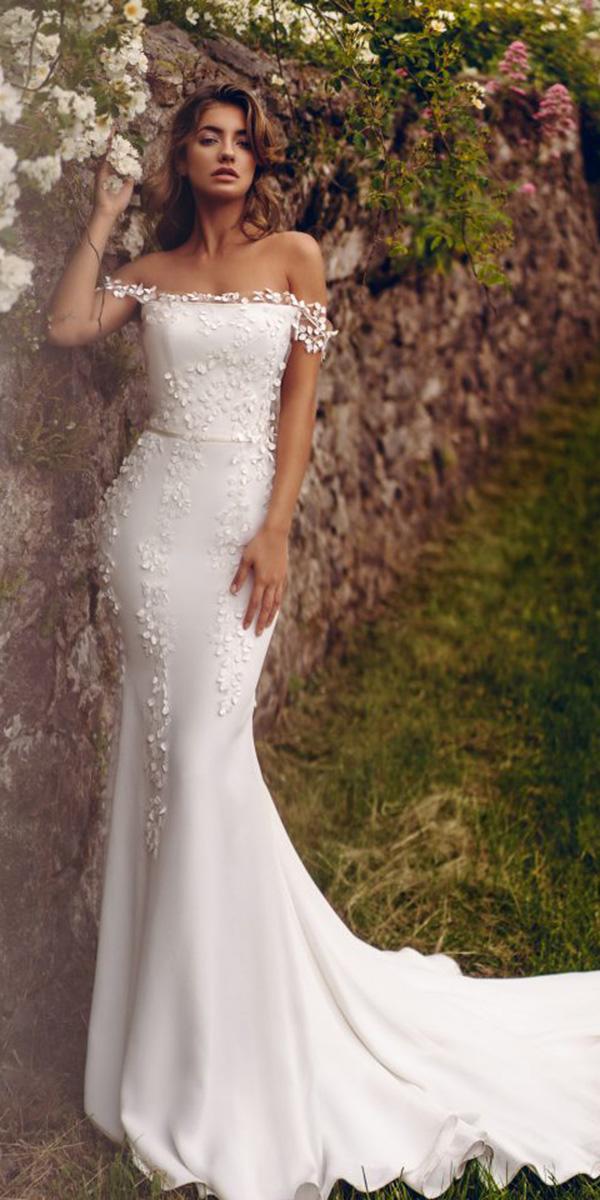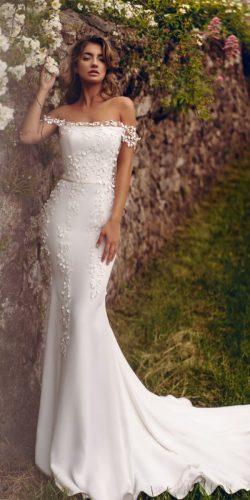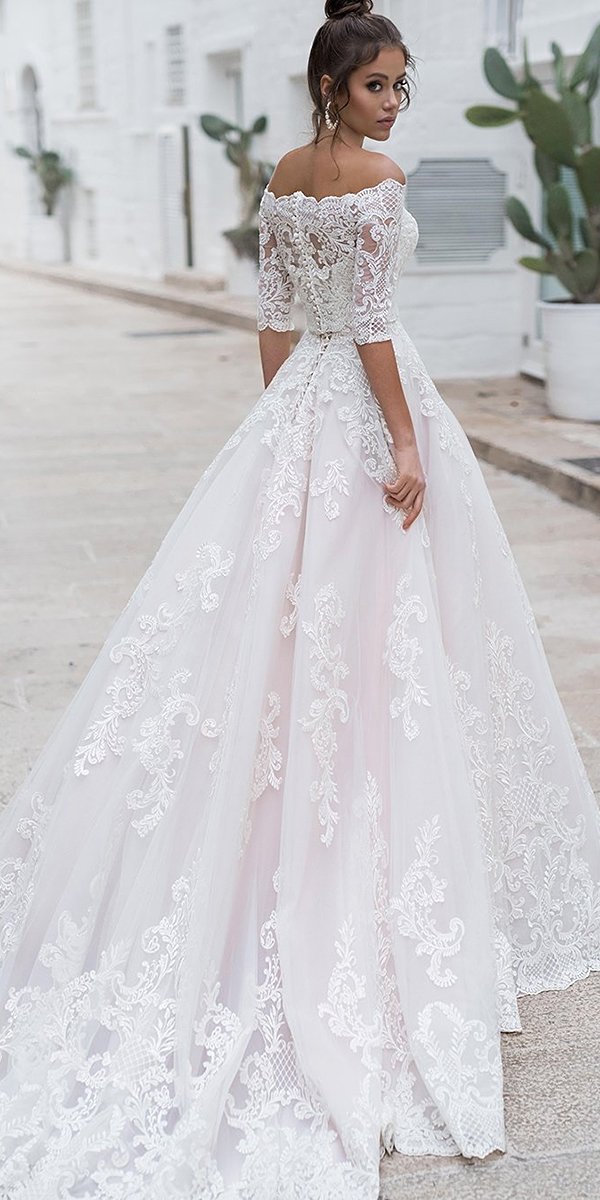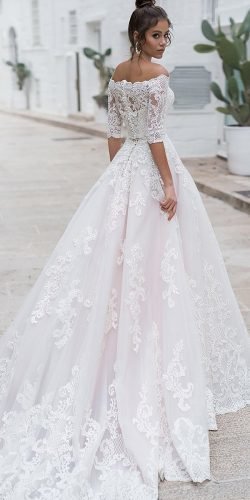 Best Wedding Dresses For Bride
Source: Tali Photography, Said Mhamad via Instagram, Isabella Narchi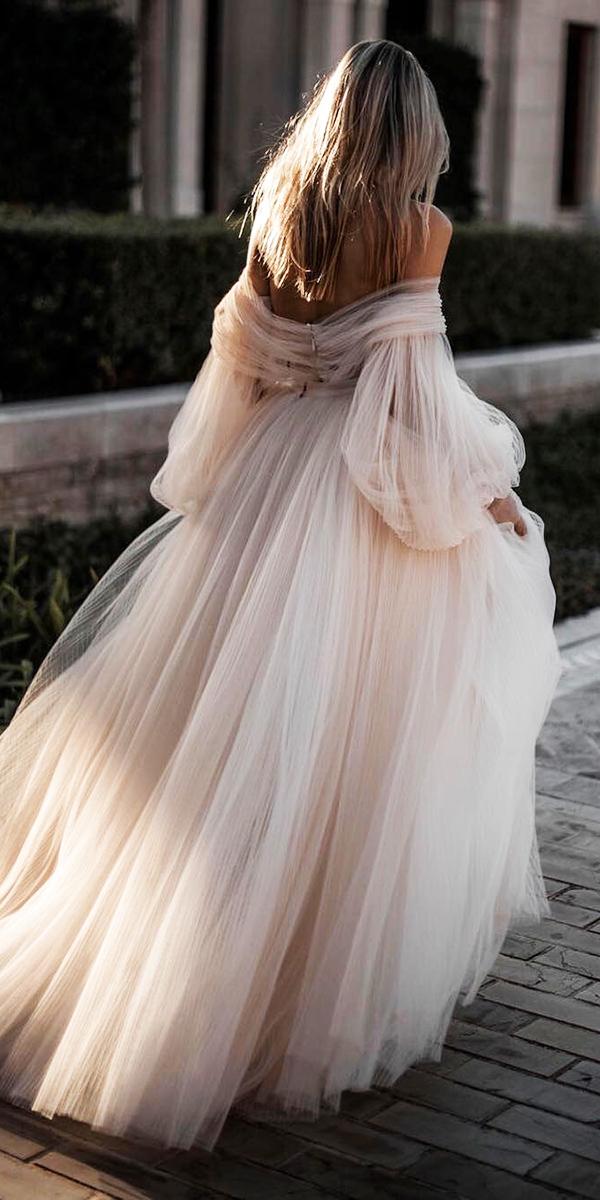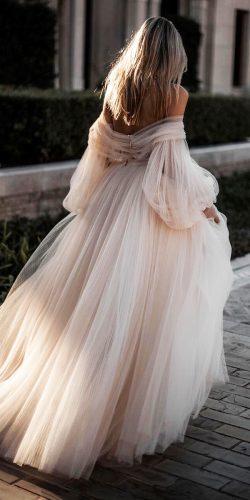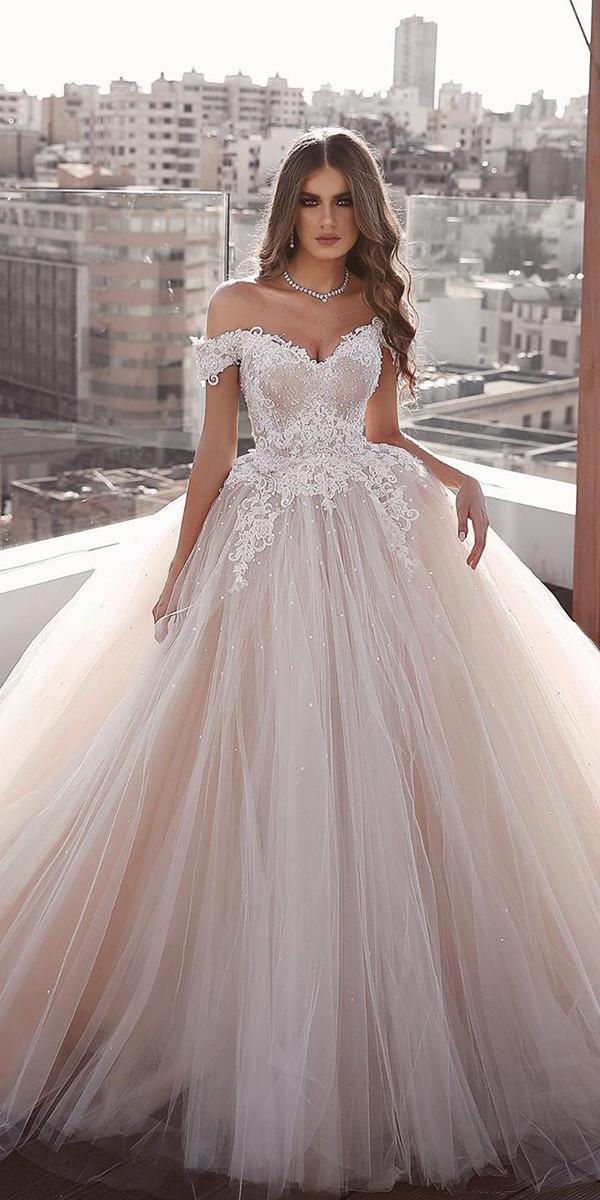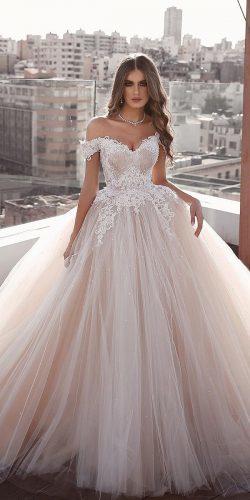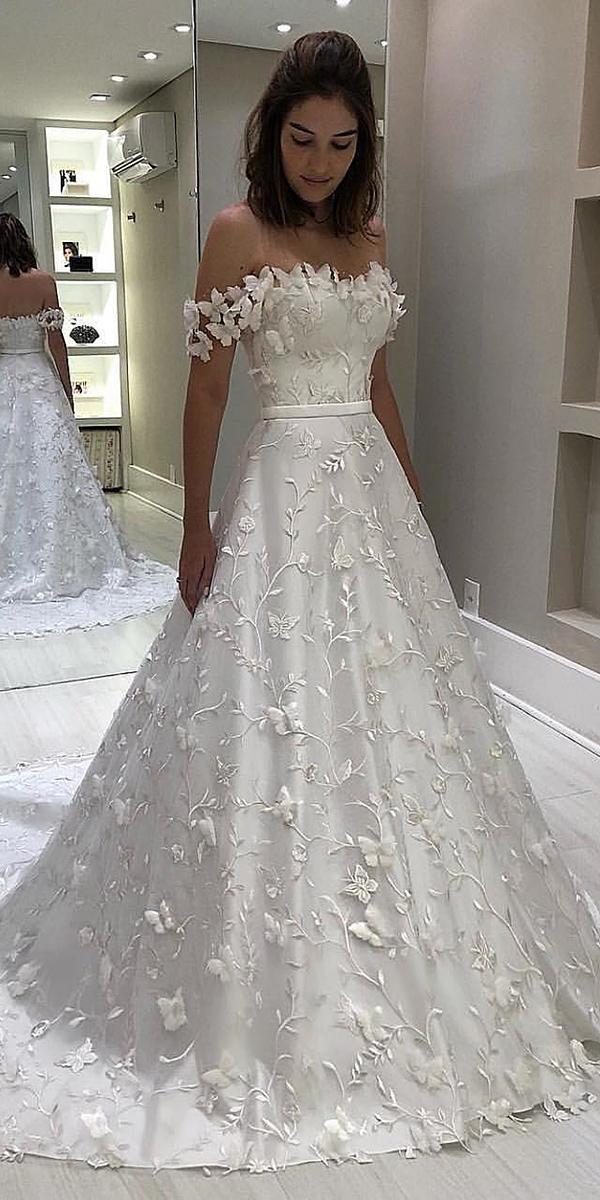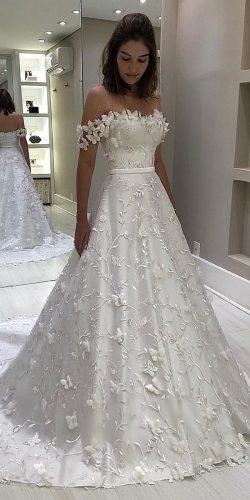 You might not be aware of this fact, but off the shoulder trend has been around since the mid-1800s. Just look at all the old pictures of royals and noble ladies in art galleries! Women across many generations flash some skin with their stunning dresses, many of which feature bodices with off the shoulder sleeves. Olivia Newton-John in 'Grease' and Julia Roberts in 'Pretty Woman' are just a few of the celebrities that made off the shoulder iconic.

Wedding Dresses With Sleeves
Source: Isabella Narchi, Julie Vino, Alla Parhimovich Photography via Instagram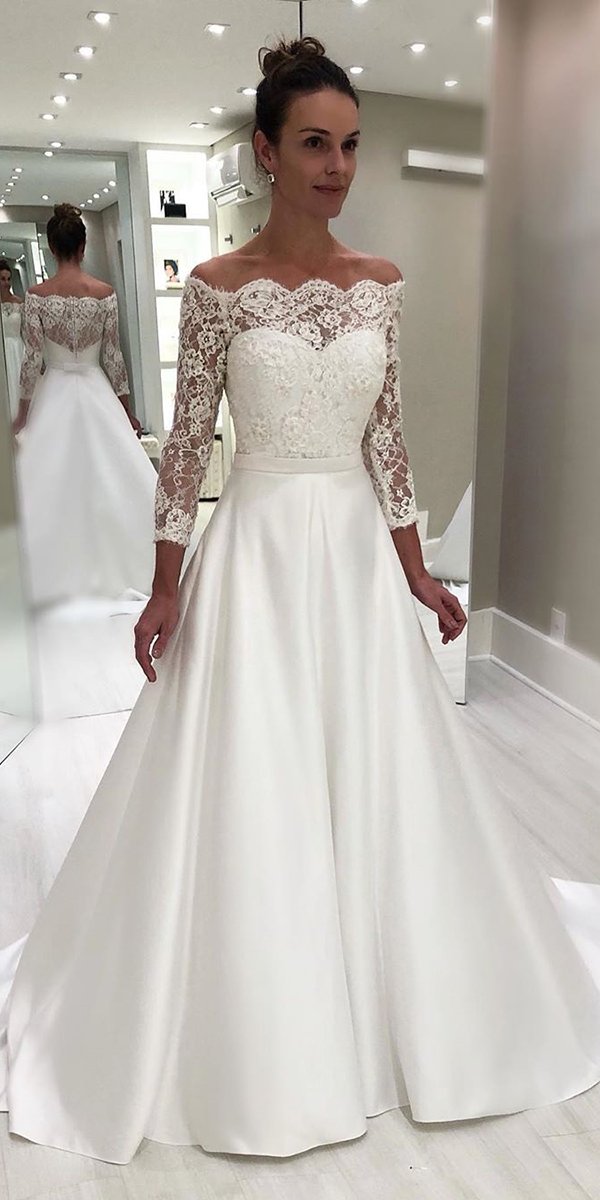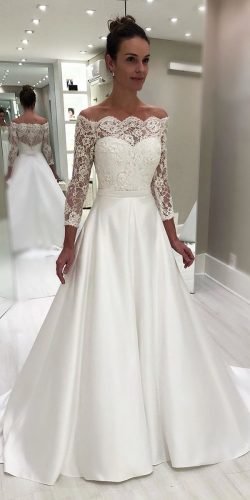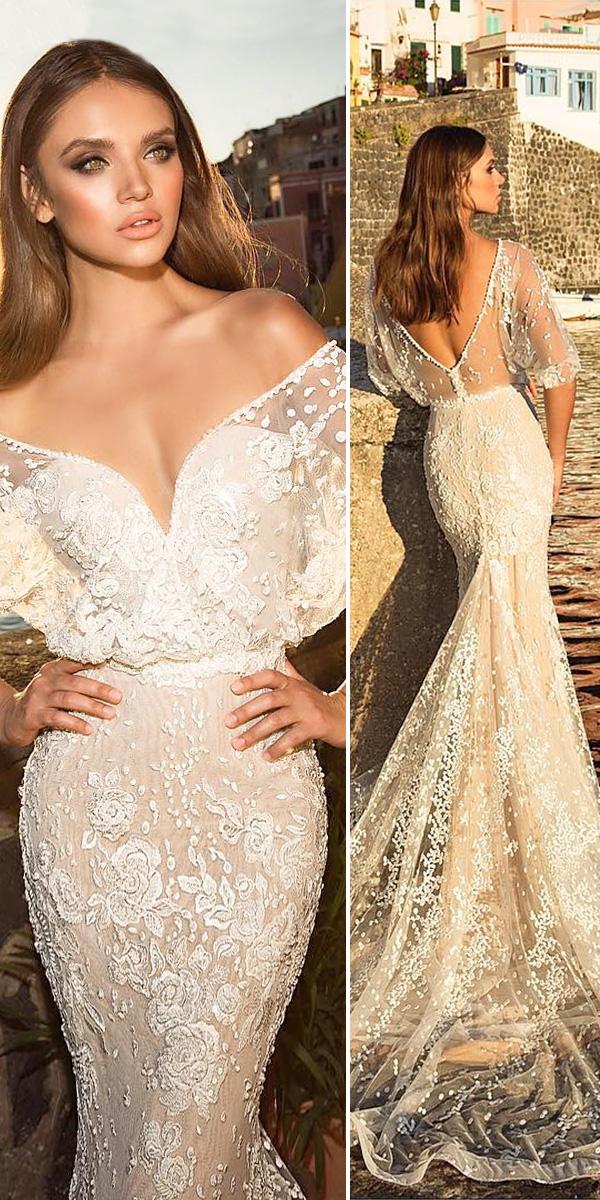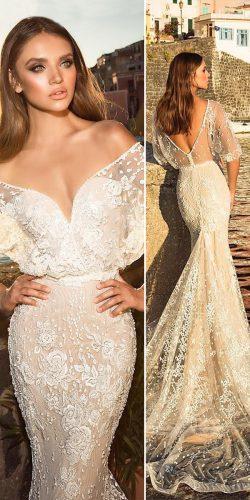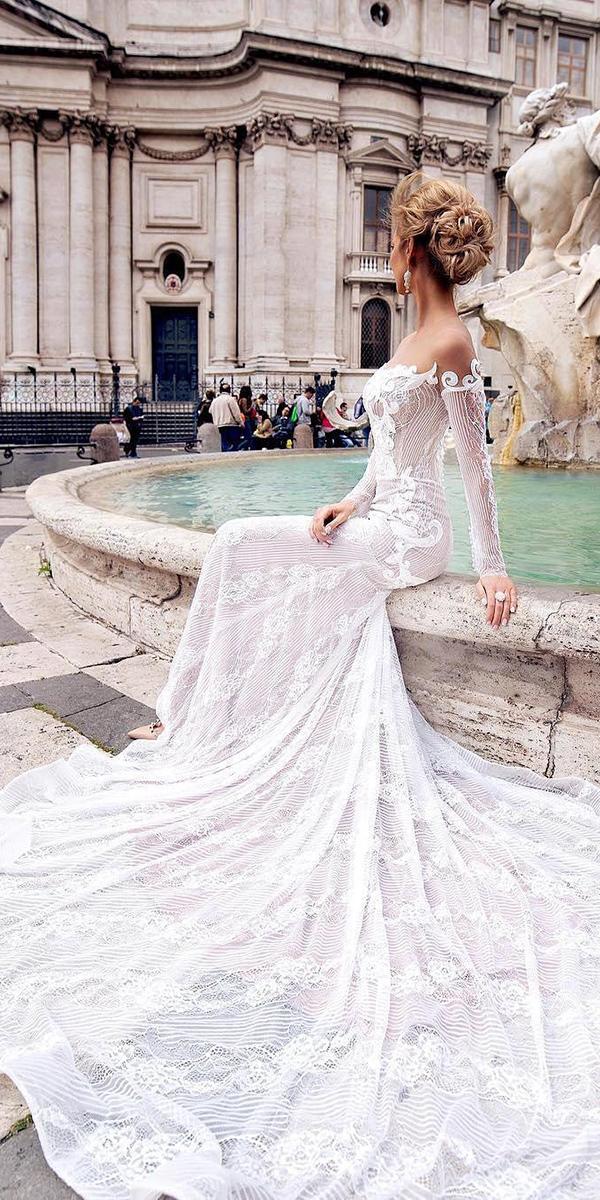 Off the shoulder doesn't mean that you have to leave everything exposed. Laced transparency of long sleeves will add elegance to your bridal look. Short sleeves will balance your silhouette to make it look more feminine.
Simple Wedding Dresses
Source: Kelly Faetanini, Monique Lhuillier, Eva Lendel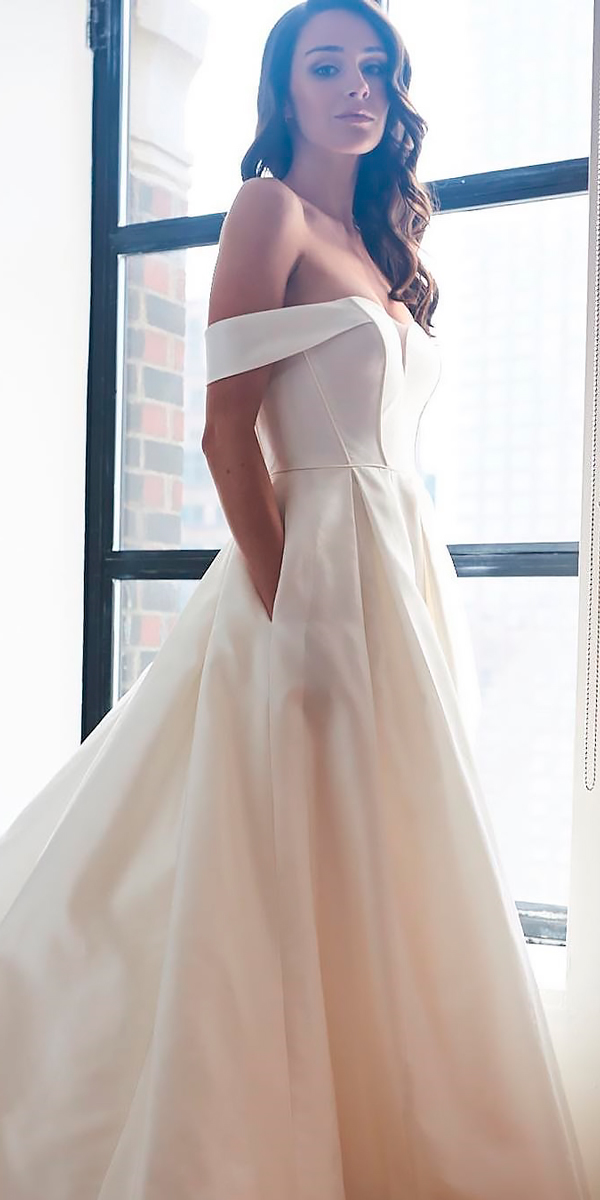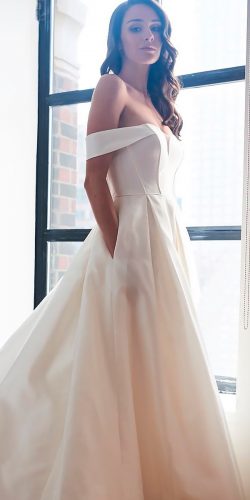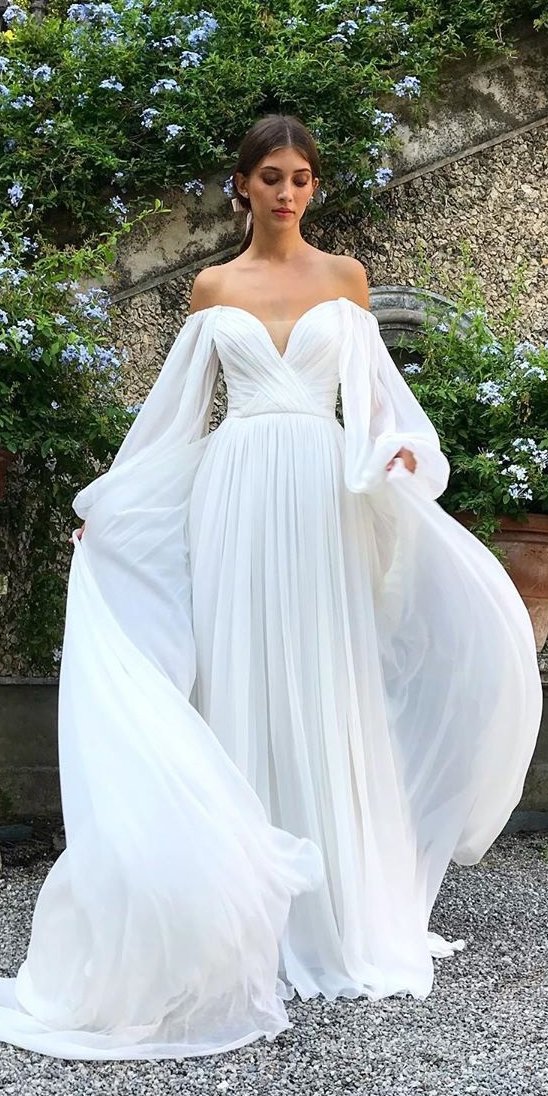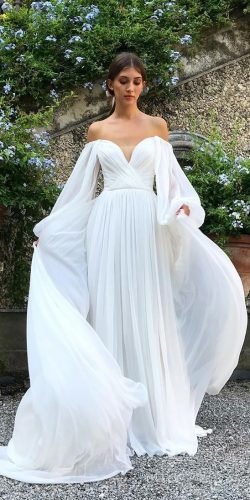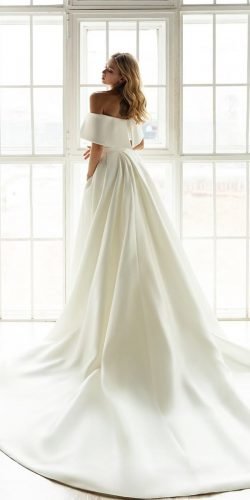 Sometimes less is more, and it's even more so when it comes to simple off the shoulder wedding dresses. Still, it might be a good idea to try a bold statement necklace or fascination, to draw attention to the delicacy of your neckline. Also, don't forget to choose your hairstyle before you pick your accessory. Off the shoulder dresses look great with updos – and this hairstyle requires more attention to accessorize.
Lace Off The Shoulder Wedding Dresses
Source: Galit Robinik, Galia Lahav, Allure Bridal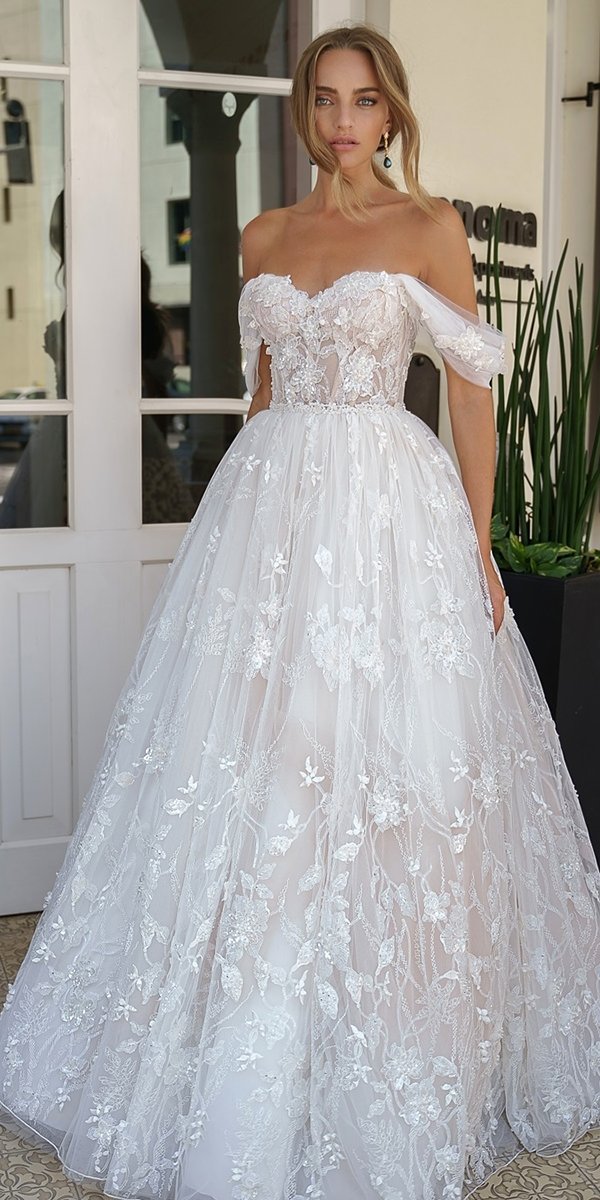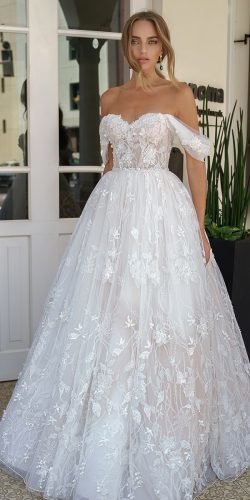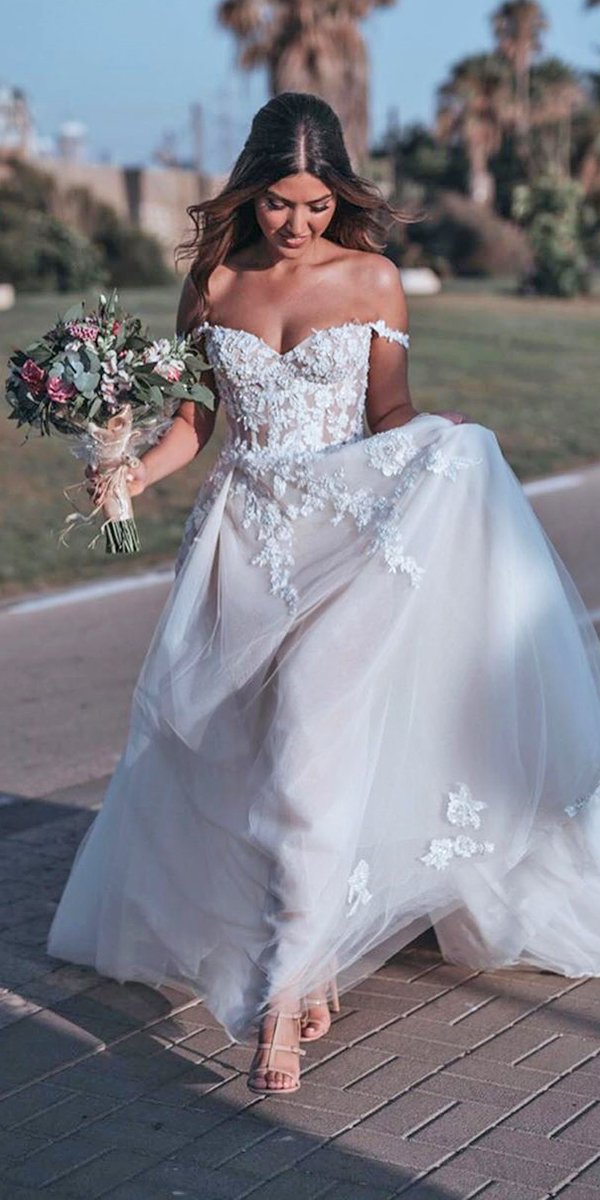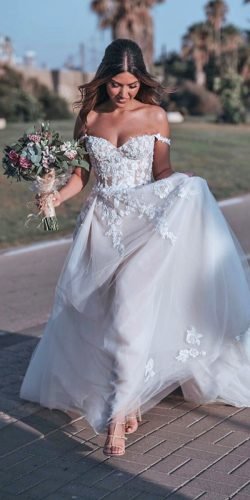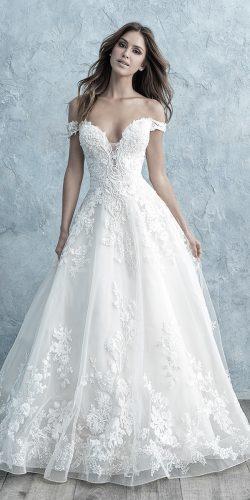 Lace makes even a simple dress look extraordinary! Let chantilly, guipure, or schiffli patterns adorn you from top to train, or to accentuate your silhouette to bring the extra sexy.
Sheath Bridal Dresses
Source: Grace Loves Lace, Lian Rokman , Jane Hill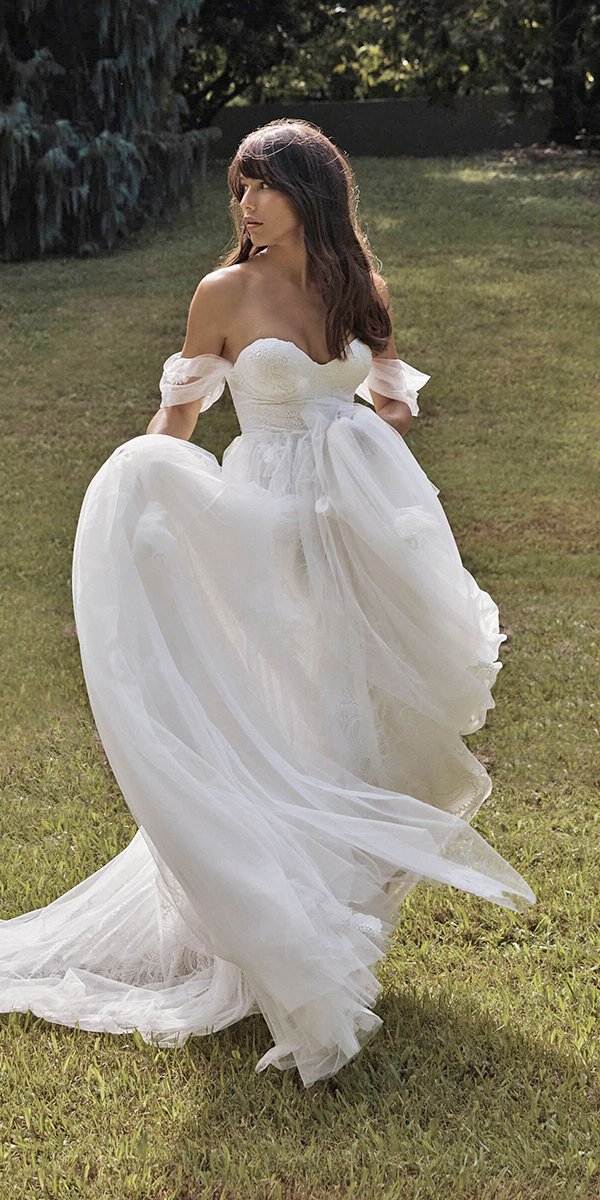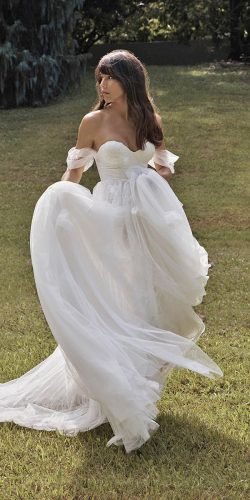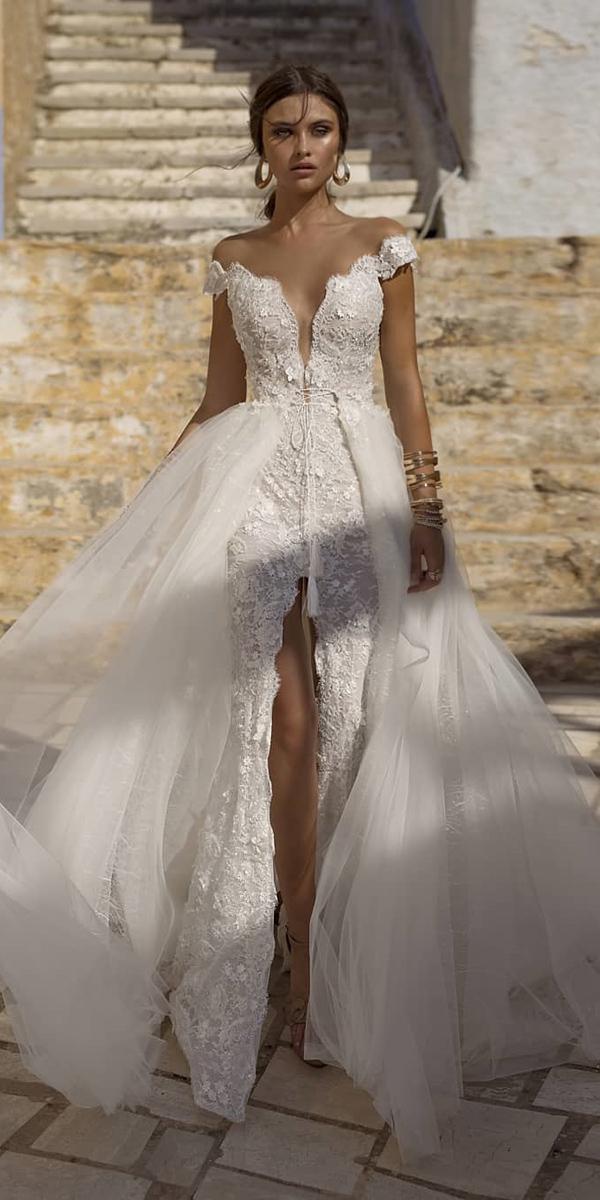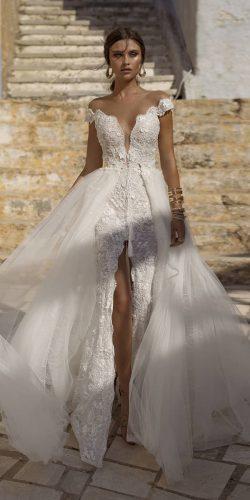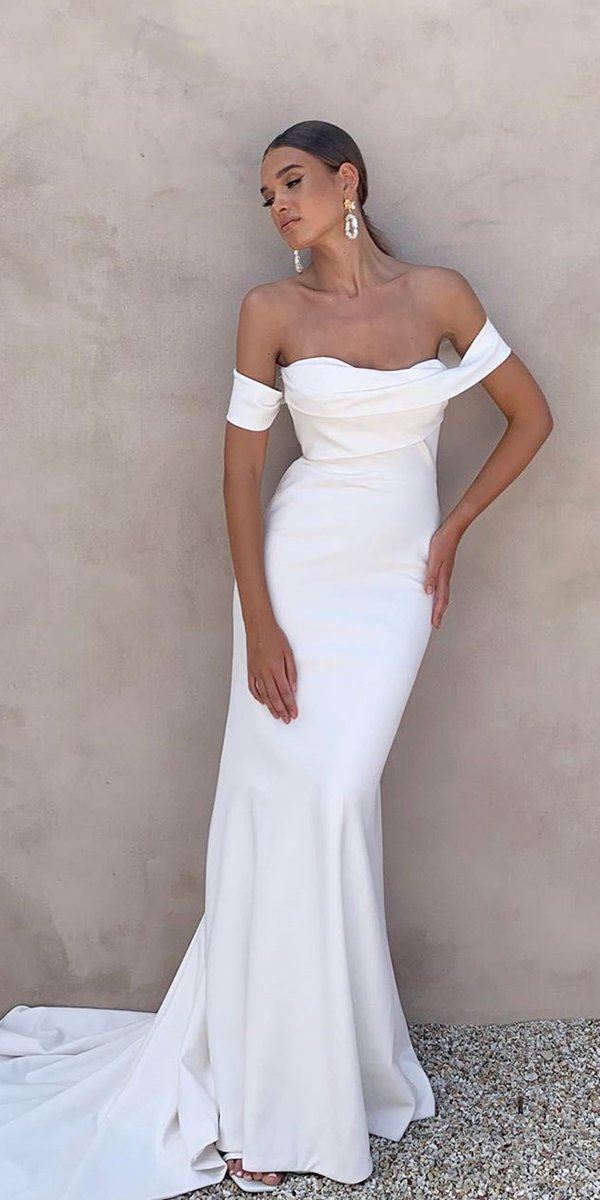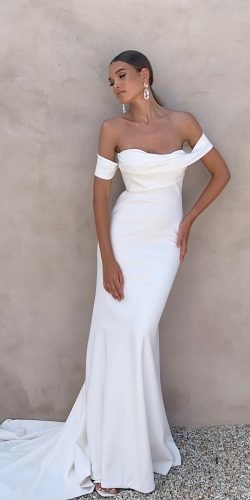 Sweetheart Wedding Dresses
Source: Crystal Design, Moonlight , Luce Sposa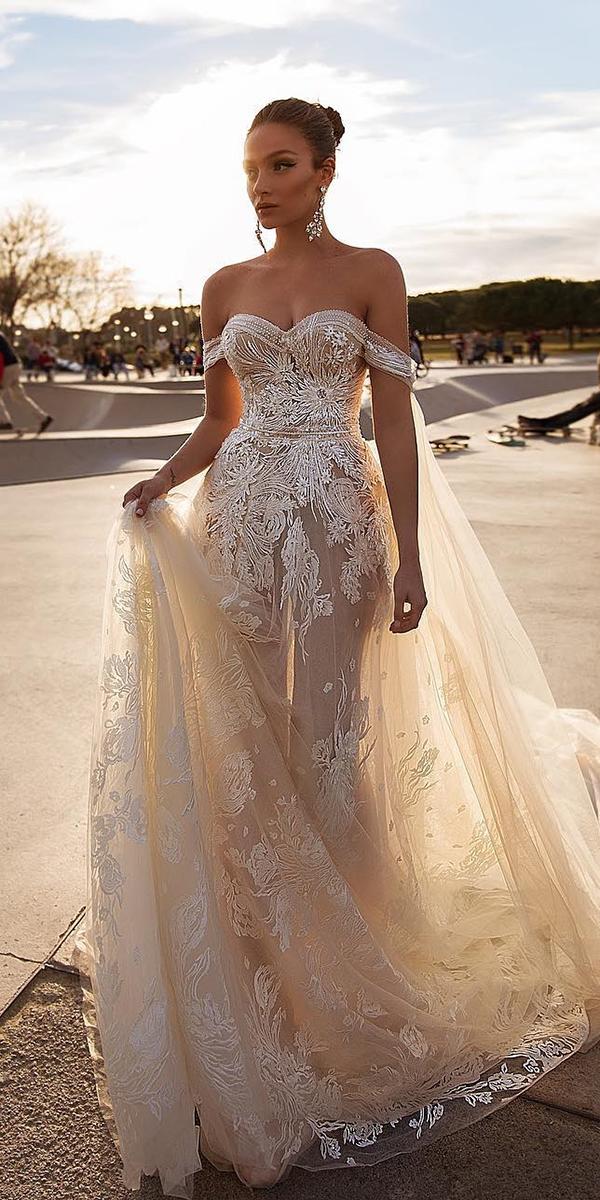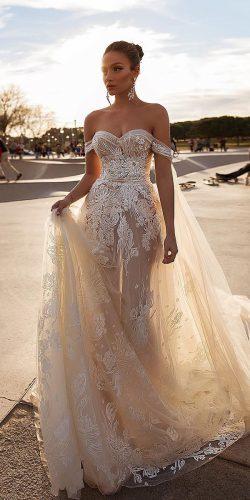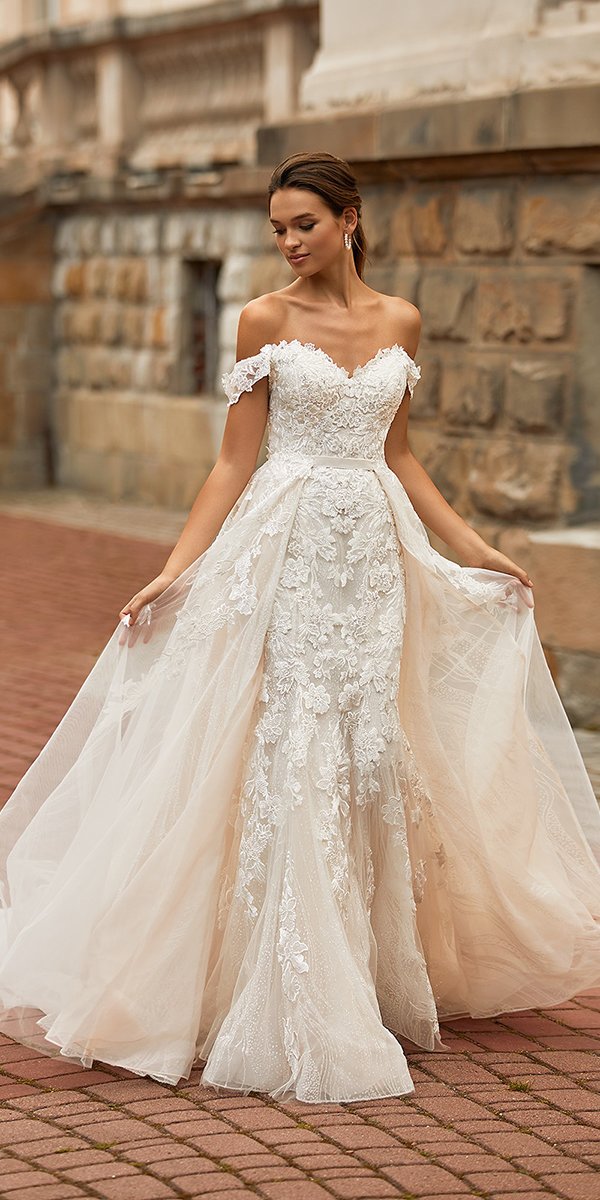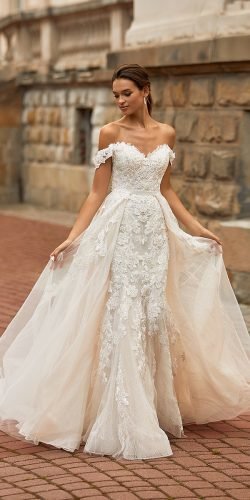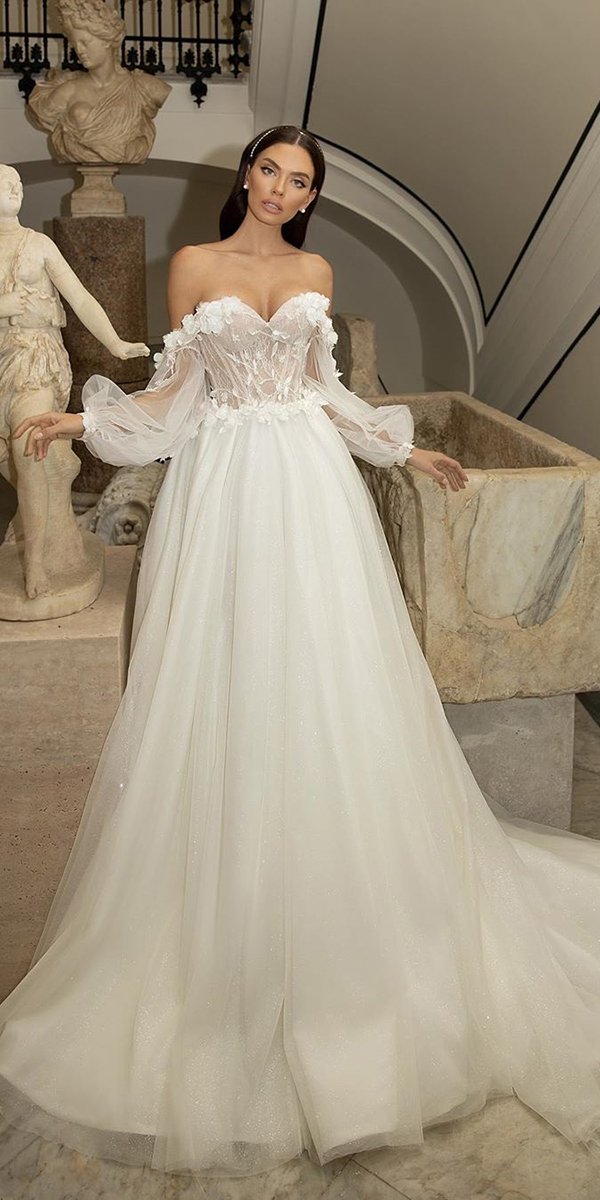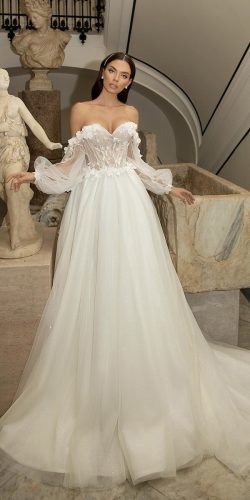 Sweetheart wedding dresses are very popular, and there is a clear reason for that. Sweetheart neckline looks flattering on virtually everyone, accentuating the curves and visually lengthening the neck. And you can choose just how much exactly you want to show off by choosing the depth of your plunge.

Beautiful Off The Shoulder Wedding Dresses
Source: Leah Da Gloria, Enzoani, Alessandro Angelozzi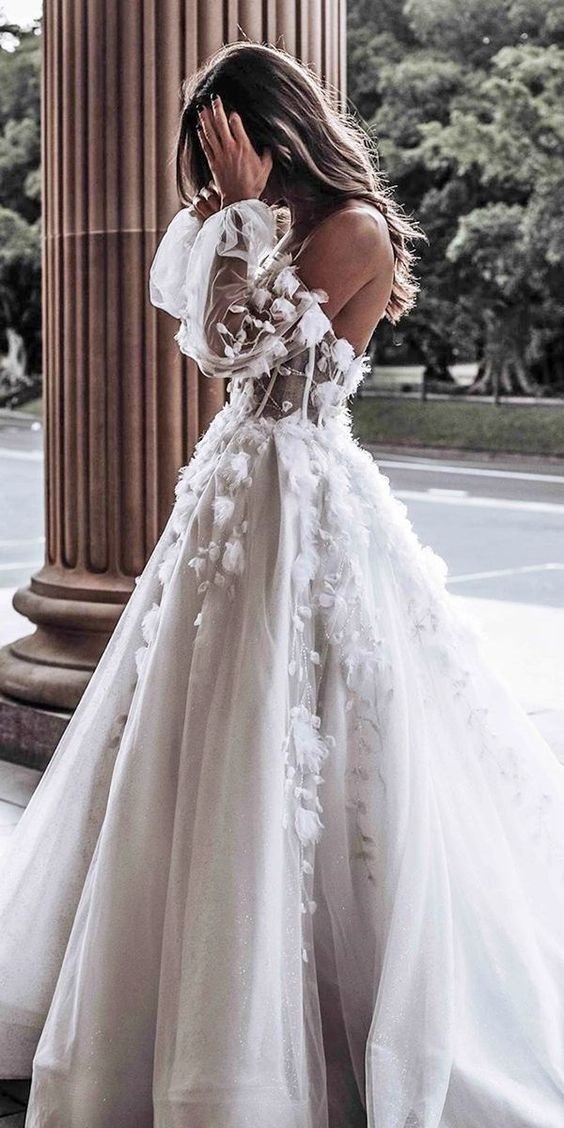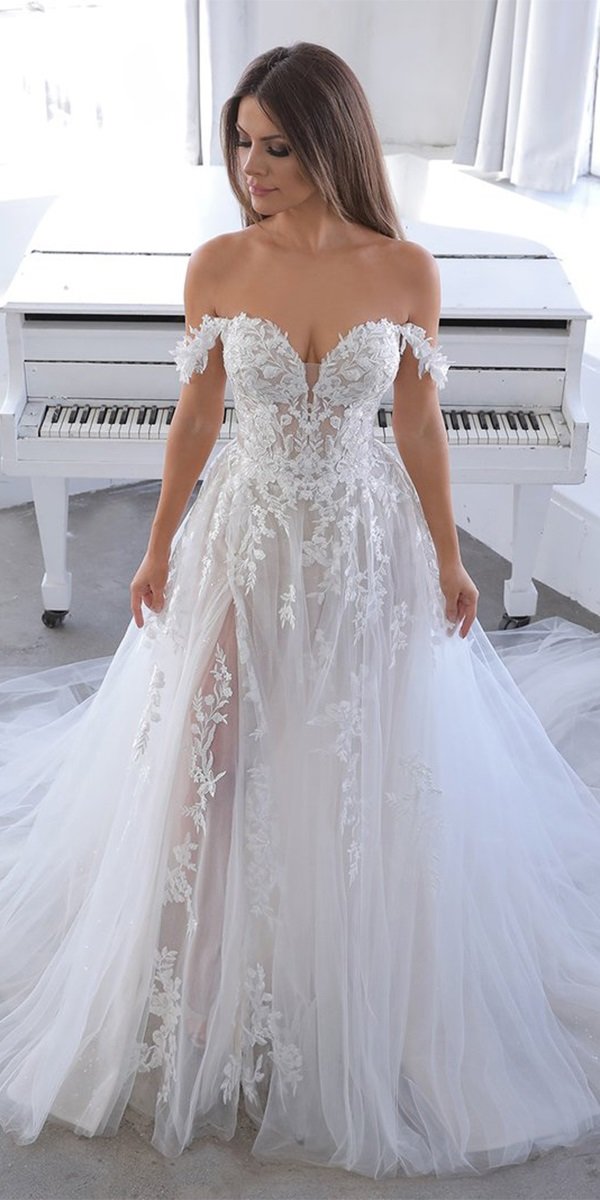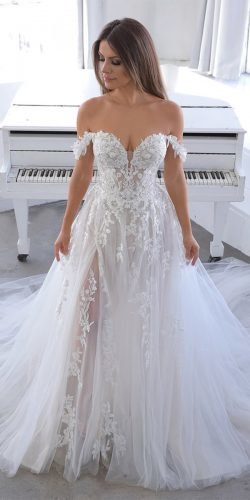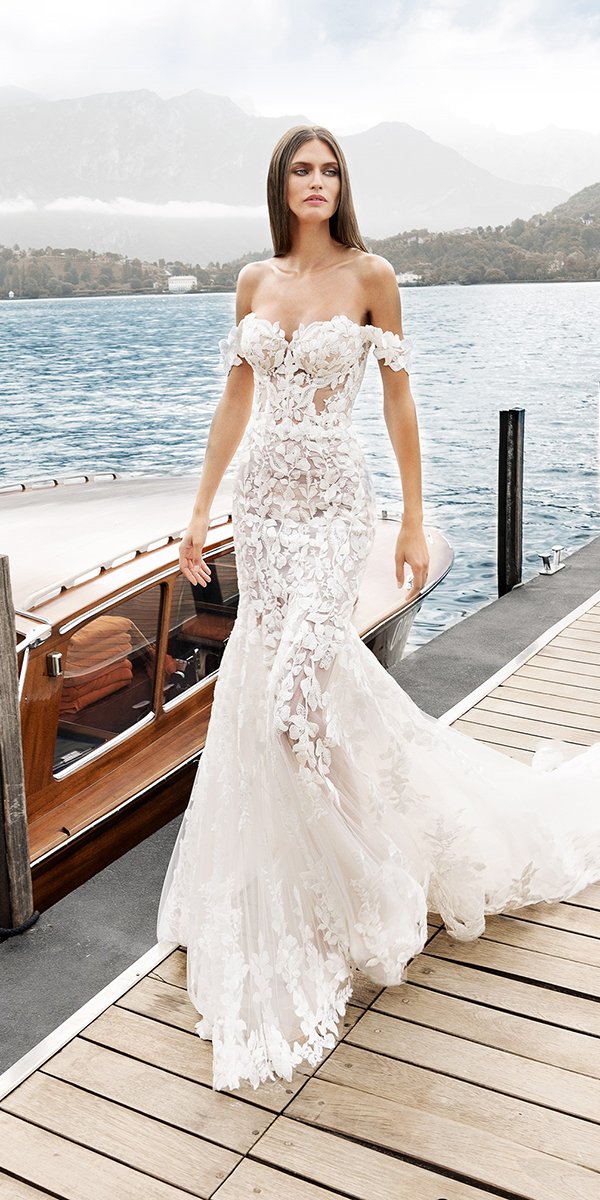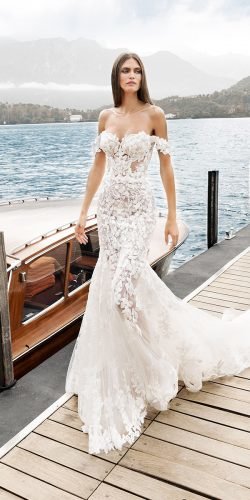 Aren't off the shoulder dresses amazing!

Mermaid Wedding Gowns
Source: Giovanna Alessandro, Eve of Millady, Lee Petra Grebenau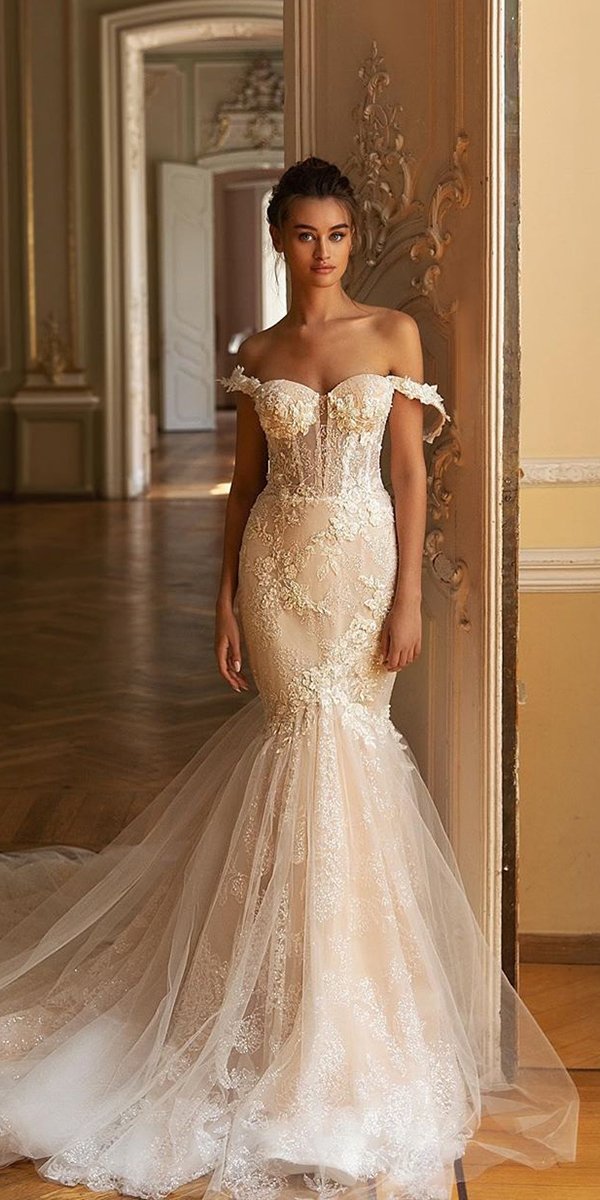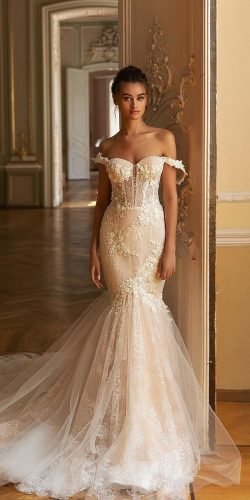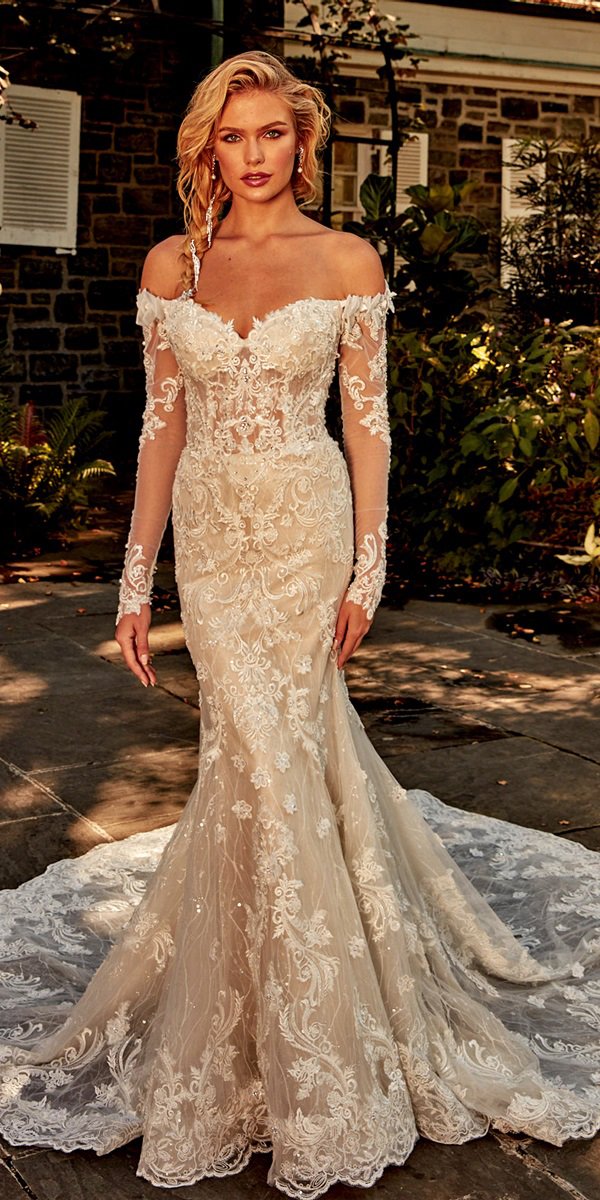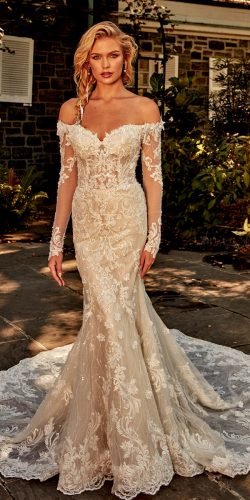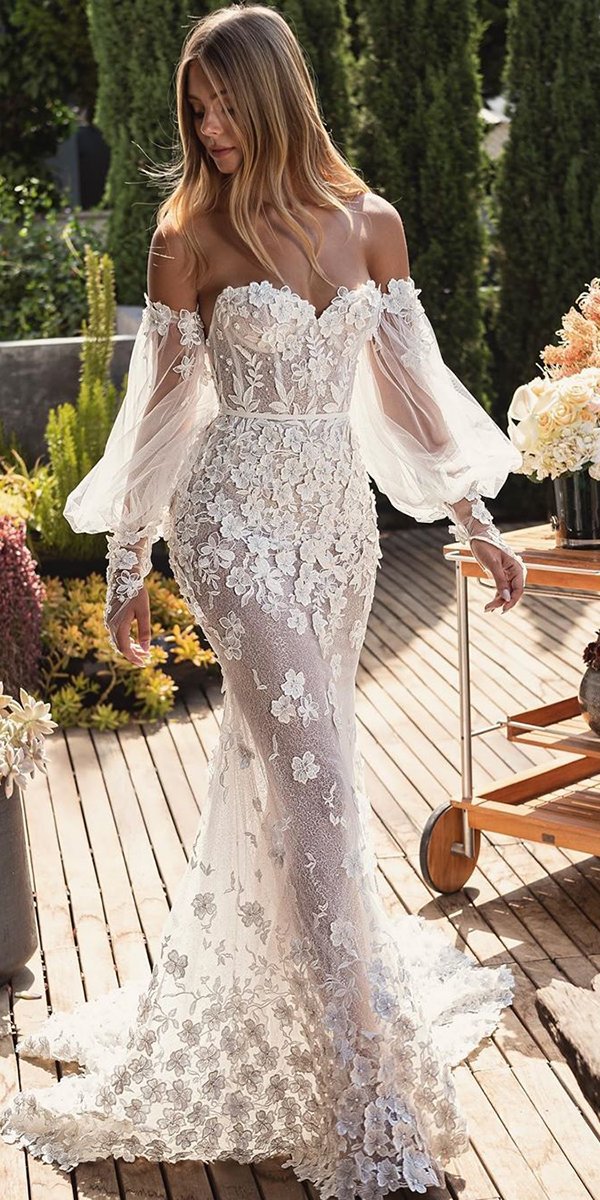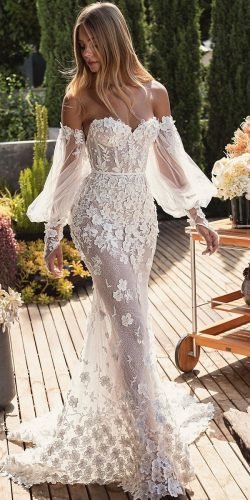 If you have an hourglass body shape, mermaid wedding gown will look great on you. Mermaid silhouette will also flatter a bride with an inverted triangle or a rectangle shaped figure.

Trendy Off The Shoulder Bridal Dresses
Source: Madi Lane, Pallas Couture, Wona Concept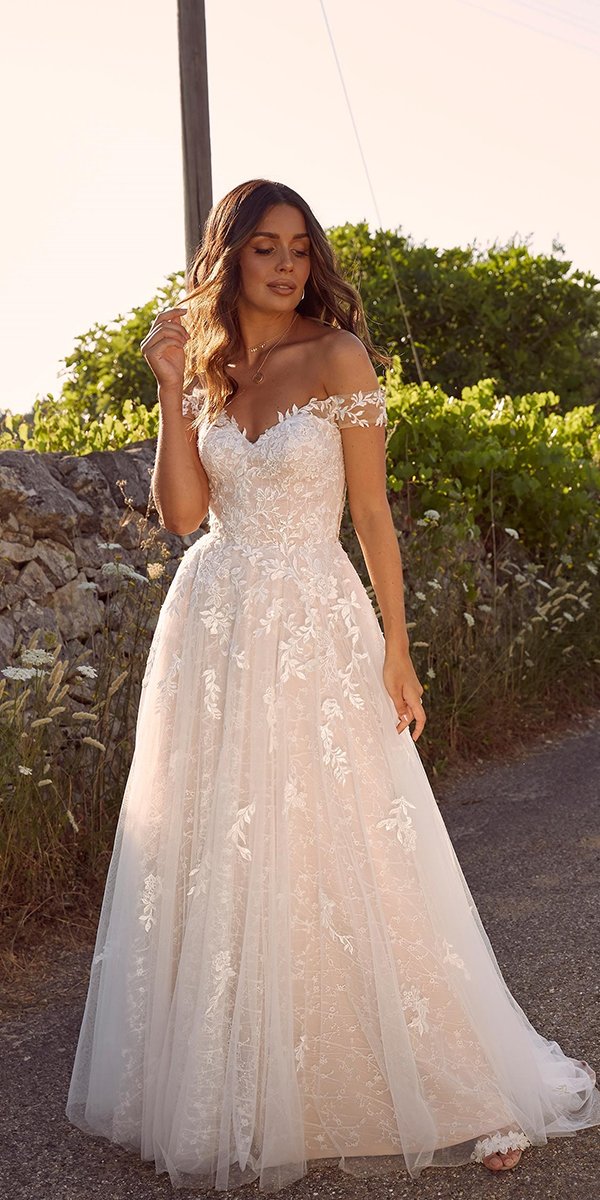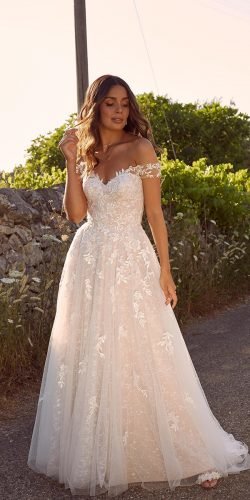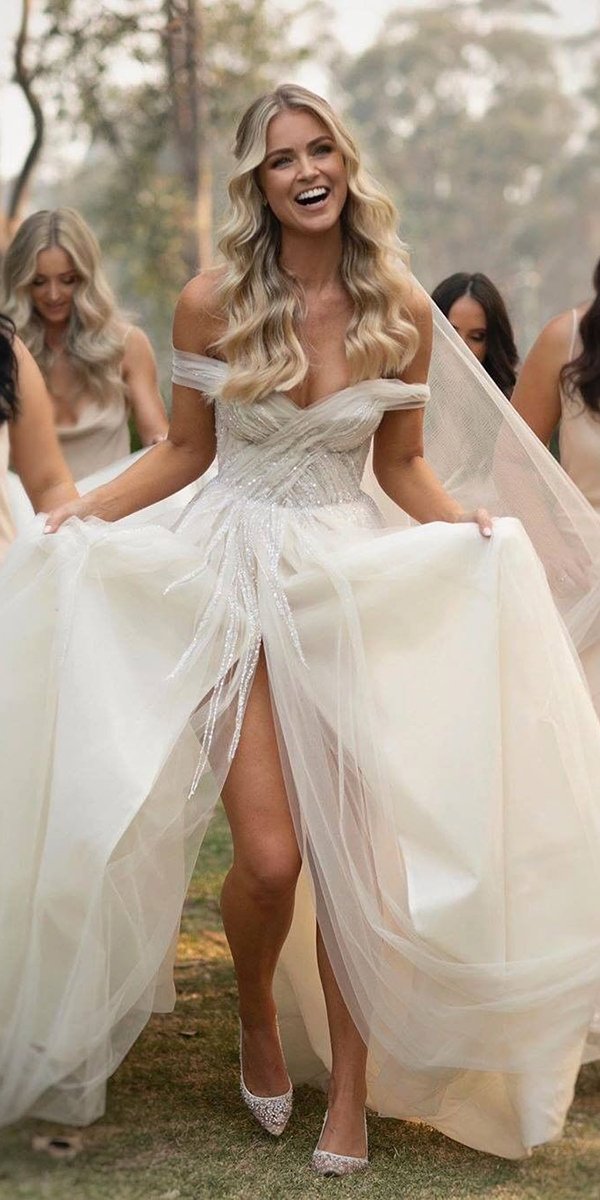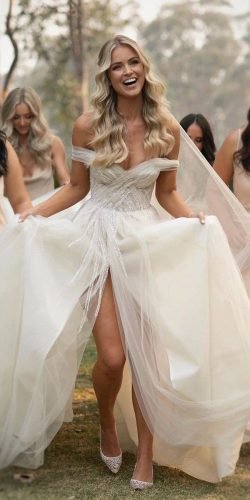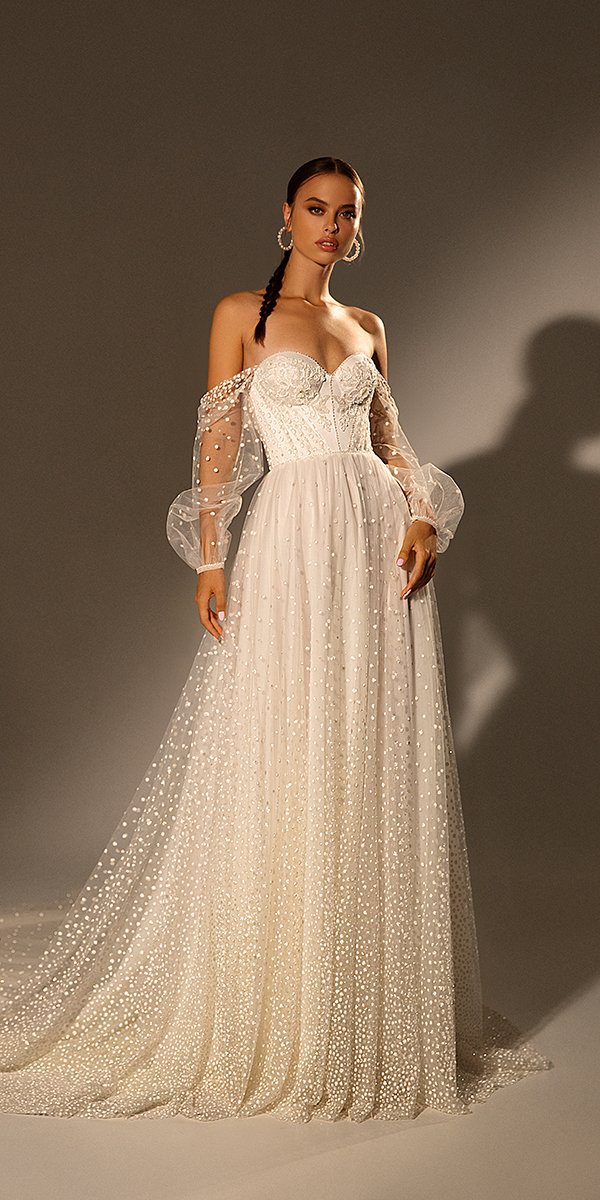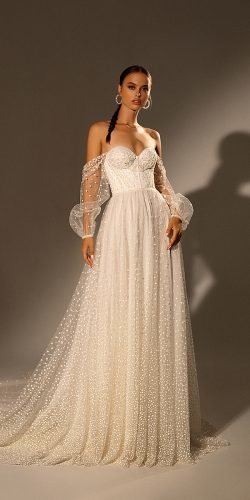 As classic as off the shoulder wedding dresses are, there's no denying that they're a current trendsetter. Spring 2019 has designers all over the world adding their signature features to this timeless style.

Off The Shoulder Princess Wedding Dresses
Source: Galia Lahav, Naviblue Bridal, Val Stefani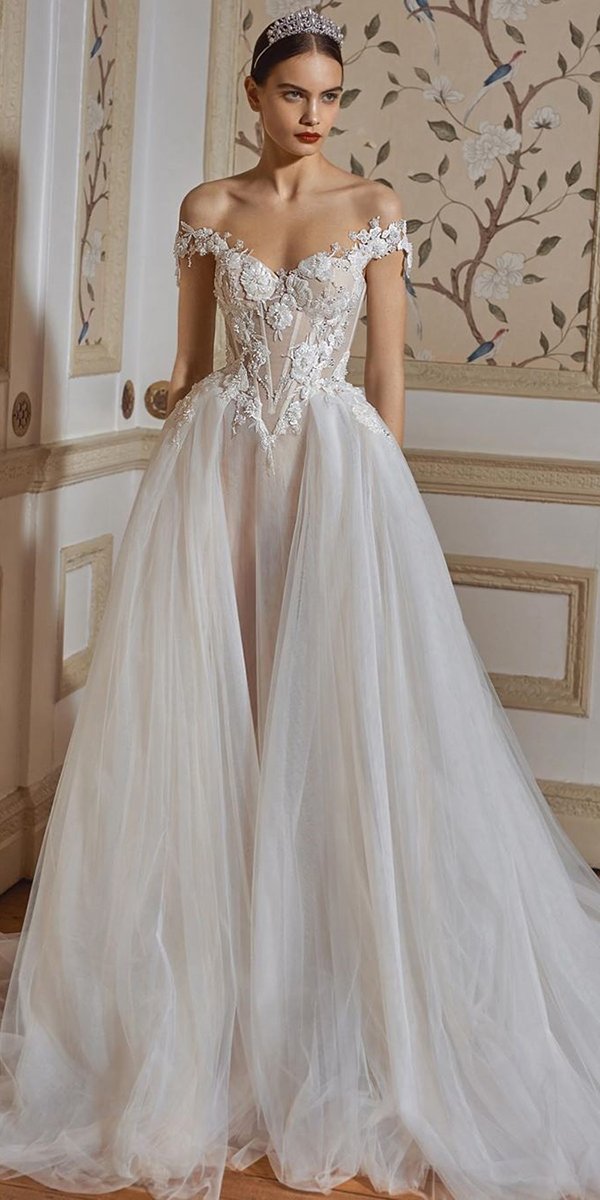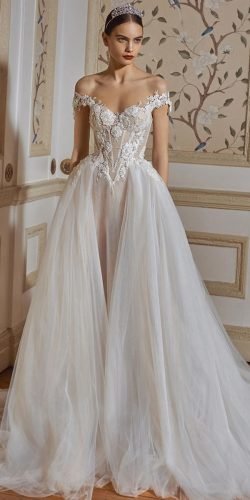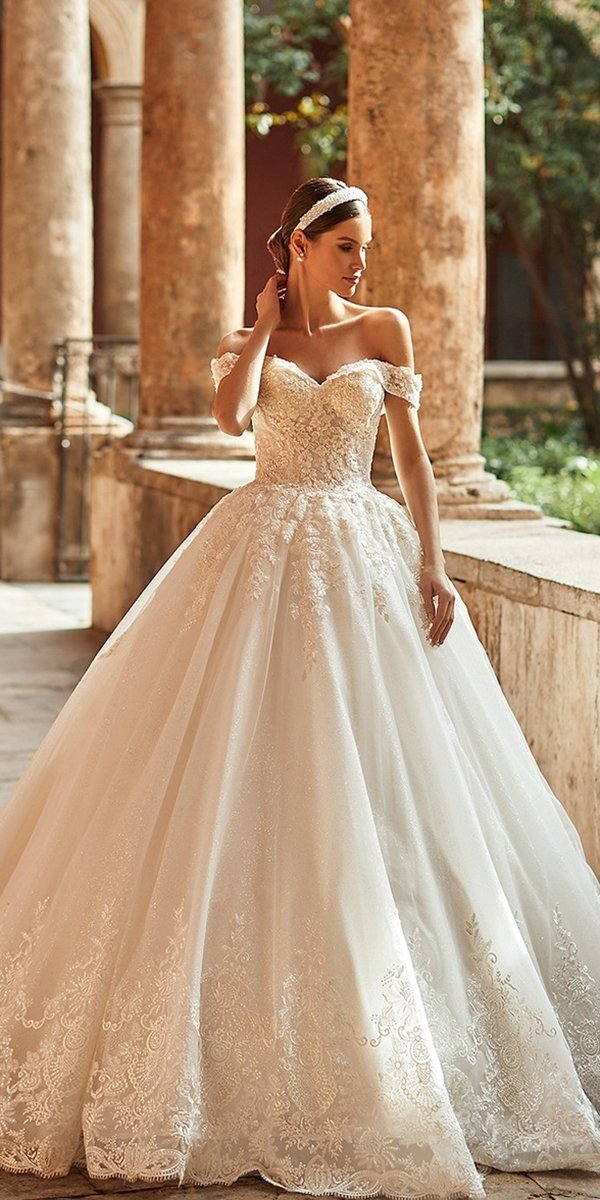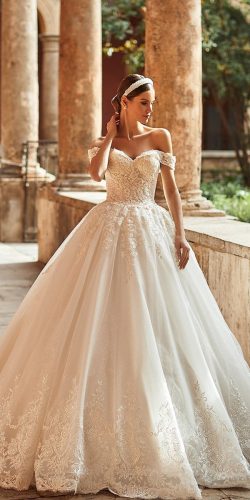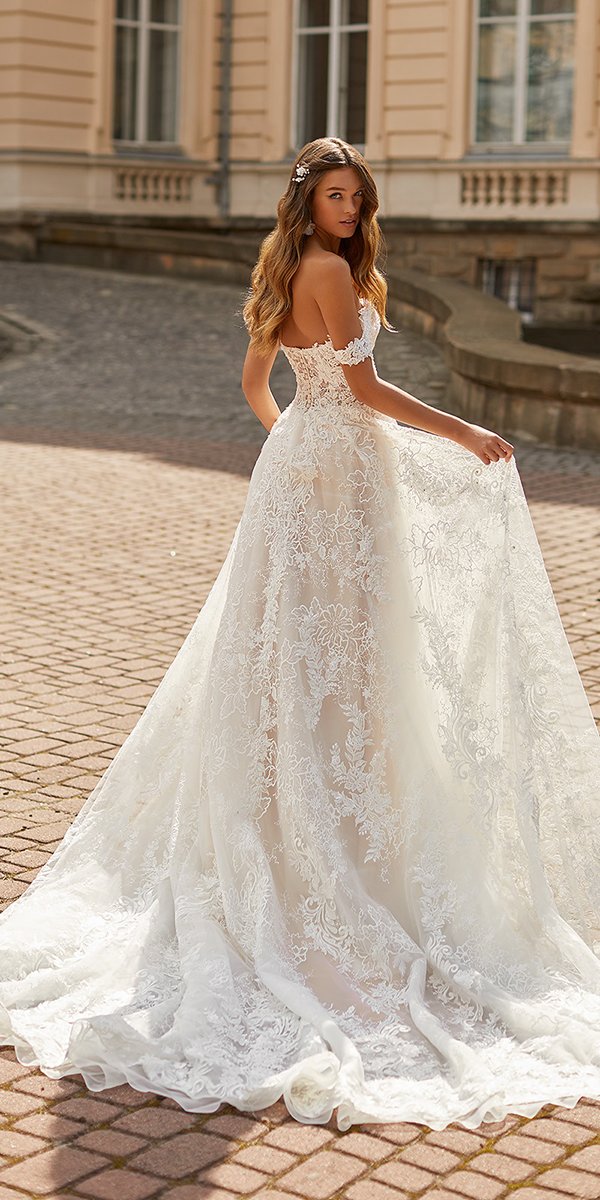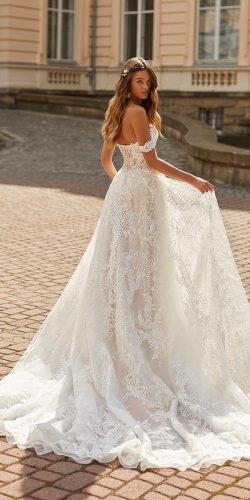 This season everyone is crazy about the royal wedding. Behold the best off the shoulder ball gowns, worthy of a royalty!