We know why you're here. Either you really like planning ahead, or it's the last minute and you're desperate for inspiration! Either way, we have examples of wedding wishes for every scenario.
Depending on how you know the engaged couple there are a few DOs and DON'Ts that you'll want to be aware of, and plenty of examples to help you fine tune your wedding congratulations. Read through each scenario for samples and instructions. Following our advice will keep your message concise and super positive!
How To Write Wedding Wishes?
Source: Instagram@lillianroseinc
The first things to consider when writing your wedding card messages are your relationship with the happy couple and the theme of the wedding. Before you write a single word you should decide on a style. Should your wedding messages be traditional and religious in nature or very short and a little humorous?
The best way figure out the spirit of your message it's best to ask yourself these questions:
Are you close with both the bride and groom?
How did you meet him/her?
Where is the wedding going to take place?
What is the theme
How would you describe your relationship with the bride/groom?
How To Make An Outline Of Wedding Wishes?
The next step in determining what to write in a wedding card is to create an outline. Just like with most writing, it should consist of an Intro, a Body, and a Conclusion. More specifically, you'll want to include a) How you know the couple b) Your general message of joy and love c) Your specific marriage congratulations.
Basically, follow this formula and you'll be off to a great start.
From me to (describe them well) you, this is the reason for my card.
Remember when (we first met, that amazing/important) that thing happened!?
As the good book/wise man said "inspiring quote"
May your marriage be happy and last forever!
The second section is usually the best place to add a little humor if that's your style and it's appropriate.
What To Say For Wedding Wishes?
The introduction is always going to be very personal. Just make sure to choose an anecdote or quotation that will be significant to the couple. Follow this with words of wisdom from personal experience or what you hope your wedding will be like, and then close it with some powerful inspiration for the future.
The best choices always come from:
A story from growing up together if you're a relative or longtime friend.
A bonding experience at work if you're a coworker.
An example of "what makes a good marriage" if you're married.
A quote that really resonates with you.
A simple, cheerful message if you're a casual acquaintance.
A story about watching them grow up if you're a parent.
A message of optimism if you're the future spouse.
This message is yours. Even though we're providing you with the rules feel free to omit anything that you don't feel comfortable with. If you're forcing yourself it won't be genuine.
Now that you know what to do, we having plenty of specific examples for almost every scenario for you to click through to!
Traditional Formal Wedding Wishes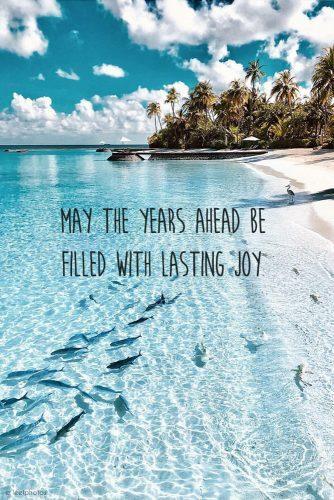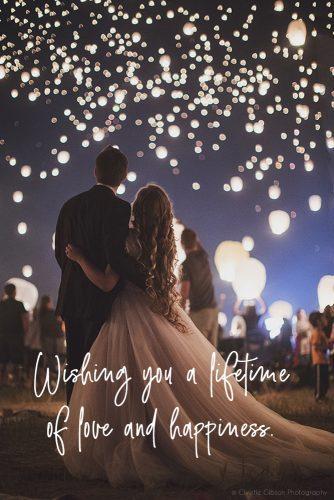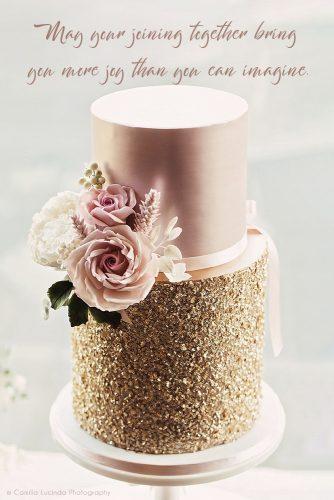 A highly traditional wedding card should avoid the word "congratulations". It's not as common now, but this word used to be viewed as a backhanded compliment meaning 'We're surprised you actually found someone' directed at the bride. Instead, keep your wedding messages super positive and relatively short. As a rule of thumb, use wedding sentiments that reinforce strength and longevity.
"Wishing you joy, love and happiness on your wedding day as you begin your new life together."

"Your wedding day will come and go, but may your love forever grow."

"Best wishes on this wonderful journey, as you build your new lives together."

"Thank you for letting me share in this joyful day. I wish you all the best as you embark on this wonderful union."

"May the love and happiness you feel today shine through the years."

"May the years ahead be filled with lasting joy."

"May the love you share today grow stronger as you grow old together."

"May the years ahead be filled with lasting joy."

"Best wishes on this wonderful journey, as you build your new lives together."

"Wishing you a lifetime of love and happiness."
Religious Wedding Wishes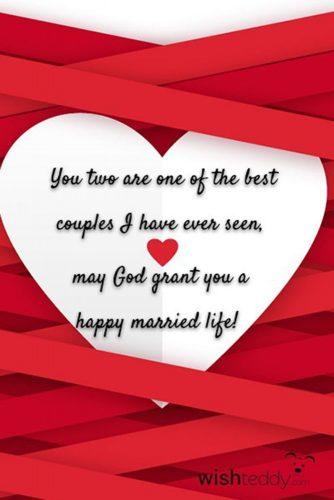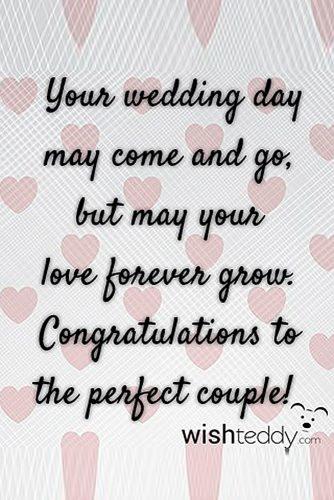 Writing religious wedding wishes is relatively easy. It's usually pretty obvious when a couple is passionate about their Religion. If they aren't, including religious messaging could make them uncomfortable and we advise against it.
If they are, what to say for wedding wishes should always include your prayers and a quote from scripture. If you're not religious, the examples are perfect to get you going. If you're also religious, you probably already know which wedding card quotes you want to use – which is something we highly recommend.
Christian Examples:
"Congratulations on your first big step together. May God send his blessings to you and the family you are about to start."

"As you unite today in marriage as Christians, I wish you both an eternity of love and happiness together. I pray Jesus shine his light upon you."

"God bless you both on this day with a lifetime of shared love and joy."

"May the One who brought you together bless your marriage, enrich your lives and deepen your love throughout the years."

"Congrats on this beautiful and lovely occasion! May the Good Lord give you a wonderful life together!"

"'Love is patient. Love is kind… Love never fails.' – 1 Corinthians 13:4-13"
Jewish Examples:
"Mazel Tov! May the joy that is yours today always fill your life."

"May this special day you share be filled with love and laughter, May all the days ahead Be happy ever after. Mazeltov!"

"May you be blessed."

"Mazel Tov on your wedding!" or "Mazel Tov on your marriage!"
Marriage Greetings For A Friend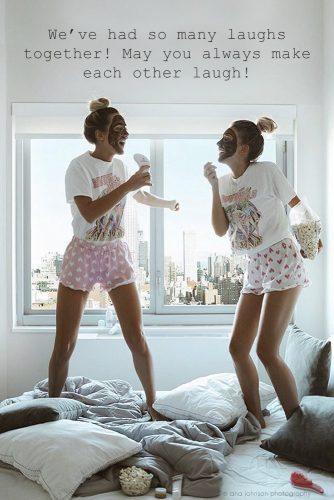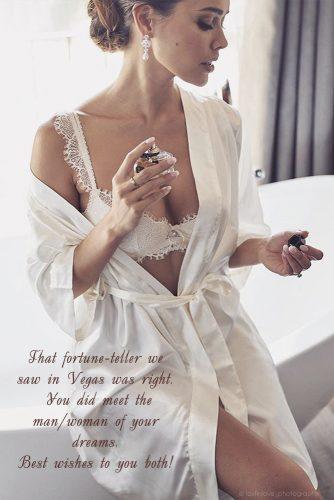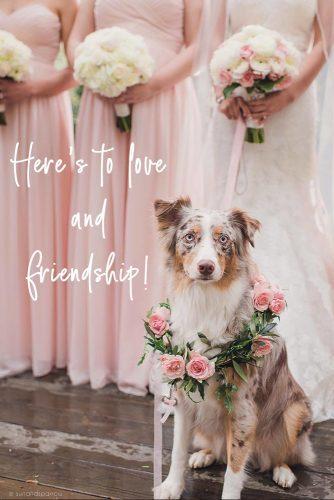 Writing great wedding gift cards messages to friends may be the most challenging type of wedding wish. With family, a nice story or funny joke usually goes well and with the passionately religious it's easy enough to find the perfect bible quote. But, what about writing wedding wishes for someone you know socially? Getting too personal can be kind of weird in this circumstance, and (unless you know them really well) jokes don't go over so well. Keep it short and sweet.
For best results, ask these questions:
How long have you been friends?
What is your relationship like? Is it professional, is it party-based?
How did you meet?
How often do you get together?
Answers to these will tell you what style to write.
"I'm so happy to call you both my friends. Congratulations!"

"That fortune-teller we saw in Vegas was right. You did meet the man/woman of your dreams. Best wishes to you both!"

"Of all the big life events we've celebrated over the years, today tops the list. Congrats!"

"Thank you for inviting me to share in this day with you and your family. Best wishes."

"I'm/we're so thrilled to celebrate this wonderful day with you both."

"Best wishes for a long and happy life together."

"May you bring each other as much happiness as your friendship has brought to my life — and more!"

"We've had so many laughs together! May you always make each other laugh!"

"May your marriage be filled with all the right ingredients: a heap of love, a dash of humor, a touch of romance, and a spoonful of understanding. May your joy last forever. Congratulations!"

"Congratulations to a wonderful friend and his/her new husband/wife."
Wedding Sayings For Brother Or Sister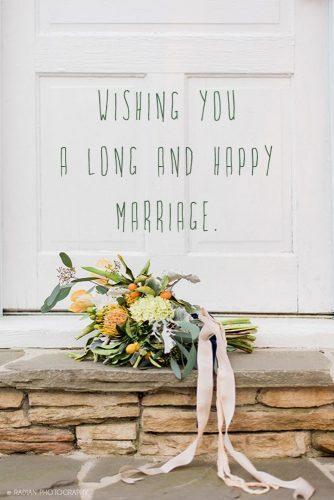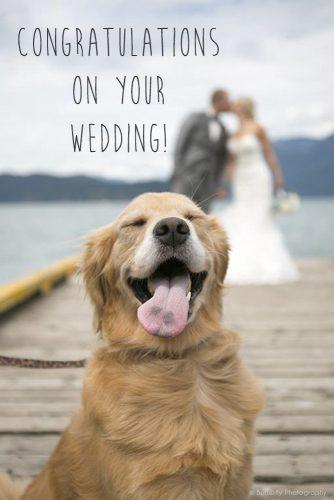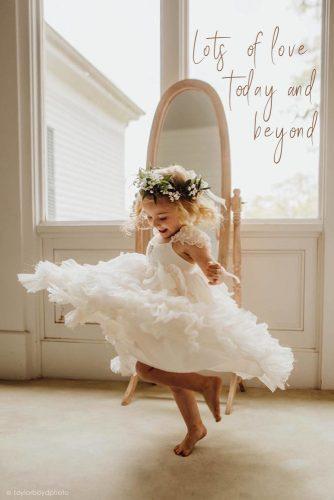 Some of our favorite wedding wishes are the wedding sayings for brother or sister. If you're the older sibling and not yet married, a little humor is highly appreciated, there's even a hilarious sock dance (dance of the unwed older sibling) in some cultures.
If you're the younger sibling, a kind note about how much you look up to them always melts hearts. If you're writing about an in-law, a sweet message about how you've really grown as a family will do the same.
"It seems like yesterday we were playing 'house' in the backyard, and now you get to do it in real life. I couldn't be happier for you both. Congratulations!"

"I always wanted a brother/sister and now I get one. Congratulations to you both on finding one another."

"Best wishes to my best friend and sister/brother and new sister/brother as you start your life together."

"We/I love you both. Today I gain a new sibling and I couldn't be happier!"

"Lots of love and happiness to you both on this exciting and joyful day for our family."

"Remember when you made that list of qualities of a 'perfect man/woman?' Well, you found him/her. Lots of love now and always."

"Lots of love to the best sister/brother in the whole world and her/his new partner for life. May you have a marriage full of love and happiness!"

"You bring my sister/brother so much joy. All my love!"

"I'm so thankful to have a sister/brother like you. And I wish you and your new husband/wife lifelong joy."

"My/our deepest love and very best wishes to you both."
Marriage Congratulations From Parents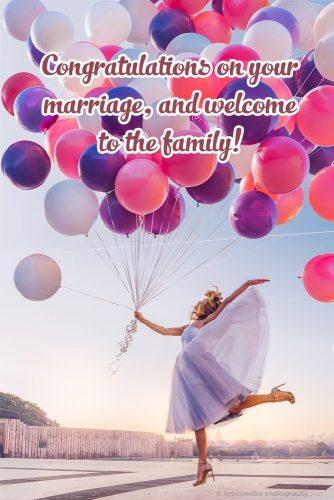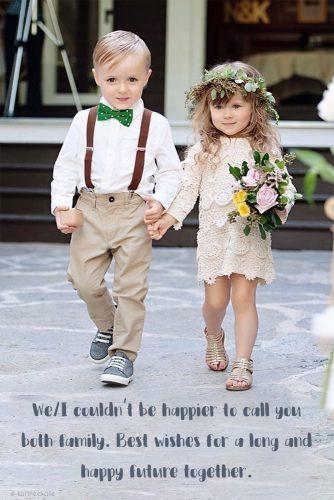 If you're wondering exactly how to write wedding wishes to your son or daughter (in-laws included of course) there's no bigger joy. Growing up, falling in love, and having a family has come full circle. It may feel bittersweet but this is exactly what you should write about.
Let him or her know how proud of them you are, and make sure to include some words of wisdom from his/her the most important person in her life; mom & dad. Also, make sure to include a formal Welcome to the family for your new son or daughter.
"We are/I am so happy to welcome a new son/daughter to the family."

"What a wonderful day for our family, and especially you two. May the joy you feel today last a lifetime."

"Today, we add one more member to our family, and we couldn't be happier. Best wishes to you both."

"Best wishes to my son/daughter and son-in-law/daughter-in-law as you start your life together."

"We/I love you both. We/I couldn't be happier!"

"Lots of love and happiness to you both on this exciting and joyful day for our family."

"My/our deepest love and very best wishes to you both."

"Son/daughter, I/we feel many emotions on this day. Most of all, I'm/we're happy you've found someone wonderful to share your life with. Best wishes to you both."

"We/I know we're/I'm not losing a son/daughter. We're/I'm gaining a son/daughter. Much happiness to you."
Funny Wedding Wishes For Newly Wed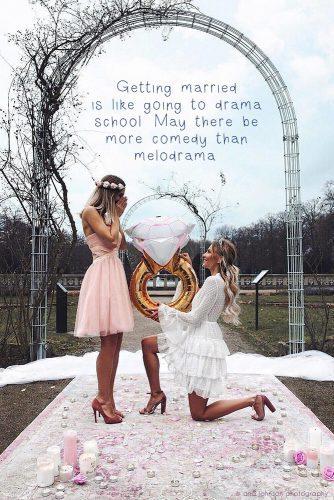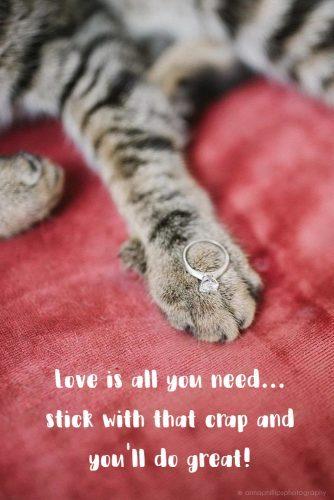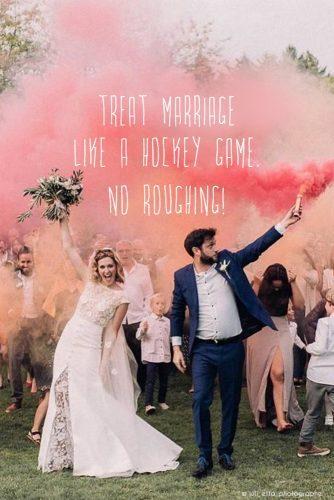 Sometimes funny is the best way to spread your happy wedding day cheers. Maybe it's a friend or coworker that you joke around with on a regular basis, or maybe you're just commonly known as the funny one and a humorous message is expected. If this sounds like you a few jokes are highly recommended. But, NEVER joke about past relationships, shock at them having found someone to marry or divorce.
"As Bill and Ted said, 'Be excellent to each other.'"

"Thanks for inviting us to eat and drink while you get married. Congrats!"

"Wishing you lots of love—and lots of makeup sex!"

(If this is appropriate given your relationship with the couple.)

"Our marriage advice: Love, honor and… scrub the toilet."

(Or fill in any other funny advice you have.)

"Marriage: A relationship where one person is always right, and one person is the husband. Congratulations!"

"Treat marriage like a hockey game. No roughing!"

"Thanks for the free booze. Best wishes on a long, happy marriage!"

"This calls for congratulations, and probably champagne."
Wedding Wishes To Your Spouse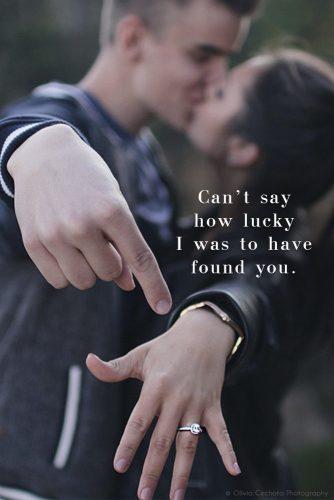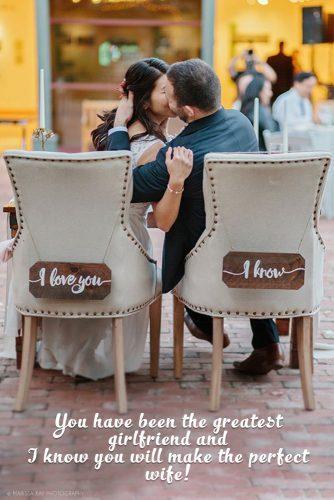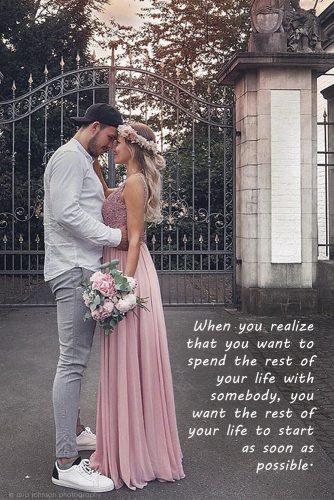 This is often overlooked, but sending wedding congratulations to your spouse is utterly adorable. With so many other things to focus on it's sometimes easy to forget to send your future husband or wife formal (but sincere and sweet) marriage greetings is a very well-received gesture. After all the vows and speeches your one-and-only will be pleasantly surprised to read a special note congratulating on the union with the person of their dreams.
This small checklist will remind you of a few key things that you really should include in your wedding day message.
How did you meet?
How long have you been together?
How long have you been engaged?
How did you meet?
Reminiscing about the past and enthusiasm for the future are the 2 key ingredients for a successful wedding wish to your future husband or wife.
"Loved you yesterday. Love you still. Always have, always will."

"Forever is a long time. I can't wait to spend it with you."

"Thank you for making my dreams come true."

"To my future husband: I'm so happy I tricked you into marrying me."

"You are my happily ever after."

"To my beautiful wife. I can't wait to marry you!"

"I can't wait to marry you. I will cherish and love you forever."

"You're my greatest adventure."

"And they lived happily ever after."

"Wouldn't miss it for the world."
Wedding Gift Cards Messages
Source: Instagram@rplusink, Instagram@alyray_, Instagram@shafinaalidesigns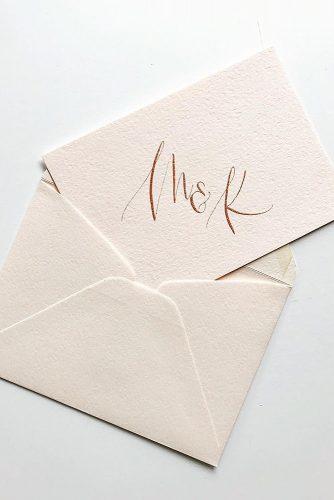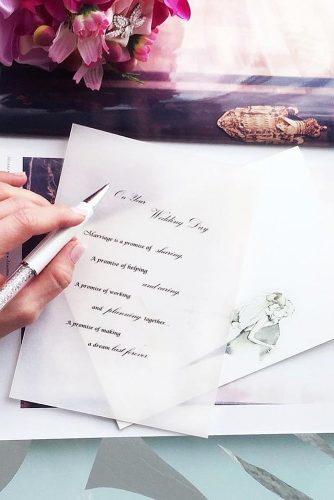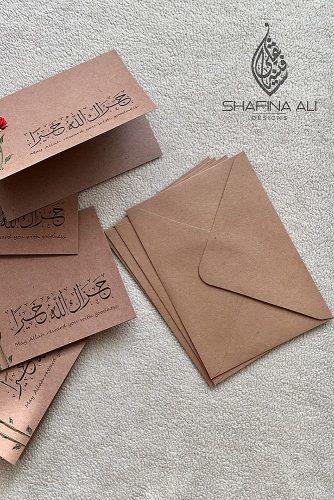 If you're the type of person who loves going above and beyond, this section is for you. A nice wedding wish card is great on its own, but attaching it to a thoughtful gift with a nice piece of ribbon is even better.
If you're not able to attend the wedding, sending the gift and card together is a convenient thing to do. But, if you are going to the wedding with a gift and this is extra, keep the gift light and keep your message short.
"Young family is like a baby: it needs love, attention and care to become strong and beautiful. Congratulations on your wedding!"

"The font of this message is far too small to express the amount of joy and happiness we felt about the news that you two are getting married. Congratulations!!!"

"May your love bloom forever, May goodwill and friendship always stay in your marriage!"

"Wishing that your love lasts till your last breath!"

"Congratulations on your wedding day!"

"Let your marriage live as long as the sun does. Congratulations on your wedding!"

"May your love story be as magical and charming as in fairy tales! Congratulations on the wedding!"

"Marriage is not just uniting with a person you love. It's also accepting his or hers believes, habits and preferences. Wishing you to always be patient to each other!"

"Wishing you lots of happy moments on your wedding, God truly made both of you for one another!"

"A successful marriage needs understanding, forgetting mistakes and falling in love many times, always with the same person!"

"Wishing that this hangover of love never fades away! Happy wedding!"
What To Write In A Wedding Card?
Source: Instagram@papierbluete, Instagram@kuvakina_margo, Instagram@vintage.atolye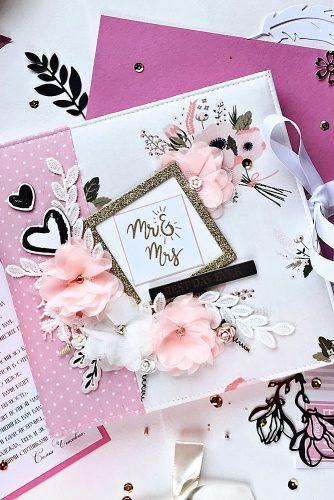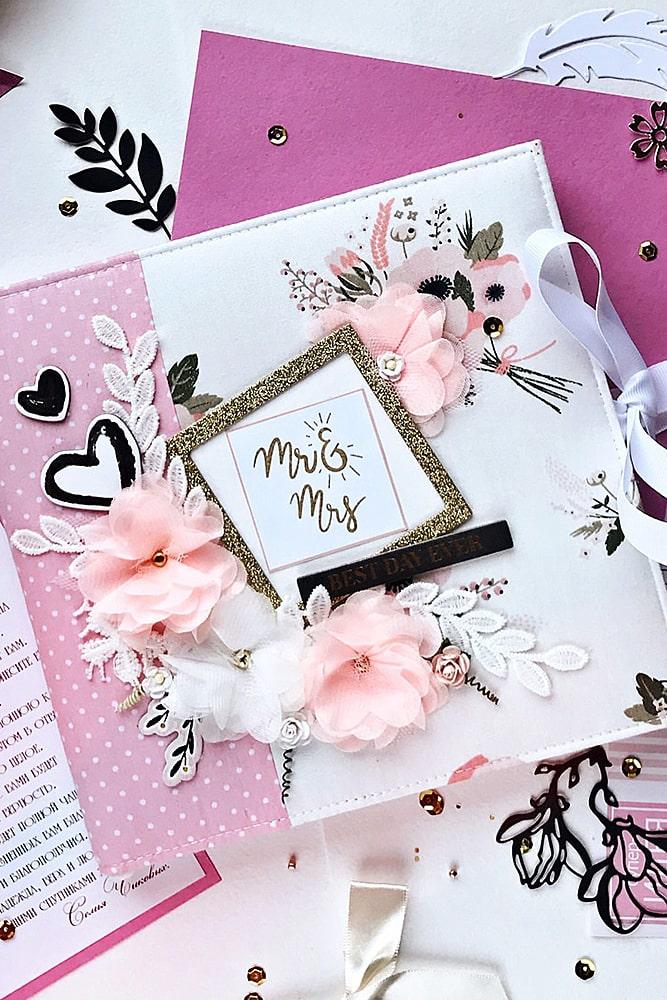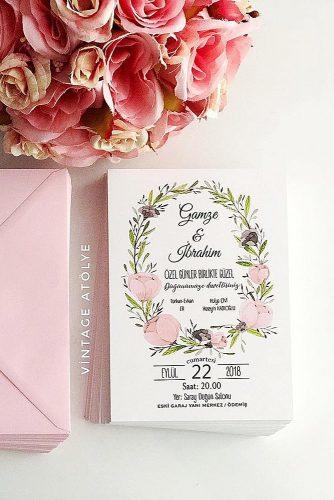 If you're late in sending the card or aren't able to attend the wedding but want to send your congratulation for the wedding, remember to express your regrets.
When writing your wedding wishes match the theme of the wedding, include something personal, be sincere, and the only joke when it's appropriate. Include scripture or famous love quotes (books or film) if it's fitting, and always try to mention how strong and long-lasting the marriage will be.
If you're writing on behalf of someone else (your spouse, children, etc..) make sure to mention them in the card so that it's clear you all send your wishes and have them sign the card personally. Remember to thank the beautiful couple for inviting you to their union.
"Congratulations, [couple name]! It means so much to be a part of your big day!"

"We're thrilled to be celebrating with you! Let's get this wedding party started!"

"Thanks for inviting me to your wedding. It's an honor to share in such a beautiful and important day. Best wishes for a future filled with happiness and love."

"It's such an honor to witness your vows and be among those to wish you a beautiful beginning."

"You'll always remember this day and so will those who were there when the whole beautiful happily-ever-after started. Best wishes forever."

"Watching you together is like catching a sunrise—I'm witnessing the start of something beautiful. Thanks for letting me be here with you."

"Congratulations on your big day, [Mike and Emma]! Wish we could be there to see it."

"So sorry I couldn't be there to celebrate with you. But even though I'll miss the dress, the bouquet, and the first dance, I would never miss the chance to wish you all the very best in life as you begin this amazing journey together!"

"I wish I could be at your wedding to give you both a hug and tell you how happy I am for you."

"With you in spirit as you join hands and hearts and lives for always."
Is It Okay To Write The Term "Congratulations?"
We mentioned earlier, but do want to specify the use of the word "congratulation". It's perfectly fine to do so with one exception. If the couple (or their family and theme) are ultra traditional it's best to steer clear and avoid inadvertently insulting the bride. Just a reminder.
How To Sign A Wedding Card?
When it comes to how to sign a wedding card, there are plenty of rules and formalities to follow. We recommend you look into this further since there are so many variations. For example, there are huge – in the world of formal weddings – differences between signing off as Ms. Mrs. Miss, Misses, and Missus. And that's only for one person!
In Conclusion
Now that you have some great suggestions, a good structure to follow, and all of the DON'Ts to avoid, it's time to start writing.
Recognize your relationship with the couple:
This pretty much dictates the rest of the options that follow.
Follow the theme:
As a rule of thumb if the wedding is traditional, craft their Wedding Wish card in traditional style. If it's a Rustic wedding, feel free to be a little less formal. Of course, the tighter you are with the couple the more freedom you have to add your own flavor.
Create an Outline:
There are things that you need to include in your card. Put them in order so that the message flows.
Start with Something Personal:
Weddings are about family and creating memories. Share an anecdote or quote to start things off on a personal note.
Deliver Your Message:
Share your specific insights or wishes, or maybe even both. The point is prepare them for a beautiful future one way or another.
Know Your Audience:
Don't overstep your boundaries and don't underdeliver. Do follow tradition when called for and Do respect the time and effort that went into turning a dream into reality.
Remember, whenever possible make it personal, and it's always better to be short and sweet than inappropriate and awkward. And, Have Fun! If you don't have a smile on your face when you're writing your wedding wishes, you're doing it wrong.