Settling on wedding themes can be one of the more difficult tasks when planning a wedding. But it may just be the most critical – all other decisions stem from your theme – as well as the most fun! Once you've made your selection, everything else seems to just fall in place. Your venue, floral arrangements, bridesmaids dresses, and everything else will feel natural and easy.
Before that can happen, you need some help! Obviously, you're on this page because you want help with How To, and you need wedding theme ideas. We have tons of both!
Read through some great ideas of wedding party themes and how to do decide if they're perfect for you, or, for quick navigation, you can use our list of wedding theme ideas below.
What Every Bride Needs To Know:
What does a wedding theme mean?
It's an idea or concept that flows throughout the events and ceremonies. This can be as simple as your favorite color or a song. Or as specific as the styles of your favorite decade or movie.
How to pick a wedding theme?
There are just a few simple concepts to keep in mind:
It should be easily recognized by your guests. If it's too obscure and your guests have to ask what the theme is, you've missed the mark.
It should be personal. Your guests should walk into your event thinking "This is SO (your name)".
It should stand out. Even if you're so in love with Harry Potter, if it's the 5th HP themed wedding your guests attend this Spring it may not get the full appreciation it deserves.
Does my wedding need a theme?
A wedding theme gives you somewhere to start; also it helps you to make decisions on wedding decor and colors. You need a theme to keep the look uniform, or you risk turning your celebration into a chaos of different colors and decor elements. Also, if you're considering some decor ideas or going DIY, you always can ask yourself: "is it something that actually fits with my wedding theme?" It can be a good filter when you don't know what to choose.
1. Chic Wedding Themes For Fall
Elegantly fashionable is just right for the bride who wants a little something above and beyond the traditional wedding theme. This means staying ahead of (or even setting) trends and taking bold risks. To pull off these modern wedding themes you have to be confident and inspired.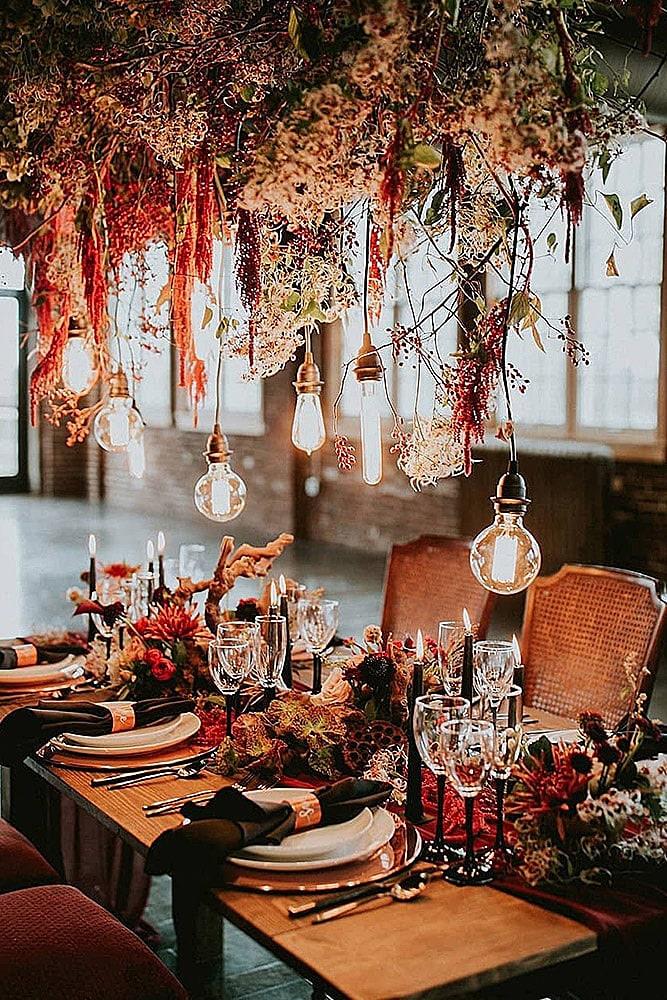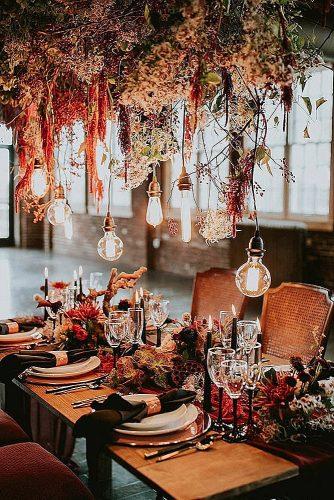 Rich copper is hot off of the wedding theme press. Not as timeless as silver, not as extroverted as gold, copper is unique 'right now'. Embellish your entire party with copper frames, vases, prints, and copper leaf. Set it all off against flat whites and you have yourself a gorgeous affair!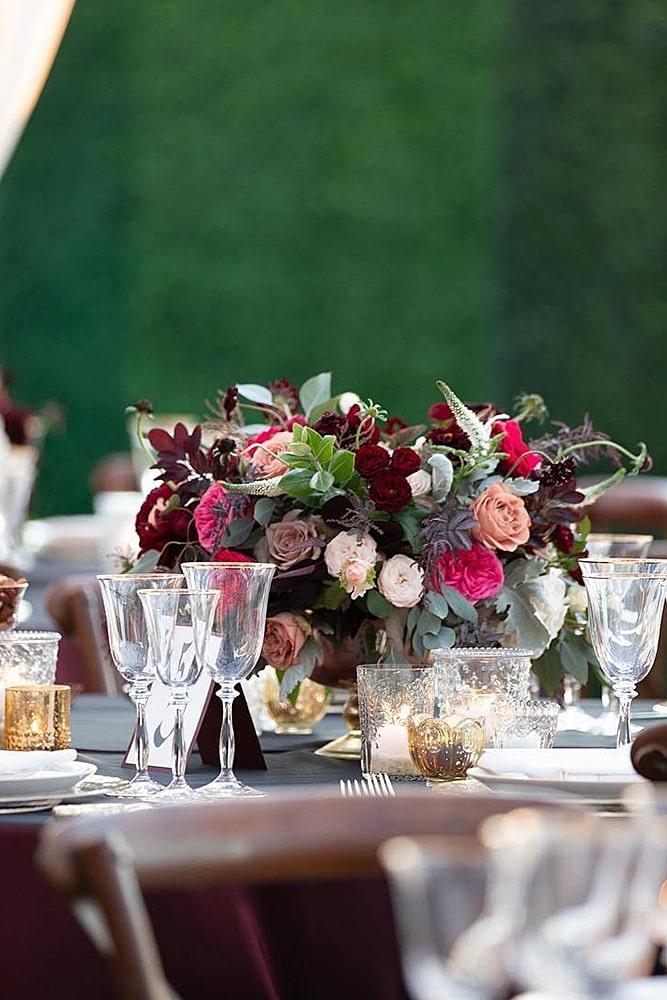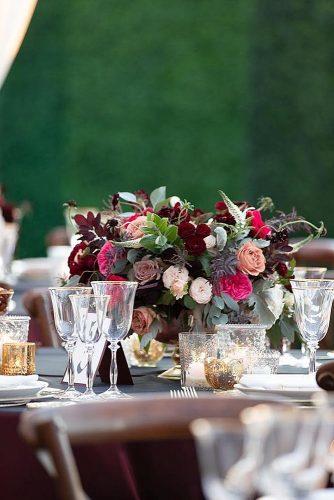 Deep reds tend to come out in full force in the fall. Create a unique spin by going burgundy. Your wedding invitations will look super classy, and the groom's tie will look ultra dapper. It'll make your natural greens POP and make your food look tastier than ever. Best of all, burgundy looks equally beautiful – yet totally different – in low and high lighting. Bring this look indoors or outdoors, either way, it'll be a hit.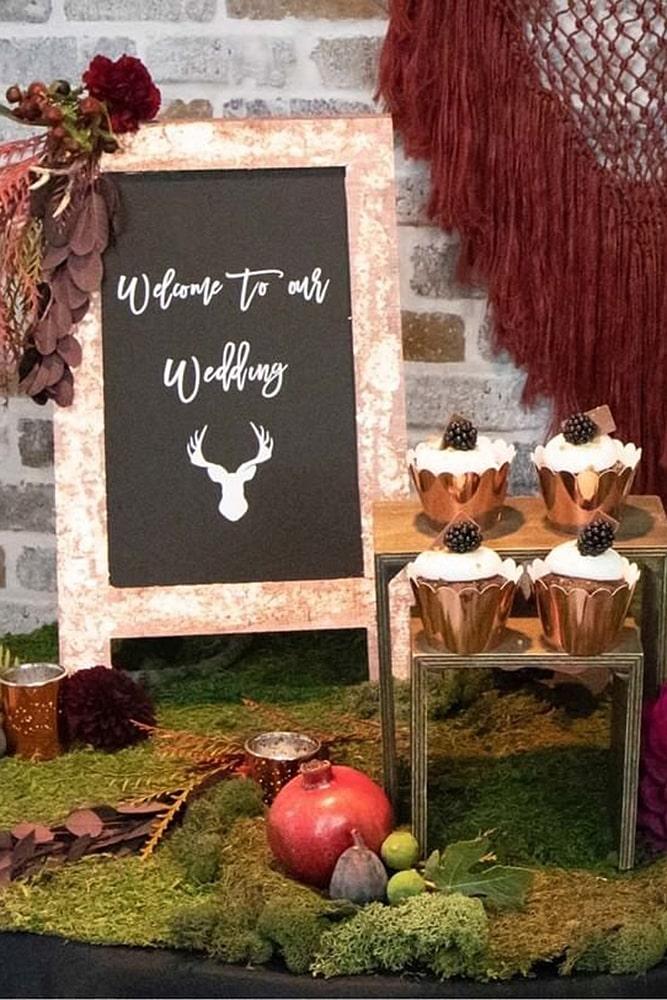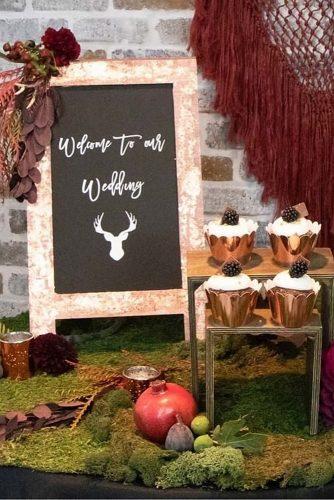 Some colors are just common sense, they go together an everyone knows it. Red and Yellow are not one of those combinations. Create a memorable splash with this color combo that no one was expecting. It's hard to picture, but seeing it for yourself the appeal is undeniable.
Pro Tip: Choose a variety of reds to create a sense of variation and texture throughout your venue, while still maintaining a look of continuity.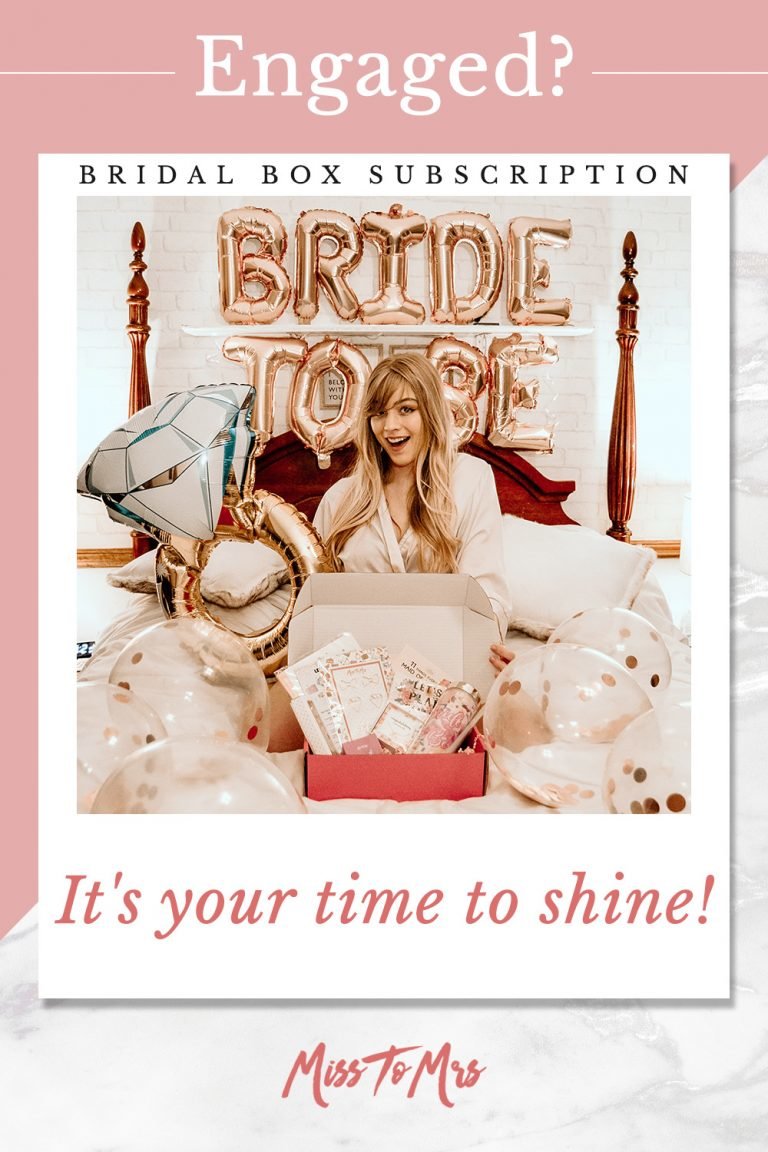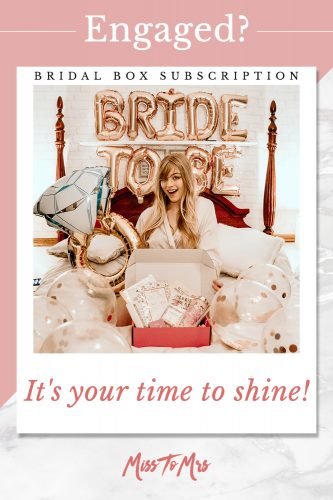 2. Wedding Themes For Summer
Summer is a great time of year for a wedding and a theme unto itself. Not just a season, summer represents warmth, and light, and growth, and abundance. These are the perfect sentiments to back into your wedding and your Happily Ever After.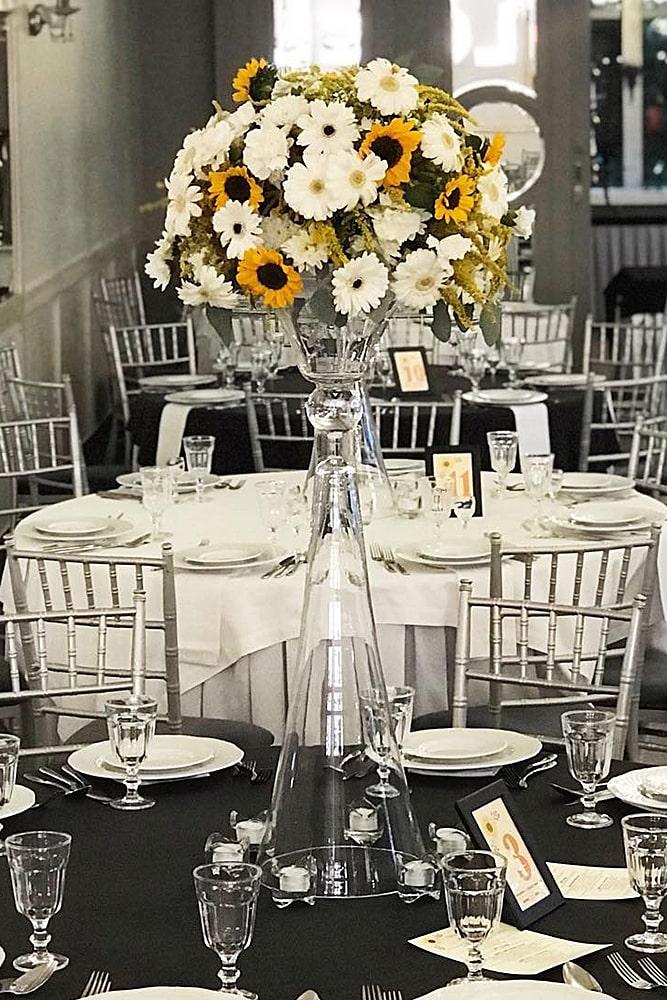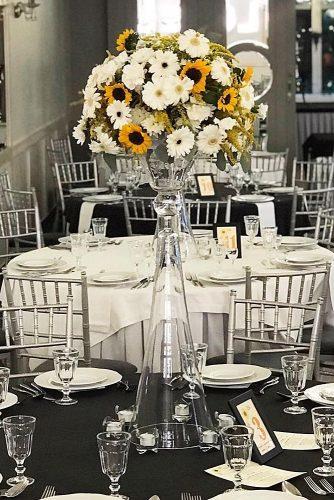 Simple wedding themes provide you with a lot of room to get creative and spontaneous. Choose 8 colors for your pallet. Mix satin, velvet, and lace. Play rock, pop, and country. What ties it all together? Something as simple as sunflowers splashed throughout. This iconic summer flower brings you joy the second you see it and is the ideal symbol for your big day.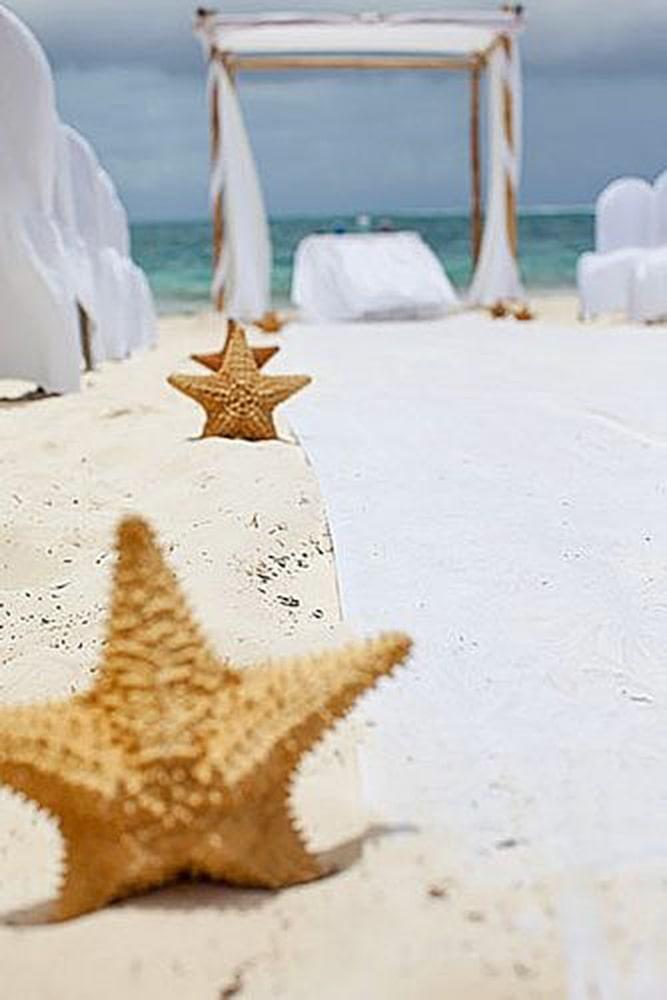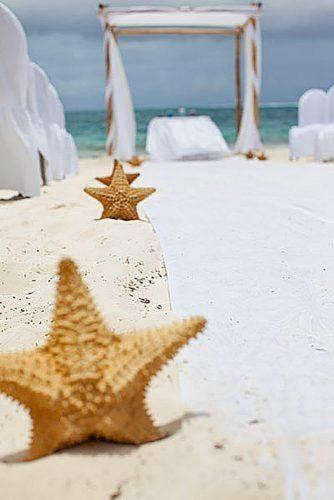 The beach is a fantastic wedding theme because it merges (as mentioned above) a destination and a season. Put out any vintage wedding decoration ideas that you can imagine, mix any colors you like and – just like the sunflowers – the sun and sand will tie it all together.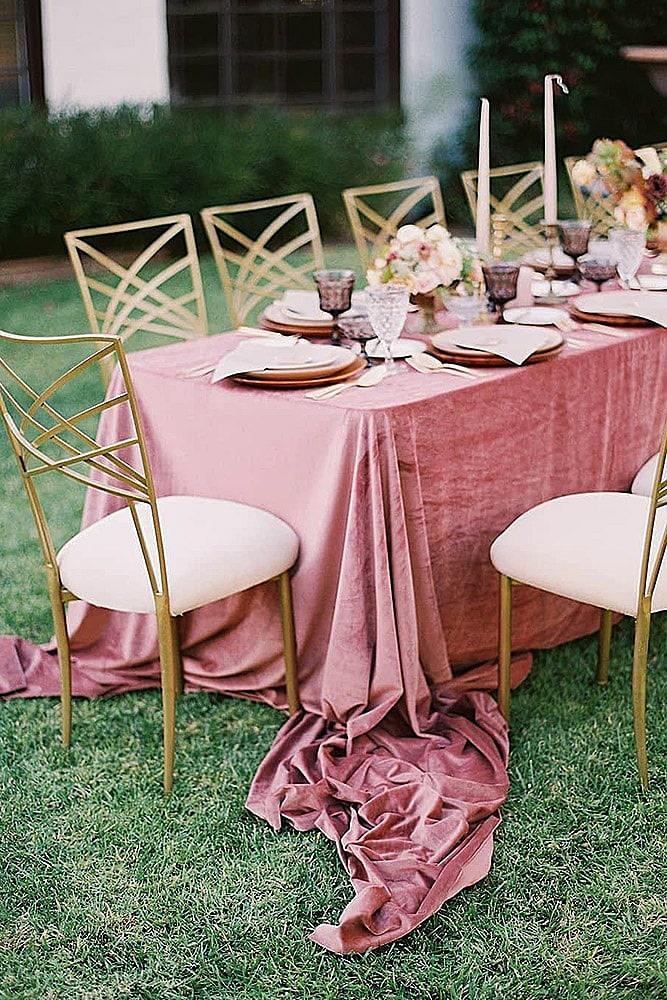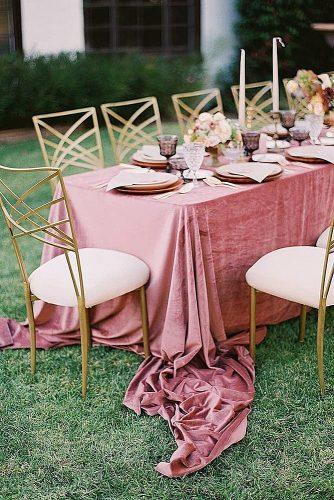 Depending on the circumstances a summer wedding can be best kept indoors. But, it can still feel like summer with a unique and fresh salmon and mint color combo. These clever tints of pink and green go together like salt and pepper and are always a bridal party favorite.
3. Simple Wedding Themes For Winter
With winter, you can either dive in and embrace it or warm it to its core. Either way, you have yourself a great wedding theme and some fantastic photoshoot theme ideas on your hands. And one thing that this season has that others don't; more options! Since it's cold you can bundle right up with cute cardies, fur stoles, or long sleeve anything.
Rich black, Bright Bronze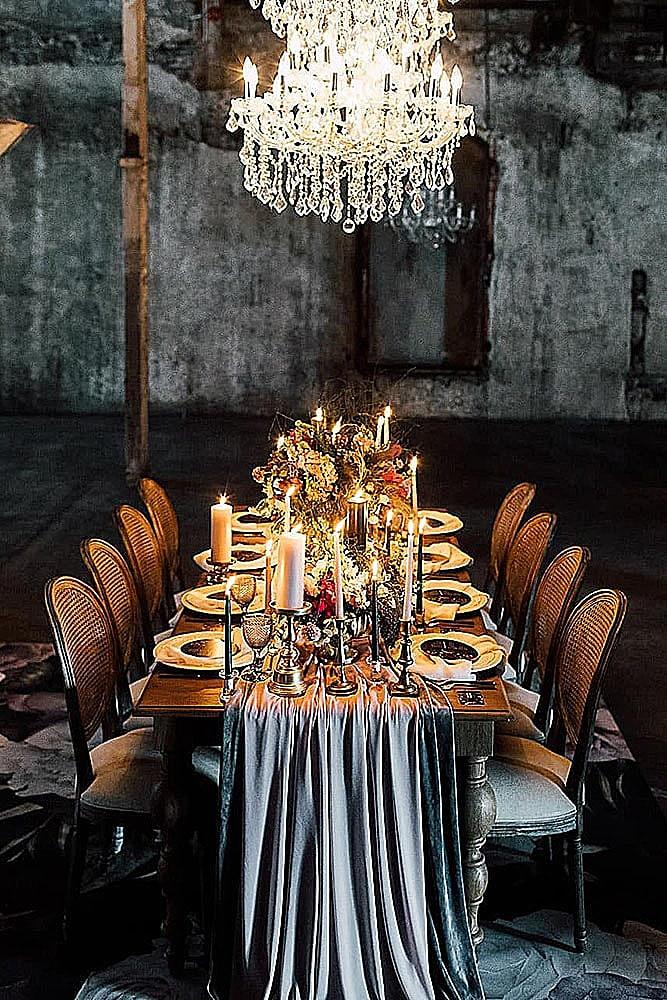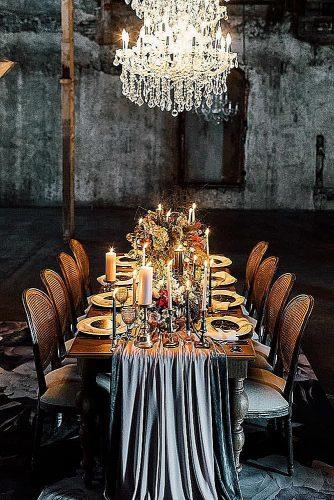 Bronze is a lovely metal color and never looks as brilliant as is does next to a rich black. Since it's cold out, enhance this further and warm the mood (and room) with a thousand flickering candles. The light dancing on the metal makes an ambiance that can't be recreated.
Pro Tip: Don't forget your beauty care (moisturizer) and extra layers of cover for you and your squad. A warm bridal party is a happy bridal party.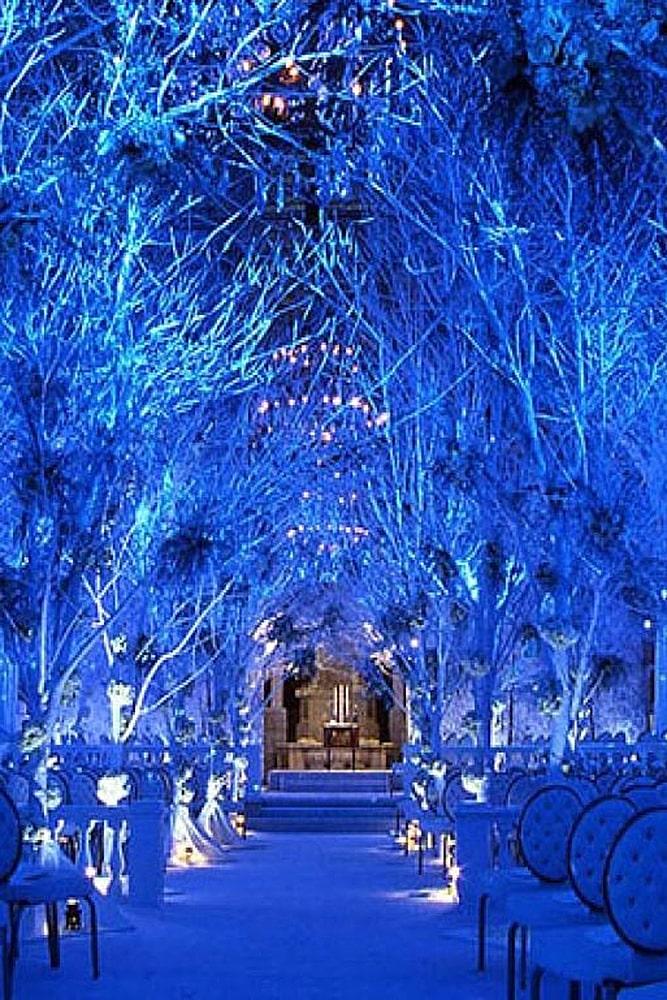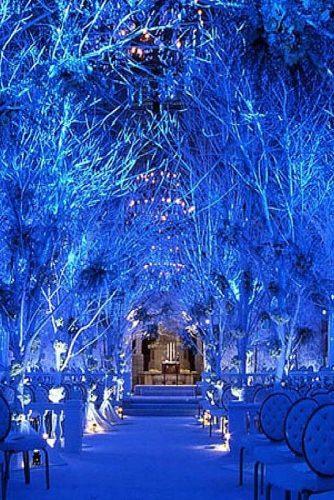 Cover the ground with fake snow, cover the ceilings with mock Northern Lights, and surround yourself with blue-lit nighttime trees for this ultimate cute wedding themes. Your guests will feel like they just stepped through the wardrobe into Narnia once they hit your venue. If you think the photos look nice, you should see it (at your wedding) in real life!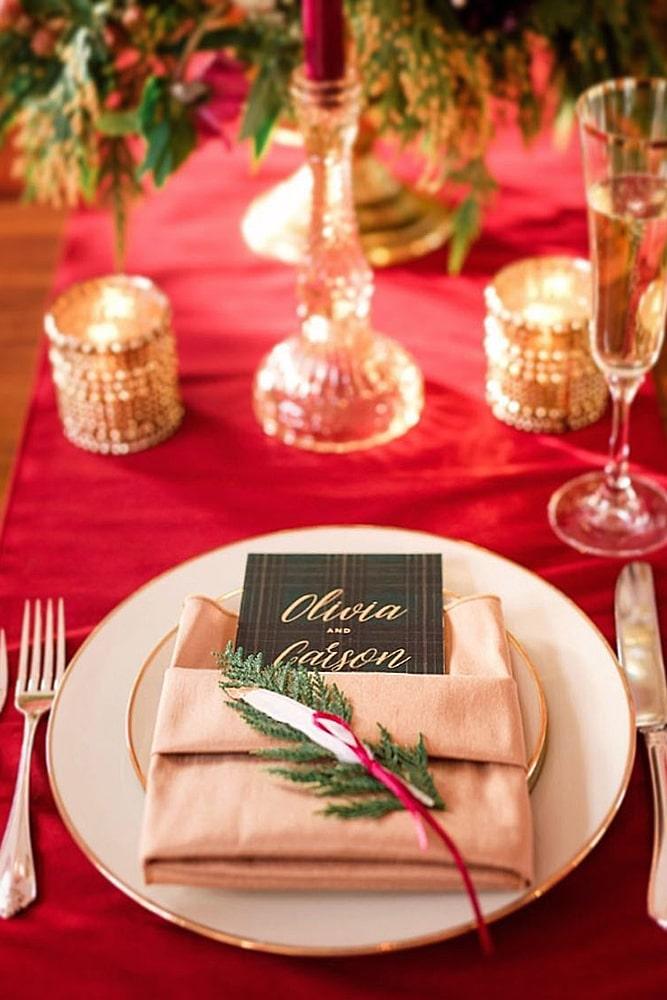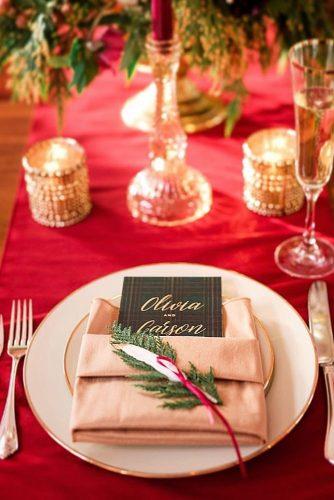 This is possibly the most fun wedding theme of all. Dress your hall like you would decorate for Christmas. BUT, exaggerate everything and make it romantic! Pine trees, holly, candy canes, and reds and greens every way your head turns. Oh, and don't forget a generous helping of mistletoe over the bride and groom's table!
4. Fresh Wedding Themes For Spring
Greenery, fresh flowers and outdoor ceremony – when it's spring, it's better to celebrate at nature. You'll totally love our spring wedding themes – check them out!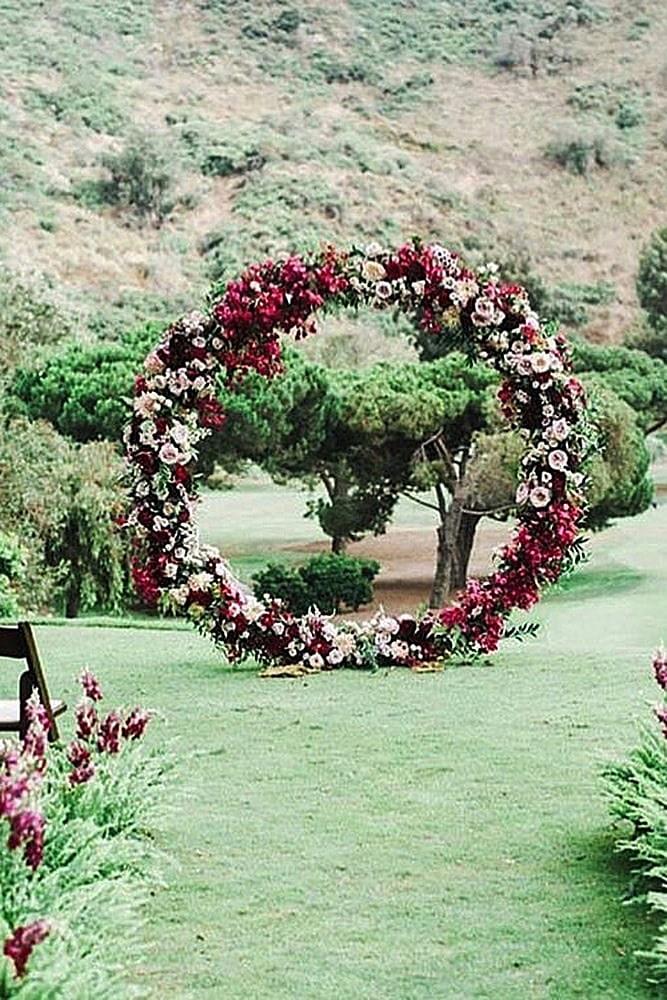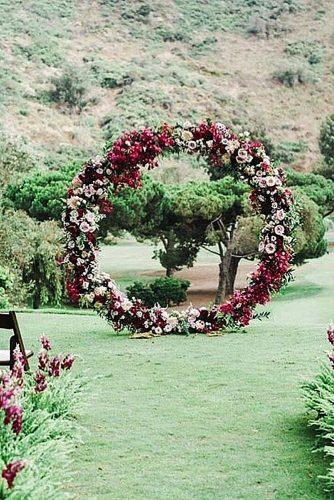 Love is a beautiful, natural thing. Those of you who have found your soulmate know exactly what we're talking about. When you feel this way, it tells you exactly how to pick a wedding theme: nature. Surround yourself with plants, hanging vines from the rafters, and wear flowers in your hair. Princesses have nothing on Mother Nature.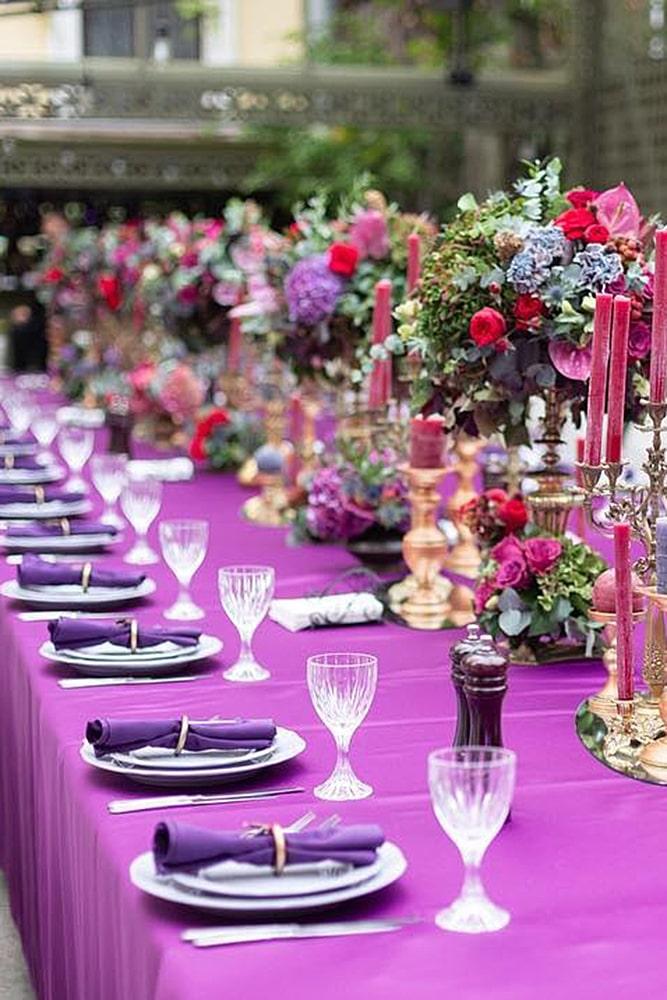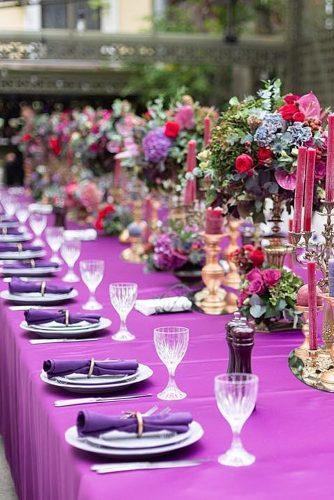 In 'boy speak': Purple. In 'woman speak': gorgeous shades of magenta that create the most delicate of wedding themes. These trendy wedding colors create a seamless appeal through your bridesmaids' dresses, table runners, and floral selection.
Secret Garden Themed Wedding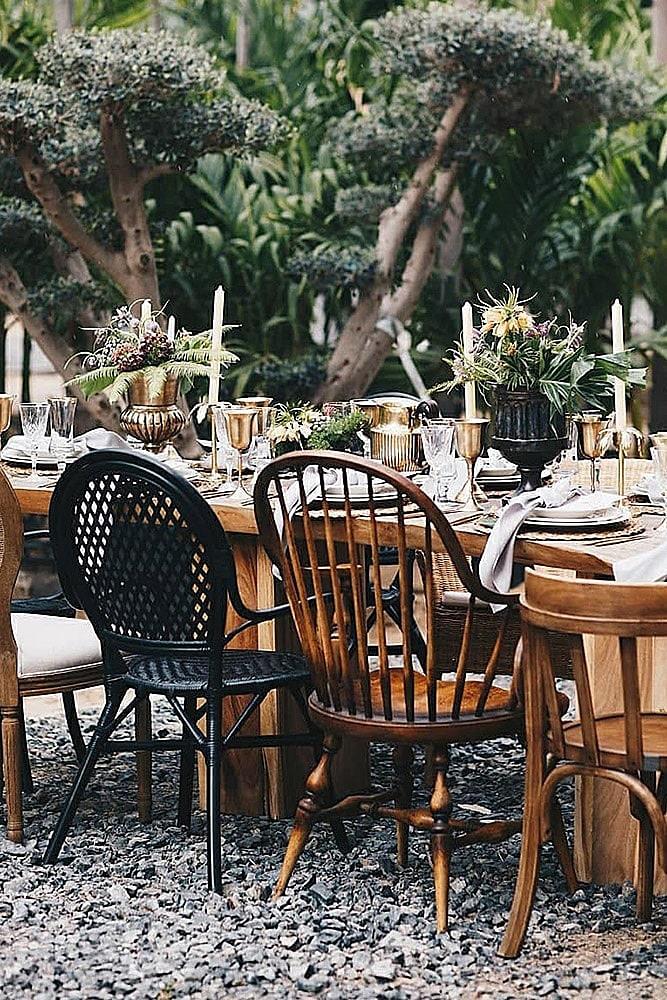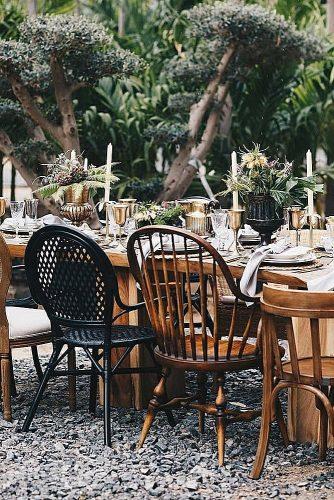 Imagine stepping into clearing the first few weeks of spring. Out of nowhere, you see table settings, canopies, parasols, and lush plant life arranged just for you. If you have a garden to host all of this, good. If you can secure a private location in the city even better! The juxtaposition of nature against brickwork and cobblestone always makes for a gorgeous photo shoot.
5. Best Vintage Wedding Themes
Some of the best wedding theme ideas come from eras gone by. Certain periods of time are romantic, exotic, and visually stunning. Or, maybe you just feel like you were born in the wrong decade or like you you've been reincarnated and have lived your best life in a particular time period.
Either way, you shouldn't choose a vintage wedding theme just because it looks pretty. You should choose a vintage theme because you connect with it for your own personal reasons.
Ancient Greece
Ancient Greece is a romantic wedding theme to start our list with. With the unique geography, art, gods, and outfits, Ancient Greece is instantly recognizable and elegant.
We recommend a white and blue color scheme with plenty of grapes and gold strewn throughout your venue. If your budget allows, it would be great to see your servers or ushers done up like Spartans.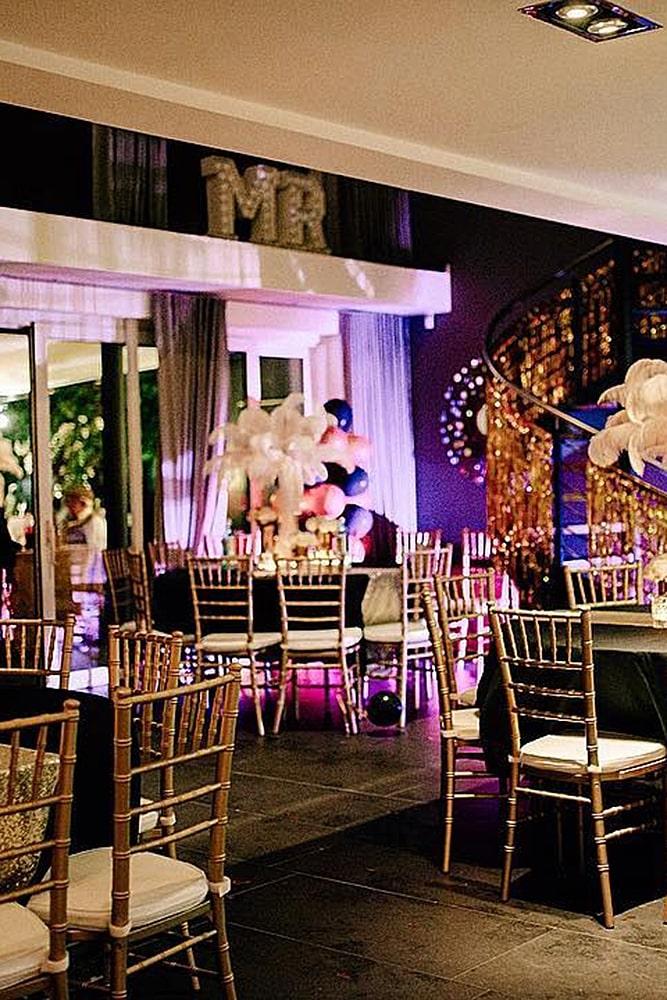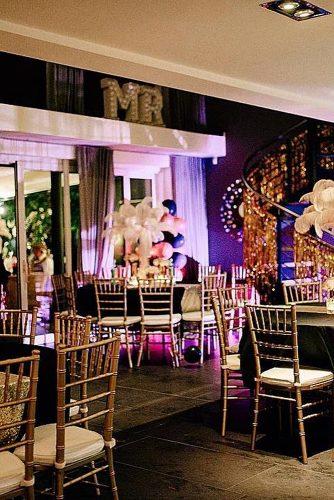 The Roaring 20s was a special time in North America. The economy was booming, technology was exploding, jazz was born, and the flapper style took the world by storm.
Choose Art Deco designs and colors for your venue, and loose-fitting clothes that just feel fun. For brides who are into DIY, this is one of the more cheap weddings theme ideas since most of your decorations – like vintage tablecloths and table settings – can be found at yard sales.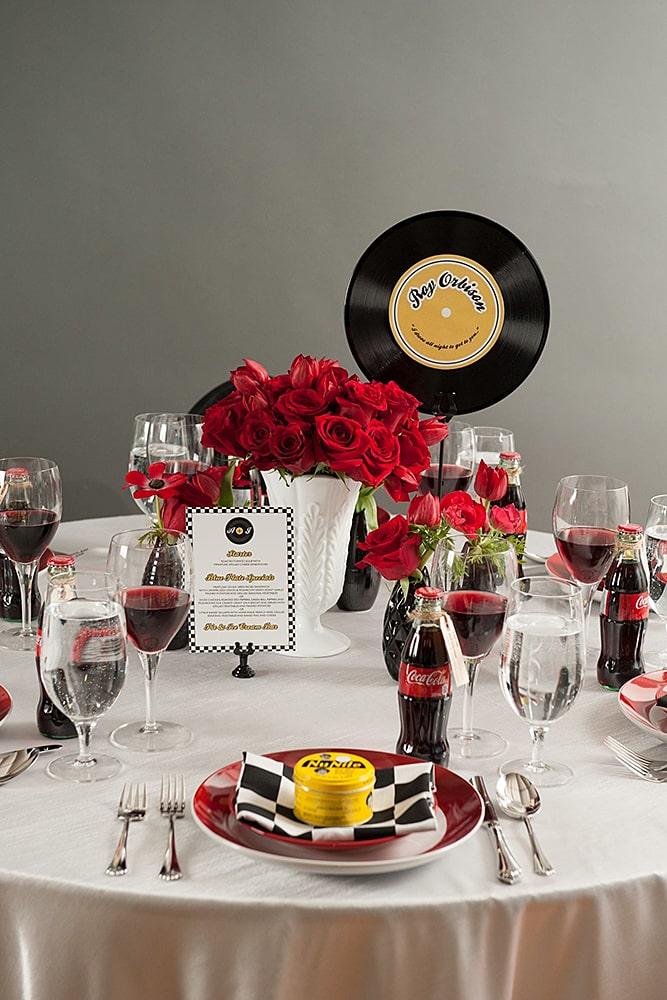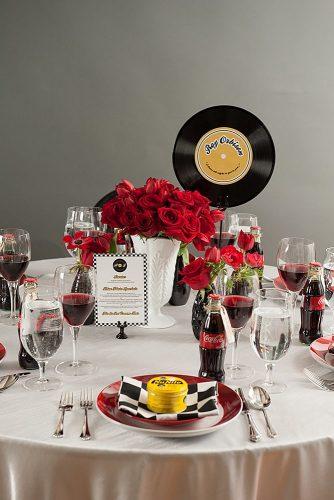 The Baby Boomer age can be considered the modern Golden Era. War was over and the American Dream was as strong as ever. Reimagine the glory days with unpadded shoulders, shapely bust lines, tight waists, and billowy skirts. Use bold (but simple) prints or solid colors with simple textures for both fashion and decor.
6. Movie-Inspired Wedding Theme Ideas
Movie wedding themes are so different and everyone can choose whatever they want. By the way, Game of Thrones wedding theme is one of the most popular themes nowadays!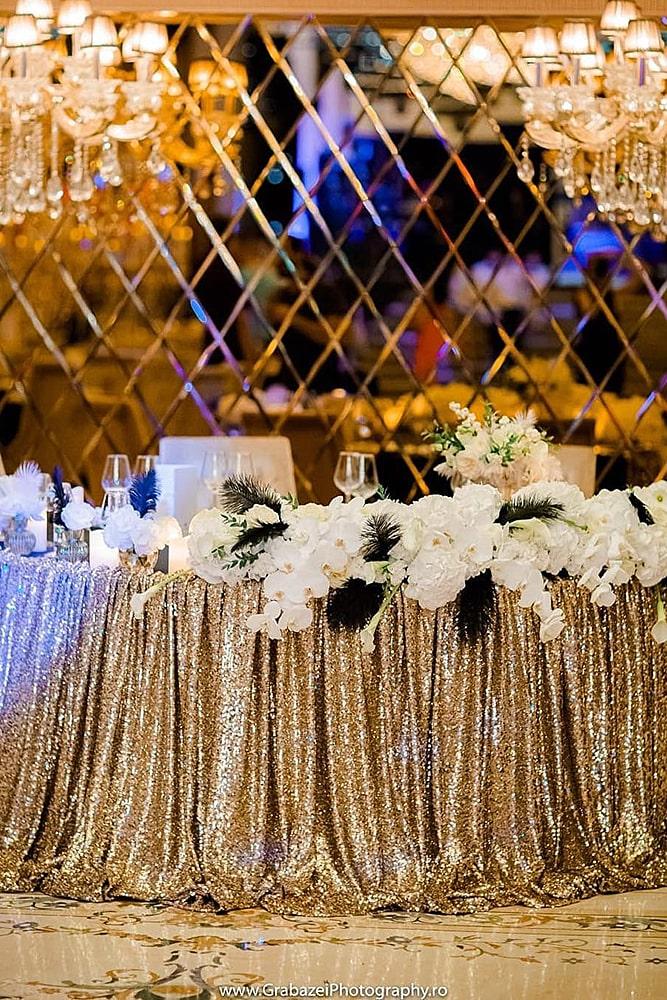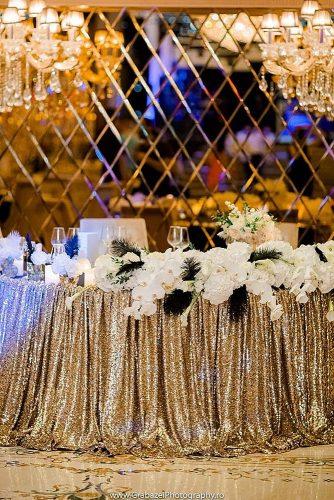 The Great Gatsby is most definitely one of our top wedding themes. Combining one of the most memorable books and films we can imagine and all of the glitz and glamour of the 1920s we mentioned above, this style makes for an event never to be forgotten.
The difference here is that the Great Gatsby represents the upper crust of society which calls for over-the-top vintage jewelry, embellished ball gowns, and almost too much bling for your decorations.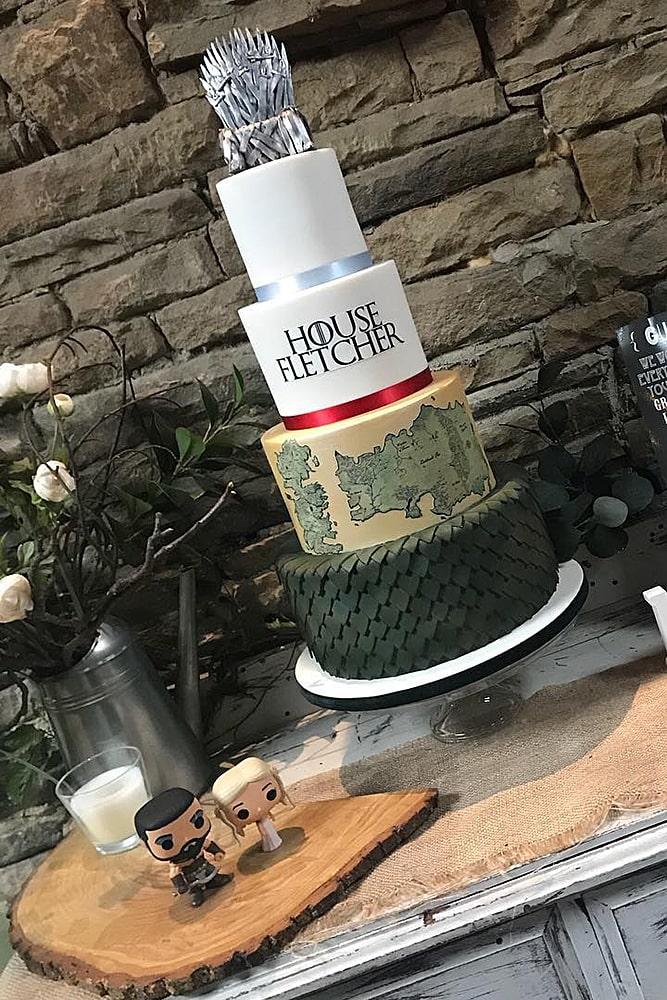 A Game of Thrones wedding theme offers endless possibilities. Your tables, invitations, and another manner of decor can follow the various "houses" of the realm complete with color scheme and emblems. The bride, groom, and guests all get to choose from a variety of long flowing lace, leathers, furs, and Celtic knot hairstyles. Oh – and you get to get married in a castle!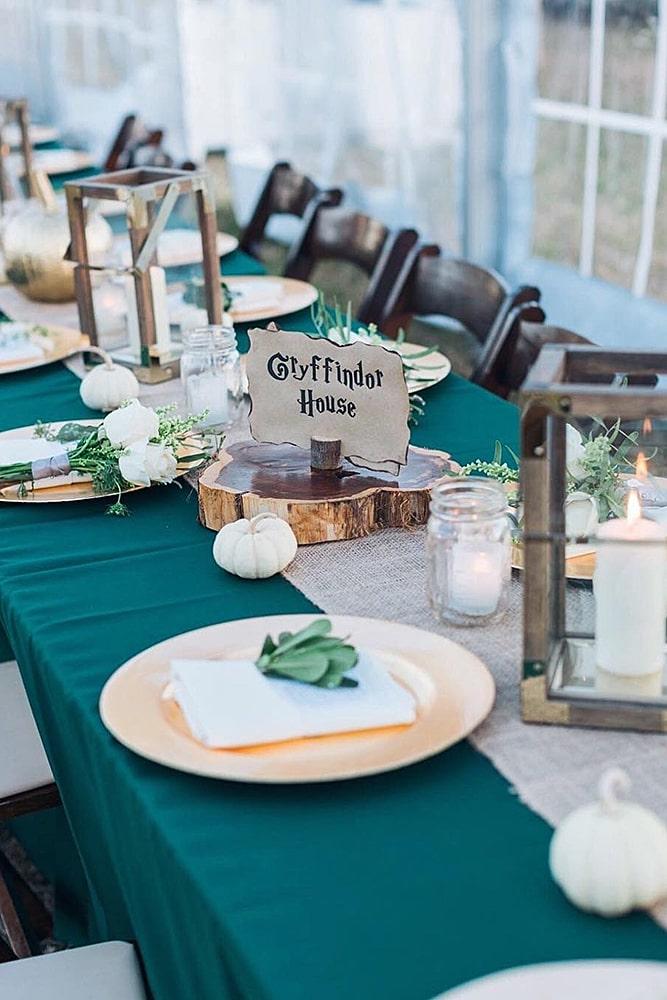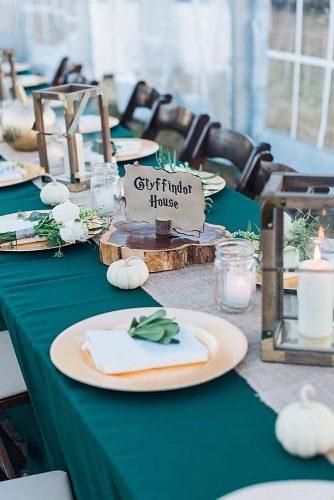 Too many couples in their 20s and 30s, Harry Potter is a deep-seated passion. These fun wedding themes come easy. The tall candles and red napkins define the dining hall where many notable scenes take place. The houses dictate seating arrangements, and there's plenty of appropriate room for wands and golden snitches. Even non-believers are sure to have the time of their lives!
7. Boho Chic Trending Wedding Theme
Maybe fantasy isn't quite your thing, but you're still not into the traditional wedding concept. If that sounds about right, a Boho Chic wedding theme may be just what you're looking for! Free-spirited brides and groom enjoy the best facets of traditional style but pull it off in carefree hippy fashion.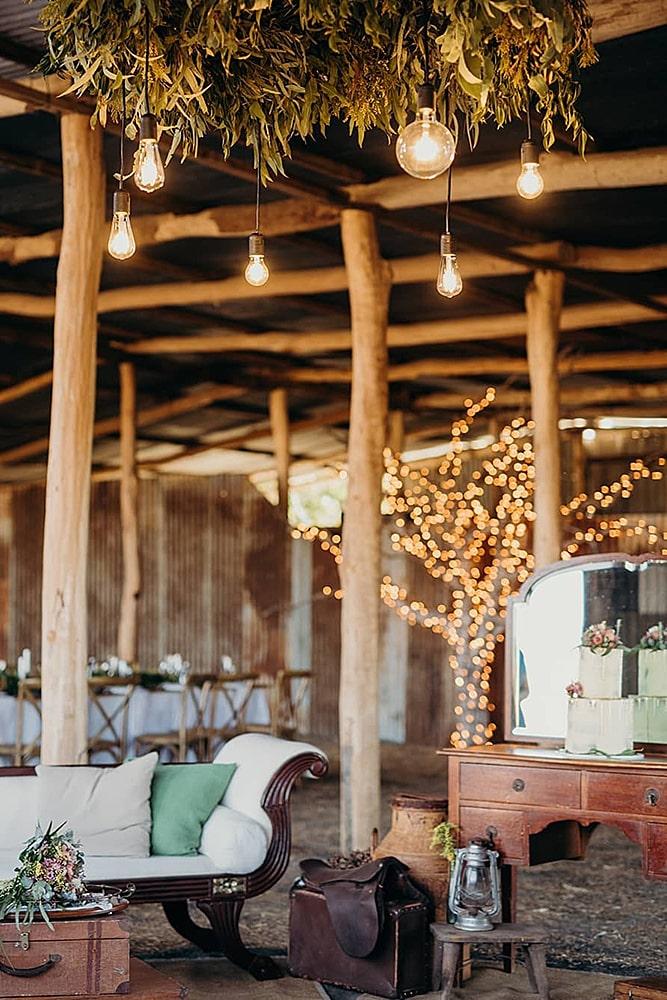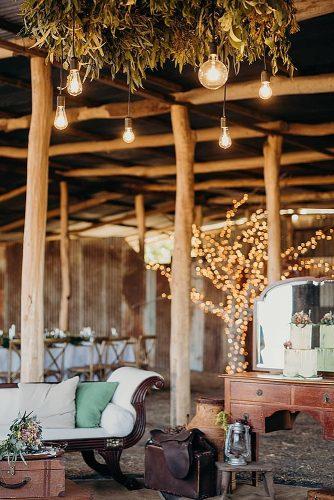 A rustic theme – or country – is one of our favorite wedding themes for fall. Planning is a piece of cake with this wedding theme. Vintage decor, choice of music, wedding dress styles, and natural colors all have their place when you decide on the country flare. Couple a gorgeous traditional gown with some cowboy boots, and feel perfectly comfortable draping a denim jacket when the reception kicks into high gear.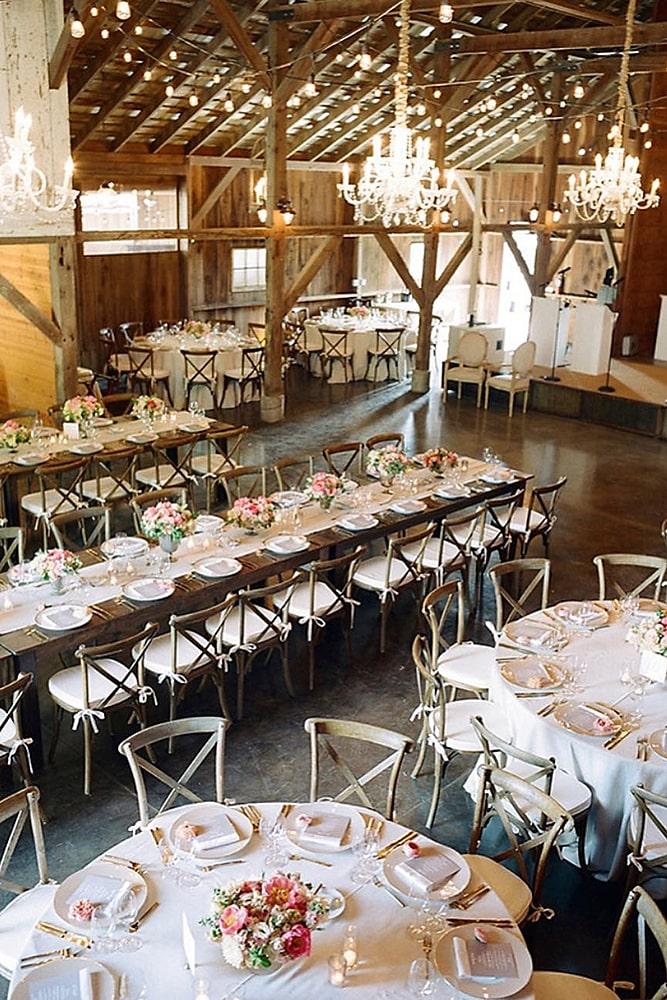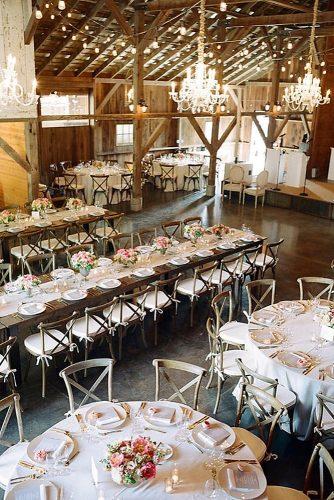 You don't necessarily need a movie or a time period to define your pretty wedding themes when you have a great venue! A wedding in a barn screams good times and family values. If you have any doubt during your wedding planning schedules rest assured, today's wedding planners and vendors know how to perfectly balance the wholesomeness of country living with the exquisiteness of a royal wedding. You can have the best of both worlds.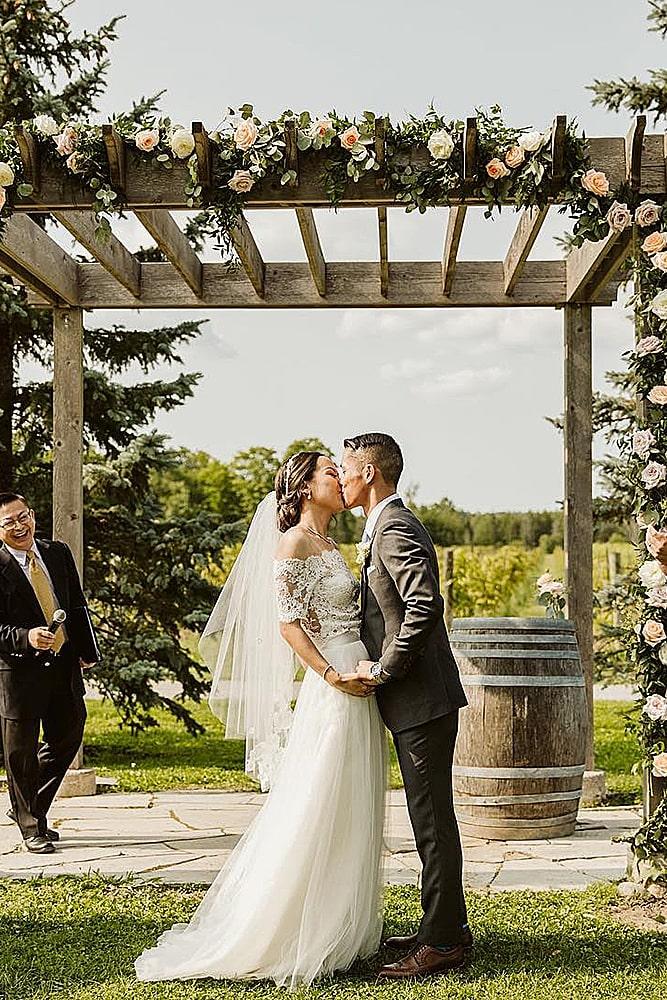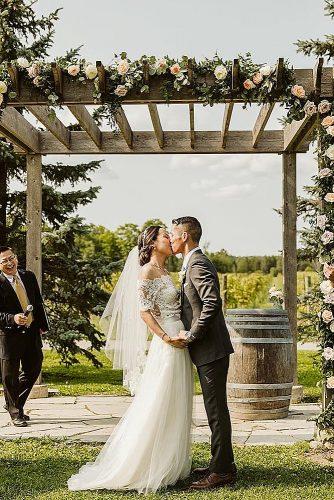 What do Napa Valley, Niagara on the Lake, and Southern France have in common? The wine country of course! But they also bring to mind peace and quiet, natural beauty, and easy living. To some, there's no better metaphor for how the happy couple envisions the rest of their lives, and it's a great way to start it! Capture the essence of this lifestyle with natural patterns and textures, and light and breezy fabrics.
8. Colorful Top Wedding Themes
Sometimes all you need to make your wedding theme your own is a unique color scheme. For example, if you're trying to plan the perfect outdoor wedding in the Spring fill your day with vivid reds, yellows, and wildflowers to match. Dress in satin and lace, and let your skin and smile shine.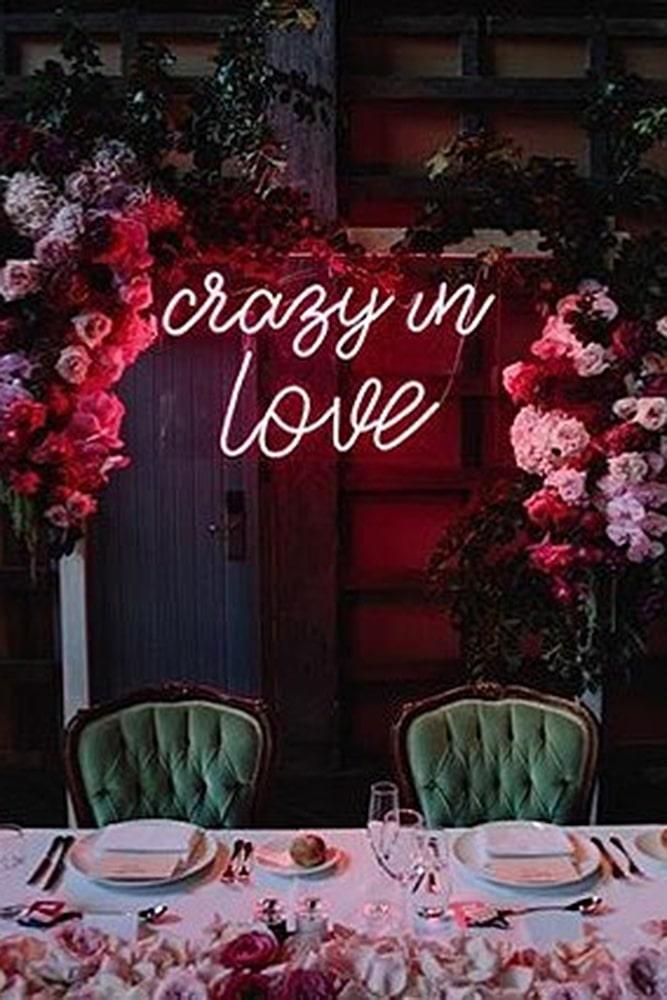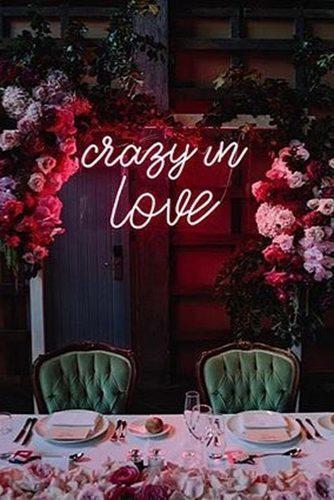 Neon is a sure way to make a lasting impression. Imagine your deserts, decor, florals, and outfits all in eye-popping color. Your guests will be amazed and your photo album will be jaw-dropping. For couples wanting that 'little something extra'considers getting all of your guests to dress in white or black, and end the night with a color fight! This will be a night you'll never forget.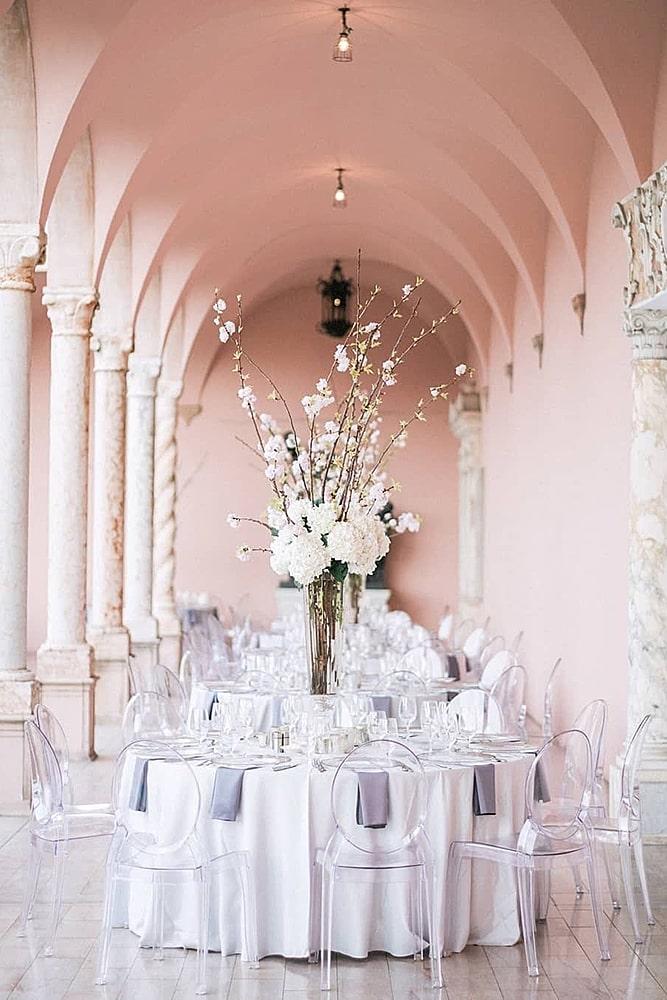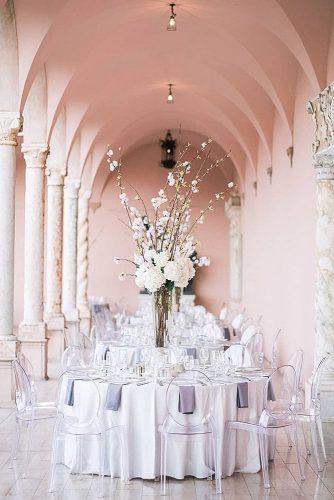 Pastels are the epitome of "classy" when it comes to wedding themes for summer. Flat-powder blues, greens, and seem perfectly at home with outdoor decor and an abundance of florals. Wear the wedding gown of your dreams with a half-up-half-down hairdo and subtle accessories. In our opinion, a pastel looks beautiful while staying politely in the background and let you command the spotlight!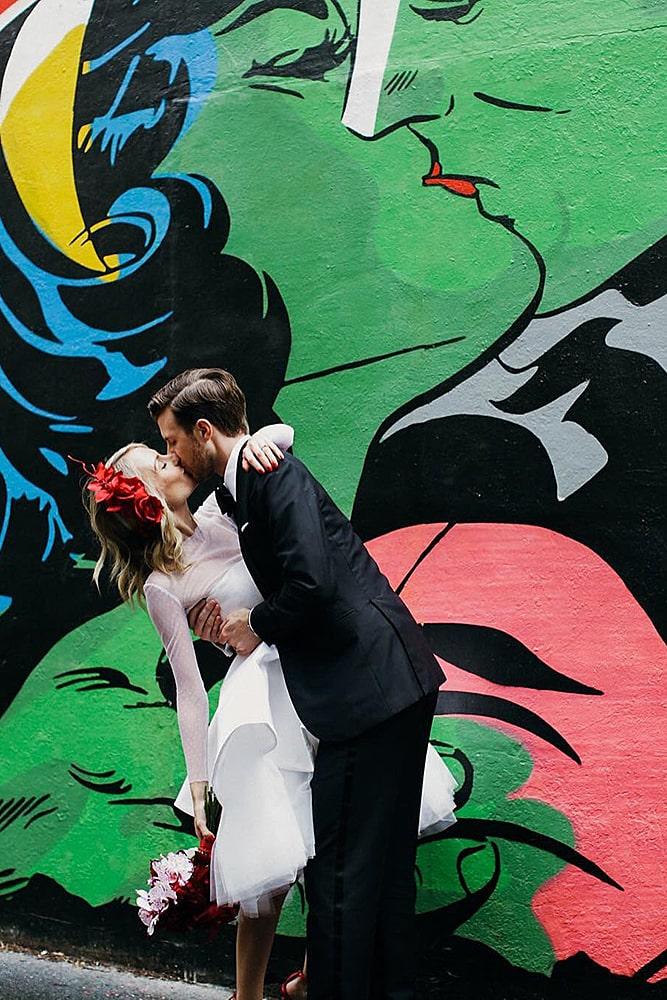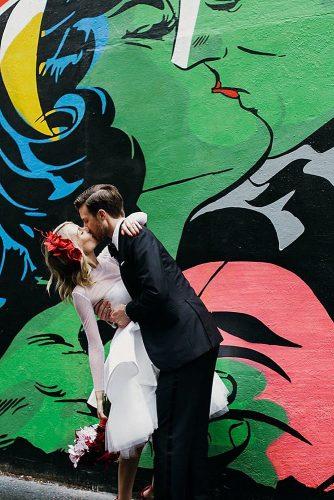 POP is an art style that wowed Western society in that latter part of the 1950s and could be tailor-made for your wedding day. With a distinctive style of glamourizing everyday objects, you can celebrate your big day by celebrating drastic colors, crisp lines, entertaining patterns, and a passion for the simple things in life – like love.
9. Bohemian Romantic Wedding Theme
If you've come this far and still wondering how to pick a wedding theme, we'd like to ask you a question. What kind of shoes are you planning on wearing? If the answer is "none!' then the Boho theme is right up your alley. Flower tiaras, long flowing gowns, and barefoot processions are hallmarks of this style, and we love it! Just make sure to supply your guests with hand fans to keep that summer heat at bay.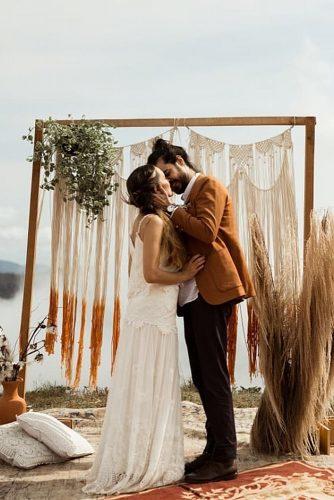 Handmade macrame is a keystone of the Boho style, and for good reason. Adorn your entire wedding with heavy-textured backdrops, table runners, and hanging potted plants to create a unified look to your big day.
Pro tip: Make sure to bring a little macrame with you when it's time to test out some wedding gowns. Not only does your dress need to look good on you, but it also needs to look good while you dance and throughout your photoshoots. This is a good way to make sure that it does.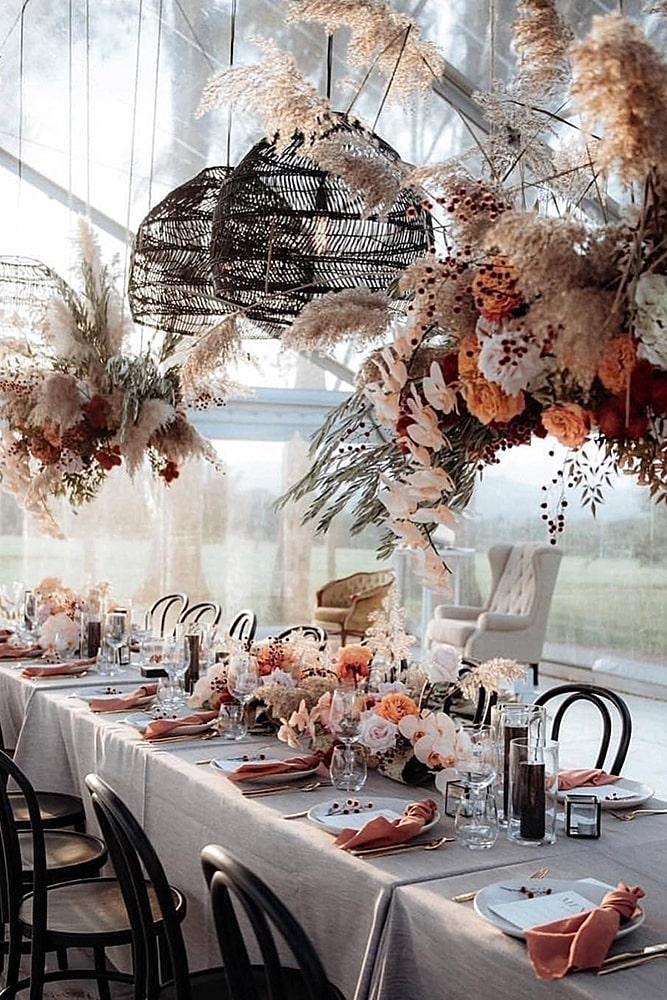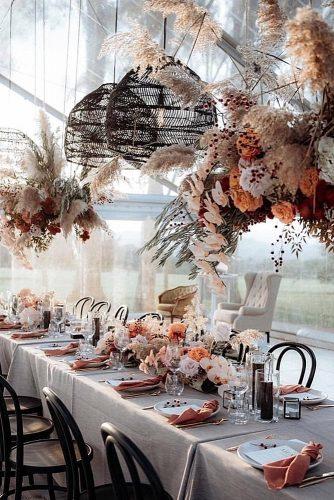 Nature and Boho go hand in hand. The best boho weddings feature tons of leaves, vines, petals, and flowers – the best being wildflowers. There really is no such thing as "too much" here. So, go crazy with your bridesmaid's prints, accessories, and venue decor.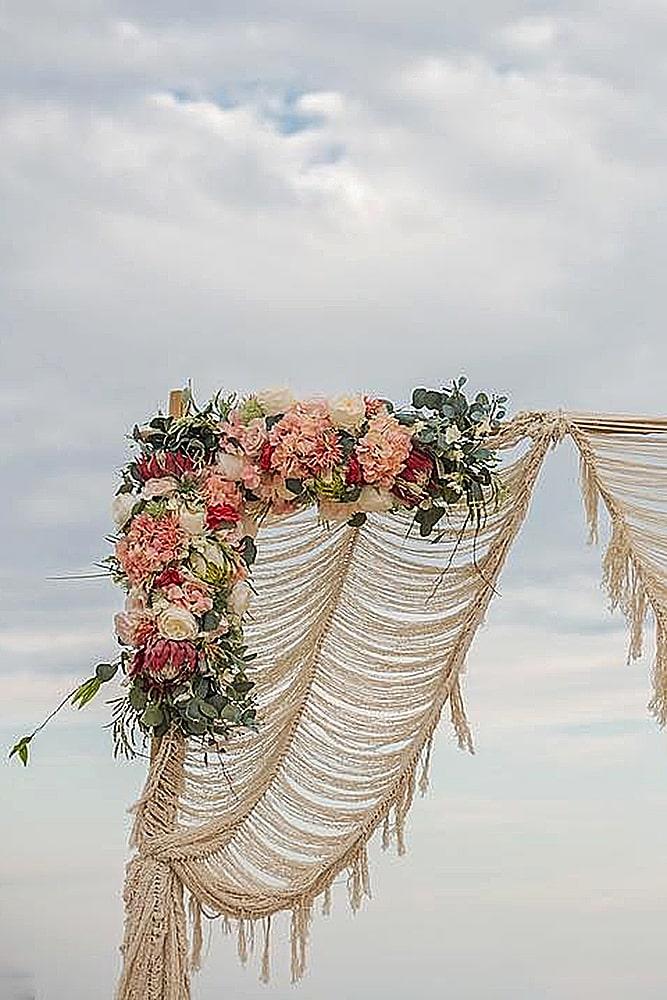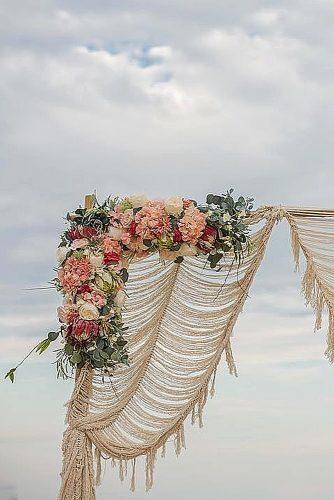 Your ceremony and reception decor aren't limited to macrame. Remember, the Bohemian wedding style is defined by hippy culture and a connection with nature. So dive in and embrace it! Rich textures make a great visual impact for your guests and for your photoshoot. Wrap your centerpieces or create great backdrops with woven designs, and don't be shy about including some feathers.
10. Creative Artsy Themes
Some couples are just creative to the core. They have a love for the arts and an affinity for the creative. Put it to good use by shirking tradition and indulge in your favorite art style. In love with Cubism? Paint your own venue decor and choose a gown with hard lines. Prefer Impressionism, have your photographer turn your wedding album into truly unique pointillism. You really can't go wrong if you're passionate.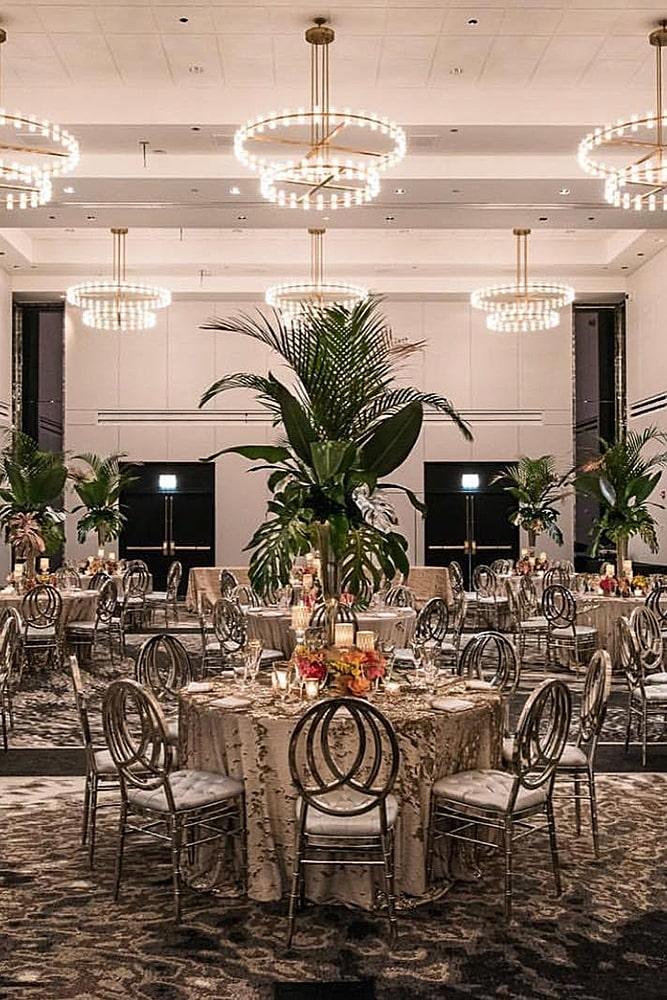 The name – translated from French – comes from the International Exhibition of Modern Decorative and Industrial Arts, and if you're into elaborate designs this wedding theme is definitely for you. This art form took control of the late 20s and early 30s and may be your wedding day come true.
There are still plenty of decorations, furniture, and designs left over from this era, and plenty more artists breathing new life into the style every day. So there's no shortage of inspiration and availability for your big day.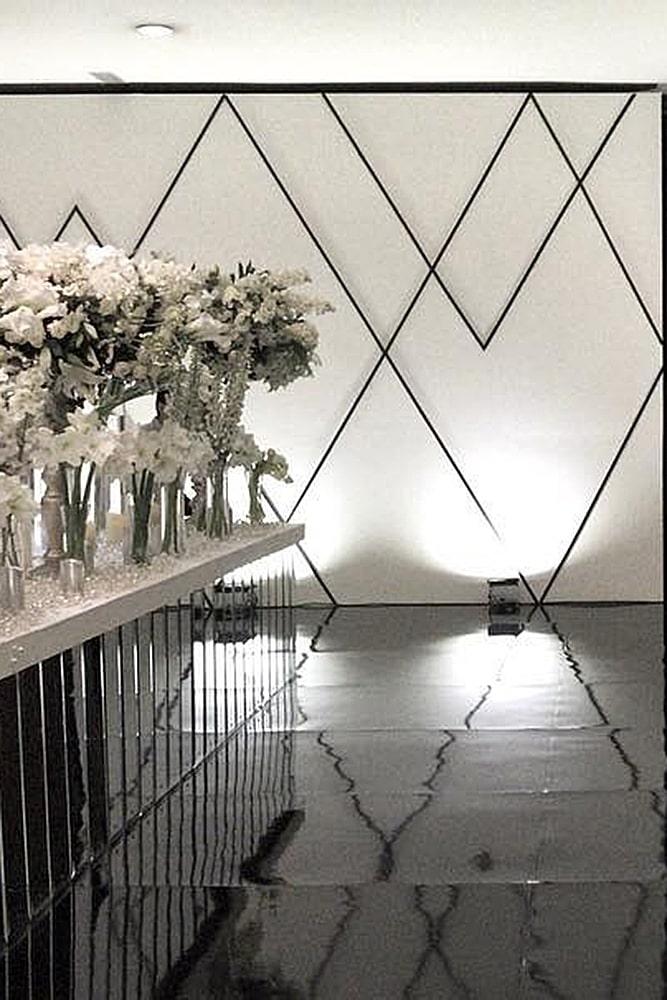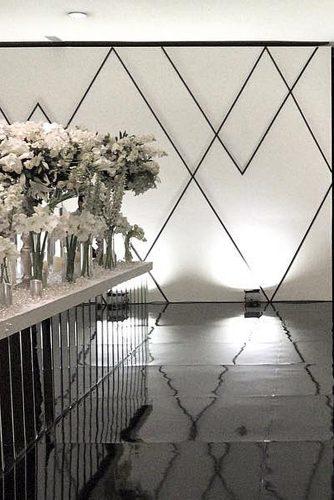 Modern art consciously rejects the values of the past and enthusiastically plunges into unexplored territory. For couples seeking a break from tradition, there are no better creative wedding themes. The best thing about this theme is that nothing really has to match! Feel free to wear a traditional gown with running shoes, or dip your roses in purple paint. Everything works if you're having fun.
Pro Tip: Use the theme as an opportunity to save a few dollars on some DIY. Invite your bridal party over to create some custom Starry Night centerpieces or Jackson Pollock backdrops.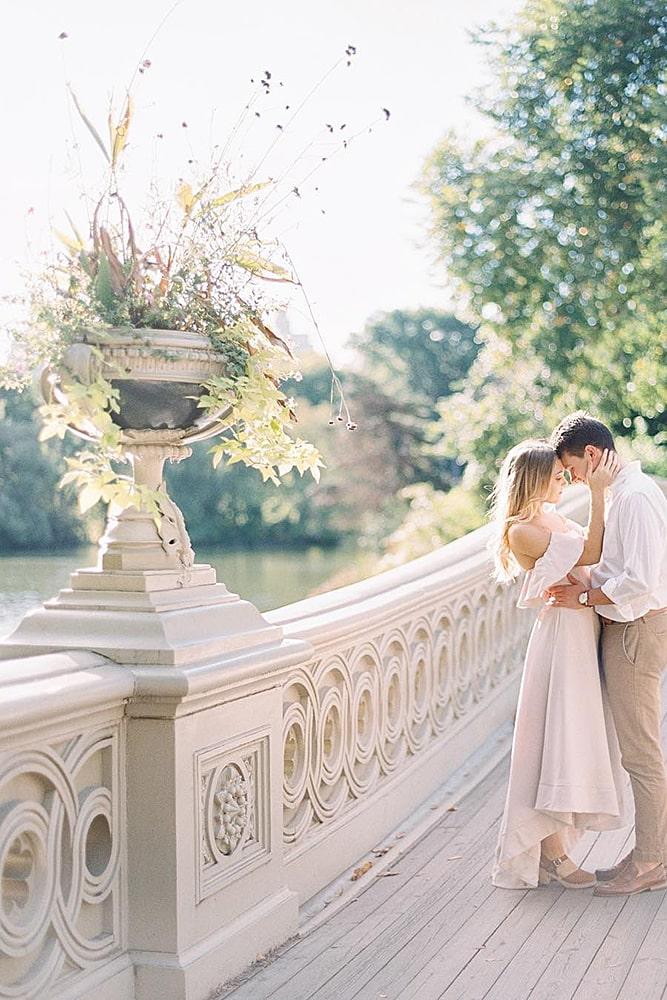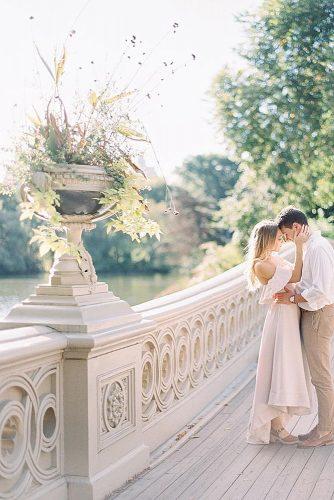 Couples with an inclination for the finer things in life, but still want a step away from a traditional wedding them will adore the beauty that fine art offers. Decorate your venue with classic paintings and sculptures that you and your bridal party create before the big day. OR, ante up and hire living sculptures to adorn your wedding day space. It's not a small expense, but it's your big day and you're worth it.
11. Crazy Themed Weddings
Sometimes geeks are lucky enough to find each other, and their childlike charm is what pulls them together like magnets. Fly your freak flag high and embrace the embarrassing things that make you YOU and inseparable to the one you love.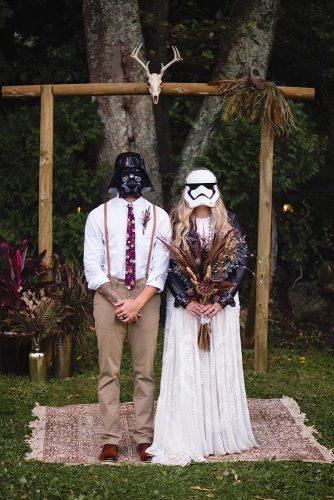 If you're that big of a fan you probably don't need much advice. Hang some glow in the dark lightsabers from the ceiling, walk down to the imperial march, and dance the night away to the Cantina Song. Have your ushers direct your guests to the Dark Side or the Light Side, and have the time of your life. "May the Force be with you".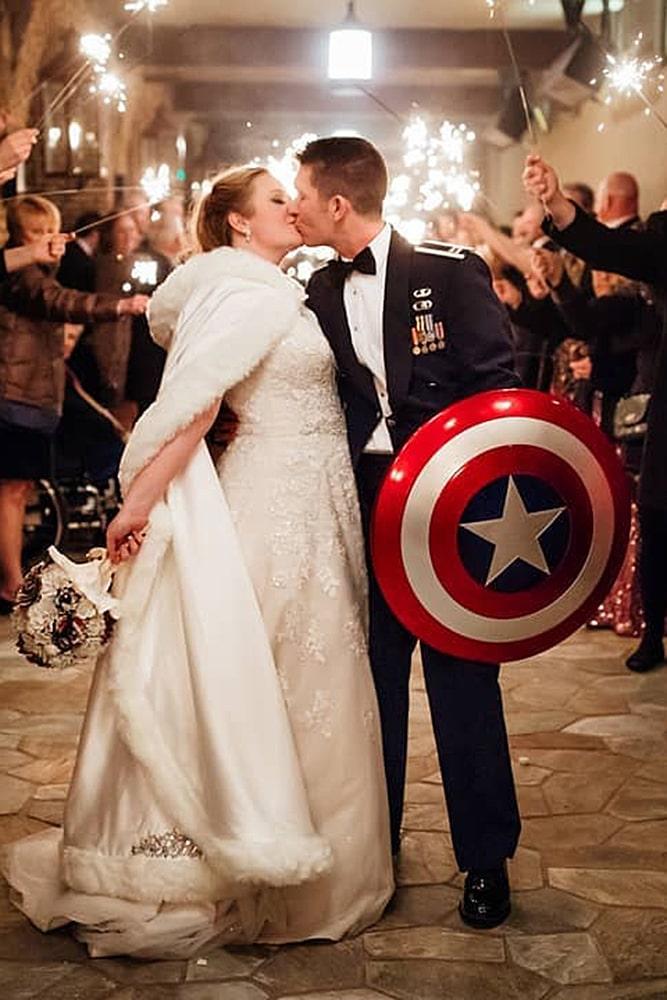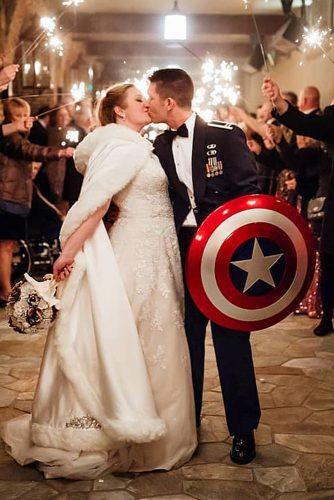 Some people are REALLY into comic books, maybe a little too much for everyday life. But your wedding day is supposed to be the best day of your life, so don't hold back! Hero decor comes easy – liking hanging a Captain America shield on the wall – but when it comes to attire it may be difficult to pull off an official "wedding" look. We suggest the bridal party dawns their favorite hero's emblem under their suit or gown with a big reveal for the photoshoots. Also, make sure to offer up a simple hero/villain mask to your guests.
Pro Tip: Try to avoid mixing DC and Marvel. To the hardcore nerd, it's like wearing white after Labor Day.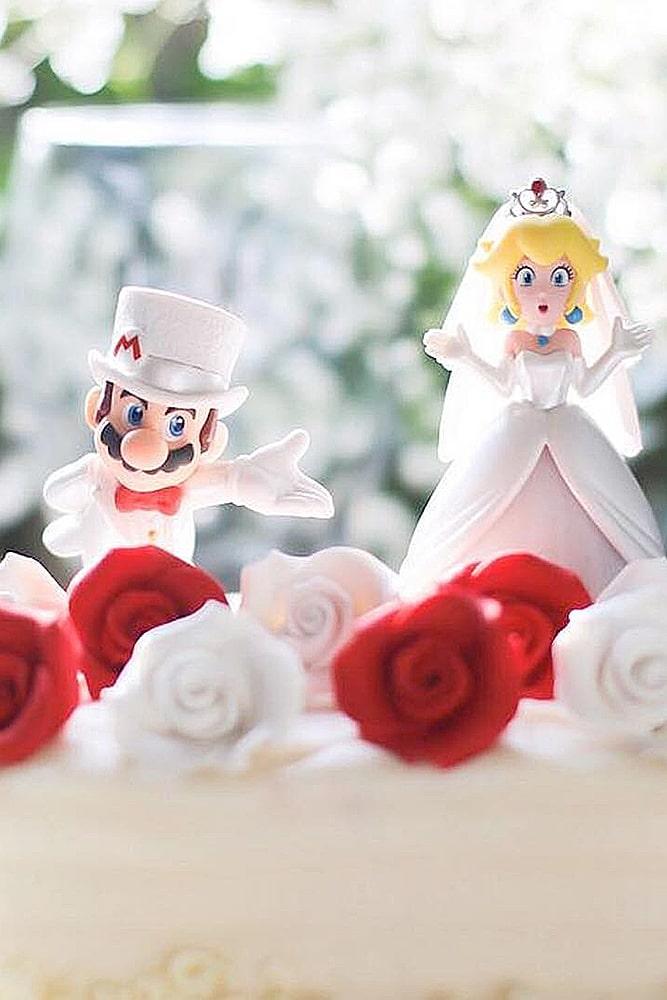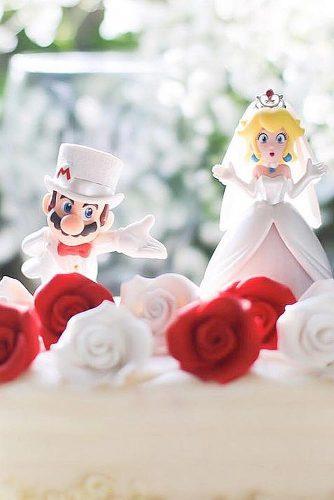 Be honest, even if you're not the biggest gamer in the world this sounds like a ton of fun! Again, you probably don't need a heap of advice if you're already settled on these crazy themed weddings but here are some ideas to get the creative juices flowing.
Link and Zelda wedding cake toppers.
Mario mustache photo booth
Minecraft furniture
Dance Dance Revolution first dance
Maybe it's not traditional, but you'll have the time of your life and start your wedded bliss off on the right foot.
12. Nerdy Fun Wedding Themes
So video games and movies aren't your things, but a traditional wedding isn't quite right and you still want to let your inner child shine through your wedding styles. Be a nerd! Celebrate your passion for incessant learning and worldly culture by displaying it for the world to see on your big day. Here's how.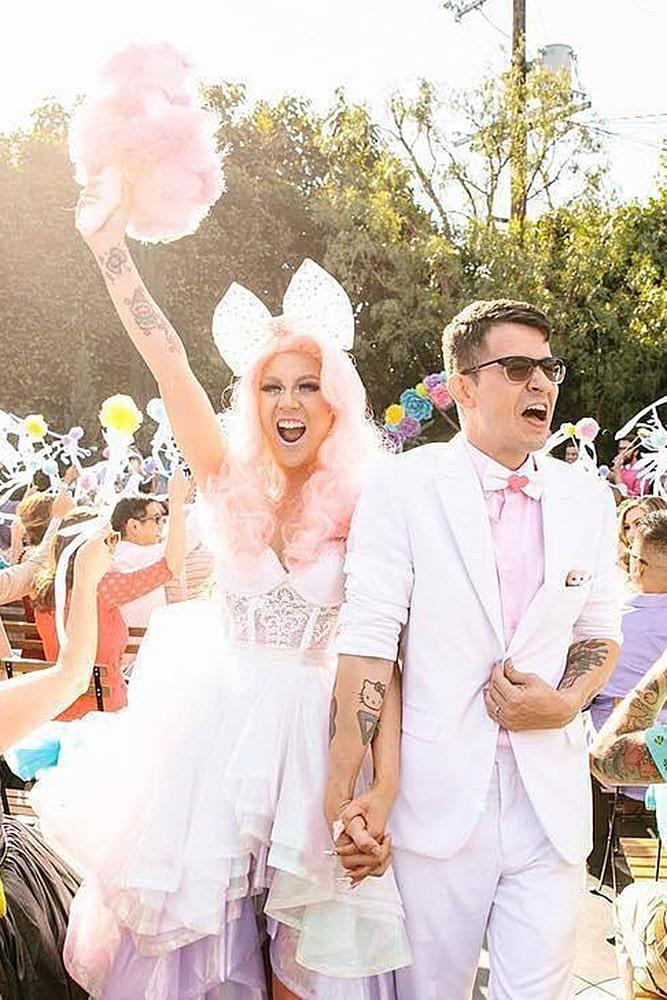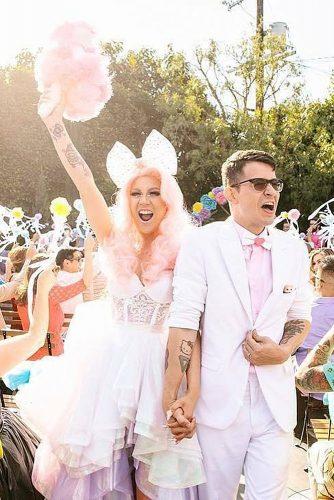 The simplest way to describe Kawaii is a love for Japanese Pop culture. Hello Kitty, Studio Ghibli, Pink and blue hair, and babydoll dresses with oversized bows can make their way into your table toppers, desserts, and J-pop playlists. Swap the bridal gown for a babydoll dress with oversized bow, and add a Mask to the groom's Tuxedo to pull off this look sure to result in a fantastic photo album. Oh, and don't forget the Japanese photobooth!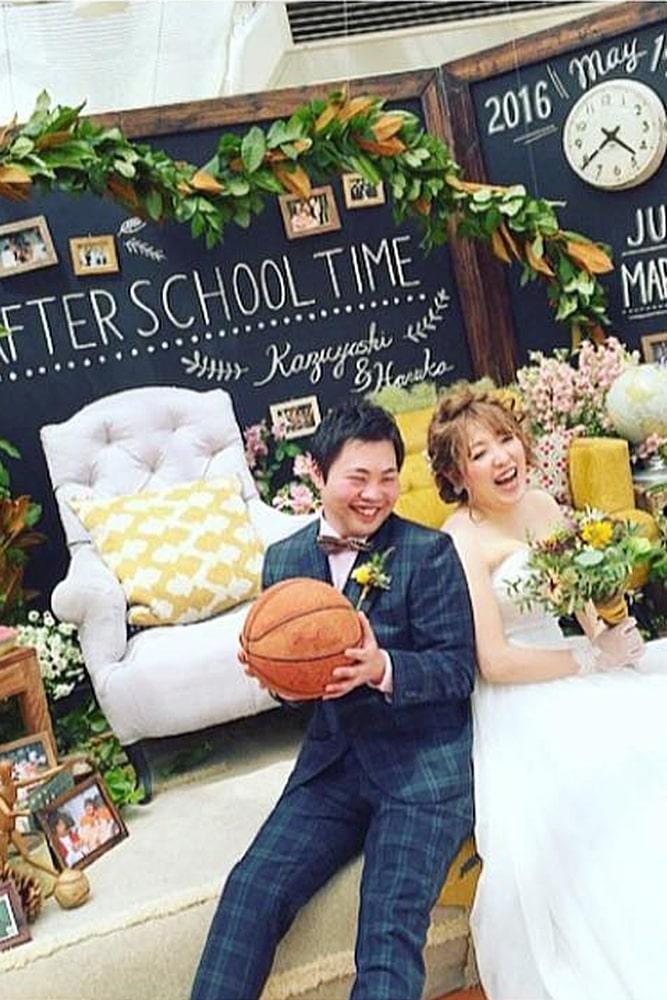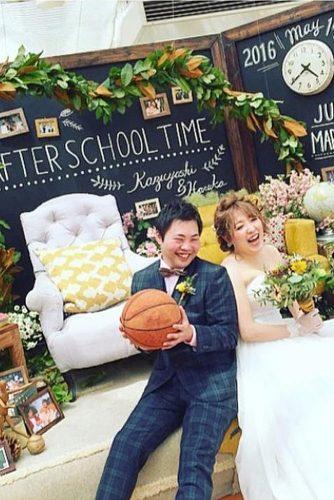 A school was when life was full of potential and the world was your oyster. It was full of friends, socializing, and learning who you really are. Recapture this essence by setting up desks instead of chairs, writing your wedding wishes on a chalkboard, and adorning your venue with pencils and teachers-pet apples. Interrupt the proceedings with a POP-quiz about the couple and decorate the bridal table with notebook-style love letters: TL4E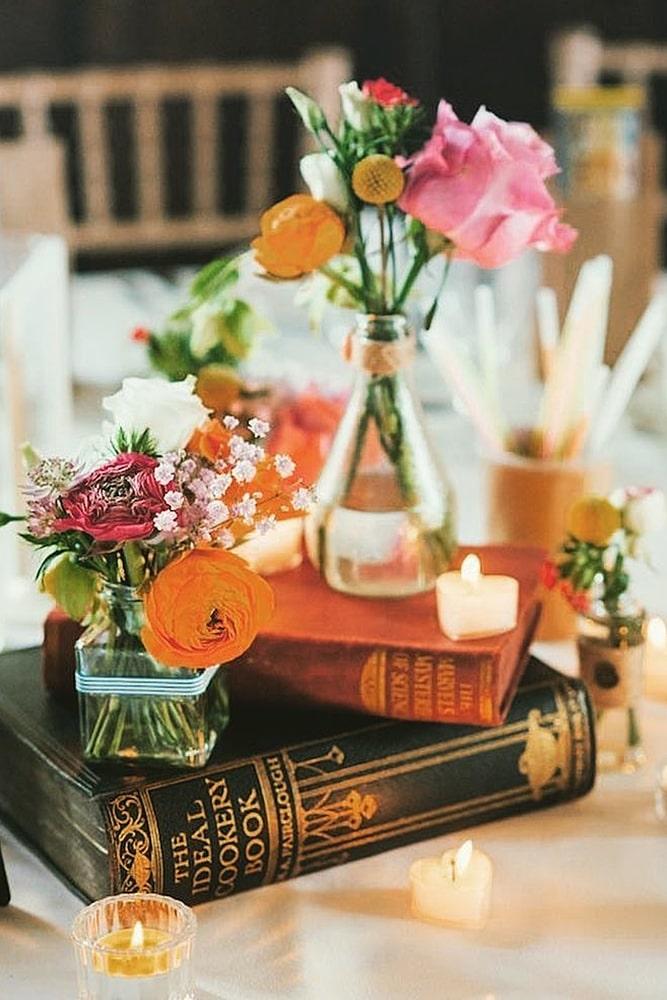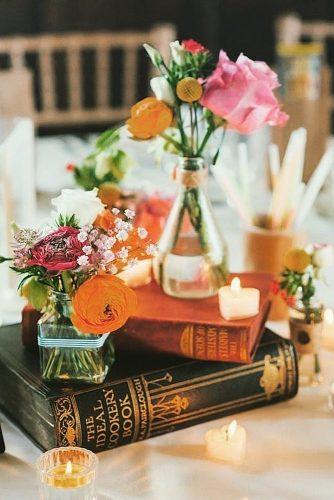 Intelligence is right up there with humor when it comes to attraction, and a healthy passion for the literary arts shows this off in stunning fashion. Celebrate your big day with inspiration from literature's most famous lovers like Romeo & Juliet or Tristan & Isolde. Swap the standard table runner for pages from your fave books.
Pro Tip: Bring your wedding theme to the next level by asking your guests to come dressed as their favorite storybook character. Who wouldn't love Sherlock Holmes as their Best Man??
13. Party Cool Wedding Themes
For those couples that believe a wedding should be a true EVENT, this is a huge step in planning a wedding! This is something that your guests will look forward to. As they attend they'll be hypnotized by all of the sensations, and be taken away with the interactive nature of the evening.
Guests should be well-prepared for an event like this. Make it very clear that they'll need energy and enthusiasm to truly appreciate what's in store.
Also, make sure to provide them with suggestions (with examples) for attire and a basic itinerary for the day/night so that they know how to pace themselves.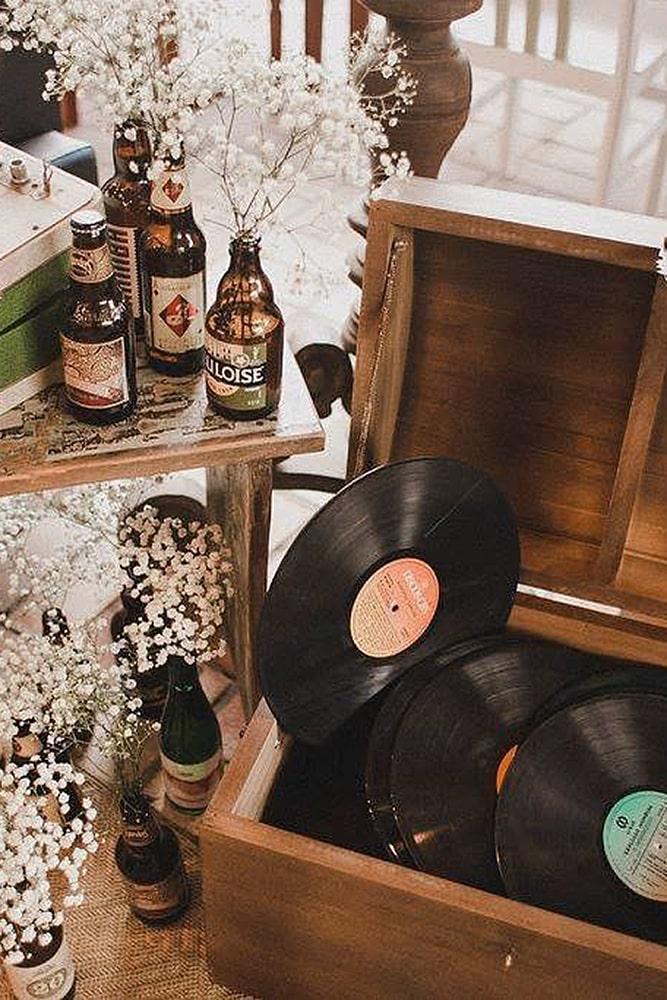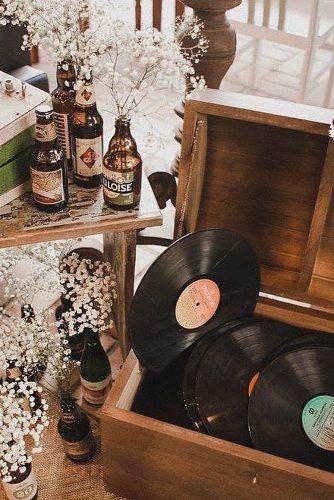 Print your tickets, post your lineup, and treat your guests to the coolest wedding they've ever seen. Anchor your wedding to a rock concert theme and expect a lot of leather, loud music, dancing, and light show. Step it up a notch with some vintage microphone decorations, a glorious pyrotechnics show, and swap cutting the cake with lighting a guitar on fire. Certainly not traditional, but absolutely spectacular!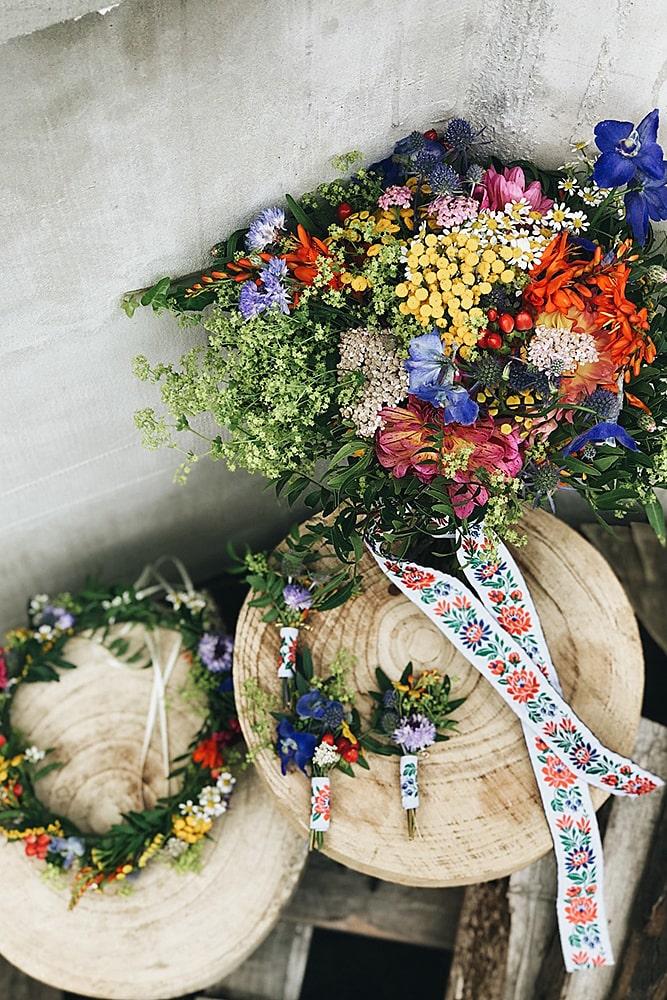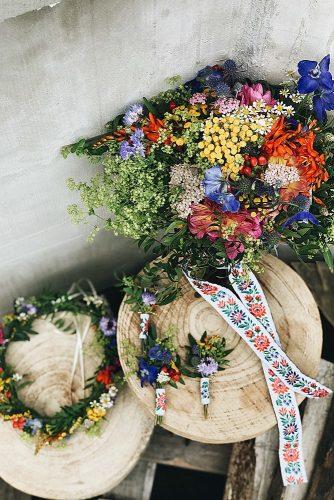 A folklore-based wedding theme has a few options to mix-and-match from. Draw inspiration from Elvish, Celtic, and Pagan customs or combine a few elements. To make it extra special, draw from your own ancestry if you happen to have Druid or Persian (for example) roots. Decorate a church with images of magic and fantasy or, better yet, hold the entire event in a forest for that extra dazzle. To make it authentic make sure to opt for a formal HandFasting ceremony for your I-DOs.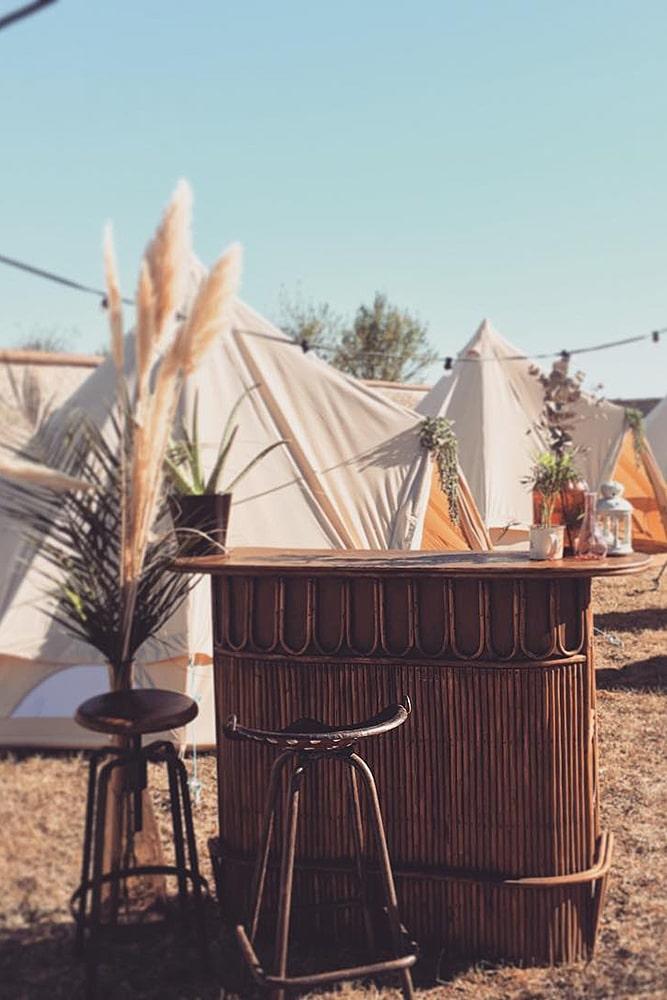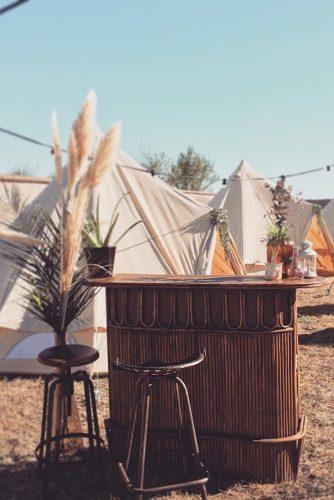 We don't know about you, but we think this is simply one of the best wedding reception styles out there. Proper wedding attire is called for in this lovely outdoor setting. But, instead of oxfords and high heels, rubber boots are in order. No need to worry, today's rubber boots come in tons of cute colors and prints. The best thing of all? The Bride MUST sport an oversized floral crown which you'll love putting together during one of your DIY sessions.
14. Location Wedding Styles
In the mood for a destination wedding but just can't sort out the logistics? Bring the destination to you! Certain cities have a personality of their own, and some of these make for very cool wedding themes. This is your personal choice. If you're constantly dreaming of Hawaii source some palm trees and coconuts. If you get carried away with Tokyo fill your space with futuristic lights or a zen garden. Up next are some fan favorites.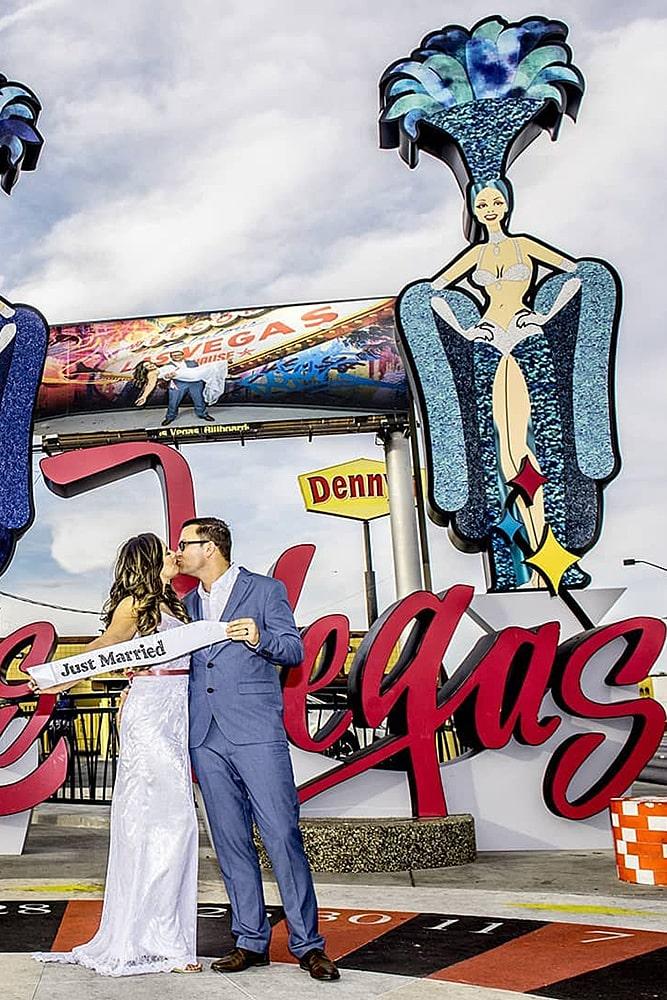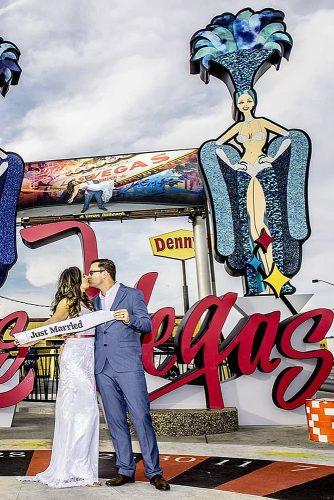 Las Vegas is one of the most recognizable cities in the world and a great way to spend your wedding day. Dressed in black tie, your guests can gamble the night away and listen to a lineup of Rat Pack crooners. Step it up by arranging a burlesque performance and circulate the cigar girls.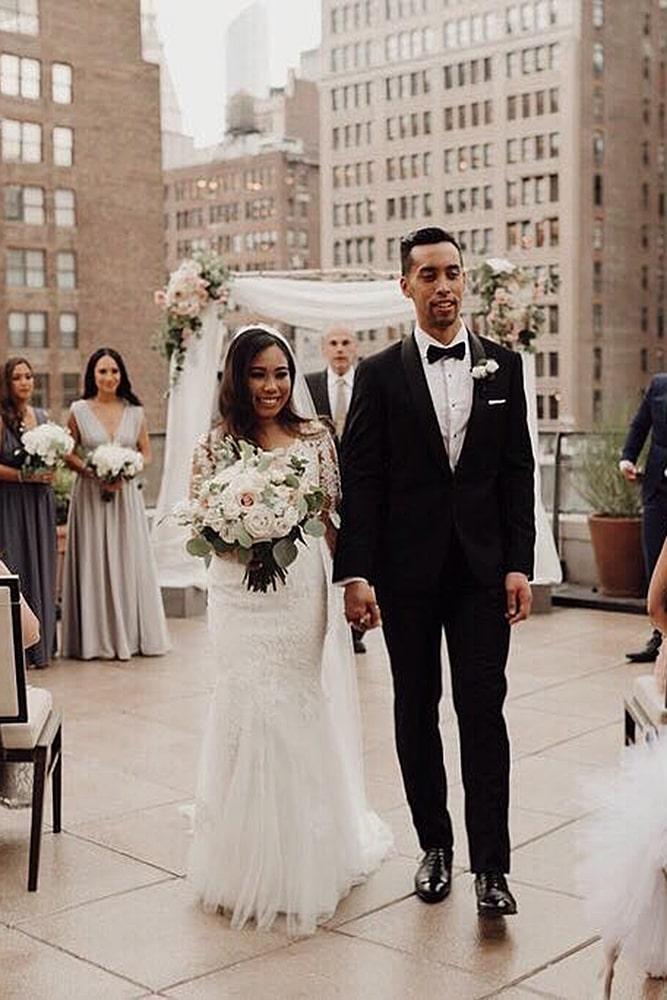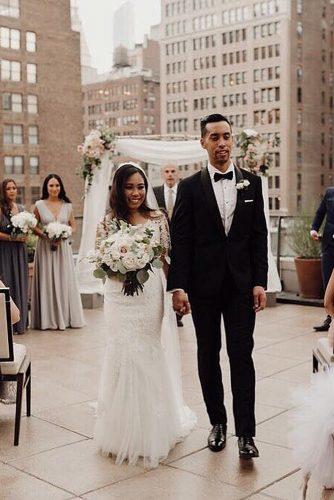 The Big Apple, and the inspiration for so many of our favorite songs. NYC is the destination for many lavish wedding ceremonies, so why not bring it home? The skyline, yellow cabs, and Statue of Liberty will have no trouble finding their way into your decorations. NYC is also the city of high-fashion, so make sure you and your guests bring your A-Game.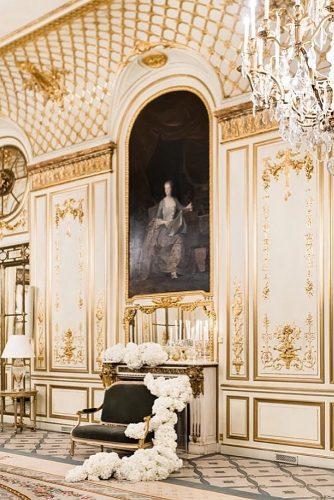 Paris: The City of Light, and the City of Love. Home to centuries of culture, history, art, and…pastries! Add the wine, the champagne, the fashion, and you have a wedding theme that no one can resist.
Pro Tip: Mashup this theme with another theme from above to add another layer of OMG. 1950's Paris or Winery Wedding Paris would be an event for the ages.
15. Fairy Tale Cute Wedding Themes
Hands up: Who out there sees their wedding as Happily Ever After? We all did at one time, and those of us lucky enough to hold onto that feeling is in for the night of their life. Take a queue from Cinderella & Snow White and show off your Prince Charming as you strut your stuff in the biggest most beautiful gown anyone has ever seen.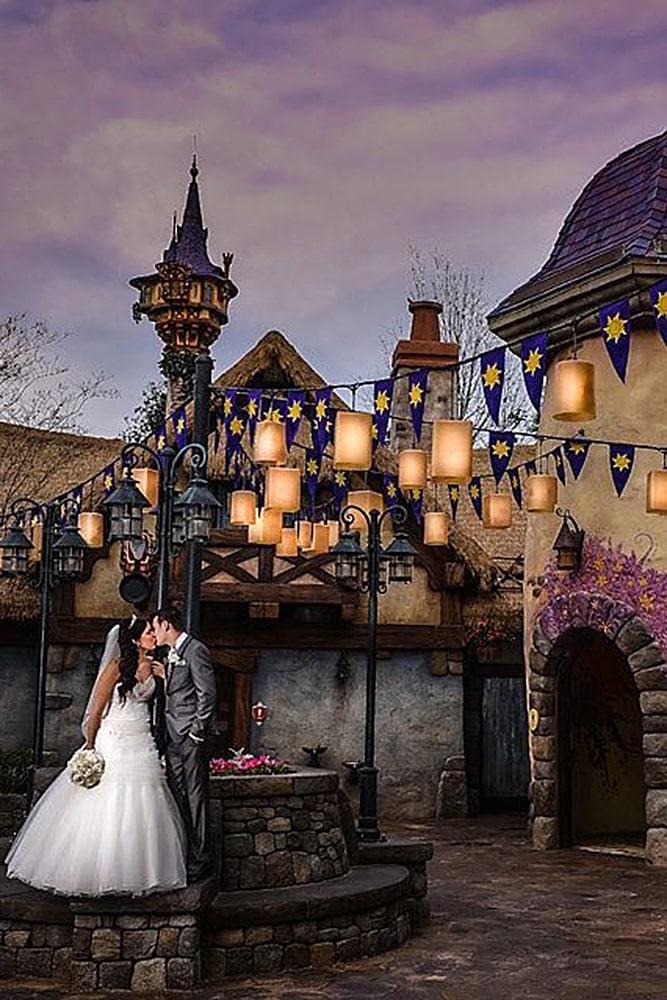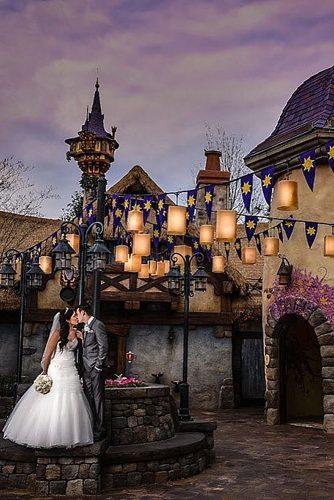 Disney films are mostly (if not entirely) responsible for this sentiment that we've carried with us since we were kids. You can mix between all of the various scenes we've seen throughout our lives, or take your pick of almost a dozen iconic princesses/marriages.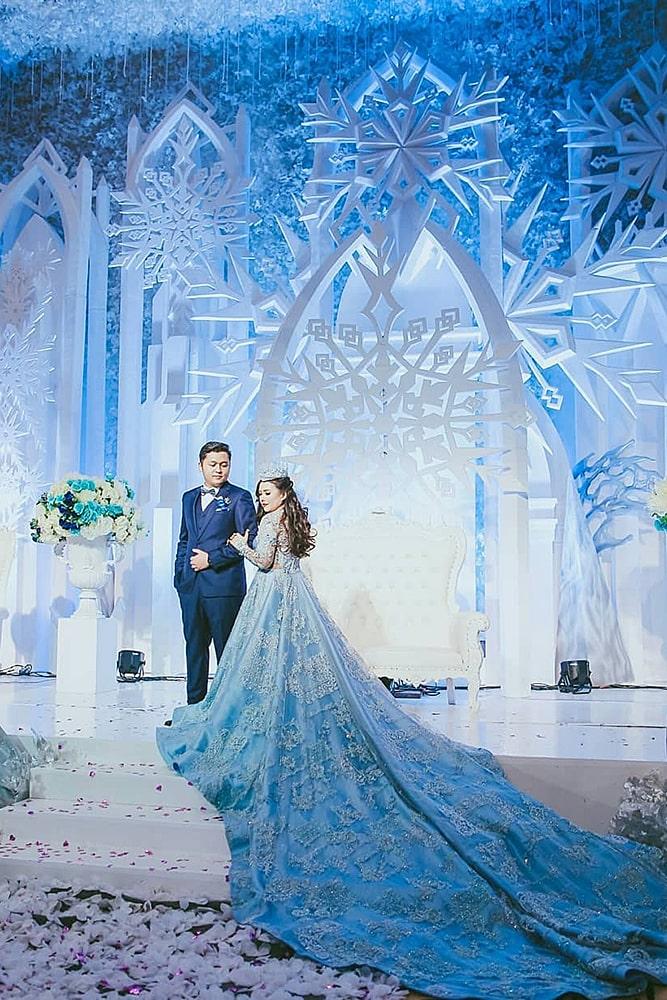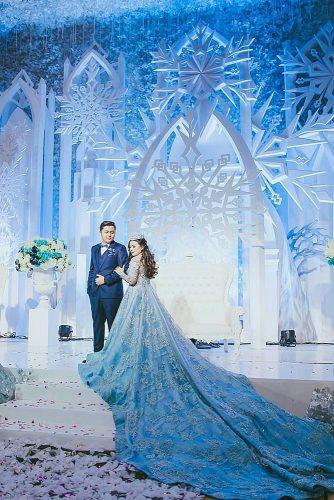 Frozen is one of the more modern (and highly popular!) Disney princesses, and pure joy to pull off. Set the stage with soft blues, sheers, and icicle ornamentation. Serve up cool treats like snow cones, and maintain Happily Ever After ambiance all night long with a frost (dry ice) machine.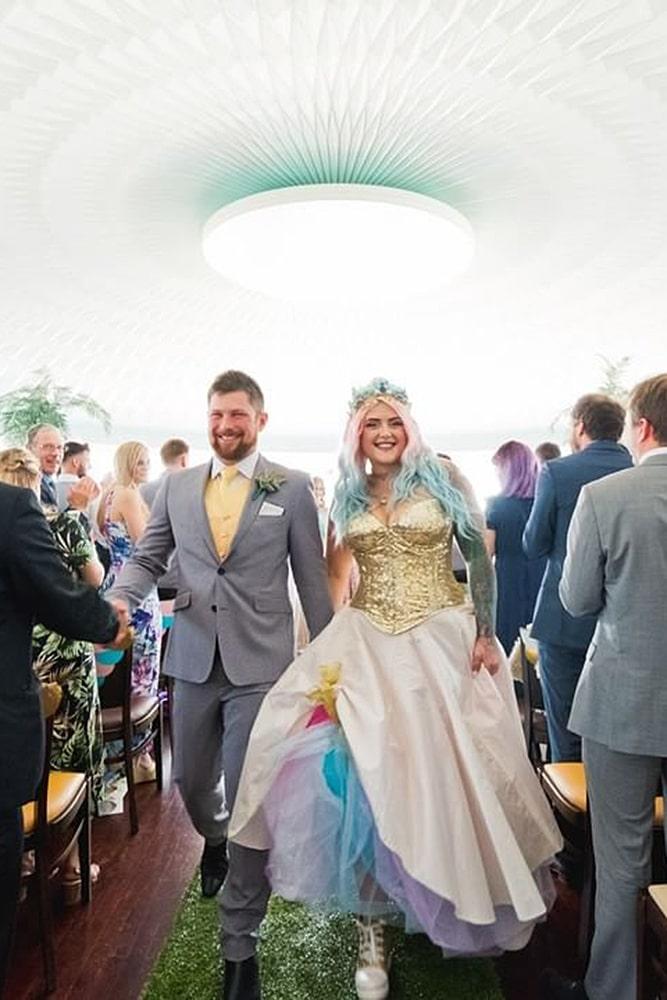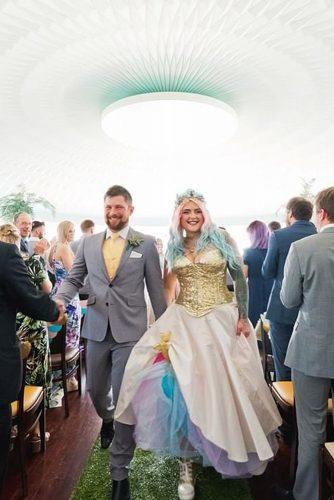 If you are looking for a solid excuse to wear a mermaid cut wedding dress, there's no better reason than a Little Mermaid wedding theme. Call the dress code as "aqua", hire a tin drum band, and set loose the bubble machine to arrange a delightful wedding theme that will really make you stand out.
16. Whimsical Modern Wedding Themes
So maybe you don't want to feature wizards and wants at your wedding, but you do want it to be magical. Take the ordinary and make it extraordinary. Overdo your use of plants and nature. Oversize your flowers and balloons. Over-indulge in your sense of reality, and live life the way you deserve.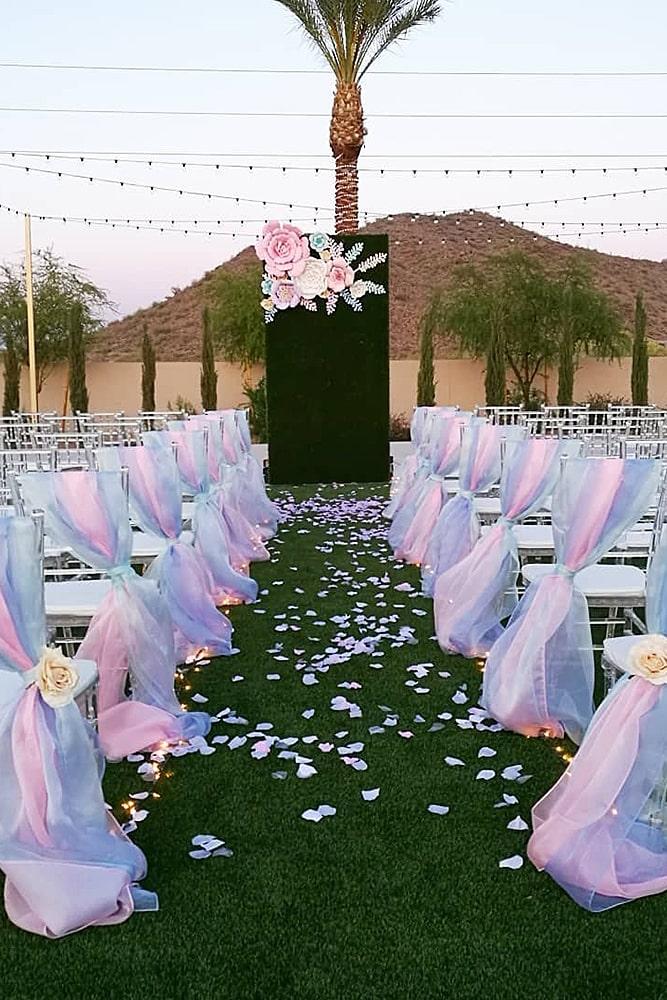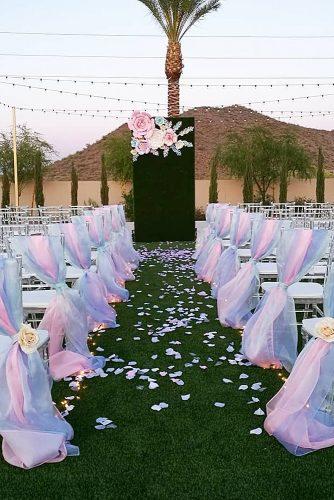 Gradient pinks and blues are the calling card of a unicorn theme. Make sure that this is consistent through your event decor and bridal party attire to tie the evening together. Add some unicorn figurines as table toppers, and maybe a horn sticking out from the cupcakes. Most importantly, rent a white horse for the day. Apply a convincing horn and have the best photoshoot of your life.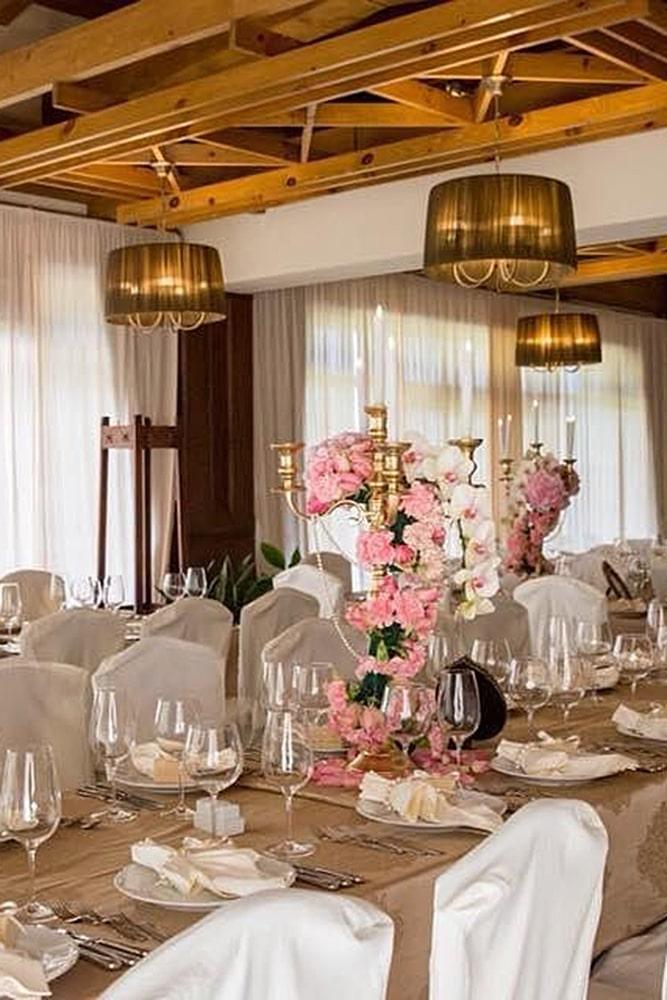 You ever hear someone say "I feel like a Million bucks"? Well, that's how you should feel on your big day. If you want to do this literally there's no better way than to surround yourself with glitter and gold. This can be simple and classy with stark whites accented with gold. Or, it can make King Midas jealous with gold draped from ceiling to floor. You decide how much to sparkle.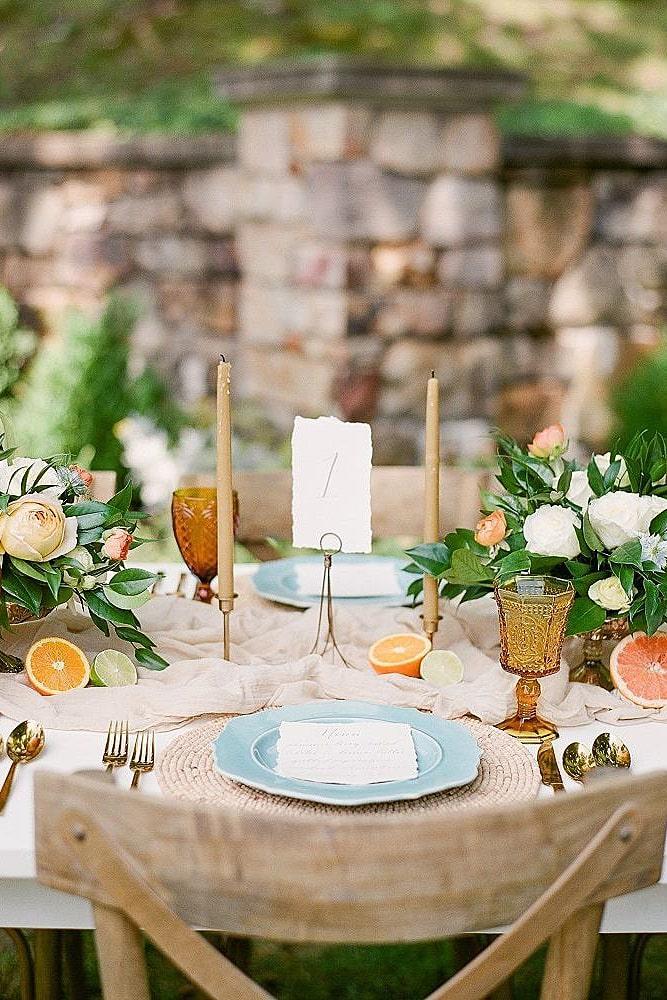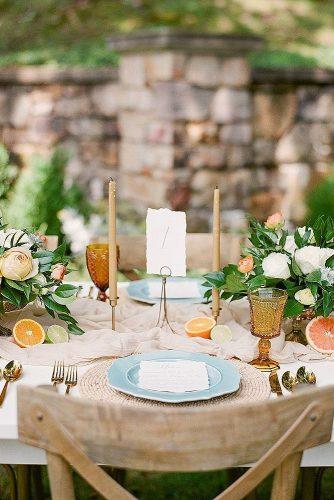 Citrus makes a beautiful color scheme. Lemon yellow, tangerine orange, and lime green look at home next to each other, and create a soft look that conjures a smile and sense of wellbeing. Carry this sentiment throughout your ceremony and reception to start your happily ever after off on a peaceful yet vivacious foot.
17. Alternative Wedding Themes
Avant-Garde. Counterculture. Fringe. No matter which way you say it, it means intentionally outside of "normal". If the thought of a traditional wedding makes you cringe, don't compromise. Gather your group of zombies. summon the spirits of your ancestors, or rock your best steampunk goggles. Whatever you choose, dive in with a whole heart and refuse to be anyone but you. We both know that just because you may not have any desire to star in the next Disney movie doesn't mean you're not a princess in your own right.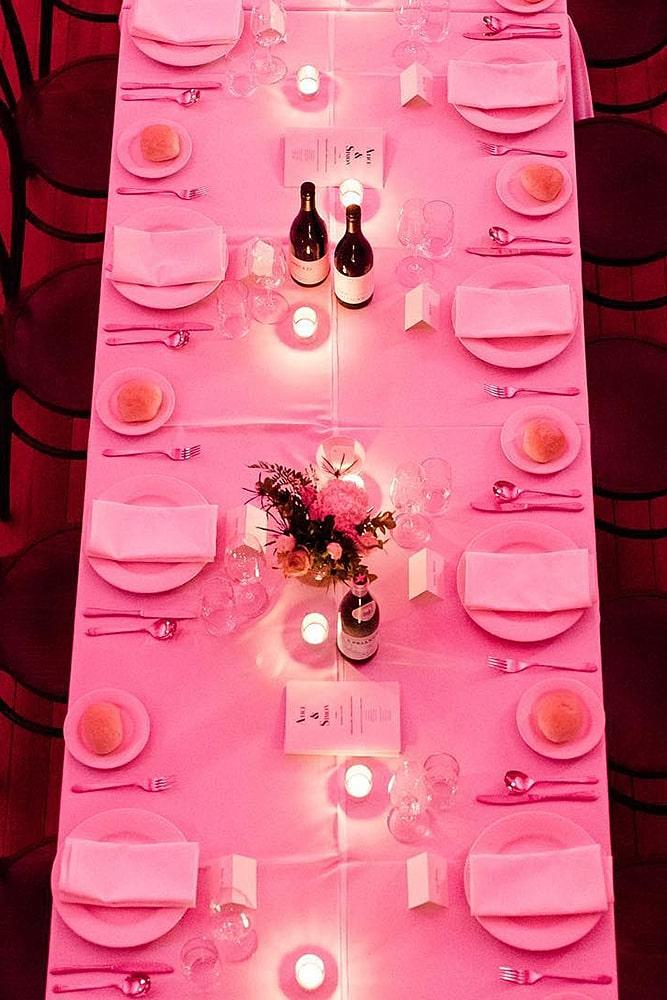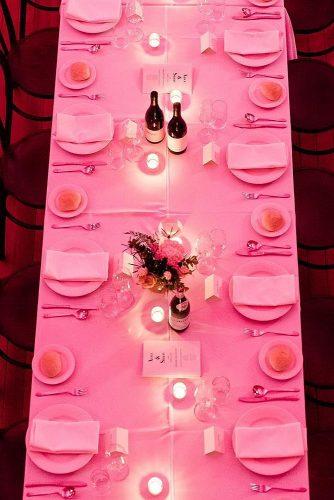 Great big hairsprayed hair, way too much makeup, and tight leather pants. Now that we know what the Groom is wearing it's time to tend to the rest of the affair. Spray Paint the backdrop neon, and bust out the bandanas and leopard print. It's impossible not to grin from ear to ear when Glam Rock is leading the party.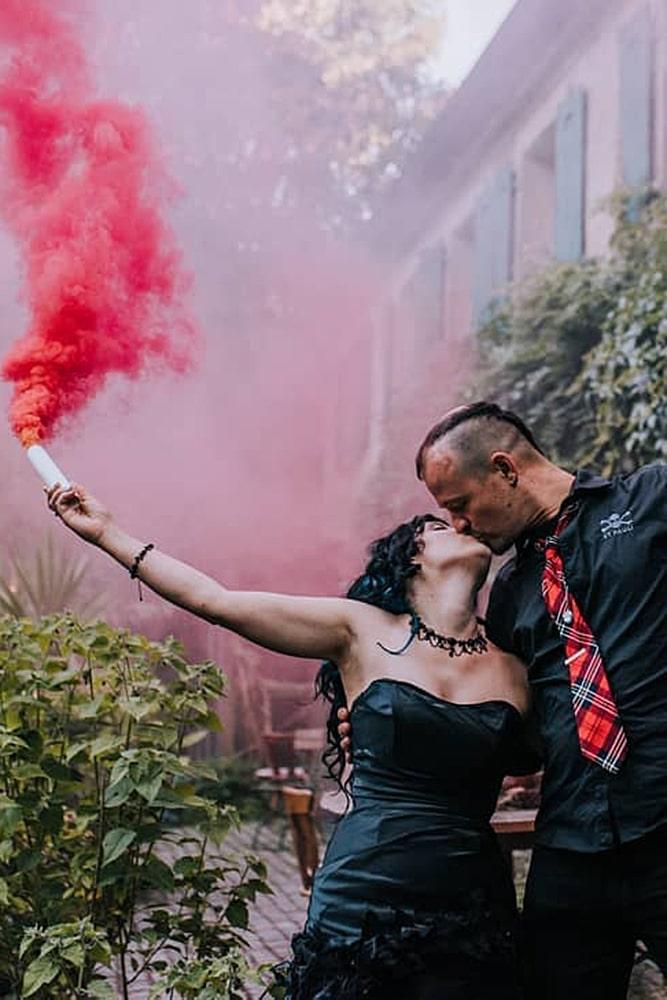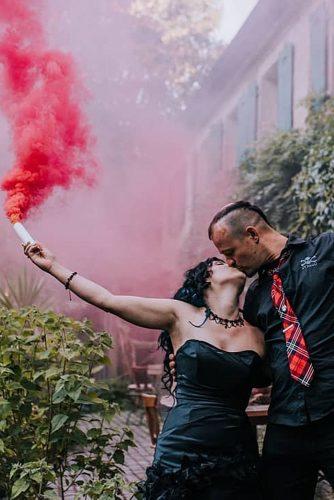 Punk rock is an unmistakable style that fits amazingly well into a wedding theme and photo shoot. The rugged exterior of leather and kilts, mohawks and army boots against the soft sentiment of true love's kiss is a beautiful thing that will melt anyone's heart.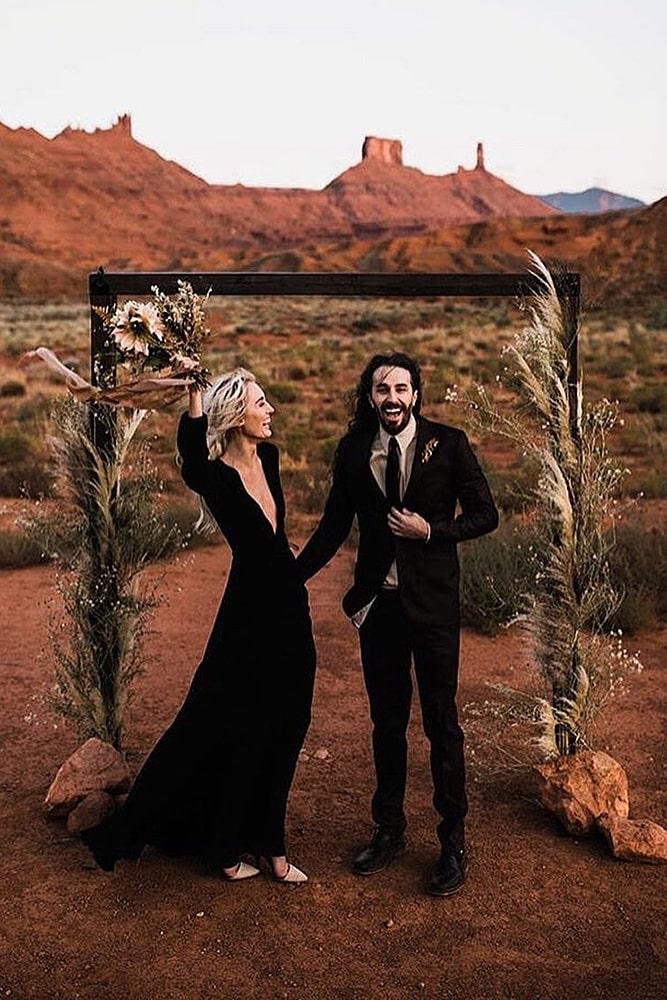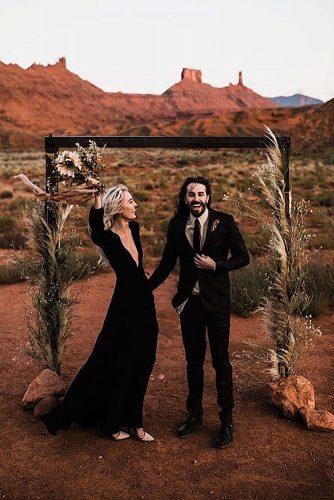 Goth is romantic by nature. It's a callback to the 14th to 15th Century period when art and architecture shed formality and focused on emotion. Back then "Gothic" was an insult meant to mean unrefined. Today's goth takes that as a compliment and is most commonly represented by black and dark red fabrics. Take any measure of both definitions and embrace the different.
18. Organic Theme
For the love of nature, and everything about the planet, an organic themed wedding could be a divine choice. A couple who hold eco-friendliness and saving the planet close to their heart, this would be a very apt theme to go with. A really interesting theme to work with for a wedding, an organic themed event will naturally be filled with greenery as well as energy-saving appliances and biodegradable products. While all of this might not sound like much fun, an organic theme could be really interesting to plan for all types of wedding.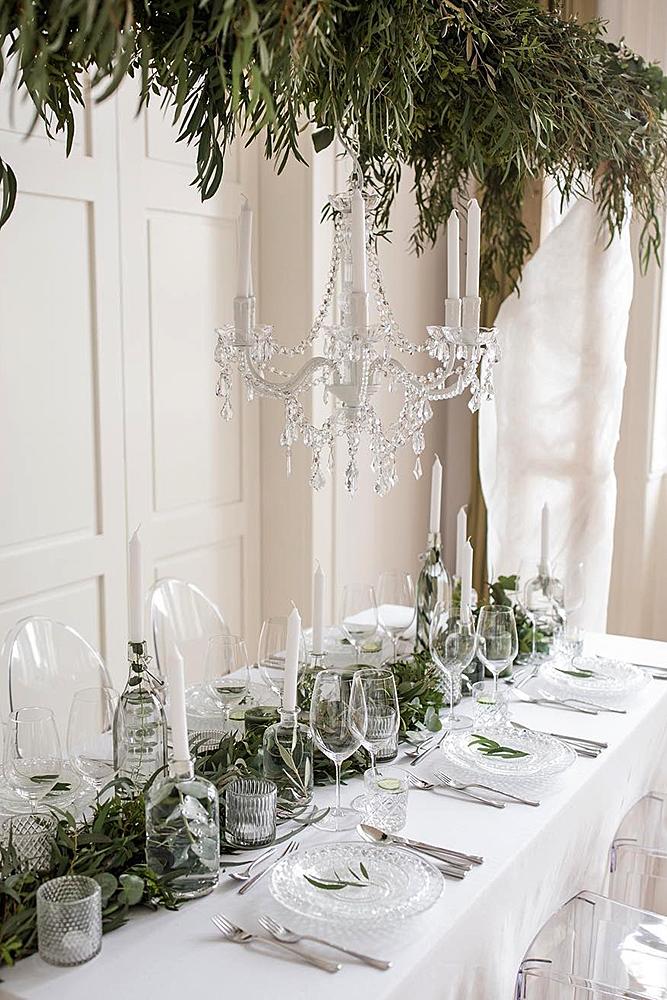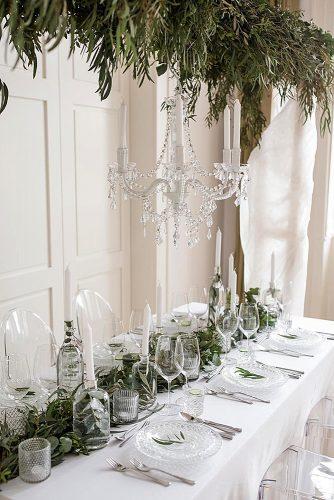 Couples in love with natural elements or even toying with the idea of Indian wedding themes would enjoy some greenery at their wedding. This could be incorporated into an indoor or an outdoor wedding. Botanical details and monofloral arrangements, green and fresh natural elements to create a simple elegance.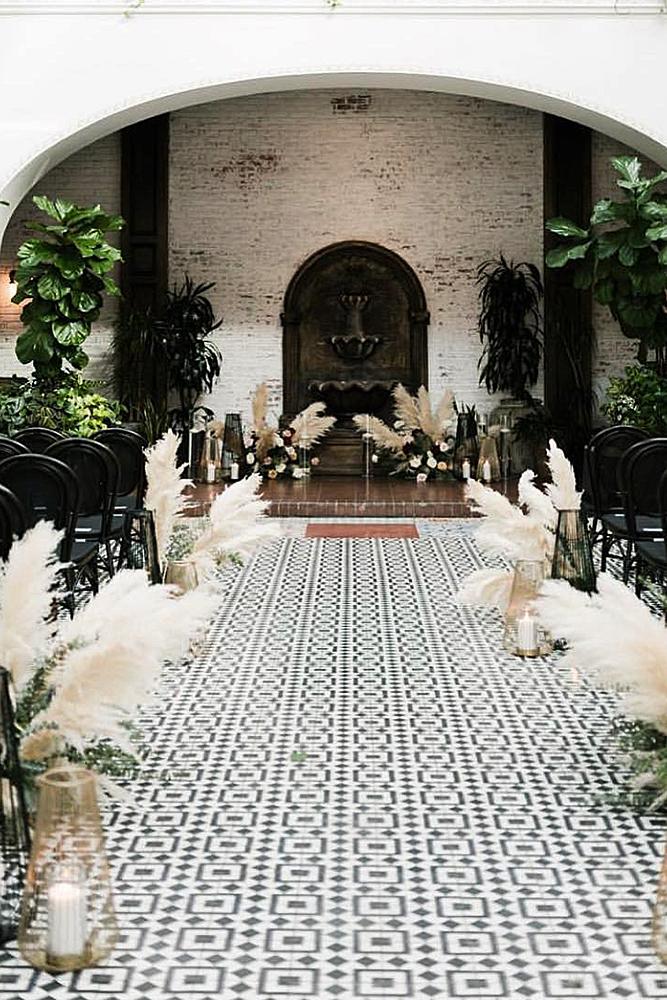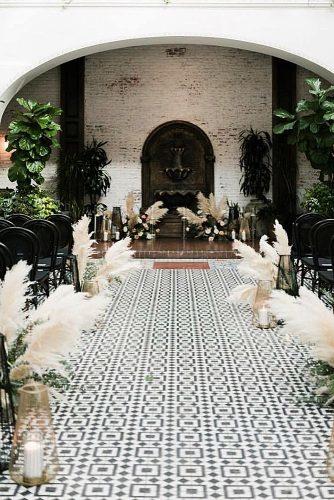 For a couple having a spring or fall wedding, pampas grass could be great for the décor and overall organic theme. This new trend introduces the long feathery plumes of the pampas grass in all its golden and pink glory to the wedding decorations themes. Both organic and neutral; just a few stalks in a vase used as a center or corner pieces, can change your entire set and introduce a lovely and yet calm texture.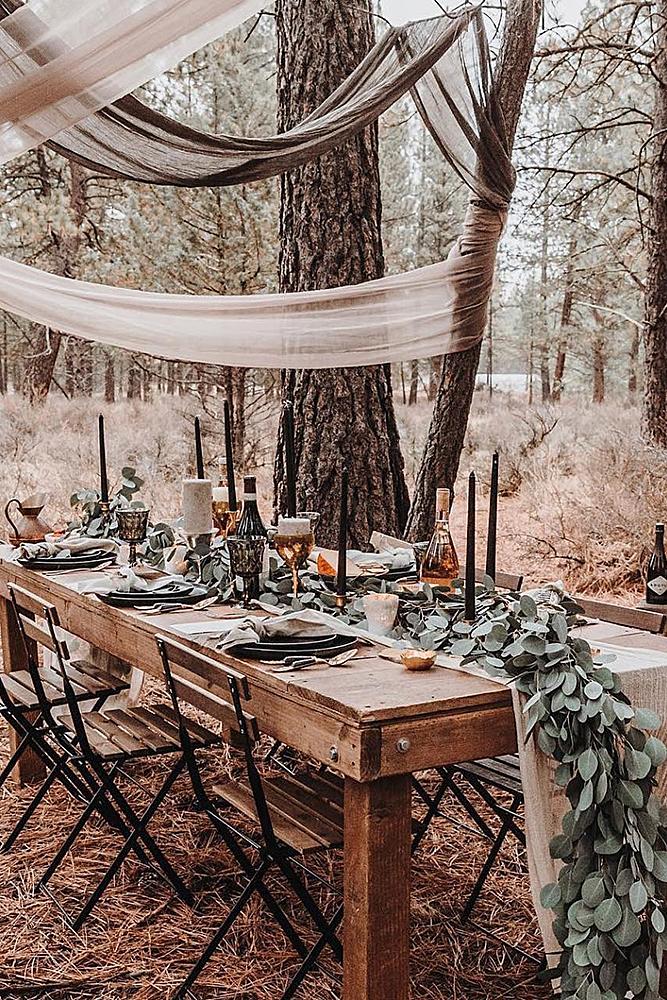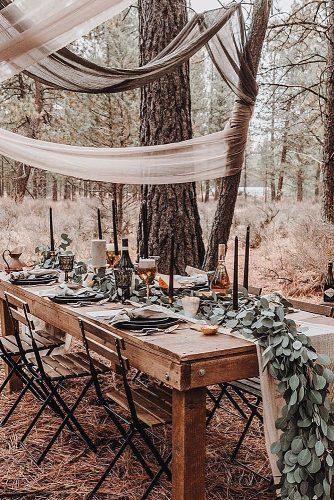 A woodland theme can be both enchanting and beautiful. A truly magical theme for a breathtaking wedding. Couples tending towards a bohemian lifestyle would love the rustic otherworld feel that comes with a woodland theme. Wood slab chairs, towering trees and lush greenery, a cake adorned with nuts, berries, and leaves as well wooden signs are all elements you can expect at a woodland themed wedding.
19. Glamorous Wedding
Being the bride or the groom at a wedding gives you celebrity status for the day whether you are actually a celebrity or not. Some words to describe glamorously are jaw-dropping and over the top. So if you're the type of couple who love the red carpet and would like to wow guests, glamorous and classy wedding themes would be the right fit for you.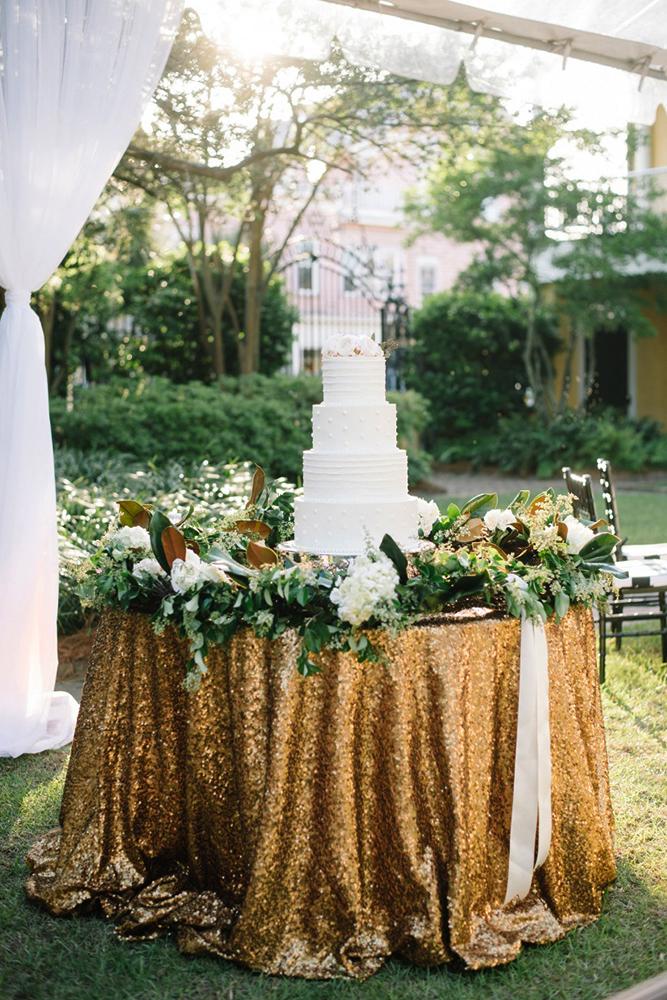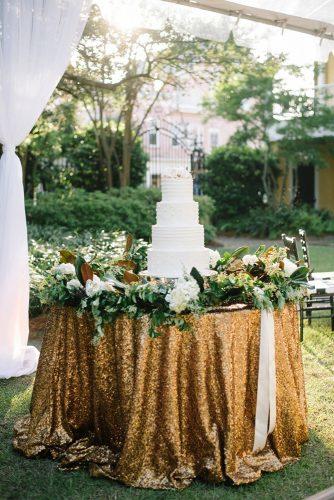 Metallic details create just the amount of shine and oomph that a glamorous wedding dictates. Metallics are dazzling, captivating, and depict luxury. What is glamour without luxury? With a glamorous theme, you either go big or go home. So, think metallic detailing when you're considering centerpieces, colors, tablecloths, general wedding table theme, chandeliers, and even chairs.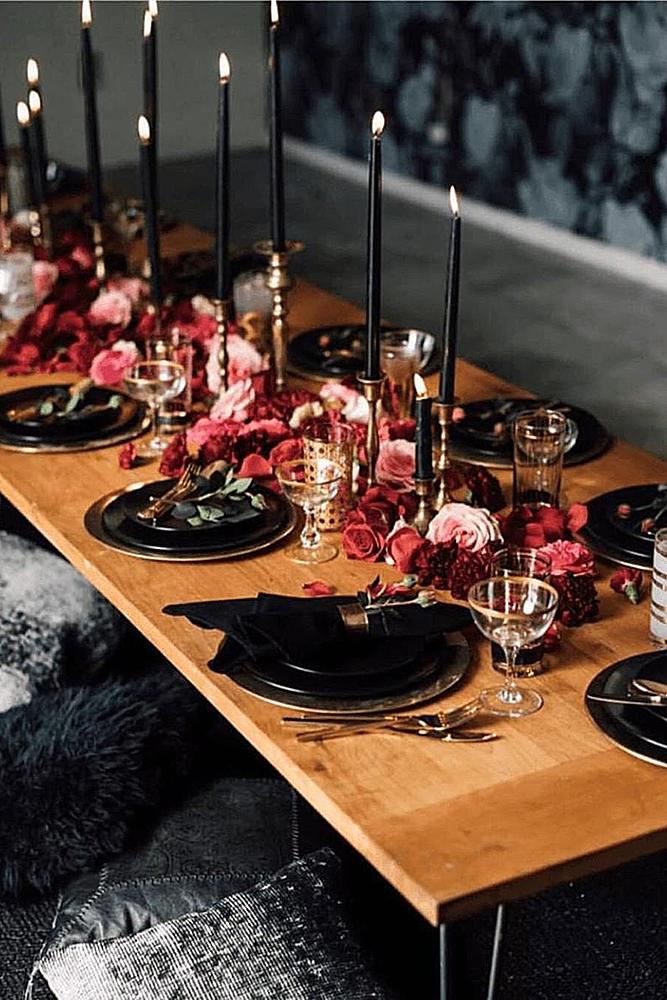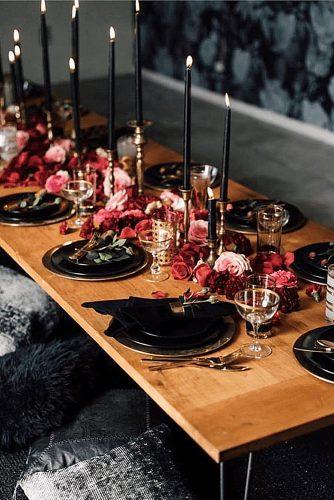 A glamorous wedding theme spells chic and vibrant at the same time. You're going to want colors which can set the mood; monochromatic colors make a great backdrop for glamour, from hot hues to sultry jewel tones. Intimate mood lighting can be created with candles alongside the centerpieces on the tables, or each table could have a vintage glamour theme of its own.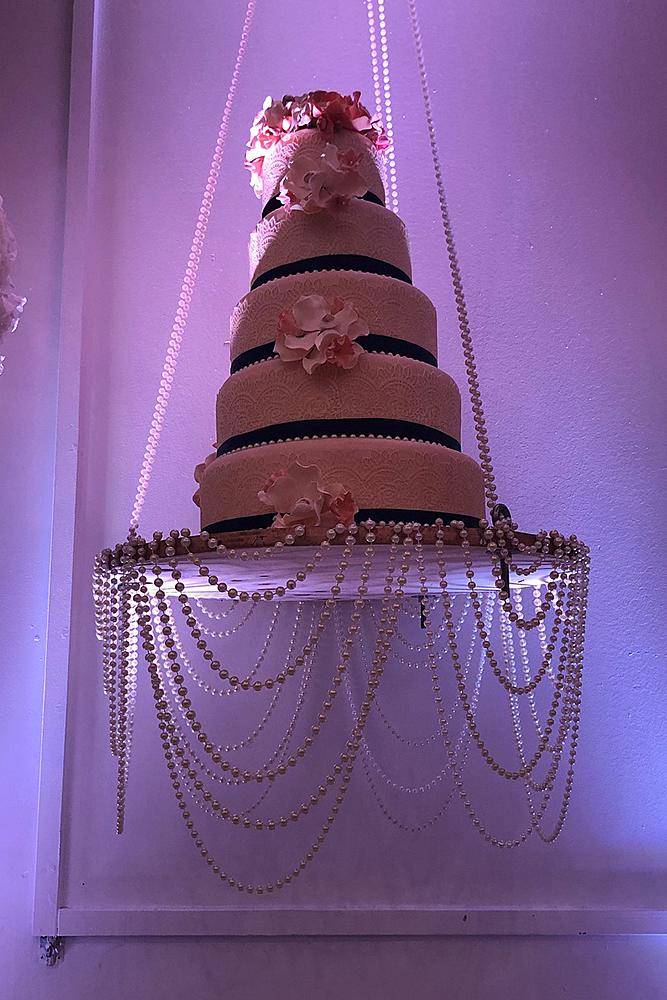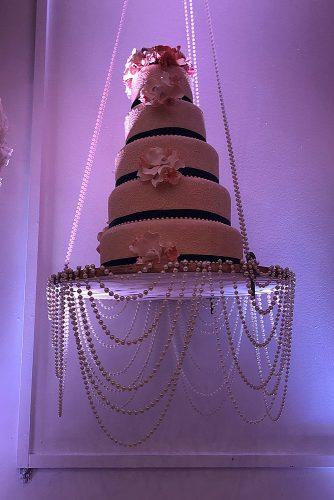 For that vintage, glamorous and yet dreamy wedding, you're going to not want to forget to include pearl décor. This is for the couple with class and style. An ivory white bridal bouquet with pearl detailing, floating pearl centerpieces and pearl pew bows on beautiful white tulle, wedding napkin rings strung with huge pearls and sparkly burgundy balloons. These and many others are the kinds of pearl décor that would adorn a glamorous wedding.
20. Geometric Wedding Theme
For a truly contemporary and modern couple who love adore their clean lines and keeping colors separate, wondering, what should my wedding theme be? A geometric themed wedding might just be a perfect choice. There are numerous ways to achieving this clean and perfect finish in your wedding décor and even personal styles. This would include bright colors, the incorporation of geometric shapes into the environment, and edgy monochromatic designs.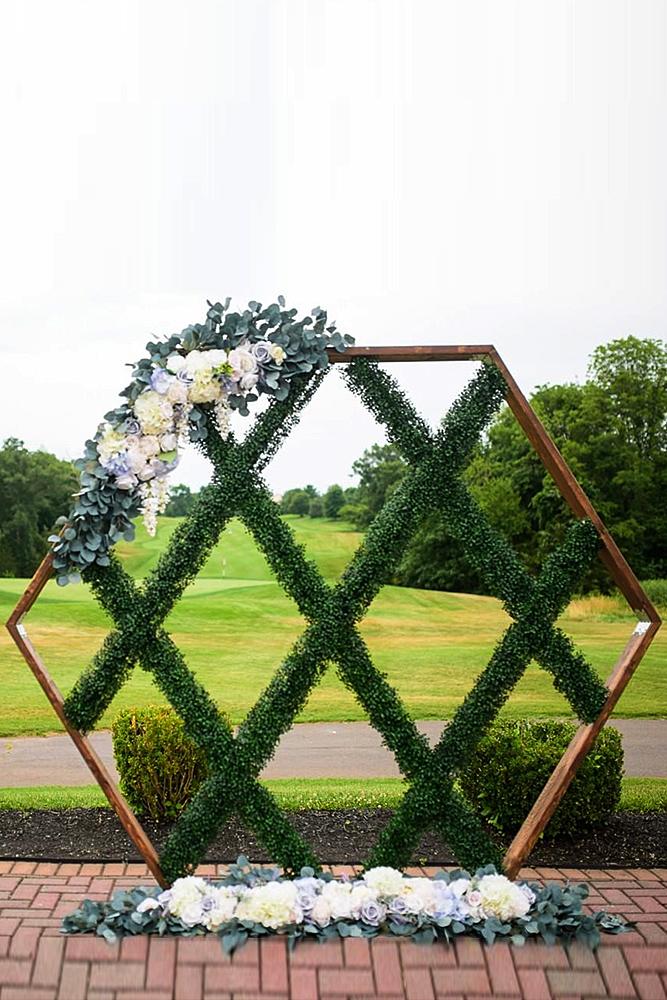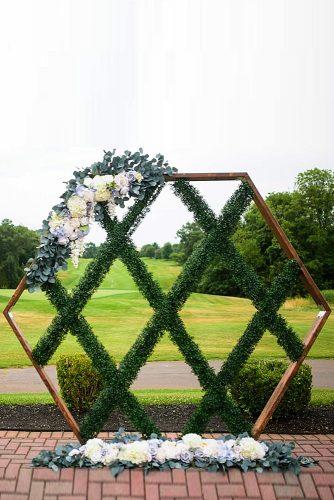 Geometric shaped hanging installations intertwined with flowers produce a simple, yet chic effect. Flowers used for centerpieces and even the bridal bouquet can be layered to produce a distinct shape, and bright or pastel colors should be carefully chosen to fit the theme. The ceremony backdrop should definitely fit the geometric wedding theme in geometric shape or shapes, which can be enhanced with strategically placed or draped flowers.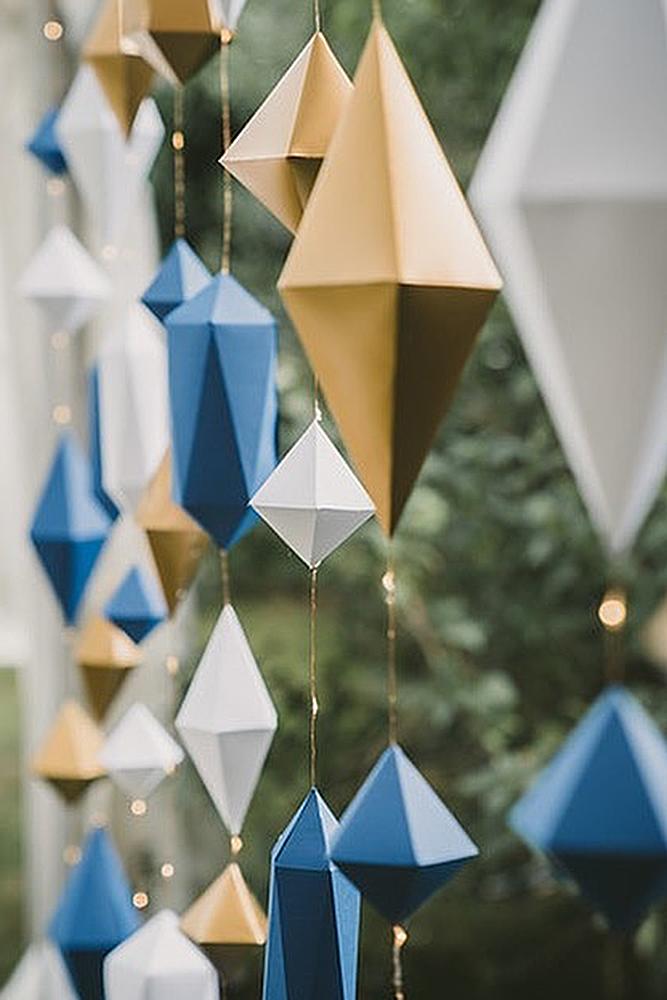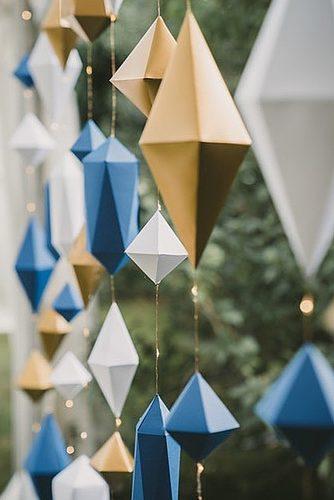 When thinking colors for a geometric themed wedding, think contrast. There has to be contrasted to highlight the shapes and give an overall clean look to the décor. Deep purple against a stark white background, gold and brown against off-white, deep green against clear glass or silver, and burgundy against pale pink. Color plays a prominent role in creating that geometric look.
Himmeli and Terrarium Decor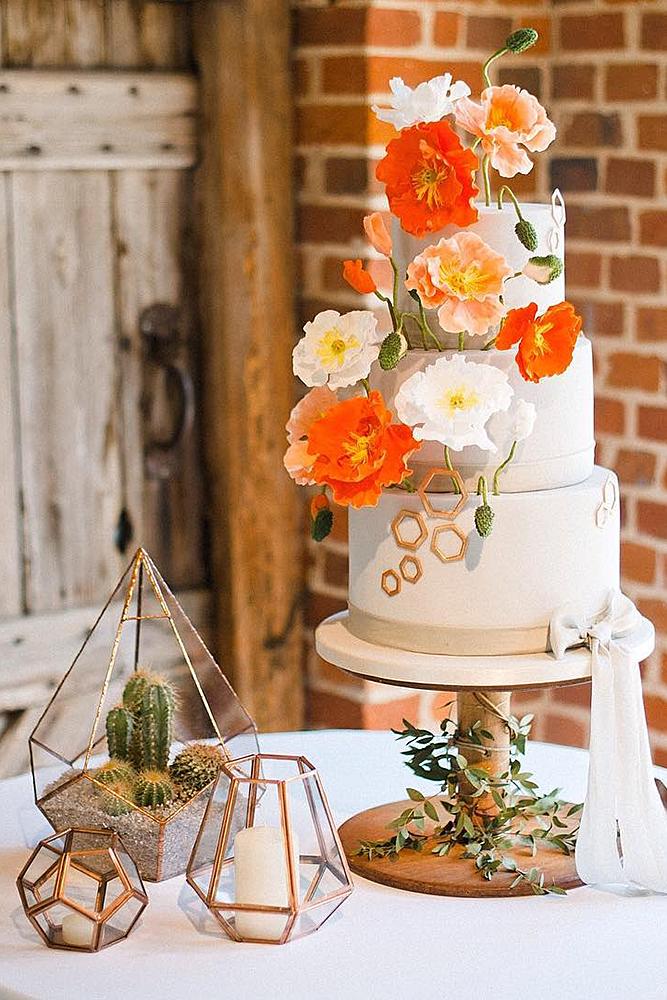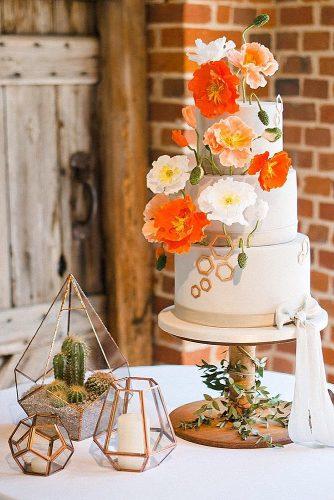 Geometric sculptures and decorations are great for table centerpieces, hanging decorations and even backdrops. Himmeli and terrarium can be bought or hand made if you're thinking cheap wedding theme ideas, and used in a variety of ways. Looking their best when combined with flowers or plants as air plant decor, their geometric shapes make them perfect for a geometric themed wedding. If you're thinking pretty wedding themes, you'll do well to consider using himmeli and terrarium in your décor.
21. Newest Stylish Themes
For the couple that wants to be trendsetters and try something different from the rest, new, different, and otherwise, alternative wedding themes might be the right choice. The key is to keep it stylish and chic, so simplicity and elegance would be key. This type of theme could be minimalist and modern, or even slightly vintage.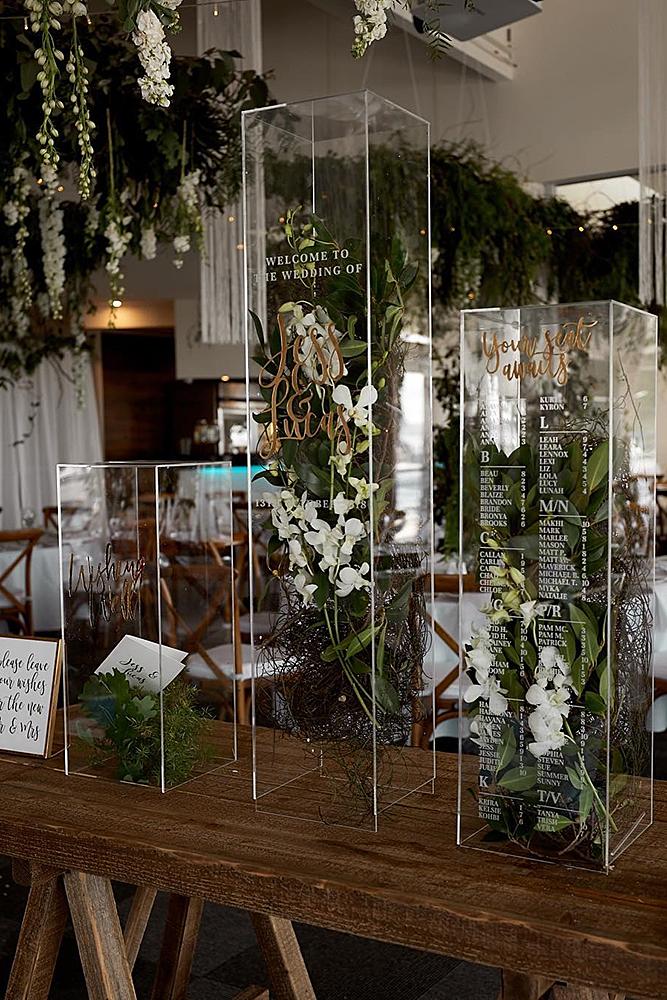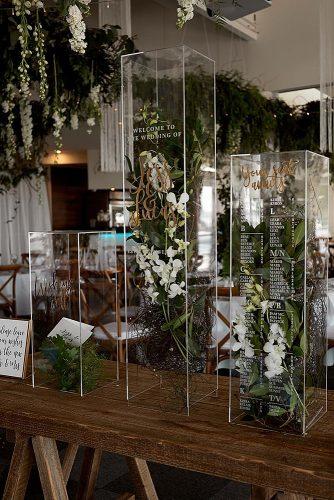 For truly unique and stylish wedding details, you might want to consider laser cut for your wedding invitations and even centerpieces. These custom made designs are definitely stylish and are certain to wow your guests if done properly. The precision and delicate efficacy of laser introduce a kind of fragile beauty to your décor, which could represent the start of something truly fabulous.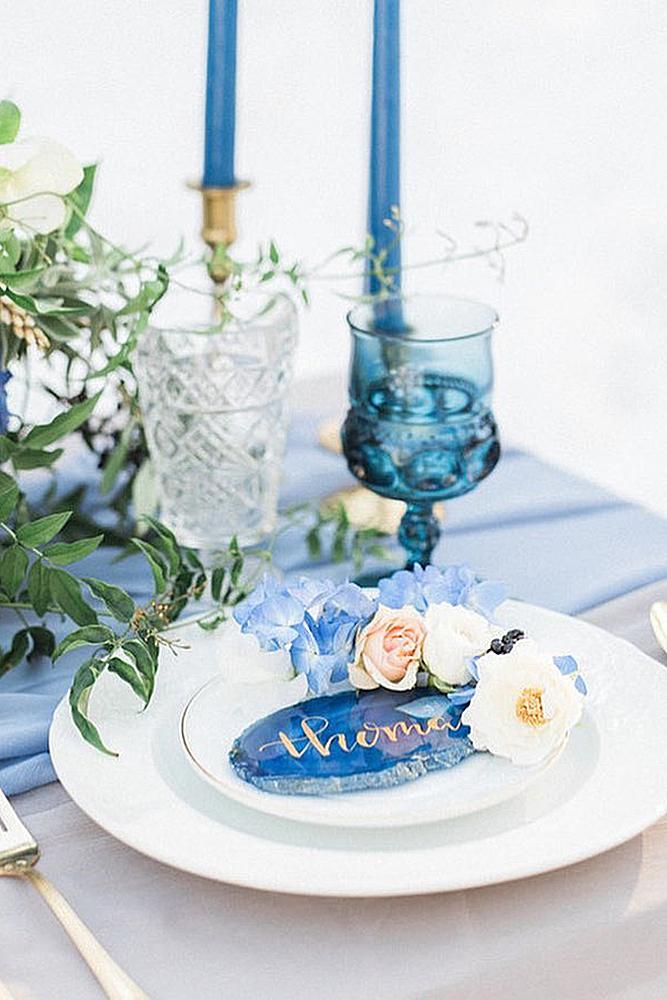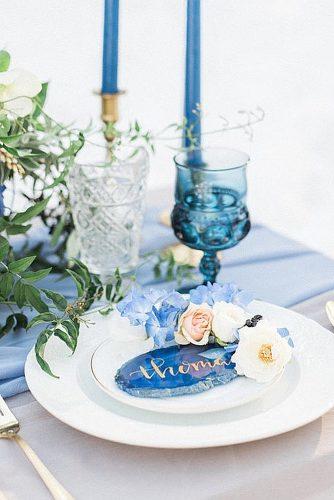 The non-traditional nature of this attractive rock cavity, as well as its healing properties, make it a truly unique and stylish addition to your wedding décor. Geodes can be incorporated into backdrops, hanging installations, table numbers, and even cake toppers. Available in various earthy colors, you cannot be accused of being unstylish is this is a part of your wedding theme. Geode decors fit well with many wedding reception styles.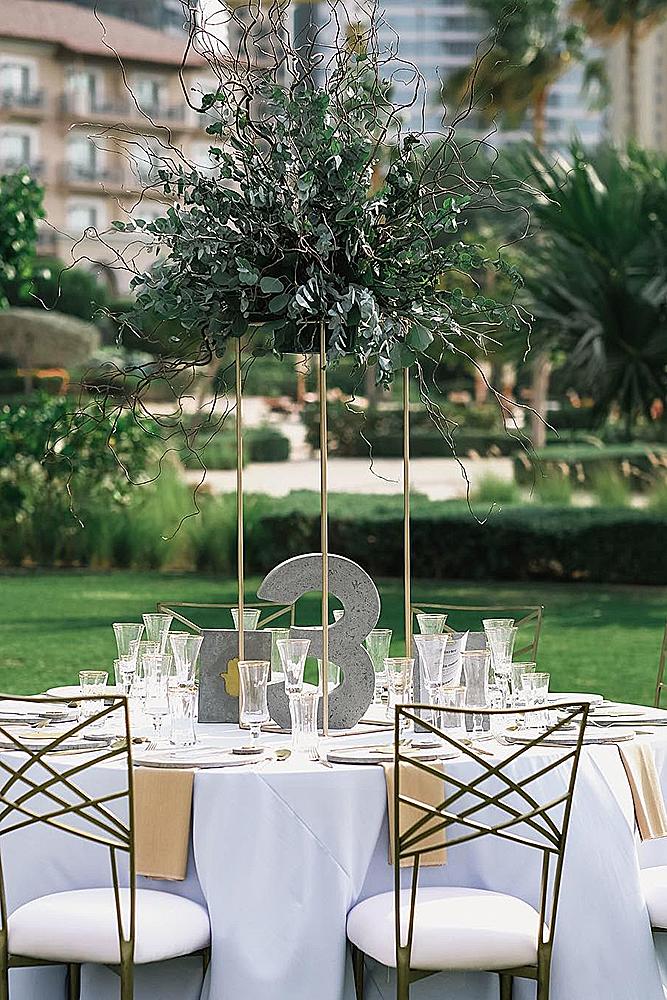 The stark style of concrete definitely brings a stylish, yet industrial and modern feel to any wedding. The modern trend-setting couple should definitely consider incorporating this to their overall theme and design for a perfect look. Concrete and marble well placed, are able to create a minimalist and yet chic look at any event. Concrete fruit bowls, ball lanterns, table numbers that double as centerpiece planters, rough concrete vases, and candle holders are some of the elements you could include to give your wedding that modern feel.
Article Conclusion:
Now that you've seen a few traditional wedding themes and plenty of nontraditional examples, we're hoping that you have a solid understanding of what kind of bride you are, and what best represents your Happily Ever After. If you're still not 100% certain take a few days and revisit this post or move on to tons of our other ideas. We're always here to help.