You probably have a lot of ideas for your wedding that you're really serious about implementing. But you've probably never really thought about your wedding reception seating. If your reception is going to have tables, however, you're going to need a seating plan. Going into a reception without a good seating layout can lead to chaos. Making sure that your guests are able to enjoy your reception and that everything goes smoothly is much easier with a good wedding reception seating layout.
1. The Basics Of Reception Seating
Most receptions are set up so that the bride and groom sit at a long table (called the head table), along with the bridesmaids and groomsmen. Members of the immediate family which are not part of the wedding party should also be seated at the head table. This includes parents and siblings. If you have a very young ring-bearer or flower girl, they should be sitting with their parents. This is only a basic guideline; wedding reception seating is flexible and can be adjusted as needed. Your wedding reception seating layout will also need to fit your space and allow for a dance floor or other considerations.
If you have two or more guests who are unable to act in a civil manner toward each other, be sure to seat them as far apart as possible. Not only will you avoid their inevitable drama, but they'll also be able to better enjoy your reception.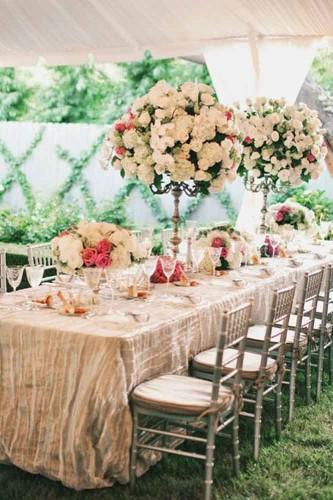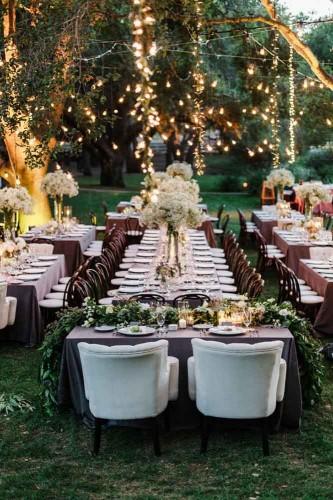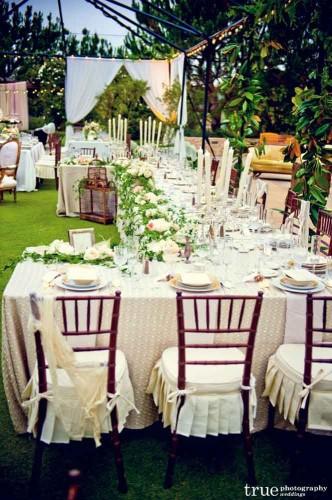 2. Layout Options
Long tables and big rectangular tables can be set up to allow for family-style seating, a big hit at receptions right now. This type of wedding reception seating can create a very intimate atmosphere among your guests. It also gives you an opportunity to save money because fewer linens are required. Family-style seating gives your table décor a good chance to shine and offers striking lines when caught in photos.
For a more traditional wedding reception seating layout, go with round tables. Many venues offer a couple of sizes of round tables, so you can choose to go with large rounds seating eight or ten, or smaller, more intimate rounds. Having round tables gives you an opportunity to make your seating layout very dramatic and highly customized. It is also more versatile and flexible in the case that one or guests do not show up. If you're looking for the same feeling but dislike round tables because they are so traditional, try square tables or a mixture of round and square tables.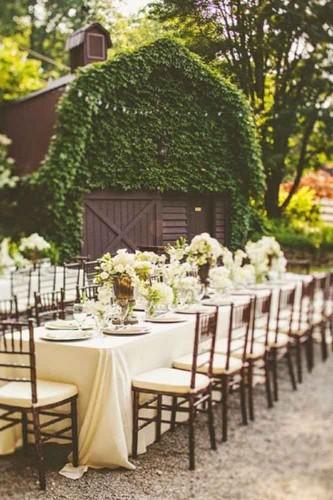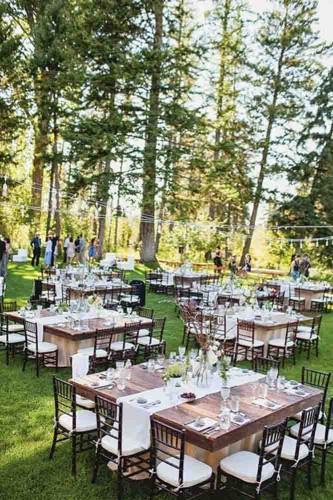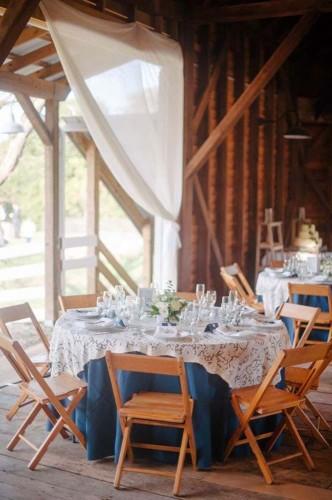 3. Decisions, Decisions
Listed above are a few of literally hundreds of different ideas. Your best option for planning great wedding reception seating is to pick a style that works for you and your wedding and run with it. It's not even necessary to pick only one type of wedding reception seating. It's your reception; mix it up if you want!