Weddings always seem like a very costly affair with all of the money and activity crammed into just one day or weekend. However, it's not a very good idea to spend all you have on a wedding when you have a lifetime ahead of you to think of. So, if you're limited in the area of finances, then it is time to start thinking budget wedding ideas for an affordable wedding.
Yes, it's a great and grand thing to have a wedding of the century, something that will be talked about for a while, but that's all it is. It is not an investment, and it won't bring you any returns. Once spent, that money is just gone, poof. If you can't afford it, the advice is that, instead of pedaling to people's wishes and desires, create the wedding you can afford and have fun doing it. Create a budget, and stick with it; if you don't know how to, then it's a good thing we have below a list of ideas for planning a wedding on a small budget.
First, plan: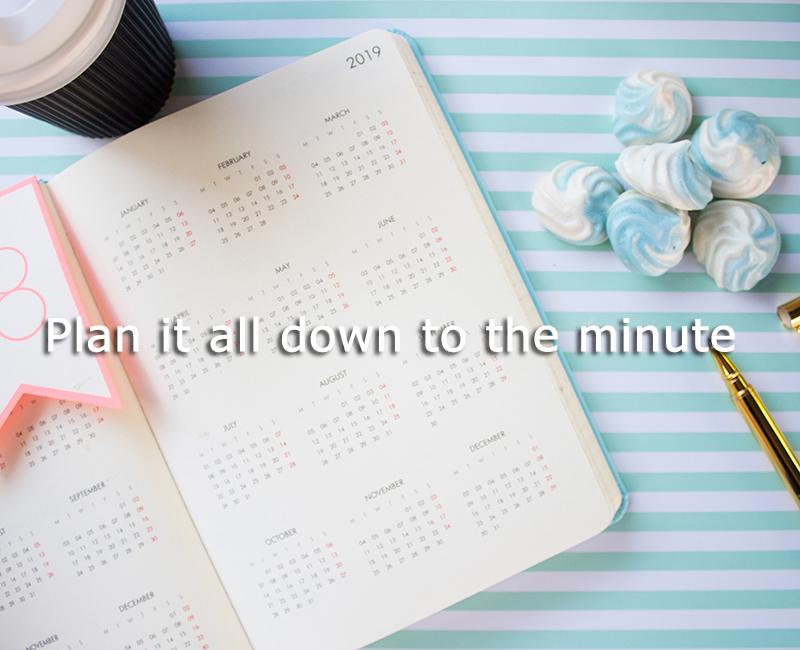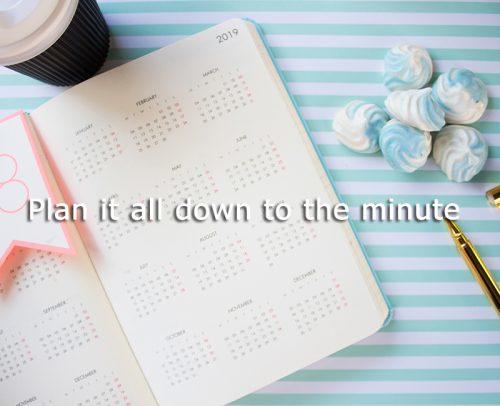 Plan it all down to the minute. Your time, clothing and accessories, food, venue, lodgings, and every single logistic. Writing this all down and planning even your timing, will enable you to see the gaps where spending can be cut down. While certain things are necessary for a wedding, not all always is.
For instance, in planning budget-friendly weddings, it's a good idea to transition straight from the ceremony to the reception without a waiting period since certain vendors charge by the hour. So when thinking inexpensive wedding ideas, be careful in scheduling your day.
Limit your guest list: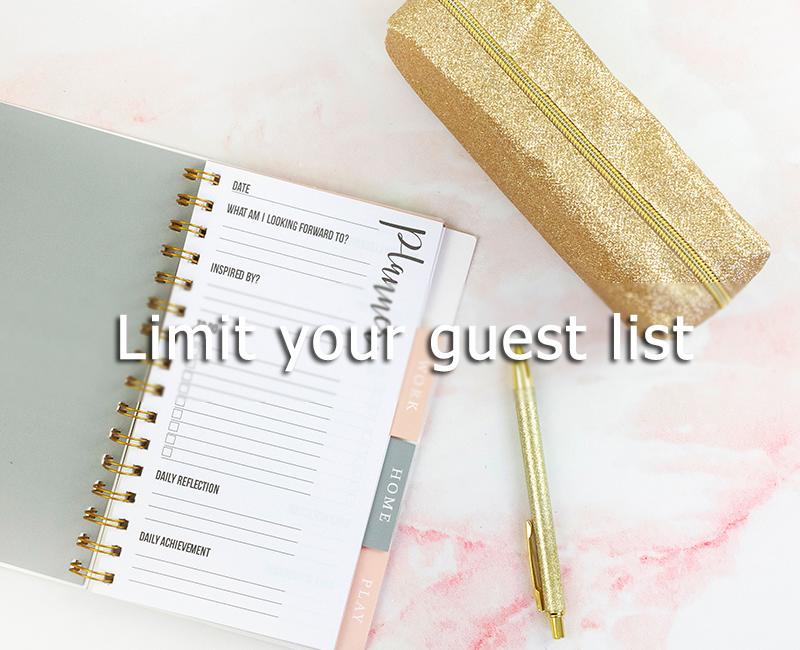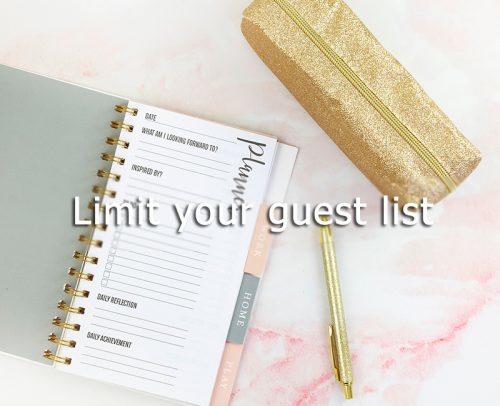 Yes, it might be tempting to invite every one of your friends, even those from school to see you at your best. However, your budget might not agree, and it would be wise to limit your guest list to only close friends and family. These are the people who absolutely need to be there. In this time of the internet, the others should understand, and luckily, they can get to see the pictures and videos on Facebook or Instagram.
Ditch the wedding planner and involve friends and family instead: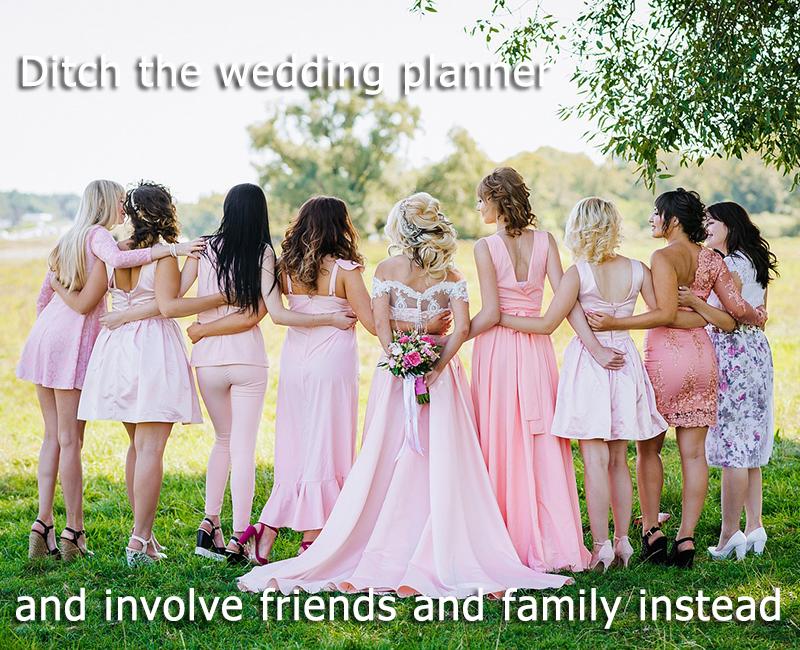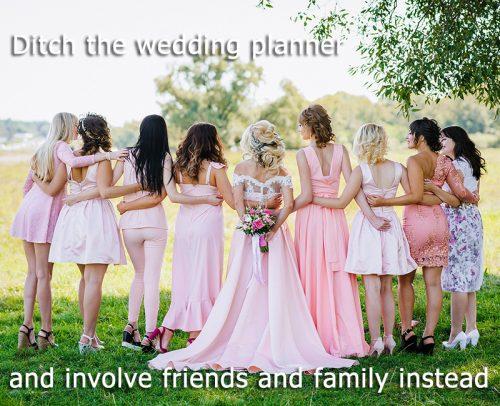 It's lovely to employ someone to plan the wedding, handle all the communicating with vendors and all. However, that person usually doesn't come cheap. So, instead of getting a wedding planner, involve family and friends in the wedding planning. A lot of the time they would be happy to be of help especially since the love you so much.
In the spirit of affordable wedding ideas, you could also ditch the regular officiant and have a friend marry you also.
Save on your wedding look: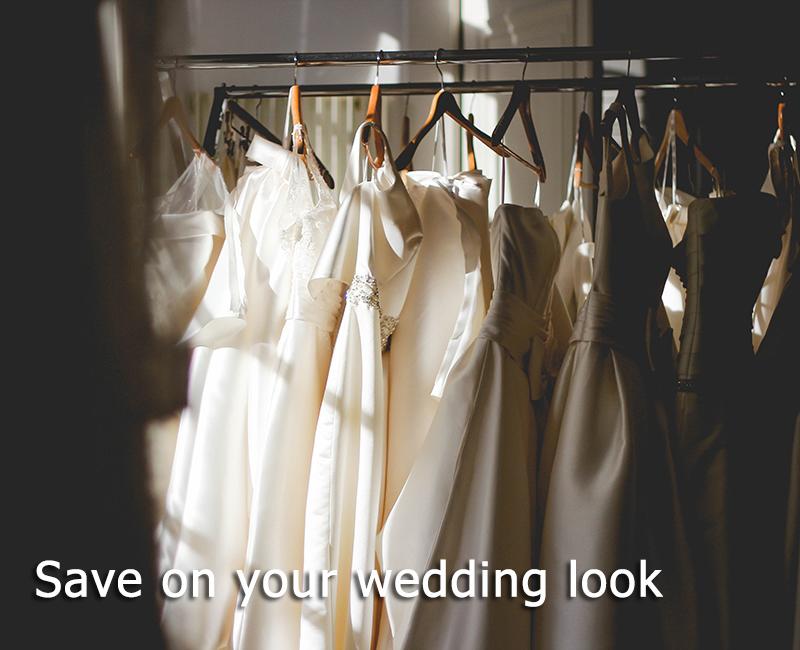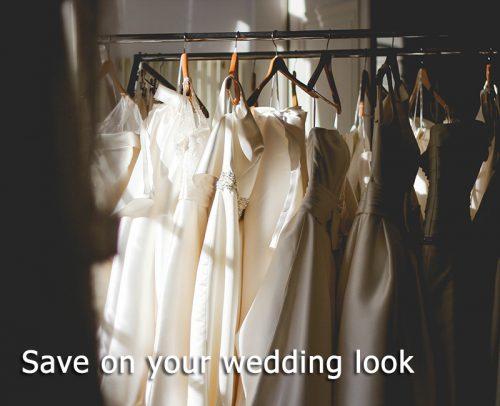 While most brides are unwilling to skimp on their wedding gown, there are certainly other things you can save on. For instance, your makeup. It's understandably difficult to handle that on your own for your wedding, but you could engage the services of a friend or family member who is makeup savvy. Another option is to find a makeup artist in the area who is willing to work within your budget.
Use your home or an outdoor location: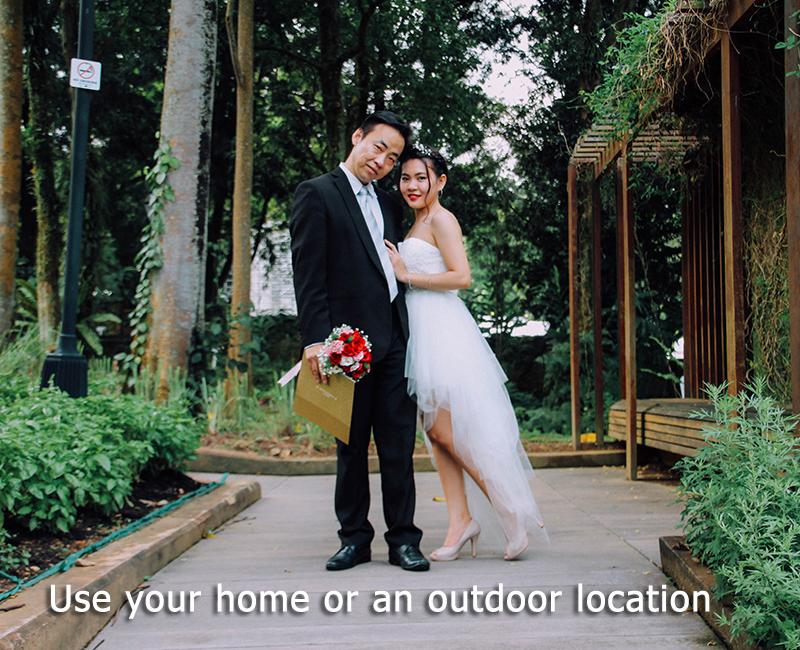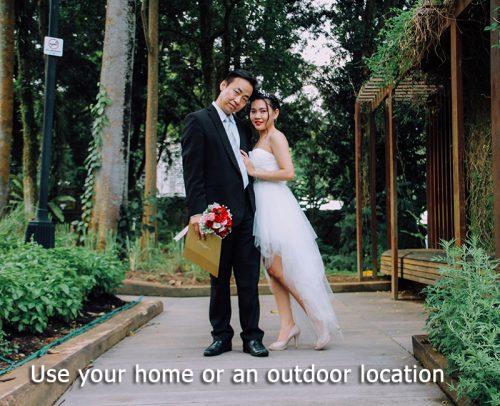 The venue is one item that eats up quite a lot into a wedding budget. You can save on this by having your wedding at home. If your home isn't a great idea for certain reasons or is not big enough; then consider having it somewhere outdoors that will charge much less than a venue that comes with a roof and special lighting.
Self-cater: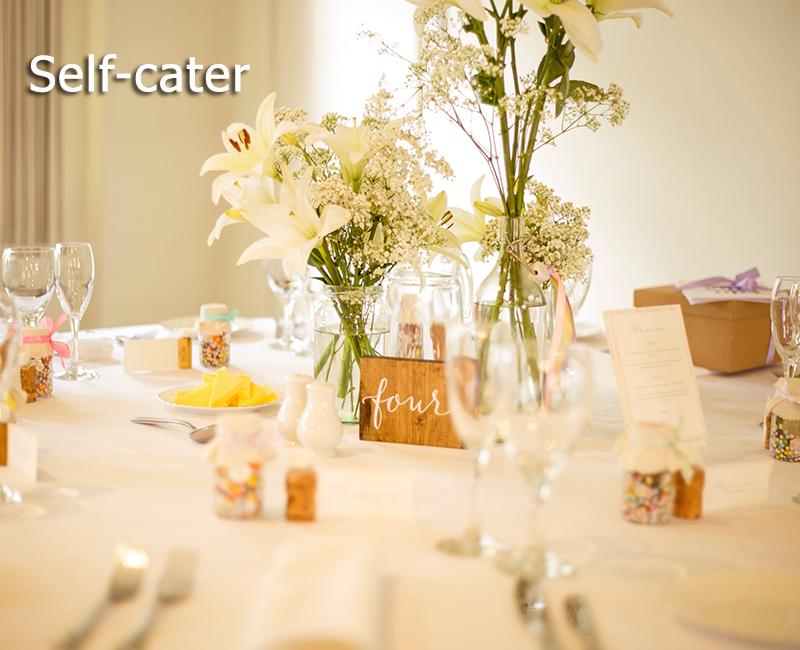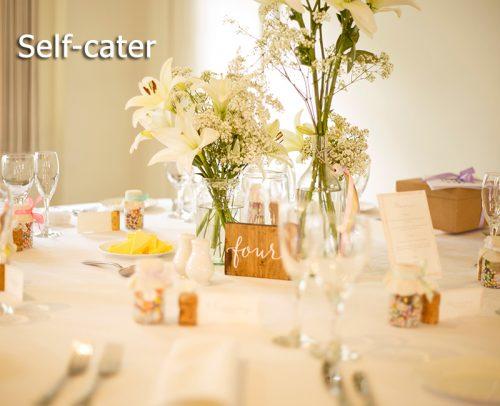 Everyone thinks quality food when they are planning a wedding on a small budget. Well, how better to ensure quality control than to make the food by yourself. Yes, you heard it here; as far as wedding reception food ideas on a budget go, self-catering is a great option to cut costs on a wedding. With this, you can make what you want how you want, and make your menu work for you.
There is no rule that says you must have a lengthy and complicated dinner menu. You could have less pricey and more wallet-friendly food as long as it is delicious and well presented. Pasta or rice dishes with vegetable sides can be a crowd pleaser, and you can offer desserts like pies, which cost much less than cakes and soufflés.
Save on décor and flowers: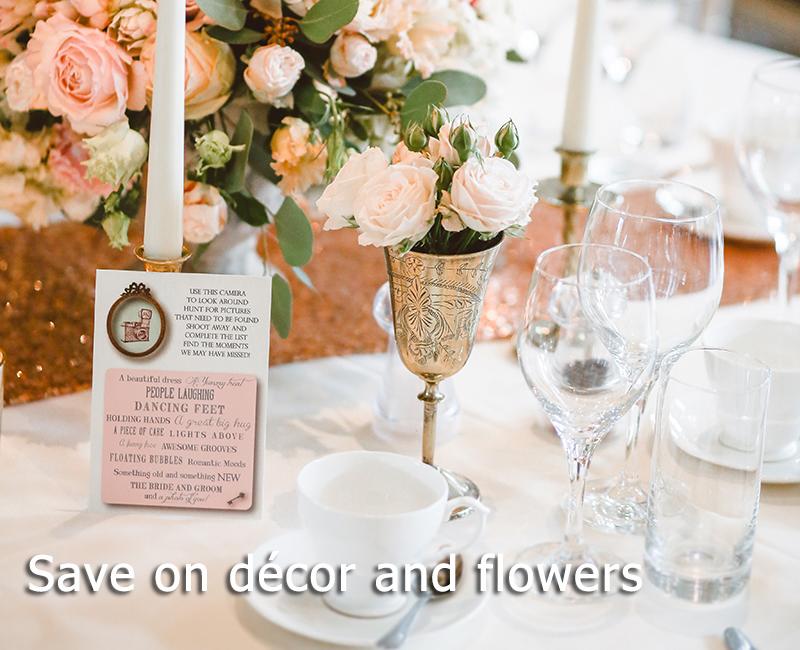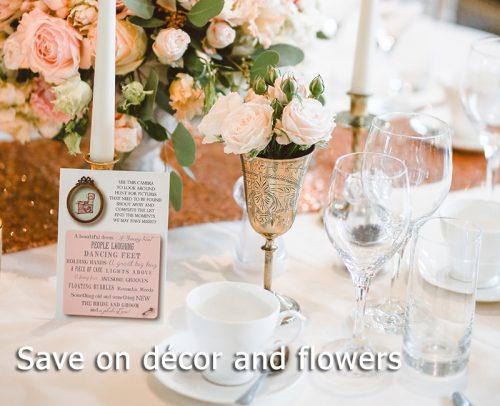 With great scheduling and help, it is possible to use the same flowers at the wedding ceremony, for your reception. There is no need to go extra on flowers as they cost quite a lot, and your bridesmaids won't need their bouquets after the ceremony anyway. So, have your florist, or a trusted family member do the switch and repurpose the bridesmaids' bouquets for the reception décor.
Also, remember that less is more, so it's no sin if you go sparse on the table centerpieces. Instead of bud vases, think of single stem flowers in a cluster. You can complete the look with glowing candles, and you have a great décor without having to break the bank.
Skip the bridesmaid and groomsmen favors: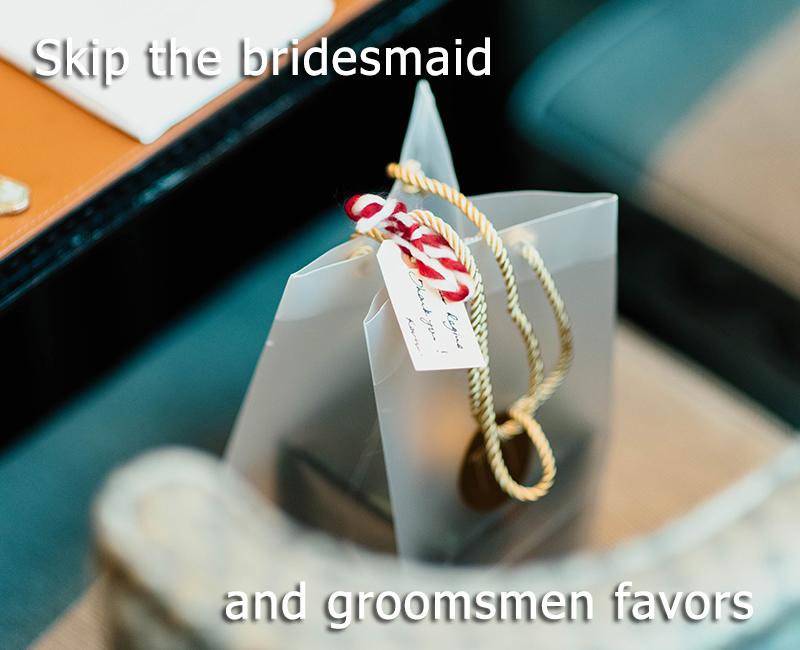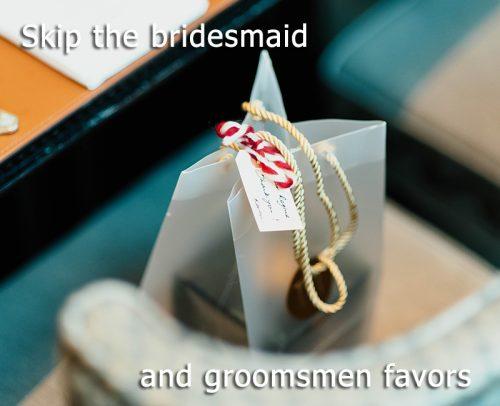 While you are grateful to your bridesmaids and groomsmen for taking the time to be a part of your wedding, they are also happy to be there. Consider skipping on their gifts if this is something you can't afford. These are your friends and they will surely understand and you would do the same if the shoe was on the other foot. When thinking about how to plan a wedding on a budget, this is one aspect you should consider in cutting costs.
Things to DIY instead of buying for your wedding: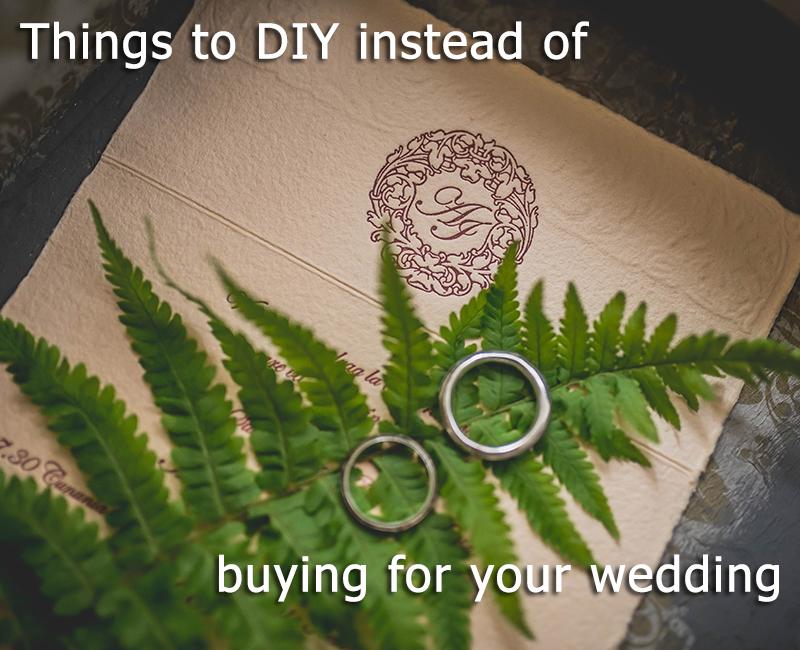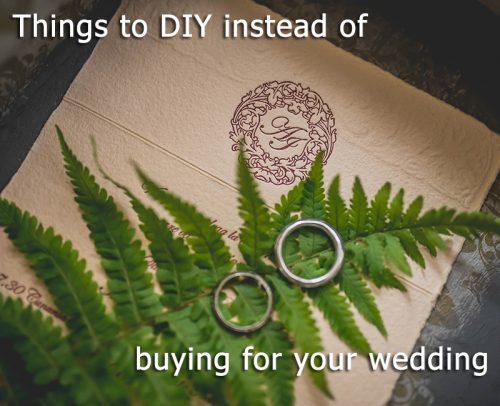 This is where you discover that you have a lot of skills you didn't even know about. With the help of the internet and apps like Pinterest, you can DIY your way out of a lot of situations. You'd be surprised how easy it could be to make your own save the dates and invitations, and they'd still look classy or vintage, depending on your chosen theme.
Other DIY wedding ideas on a budget include getting a trusty family member to take pictures at the reception and limiting the hired photographer to one hour at the wedding ceremony where he can take the important pics.
No full bar: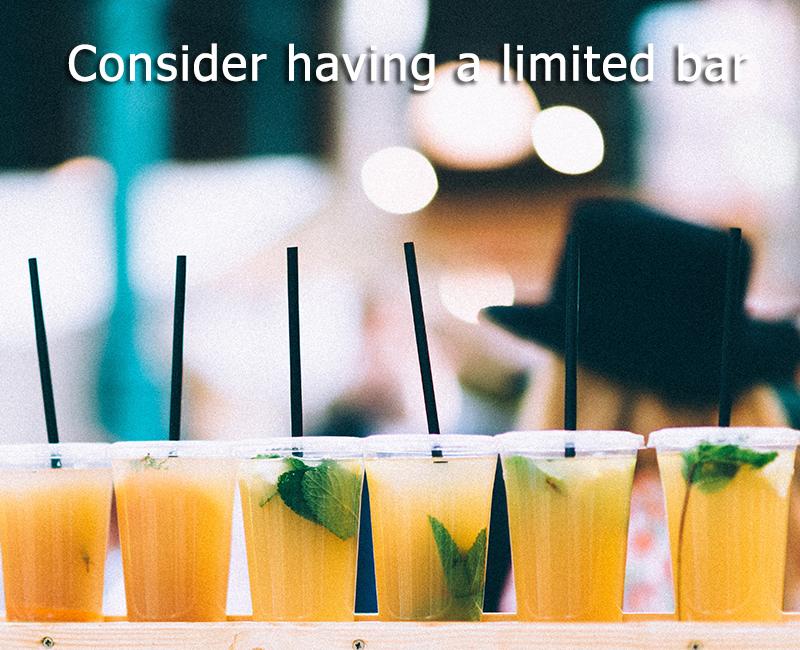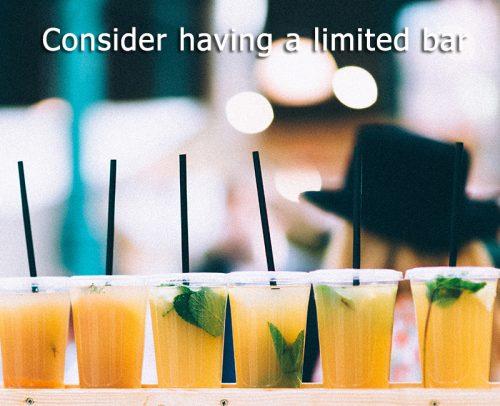 Instead of a full bar with unlimited drinks, consider having a limited bar with only beer and wine. You can maybe offer one or two signature cocktails for cocktail hour, and that's it. If you have a caterer, instead of paying a flat fee for drinks, you could ask them if you could pay for alcohol à la carte. This way you pay only for what your guests drink and save quite a bit on drinks.
Think standing ceremonies: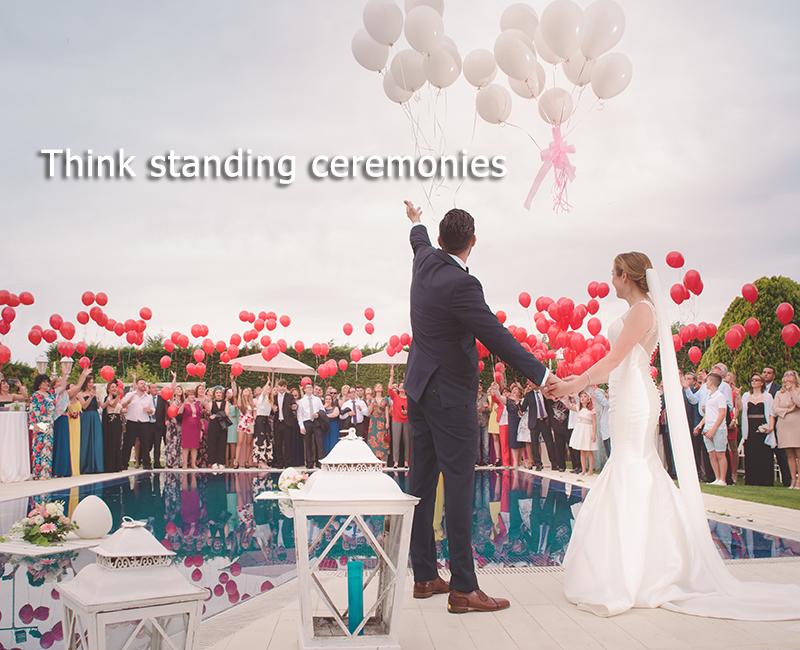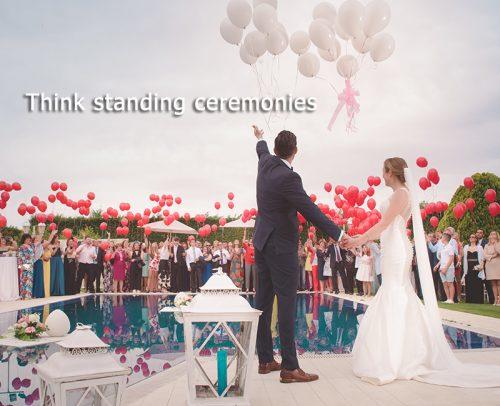 Having an outdoor wedding and thinking of how to cut costs there? How about you cut out seating rentals completely and have a standing wedding instead. This will save you a lot of money, and if you do it just right, and keep the wedding brief, you can keep everyone happy.
Alternative wedding cake: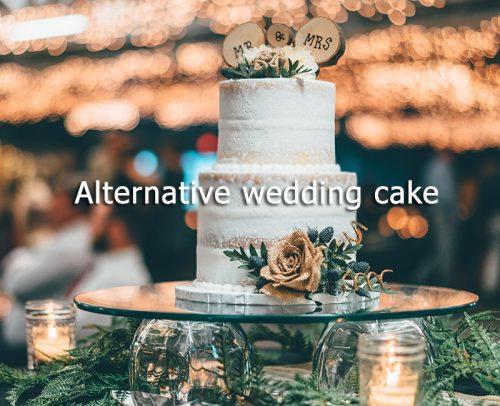 If you really need your cake cutting moment, consider single tiered cakes as opposed to the traditional big tiered cake which costs a fortune. This really helps for weddings on a budget.
Choose affordable wedding rings: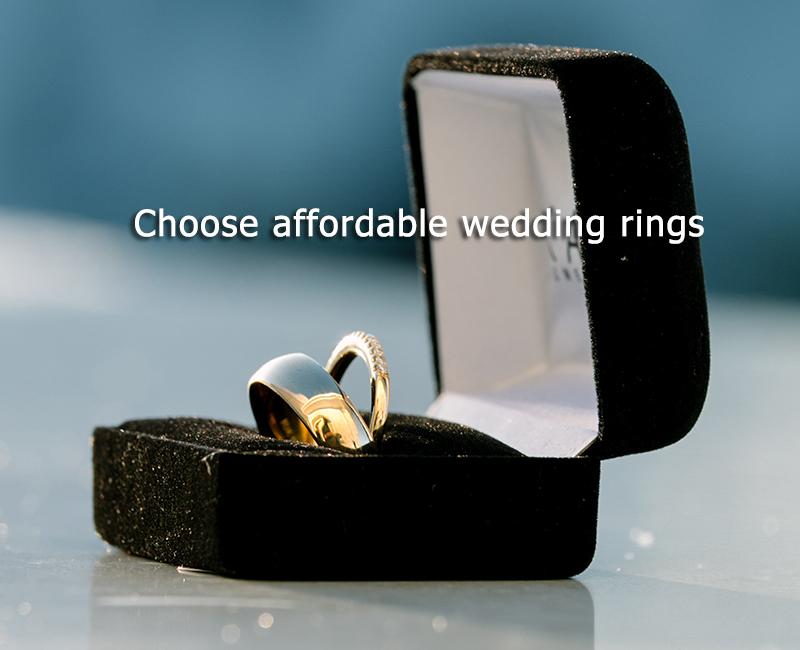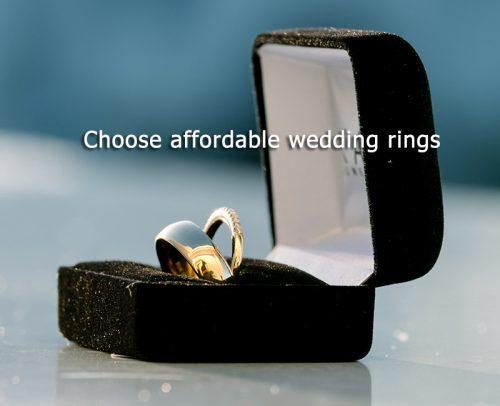 For other wedding planning ideas, consider your rings. Find a good deal for wedding rings, or sell off some of your old gold to get the new pair. You don't even have to go out of pocket for this if not absolutely necessary.
Ask for a money instead of wedding gifts: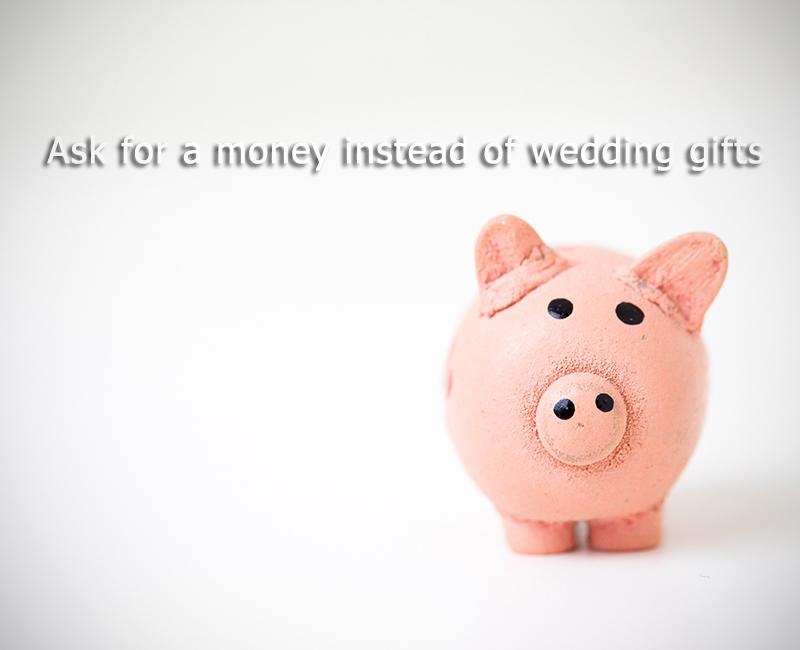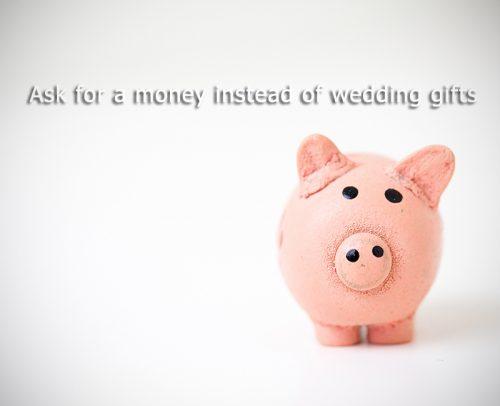 Opt to skip the regular gift registry and set up a cash registry instead. Guests won't have to worry about what to get you when they can just send you cash instead. This makes it easy for them, and for you, this could work as a contribution towards your honeymoon.
Plan a simple honeymoon or even cancel it: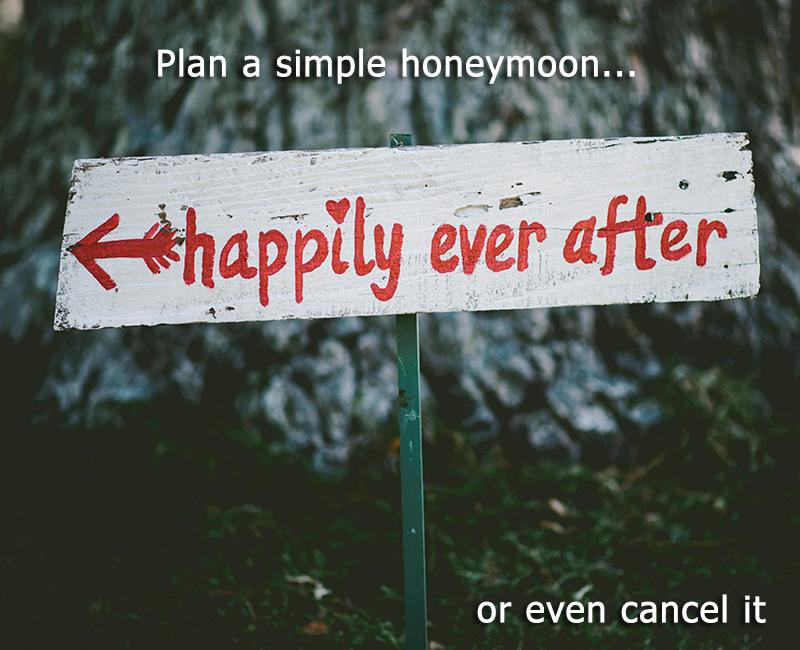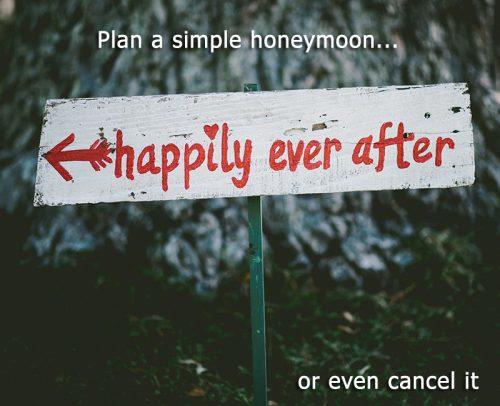 There is no rule that says a honeymoon is compulsory, so this is one area where you can cuts costs if necessary. It is not something you need to stress about, and can always be pushed to a much later date when you are both ready and have the wedding costs out of the way.
It is quite possible to have a great wedding and a great time on a budget. Your guests will be happy, and more importantly, you will be under no stress to over achieve or stretch yourself to please. We hope that our list of wedding planning tips on a budget have been able to demonstrate that you can still have that dream wedding if you want to.
So, if you find yourself planning a wedding on a budget, go through this list, you just might find ways to go around it instead of emptying your bank account. With important aspects like wedding food ideas on a budget as well as the décor and even entertainment, you will surely be able to pull off a wedding on a small budget.