Many grooms and brides want to take on DYI projects to help their wedding on a budget stay on the low end. The trouble is, most couples aren't sure where to start or which projects will end up costing more than if they were done professionally.
We're here to help. Read on to find surefire suggestions for how to plan a wedding on a budget.
Wedding Decorations On A Budget
Decorations aren't the most significant part of your wedding budget, but every bit helps. Crafting your own decor is also one of the more practical ways to pull off weddings on a small budget.

1. Seating Chart: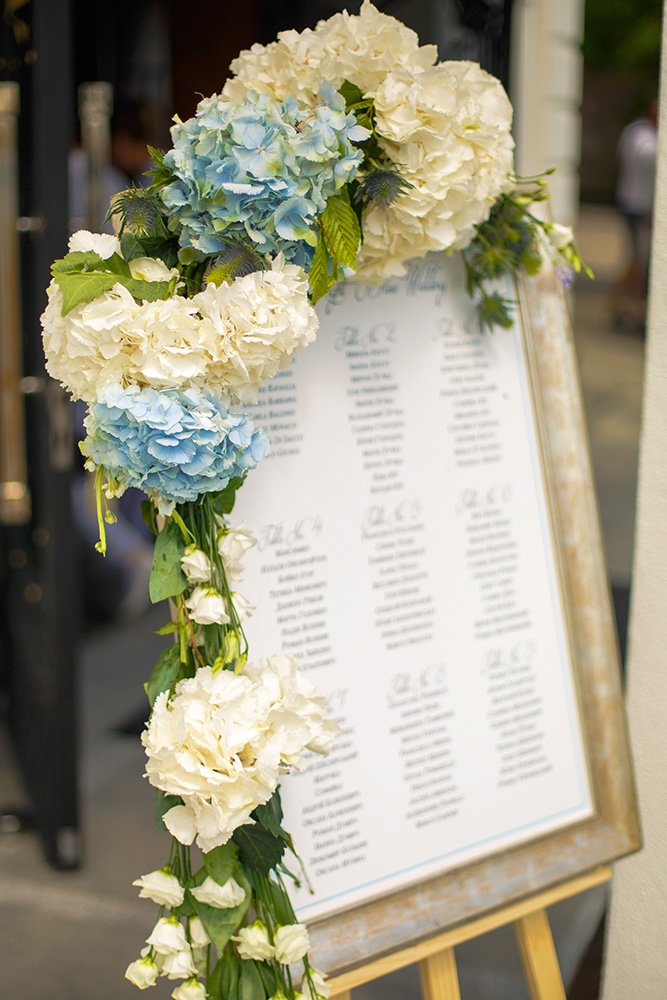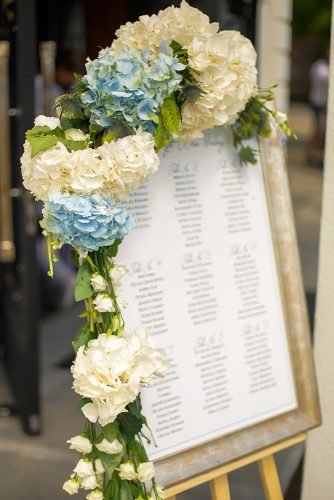 Creating your own seating chart is one of the safer wedding ideas on a budget. You only need one, they're easy enough to create, there's plenty of inspiration on Pinterest, and you can use some very low cost items.

2. Menu: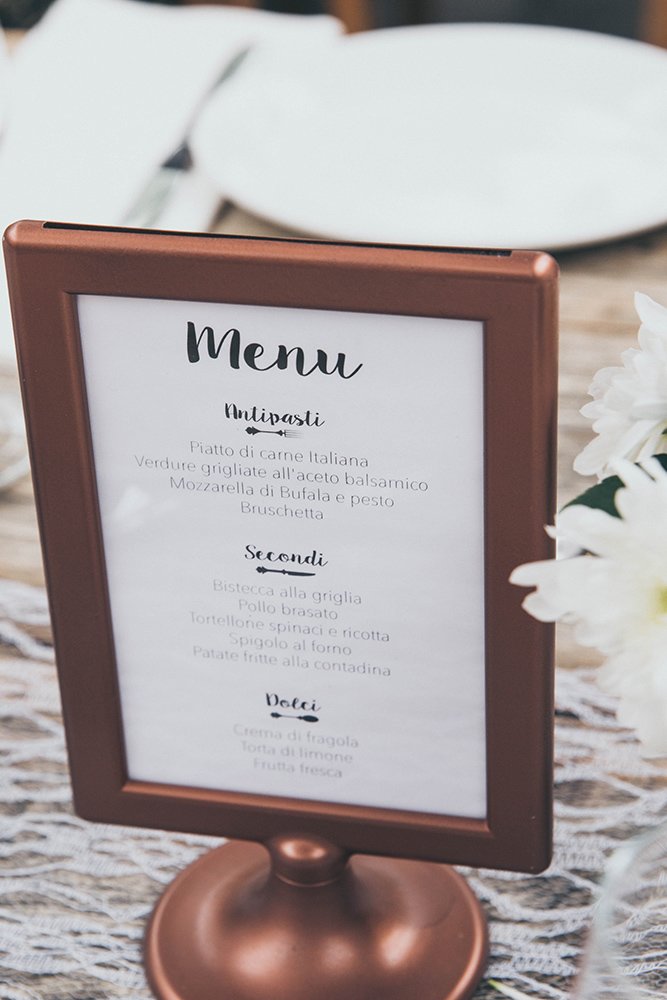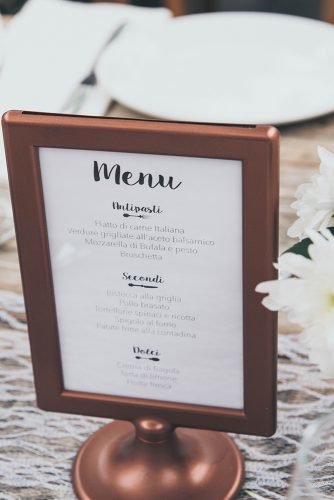 Creating your own printed menu is another one of those budget wedding ideas that's easy to pull off. If you're not the creative type, all it takes is a quick Google search to find beautiful, free wedding menu templates.

3. Table Numbers: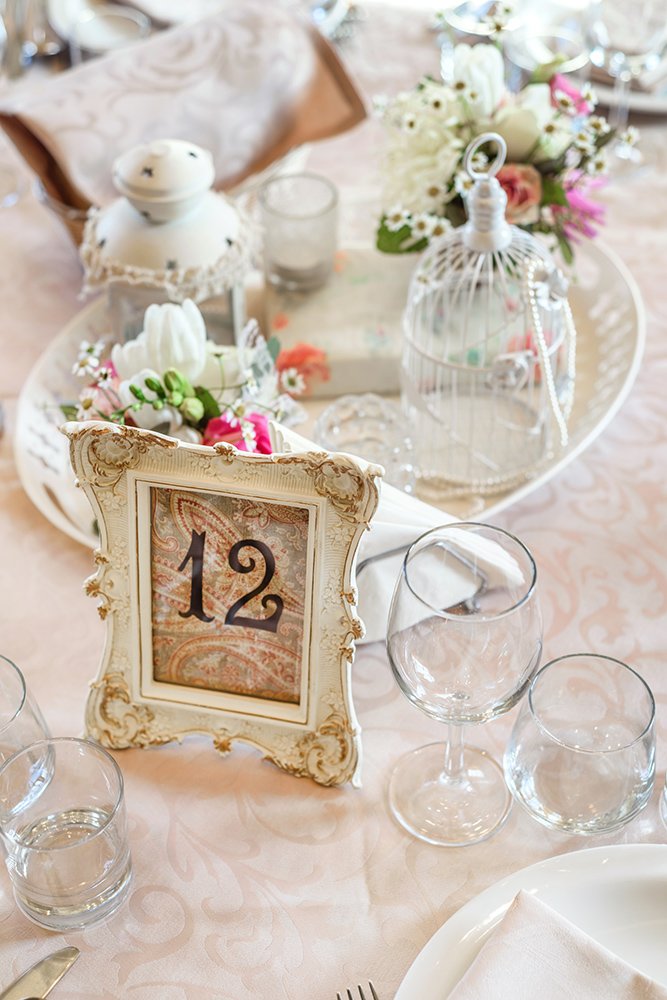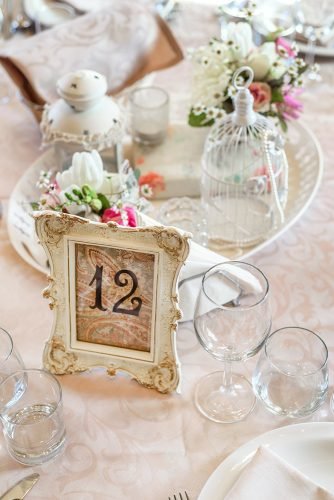 Sandblast some glass, burn some wood, print your design, or paint some dollar store purchases. That's all it takes to create some low-cost table numbers.

4. Table Runners: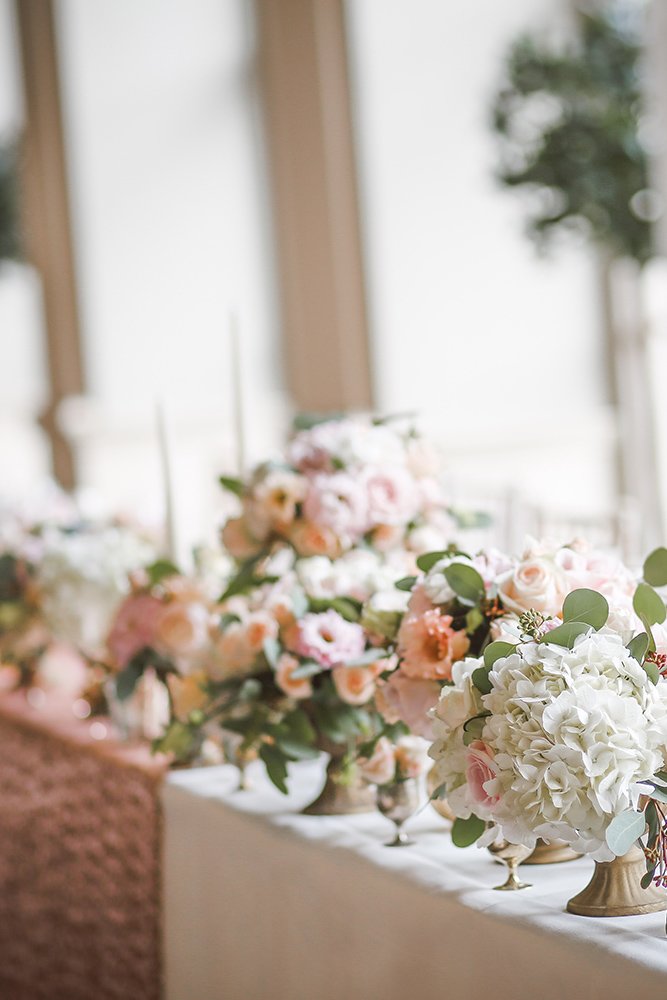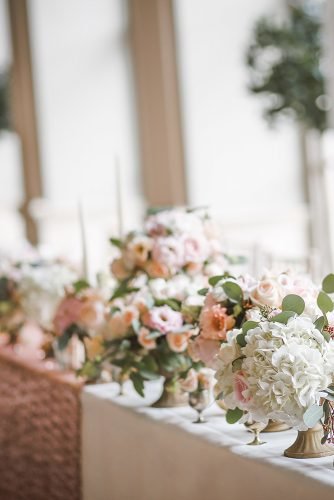 The cost of linens can add up quickly. Dust off the sewing machine and invest in some low-cost dye to save a small fortune and keep your wedding on a small budget on track.
5. Centerpieces and other tabletops: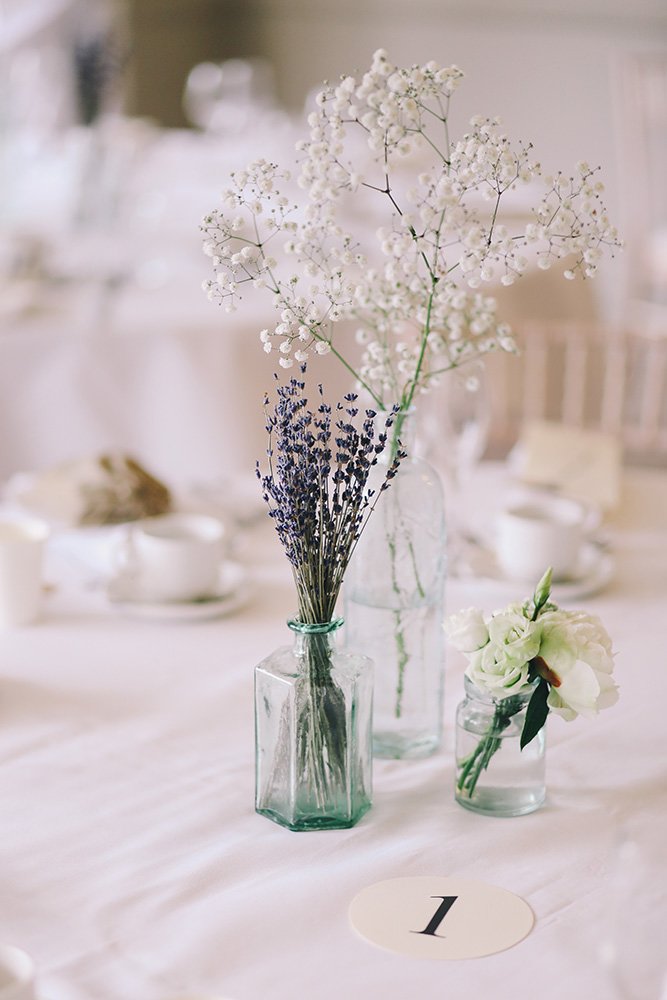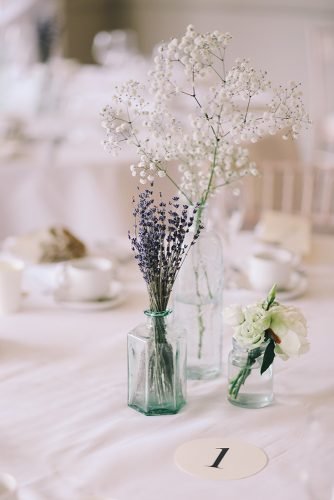 If you have a little bit of glass and some string lights, you have some elegant centerpieces that will match any wedding theme and will match your wedding cost ambitions.

Wedding Reception Food Ideas On A Budget
The menu is another area where you can save a few dollars when planning a wedding, but make sure to compare final overall costs before you take the plunge on this one.
Some full-service caterers will;
Prepare the food
Pass around hors d'oeuvres
Clear plates between courses
Cut cake and keep drinks full
Set up and clear tables between events (dinner/dancing)
Clean up after
If you can manage all of this, make sure to purchase all of your food at wholesale prices to keep your wedding budget in check.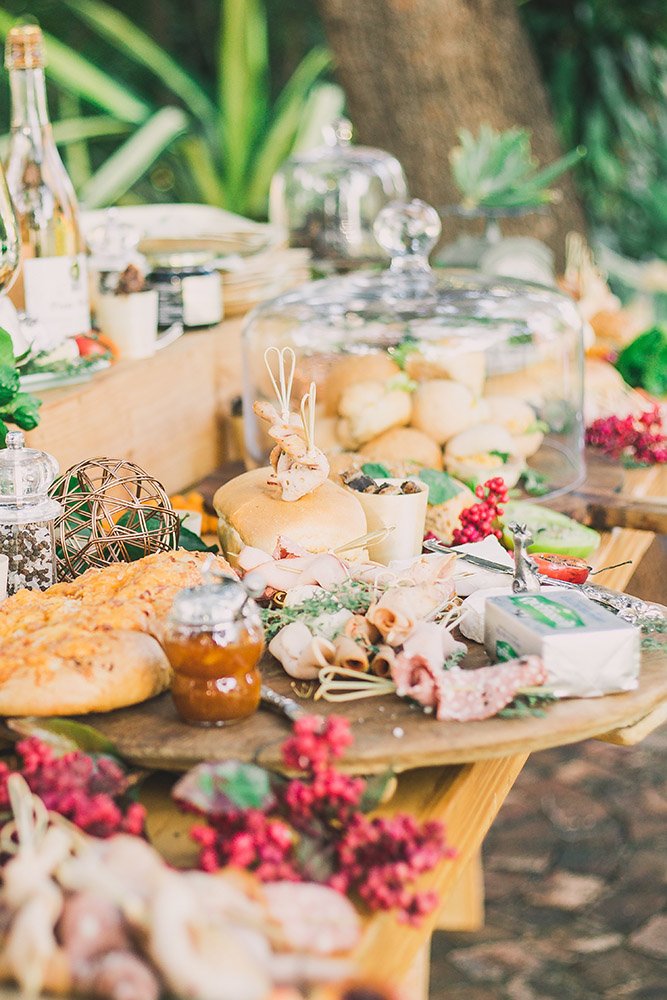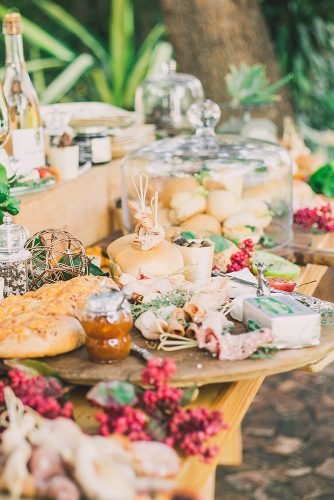 Here are a few wedding food ideas on a budget to get you started.
1. Pasta bar: It doesn't matter which type of pasta is your favorite, you can get loads of it and feed your entire guest list for a few dollars a plate. Transform your store-bought pasta sauce by adding a few extra spices and everyone will think it was delivered straight from Italy.
2. BBQ: Wholesale beef, chicken, or pork is cheaper than you expect. Butcher purchases are a little over half the cost of buying from the grocer, and you can rent an oversized BBQ pit for around $50 for the weekend.
3. Mini Quiches: A few dozen eggs and some crust don't cost a lot, but it sure does impress your guests when it's time for appetizers.
4. Salads and Dips: Buying and chopping veggies purchased in bulk satisfies a lot of appetites and keeps things light enough for people to hit the dance floor afterward.
Wedding Budget Breakdown
You're probably wondering what a cheap wedding budget actually means?
Can you get by on $5,000? Is $20,000 a ridiculous amount or is it average?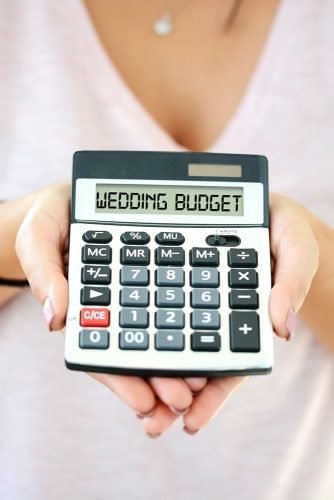 Here's what to expect with a few of the more common wedding budgets.

5000$ wedding budget
Venue:
$2,000 to rent tables, linens, chairs, and the bridal suite
Food:
$1,500 for appetizers and beverages
Attire:
Keep it simple with $500 for a dress; $200 for a tuxedo rental
Flowers and decorations:
Spend $400 on DIY materials for your bouquets, centerpieces and lighting.
Wedding Planner:
$0. You got this.
Photography:
$0, Save $2,000 by "hiring" a friend or family member.
Entertainment:
$0 to connect your laptop to $75 audio equipment rentals.
Dessert:
$0, save $400 by asking your guests to contribute to a dessert potluck.
Invitations:
Craft your own printables and spend $130 on paper and ink.
10000$ wedding budget
Venue and full-service catering:
$6,000 covers your table rentals, food and beverage, and staff.
Attire:
$1000 for a dress and $200 for tuxedo rental
Flowers and decorations:
$800 for lighting rentals and DIY bouquets and centerpieces
Wedding Planner:
$0, it's all you and your bridal party.
Photography:
$0, a family member is providing this as his wedding gift.
Entertainment:
$0 to connect your laptop to $75 audio equipment rentals.
Dessert:
Spend $400 on a wedding cake
Invitations:
Craft your own printables and spend $130 on paper and ink.
20000$ wedding budget
Venue and full-service catering:
$12,000 for 50 guests, which covers tables, chairs, linens, food and beverage, and staff.
Attire:
$1,000 for a modest wedding gown; $200 for a tuxedo rental
Flowers and decorations:
Spend $1,500 on decor to avoid dozens of DIY hours.
Wedding Planner:
$1,500 to hire a Day-Of professional to handle your wedding planning. You can hire a full-service planner to help with the entire process, but this is when you'll need her most.
Photography:
$2,000 for a professional wedding photographer
Entertainment:
$1,000 for an experienced wedding DJ
Dessert:
$275 for a wedding cake
Invitations:
$200, printed and delivered to your door.
You'll notice that with each example there's a little money left over. It's always wise to set aside at least 10-15% of your budget for tips, incidentals and emergencies. You'll also notice which options can change your budget spreadsheet most drastically.
How To Save Money On A Wedding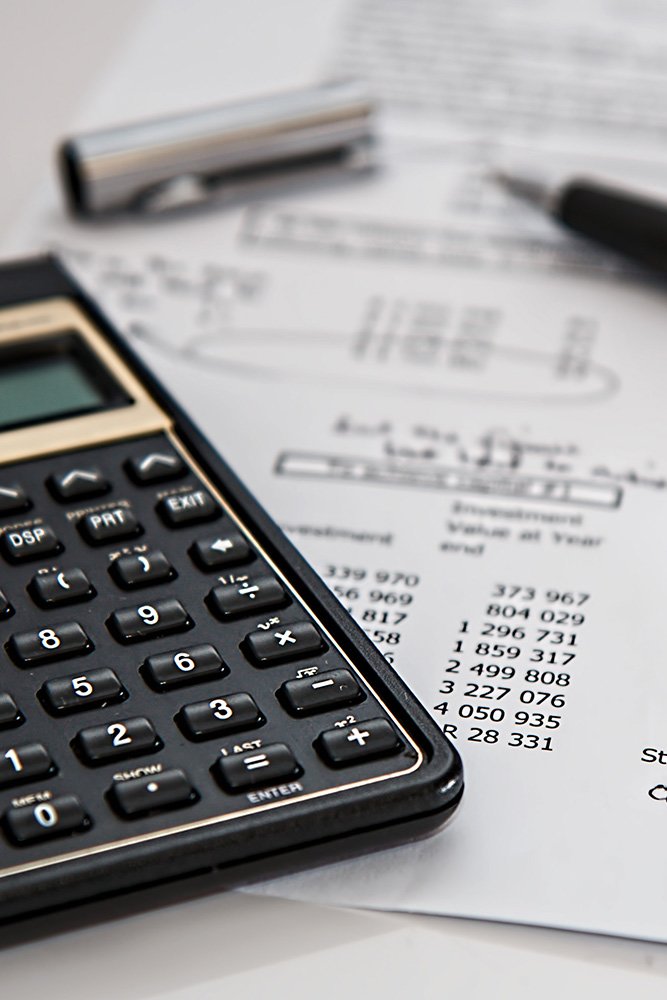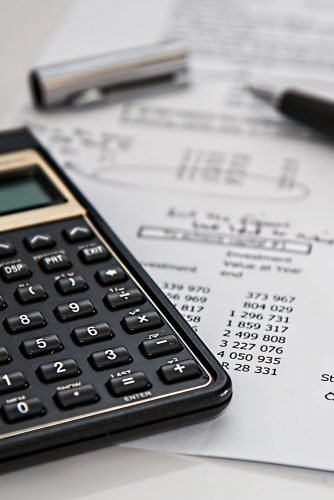 1. Make a plan
DIY projects are a great place to start when you're trying to save a few dollars. But, if you really want to pinch your pennies it's going to take a bit more than that. Start with a
wedding planning spreadsheet
and plan every aspect of your wedding so that you know what your priorities are and what you are willing to compromise on.
2. Limit your guest list
The more people that attend your wedding the more it's going to cost. It's as straightforward as that. Sit down with your fiance and both of your mothers (who traditionally pitch in on the guestlist) to determine who are absolute musts.
3. Ditch the wedding planner
A
wedding planner
is terrifically convenient, but not really necessary if you have the time and patience to do everything yourself. Since you're trying to keep your budget to a minimum, ditch things that aren't absolutely necessary.
4. Save on your wedding look
Wedding gowns, tuxedos, and bridesmaids' dresses are gorgeous, but you don't need a $30,000 gown for the big day to be magical. Consider vintage shops, hand-me-downs, or making a purchase at a wedding convention where things are sometimes cheaper. If skimping on the gown is out of the question, you can still limit your budget but cutting back on makeup costs.
5. Use your home or an outdoor location
Cheap wedding venues
aren't hard to come by if you're willing to think beyond the banquet hall. The venue is one of the biggest contributors to your wedding expenses, so this will make a big impact. Consider all of your options and additional responsibilities that may come with a home wedding or alternative venue.
6. Self-cater
As mentioned above, skip the caterer and keep plenty of money in your pocket. Keeping your guest list low and coupling it with your own food and a few friends to help out with serving will keep your wedding costs low.
7. Save on décor and flowers
Cut your wedding flowers budget in half by quickly swapping the ceremony florals over to your reception. Beyond that flowers don't last after the event, they'll wind up in the trash. Don't choose more flowers than you need.
8. Skip the bridesmaid and groomsmen favors
Favors for the bridesmaids and groomsmen is somewhat of a tradition, but it's not necessary. Your close friends and family are happy to be there and ecstatic for your big day. That's all they really need.
9. Things to DIY instead of buying for your wedding
DIY projects are a great way to save on your wedding budget, just make sure not to overcomplicate things and wind up having to do it twice. You should also consider calling in a favor from your more talented guests. Some of them would be willing to offer their photography or DJ skills.
10. No full bar
Create a signature drink and offer a few drink tickets to each guest, or go minimalist with a bottle of homemade wine on each table. Aside from that, your guests can treat themselves to a cash bar. No need to pay for everyone to get drunk when they should be dancing!
11. Think standing ceremonies
Unless you're opting for a traditional ceremony with hours of readings and prayers, a standing ceremony is a perfect way to cut down on your wedding budget. This works especially well at outdoor summer weddings. Just make sure to pass some hand fans around to keep the heat off.
12. Alternative wedding cake
A lot of couples are opting for a faux wedding cake for the photos and serving something less expensive to their guests. It's the best of both worlds and you get to save some cash.
13. Choose affordable wedding rings
Your engagement ring and wedding bands are meant to be worn every day for the rest of your life so you may not want to skimp, but if you're willing to keep things simple you could save a small fortune with some lower-cost rings.
14. Ask for money instead of wedding gifts
It used to be poor taste to ask for money instead of gifts, but with today's modern couples who are already set up for life in a lot of cases, it makes more sense to gift cash instead of a 3rd blender you'll never use. Just make sure to be specific on your invites are wedding website so that there's no confusion or hesitation.
15. Plan a simple honeymoon or even cancel it
Not only will you spend an arm and a leg getting to that tropical beach, you'll also be missing out on some income by missing work. The honeymoon isn't a direct tradition and doesn't lessen your marriage in the least. There's no harm in skipping the trip.
How to plan a wedding on a small budget takes planning and consideration. First, work on your wedding planning spreadsheet to see what deserves the larger percentages. Then, compare total costs including your own time and potential redos on your DIY projects. Once you have the full picture, scale back on what you're comfortable with until you reach your desired wedding budget.