Photo 106-108: With Groomsmen
As tough as some guys claim to be, they're all truly romantic at heart. This goes for the groom as well as the groomsmen. Get photo-evidence! There will be plenty of groomsmen photo ops as his best buds offer up high-fives, hugs, and non-stop smiles. It doesn't have to be all fun and games. Try a few artistic shots that sum up their personalities.
Photo 109-111: Family Photos
Although the main event is the union of bride and groom, your wedding is also when your family combines and grows. Your new family photos will shine in your album. So take plenty of them with different combinations of all the people that you can always count on.
Photo 112-114: Wedding First Dance
The Wedding First Dance is the first truly intimate moment after the official "I Do". It's when the couple can forget about everyone around them and the hustle of the day, and begin falling in love with each other all over again. This moment will obviously be an indelible photo in the album.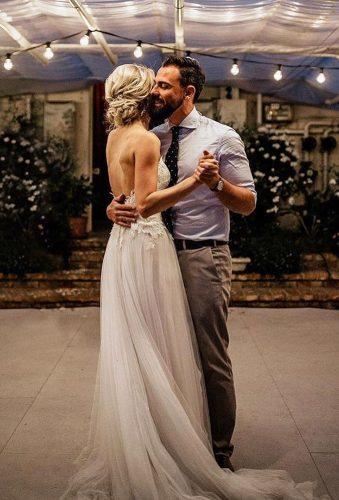 Photo 115-117: Father-Daughter Dance
A photo of the traditional father-daughter dance will represent so much. Even though you've grown up and started your happily ever after, you're still his little girl. This is a father's proudest day and should be remembered forever.
Photo 118-120: Wedding Party Photos
The groomsmen have known the groom for years and are his trusted advisors. The bridesmaids are the bride's closest confidants. Each group has their own inside jokes and their own personality. This union is between bride and groom but expands beyond to the besties. Capture the moment when this extended group meets and greets.