Have you decided that you would love to have a winter wedding? Then get it here, as there is a lot to learn and unlearn. You'd find out that their myths surrounding a December wedding are all they are, only myths!
From the winter wedding photos to the winter weddings receptions, it's all fun, romance, and creativity. In this post, we'll give you some December to January weddings ideas to work with.
Winter Wedding Outfit Ideas
Source: blitzkneisser_foto via Instagram, utahvalleybride via Instagram, blitzkneisser_foto via Instagram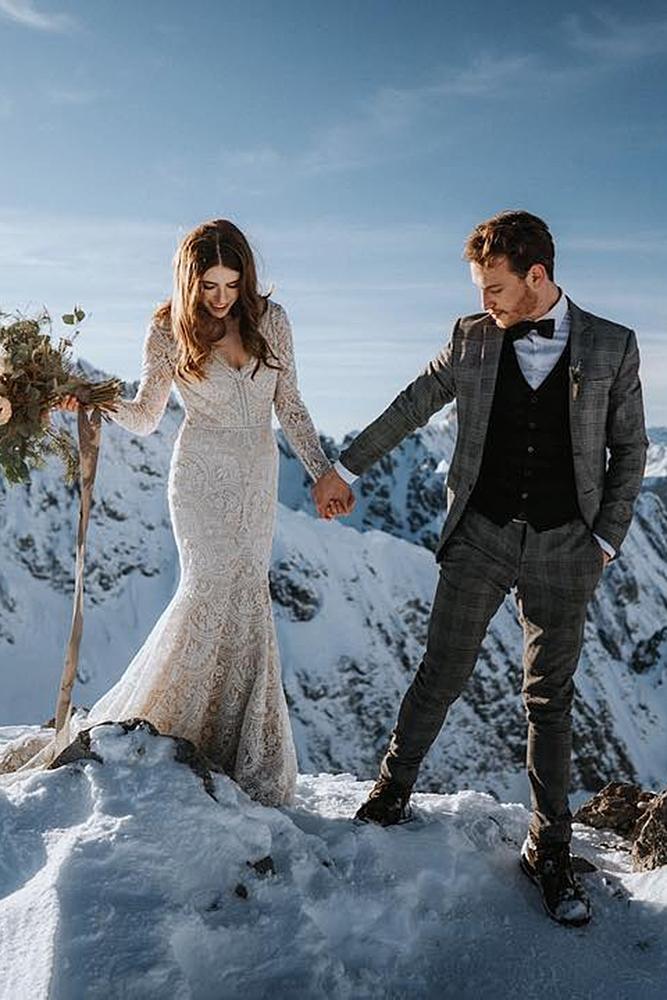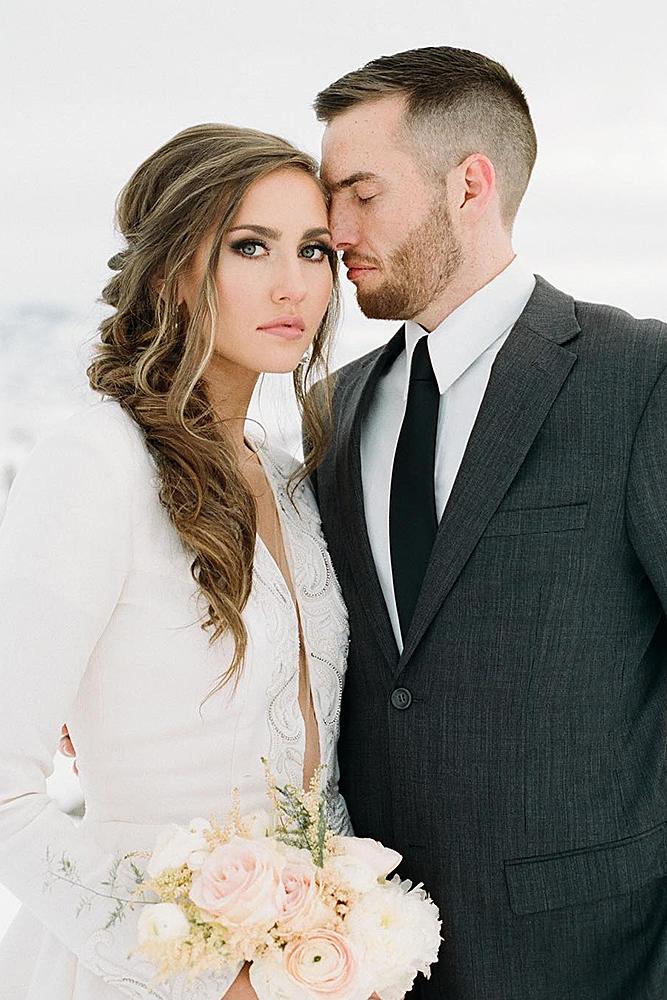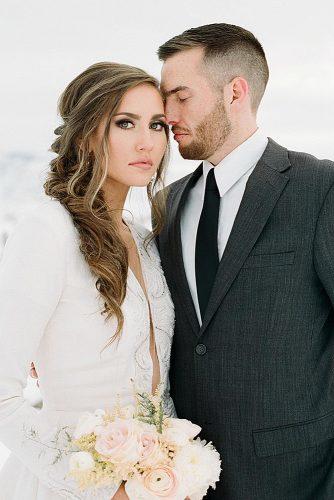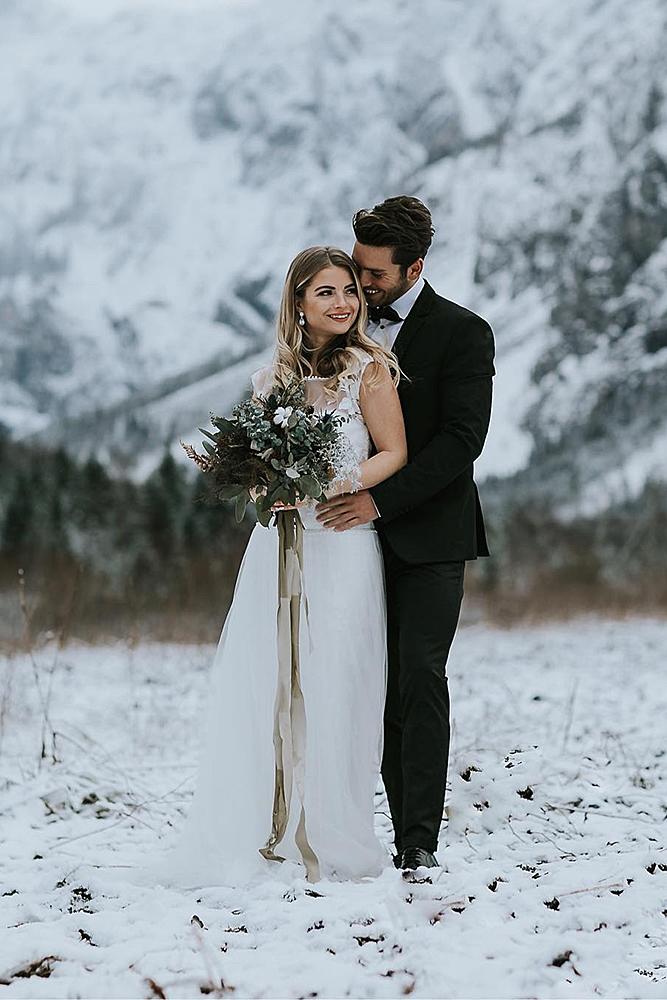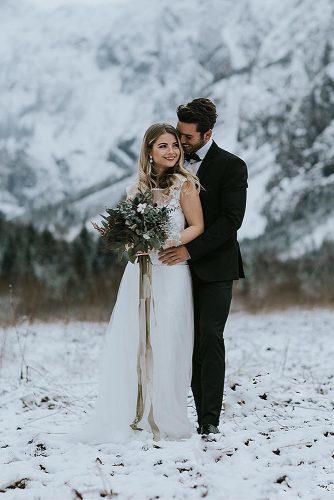 The snow is beautiful and the pictures will be breathtaking. But it's not as simple as it looks, because the cold is terrible. This is dependent on the part of the world where you are or choose to have your wedding. The normal notion people have for a winter wedding outfit is long sleeved gowns and coveralls for the groom. That isn't so true. You can be stylish even in the cold. Let's see some ideas below.

The Bride
The bride can rock a strapless gown for all she likes. Pair it with some gloves and a winter wedding cape. It is thick and can stand the cold, but don't stay out too long. She can also wear a short-sleeved gown in the winter. All she has to do is throw on some thick shawl and she's good. Don't forget about a faux fur wrap or a thick bolero with sleeves.
Bride can also rock some good old half sleeves with a pair of elbow length gloves to match.
For the bride at a venue where the cold isn't severe, a tea length vintage dress can work. Do well to wear warm tights, cover shoes or stylish boots to keep you warm.

Groom
For a February wedding, there is so much for the bride to wear. But there's only a few for the groom, yet they can look stylish at a winter wedding.
Rock a plaid shirt with a bow tie, or a cable knit sweater on your shirt or in a suit. These things go well with ties depending.
You can also wear scarves tucked in your neck or over your neck. And the best of all is a simple long fur coat over your suit. Pair with some boots, thick shoes, gloves, and converse. If the cold is intense, throw in some fancy fur call that covers the ears.

Winter Wedding Decorations
Source: carolaunbehauenfotografie via Instagram, joelsview via Instagram, taramcmullenphoto via Instagram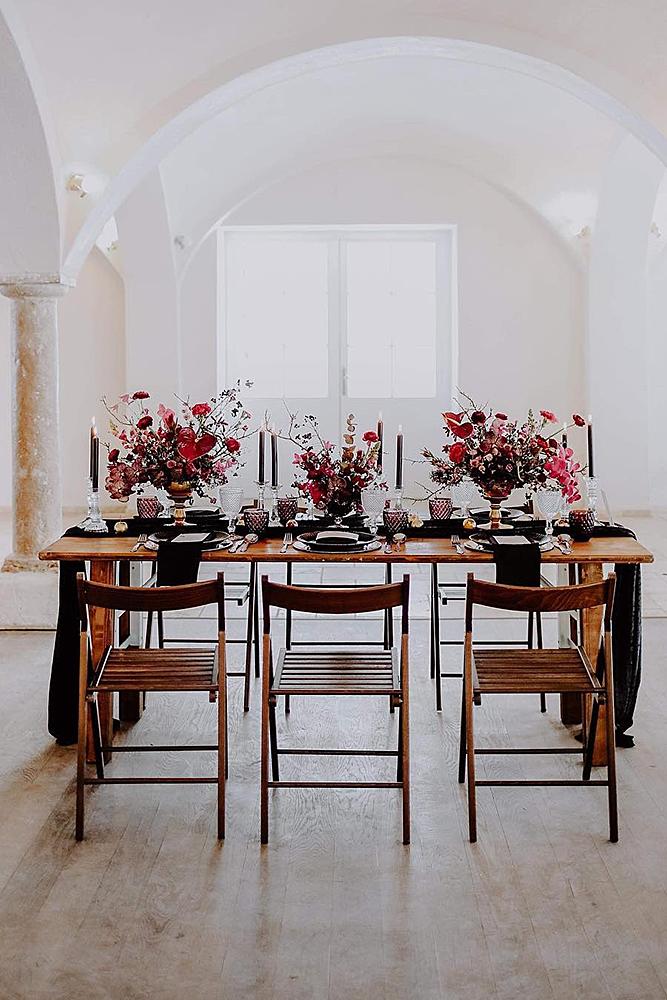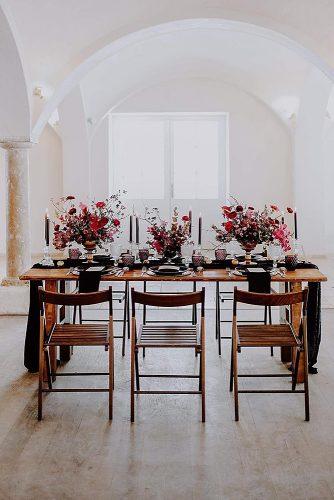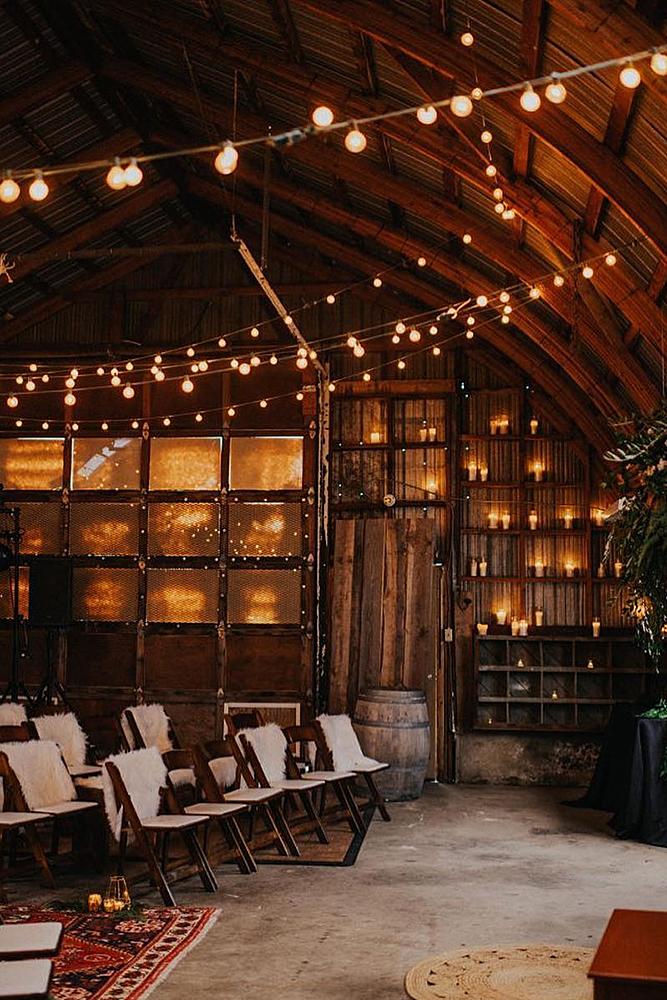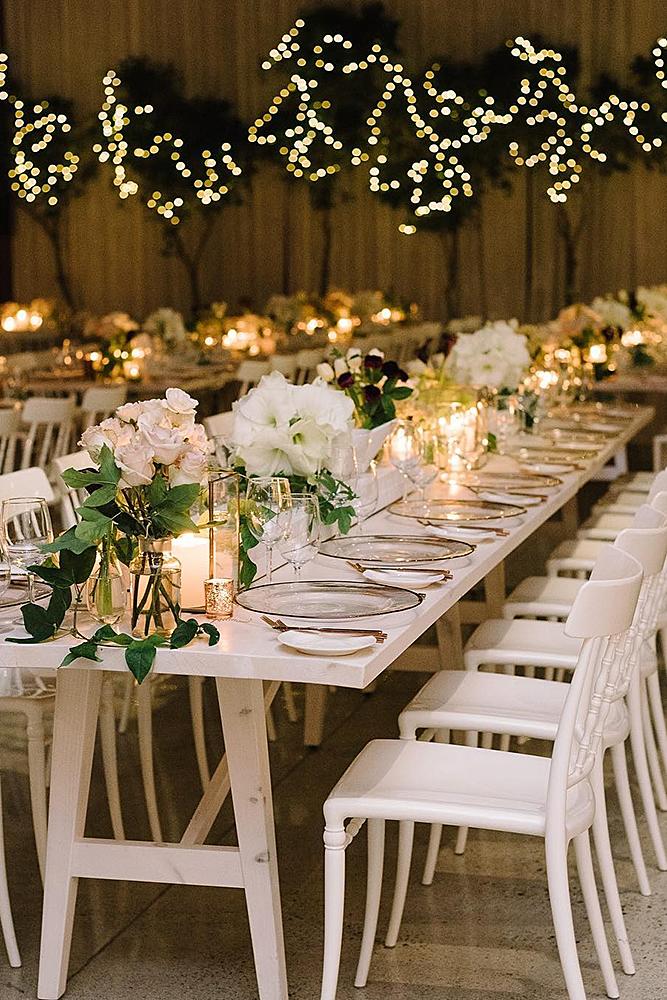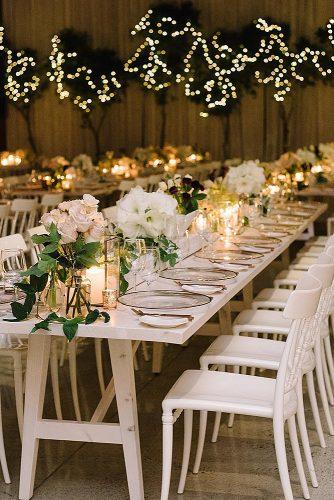 For winter wedding decorations, the normal way to go is candlelight, with lots of white and silver. For those who want the Christmas wedding ideas for decor, it's the regular red and green. But you're having a wedding in the snow, spruce it up.
Move away from the limiting winter wedding decor into something more creative and modern. Begin with the holiday style winter wedding invitations which are always silver or white. Create your wedding invitations glittery gold.
For the venue and floral arrangements, the string market let lights are inevitable. Tone it up with burgundy and emerald colors. Use for primary hues poppy and Caledon. Perfect it with the presence of gold glittery candles for more intimacy.
You have lots of choices to make for a white winter wedding bouquet. If you are hell-bent on having peonies, make your budget ready. This is because it is not in its season in winter yet. But if you want assortments in season, there's the roses, tulips, amaryllis, gerbera, daisies, etc.
The aim is not to undermine the legendary colors of a winter wedding. This is only adding on some colors to light it up.

Winter Weddings Reception Ideas
Source: steenaanne via Instagram, theallanhouse via Instagram, jessicawilliams.photography via Instagram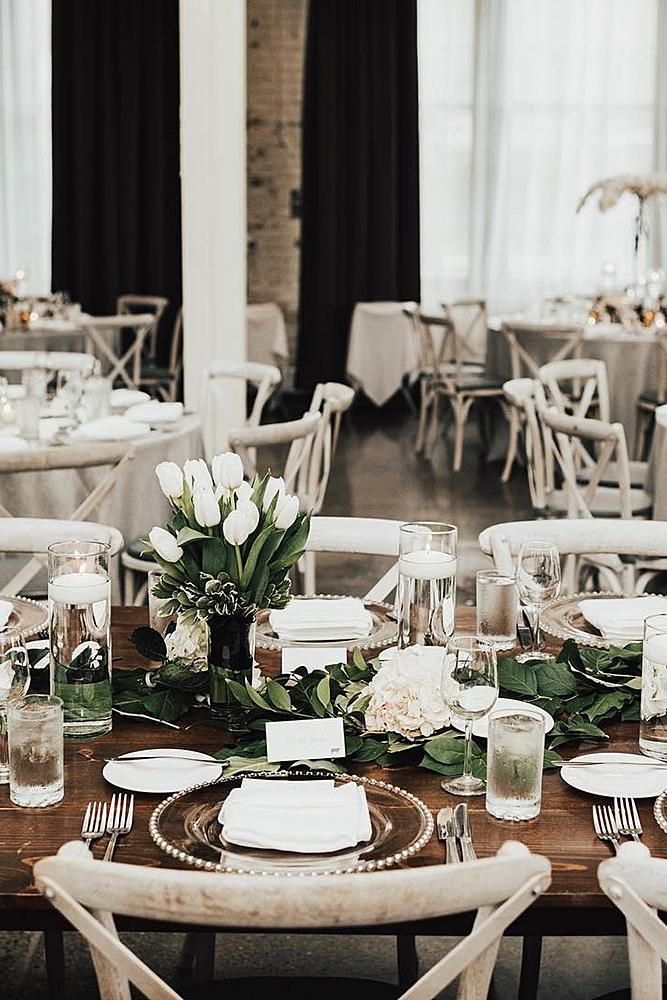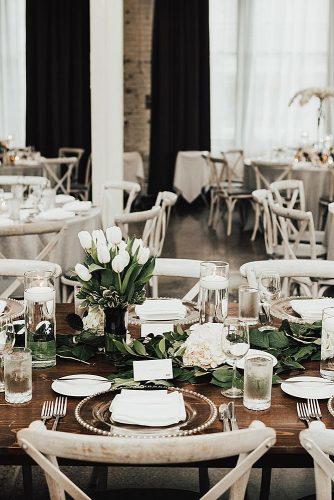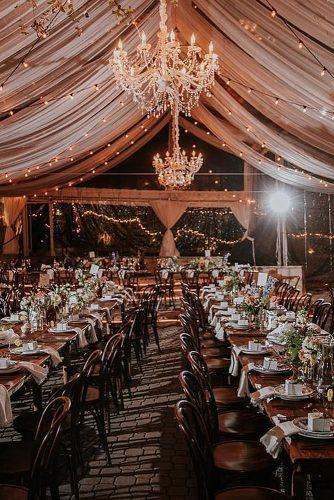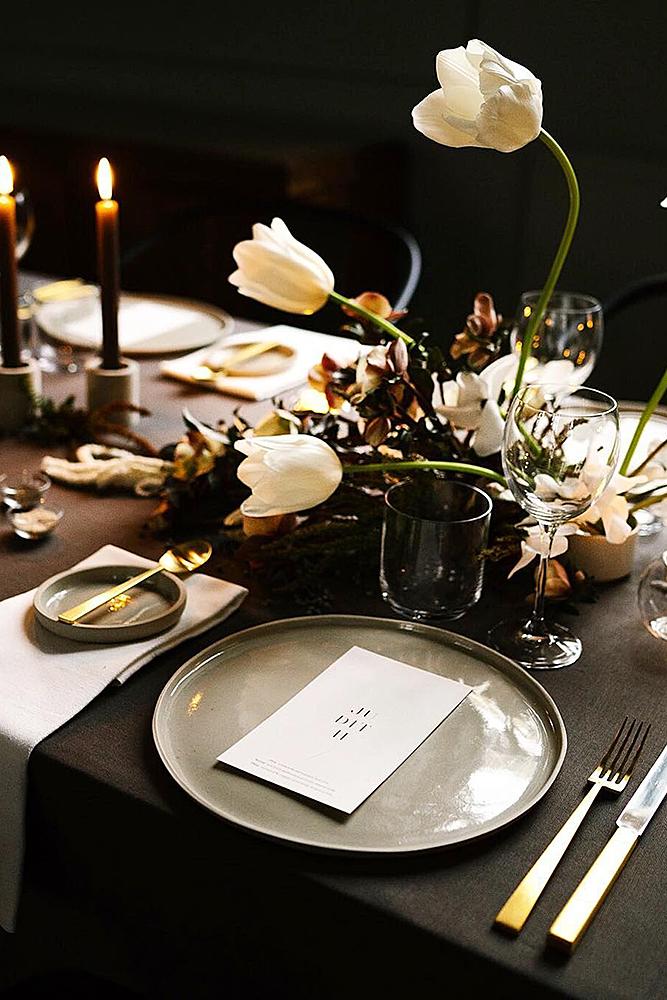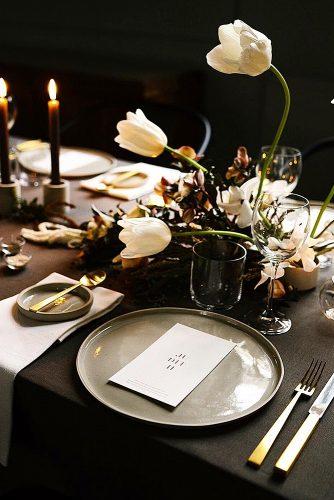 When planning a winter wedding, your ideas for reception may not be forthcoming. Well, you can set your reception on fire with some of our ideas here.
Apply the frosted color scheme of winter burgundy centerpieces and charcoal linen. Add some metallic chargers, tall candles and gold flatware for some color. String up some twinkling light to make the atmosphere more enchanting.
Build a whimsical and ethereal bar that reflects that highlights the winter environment. Mix votive of varying candlelight length together with small centerpieces.
Extend that to your winter wedding cake. Bake it in as many tiers you care for, go with the frosty theme embellish with gold and glitters. This will give your cake a dreamy look that corresponds with your winter wedding theme.
Winter Wedding Photos Ideas
Source: alliedearie via Instagram, alliedearie via Instagram, mariapeltomaa_photographer via Instagram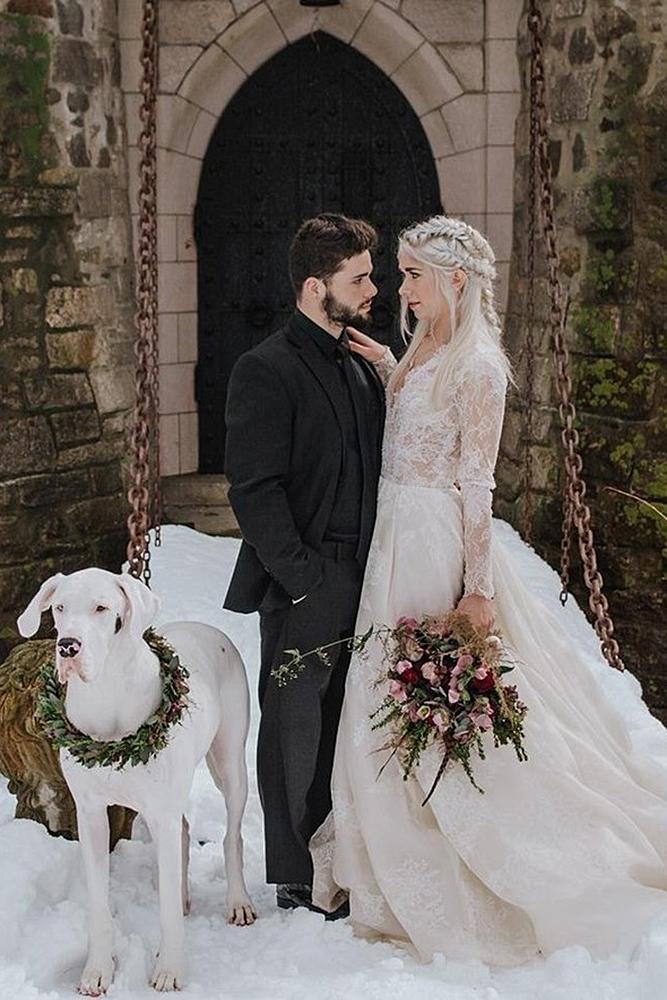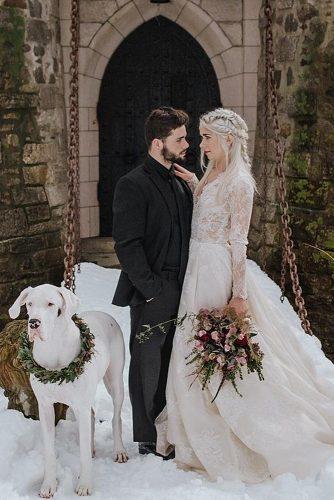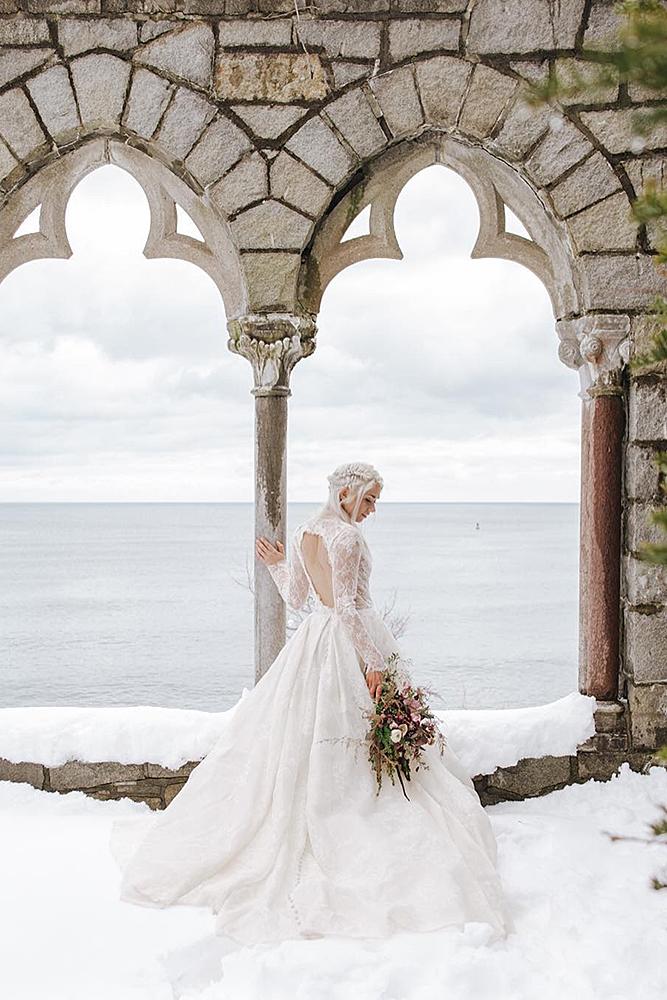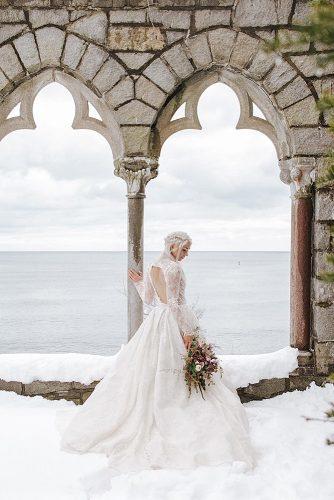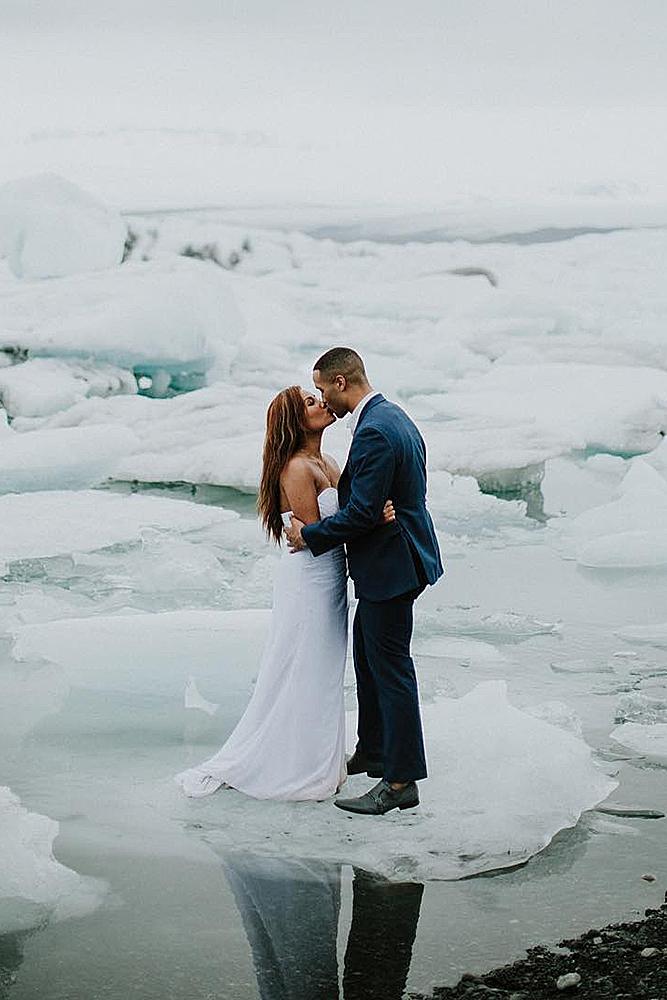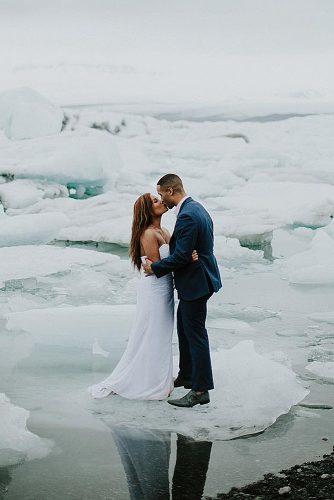 Who says you must stay indoors to take winter of Christmas wedding photos. There are so many options even for winter engagement photos. It is an opportunity to cuddle up, stand on the snowy mountains or go sledding. Check out some beautiful winter photos ideas below and some winter wedding tips for perfect photos.
Photograph the evergreens and the soft white blooms bouquet against the snowy background.
Give us a frosty first look work the couple walking in the snow.
For a country winter wedding, get under the dreamy winter skies and stunning snowscapes.
Share a champagne toast with your beloved in the snow.
Two cups of hot chocolate and a cuddle with your beloved.
Get into a fun snowball fight and see who wins.
This is that opportunity you've always wanted. Go sledding on your wedding day.
Smack snowy kisses on the bride's forehead in winter. It's enchanting and romantic.
Lift her up, cuddle in the chilly weather and share a long kiss.
Go up the snowy mountains, see the beauty of the snow and share some love.
Tips To Take the Perfect Winter Wedding Pictures
Schedule your winter wedding photography in the day time. This is because lighting during winter is only some hours of the day. This will help you avoid those gloomy looking pictures.
Dress for the weather and ensure your photographer does the same. If your photographer is even the slightest bit cold, they'd rush your shoot.
Avoid shooting or posing towards the winter sun. It casts long terrible shadows against your backdrops.
Take advantage of the brilliant white backdrops to pop up other colors. You can only find these white surroundings in winter.
Use more black and white if you want to capture the winter landscape in photos. Merge the stark and bleak view of the cloudless sky against the clean white background. It is enchanting and mesmerizing.
Winter Wedding Venue Ideas
Source: brzphotography__ via Instagram, ericcheng.photography via Instagram, davidannco via Instagram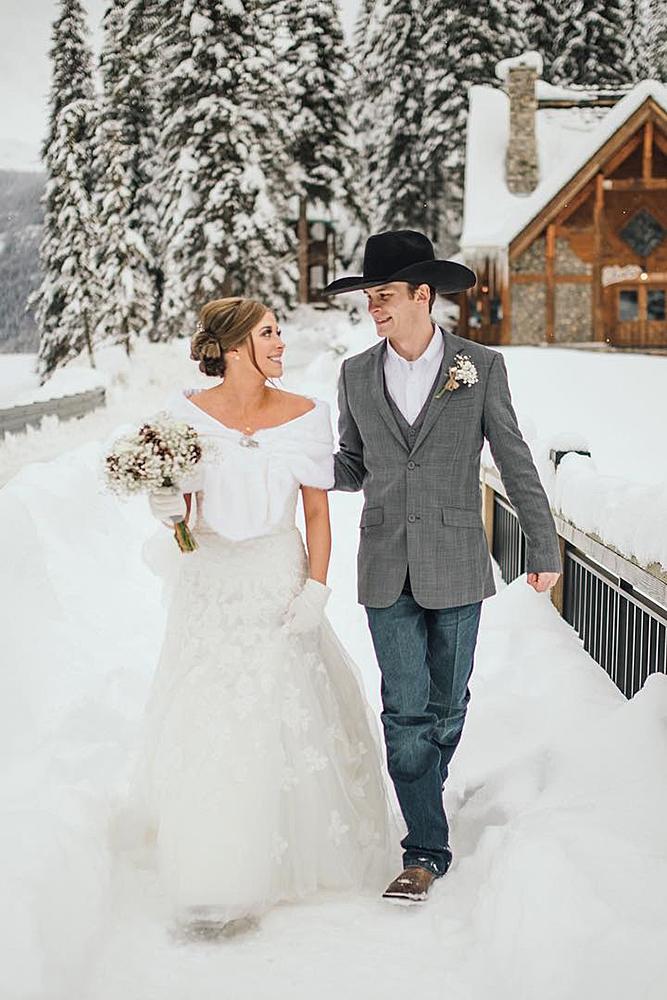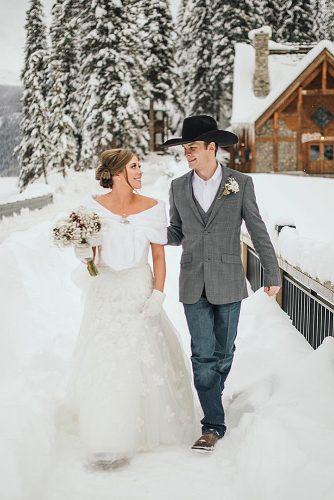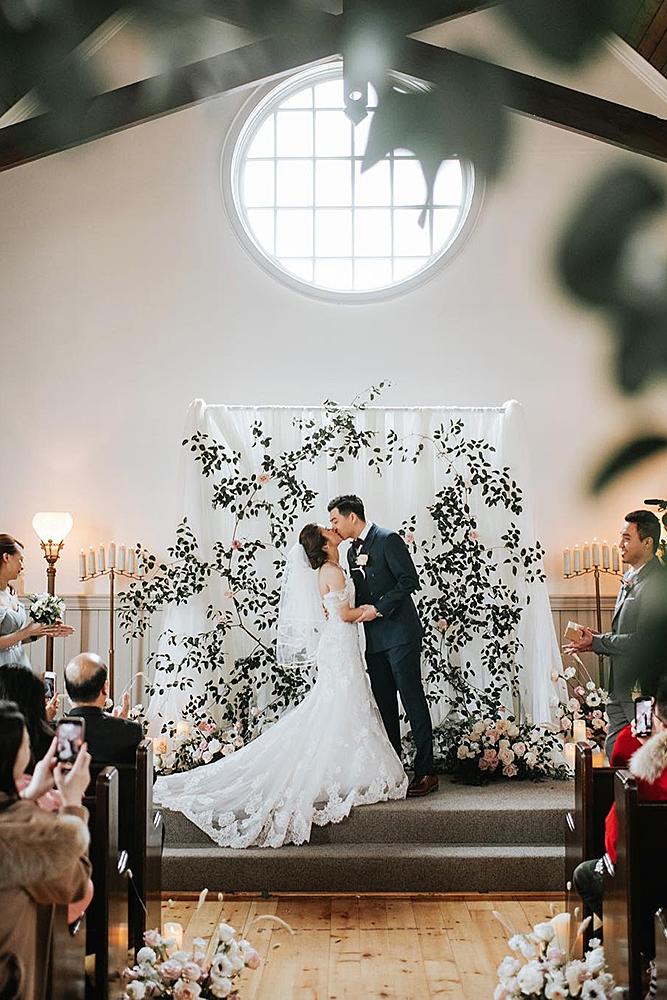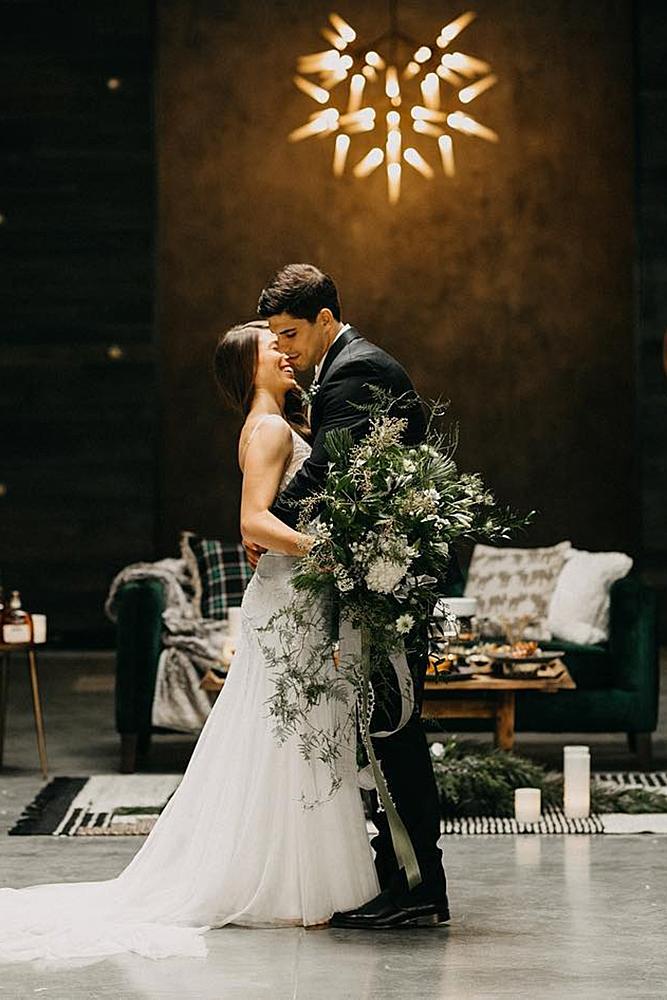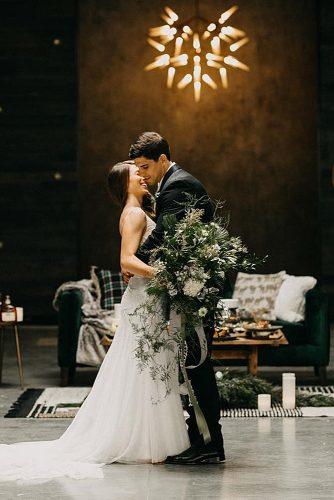 There are many stunning winter wedding venue ideas to consider when planning a wedding in winter. From small winter wedding ideas in the country to the destination rustic wedding in winter. Let's see some of the most breathtaking sites below.
This place comes with a reputation for winter. The sugar bash and mad river Glen attracts the skiers in the East Coast to the north once there's snow. This place has all the trappings of a winter wedding. It is one sure place to elope to. For 15 guest's, the price is $18,500.
This is an Adirondack lodge of unequaled proportion nestled in the woodlands surrounding Lake Placid. The building is one of hand milled timber and furnishings crafted by hand. Situated only a few blocks away from the slopes of the White Mountains, the setting is idyllic for a winter wedding.
The classic wedding package is $158, the signature package is $178, and the diamond package is $255.
This is a place where you can marry in the snow without the chills. Features a glass-enclosed botanical garden with a lush wall of greenery and moss. The Stone archway is dramatic and compelling.
A wedding of 125 persons will cost $29,000
Having a winter wedding in the hot springs? Yeah, you heard right. It is very comfortable in its position across the mountains from Telluride. It's a romantic ghost town situated in an alpine valley. Feel the rustic wedding charm in winter from the cabin to the splendor of hot springs.
A 44 person's guest list cost $45000
Icehotel, Jukkasjärvi, Sweden
This hotel is available only in winter months, after which it melts back to the sea. It boasts of dramatic rooms carved out of ice and snow. This is the true epitome of a winter wonderland. This hotel creates a chapel that sits 35 – 40 guests. Its altar details and benches made from pristine natural ice. The walls and ceilings made from snow.
Reception is a feast of gourmet and Sweden specialties. They host a great winter wedding party. Bride and groom package of 3 nights for 10 people, from flight to outfit is $24,685.
Advantages of Winter Wedding
Source: envphotographybanff via Instagram, willowandwolfweddings via Instagram, bines_hochzeiten via Instagram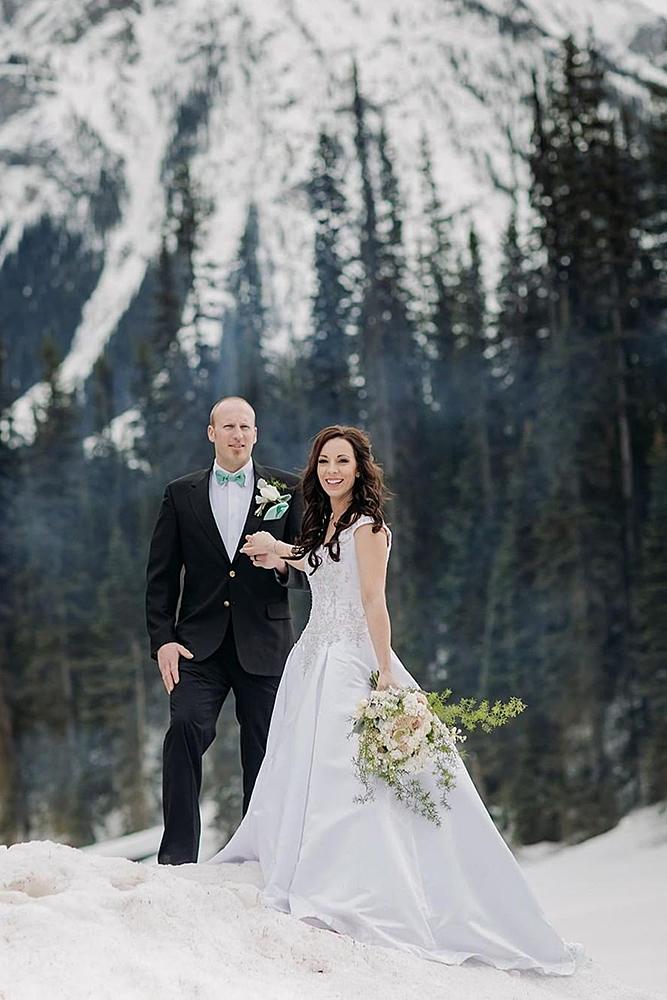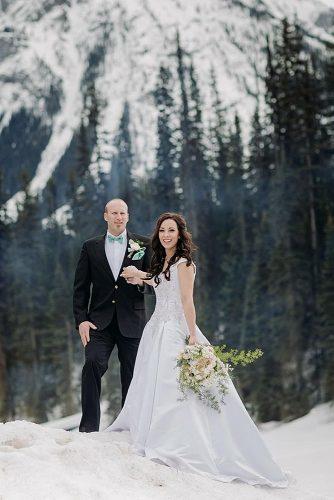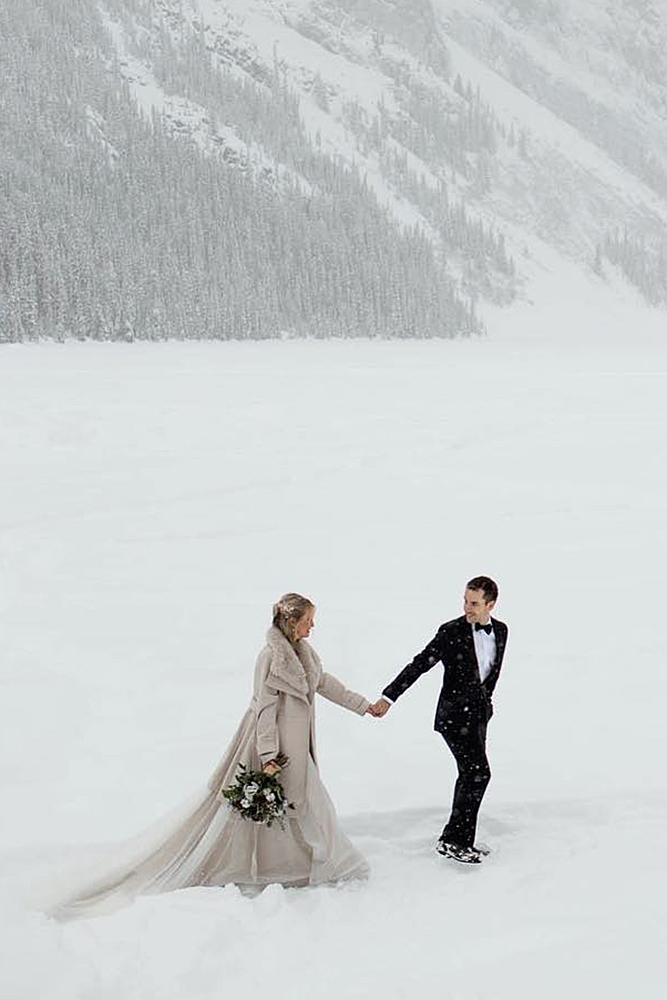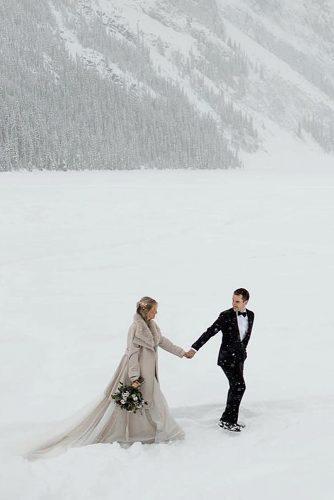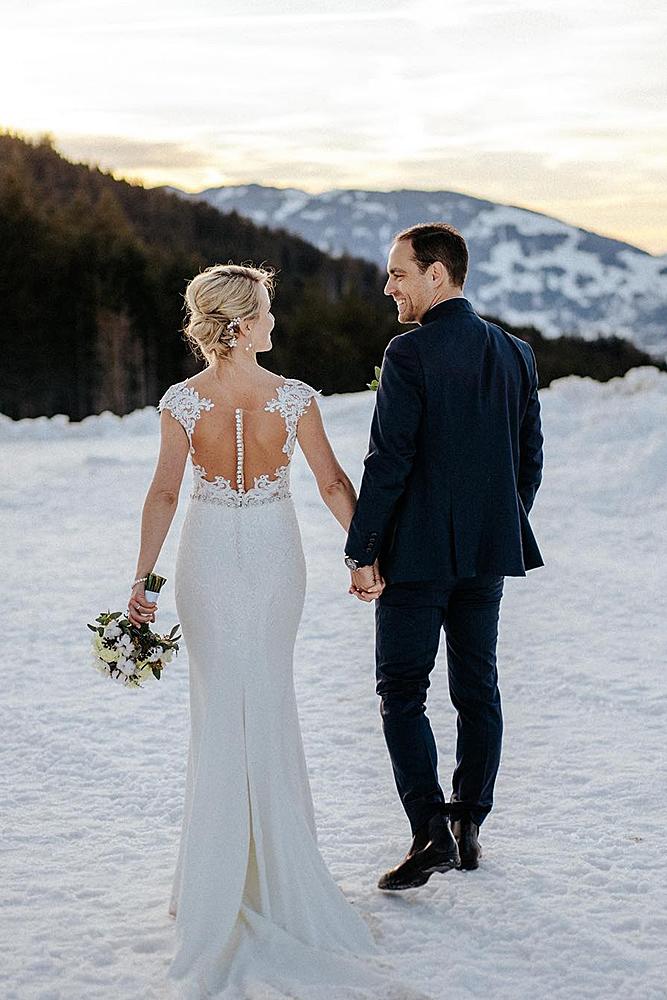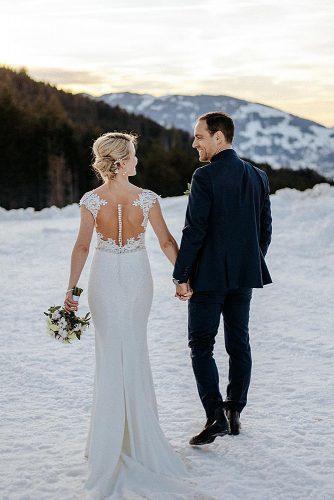 The advantages of winter weddings are one too many. Beginning from the dreamy landscapes to the stunning venues and stylish couple. We will look at ten of the top advantages of having a winter wedding. Don't let anybody tell you otherwise!
Live Your Romantic Dream
The winter atmosphere is one that screams romance. Look at the beautiful snowscape and drenched mountains, up to the clouded sky. Imagine the snowfall on your wedding day with contrasting backdrops of greenery. And then there is you, cocooned in all these with your beloved. Pure wonderland romance!
Everything Is Available
Venues, band, officiants, vendors, photographers, name it. They are all available in this seasons because it's not peak period yet. You have all the best in the wedding industry at your disposal. Make your pick.
Cost Effective With More Choices At Better Rates
In the winter, business is slow. So you can approach any vendor you like and reach an agreement. They need your business, and you could always get discounts. Vendors who get booked for the whole summer may have a slow winter. An opportunity for you to leverage.
Your Stress Reduces
Most winter wedding parties take place indoors. This the stress and worries of getting tents and keeping the guests shielded from the heat and sun. You're also not afraid of the elements like a storm or rainfall. Everyone is safe inside.
Help With Free Decorations
A winter wedding coincides with Christmas and New Year festivities. So, every venue you hire has its own decorations already set up. This makes you spend little or nothing on decorating the wedding venue.
Accommodations Are Cheaper
Few people travel or stay in hotels during winter. Everyone is indoors and this makes business slow. This is unlike summer when the trips triple. Students going on vacation and couples having getaways.
Wedding Fatigue Is Not Existent
From June approaching November, it's wedding galore all the way. If you fix your wedding then, chances are that the family will complain of so many weddings. But between Decembers to April, the weddings are few and they'd attend yours with relish.
It's Extraordinary
The rustic vibe is a combination of woods and deep hues, to romantic shades of greenery and whites. The amazing color palettes of all these are extraordinary and an amazing vision. Winter weddings are one of the most beautiful in photos.
You're Safe From The Hot Mess Syndrome
Getting married in summer will see you in a hot mess if you don't prepare. The heat and sweat will be of gigantic proportion. Guests are trying to take off their clothes in summer. But if you get married in winter, guests stay crispy and dry. You stay fresh and put together all day long.
Get Your Snowy Wedding Photos
You'll be sure not to miss out on the generous snowy winter photos. If you're lucky and snow falls on your day, have some fun. Take a picture with the snows falling on your heads. Or you may even go sledding.
How Much Does a Winter Wedding Cost?
Winter weddings cost an average of $32,000, and this could go up or lower. A lot of factors contribute to this cost, one of which is the winter wedding food. The other is the blooms for floral arrangements and wedding bouquet. To get flowers in this season, keep a separate budget because the prices skyrocket. You'd only cut costs if you get seasonal blooms and have a small wedding.
Are Winter Weddings Cheaper?
Yes, winter weddings are cheaper, which is the reason lots of couples get married then. Vendors slash prices in almost half because they are without jobs. Vendors who get booked two years in advance stop getting jobs. So, rather than lose your job, they are to work at outrageous discounts.

How Do You Have an Outdoor Winter Wedding?
Sure! You can have an outdoor winter wedding, albeit with careful and detailed planning. Find some tips to help you plan an outdoor winter wedding below.
Get all the important winter accessories to shield you from the cold. A gigantic cape, faux fur, chic cardie, warm tights, veil, etc.
Make sure to get a backup plan for inclement weather. The snow may come with winter blizzard with is an extreme weather condition. It could cause varying degrees of hypothermia and could kill. Make plans or avoid it in total.
As it should, the thought of a winter wedding brings an indoor view. So if you're hosting outdoors, let the guests know. This will help them prepare better against the elements.
Make your winter wedding cozy and short. Cozy in the sense that you will provide comfy blankets for the guests; heaters, fire pits, and warm drinks. Short being that you will cut the outdoor part to about 30 minutes. Don't make your guests freeze.
Position few waiters with something hot for the guests to warm their insides once they get in. This is when you can share the mini grilled cheeses, marshmallows, hot spiked ciders, and soup shooters.
For some outdoor comfort and warmth, mount clear spar tents with walls. They also have flooring and heaters inside. Ideal for the cold outdoors.
For an alternative, pick venues with big windows facing the beautiful snowscape. This way, you can have your vows indoors and still give guests the view of winter snow.
Winter Wedding Cons
Weddings in winter are beautiful, but not everything is as smooth. There are quite a few cons that can discourage you if your mind is not set on a winter wedding. For you to marry in winter, you have to love winter. This is because the following reasons can change your mind.
The winter weather is unpredictable. It can snow, progress to blizzards or get to stay cold.
Travel delays related to winter weather is horrific. Your guests get stuck or encounter any travel hitch in winter.
You get lighting for only a limited time in the winter. The sun goes down early with some part of America already dark at only 4:30 pm.
Get ready for a stylish winter wedding using the ultimate guide above. From the many winter wedding ideas to its overwhelming advantages, winter is superb. It is also cheaper than weddings in summer, giving you the opportunity to save cost. And winter wedding outfits? Stay stylish, yet protected from the elements, and have a super romantic wedding.
Main Photo: jessicaephotography via Instagram