There are numerous ways to save money abound, starting by setting a clearly defined budget on your venue, catering, dresses, and even entertainment.
This post will show you what to look out for at every stage, how to curb unnecessary expenses, right channeling of finance and how to save money on a wedding!
Set Up A Clearly Defined Budget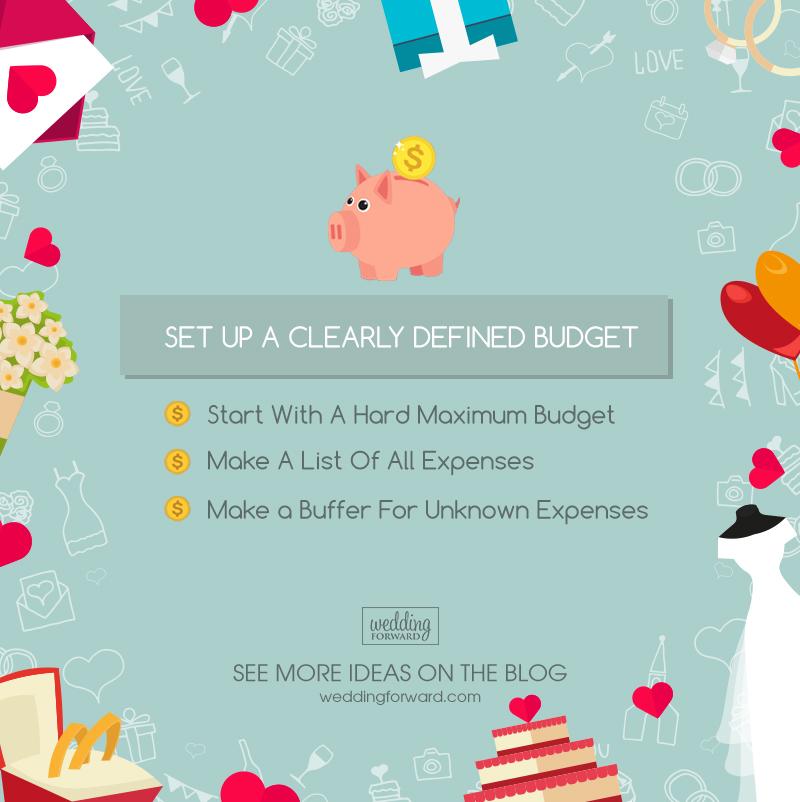 Average Budget Cost: $33.500
When planning your wedding, set a defined budget of all the things necessary for you to pull off a wedding. Include all the tiniest things and mark a price to each. Follow the steps below and find essential tips to plan your wedding budget!
Start With A Hard Maximum Budget
One of the effective ways to save on a wedding is to be realistic with your planning and call for help. Collate a list of everything, down to the tiniest bit of things you need and make a rough sum. Check the savings of you and your partner to see how much you can come up with.
You can also call up both pairs of parents to know how much they'd support with or what they'd take care of. Exhaust all the help avenues open to you for the wedding. Whatever you get in total, is your hard maximum budget.
Make A List Of All Expenses
Make a broad list which contains everything about your wedding, leaving nothing out. Put down your wedding dress to the venue, floral budget up to your wedding food costs with real price ranges. It is easier to place prices on fixed items and services such as the wedding entertainment which includes music, food, drinks, and photography.
Consult companies or firms you want to work with for your wedding and weigh prices. You can also ask friends who are recently wedded or those in the business of event management. This way, you will get diverse price ranges within your budget.
Make a Buffer For Unknown Expenses
Making buffers for unprecedented expenses a part of your wedding budget is one life hack you can't ignore. Make it between 15 – 30% of your budget and you can be of sure of a definite soft landing. You may not even get to use it at all. Something may go wrong with the wedding flowers or seats and the buffer cushions then lapses.
It's also common knowledge that at weddings, the guests either have an affinity for the food or drinks. Your alcoholic beverages may need repeated supply because some guests cannot stop drinking. Your buffer comes to the rescue.
Saving Can Be Fun!
Is it possible to save money, organize your big event AND have fun? Our answer is YES! Make your wedding preparations more pleasant and add an element of welcome surprise with a bridal subscription box! These boxes are not only a fun surprise every month, but they also contain many items that will be useful during your wedding planning, and possibly you may not have thought of yet.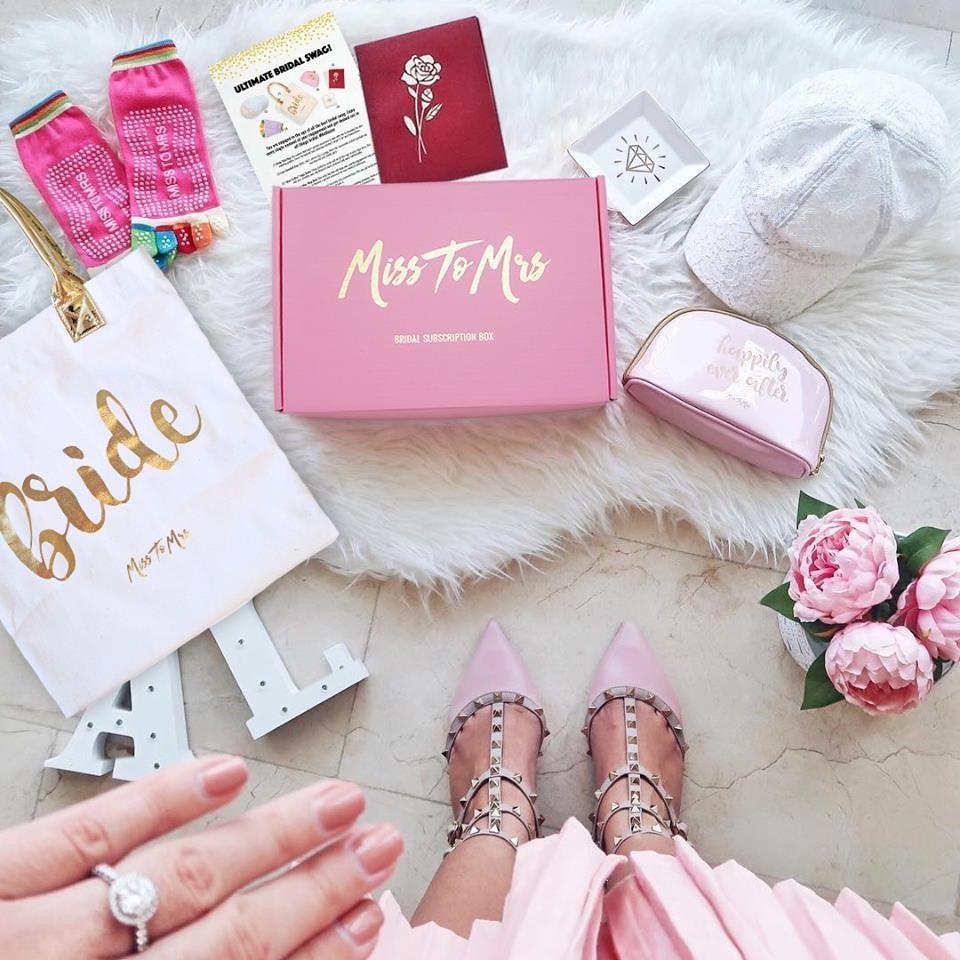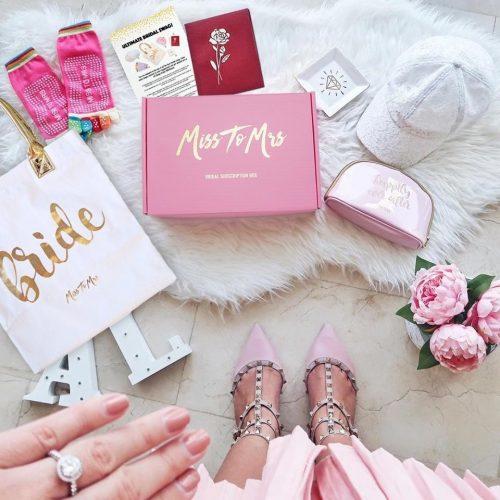 But wait, how would it help save money? Well, it's easy! First of all, every item you get will help you get ready for the wedding, and might even give you some wedding inspiration!
But even more important is that these custom made wedding-themed Miss To Mrs boxes help relieve the stress. You receive more than just high-quality wedding-themed products, you receive good mood and wedding inspiration. Their previous Miss To Mrs Bridal Subscription Boxes included such awesome items like a floral kimono robe for the wedding day morning, vow books, "Just Married" car decal, full garter set, bridal hairpieces, diamond wipes and lots of other useful items you are going to need for your wedding.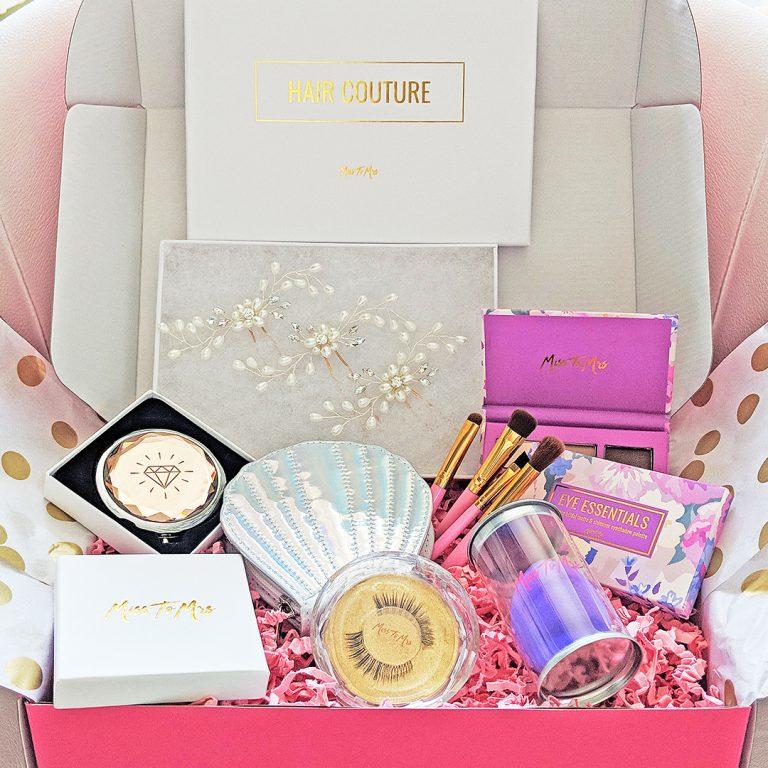 Ways To Save Money On Wedding Invitations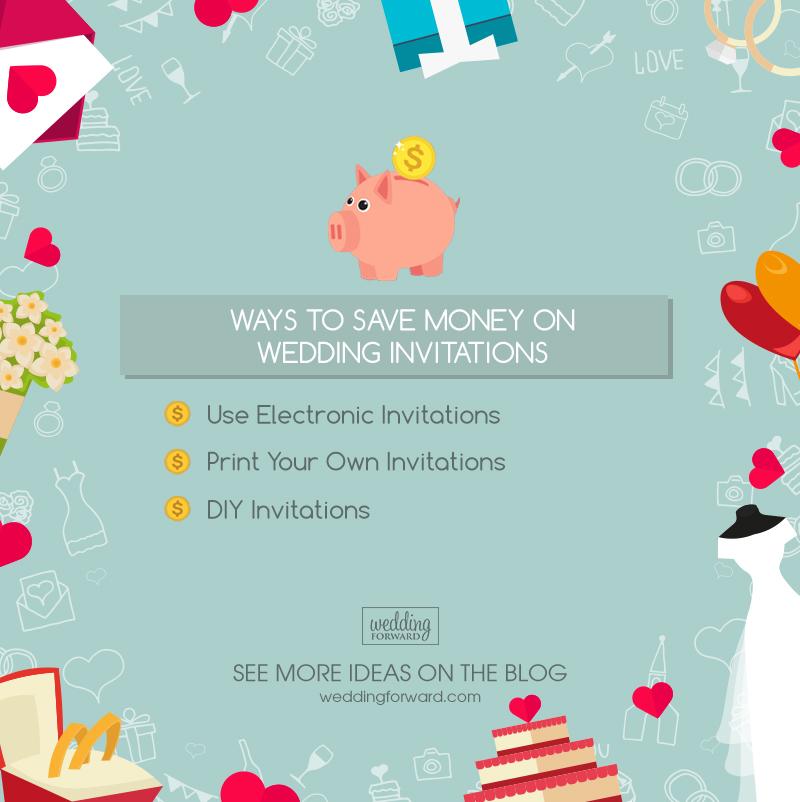 Average Invitations Cost: $410
Wedding invitations are beautiful and everything classy, but with wanting to save, it is not something to splurge on. More so, we are in a time where going paperless is easier, more efficient and faster. This is an avoidable waste which you can save a lot from.
Use Electronic Invitations
This is especially for the couple who have tech-savvy guests gracing their wedding. Send your wedding invites through emails or other social media private messaging platforms. You can also source for websites online which let you send invites for free.
Another way to do this is to set up your own websites with your best-loved up pictures and keep your guests aware of it. That way, they can RSVP online and keep up with your wedding planning process and adjustments. You can also choose either your maid of honor or best man to receive RSVP through phone calls.
Print Your Own Invitations
Printing your own wedding invitations, beyond saving costs also allows a room for creativity. If you have friends who love to design or draw, sweet talk them into helping you make some invites. If people with such talents are absent in your life, there are wedding invitation templates to the rescue.
Etsy is a very huge place to find some of the most beautiful templates. Pay, then download a template that matches your wedding theme/colors and print away in the comfort of your home. This will save you so much money, enough to cater to other pressing needs.
DIY Invitations
Are you looking for a way to not just save money, but get creative, stamp on your personality and have fun? DIY invitations are the way to go, one which will have very willing volunteers. It will also save you so much money as against professionally produced invites.
You will need to buy materials and that should cost about 15% of total professionally made invites budget. Go on Pinterest where there is a parade of beautiful designs, make a pick and work with ones that best suit. Same goes for appreciation cards. Buy or make low budget minimalist thank-you cards.
Ways To Save On Wedding Venue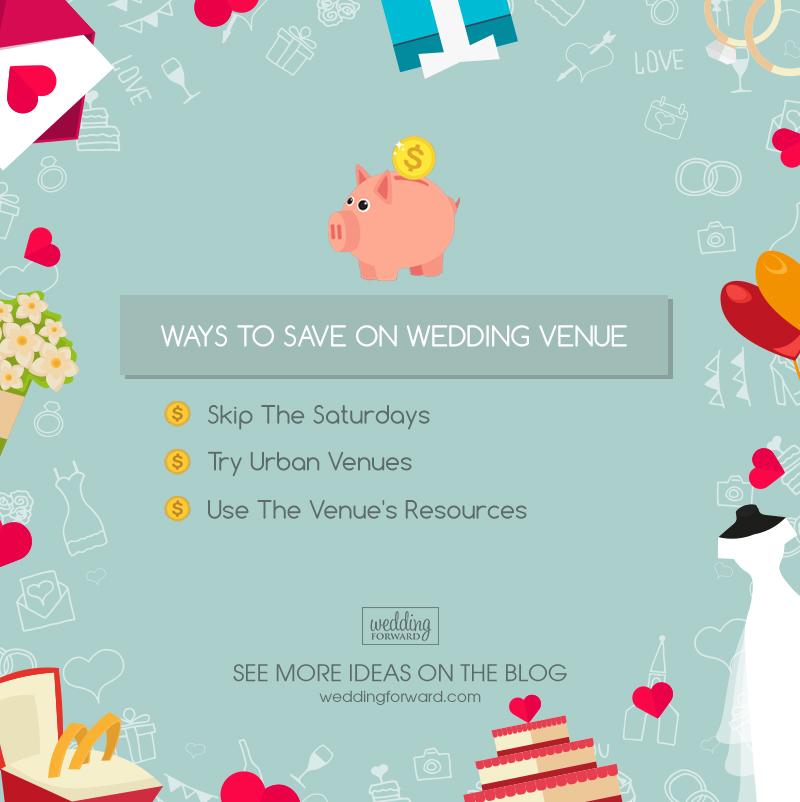 Average Wedding Venue Cost: $15,200
The most convenient venue for your wedding is one so beautiful, strategically located and suits your budget. Ballrooms, hotel banquets, and halls are fine for those who are wealthy. But if you are looking at how to save money on a wedding through venues, below is how.
Skip The Saturdays
The popular hashtag "Saturdays are for weddings" is not a myth. Saturdays are really for weddings all over, maybe because most people do not have to go to work. If you are looking for ways to save money on a wedding, please skip Saturdays. Saturdays will definitely be the most expensive day and all booked.
Pick any of the weekdays or nights and you would still have a beautiful wedding. Getting married on a Sunday is not a bad idea either. How about you pick Wednesdays too? This way, you save a lump sum while having a beautiful cheap wedding.
Couples who live in rural areas or the countryside's have the beauty of wineries, breweries, fields, and yards for weddings. For couples who live in the cities or exclusive suburbs, we ask you to try out the urban venues. Places like restaurants, art galleries, museums, parks, and public yards are lifesavers.
These are places which do not cater to the wedding, so prices will be reasonable. They may need you to pay for their food and drinks which will be the normal rate for other patrons. Only make sure they have areas that can sit in all your guests in comfort.
Use The Venue's Resources
The resources the venue may have depends on what place you have chosen to hold your wedding. Find out what the venue you chose will offer as part of the rental fee. How to save on wedding rentals is to make sure that the venue offers almost everything as part of the fee. Make sure to choose a venue with an opulent décor.
Some places may choose to supply seats, table covers, linen, cutleries and all. But if you choose someplace like a public yard or park, you may have to spend money on decor, lighting and other logistics.
How To Save Money On A Wedding Dress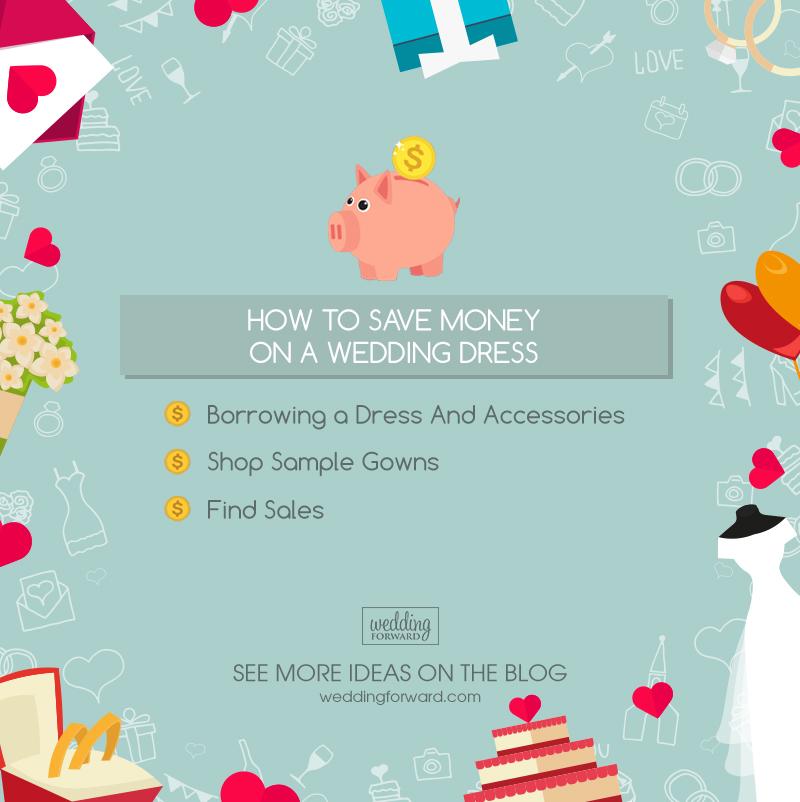 Average Dress Cost: $1,700
Every bride wants her wedding dress to be the cynosure of all eyes. This you can get at budget-friendly. What is the need for splurging on a dress you'd probably wear only once in your life? Learn ways to save money on a wedding dress instead.
Borrowing a Dress And Accessories
Meet up that friend or aunt who just wedded and ask to borrow her wedding dress, maybe for a fee. There's also that regardless wedding dress that is sometimes passed down to brides in some families. It may be out of date or not your style, but borrow it and take permission to the altar. You would end up looking like a million bucks.
Accessories are very important parts of your wedding ensemble, such as shoes, veil, tiara, bracelets and more. If you're lucky to have heirlooms in the family, do borrow, as long as you keep them in good condition.
Many brides may not like the sound of this, but this is one of the top wedding money-saving tips. Buy sample gowns! Sample gowns are those ones on display, which stores give the potential buyers to try out. If you opt to buy these gowns, you will get them at heavy discounts.
The downside of buying sample gowns is that they are not in good conditions most of the time, due to excessive handling. If you get ones without any faults, then you're most lucky. Otherwise, you may have to spend a token to fix all the faults found.
Find Sales
If your dream is not to borrow or buy sample gowns, there is still hope. Take advantage of sales by stores or designers. Watch out for when there are massive sales with huge price slash and go get your gown. You can also scout your favorite websites for when they begin sales, as you could get a $2500 Vera Wang gown for $320.
Good preloved and old stock designer gowns are also everywhere at discounted prices. No one would know they were even preloved. This is a way to save money on your dress. You can resell when you're done.
Saving Wedding Money On Catering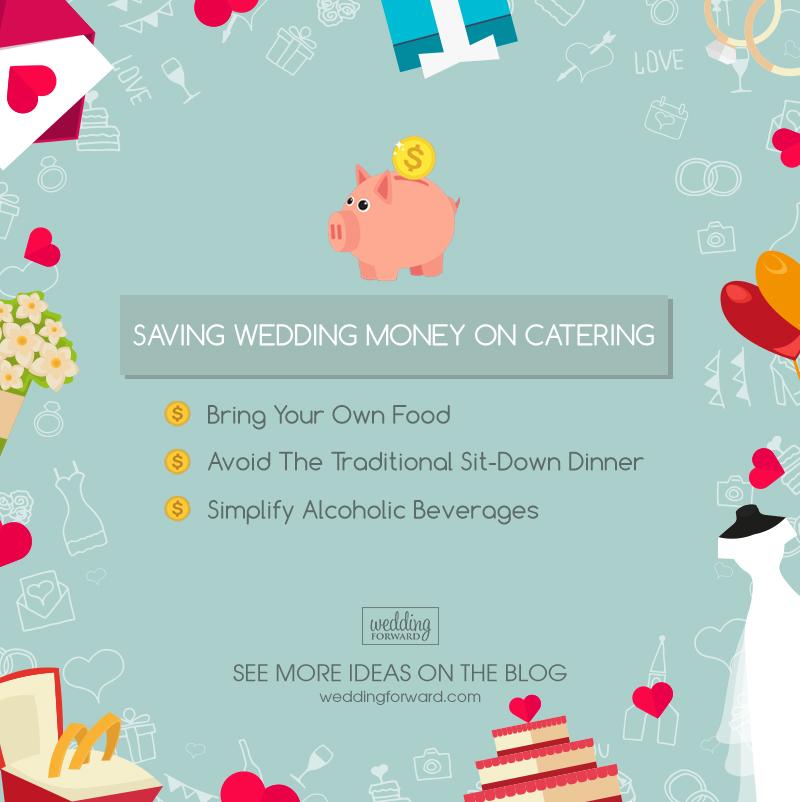 Average Catering Cost: $4000 for 50 guests
Wedding food costs constitute a large chunk of the wedding budget. You have to pay for the food, drinks, labor and put a buffer in place, in case. With the tips below, you will find tricks which will help you save from catering.
Bring Your Own Food
Bringing your own food to your wedding is the number one smart thing to do. You'll be saving more than half the amount you would give to a caterer or wedding vendor. This is something you can do within the comfort of your home. Go for foods or pastries that are easy to whip up.
If the number of guests you are expecting is a lot, get friends and relatives to help or take turns in making batches. You could also order the foods you want from any eatery and have them delivered to your venue at a normal price.
Avoid The Traditional Sit-Down Dinner
Traditional sit-down dinners are costly to pull off, although a very classy and extravagant affair. This is because they entail all the course meals that will burn a hole in your pocket in seconds. Brunches and lunches are well-advised instead, as they cost less and with light food.
No buffet where people can make their choice of foods, go for cocktails with a limited menu option. You could serve up homemade biscuits, tiny cheeseburgers, pigs in a blanket, cake and ice cream. Your chef could also make some southern fried chicken and pasta. The aim is to have fun!
Simplify Alcoholic Beverages
Alcohol is a money sucker at celebrations, which may drain your buffer. To save some money here, you should make your own blend of alcohol.
Another method is to create an open bar and pay for an alcoholic beverage that you can alternate for different cocktails. For example, with a bottle of tequila, a DIY margarita bar is ready. From same tequila, you can make passion cocktail, sangria, Bloody Mary, Paloma and more.
All you need for your alcohol supply are different styles of cocktails. Augment with some choice wine as a way to save money on wedding expenses.
Ways To Save Money On Wedding Cake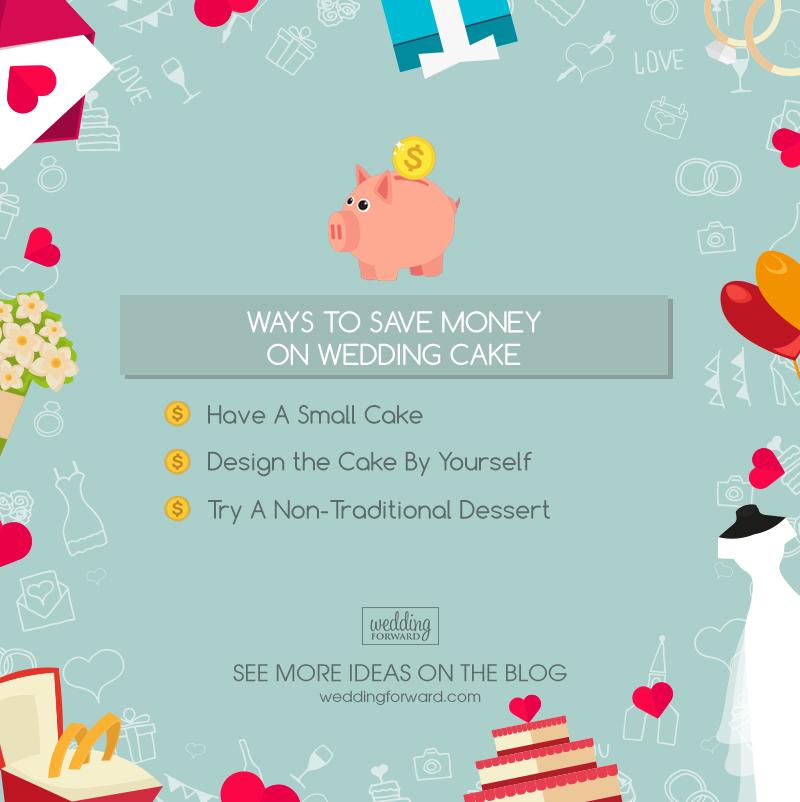 Average Cake Cost: $520
The wedding cake, cut to show love, happiness, and unity at weddings is necessary for some people. So, they splurge on it and even get fixated on the outcome. But these days, people are looking for a way to save by reviewing choices and opting for alternatives.
Have A Small Cake
Don't we all love to dream of having unending tiers or even a huge castle cake? We sure do! But a cold reminder is that the more the tiers, the more you spend. The more the embellishments and complexity, the more money it takes. So, our advice is to go simple and small.
Get your local bakery or confectionery to make you a regular cake, they don't even have to know it's for a wedding. Has it delivered to you or you go for a pickup? Do not underestimate the wonders that local bakeries come up with. Small cake wins!
Design the Cake By Yourself
Designing your wedding cake by yourself is one way to save money from a professional touch. It is also an opportunity to learn something new, get creative and leave your personal touch on your cake. We advise that if you want to go this route, take some free classes online if you are a novice at designing. You may also leverage relationships by asking friends or family that know the art to help.
It begins with you wanting everything to be homemade or ordered ones. Make use of real flowers, colorful ribbons and edible glitter for your preferred design.
Try A Non-Traditional Dessert
It is okay to not conform to tradition by thinking outside the box. Who says you must have a cake at a wedding? No modern rulebook says that. Your wedding day is only for the two of you, so do what makes you happy. Nobody will notice the absence of a cake and to be honest, no one cares. Go for alternatives like desserts. You will save more and serve more.
Opt for desserts that are in popular demand at weddings. Ice creams, different shapes of cookies, tiny sandwiches, pies or even cupcakes. Your local bakeries have got you covered!
Tips To Save Money On Wedding Decor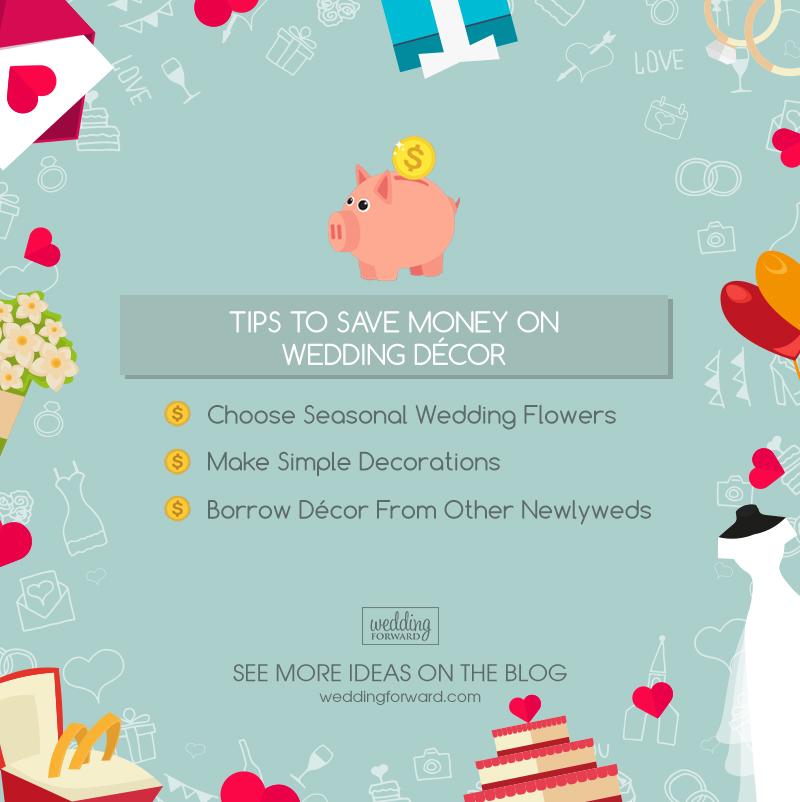 Average Décor Cost: $2,399
From the venue décor to your wedding flowers, the floral budget of your dreams will cost a king's ransom. But with few hacks, you can outsmart the budget, save a lot and still have your dream décor and wedding bouquet. This is where we show you how!
Choose Seasonal Wedding Flowers
Flowers for weddings are really expensive, especially if you are going for a bouquet of real flowers like roses or orchids. To save money on décor and flowers, go for flowers in bloom at the time of your wedding. They are cheaper to get and come in a rich variety of colors that will match your theme.
Do not order from afar, so that they don't wilt before they get used. Patronize local businesses or pluck from your garden. Go chic, boho or tropical with Florals. This way, you'll save over 50% cash from your floral budget.
This is a tricky process and is about taking advantage of your space and allowing it to shine through simplicity. It's one of the reasons we insist that the ambiance of your chosen venue be beautiful. This applies to both indoor and outdoor venues.
For outdoor venues, the backdrop is breathtaking and ethereal. Emphasize the beauty with minimal décor, but do not invade it, to avoid a clash. The indoor venue is a different story, with touch-ups needed light the place up. Vases, carpets, twinkle lights, candles, and sprinkled flowers will light the place up over grand chandeliers any day!
Borrow Décor From Other Newlyweds
Get your newly married friend or relative to lend you the décor they used for their wedding. Getting some lightings, venue florals and other décor materials for free will save you a huge cost. You may also join some groups on social media, where they loan out as much wedding décor as you need.
Another fruitful option is to look out for renowned wedding décor and floral stores for any excess they may have. Often times, they have décor from old stock which they are willing to dispose of. They can lend or give it to you for free for your wedding.
Wedding Money Saving Tips On Entertainment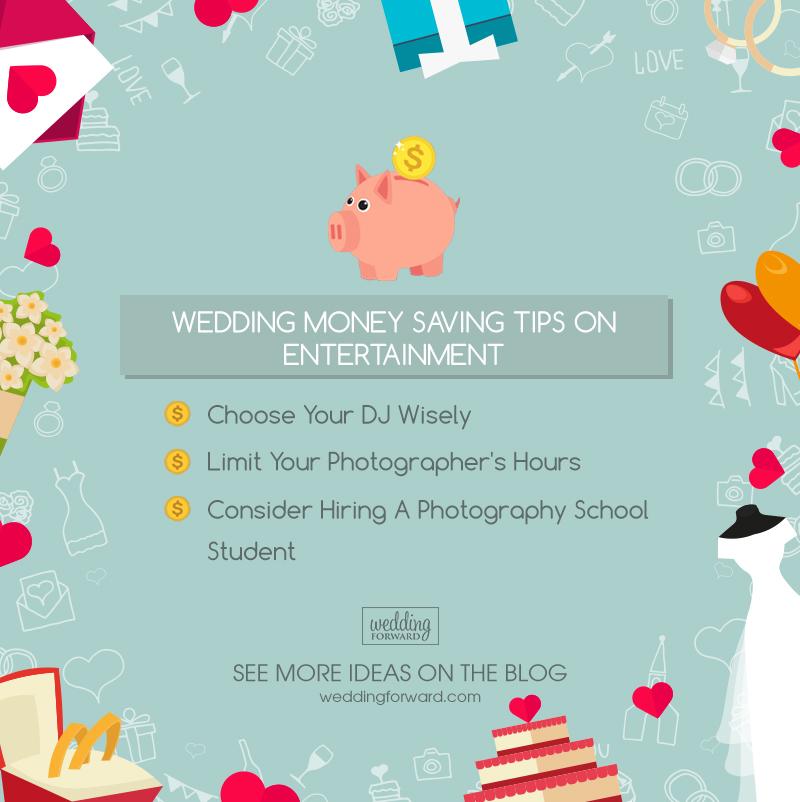 Average Entertainment Cost: $4,570
You'd have to map out much money for wedding entertainment, as it is a major highlight of the day. They want to walk and dance to the perfect music for every stage of the wedding. They also want to capture all the pleasant memories. Now, let's help you save!
Choose Your DJ Wisely
As a way of saving cost, your DJ will do a 2 in 1 job of music and emcee. The smart thing is to hire a band/ DJ with years of similar experience. Skip the phone discussion and see them, because body language tells a lot more.
Determine how flexible and free they are at public interactions and if they find directing traffic easy and comfortable. Their years of experience working on your kind of wedding venue is also very important. Do not give out your wedding to a DJ who's a novice working on your venue.
Limit Your Photographer's Hours
How to save money on a wedding photographer is to limit the photographer's time.
Yes, there is the urge to capture smiles, movements, décor and all. But if you leave them to roam free, you'd end up with a bill that will give you a fit.
While the wedding preparations are ongoing, you do not need them, so let them stay back. Ask them to arrive once the ceremony begins. Take pictures at the ceremony and before the reception with everyone. Have them capture special moments at the reception and you're done. They need not stay for the after-party.
Consider Hiring A Photography School Student
Hiring a photography school student to cover your wedding is another fast way to save money on photographers. Look for the best of them with a thorough testament to the jobs they have done and engage their services. They are still fresh in the field and very enthusiastic and looking for opportunities. This will make them agree to do jobs at low prices most of the time, giving you huge discounts as against celebrated photographers.
They are also careful and will deliver in record time so that they can get a good reference and consistent patronage. It's a win for all.
Saving Wedding Money On Favours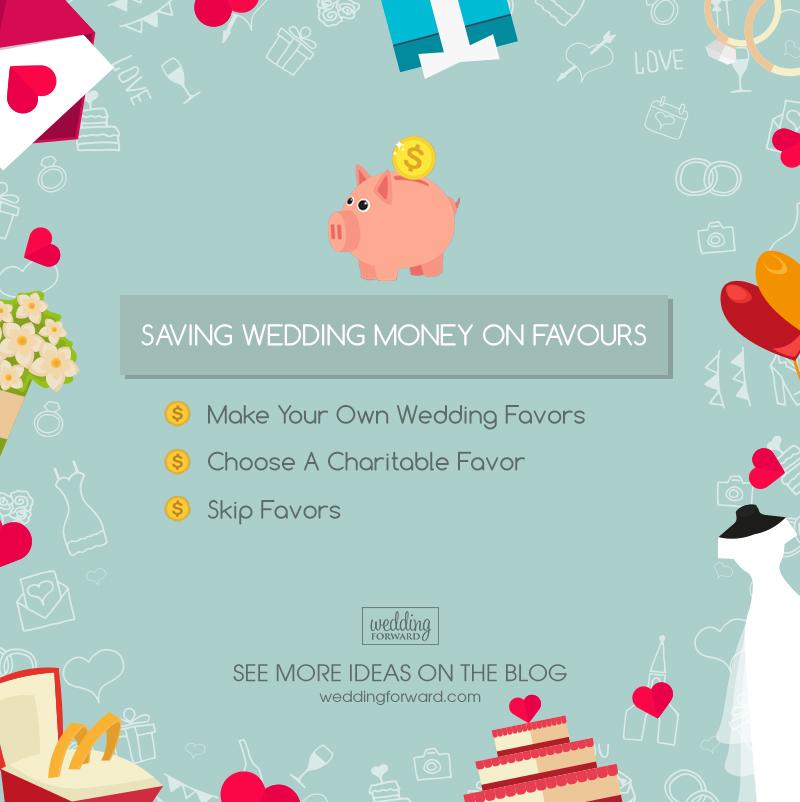 Average Favours Cost: $250 for 50 guests
Every guest loves to go home with something they can snack on after the wedding, these are wedding favors. These wedding freebies cost between $2 – $5, depending on what kind of favors. Things to consider are cost, number of guests and savings.
Make Your Own Wedding Favors
Making your own wedding favors will save you a lot of money because you know the number of guests coming to your wedding. You also have total control over how much is far-gone on materials. Homemade wedding favors are rich and unique because they are handmade with a lot of love.
With up custom made and well-packaged edibles like candies, cinnamon rolls, chocolate bars, lollipop, doughnuts or maple syrup. You may also opt for different shapes and flavors of your favorite cookies. Well-packaged bottles of homemade juices with a variety of flavor will do fine.
Choose A Charitable Favor
Have you have tried slashing costs on your wedding favor budget and there is still no headway? Then donate to charity on their behalf and that problem is out! No one can question, because they may not even be looking forward to it.
Pick one or a few charities of your choice and send a token donation to them. Cite your guests or both of you being the couple as the givers. Place candies or finger foods in small trays on tables. A state with a card that it's for their pleasure and inform them that the favor will be kindly donated to charity.
Skip Favors
There is no rigid laid down rule that says wedding favors are a must at every wedding. Favor at weddings is a trend you either choose to subscribe to or not. Favors are not an important aspect or a must-do at a wedding. This actually lists very low on the scale of preference.
If you checked your financial strength and that of everyone around and you know that you cannot handle favors, skip it! Do not bother with it, as signature cocktails and homemade juices will do. For explanation sake, write on place cards that favors were kindly donated.
To make your wedding planning less stressful and expensive, we've made for you this infographic – click "Pin" and save it!

This post offers 27 solid tips on how to save money on a wedding for every type of budget, whether big or small. Every wedding expense is a budget regardless of the size, but you can have a beautiful wedding whichever way. Apply these pieces of advice to save wedding money and you will not have to break the bank or go broke in the name of getting married!