Photo 136-138: Funny Wedding Pictures
Humor goes hand-in-hand with love. Although love and romance rule the day, it's impossible to avoid a little silliness. Keep your photographer on alert for impromptu comedy to add to the funny wedding pictures section of your album.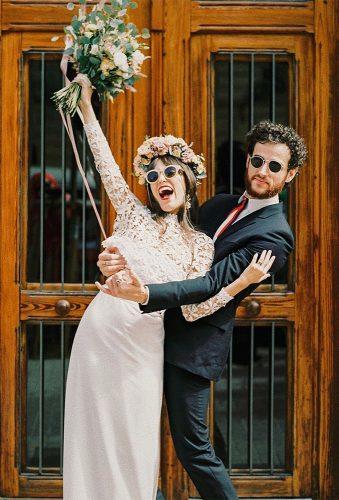 Photo 139-141: Awkward Wedding Photos
People blink, kids act out, people don't realize they're being watched, and – let's admit it – sometimes alcohol gets involved. All of this can make for some pretty awkward wedding photos. Make sure to keep these though. Sometimes they turn out to be the most memorable!
Photo 142-144: Favors
The parting gifts you put together for your guests come with a lot of preparation a metaphor. Photograph your handmade favors to keep the record of your stylized message and the official date of wedded bliss.
Photo 145-147: Wedding Guestbook
Wedding Guestbook photos will help you remember all who attended and how they all made your day oh-so-special. Many brides prefer the traditionally designed book and ink, while others opt for something a little more quirky. Whatever your style pay homage to your guests turning your record into something poetic.
Source: onelove photography, From The Coast 2 The City, Jonathan Young Weddings
Photo 148-150: Wedding Centerpieces
Centerpieces come in all shapes and sizes like tons of candles, a little bit of nature, lots of flowers, and sometimes jewels. Your centerpiece is unique and deserves a designated spot in your wedding album. Although your centerpiece may include a lot of colors, you may be surprised at how well a black and white photo will turn out.