It's always lovely to hear beautiful wedding speeches. And when they're performed in a right way, they can become a real highlight of the reception. But when it comes you are the speaker, then a wedding speech can be quite a nerve-racking task for you.
Thus, to get rid of any doubts, we've prepared a broad and handy guide on how to create flawless wedding words including famous marriage quotes and toasts. Here you'll find the essentials and examples for writing the groom, father and mother of the bride, best man, maid of honor and other speeches.
Follow our hints below and become an edge speaker at the whole wedding!
Essentials Wedding Speeches Need To Rock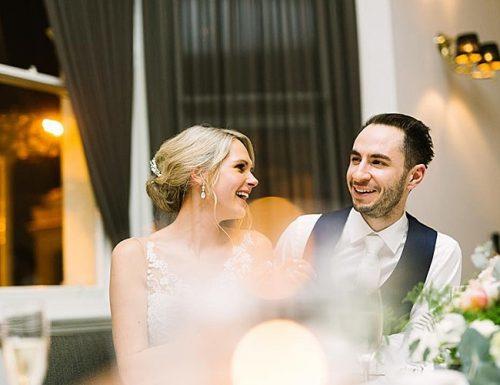 Learn Your Speech
It is important to memorize the majority of the speech as best you can. Memorizing your wedding speech will help prevent chaos in the event you don't have the written speech with you or if it gets misplaced. If you find you can't memorize the entire speech, memorizing the main points will help you speak more confidently.
Rehearse Your Speech
Rehearse your speech. Know what you're going to say and how you're going to say it. Also, make it personal, know who you are going to say it to. What makes your speech interesting to your audience is that it is a message to someone.
Limit the Drinks
You need a clear head to give a good speech so don't drink as much before giving your speech. You also need to remember the words to give a good speech.
A Dose Of Humor
Add a touch of humor to lighten the mood, but not too much. Just enough to make your audience smile and listen to you more.
Do not Be Offensive
Be careful not to offend any of the guests or members of the wedding party with your speech. You do not want to be remembered for bringing tears to someone's eyes.
Make Eye Contact
Try to engage the audience by making eye contact instead of looking into your notes. This is where memorizing helps. People can sense nervousness or lack of sincerity when you bury yourself in your notes.
Thank You
Remember to thank everyone who helped in any way and deserves the thanks from you. A little appreciation goes a long way. If possible, write down a list so you don't leave anybody out.
Start Strong And Finish Strong
Write a good opener and do the same for the closer. Some people might not catch the middle but the beginning and the end stand out.
Have Fun!
It's a happy occasion so keep things light. Make sure to smile and even laugh while giving your speech. A smile is contagious and there's always enough to go round.
When Is It A Right Time To Deliver Wedding Speeches?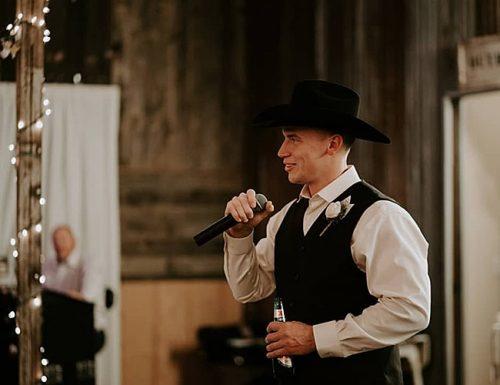 There are different types of wedding speeches. There's weddinggo before the meal. This is so that nervous speakers are able to relax, eat and enjoy the rest of the day after giving their speech.
It is possible to give short wedding quotes for speeches during the meal as well. However, the right time for the bulk of speeches is before.
How Long Should A Wedding Speech Be?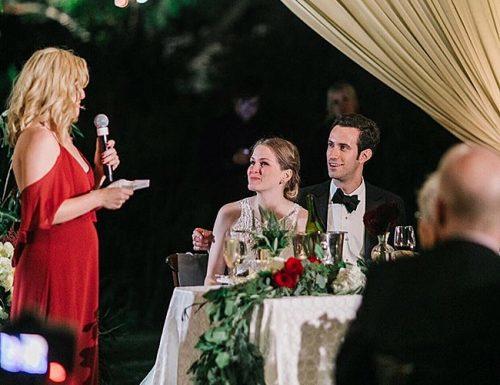 A speech shouldn't be too short that to seem unprepared at all. However, it also shouldn't be too long that guests begin to wander and stop listening. Therefore, stick to the essentials and keep in mind that other people still need to speak. If the time slot for all speeches is twenty minutes and there are five people who have to speak, then your speech should not go beyond four minutes.
Attention! The Groom Speaks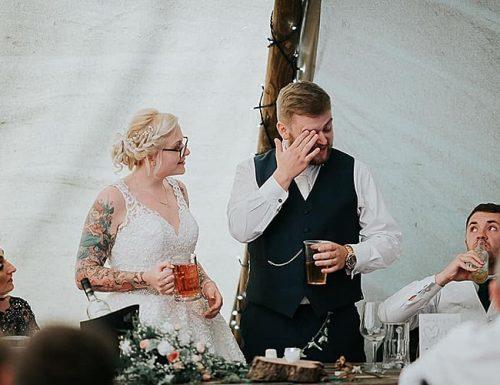 There is no fixed template for the groom's wedding speeches, so you can be flexible with your speech. However, the speech of the groom should mainly consist of and begin by thanking the guests. The groom should thank them for traveling down and making time to celebrate with him and his family.
After thanking the guests, it is customary to express gratitude to the father of the bride and his own father. He should also give thanks to wedding planners/organizers, staff, and management of the hotel for their work and hospitality.
It is also customary for the groom to make a toast to the bridesmaids and thank them for assisting the bride in making the wedding a success. He should also thank his parents for supporting him thus far. His speech should end with thanks to his new bride for choosing to be in his life and to begin this journey together.
A few high-level pointers for a groom's speech include:
It shouldn't be too serious. Keep it lighthearted and in the spirit of the celebration.
Ensure to thank everyone
Keep the focus on your bride.
Find good quotes and phrases to use as reference points.
Keep calm, do not allow your nerves take over. You are among family and friends.
Plan the speech in advance.
The Father Of The Bride Speech Tips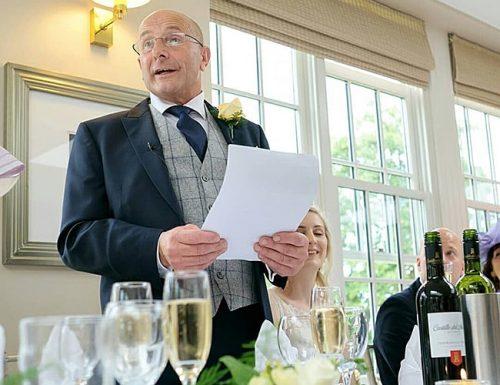 In quite a few traditions, the father of the bride gives the first speech. He begins by welcoming the guests, as well as the parents of the groom. This is not forgetting to mention the minister or officiant for the wedding if present at the reception.
The father of the bride will then say some words, welcoming the groom into his family. Here he can include anything he'd like to say about the groom and his personality. This would be followed by a toast to the lovely couple and a few words also about his daughter. Here most fathers add a story or two about the bride. He then hands over the speech baton to the best man or whoever is next in the order.
A few high-level pointers for a father of the bride speech include:
Though it might be sentimental, inject a little bit of humor as well.
Be calm and supportive.
Reflect on the relationship and the journey so far.
Speak with confidence.
Toast to the future of the couple.
The Best Man Speech Order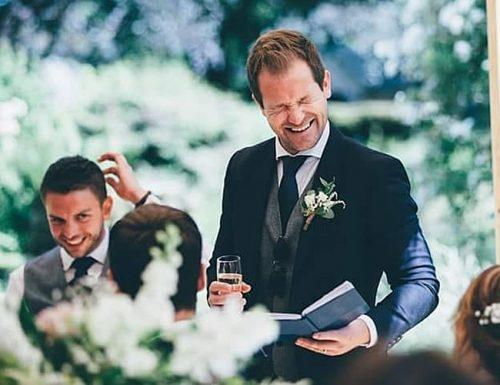 A wedding is incomplete without a speech from the best man. He usually begins by introducing himself and welcoming the guests. Best man speech ideas are usually quite entertaining and sometimes even hilarious. This is because the best man usually tells sweet and funny stories. Stories of how he and the groom became friends and sometimes even stories about the couple. How they met, the part he had to play, and so on.
It is also customary for the best man to thank the groom for his kind words, and compliment the bride and her bridesmaids. The speech usually closes with a toast to the happy couple.
A few high-level pointers for a best man speech include:
There has to be humor
Include memorable stories of the groom
Also, include memorable stories of the couple
Humorous quotes or one-liners would work well here
Speak confidently
Toast to the couple
Maid Of Honor Speech Outline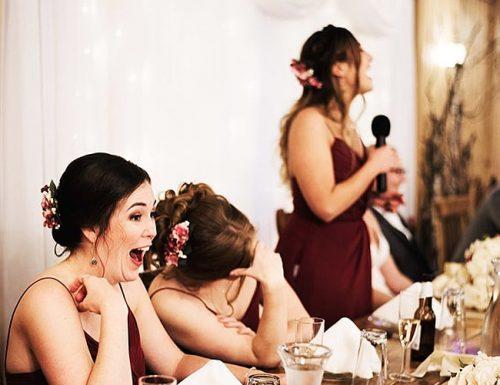 The maid of honor speech is usually quite sentimental and filled with stories about the bride and the lovely couple. In addition, stories about their friendship, since the maid of honor is like the best man/woman of the bride. Also, being possibly the closest friend of the bride, the maid of honor would have a lot of nice and heartfelt words to say about the bride.
A few high-level pointers for a maid of honor speech include:
Be heartfelt
Boost the bride
Memorable stories of the groom
Memorable stories of the couple
Well wishes
Solid delivery
What Makes The Best Wedding Speech?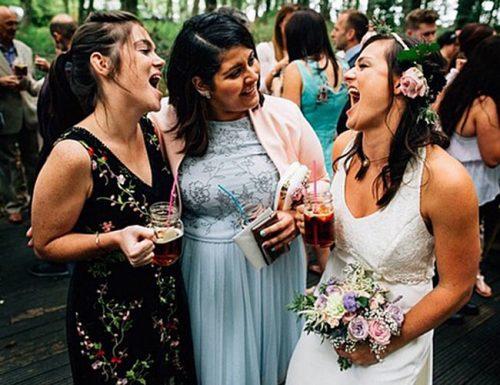 Always remember to introduce yourself and state your relationship to the couple right at the beginning. And if anyone spoke before you, ensure to acknowledge the speaker.
Instead of notes, use cue cards to remind you which part comes after which during your speech. It helps you make eye contact with your audience instead of burying your head in your notes.
Keep it simple, and be calm. No rush is key to effective communication and you want your audience to listen to you.
Keep your anecdotes and stories in line with the theme of your speech. It ties everything neatly and keeps your listeners interested.
Practice saying your speech and test your jokes before the actual day. Just to be sure they have the right balance and don't cross the line.
Remember to have fun and not be too serious. Keep in the spirit of celebration of something truly beautiful.
Don't forget to finish with a toast to the couple and their future together.
Things You'd Better Exclude From Any Wedding Speech
(don'ts for wedding speeches so nobody is embarrassed)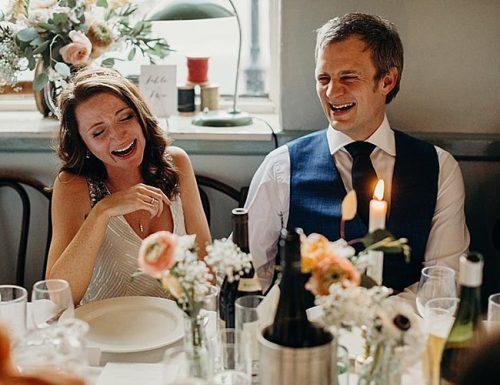 Be sure not to make comments or jokes that would hurt anyone's feelings. These could be profanities or racist words, jokes about any of the family's culture or religion.
Do not bring up any topic that mention's exes. It should be a no go.
In general, anything that would make people uncomfortable.
Get More Wedding Speech Inspiration Here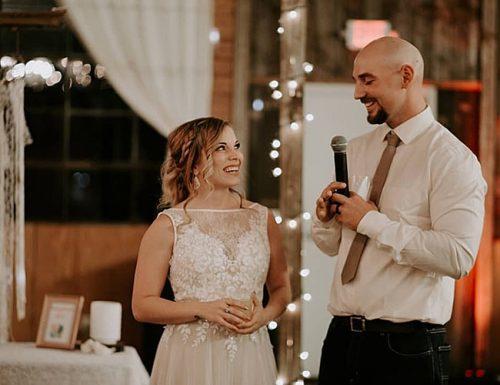 Below you have a few wedding speeches of best man and others from real life and Hollywood movies, for your reference.
Groom Speech: A hilarious groom speech; kept the guests entertained and laughing from start to finish.
Best Man Speech: Very funny yet heartfelt speech from the best man who also happens to be the groom's younger brother. He also used cue cards which worked great for his speech and closed with a beautiful toast.
Groom Speech (from the movie, "The Five-Year Engagement"): In this movie, Chris Pratt chooses to serenade his bride when it is time for his speech. This is another lovely option for a groom speech.
Best Man Speech (from the movie, "Four Weddings and a Funeral"): In this movie, Hugh Grant is polite, yet hilarious in giving his lovely and brief speech as best man.
65 Wedding Best Man Speech Examples And Ideas
Mother Of The Bride Speech:
A heartfelt and sentimental sample for the mother of the bride speech.
I will like to welcome you all here today to celebrate the beautifulunion of my daughter Alicia and George. For those of you who do not me, I am Cynthia, the mother of the bride.
There is a reason I am giving this speech today, asides from the abundant love that I have for Alicia. And that is because her father is sadly no longer with us. For those who might not know the story …[can go ahead at this point to fill in the gaps]. He would be soimmensely proud of you and George today and would have given anything to be here making this speech and leading you down the aisle. You Alicia, were the apple of his eye.
[Another story can be inserted, with memories which depict the love the family all share for the bride]
I would also like to take a moment to welcome George into the family and also his parents [XXXX] and [XXXX].
[This is a good place for a story on how the couple met and how both families came to be a part of each other's lives].
[Perhaps include a joke or two or an anecdote about the groom]
This is the proudest and happiest day of my life. I am sure you can all agree to how stunning my Alicia looks today. She has grown from a beautiful little girl into an astonishing and capable young woman who constantly makes me proud. I know she and George will have many happy years together, and I hope to live long enough to see them grow in love.
[This is a good point to insert a story or two about your relationship with your daughter, the times you spent together. Can also include a story of a time you spent with the couple].
Whiletoday is the happiest day of your lives, you have got many more such days lying ahead of you. You arebeginning an amazing journey together and I wish you both the best that this world has to offer. I know for sure that you will have many loving years together. I also know that my daughter is in very good hands with George.
[You can add here jokes and stories about your experiences in marriage. Can give some heartfelt and light hearted advice on the ups and downs, as well as your vision for a successful union for the couple].
End with a heartwarming toast to the couple.
Save This Helpful Information And You Will Know What & When Say!