Looking for awesome bridal hairstyles and inspiration? Let us help you find the perfect wedding hairstyle! We have them all – braided bridal hairstyles, bridal updos, half-up half-down, buns – every single style you could dream of on your wedding day! Whether your hair is short, medium, or long, whether it is curly or super-straight – take a look at our gallery of most amazing wedding hairstyles. You are sure to find a style just for you! So browse on our collection of best bridal hairstyles – and pin your top choices!
Photo 1-3: Classic Bun Hairstyle
Source: elstilespb via Instagram, xenia_stylist via Instagram, tonyastylist via Instagram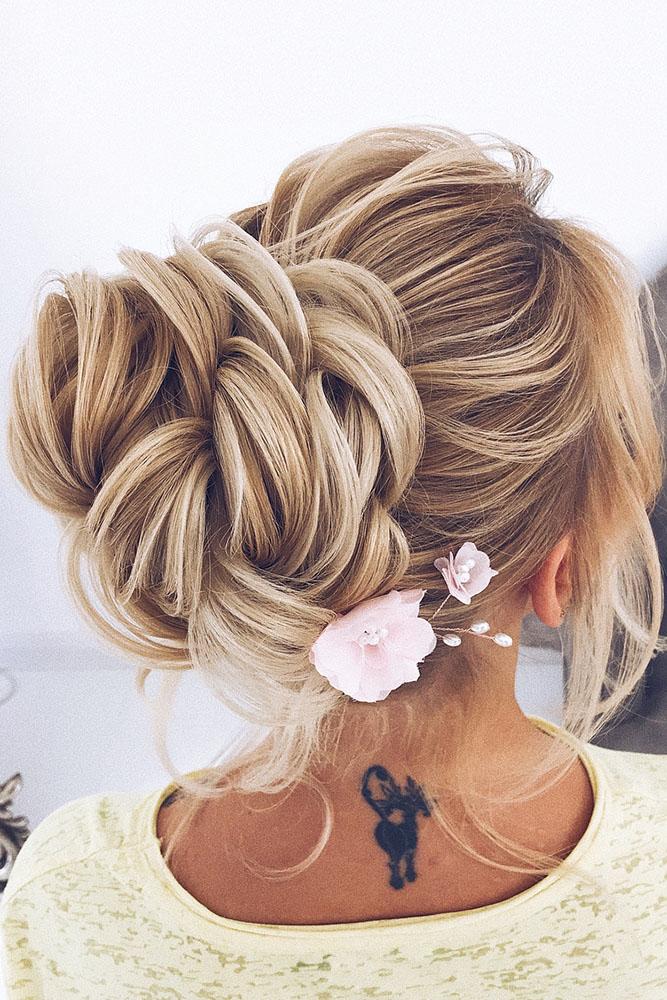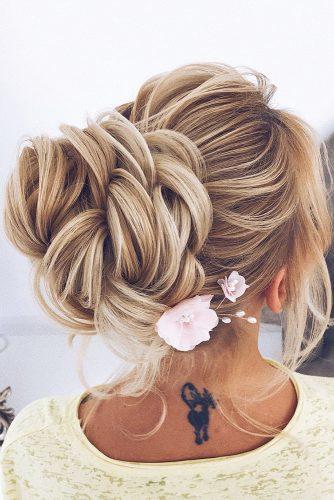 A messy low bun is one of those medium length bridal hairstyles that fit every bride. Pay special attention if you are planning a boho wedding – this hairdo is a perfect solution!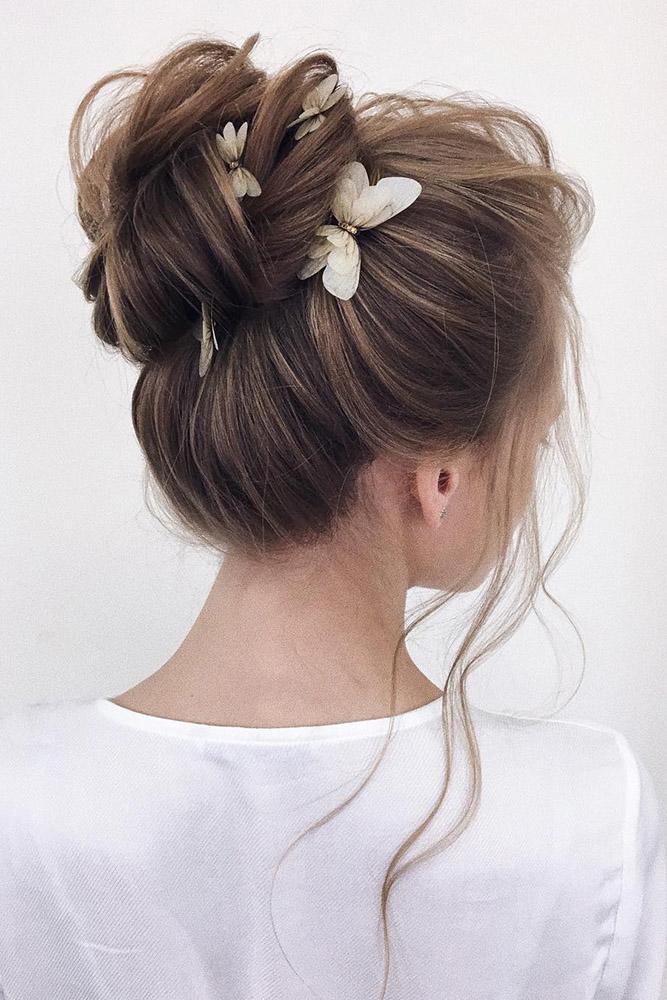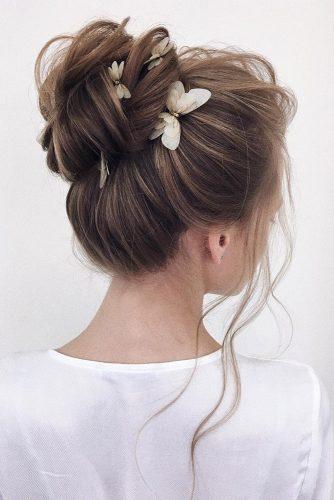 Thin hair looks soft and gentle but can be hard to work with. Sweet and simple bridal hairstyles for thin hair look best with flowers or an elegant hairpiece.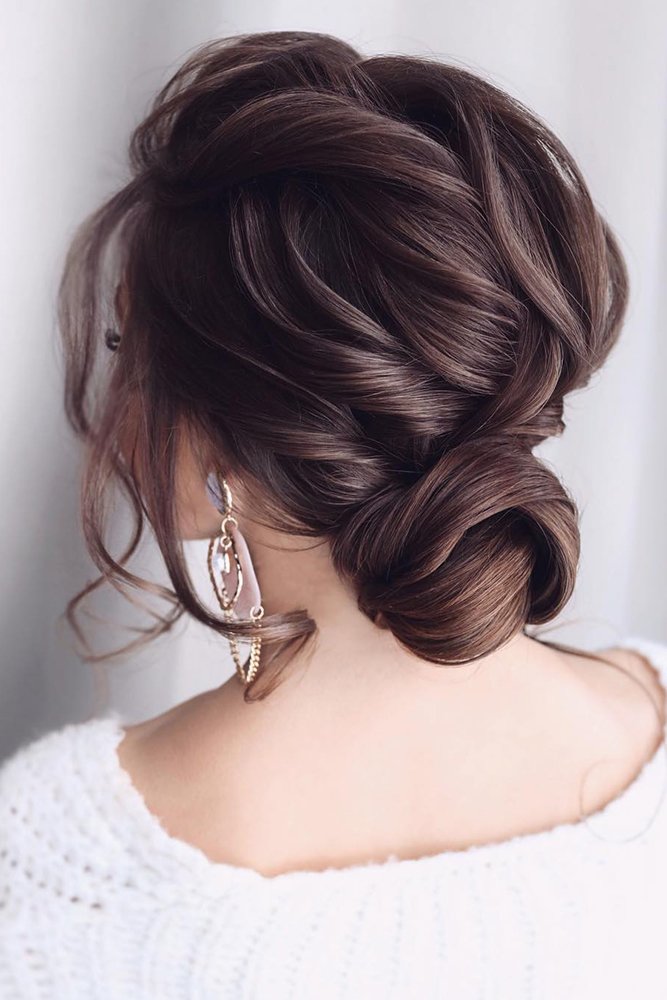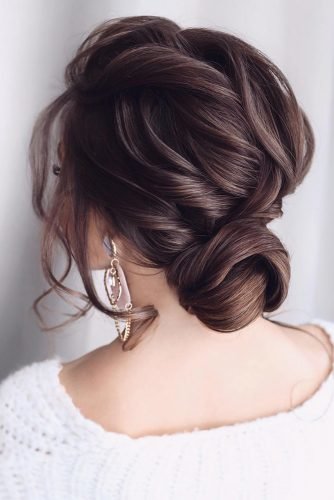 This classic low bun is a great example of truly timeless bridal hairstyles. Add various hair accessories to vary styles, for example, try the same bridal hairstyles with headband for a retro look.
Photo 4-6: Volume Updo Bridal Hairstyles
Source: Lena Bogucharskaya via Instagram, teasedhds via Instagram, zahraasadi_style via Instagram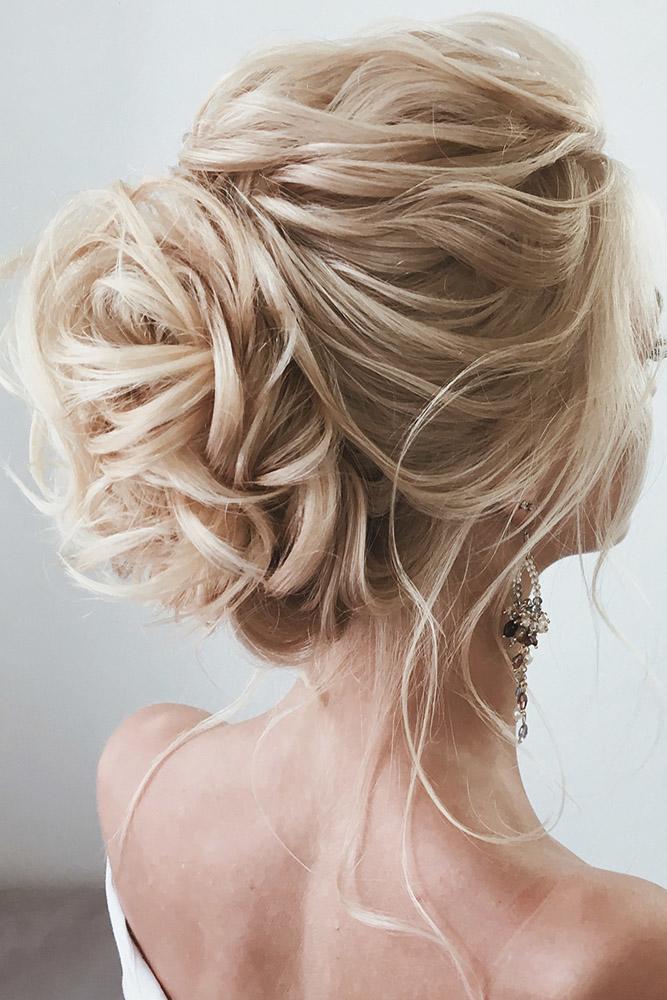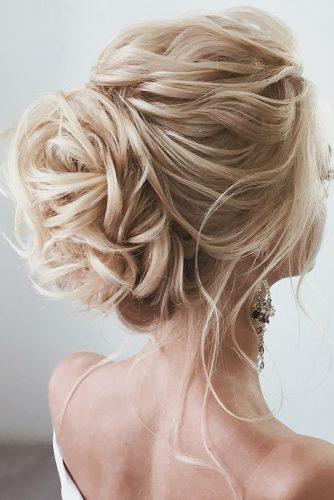 Adding volume makes all the difference for updo bridal hairstyles. This voluminous messy bun is all about air and flowing lines. A great choice for a light silk dress.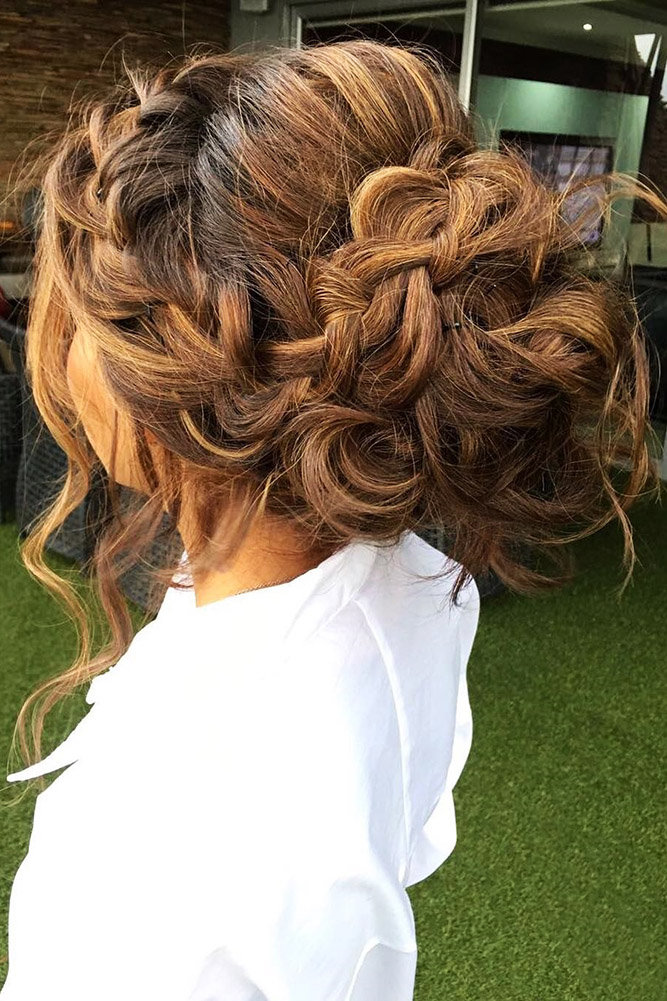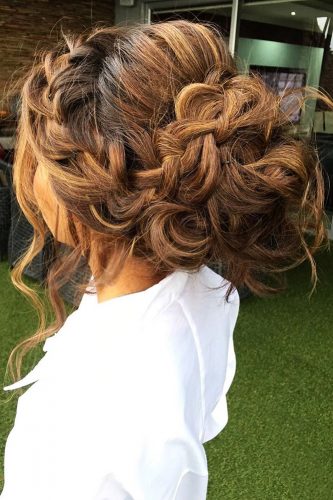 Braided bridal hairstyles can be very different. This voluminous hairdo requires a lot of professional attention – but at the same time, it's definitely worth it! a great choice for a winter bride.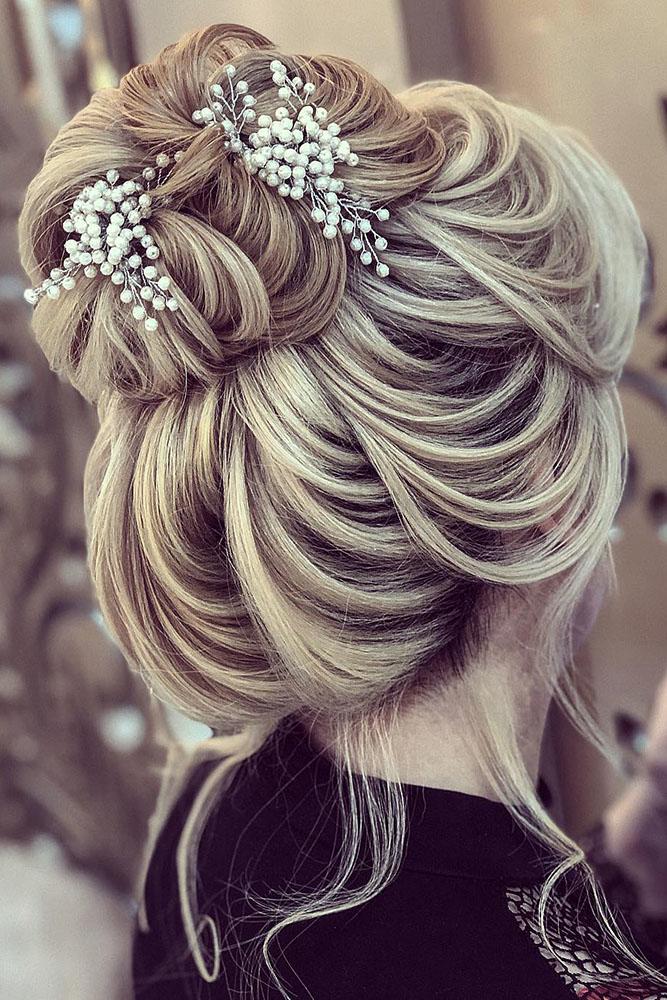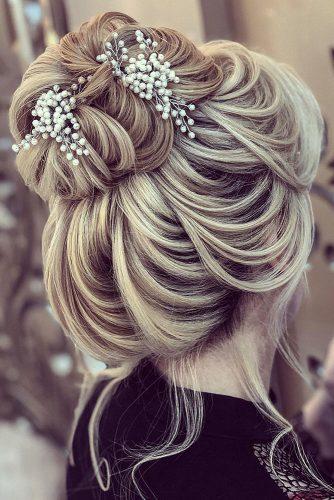 Some bridal hairstyles are all about details, and this is intricate hairdo is definitely one of them. Artistic patterns, expert highlights, and elegant hairpieces make a stunning look!
Photo 7-9: Half Up Half Down Hairstyles
Source: ashandcobridalhair via Instagram, Chiali Meng, gingersnaphairstyles via Instagram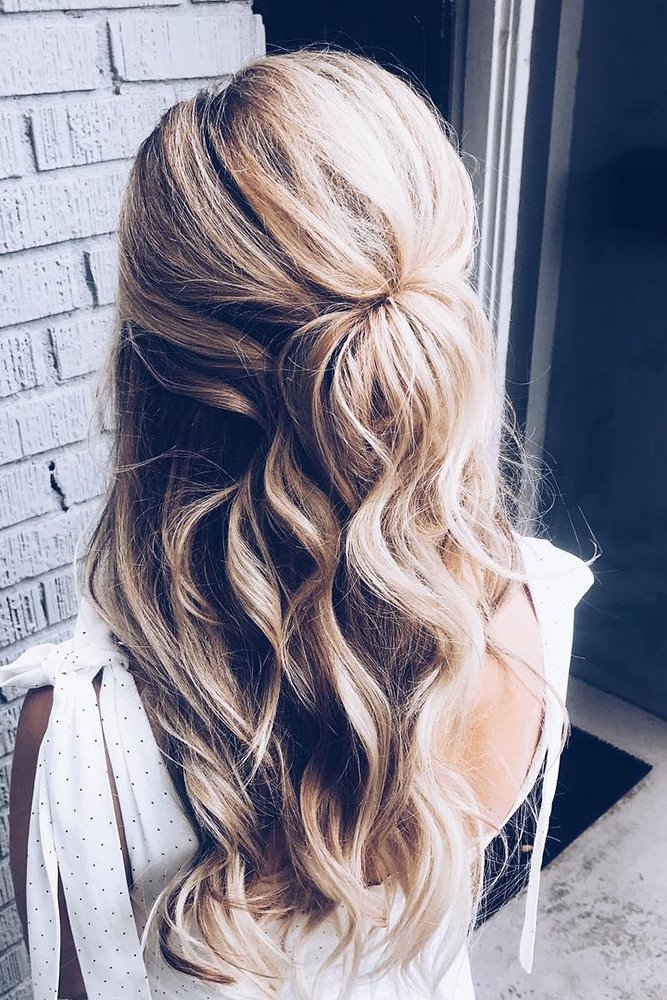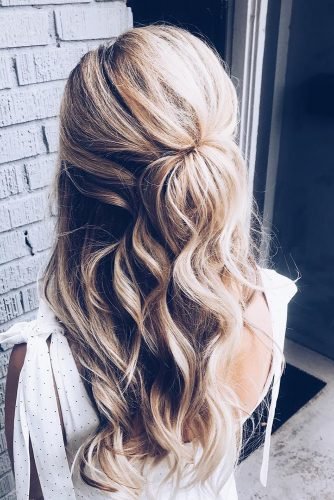 Wavy bridal hairstyles look natural and simple. Still, some of them are not as simple as they seem – just take a closer look at one of such natural bridal hairstyles, for instance.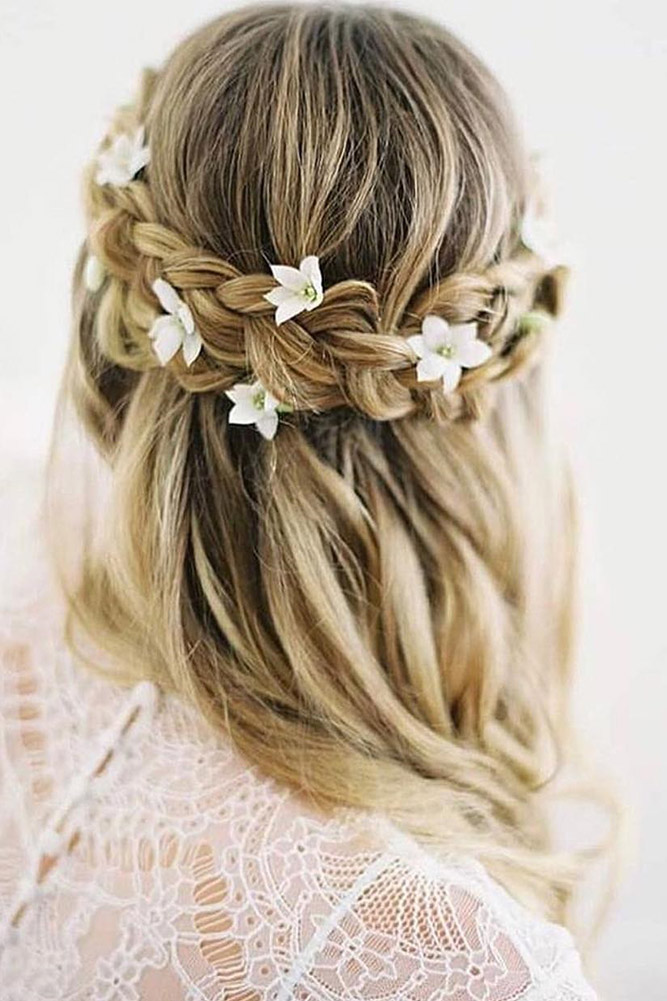 There is hardly anything as romantic, as bridal hairstyles with flowers. Braided crown, long waves of tresses and white petals of flowers make you feel very special on your big day.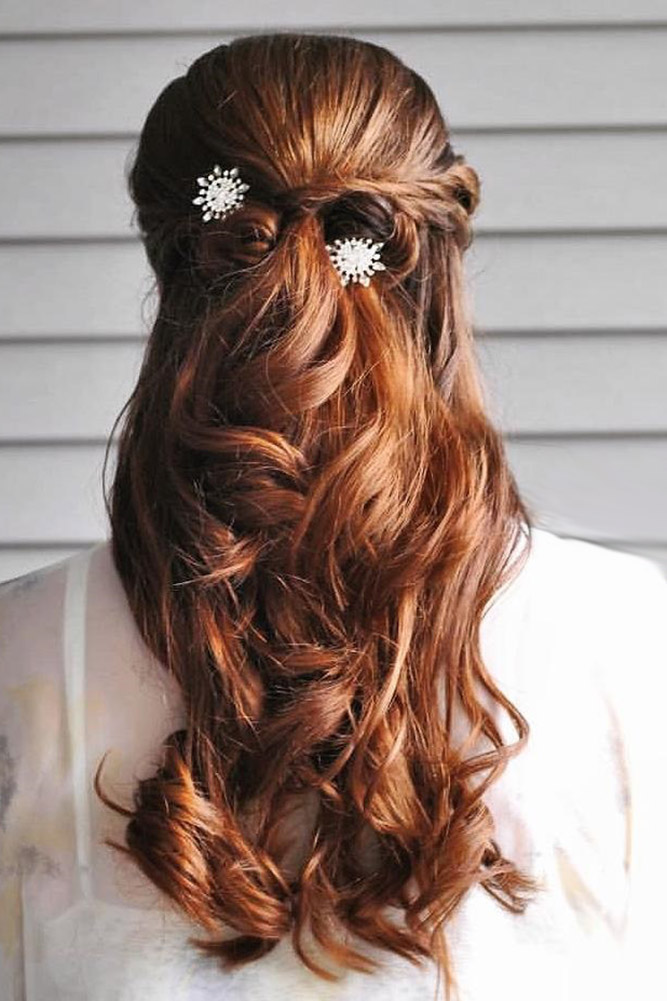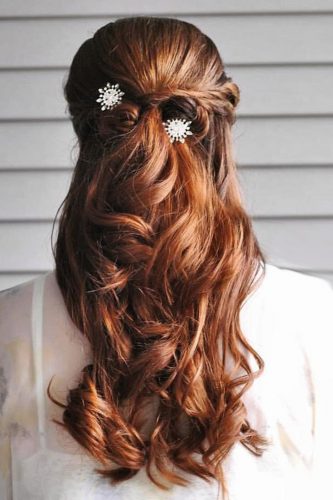 Redheads find it hard to find bridal hairstyles for their hair type. Especially if they need bridal hairstyles for curly hair. Is your hair red and wavy? Don't be shy to show off your natural beauty.
Photo 10-12: Fancy Bridal Braids
Source: missysueblog via Instagram, hairbyhannahtaylor via Instagram, bridesroom via Instagram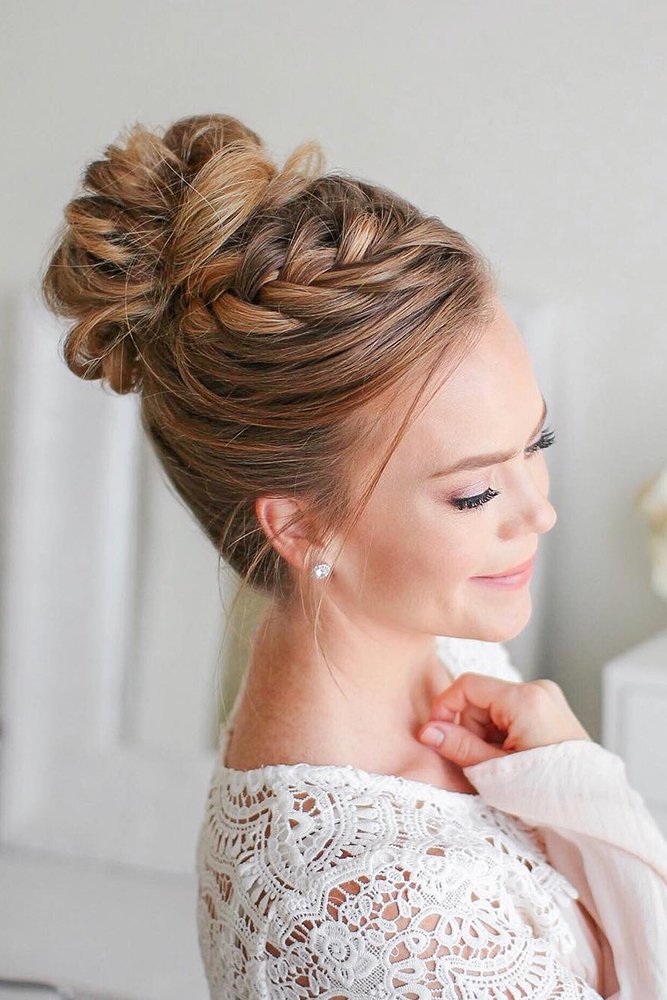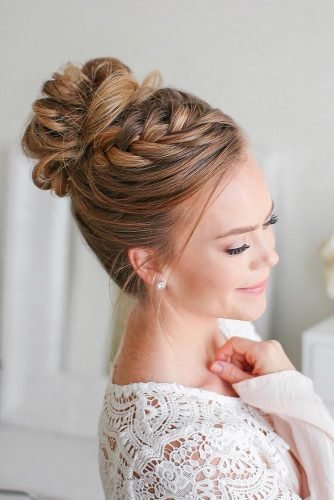 If you want something fancy, check out our fancy braids. Photo 10 is just another example of the well-thought-out bridal hairstyles long hair down. It is both extremely practical and romantic.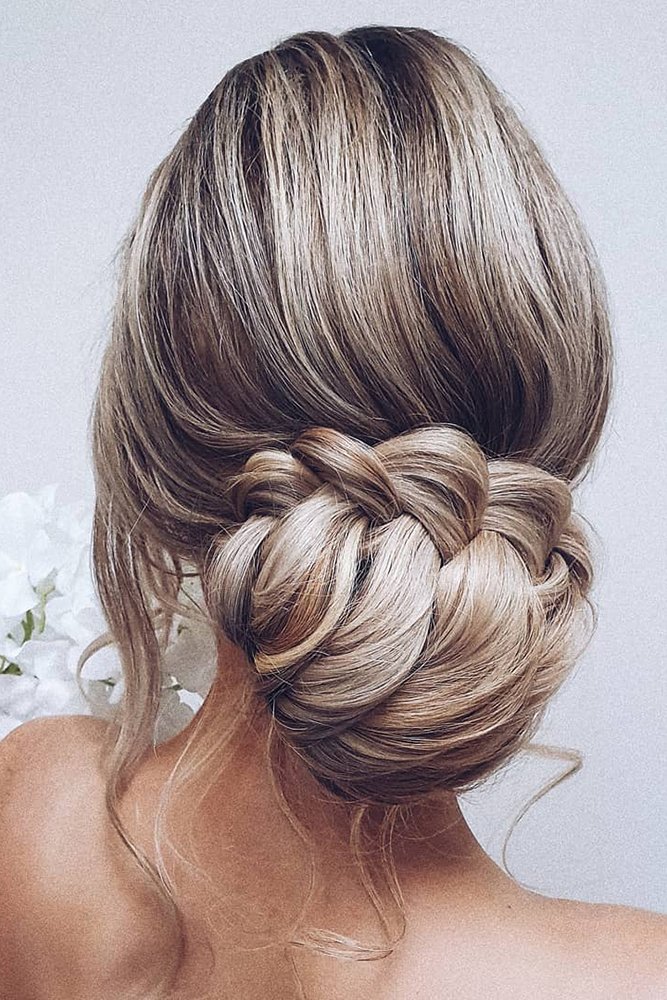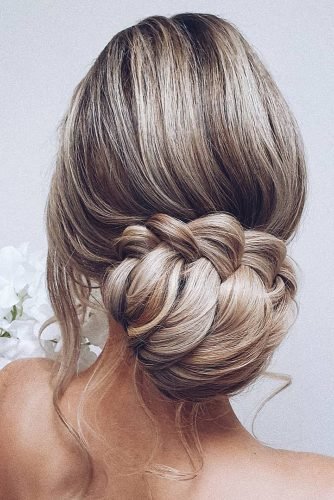 There are not so many hairstyles, that remain as popular among brides, as this look. Bridal side hairstyles might be not very common, but they do look spectacular!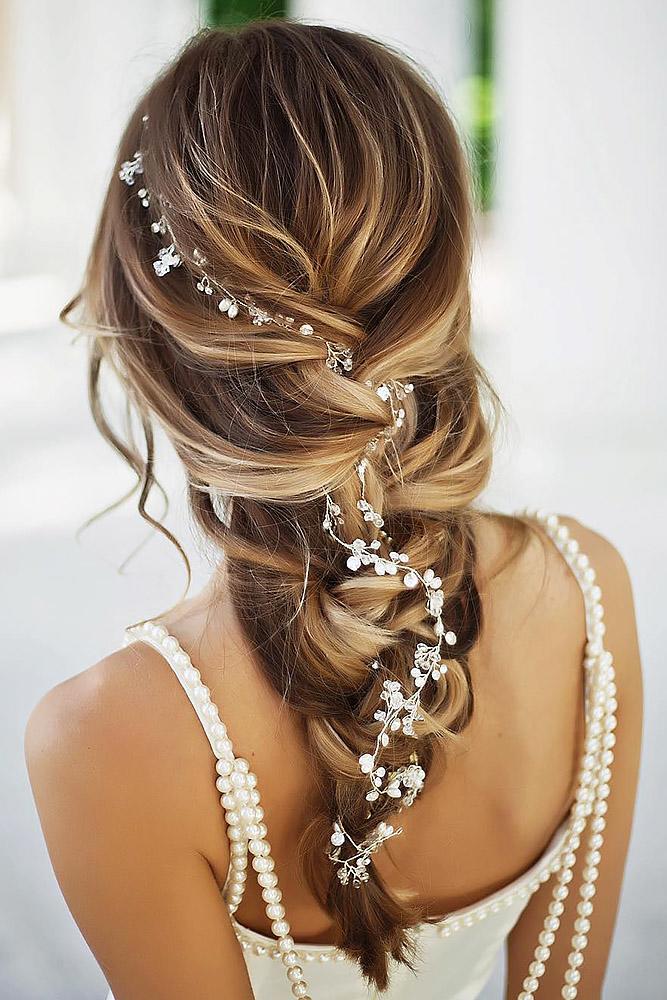 The choice of accessory for your braided bridal hairstyles down depends on your overall look. Try a jewel hair vine with voluminous braid to get an absolutely stunning bridal image!
Photo 13-15: Soft Beauty Look Ideas
Source: knoxvillebridalhair via Instagram, Annette Updo via Instagram, Ulyana Aster via Instagram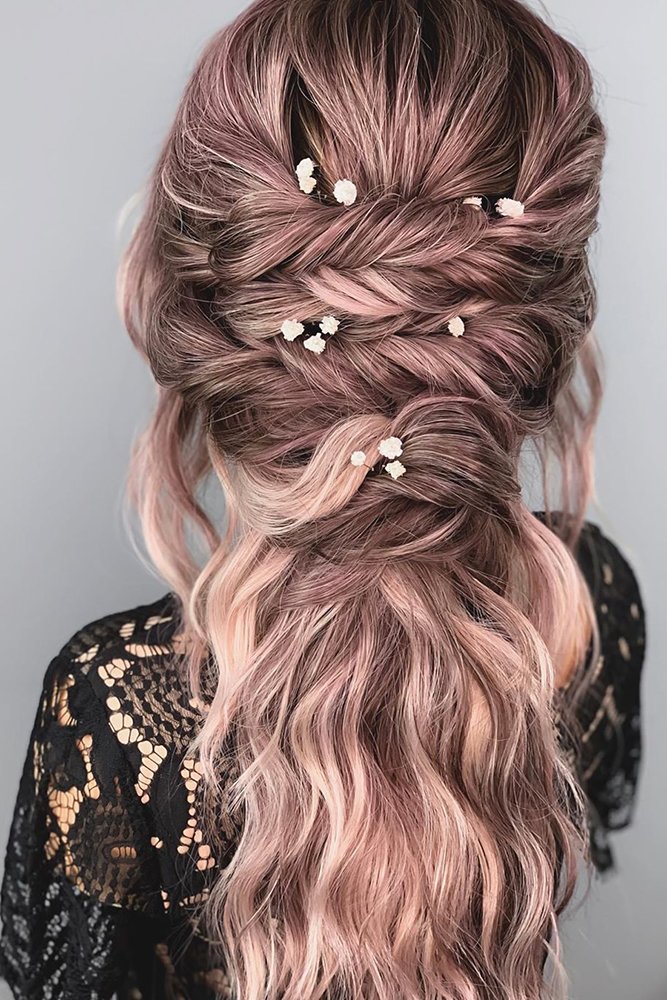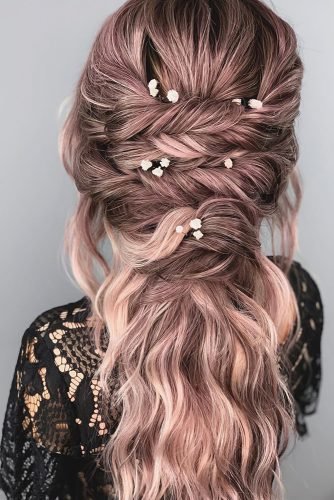 More complicated bridal hairstyles don't need too many accessories. They require something simple, especially bridal curly hairstyles. Set the rhythm of the hairdo with single white flowers.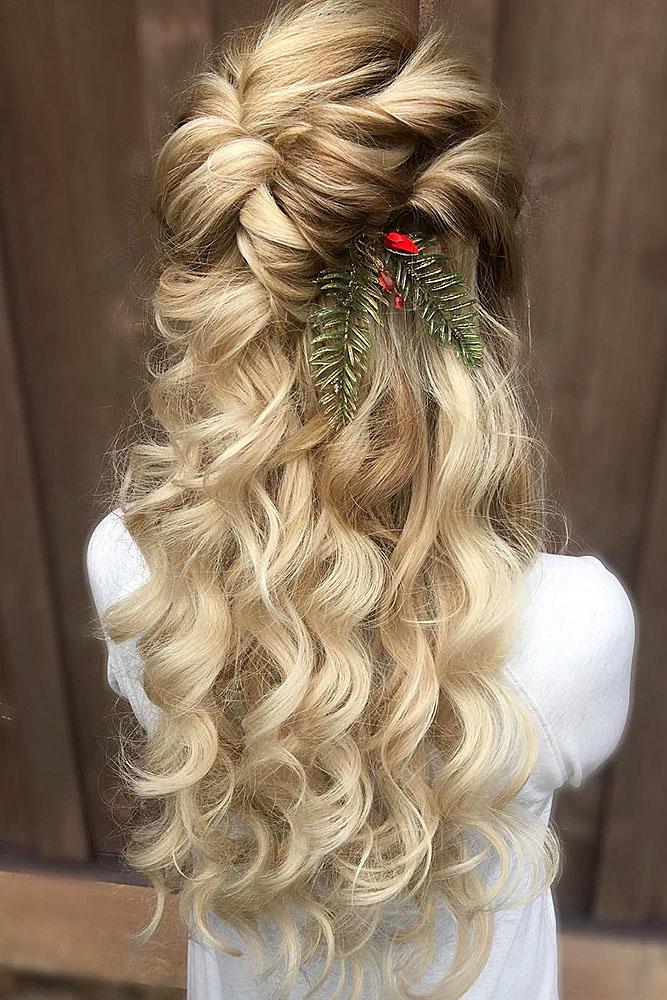 Half up bridal hairstyles are exactly what you need for your wedding hairdo. They look stunning with open shoulders or an A-line dress. Feel yourself a true princess!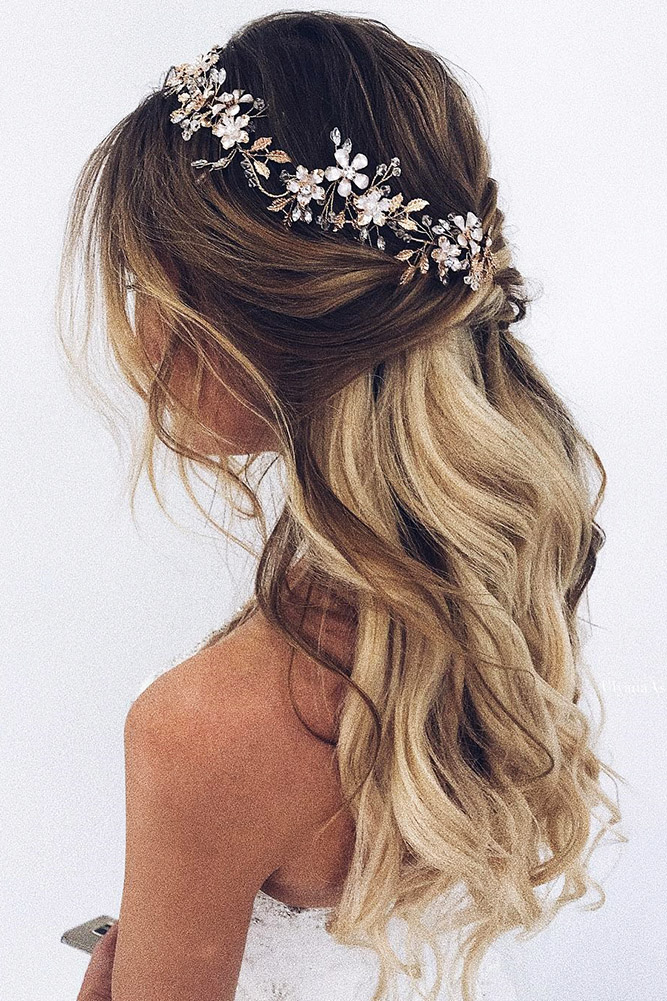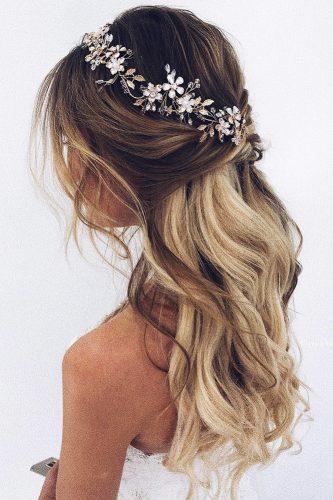 Talking about half up half down bridal hairstyles, we need to mention coloring techniques. For example, this amazing balayage – this way the upper layer of the hair looks much darker than the left-out-curls.
Photo 16-18: Elegant Low Bun Ideas
Source: kseniya_fed via Instagram, hair_vera via Instagram, belaya_lyudmila via Instagram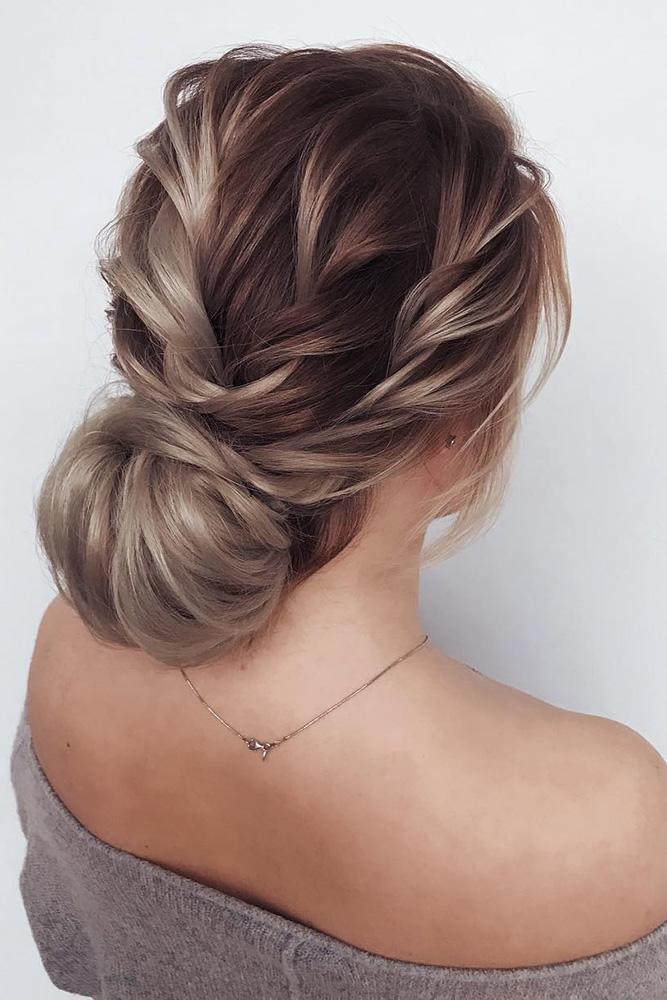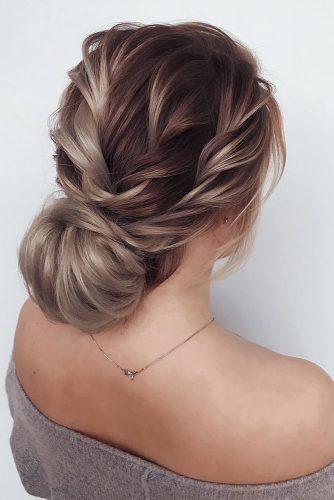 Pastel coloring, soft lines – these features are typical for most bridal boho hairstyles. Don't make the bun too tight – it should look airy. Stray locks soften the overall look.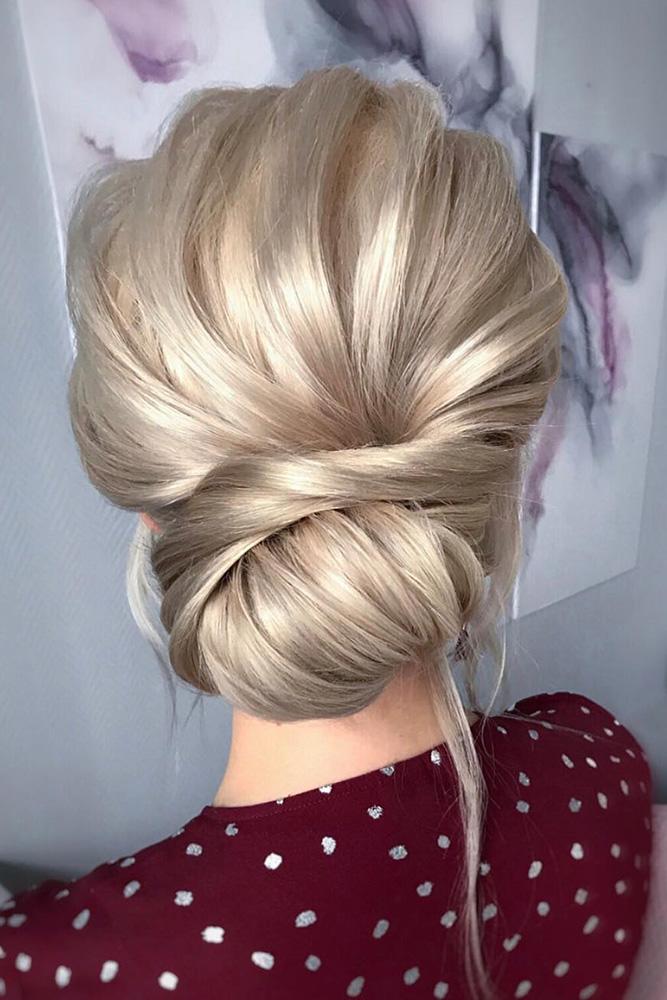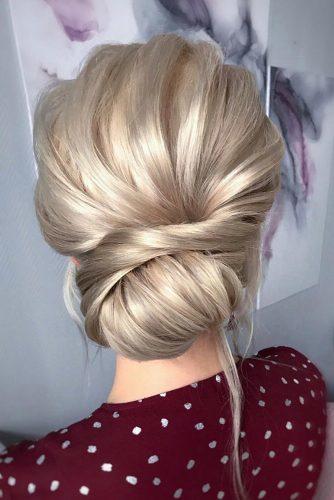 This low bun reminds us of vintage bridal hairstyles from Old Hollywood. It looks chic and classy and will be a great match to a low back vintage-inspired dress.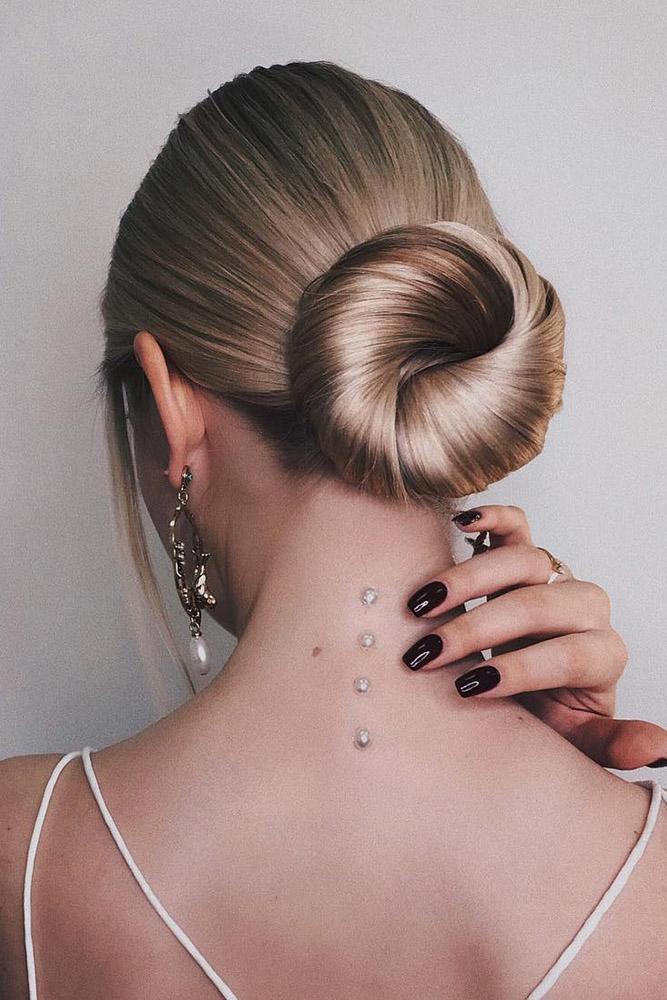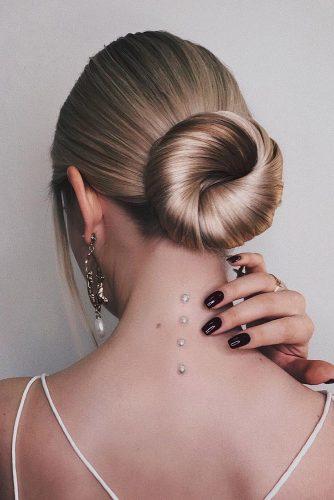 Every girl wants to look like a princess on her wedding day. The classical ballerina bun is one of the best bridal hairstyles with tiara. Just add the headpiece to look regal.
Photo 19-21: Stunning Bridal Hairstyles
Source: hairbyhannahtaylor via Instagram, hair_vera via Instagram, oksana_sergeeva_stilist via Instagram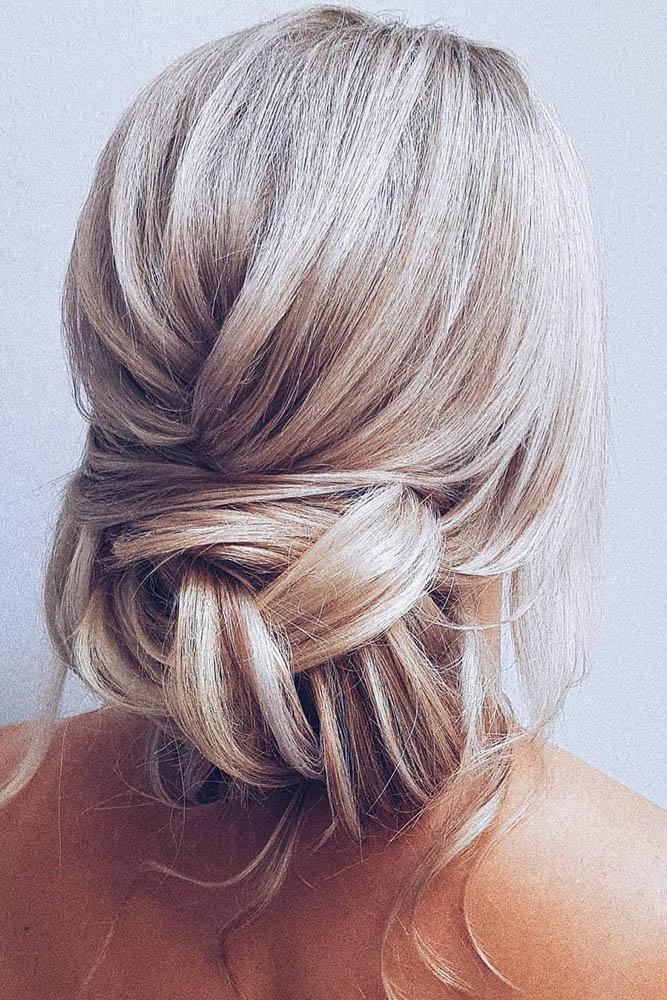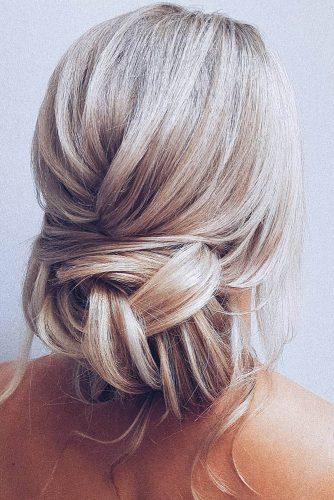 A soft and messy bun is among top easy bridal hairstyles for a boho wedding. One of the reasons is that it looks so feminine and delicate. Leave side strands to frame the face.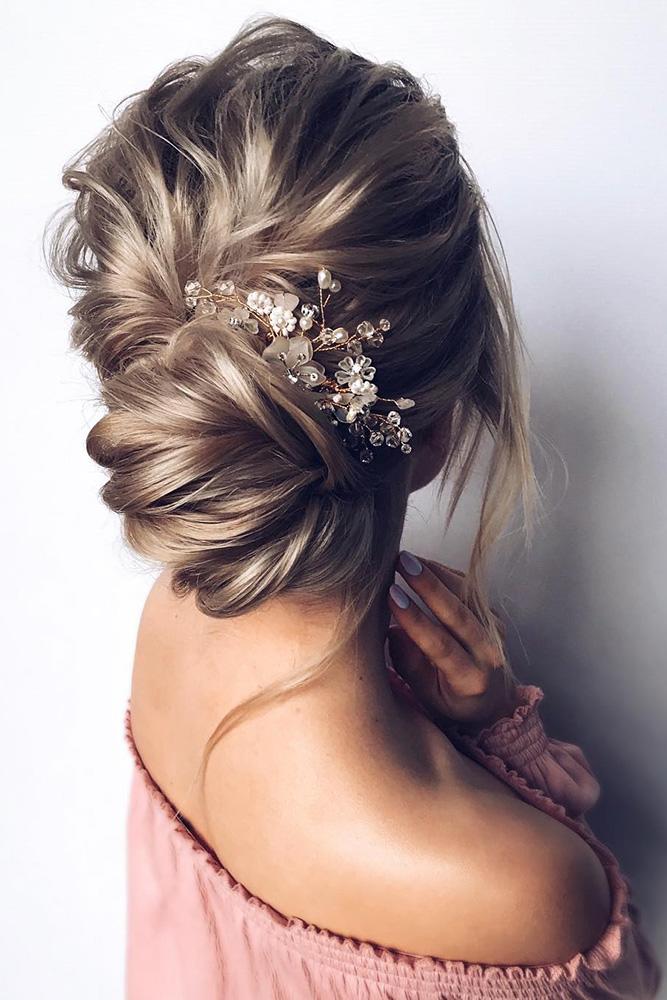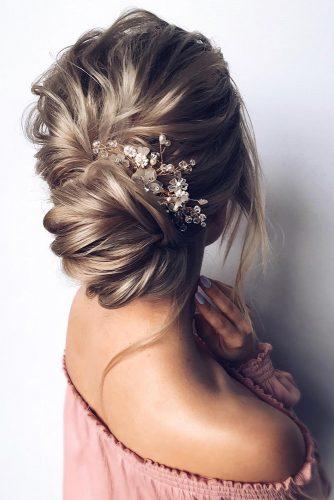 If you are looking for a way to highlight bridal low bun hairstyles, try adding some accessory. The right choice is the key. A simple elegant hairpiece can work miracles.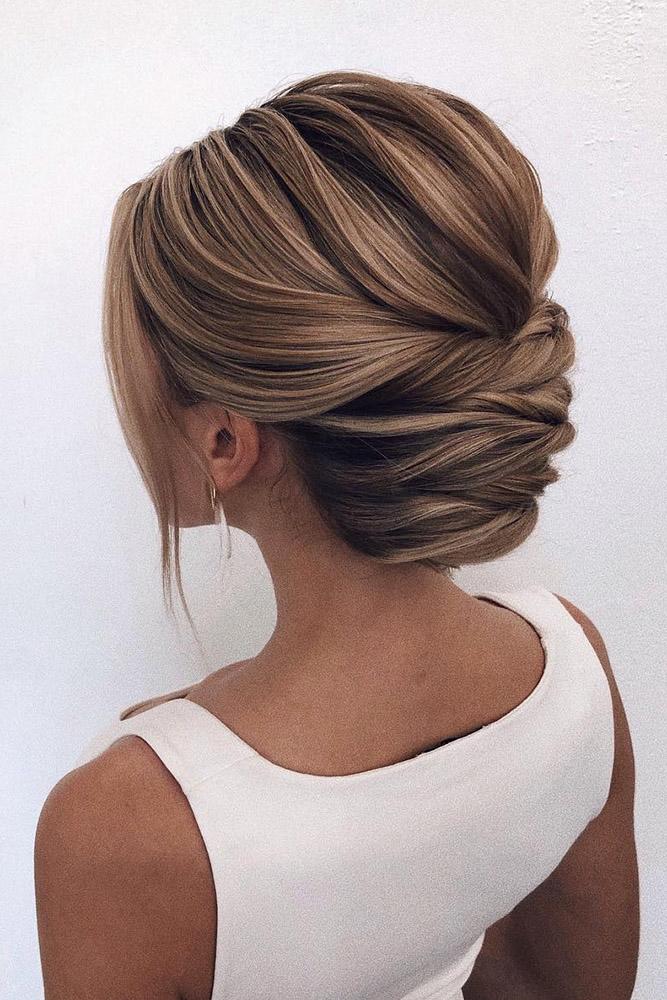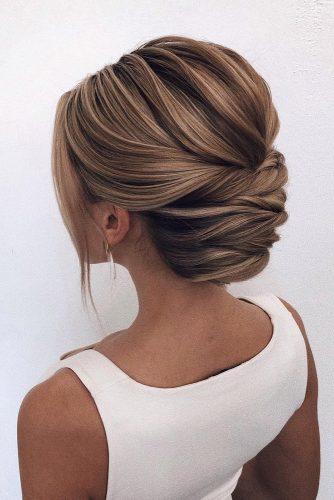 Low buns are somewhat some of the most popular bridal hairstyles with veil. They create a perfect point to position the veil – just use the highest point of the bun.
Photo 22-24: Slightly Messy Bridal Hairstyles
Source: hair_vera via Instagram, hairandmakeupbysteph via Instagram, tonyastylistvia Instagram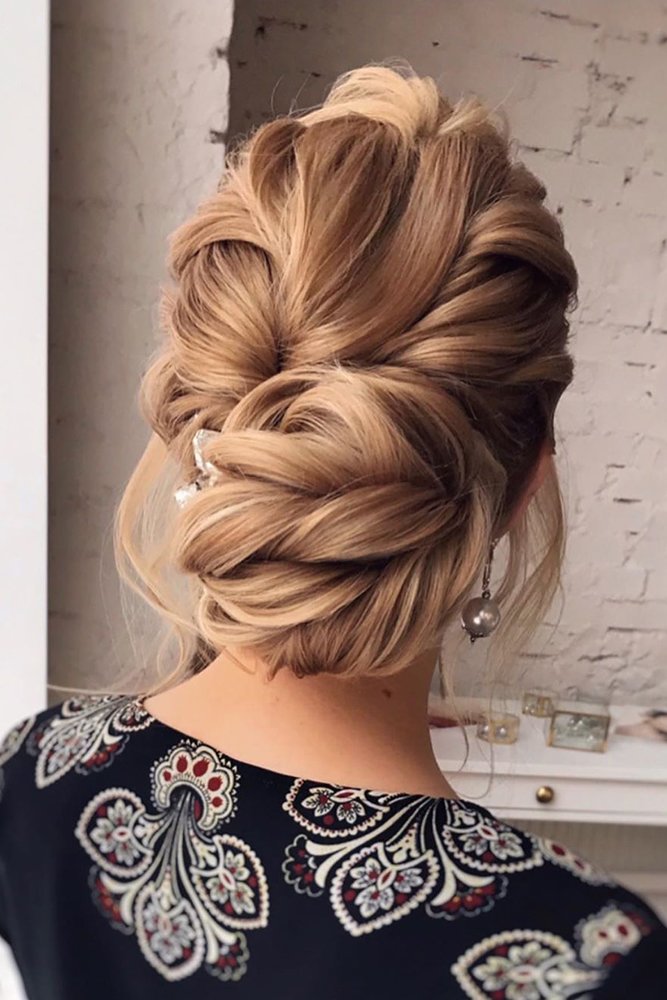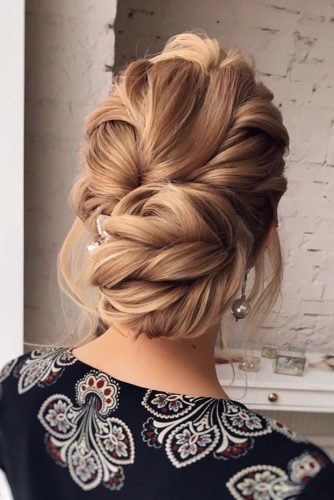 Some brides think, that buns are not for short hair. But there is a number of short bridal hairstyles, that allow creating a bun-like messy boho look.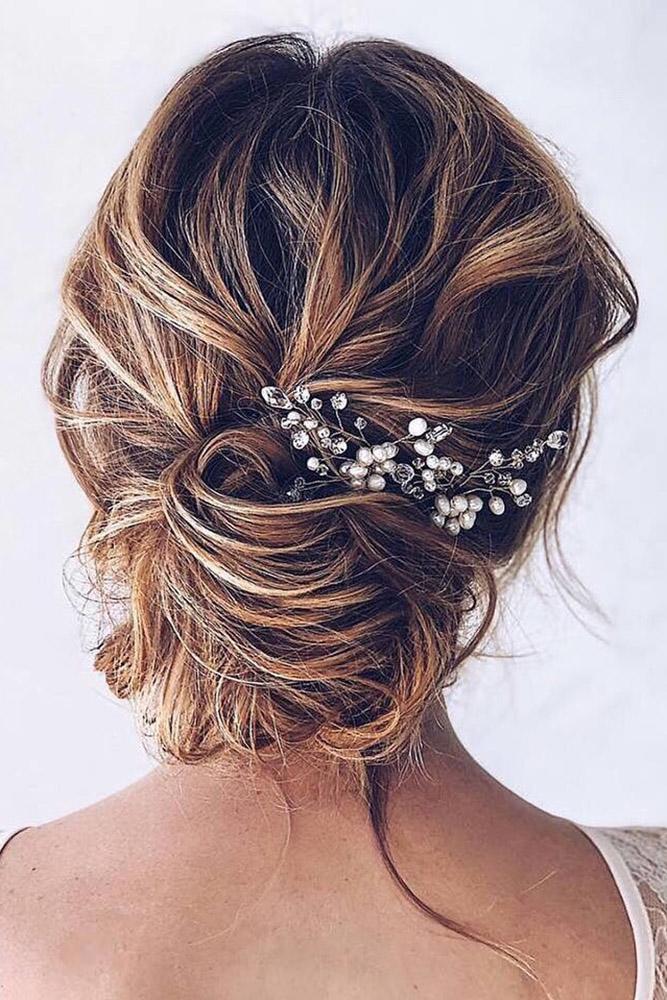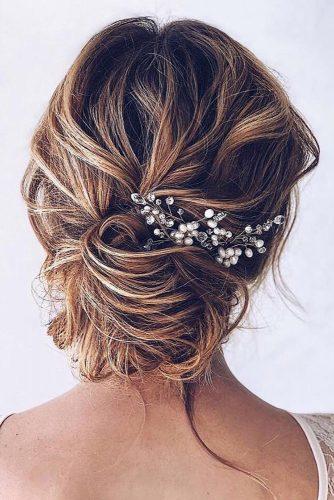 One more example of bridal short hair hairstyles. This time the hairpiece is located asymmetrically, which livens up the style a lot. This hairstyle works great for curly hair.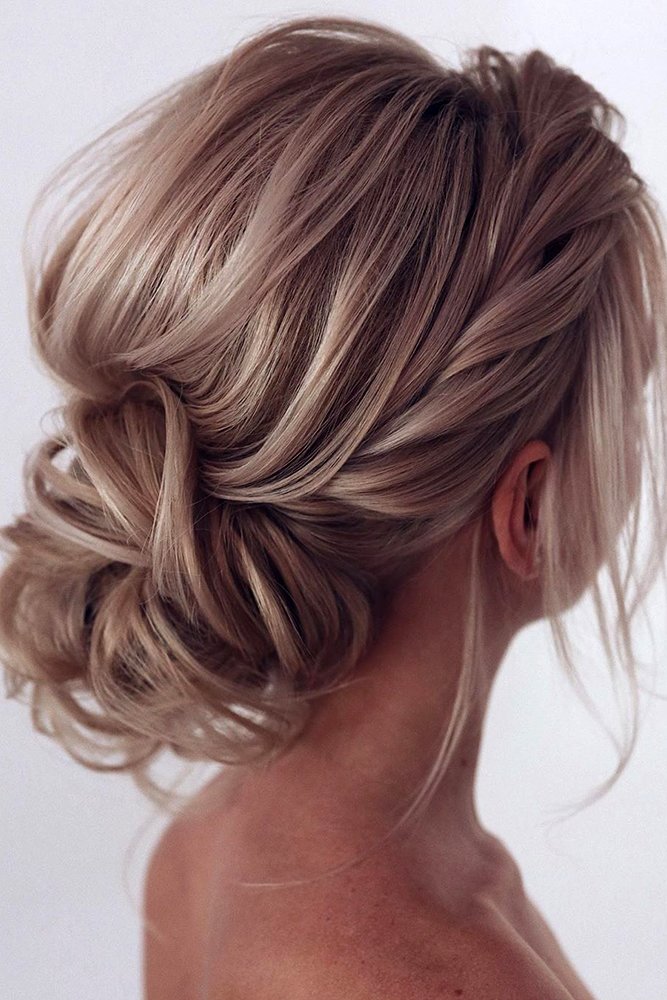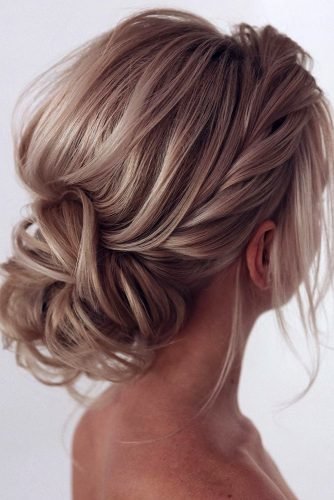 Modern bridal hairstyles for medium hair often have a braided crown. This trendy element gives you that royal look that a lot of brides secretly crave. You are a princess!
Photo 25-27: Romantic And Elegant Low Updos
Source: nastya_kopach via Instagram, bridesroom via Instagram, lenabogucharskaya via Instagram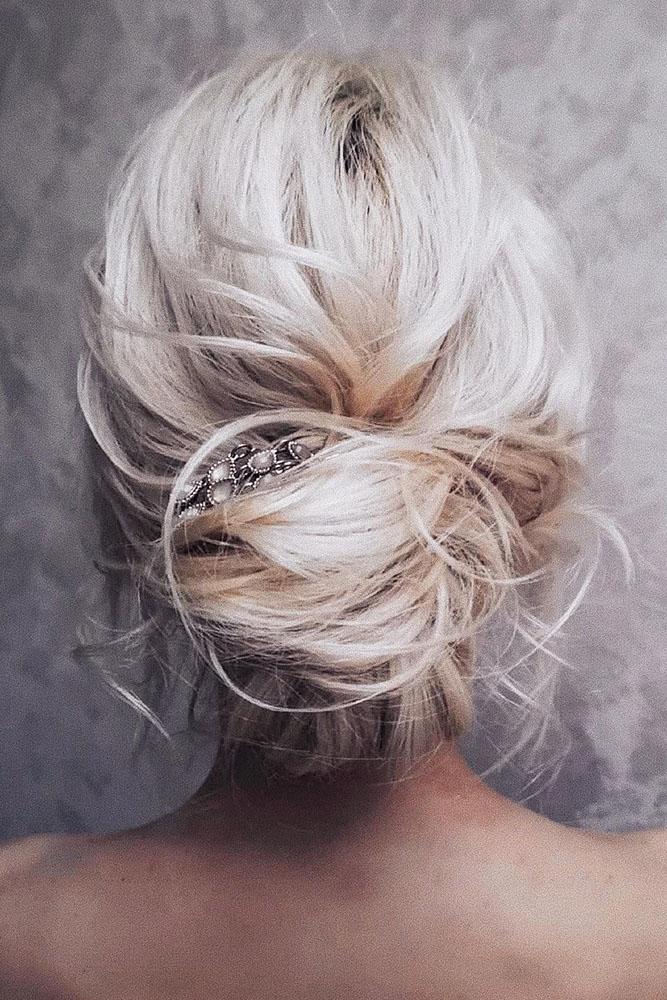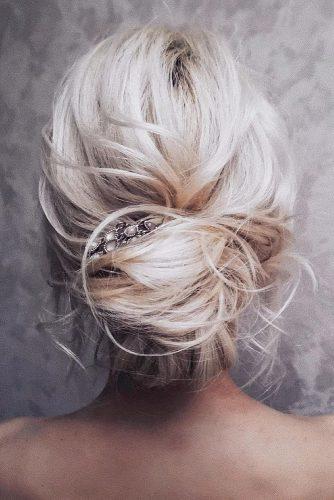 Some bridal hairdos use color as the key element of hairstyles. This low messy bun looks stunning due to its amazing cold hair color. Perfect for a winter bride.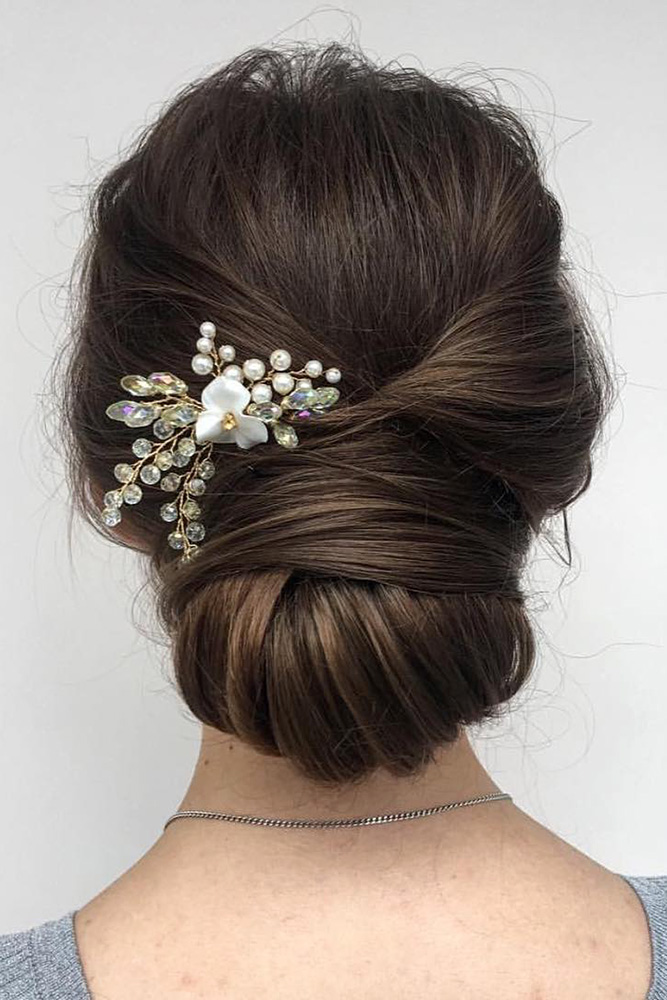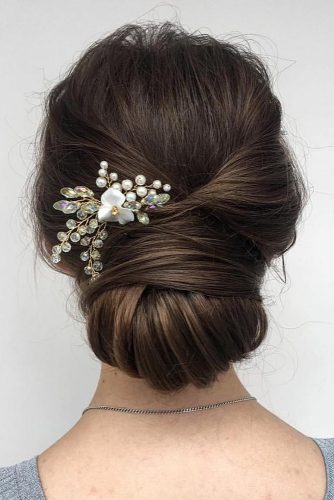 What we love about low buns is how easy these bridal party hairstyles can change. Add a veil for a church ceremony. Use a hairpiece for the celebration. Very practical!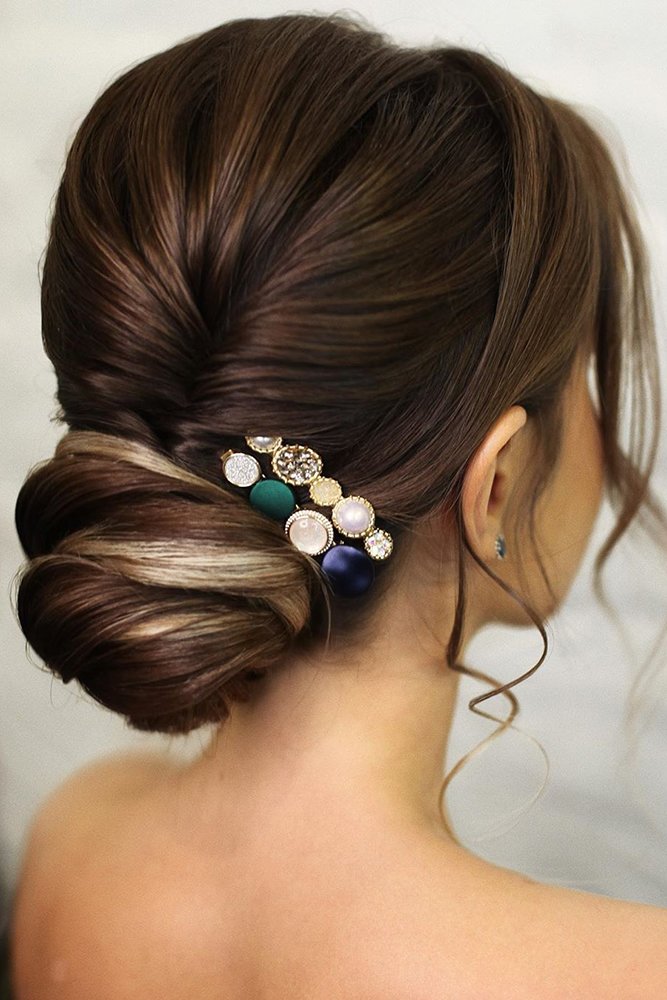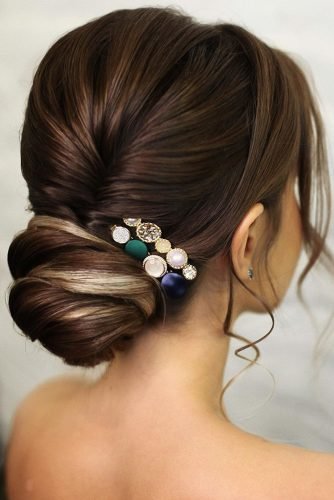 Low buns can be used as everyday hairdo or bridal shower hairstyles. Just add a bit of volume – and you get an amazing bridal look that will take his breath away!
Photo 28-30: Modern Hairstyles Ideas
Source: hair_vera via Instagram, kristina32_hair via Instagram, jodycallanhair via Instagram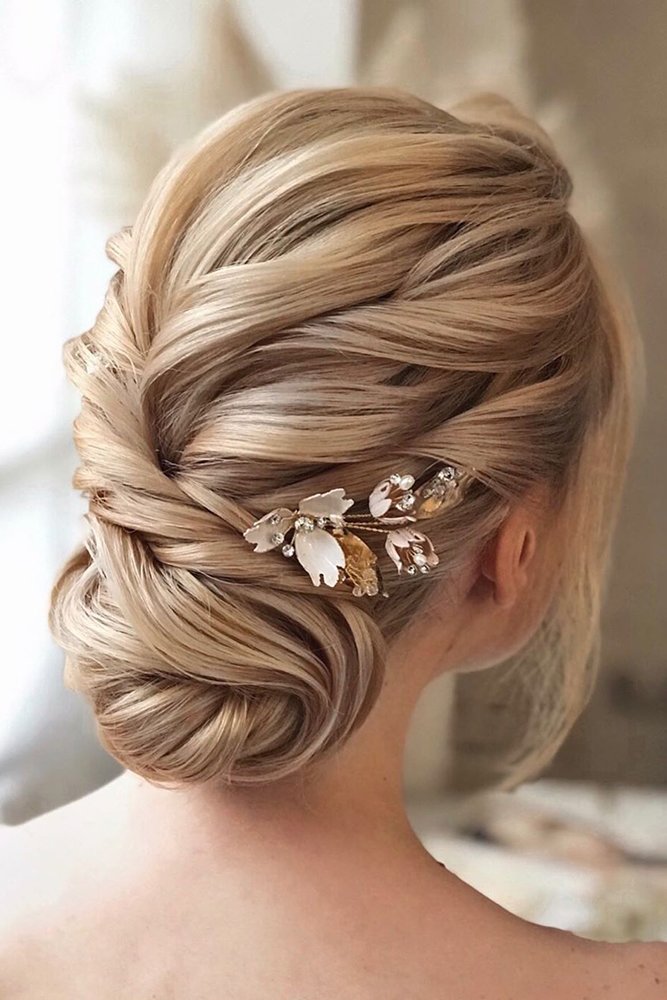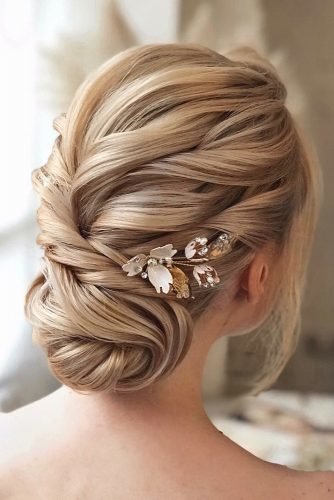 Side bridal hairstyles look amazing on every length. If you are looking for bridal hairstyles for short hair here is one of the best. Pearl hair piece completes the look.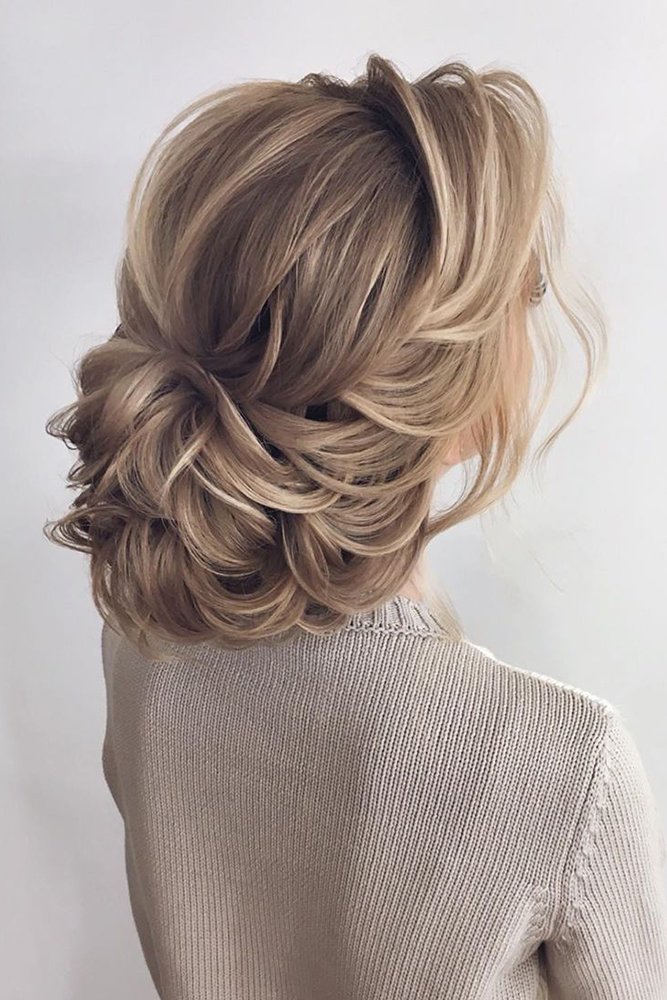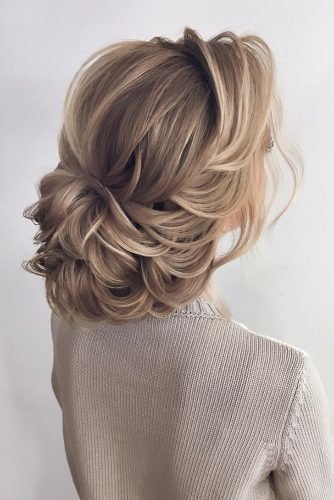 Braided bridal hairstyles for medium length hair always look as if they come right from the cast of GoT. Perfect for any boho or country style wedding.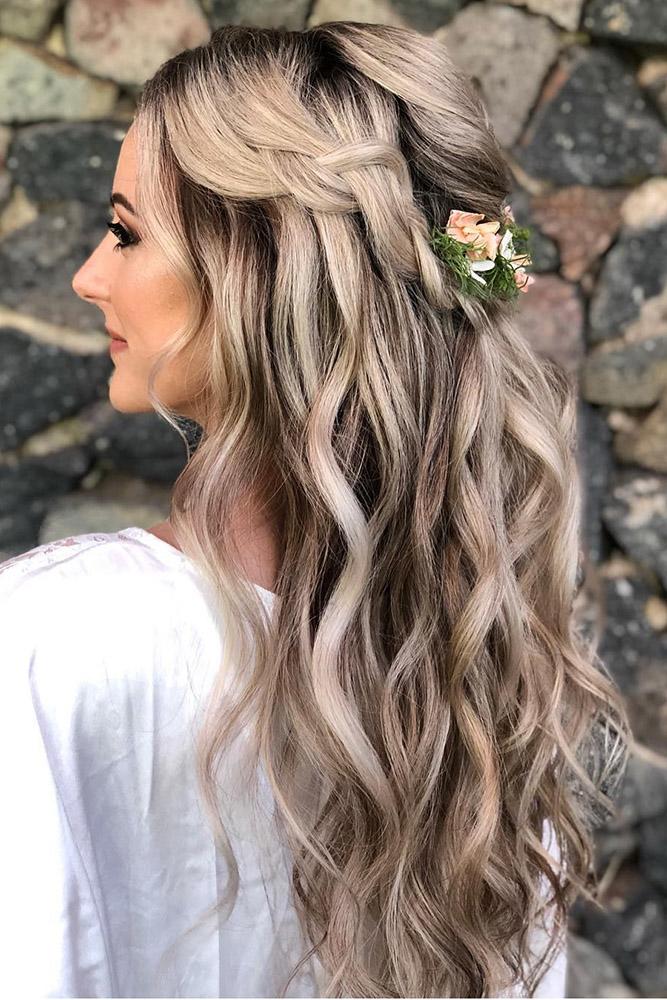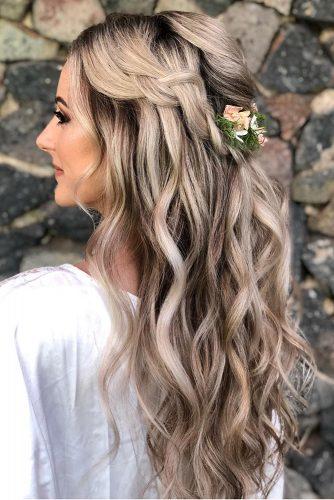 There are lots of bridal hairstyles for long hair. What we love about bridal updo hairstyles is their amazing simplicity. Just pin up your side locks and you are ready to shine!