For beautiful brides-to-be who got voluminous and mermaid-like tresses. Your natural crown is uber amazing. And for your upcoming nuptials, there are gorgeous wedding hairstyles for long hair befitting for your lengthy locks. From timeless vintage twists to smooth waves, curls, bows, and arty styles, the options are endless.
Take into consideration that hairstyles for weddings match by weather, wedding style, face shape, dress, and pieces of jewelry. Etc. With this sorted out, find below exotic simple wedding hairstyles to choose from.
What hairstyle fits for brides with long hair?
Long hair is always amazing to work with.. styling options are unlimited! When deciding on a style for your big day, you need to consider your haircut. Long hair especially, is reliant on layers and framing to create a shape. Speak to your stylist about the shape you're after & take into account, that it may fall better with a fresh cut prior to walking down the aisle.
Natalie Anne
- winner of AIAA 2019 International hair influencer and AHFA Digital influencer 2018
Expert Tip
How To Do Wedding Hairstyles For Long Hair
If you've got lengthy mane, you would never exhaust your options with wedding hairstyles for long hair. But a few things to keep in mind for your wedding style; personality, dress, neckline, and veil if available. Also, take advantage of your facial shape and hair texture.
Fill your hair with extension, especially thin hair like Danny Jelaca, celebrity hairstylist, owner of a salon & spa at Miami Beach opines. He says it holds the style and gives accessories a stay. A cute hairstyle is the elegant mermaid side braid perfect for an oval faced bride. Move hair to the side and weave along the line in loose plaits for a beach wedding.
Source: Hair Romance


Timeless Wedding Half Up Half Down
If you're confused about letting your hair up or down, you can have both. Work with twisted half up half down wedding hairstyles especially for outdoor, bohemian or garden-inspired wedding.
Remember to wash your hair a day before with restorative hair treatment. This gives it shine, life and volume, something you need to pull off this hairstyle.
Take the full shiny locks, for instance, perfect for a heart-shaped face and outdoor wedding. The pure Boho look draws attention to the bride's neckline. And the vogue worthy classic look is for a semiformal wedding.
Source: ElStile Spb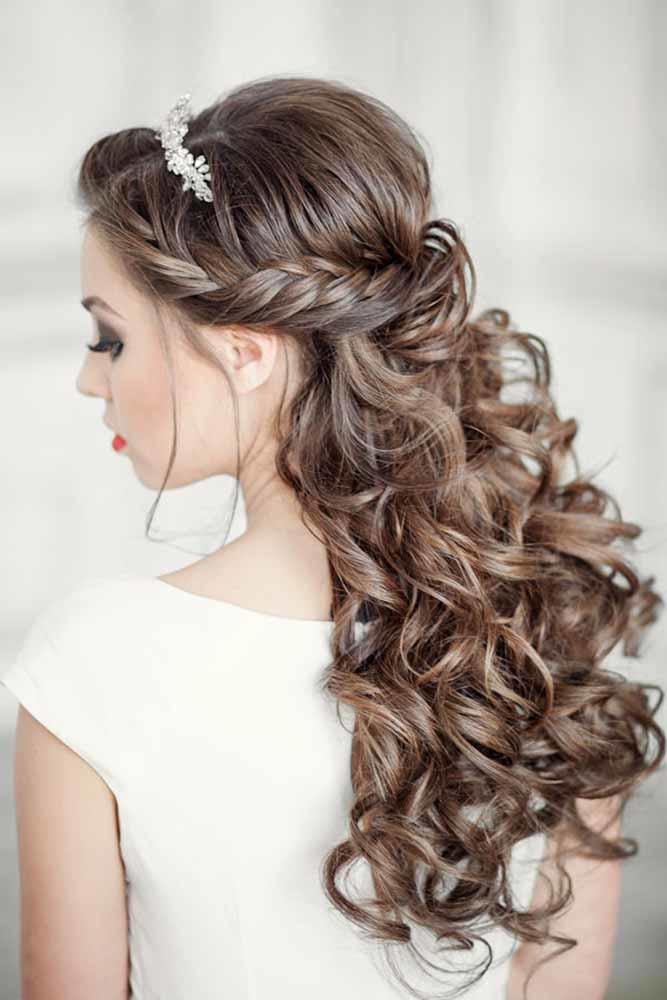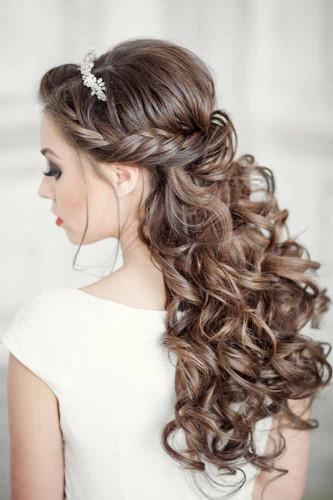 Shiny Locks
Locks and curls are quite popular in hairstyles for long hair for a wedding. With this hairstyle, you don't need to decide between letting your locks shine or a clean and tight updo.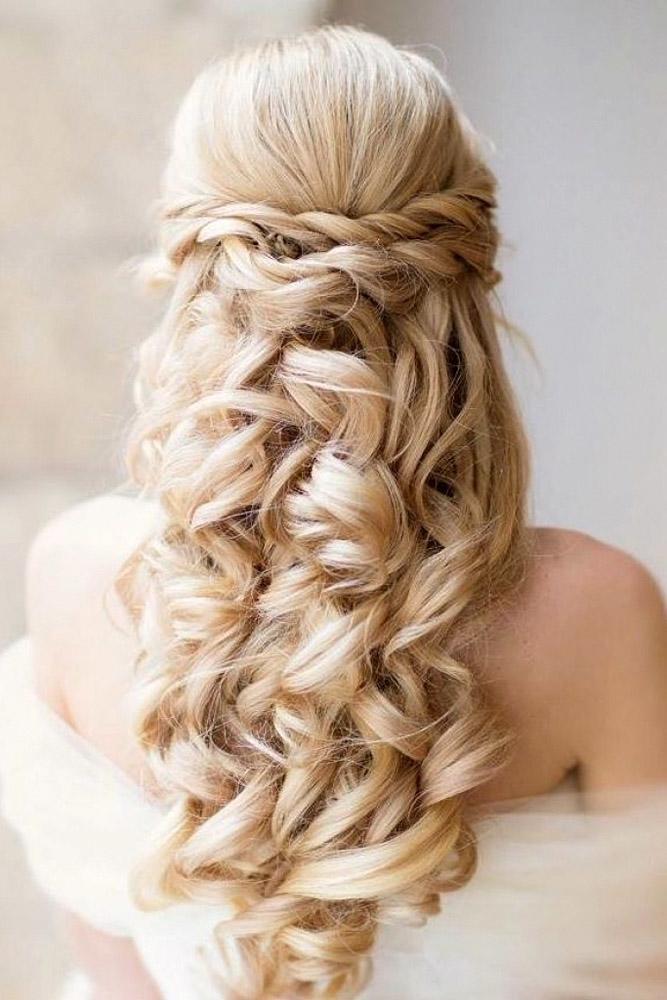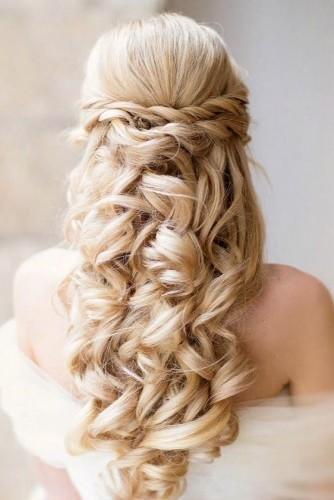 That Boho Look
There's something very natural about the half up, half down. These hairstyles for long hair for a wedding fit in perfectly with the ideals of the boho bride.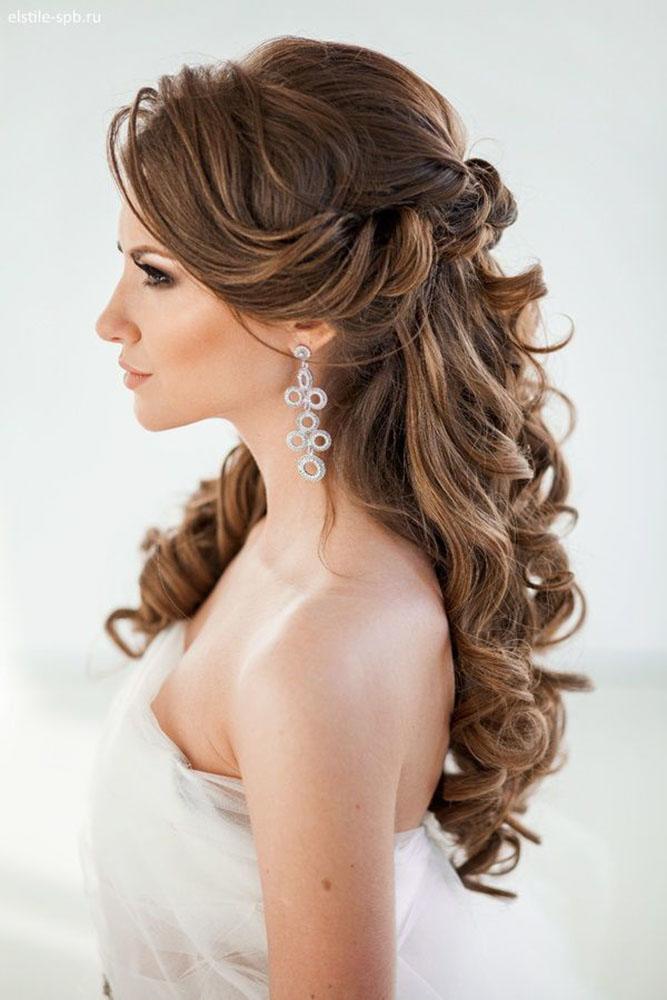 Classic
The forever classic wedding hairstyles, half up, half down, are especially popular for long hair. They let you show off more of your silhouette and let your tresses flow.
Focus on your hairpiece (tiara for example) or veil. The perfect half up, half down do should make like they were meant to be together.
If you have a very simple wedding gown, use this opportunity to be elaborate with your hair.
If your wedding gown is close to being 'over the top' balance it off with a clean and classy hairdo.
What is wedding hairstyle trends 2020?
I still see a lot of half ups being done in 2020 either with a twist or a braid. I also think more sleek looks are rising in popularity. Possibly parted in the middle, tucked behind the ear into a sleek pony or bun. I saw it at the end of 2019 with celebrities such as on Hailey Bieber done by Jen Atkin and now I'm getting requests for similar looks.
Expert Tip
Voluminous Curls For Long Hair
The voluminous curls can be well regarded as vintage wedding hairstyles because they've long been with us. They're perfect for simple dresses and understated pieces of jewelry. Voluminous curls draw attention to the face, flattering it.
Some options include the half up half down full option curls beach wedding hairstyles. A bride with a round face will rock it hard for a beach wedding.
The bold loose curls to the side scream ballroom elegance for the oval faced bride. And then there are the mock high bun volume curls with tendrils around the face. These loose hair suits a heart face while flattering the forehead.
Source: samirasjewelry via Instagram, antonina_romanova via Instagram, juliafratichelli.bridalstylist via Instagram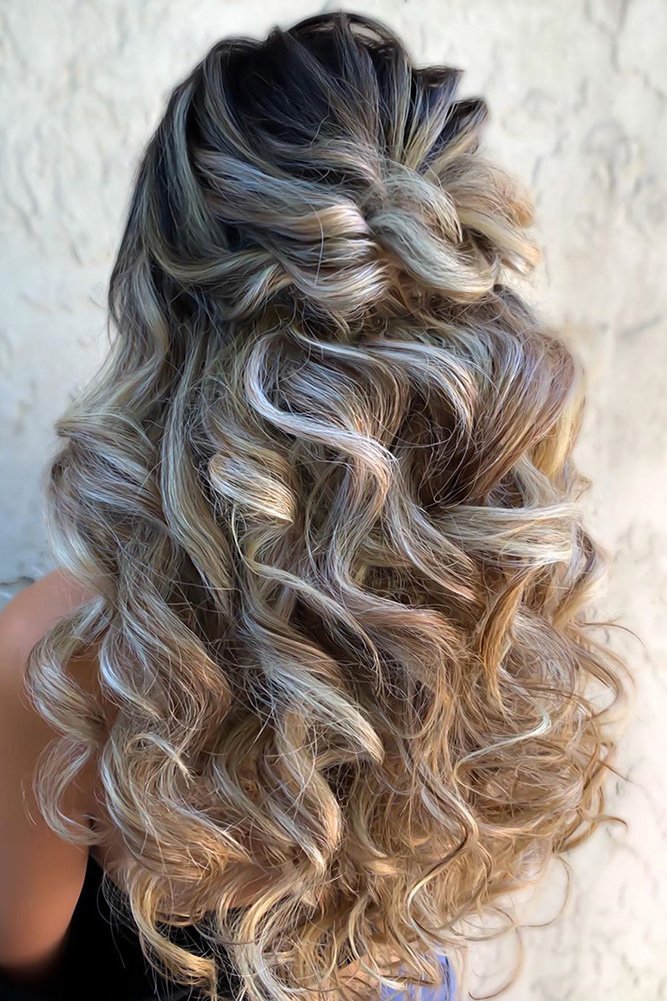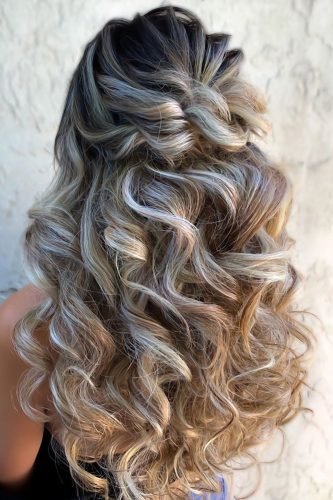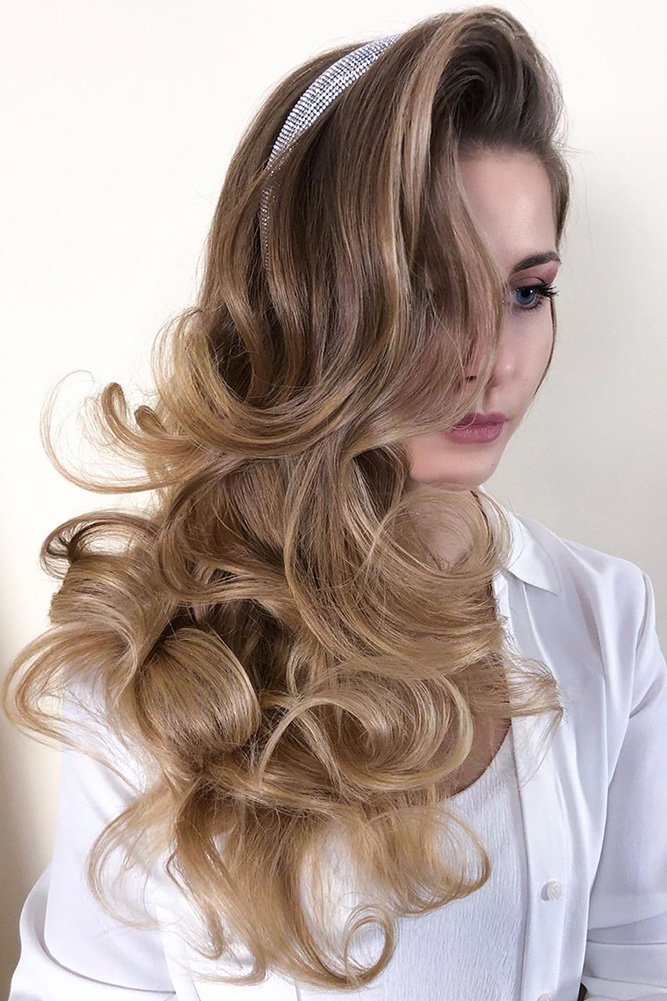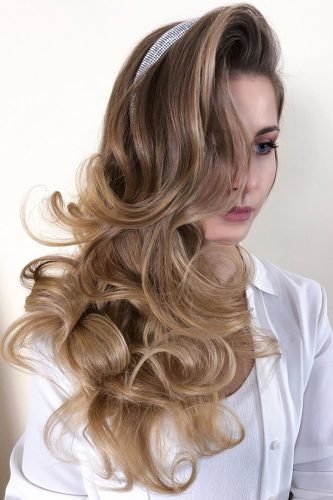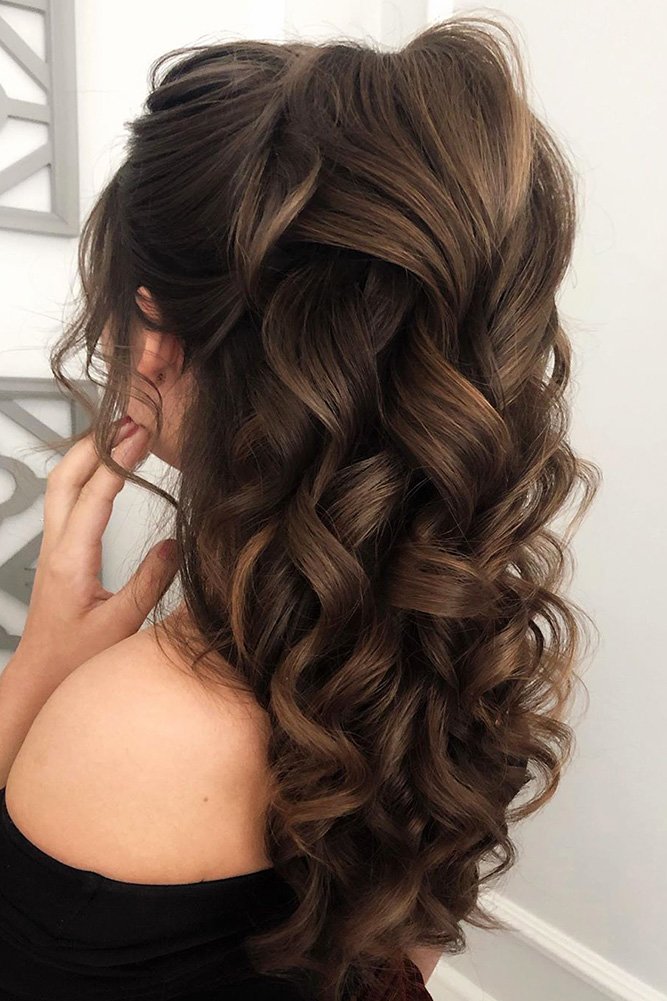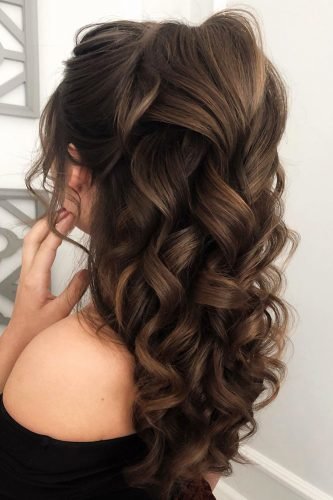 Smooth Wave On Long Hair
Smooth waves suit long hair and are perfect wedding hairstyles for medium length hair. This is an appealing style for the minimalist bride who wants simplicity. The smooth waves come in a princess down the back style with a center part. A beautiful sight for the beach or wanderlust wedding.
Brides can also opt for the mini half packed and flowing curls. A bride with hair volume will pull this off for her formal wedding. And if you feel like Roman, try the Grecian inspired smooth loose curl waves. Perfect wedding hairstyles for thin hair. Accessorize with simple clips for finishing.
Source: hair_vera via Instagram, pearly.hairstylist via Instagram, caraclyne.bridal via Instagram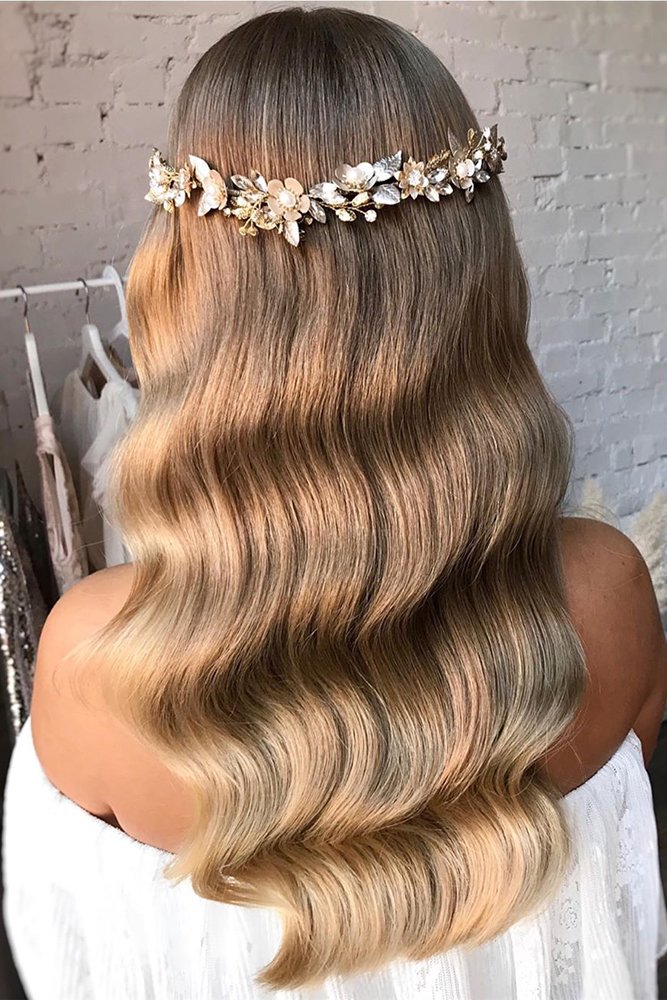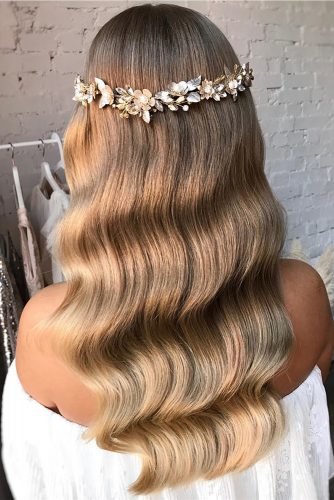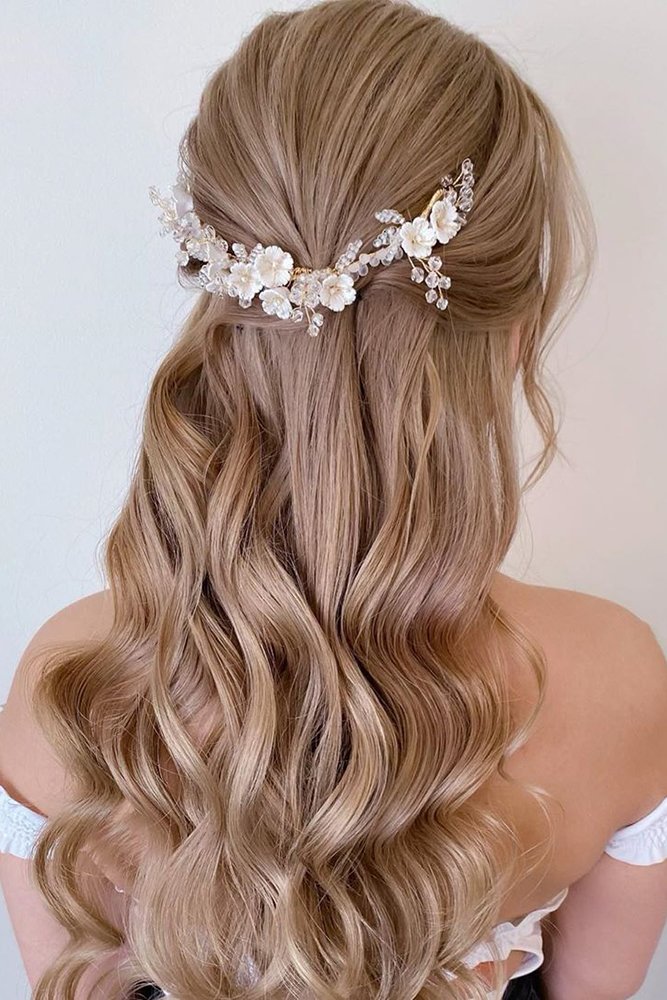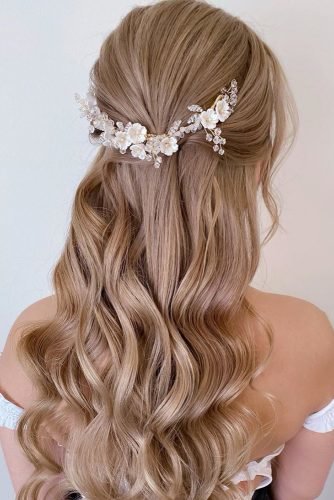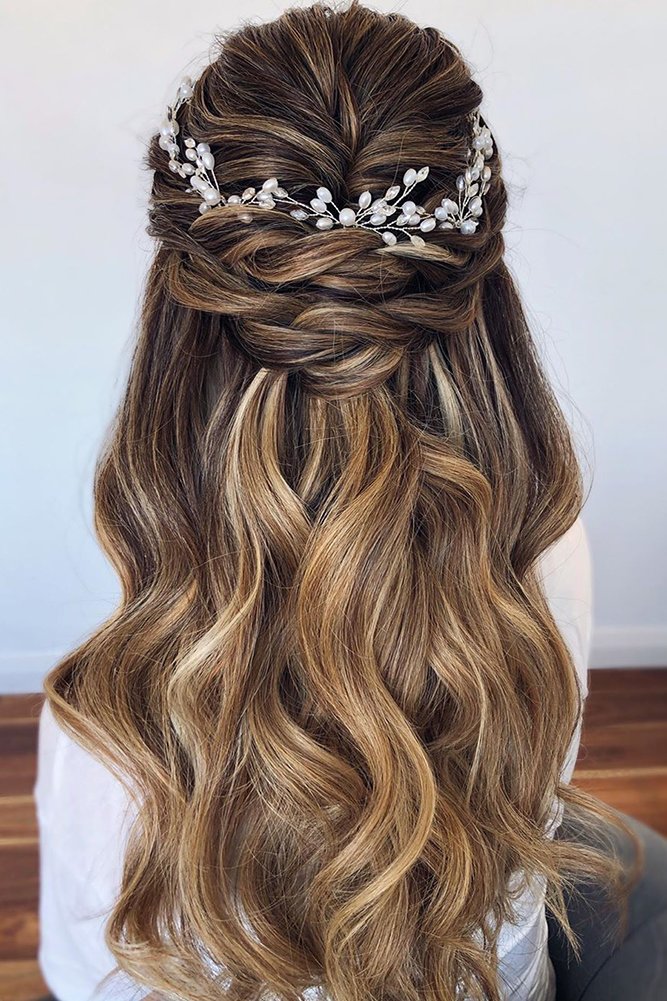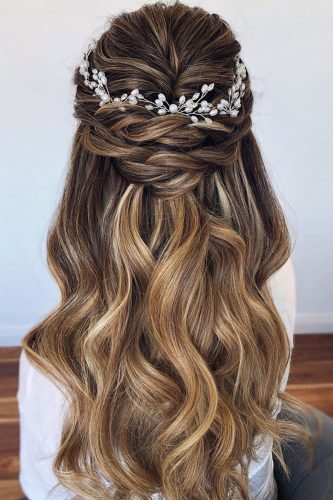 Balance off the simplicity of the hairstyle with some trendy accessories. We recommend either tiaras or clasps.
If your hair is long enough, invest some time into curling to make it full and billowing. You want it to strut along with you down the aisle.
Long hairstyles for wedding parties deserve matching accessories. Just make sure that your bridesmaids have a simpler version of what you're wearing so they don't compete.
Which hairstyles are best for brides with thin hair?
Finer hair clients, choose a voluminous & textured style to make it appear you have thicker hair. Something soft, tousled and textured would be perfect!
Expert Tip
Wedding Hairstyle As A Work Of Art
Hairstyling is an art, and styling to perfection is achieved through expertise, patience, and calmness.
You may try the face frame bogus waves if you've got a round or square face. This style gives the face an illusion of slimness, the Hollywood vintage glam style. Another option is the loose ponytail singed waves perfect for the beach. Accessorize minimally.
Source: antonina_romanova via Instagram, victoria_schimbator via Instagram, victoria_schimbator via Instagram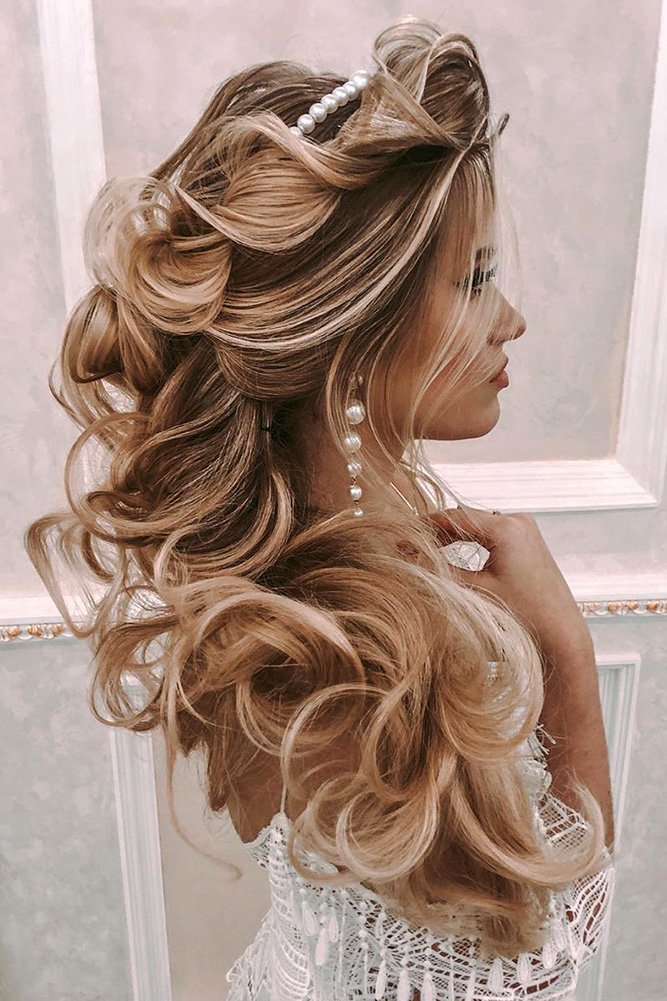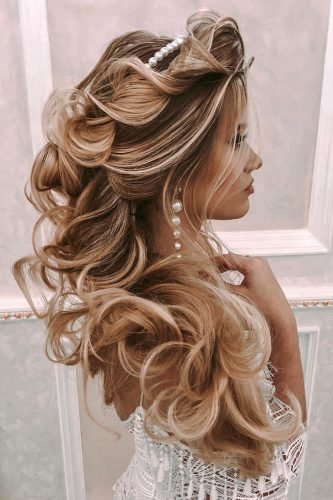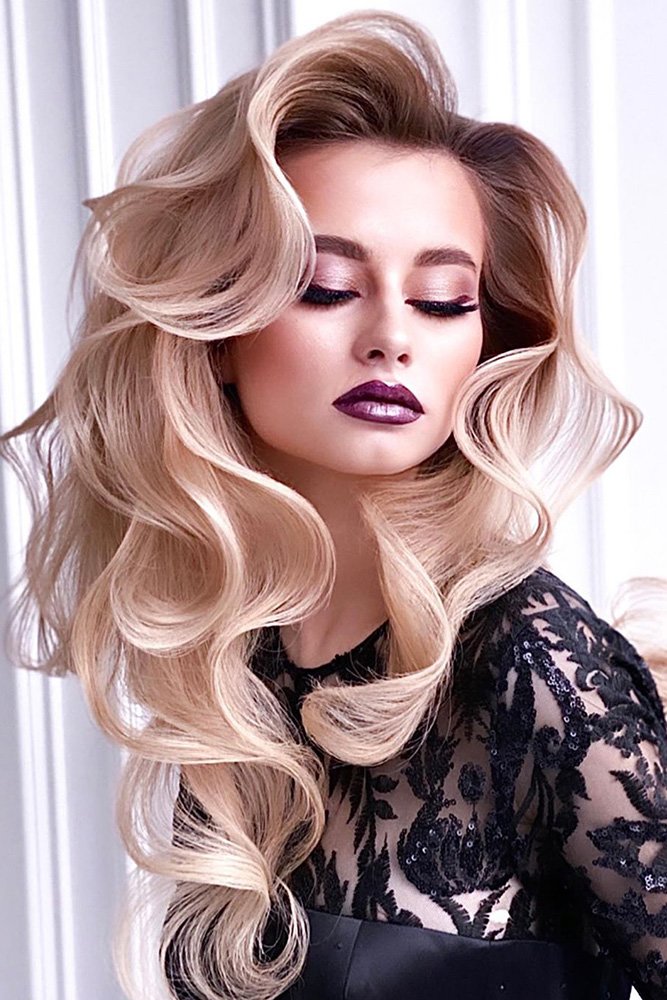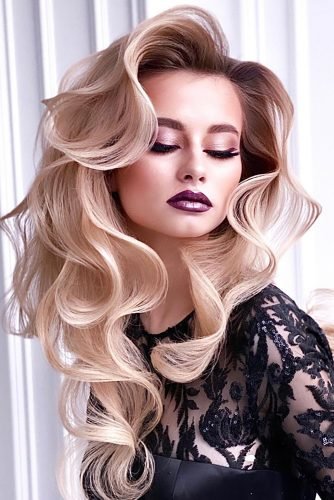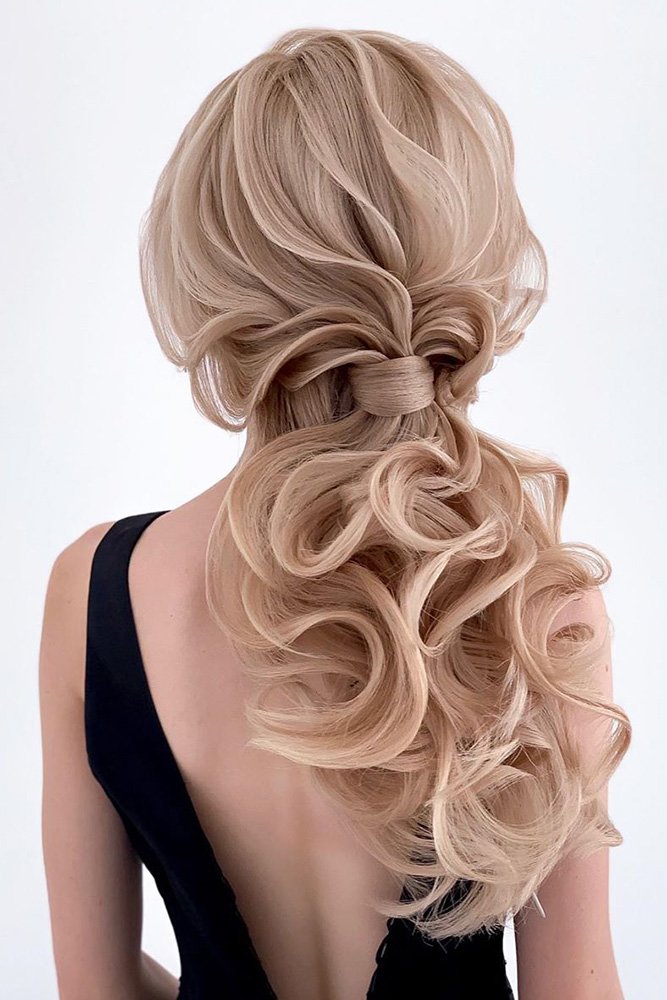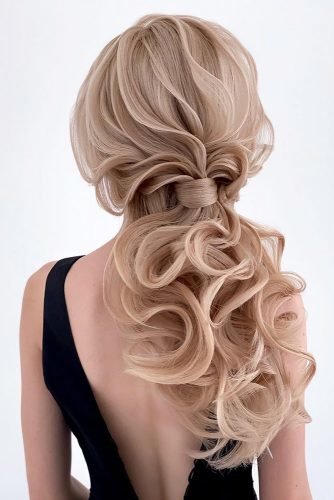 Half Up Bow Ideas
Get creative with updos for long hair wedding styles by incorporating stylish natural bows. The daring bride who doesn't do basic will love this for casual, destination and fun weddings. Brides with heart-shaped and oval faces fit for this style. These are also perfect wedding guest's hairstyles.
Ladies with thin hair will rock a bone straight fishbone half-up bow. This lends some sophistication while maintaining the hair's natural texture. The loose curls bow half updo is for the bride with voluminous tresses. And if you're thinking wedding hairstyles for medium hair, try the tousled half-up wavy bow.
Source: n.starck via Instagram, letitbraid via Instagram, shiyan_marina via Instagram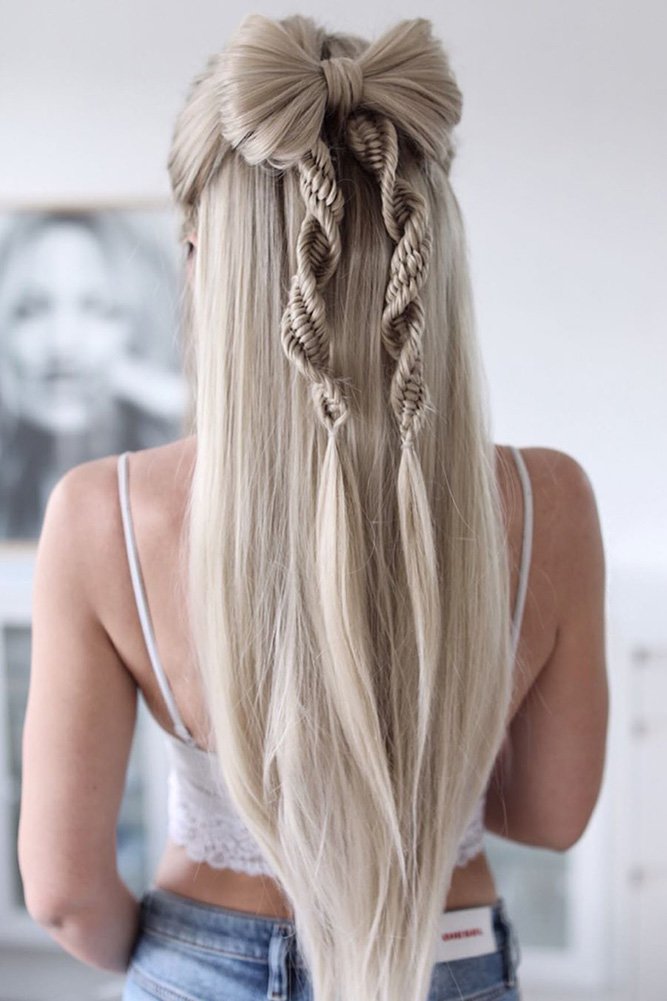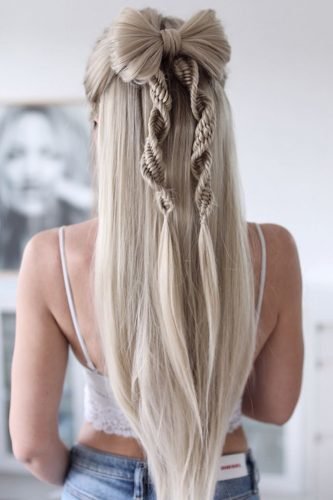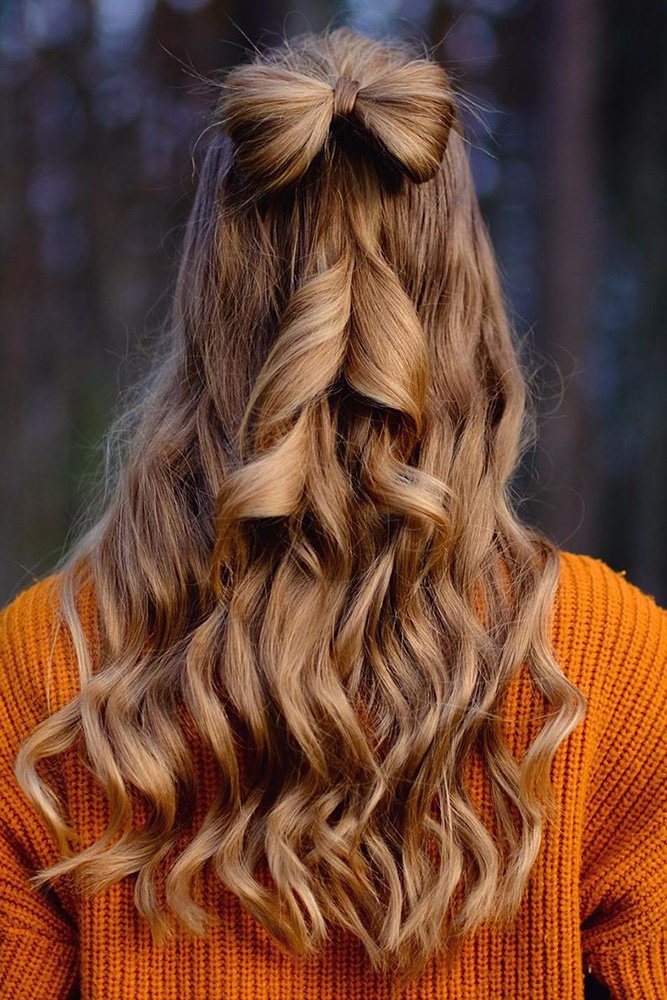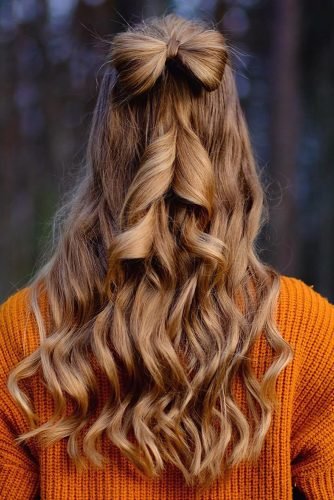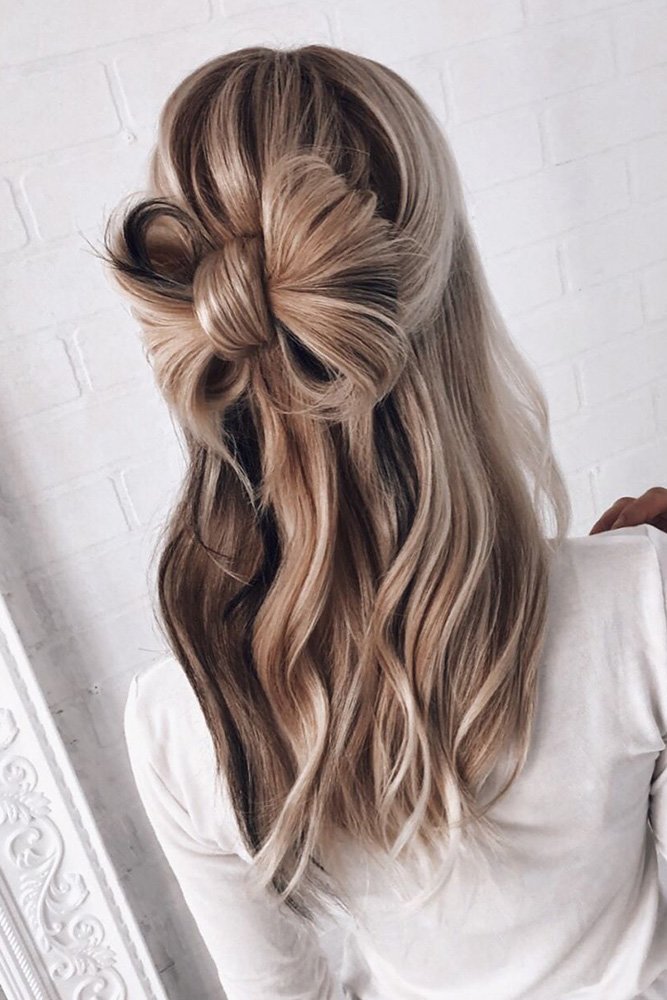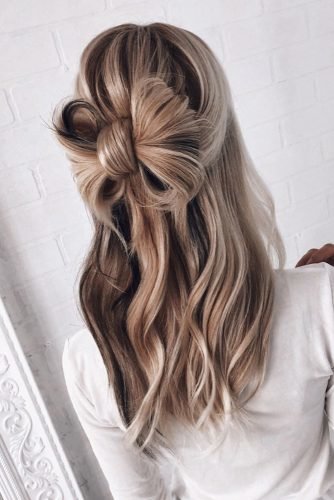 Cascading Long Hair Down
For brides with the Rapunzel-like locks, you can spot a cascading braided wedding hair. This hairstyle is fitting for brides with full, thin and medium hair length with all face shapes. The weather, accessories and wedding style is what determines the outlook.
An example is the mock Grecian cascading loose fishtail curls for destination weddings. If you've got a tiara, wear it on this style. Or you can rock loose pinned-in wavy cascading curls with your wedding veil for a formal and semi-formal wedding.
The sleek fishtail braid is Boho inspired for windy beach weddings. Complete with flower accessories.
Source: bridal_hairstylist via Instagram, hairandmakeupbysteph via Instragram, Elstile SPB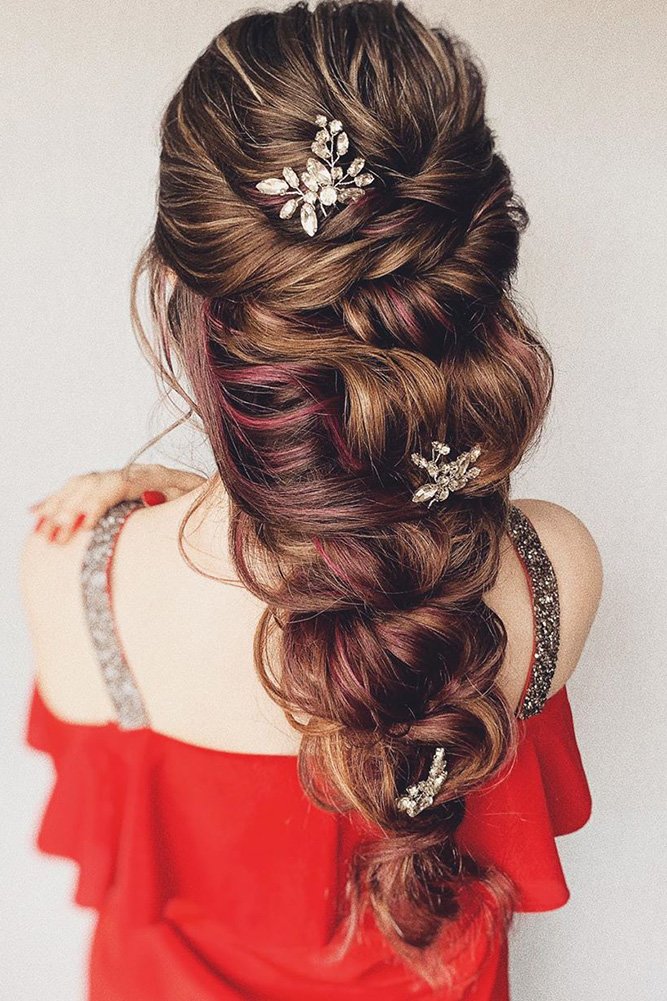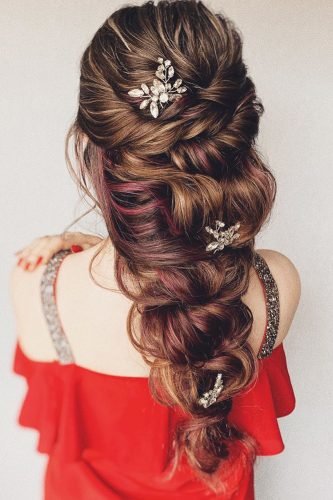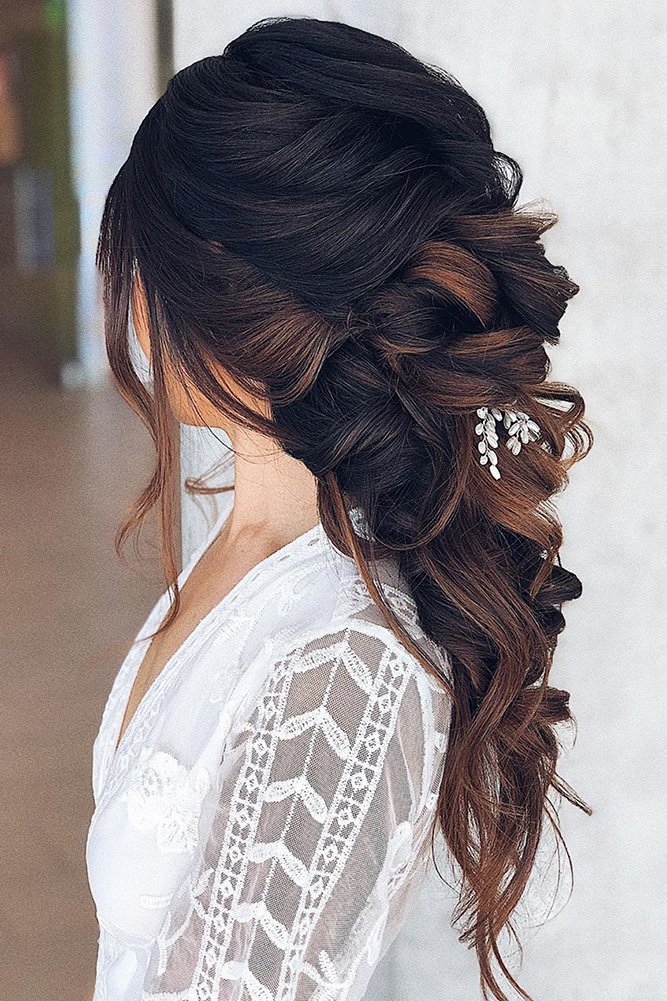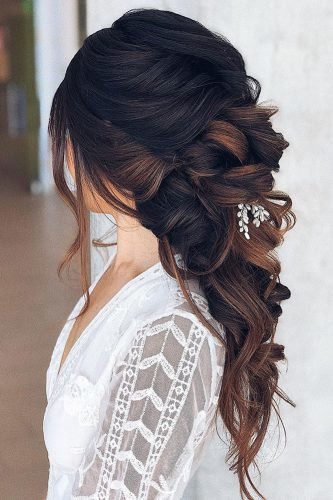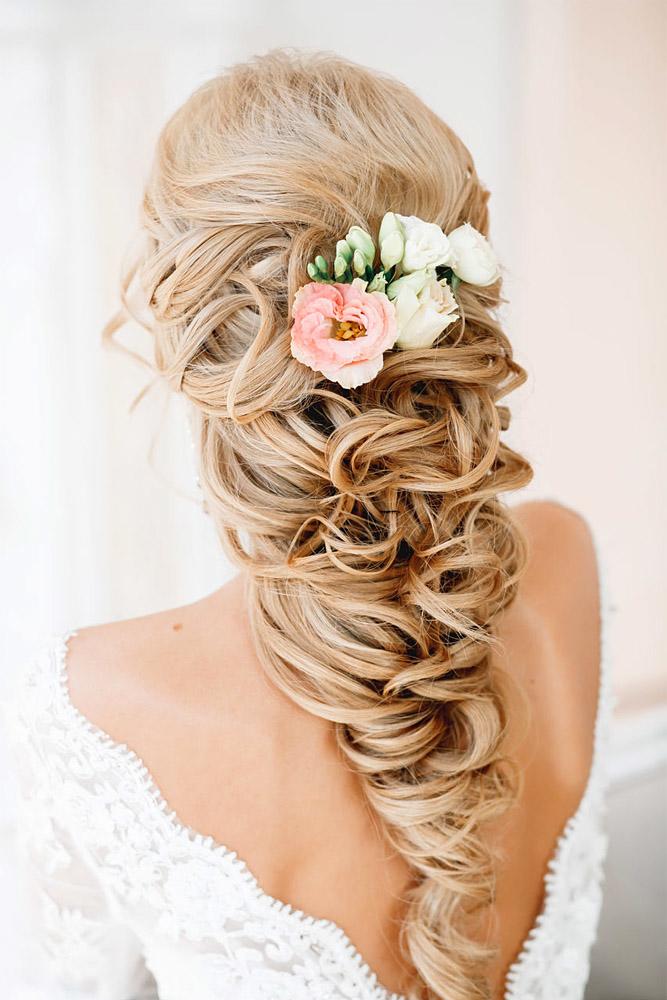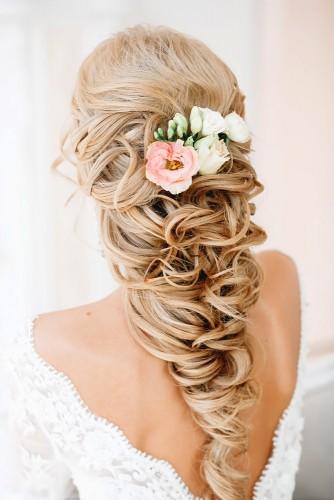 Elegant High Updos With Curls
Updos never go out of style, they only get reinvented. Now when you add some curls, the hair gains some volume and flatters any face shape. High curly updo works best for low back dresses, minimal accessories and simple dresses. And if you need wedding hairstyles with veil, this works too.
See the tousled regal updo loose curls framing the oval face and flattering the neck of the bride. The elegant high curly updo with loose waves is perfect for round face and boosts thin hair. Try out the raised crown curly updo with full pin accessories for the princess look.
Source: elstilela via Instagram, elstile via Instagram, tonyastylist via Instagram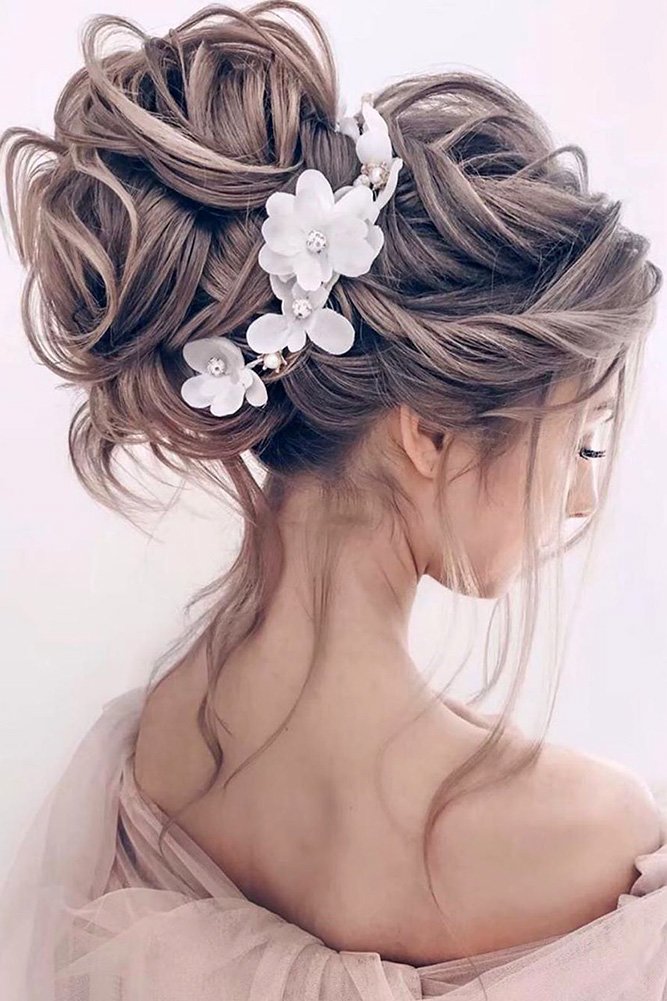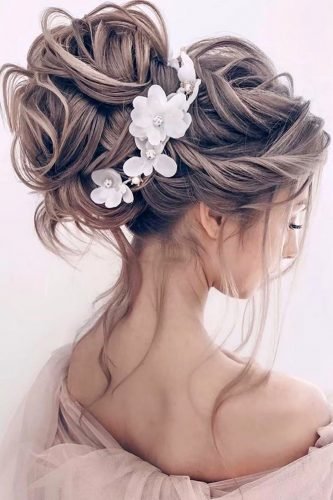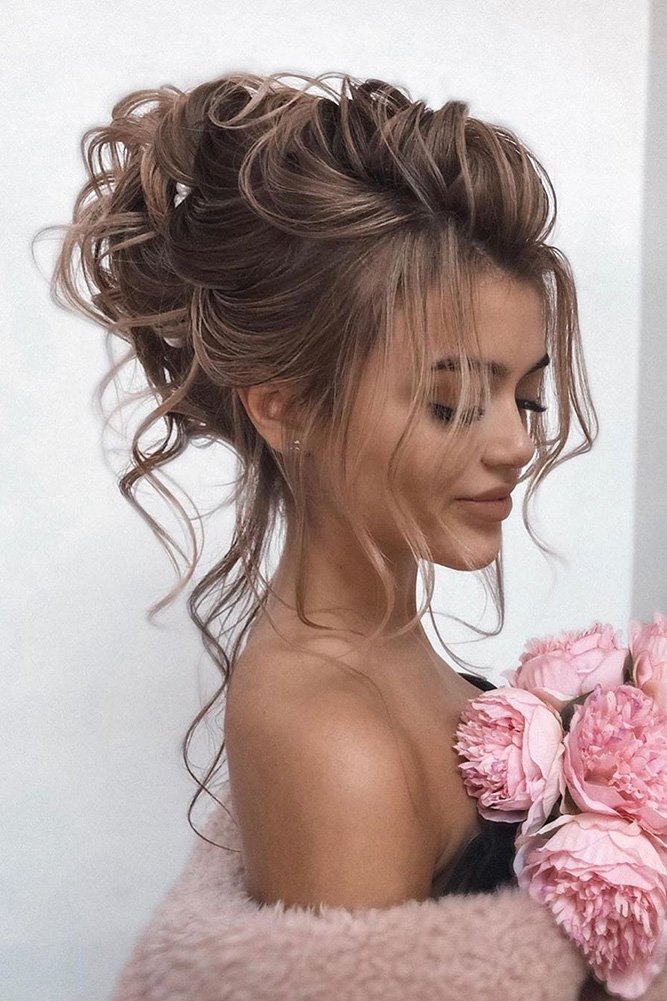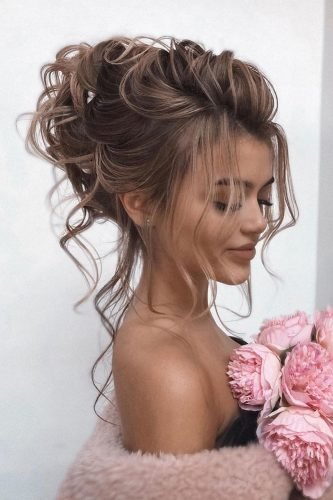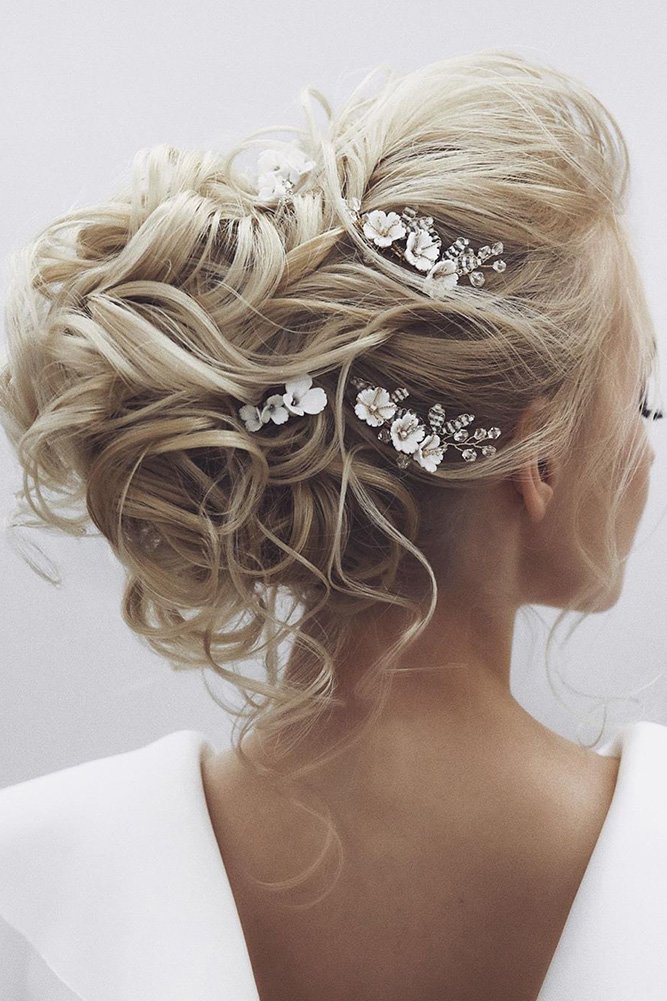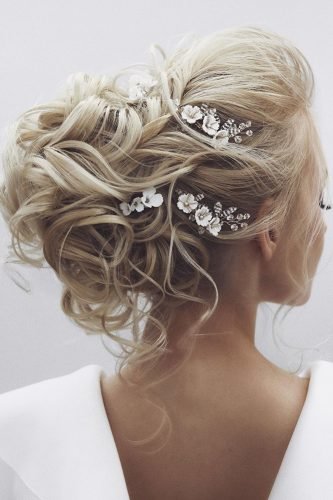 Charming High Bun
The high wedding buns hairstyle is somewhat vintage is queenly. They are perfect for every face type, dresses, and pieces of jewelry. These are also great wedding hairstyles for short hair or the bride that wants to keep her every day look.
Our favorite options include the textured high bun. Leave out wispy locks that kiss the face and compliments the neck. The tousled double steeped high bun makes a pair with bogus jewelry and off the shoulder dresses. The voluminous windy high bun will sit well on a bride having a beach wedding.
This hairstyle works best with extension for more volume.
Source: ksenya_makeup via Instagram, mpobedinskaya via Instagram, hair_by_pustovalova via Instagram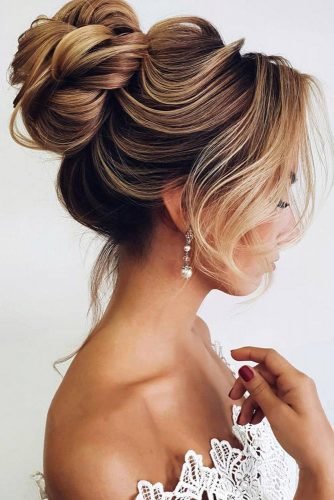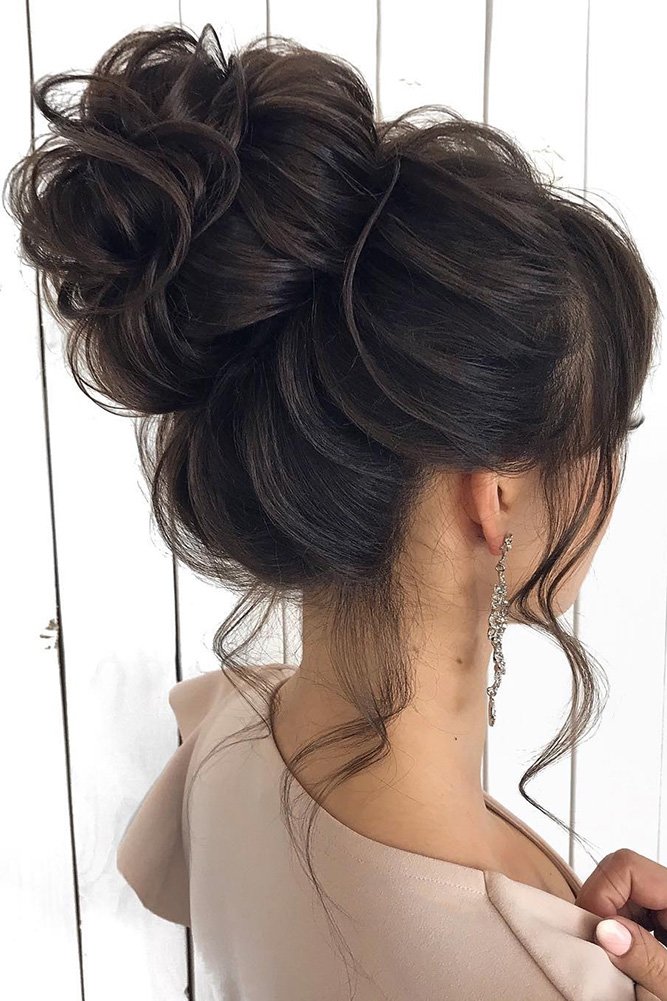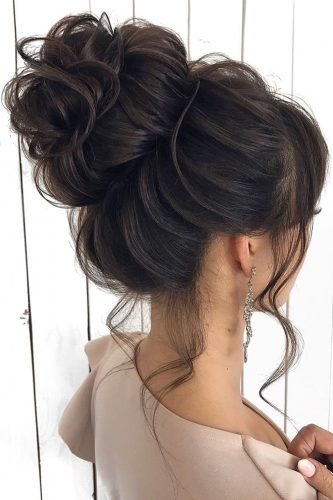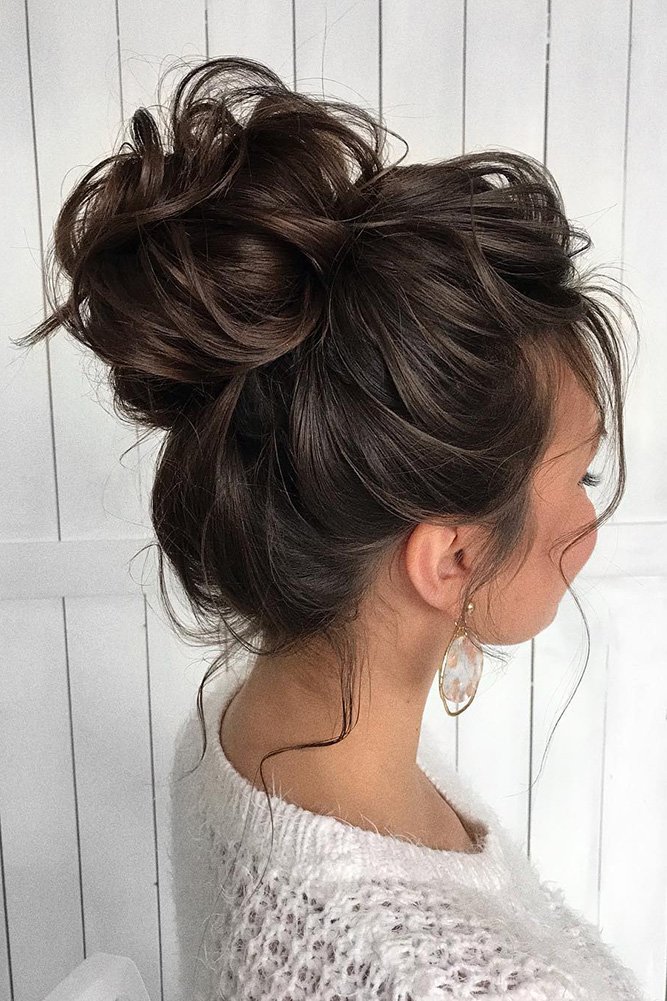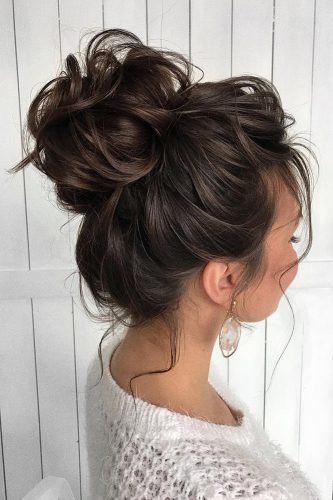 Low Wedding Chignons
Low wedding chignons are easy wedding hairstyles that you can pull off on your own. These styles are perfect for the religious and traditional wedding. A little addition of extension will enhance the size of the chignon.
See the classic chignon, a masterpiece that you can DIY for your religious wedding. This is also a hit for the simple bride. For something more modern, spot the low messy chignon which gives a hint of a casual wedding. It's very trendy and chic. For cathedral dream wedding, keep it sleek with a neat vintage sophisticated low chignon. It gives your veil the perfect stay.
Source: alexandralee1016 via Instagram, sarahneillhair via Instagram, lenabogucharskaya via Instagram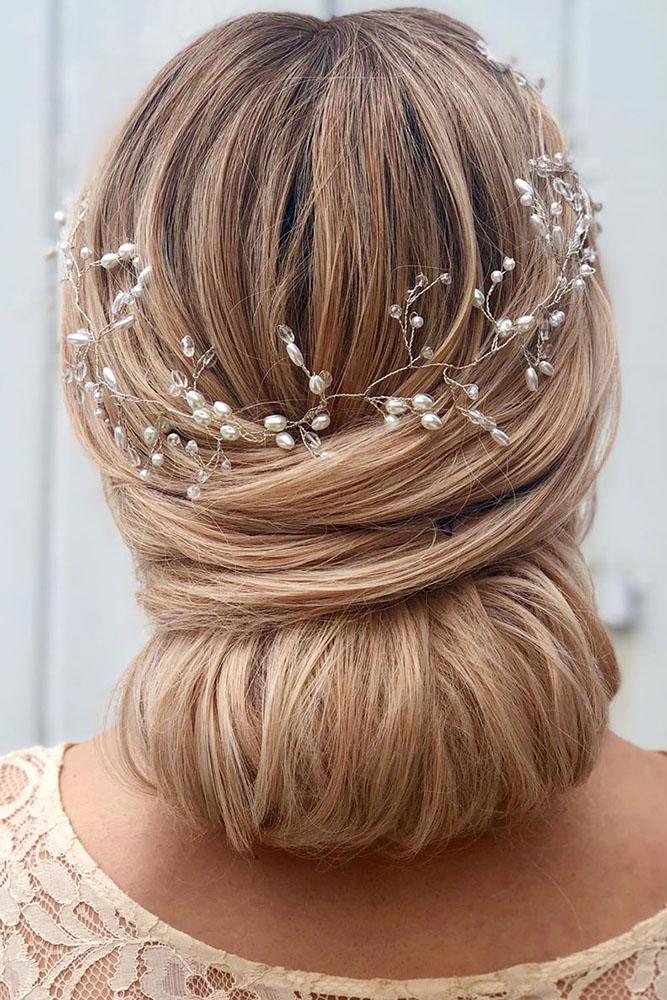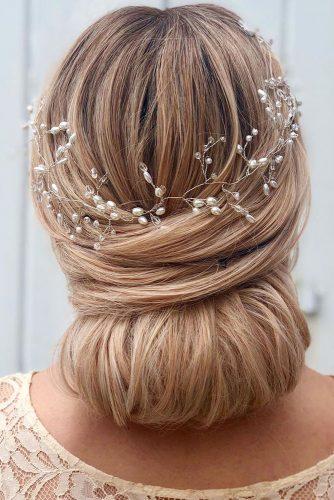 Traditional Bun
The classic wedding chignon is a great first option among wedding hairstyles for long hair. It is perfect for walking down the aisle of a Roman Catholic church.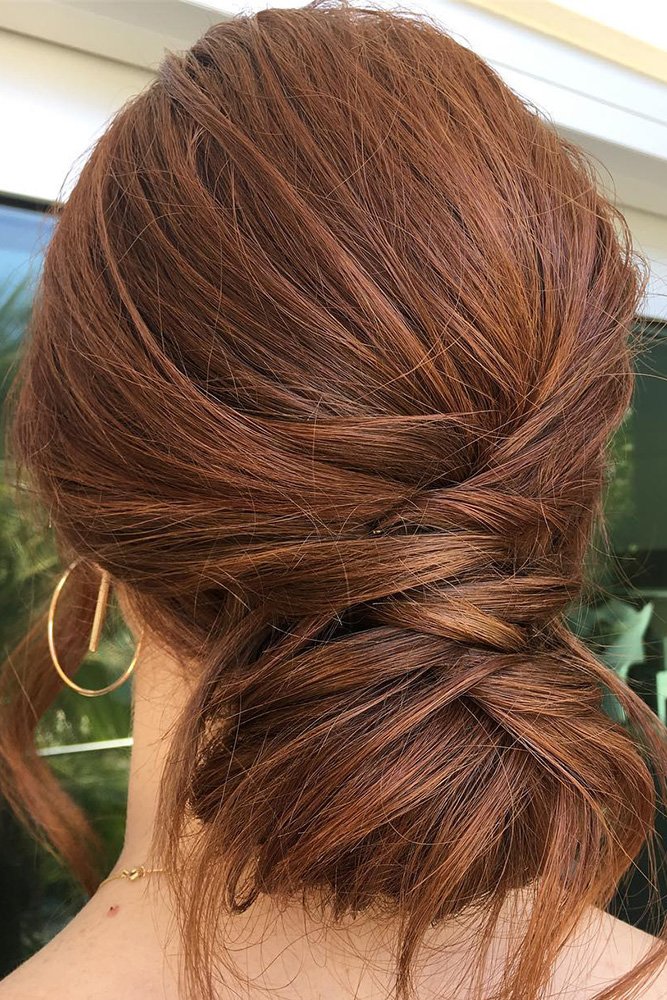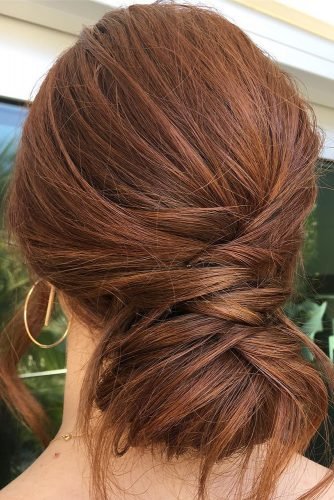 Elaborate Trendy
Chignons are one of the most versatile hairstyles for wedding long hair. This elaborate chignon for a modern bride is one of the cute wedding hairstyles for long hair.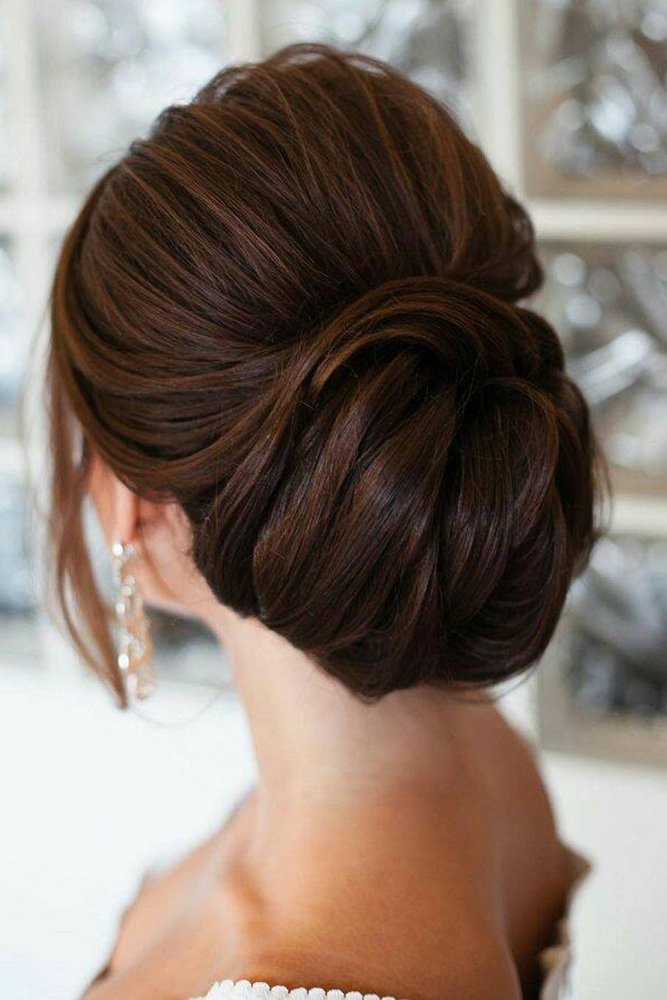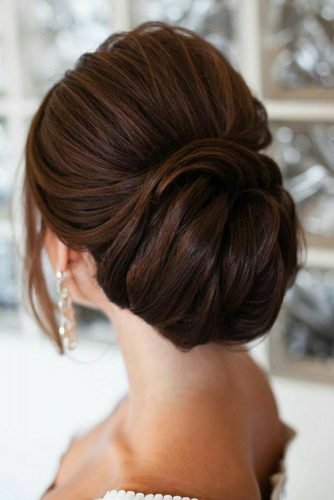 Sophisticated
Vintage wedding hairstyles for long hair pair beautifully with a huge assortment of wedding gown styles. This long hair wedding hairstyle would look especially stunning at a seaside beach.
Bring a picture of your gown to your hairstylist so that he knows what overall style to work with.
Bring your hairstylist a sample of your wedding invitations and some shots of your venue so that he/she understands the theme and can pick out some textures or patterns to work into your chignon design.
Bring along a few accessories – like tiara or garlands – that you're considering so that he/she can make sure it fits in naturally.
Bridal Low Bun Hairstyles Ideas
If you're planning a traditional wedding with the girl next door look, pick a wedding bun hairstyle. It may sound basic but a little tweak, creativity, and expert touch will bring it to life. This is also one of the long-standing Indian wedding hairstyles, apart from the chignon.
Try out the simple bun with loose curls. This is an easy style for deeply moisturized voluminous hair with shiny locks. You can also opt for the smooth vintage chignon paired with a ball gown and awesome accessories. The veil matched low bun will lift your cathedral length veil to perfection.
Source: caraclyne.bridal via Instagram, alyona_beauty_muah via Instagram, topgracia via Instagram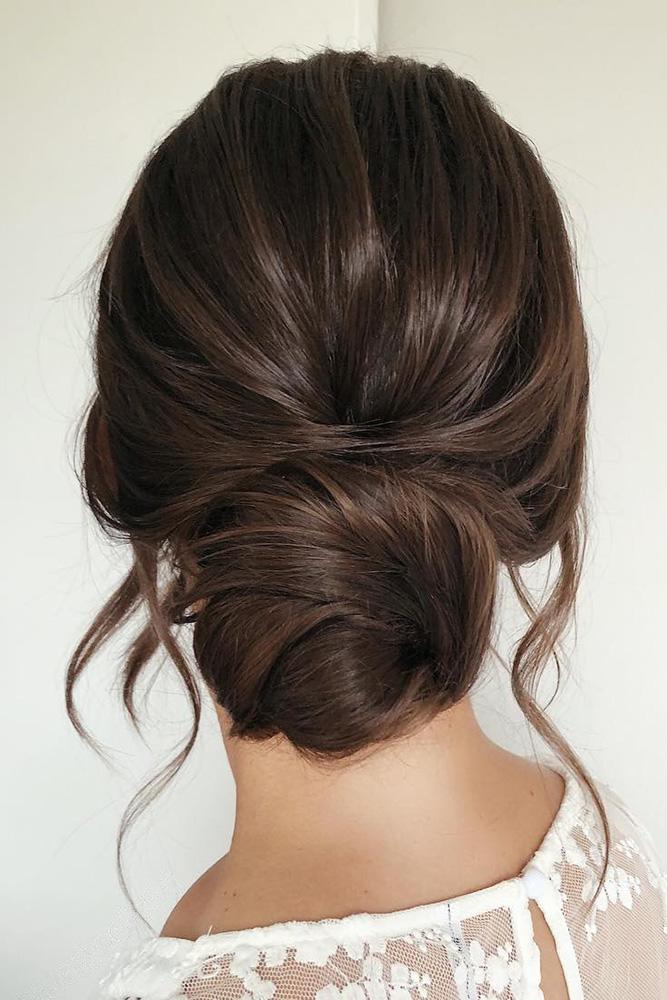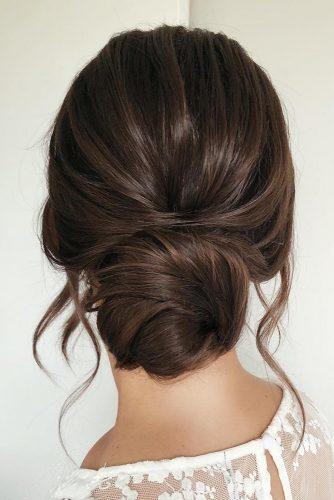 A Diva Bun
This amazing look is one of the DIY wedding hairstyles for long hair. It would look great on thick shiny hair, which makes it one of the best black wedding hairstyles for long hair.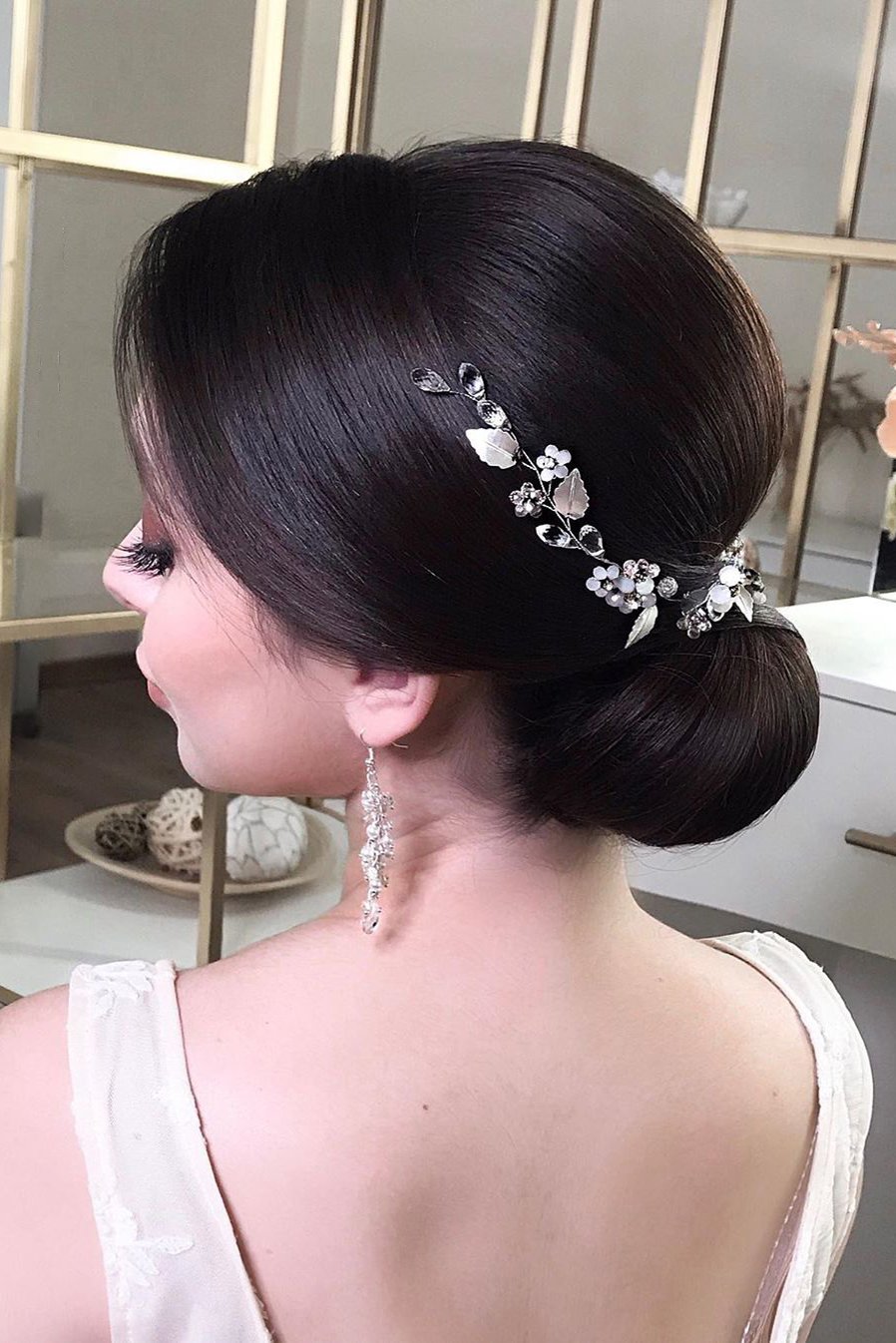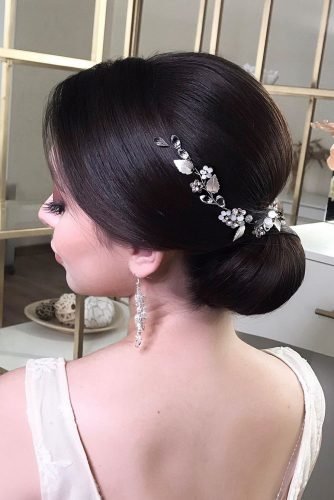 Vintage Bun
Vintage is always stylish! Probably, one of the best wedding hairstyles for long hair for a classical white dress wedding. The 50s retro wedding hairstyles look amazing on long hair!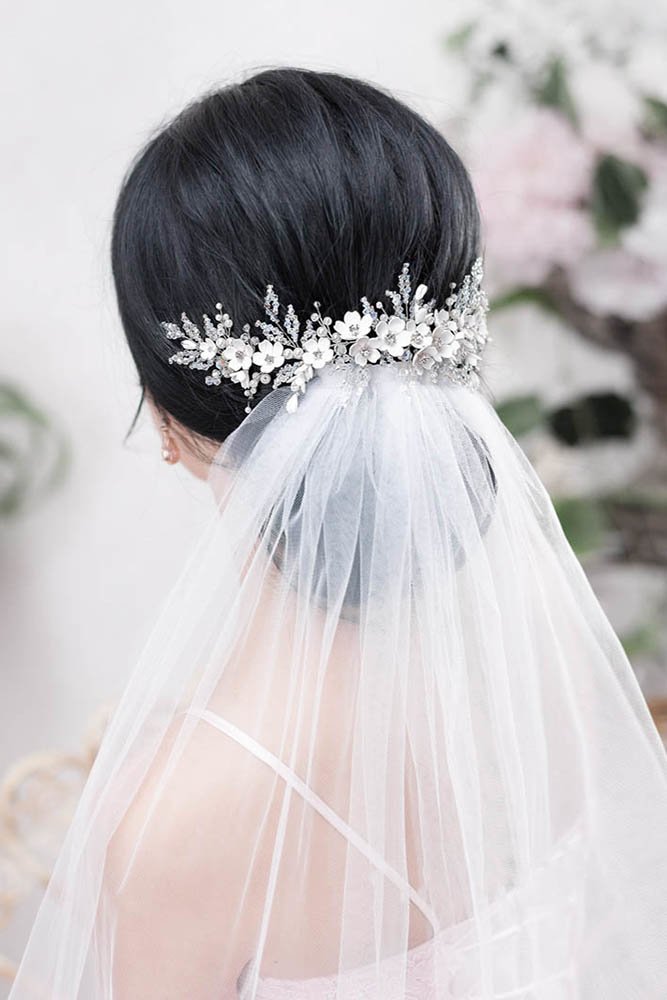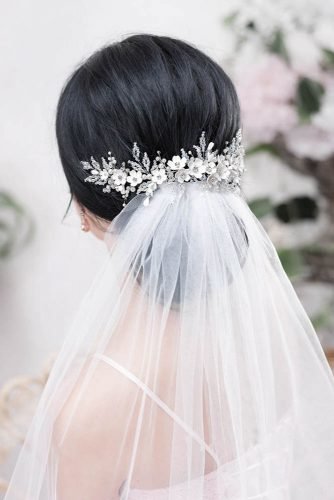 Under The Veil
The classic bun is simple, striking, and elegant! Match a sophisticated bun with classic princess gown. Also one of the best wedding hairstyles for long hair with veil.
Playful Curly Wedding Updos
Wedding updos with loose curls hairstyle is a way for brides to make statements. The way it falls over the face, neck, and shoulders is uber-romantic. They pair well with hair accessories. Check out the textured low side bun for the diva who wants to appear au naturel. You can also go for the simple but elegant curly updo. One of the best wedding hairstyles for black women. This complements the skin tone and flatters the back. Last is the lazy updo low loose curls which makes a stunning square-faced bride. These curls are the perfect summer wedding beauties.
Source: tonyastylist via Instagram, ksenya_makeup via Instagram, lyubov_nevskaj via Instagram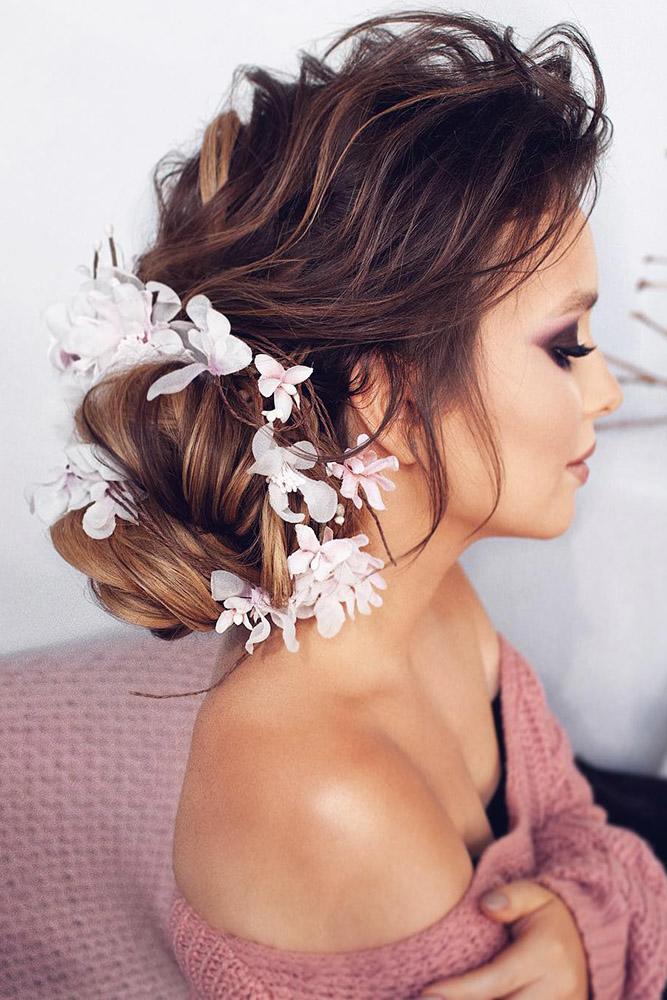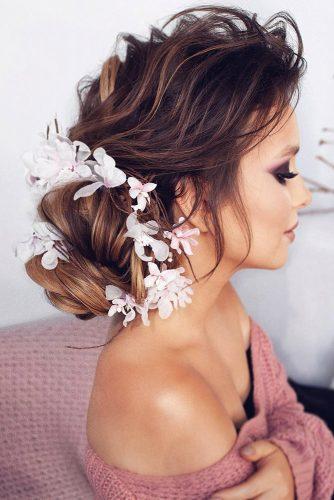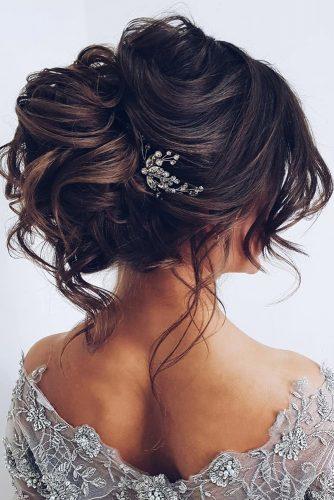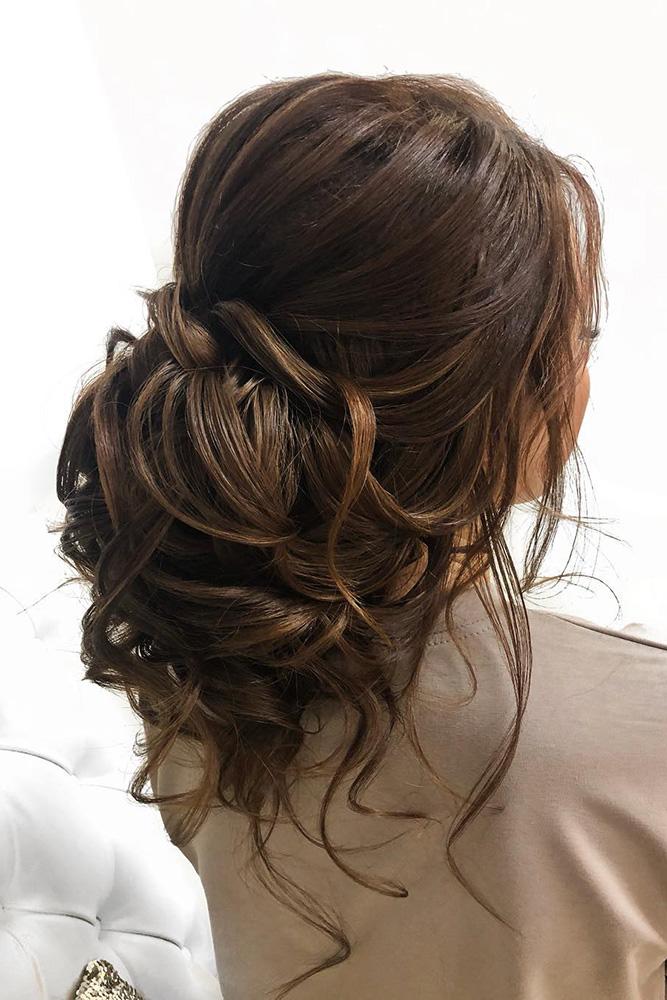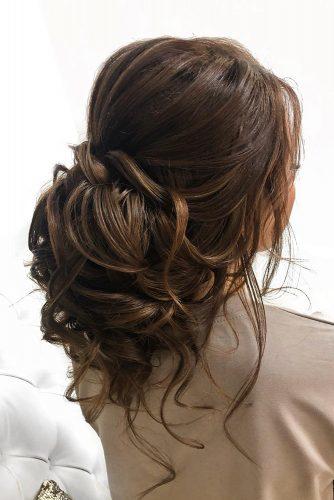 Updos are very personal. Make sure to schedule a trial well before the big day. This give you a chance to figure out what you do and don't like.
Consider a hairdo wardrobe change after the ceremony. An update can (sometimes) easily convert into a fun half up, half down do.
If there's a chance it'll be windy, avoid loose curls! These will fall apart pretty quickly.
Simple Twisted Wedding Updos
Elegant updos are very easy wedding hairstyles besides chignons and buns. They come in variety depending on hair type, attire, wedding formality, and hair length. Remember, for some volume, you have to use an extension.
The low swept updo with braids and loose curls works for a whimsical destination wedding or country wedding. For something more put together, work with a simple and neat low swept updo. And if you're in the mood to draw more attention, rock a bogus low swept tousled updo with loose curls.
Source: styles_by_reneemarie via Instagram, sarahwhair via Instagram, ulyana.aster via Instagram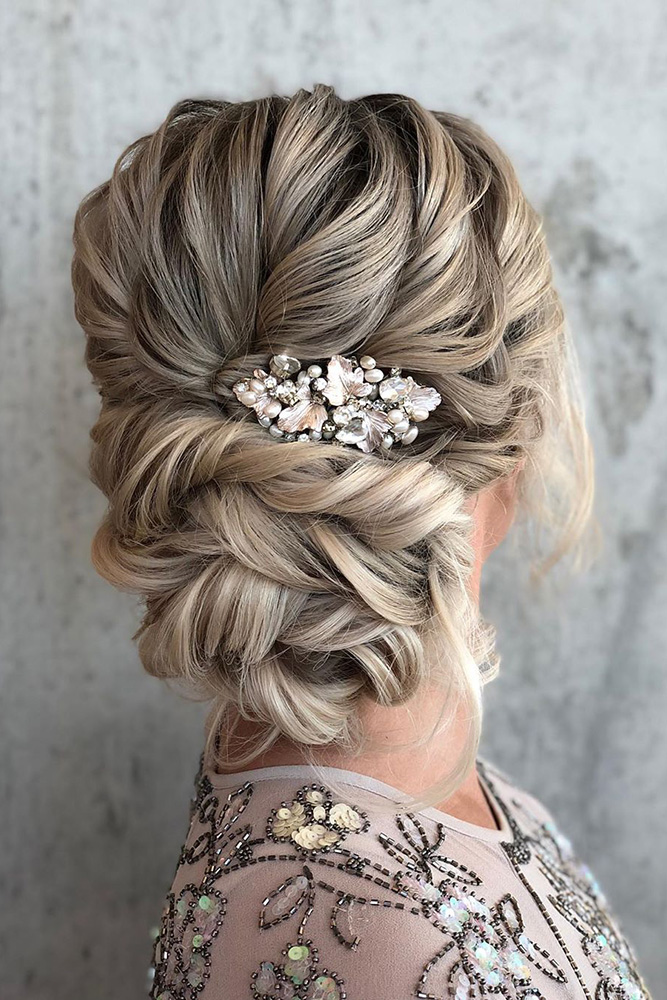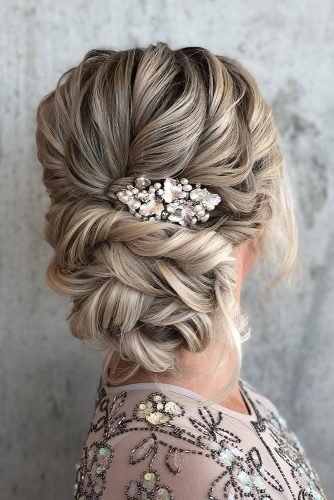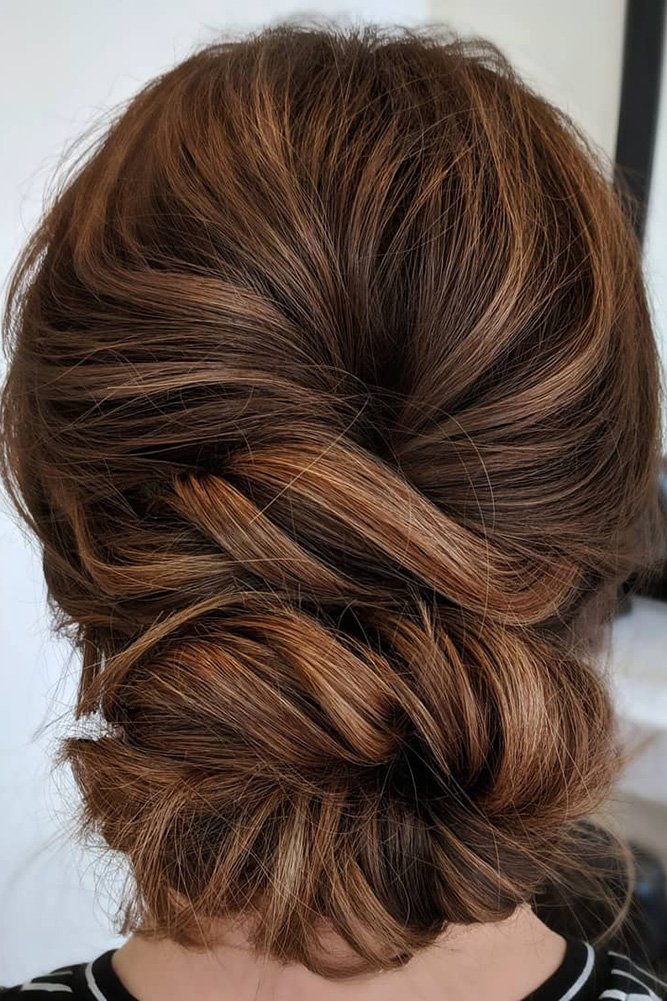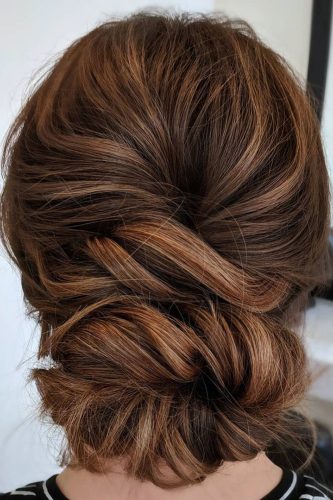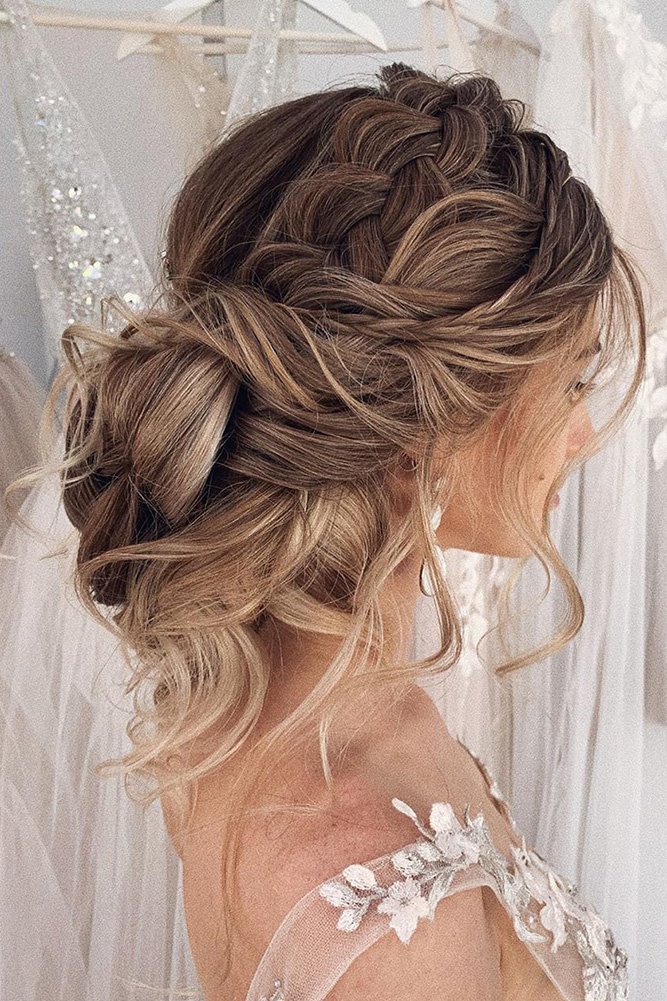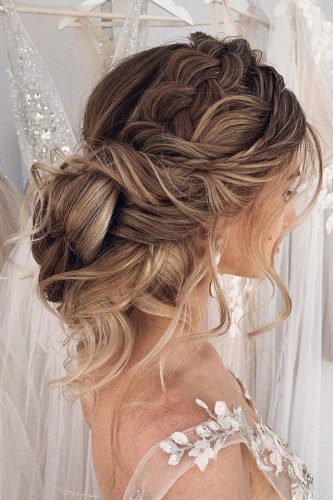 Braided Updos For Long Hair
Thinking of a wedding in Cancun, Amalfi or Anguilla? The braided updos for long hair are all shades of beautiful sunshine. They give that girl-next-door look with a dose of sophistication. And the beautiful part is that they are so easy to put together just like the braids on a bun updo.
This hairstyle is a statement on its own without the need for excessive jewelry. A wedding in the barn calls dibs on this hairstyle. The braided hair low updo gives the country vibe. For the bubbly rustic vibe, try a bogus low updo with braids and matching accessories.
Source: hairbyhannahtaylor via Instagram, deelushhair via Instagram, hairspray_studio via Instagram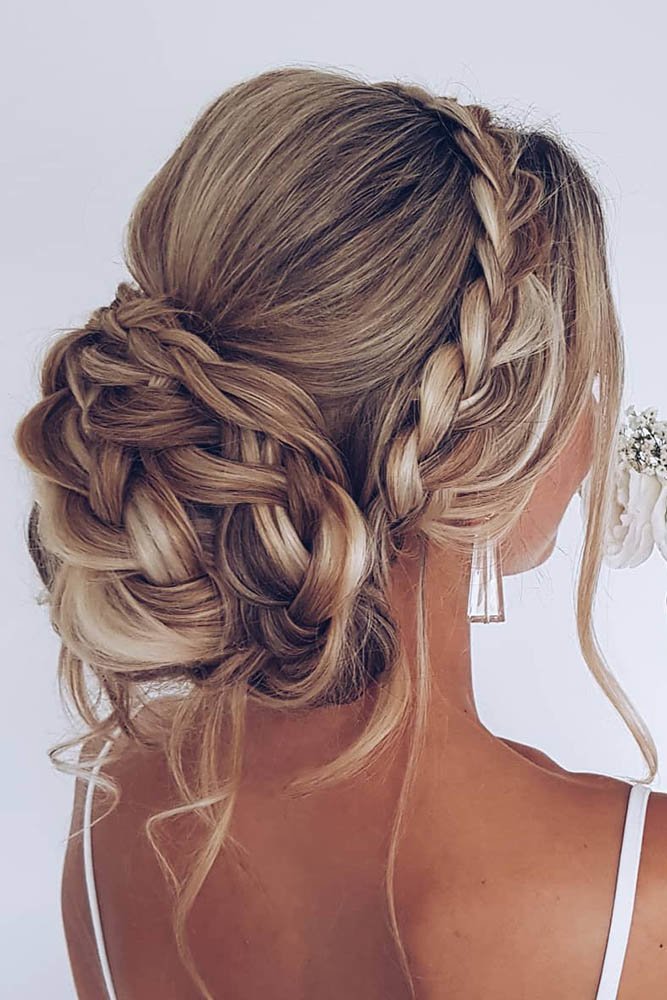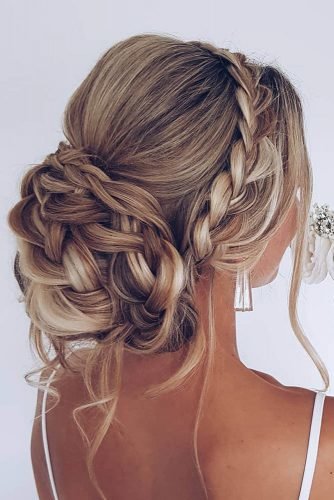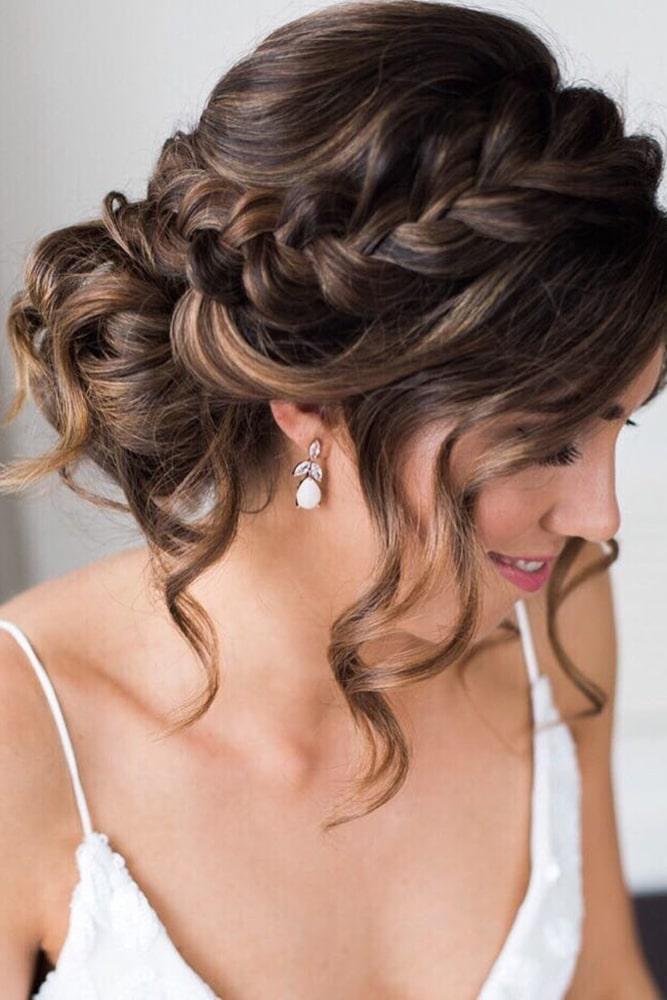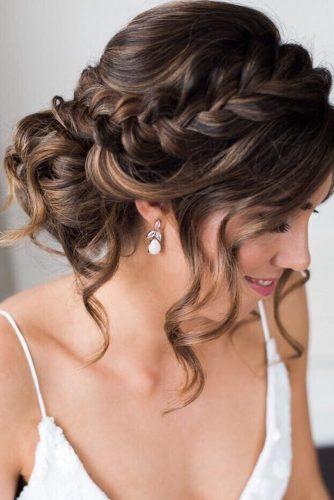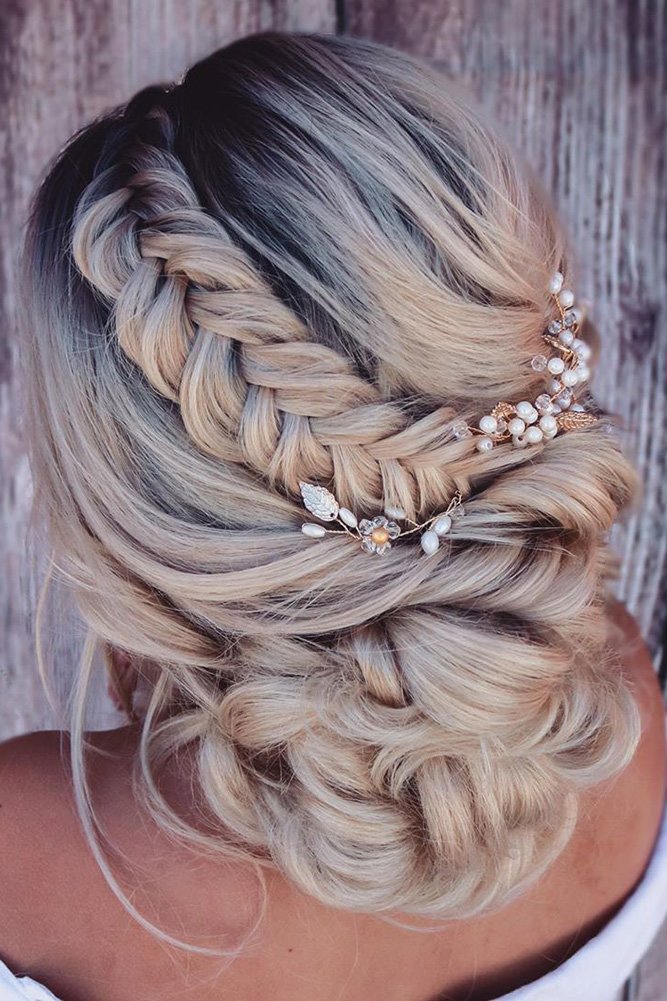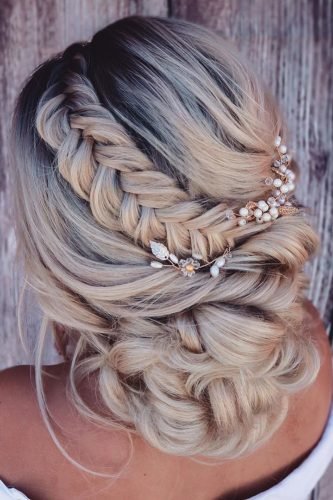 Relaxed Low Updos
We can't exhaust the many styles associated with updos. This time, we are talking voluminous updos that draw attention to the bride. With volume, you'll be accessorizing a lot and your attire must match your hair. Attire and pieces of jewelry will stay toned down because a lot is going on with your hair.
Take a look at the swept low voluminous updo. Match it with flowing fabric and pair to perfection with gold accessories. For something simpler, choose a low swept volume updo with loose curls. Compliment with pieces of jewelry. Or opt for swept voluminous slightly messy updo perfect for an outdoor wedding.
Source: knoxvillebridalhair via Instagram, hairbykayti via Instagram, wb_upstyles via Instagram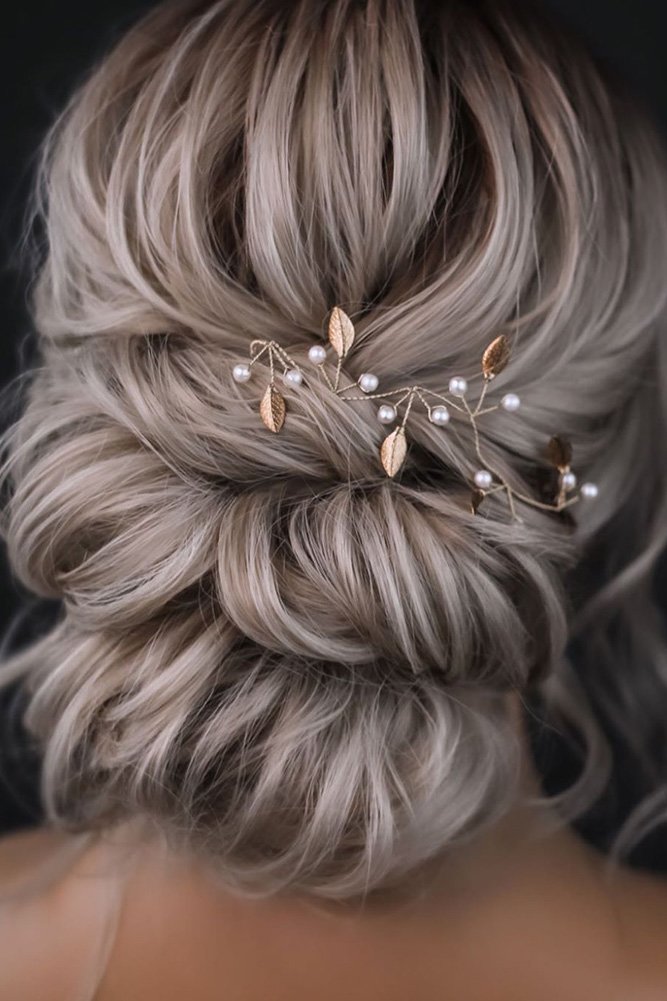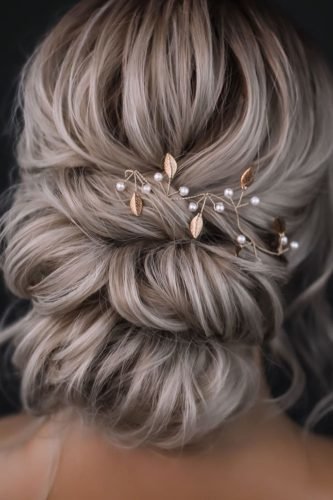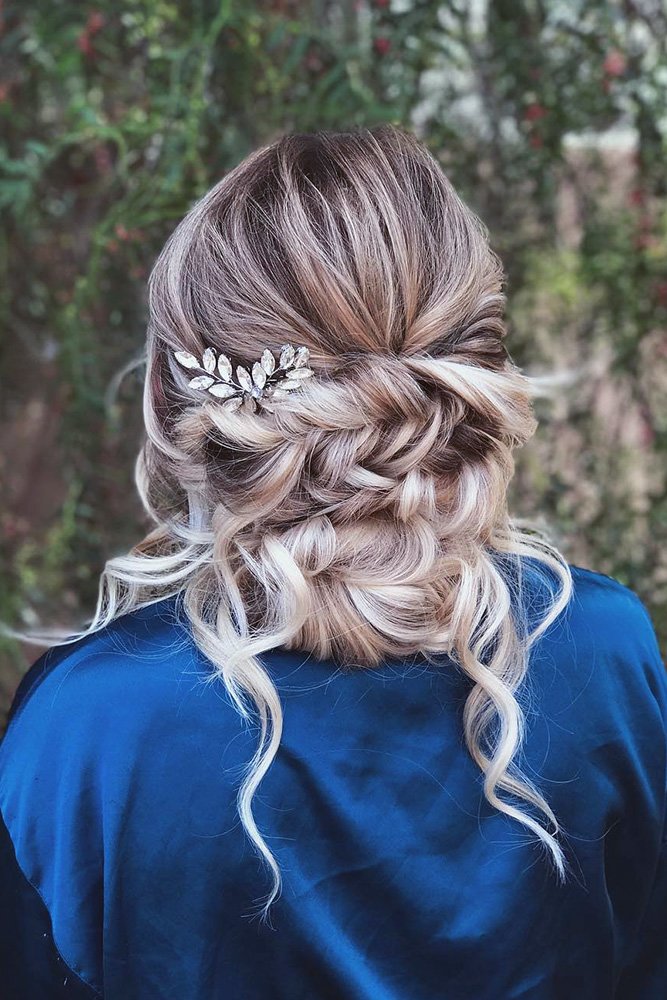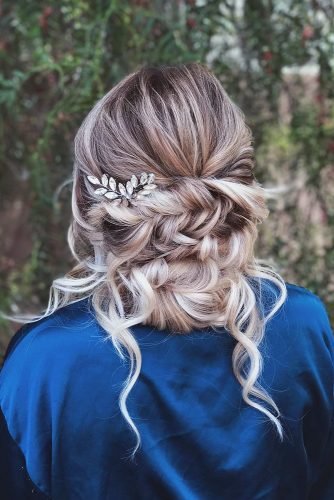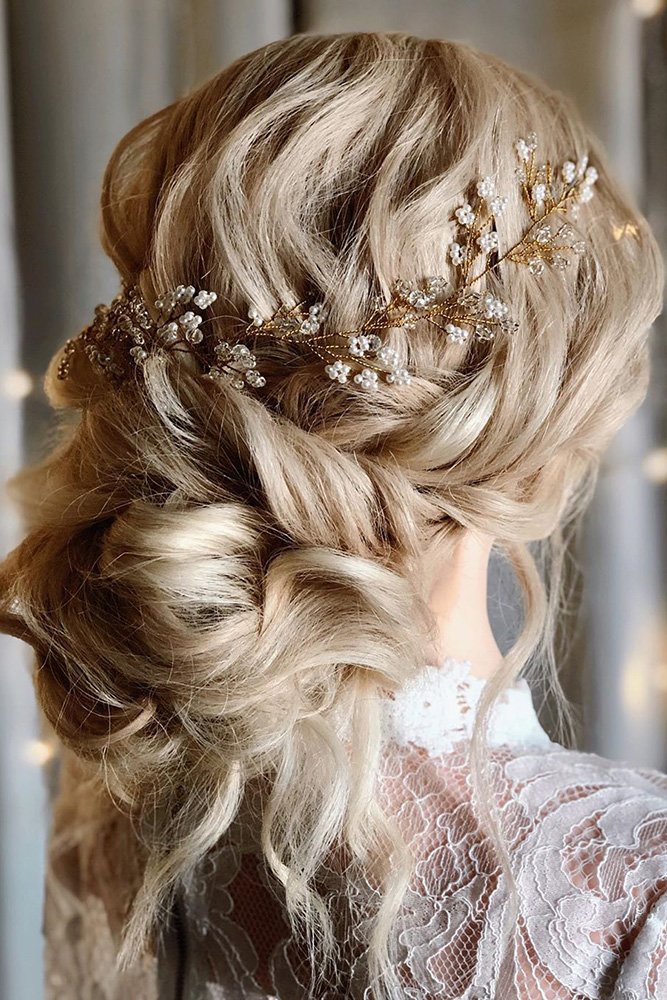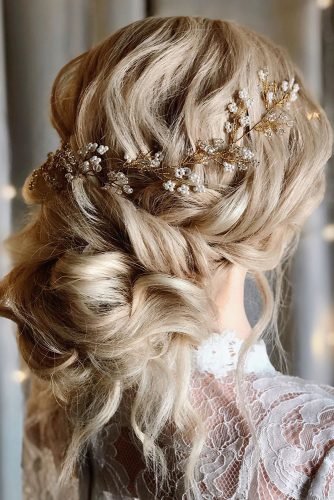 Simple Bridal Slyles With Accessories For Long Hair
Wedding hairstyles without accessories are beautiful. But achieving stunning beauty, accessorize. It doesn't have to be anything over the top because less is more. So even if you're okay with a simple bun, hair accessories can do the magic just like the unusual accessories below.
The elegant vine flower accessory gives the long loose braid a stunning outcome. You can use this in place of a hairpin. A bride can also rock a very simple ponytail and give it a dose of sexy with this cuff glitter accessory. Or try out the swept loose braids with the wallflower accessory.
Source: ulyana.aster via Instagram, samvillahair via Instagram, whatlydialikes via Instagram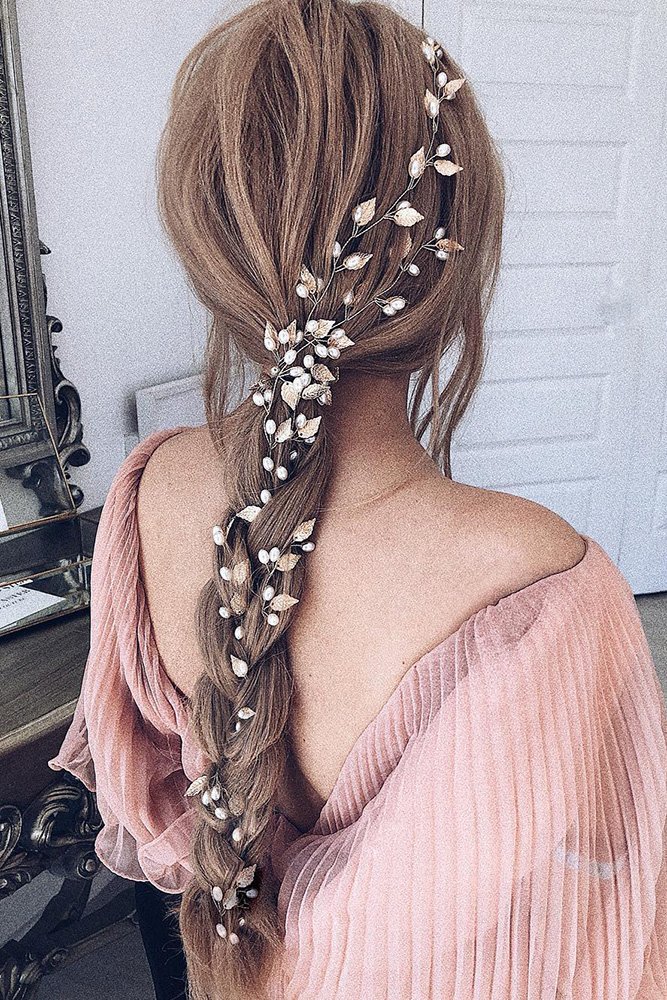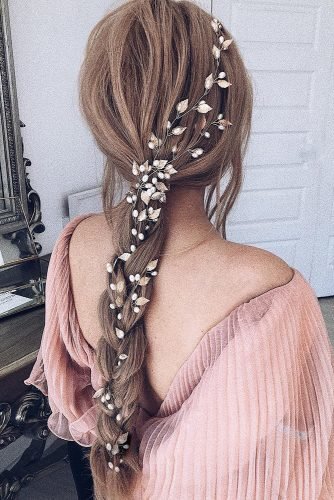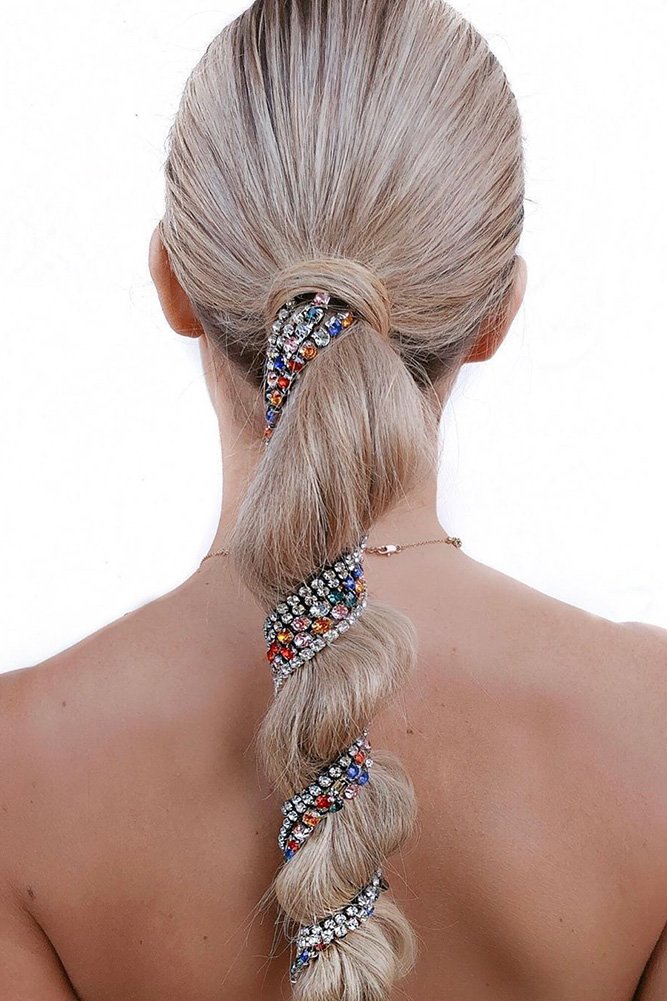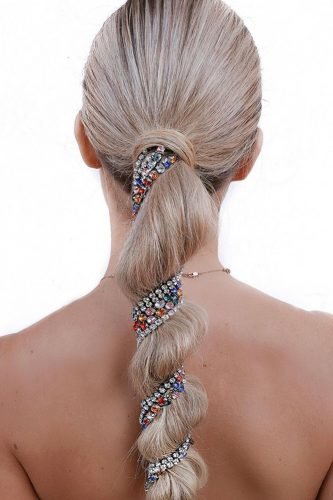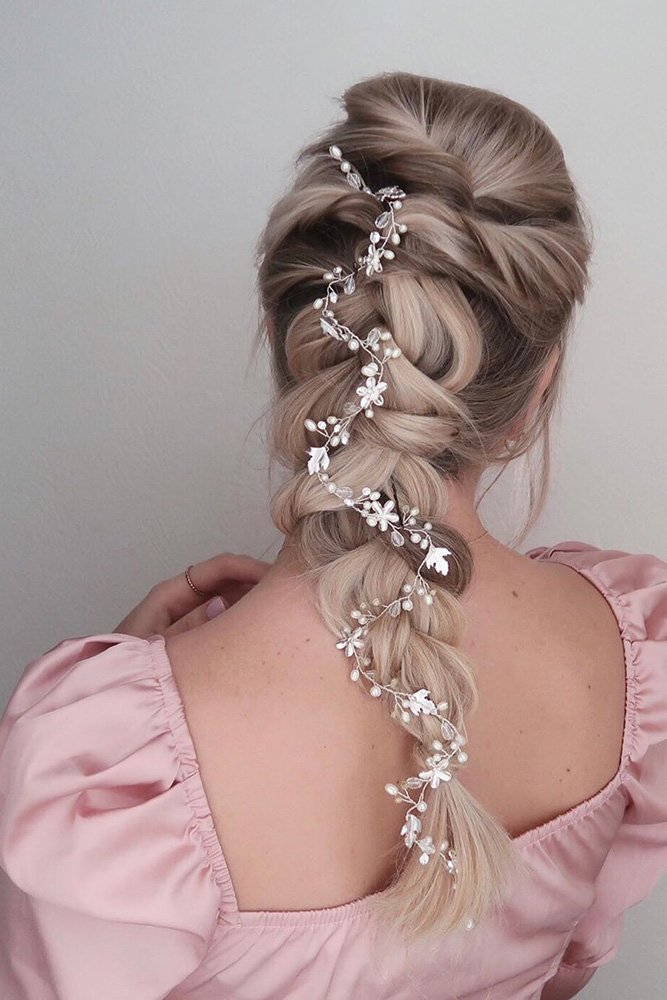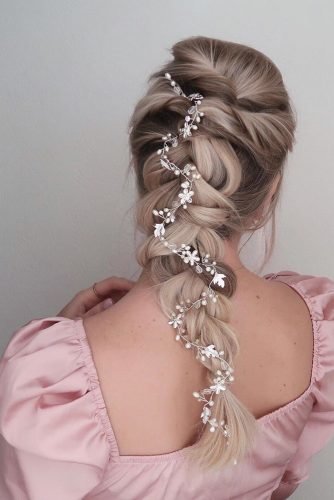 Trendy Ponytail For Modern Brides
The low ponytail is a vintage hairstyle that keeps reinventing itself. But we never get tired of it. For holding the ponytail in place, try to form a knot with some of your locks around the remaining hair. Then the modern bride will throw in simple accessories.
Opt for the textured and elegant low ponytail with braids for a vibrant girl-next-door look. For that ultra-youthful look wedding hairstyle, rock a wavy volume ponytail. You need some extensions to pull this one-off. If you've got a veil, deck on the smooth low wavy ponytail for a touch of sophistication and charm.
Source: lenabogucharskaya via Instagram, lenabogucharskaya via Instagram, caraclyne.bridal via Instagram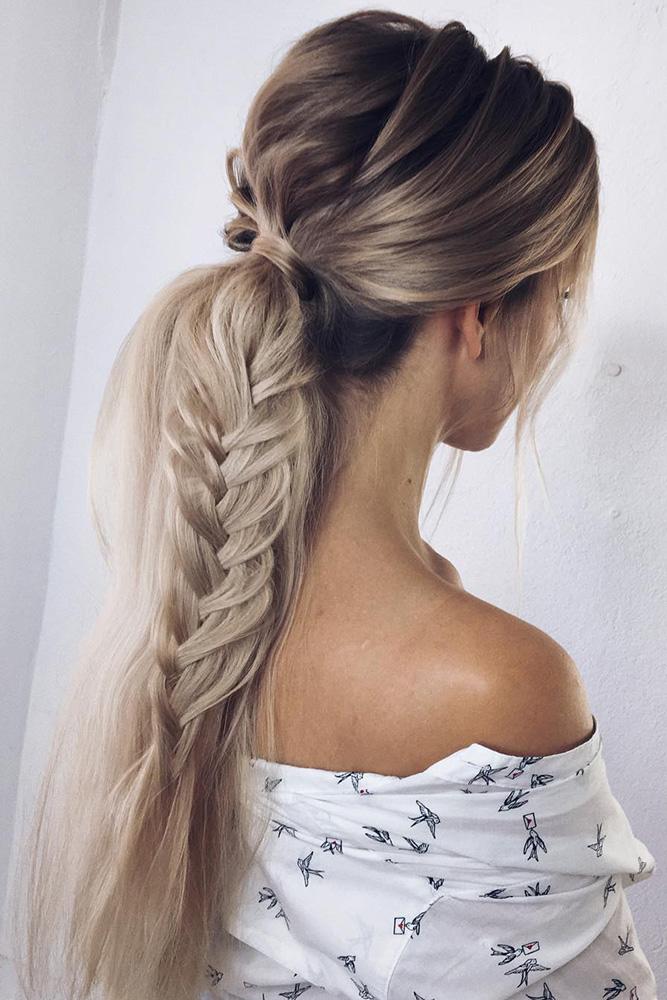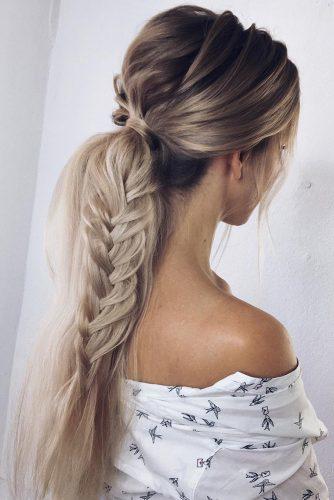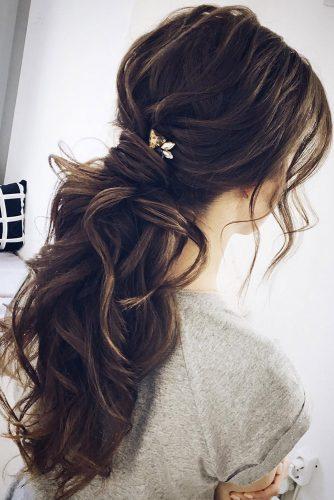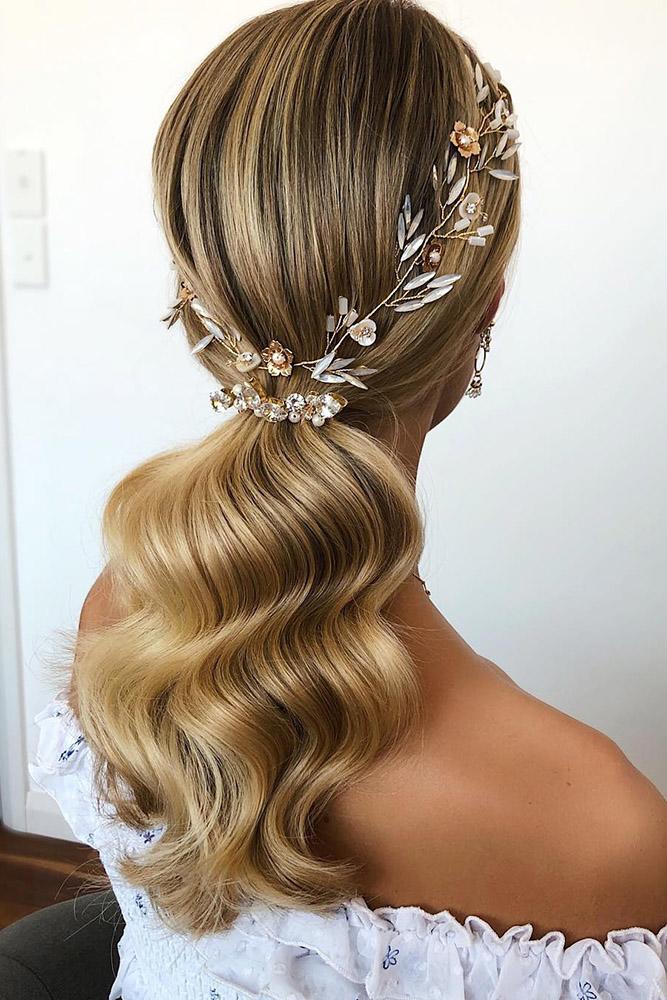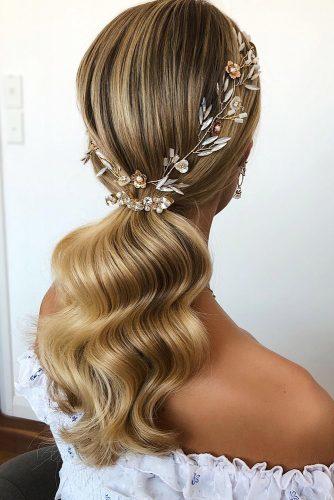 Ponytails are pretty basic. Make sure to go a little overboard with your accessories to dress up the overall look.
For the same reason, consider adding a few braids or weaves to give your bridal pony a little kick.
Choose a strategic strand and let it fall loose for a soft feminine look.
Unique Fishtails Braids Ideas
Fishtail braids are works of art and their flexibility is amazing. They're cute on kids and adults alike. Perfect almost every wedding style and face types. To enjoy the thoroughness of fishtail braids, ensure to pick a gown that complements the style. It's always better to wear simple elegant, yet toned down gowns. Gowns with sweetheart neckline, off the shoulder or open back. Fishtails accentuate your delicate neckline.
Try out the unique mermaid braids for a very simple look. The tousled fishtail trendy braids give the "I woke up like this" look. The uber messy fishtail braids say the bride doesn't care.
Source: n.starck via Instagram, schiessstyles via Instragram, ulyana.aster via Instagram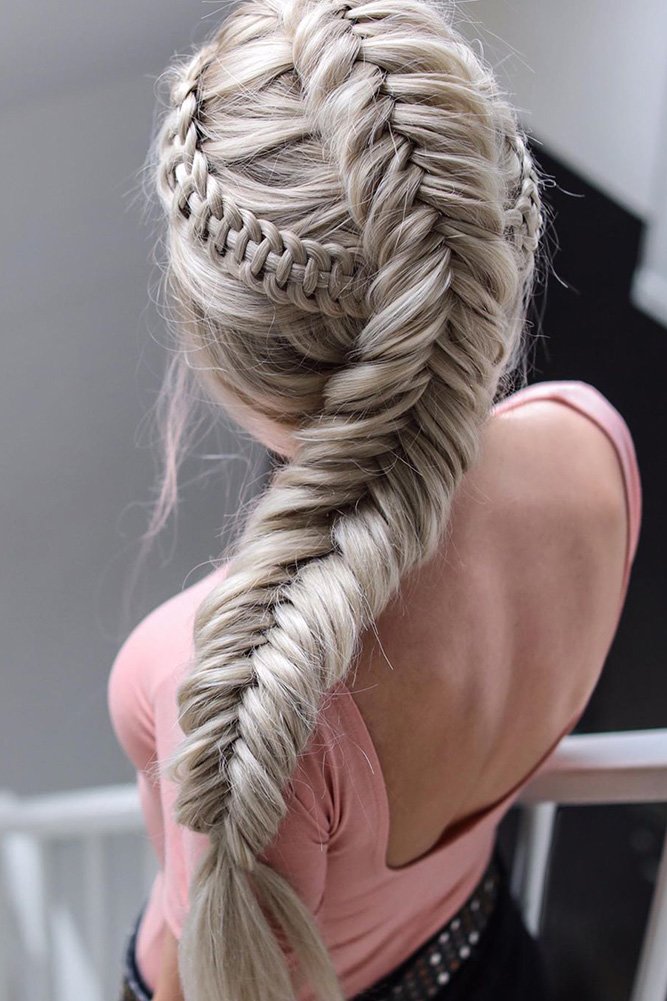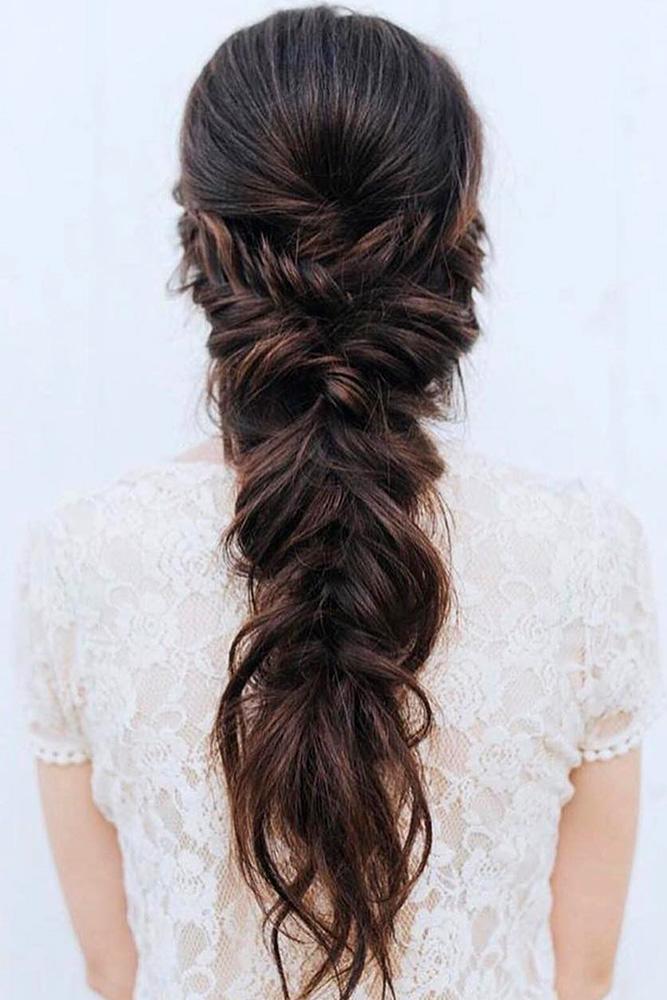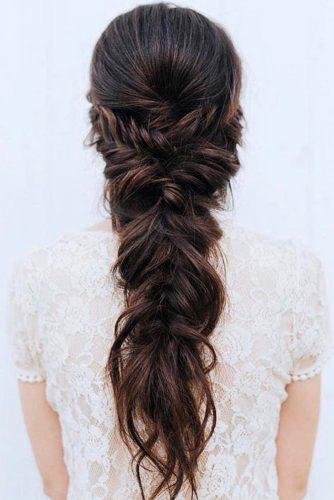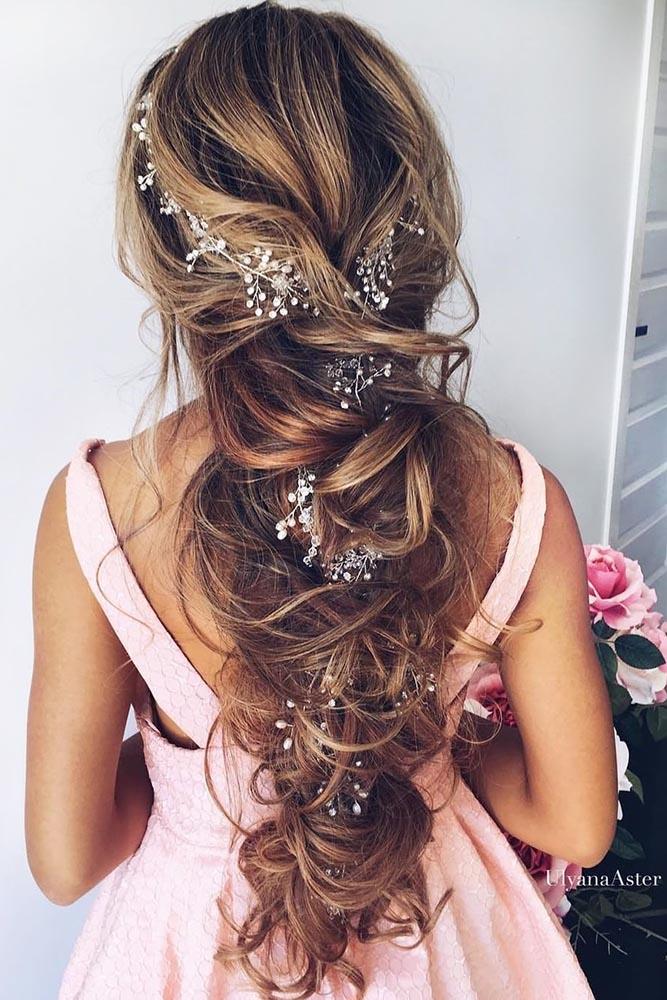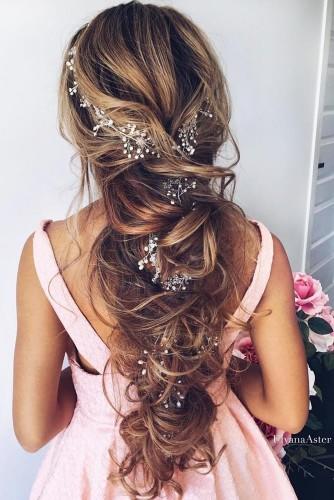 Wedding Hairstyles For Free-Spirited Brides
For free-spirited brides, jewelry will be quite toned down or amped up depending on hair volume. You can rock this hairstyle for a casual, semiformal or beach wedding. The perfect dresses are flowing gowns, cocktail length dresses or jumpsuits.
The loose high-low fishtail braids in low ponytail say boss chic and a naughty girl at the same time. Perfect for thin long hair. While the braided crown hairstyle brings with it an old-world romantic vibe. Tuck in some greenery and enjoy a destination wedding. The cascading fishtail braids with discreet natural flowers make you feel like a Bohemian hyped Rapunzel.
Source: kaylaannehair via Instagram, belaya_lyudmila via Instagram, hairbyalexrae via Instagram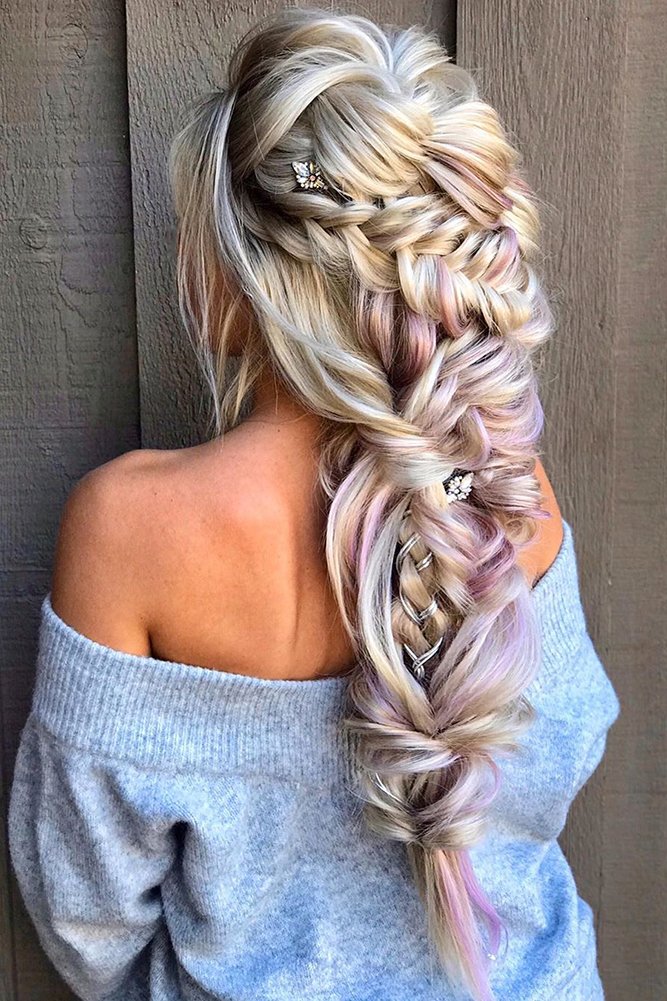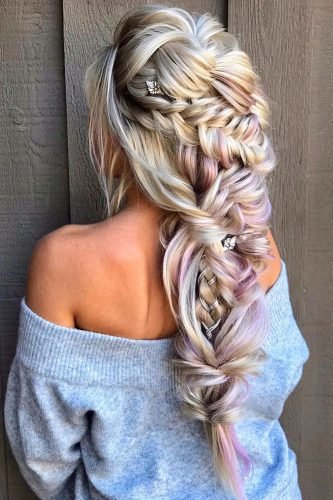 Fishtail
If you are looking for wedding hairstyles for long thin hair, ornate braid styles require ultra-long hair, which means extensions. On the positive side: they look amazing!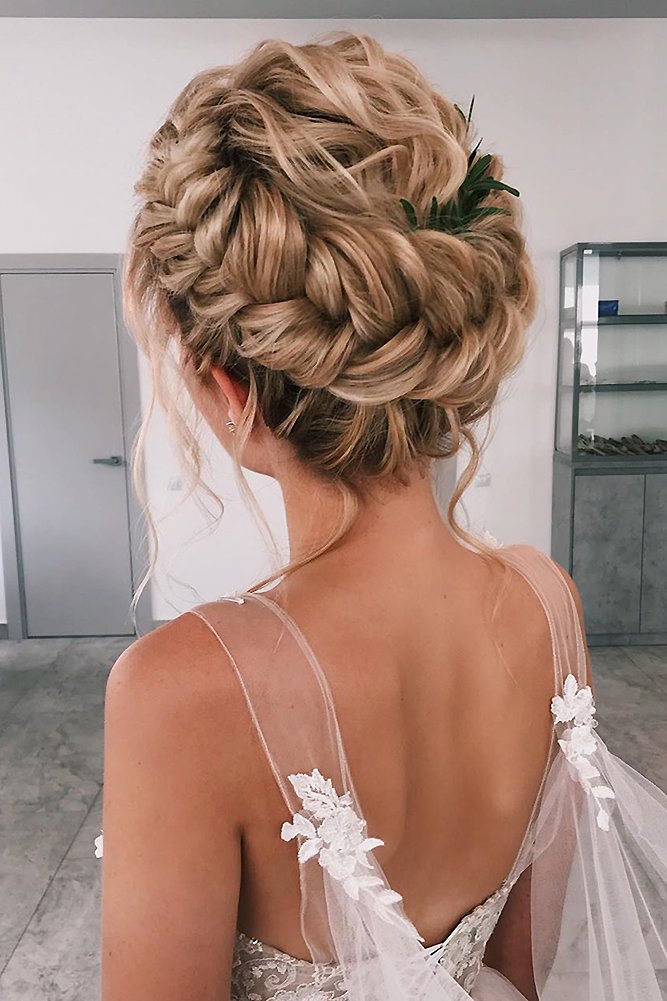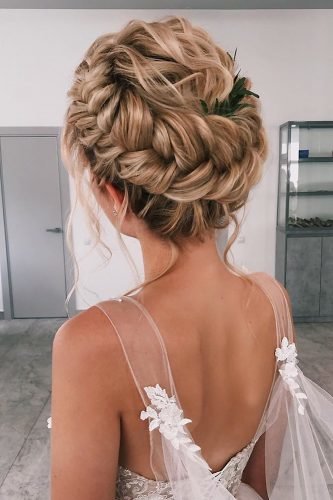 Braided Crown
This style is one of the most popular beach wedding hairstyles for long hair. It can also be used as one of the wedding hairstyles for long hair for the bridesmaid.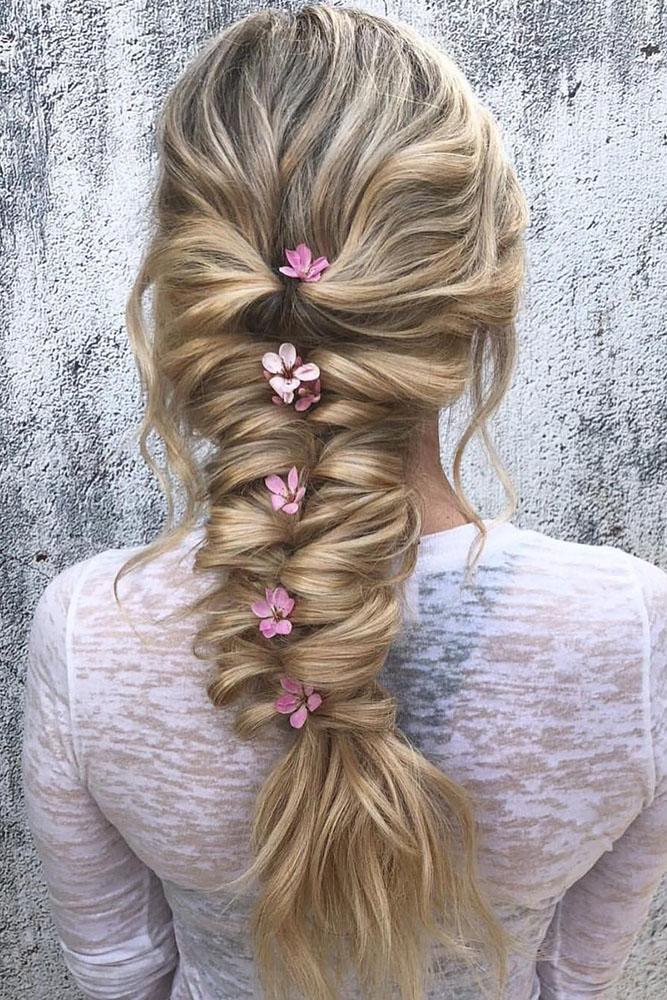 Rapunzel-Style
Indian wedding hairstyles for long hair get as close to the Disney princess, as possible. Braided wedding hairstyles for long hair look extremely romantic and are perfect for a boho wedding.
Braided Hairstyles For Bohemian Brides
The perfect Bohemian bride loves her wedding setup natural, mystical and slightly messy. The bohemian bride will also accessorize a lot. And due to the slightly messy nature of the hair, she must use extensions to give volume.
See the side-swept fishtail ponytail, for instance, it's voluminous and says "I don't care." The side-swept soft waves with loose braids is another enchanting hairstyle for the Boho bride. Its simplicity is its charm. The long braided untamed curls hairstyle is for the bride's natural curls. Just accessorize modestly. This puts more attention on the untamed curls perfect for outdoor weddings.
Source: braidinglife via Instagram, styles_by_reneemarie via Instagram, marmakeuphair via Instagram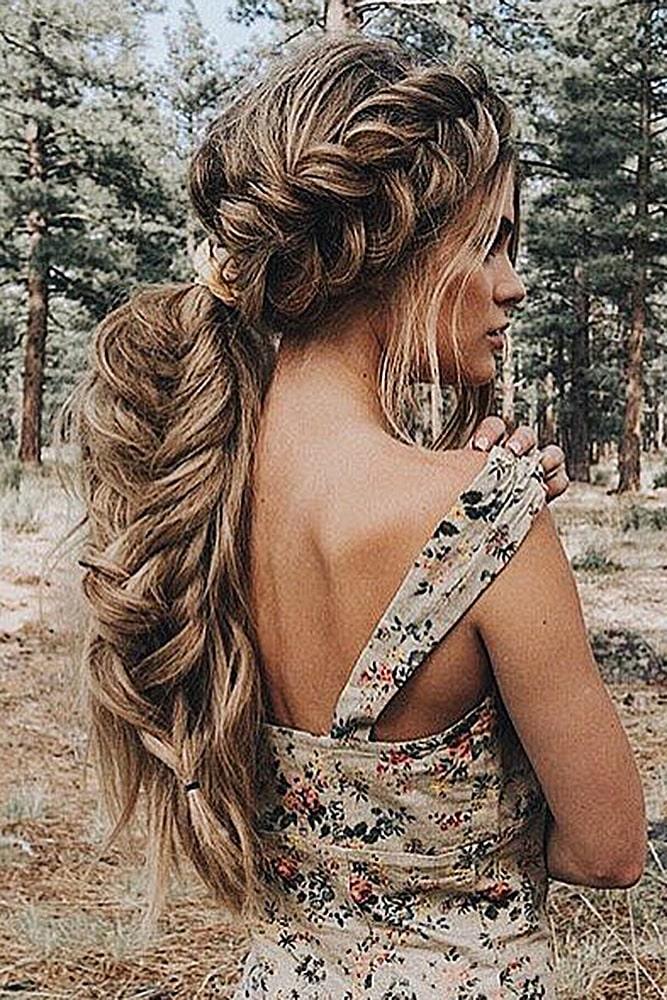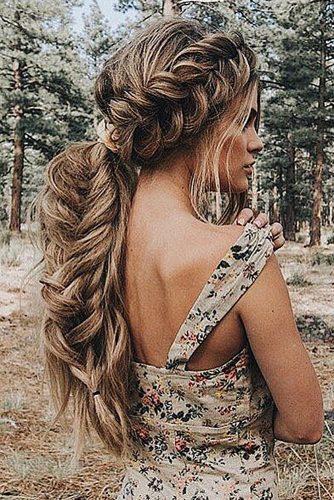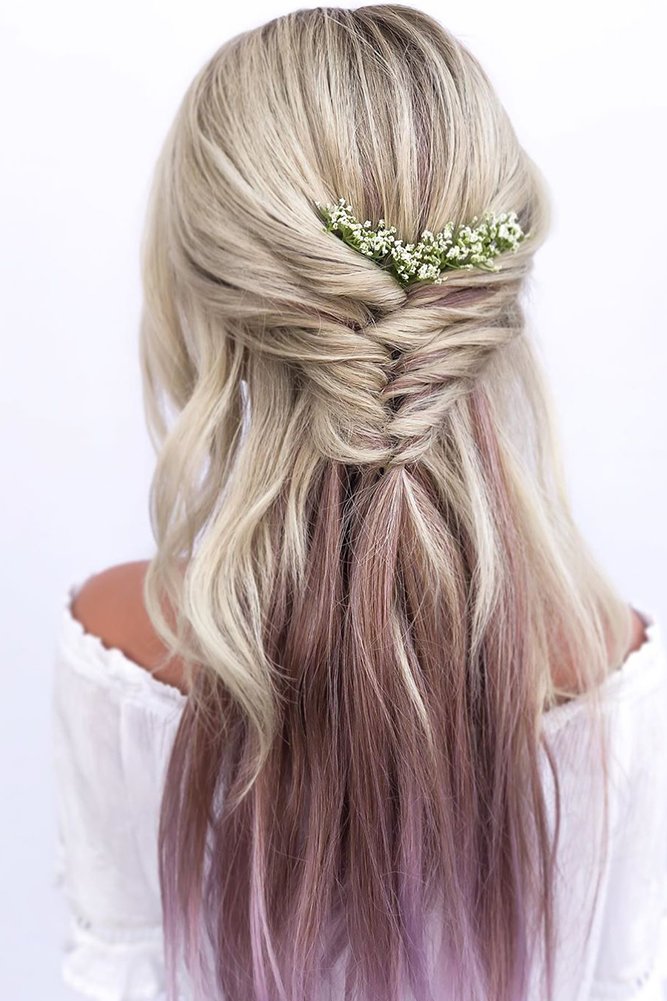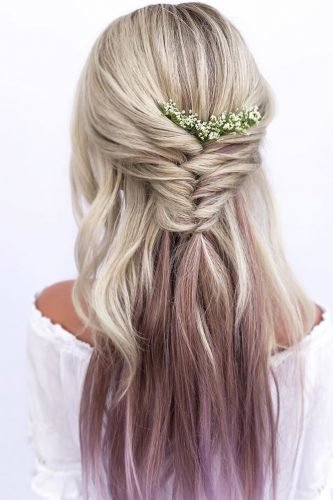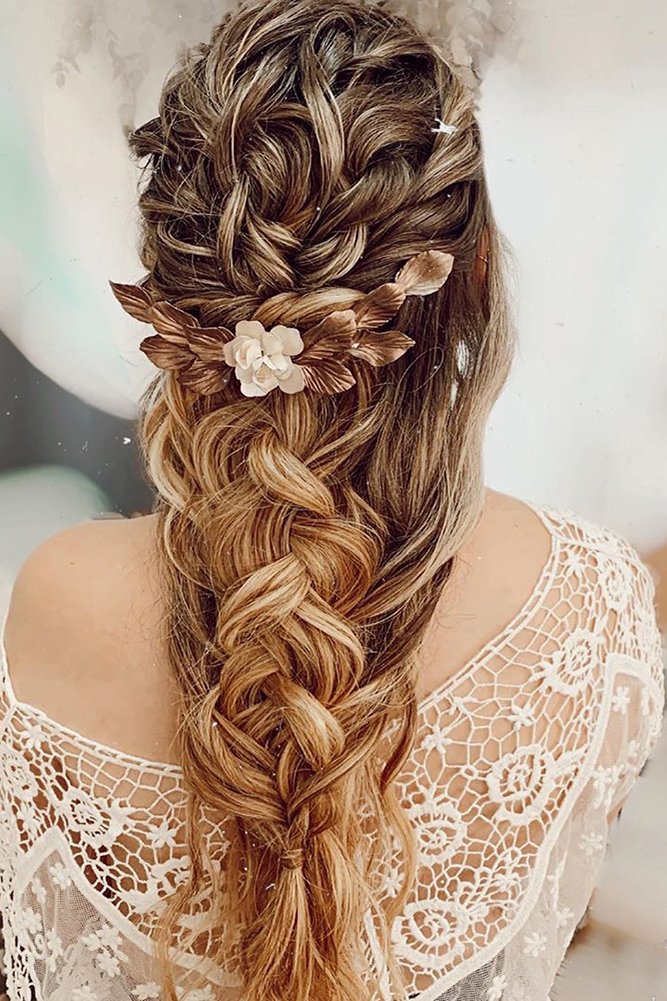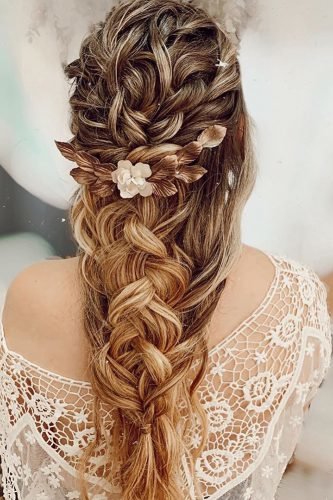 Plan ahead. The added benefit of using hair extensions is the ability to quickly – and drastically – change your hairdo for the honeymoon.
Feel free to choose one set of accessories for the ceremony and a second one for the reception. A wardrobe change is always fun!
Choose a braided wedding hairstyle to match your theme and gown. A creative side bride or untamed curls go well with beach weddings for example.
Wedding hairstyles trends on Pinterest – click to find ideas!
Waterfall Braids For Long Hair
Waterfall braids aren't new, but they are timeless. They give the bride a fragile, sensual, playful, reserved or elegant look. The best dress fit for this style is lace and princess or flowing gowns. Blending them with natural flowers gives a full-on rustic vibe.
Something like the waterfall braids in soft curls that are romantic and gives the bride an air of innocence. Get the perfect charming look by opting for the whimsical waterfall braids. Another option is the half up half down side-swept waterfall braids with flowers made from hair. It's playful for the free-spirited bride.
Source: Pinterest, Ulyana Aster, n.starck via Instagram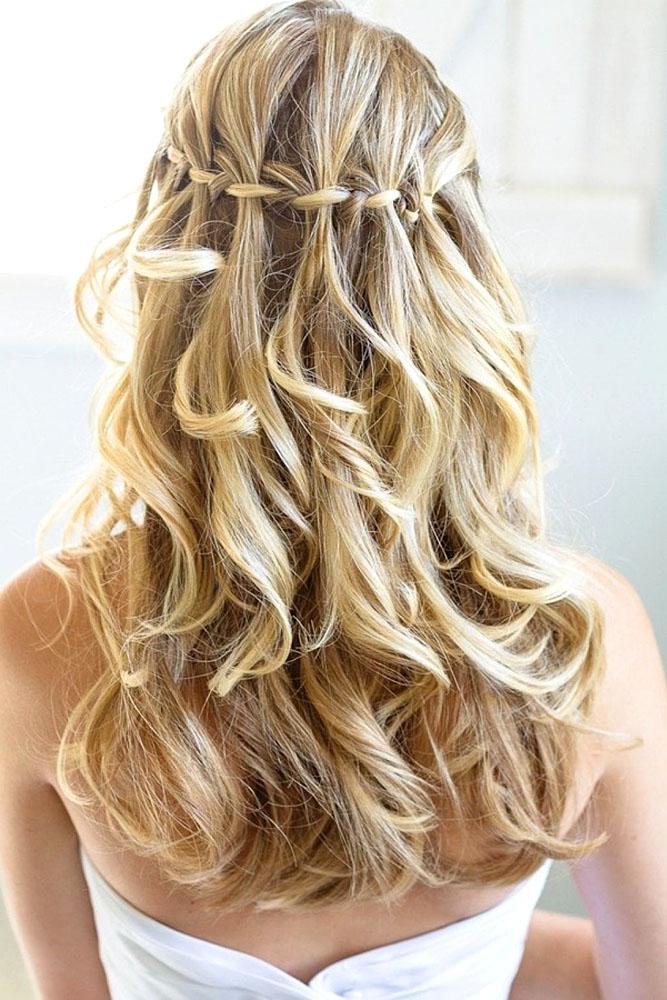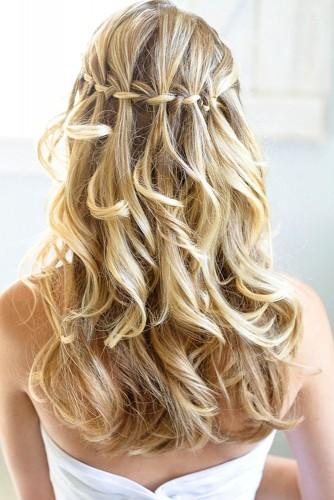 Romantic
Among other wedding hairstyles for long hair, half up waterfall braids look best with small flowers. Try baby breath or any other small white flower for a most romantic look!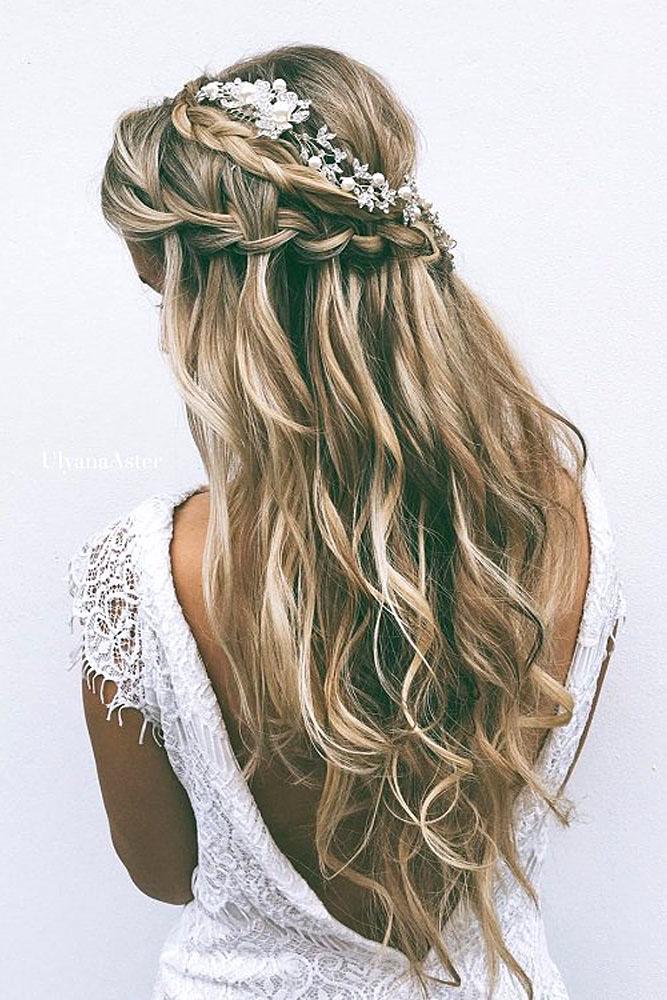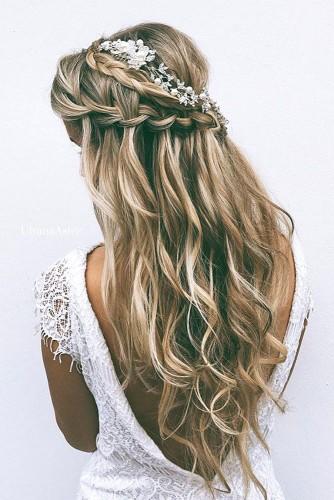 Charming
These wedding hairstyles for long hair were made for romantic events and look amazing with a flowing gown. Wedding braided hairstyles for long hair guarantee a mind-blowing result!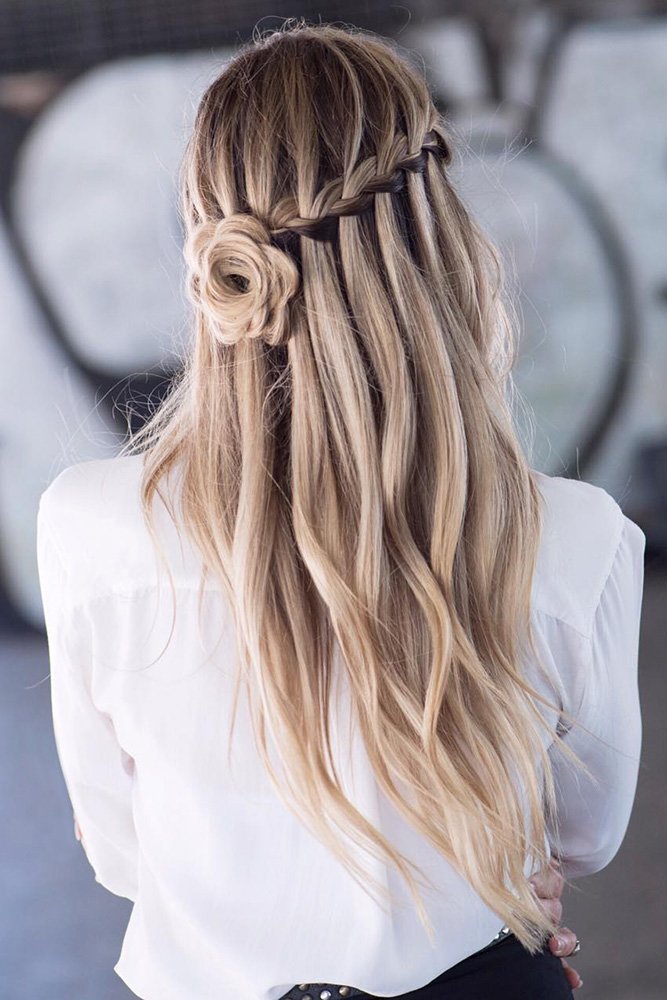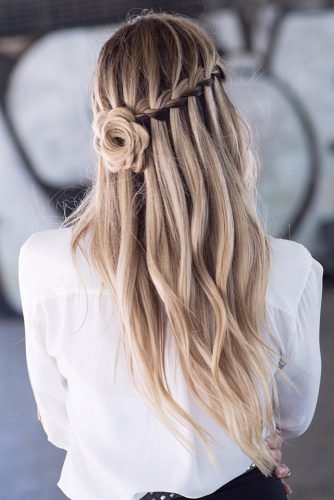 Playful
This amazing wedding hairstyle is perfect for long hair. Side swept wedding hairstyles for long hair show a lot of character. Wear with plenty of lace and woven flowers for a quintessential rustic wedding!
Elegant Flower Crowns For Brides
Flower crowns work with the wedding style than any other factor. For instance, if you're having a traditional wedding, soft flowers like dahlias, roses, and lilies are best. For outdoor weddings, you can use greeneries, blooms, wildflowers or even foliage.
Take this simple hairstyle with a real flower crown for the beautiful, elegant and minimalist bride. The second simple and sweet hairstyle is a toned-down version perfect for guests and bridesmaids with long hair. There shouldn't be a competition.
Women of color and other women with kinky or natural curly locks needn't tame them. Insert a giant-sized flower crown instead.
Source: Lovedale Photography, Lindy Yewen Photography with hair by Silk Hair and Makeup, annerobert_ via Instagram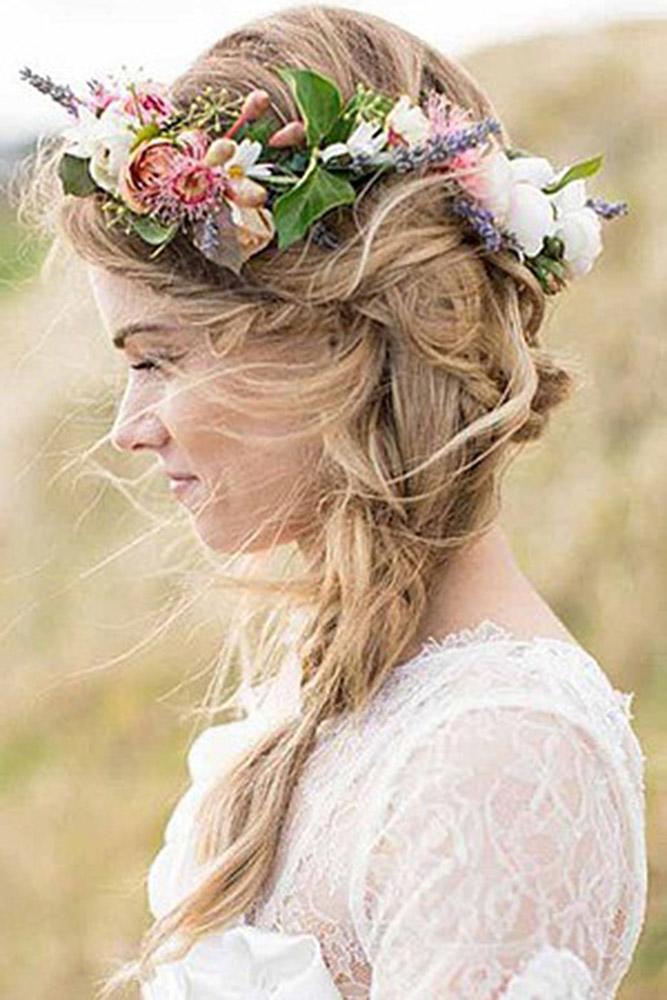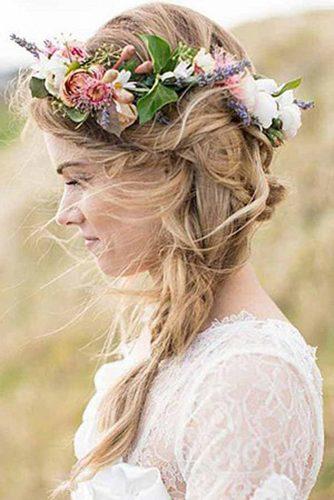 Pure Innocence
One of the best wedding hairstyles for long hair down. This is one of the most simple wedding hairstyles for long hair. Just put on a flower crown and voila!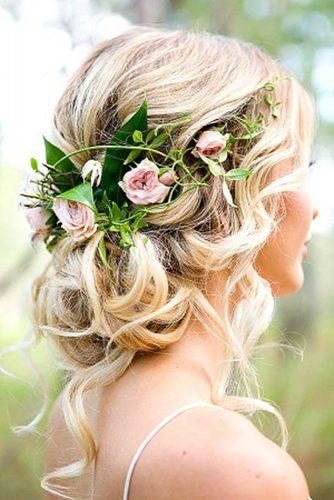 Simple And Sweet
Looking for wedding guest hairstyles for long hair? Try a toned-down version of the previous look. Wedding hairstyles with flowers for long hair look perfect on bridesmaids.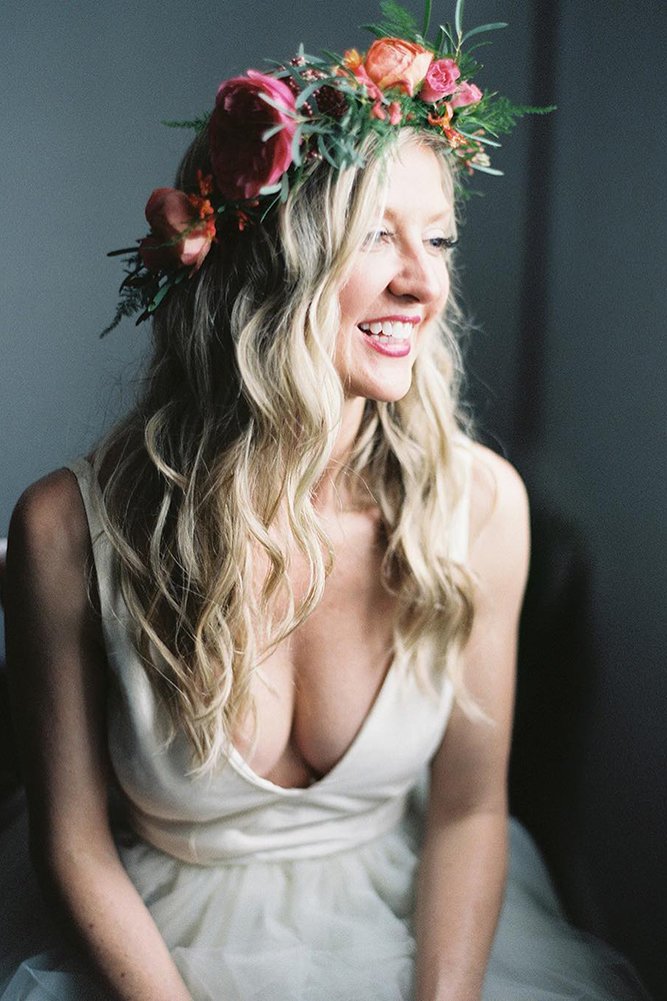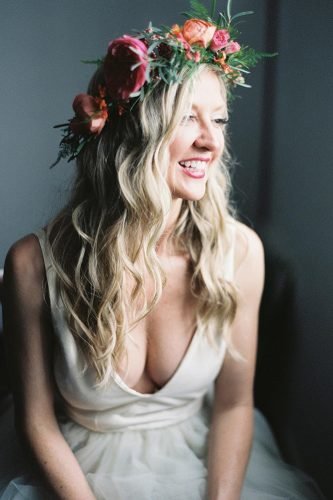 Natural Curls
It is also one of the greatest wedding hairstyles for long curly hair. Curls and locks look amazing with flower crowns. Probably the most desirable wedding hairstyle for naturally curly long hair.
Perfect Flower Halo For Rustic Or Boho Brides
The rustic and bohemian wedding is enchanting and very romantic. Revamping old wedding accessory, the flower halo. This time, use natural fresh flowers or spray crown with flower perfumes. The best part is that you don't have to do so much with your hair. The flower crowns do the magic.
For the Bohemian vibe, put your hair into two messy pigtail braids and pair with a Boho styled flower crown. You may also sweep your hair into low updo and complement with rose petals crown. For ease, leave your hair down in soft waves with a charming garland. Pair with a bouquet.
Source: braidandbloom via Instagram, Photographer Andrey Volkov, zaczarowanewarkoczepl via Instagram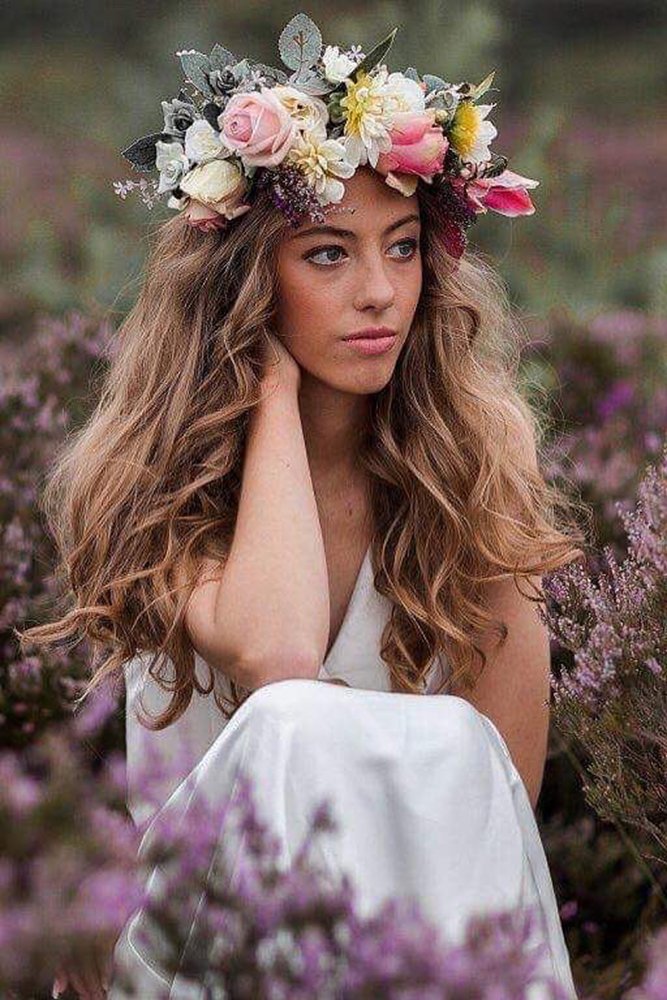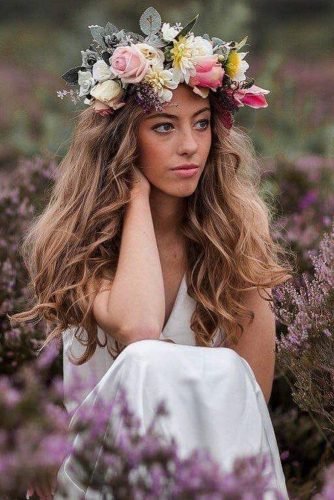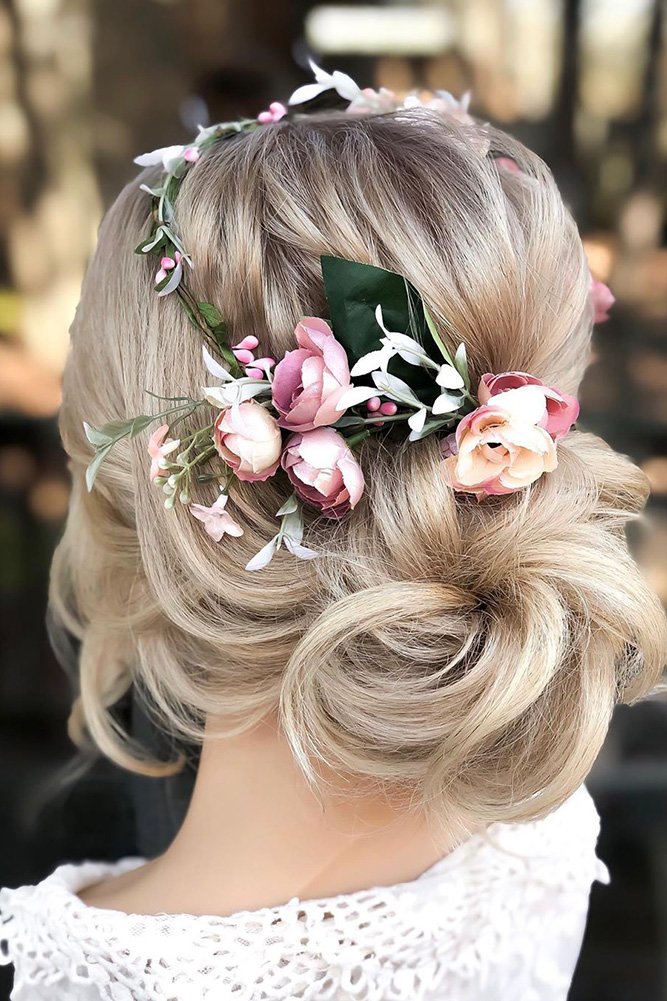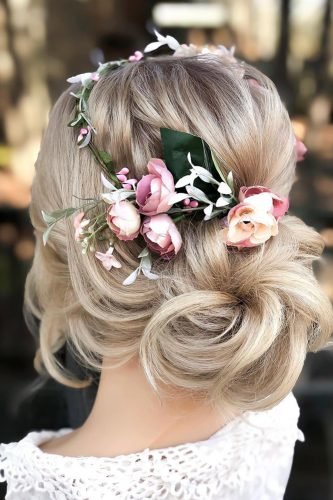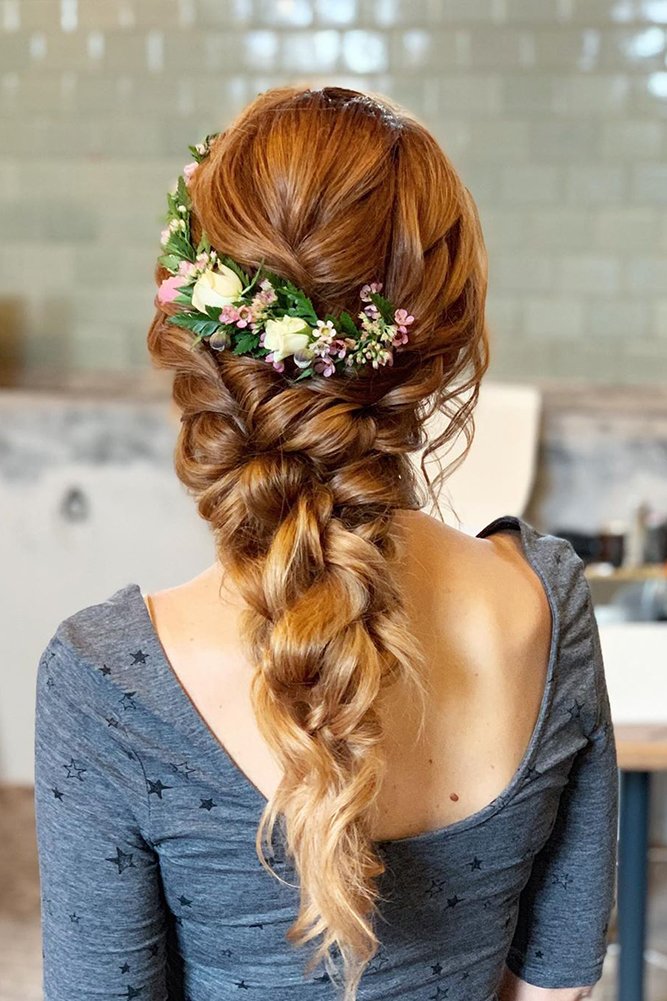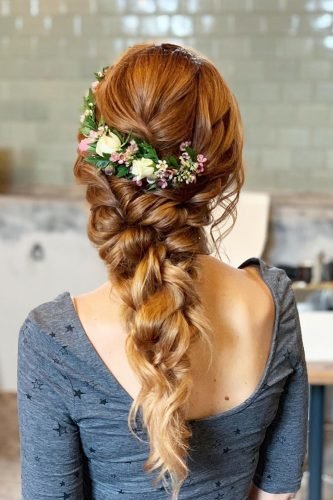 Choose a loose and natural hairstyle that will work with the enchanting nature of a flower crown.
Make sure to coordinate with your bouquet. The flowers on your head shouldn't clash with the flowers in your hand.
Use the freshest flowers possible. If you can't get ultra-fresh, spritz a little floral perfume just before the ceremony. The organic flower smell will keep you in high spirits all day long.
Conclusion
This post covers so many wedding hairstyles for long hair that you're spoilt for choice. But keep an open mind because your hair may not turn out like it in the picture, it could be better. Do you plan to highlight or fully dye your hair desired color? Do it at least a week before the wedding.
Need more inspiration and trendy ideas? Check out this amazing collection! Wedding Hairstyles for Long Hair by Ulyana Aster