With so many classic and trendy options, it can seem impossible to choose the perfect wedding hairstyles for long hair. Don't worry, we got this. We've assembled a gorgeous collection of wedding hairdos for long hair including chignons, waterfall braids, classic half-up, half-down styles, fishtails, flower crowns, buns, updos and ponytails, and some hairstyle options for curly or wavy hair.
We'll also point out which figures, themes, and gowns they go best with so that you can zero in what's going to be ideal for your big day.
How To Do Wedding Hairstyles For Long Hair
If you're seriously questioning what to do about your wedding hairstyle for long hair, you better have the perfect gown already in order and your bridal theme already coming together! That's the first step. It doesn't make sense to choose your hairstyle and then try to find a gown and venue to go with it. Rather, your hairstyle should complement your theme and look like it's a natural piece of your gown.
Follow the step-by-step guide below to style a big side braid!

If you're all set, check out these beautiful styles for all lengths and themes!
Braided Wedding Hairstyles For Free-Spirited Brides
Extensions aren't just for adding length to your bridal hairdo. Use your added length to create some of the hot braided styles we mentioned earlier! Fishtail and other ornate braid styles require ultra-long hair, and there's no reason why you can't get a little help from extensions.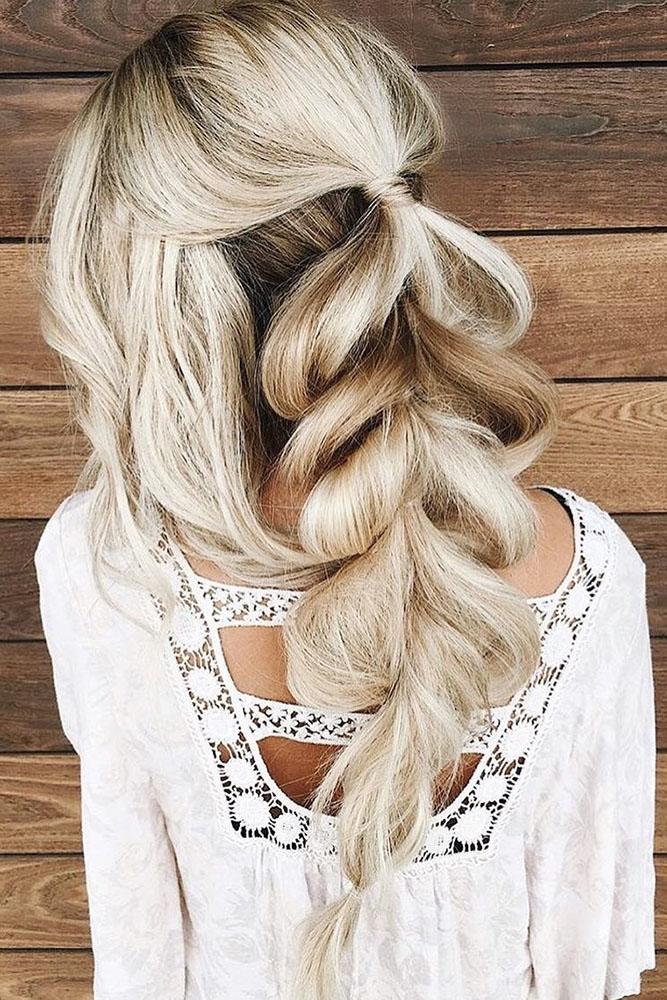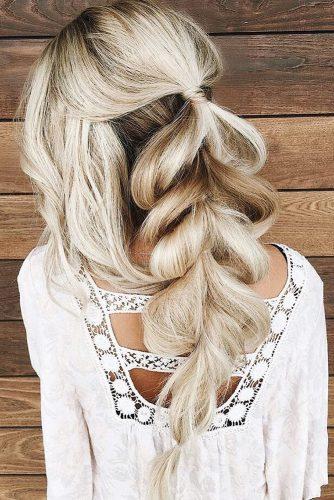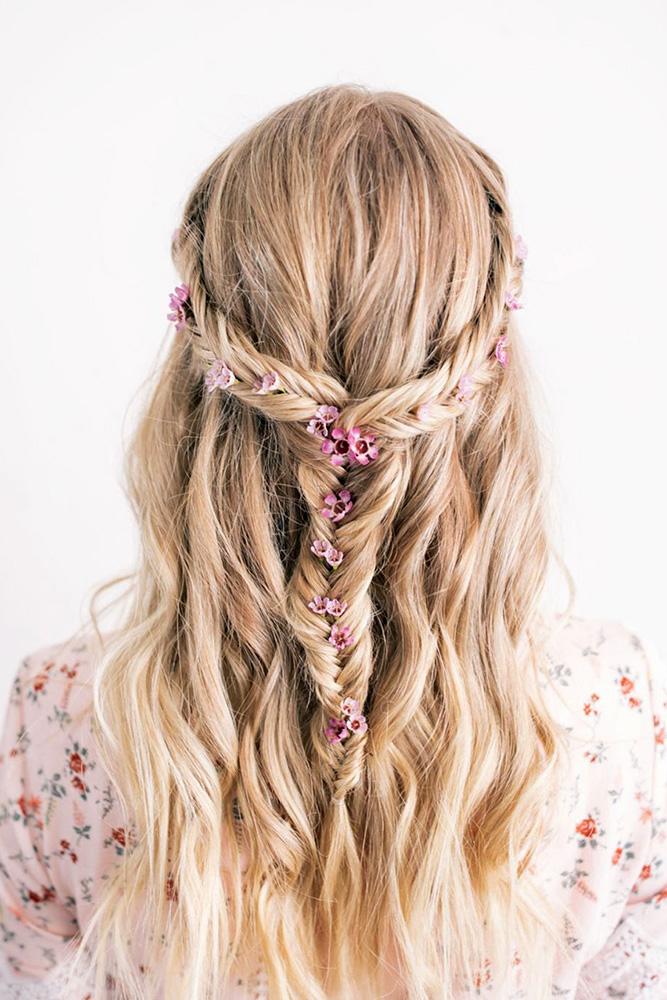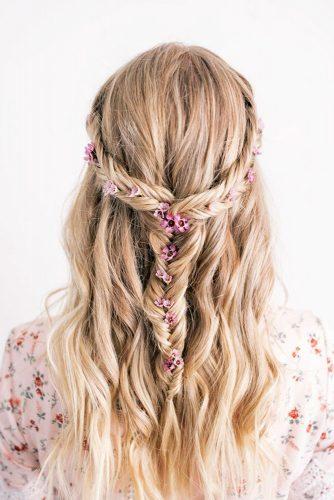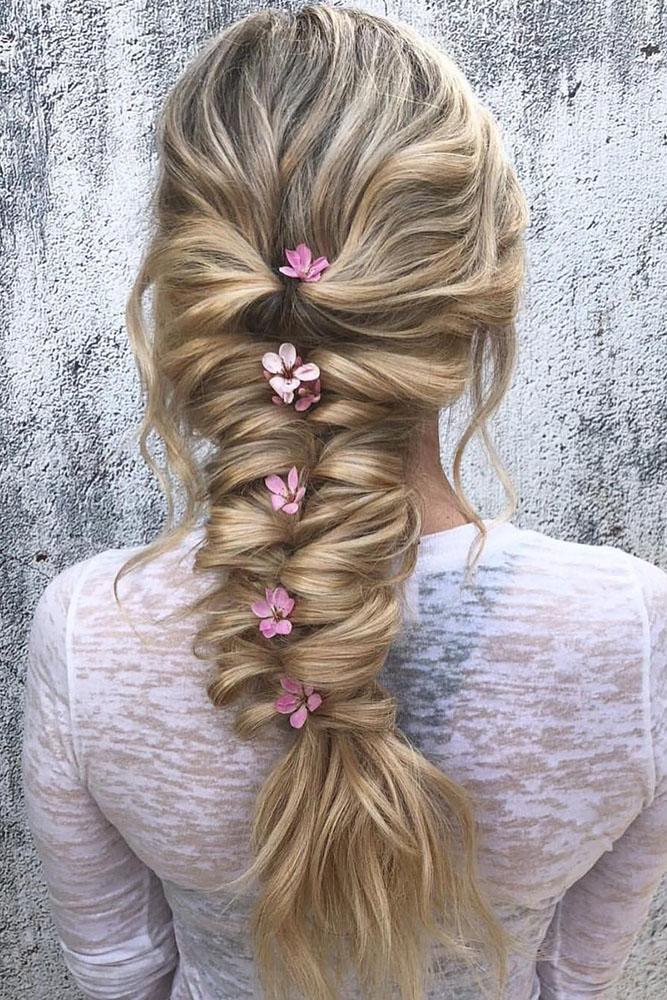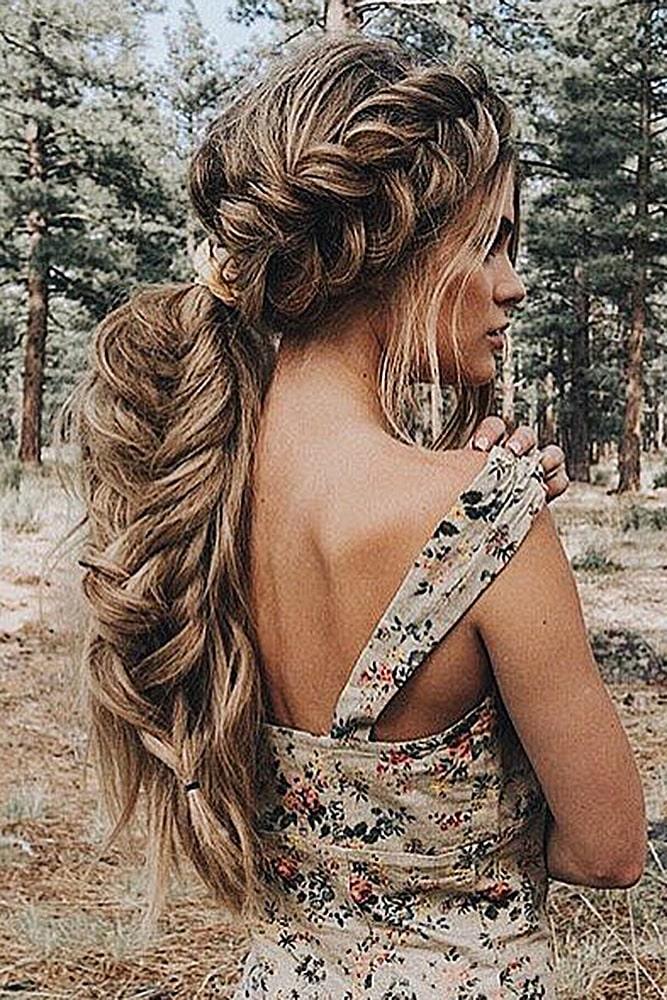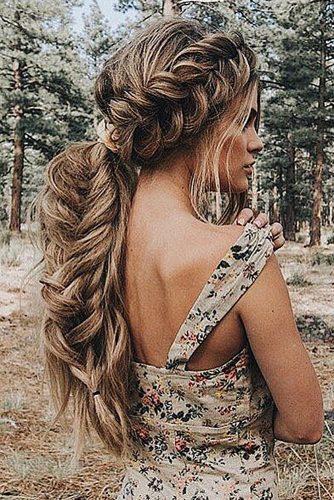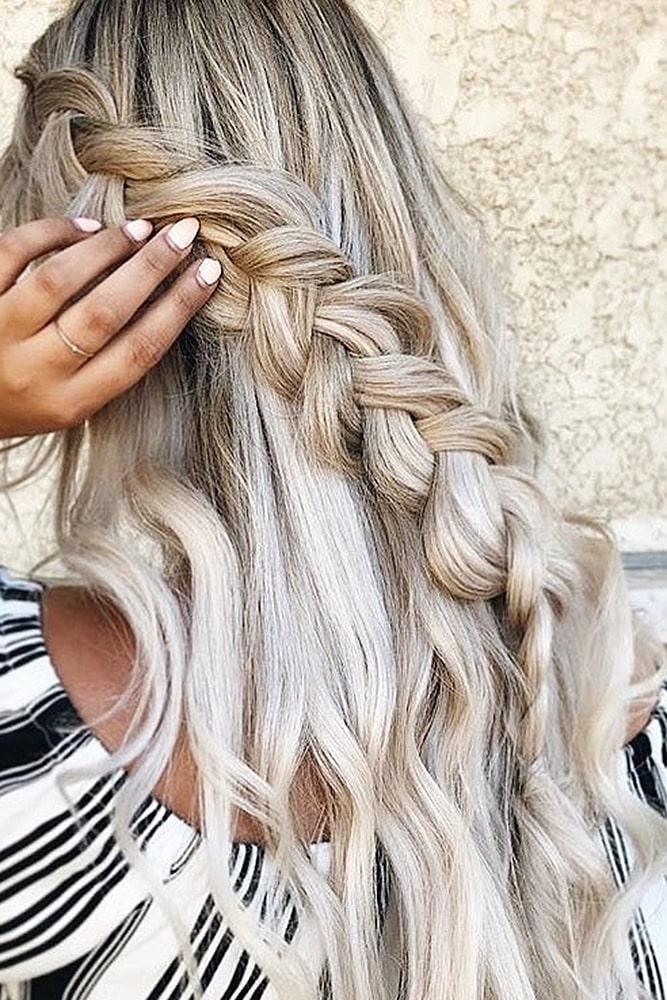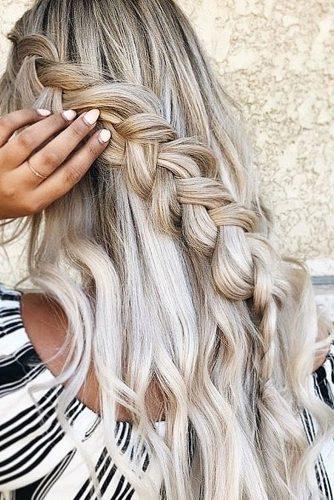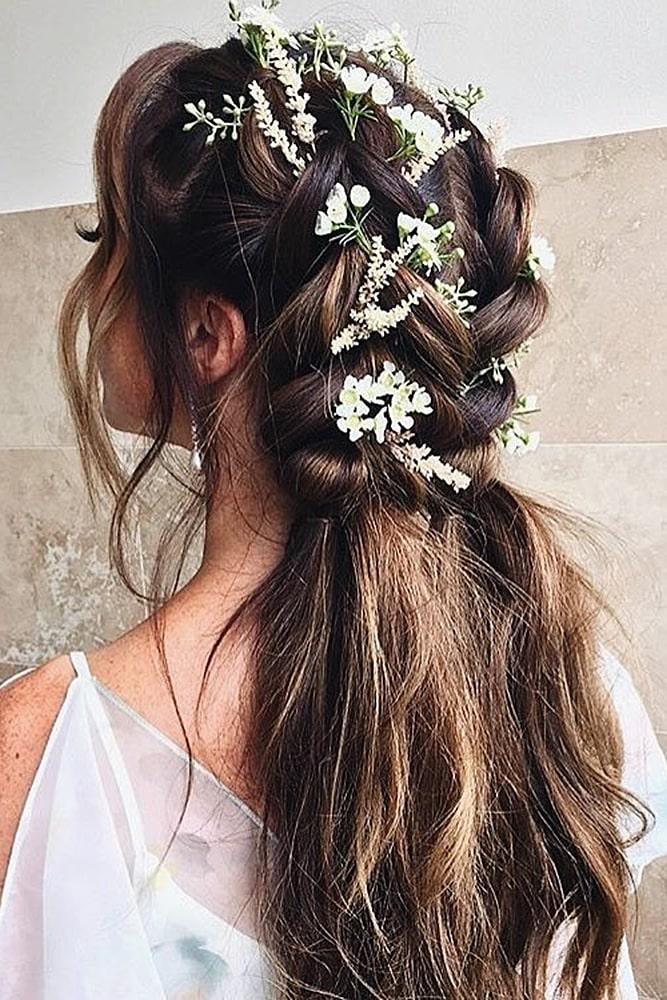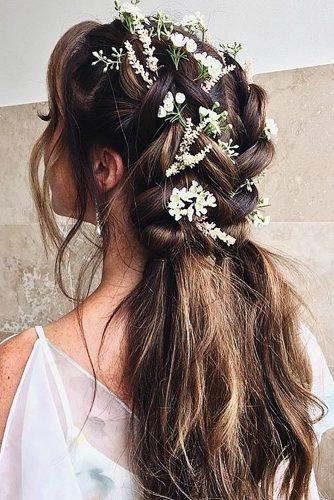 Plan ahead. The added benefit of using hair extensions is the ability to quickly – and drastically – change your hairdo for the honeymoon.
Feel free to choose one set of accessories for the ceremony and a second one for the reception. A wardrobe change is always fun!
Choose a braided wedding hairstyle to match your theme and gown. A creative side bride or untamed curls go well with beach weddings for example.
Wedding hairstyles trends on Pinterest – click to find ideas!
Classy Wedding Chignons
The classic wedding chignon is a great first option to consider. Why? Because of how versatile it is! You can wear this as a traditional bun, elaborate trendy design, or a little messy. The flexibility makes the chignon feel at home walking down the aisle of a Roman Catholic church, a seaside beach, and everywhere in between.
Many brides prefer this slightly-up look because their usually extra long-hairstyles are suddenly swept up. This refreshing look pairs beautifully with a huge assortment of wedding gown styles.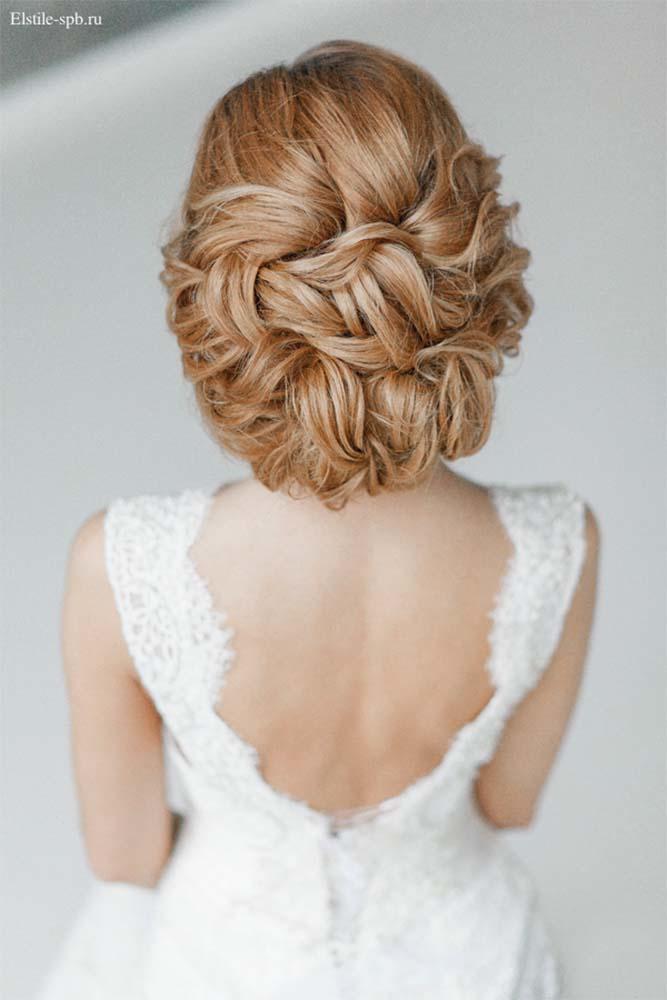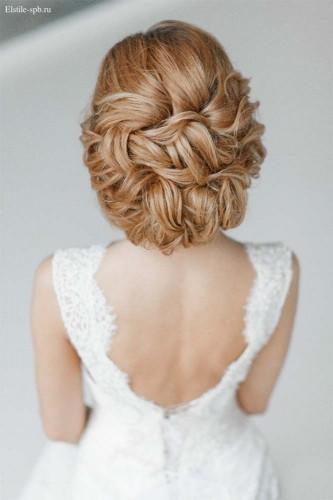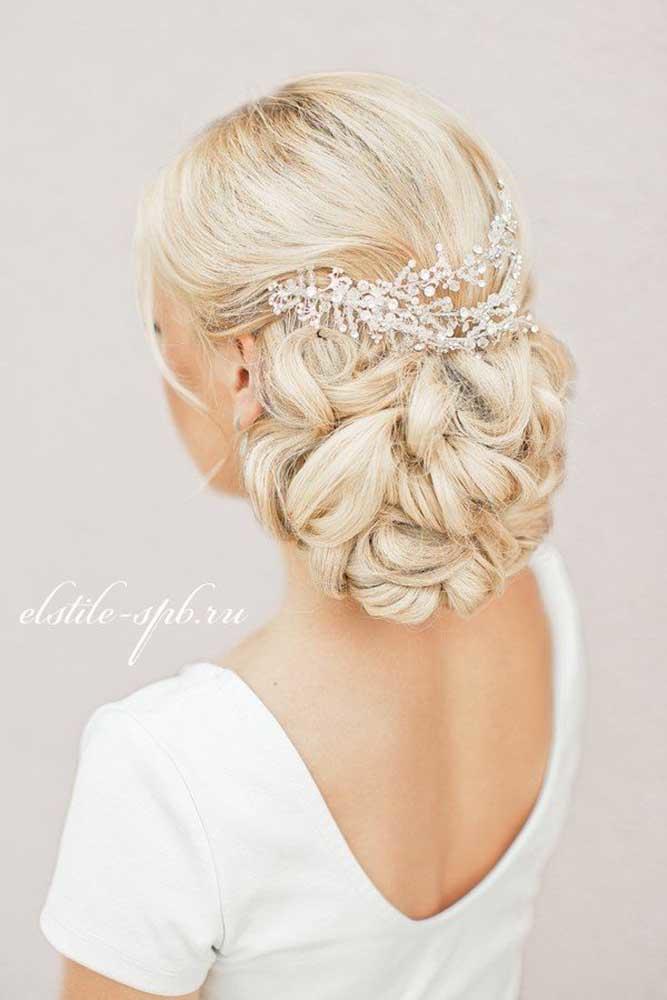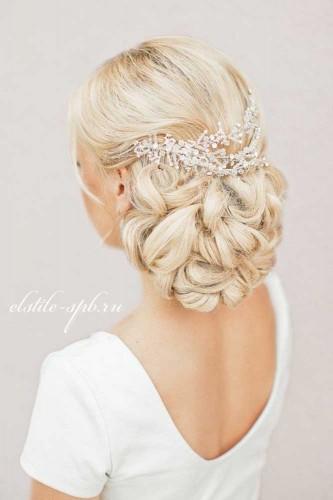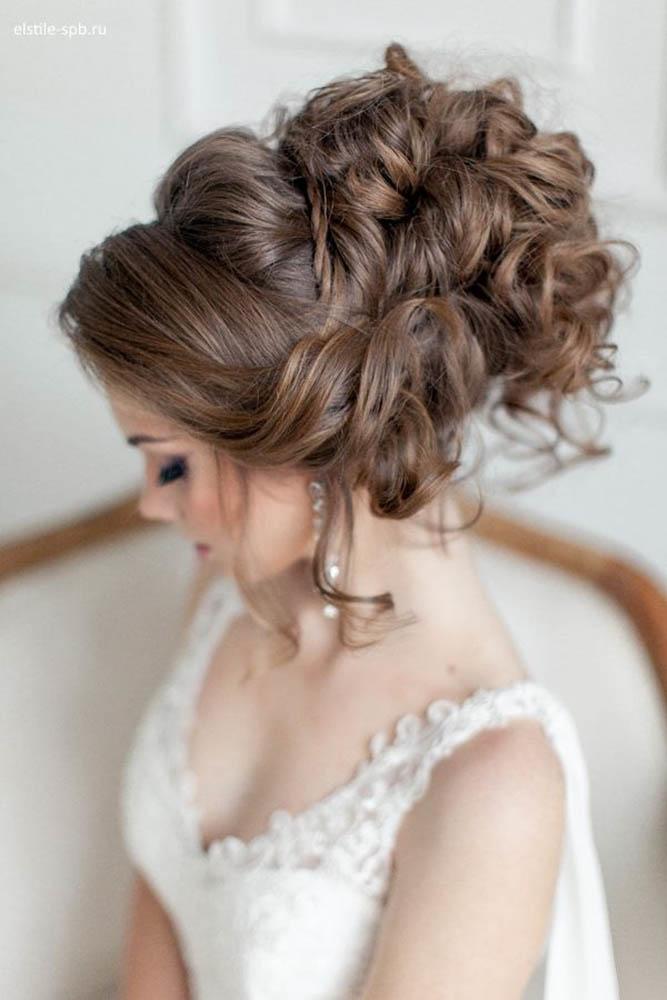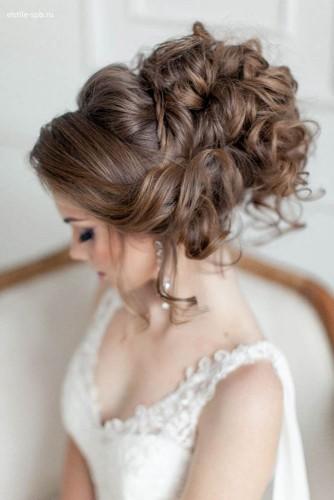 [ad_post_incontent_pos1]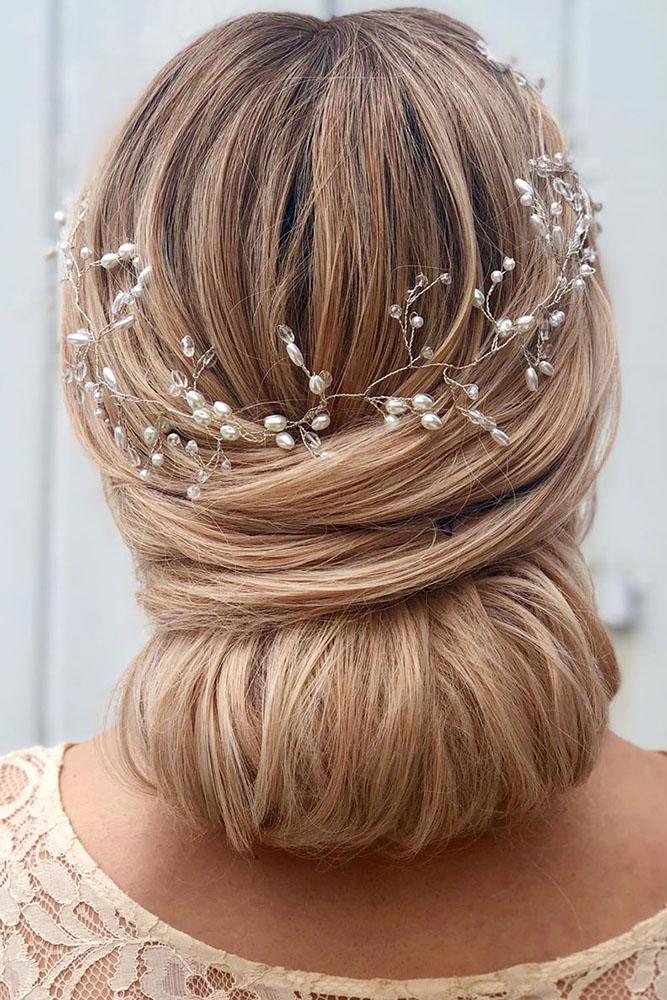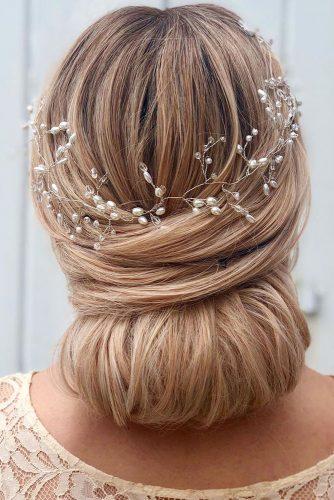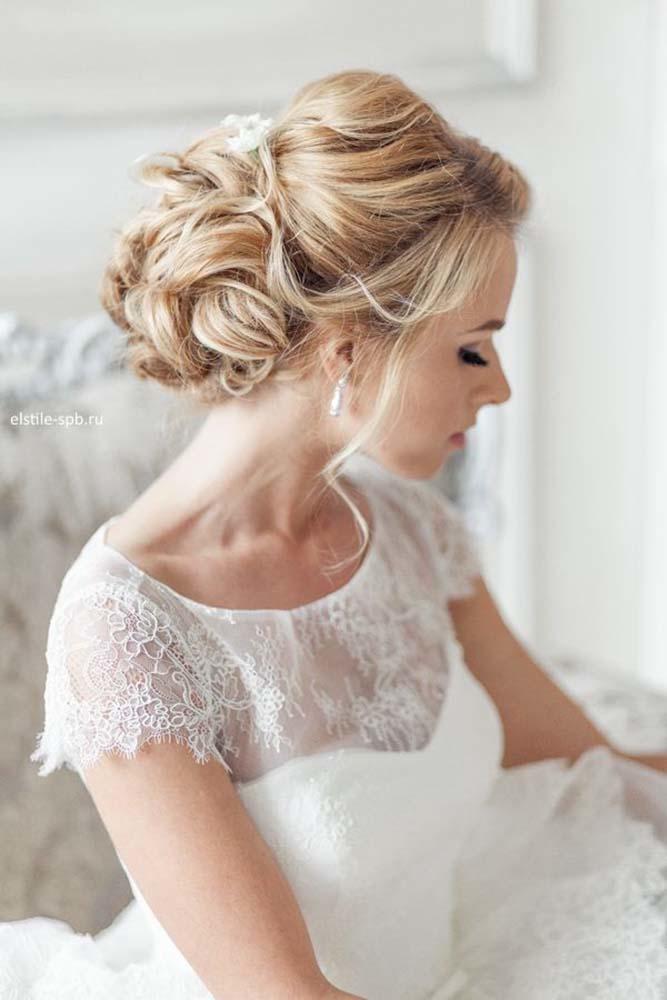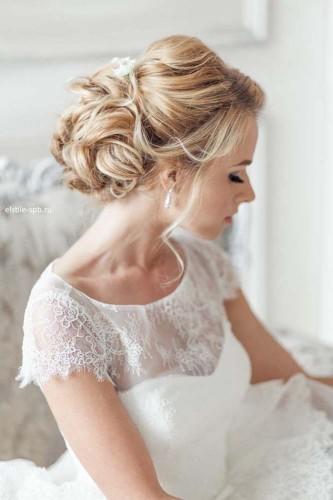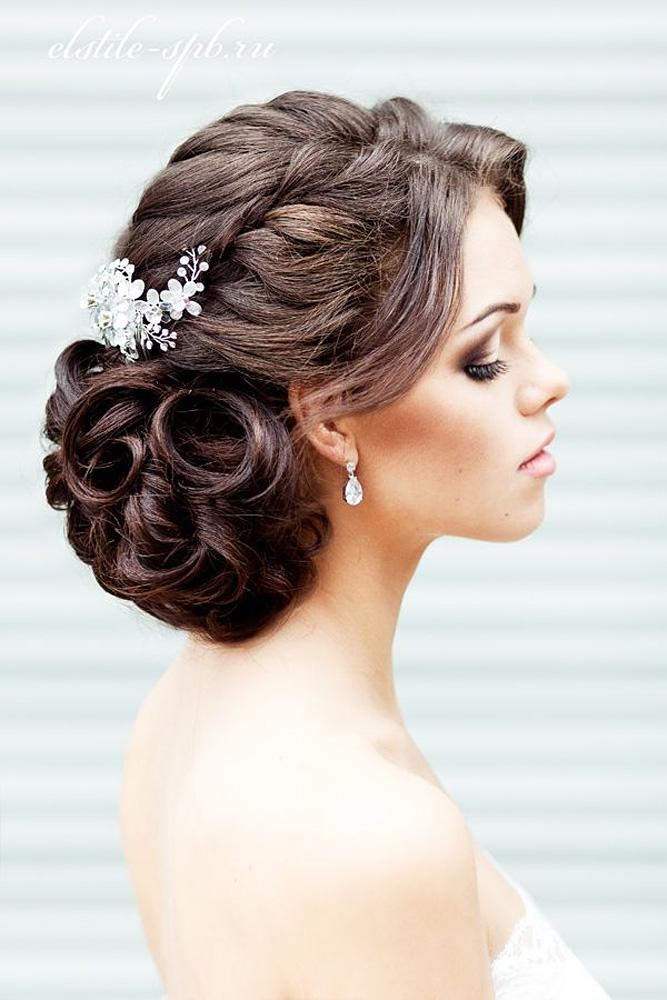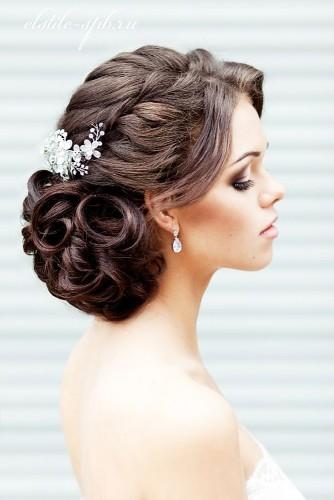 Here's how to make it work:
Bring a picture of your gown to your hairstylist so that he knows what overall style to work with.
Bring your hairstylist a sample of your wedding invitations and some shots of your venue so that he/she understands the theme and can pick out some textures or patterns to work into your chignon design.
Bring along a few accessories – like tiara or garlands – that you're considering so that he/she can make sure it fits in naturally.
Waterfall Braids For Long Hair
Some long hair was just MADE for the trendy waterfall braids style, and for good reason! Braided wedding hair shows a lot of character. Depending on your vision, it can look sultry, reserved, romantic, or even playful.
Waterfall braids are particularly charming when worn with a traditional flowing gown if you're after that classic theme. Or, pair it with a plenty of lace and woven flowers for a quintessential rustic wedding.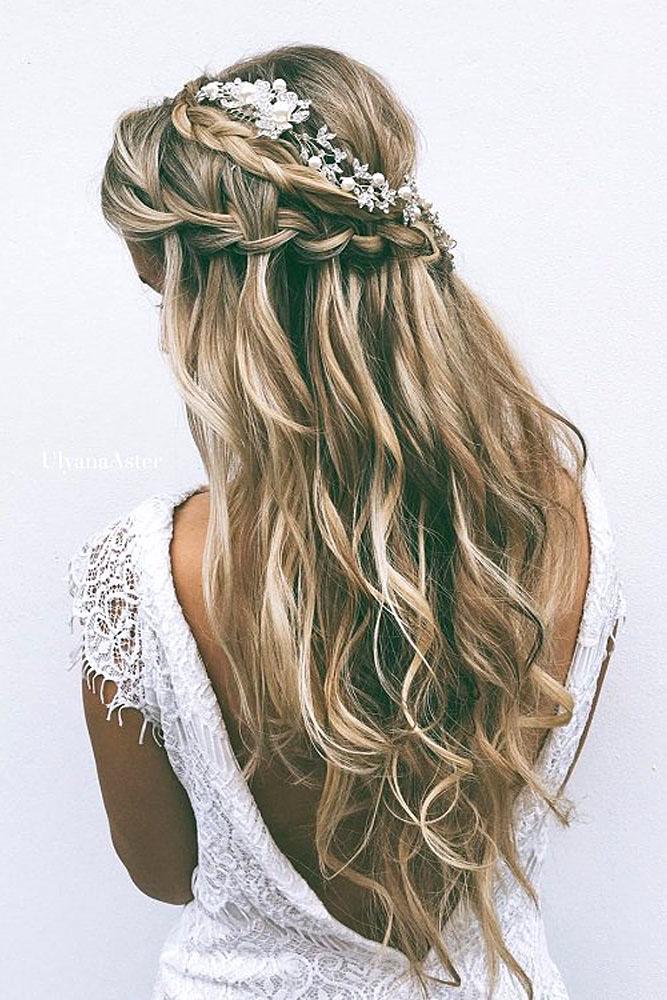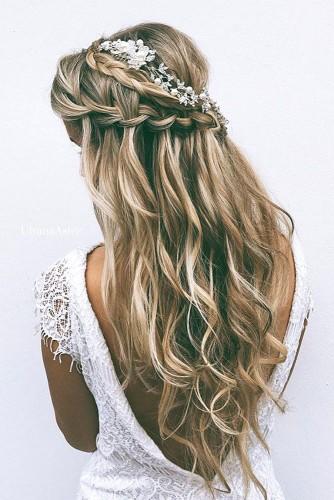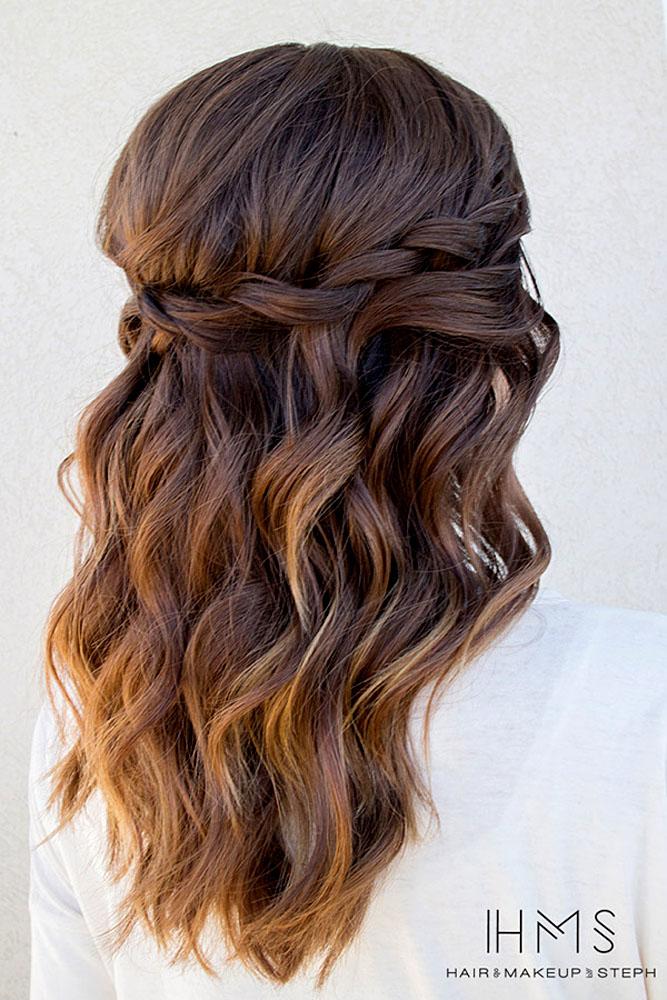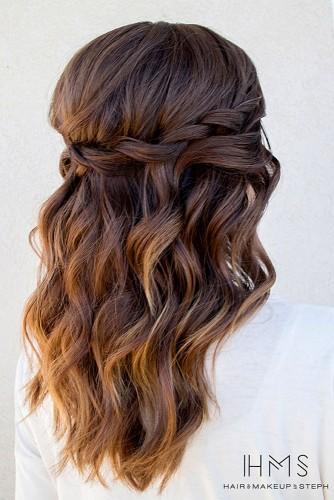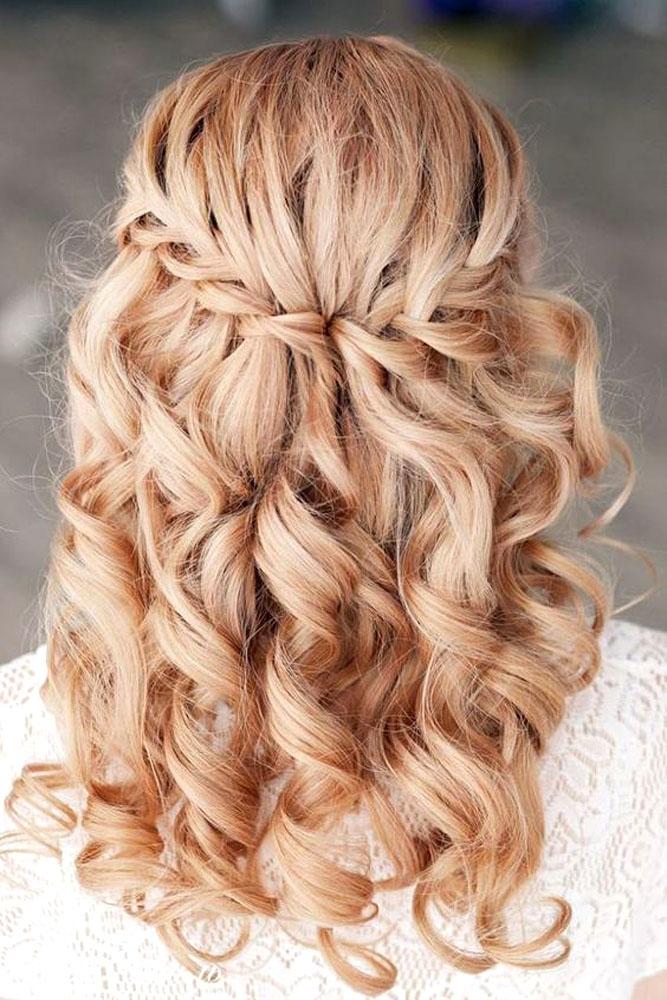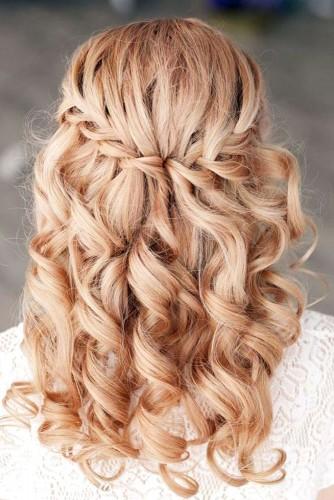 [ad_post_incontent_pos1]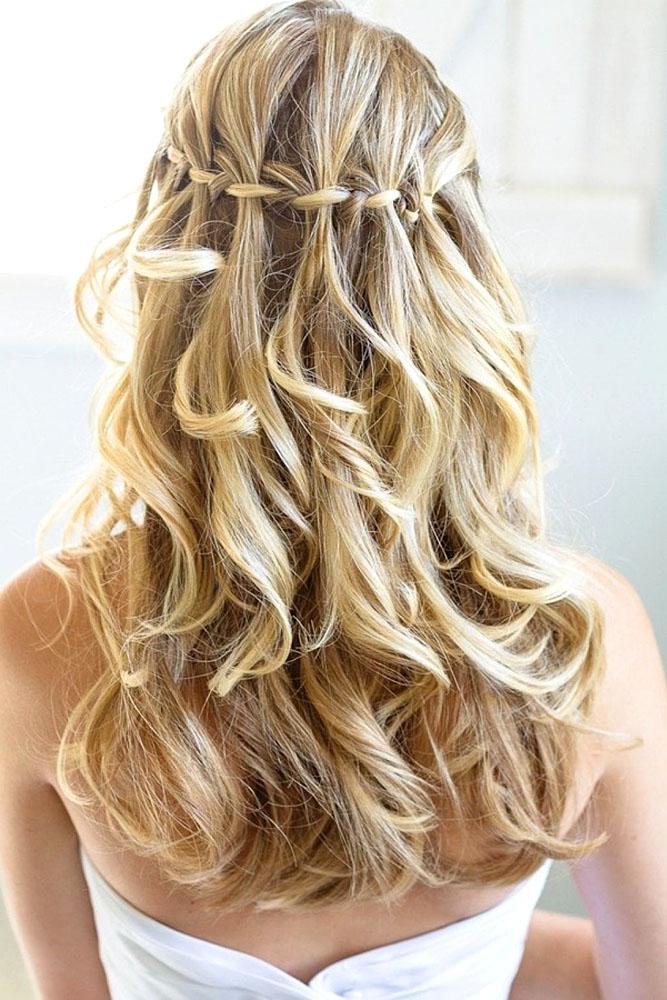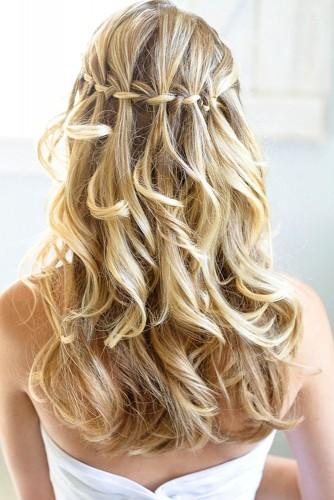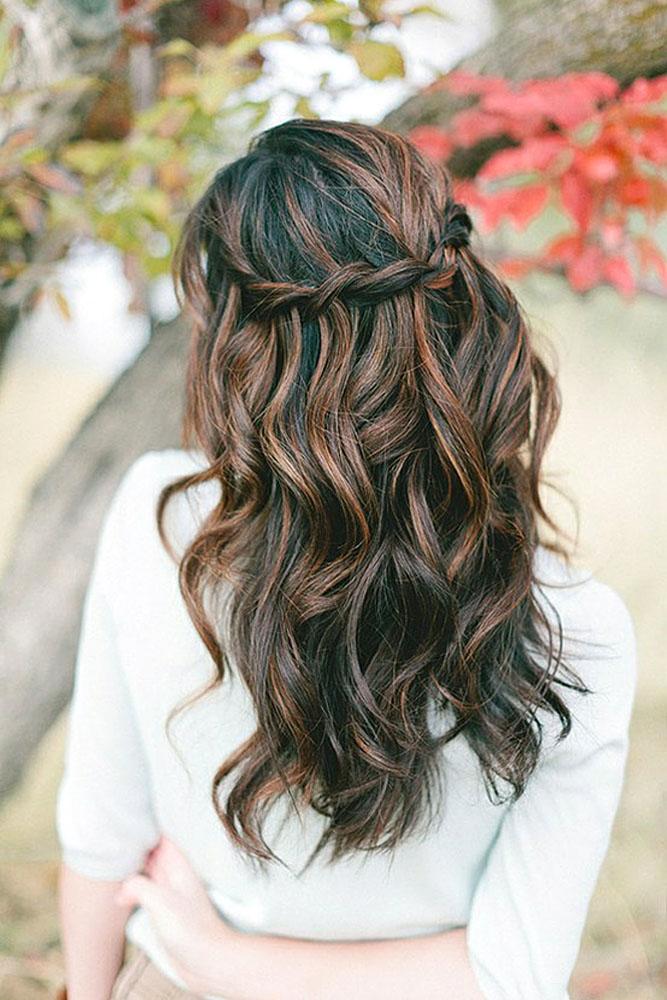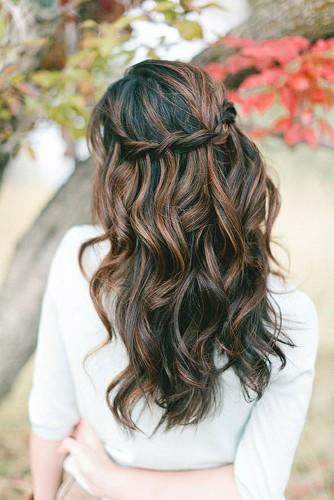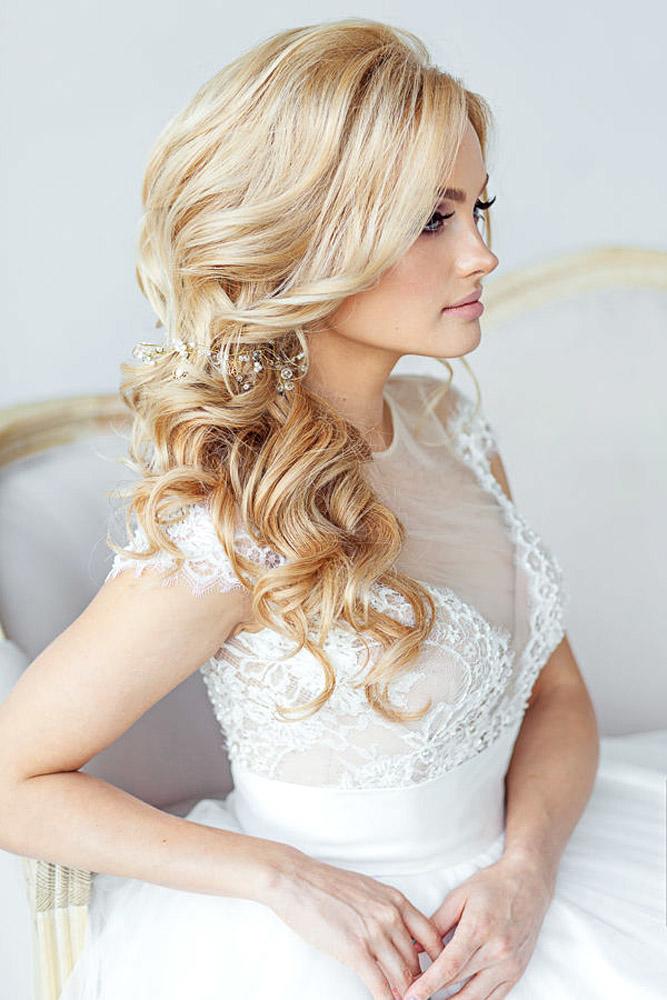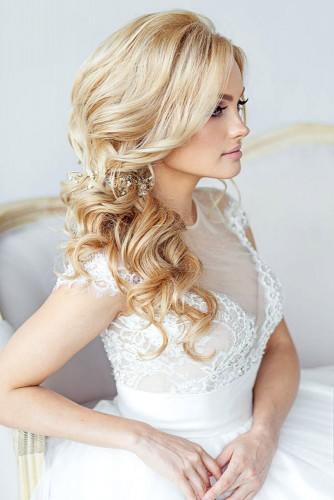 How to pull it off:
All of the tips on the first page apply here, keep that in mind.
Be aware of your gown's fabric. You don't want your hair to compete with it, and you don't want them to get lost in each other. Balance is key.
Try a dozen or more options. What looks good on paper may not be perfect for your jawline or gown. You'll find the perfect one eventually!
Timeless & Popular Wedding Hairstyles For Long Hair – Half Up Half Down
It's really tough to decide between letting your long locks shine or going with a clean and tight updo. So don't!
The forever classic (yet somehow always trendy) half up, half down wedding hairstyle lets you show off more of your silhouette but still lets your tresses flow. This style is great for a few wedding themes, but the one that truly stands out is bohemian. There's something very natural about the half up, half down wedding do which fits in perfectly with the ideals of the boho bride.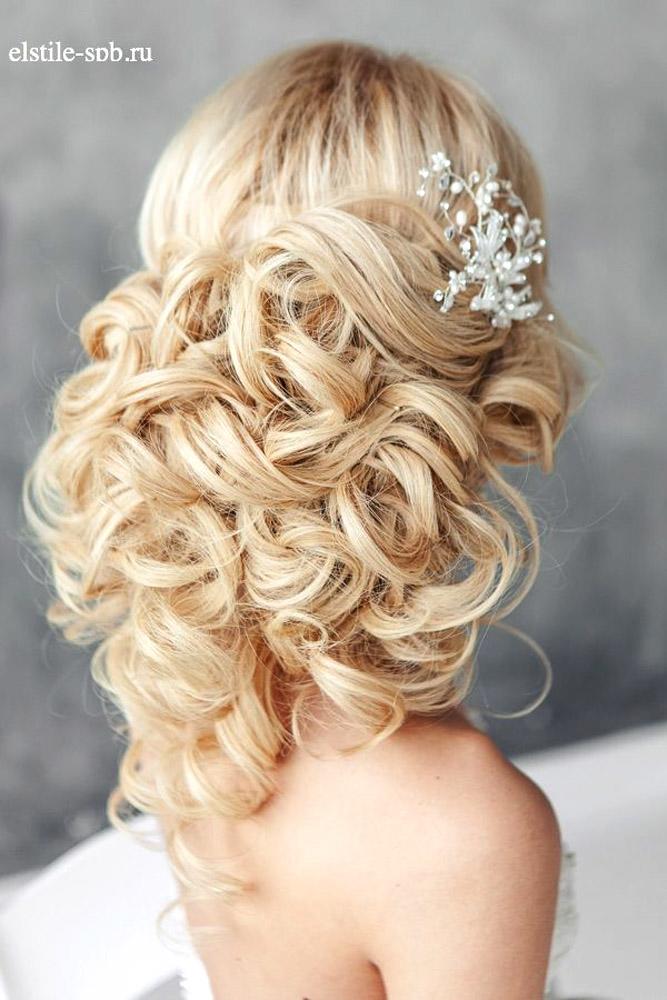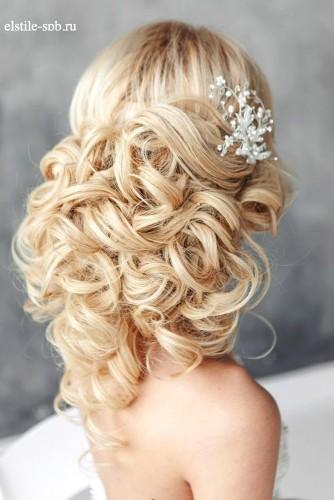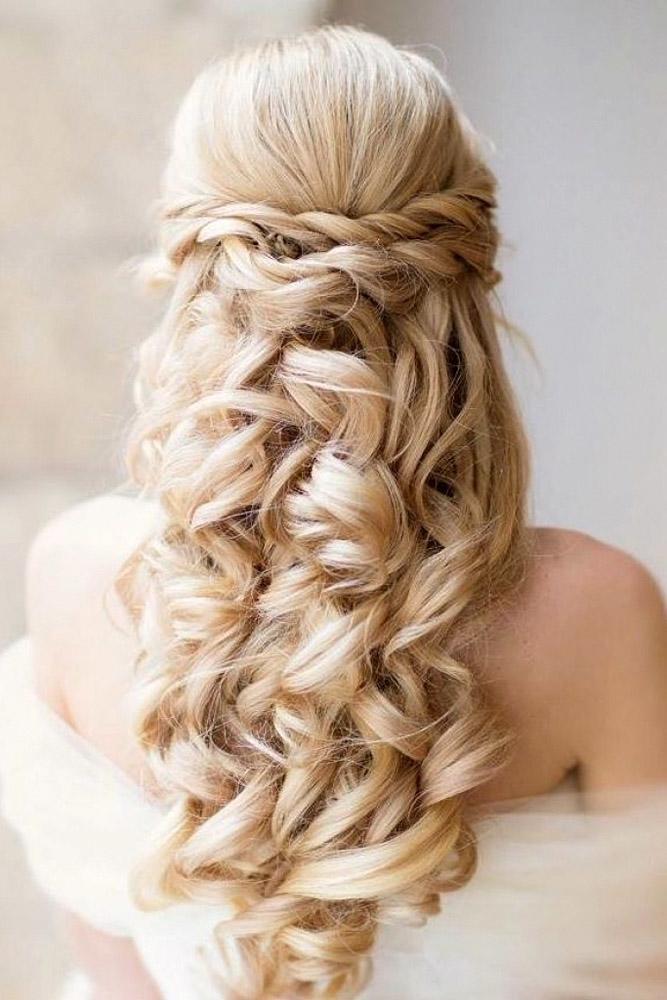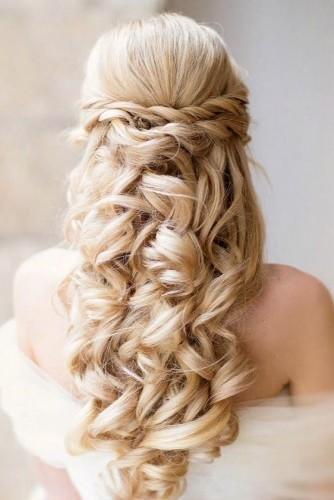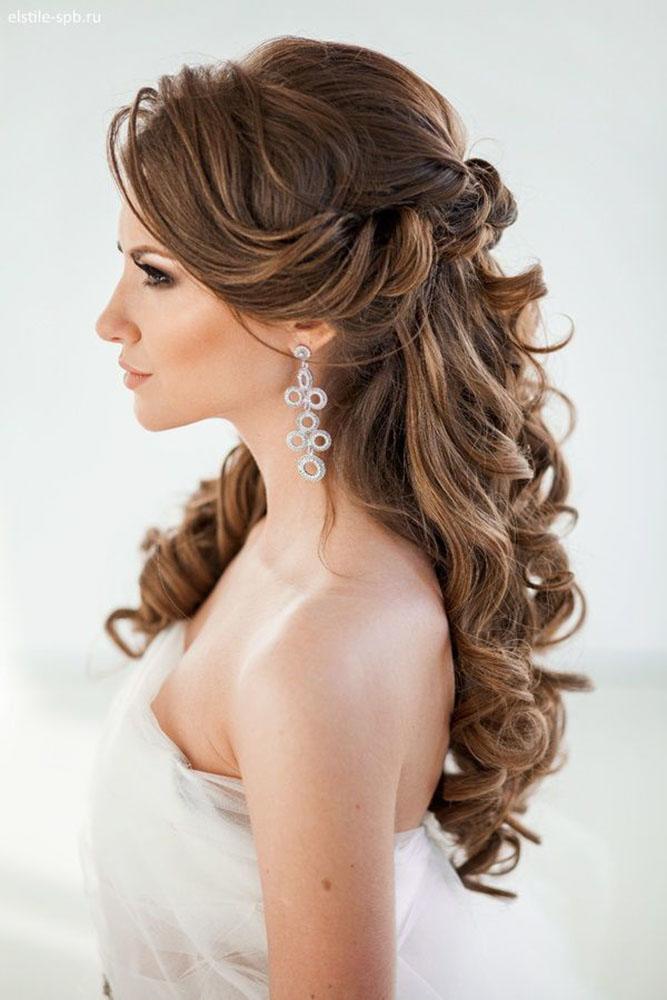 [ad_post_incontent_pos1]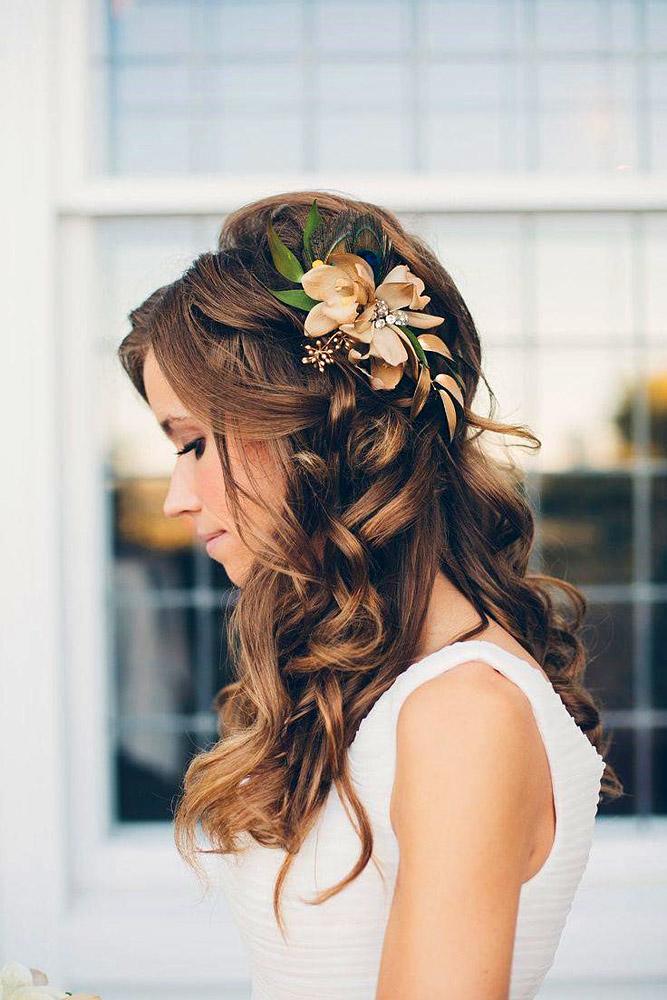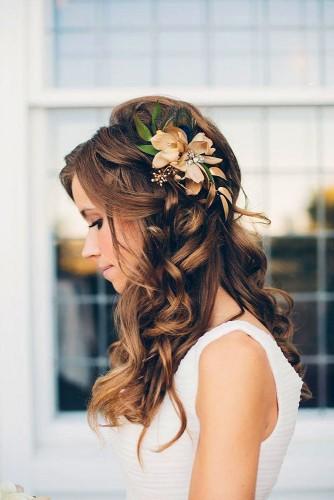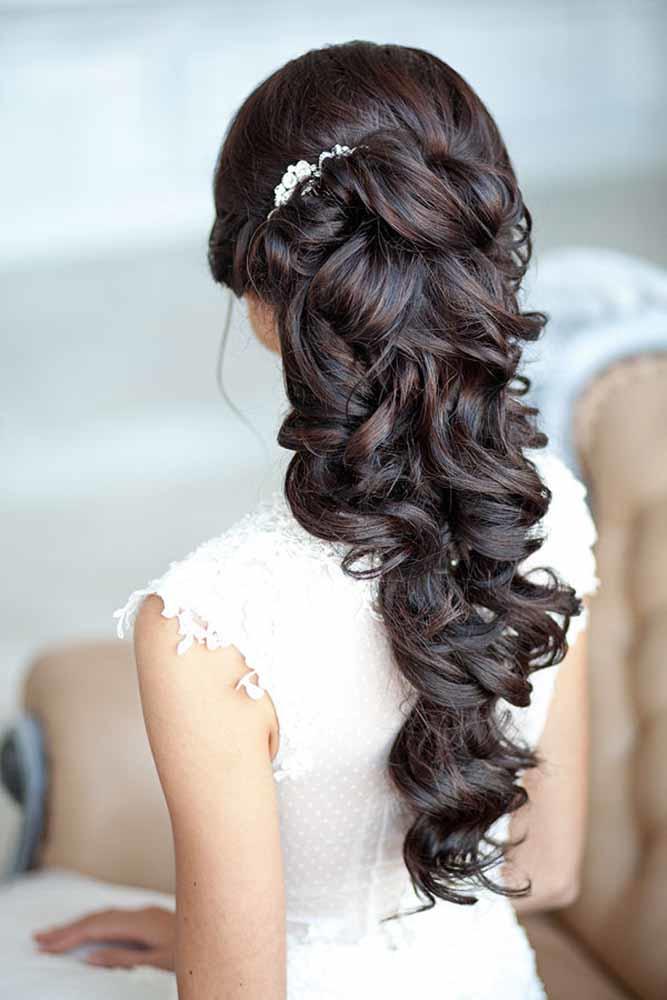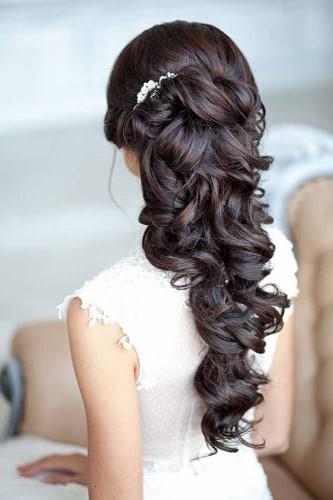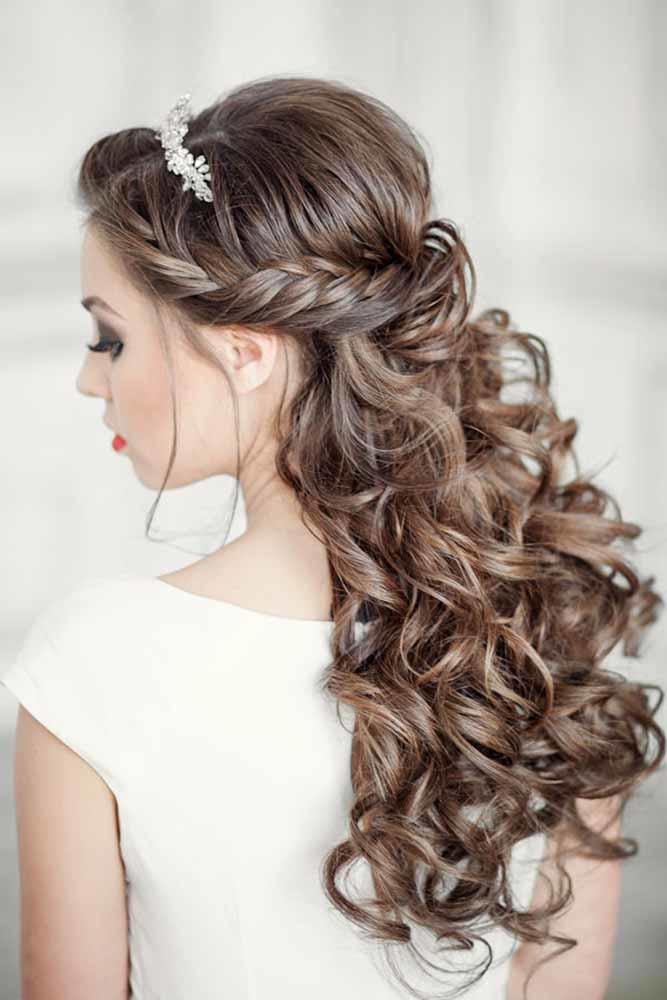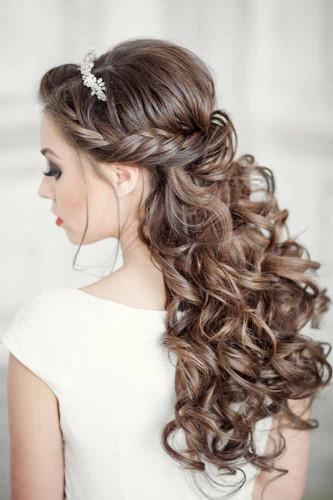 Focus on your hairpiece (tiara for example) or veil. The perfect half up, half down do should make like they were meant to be together.
If you have a very simple wedding gown, use this opportunity to be elaborate with your hair.
If your wedding gown is close to being 'over the top' balance it off with a clean and classy hairdo.
Trendy Fishtails & Braids Hairstyles
If there's ever been an occasion for an utterly charming fishtail braid, this is it! Although the braided style looks good with most themes and styles, we suggest wearing this with an open-back or bare-shoulder wedding gown. All of the twists weaves, and texture of an artfully designed braid looks even better when it doesn't have to directly compete with your gown.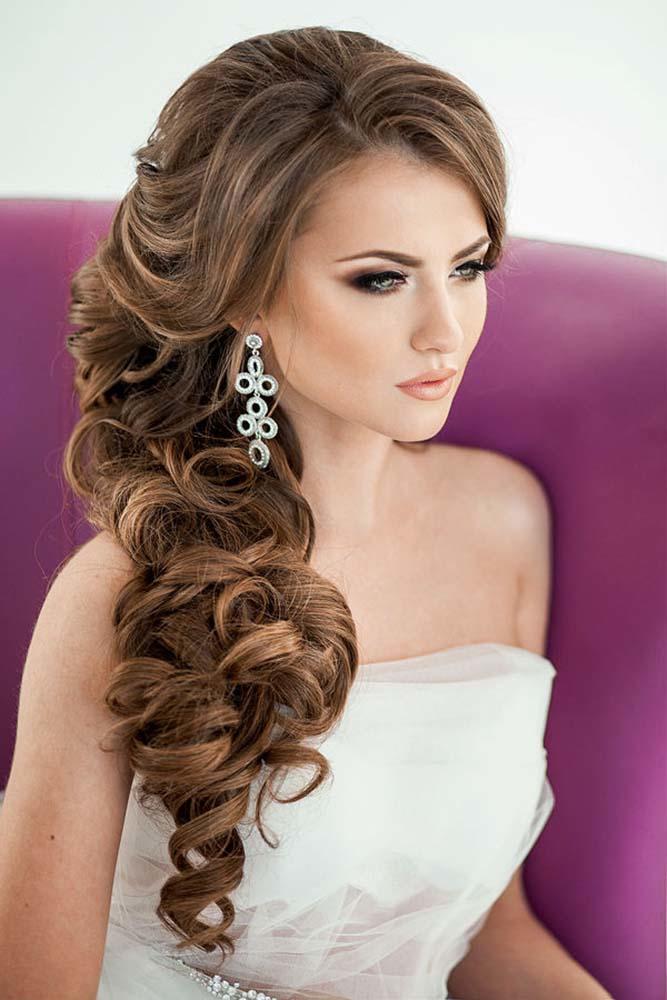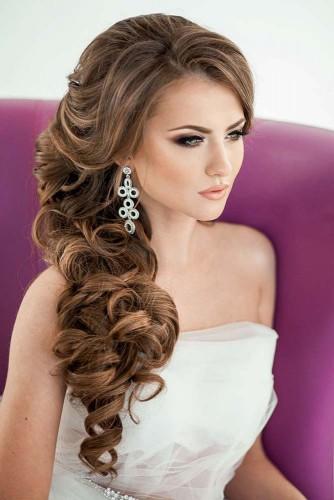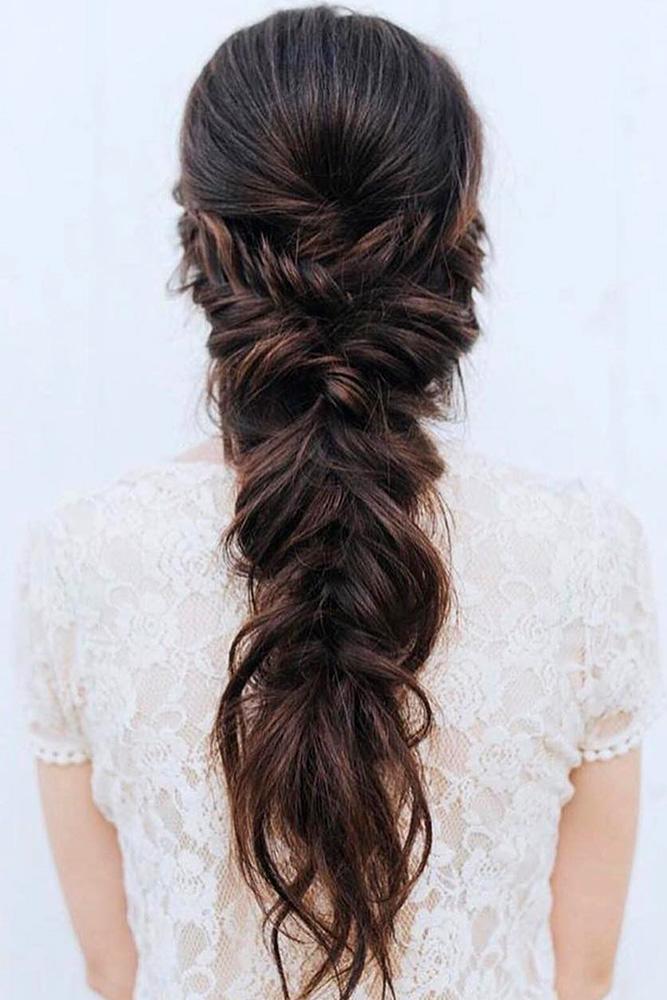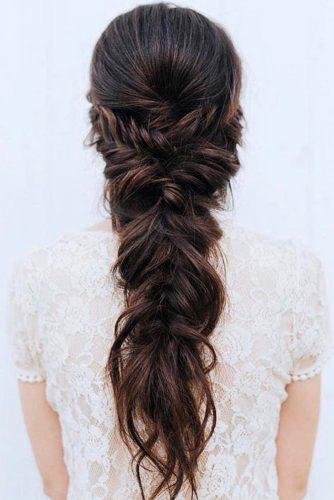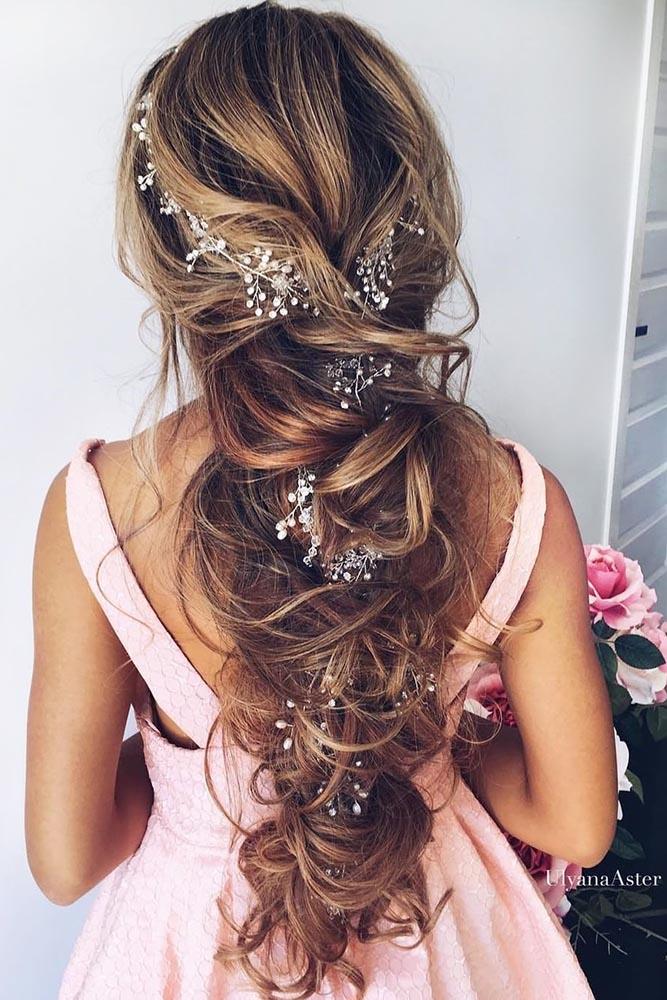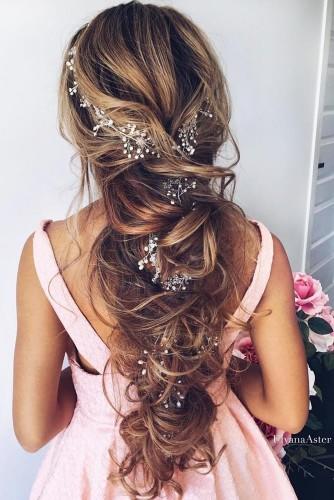 [ad_post_incontent_pos1]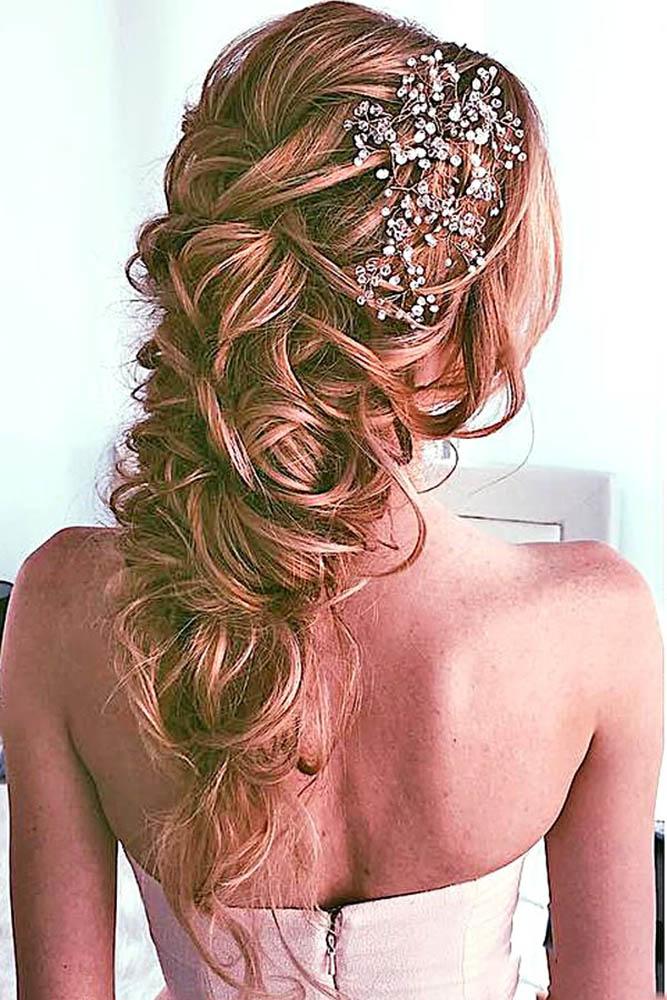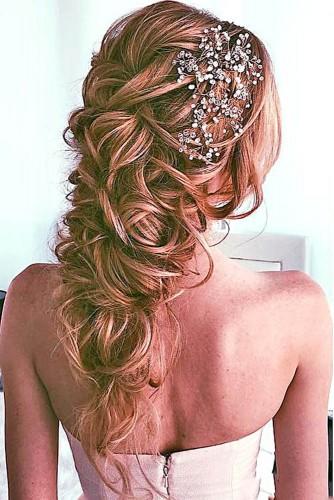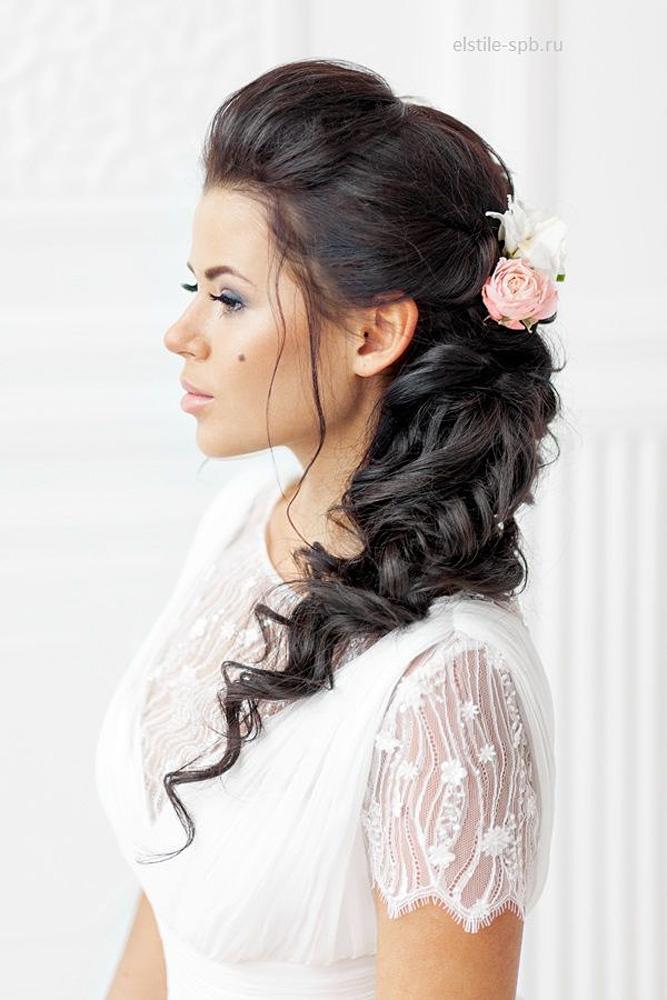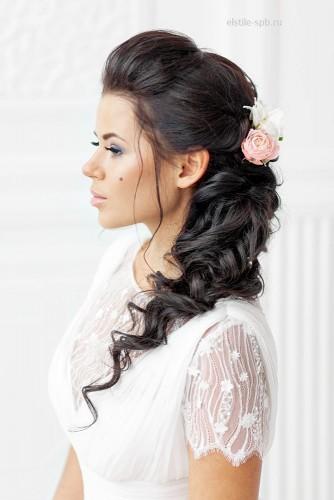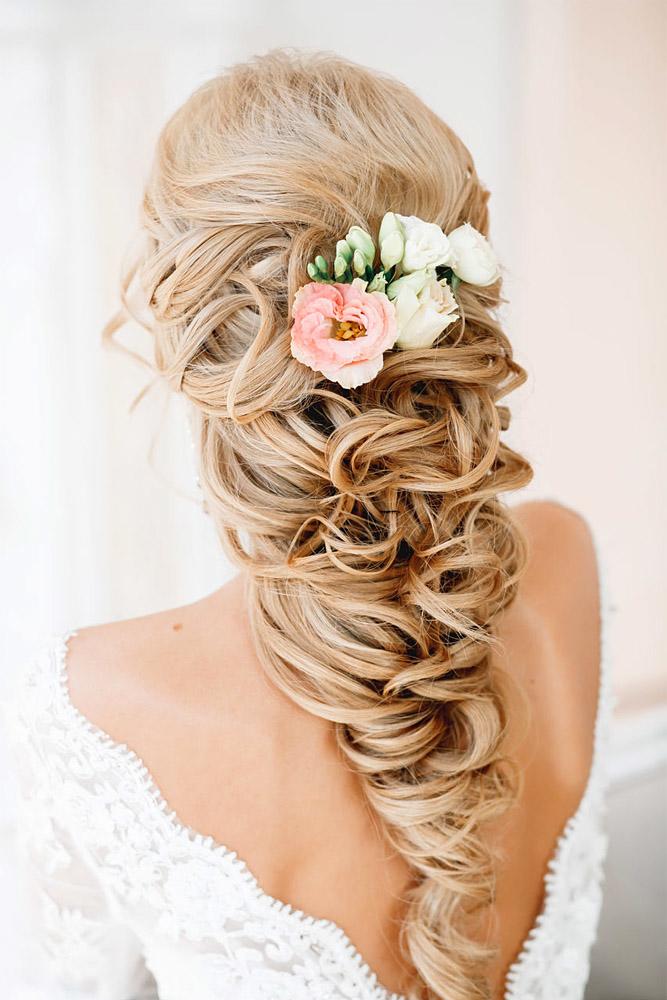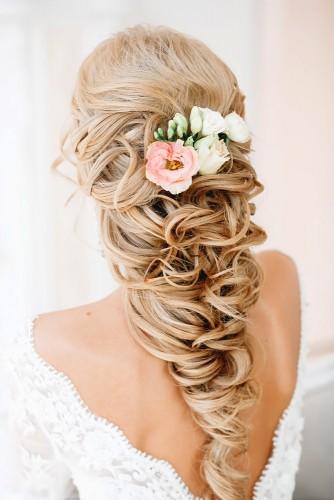 Work with a side-swept design if you prefer to show off a little more of that backless gown skin.
If you're not certain about the weather put even more serious thought into this option. Fishtail braids are VERY forgiving with the wind.
Suggest this to the whole group if they have long enough hair. You're sure to turn heads if this is the themed hairstyles for your bridesmaids
Bride Hairstyles For Long Hair With Flower Crowns
Sometimes nothing beats flower crowns for bridal hairdos. Adding a flower crown to your chignons, curls, fishtails, and other braids can completely tie a look together while creating a sense of innocence and femininity all at the same time.
You'll have to be selective with which type of flower to use – some are more delicate than others – but these floral wedding updos for long hair truly fit in with any theme. A traditional wedding will require a lily or other soft petal, but almost any flower will feel at home at outdoor, boho, or rustic wedding.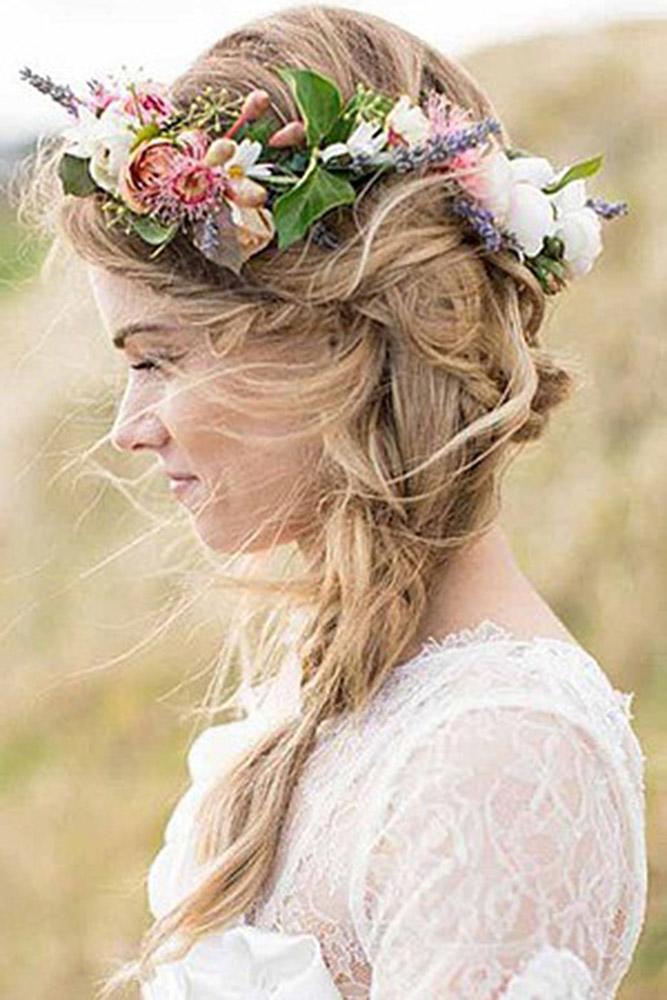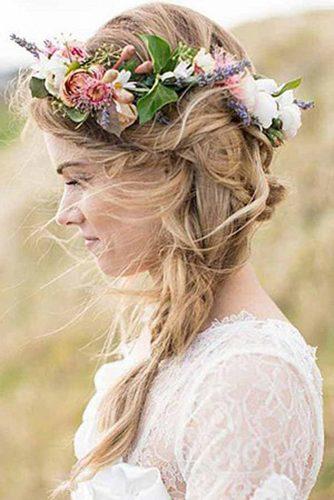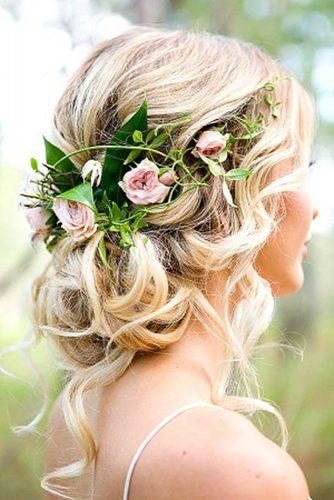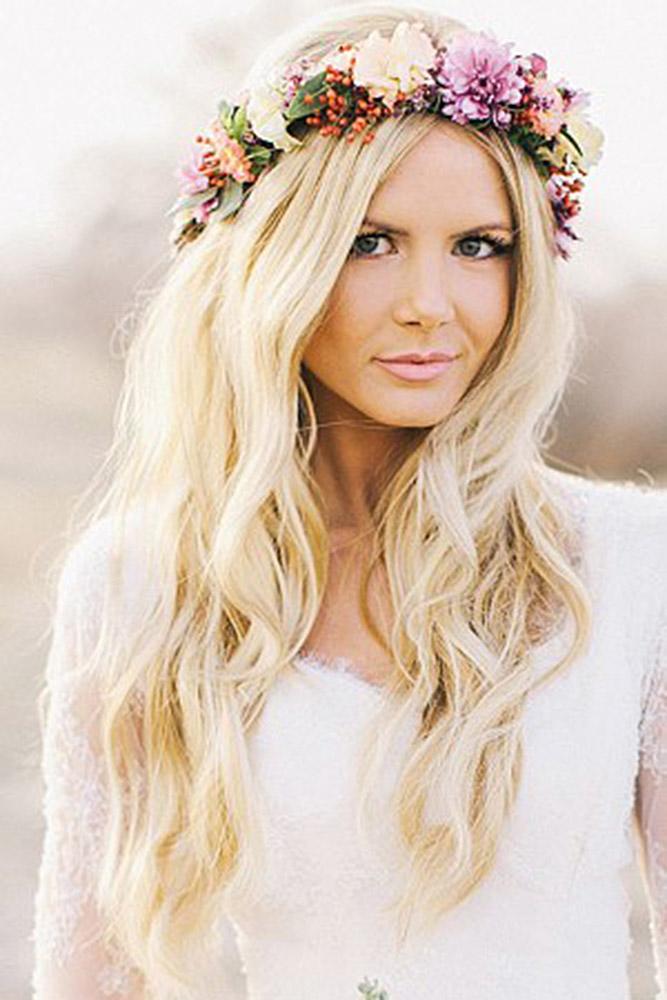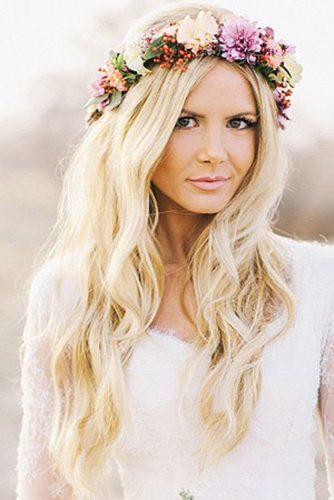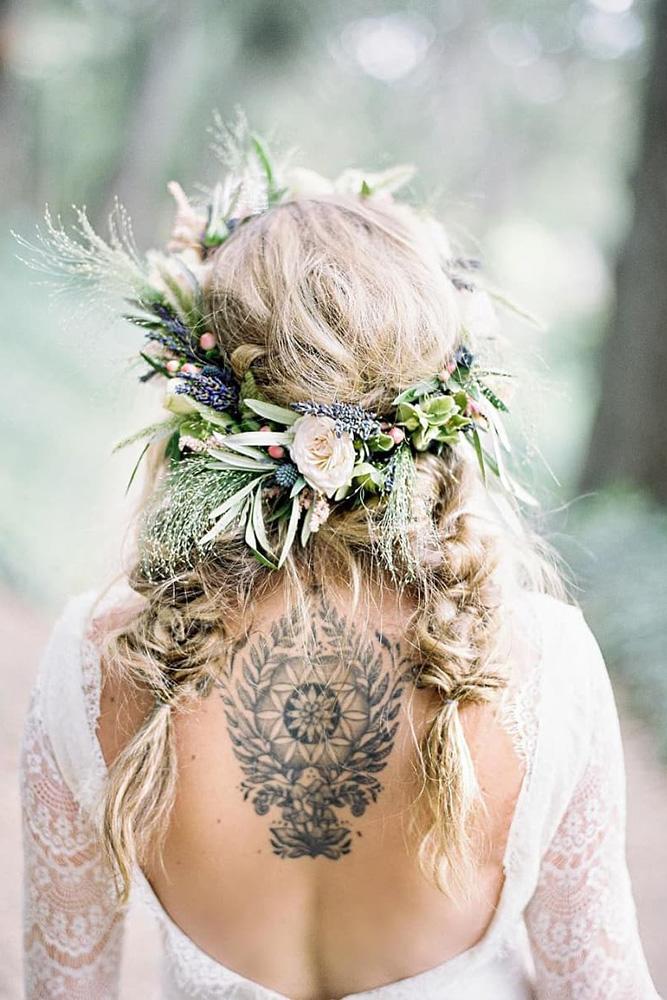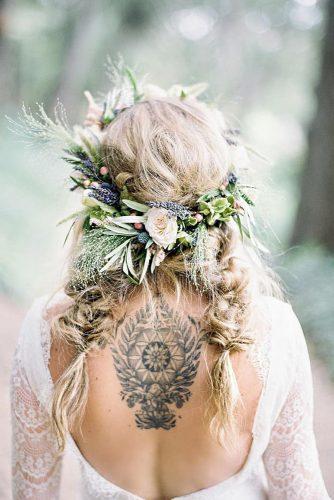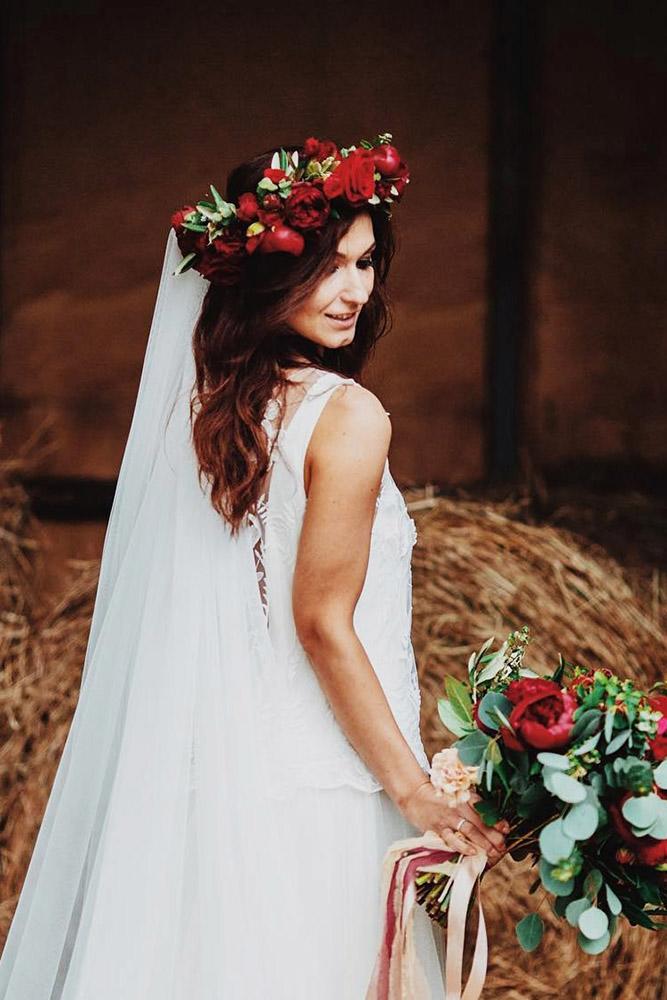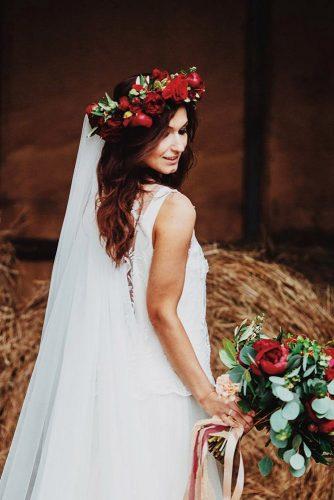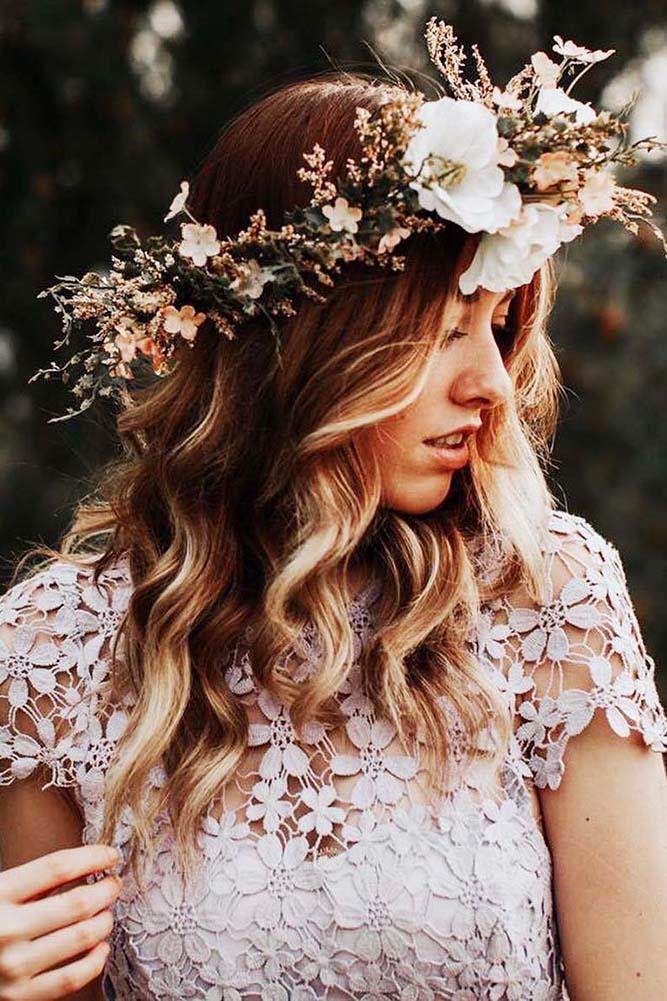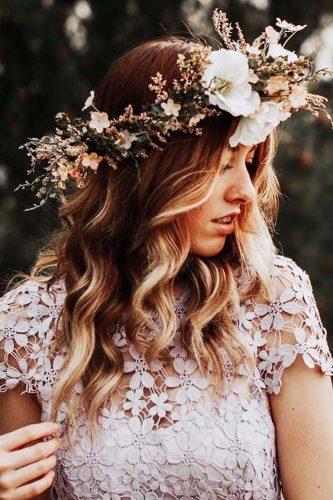 Choose a loose and natural hairstyle that will work with the enchanting nature of a flower crown.
Make sure to coordinate with your bouquet. The flowers on your head shouldn't clash with the flowers in your hand.
Use the freshest flowers possible. If you can't get ultra-fresh, spritz a little floral perfume just before the ceremony. The organic flower smell will keep you in high spirits all day long.
Soft Waves & Beautiful Curls Bridal Hairstyles
If you've chosen a gorgeous wedding gown with intricate textures and details, you may prefer to go the simple route with your bridal hairstyle. Soft, flowing waves can make it seem like you just woke up that beautiful. The simplicity of it makes this hair fashion a hairstylist's dream, and the versatility makes it the perfect choice for you and all of your bridesmaids.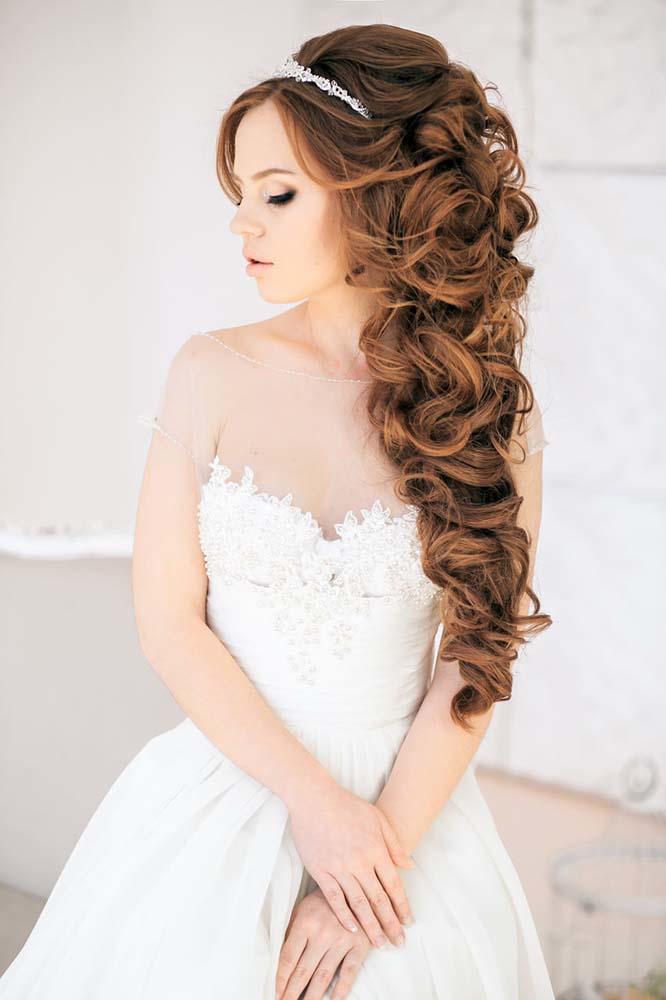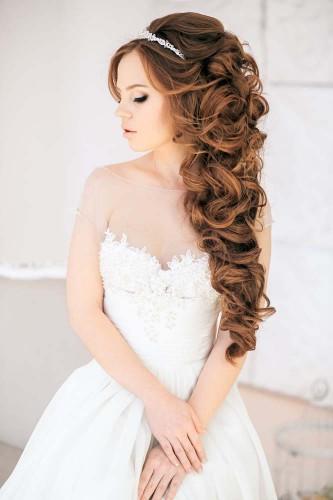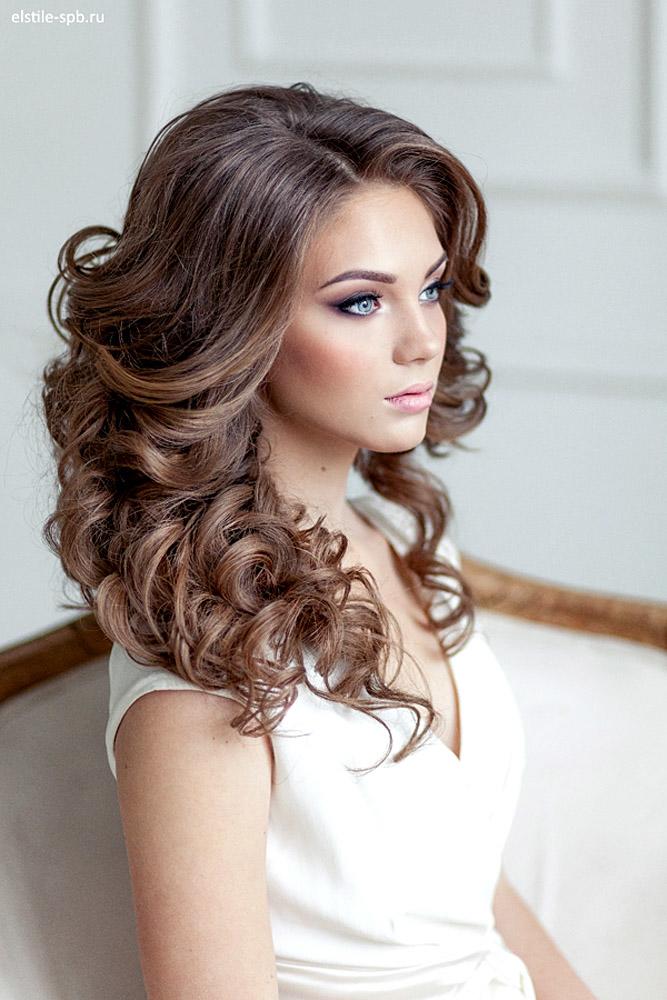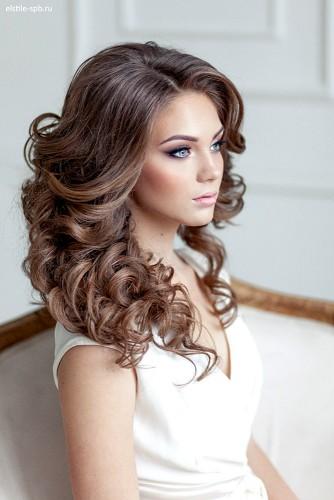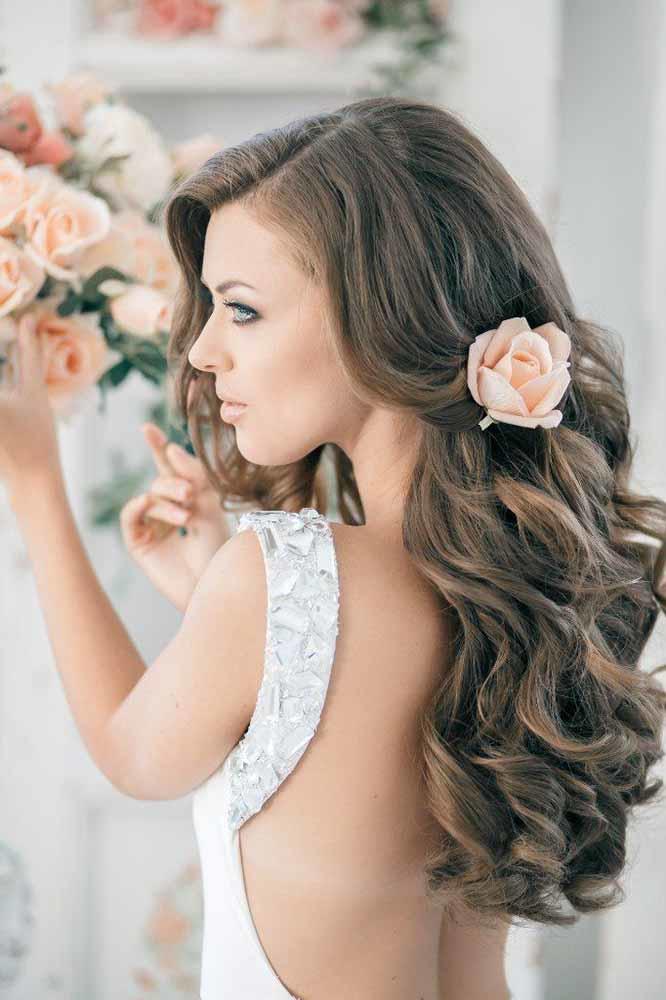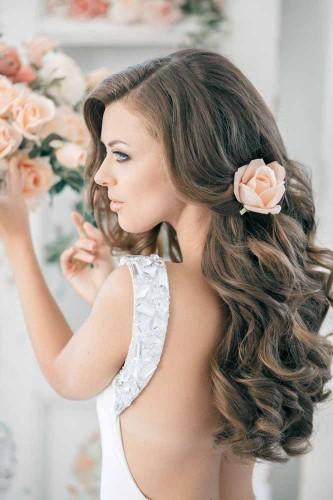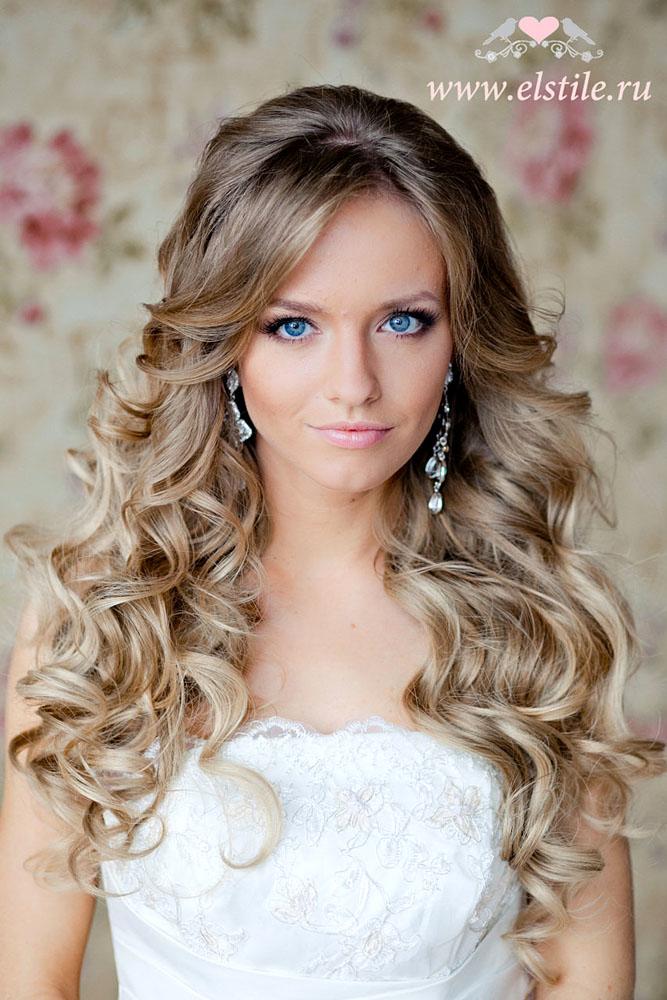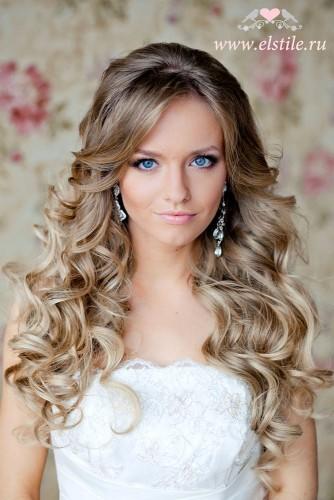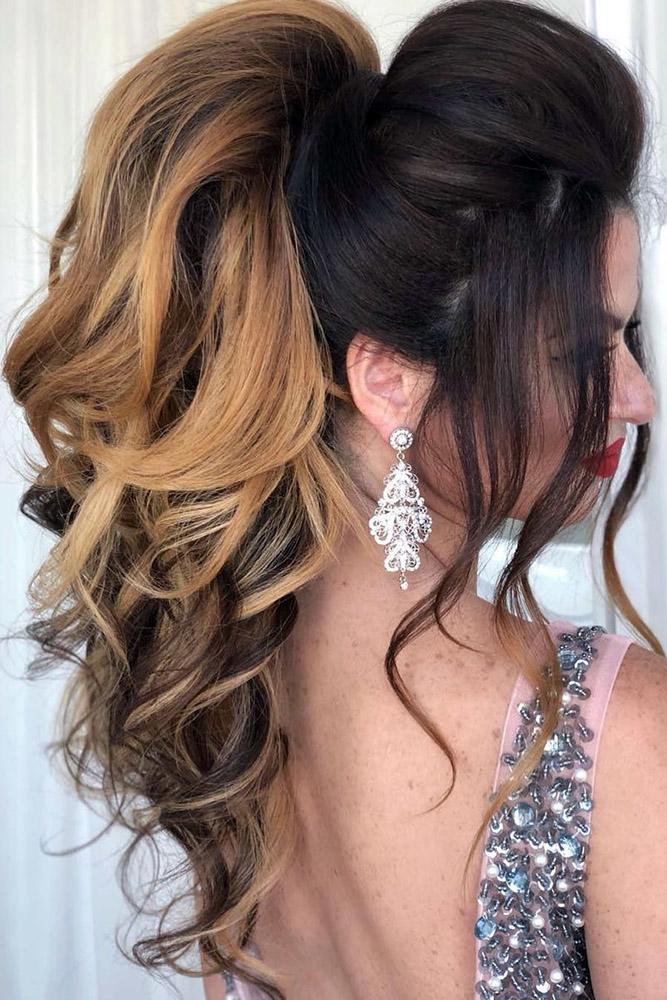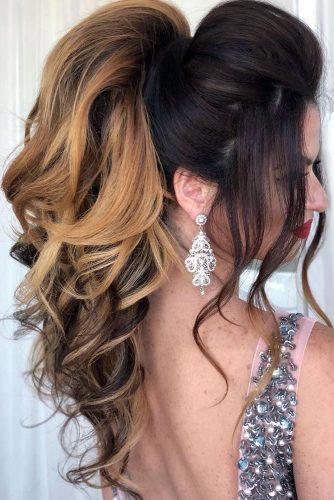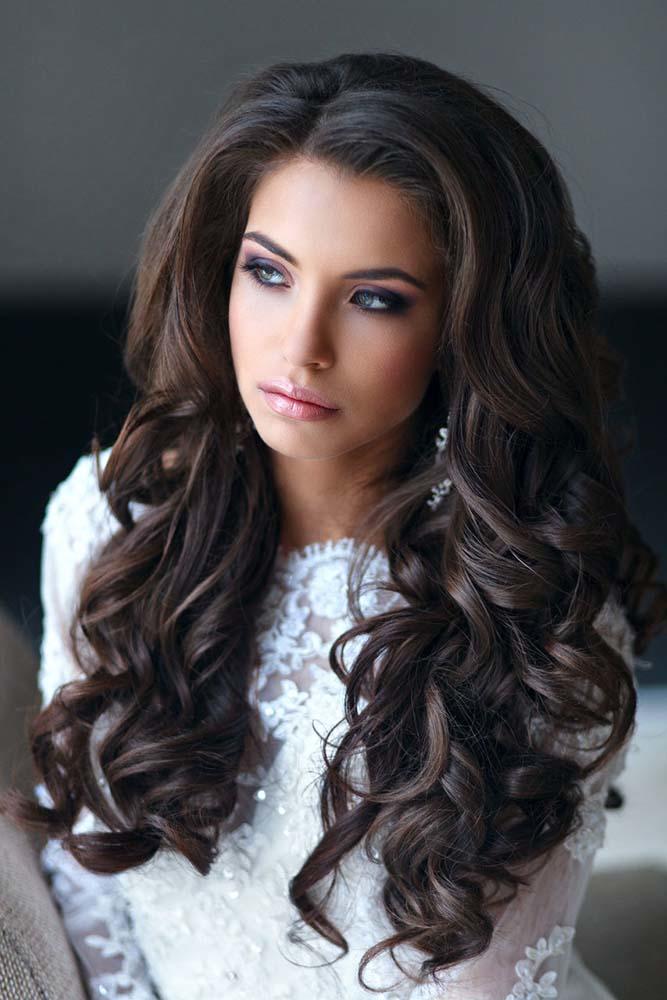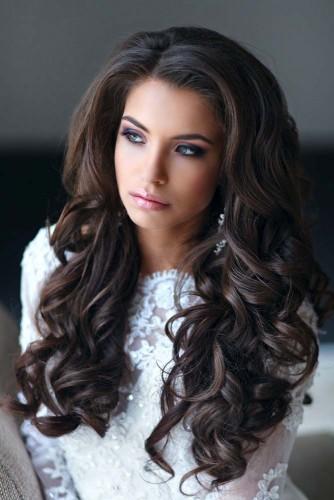 Balance off the simplicity of the hairstyle with some trendy accessories. We recommend either tiaras or clasps.
If your hair is long enough, invest some time into curling to make it full and billowing. You want it to strut along with you down the aisle.
Long hairstyles for wedding parties deserve matching accessories. Just make sure that your bridesmaids have a simpler version of what you're wearing so they don't compete.
Wedding Hairstyles With Extensions
If you haven't planned ahead long enough to take advantage of these tips for growing beautiful wedding day hair, you're going to have to consider working with extensions. Brides with short hair can easily achieve any of the wedding hairstyles mentioned above. It's easy with extensions! This is the perfect solution for the bride that prefers her day-to-day look in short curls or above the shoulder locks but wants that elaborate fishtail braid or other ultra-long wedding day hairstyle on her big day.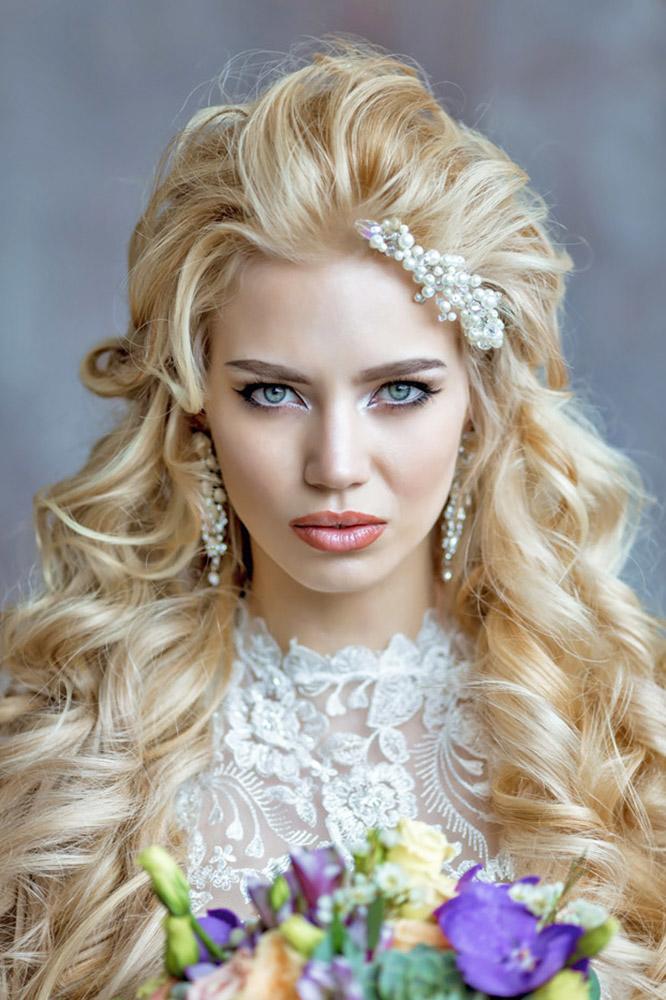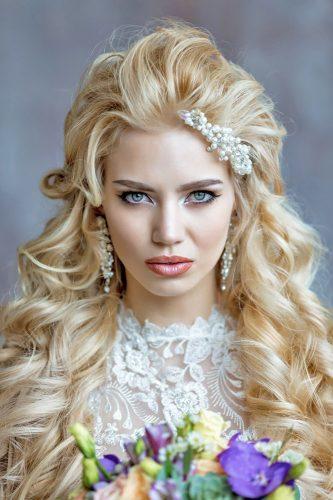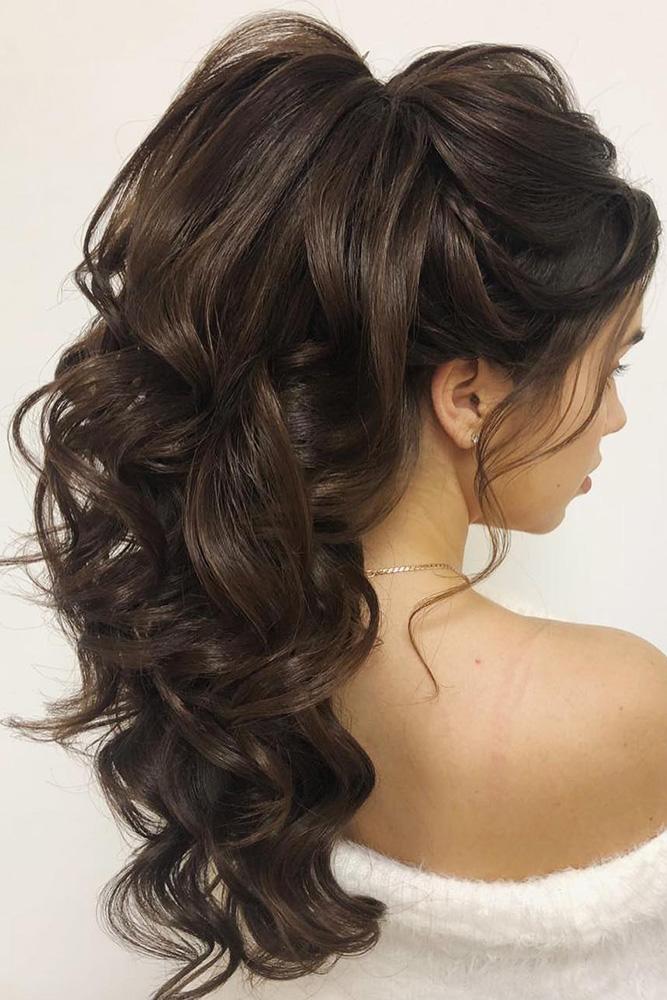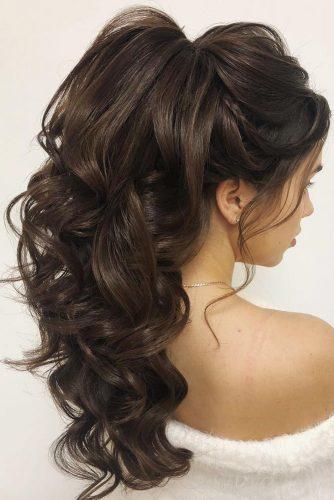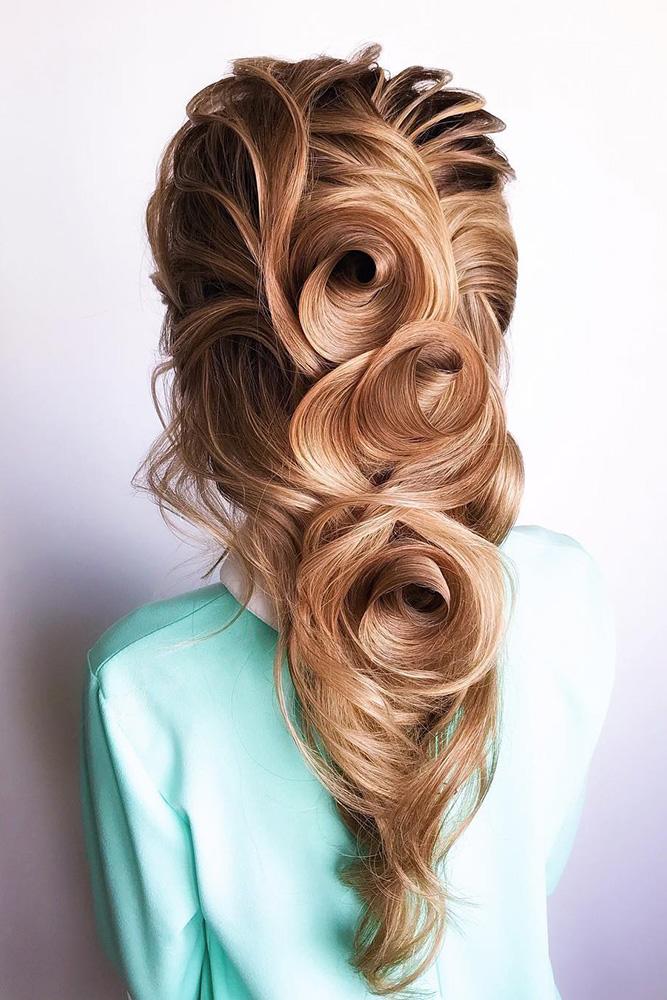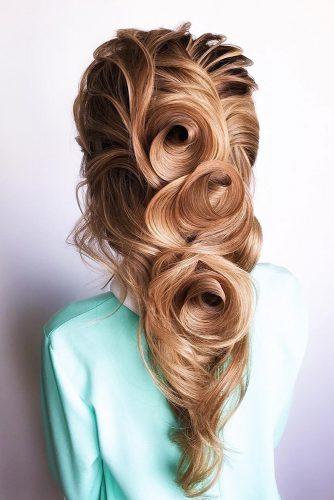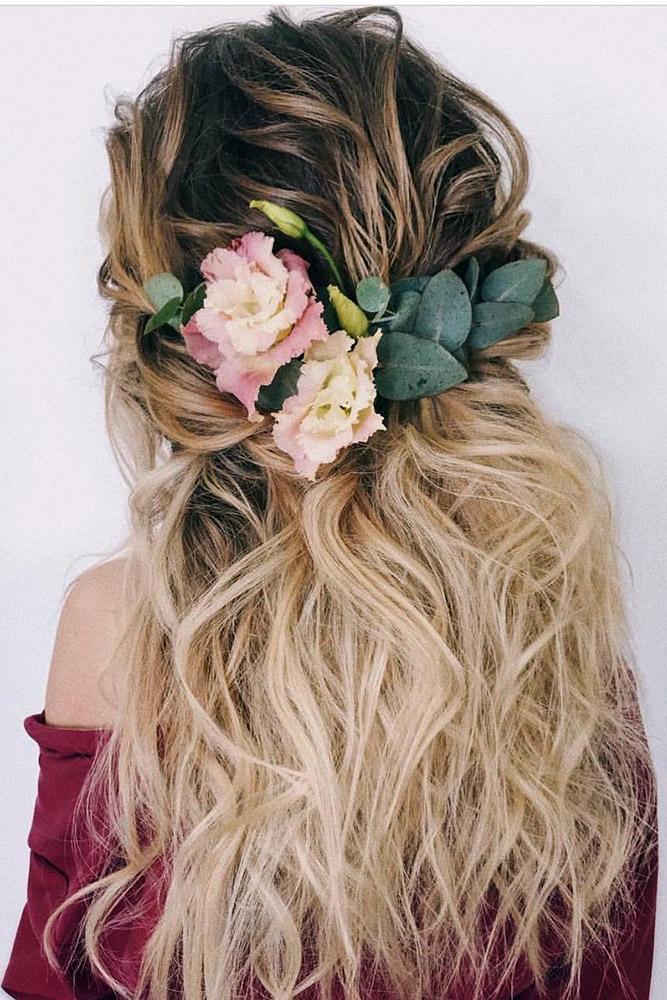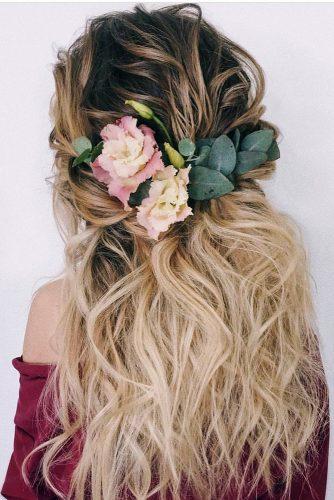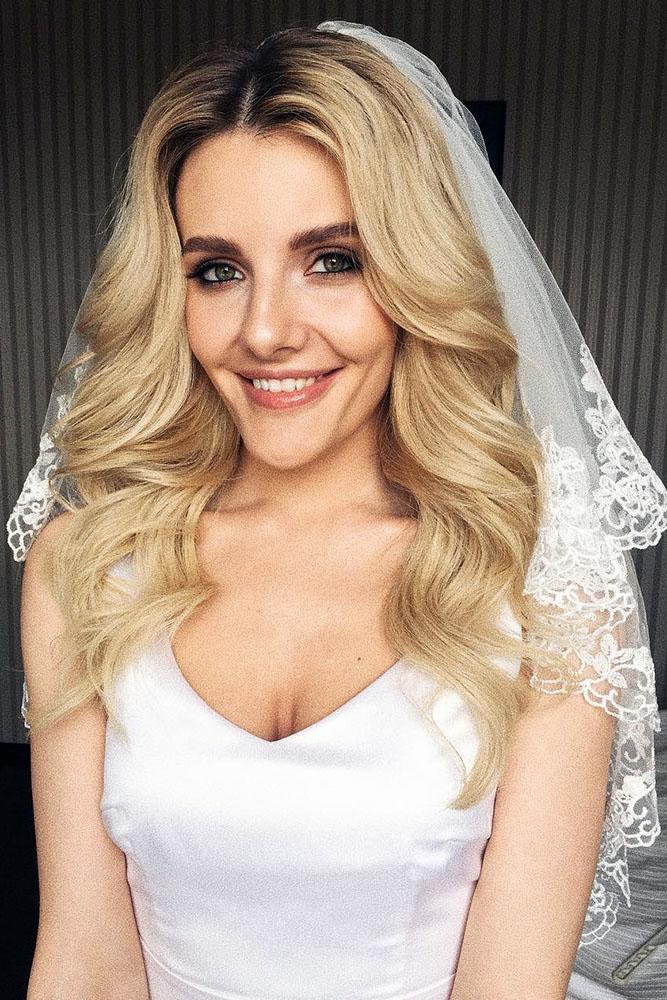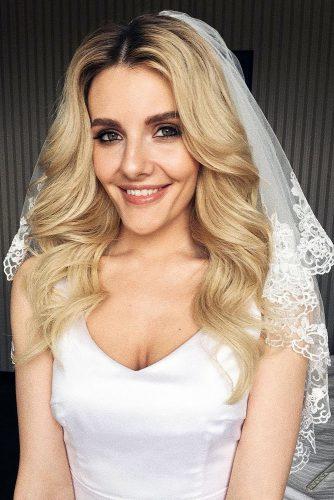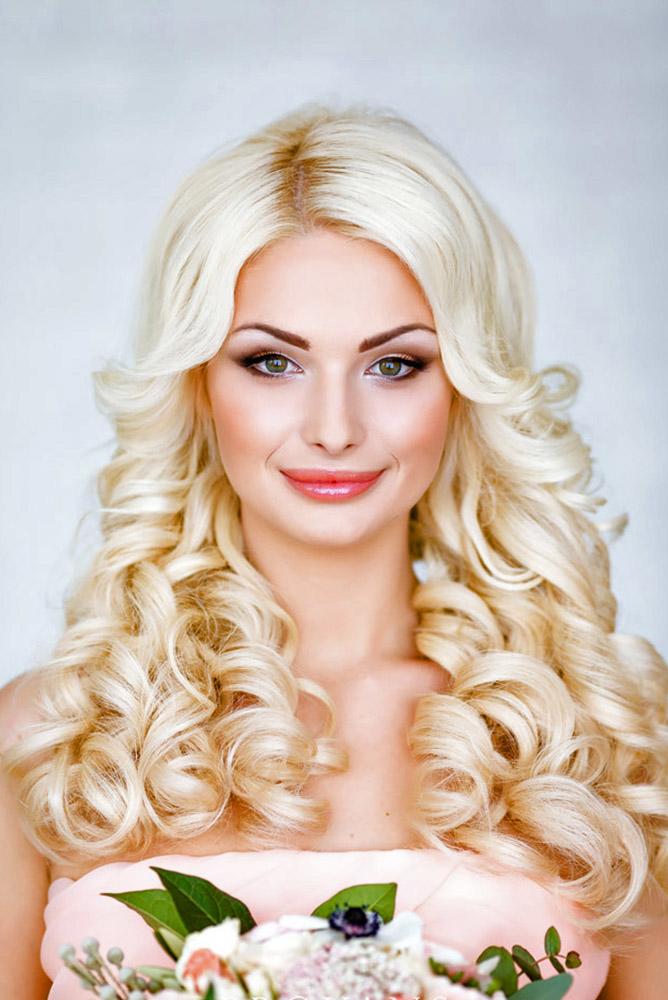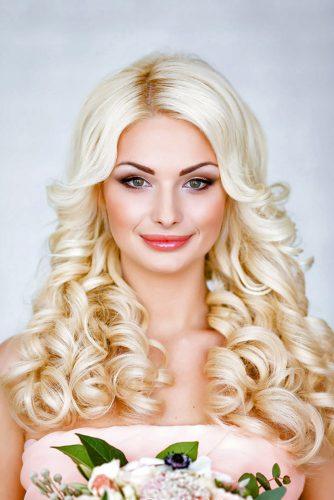 Consider using extensions even if you have long hair, it's a great way to add volume.
Give yourself at least 3x more time with your hairstylist. Using hair extensions is a tedious process, and you still have to style it after.
Consider buying your extensions in person rather than online if this is your first time. Extensions have a wide variety of texture, highlights, and lowlights. You want them to blend in well with your hair.
Easy Wedding Hairstyles For Long Hair – A Simple Bun
The classic bun is simple, striking, and elegant! Match a sophisticated bun with contemporary or vintage accessories for a traditional wedding theme and classic princess gown. A jeweled barrette or shimmering tiara works best.
Or, mix it up with a messy bun for rustic weddings or add a sweet braid for the perfect bohemian look.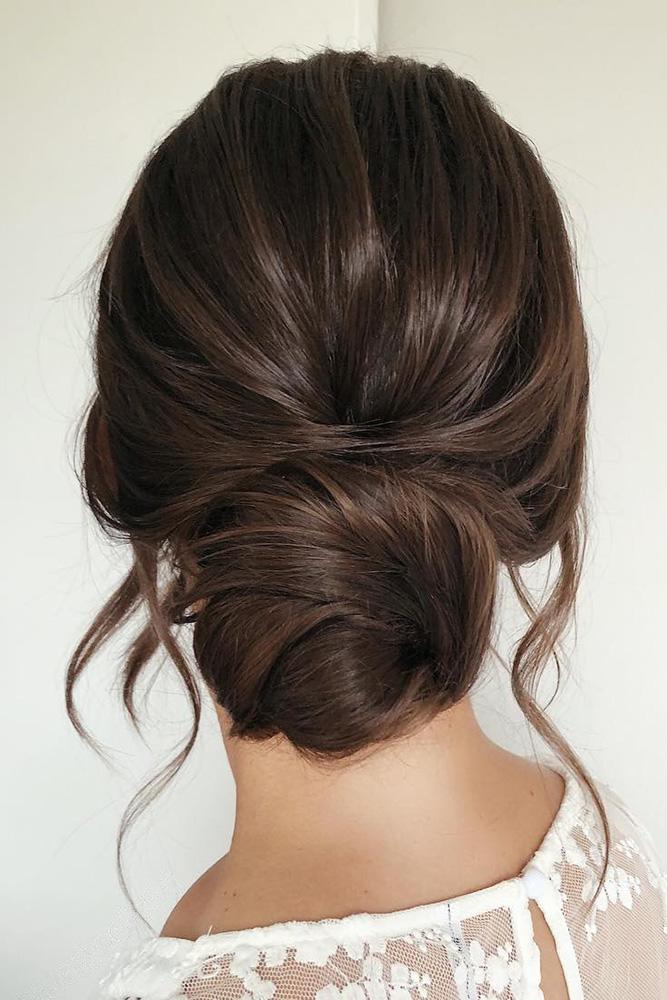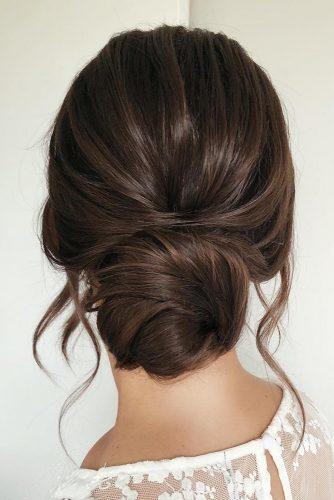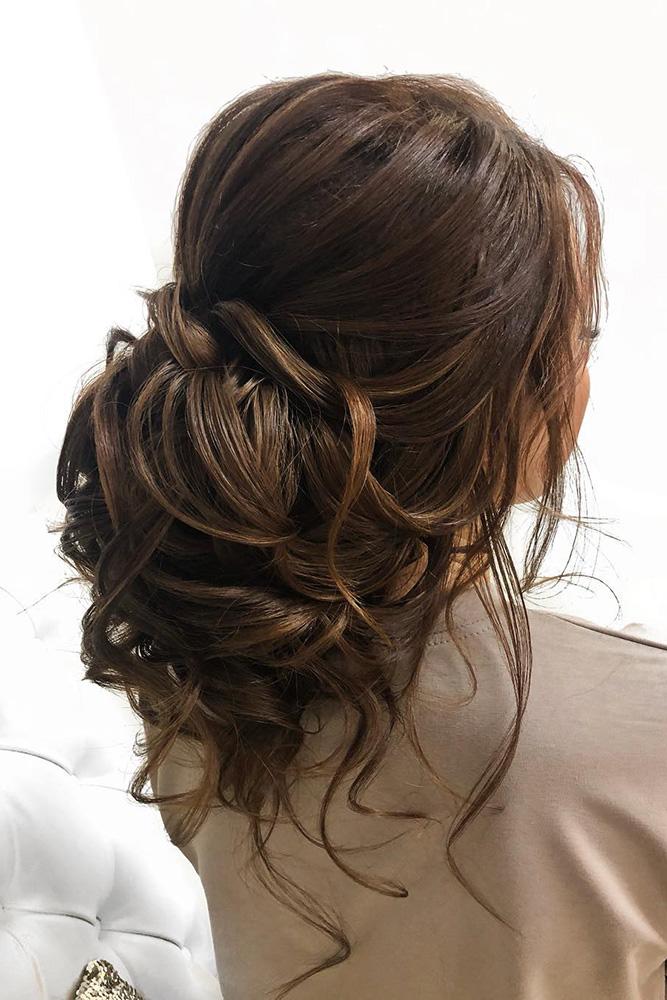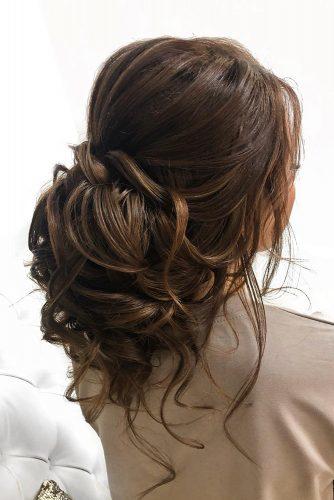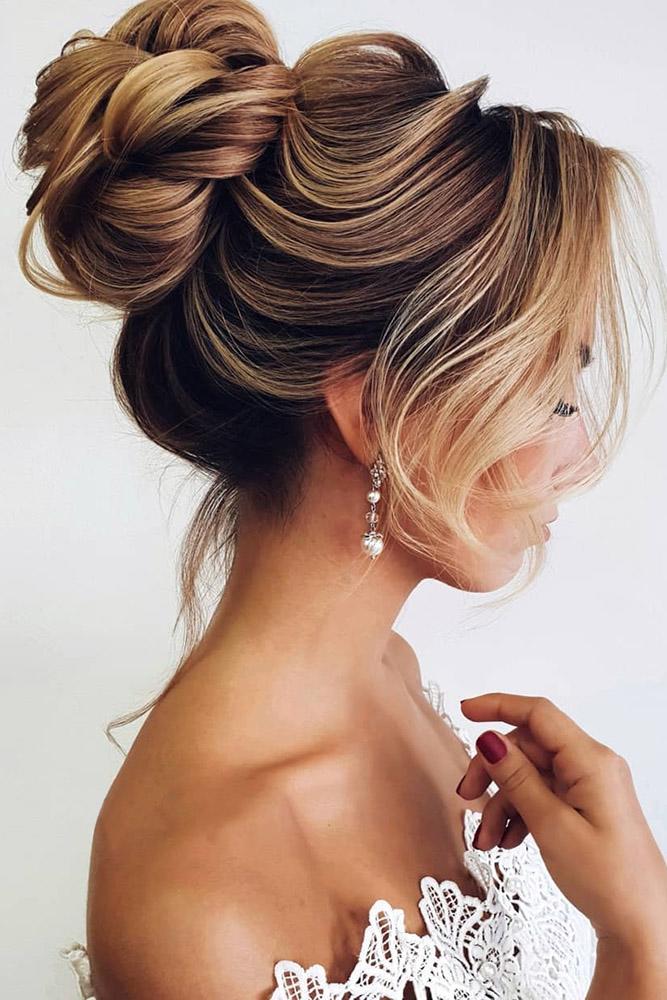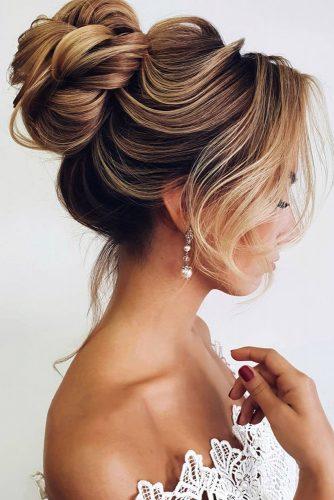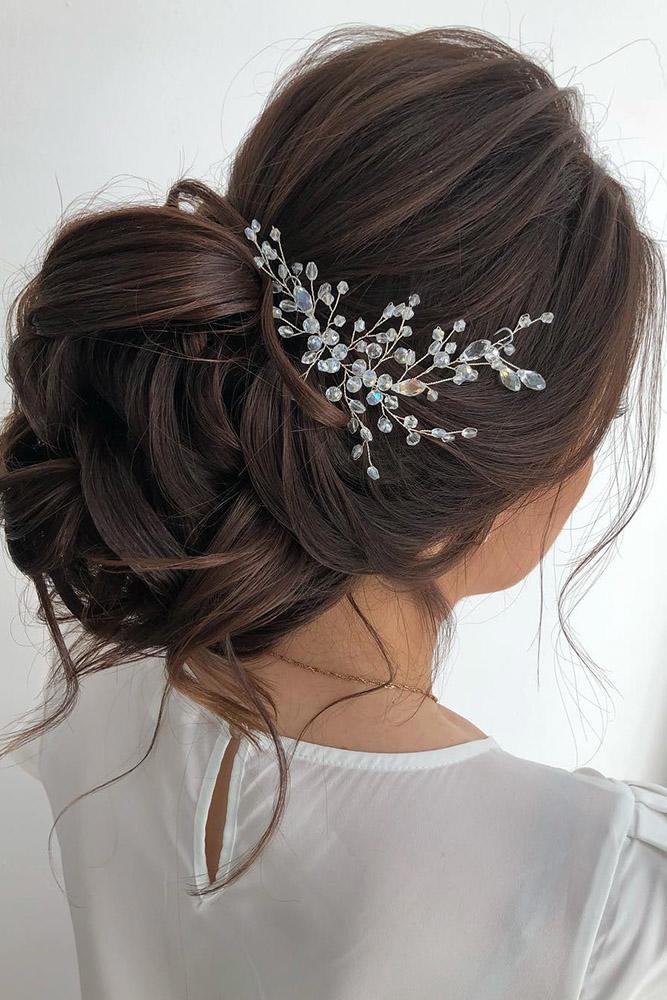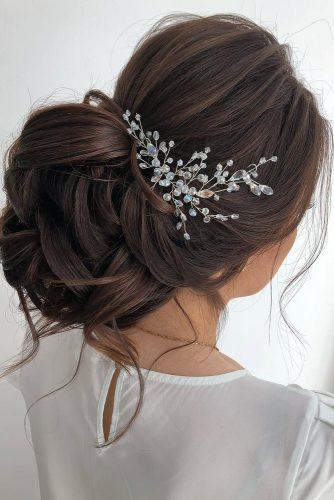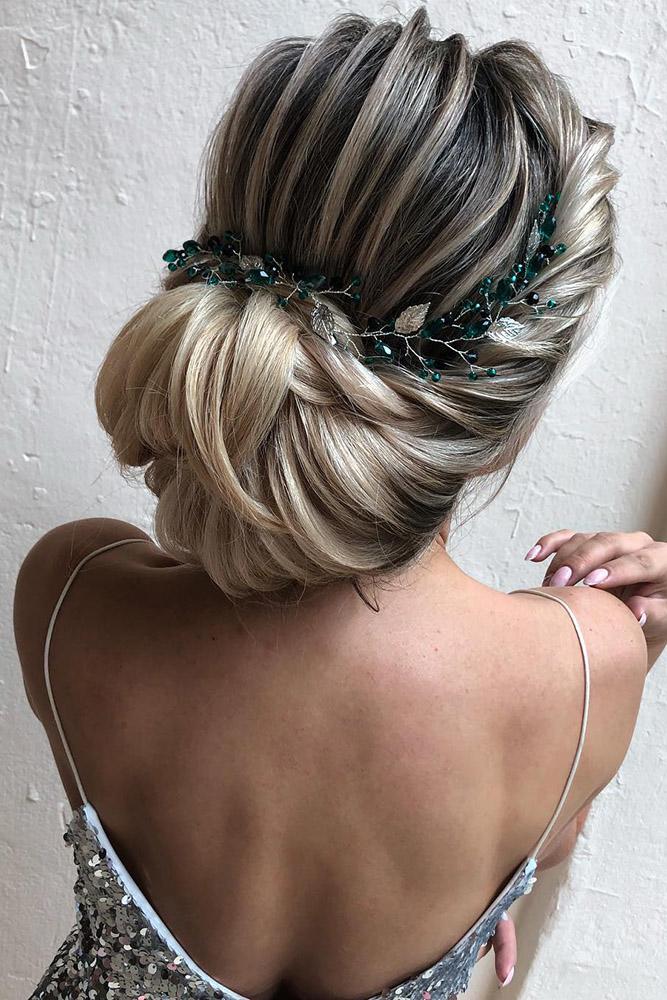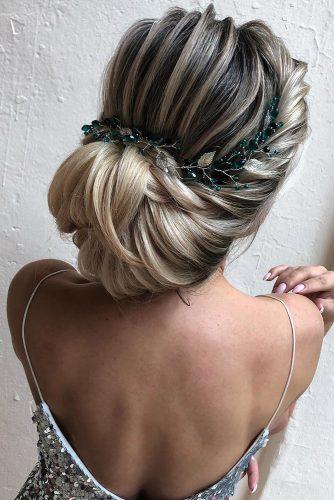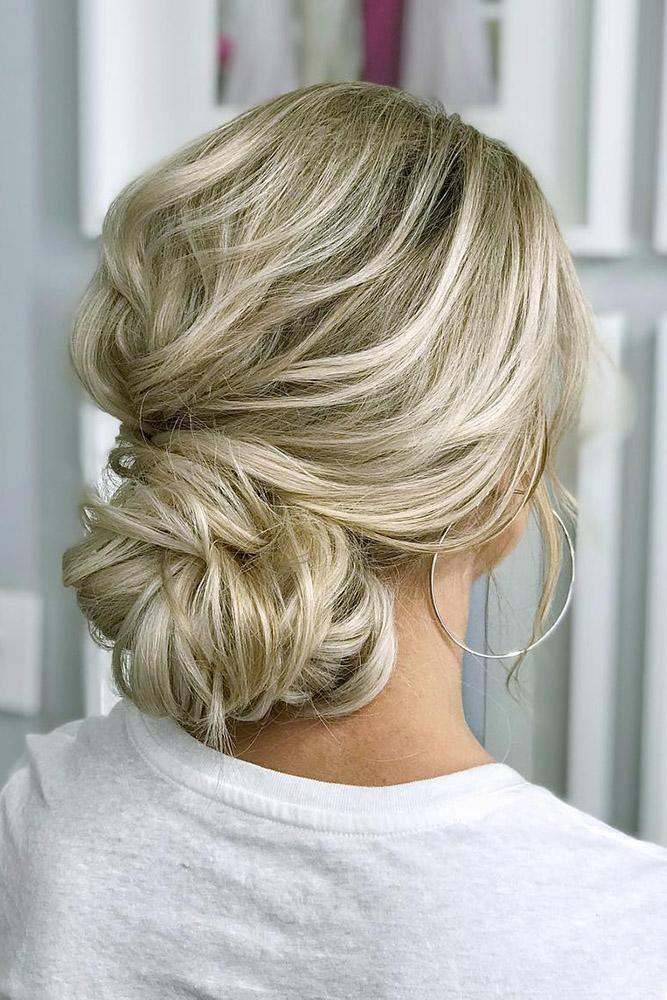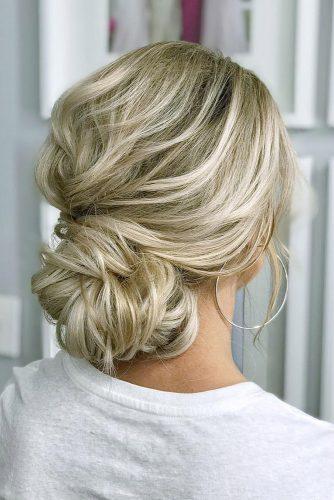 Pair this look with long, flowing fabrics. They look fantastic together!
Put some extra effort into your earrings and necklace. Lifted hair exposes your neck, ears, and shoulder. Take advantage of the opportunity!
As with a few other styles, a messy bun is very forgiving and ideal for outdoor weddings.
Wedding Updos For Long Hair
Wedding updos for long hair have been very popular for a long time, and for good reason. Again, we're encouraging you to use extensions if you don't naturally have the length. Long haired updos are loved for being bold and adding volume.
Brides with thin hair should strongly consider this option for that exact reason. Your hairstylist will be your best friends with some clever use of extensions or hair forms that will completely transform your look.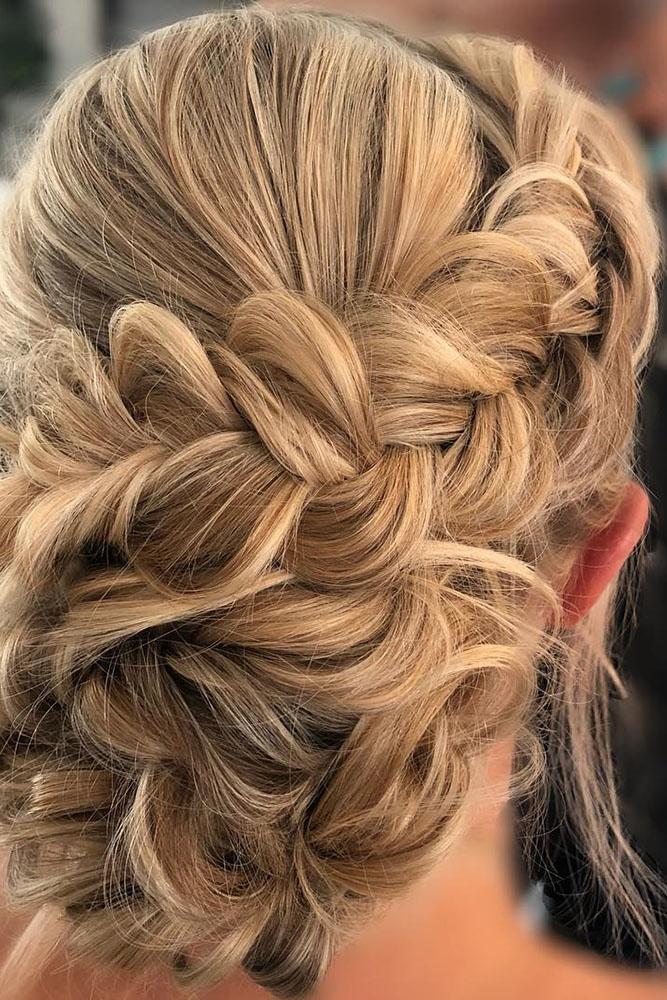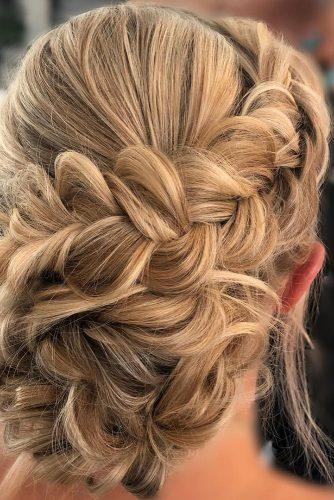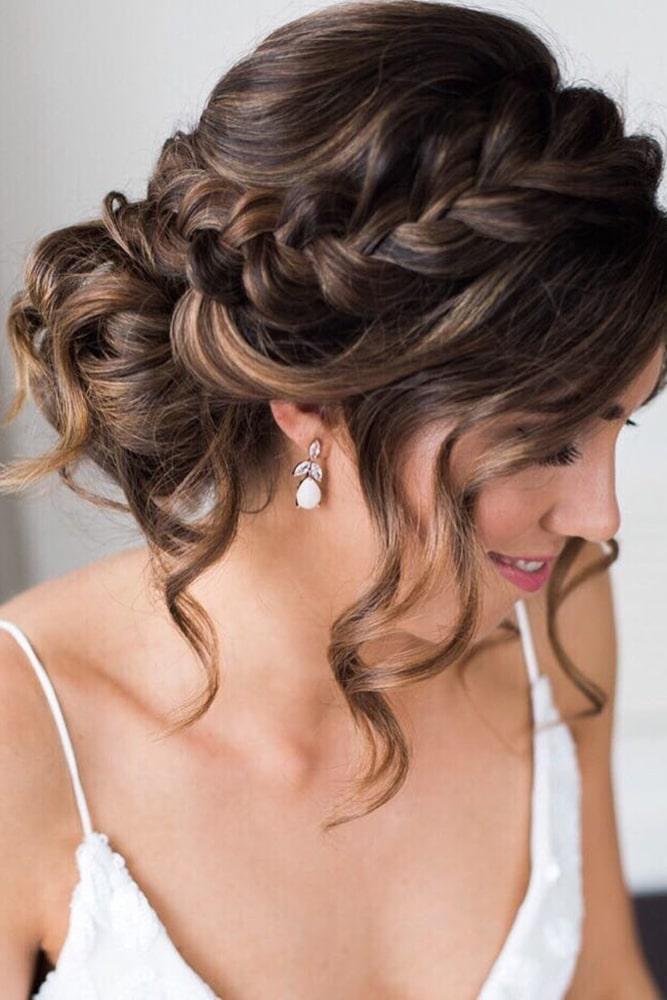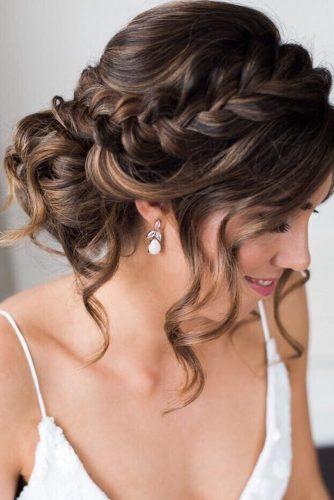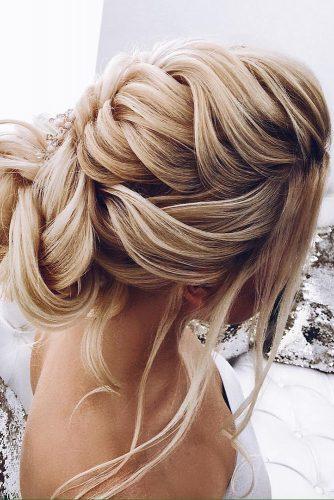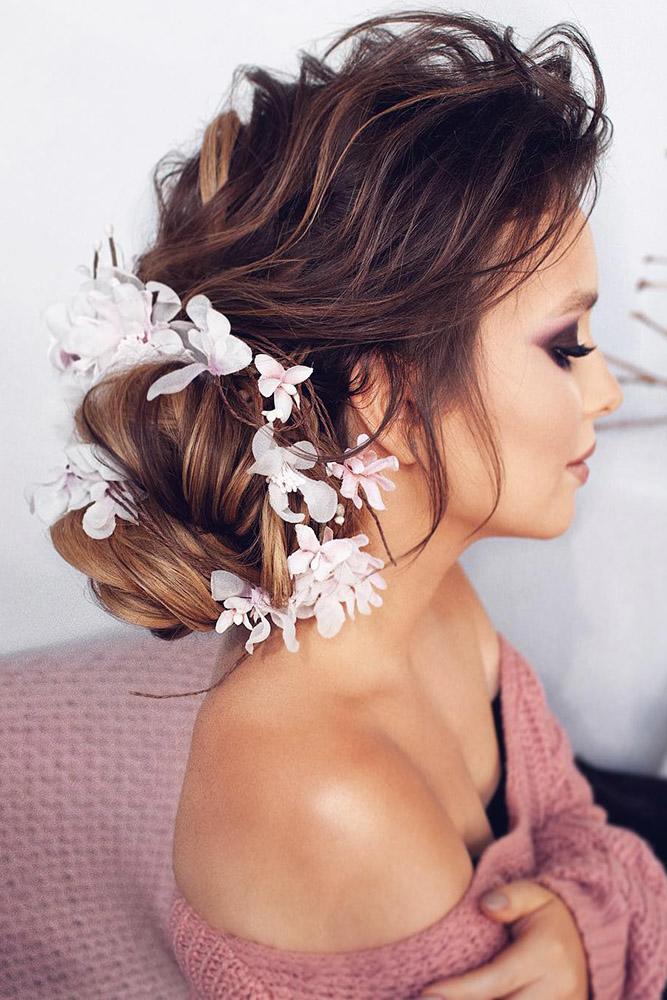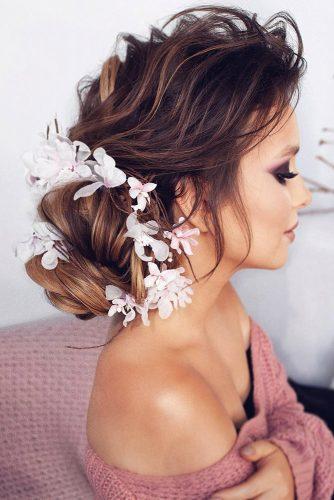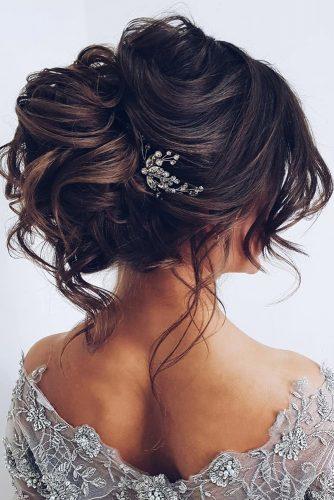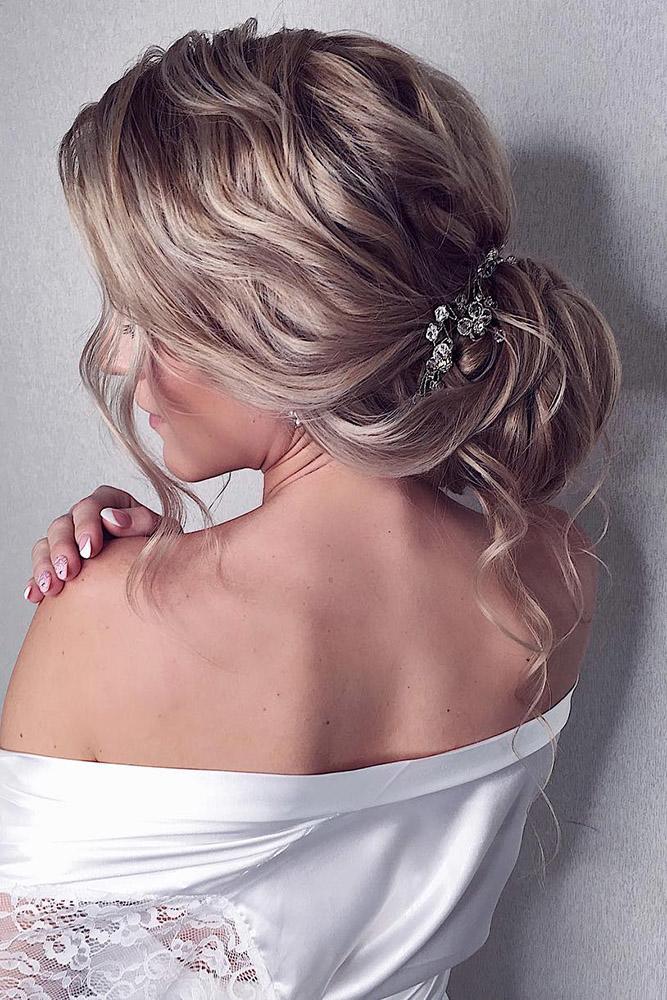 Updos are very personal. Make sure to schedule a trial well before the big day. This give you a chance to figure out what you do and don't like.
Consider a hairdo wardrobe change after the ceremony. An update can (sometimes) easily convert into a fun half up, half down do.
If there's a chance it'll be windy, avoid loose curls! These will fall apart pretty quickly.
Popular Wedding Hairstyles For Long Straight Hair – High Ponytail
A high ponytail can be the perfect choice for a wedding day hairdo if you do it right. Long, straight hair that falls softly on the bride's shoulders has a particular way of enhancing the delicate details of your wedding dress fabric.
This style is most recommended for younger brides, or brides who are after a youthful look. It's fresh, it's vibrant, and it goes really well with almost any veil style. The high ponytail works well at countering a form-fitting gown and equally well at seamlessly tapering into a textured, flowing gown.
Even the most simple of ponytails can dazzle with a few enhancements. Use an intricate weave or knot instead of an elastic. Or, use an insanely stylish pin or clip to keep your locks held in place.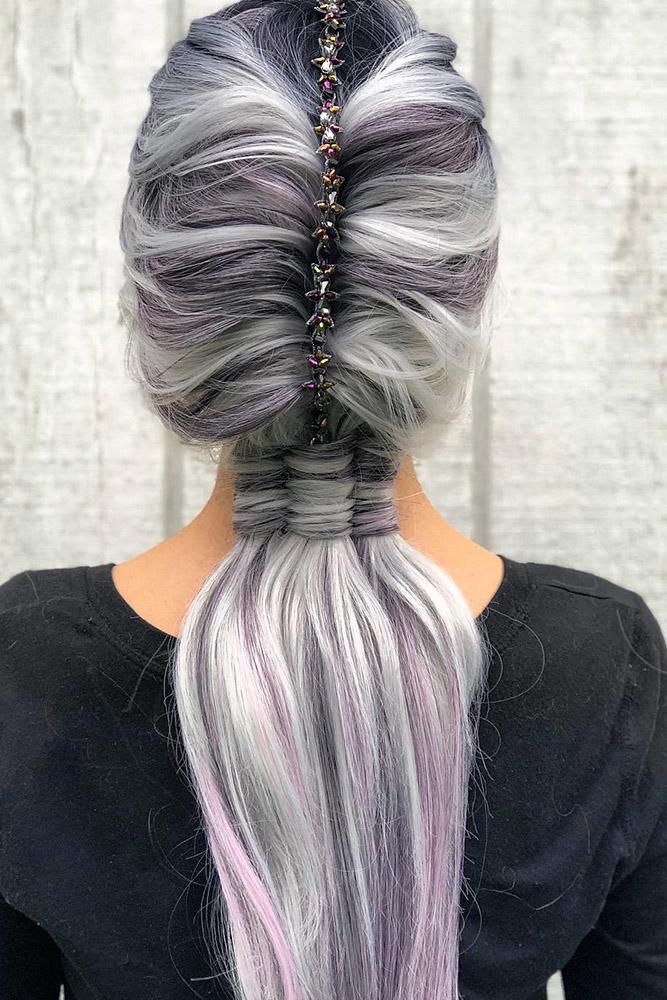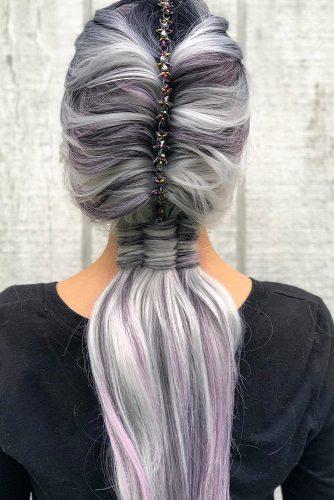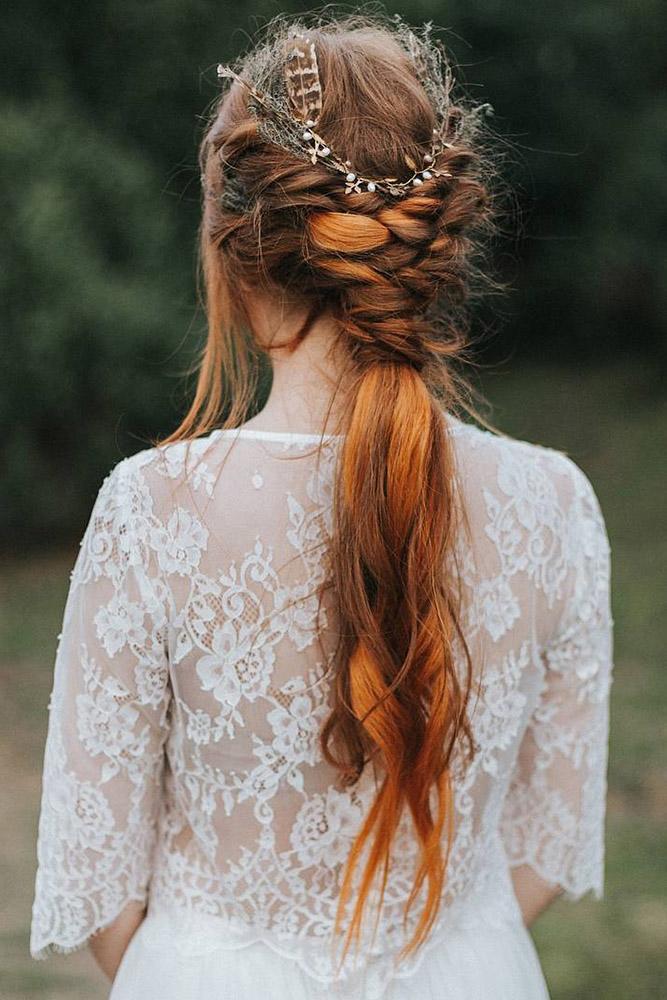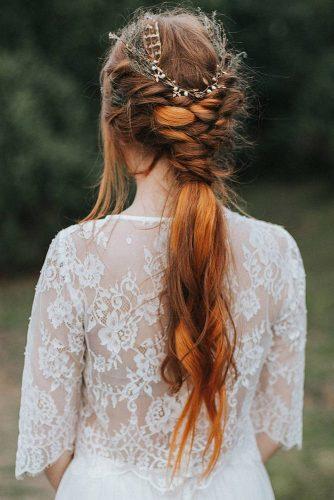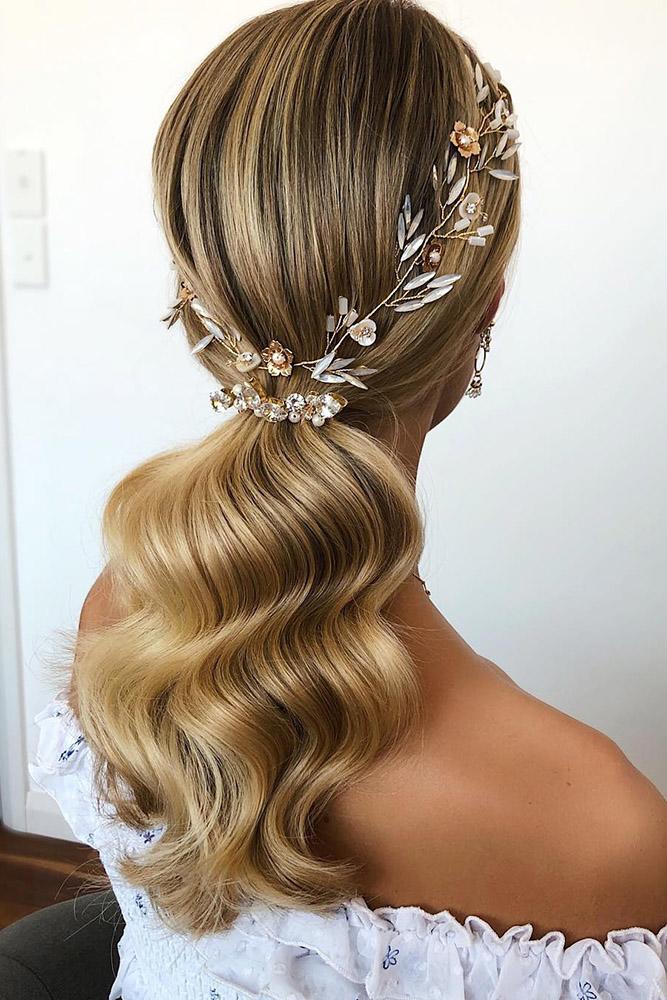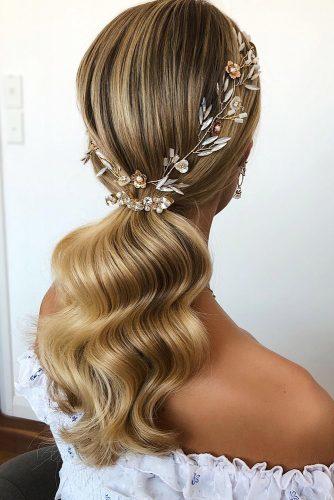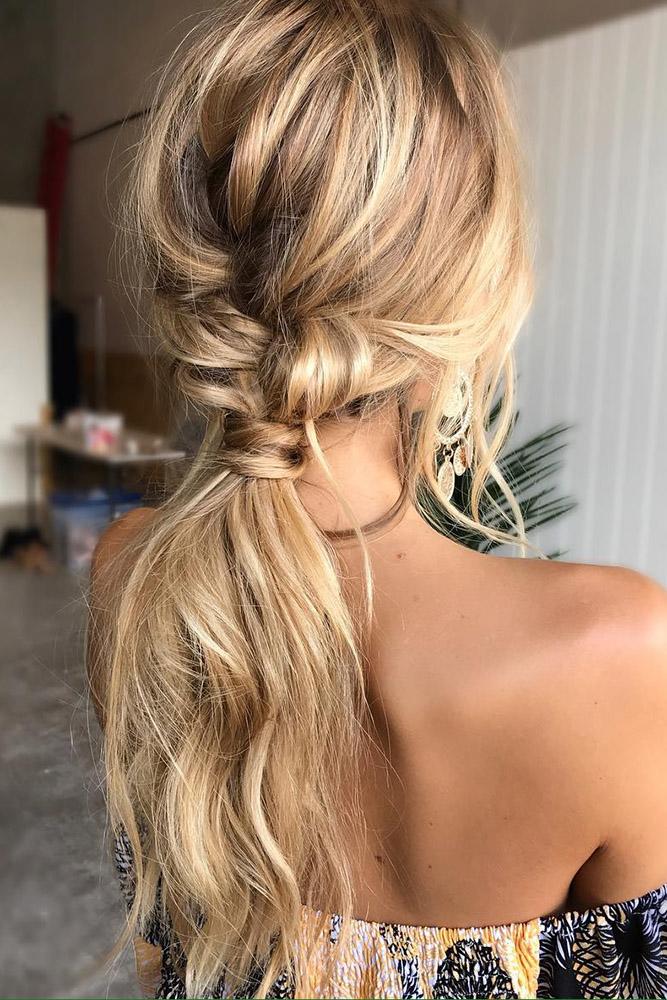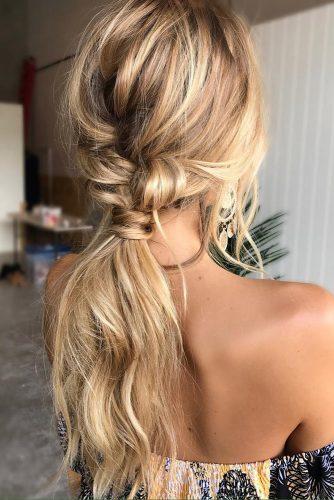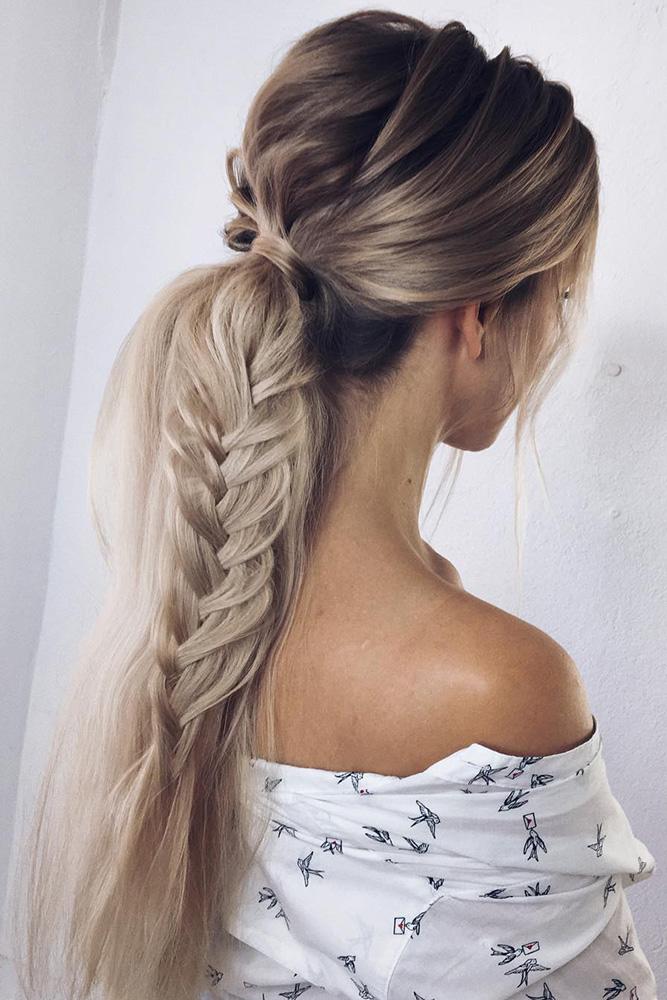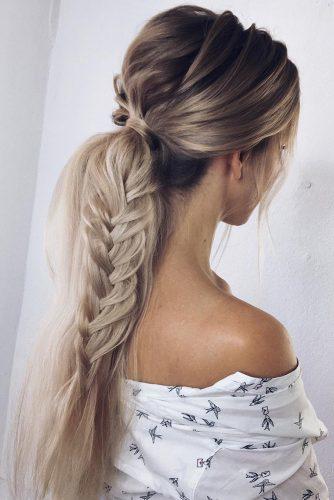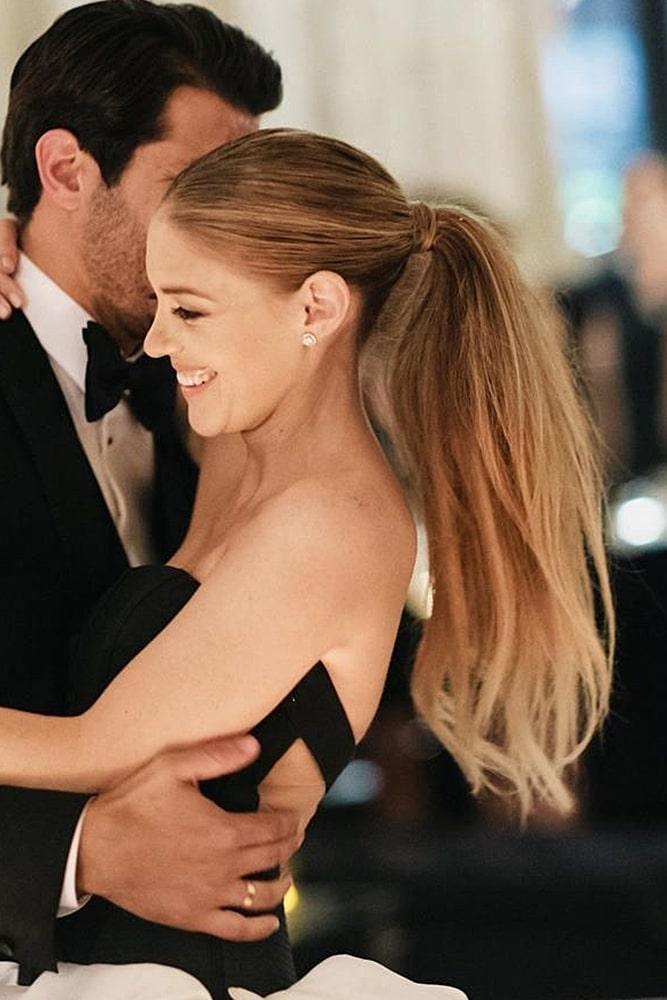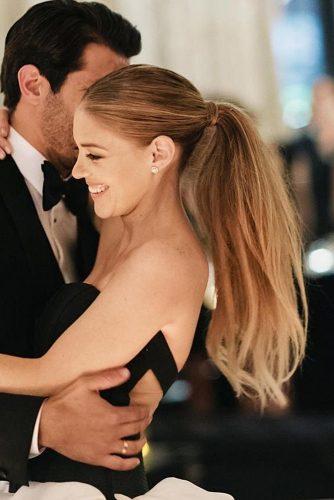 Ponytails are pretty basic. Make sure to go a little overboard with your accessories to dress up the overall look.
For the same reason, consider adding a few braids or weaves to give your bridal pony a little kick.
Choose a strategic strand and let it fall loose for a soft feminine look.
A Long Wavy Ponytail In Romantic Style
A lot of modern wedding gowns work well with long wavy ponytails. Take a queue from today's top fashion designers by blending your look. A neat, slicked-back front provides an elegant and traditional charm. While the juxtaposed ponytail can be messy, textured, and full of volume.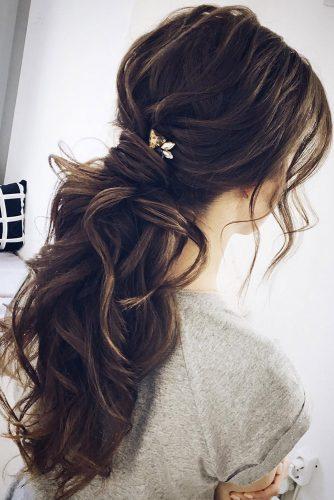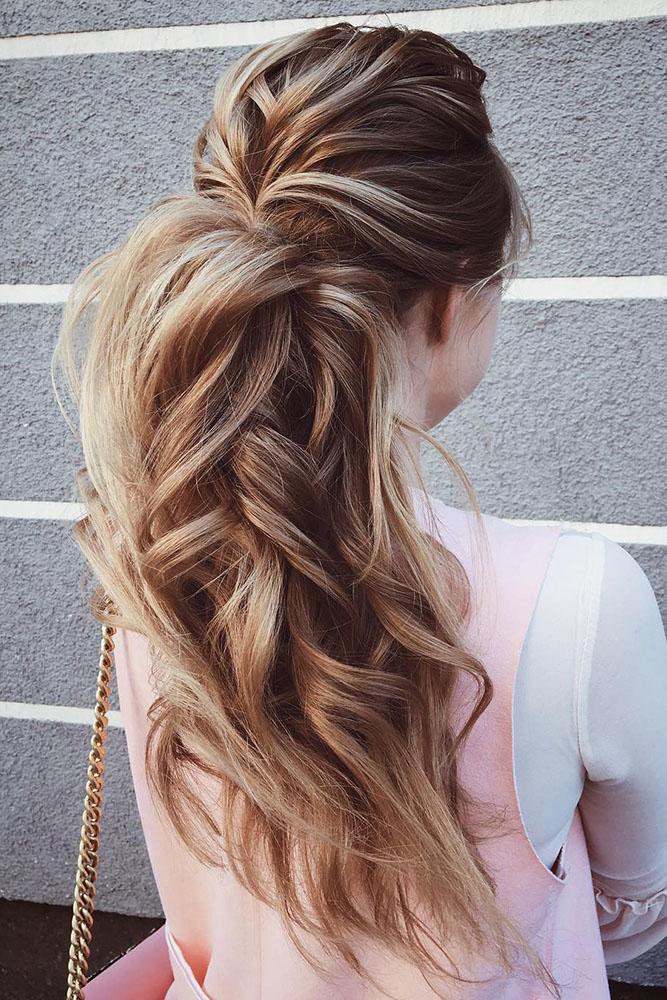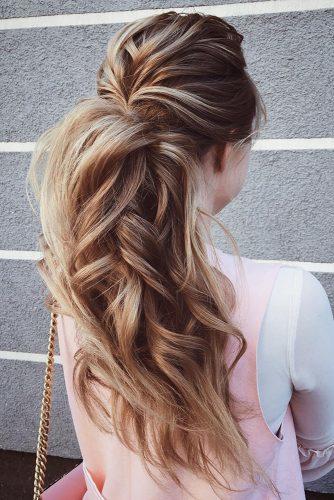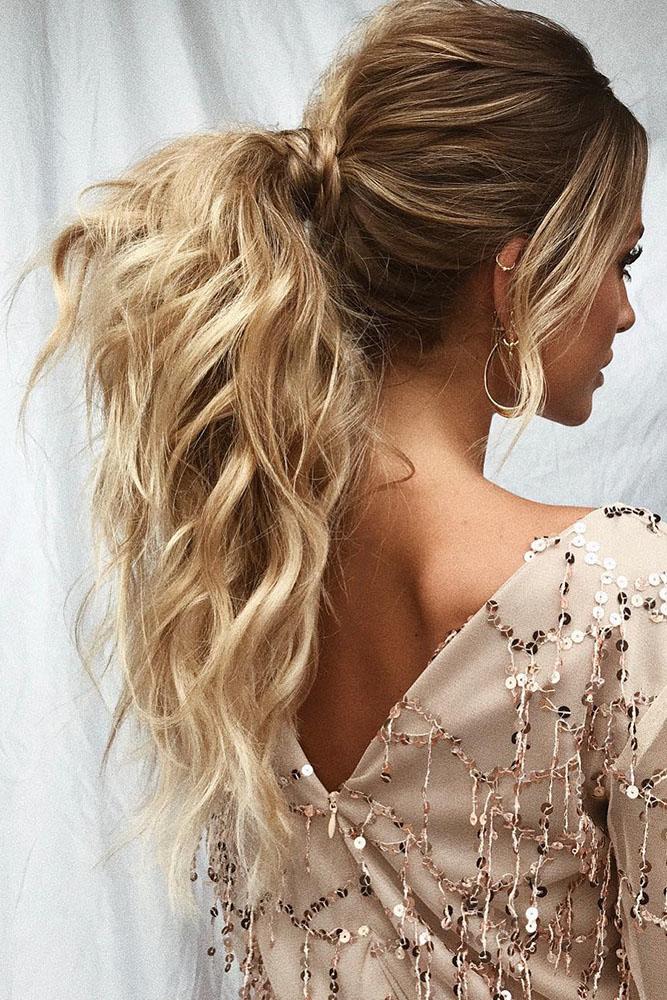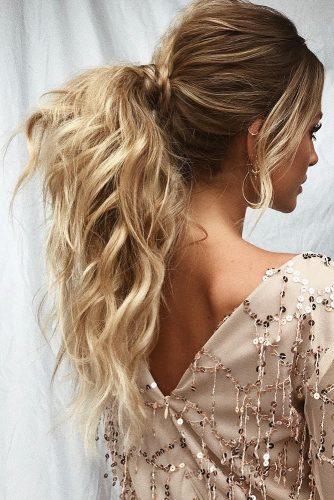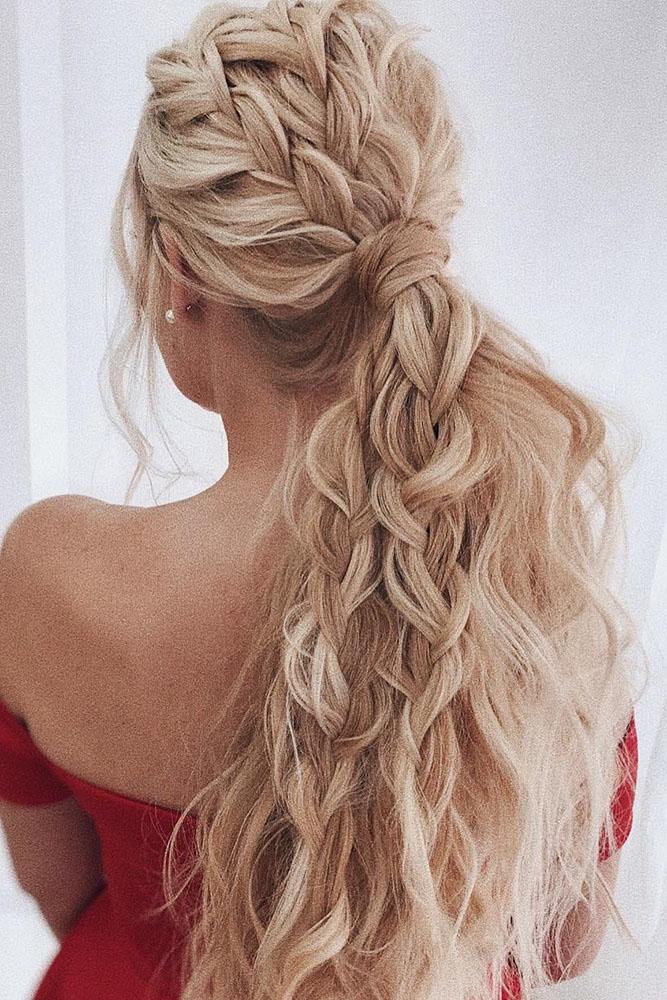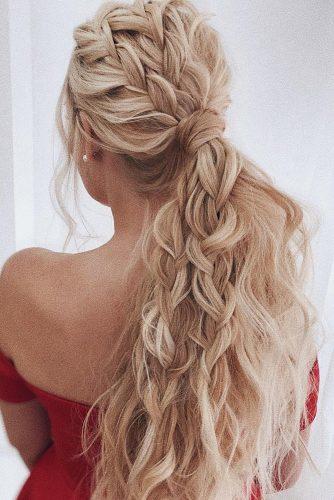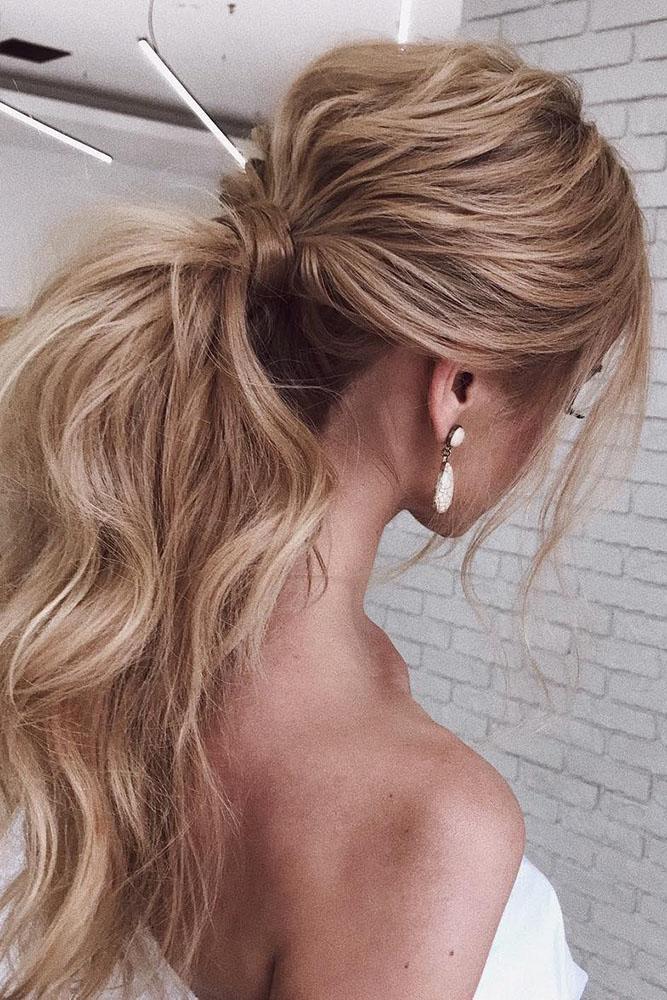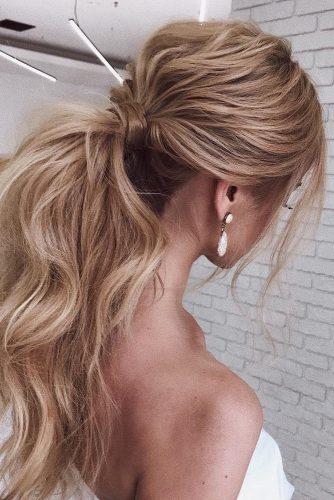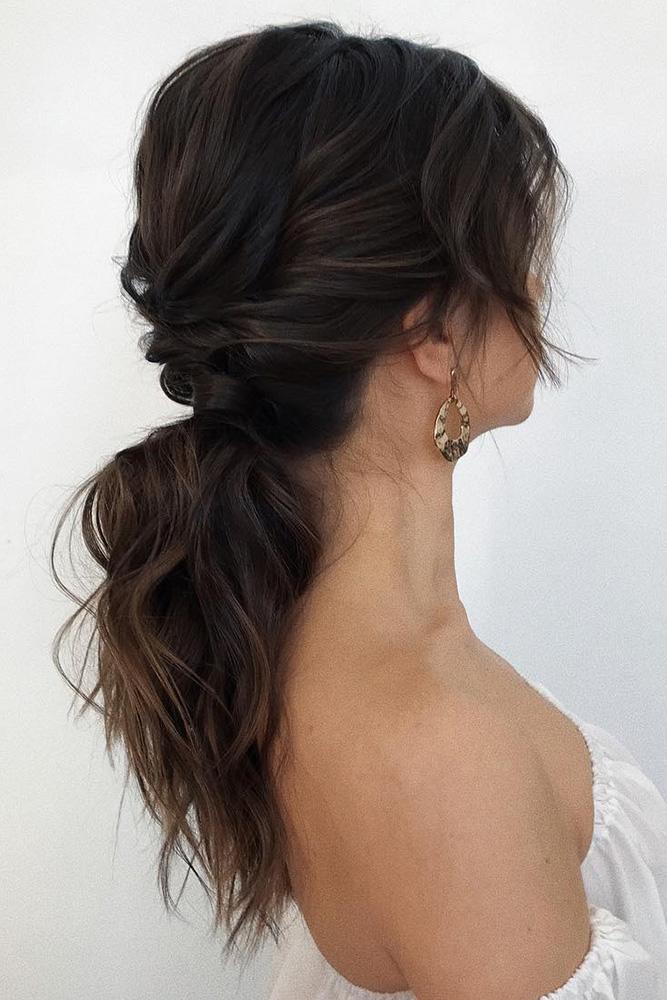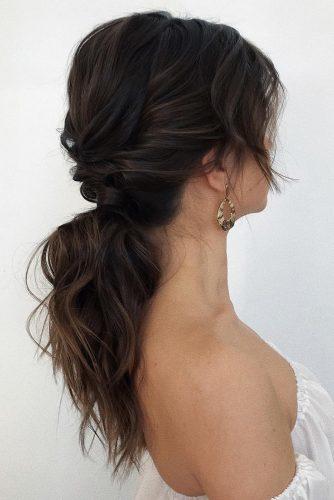 This is a very modern look. Steer clear of this style if your theme is ultra-traditional.
Mashup your favorite styles to create a unique look of your own.
Don't make the mistake of thinking your hairstyle will take no time at all. This isn't your run of the mill "going to the gym" pony and needs proper attention to make it glamorous
Conclusion
We hope you're a little bit closer to choosing the perfect hairstyle for your perfect day. And, we hope you left yourself enough time to experiment.
Remember, the gorgeous wedding day hairstyles your picking out from photos may not look the same with your frame, theme, or gown.
Always make sure to explain to your stylist WHY you love a particular look. When he/she understands the spirit of what you're after, results are always better. Your stylist should have a very clear understanding of what you're working with.
If you can't bring fabric samples, your accessories of choice, and other critical design elements, at least bring a picture.
Most of all, have fun!
Plan a trial day out with your maids of honor and hit the town. An afternoon or evening out will give you the chance to feel it out and will give your besties tons of time for some very valuable feedback.