Wedding hairstyles for long hair have many different cutting-edge trendsetting concepts. These stunning, charming and enchanting, extra-long hairstyles for brides of today offer chic glamour and allure to any wedding style. Whether you choose braids, curls, a chignon, a full fishtail or long, flowing, lustrous locks for your special day, you will glow with glorious fashion and flair.
With a sleek, sophisticated hairstyle or a more creative half up, half down style, you will captivate the attention and attract the admiration of all your loved ones and wedding guests on your very special and highly fashionable day. Asymmetrical long hairstyles and wedding updos for long hair are also popular choices for many fabulous new styles in today's bridal fashions. Another popular hair fashion statement for brides is the pin up hairstyles for long hair, which can be asdainty as wedding hairstyles for a long hair with a veil.
There is quite a bit of information that you will find in the article below. Look no further for wedding hairdos for long hair, chignons, waterfall braids, classic half-up, half-down styles, fishtails, flower crowns, buns, updos and ponytails, hairstyle options for curly or wavy hair, traditional or free-spirited brides – basically, anything you can imagine.
Follow our guide, and you will certainly be rewarded with the most magical look on your wedding day.
How To Do Wedding Hairstyles For Long Hair
Your wedding hairstyle for long hair should enhance the beauty and luxury of your long, silky tresses. At the same time, be smart to choose a style that complements and celebrates the flawless beauty, fashion and fit of your gown and accessories.
Very Classy Wedding Chignons
This classic style with long hair pulled sleekly back from the bride's face can form a nice style in many ways at the nape of the neck. From the traditional classic bun to elaborate, modern creative versions. This variety of extra-long hairstyles still draws immediate attention. Sophisticated yet youthful, this attractive hair design allows for controlled clusters of vibrant curls or intricately structured hair patterns. Although contained, the strands of long, nice hair shimmers in alliance with a sparkling tiara or glowing crown in this classic mode of elegant long hairstyles.
Even beneath a long, lace-patterned veil, the classy wedding chignons has a prevailing presence and a soft, sensitive charm. Also, with some styles of bridal gowns, brides look the most beautiful with their hair up for weddings. As a bride, your special day will be well celebrated and remembered by all when you choose this type of timeless, easy wedding hairstyles long hair for your wedding.
Work with your favorite hairstylist to perfect this style, trying fashions from classic elegance to modern minimalist. Your hair styling expert can also enlighten you with the latest tips for growing beautiful wedding day hair.
Choose a chignon fashion that best complements your long hair type and facial features, adding a shining tiara or garland of flower buds.
Try various chignon styles to discover the ultimate hairstyle to enhance your wedding gown, whether sleekly pulled back and secured or more free and full.
On Trend Waterfall Braids For Long Hair
The refreshing trend of waterfall braids is a popular style well-suited to long hair. This hairstyle is ideal for any bride who is currently growing longer hair. Especially when using hair extensions, waterfall braids are an excellent choice of hair fashions for wedding days. In particular, when you braid wedding hair, this magical style is very romantic and one can get creative to enhance the wedding gowns of many different types.
With a more traditional style flowing gowns with ornate brocade or embroidered decoration, these fanciful braids give a youthful, appealing charm. When paired with a more contemporary gown of close-fitting or smooth-draped silk, these waterfall braids lend a dream-like air of mystical joy and attraction to the bride's overall enchanting appeal.
For an attractive variation on the waterfall braid, try a waterfall twist for some wistful, playful ambiance.
Try adding curls to your waterfall braid for added volume, movement and shine.
By cascading braids over your long hair, you will achieve a creative ebb and flow of smooth and artfully textured tresses.

Timeless & Popular Wedding Hairstyles For Long Hair – Half Up Half Down
One attractive way to display and emphasize on a gorgeous long locks is with a half up, half down wedding hairstyle. There are many ways of creating, showcasing and revising these modes of hair fashions to make them the perfect bride hairstyles for long hair. Because the section of your long tresses that remains down serves as a luxurious, velvety backdrop for the upswept, twisted, braided or skillfully woven strands, it is easy to try many variations of one theme.
In this way, you can compare major changes or simple adjustments to a style mode for wedding hairstyles for long hair half up. You will find it easier to make your final decision for a stunning wedding hairstyle with creative characters and endearing fashion and finesse. Half up, half down styles can create some innovative new fashion statements in asymmetrical long hairstyles.
You can even create a captivating, lustrous crown for your wedding day outfit with the full, shiny half up sections of your full, beautiful locks when you decide on a variety of wedding hairstyles for a long hair half up.
Half up, half down braids are also a very appealing style for your wedding hairdo. These braids are also excellent, steadying anchors for your tiara or veil.
Choosing a series of very small, pretty braids to enhance your choice of wedding hairstyles for long hair half up can lend fresh, youthful beauty to your bridal gown and persona.

Trendy Fishtails & Braids Hairstyles
The use of trendy fishtails and braids for your wedding day hairstyle leaves plenty of room for fashion freedom and inventive styling. The disarming and utterly charming looseness and even unruly quality of this type of hairdo makes it a knockuot. As the beautiful bride, you will look stunning and chic from afternoon or early evening (depending on the hour of your wedding) until dawn with this free, airy hairstyle. Of course, there are countless designs, with more created every day.
With this carefree hair design on your wedding day, you will have no worries about getting caught in a blustery weather on your way to your very special event. You will look forever gorgeous and radiant, regardless of the weather or the time of the day or night. With similar hairstyles for your bridesmaids, your wedding party will attract much attention and admiration from everyone. Your special choice of easy wedding hairstyles long hair will be the crowning glory for you and your bridesmaids on your wedding day.
A single, full fishtail with braids down your back on your wedding day might be the perfect style to embellish your sleek, shimmery gown.
A side-swept fishtail or braid can be ideal for showing off a low-backed wedding gown.
A creative ponytail or playful bun effect above your fluttering, filmy fishtail can be quite charming.

Bride Hairstyles For Long Hair With Flower Crowns
Flower crowns for bridal hairdos when brides have long, beautiful hair can be a lovely addition to any wedding outfit. In fact, an artfully designed crown of flowers can create a wedding style for hair on its own. An elegant floral crown, when added to a stylish chignon, fishtail or braided type of bride hairstyles for long hair can add even more glamour and allure. Even when adorning the free, untamed effects of long, flowing hair, an enchanting crown of flowers can set the fashion for the bride and the entire wedding party.
The amazing natural beauty and soft sensibility that creatively design floral crowns can bring to any wedding setting and ceremony will set the tone for the bride's ultimate wedding day of her dreams. Fragrant, delicate, fresh flowers intertwined in wedding updos for long hair can be the ultimate touch of chic glamour for bridal fashions today.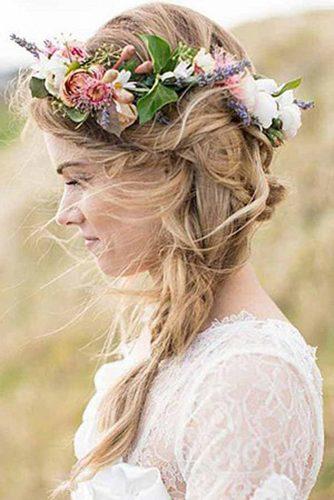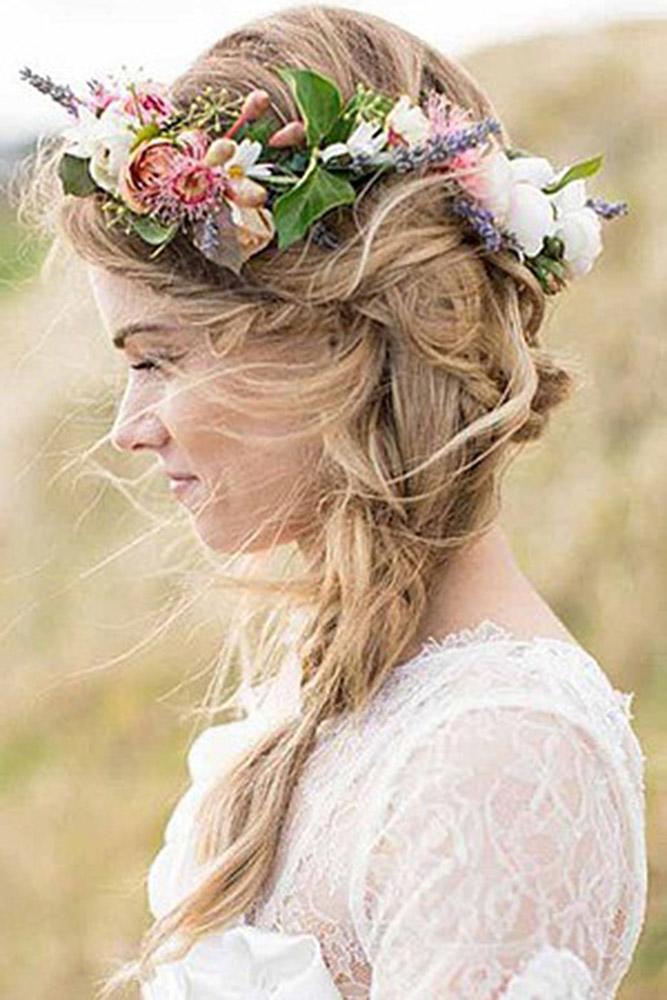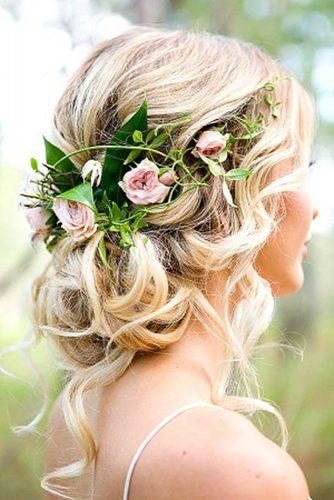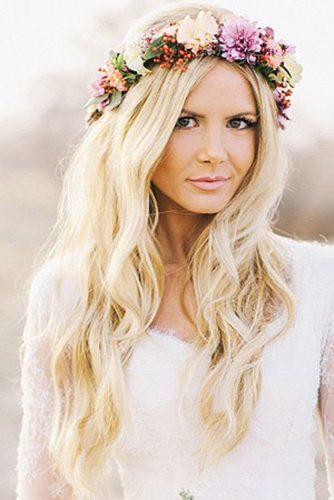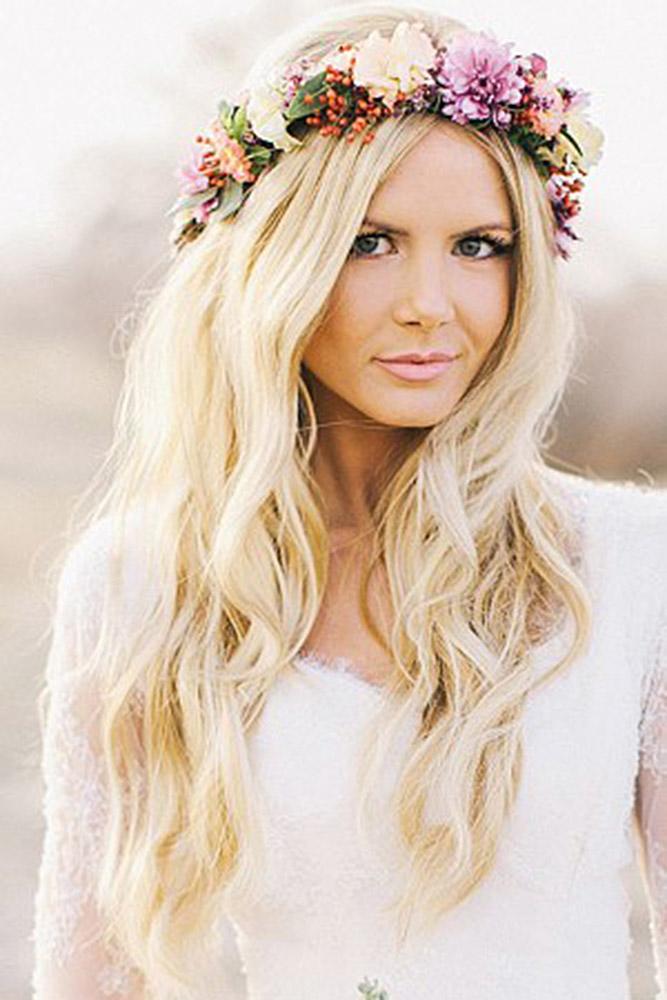 Floral crowns are ideal for embellishing simple, free hairstyles for weddings.
When well-coordinated, the flowers in your bridal bouquet and the blossoms of your floral crown will complement and celebrate one another.
Flower crowns are soft and comfortable to wear for an entire wedding day, and they keep the bride feeling bright and beautiful, although her special day and occasion will do the same.

Soft Waves & Beautiful Curls Bridal Hairstyles
Long, shimmering hair styled with soft, flowing waves and stunning curls is simple and classy for brides. This is also an ideal mode of hairdos if you want a uniform look for you as the bride and your bridesmaids. You can achieve this hairstyle virtually any type of hair. In addition, hair extensions can be without stress incorporated for any bridesmaids with shorter length hair.
Many hairdressers favor this soft styling of hair for weddings, most of all because it shows off the pure natural beauty, color and highlights of the hair. This type of hair fashion is often seen at weddings with a rustic or retro theme and for weddings held outdoors. Enchanting wedding hairstyles curled loosely and combined with soft waves will embellish any bridal gown fashion today.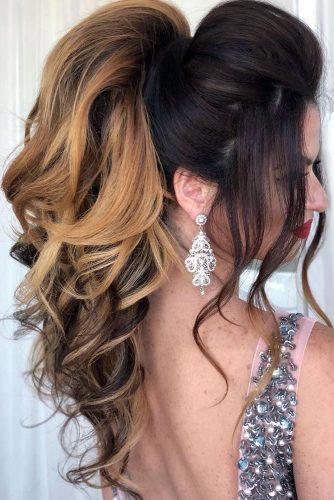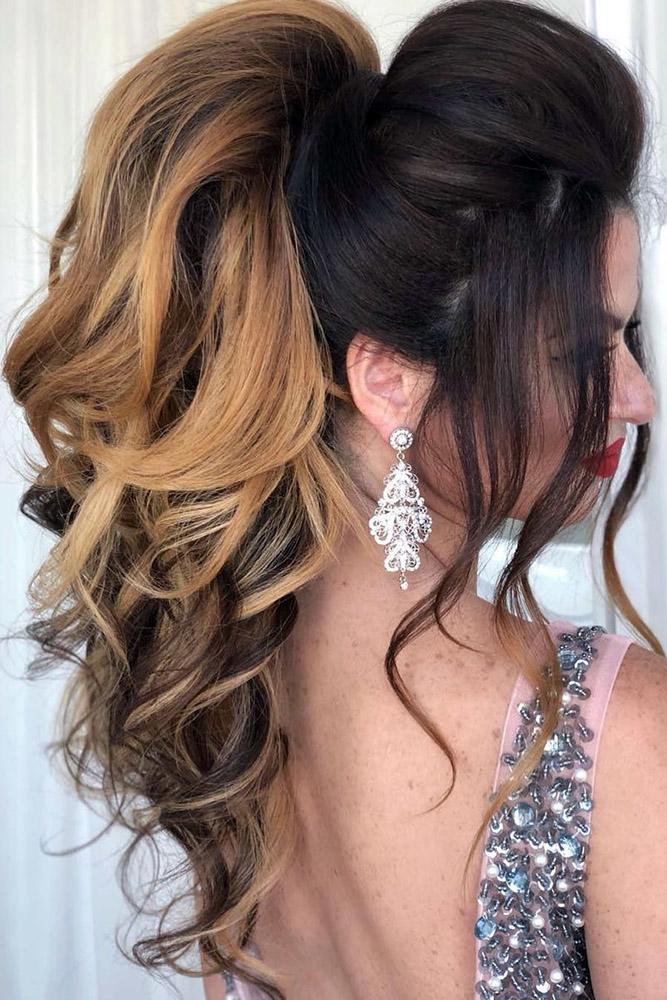 Jeweled barrettes, tiaras and hair clasps are ideal accessories for soft waves and beautiful curls hairstyles for brides.
Tousled and teasing curls are a perfect choice for brides with long, full and billowing hair.
Simply designed, sparkling tiaras are ideal adornments for volumetric curls and waves in long curly hairstyles for wedding parties.

Wedding Hairstyles With Extensions
Any bride can achieve the ultimate wedding hairstyle she desires by adding the right extension to her hairdo. In particular, for brides with shorter hair or fine hair without too much volume, using hair extensions styled to coordinate with the overall hairstyle can be the perfect touch. If you decide to use an extension to enhance your wedding day hairstyle, let your expert hairdresser advise you about the very best type and fashion of extension to enable you to look your most beautiful.
There is a wide array of hair extension designs and fashion modes available today, so there is sure to be one that will strike your fancy. These convenient extensions offer a practical and pleasing way to create your image of the ideal wedding hair fashion with flair.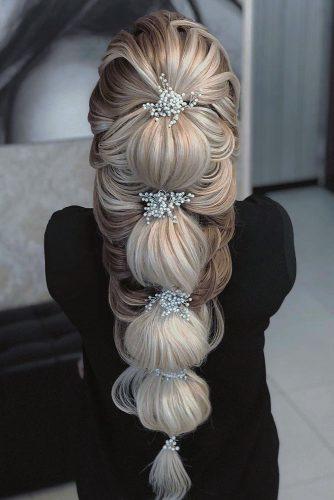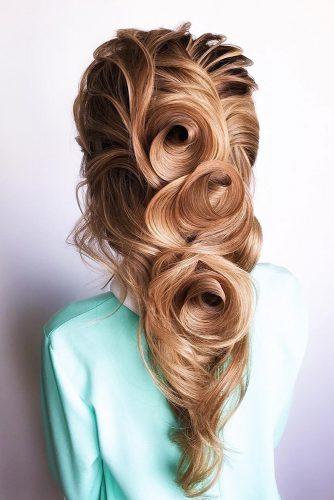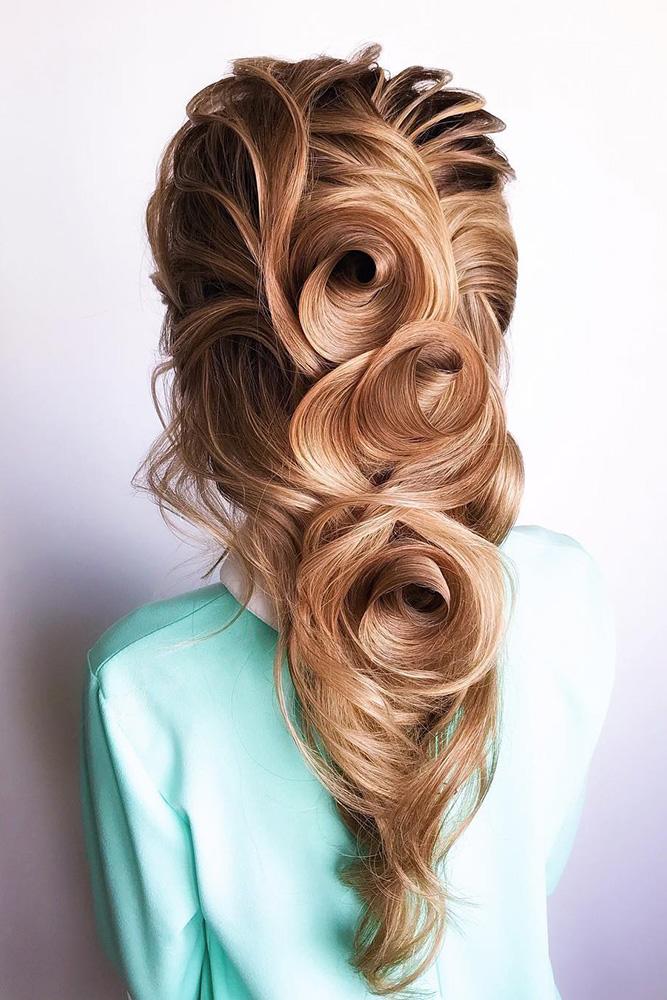 You can achieve a well twisted updo with plenty of volumes with ease be achieved for any length or texture of natural hair with the right extension.
A lustrous, loose braid down the back can look luxurious with use of the ideal hair extension.
Even free, untamed long hair can look stunning with a well-chosen hair extension added.

Braided Wedding Hairstyles For Free-Spirited Brides
Any bride who desires added length, volume and texture to her hairstyle will benefit from trying an attractive braided hair extension. These extensions can also lend pleasing highlights and subtle glow to any matching natural hair color. Also, these extensions are versatile and can be supplemental wherever you need it for you hairstyle. They are also convenient for altering your hair fashion.
For instance, if you want to make a quick change of hairstyles before leaving on your honeymoon after your wedding reception and dinner, you can do so. Just by removing your glamorous extension from your hairdo, you can enjoy a totally different and attractive hair fashion effect. Side braids fashioned from the bride's natural hair can also be undone with ease for an appealing tousled style.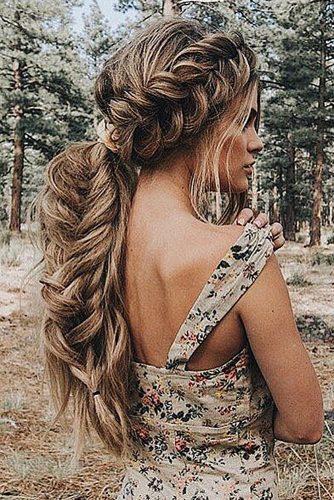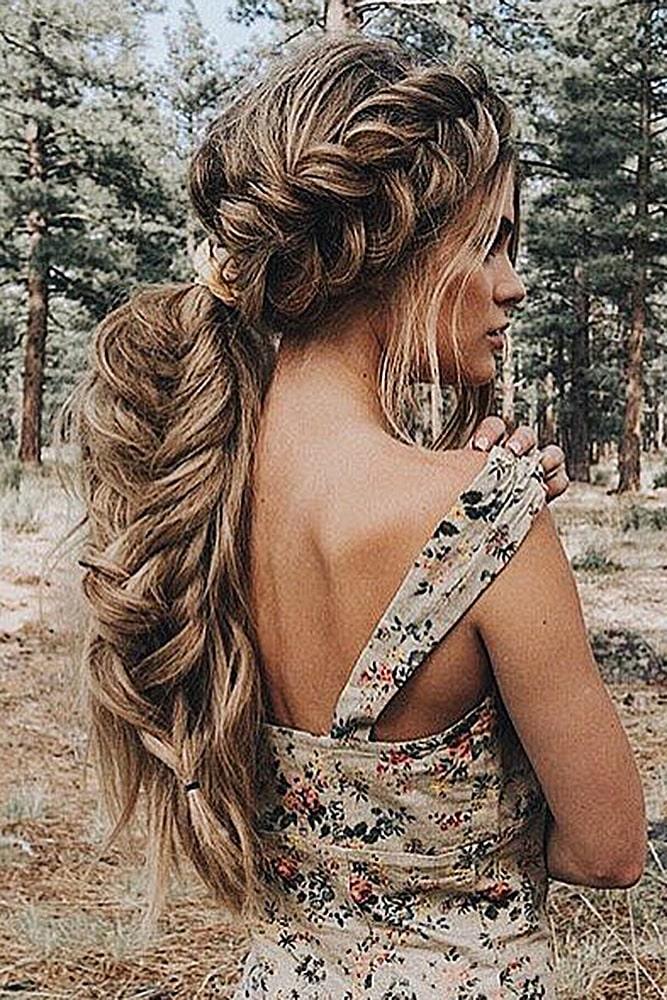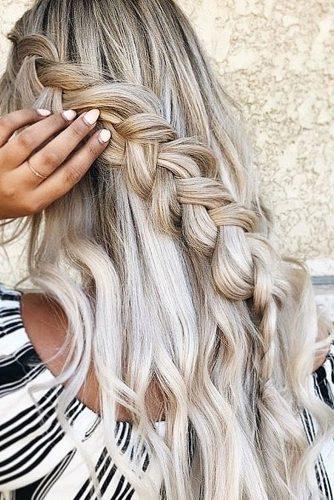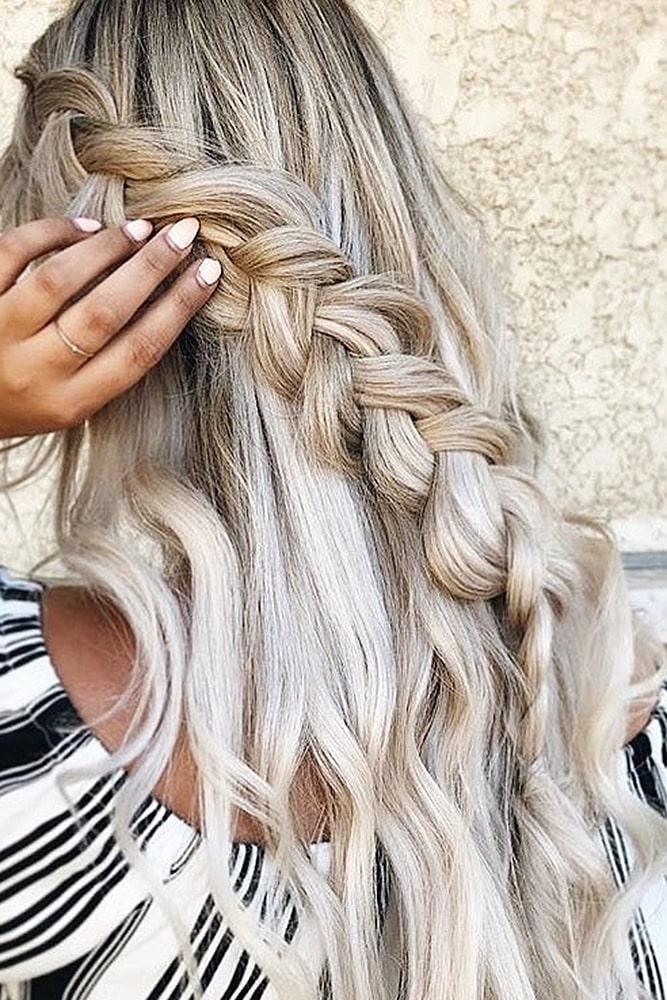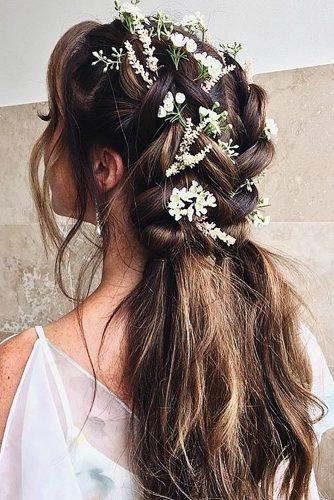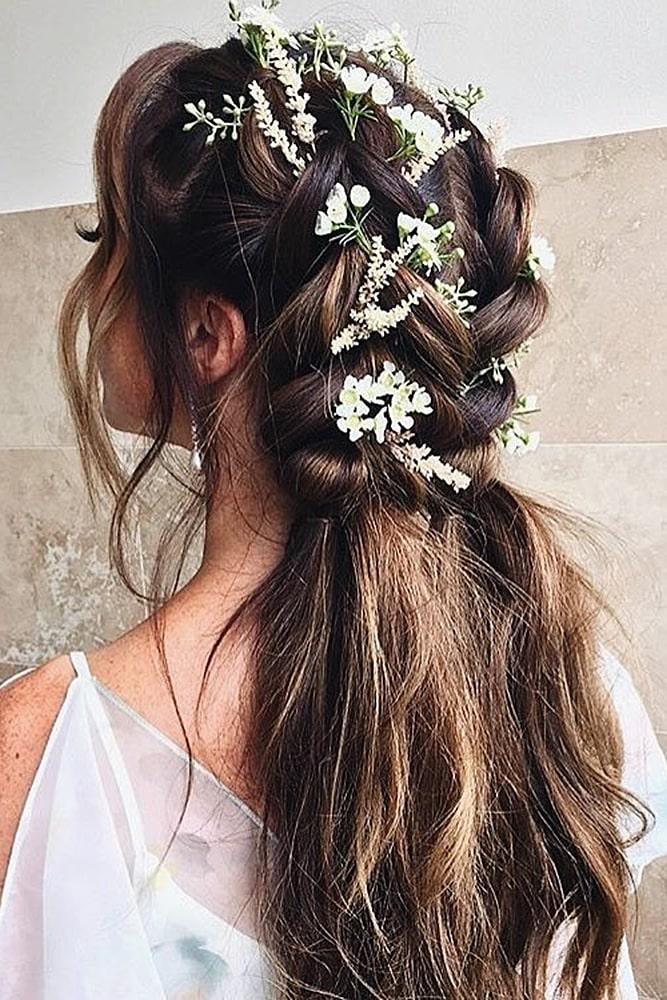 A creative side braid, either smooth or unruly, can be an attractive addition to any bridal hairdo.
A braided updo is quite stylish for all wedding themes, and it is more effective when highlighted with jewelry.
Somewhat messy, untamed curls are good for a bohemian themed wedding, more of when it is outdoors and/or at a beach.

Easy Wedding Hairstyles For Long Hair – A Simple Bun
A simple bun can be a striking, appealing hairstyle for a wedding, especially if it is at night in an elegant setting. This sleek, sophisticated style is ideal for long, formal or semi-formal gowns and accessories. This classic hair fashion is also attractive with many contemporary wedding dresses with simplistic designs and made of luxurious, flowing or close-fitting fabrics.
Hairstyles with buns can be beautifully adorned with floral garlands, shimmering tiaras and fashionable jeweled barrettes. This style also shows off shiny, full hair since the bun will have natural volume and luster without any help from an extension or from ornate styling.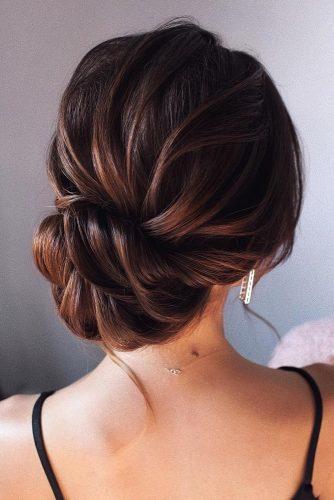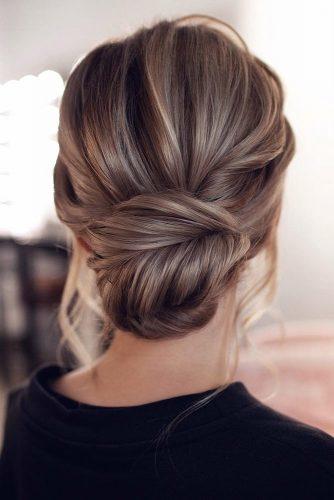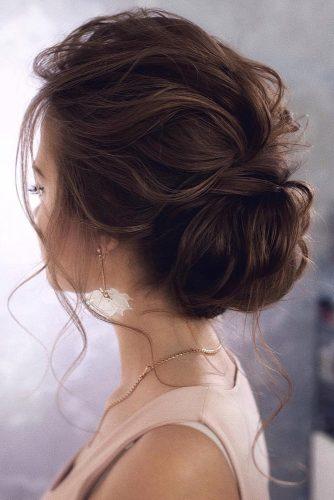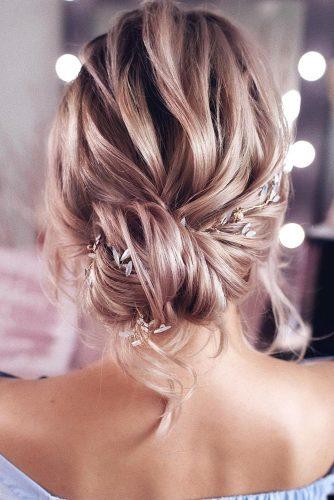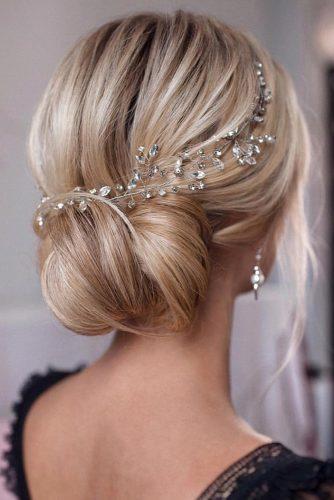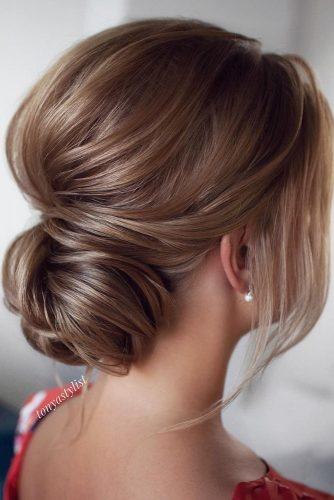 An elegant, sleek hairstyle featuring a bun can showcase and enhance a beautiful long wedding gown.
A smooth hairdo with a bun is quite attractive with a long, ornate gown with a train and a matching veil.
A fashionable bun can be an appealing hair fashion for a bride of any age.

Wedding Updos For Long Hair
Wedding updos for long hair are many and varied today. These styles can feature and enhance many decorative hair effects. In addition, they are suitable for any length of hair even as a simple hair extension. You can style all hair types from long and full to shorter and fine can be styled attractively in an updo for a fashionable wedding. There is truly an updo fashion that is perfect for every bride. If you want an updo for your wedding, but are unsure of the style you like best, consult an expert hairstylist for the very latest fashions and advice concerning these varied and beautiful hairdos.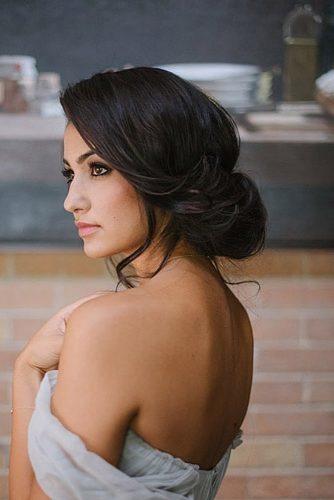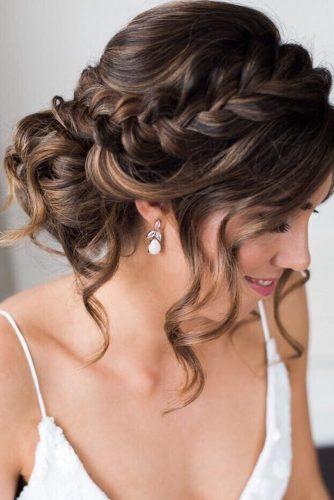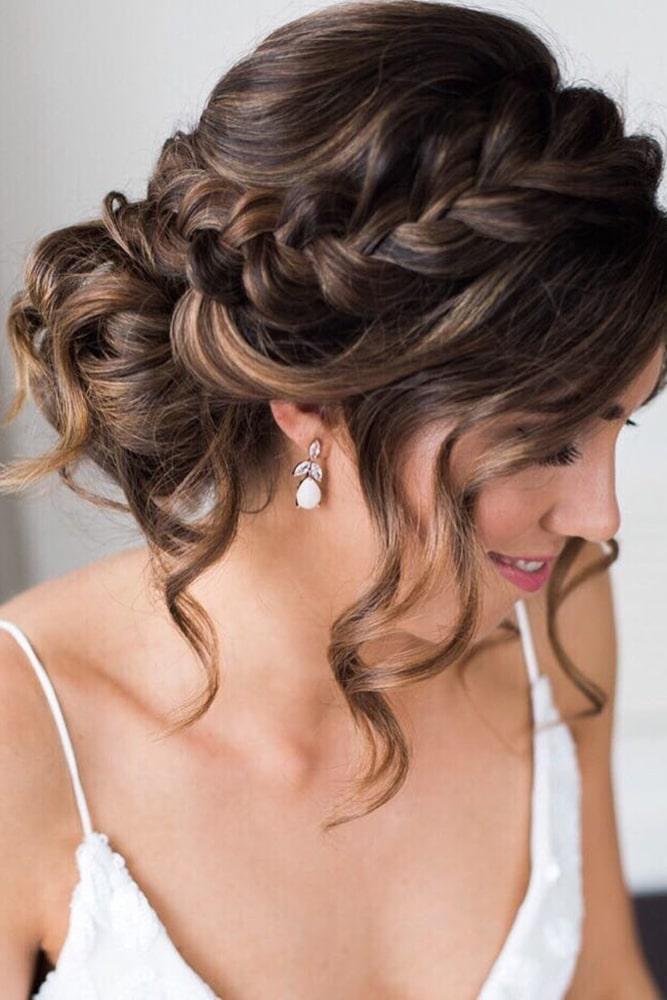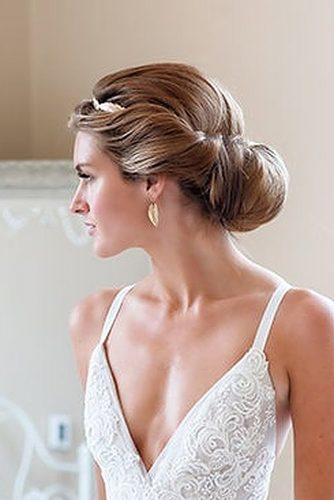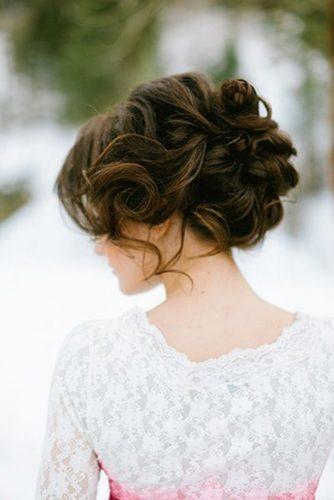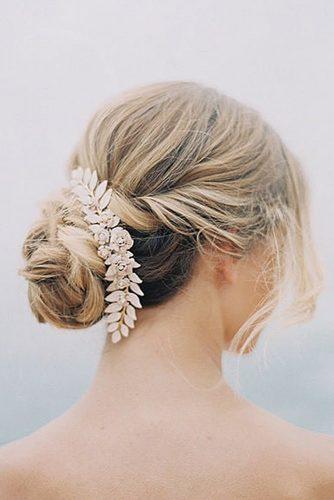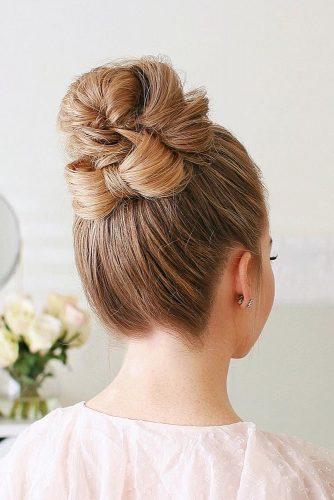 You can combine several different hairstyles when designing your ideal wedding updo.
Updos can be easily modified into a half up, half down hairstyles for post-wedding travel plans.
Updos are very attractive with tiaras.

Popular Wedding Hairstyles For Long Straight Hair – High Ponytail
You can style long straight hair in quite an appeal for a wedding day hairdo. Long and straight hair that falls softly on the bride's shoulders can enhance any wedding dress fabric and style. Long hair also looks pleasant when adorned with flowers, a shining tiara or when the bride wears a decorative veil. Many people think that long, free-flowing hair also complements young brides, most of all.
However, many older brides can also be beautiful with long and straight flowing hair to enhance their wedding gowns and accessories. The high or side ponytail is also quite popular as a modern stylish look for brides on their wedding days. A high ponytail is a refreshing mode of hairstyles for straight long hair.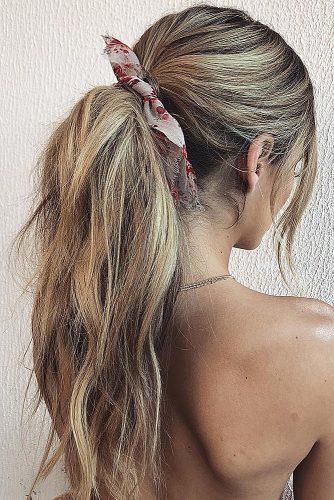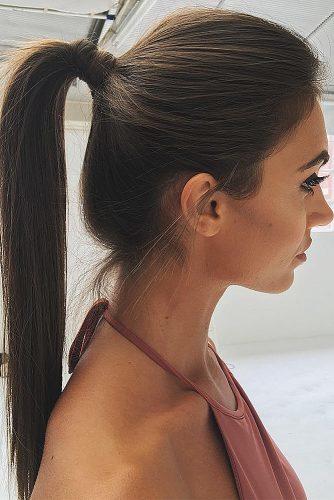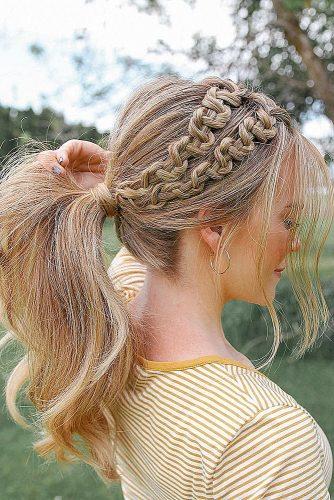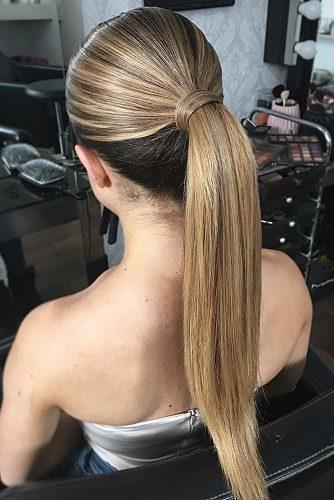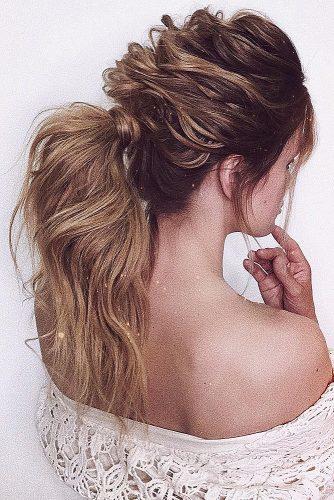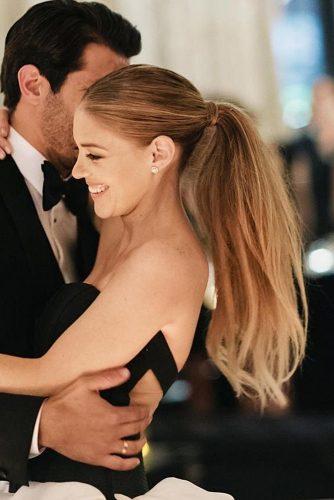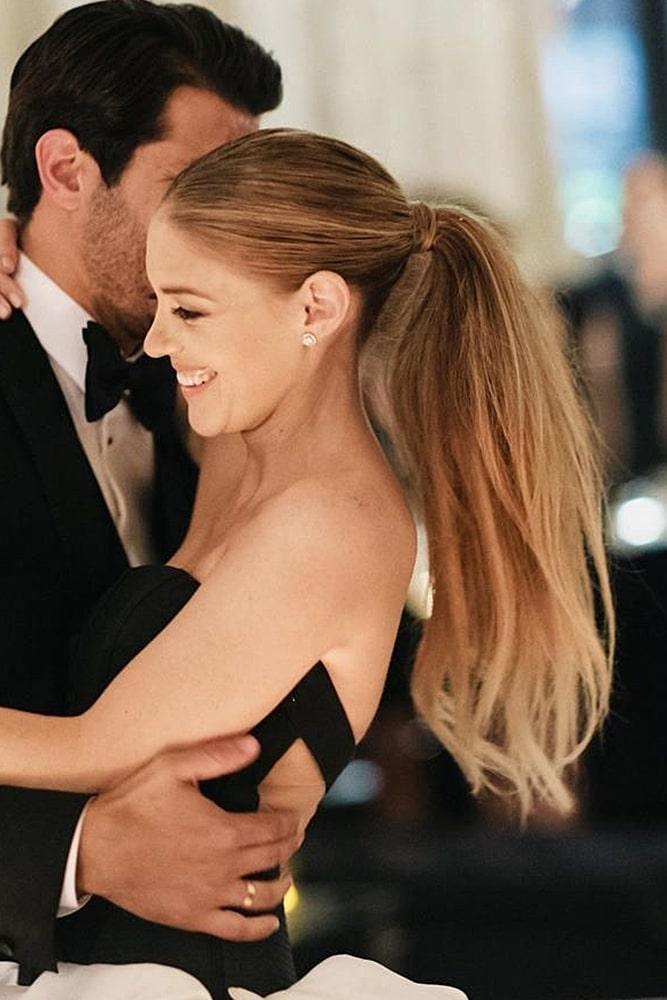 Long, straight hair can add beauty and a youthful look for a bridal hairstyle.
Long hair down wedding hairstyles can be quite elegant and do not detract from the style of a wedding outfit.
When a bride chooses a long, straight style of hair for her wedding, she is adding a free, natural essence of beauty to her special day.

A Long Wavy Ponytail In Romantic Style
A long and wavy ponytail is a stylish addition to bridal attire. This youthful fashion for hair is romantic and fresh. At the same time, it has a sense of elegance and simplistic style that can complement any wedding setting or theme. The full, volumetric quality of a wavy ponytail lends a casual yet dressy element to the bride's overall fashion for this special event.
The long-prevailing ponytail is now acceptable for wedding styles as well as daily fashions. The wavy, full ponytail is quite attractive with many modern wedding dress fashions that favor simple, well-defined lines.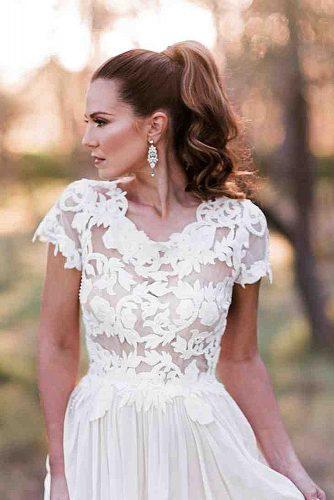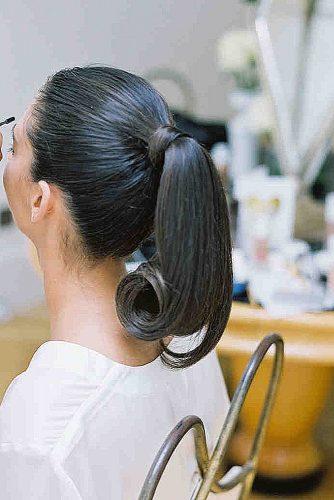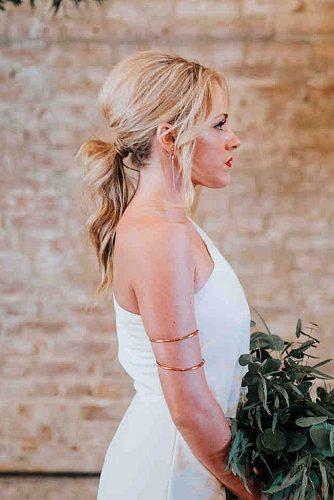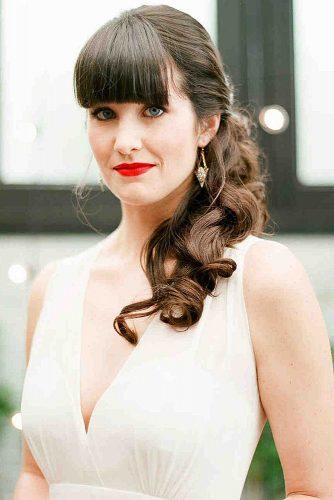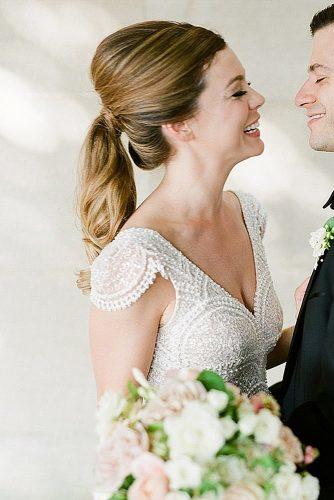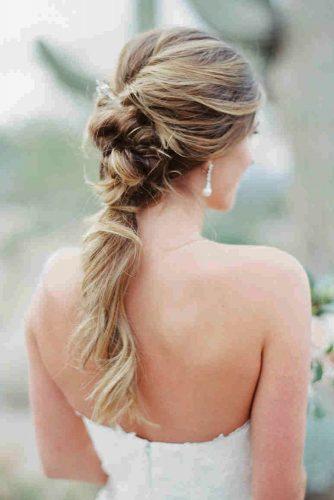 Ponytails can be casual or dressy, to fit any wedding style or locale.
Wavy ponytails are very attractive when decorated with flowers or jeweled barrettes.
The wavy ponytail brings a fresh, youthful ambiance to brides of all ages, wearing a wide variety of wedding day attire.
Conclusion
Wedding hairstyles for longer hair are many and varied today. These stunning, charming and enchanting hairstyles for brides offer chic glamour and allure to any style of wedding. Whether you choose braids, curls, a chignon, a full fishtail or long, flowing, lustrous locks for your special day, you will glow with glorious fashion and flair.
With a sleek, sophisticated hairstyle or a more creative half up, half down style, you will mesmerize one and all. To be sure, you will attract the admiration of all your loved ones and wedding guests on your very special and highly fashionable day.