Bridal bun remains a top choice among brides for many generations. Wedding bun hairstyles are appropriate for various hair length from short to long, and they look amazing with almost every bridal style.
Using some accessories or flowers with a bun can create a most tender and romantic bridal look. Besides, this updo, be it high or low, looks perfect with a veil. Get inspired by our collection of wedding bun hairstyles!
Source: tonyastylist via Instagram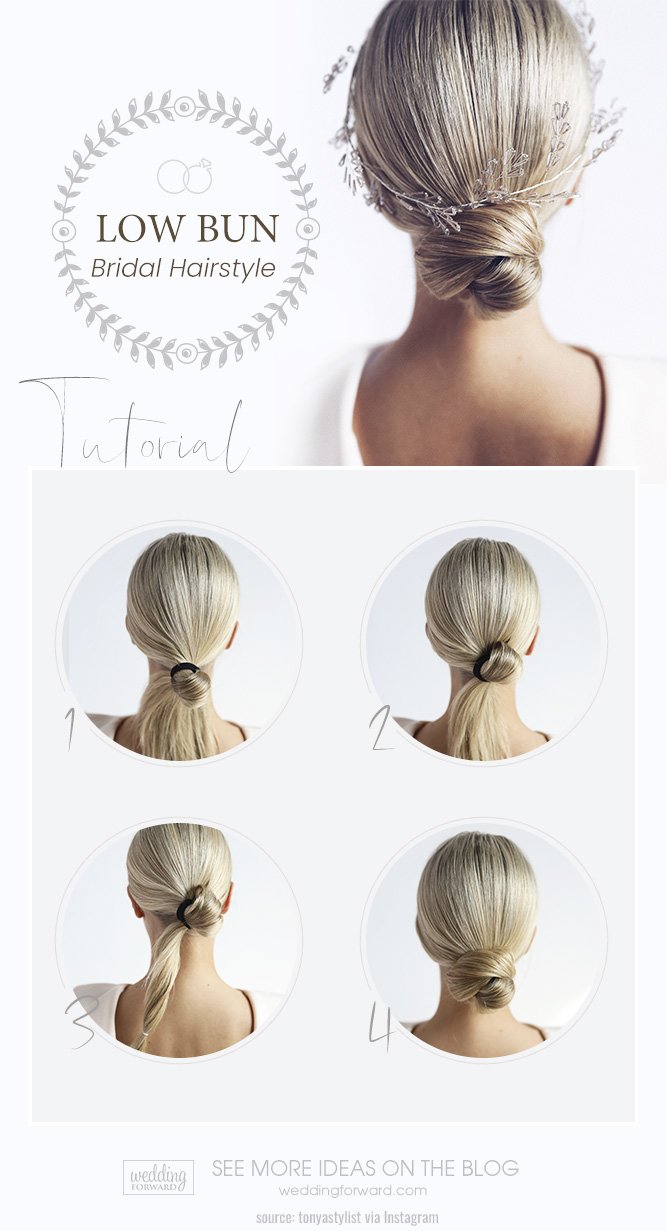 Elegant And Feminine Buns
Source: dianova.elstile via Instagram, lenabogucharskaya via Instagram, tonyastylist via Instagram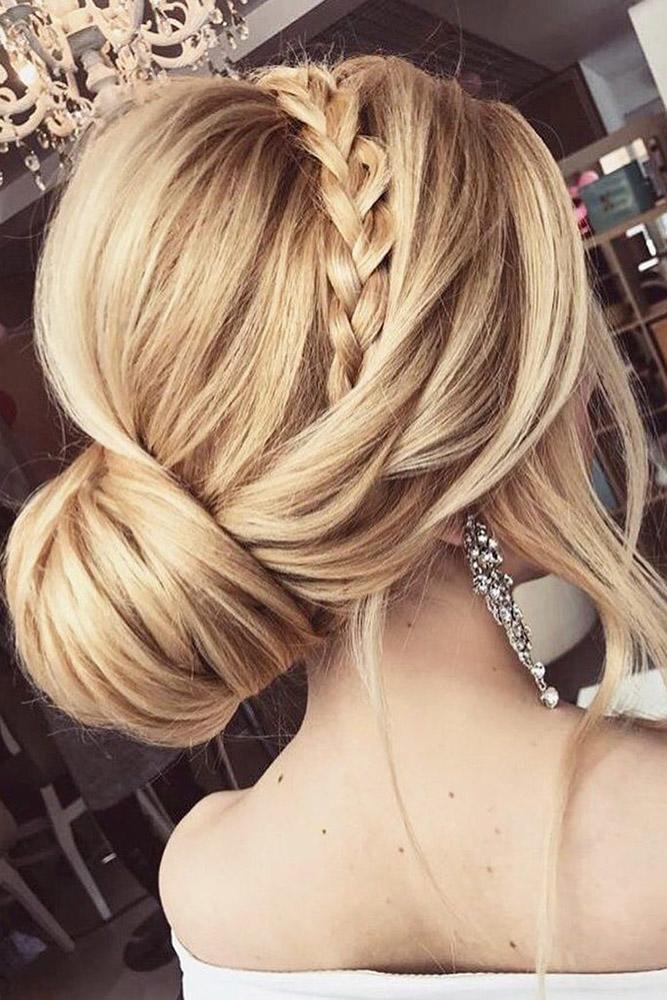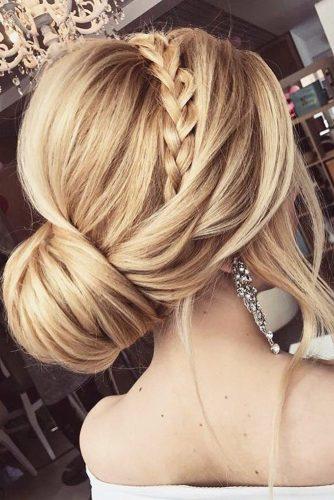 There is hardly anything as stunning, as feminine side bun hairstyles for wedding. Take a look at this airy hairdo: a single braid goes so well with loose strands!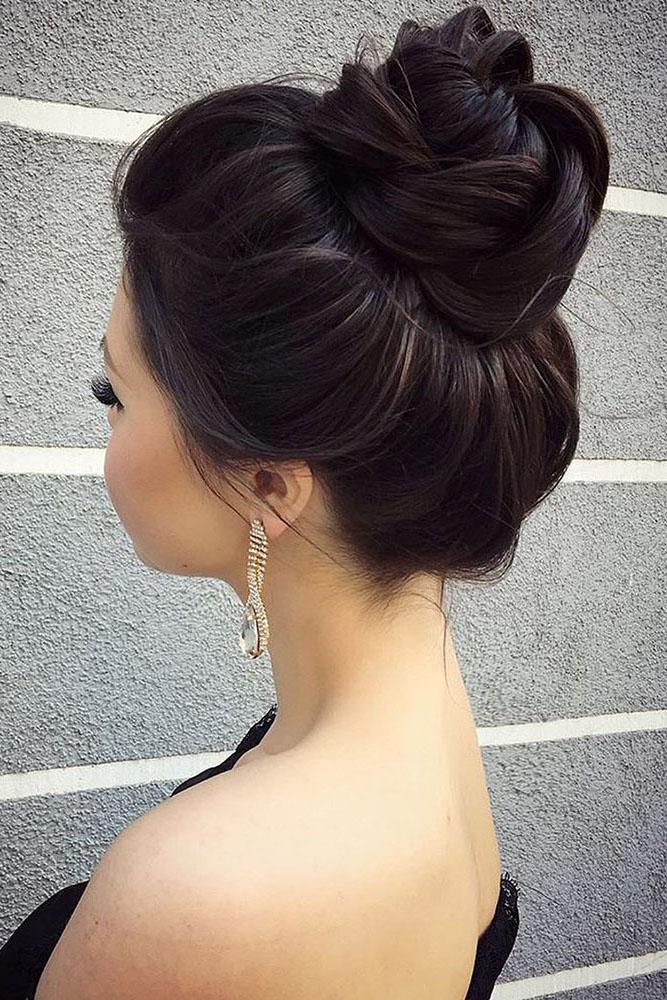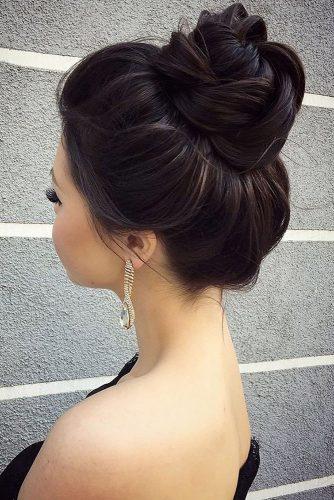 This high bun speaks chic and style. As any other seemingly simple hairstyle, it requires professional attention for best results. Works best with open neck and shoulders.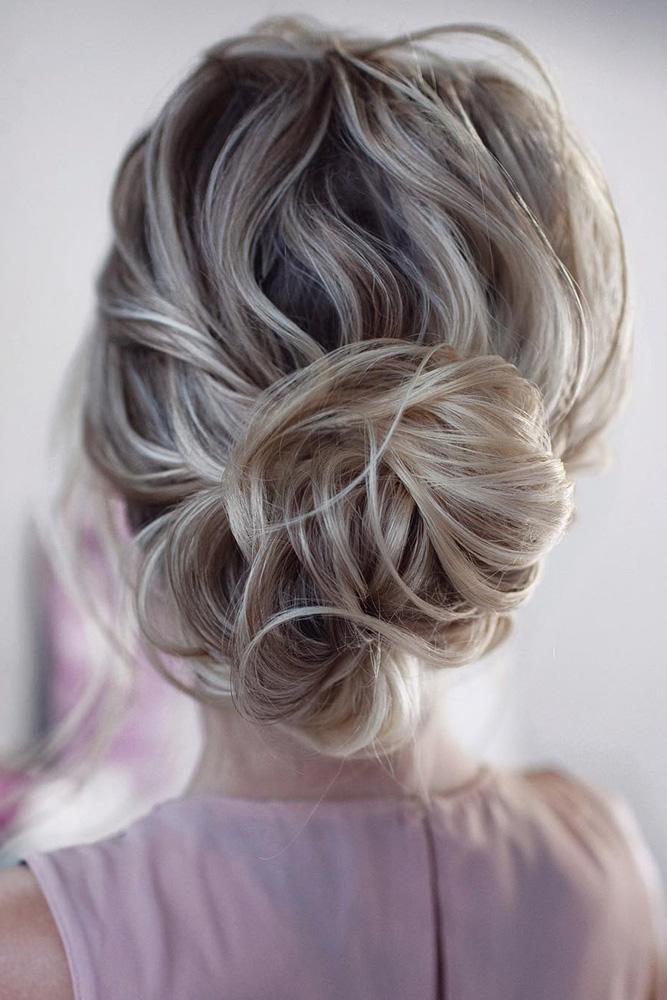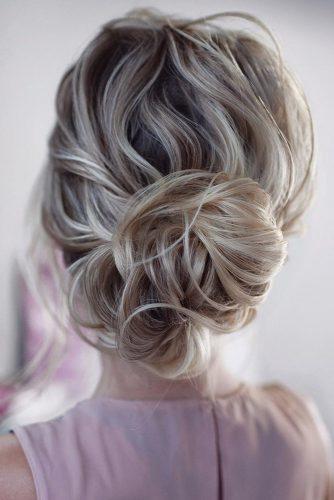 This classical low messy bun looks timeless. Want to look like a goddess straight from Ancient Greek mythology? You are going to look fantastic in a white and gold empire wedding gown!
You have to see perfect wedding hairstyles ideas from Pinterest!
Enchanting Ballerina Bun
Source: tonyastylist via instagram, oksana_sergeeva_stilist via instagram, sotnikova_vika_ via instagram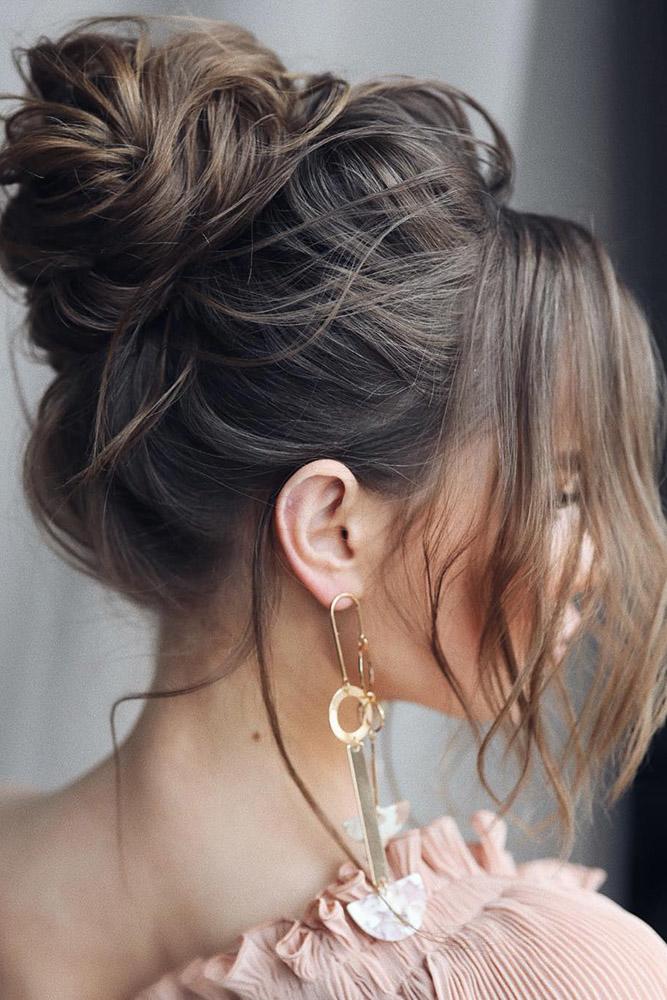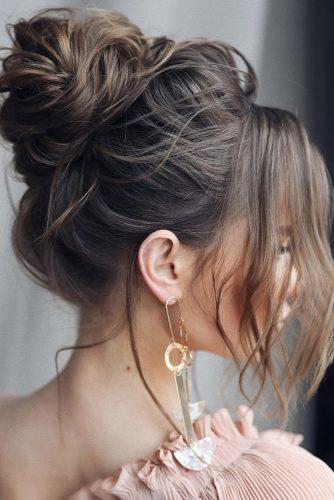 Ballerina buns remain very popular among other wedding bun hairstyles. Leave out those loose bangs for a more delicate face-framing. This style looks great with a low cut back.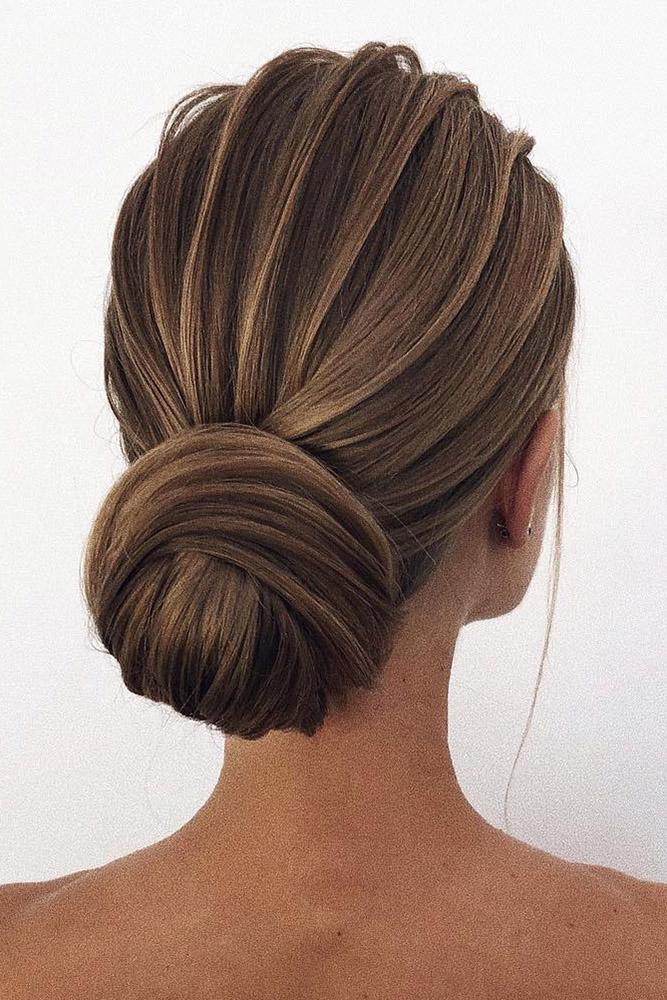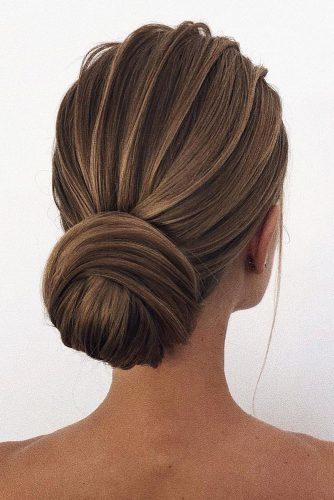 A more modest option for a bride who knows how to work simple hairstyle into a stunning look! Looks amazing with a bridal suit or a silk retro dress.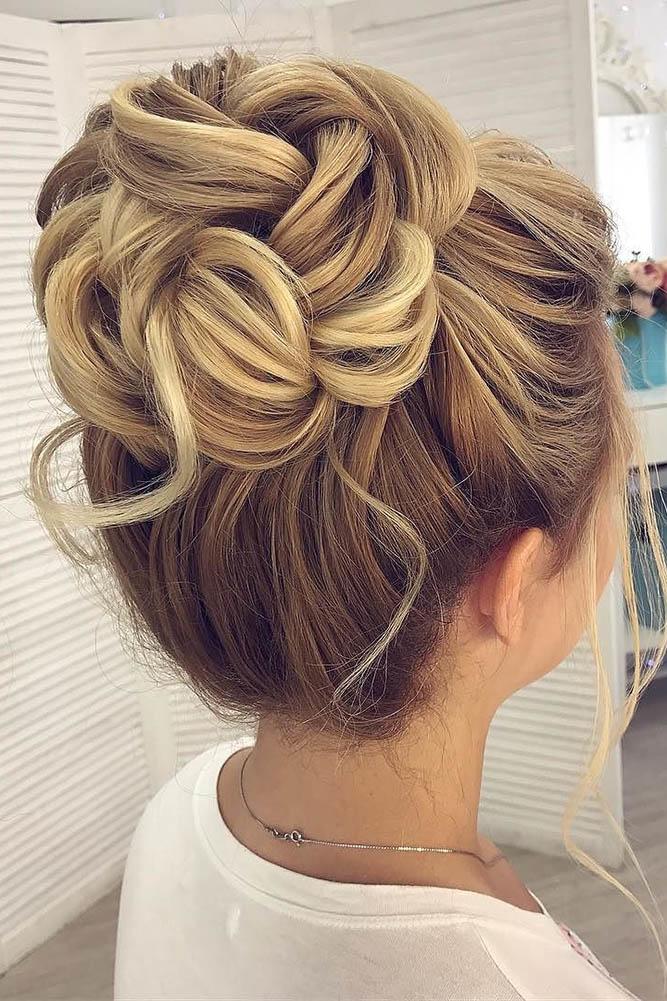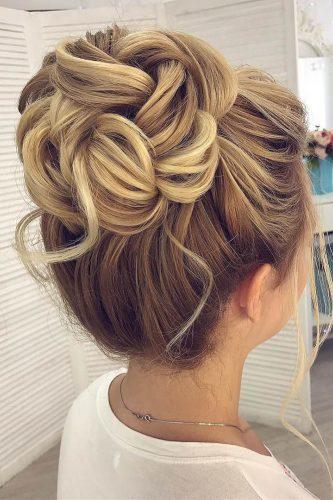 This ballerina bun is a great option for curly hair. Waves make this high bun look more creative. Leave out several stray strands for an extra artistic effect.
Gorgeous Messy Wedding Bun Hairstyles
Source: jt_hairandmakeup via instagram, lenabogucharskaya via Instagram, simeonalanta via Instagram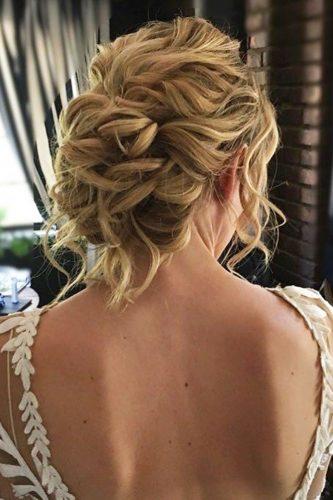 Messy wedding bun hairstyles are among top trends this season, and there is a reason for that! This high updo for curly hair looks stunning with a low cut or a see-through back!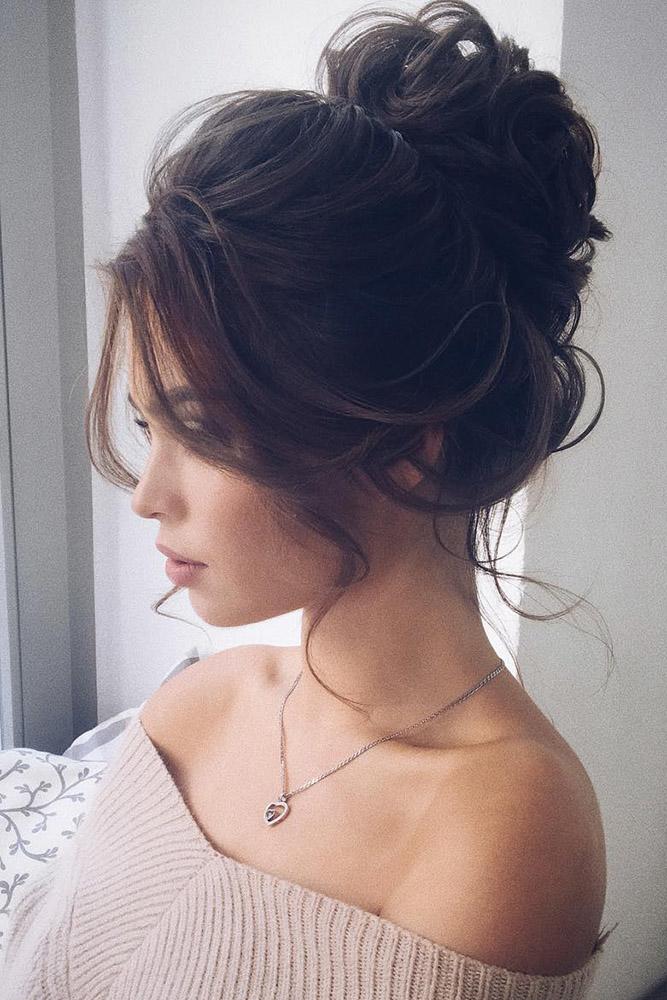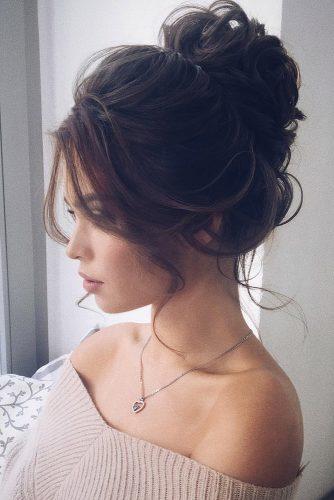 This voluminous messy bun is our top choice for a princess gown. Loose strands, framing softly the bride's facial features, create an ultra-feminine fairy-tale look. You are sure to take their breath away!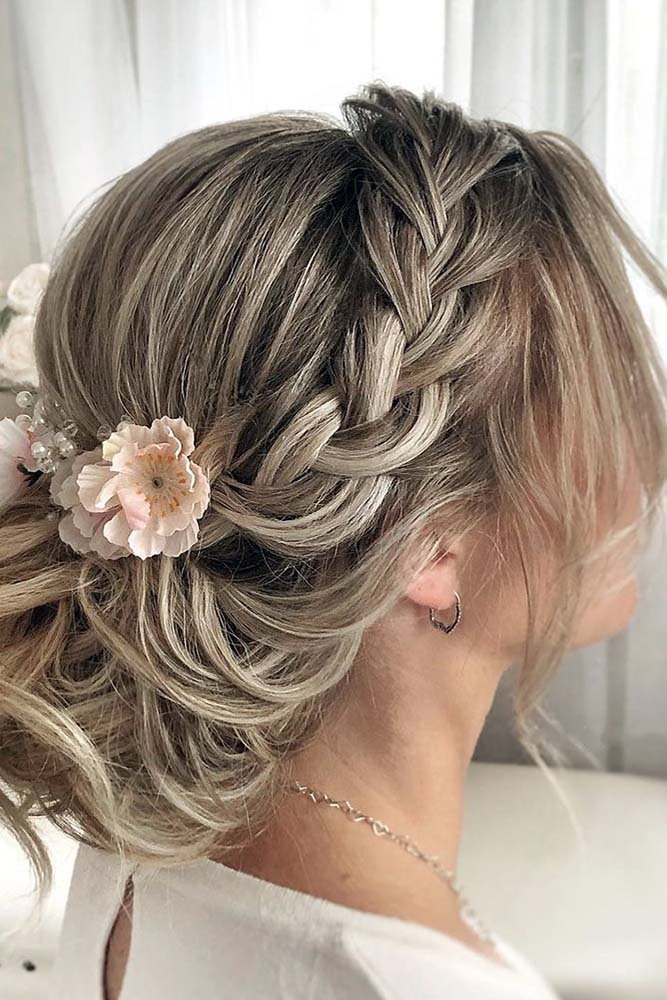 Want something more modern? Braids are very trendy this season, so if you want to be at the cutting edge of bridal fashion, this is a style for you!
Bun Hairdos With Jewels
Source: xenia_stylist via Instagram, hair_vera via Instagram, Brides Room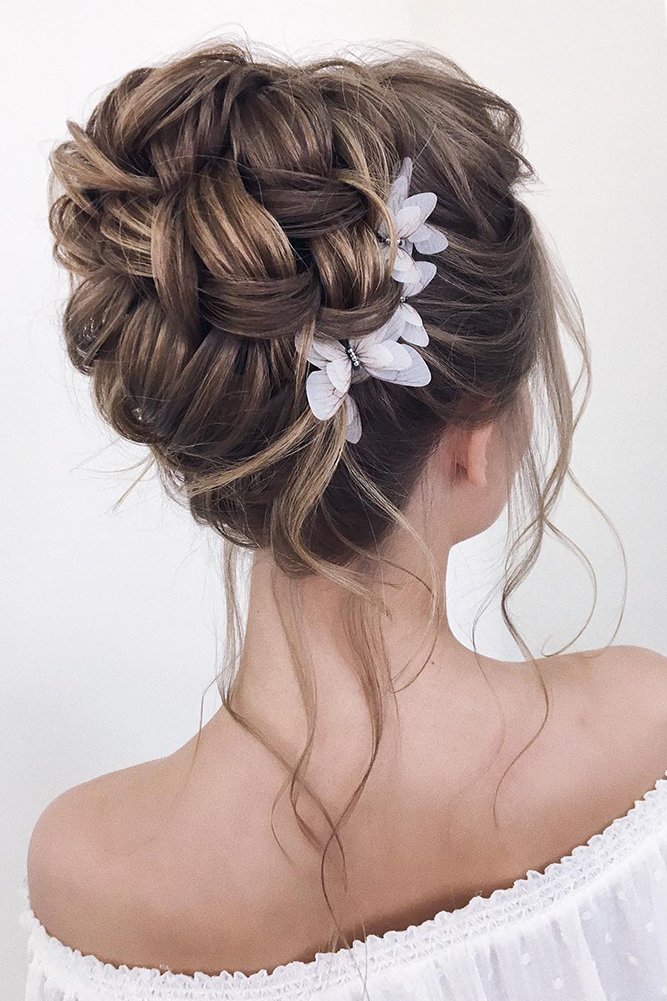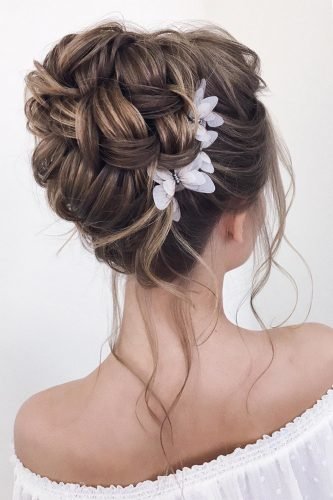 Loose bun hairstyles for wedding are very popular. Why don't you add a bit of personality by decorating your hairdo with jewel flowers? This voluminous hairstyle looks amazing with pink hair vine.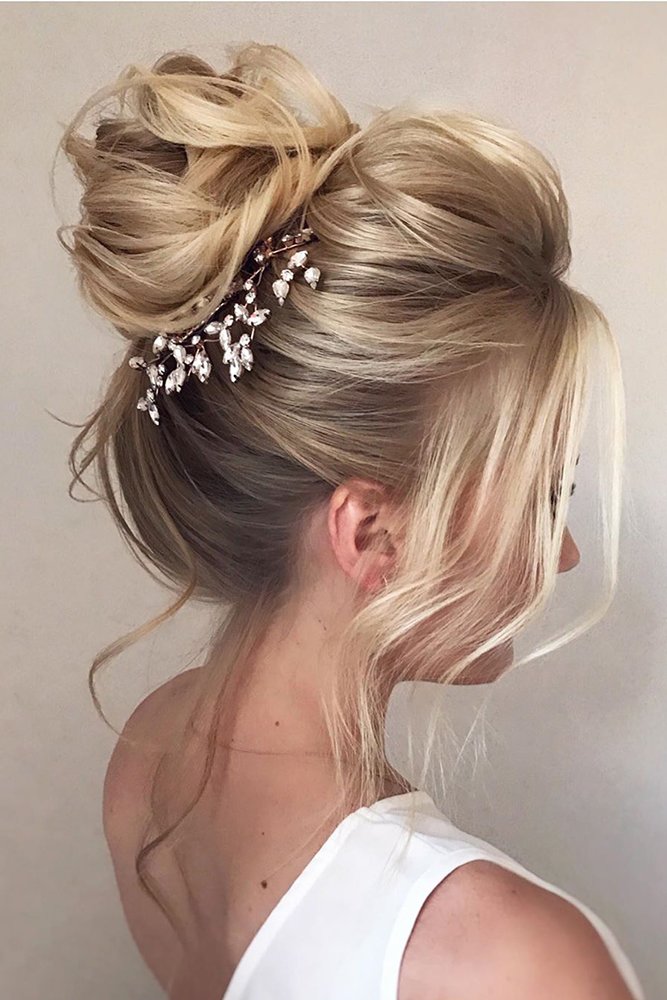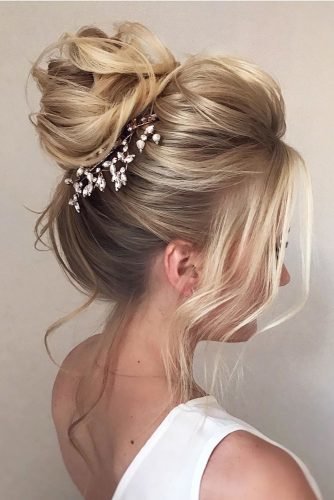 There are a lot of wedding bun hairstyles that will benefit a lot from a simple hair vine. This hairdo will look simply gorgeous on a winter bride.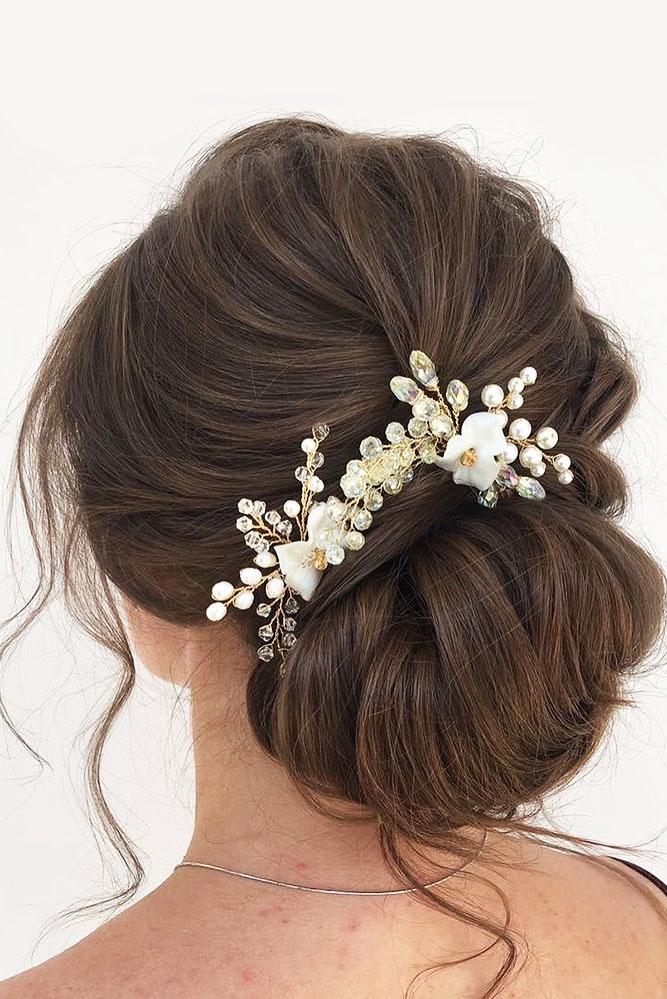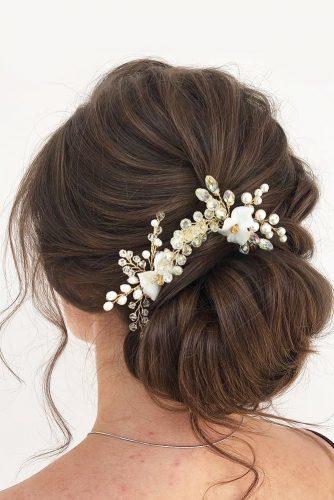 Spring brides are going to love this messy bridal hair bun, especially its sakura-inspired hairpiece. It makes this otherwise super-simple style look both more tender and sophisticated at once.
Original Side Buns
Source: gardensofwhimsy via Instagram, hair_vera via Instagram, olesya_zemskova via Instagram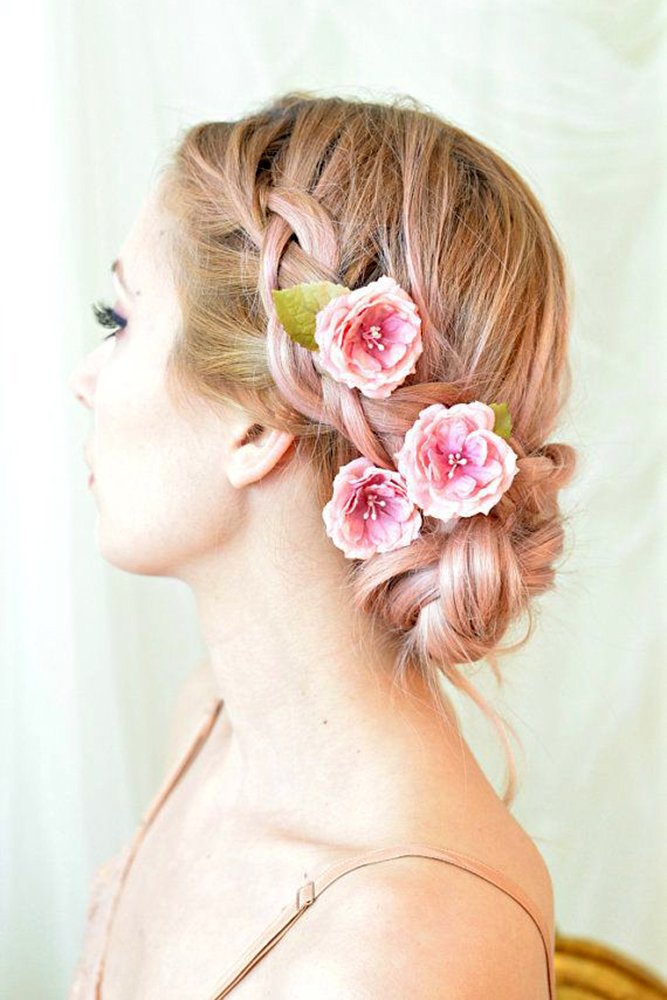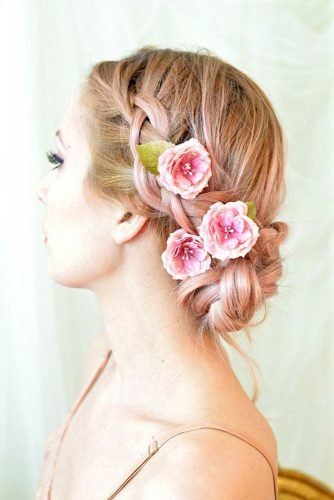 Asymmetric loose side bun wedding hairstyles are not that common, which makes this option a great choice for an original bride. Several single flowers complete the look.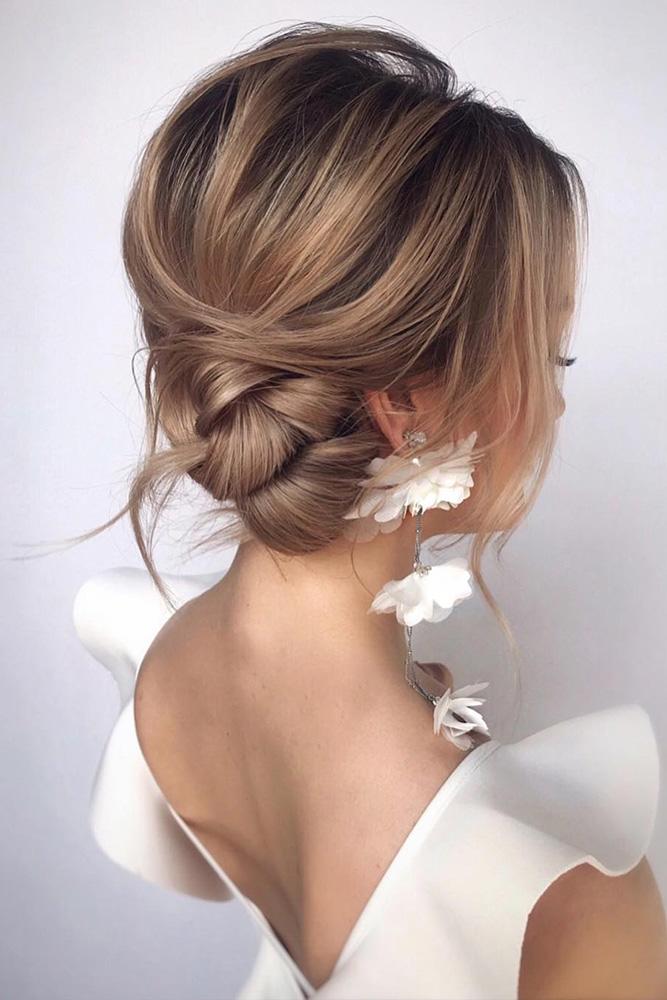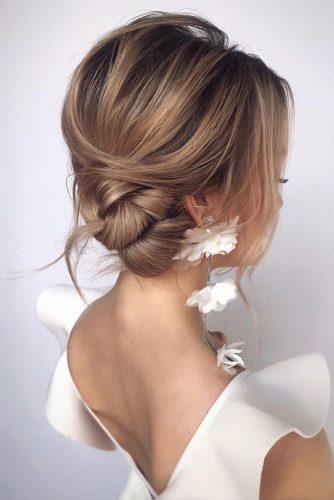 Like some other wedding buns, this side bun hairstyle is all about free flow. Delicate lines, loose strands, smoothness of skin, royal posture… Large flower earrings add asymmetry.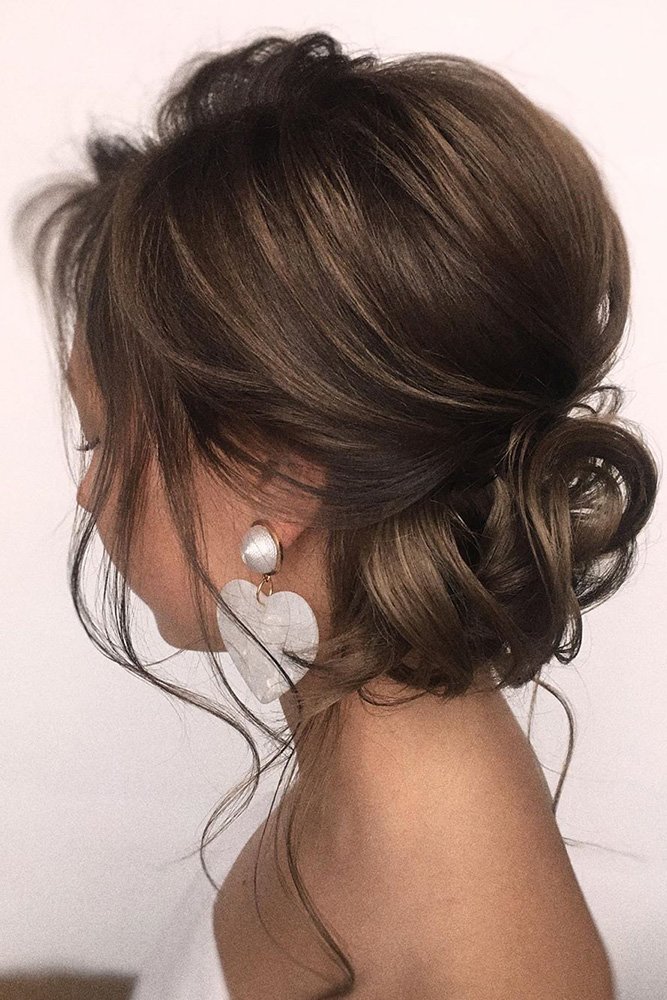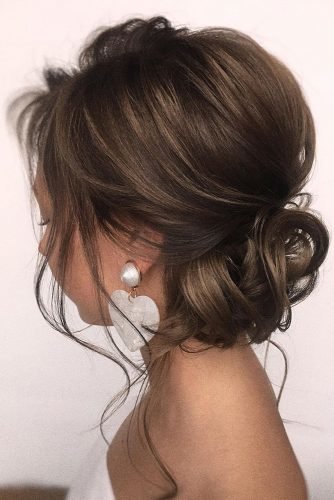 One more wedding hairstyles side bun to steal your heart. This stunning hairstyle looks great on medium length curly hair. Add a single jewel hairpiece for maximum effect.
Enchanting Low Bun Hairstyles Ideas
Source: kenraprofessional via Instagram, teona_dati via instagram, lenabogucharskaya via instagram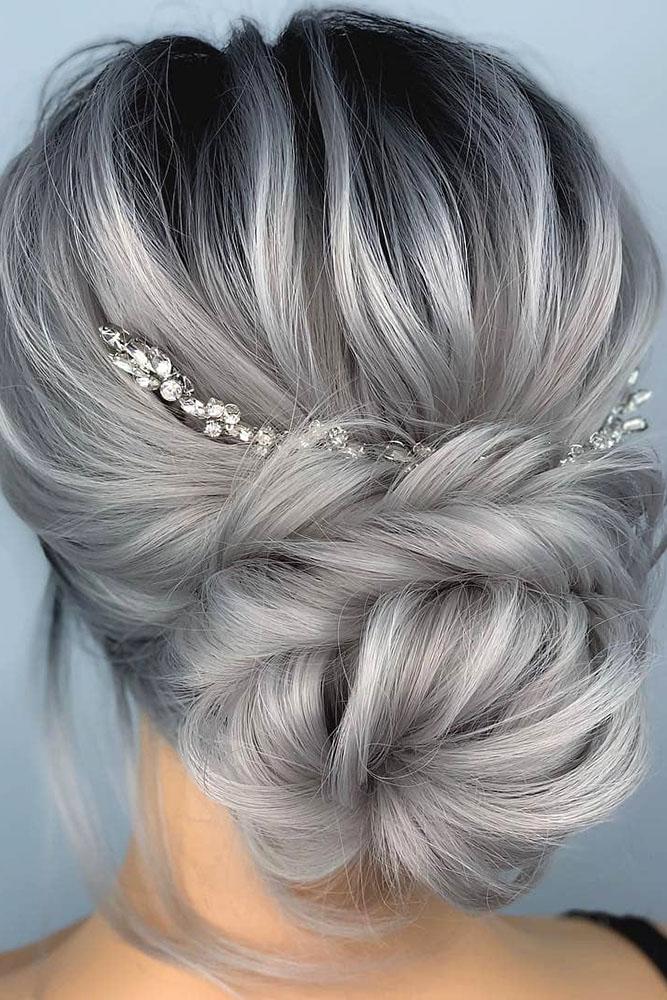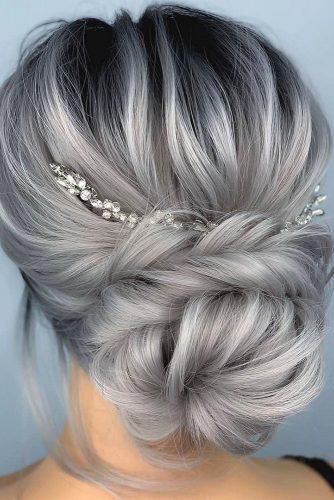 Are you a fan of Frozen? Try one of the messy bun hairstyles for wedding. The secret of this hairdo is all about its ethereal coloring. Silver hair looks marvelous with an 'icy' hairpiece.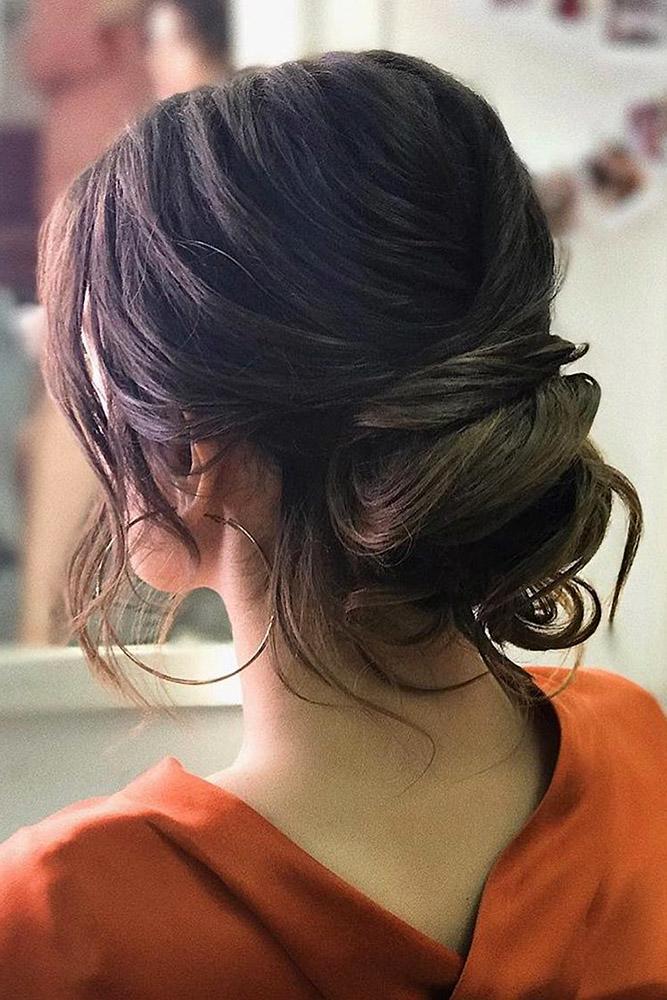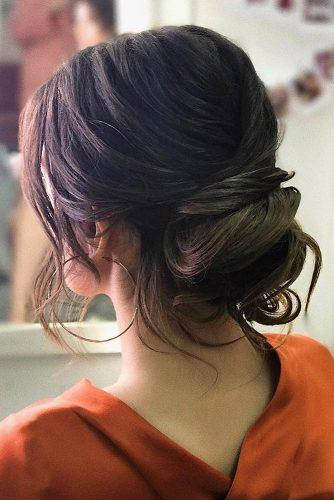 This low bun is one of those wedding hairstyles that look as if they were painted by great masters of Renaissance. It will go beautifully with a simple silk dress with a deep plunging neckline and a low back.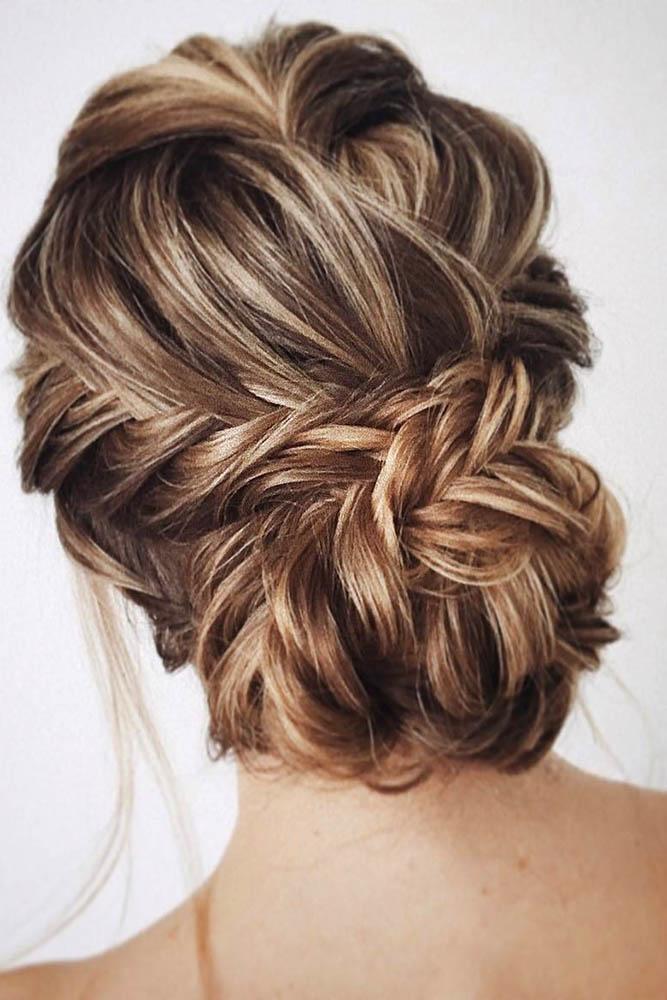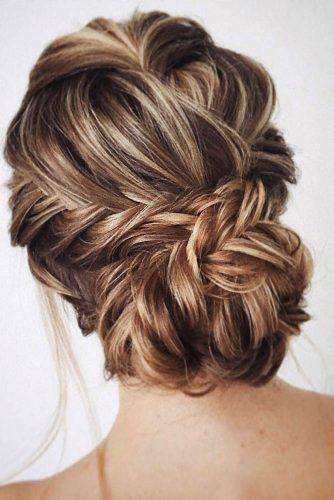 This is one of the wedding low bun hairstyles, that are made unique by their color scheme. The highlighted braided crown ends in a low bun. Great style for an autumn bride!
Twisted Wedding Hairstyles
Source: lillarosehair via instagram, jodycallanhair via instagram, niezwykle_czesanie via instagram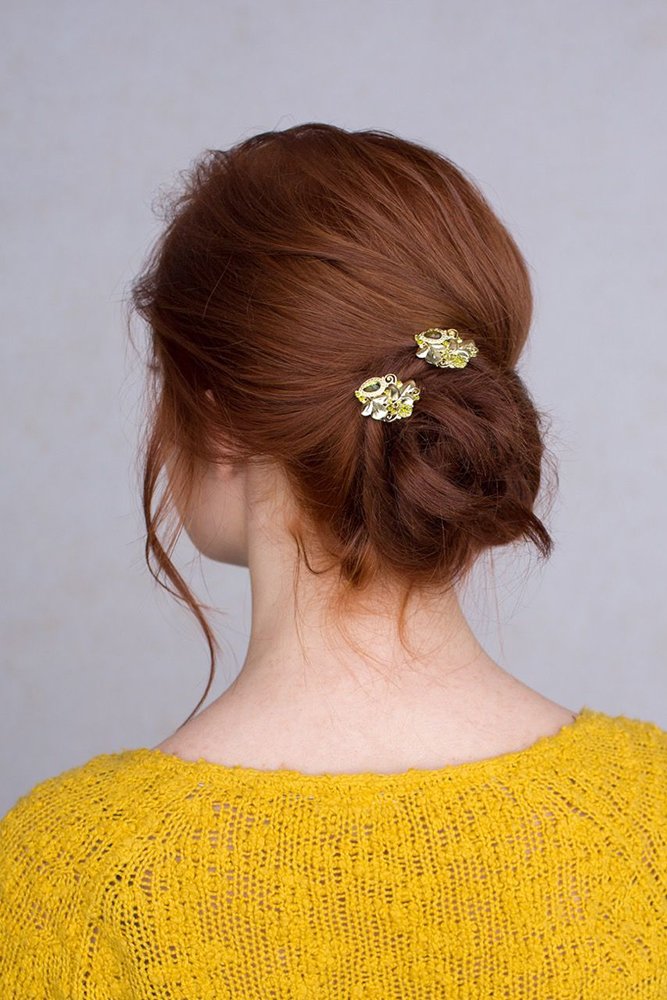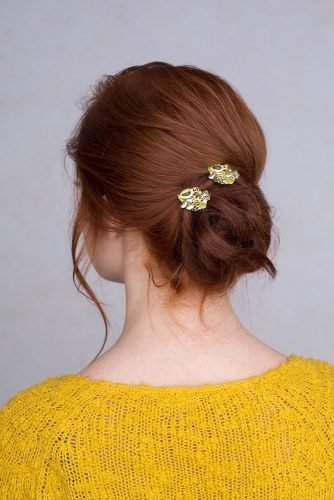 Bright hair colors look especially stunning in wedding hairstyles. Take this twisted bun for example! Remember 'Mad Men' and its redhead star? Why don't you try this bold retro look for your wedding!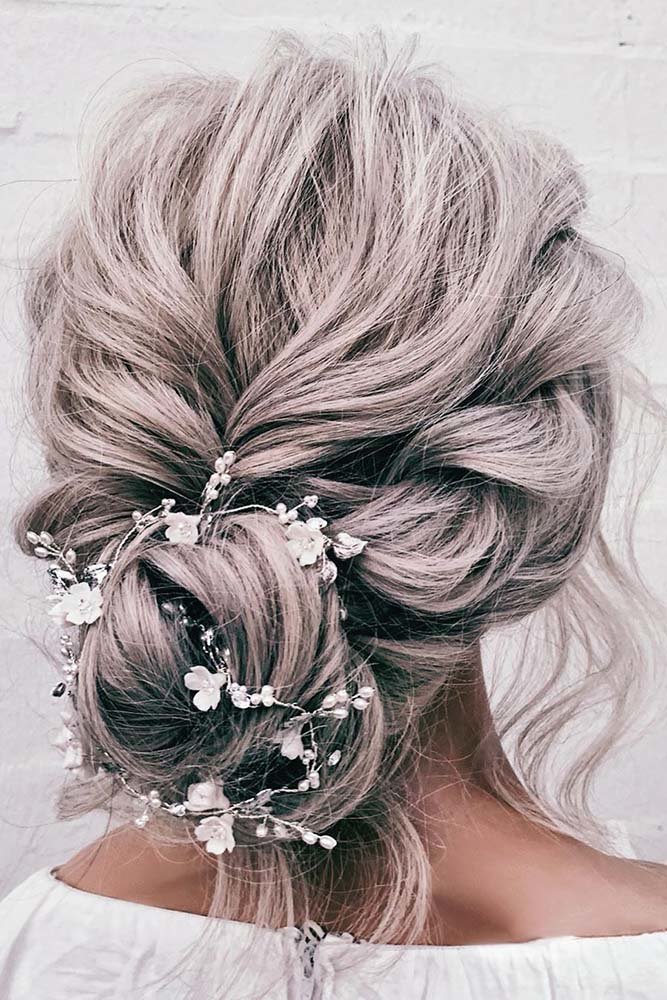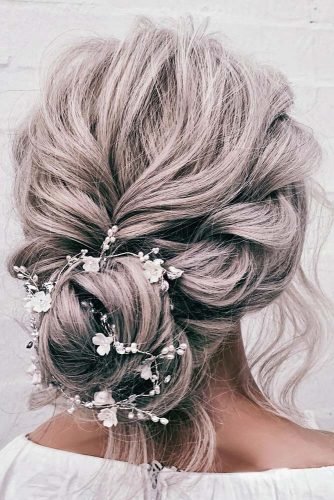 Loose bun wedding hairstyles seem to be made for flowing, semi-transparent dresses, see-through skirts, and illusion backs. Romantic, feminine, simply stunning! A delicate flower hairpiece completes the look.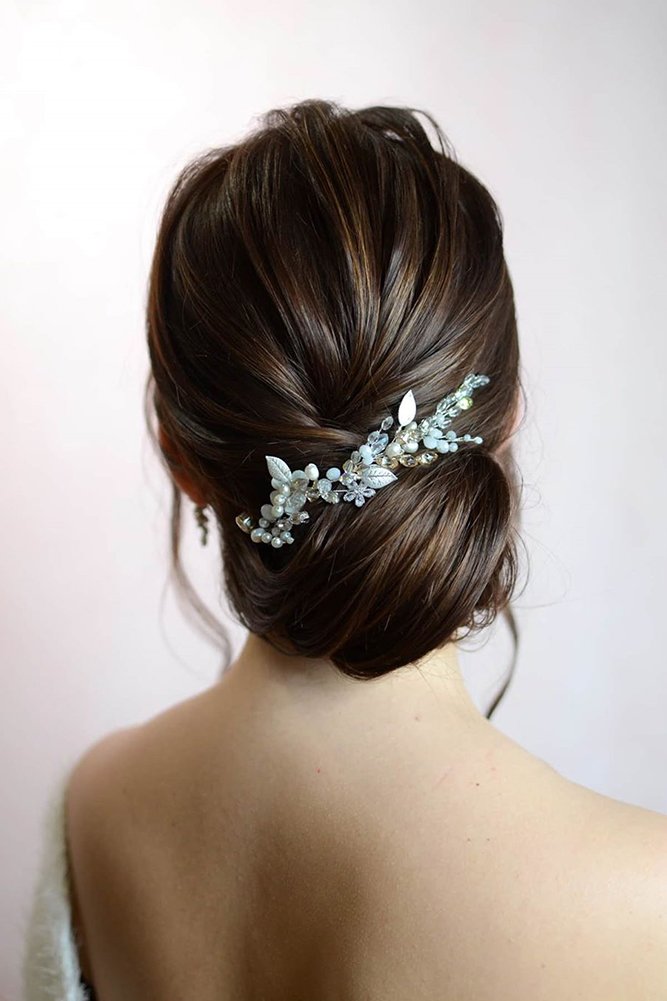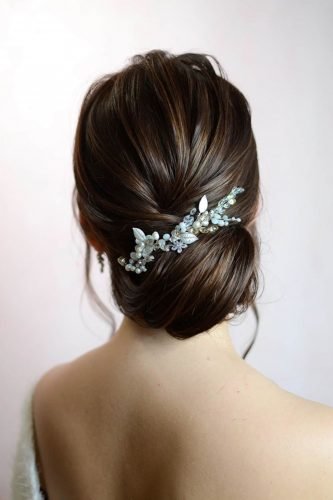 This wedding hairstyles low bun is super simple. Twisted bun, several loose strands, silky smoothness of hair… Isn't it the classic look you've been craving all along?
Romantic Buns With Flowers
Source: hairbyhannahtaylor via Instagram, grace_loves_lace via Instagram, weddingstylist via Instagram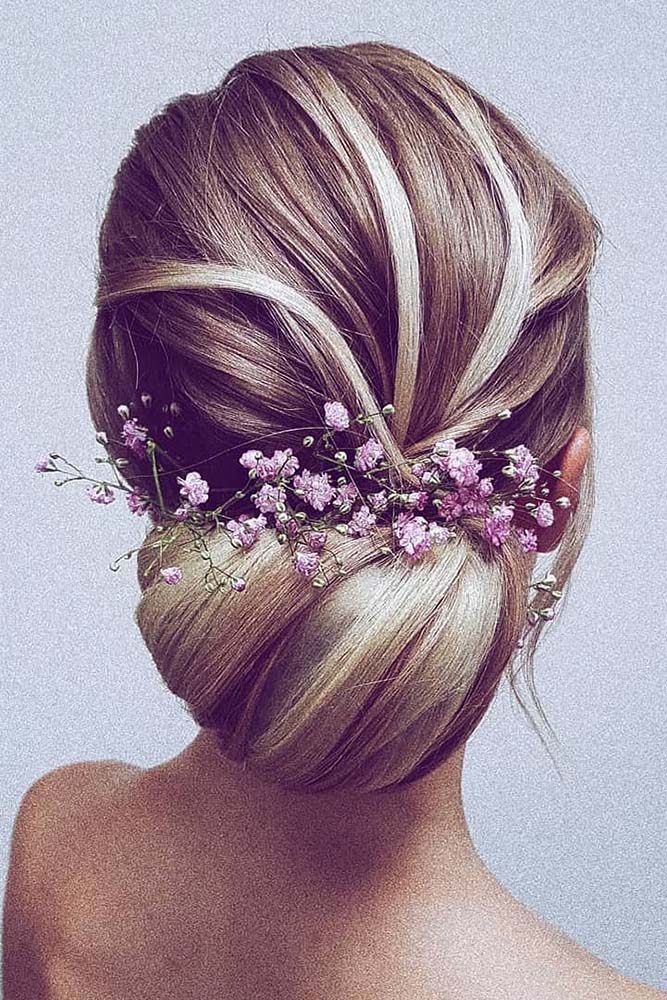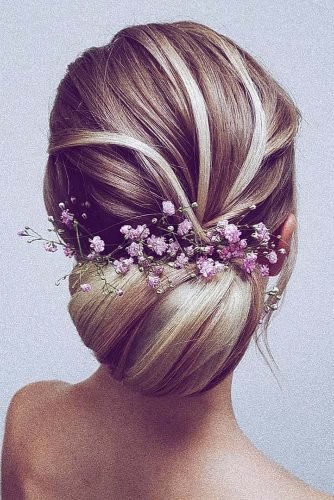 Wedding hairstyles are all about romance. Just one look at this charming low messy bun is enough to see that it is true. Leave out loose strands to frame the face.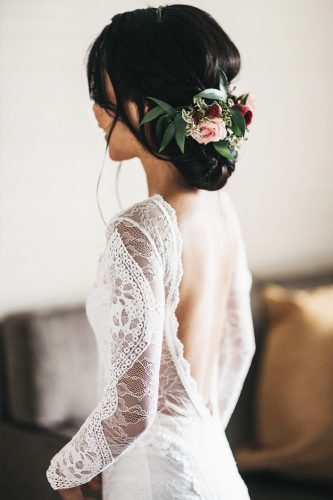 This low bun bridal hair is especially dramatic. Combination of dark hair color and vivid colors of the flower hairpiece looks fantastic. Add some greenery for an even more stylish solution!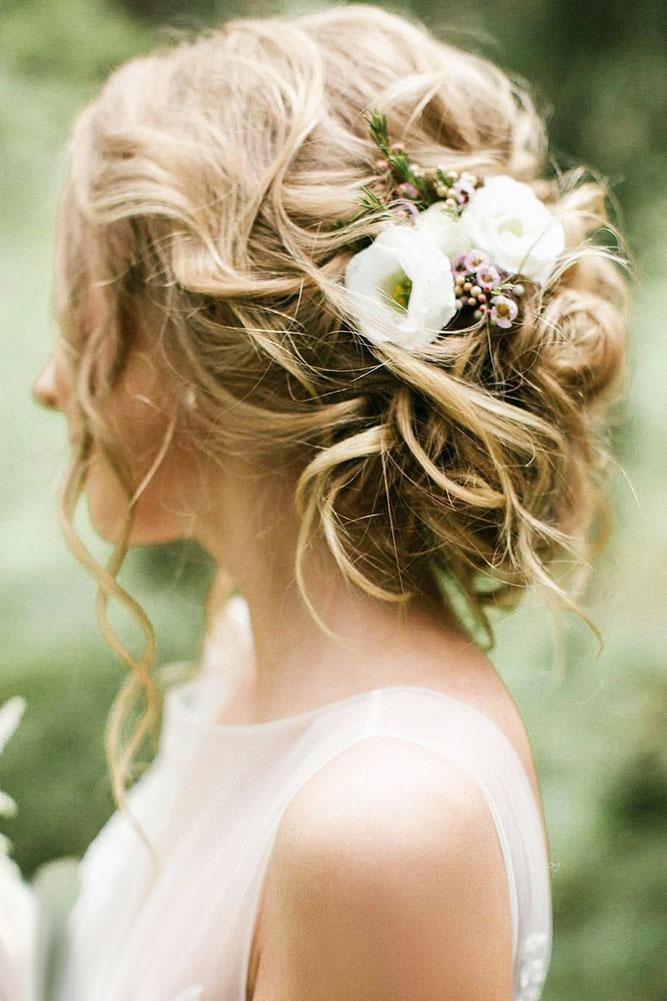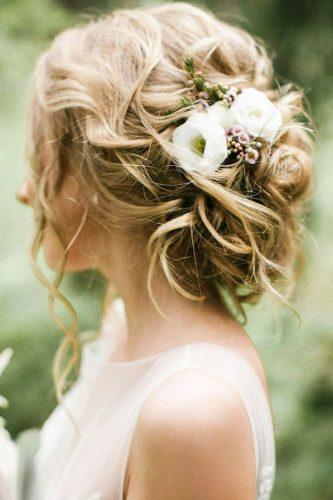 One more example of those fabulous loose low bun wedding hairstyles. The choice of flowers can change the overall impression completely. Would you look tender or bold on your big day? Choose wisely!
Beautiful Hairstyles With Veil
Source: annaunddiekamera via Instagram, natasha_hurley via Instagram, Richard Photo Lab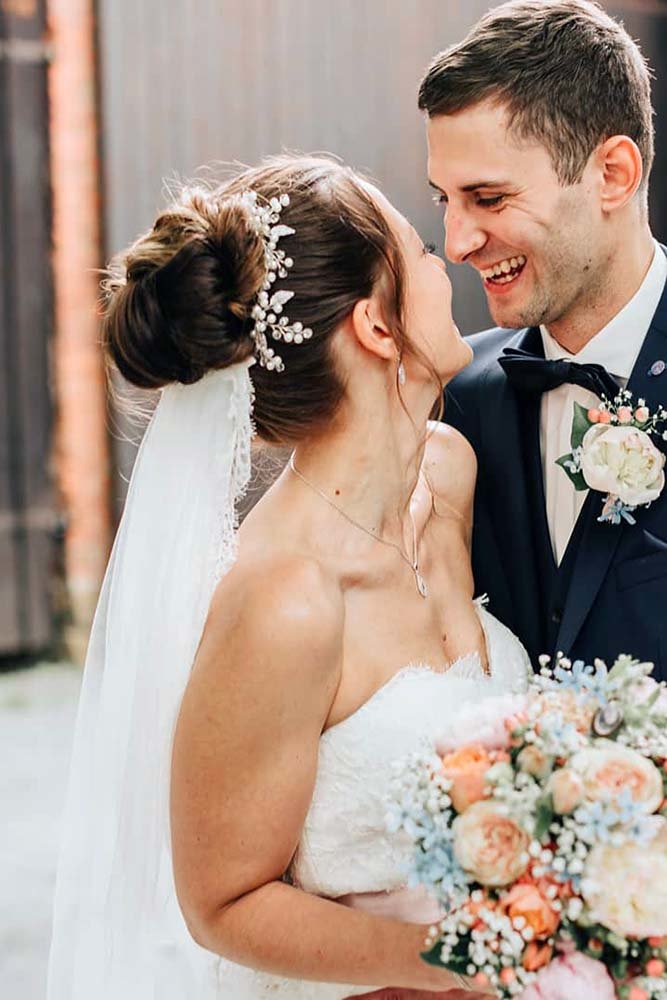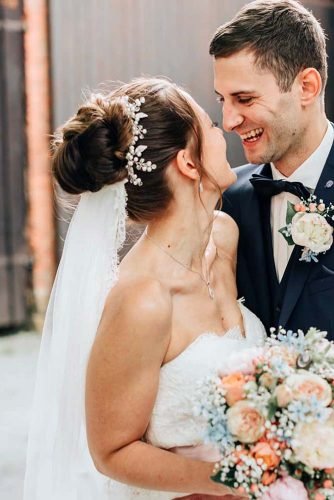 This classical wedding bun hairstyle is the most basic version of the ballerina bun. The veil is placed right under a classical smooth top bun. Sleek and shiny!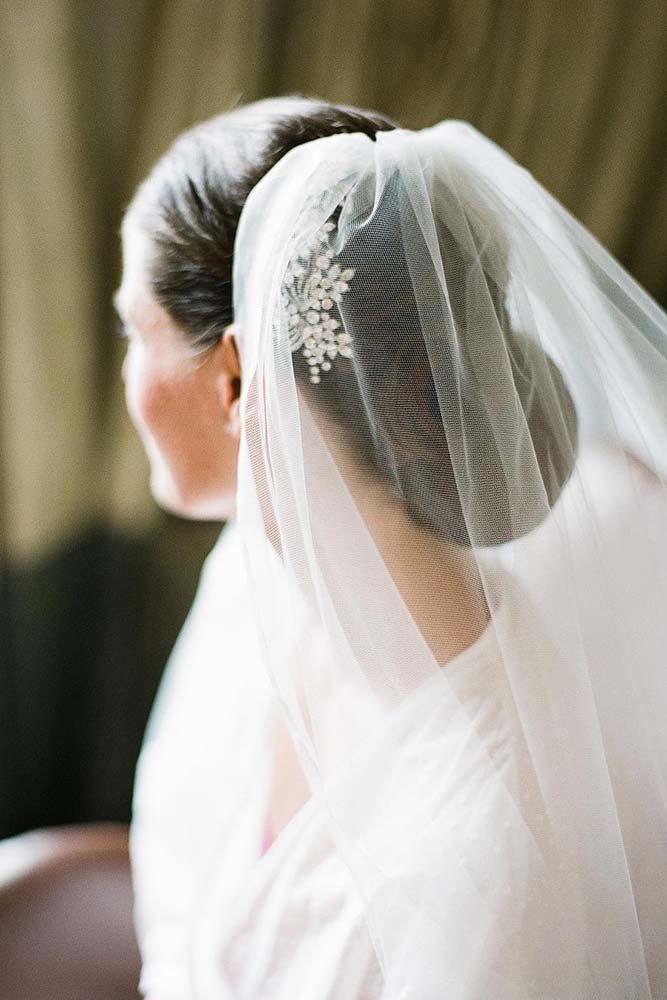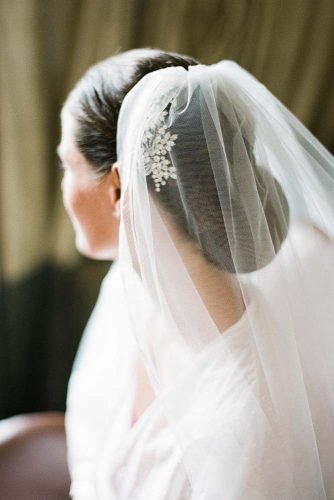 Like some other classical low bun wedding hairstyles, this hairdo looks fabulous with pearl earrings and a simple silk dress with a low cut back.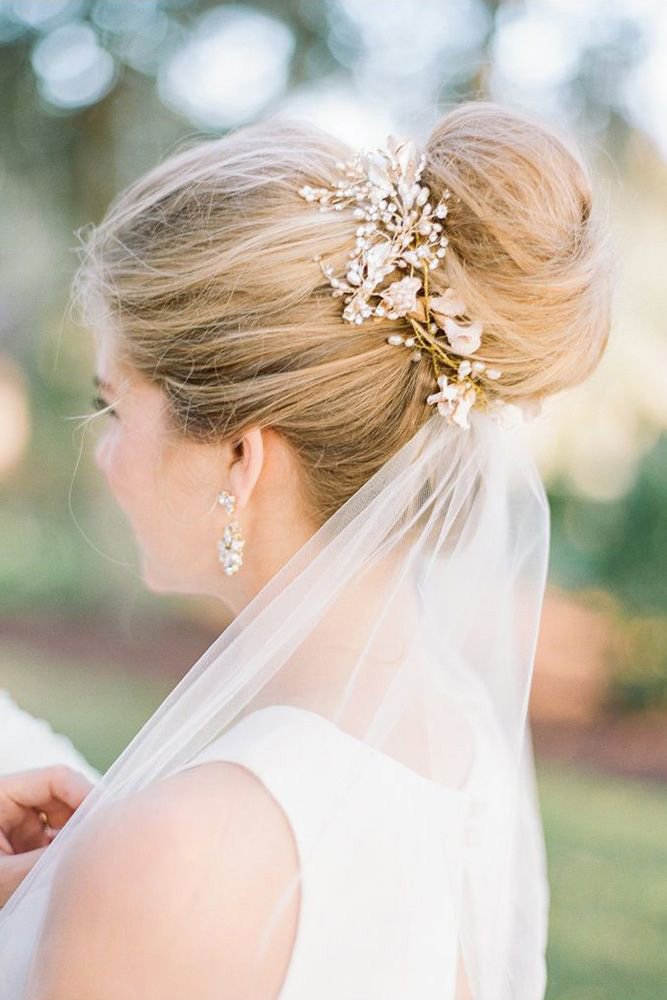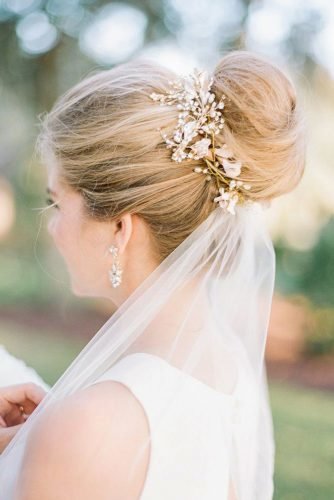 This is a more original version of popular bun hairstyles for wedding. The combination of braid and updos brings in that boho spirit you've been dreaming about!
Wedding Bun Hairstyles With Headpiece
Source: elstilespb via Instagram, Jannie Baltzer, tonyastylist via Instagram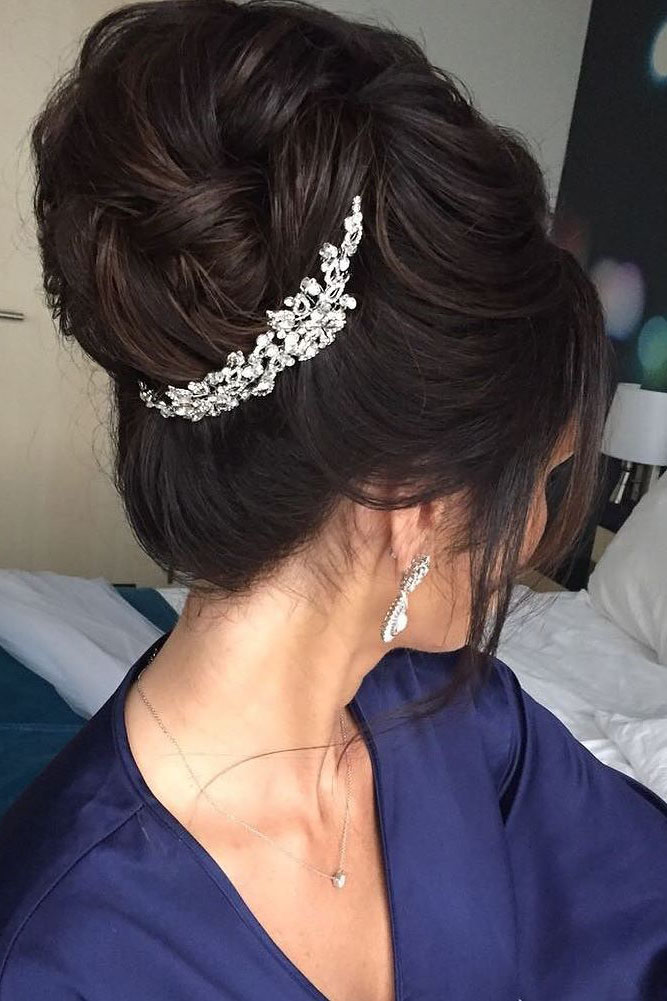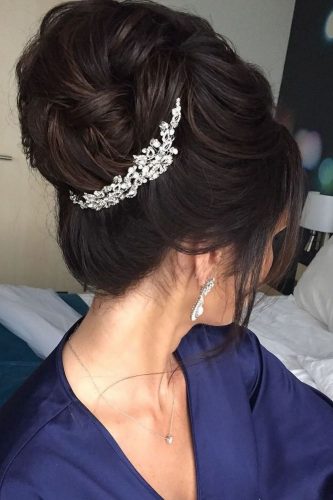 This voluminous bridal bun hairstyle looks gorgeous! Just add a jewel hairpiece to hold your bun together. Just make sure, that the earrings match your hairpiece.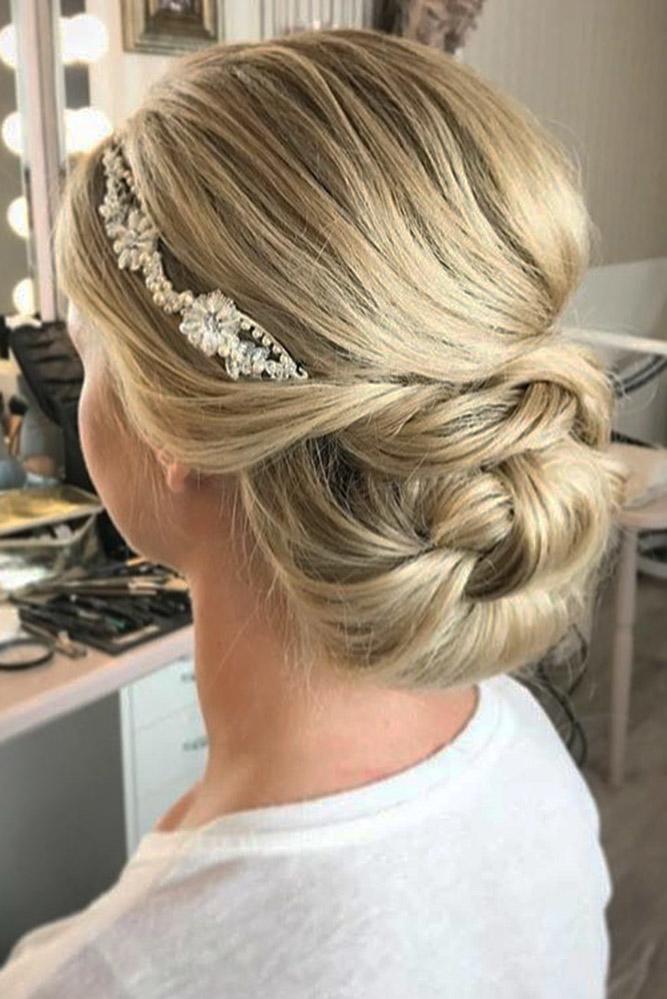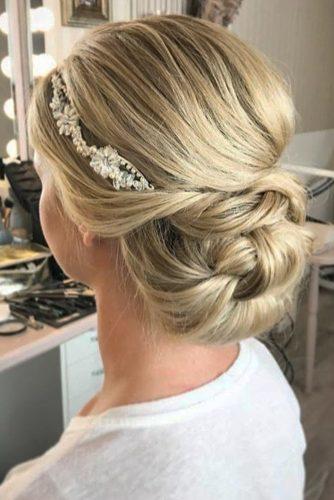 Another example of more twisted wedding hairstyles, decorated by an amazing hairpiece! Isn't it simply fantastic, how much one little detail can influence the whole picture?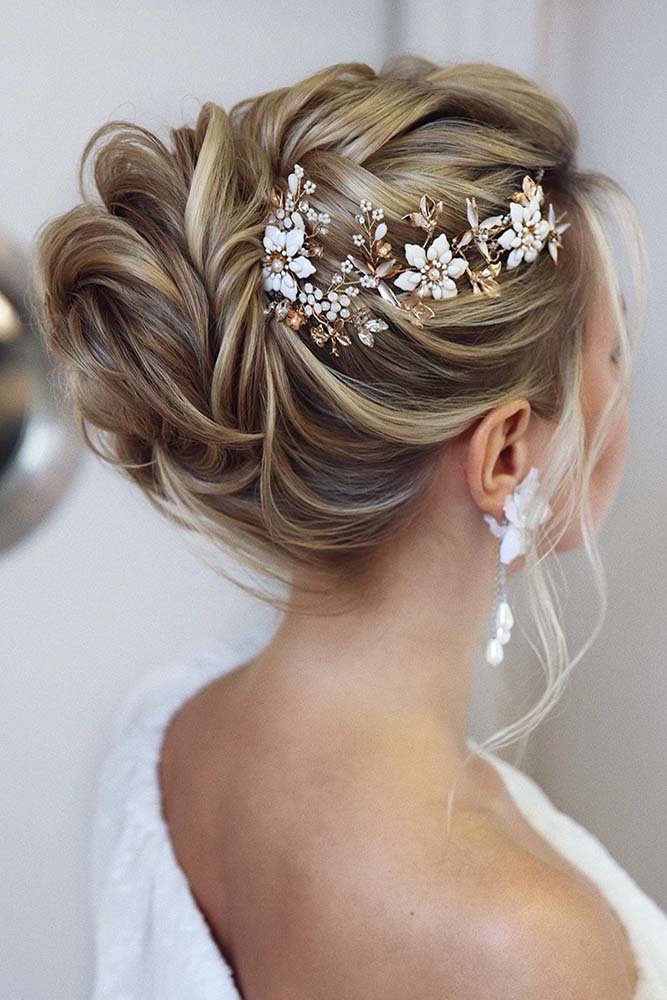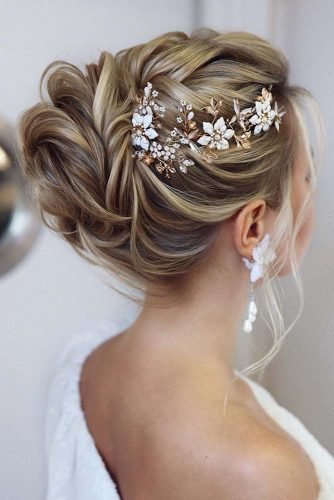 This wedding bun, just as some other wedding hairstyles, gives the bride that delicate glow of happiness. This bridal look reminds me of Italy. You can see why everyone is so excited about.
If you want to wear a beautiful veil, you need some inspiration. Visit this source and find ideas that will help you look like a princess! 42 Dreamy Wedding Hairstyles With Veil