An updo is one of the most popular wedding hairstyles for brides, bridesmaids, and mothers-of-the-bride/groom. There are plenty of beautiful wedding updos for short, mid-length or long hair, or for any hair texture or wedding theme. One of the many advantages of an updo is that it gives you plenty of options for accessories such as barrettes, fresh flowers, headbands, and veils. This ultimate guide to wedding updos has it all… elegant updos, messy buns, intricate braids, twists, chignons, you name it!

What Brides-To-Be Should Know
What Is An Updo?
An updo is a type of wedding hairstyle where the hair is pulled up and away from the shoulders and secured into a specific style with hair clips and/or hairpins. For those with shorter hair, we recommend considering partial updo, however, most styles are best for brides with medium or long length hair. A wedding updo is certainly a more complex hairstyle, so we do not recommend to DIY it, and most brides pay a professional hairstylist.
Which Bridal Updo Style Is The Most Popular For 2020?
While wedding trends change every year, the perfectly messy updo look inspired by Meghan Markle will continue to dominate in 2020. Natural-looking and artistically messy updo hairstyles are taking over from hairspray heavy locked in looks.
How Much Are Updos For Weddings?
Entrust your updo to a professional hairstylist. Since updos take longer than regular blowouts you should expect to pay $100-150 for the bride. For the bridesmaids, a simpler half-up hairstyle will cost around $60 while an updo will cost approximately $75 each. Don't forget to factor in a 15-20% tip for your wedding day hairstylist.
How Long Do Wedding Updos Take?
Short wedding updos take approximately 45 minutes, however, brides with longer hair should budget at least 1 hour. Due to complexities of wedding updos, at least 1 hour should also be budgeted for Bridesmaid updos as well as Mother-of-the-bride/groom updos. Hair trials are especially important for bridal updos to make sure your updo looks perfect on your big day!

Wedding Updos By Hair Length
Updos For Long Hair
Source: julia_alesionok via Instagram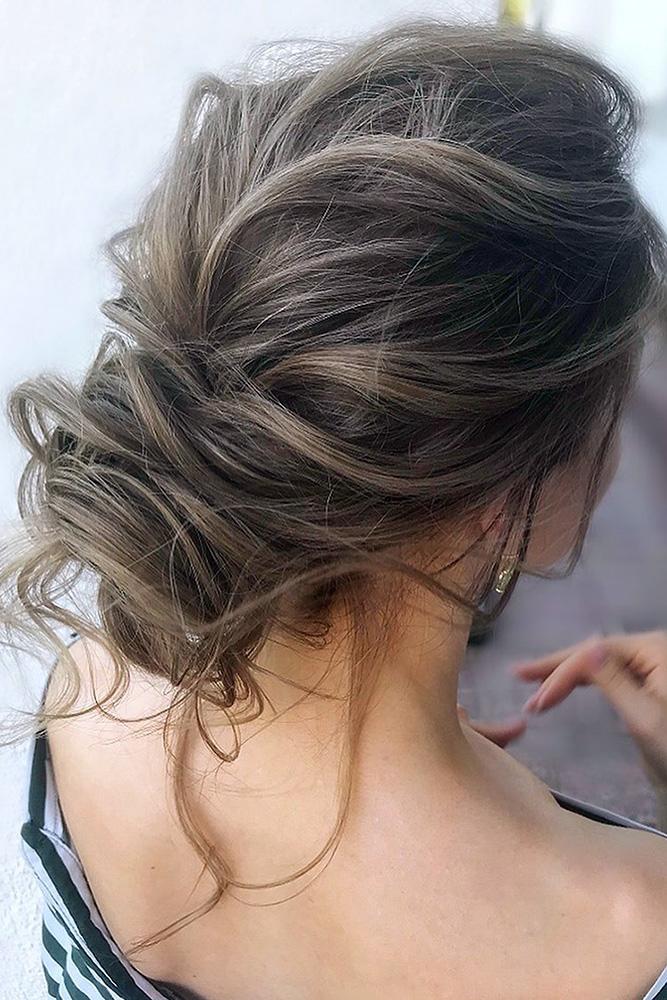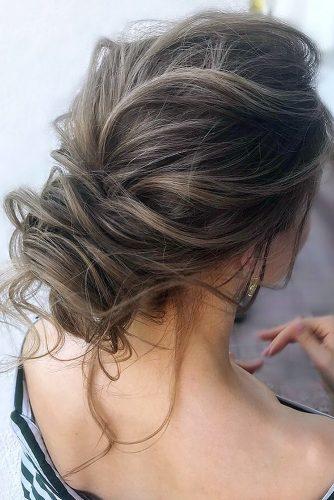 Just one look is enough to understand, that long hair looks simply stunning in wedding updos. The length allows to experiment with different style, be it boho chic, classical or modern – you are sure to look picture perfect no matter what. There's something for every bride!
Updos For Medium Length Hair
Source: mpobedinskaya via Instagram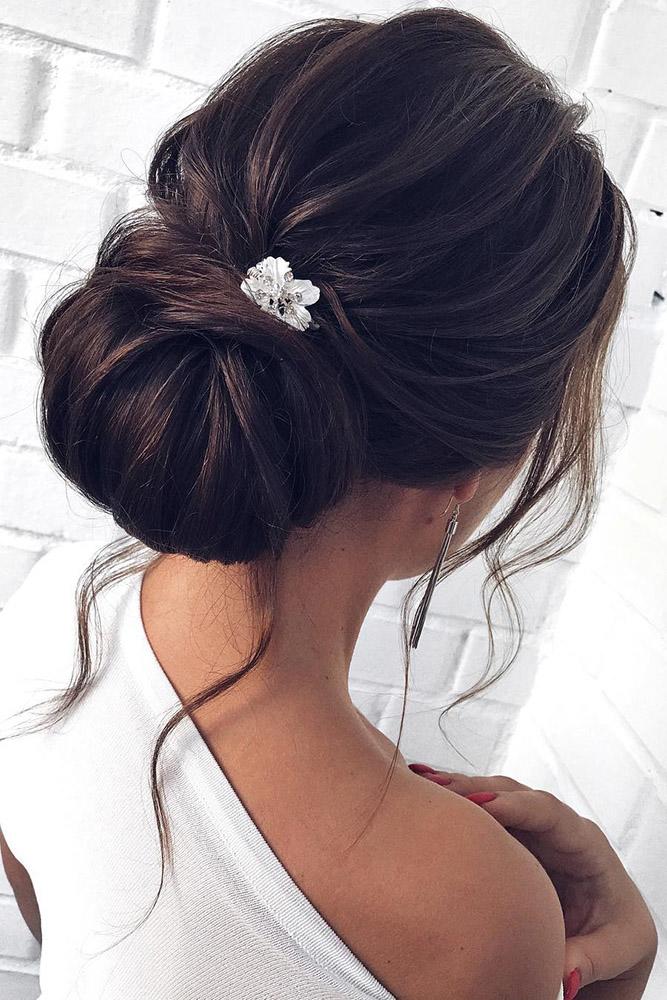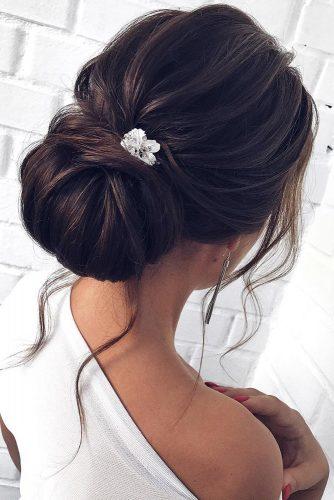 Wedding updos for medium length hair work best with open shoulders. Classical column or empire dresses, mermaid dresses, A-line dresses – all bridal gowns will look gorgeous with medium length hair updos as long as they have open neck and shoulders.
Updos For Short Hair
Source: olesya_zemskova via Instagram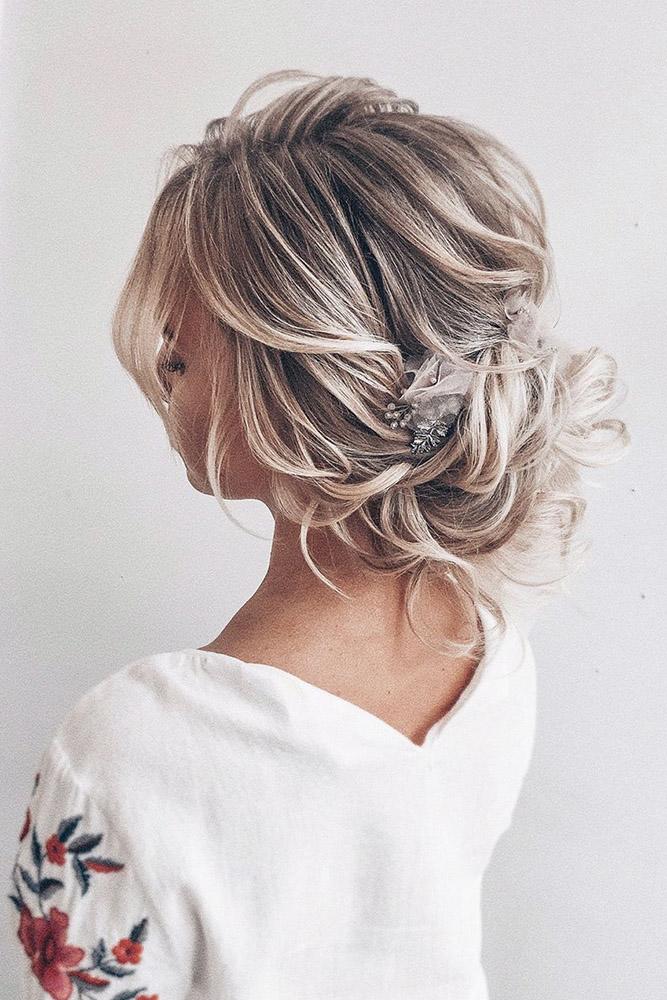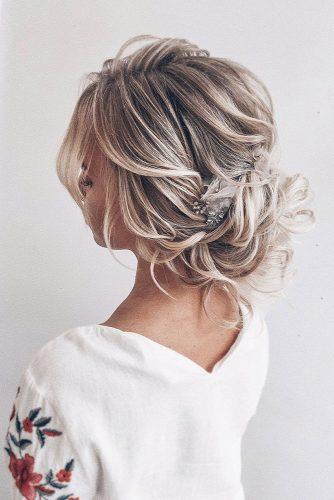 Short hair wedding updos give the bride that ultra-modern look that goes best with trendy super simple style. Short updos and simple wedding gowns with little or no embellishments or sophisticated wedding suits make every bride look haute couture. Make your wedding style a true fashion statement!

Wedding Updos With Accessories
Amazing Updos With A Veil
Source: jojo_hicks_mua via Instagram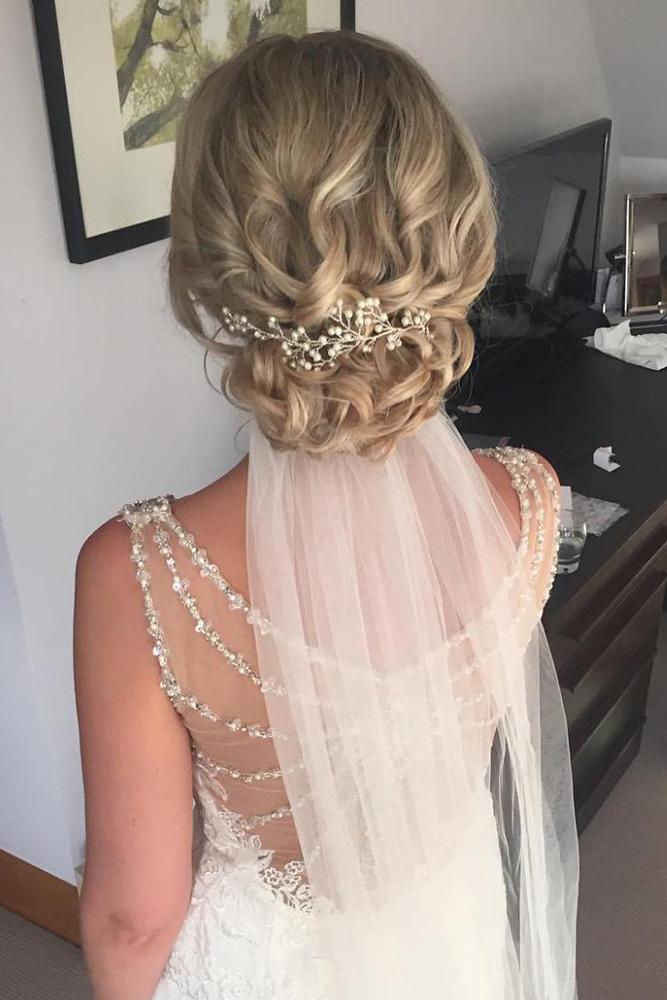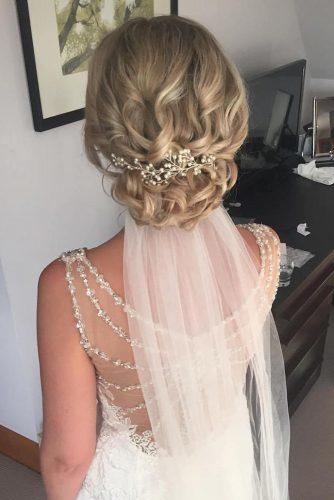 A veil can make even the most simple updo into a most romantic one. Depending on the style of the veil, you can pin it on top of your hairstyle, or just below the bun – anyway it will look chic, feminine and romantic!
Boho Chic Updos With Flowers
Source: Hội Mẫu Make Up via Facebook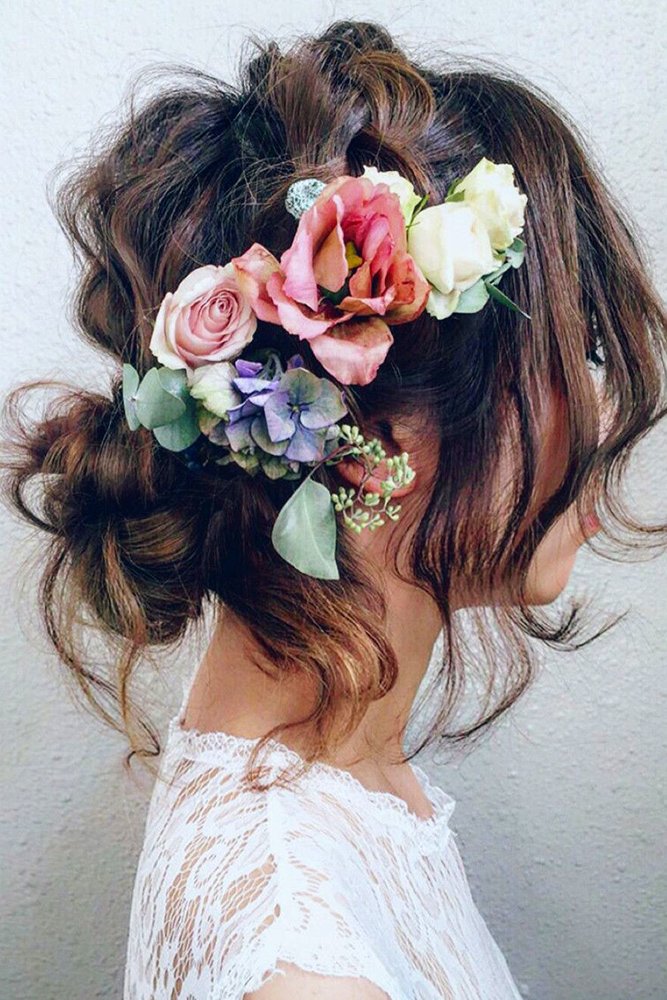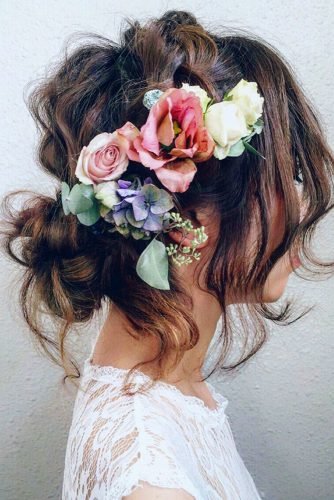 Flowers are an essential part of every wedding. They also make every hairdo look romantic. If you have chosen a boho styled wedding, flowers are an absolutely necessary part of your image! Be they large or small, brightly colored or simply white, with flowers in your hair you will like a fairy-tale princess!

Updos With Hair Vines & Hairpins
Source: olesya_zemskova via Instagram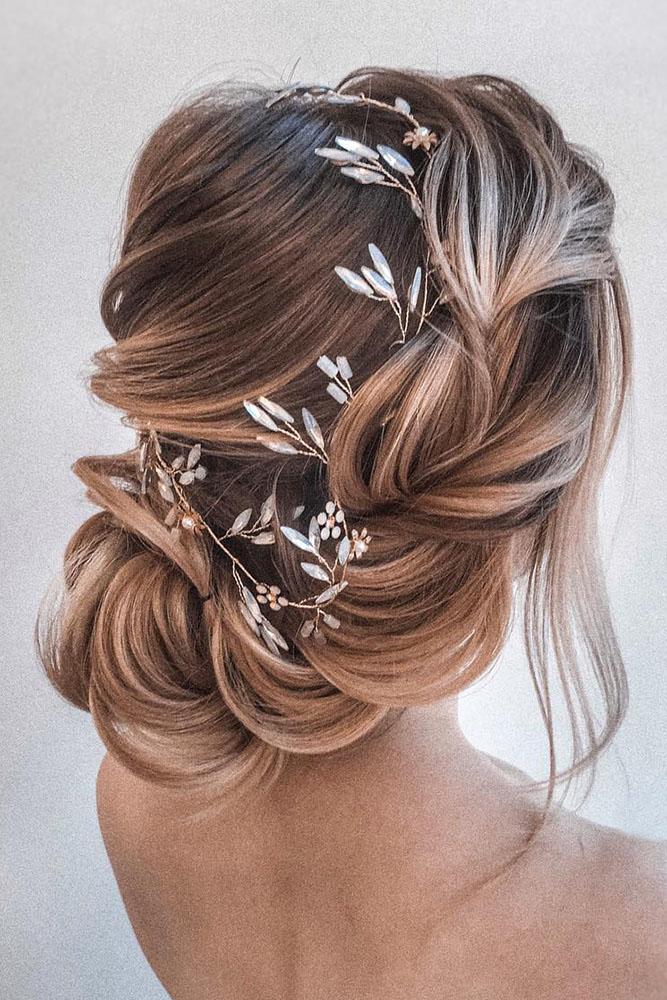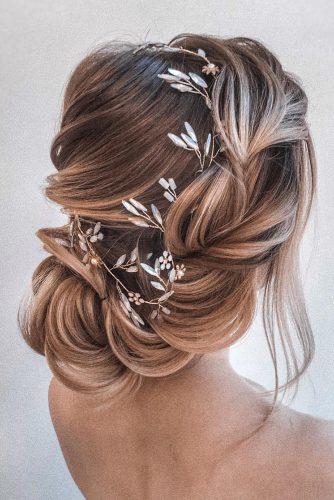 Want to make your bridal updo look even more festive? Create your wedding mood and style by adding some accessories! Hair vines and hairpins, ribbons and tiaras, jewel hairpieces and flowers – you will be surprised at the difference they make! Pay special attention to veils – they can make all the difference!
Updos With A Tiara For A Princess Look
Source: hairandmakeupbysteph via Instagram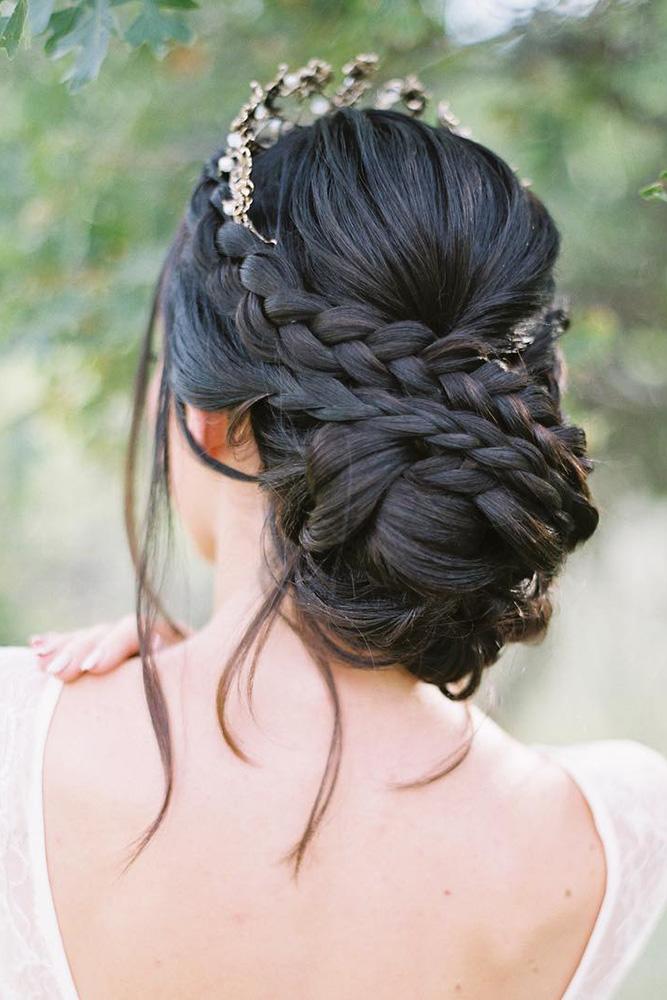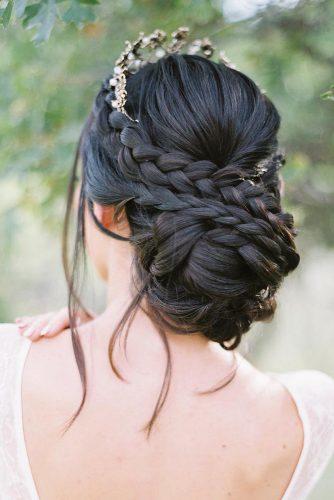 If you want to make your wedding day a true fairy tale happily ever after, you need to look regal yourself! There is nothing that can compare to a wedding updo with a tiara for that princess look. Match with a princess ball gown wedding dress and a long train.

Wedding Updos By Style
Super Simple Wedding Updos
Source: Missy Sue Blog via Instagram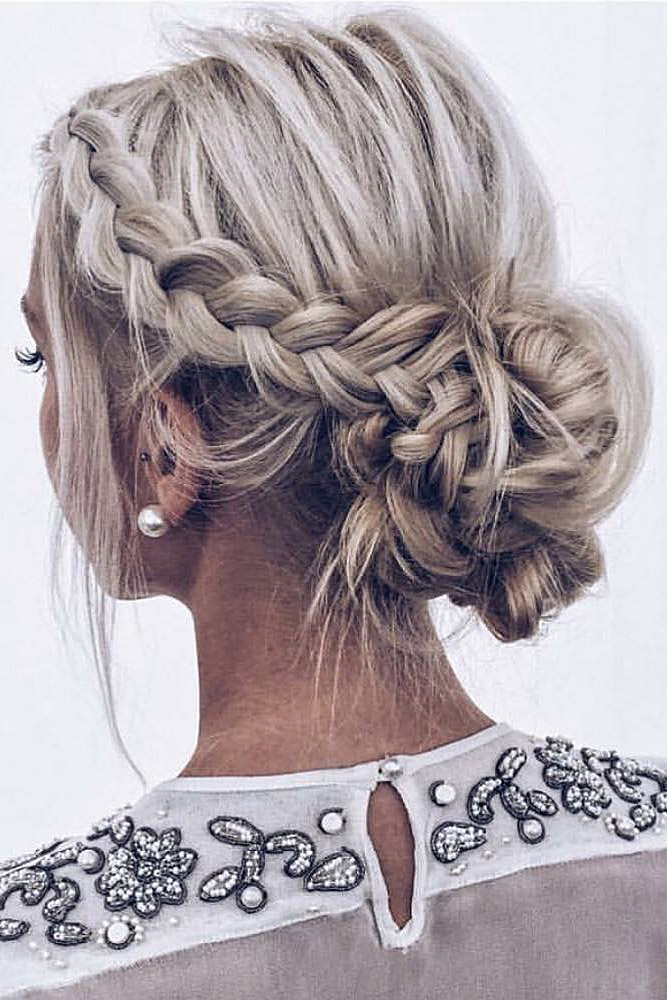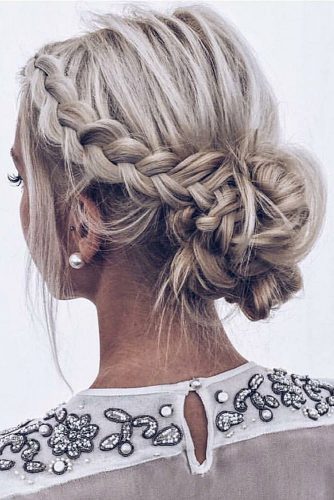 If you don't want to bother your hairstylist, you can make sure you can do your hair yourself! These super-simple wedding styles are easy to do. Look at these super easy bridal buns – they will look stunning with a simple white dress. Just don't forget to practice in advance!
Airy & Loose Wedding Updos
Source: Lena Bogucharskaya via Instagram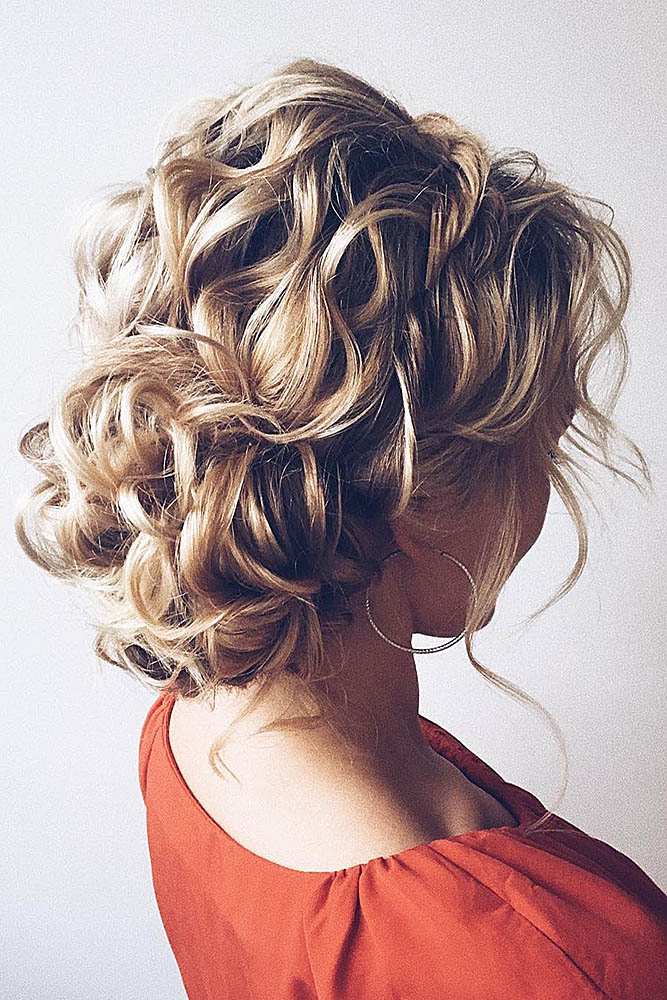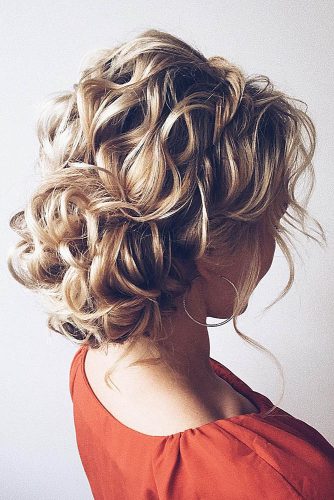 Recently loose wedding updos are becoming more and more trendy. Their flowing lines look amazing with flowing fabrics and textures of boho wedding gowns. These outstanding updos suit every bride and add softness to facial features. Add a tiara for a most stunning effect.

Perfectly Messy Updos
Source: xenia_stylist via Instagram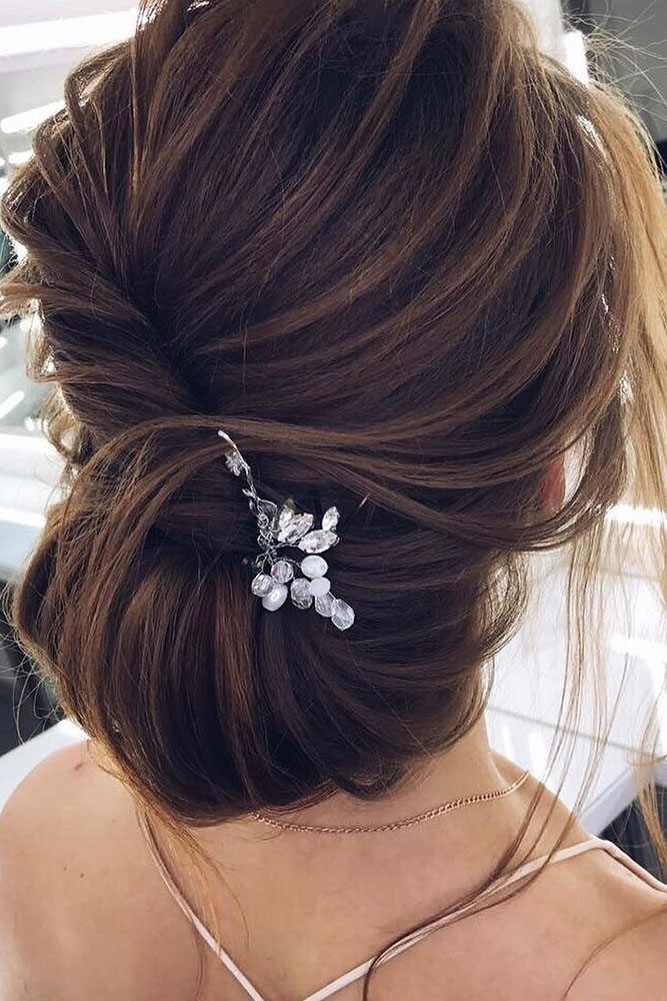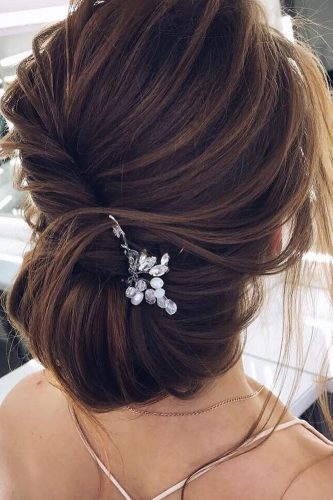 If there is a wedding hairstyle that can give the bride a look that is both classical and creative, it is messy updos. They look perfect on any length, from shoulder length to long tresses. This style also works great with small delicate flowers.
Original Side Updo
Source: tonyastylist via Instagram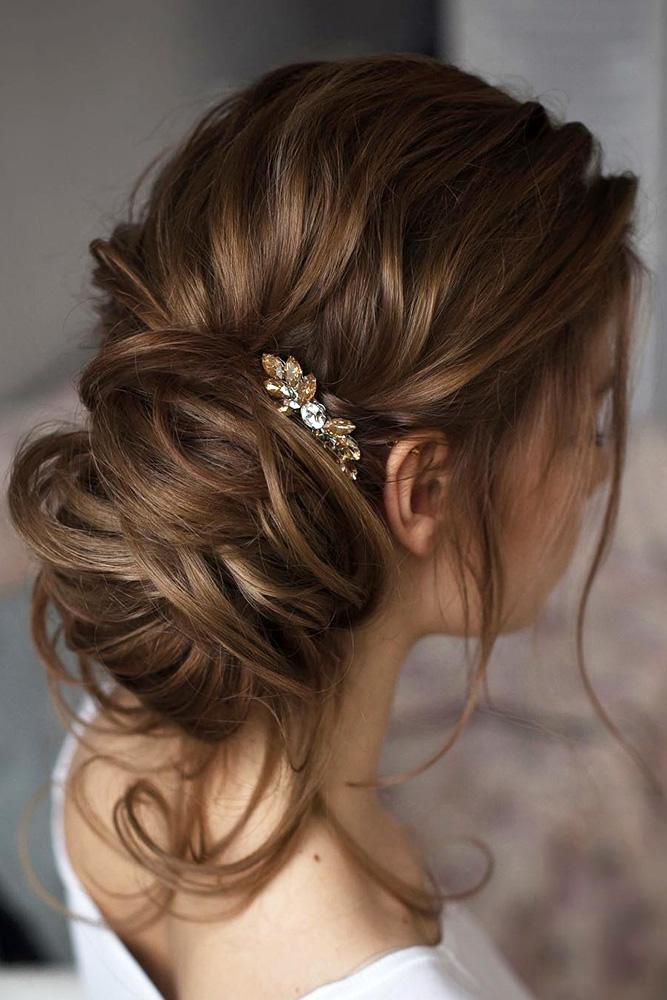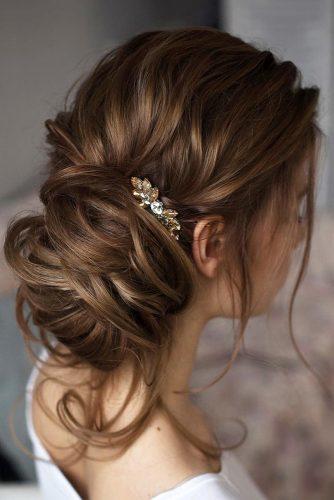 If you are looking for a more original style, that would show off your individuality – consider side updos. They add a new and more experimental look to the most common wedding bun. Goes extremely well with a wedding suit or a medium length wedding dress.

Trendy Updos With Braids
Source: Elstile via Instagram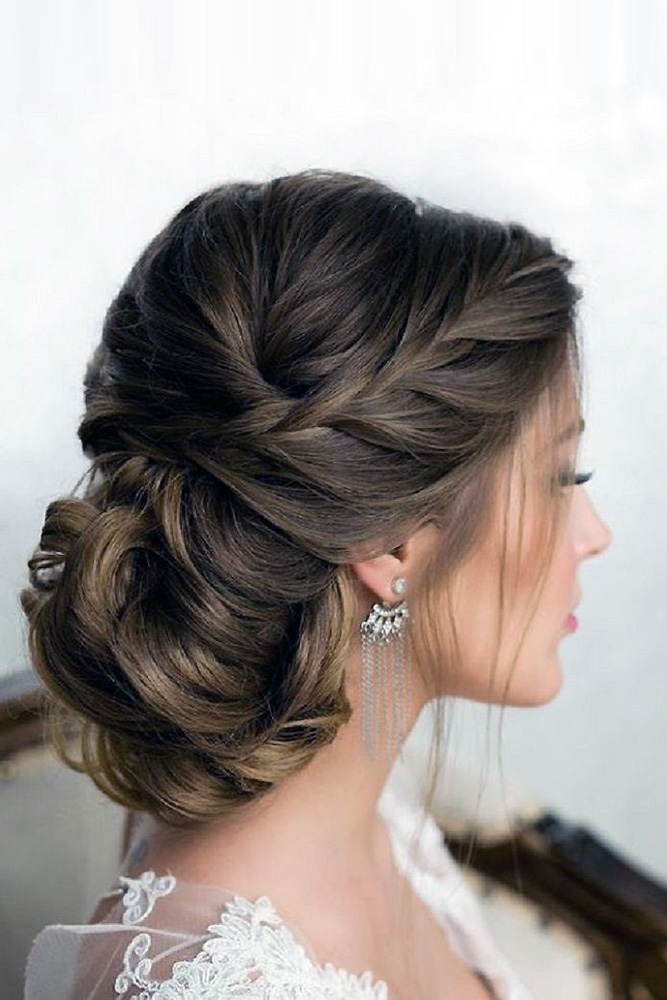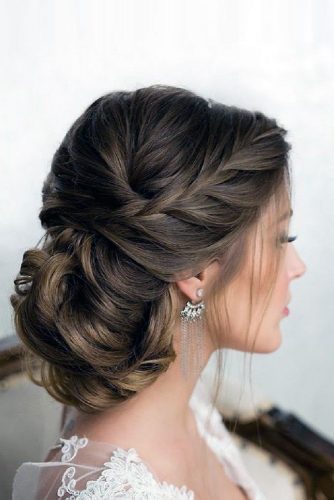 Braids are hot this season. Medieval looking braided crowns, ethnical braided buns, creative fishtail braids… There are lots of ways to rock that hairstyle. Every bride will find something that appeals to her inner self. Just take a look at these amazing styles!
Curly Updos
Source: lenabogucharskaya via Instagram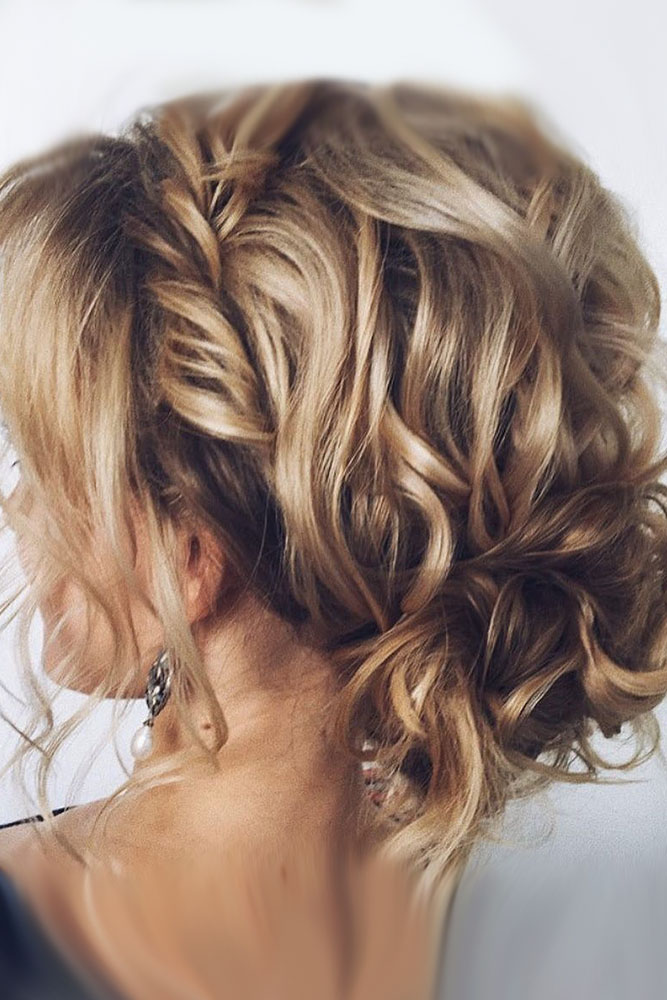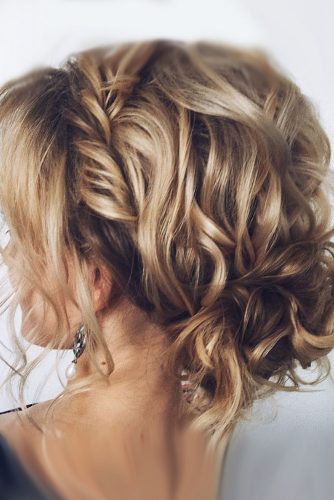 Curls look marvelous, no matter the length! Why don't you take a look at some of the most stunning hairdos with curls? Be it long locks or old-Hollywood style short-cropped curls, you are going to love them. Curly wedding updos work amazingly with any wedding gown.

Low Updos
Source: untamedpetals via Instagram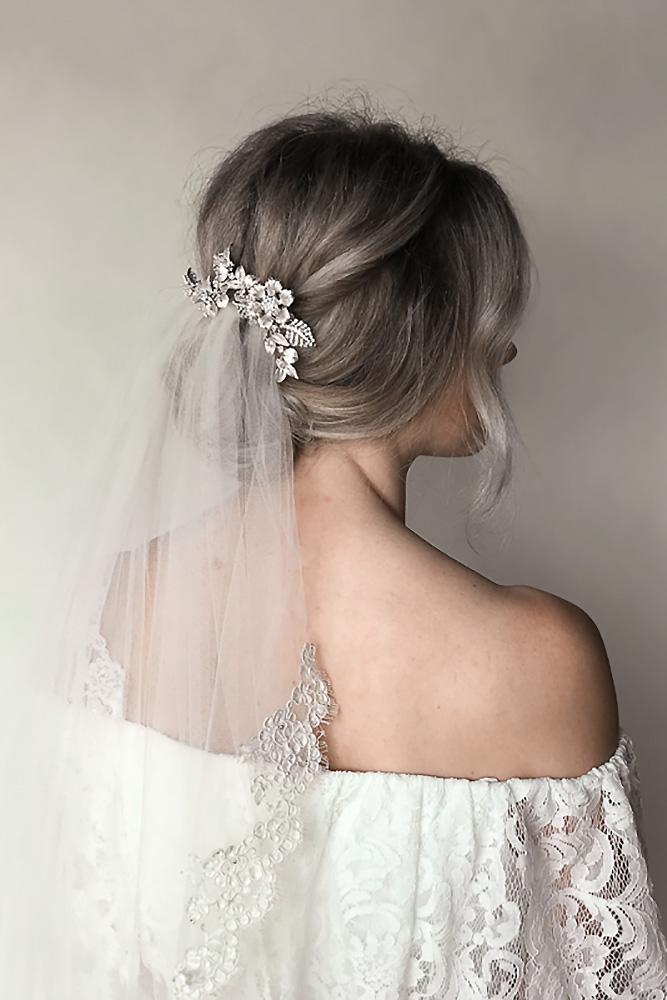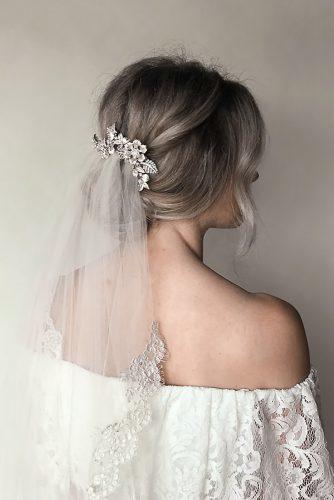 If you want an updo, but want a more relaxed look, try a low updo. These fantastic styles make your bridal look more feminine and delicate with a short veil and flowers, or decorated with jewel hairpins. A must if your gown has long illusion sleeves.
Wedding Bun Updos
Source: lenabogucharskaya via Instagram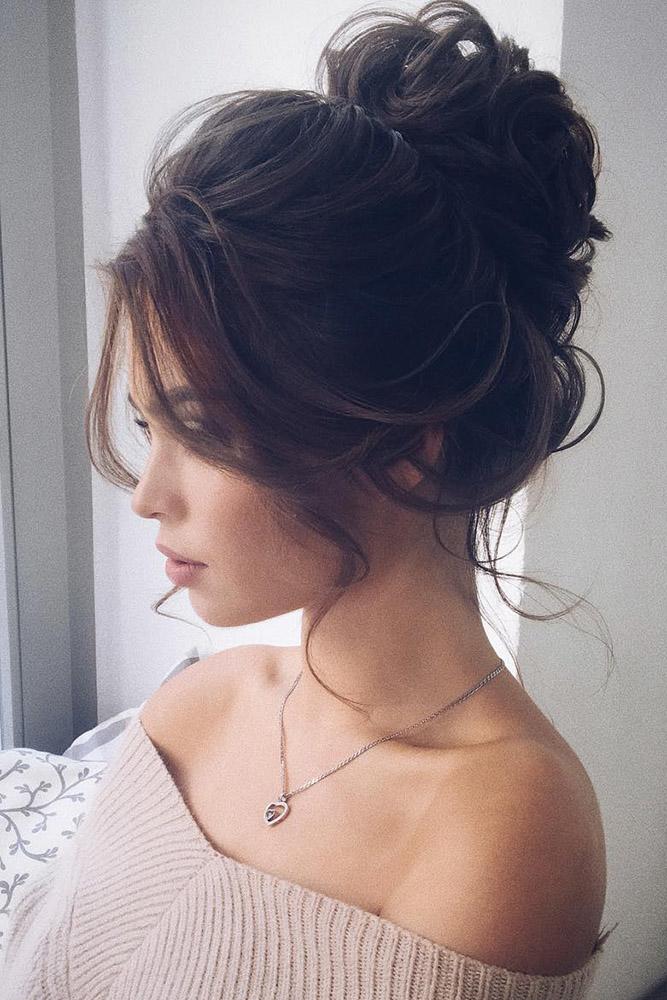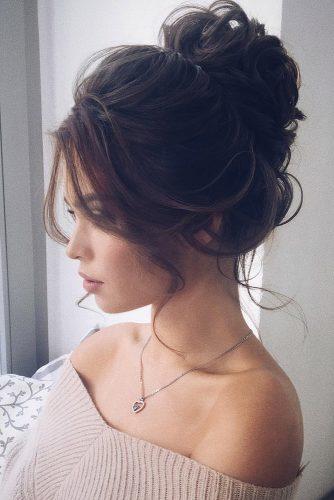 Wedding buns remain one of the most popular wedding hairdos for quite a while. No matter what your wedding style is – you are going to love one of these inspiring wedding hairstyles! They look especially stunning with a mermaid dress or simple empire dresses.

Pin-Up Wedding Hairstyles
Source: Elstile via Instagram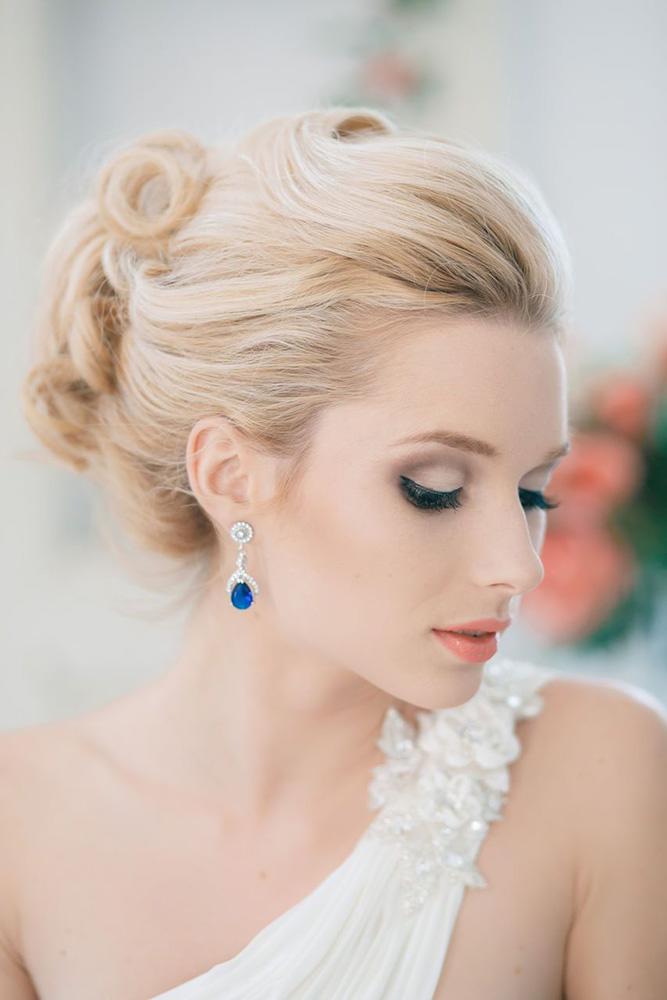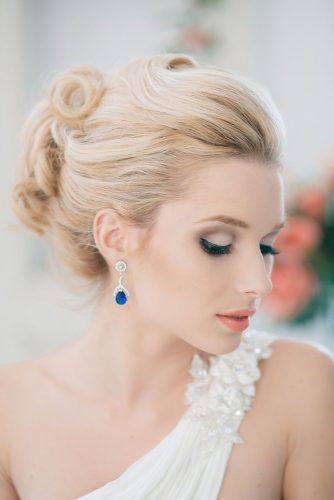 Vintage remains popular among brides, but if you want to look absolutely breathtaking, try one of these pin-up wedding hairstyles. Looks most gorgeous on blond or red hair – but will work just great for every bride! Victory rolls, bangs, and ponytails – don't we love this style?
Wedding Chignon Styles
Source: sarahwhair via instagram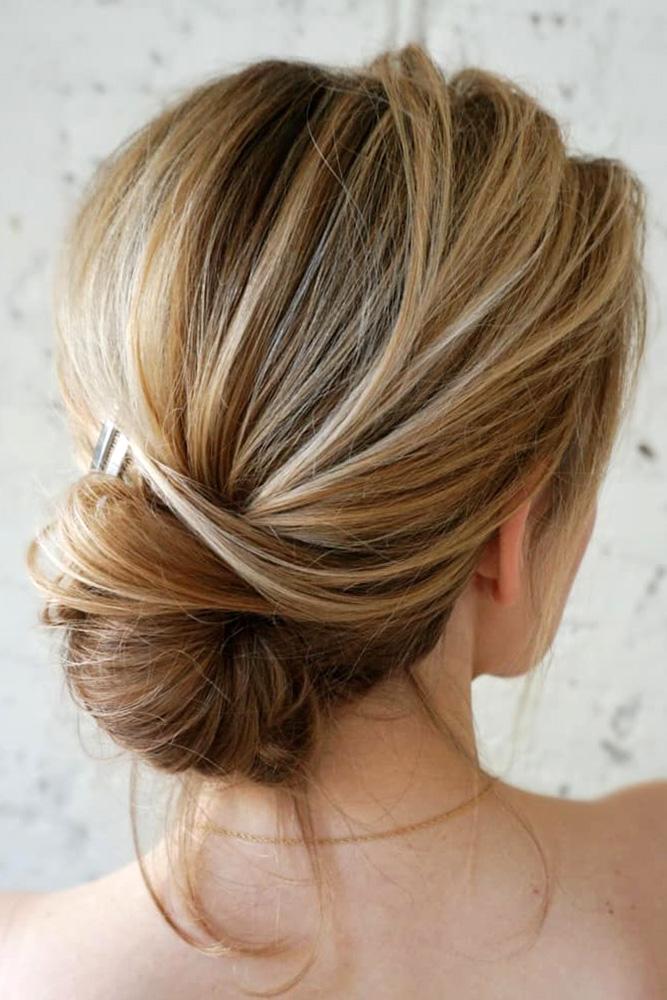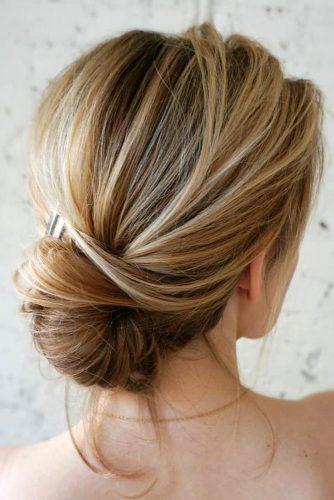 If you think that you want something that is both classy and chic, try one of these chignon styles. They will look most stunning with beaded open back dresses. A simple chignon updo, combined with a dress with a lace train, will make you look regal.

Delicate & Soft Updos
Source: shiyan_marina via Instagram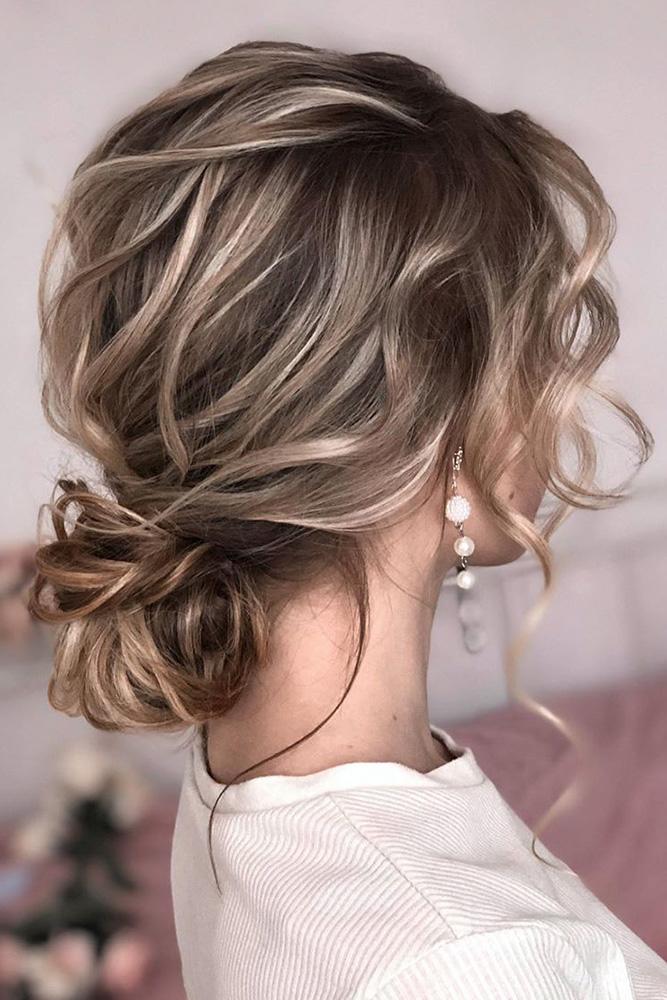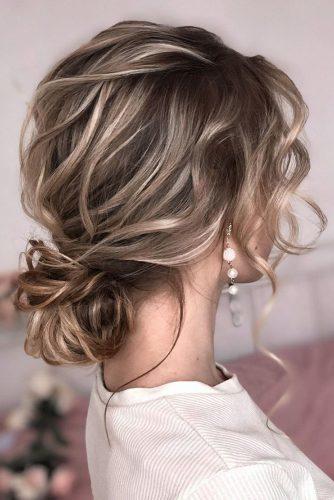 If you have a delicate frame, you might want a hairstyle that will highlight the softness of your features without making you look childish. Try one of these soft updos for a most amazing bridal look to take his breath away. Add hairpins and flowers to complete the image.
Wedding Updos With Bangs
Source: Ciara Richardson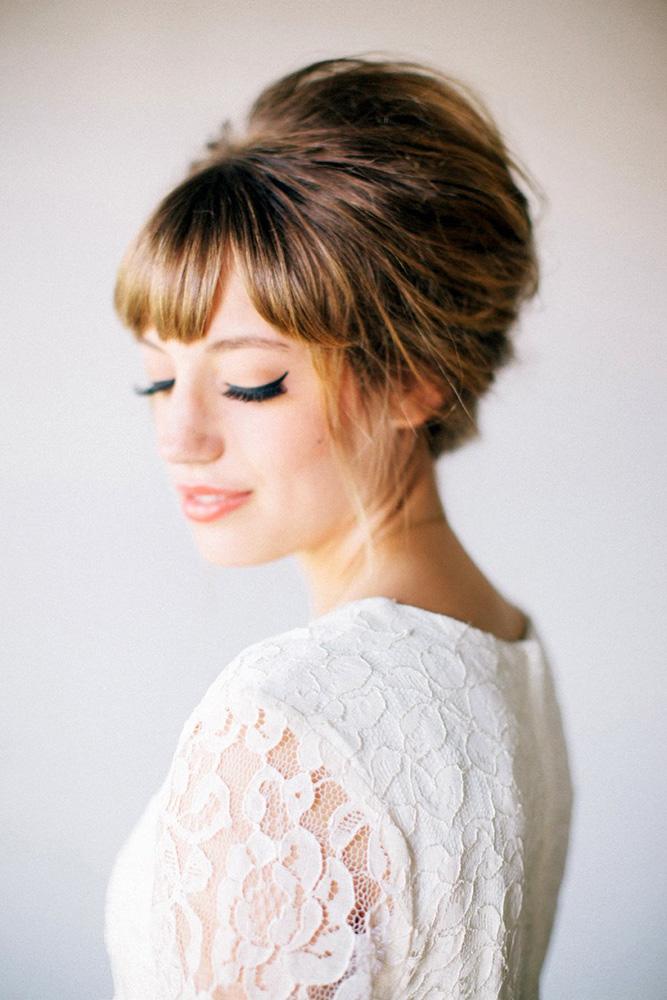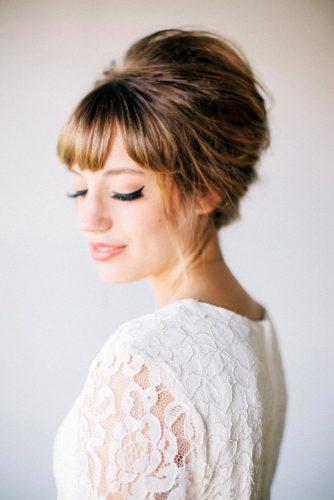 Bangs can make all the difference for any updo, and wedding hairstyles are not an exception. Bangs frame your face and add tenderness to the overall image. Try side-swept or asymmetric bangs for a bolder, more modern, look. Pin your bangs for a look of pure innocence.

Updos By Wedding Theme
Ultra-Romantic Wedding Updos
Source: Nicole Chatham Photography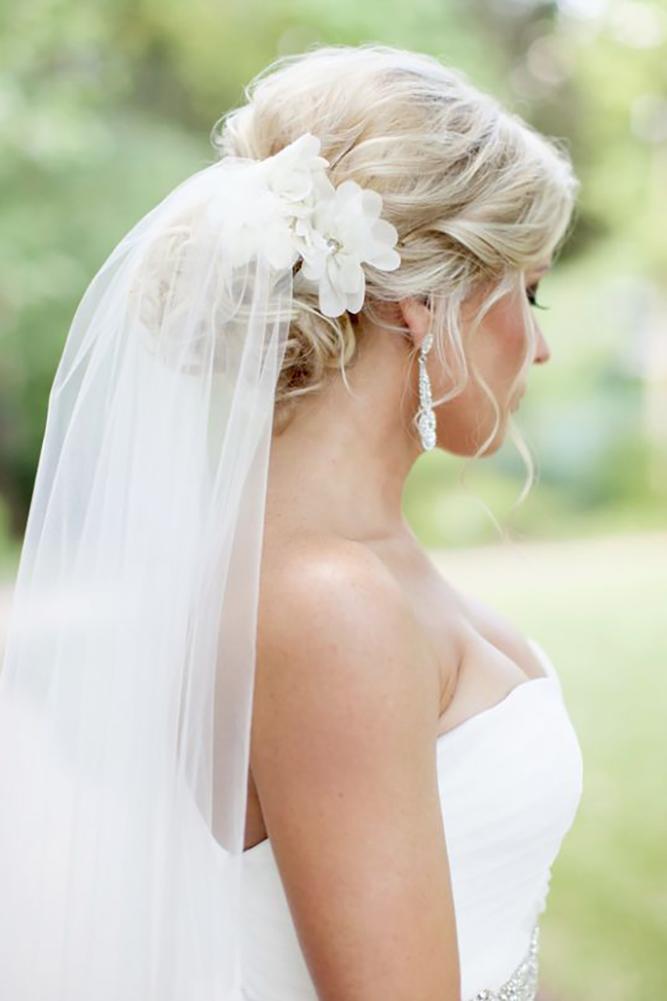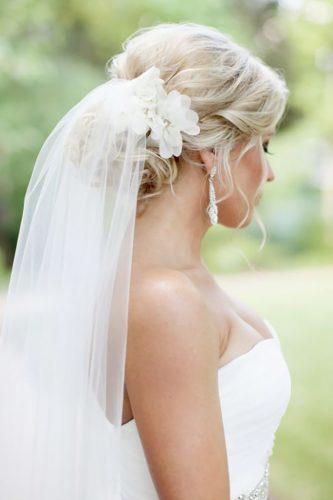 Your wedding day is the best time to show off your romantic nature. Be true to yourself with some of these delicate hairdos. Tender lines of messy buns, soft stray sidelocks, the ultimate romance of flowers and veil – what more can a girl wish for?
Classic & Chic Wedding Updos
Source: tonyastylist via Instagram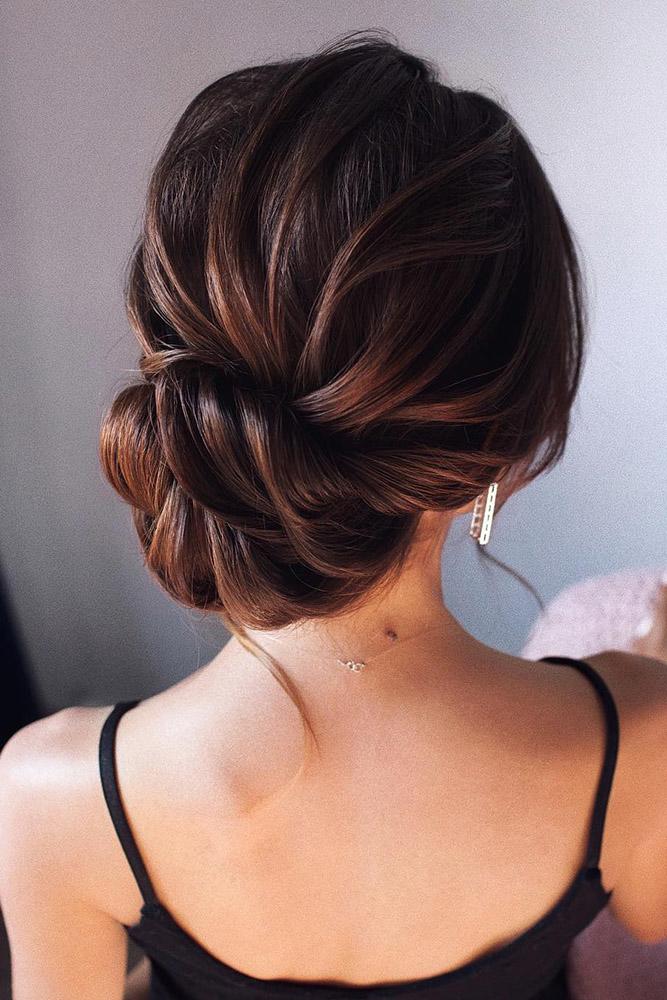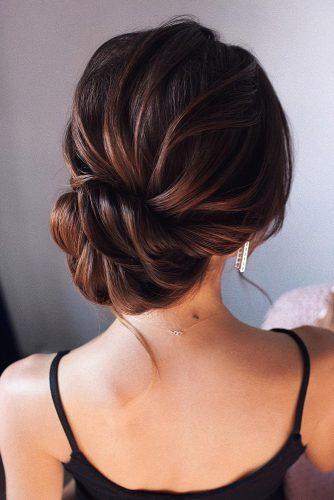 If you want a classical white wedding, you need a truly classical hairstyle to nail that look. Look at these chic and stylish updos – aren't they perfect for such a marvelous occasion? Choose a classic A-line wedding gown to complete your perfect bridal image.

Sophisticated & Elegant Wedding Updos
Source: tonyastylist via Instagram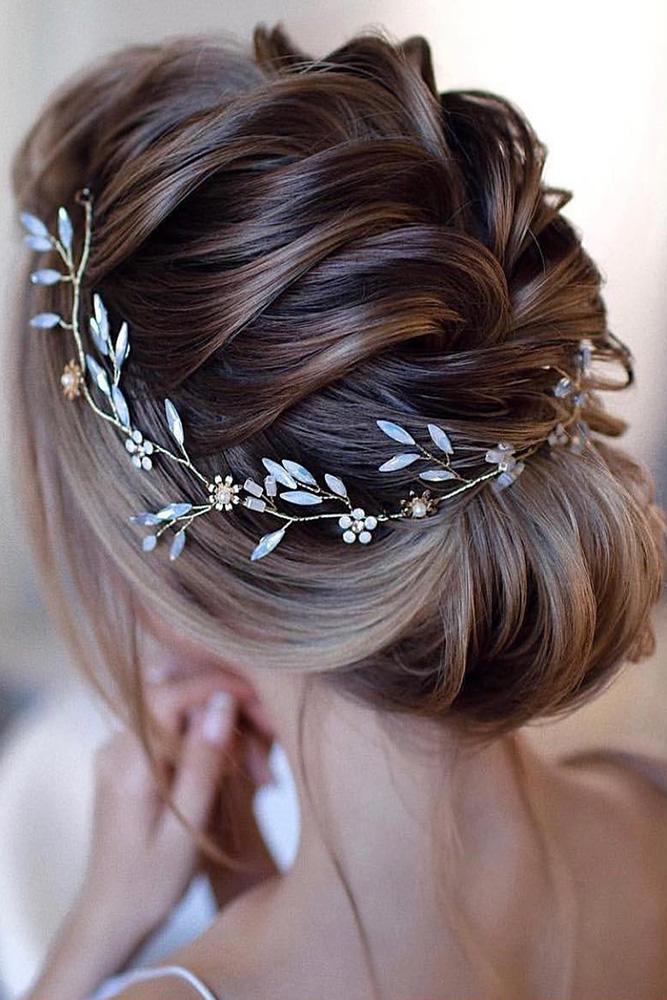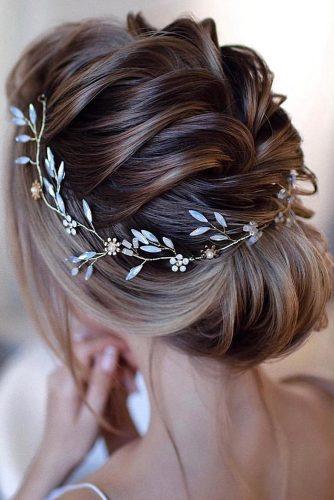 These wedding updos are the very image of elegance. They would look amazing with any bridal gown. Try a dress with illusion sleeves and back for a more feminine style. Combine with a simple A-line atlas gown with long sleeves for a more modest look.
Vintage Wedding Updos
Source: Elstile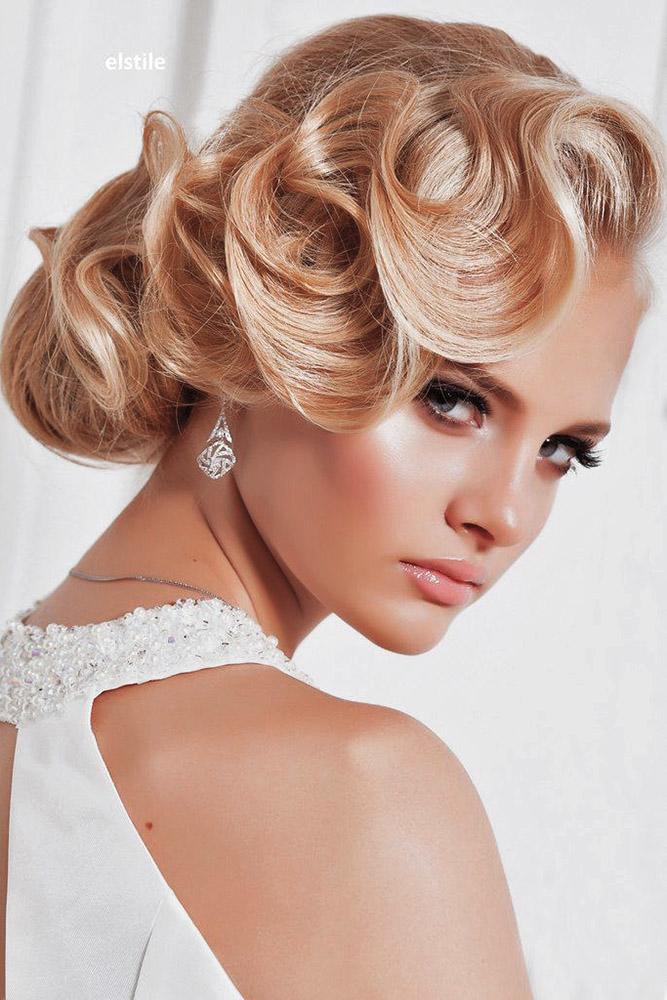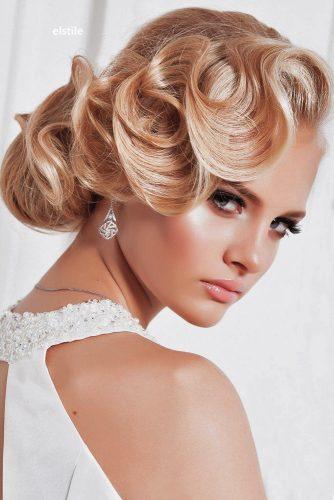 If you are planning a vintage-inspired wedding, you are going to complete your look with one of these stunning wedding updos. Classical waves to go with a column dress, curls, and locks for a 50s style simple vintage dress. You are going to look gorgeous!
Beach Wedding Updos
Source: ashandcobridalhair via Instagram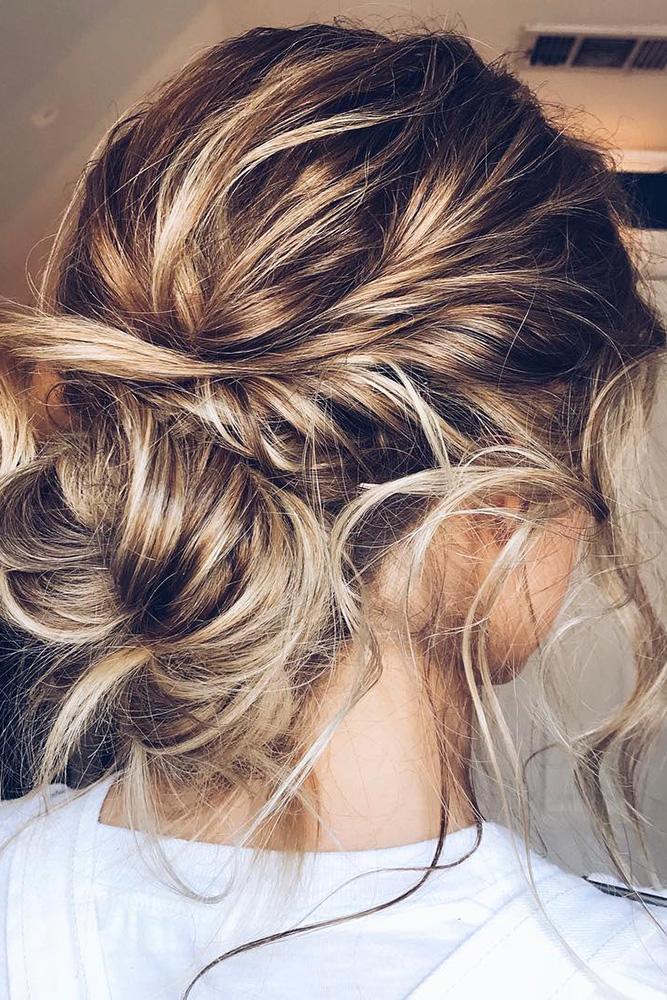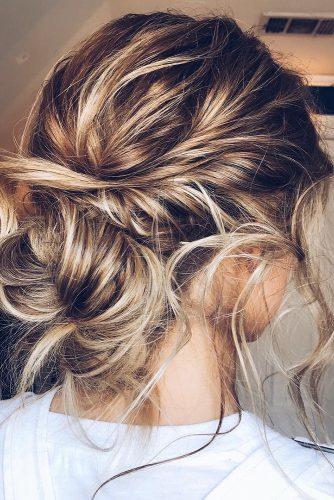 If you are planning a beach wedding or an elopement, you are going to consider your hairstyle options carefully. It is vital not to create too complicated updos. Messy buns, stray side locks, fishtail braids, and mermaid hair – these styles will look amazing on a beach.

Wedding Updos By Hair Type
Elegant Updos For Thin Hair
Source: olesya_zemskova via Instagram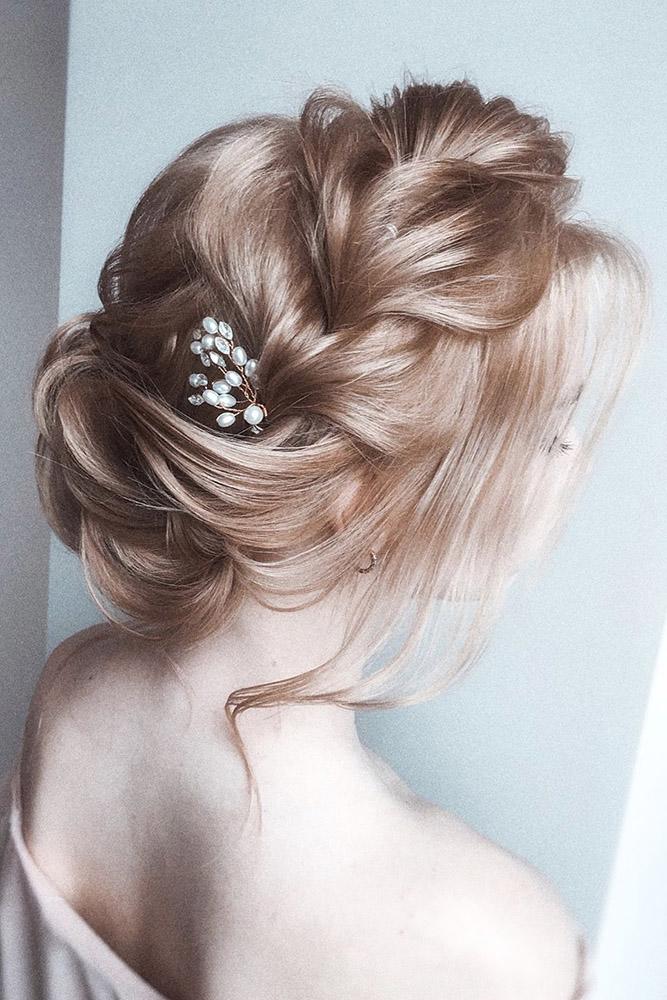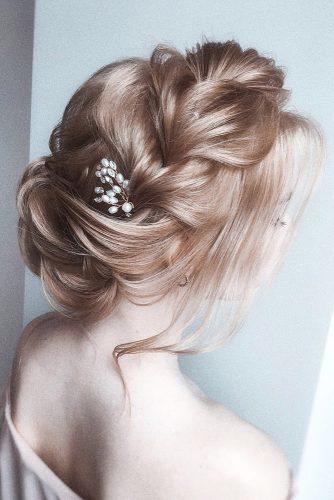 Thin hair is just what you need for the most elegant and sophisticated wedding updos. You can add some fake strands to make them look thicker, but if you are looking for that classical soft look, bigger is not always better. Just take a look at these amazing thin hair updos!
Super Easy Wedding Updos
Source: ashandcobridalhair via Instagram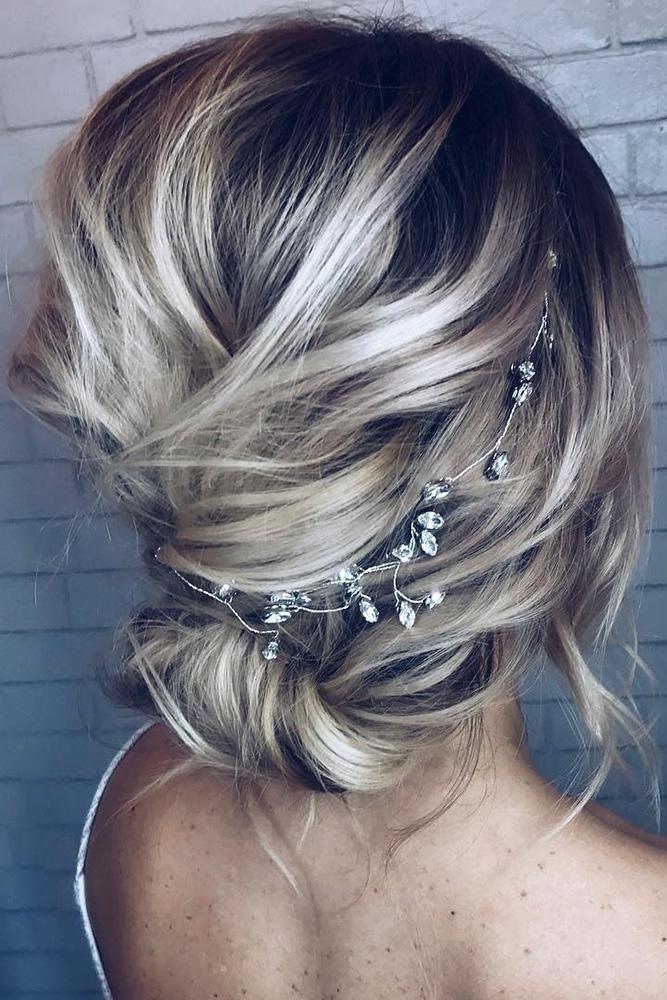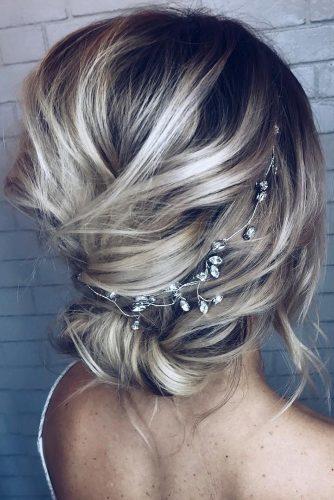 Simplicity is one of the top trends this season. You don't have to make complicated wedding updos anymore – all you need is a stylish and easy-to-do wedding hairstyle. Sometimes all it takes is a bit of brushing and the right accessories!
Best Wedding Updos For Black Hair
Source: christinechiamakeup via Instagram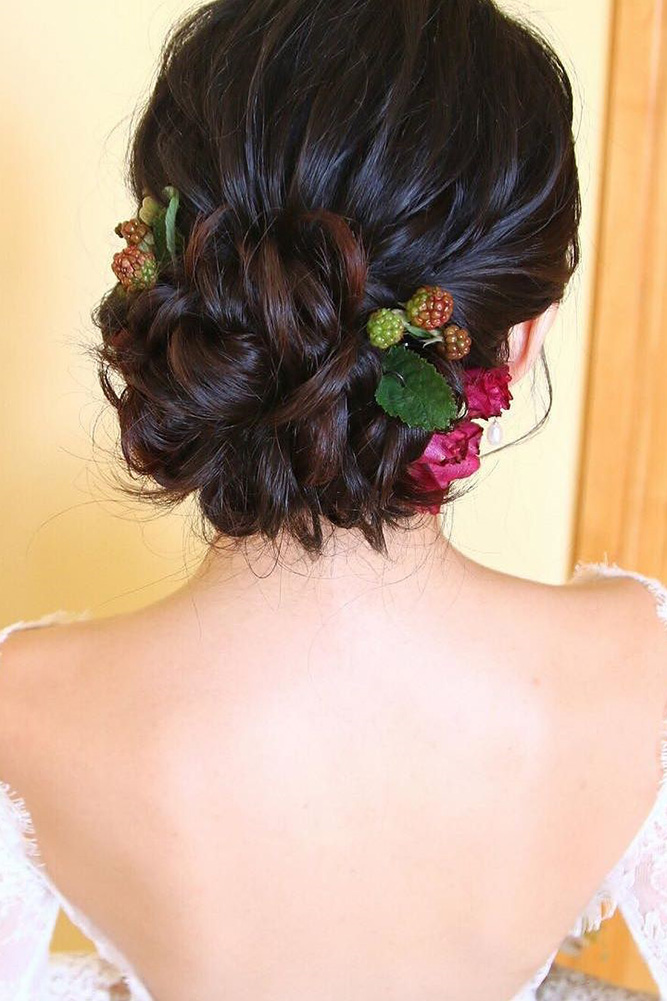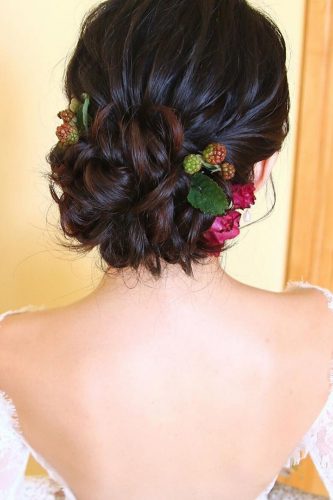 If you are a happy owner of black hair, don't be afraid to make it a little bit extra exotic. You can never go wrong with trendy braided updos. Or you can take up your marvelous curls and add large brightly colored flowers to make your bridal style more personal.