Boho wedding hairstyles are definitely trendy. If you made a decision in favor of boho wedding, you are going to need a perfect bohemian wedding hairstyle!
Here you can find lots of various boho bridal and wedding hairstyles, from elegant braided updos to most creative solutions.
Tender Braided Crown For Bohemian Brides
Source: IHMS via Instagram, hairandmakeupbysteph via Instagram, obraz31 via Instagram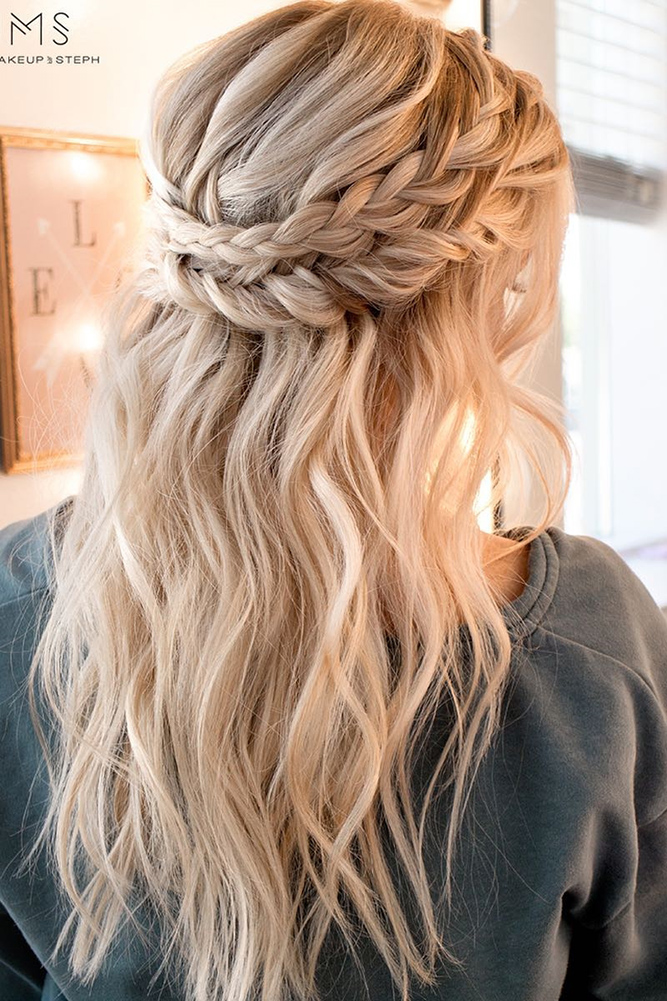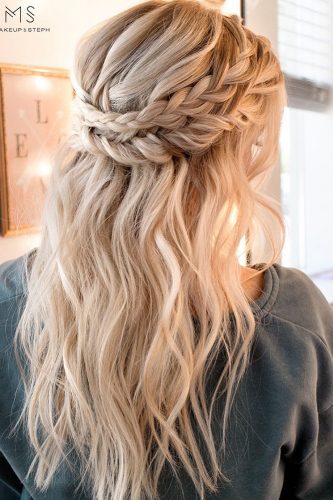 Every woman wants to feel regal on her wedding day. Try this tender braided crown style for that special feeling! Sweet and simple – can there be a better match?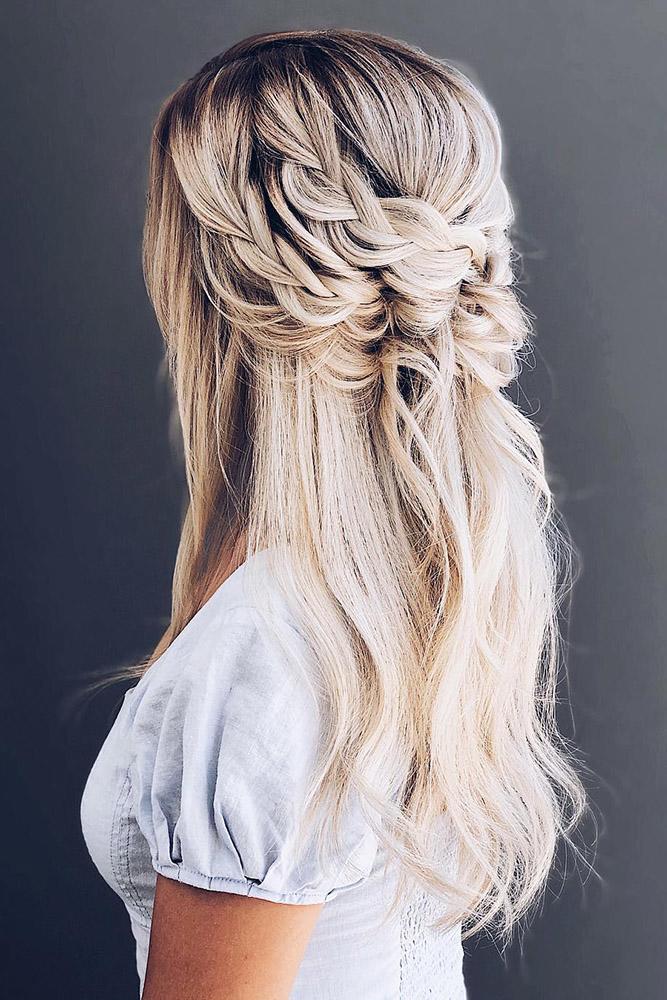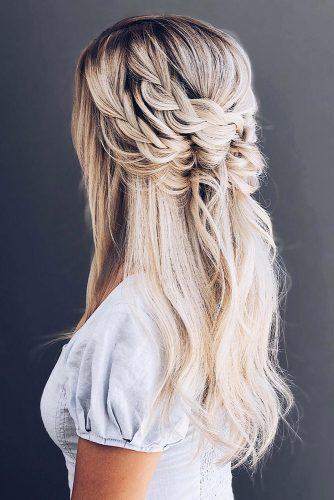 A more intricate version of the previous hairstyle. Works perfect for an outdoor wedding ceremony. Not too messy, but allows loose strands to frame the face.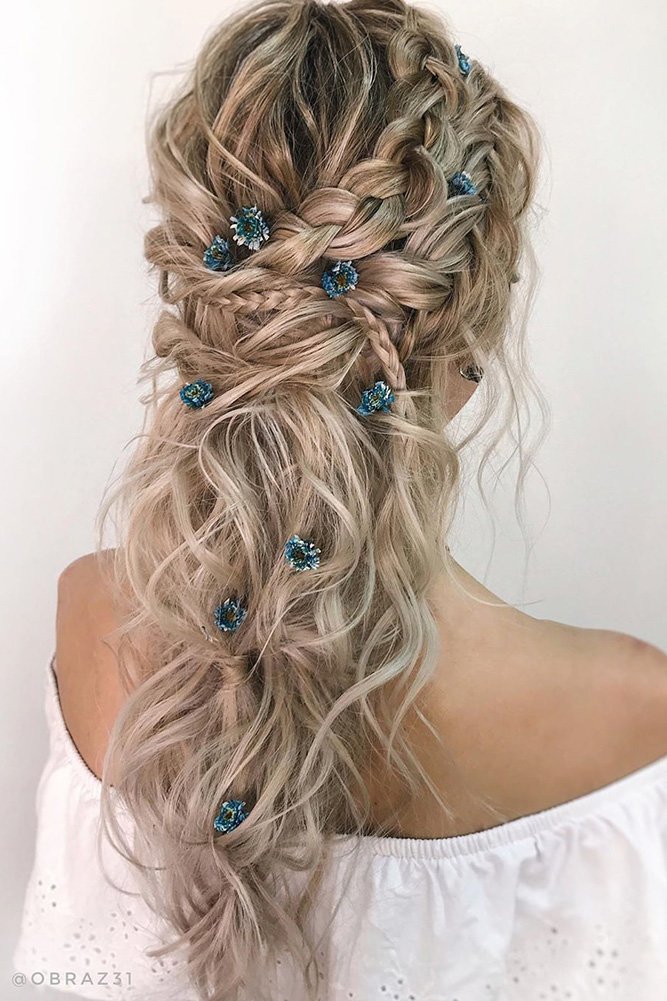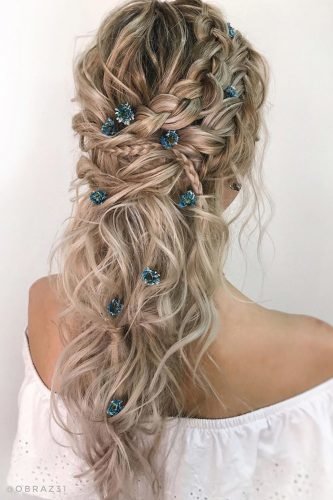 This style requires some extra works: add color highlights to make it look picture perfect. Works amazing with long-sleeved empire dresses. Great for a winter boho wedding!
Source: Hair Romance


What hairstyles look the best on blondes?
Blonde hair looks good in every style! It shows off the depth and dimension, you really can't go wrong!
Expert Tip
Braided Half-Up Half-Down
Source: emilyrosehannon via Instagram, dylnkayebeauty via Instagram, emilyrosehannon via Instagram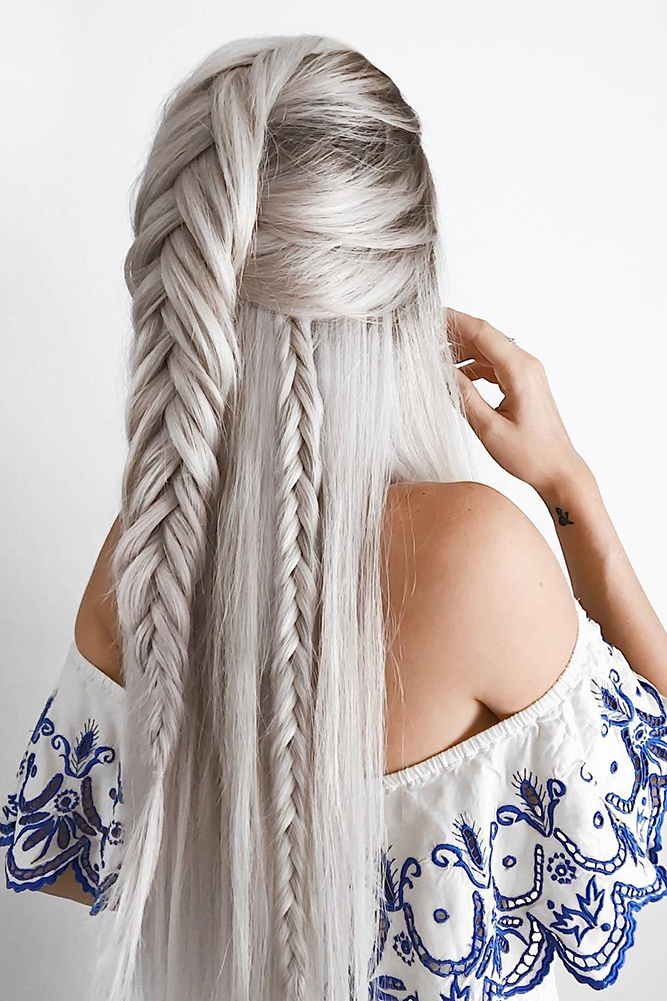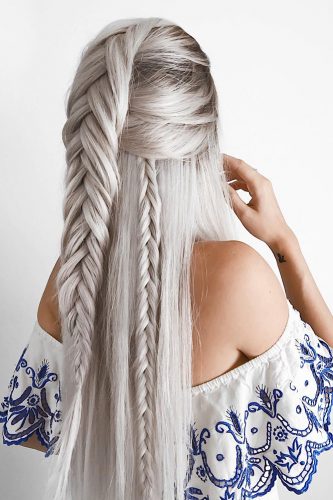 One of the most ethereal boho wedding hairstyles, this braided half-up half half-down is the very image of style. Fantasy coloring multiplies the ' elven princess' effect.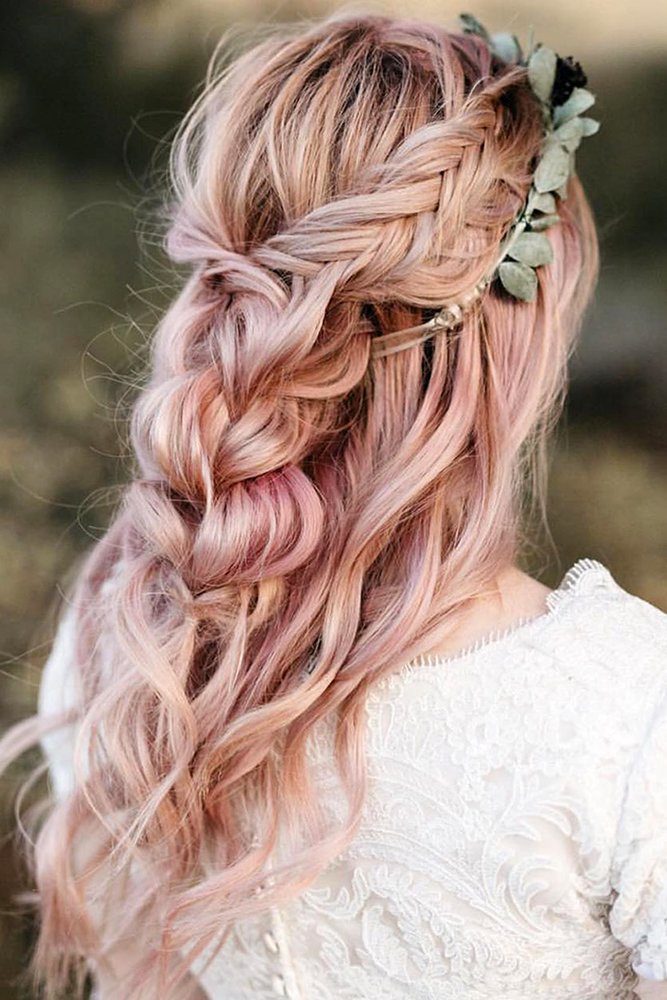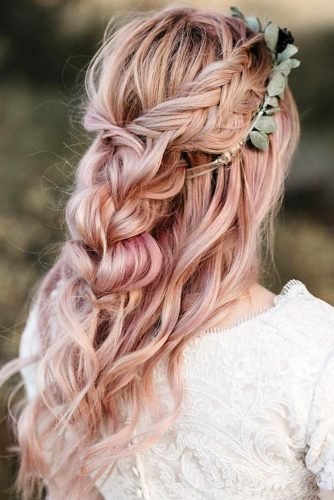 Braids are quite popular among wedding hairstyles down boho brides. This simple half-up half-down style is easy to do. Add a greenery crown to complete the look.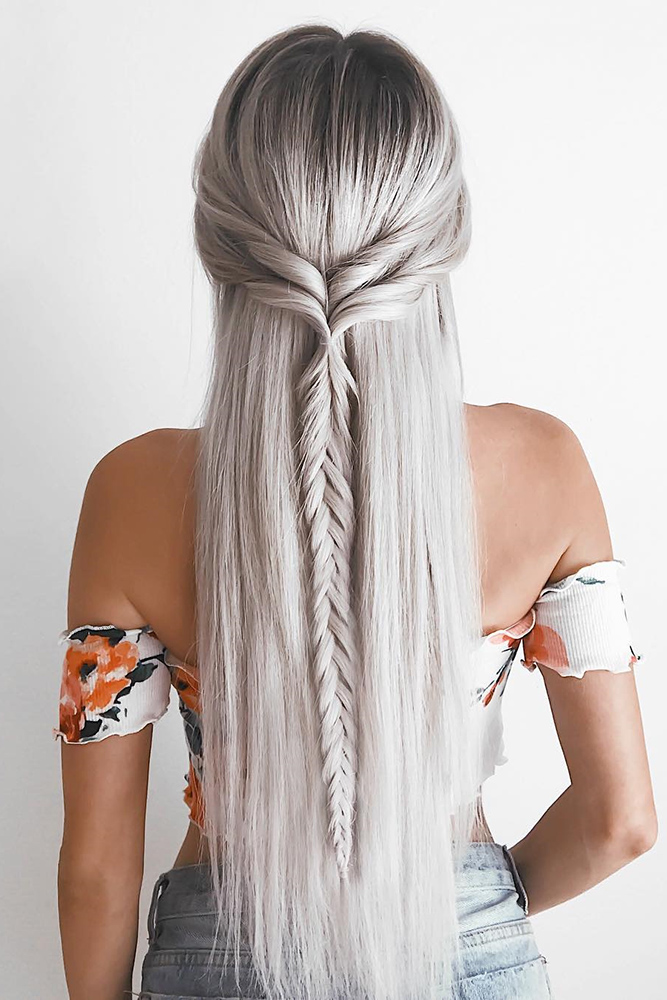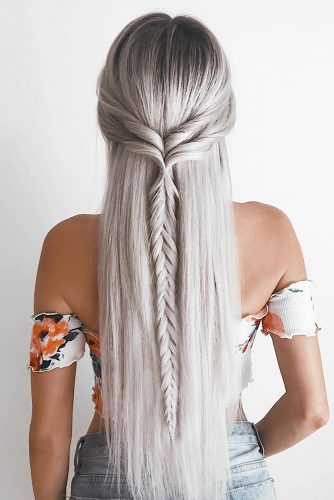 One more stunning look from our boho wedding hairstyles half up half down collection. A perfect hairstyle for a summer bride, that will look amazing at a countryside ceremony.
Boho Braided Updos
Source: alexandralee1016 via Instagram, sweethearts_hair via Instagram, hairbyhannahtaylor via Instagram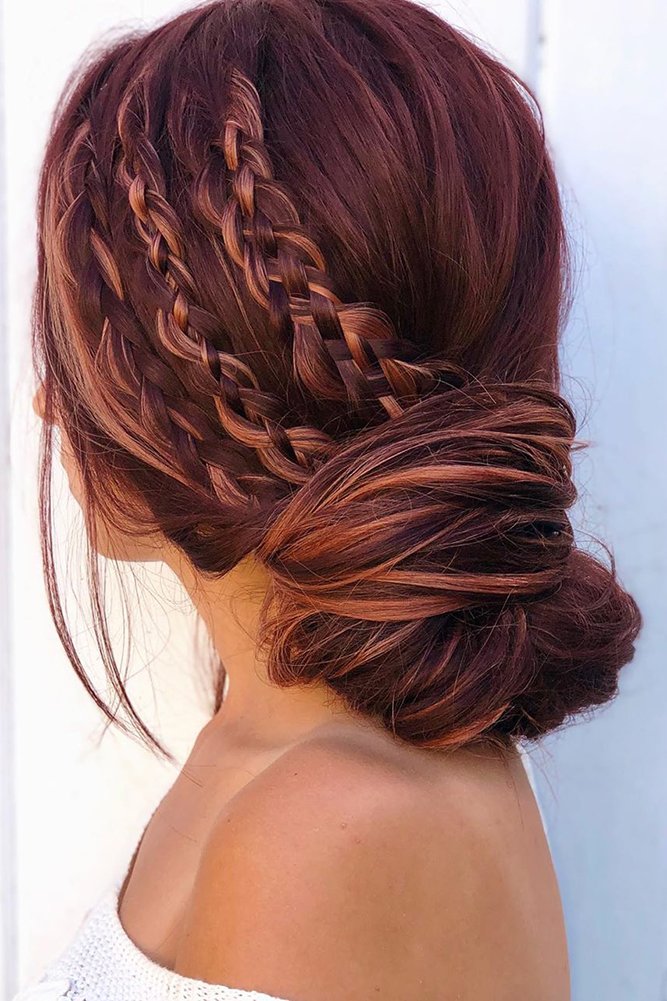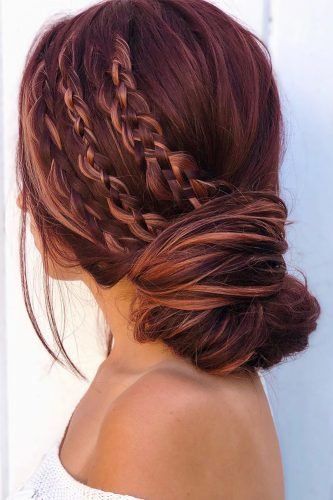 This updo is great for medium length hair. A messy side positioned bun goes matches well with an thin braids. Loose tresses to complete the look.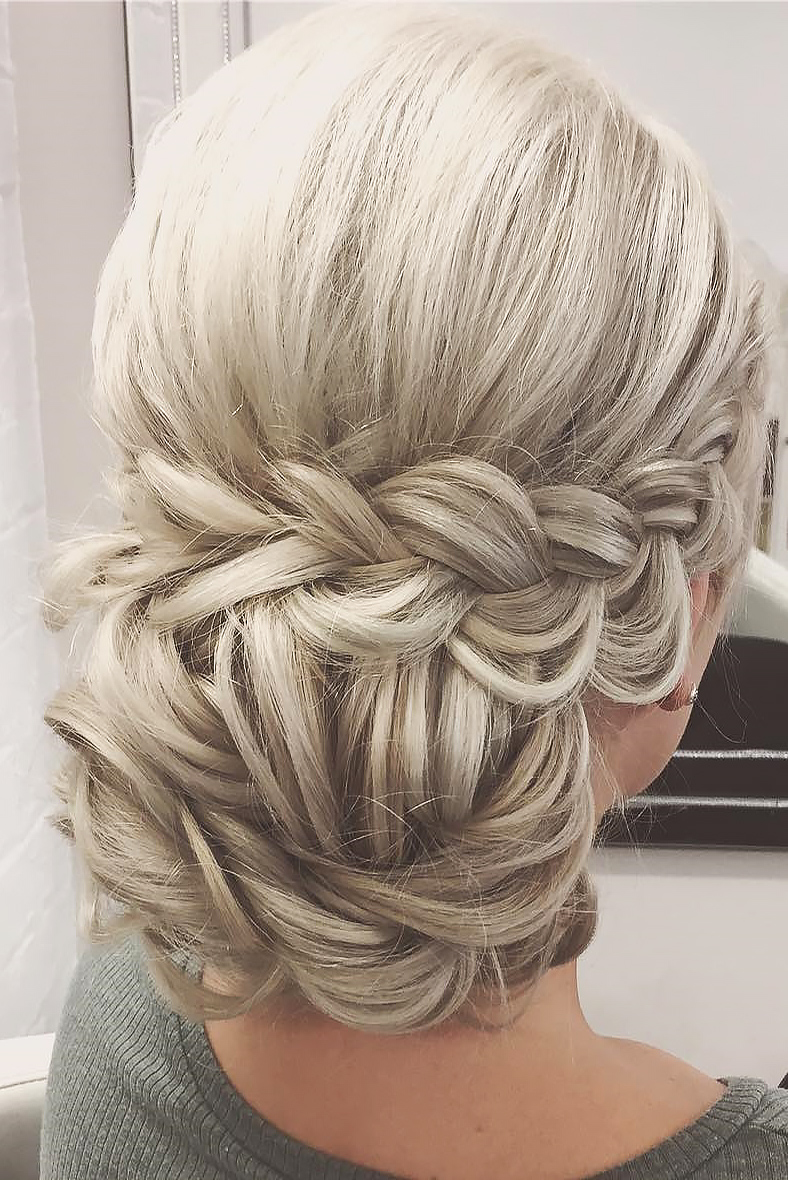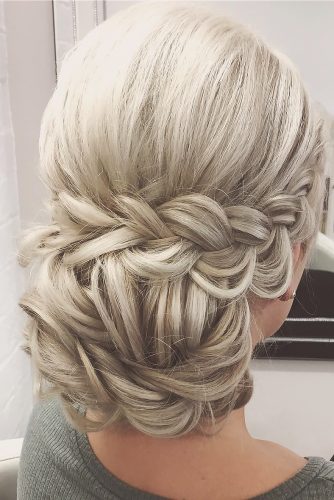 Another amazing braided updo, this time for a bride with long hair. A low messy bun located at the gape of your neck is reminiscent of medieval princesses.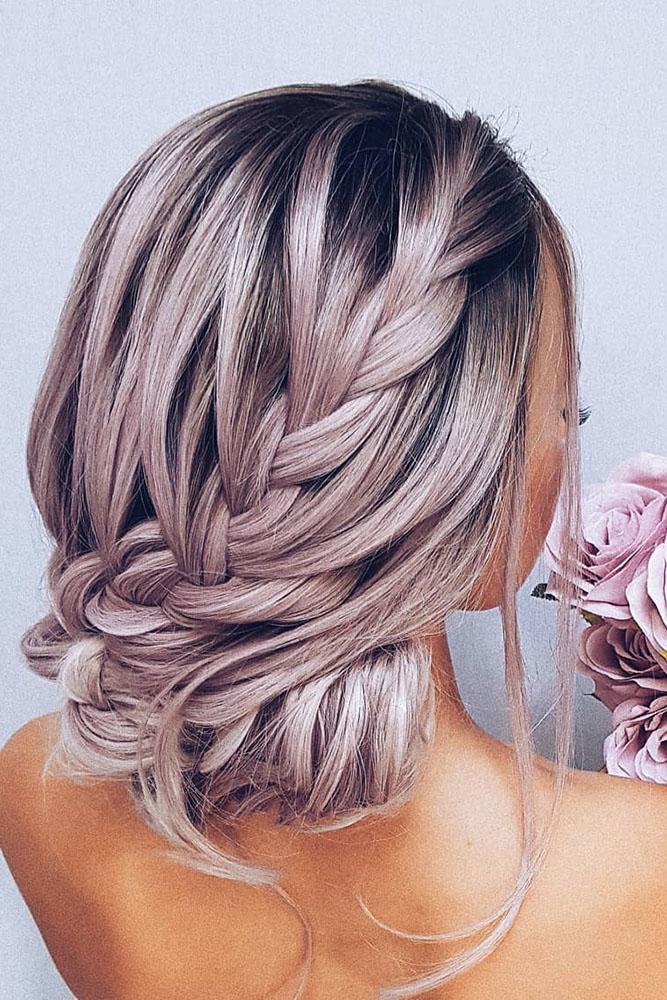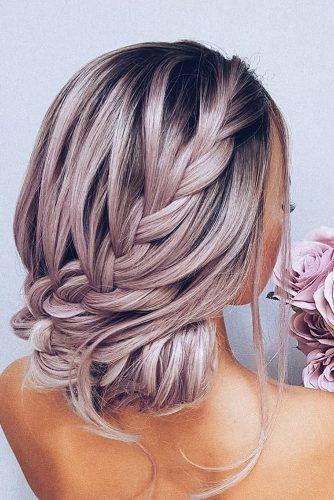 This hairstyle looks super simple but super stylish. Trendy color scheme, asymmetric braid, and several stray tresses to frame the face. This is a truly modern look for a modern bride.
Slightly Messy Bohemian Wedding Updos
Source: masha.unwerth via Instagram, jodycallanhair via Instagram, hair.by.theresa via Instagram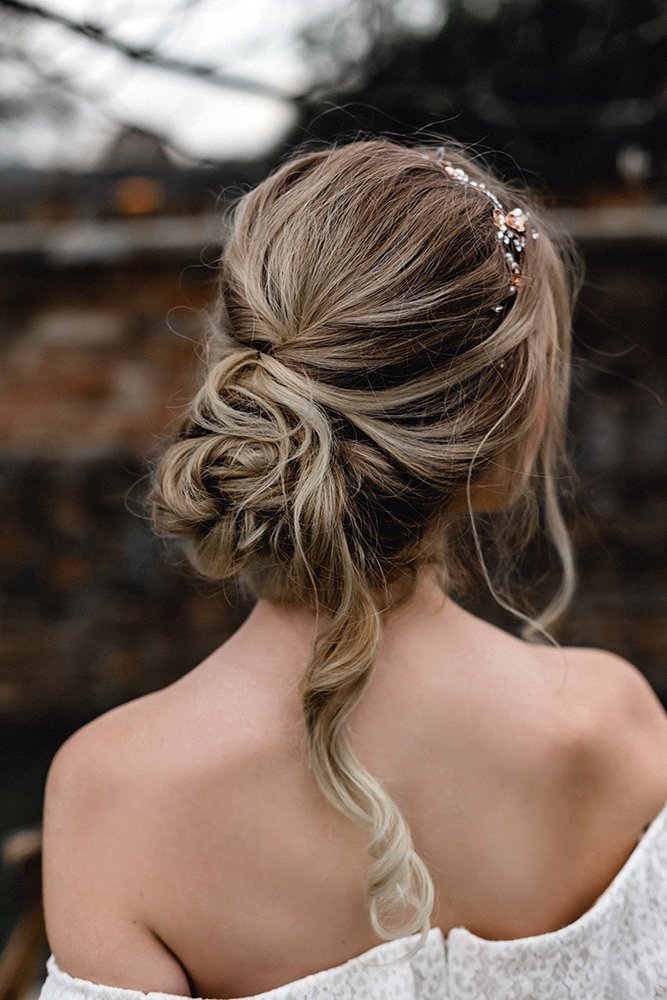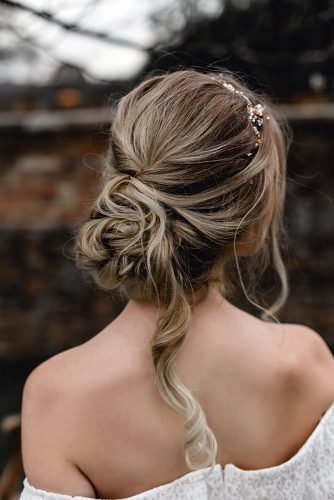 A low messy bun, stray strands flowing down the neck and delicately framing the face… This free-spirited hairstyle is perfect for a boho wedding. Add an intricate hair vine to complete the look.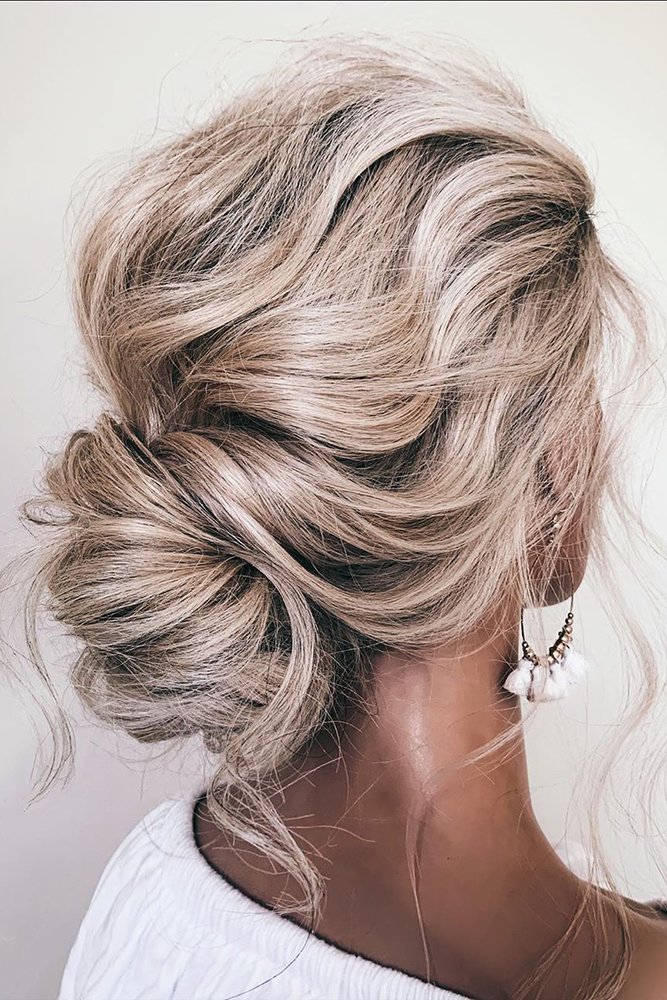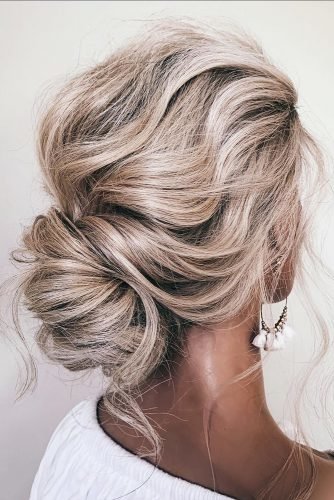 Some boho hairstyles up are not so much about the hairdo itself. It is the complicated color scheme that makes them look so special – like this simple low messy bun.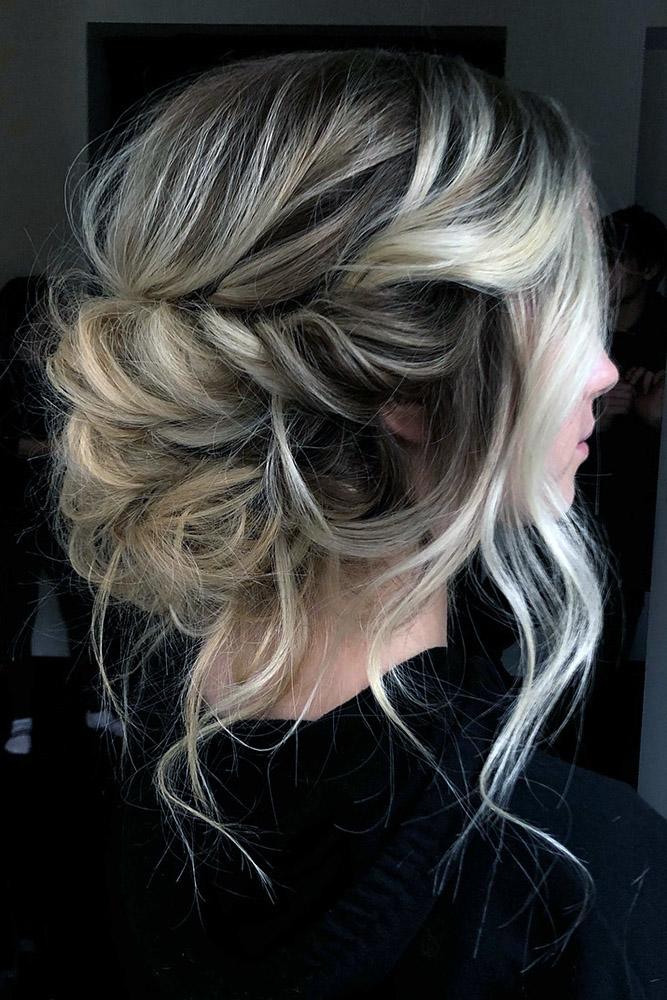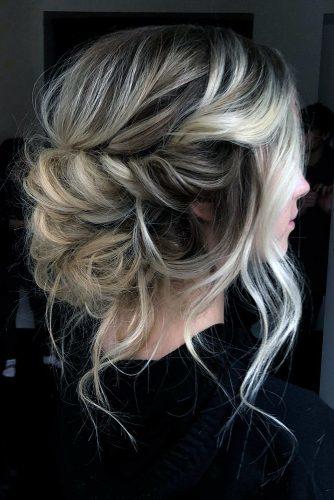 This artfully messy low bun is the very image of boho chic. Stray curls add ultimate softness to this boho look, adding volume and texture. Works best with balayage coloring.
Creative Boho Wedding Hairstyles
Source: kathiundchris via Intstagram, ninanolepahairandmakeupdesign via Intstagram, Andrea Posadas Creative via Instagram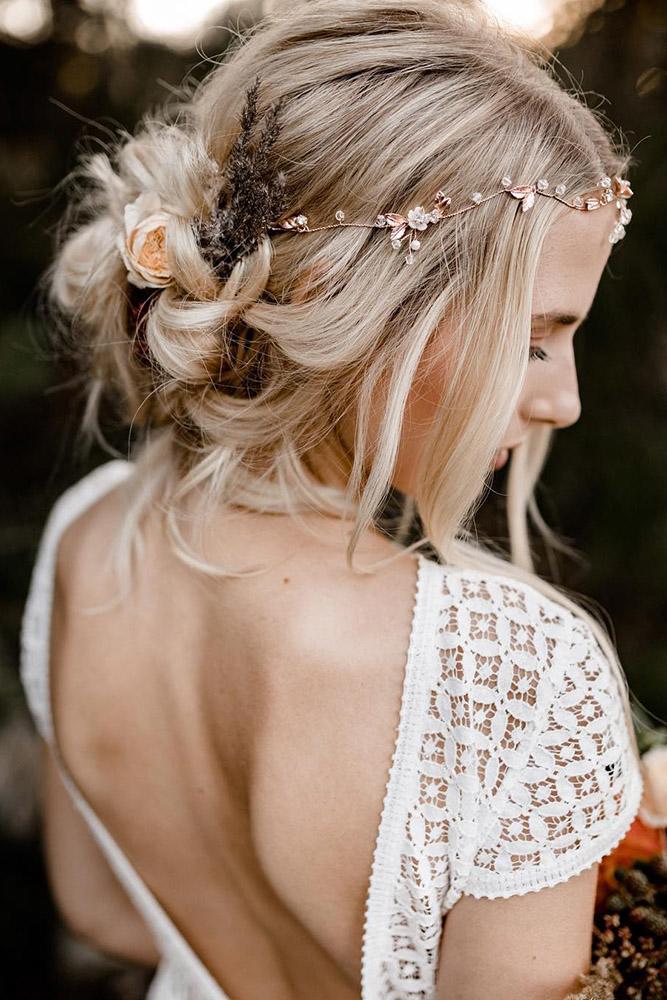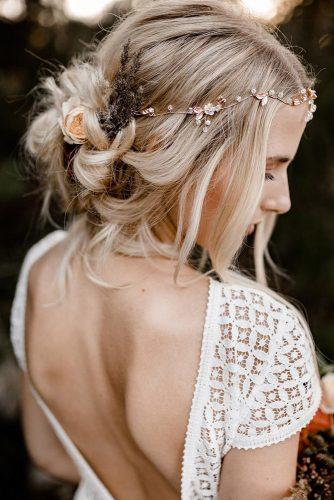 Wedding hairstyles for medium hair in boho style can look amazingly artistic. This messy low bun is all about flowing textures and softness of lines. Accessories complete the look.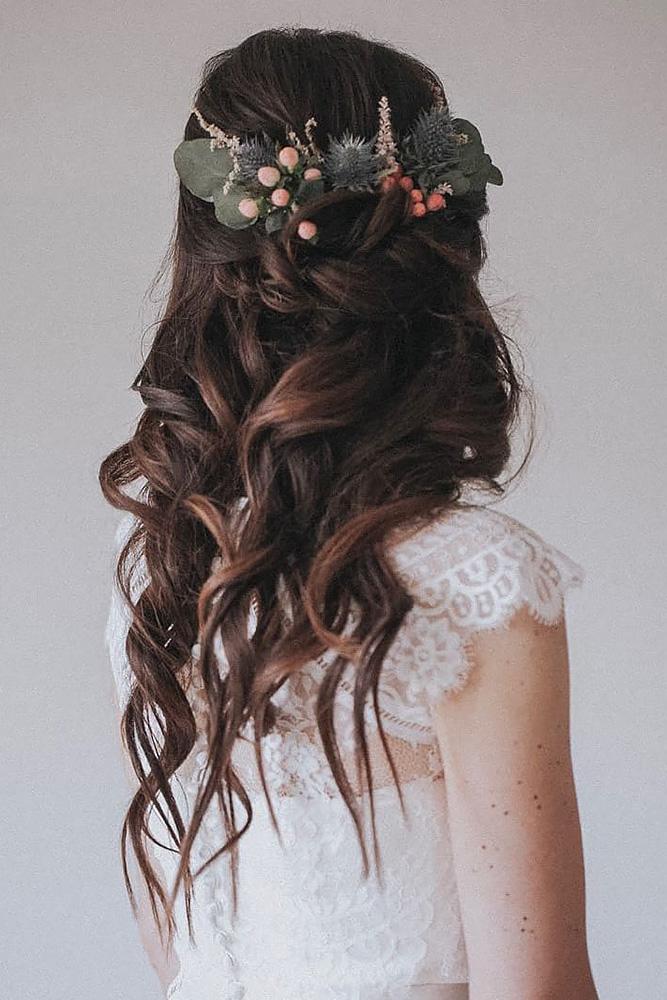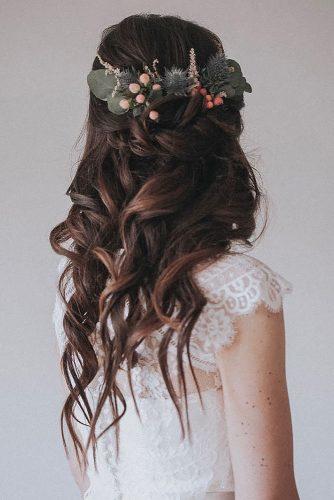 One of the most stunning long wedding hairstyles for a boho bride. Voluminous messy braid is a perfect location for a flower crown, leaving locks flowing down the spine.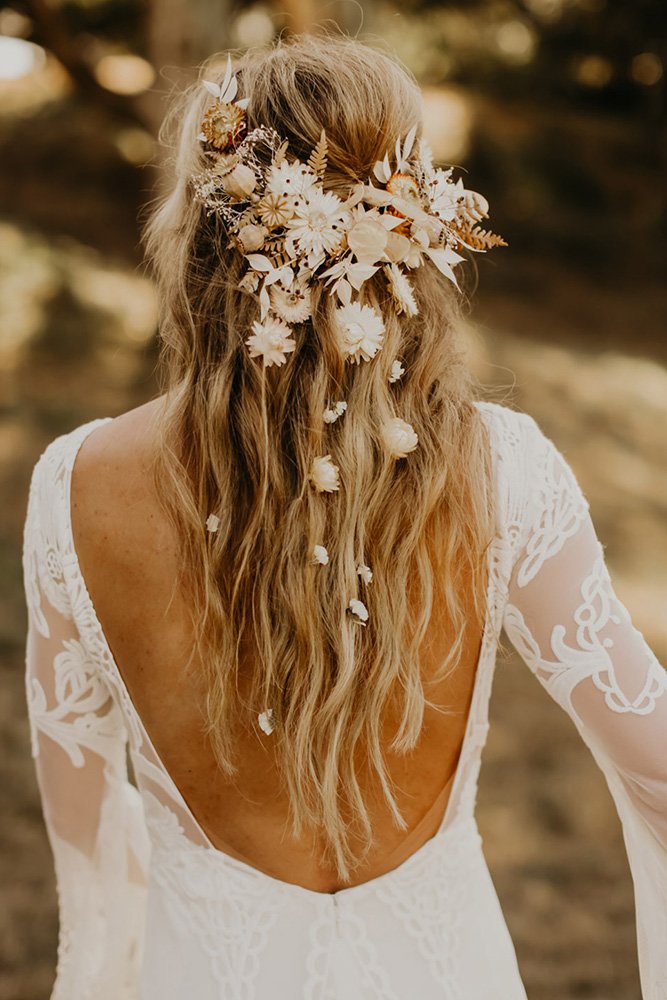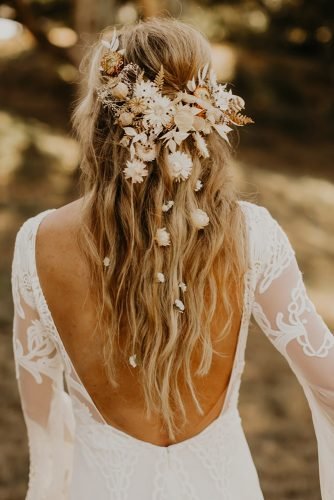 This is an amazing example of one of the simplest boho hairstyles for long hair, that will look great at any kind of wedding. Flowers add romance to this delicate hairdo.
Unique Wedding Hairstyles With Hair Down
Source: cruz.makeup via Intstagram, hairdobymijntje via Intstagram, ninanolepahairandmakeupdesign via Intstagram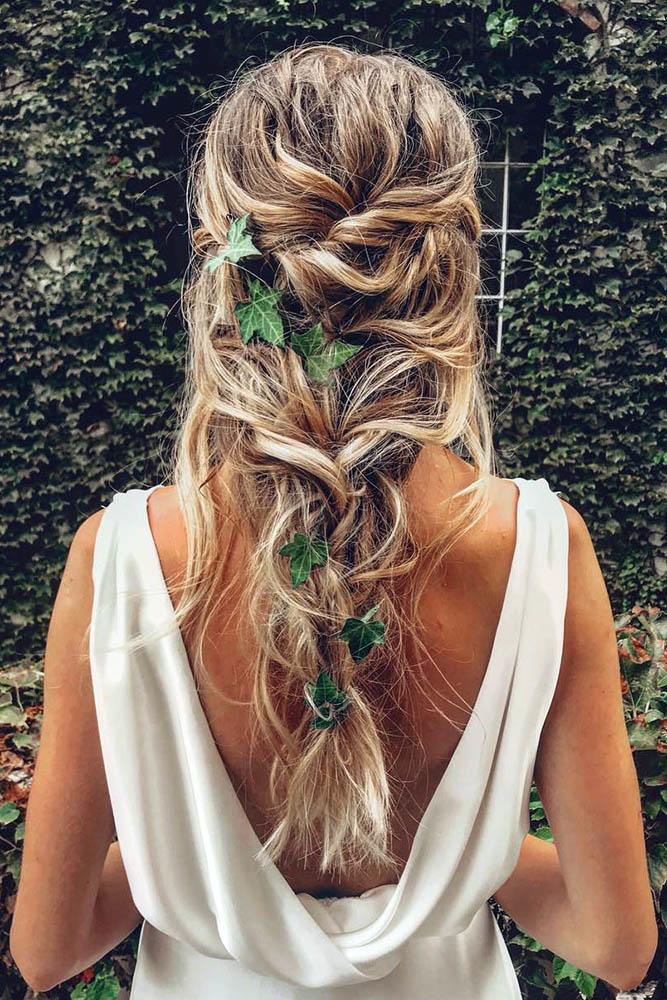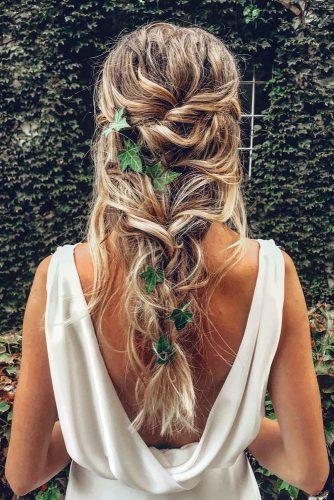 Want to look like a forest nymph? Try this unique braided boho look. A messy voluminous braid and a natural ivy vine are all it takes to stand out!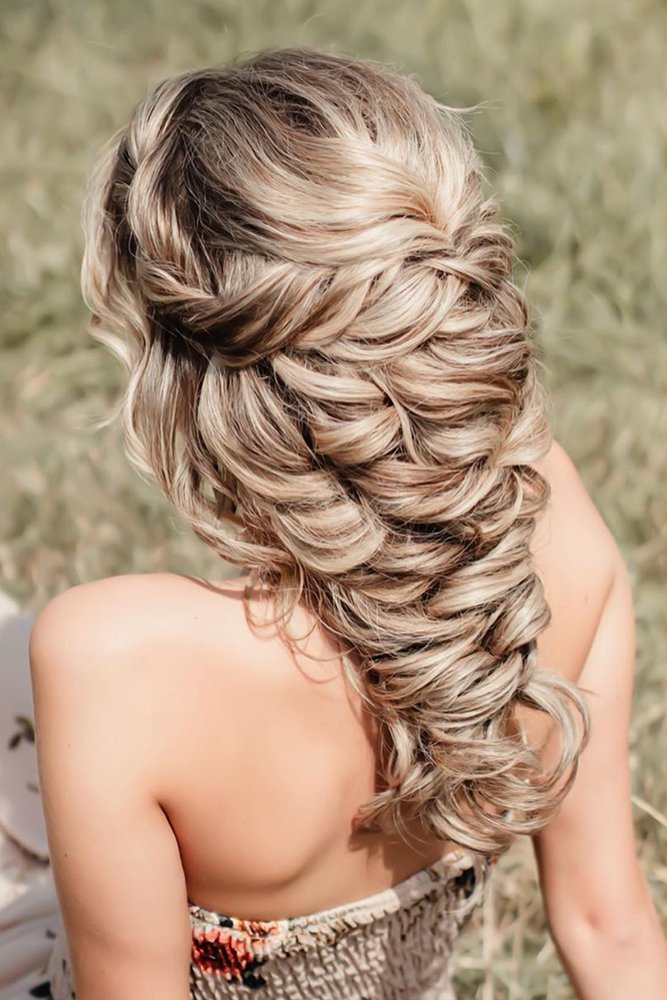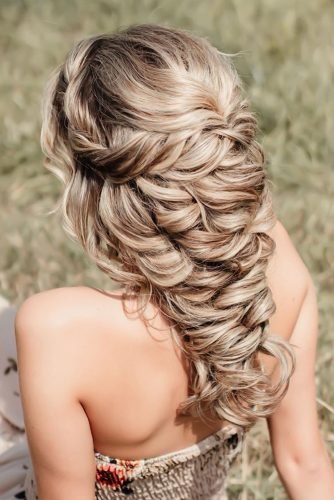 This hairdo combines features of boho wedding hairstyles down with some classic features. It will look most amazing with a simple white and gold empire dress.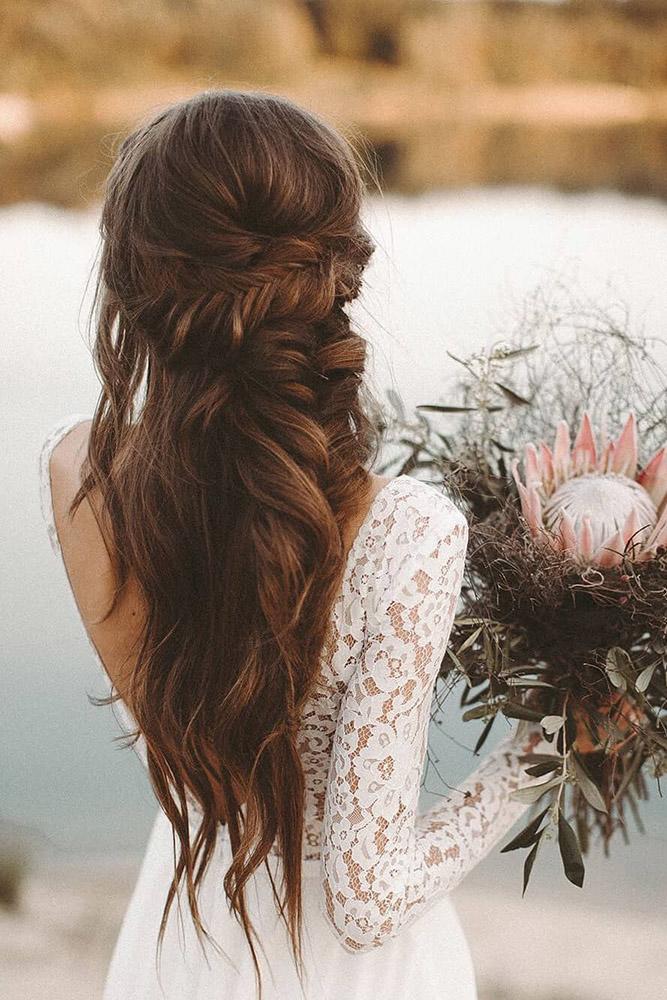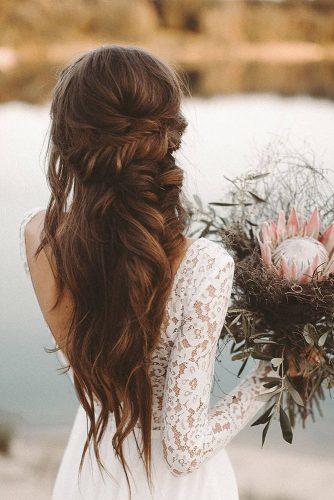 Planning to get married by the sea or at the lake? You are going to love this boho hairstyle! Long flowing tresses and a single voluminous braid give you a fairy tale look.
Creative Bohemian Wedding Updos
Source: annette_updo_artist via Intstagram, alexandralee1016 via Instagram, therealm2 via Instagram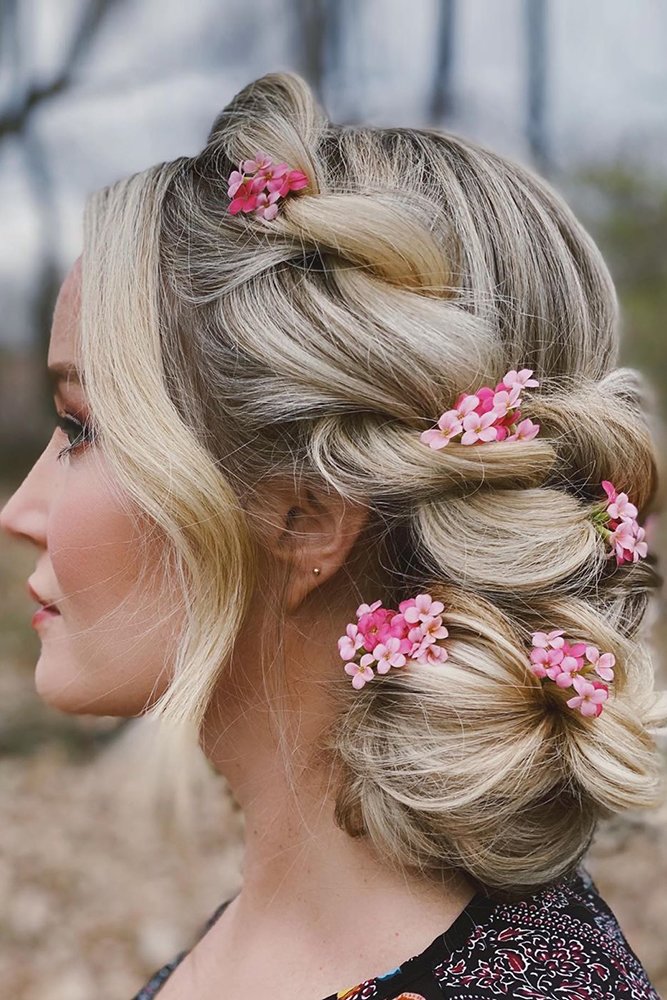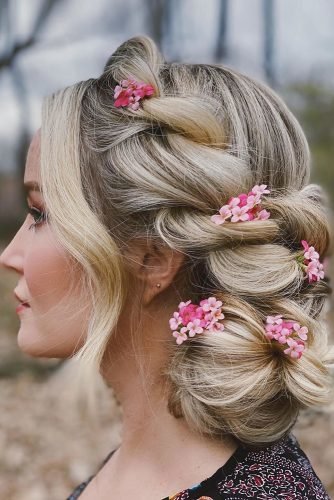 This is definitely one of the wedding hairstyles that are made for a boho wedding. Flowing tresses, low messy bun, and a flowes – everything to show off your free spirit!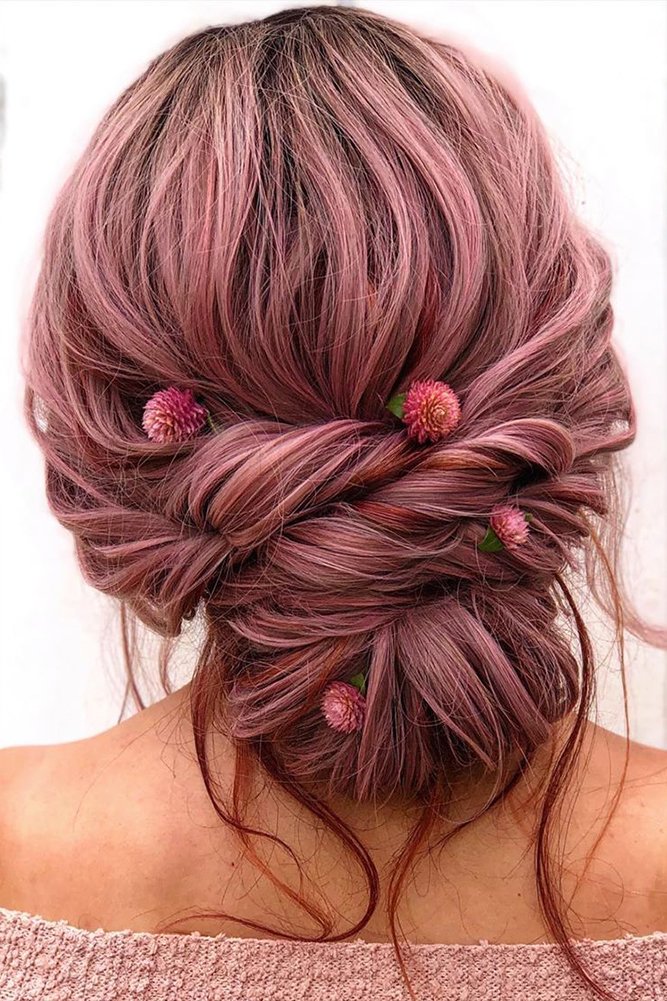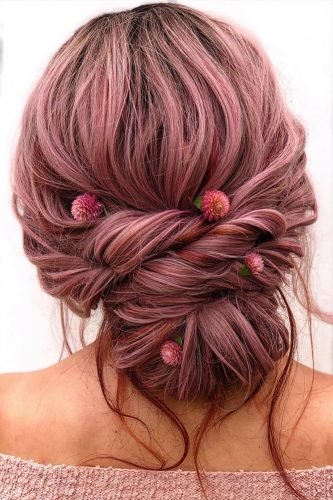 Just take a look at this one of the most stunning boho wedding hairstyles updos. Aren't you in love? A hairdo that seems to be naturally swept by wind is an artful creation of a true master.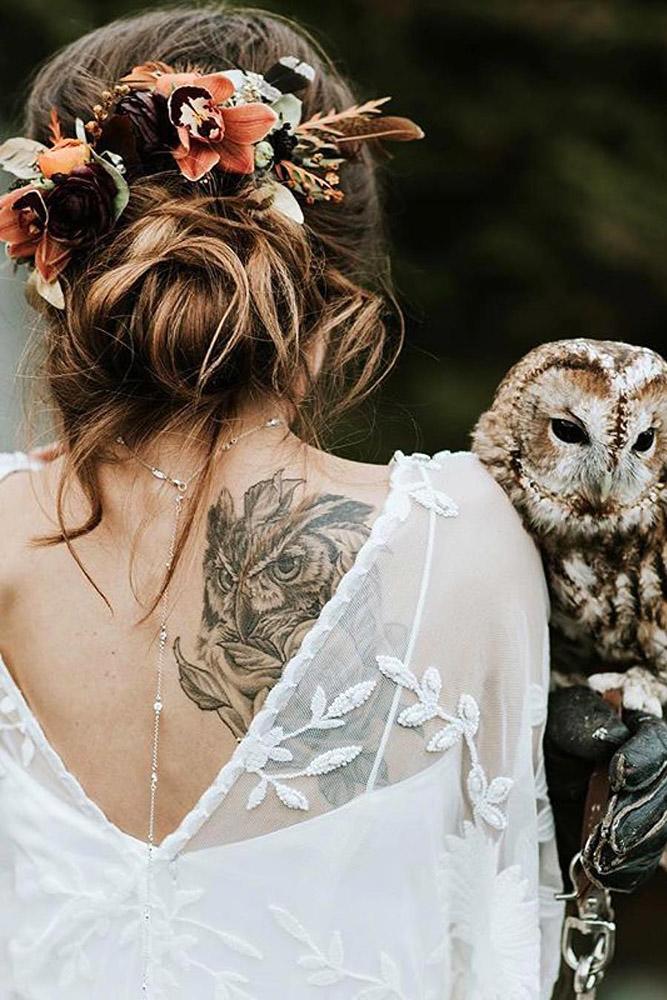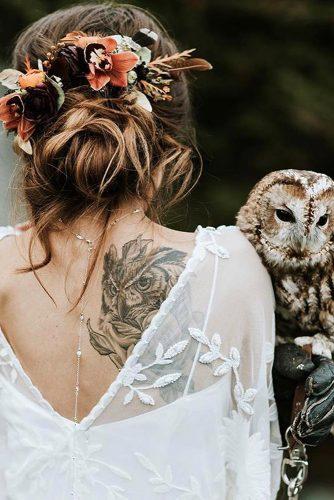 There are not so many short boho wedding hairstyles. This style is great for an autumn bride – add seasonal flowers and put on leather boots for your perfect Indian summer bridal look.
Best Unique Boho Hairstyles
Source: hairbykaitlynbrown via Instagram, caraclyne.bridal via Instagram, samirasjewelry via Instagram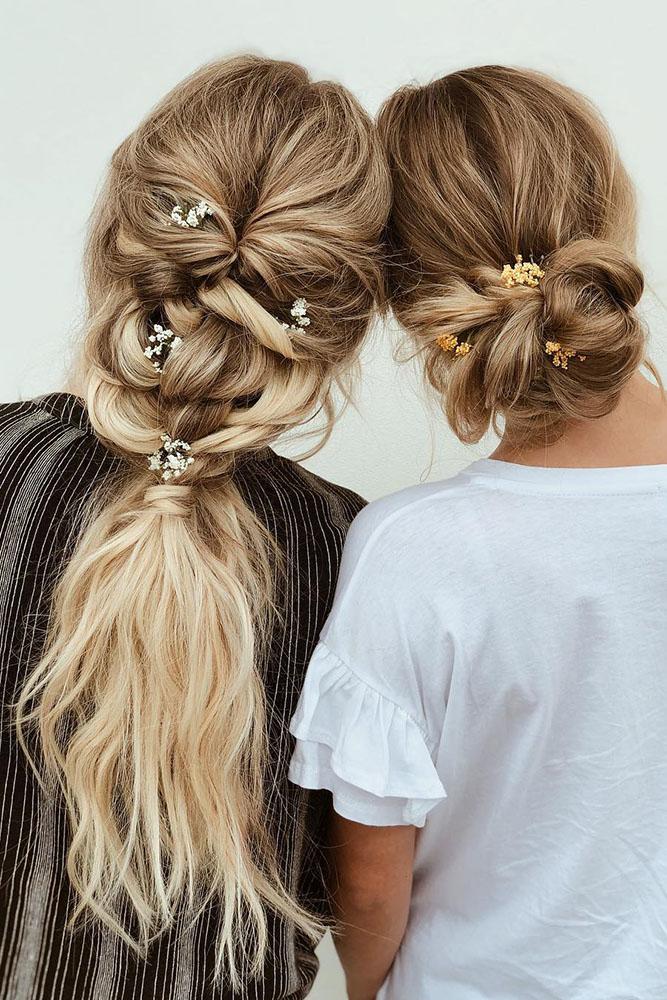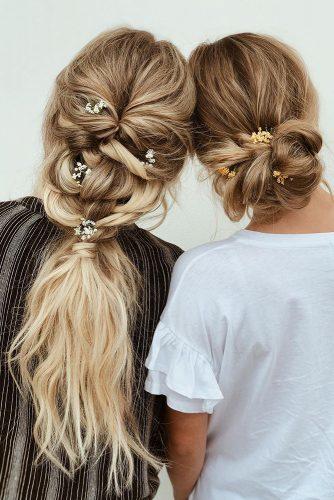 If you are looking for a hairstyle, that is both sweet and ultimate boho, pay attention to these hairdos. This braided look works best with small delicate flowers, like baby breath.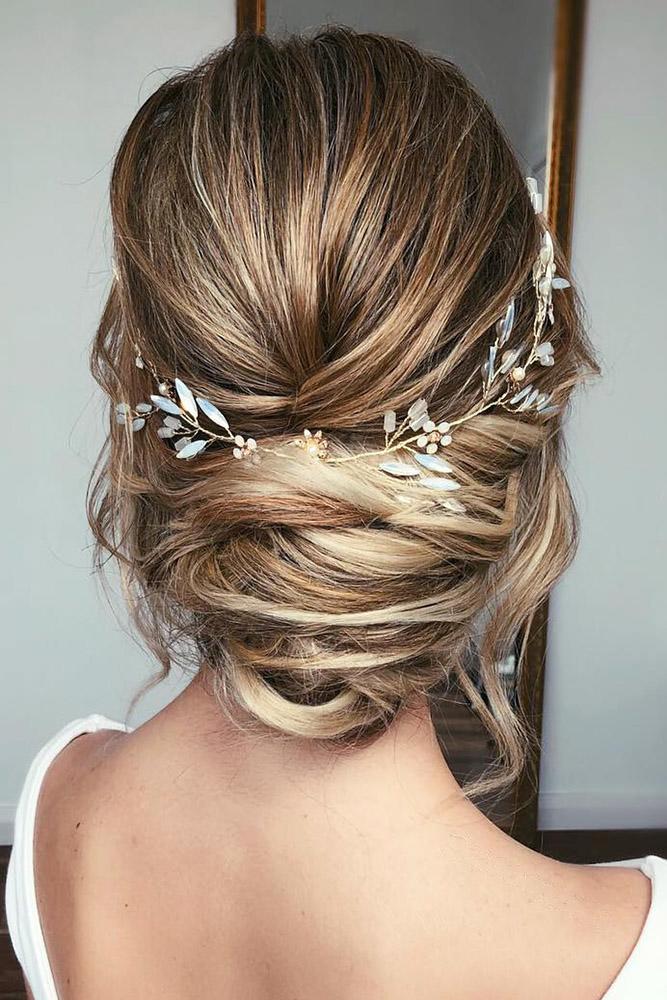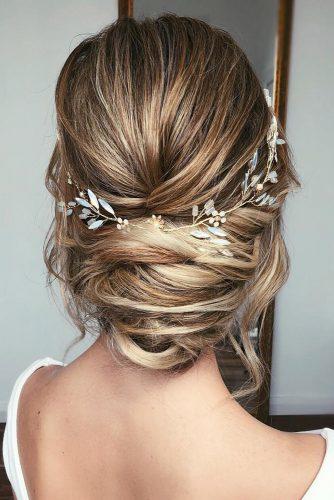 One more trend among boho hairstyles for weddings is the combination of free-spiritedness with classic chic. This unique updo will look great with open shoulders and neck.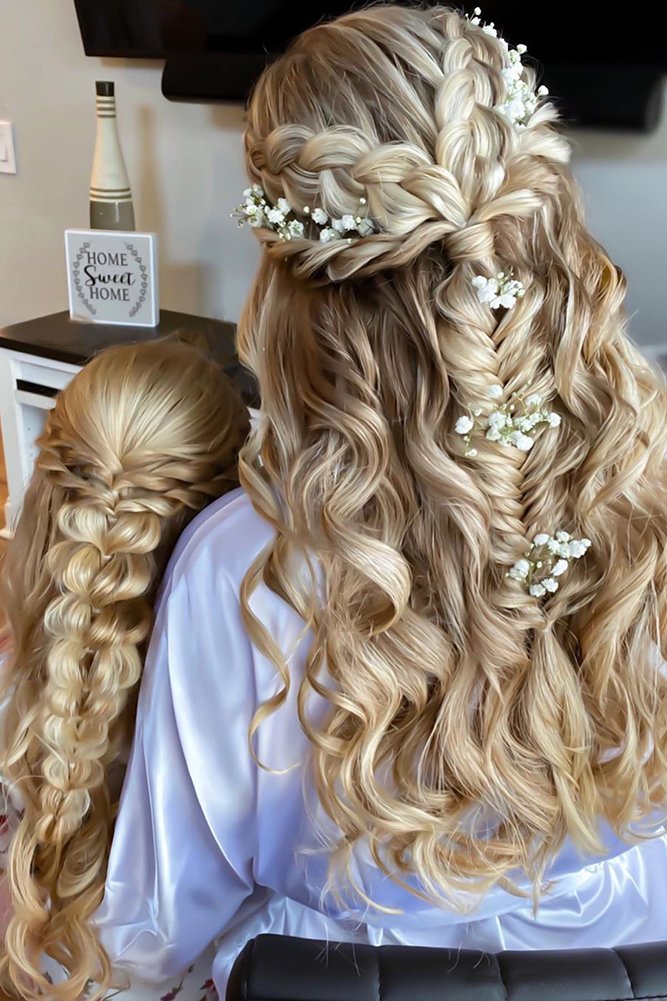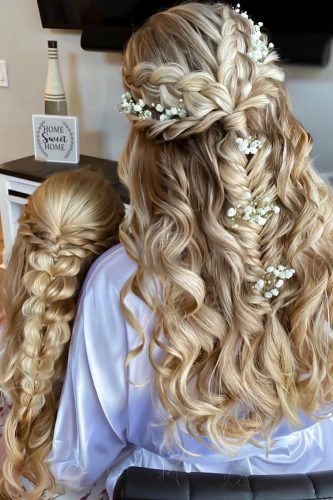 Braids, messy hair, flowers and flowing locks – an ultimate boho mix that guarantees mind-blowing results. Add creative coloring for an even more artistic look. Braids look amazing with highlights.
Boho Wedding Updos With Braids
Source: anniesforgetmeknots via Instagram, lenabogucharskaya via Instagram, haircomesthebride via Instagram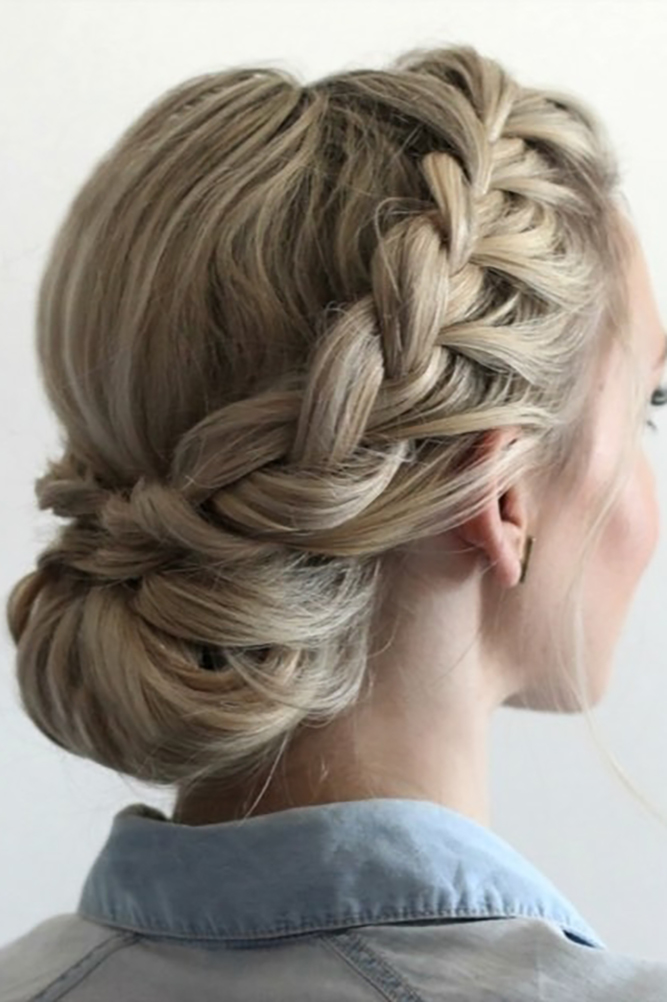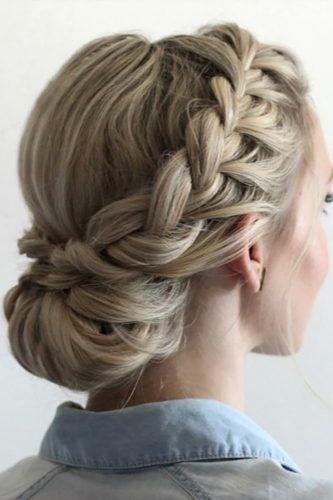 One of the more reserved boho hairstyles, that will look great at any wedding. A clean sophisticated braided crown with a low bun creates an ultra-romantic look.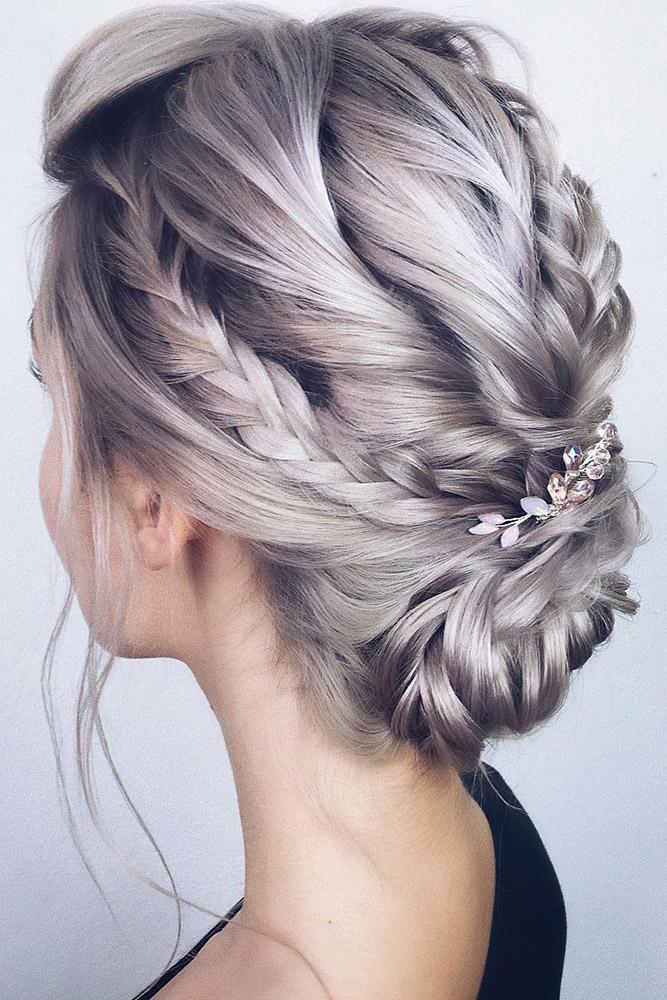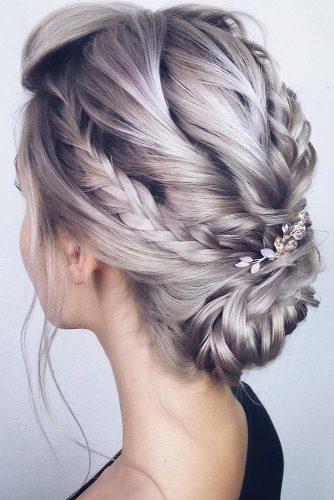 Boho braided wedding hairstyles are very trendy right now, partly due to the success of GoT series. This ultimate royal GoT look will suit any Khaleesi on her wedding day.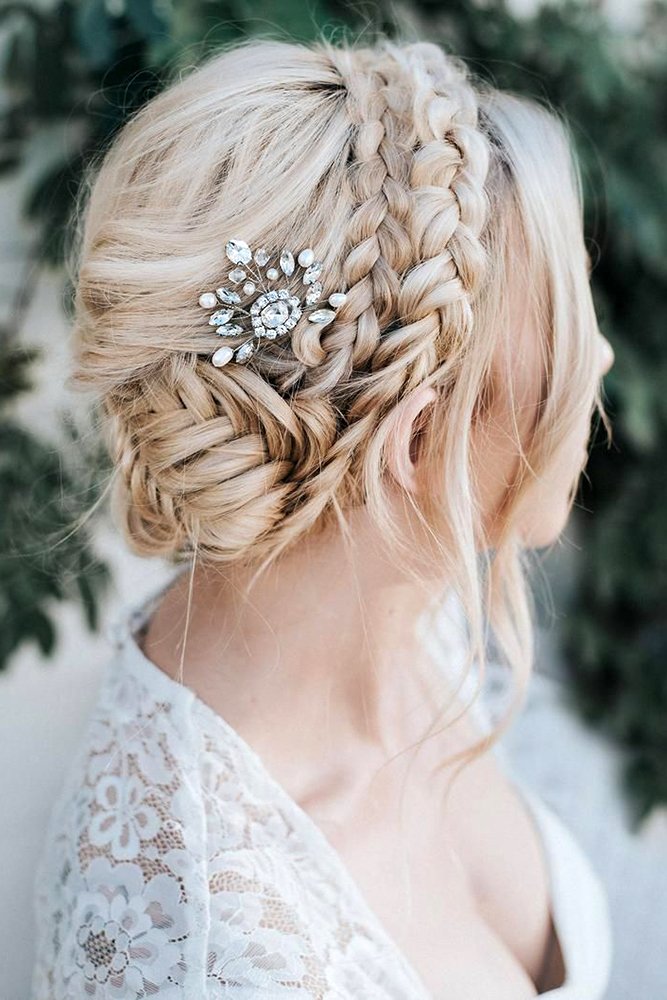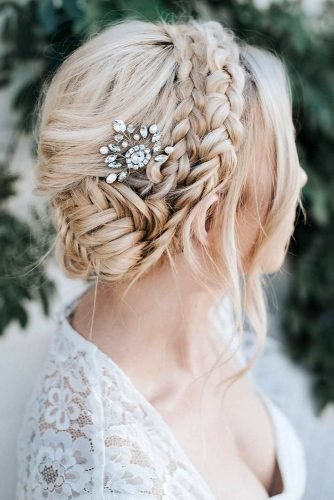 What can be better than a braided crown? Only double braided crown. A hairstyle for extra long hair that doesn't need any accessories. Only pure natural beauty!
Gorgeous Boho Wedding Ideas With Fishtails
Source: lenabogucharskaya via Intstagram, madlene_hair_marlenakuderawiec via Instagram, hair_by_zolotaya via Instagram,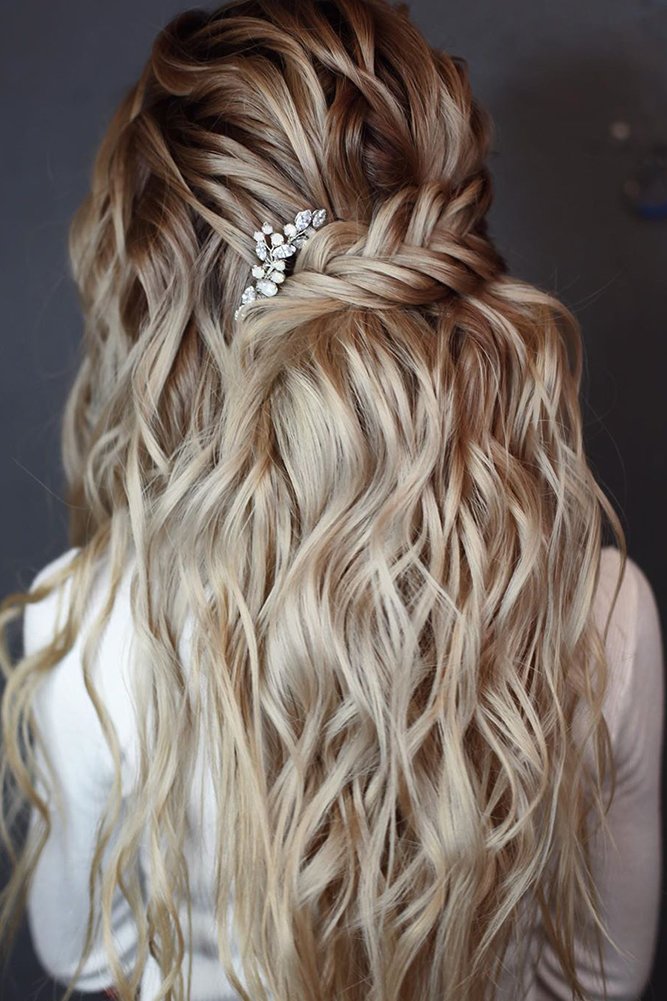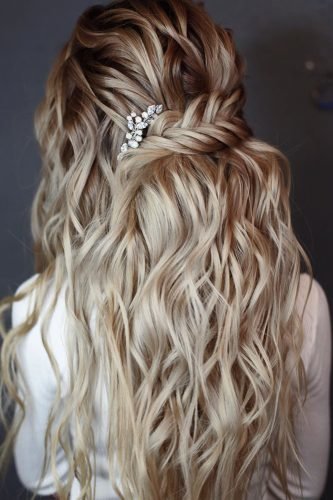 One more amazing idea to our collection of beach summer boho wedding hairstyles. Crystal pin, a wavy texture, a fishtail braid, and flowing hair – all you need for your picture-perfect look.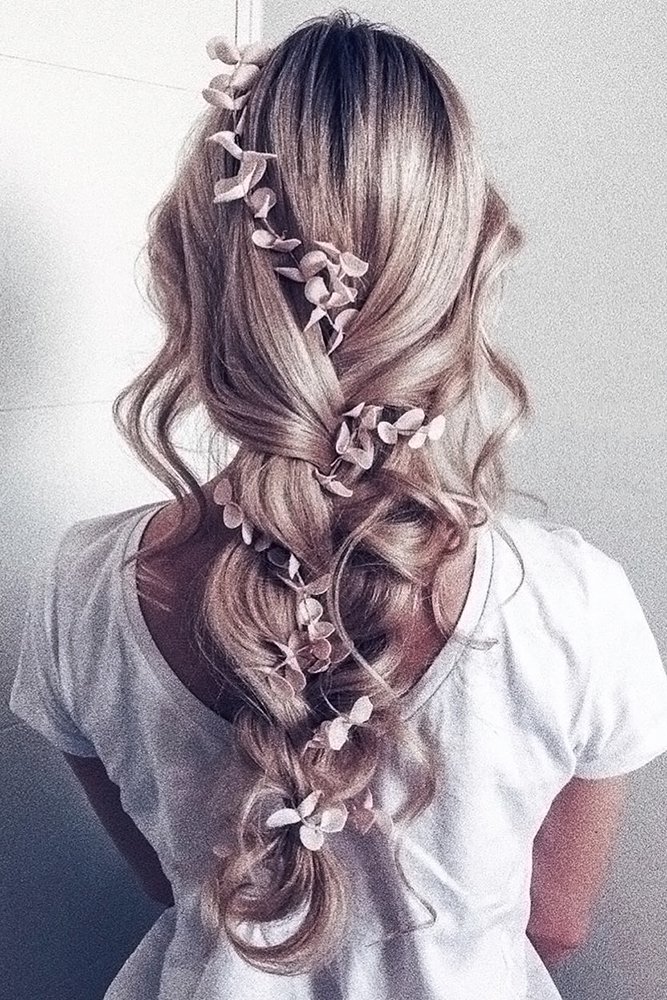 You can use this simple boho style as boho wedding guest hairstyles for long hair. Three fishtail braids and long waves create a look, that is perfect for a countryside wedding.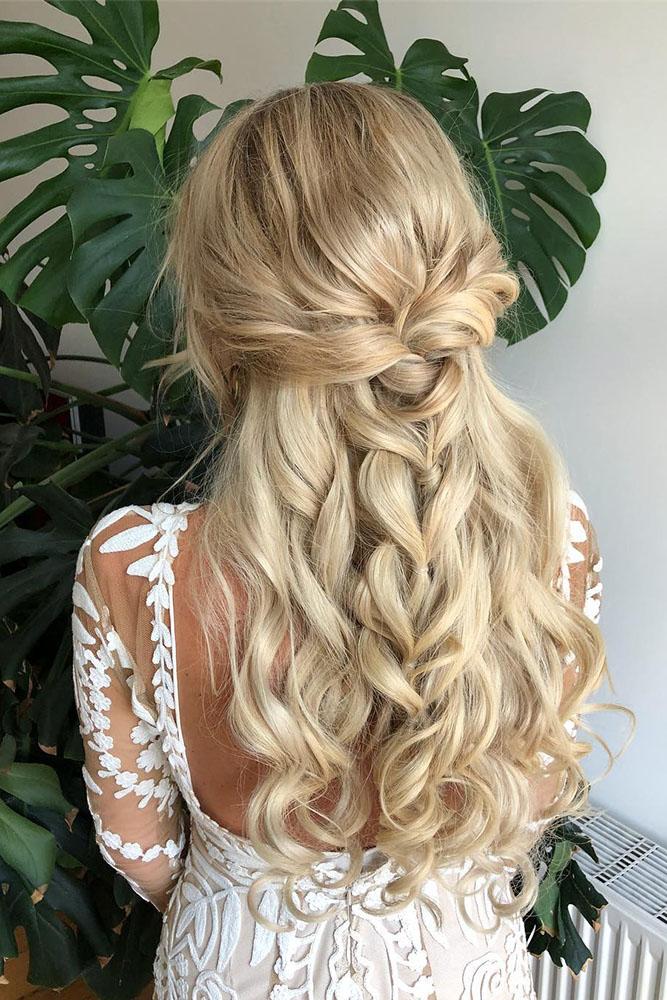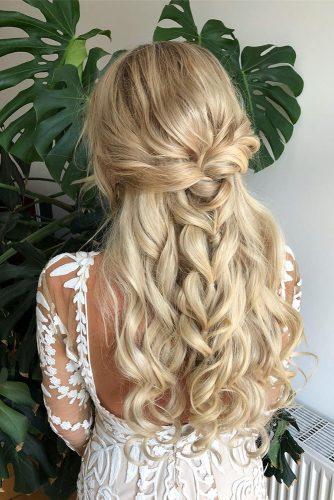 One more example of a fishtail hairstyle. This time it is a more relaxed and airy voluminous braid, which pairs nicely with long wavy tresses. Ultra romantic and feminine!
Boho Braided Crowns
Source: hair_by_zolotaya via Instagram, natalieannehair via Intstagram, lalasupdos via Intstagram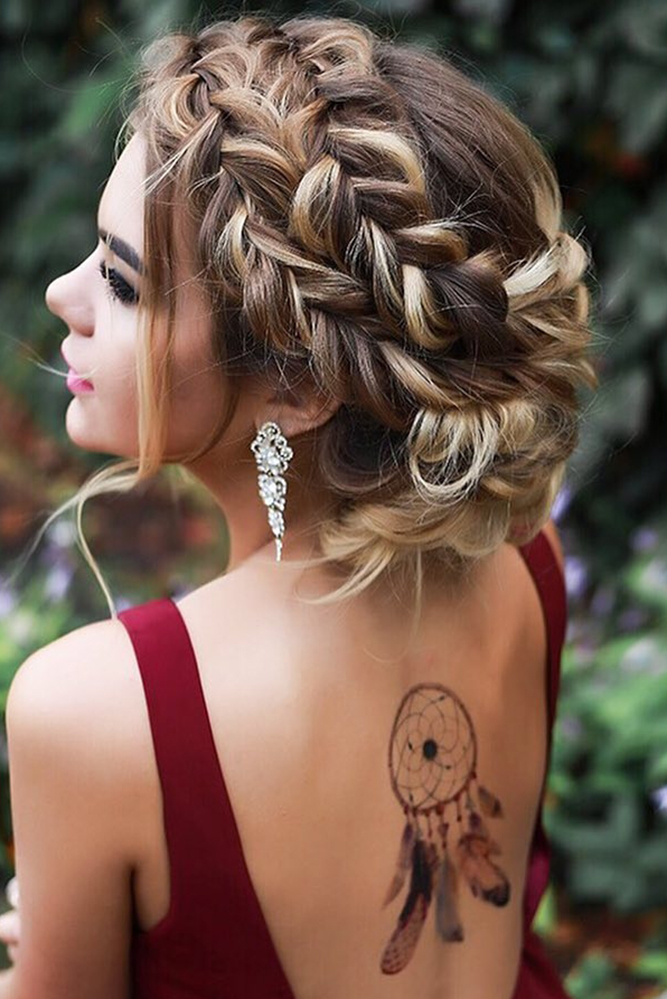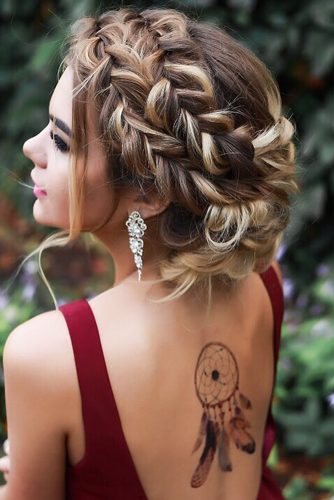 Braided crowns have a very special place among other boho wedding braided hairstyles. This magnificent triple crown looks most interesting on highlights. Classy look for an open back dress!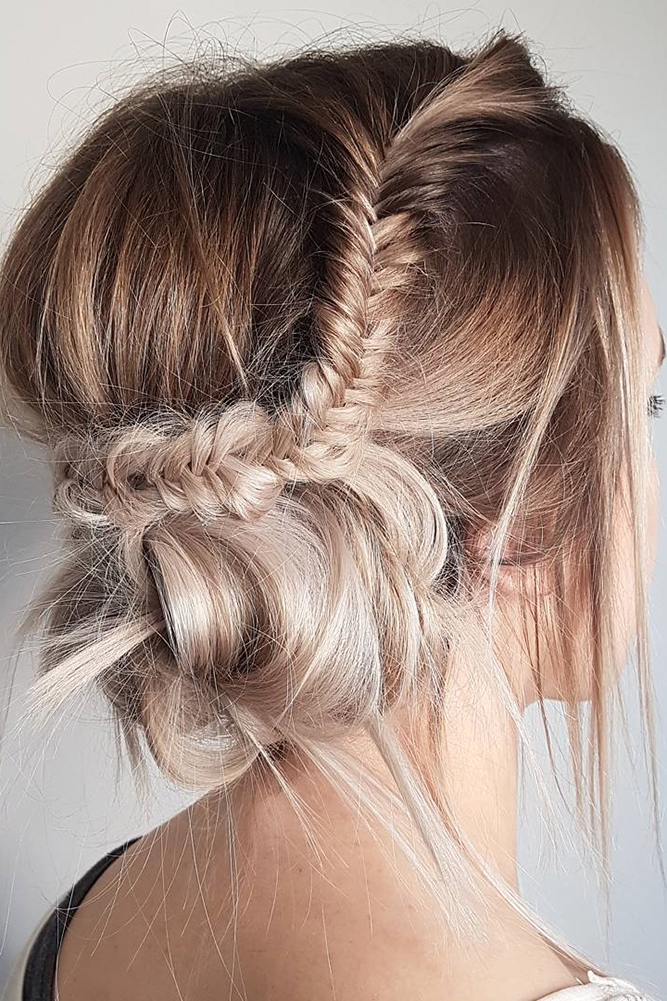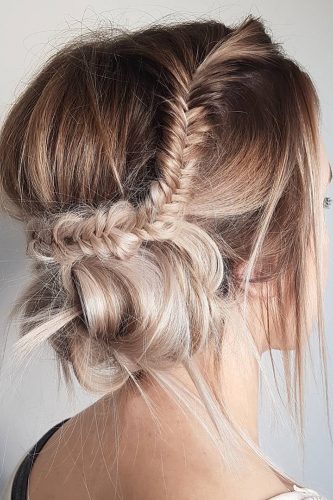 This hairstyle looks very artistic due to its fishtail crown. A low messy bun and several free-flowing stray strands complete the easy-going, yet sophisticated look.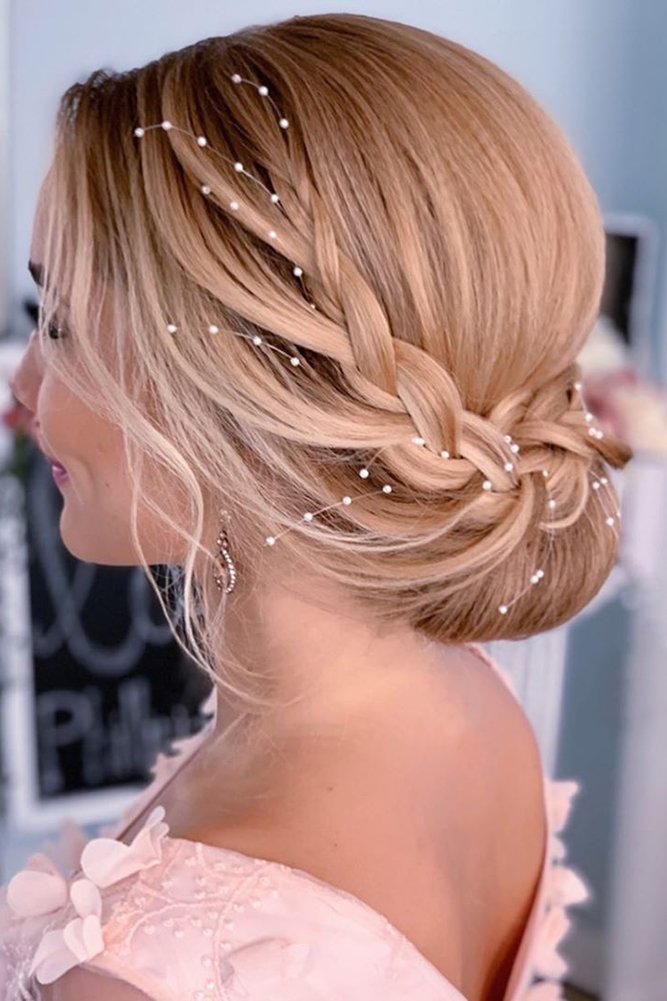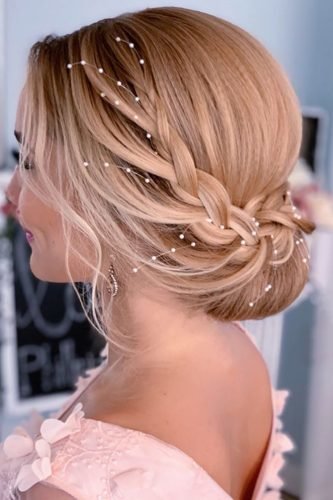 Here is one of those wedding boho hairstyles, worthy of a queen. Not just a braided crown, but a truly regal image. Add small bright flowers for color and more drama.
Creative Boho Ideas For Long Hair
Source: carlablain_photography via Instagram, inspobyelvirall via Intstagram, dieschoenmalerin via Intstagram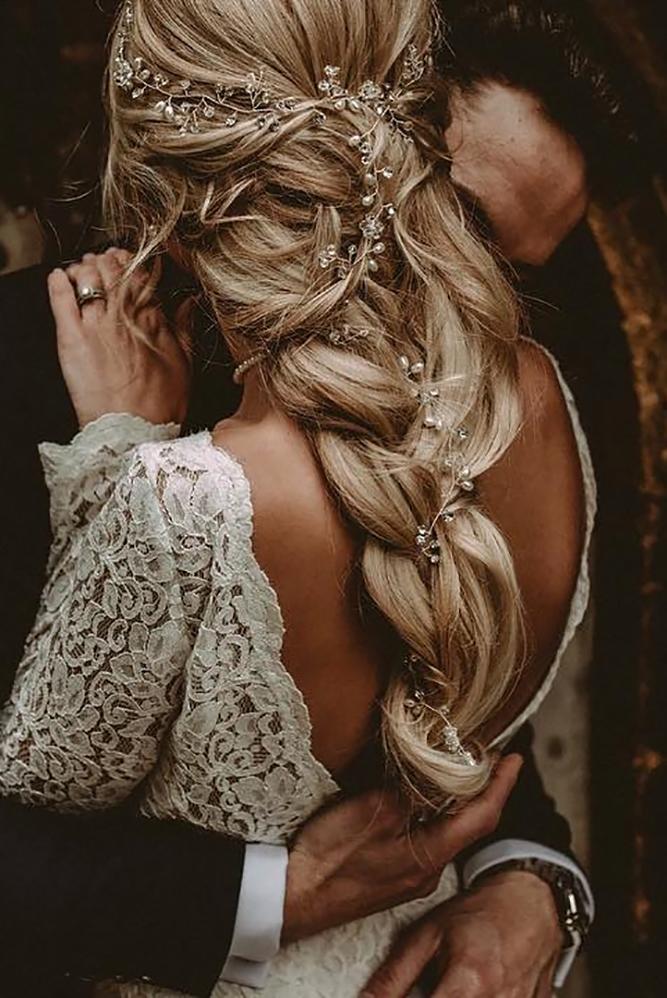 This breathtaking look is one of those boho wedding hairstyles that seems to come right out of a fairy tale. An airy, voluminous, messy braid and a delicate jewel hair vine. Magic!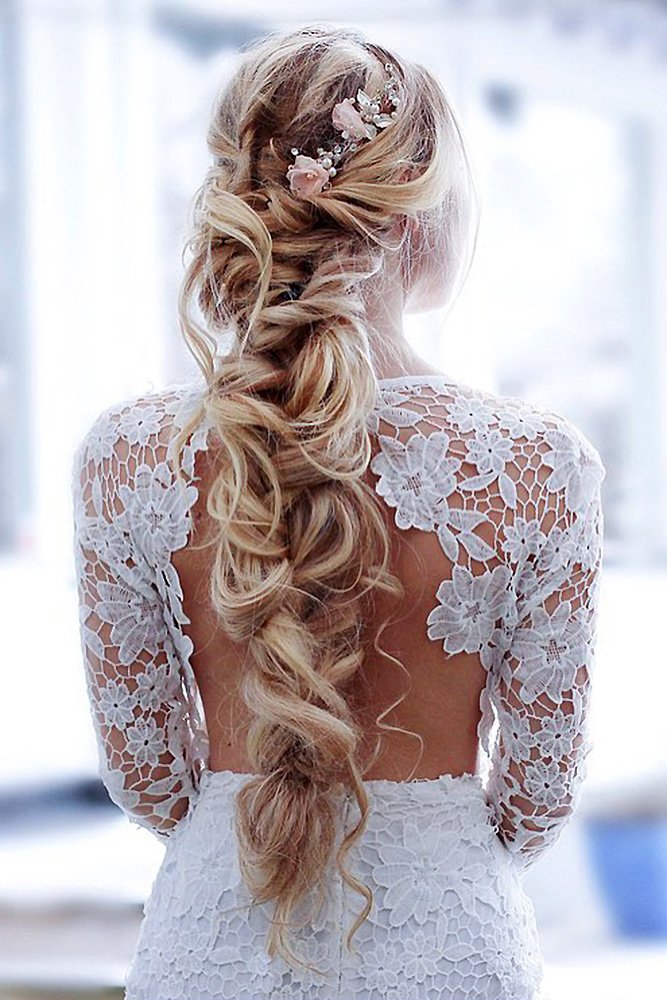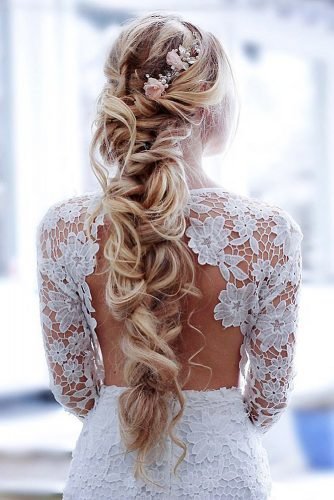 This is one of boho hairstyles for wedding long hair, that will look fantastic with a retro dress. Long see-through sleeves and an open neck, the right choice of jewelry – voila!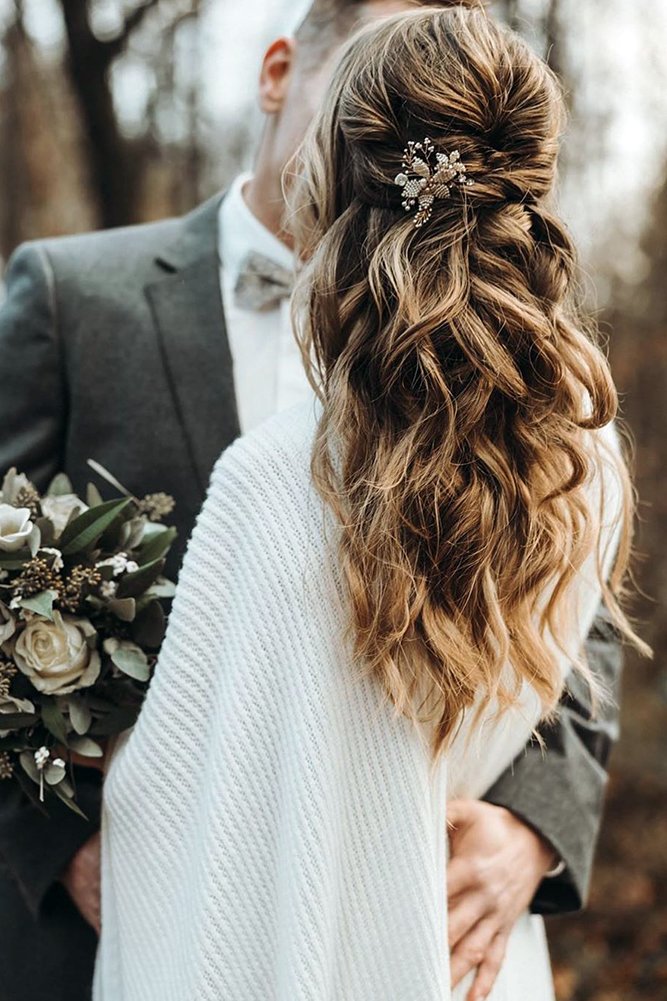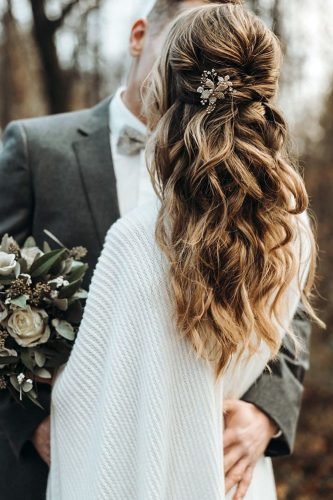 Boho wedding hairstyles down may look simple, but sometimes they require some professional help. This amazing boho half-up half-down roll-up is one of them – but is definitely worth a try!
Half Up Half Down Ideas For Boho Chic Brides
Source: taylor_lamb_hair via Instagram, hairspray_studio via Instagram, isabellajanehairmakeup via Instagram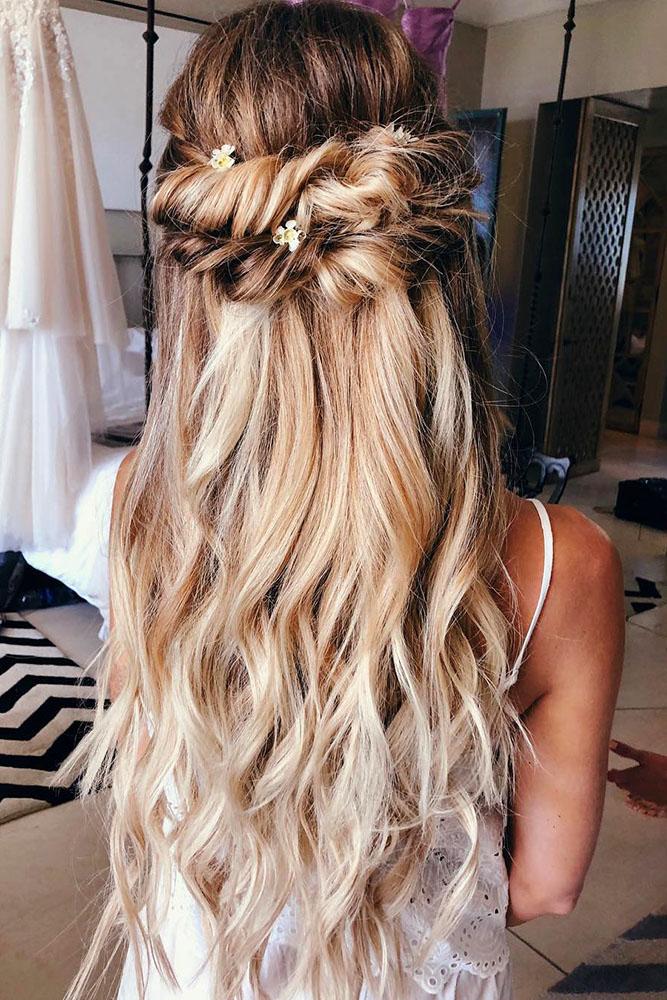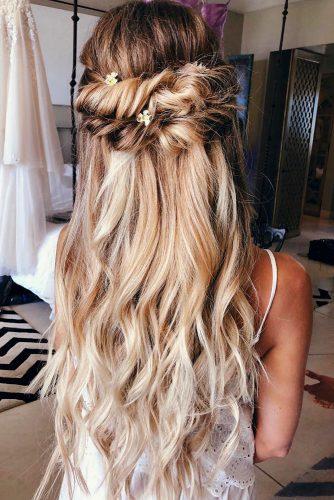 Half-up half-down boho chic wedding hairstyles are a lot about creative coloring. The simplicity of style is balanced by highlights. Dainty white flowers make it look more romantic.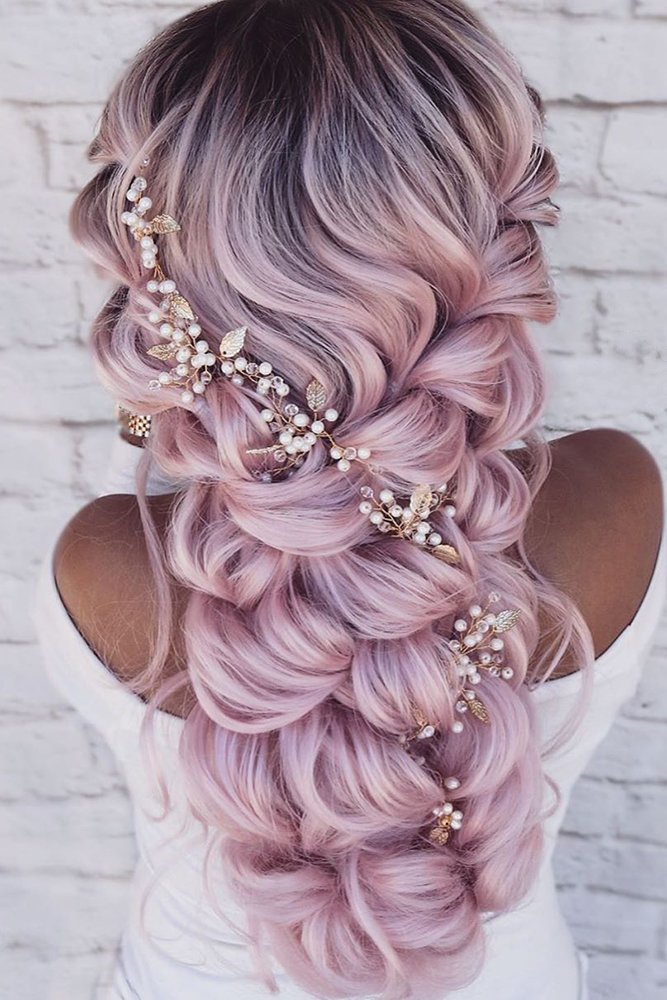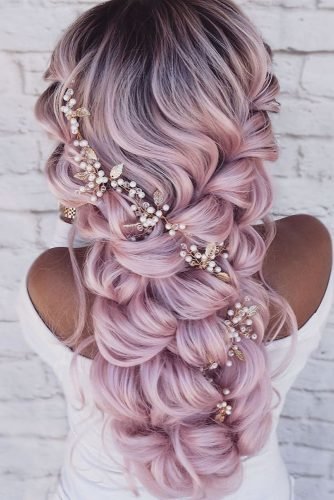 Another example of creative boho hairstyles, that require some extra attention to wedding hair color scheme. Combination of balayage, strawberry and blueberry blond looks simply fantastic!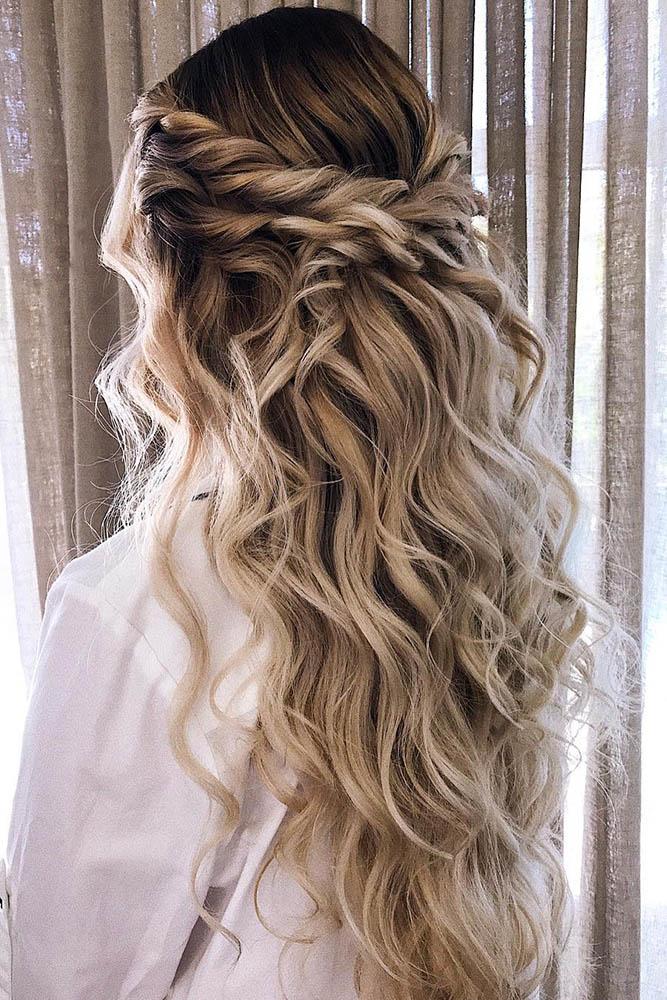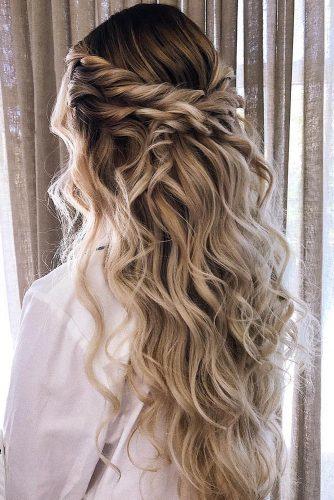 Curly boho hairstyles are perfect for a boho chic wedding. Long, flowing curls would look stunning with a traditional simple A-line wedding gown. Double twisted crown completes the look.
Elegant Hairdos For Boho Brides
Source: Hair and Makeup by Steph via Instagram, alexandralee1016 via Instagram, hair_vera via Instagram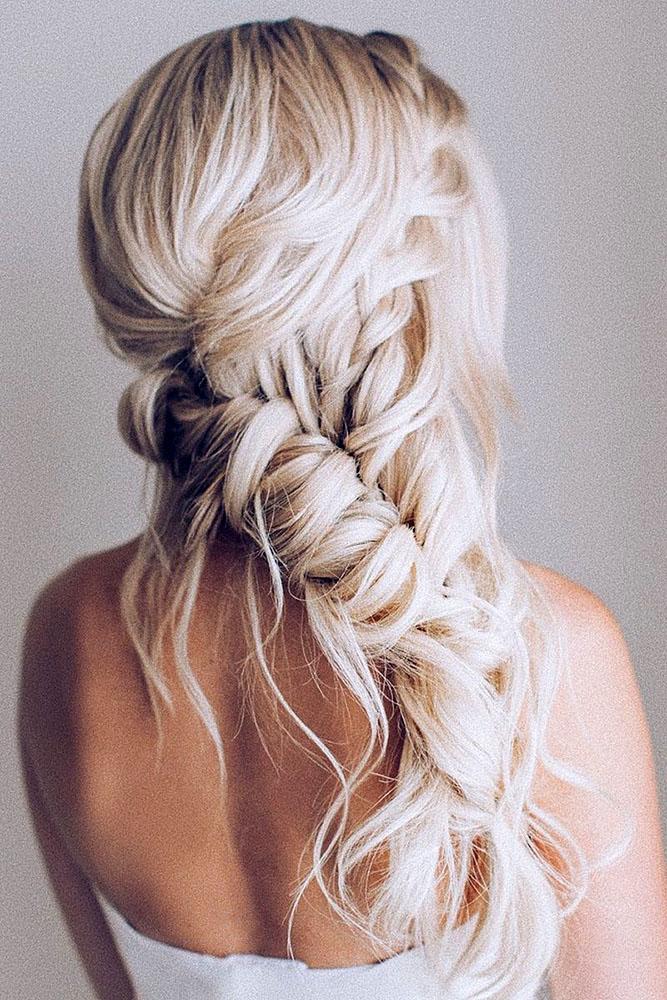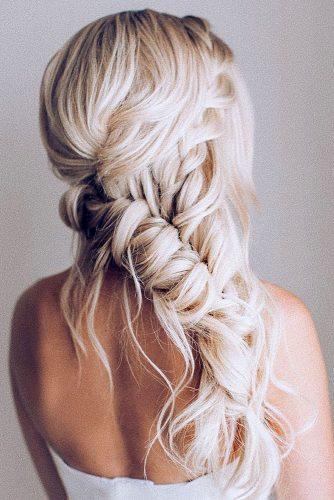 Boho hairstyles are usually quite creative. This elegant hairdo has all-star features: asymmetric lines, a combination of different braids, volume and stray strands. Perfect for a beach wedding!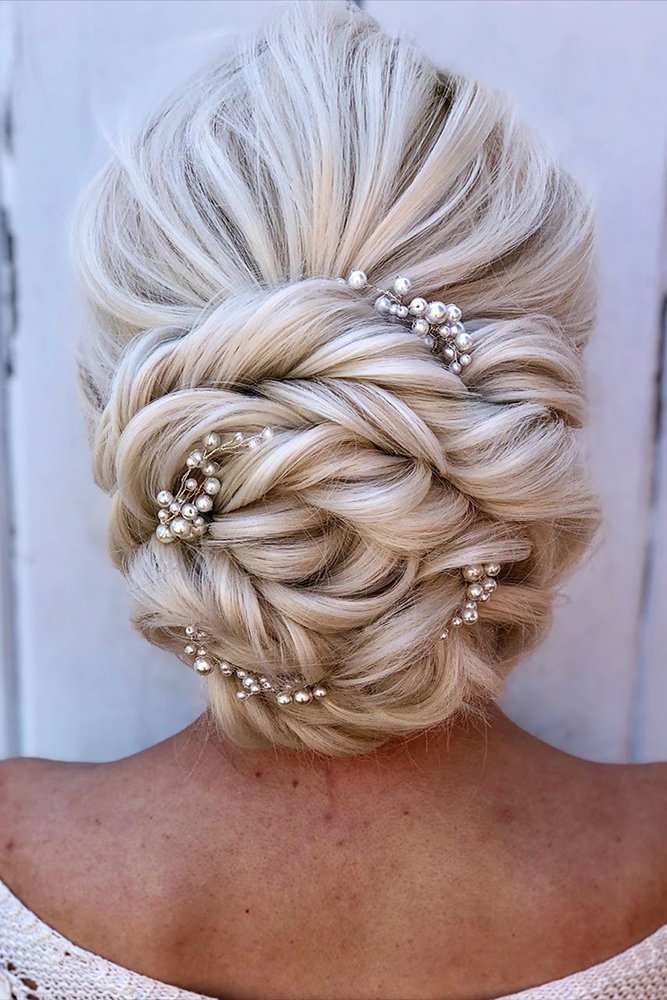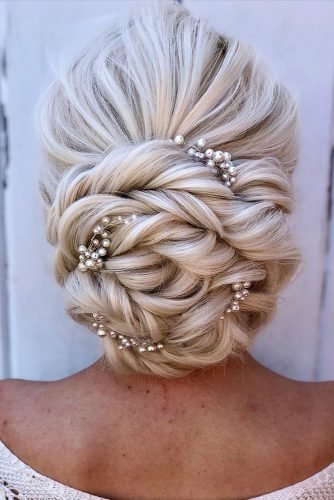 This retro-inspired boho wedding hair is perfect for brides who want boho style but have short hair. A simple roll-up with an intricate hair vine will look fantastic with a retro dress.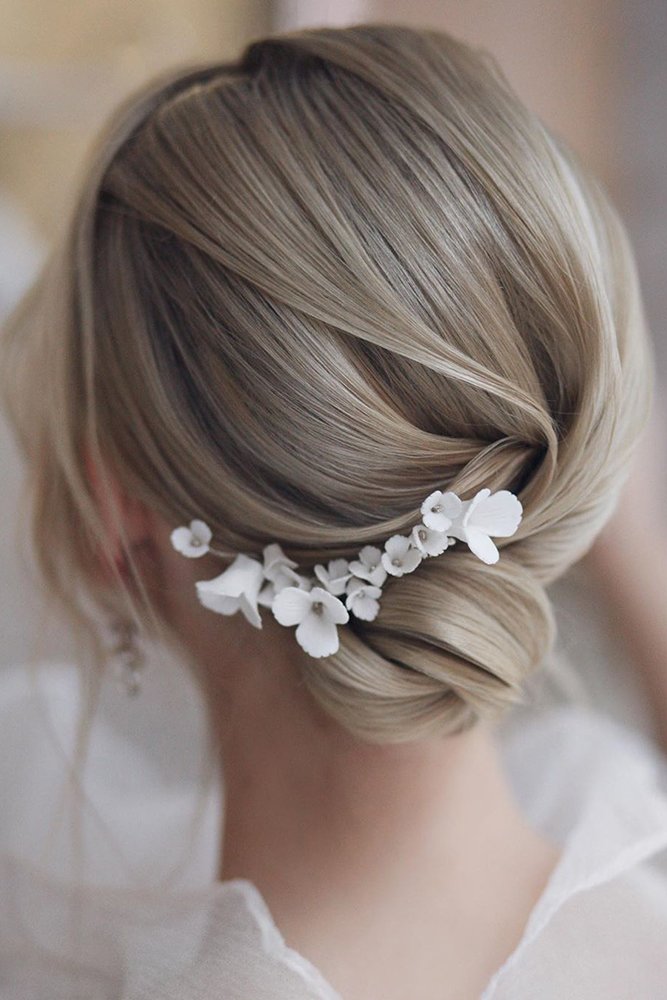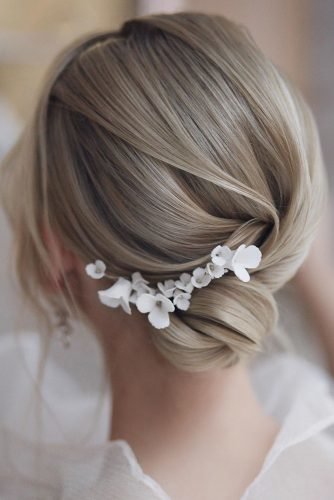 One more look from our collection of boho wedding hairstyles for long hair. This sophisticated bun looks clean and classy. A hairpiece with small white flowers completes the look.
Which hairstyles are best for brides with thin hair?
I always recommend extensions for brides with thin hair. Even if they are doing an updo, the fullnesss of added extensions is beautiful.
Expert Tip
Bohemian Hair Down (simple bridal tutorial)
Source: cathughesxo via Instagram


Boho wedding hairstyles are a perfect choice for girls with thin hair. Check out gorgeous ideas here: 30 Best Hairstyle Ideas For Brides with Thin Hair