A wedding dress is quite an investment and one with very little ROI. With all of the options available, brides these days either buy one or rent. The cost of buying the wedding gown of your dreams might not as wise, depending on the budget available to you. So, if you find yourself tight on cash, or find it hard to spend a huge part of your budget on that special attire, then you might begin to consider renting a wedding dress.
This decision might not be as difficult as you might think. Many grooms rent their tuxedos to cut costs; why can't a bride do the same for her dress? If you find yourself caught in the middle of the decision to either buy or rent wedding dress, then take some time to do your research. You can also read on to explore the pros and cons of such a decision.
Wedding Dress Rental Pros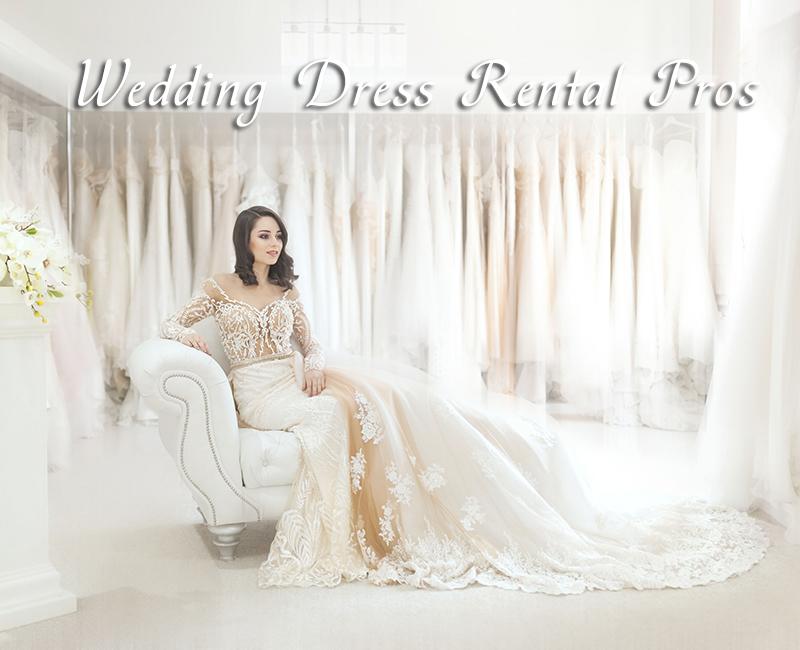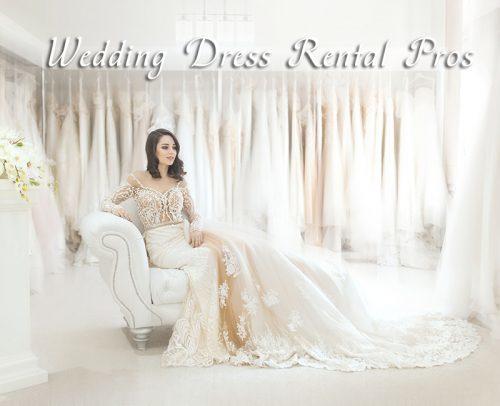 If there are any advantages to renting a wedding dress, you'd want to know them before starting your hunt for that perfect dress, wouldn't you?
For sure the very first pro to this decision to rent a dress is that it is a huge money saver. The choice to use a wedding dress for rent will cut down the costs of your wedding tremendously. The average cost of a wedding dress is about $1,400, with the average cost of a wedding pegged at about $31,000. These are huge amounts that some couples can't afford to blow on just one day's celebration. And so, any opportunity at cutting costs is welcome. With brides being able to rent a dress at prices as low as $70, it is definitely an option worth considering.
Do you want a designer dress? You might have dreamed of getting married in the designer wedding dress of your choice; however, the price of purchasing any of these dresses might not be as attainable as you dreamed. bridal dress rentals like Borrowing Magnolia have a Vera Wang that you can rent for as low as $1,085. Much lower than its actual price of $5,000.
No need to worry about storing or preserving your dress after the wedding. One of the advantages of a rental is that you are not burdened with wondering what to do with the dress afterwards or how much space it might take. You just send it back from whence it came.
Depending on the rental price, you can hire more than one gown, if you had plans for a costume change during the wedding. So you have the benefit of spending even less on two gowns that you would have on one.
Since dry cleaning costs are usually included in the rental price, you have no need to worry about expensive dry cleaning. As long as you don't trash the dress you can unburden yourself after the wedding by just sending it back. No worries.
Asides "splurging" for a costume change at the wedding; with a good bridal gown rental that has huge options of dresses, you could also rent your attire for other key events before the wedding. Such as your rehearsal dinner, bachelorette dinner, even your engagements party, and your guests would be none the wiser.
Wedding Dress Rental Cons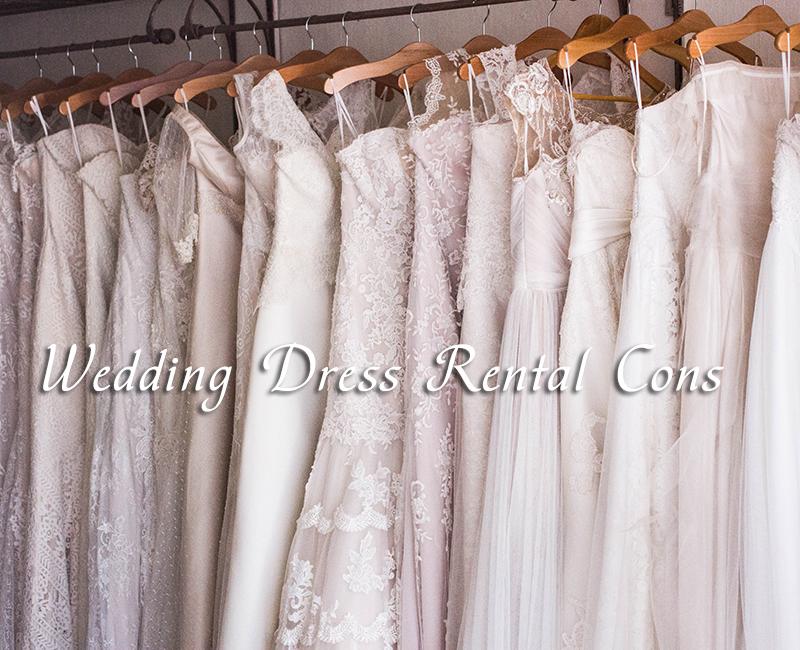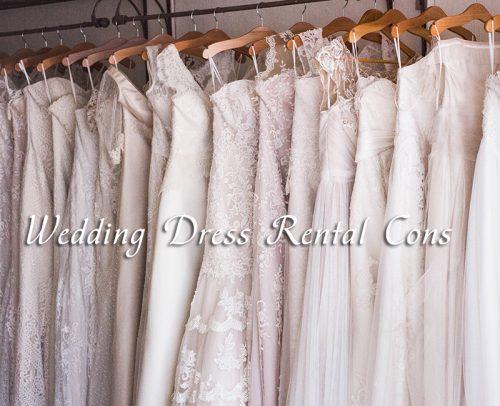 Take a look at some of the cons of renting a wedding dress, this would help you weigh your options, and enable you finally decide if this path is for you.
It is the dream of most brides to go wedding dress shopping with their friends and family. Renting a dress doesn't quite give you the same experience. For many you would have to be satisfied with just shopping online.
You have to be careful during the wedding ceremony and reception not to trash the dress, and keep it in the mint condition that you received it. Or whatever terms you agreed with the rental company.
When you decide to rent a dress, you give up any ideas or dreams you might have had of passing it down to siblings or your children. The dress would not be as special to you and it might feel like a bit of a loss that you never owned one.
While renting a dress might be a good option, it should be noted that you have less variety to choose from when renting than you would if you were buying. If you have a specific style or design in mind, it might be a lot more difficult to find it and in your size, when renting.
With wedding dress rentals, it is sometimes difficult to get a perfect fit, and then alterations are required. This is not possible with many rentals. However, even if it is, not many brides would wish for a wedding gown that needs to be altered, but it is totally necessary if you are to get the right fit.
Sometimes with rentals, you will not get your dress when you would prefer to, and they could deliver it a few days' shy of your wedding or event. This leaves you no room to make any changes or adjustments that might be required, and might not work well with say, a destination wedding that involves travel.
Things to Note Before Renting Dress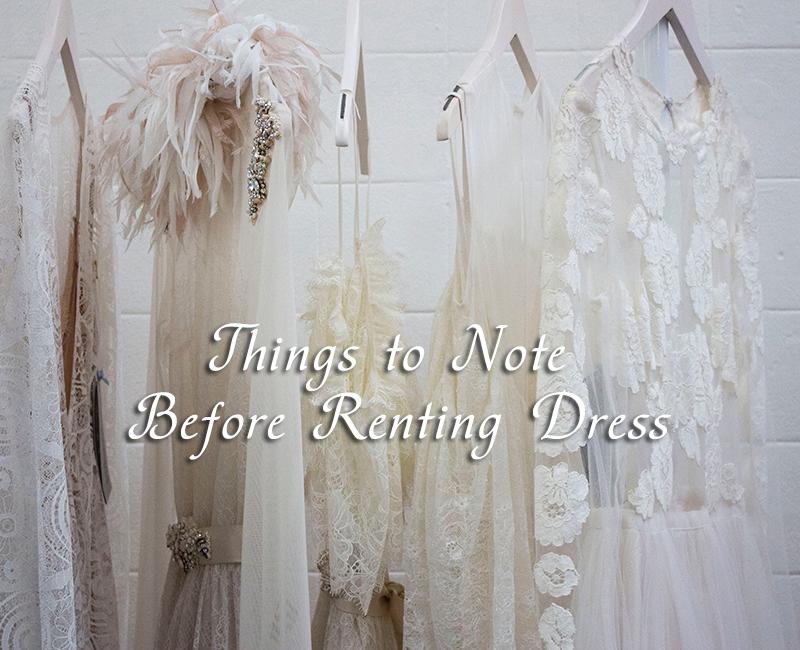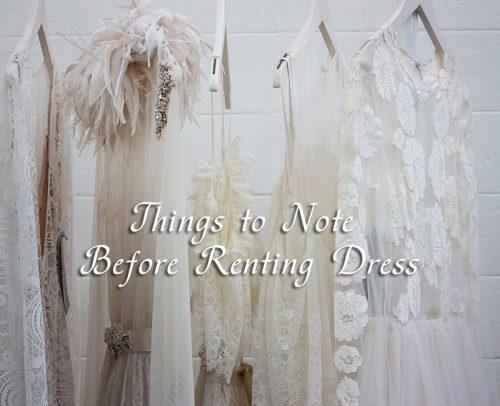 There are a few things to note when deciding to rent a wedding dress. You're taking a chance here, and you need to be sure of certain procedures before you commit to the dress.
Be sure to try on the dress immediately, since alterations aren't typically allowed. Whether you rent designer wedding dress or not, it wouldn't look so great if it does not fit.
Try to read and understand totally what your security deposit covers so you know how to handle the dress during the wedding and what to avoid.
Certain rentals charge a late fee, so be sure not to miss the return date as this might result in your making expenses you were trying to avoid in the first place.
Begin shopping for your gown early. Rental gowns are limited, and so is the chance of finding the right one in your size. Even more so when you decide to rent designer wedding dress.
After finding the right dress, inspect it to make sure it doesn't have any wear or tear you might be unhappy with. Be it a rental, you should be happy and comfortable in the dress you are wearing for your wedding.
Where to Rent Bridal Dress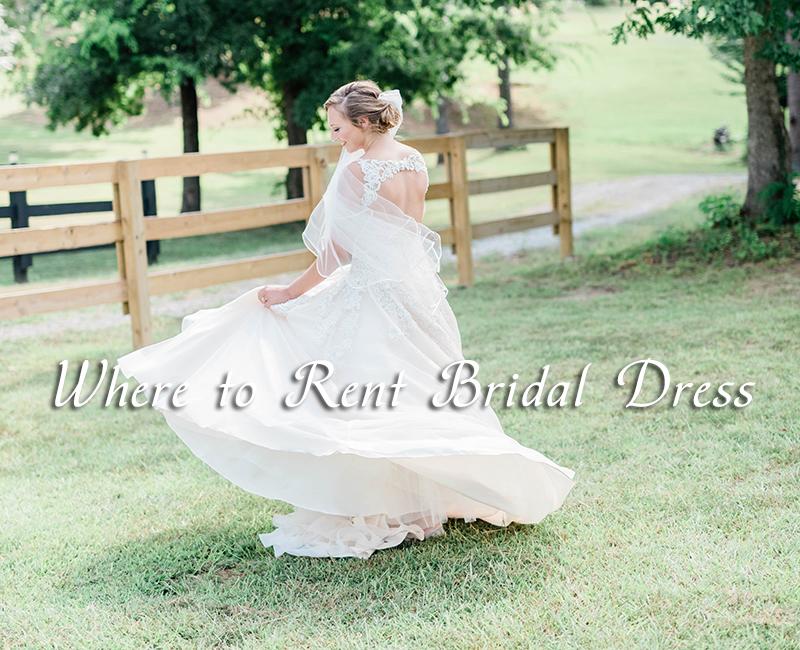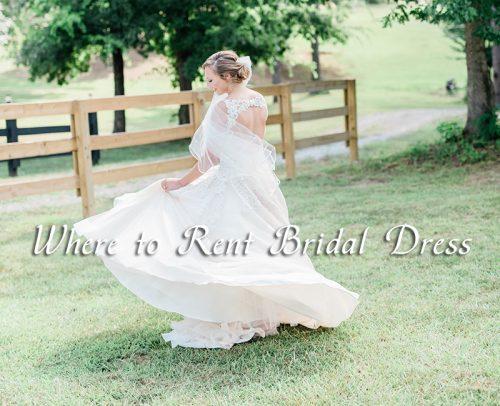 For a bride who formerly wasn't thinking about renting a dress, you might be wondering where to rent wedding dresses. Well, there are quite a few options, and also a few that we can suggest to you.
Rent the Runway: a very good option for rental gowns, Rent the Runway has a whole bridal wear section from which brides-to-be can make their selection with prices as low as $70.
Borrowing Magnolia: For the brides with dreams of wearing designer gowns, Borrowing Magnolia has a wide variety of these gowns rented at a price much lower than their retail price.
Happy Ever Borrowed: Bridal rentals aren't limited to just wedding dresses. Shops like Happy Ever Borrowed make it easy to borrow stunning accessories too of a large variety.
Vow To Be Chic: If you're looking to rent for your bridesmaids too, then Vow to be Chic might be just the store for you with its "Bridesmaid Dresses" section that boasts a ton of pretty dresses.
Stillwhite.com: Another store that favors the bride in search of a designer gown is this global Aussie wedding site of pre-loved gowns. You finally have a chance of snagging that gown you always dreamed of, but at a fraction of its retail price.
If you're looking to rent wedding dress, we hope that we have been able to help you with this decision in even a small way. Brides are beginning to see the benefits of renting a dress, just as grooms have rented tuxedos over the years. For a dress you only get to wear once, it might not make a lot of sense to splurge on outright purchase if your budget is not able to cover it.
Some of the first steps to consider when thinking of renting a dress is to call your local boutique to see if they do any rentals. Even if they don't, they might be able to refer you to some that do. If you are able to find a brick-and-mortar store that rents out wedding gowns, it would be much better than buying online since you would be able to see and try on the dresses well before your bug day.
The last and final option would be to purchase the dress online. This would also be a good place to browse if you're wondering how much does it cost to rent a wedding dress. Eventually, whether you choose to buy or rent a dress, we wish you the best time on your journey to your big day.