What do you imagine when thinking about the proposal? Love is in the air, you go on one knee, she's blushing, anticipating the question that's coming… You take out the ring… Wait! When you are planning your perfect proposal, no detail is too small. If you have chosen the symbol of love and commitment for the best woman in the world – it's time to think of presentation! Engagement ring boxes are important! They make a perfect background for the piece of jewellery that means so much for the both of you.
An engagement ring in a box is a representation of your style and persona that keeps the symbol of your relationship safe and sound for eternity! You are a practical person and don't want to spend more than you expected? Of course you can keep the ring in your pocket. But think twice. Such a small thing is easy to lose! And besides – where will she keep your present, when she needs to take it off in order not to harm it? Isn't it worth it to devote a little more time and choose a perfect ring box for the perfect ring?
We have found the most beautiful and unique engagement ring boxes imaginable. Just take a look at our gallery and you'll want one immediately. The choice is going to be difficult; the ring boxes are as different as the rings. But don't you fret! Remember, that the ring and its box should represent you and your relationships. Listen to your heart as you browse through these amazing ring boxes! There are boxes of different styles and material for every taste: wooden boxes, glass boxes, and whatnot. You are sure to find the one or, if you are crafty, to get inspired for some diy ring boxes – who knows?
Посмотреть эту публикацию в Instagram
Inspiring Unique Engagement Ring Boxes
Source: barcelonadecolab via Instagram, barcelonadecolab via Instagram, jewelrybyserendipity via Instagram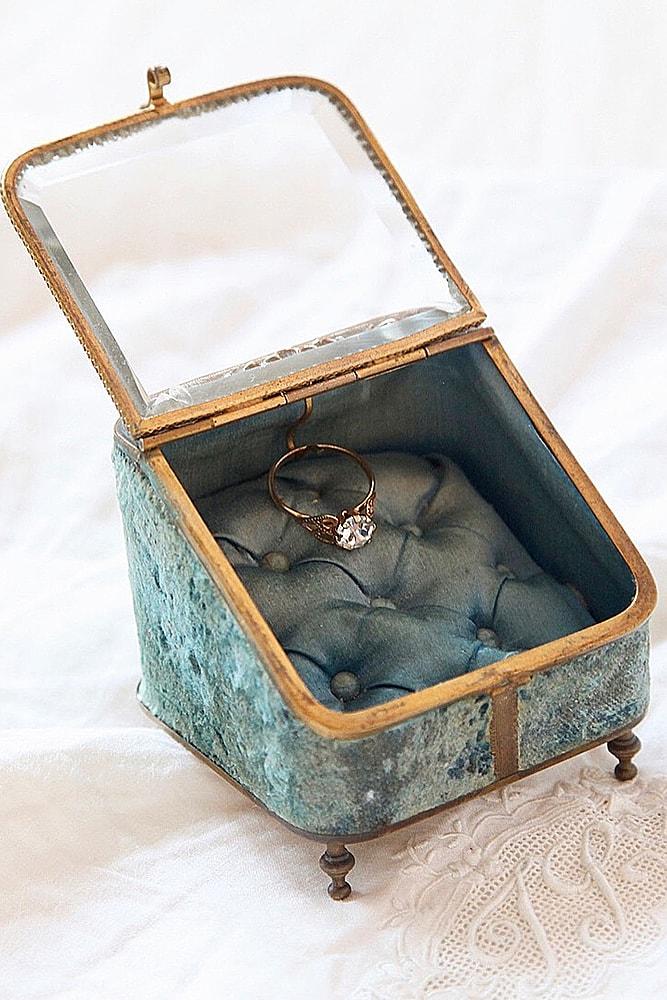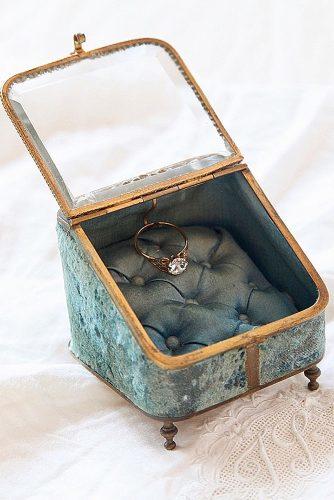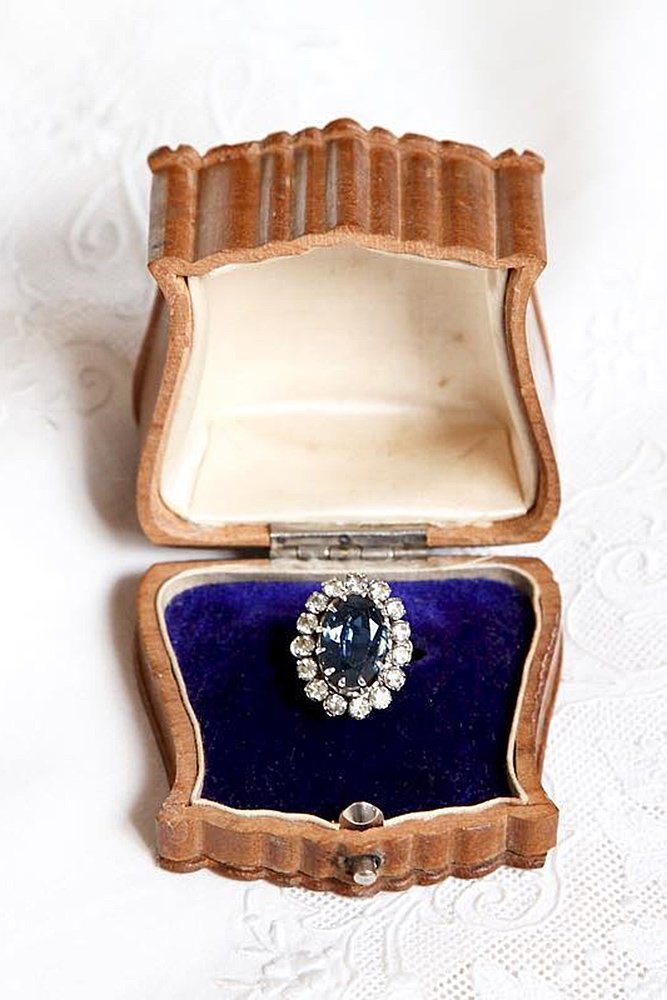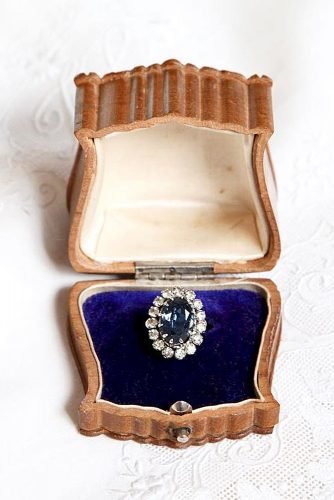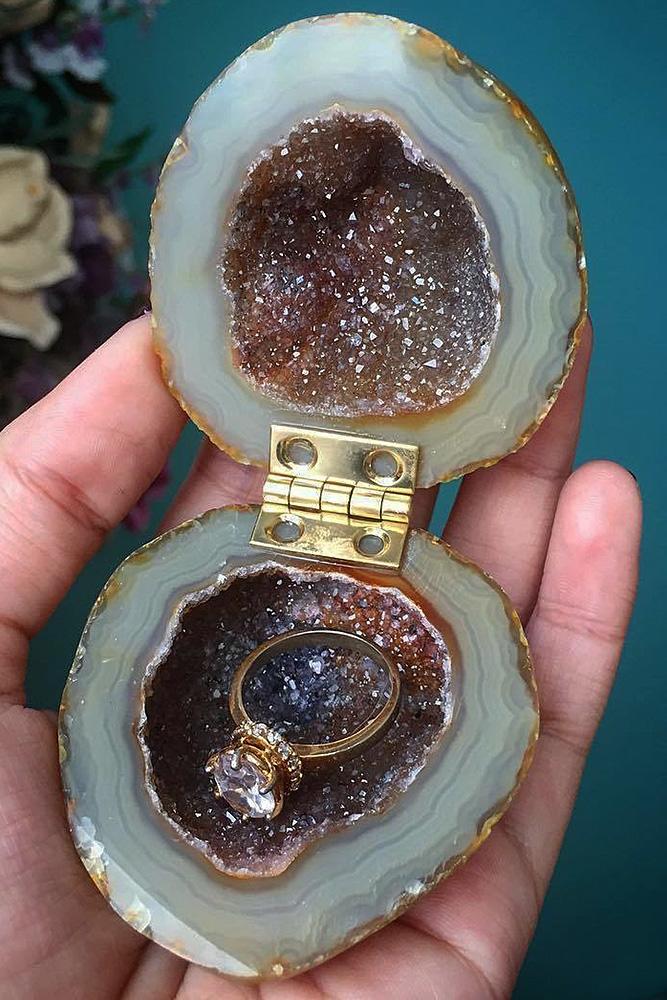 Your ring is a very special piece of jewelry, that requires a very special case. If you feel that ordinary jewelry boxes are simply not good enough, check out these inspiring engagement ring boxes! The card box jewellery case for your queen of hearts will win her heart at first sight! It also gives some food for thought. Why don't you hide this beautiful piece-of-art ring box and make an Alice in Wonderland inspired quest for her? Imagine her surprise! Thematic wedding is surely on the way! If your wife-to-be likes computer games, she will appreciate quests, where a simple log or a rock hide a secret message of love. If you are looking for an original idea of proposal, these puzzle boxes are a real source of inspiration. Life is a game, and you both have just found a hidden treasure and are about to get to a whole new level! Let one of these unique ring boxes become your artifact of love!
Ring Boxes In Country Style
Source: jenartsywood via Instagram, riaringsjewelry via Instagram, a2zweddingcards via Instagram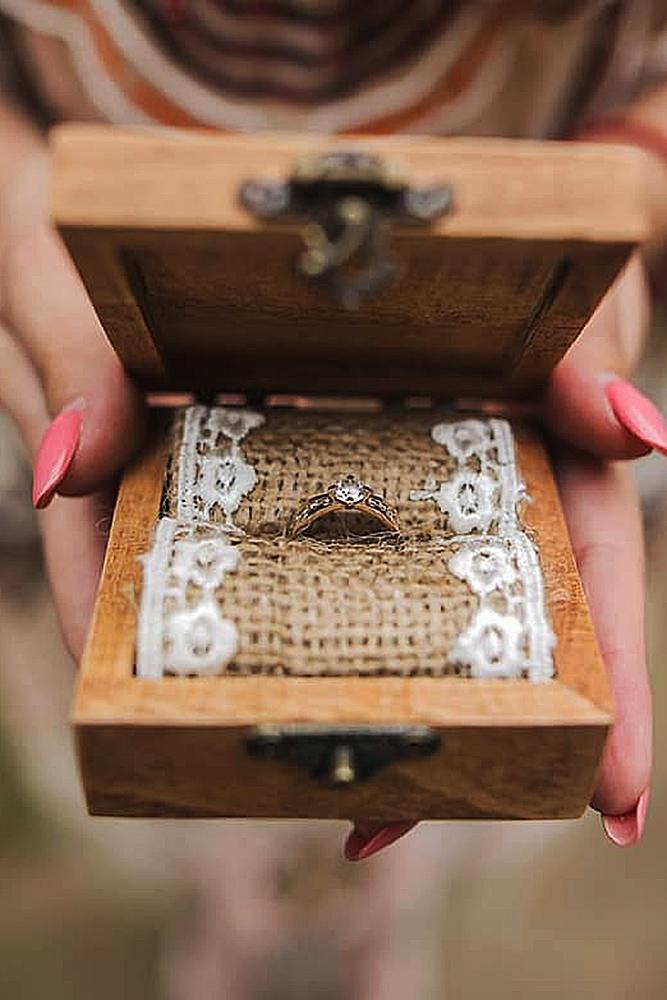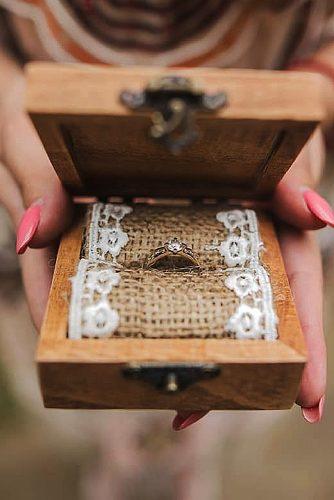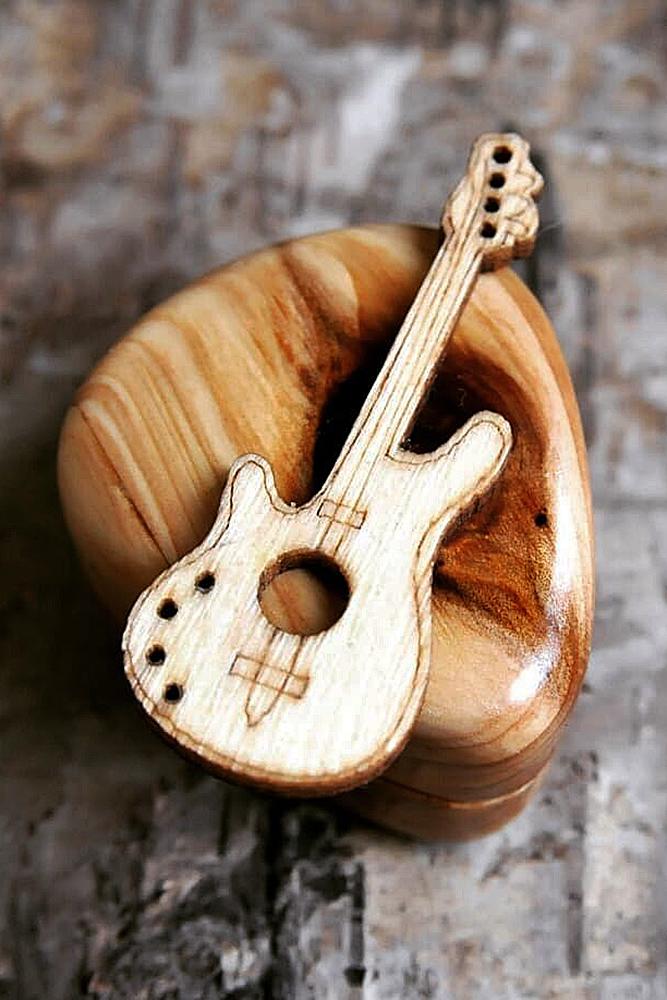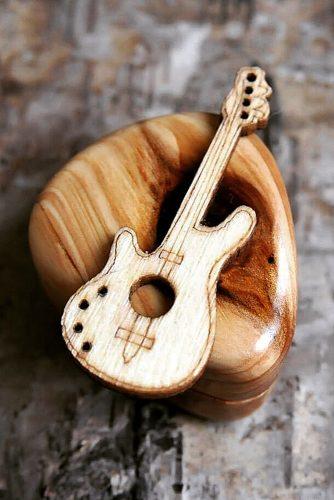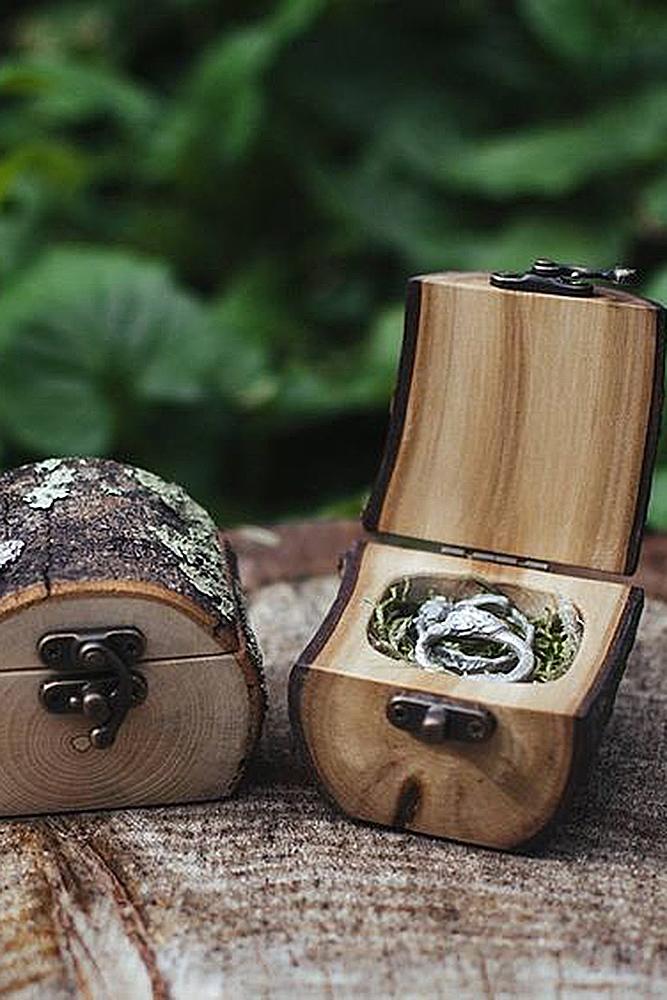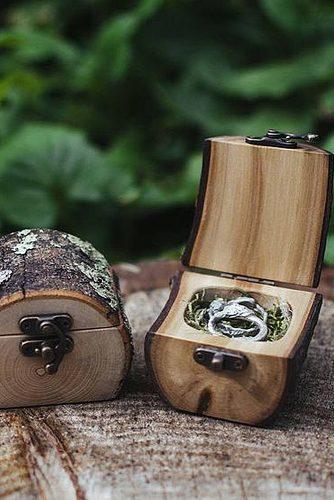 If you are both into country life, we have something special for you. If you are dreaming of a barn yard or a boho style wedding, check out a wooden engagement ring box. A great way to make the proposal in style! Imagine the two of you, horse riding in the fields on an early summer morning. The morning dew is shining in the sun, and all the nature seems to celebrate your love to each other. As you stop for a picnic, you help her to dismount a horse, get on one knee… Oh, what a romantic story to tell your children! Or take your forest nymph for a walk. There, sitting by a stream, her in her flower crown, confess your sincere love. Let the stream and the trees be the witnesses of your hapiness! No one around… except maybe a photographer, because such a romantic engagement needs perfect photos.
Glass Art Boxes
Source: Barcelonadecolab via Instagram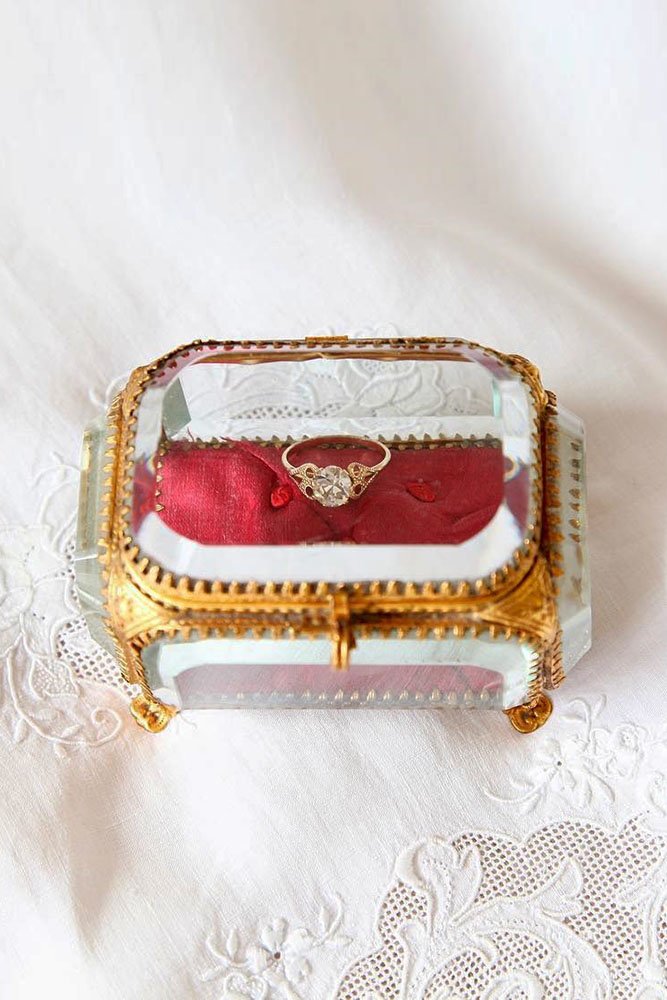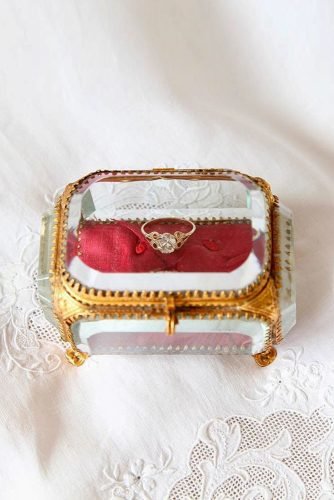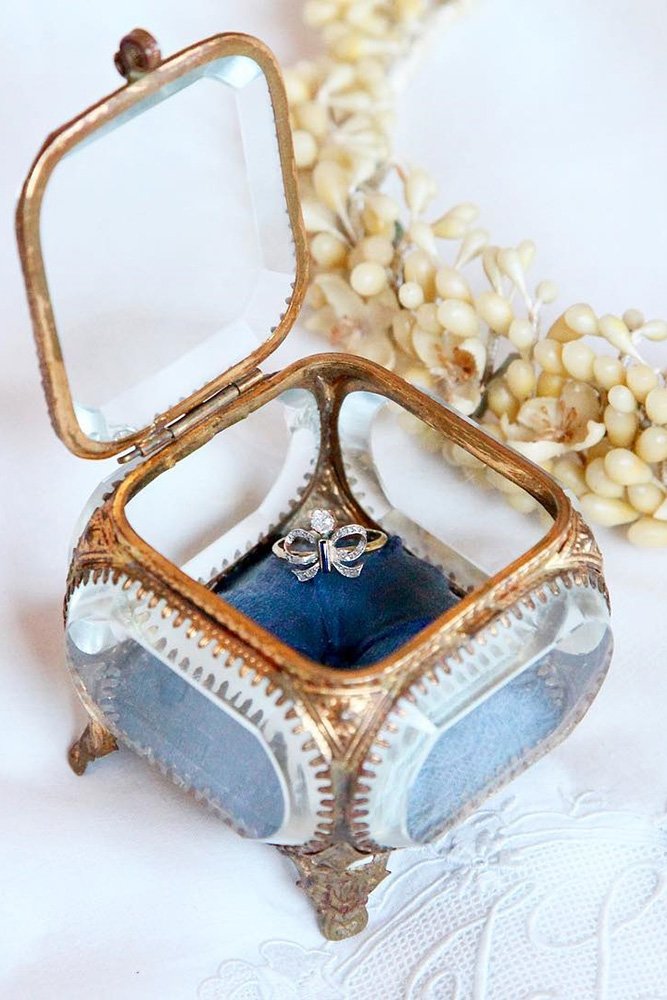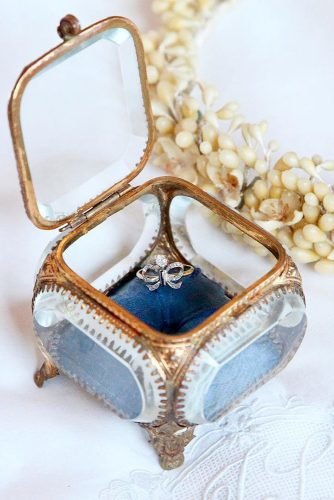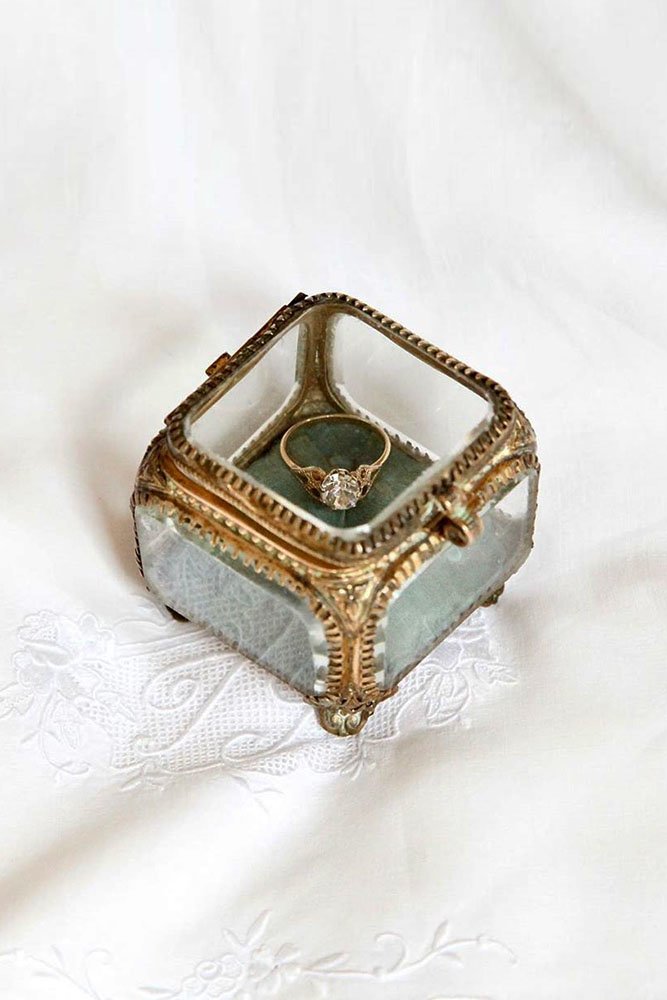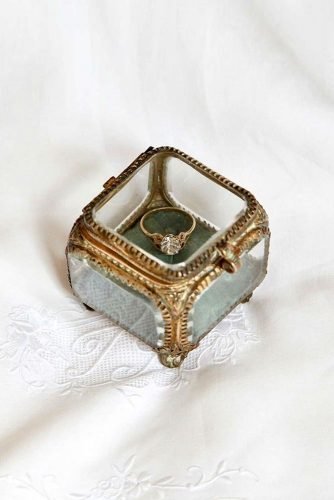 Want something even more fairy-tale and intricate? Dreaming of dragons, far-away lands and mystery lands? No need to take a long journey, full of mortal perils. Dragons are also very rare these days, so no need to fight them either. Elven magic might be not be a part of our everyday lives, but you can make ancient legends come true! Are you a skyrim fan? No need to solve a skyrim ring puzzle. Just take one look at these astonishing custom engagement ring boxes. These glass are boxes are so magical, they seem to be a work of elves rather than a human-made thing. Seems that no human can make a ring box as beautiful, as these ethereal glass boxes. They are meticulously handicrafted to make your engagement as amazing as can be. After she said yes they will serve for many years to come, a true family heirloom to be passed from generation to generation.
Awesome Engagement Ring Boxes
Source: barcelonadecolab via instagram, aliciacoraljewels via instagram, MountainUrsusDesigns via Etsy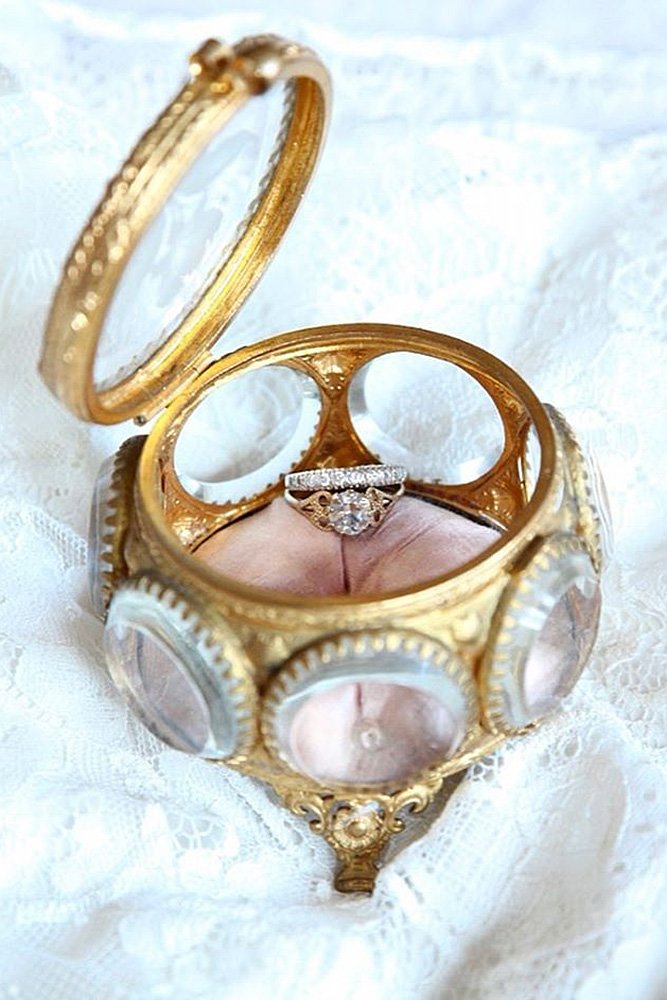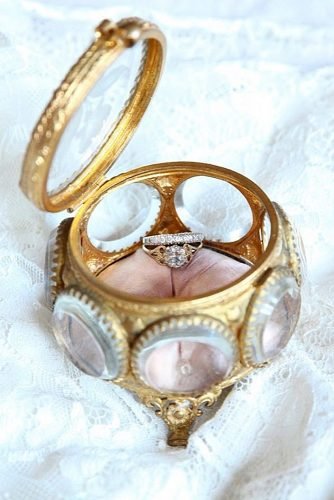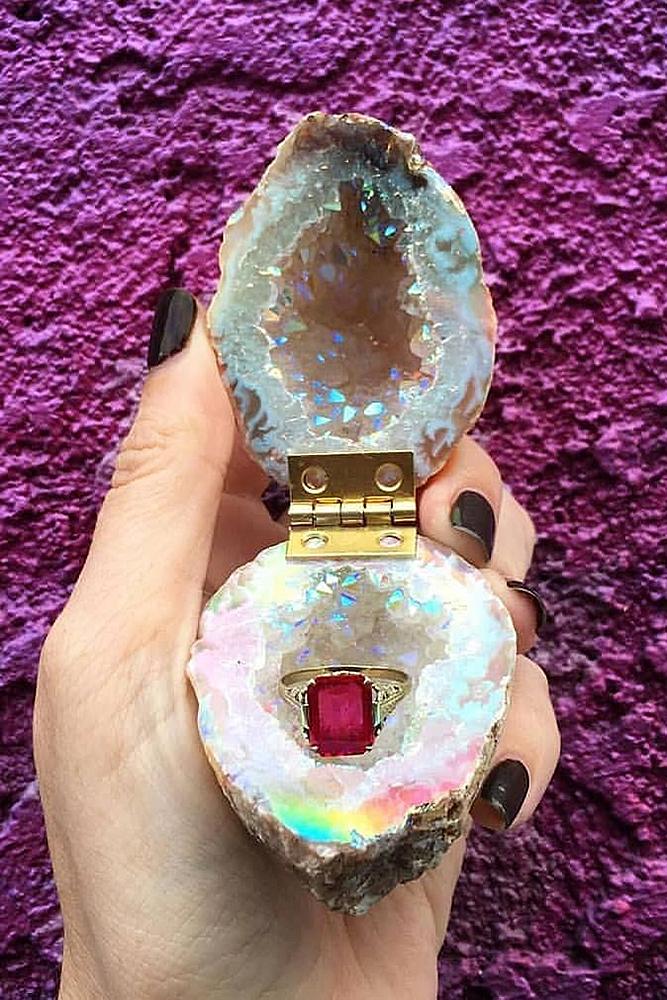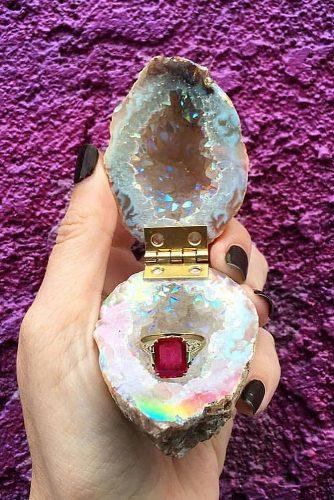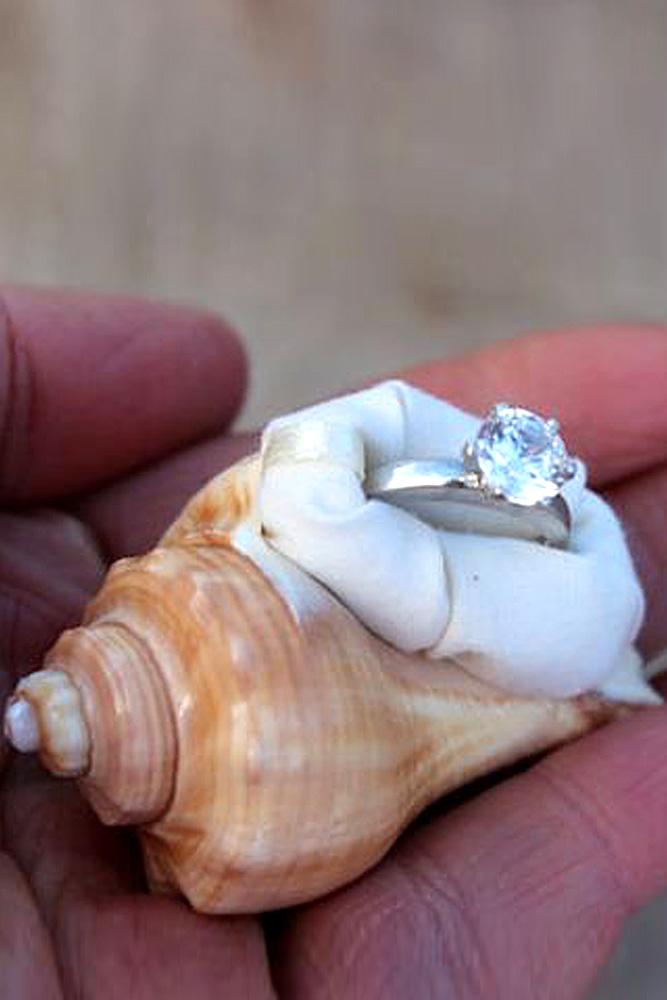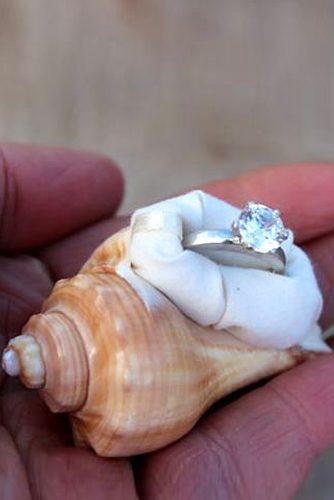 Feel the power of four elements with one of these astonishing boxes. Of course it can serve as a mens jewelry box, but its stunning beauty deserves to be appreciated by both sexes. And a place somewhere on a top shelf, where everyone can see it, as well. The contrast between rough textures of natural materials and intricate beauty of a diamond ring looks truly magnificent. Feel the power of the century-old forest with a simple wooden box with black velvet inlay. Admire the shimmer of crystals. Hear the call of the sea with a seashell, that's been handcrafted into an organic diy engagement ring box. This simple jewelry box can serve also as a hint on your future destination wedding. Using such kinds of natural objects as a jewelry box for the ring highlights your unity with the nature. The elements are calling!
Amazing Crystal Boxes For Rings
Source: nakedgemstudios via Instagram, nakedgemstudios via Instagram, jewelrybyserendipity via Instagram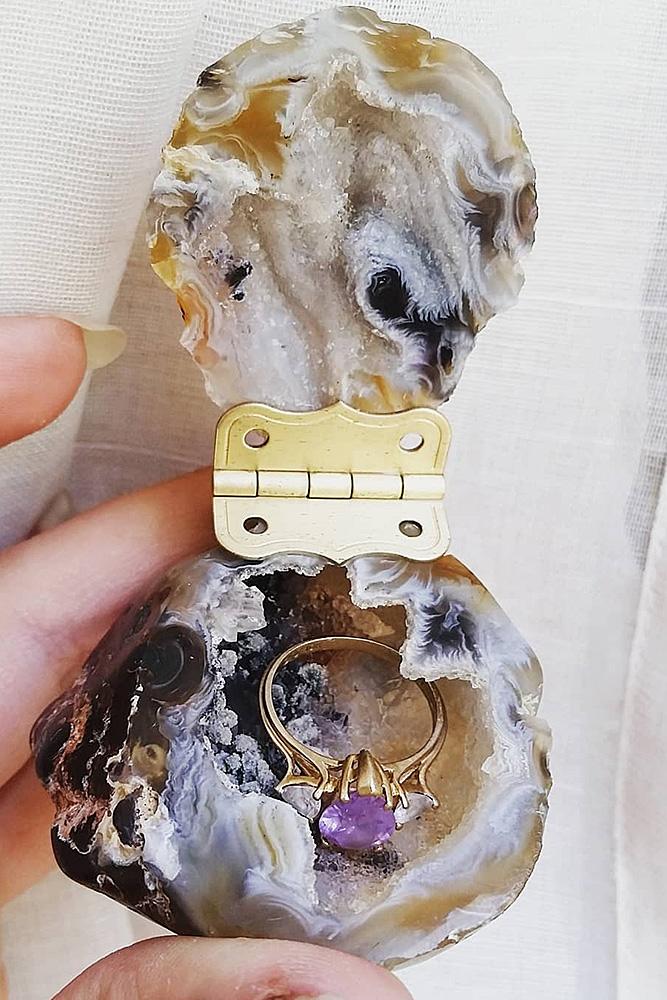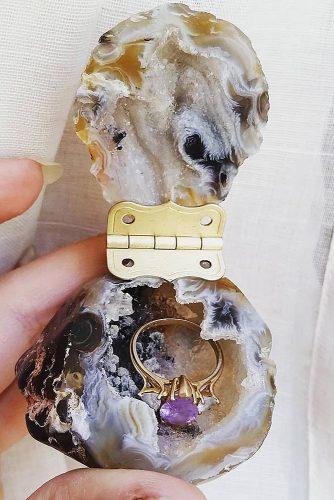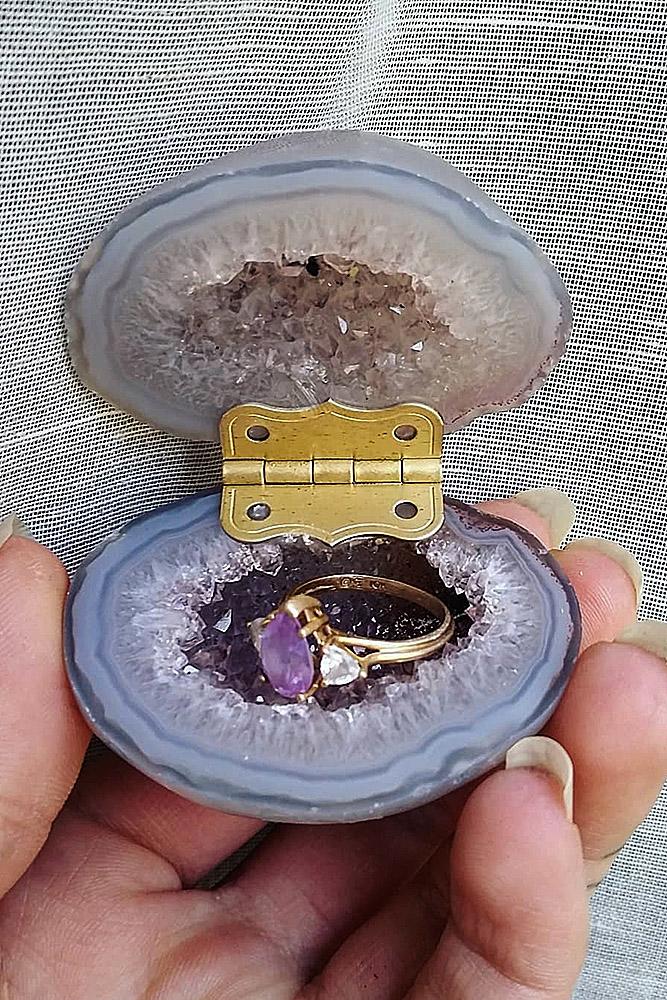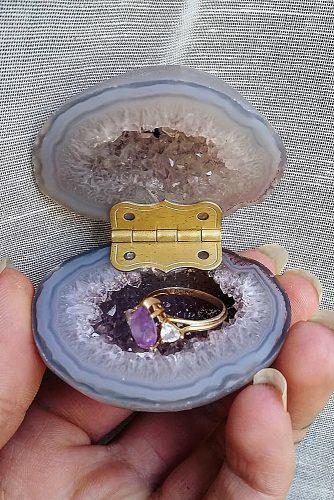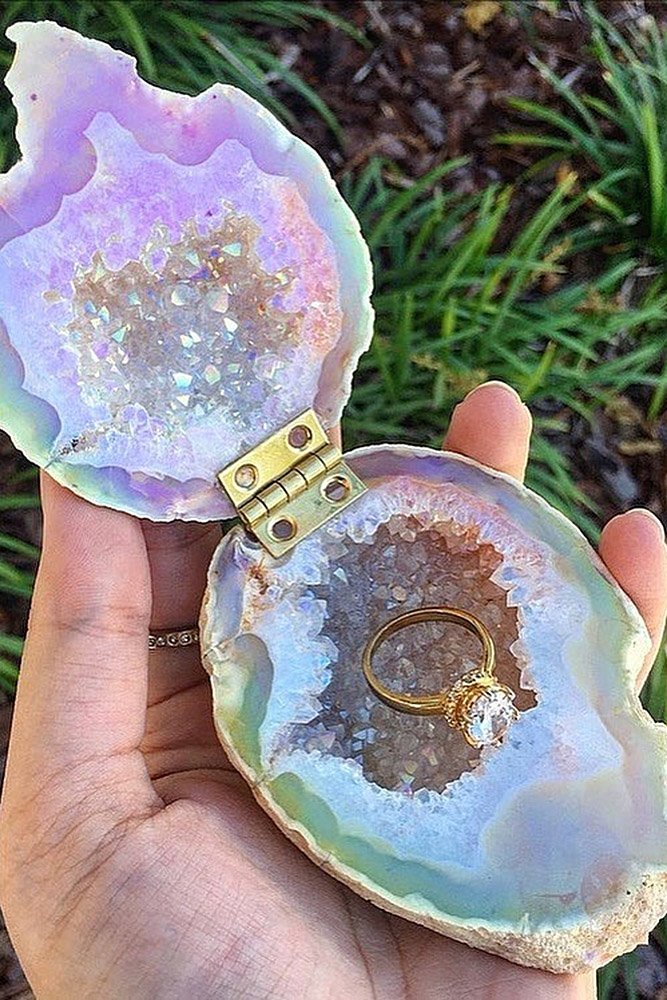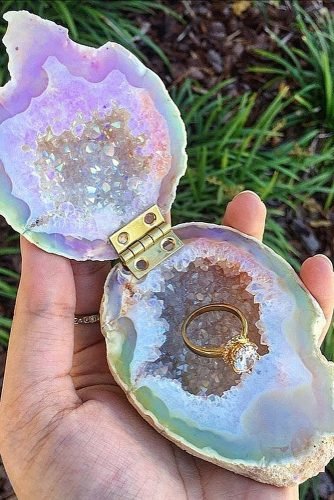 Crystals are millions of years old. Just think about it! The proper name for objects that make these amazing crystal boxes is 'geodes'. Geodes appeared during the earliest part of the earth's formation: they witnessed dinosaurs. People have been attracted to crystals since the dawn of time for different rites, practices, and rituals. Or use them as a decoration to connote power. Many people believe that crystals have all the information from the earliest days of Earth inside them. Also, there are people who believe that this information grants crystal with certain powers. Of course, it is totally your choice whether to believe it or not, but there definitely is a bit of ancient magic in these geodes. Such a custom ring box is so sure surprise her, no matter what. If she believes in astrology you can choose a crystal geode in accordance with her Zodiac Sign. If not – this ring box will be the most beautiful gift she has ever received.
Eco-Friendly Engagement Ring Boxes
Source: Alexandria gs via Instagram, Justforkeepsdesigns via Instagram, zinniabearer via Instagram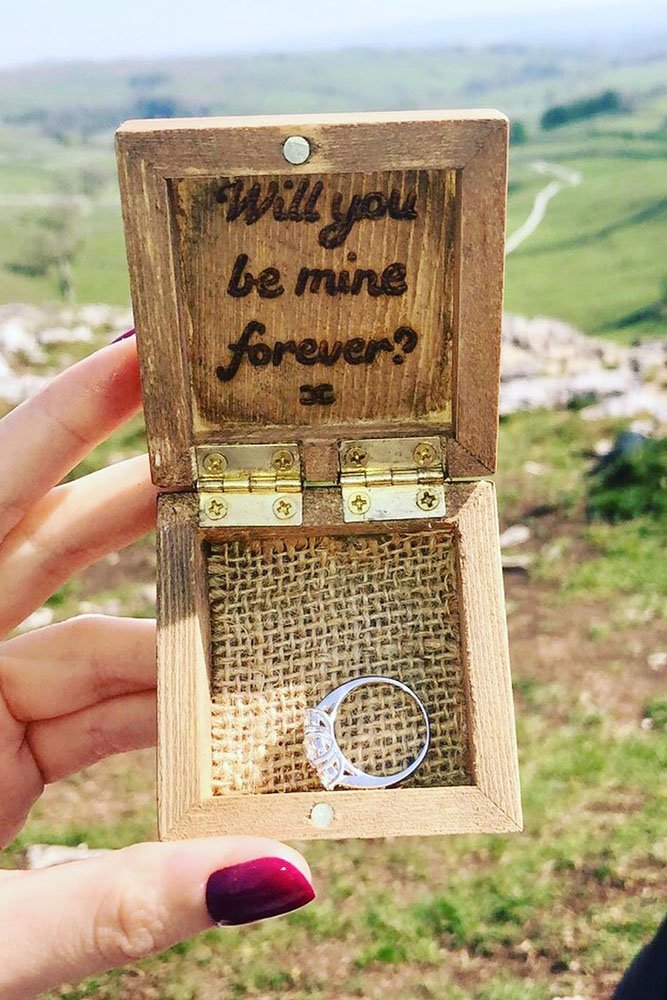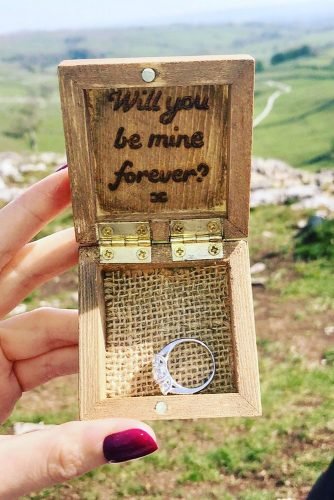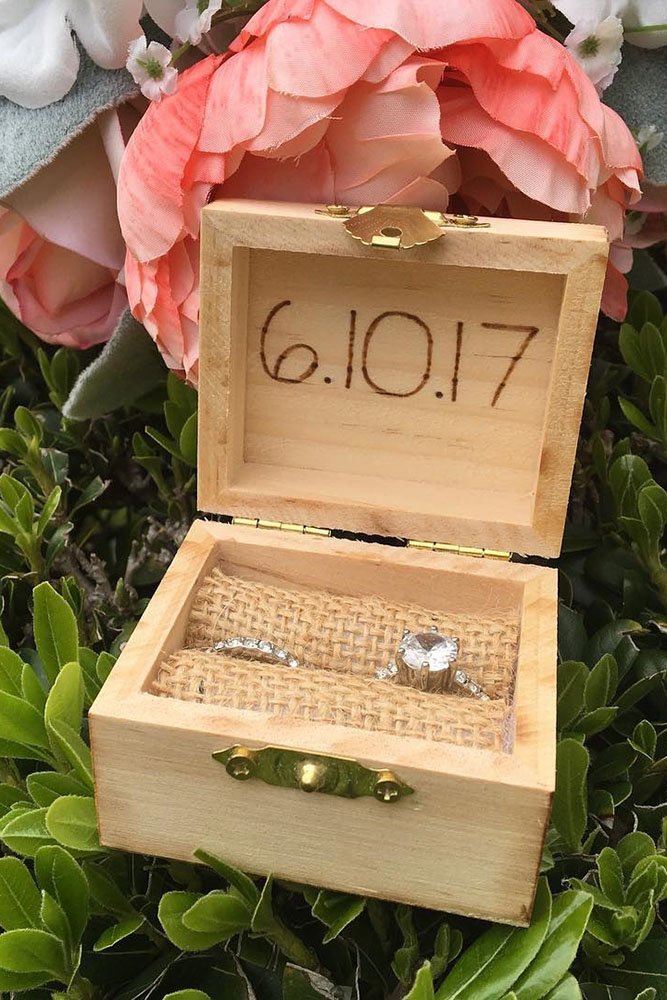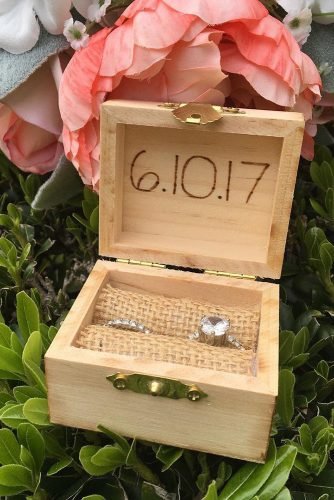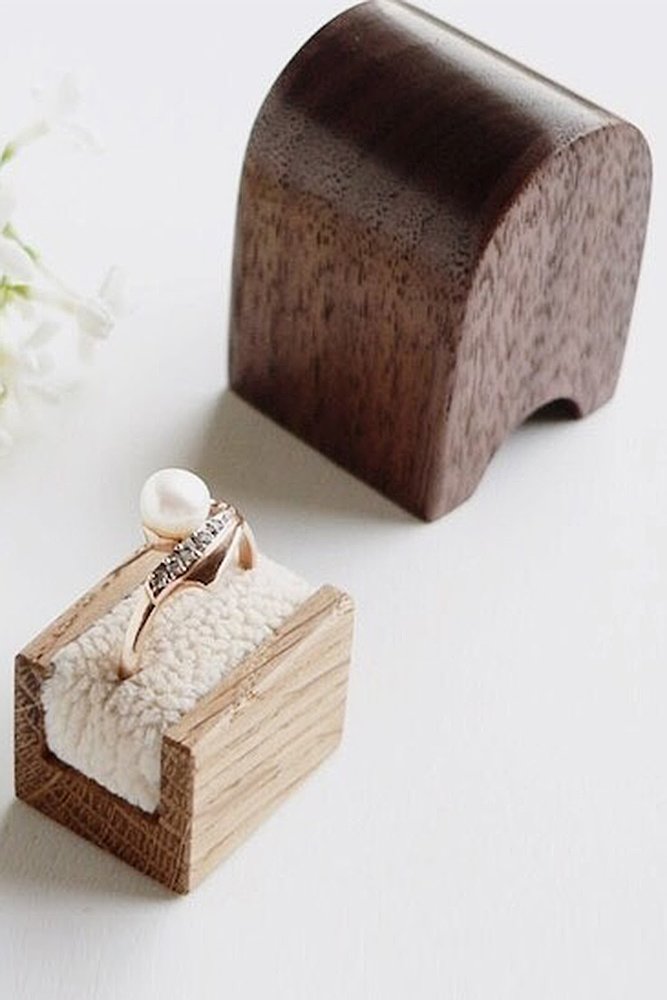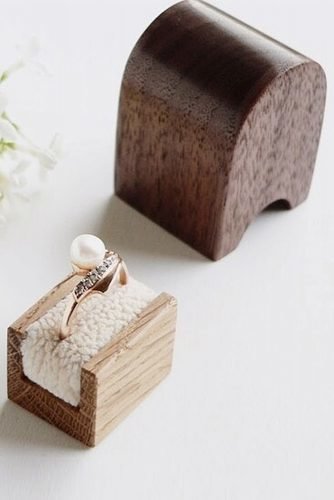 One more option for a country style, rustic, or simply boho-styled wedding is an eco-friendly personalized ring box. Made with attention to nature, these handicrafted jewelry boxes are perfect for a girl that cares about environment. 100% renewable resources, natural materials – a perfect case for your perfect ring. Be it wood or mother of pearl, these eco-friendly engagement ring boxes will bring smile to her face. Mother of pearl box is perfect for a romantic proposal on a desert island. White sand, empty beach, palm trees and little waves all add up to the picture. She's gonna love and cherish this box each time she takes a look at it. Wooden boxes look more solid and timeless. Their simple designs flatter the elegance of the ring. You can choose between different kinds of wood, depending on your taste. A simple wooden box with a dark finish and intricate lock will keep your ring safely. A lighter and more organic design will remind her of that sunny day in the counrtyside when you proposed.
Minimalistic Ring Boxes
Source: Zinniabearer via Instagram, rangozglass via Instagram, rangozglass via Instagram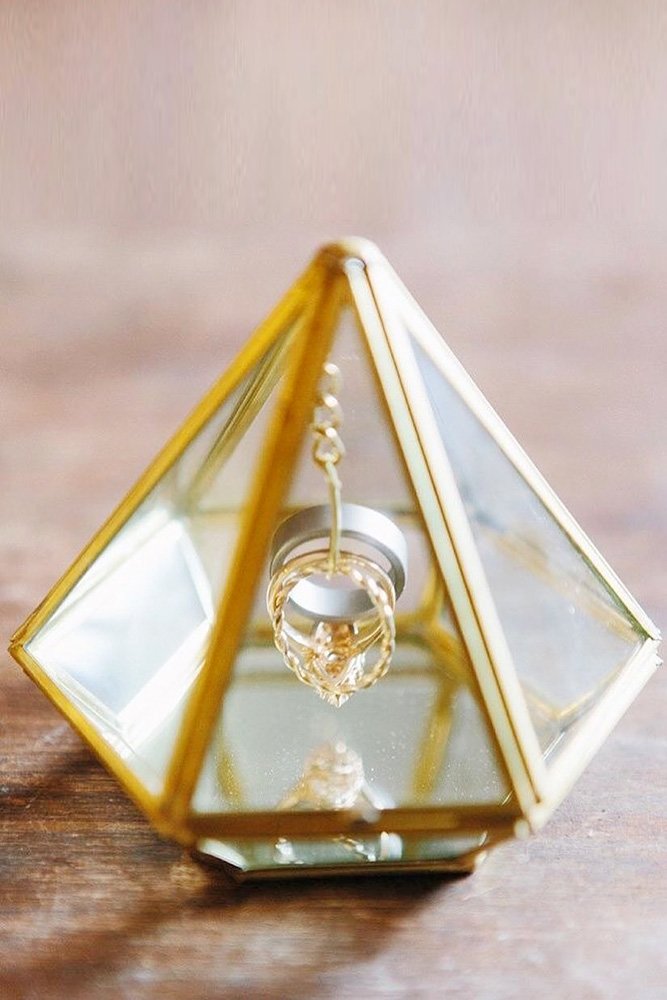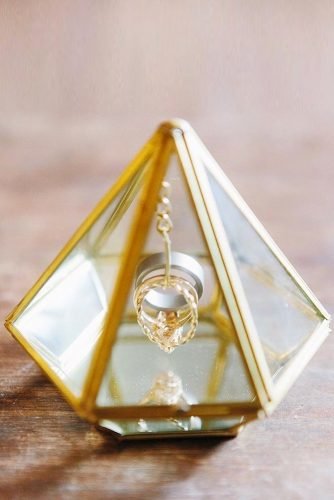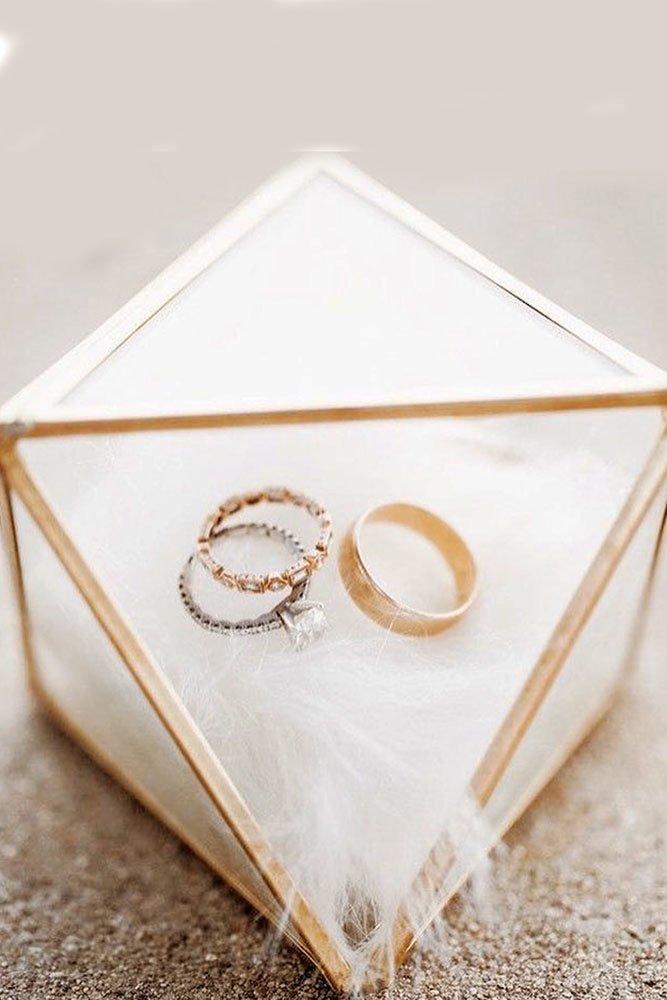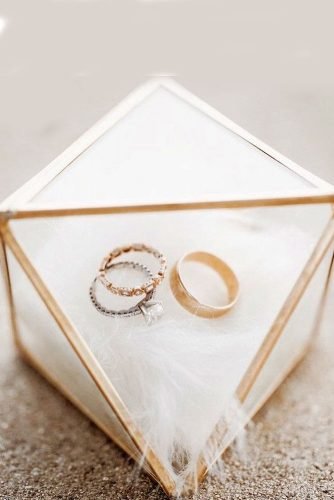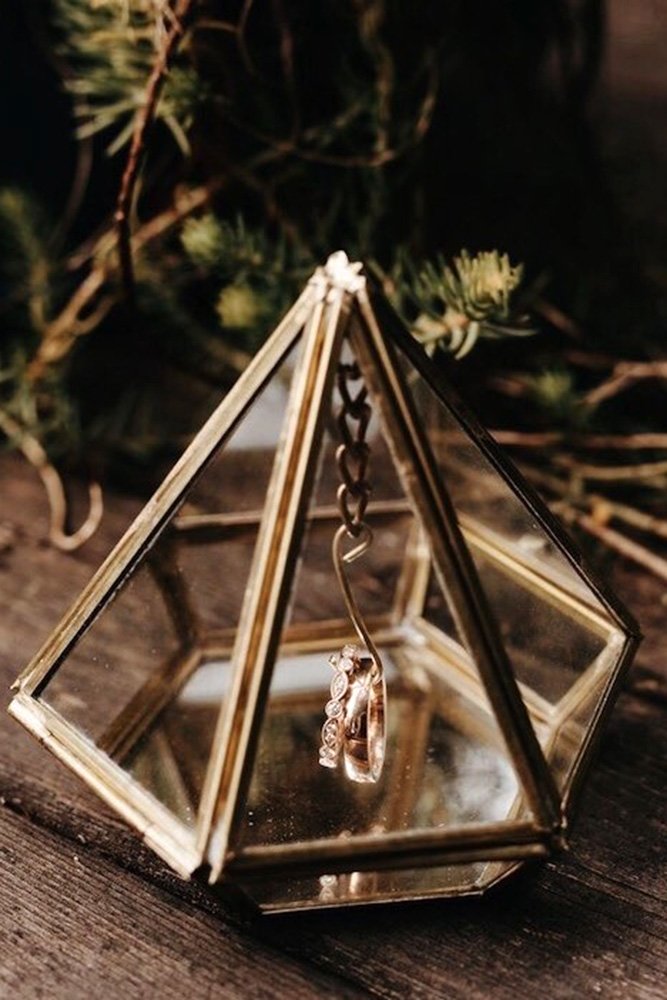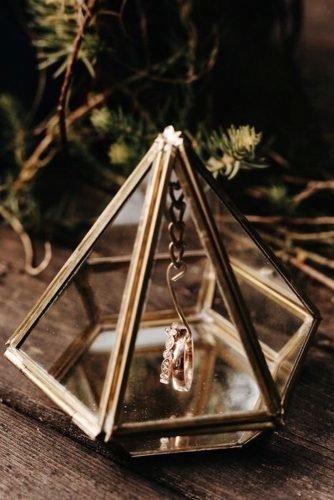 If you are looking for a different kind of cool ring boxes, try geometric glass boxes for your engagement ring. Their straightforward design will leave no doubt about what's inside and give your engagement a fairy-tale flair. Wake up your own Sleeping Beauty with this glass box and showcase the ring in a unique way! Transparency of this little glass box offers you a lot of options on how to customize it. You can add the romance to it by putting some small items that are meaningful for you. The original boxes come with sand – but you can make it much more special. Why don't you add some flower petals or sand from the beach you proposed on? Add little seashells and pebbles from your honeymoon destination to make this little ring box even more personal. Also, this mini glass geometric ring box can be a stylish addition to your wedding.
Ring Boxes With Romantic Flowers
Source: The kanemochi via Instagram, Magicboxring via Instagram, The kanemochi via Instagram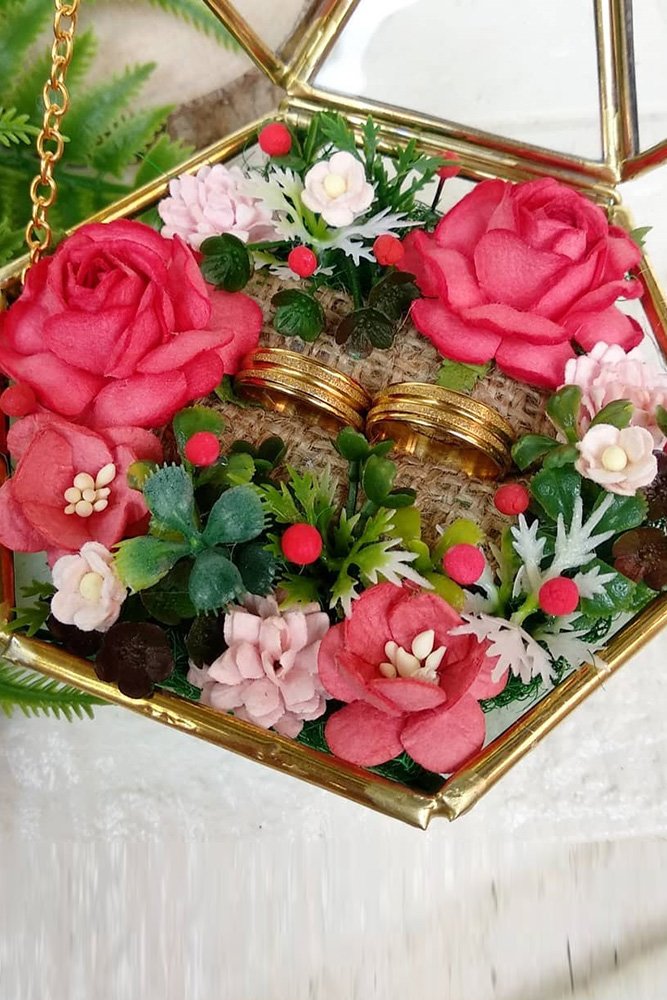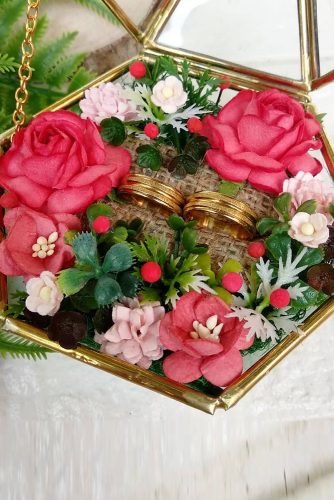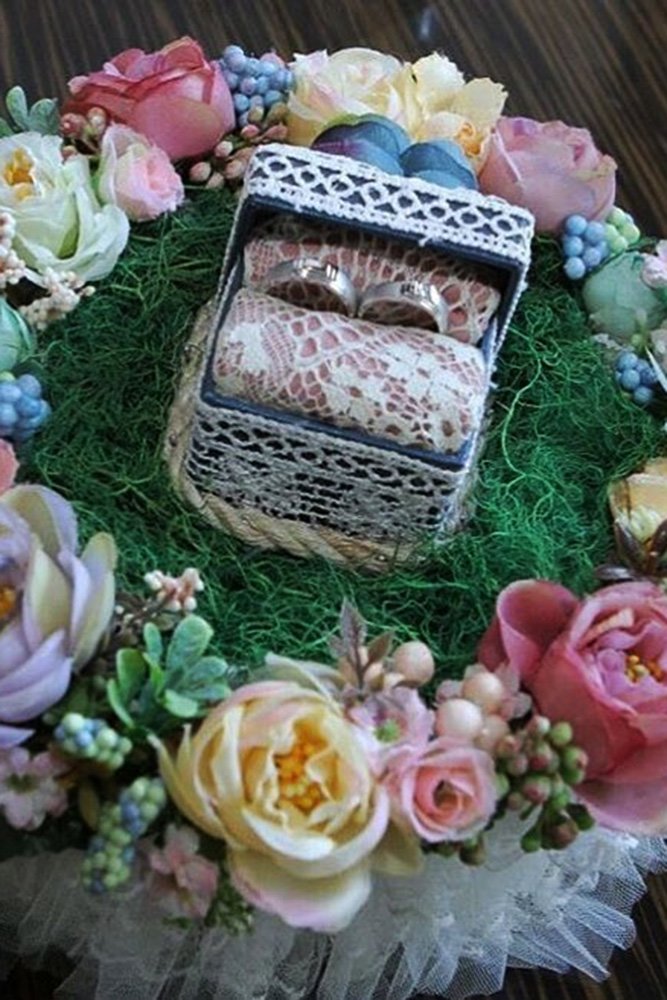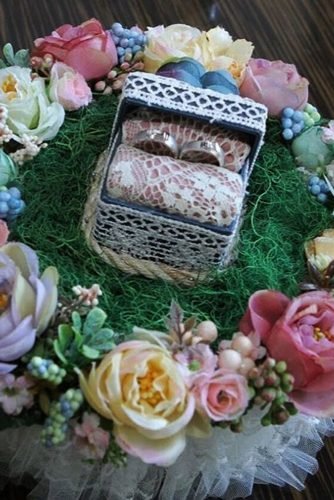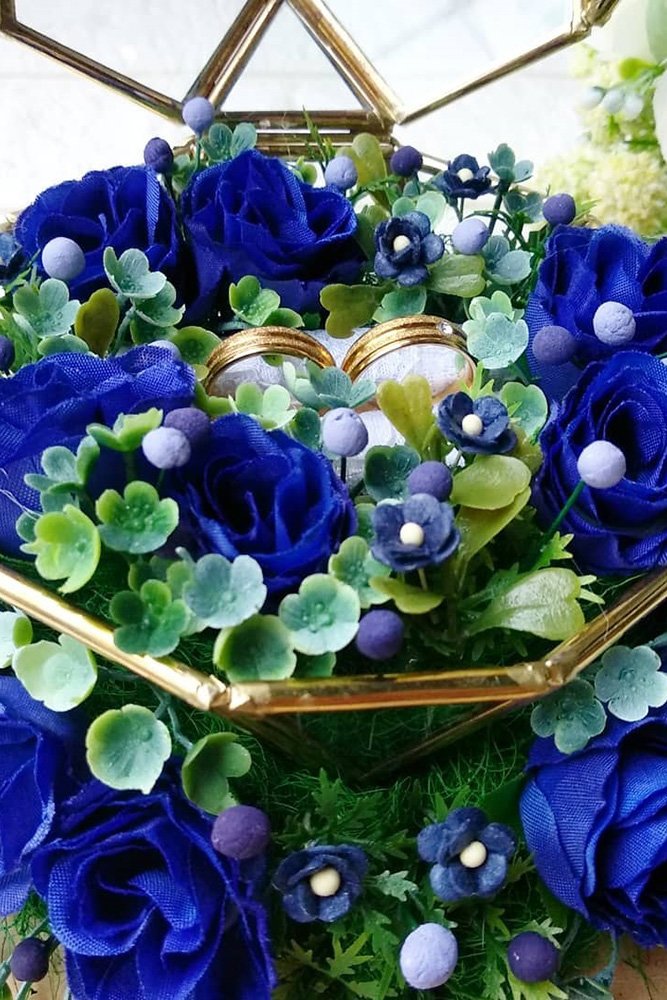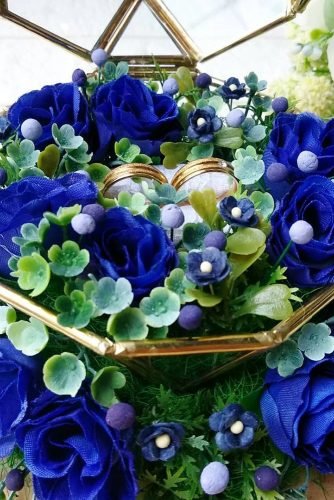 Talking of fairy tales – what can be more romantic, than cute ring boxes with flowers? There are hundreds and thousands of ideas how to present the ring, but flowers will add romance to any of them. An exclusive glass ring box with artificial flower arrangement will last forever, just as your love. Your ring is all you need to complete this wonderful composition. A beautiful hard carton box with flower base allows to keep more than just the rings. It has features for any other pieces of bridal jewelry your bride might want to keep in it. If you want to make your engagement a true fairy tale, try this marvellous glass-cover jewelry box. The glass case with a delicate flower inside is clearly inspired by 'Beauty and the beast' story. Little lights adds magic to the composition, that will leave her breathless. Just imagine: a romantic evening, the two of you come home after a night out… The room is dark and the only source of light is a glowing flower under a glass cover. She comes closer, takes the jewelry box and there, among the petals, is the ring. Definitely a great beginning for your 'happily ever after'!
Fairytale Ways To Present The Ring
Source: disneystore, barcelonadecolab via Instagram, Matt Kennedy Photography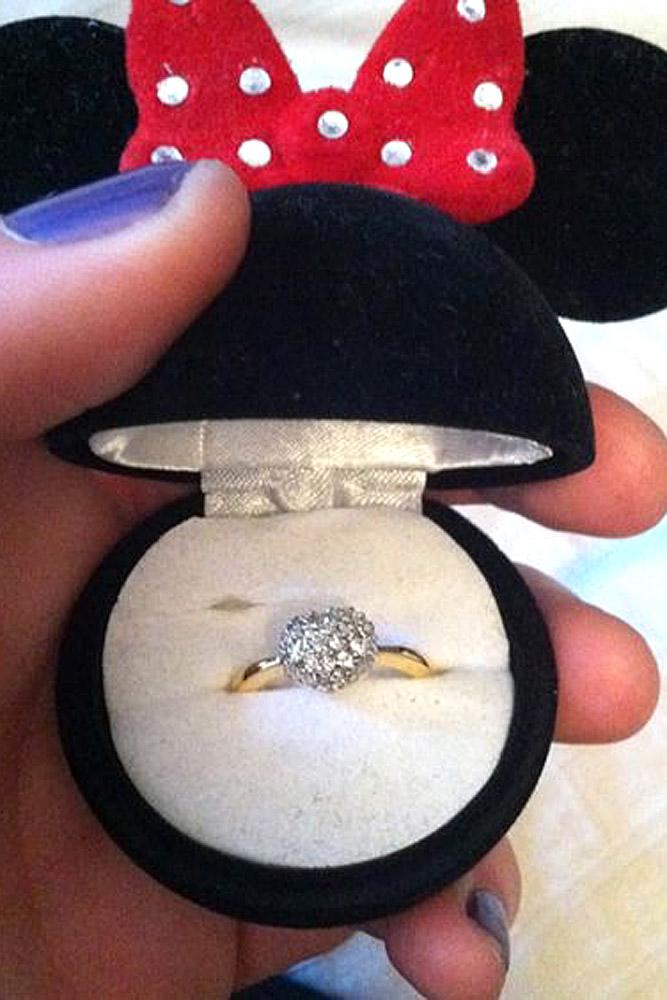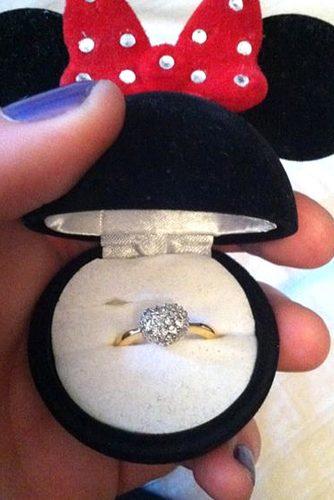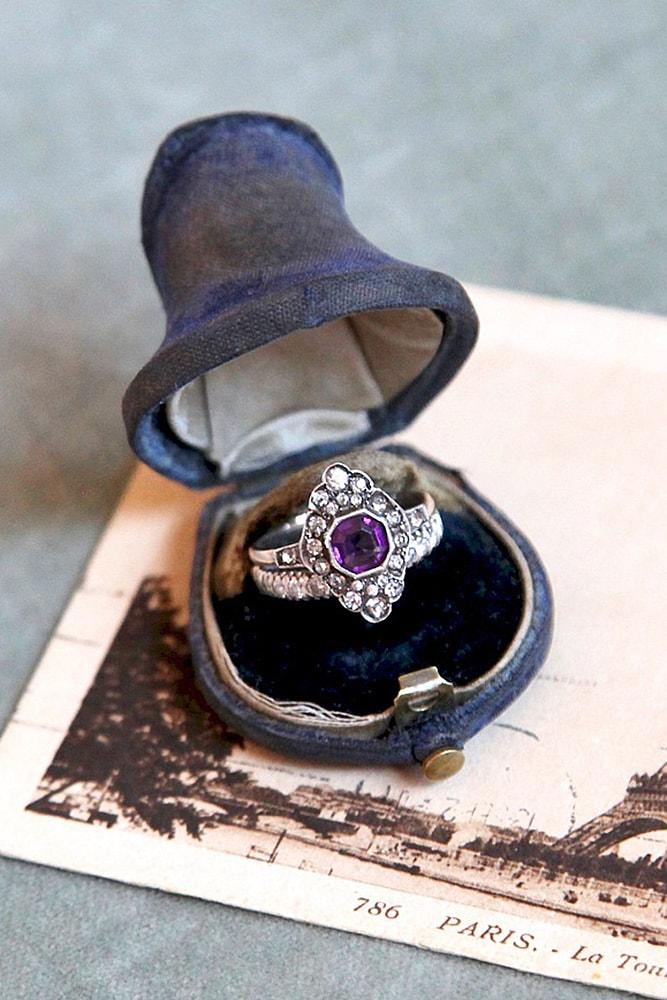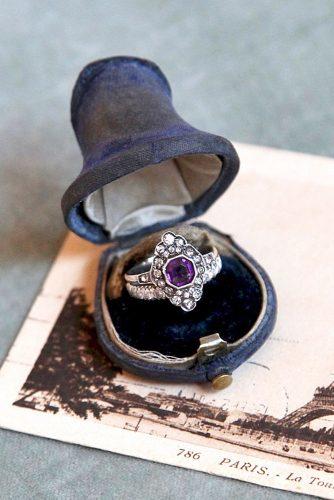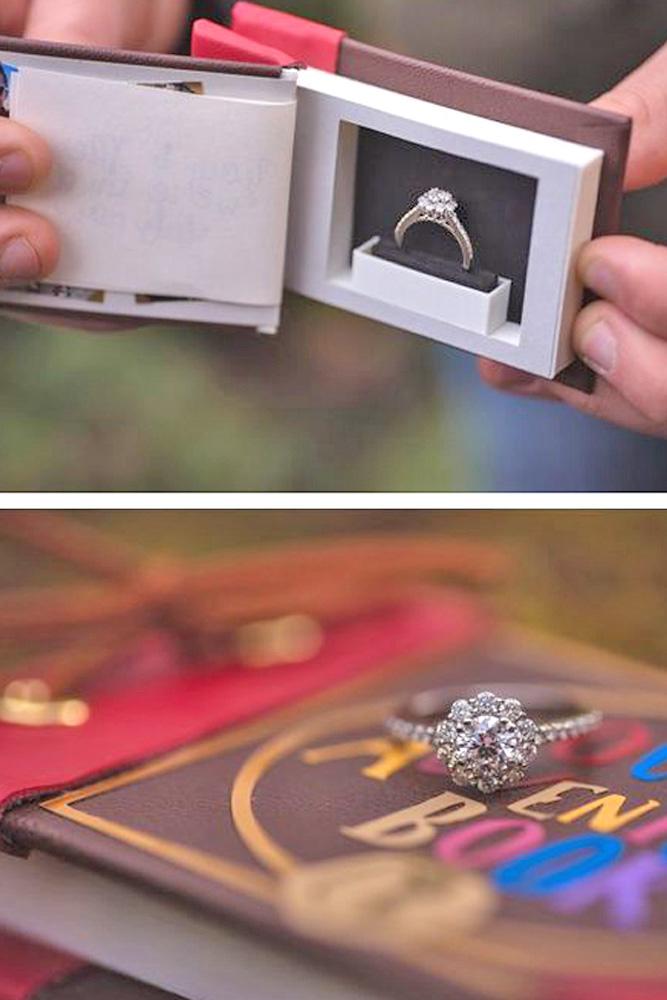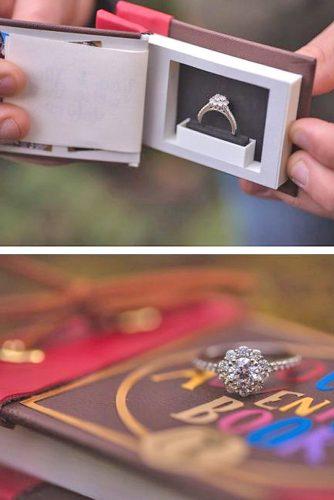 Here is something for those of you, boys and girls who never grow old. Planning a Disneyland adventure with a sudden romantic twist? Here is one of our favourites among small engagement ring boxes! Surprise her with this perfect Minnie Mouse style jewelry ring box! Don't hesitate, Disneyland is a perfect opportunity to make a move! If it is your fiancee's birthday soon, you can order a cake for her. Make the sweet moment even sweeter with an engagement cake! There are inventive gentlemen who consider it's more fun to put the ring INTO the cake, but you should know better. A little jewelry box on the top will make sure she doesn't spoil the surprise by accidentally choking on the ring. If your fiancee is a real bookworm, you can give her this customized clifton ring box. She is sure to love this little book with your own 'Once upon a time' story.
Vintage Ring Boxes
Source: barcelonadecolab via Instagram, barcelonadecolab via Instagram, barcelonadecolab via Instagram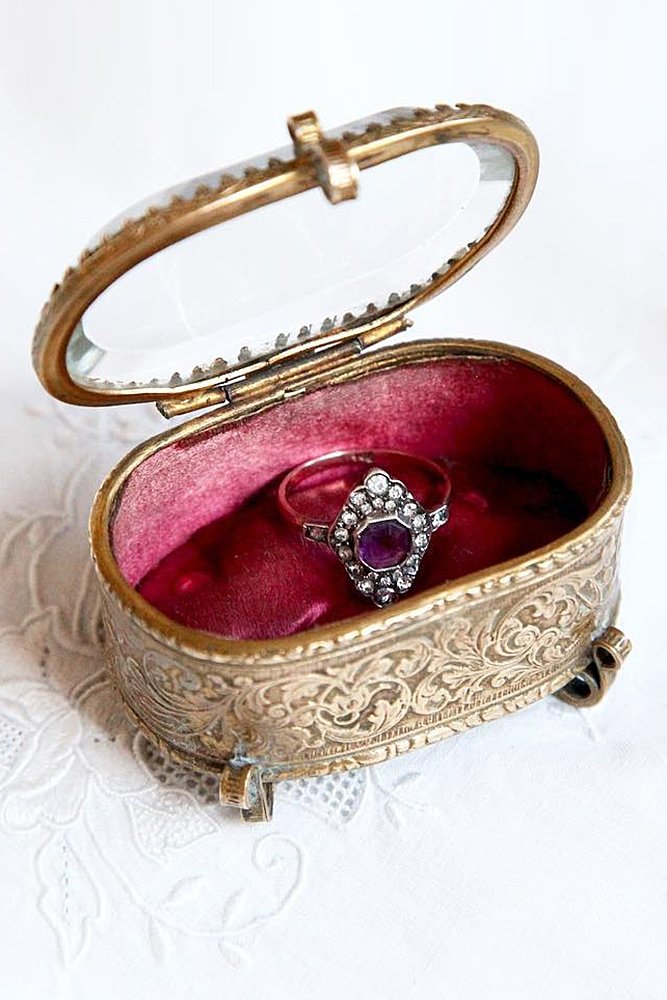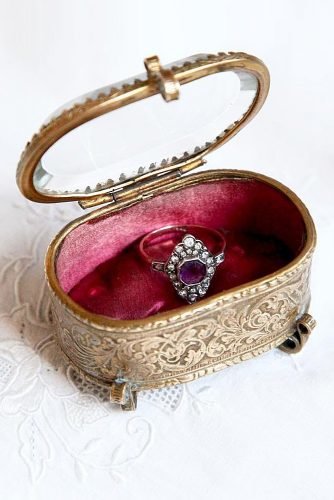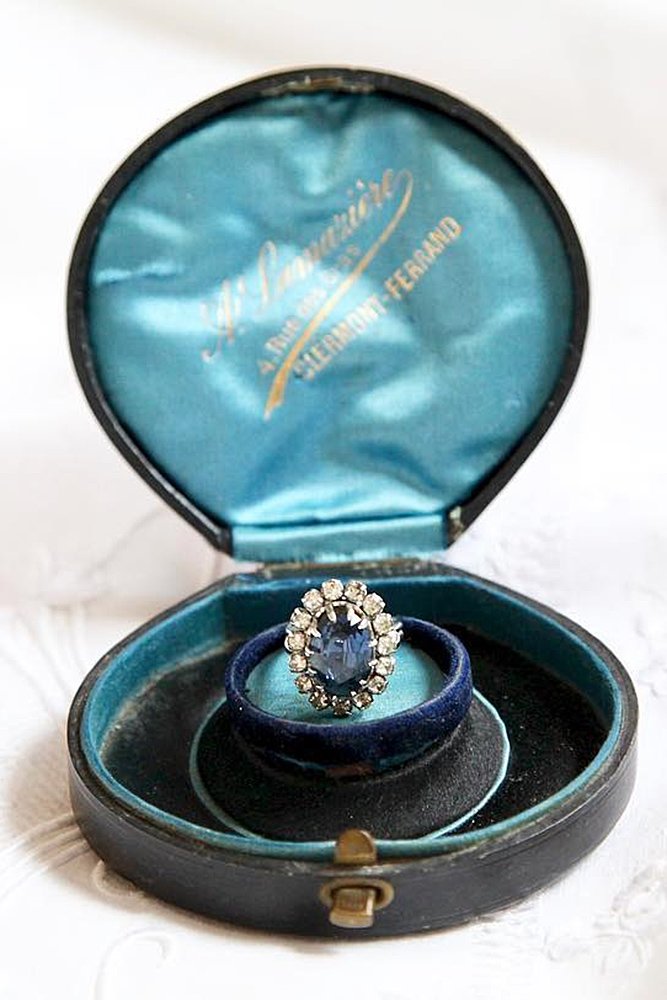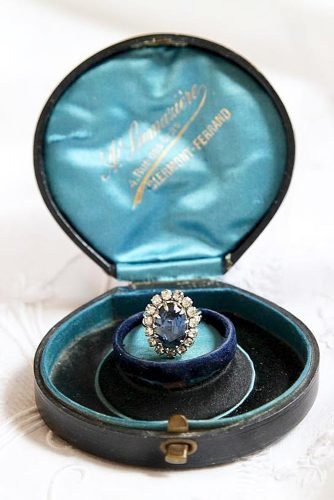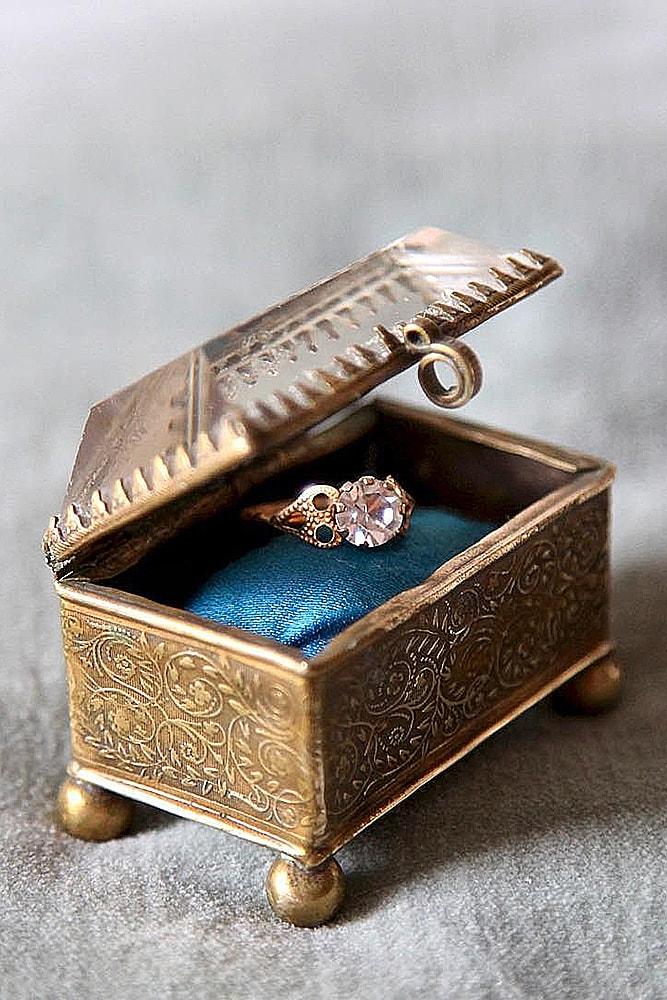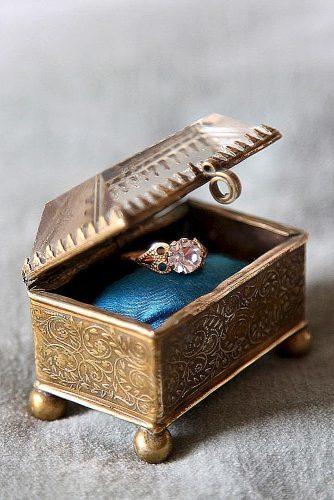 If you want to give a ring, which as timeless and unique as your love, you need to take a look at these vintage engagement ring boxes. These vintage diamond ring boxes originate from romantic eras of the past. A vintage elegant jewelry box featuring a brass frame and clear glass walls will keep your rings safely inside. Its hinged top lid is ideal for showing off unique jewelry pieces within. An intricately forged oriental-style metal box will compliment your Arabian nights wedding. An antique victorian-style trinket box will make a great engagement gift, as awesome as the ring itself. True vintage jewelry boxes can be made of an assortment of materials, including porcelain, ivory, wood, and paper mache. Your fiancee will appreciate your efforts and taste: each girl will be proud to have such a heirloom. This kind of box will make her feel like a royalty every morning, when she comes to her dressing table.
MORE OPTIONS: