SPONSOR HIGHLIGHT
---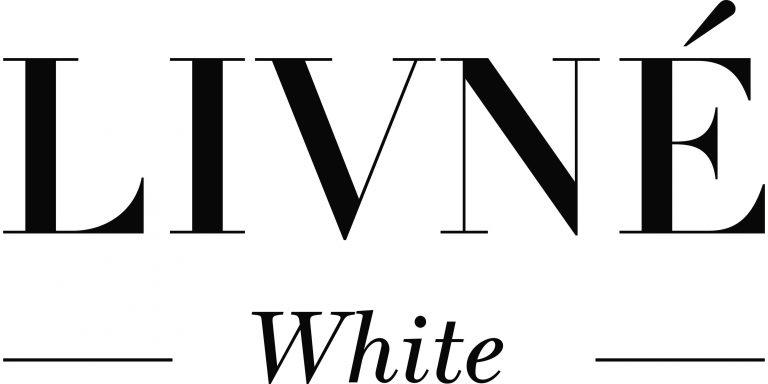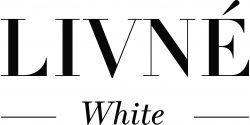 Looking for something outstanding for your big day, an iconic haute-couture dress? Then take a moment to appreciate the opulent and innovative beauty of Alon Livné White wedding dresses 2019! Alon Livné has been working at premier luxury European houses since he was 17. His past experience includes working with top fashion brands and A-list celebrities, like Lady Gaga and Beyonce, before he was 30 years old". This year, he is ready to present Livné White Collection 2019, and there's more! 'Return to Eden' Editorial and 'Eden' Editorial are a perfect combination of modern trends and classical chic of Old Hollywood.
"EDEN" Editorial Collection 2019
Alon Livne gowns are for bold and sensual women who don't want to be just another replica of a typical bride. These haute-couture designs astonish with their stunning elegance of simple and clear wedding dresses, turtlenecks, and sophisticated couture elements.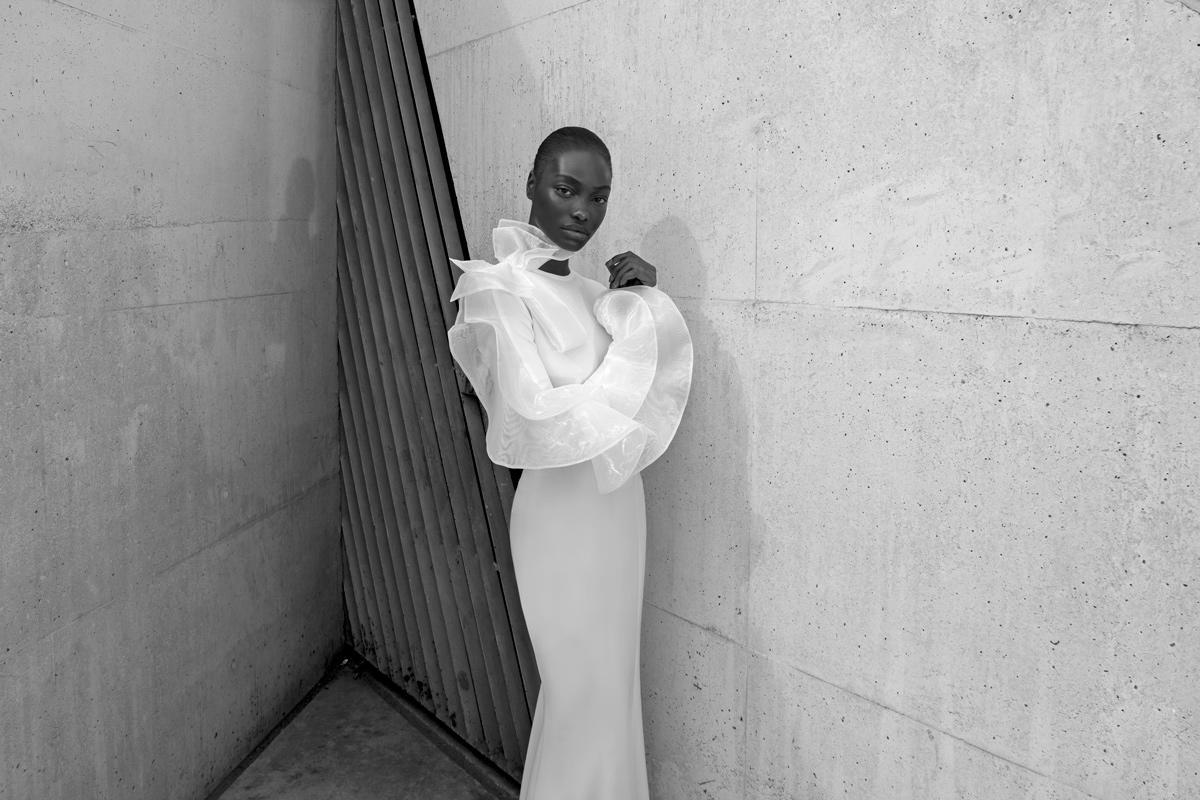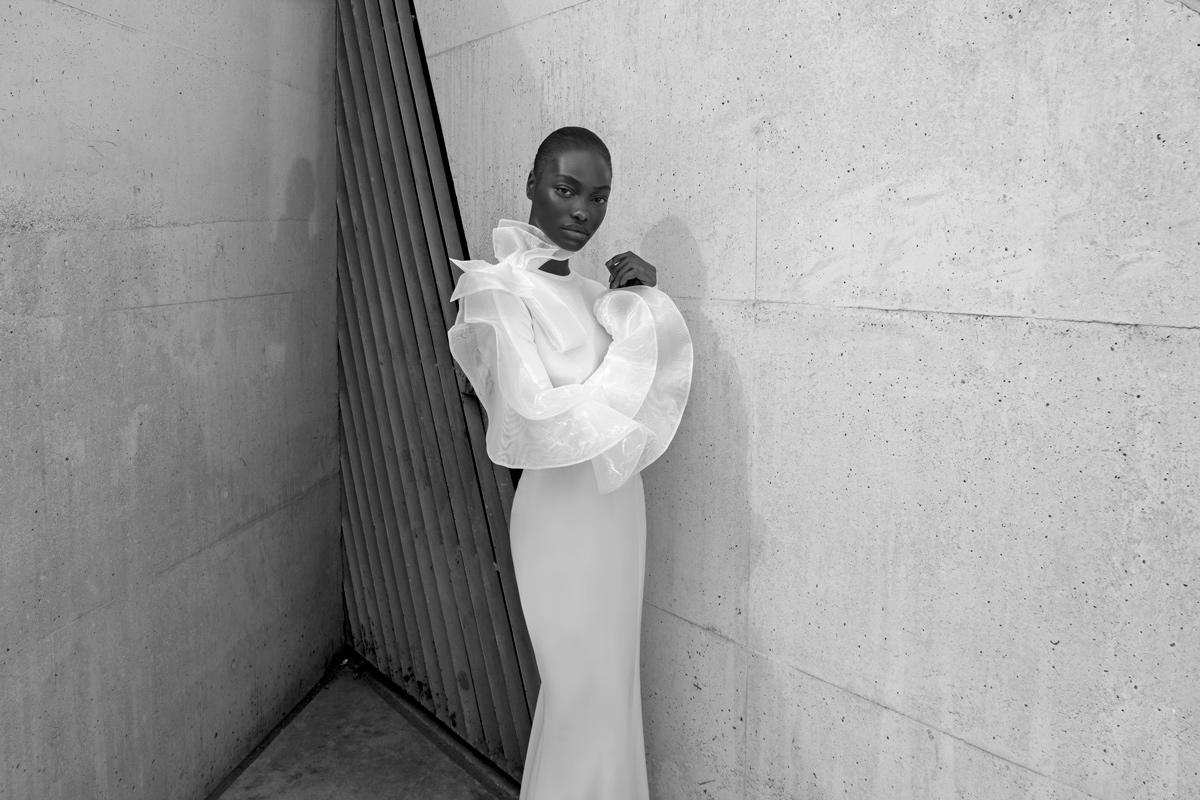 'Eden' Editorial is the designer's look at the sweet sensuality of a bride. The editorial pick of romantic dresses has this innocent Victorian chic about it. Ruffle details, long see-through sleeves and simple geometry of lines – a picture of modern Eve in all her glory. Definitely a great choice for a high fashion city hall wedding. More photos of Eden Editorial on the site.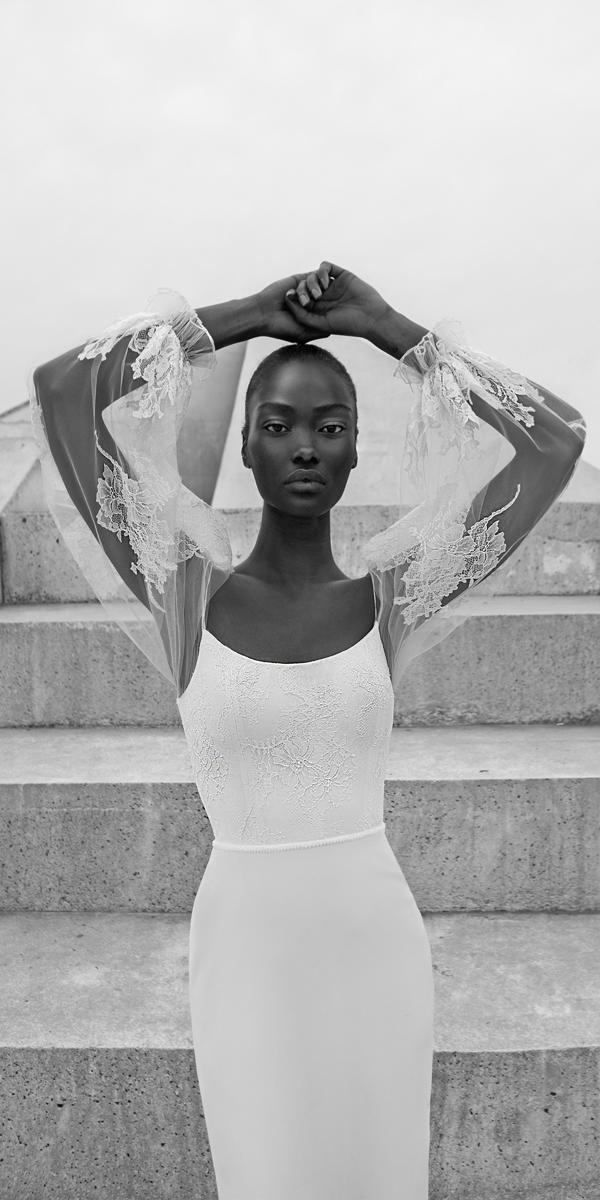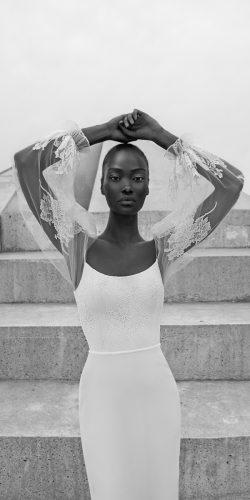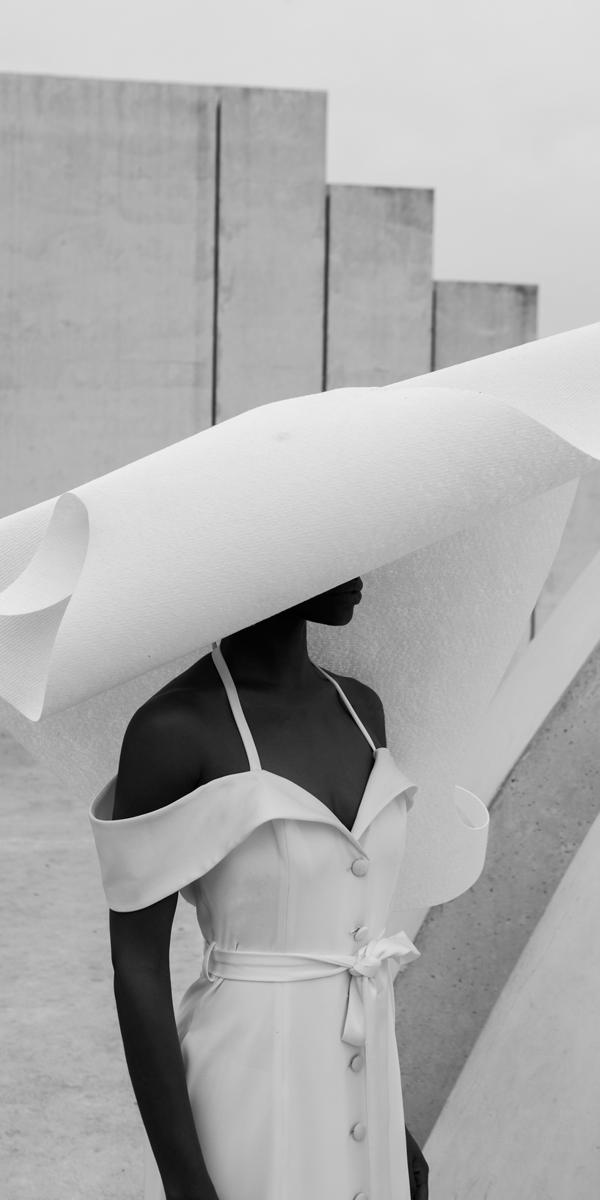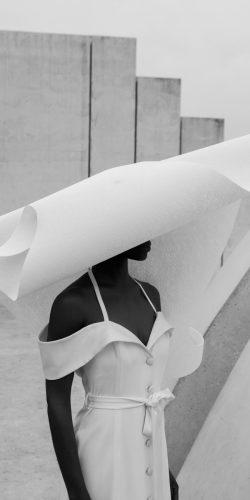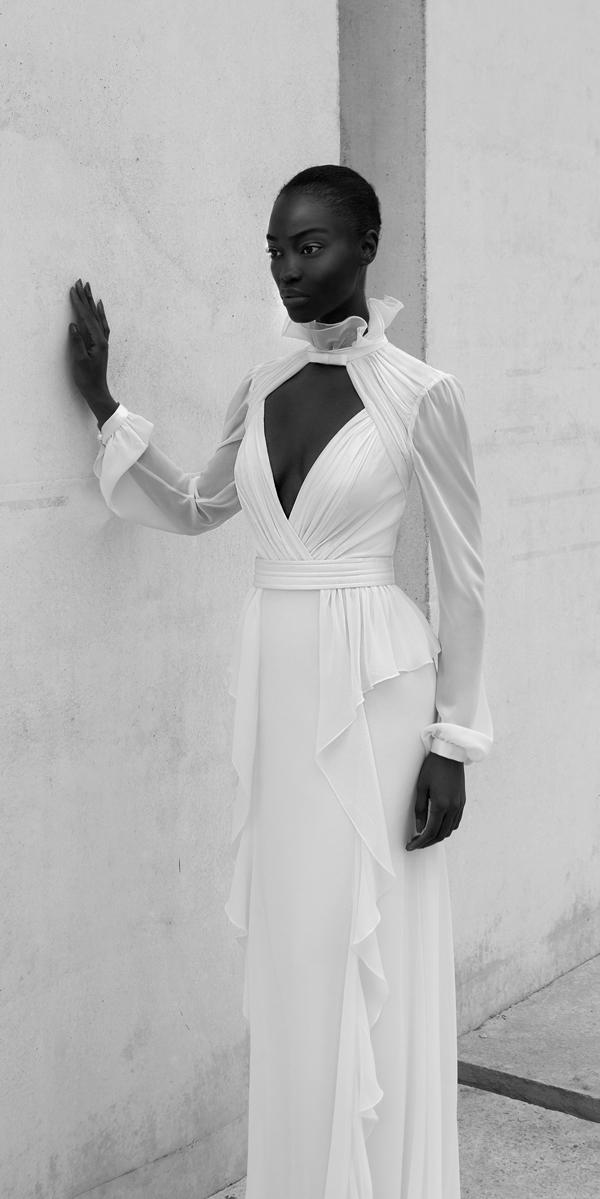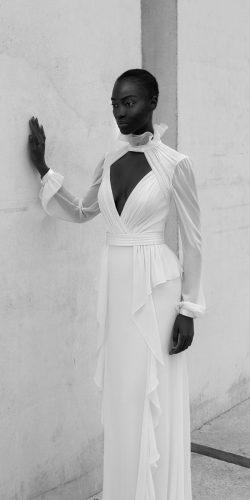 Simple elegance of sheath ivory Rita with its high side slit and oversize tulle sleeves can leave anyone breathless. Coat look A-line off-the-shoulder Nomi wedding gown with spaghetti straps looks absolutely stunning with a trendy hat. Ivory sheath Nancy gown has a Victorian-inspired turtleneck, long see-through sleeves and ruffle details along the front.

Gorgeous Livné White Wedding Dresses 2019
Livne White Collection 2019 finds inspiration in innocence and fragility of Eve. This year Alon's innovative designs have a strong emphasis on details and figure. It is the story of empowerment and femininity told by luxurious Italian silk. Alon's flawless taste chose satin, crepe, organza and Chantilly lace for his fashion-forward designs. 'Old Hollywood', boho-styled dresses and even 80's inspired looks – find more on the site.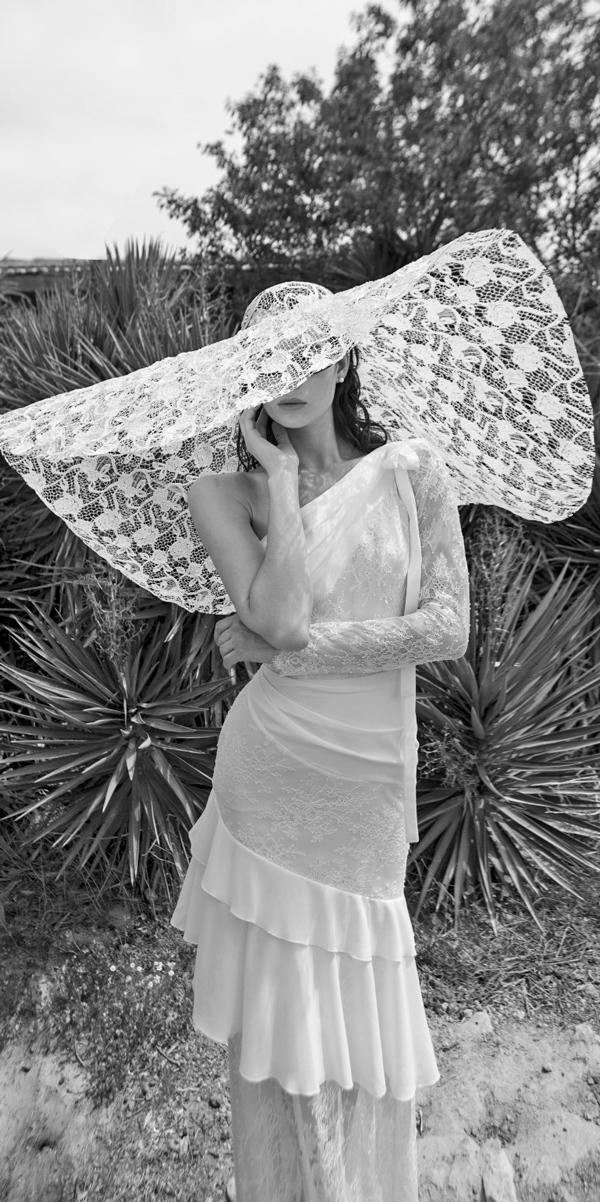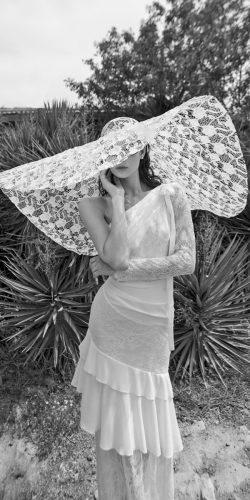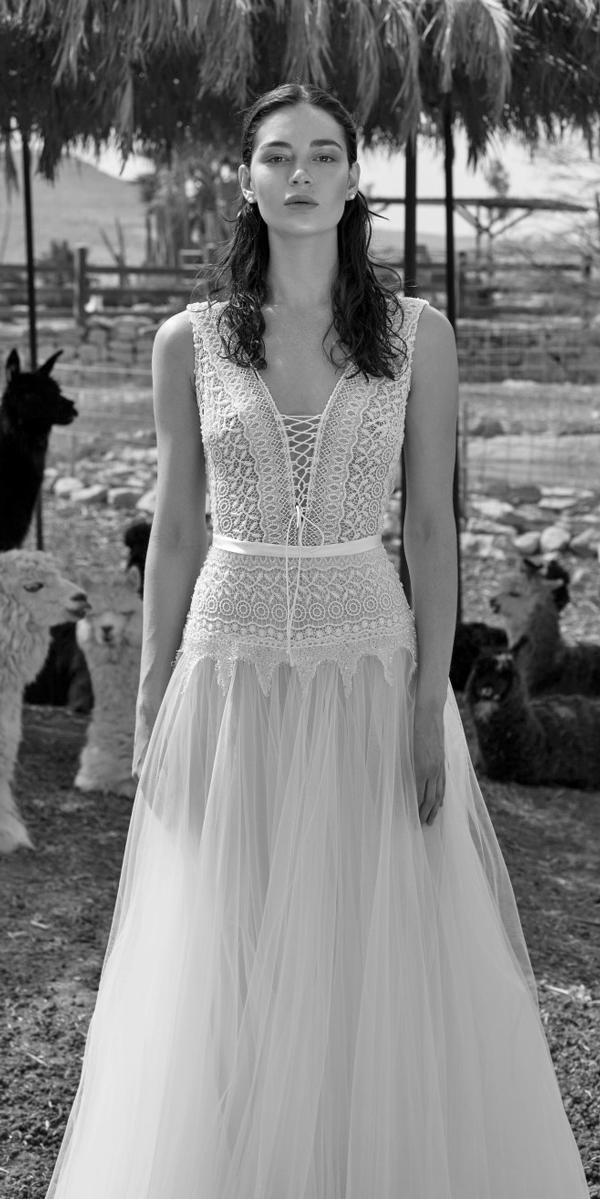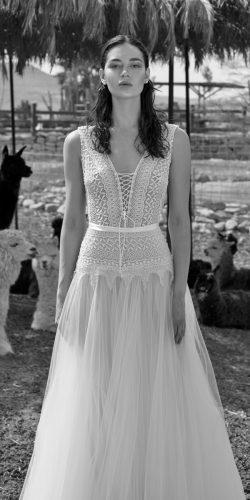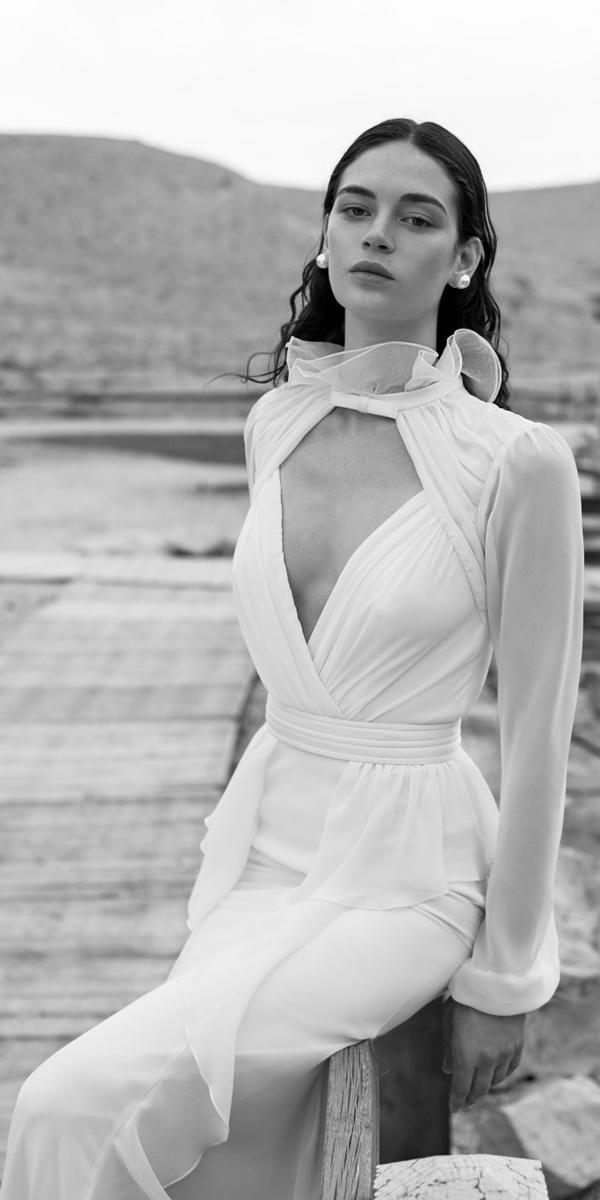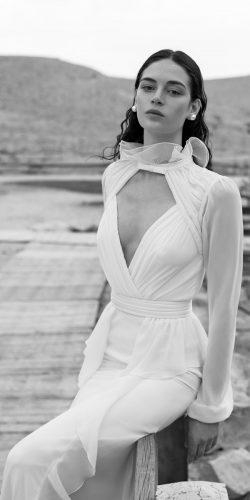 A boho-inspired asymmetrical one-shoulder Sophia wedding gown looks stunning with its all-over ruffle and lace details. Match Sophia's straight lace with Mandy hat to get that haute-couture asymmetrical boho-inspired bridal look. A lace top A-line Betty wedding dress has trendy plunging V-neck, lace-up details, and a long tulle skirt with cascading lace. Victorian long see-through sleeves, a cut-out top together with a high neck give Nancy gown a sophisticated high-fashion look.


Trend 2019: Clean & Simple Wedding Gowns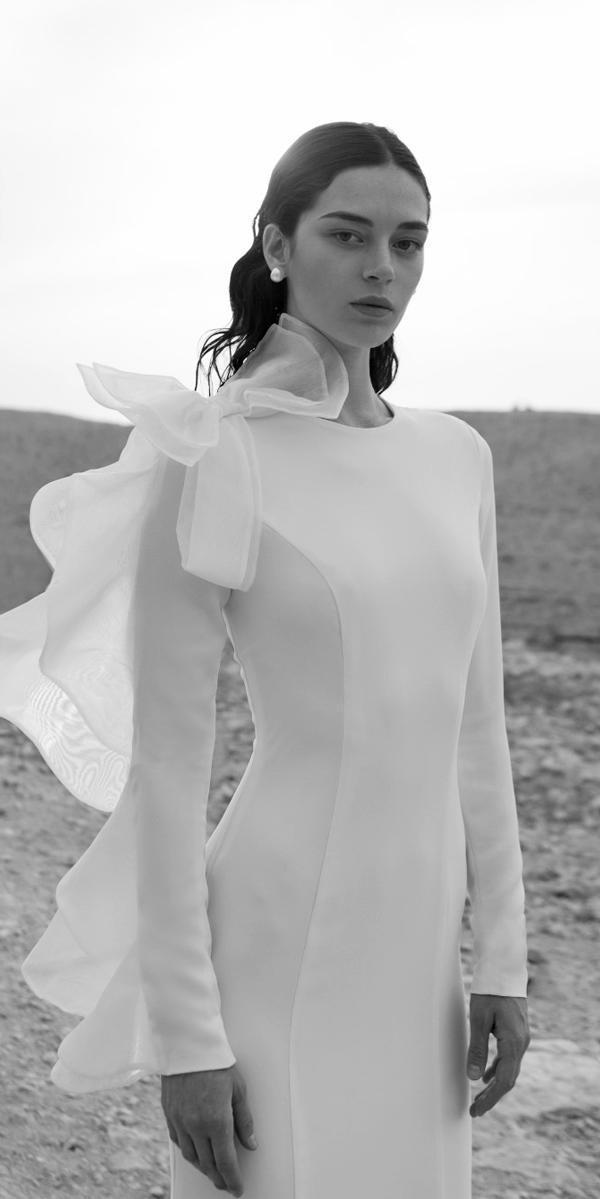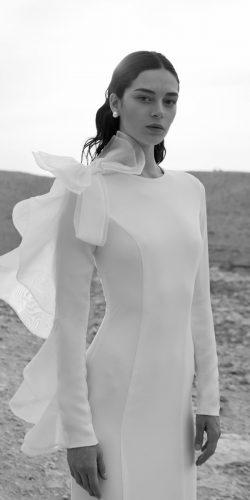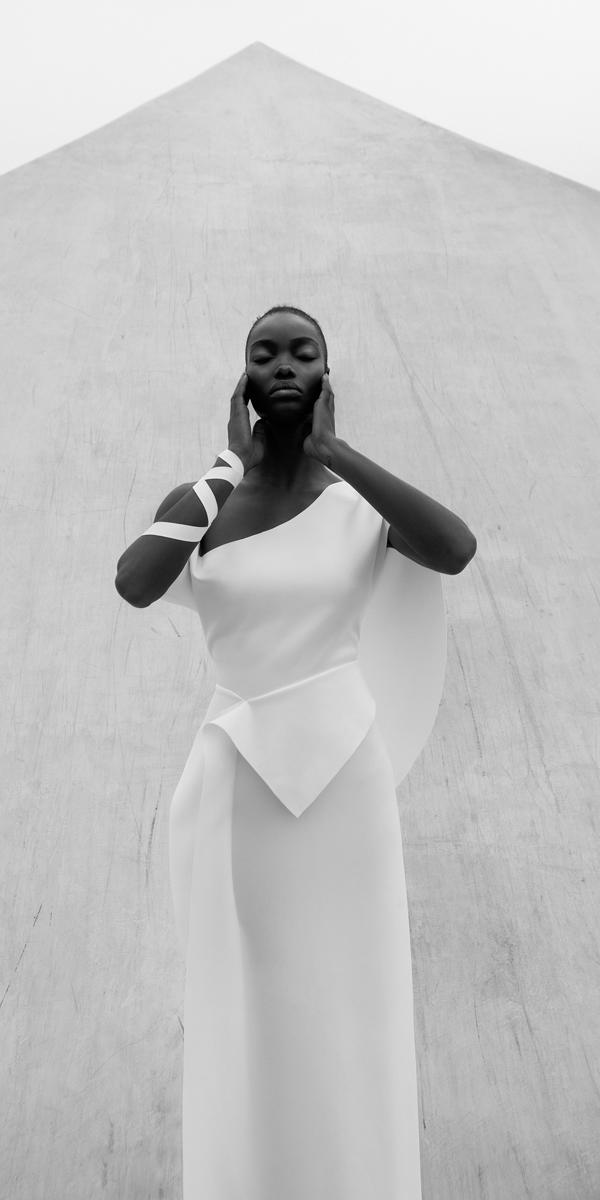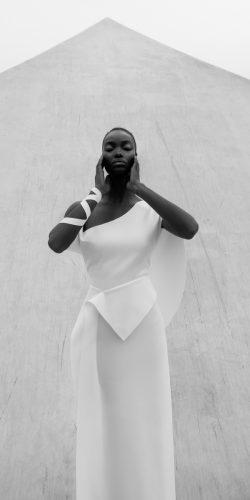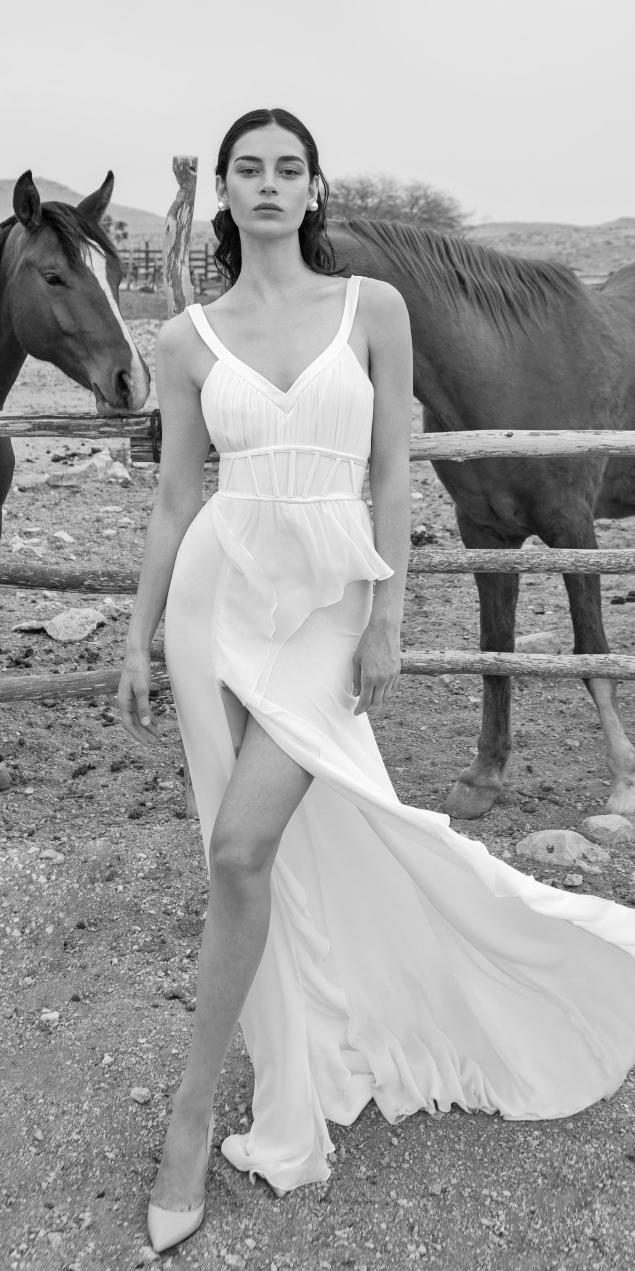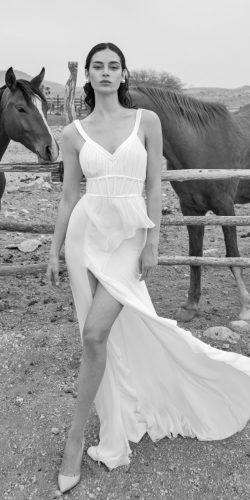 Long sleeve slim-fit Melissa dress with organza details and an over-sized bow is an outstanding example of bridal high fashion. Asymmetrical details add charm to simple one shoulder trendy Sonya sheath wedding gown. Flowy Gloria gown looks both simple and elegant with its thin straps, high-slit ruffle skirt, and an over-sized belt.

"Return To Eden" Editorial 2019
'Return To Eden' Editorial represents closeness to nature and return to innocence. Boho-style asymmetric gowns, oversized ruffles and lace details, long sleeves and flowing skirts… Perfect choice for a stylish barn or a boho-styled wedding with a touch of couture. Alon Livne's trademark high fashion signature and accessories complete the sophisticated look. Visit the site to find out more about this amazing collection.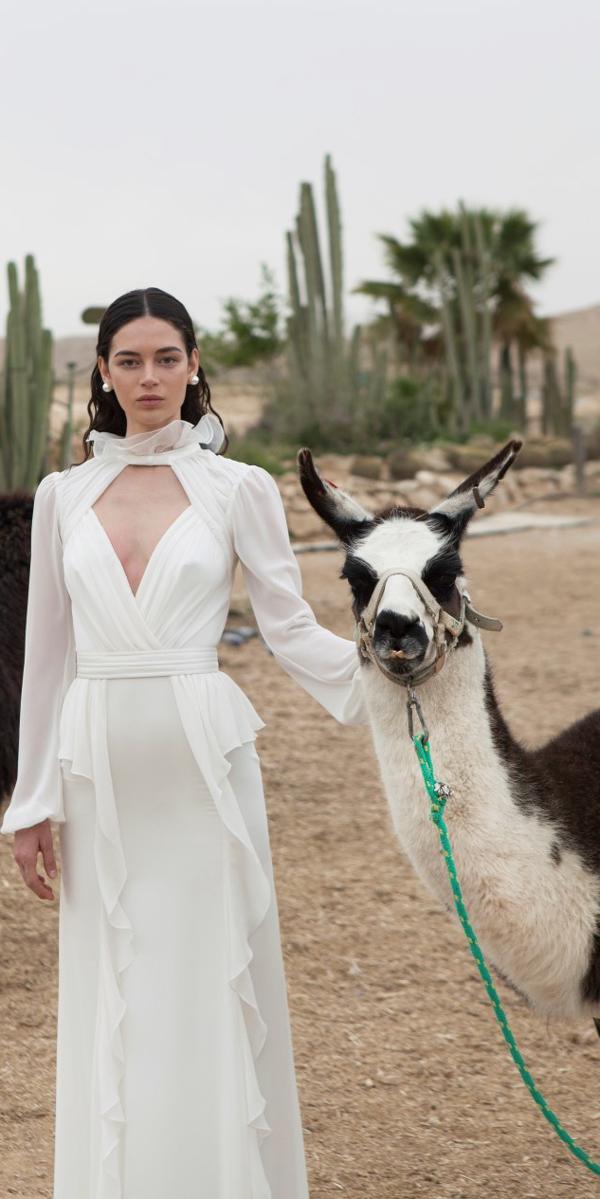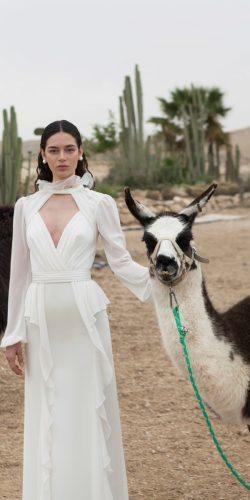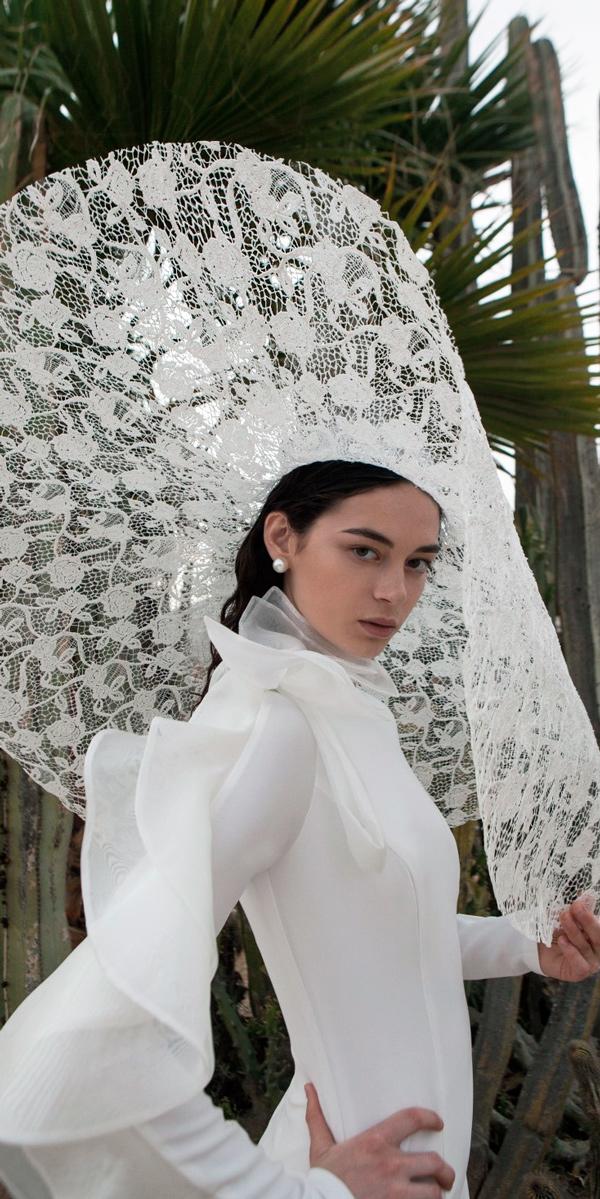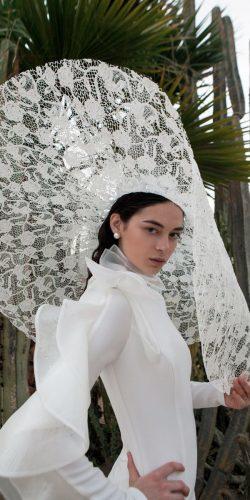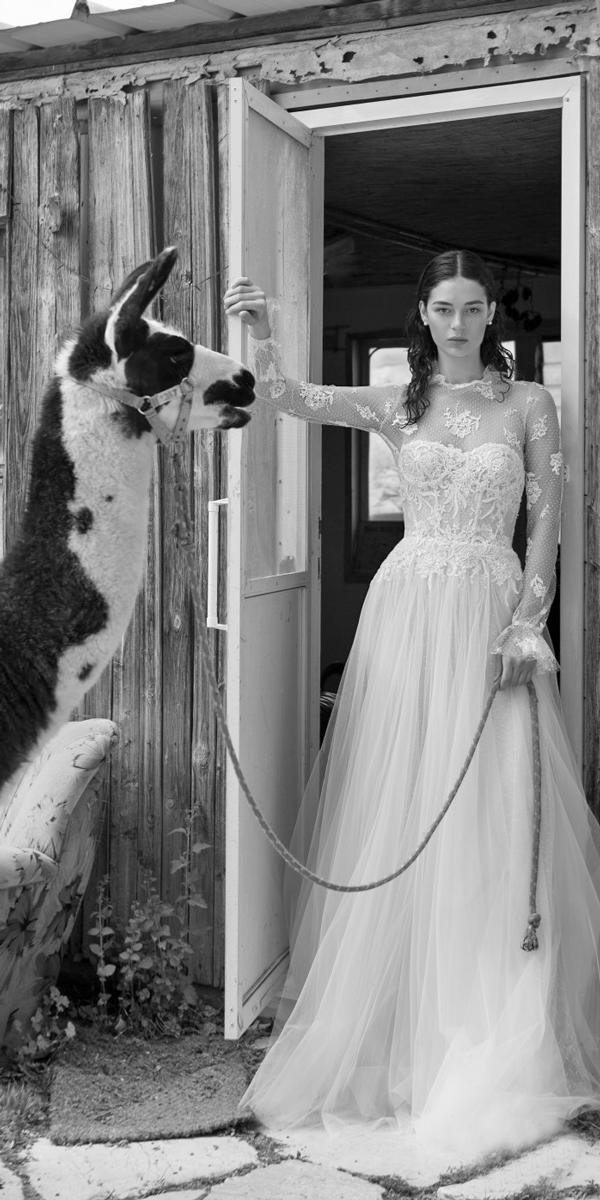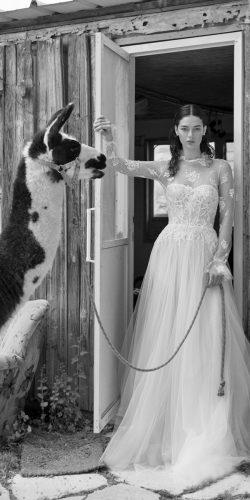 Ivory vintage sheath Nancy wedding dress with its high neck and long sleeves is reminiscent of Victorian England. Simple long sleeve Melissa gown with asymmetrical organza details and an over-sized bow will add elegance to any wedding. Beautiful turtleneck lace top Alina dress with a long tulle skirt and cascading lace will be perfect for a rustic wedding.


"Gone With The Wind" Editorial 2018
'Gone with the wind' editorial edition 2018 by Alon Livne White is the essence of romance. It is a modern take on the good old days, that seem to be gone with the wind! Flower appliques, elegance of finest silk and dramatic chapel trains that follow every movement. A fragile beauty of style and taste. There is glamour to it, a perfection and a completeness of its chic lines.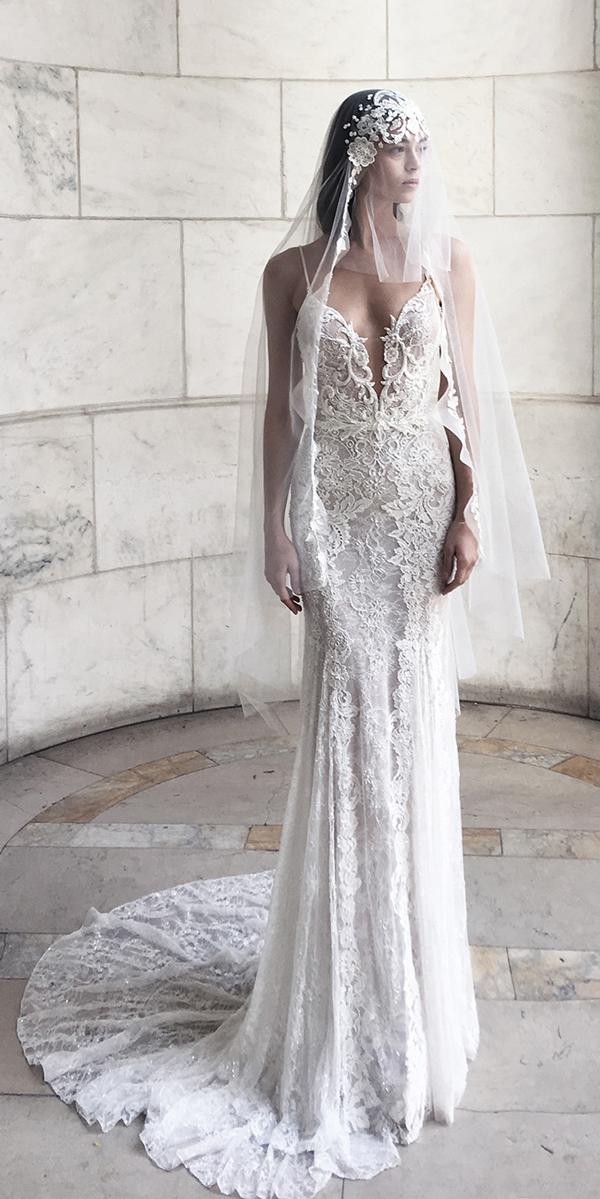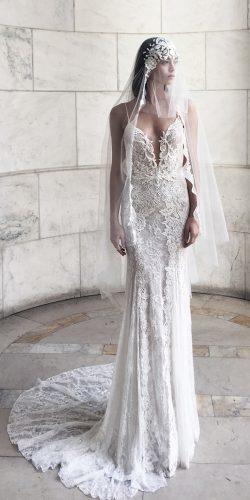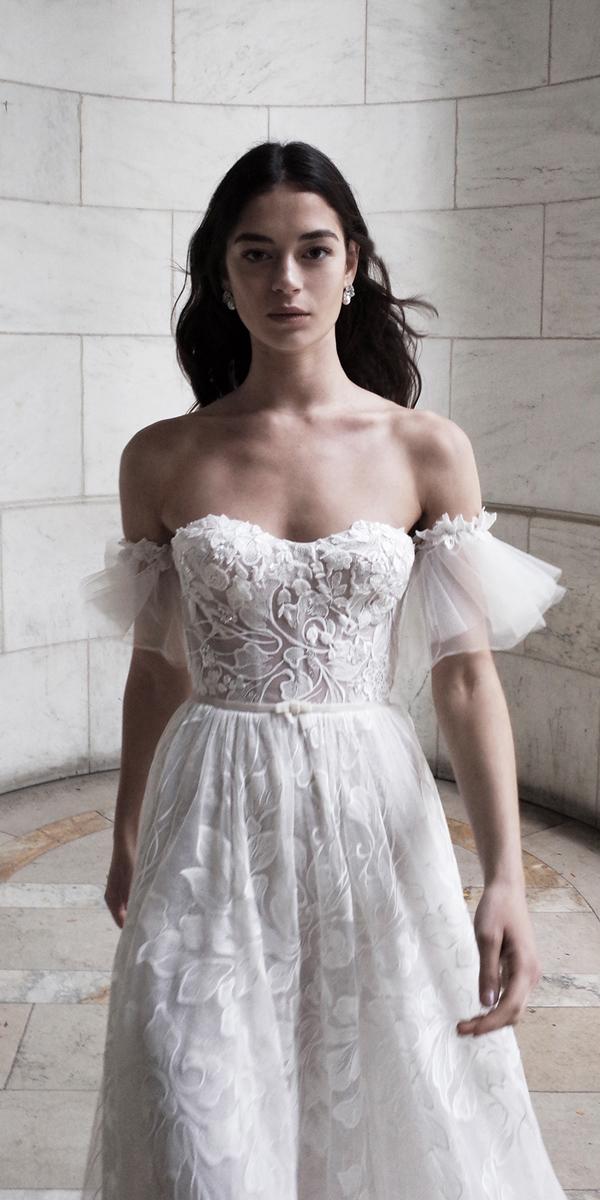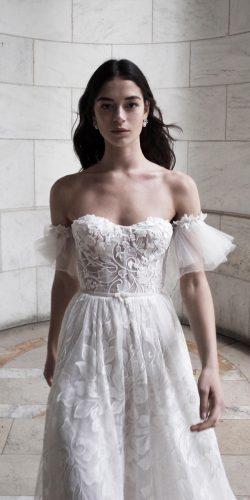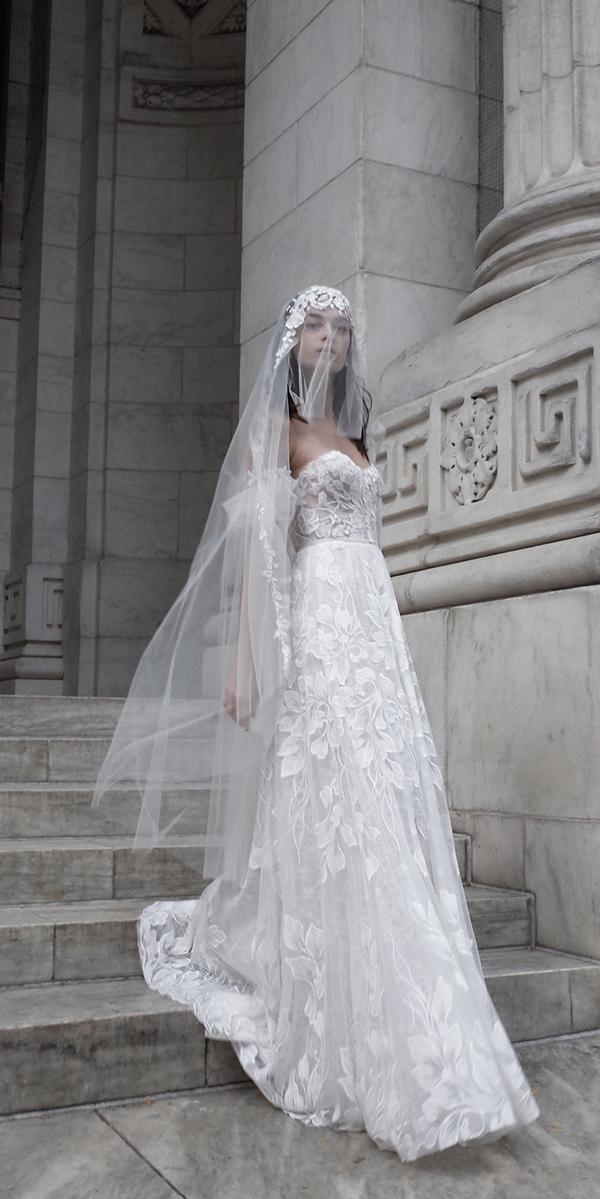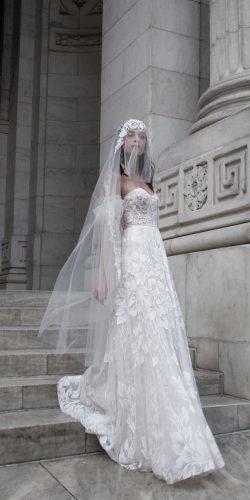 Sheath lace bohemian Olga dress has a plunging neckline, beaded lace applique details at the front and a dramatic train. Off the shoulder flower lace ivory Layla is a romantic wedding gown. Its A line skirt and sweetheart neckline of a see-through corset top are complimented by a bridal veil. Long flowing skirt emphasizes every step, catching every beautiful movement.

"Wild Orchid" – 2018 Bridal Collection
Alon Livne's 'Wild Orchid' 2018 is intriguingly chic. The collection features trendy oversize details that are so popular these days. Large bows, ruffles and sleeves give high-fashion look to these vintage-inspired lace dresses. Sheer tulle sleeves and high neck collars add Victorian flavor. These bridal jumpsuits and sensual dresses will catch everyone's attention with their simple elegance. High slits and asymmetrical draping – a classical Old Hollywood reborn.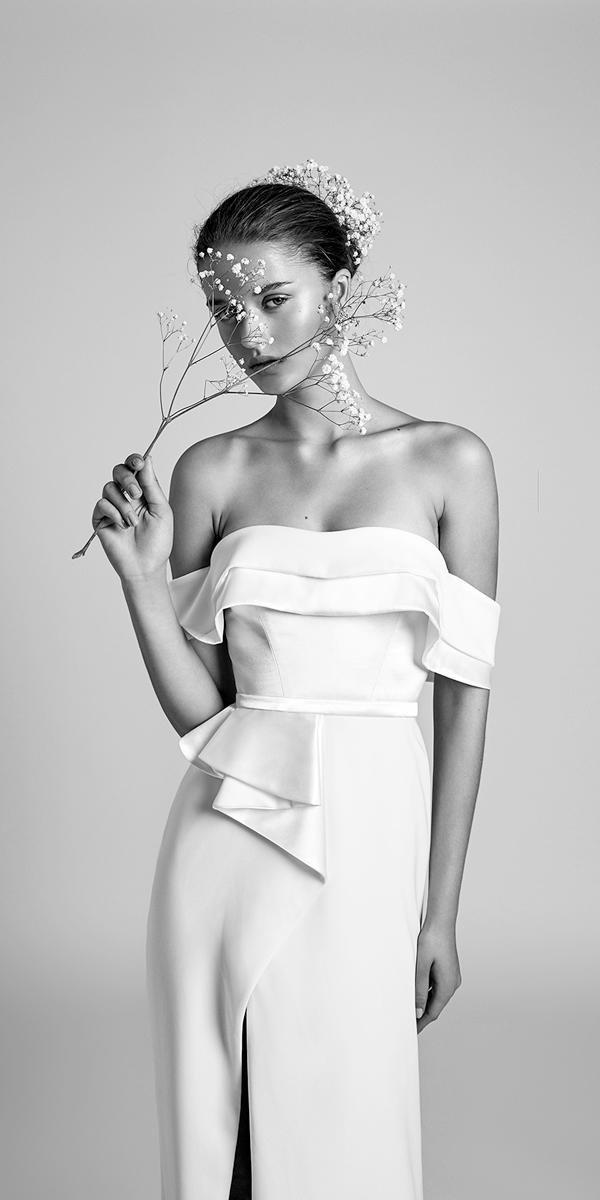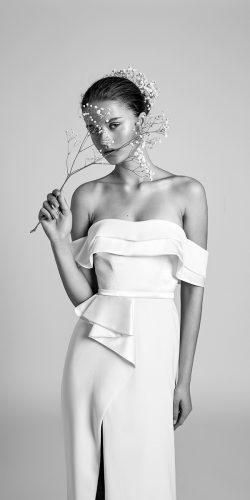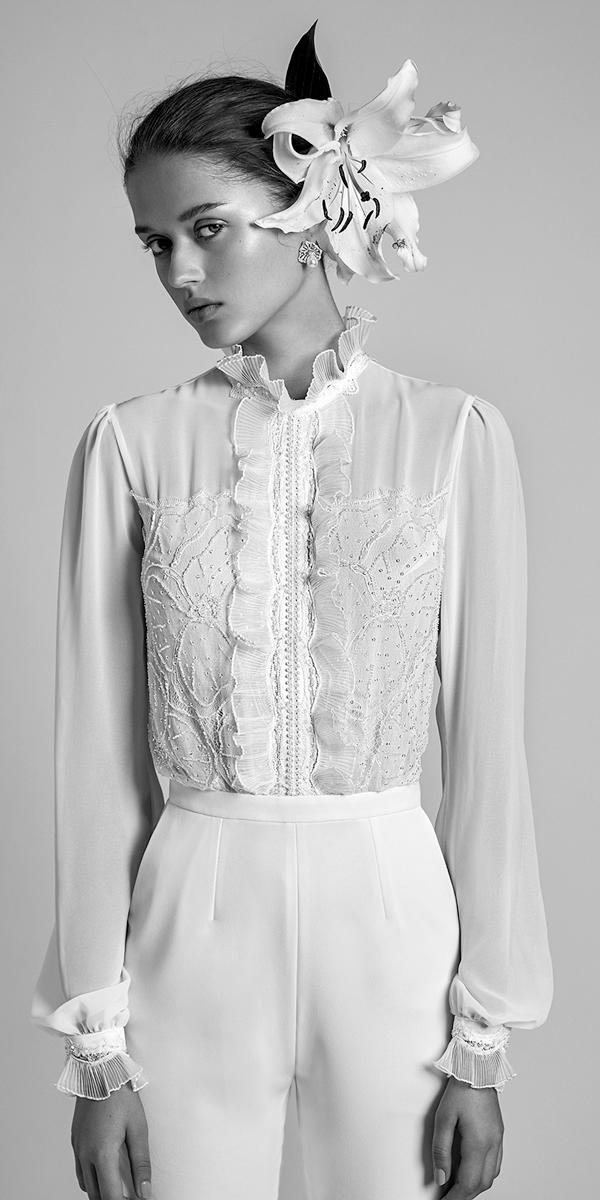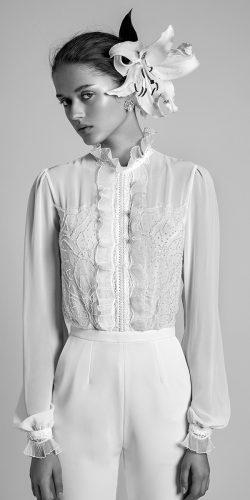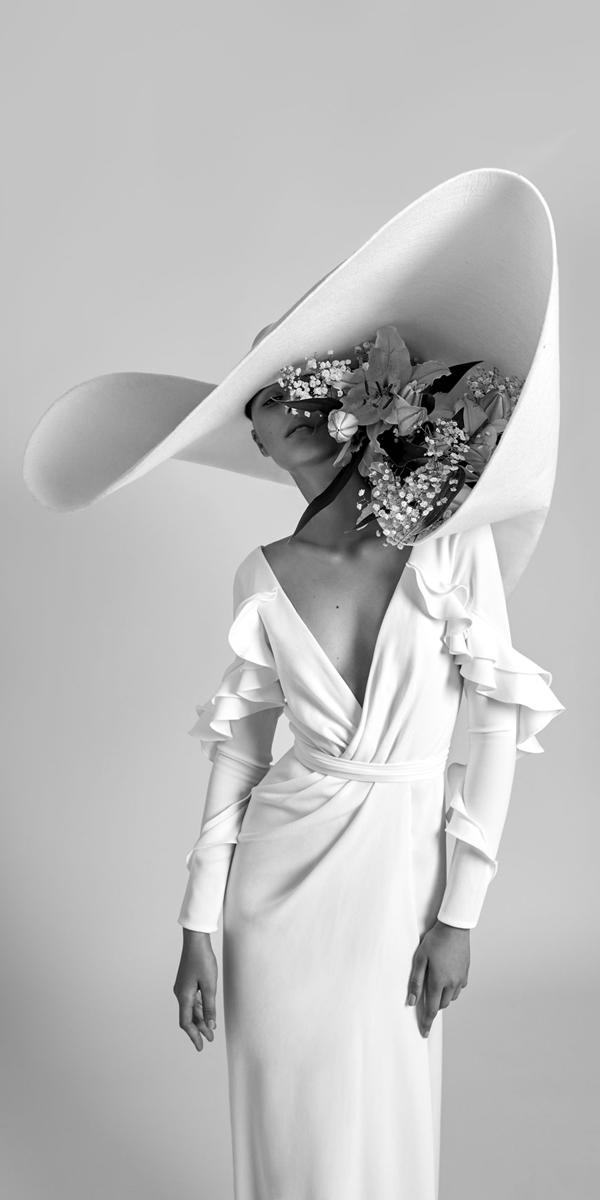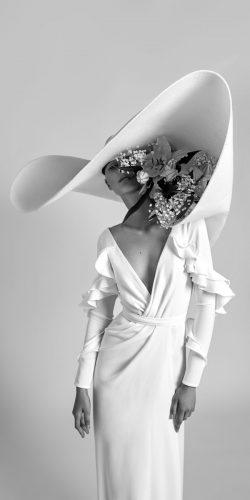 Delicate, romantic Cherry dress is a modern simple off the shoulder wedding gown with asymmetrical draping details. A long sleeve Valencia bridal pantsuit has lace combination with ruffles at the front, neck and cuffs. Clean and simple Isabella bridal gown features plunge neck, long sleeves and ruffles. A hat adds style to this elegant wedding outfit.
Visit livne-white.com for even more stunning dresses by Alon Livné. Alon Livne Whité Wedding Dresses 2019 are available at livne-white.com/stores/.
// PLACE AFTER OPENINGTAG