Are you having a father-daughter dance and need a song? We have 57 to choose from.
He's always been there. He read to you before bed. He held the camera steady at your recital. He's your biggest cheerleader, and he's looking forward to the father daughter dance just as much as you are. Your choice of father daughter dance songs set the tone for the type of memory you'll create, and selecting the perfect song is not always an easy task.
That's exactly why we're here!
We'll show you how to:
Pick the right song to match your wedding
Choose the moves that dad can handle
Make sure it's clear how much he means to you
Best Example Of Surprise Father Daughter Dance
In 2019, it's popular to add a little splash of humor and pageantry to the daddy daughter wedding dance. Whether it's a hip hop dance off or this epic choreography that we found from a Utah wedding, a well planned dance like this is always entertaining.
It really is amazing! Make sure to check it out and get inspired for our tutorial.
Also, you might be interested: How long is the father daughter dance?
You probably wouldn't want to choose a 20 minute epic for the daddy daughter dance but there really is no formal rule to how long the dance should last. Short father daughter dance songs are recommended since dad may have some trouble keeping up with you or mastering 9 minutes of choreography.
Instrumental And Classic Father Daughter Dance Songs
The first step in pulling off a successful Honor dance number is selecting the style. For example, classic father daughter dance songs are almost always best at traditional weddings. Instrumentals like Wagner paired with a waltz is always a classy choice.
Rule of thumb; your choice of daddy daughter wedding songs should fit right in with the ceremony, speeches, and celebrations from the rest of the night.
To get your creative juices flowing, here's our top 10 selection of first dance wedding songs staples: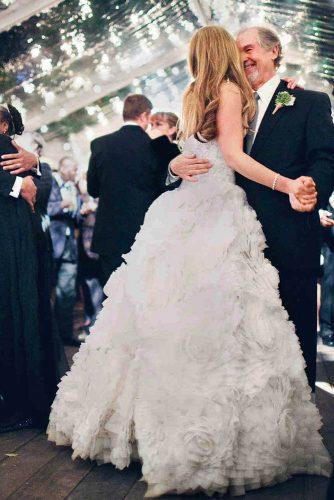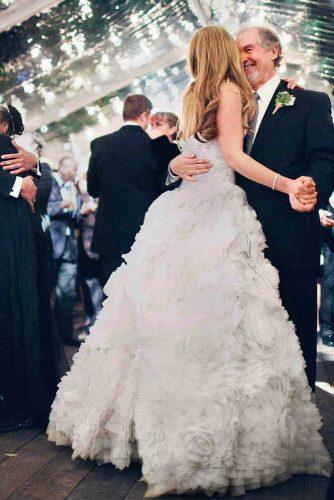 The Best Rock Ballads For Father Bride Dance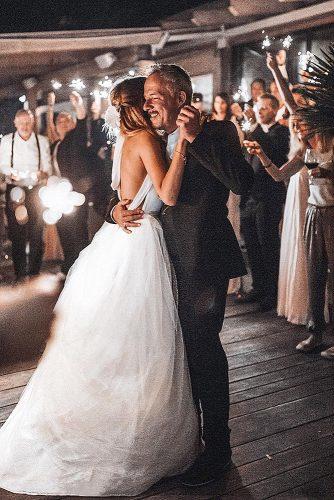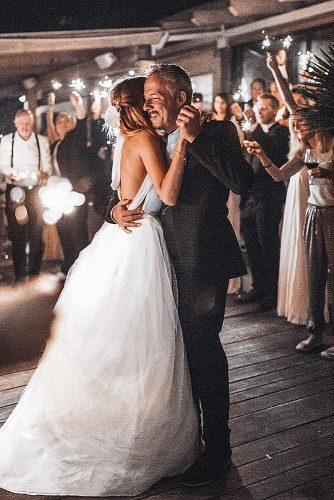 Rock ballads are a great modern choice. They're easy enough to dance to, they're familiar, they're lyrics really hit home, and they go great with alternative and rustic themed weddings. If a rock ballad is your perfect choice for the father bride dance songs, make sure dad is down too. It's important to make sure that he's enthusiastic – which he can't do if he doesn't like the song- to get the best performance out of him.
Here are a few examples of what you and dad may have a great time rocking out to:
Fun Father Daughter Dance Songs In Country Style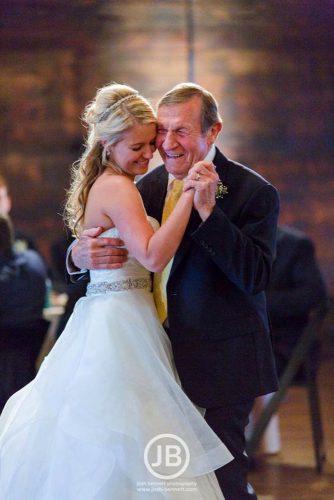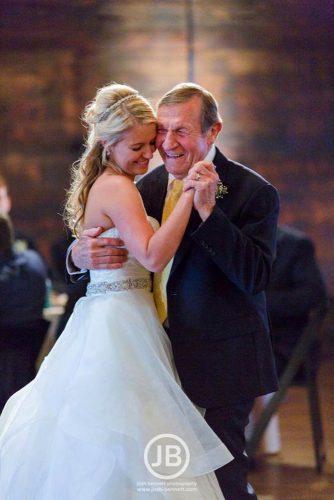 Rustic weddings and country music – home to some of the greatest love songs – go together like milk and cereal. One's just not the same without the other. If you're throwing a rustic wedding chances are you grew up listening to it at all of the family BBQs. Dad's likely to be ready to boot scoot, just make sure that he has plenty of time to practice. That's actually one of the most important parts; being aware of how much it means to him and allowing him to soak in all the joy of learning the moves with you.
Here are a few songs dad'll love:
Indie Wedding Songs For Father Daughter Dance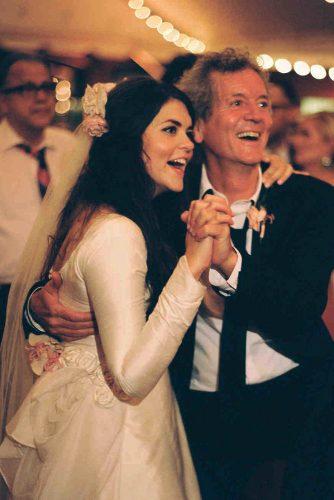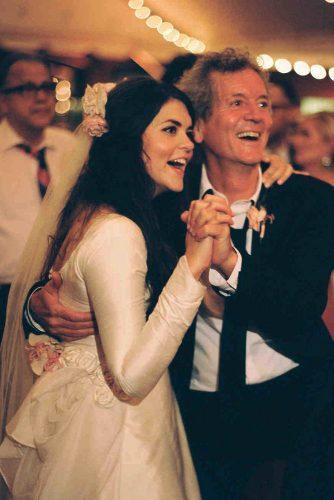 Indie weddings are a great place to explore new wedding songs. This is a modern genre of music characterized by insightful lyrics and quirky rhythms. This option is particularly fun because you get to choose between fast or slow, and there's a good chance you get to choose a song that was played around the campfire or a song that plays on repeat during road trips. Making it personal like this is a great accomplishment. If these types of daddy daughter dance songs are an option, go for it.
If this sounds like you, and you're looking for some fun father daughter dance songs here's a short list to get you started:
Mitski – Two Slow Dancers
Snail Mail – Let's Find An Out
Modest Mouse – Sleepwalking
Mumford & Sons – There Will Be Time
Yeah Yeah Yeahs – Maps
Grouplove – Tongue Tied
Otis Redding – That's How Strong My Love Is
Foster The People – Houdini
Michael Bublé – You've Got A Friend In Me
The Pretenders – Evaporate
The Fontaines – Love Someone
Walk The Moon – Tightrope
Popular Pop Daddy Daughter Dance Songs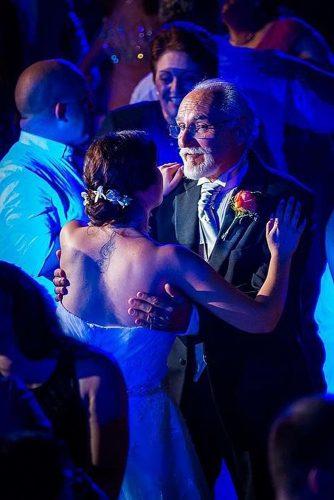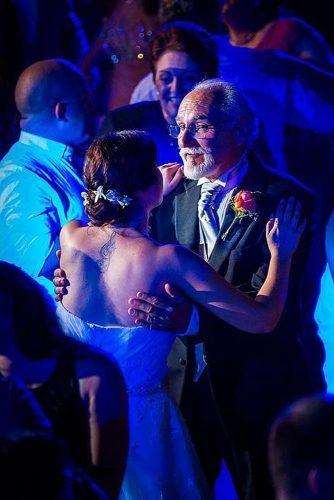 Last on our list of the best father daughter dance songs of 2019 is Pop! Although you may take you forever to finally decide on the perfect song, pop is the safest choice. It's fun – which is what's inspiring all of these viral videos – has catchy dance moves, and most of you reading this probably got busted dancing and singing along to it in your car this morning.
Here's what's hot right now:
Frank Ocean – Moon River
Calum Scott – What I Miss Most
Ellie Goulding – How Long Will I Love You
Adam Levine – Lost Stars
Bruno Mars – Count On Me
Taylor Swift – Delicate
Beyoncé – Daddy
Meghan Trainor – Dance Like Yo Daddy
Coldplay – Sky Full of Stars
Vance Joy – Riptide
Walk the Moon – Shut Up and Dance
Sia – The Greatest
In conclusion:
Does the bride dance with her father first?
Traditionally, the bride and groom will share the official First Dance from beginning to end. For the second dance, if we're sticking with tradition, the bride and father of the bride will begin the song, with the new husband stepping in about half-way through. This is a symbolic gesture showing the father accepts the new husband and welcomes him as the head of the new family.
Is Father Daughter Dance before the first dance?
Many couples are modernizing tradition so that the groom and father of the bride each get a full song, but still, want to maintain the symbolism. In this case, the father takes the first dance with the happy bride. Once this is finished he visually/physically invites the groom to step in for the second dance, and enjoy their first dance as husband and wife.
In a lot of today's ceremonies tradition takes a back seat to happy memories. It's often a far better decision to have a full song for both dad and your new husband, but dad still gets to go first.
Remember:
Choose a song that fits in well with the rest of your wedding.
Choose a song that both you and he are going to love.
Choose a song that you can both keep up with.
Give both of you plenty of time to practice, and have fun while doing it!
Don't know what style of music to choose? This infographic will help you!

If you're looking for some father-daughter dance songs that you can use at your wedding, then you'll love this infographic. It's a simple list of songs that you can show the DJ or band to play one of them.