Lots of couples may not pay attention to picking out the perfect wedding garter toss songs. But like the throwing of bouquet to the ladies, the garter toss is for the men. The garter is blue or has blue details which connote luck fertility and happiness. The groom takes it off and throws it to the lucky man who will find his soulmate soonest. For this stage, you'll need the appropriate songs, and we have a perfect list for you below.
Funny Garter Toss Songs
Between you and your beloved, the talking of the garter removal is sensual enough. You may want to ease the tension by making the atmosphere light-hearted. So, you will add some funny wedding garter songs to your playlist. In doing this, remember that the aim is to make the guests ease off, and maybe, have a nice laugh. But you cannot leave out the fact that the songs must also be somewhat playful and romantic. We're talking a combination of sensuality and humor. See songs like "Get along" by Kenny Chesney, "Stop" by Spice Girls, etc for the perfect funny garter toss playlist.
1. Cindi Lauper- Girl just wanna have fun
2. Kenny Chesney – Get Along
3. Roy Orbison – Pretty Woman
4. Kool & The Gang – Ladies Night
5. Spice Girls – Stop
Country Garter Removal Songs
Are you the down to earth country loving bride at heart? Or you have the dream of a rustic themed wedding? Then include some country hits on your wedding playlist for the garter removal. Country kinds of music are well known for their romantic, melancholic, and unending depths. They're accompanied by soothing instrumentals that will leave you calm and in your feelings. But don't forget that garter removal is sensual, so the song for garter toss should be too. The great news is even with country songs, you still get songs that meet the criteria. Songs like "Man, I feel like a Woman" by Shania Twain, "Man Eater" by Nelly Furtado does it for us. You can see more garter removal country songs from our collection.
1. Big'n'Rich – Save a Horse, Ride a Cowboy
2. Beyonce – Single ladies
3. Pat Benetar – Hit Me With Your Best Shot
4. Nelly Furtado – Man Eater
5. Shania Twain – Man, I Feel Like a Women
Посмотреть эту публикацию в Instagram
Sexy Wedding Songs For The Garter Removal
It's your day and you can't help feeling at your sexiest. Hello, you're the belle of the ball and all eyes are on you. The beautiful bride that holds everyone sway. You love the attention and not afraid to show your sexy side, Turn up some sexy wedding songs for the garter removal. Pick out both old and new wedding songs that are a turn on for everyone. Songs like "Fancy" by Iggy Azalea, "Dirty" by Christina Aguilera and more are perfect. They will leave the atmosphere encapsulated in a sexual ambiance. Each vocal stroke leaves your skin on heat and heightens the sensations. It sets you and your beloved in the mood for what's to come.
1. Christina Aguilera – Dirty
2. Moulin Rouge Soundtrack – Lady Marmalade
3. Iggy Azalea – Fancy
4. Diana Ross – Can't Hurry Love
5. Weather Girl- It's Raining Men
Unique Garter Toss Songs
To take off the garter in style, you need the best garter toss songs in your wedding playlist. Now, this all boils down to the kind of bride you are, and the tone you want to set. Do you want it sexy, playful, light-hearted, hot and smoky, romantic or traditional? Once you've known this, you can pick out garter toss songs that are unique to what you want. Check out songs like the "Body of a back road" by Sam Hunt, and "Chapel of Love" by Dixie Cups. They are great and could catch your fancy. Find other wedding songs for garter toss from our selection.
1. Dixie Cups- Chapel of Love
2. Fergie & Ludacris- Glamorous
3. My Best Friends' Wedding – Wishin and Hopin
4. Florida Georgia Line – Simple
5. Sam Hunt – Body Like A Back Road
Why Do You Throw A Garter At A Wedding?
Today the garter wedding symbolizes luck, fertility, and happiness. The newly-made husband romantically removes it while the song for garter toss is playing and throws it to his unmarried friends. People believe that the guy who caught the treasured garter will shortly find his soul mate.
Another point: often garters are blue, or include details of blue. This is due to the fact that even in biblical times, blue color symbolized purity, loyalty, and devotion.
History Of The Wedding Garter Tradition
Source: Instagram@christiephamphotography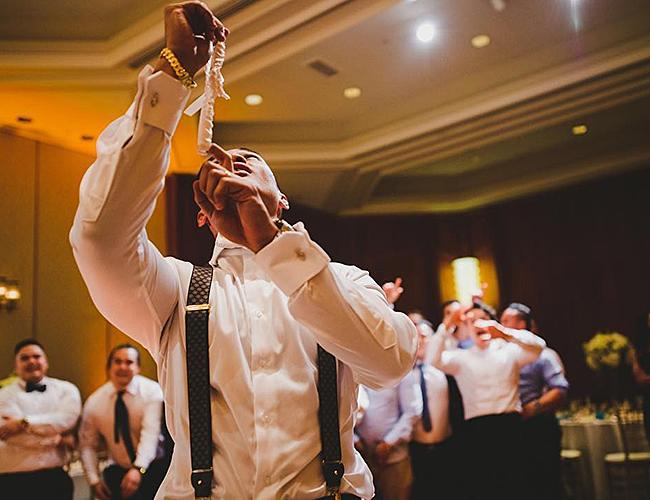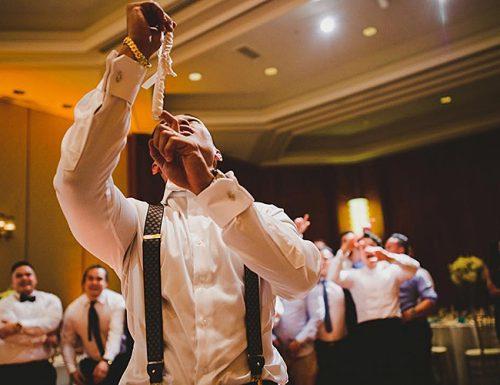 The garter owes its birth to the French. They invented the garter in order to support one of the sexiest toilet items of women – stockings. In the XVIII century, the Marquise de Pompadour, known as the mistress of Louis XV, made adjustments to the design of garters. She noted the special attraction for men of this accessory and managed to make it even sexier by adding to the usual thing with lace, embroidery, bows.
Wedding garter tradition of removing it and throwing it at the end of a ceremony has its roots in the distant past. The first wedding garter removal occurred in 1348 at a ball in Calais. The ball was organized in honor of the victory and the capture of the city. King Edward III was passionately in love with the Countess of Salisbury. Dancing with her that evening, he noticed that her gorgeous garter slid to the floor.
To save the lady from an unpleasant situation, he pointedly raised an intimate garment and tied a garter around his knee, and after he said the famous phrase: "Shame on someone who thinks badly of this" (Honisoit qui mal ypence).
All wedding garter toss songs are perfect to fit your specifics for the garter toss. The garter signifies purity, loyalty, and devotion. And mixing it with some sexy is the highlight of the reception. Decide on the tone you want to set, and pick a category from our garter toss songs compilation above. Who knows, whoever catches it will find their soulmate soonest.