It's important to add wedding cake cutting songs to your playlist for wedding nuptials. Wedding cake cutting is where the couple shares their first activity, hence a vital stage. The groom places his right hand on the bride's to cut the cake which signifies unity and protection.
To this nuptial stage, cake cutting songs for the wedding of preferred genres will come in handy. Romantic, upbeat, ballad, or funny wedding cake cutting music, we've got an awesome compilation below.
Modern Wedding Cake Cutting Songs
If you're the sophisticated bride who loves new music, you'll need some for cutting the cake. Flood your wedding playlist with moderate wedding cake cutting songs and wow your guests. This is a stage that every guest looks forward to. The highlight of your wedding reception and it should be a hit.
Посмотреть эту публикацию в Instagram
Check out songs like "Sugar" by Maroon 5, "Thinking out loud" by Ed Sheeran, and the likes. They are sure to set the mood. These songs are romantic and expressed what you feel for each other. Which in all essence is romantic, perfect and suits your style for this stage of the wedding.
1. Maroon 5 – Sugar
2. Ed Sheeran – Thinking Out Loud
3. The Chainsmokers & Coldplay – Something Just Like This
4. OneRepublic – Good Life
5. DNCE – Cake by the ocean
6. Bruno Mars – Marry You
7. Taylor Swift – Girls Like You ft. Cardi B
8. Beyoncé – Love On Top
9. Counting Crows – Accidentally In Love
10. Flo Rida – Sugar
Funny Wedding Cake Cutting Songs
Funny wedding cake cutting songs are ideal to set a lighthearted but heartfelt ambiance. If this is the style that pleases you, be sure to look for songs that relate perfectly. They could be talking about the cake, or something quite funny. The funny songs for cake cutting may also describe your love but in a funny way.
Посмотреть эту публикацию в Instagram
Get inspired with songs like "I want candy" by Bow Wow and "Cut the cake" by an Average White Band. There are lots more to look out for in this category. They can leave the guests smiling while munching on some cake, and enjoying the romance that you share.
1. Bow Wow Wow – I Want Candy
2. Average White Band – Cut The Cake
3. The Archies – Sugar, Sugar
4. Christina Aguilera – Candyman
5. Turtles – Happy Together
6. The Four Tops – I Can't Help Myself (Sugar Pie, Honey Bunch)
7. Lynrd Skynrd – Sweet Home Alabama
8. Ohio Players – Yummy, Yummy, Yummy
9. Harry Connick Jr. – Recipe for Love
10. Duck Sauce – Barbra Streisand
Unique Wedding Cake Cutting Songs
Looking for the unique cake cutting songs that have not been recycled by every wedding in the world? This is your place to come. Doesn't mean the songs are not popular cake cutting songs, but they are evergreen. And listening to them feels like it's the first time.
First, you must consider what kind of song you want when cutting the cake. Do you want something you can move your body to? Songs that guests can move to? Do you want love songs, funny songs or instrumentals? When you've established this, you'll decide on whether modern, traditional, country, funny and any other enticing genre.
Посмотреть эту публикацию в Instagram
This is how you can pick unique songs for the cake cutting. We love the "Love story" masterpiece from Frank Sinatra and the "Sweetest love" by Robin Thicke. Several other unique cake cutting songs you'll find on our list.
1. Frank Sinatra – Love Story
2. Robin Thicke – The Sweetest Love
3. M83 – Midnight City
4. Sneaker Pimps – Spin Spin Sugar (Armand's Dark Garage Mix)
5. Eurythmics – Sweet Dreams
6. Queen – You're My Best Friend
7. Def Leppard – Pour Some Sugar On Me
8. Slightly Stoopid – Sweet Honey
9. Stars – My Favourite Book
10. Uncle Kracker – Smile
How Long Cake Cutting Song Should Be?
The ritual is short and fun, although it still usually takes more than 3 minutes, which is an average length of a song. It means that probably you are going to need more than one piece of music. The tradition goes deeply into ancient times. Cutting of the cake is the symbol of the couple's future together, and the taste of the cake is a promise of family life. A life that will be just as sweet.
Source: elisabettalillyred via Instagram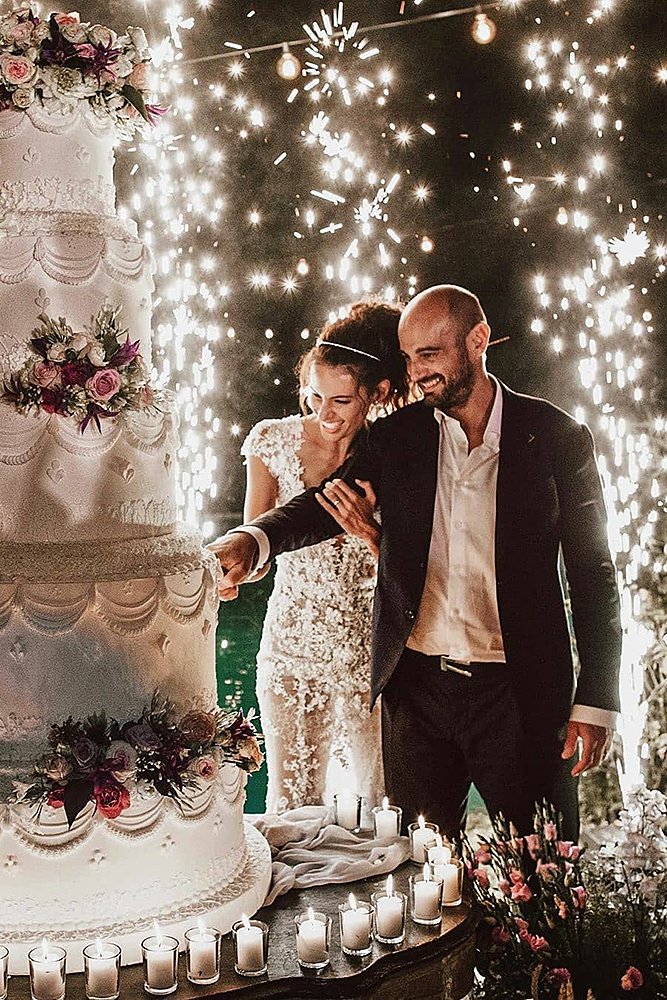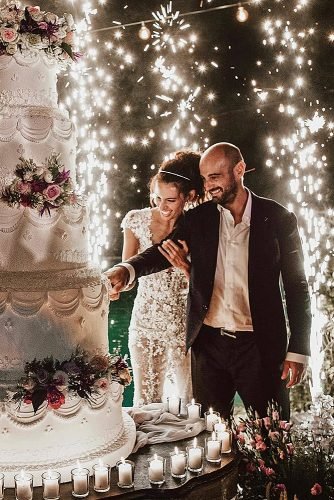 How To Choose Cake Cutting Song?
While making a choice of a music piece to go with that occasion, remember that music is a powerful tool. It sets the overall atmosphere of the event, and it sends a clear message about you as a couple. Your love, your devotion, and all those warm feelings you share with each other… Like any other important moment, the cake cutting needs the bride and groom-to-be to choose the music wisely.

Source: nutmegcakedesign via Instagram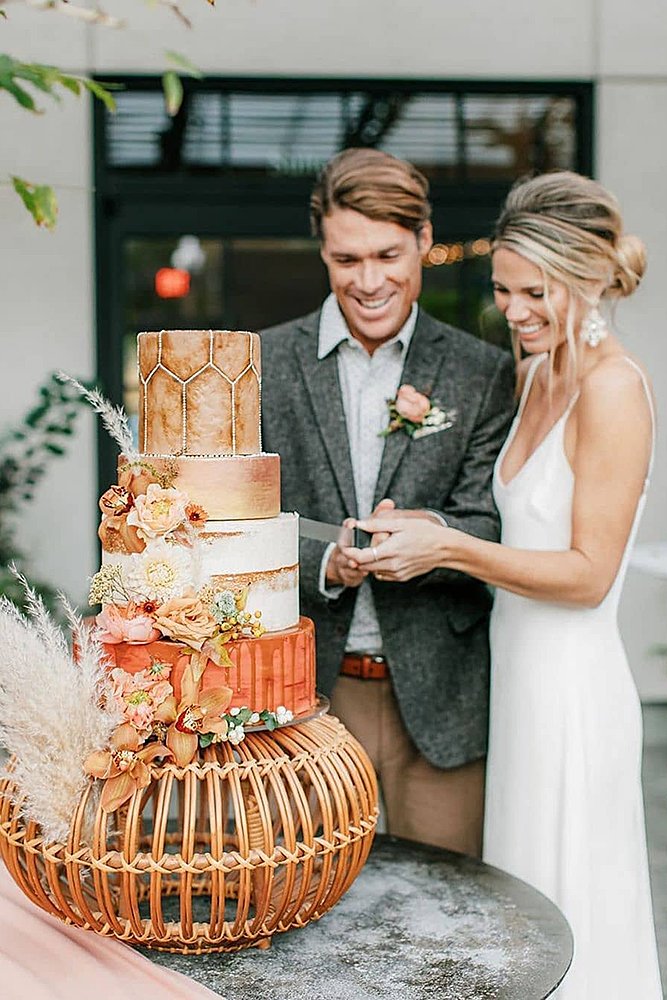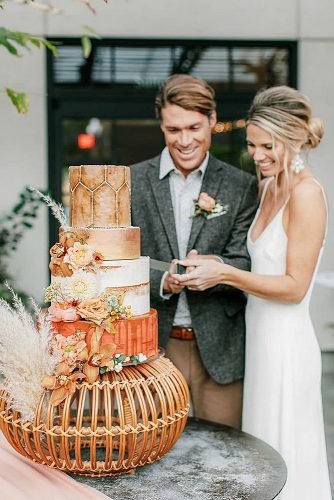 Choose "Your" Song
The choice of cake cutting songs can tell a lot about you. You might want to make it more personal by choosing a song that is very special. The one that was playing on your first date, or simply the piece you both enjoy.
However, it is possible that you and your second half have different music tastes. Do not let it stop you! It can be hardly considered a problem. You can choose one song each. This way both partners would make their contribution to the celebration. That would be a great opportunity to upgrade your teamwork skills! Or you might even decide not to tell each other what music you have chosen. Make it a pleasant surprise on your wedding day. Have fun!

The wedding cake cutting songs can be romantic, danceable, ballads or even instrumentals. You can convey all your feelings to the world without saying a word. Also, songs for cake cutting can be full length and more than one if you have different taste than your spouse. These songs will last from when you cut the cake, to feeding yourselves and sharing to the guests. See our collection above for the top cake cutting songs to fit your style.