Romantic bridal updos wedding hairstyles are the most popular wedding hairstyles for blushing brides of all ages and walks of life. Regardless if your hair is short, mid-length or long, you will be sure to find romantic style wedding updos for any texture or hair length.
One of the many advantages of updos for weddings is that they give you plenty of options for accessories. From barrettes to fresh flowers to headbands and veils, there are numerous ways to style bridal updos!
We have compiled a list of some of the most glamorous romantic wedding updos to help inspire you on your special day. We have it all…messy buns, intricate braids, twists, chignons, you name it! Take your time and peruse our gallery of romantic bridal updos!
Photo 1-6: Beatiful Updos With Crystal Accessories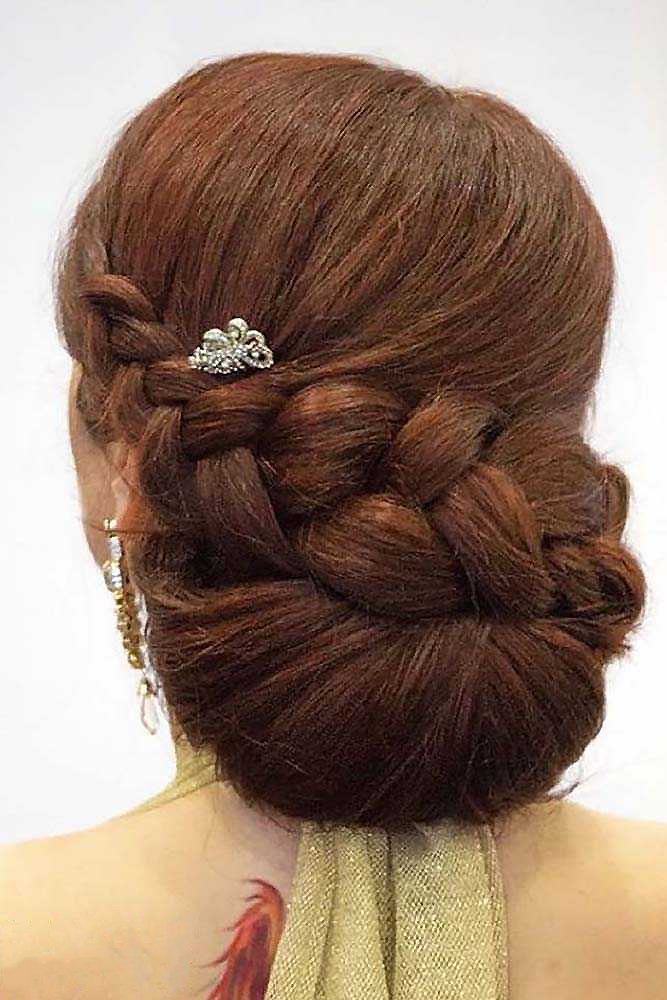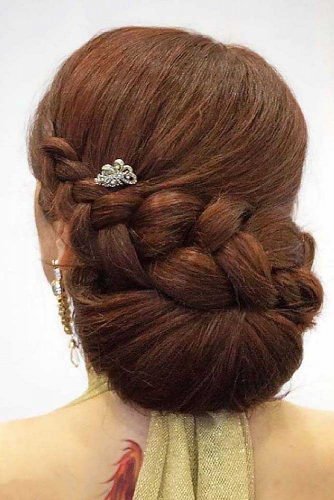 Braided Sleek Chignon
This chic chignon with an elegant Dutch braid softly falls into a low-hanging bun that is full of volume and texture! It looks especially on hair with highlights!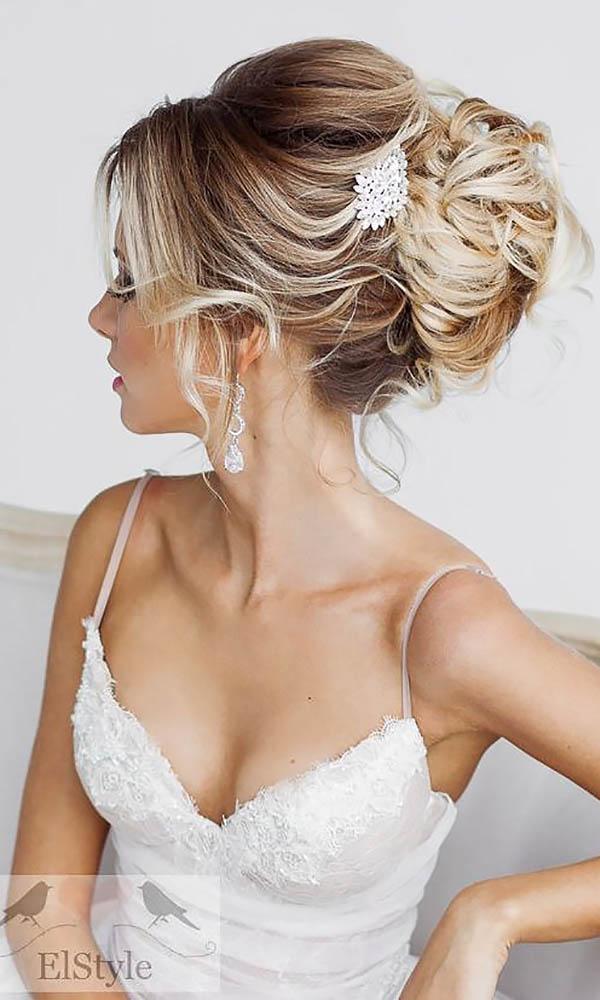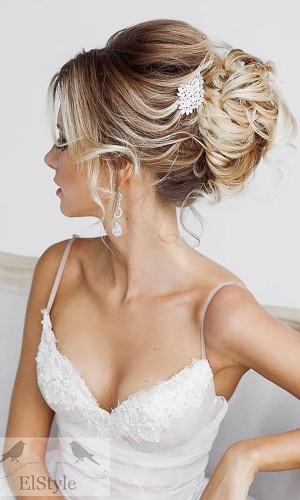 Faux Beehive Woven Updo
This modern take on the beehive exudes royalist with its high volume and texture. The delicately woven strands give it an added air of romance.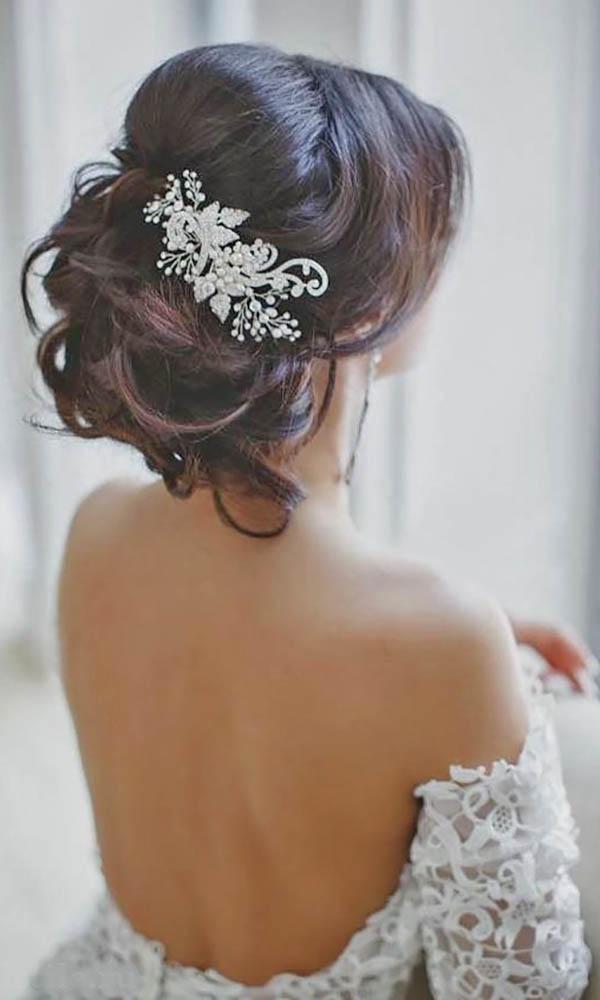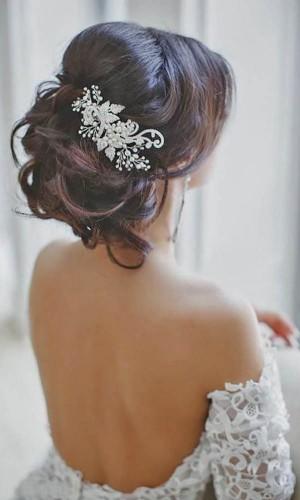 Low Slung Curly Romantic Updo
Need a wedding romantic updo brunet? This softly pulled back look with sloping waves is perfect for dark-haired beauties who don't a high updo.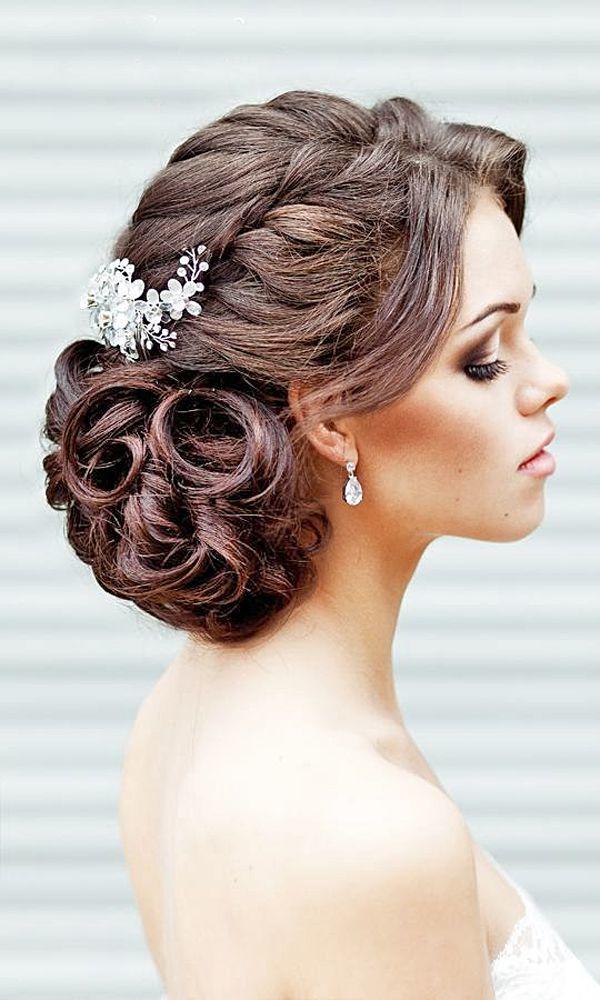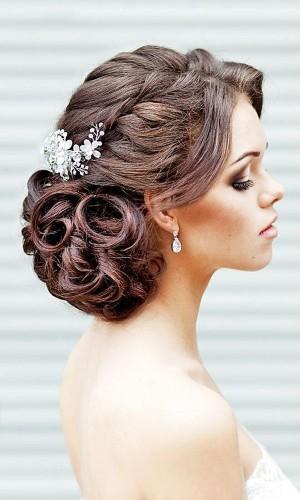 Loose Side Braid
Another take on the popular Dutch braid is this loose side braid with a twisted chignon. Add a flowery hair accessory to complete the romantic bohemian look.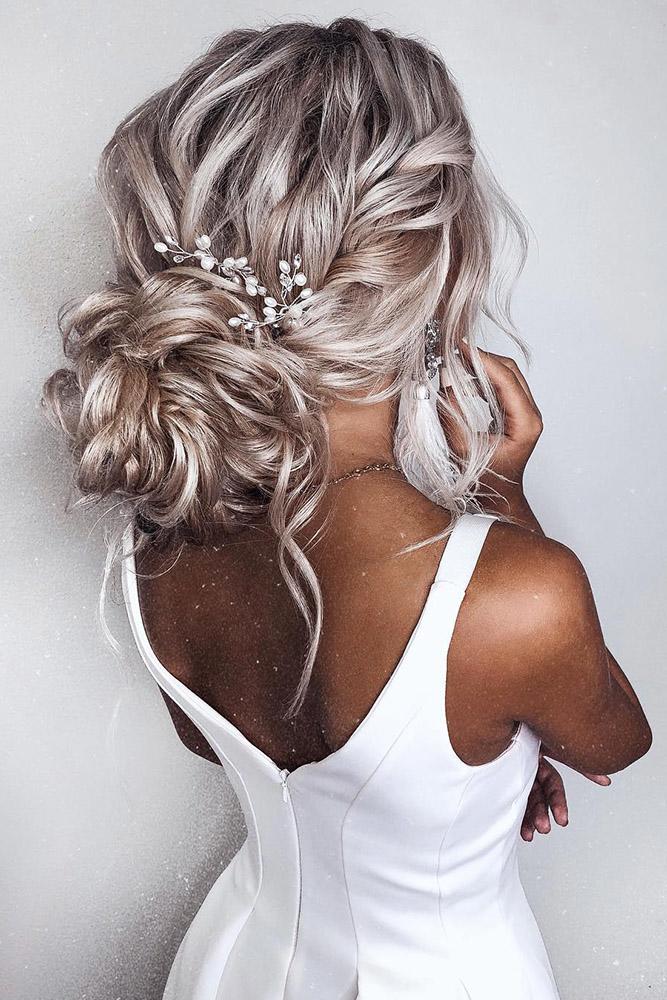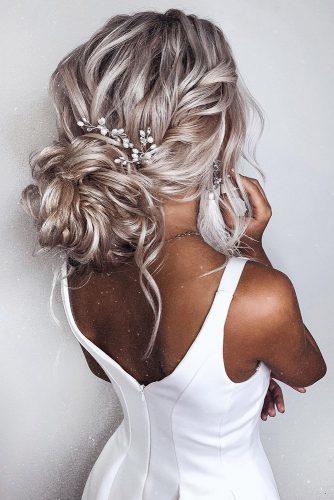 Double Dutch Braided Updo
Loose Dutch braids are perfect for a wedding with a boho-chic or punk rock vibe. Two Dutch braids meeting in a messy bun provide a look of perfect imperfection!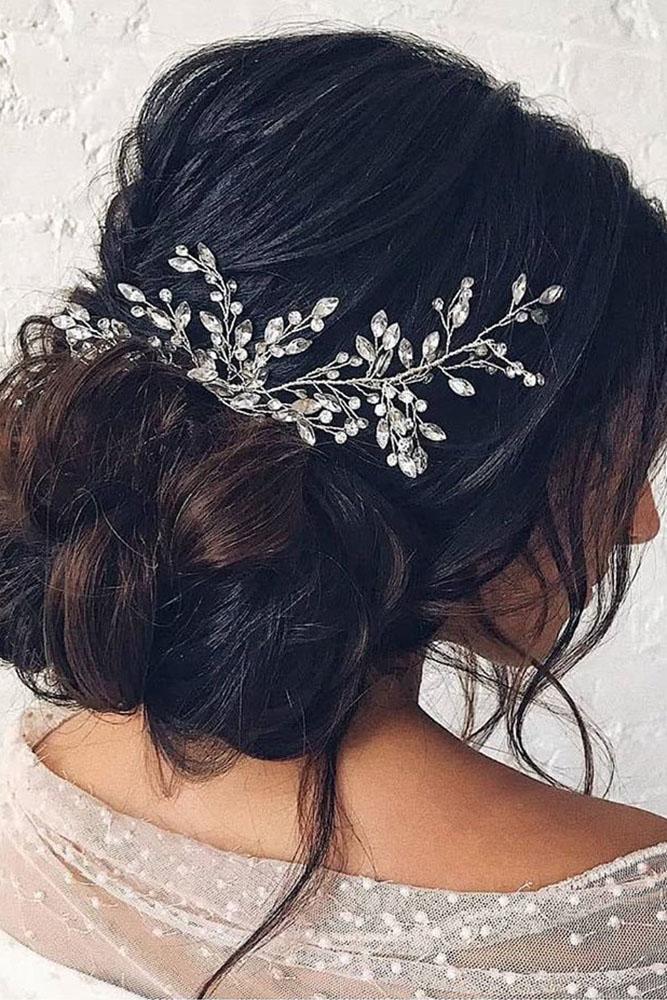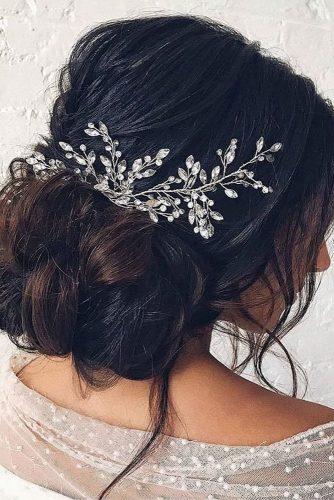 Messy Twist with a Romantic Touch
Do you want a sassy style for your romantic bridal updo? How about this mess, low slung test that is slightly disheveled yet utterly feminine?
Photo 7-12: Soft Chignons With Loose Curl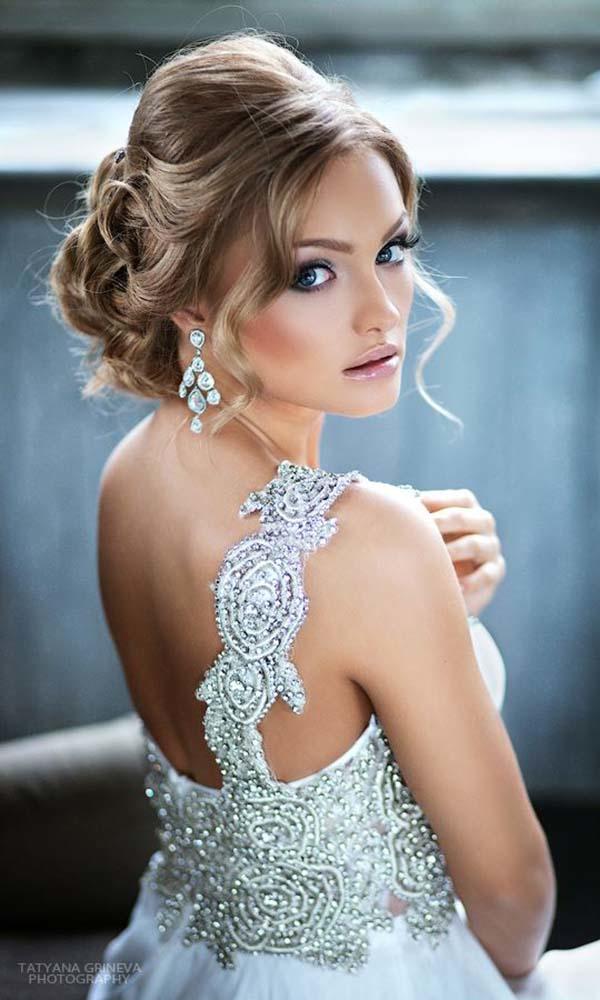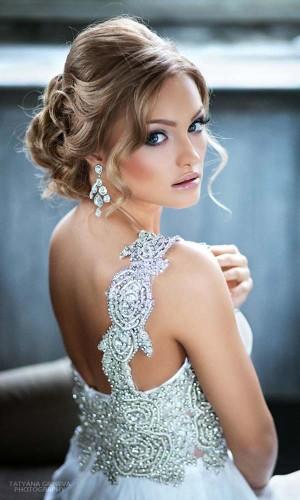 Retro Chic Bun
Retro style romantic updos for wedding are trending this season. This updo with finger waves that end in a low, full bun gives it a modern, yet glamorous twist.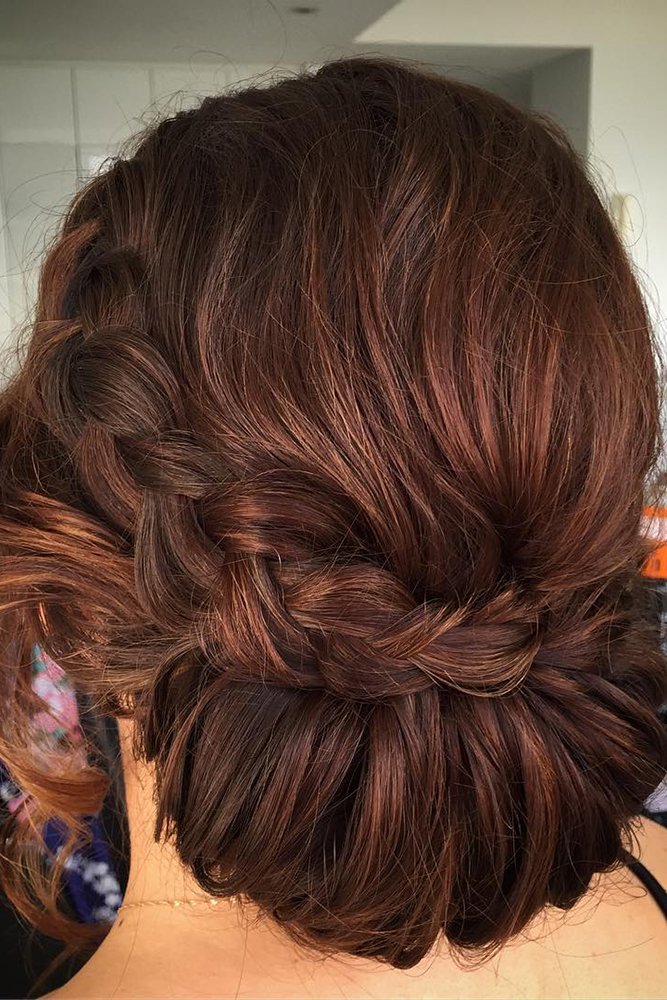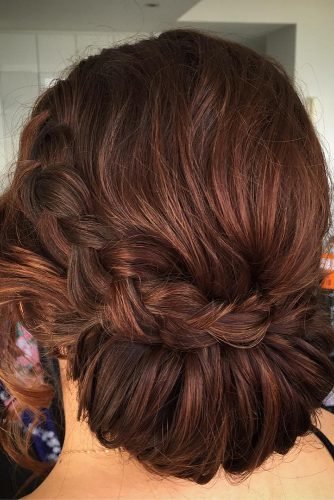 Low-Slung Braided Chignon
Surrounded by a textured and full thick braid, this low-slung chignon puts a modern twist on a traditional style. The added volume at the top is sexy and chic!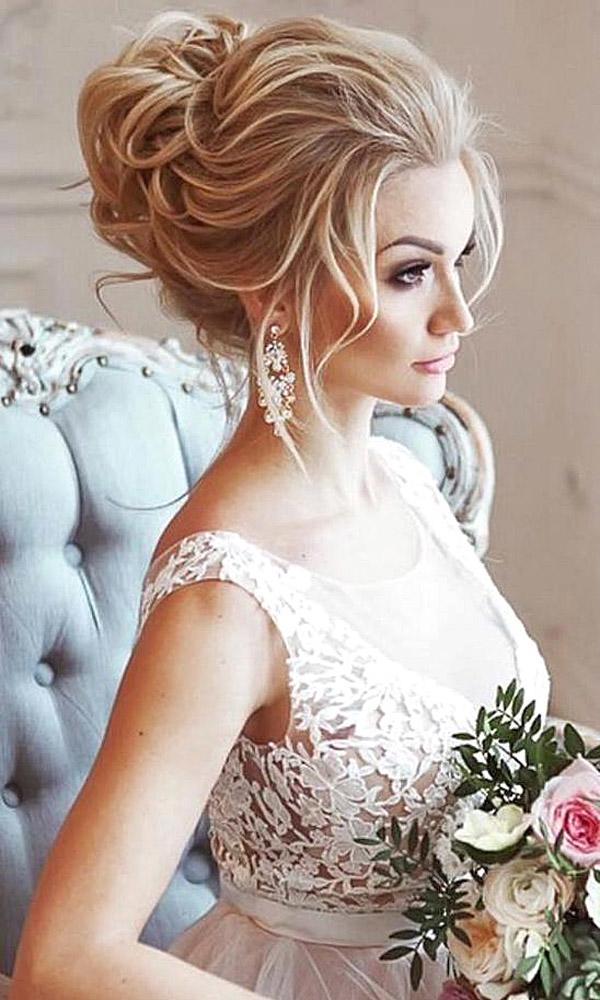 High Bun With Added Volume
High buns are one of the most requested romantic bridal updos wedding hairstyles. This style is full of volume and texture. Use a pretty barrette to add a hint of romance.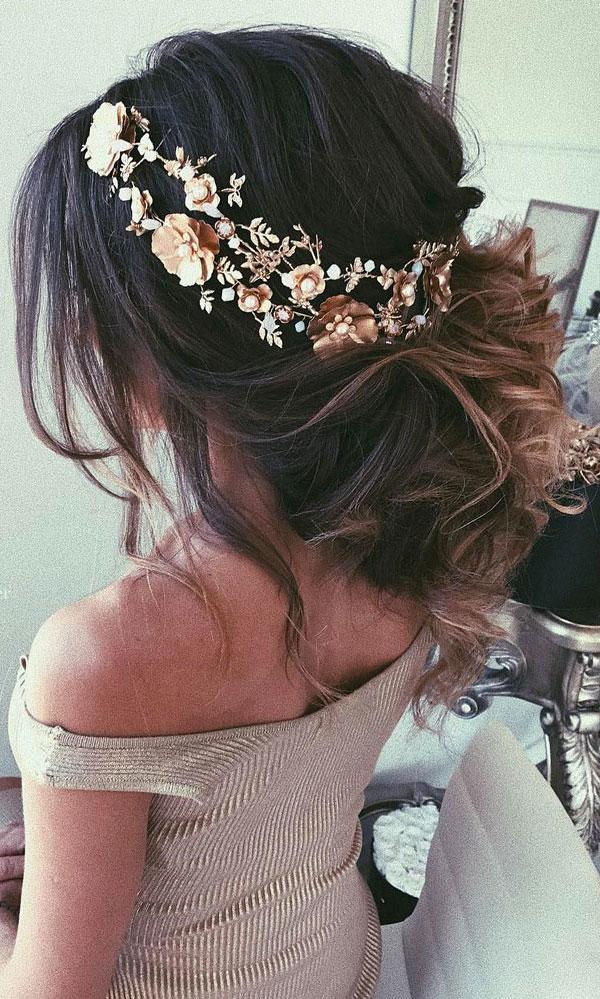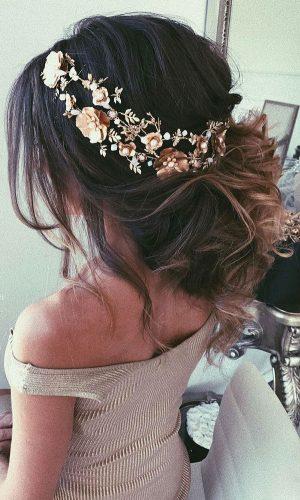 Messy Romantic Wedding Bun
Messy buns are a great way to add volume to wedding hair romantic updos. Gently sweep the hair back to leave it soft and full of volume. Top it off with a shiny bridal headpiece!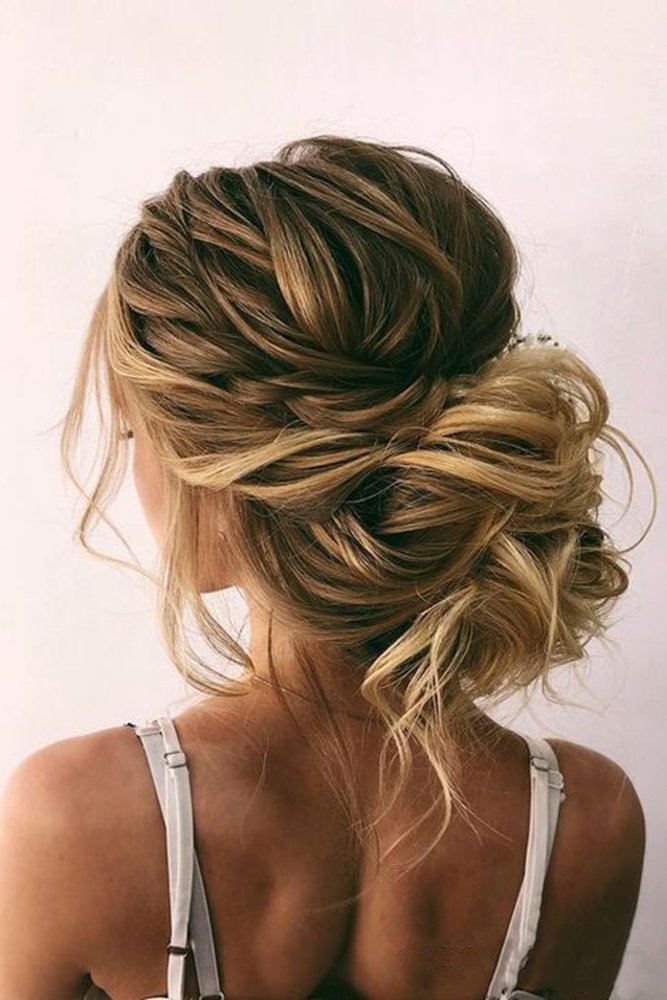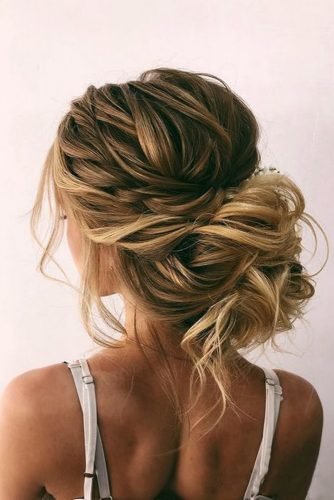 Messy Bun with Bold Side Dutch Braid
This thick side Dutch braid and messy full bun is ideal for those with long, thick tresses. Add some fresh flowers to give it a demure and dainty air.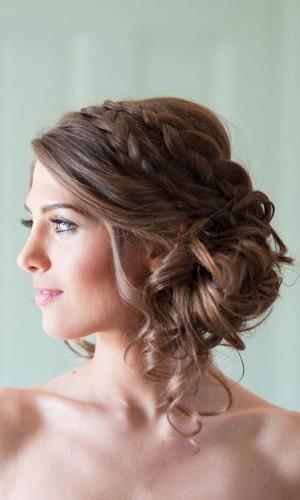 Dutch Braid Wrap with a Rustic Edge
For a more playful look, check out this large and loose crown Dutch braid. Romantic bridal updos wedding hairstyles such as this are perfect for a rustic themed wedding!
Photo 13-18: Structured Hair Plate with a Floral Twist
This detailed and artistic wedding updos is truly one of a kind. The elegant twists form a floral pattern for a unique look for a truly romantic wedding.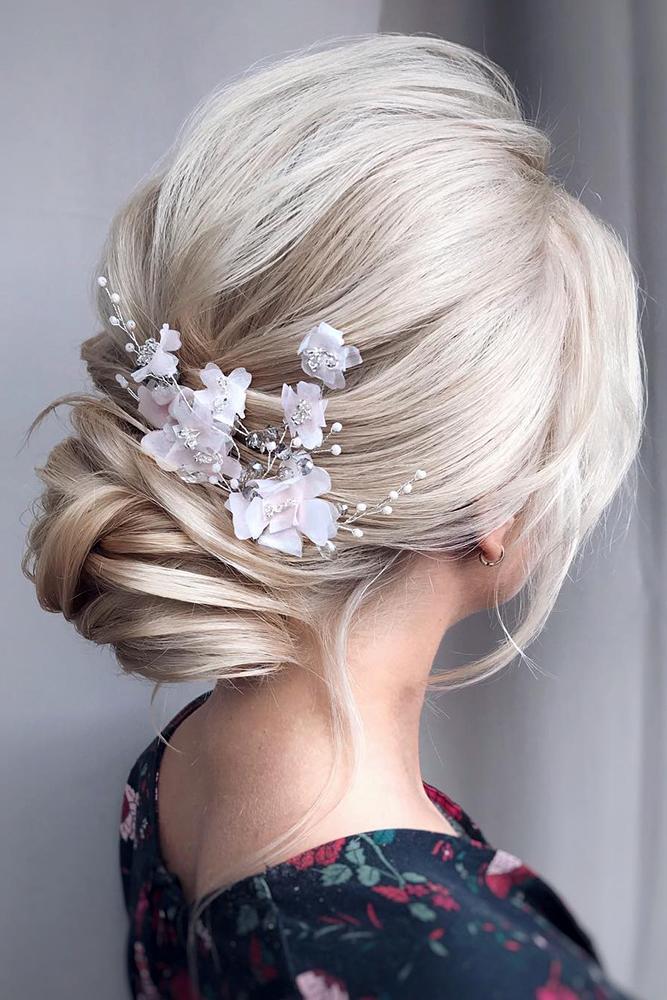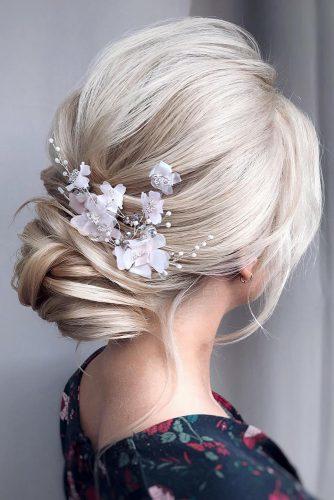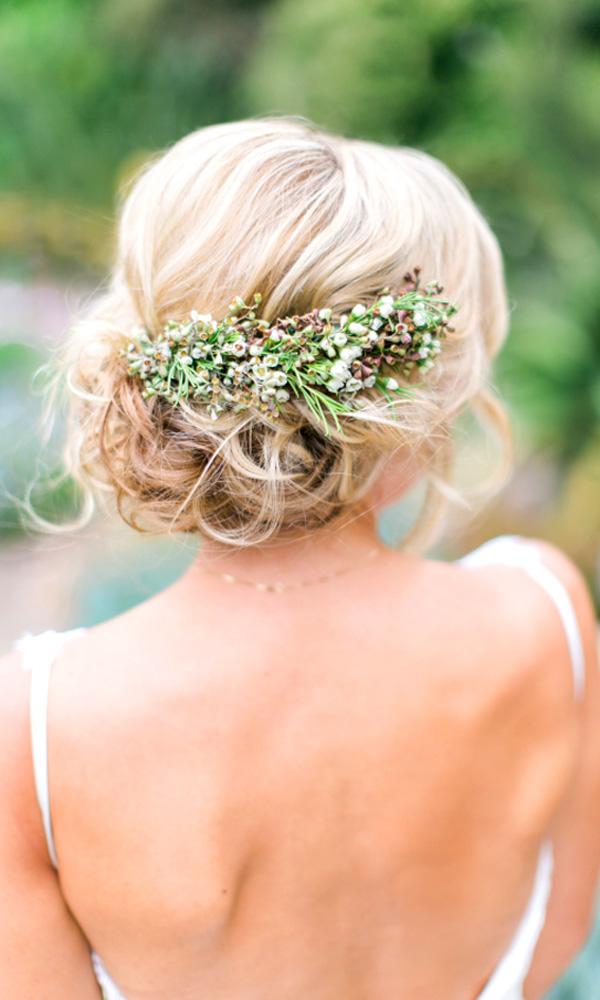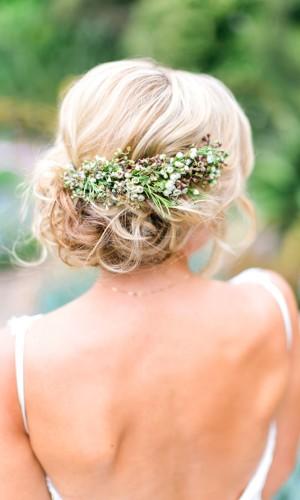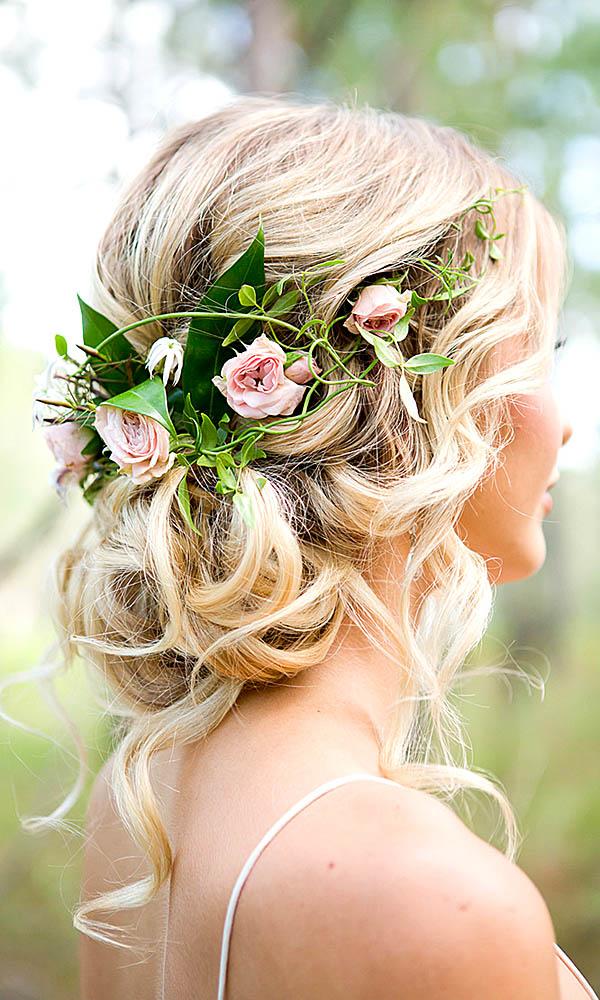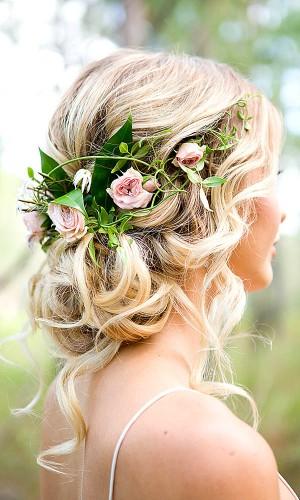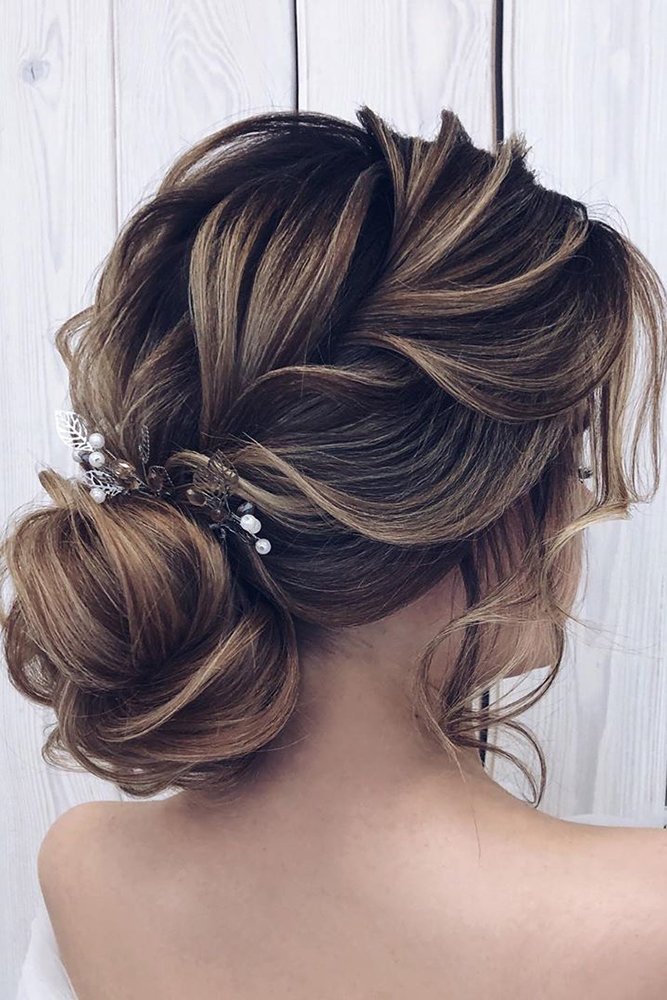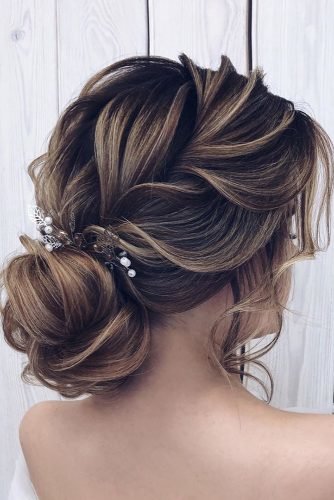 Weaved Crown Dutch Braid Bridal Updo
With timeless pinned back curls and long swept-back bangs, this crown Dutch braid is woven so intricately that it will look like a stunning work of art!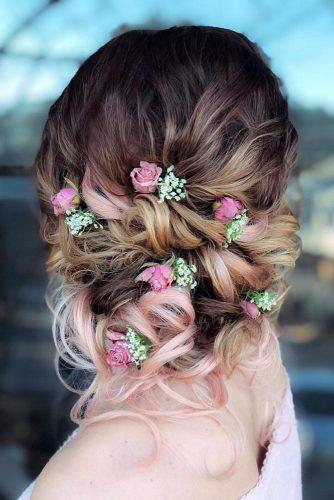 Romantic Bridal Updo with Twists and Layers
This romantic wedding updo is full of twists, turns and layers to give it an almost unheard of amount of texture and volume. It looks stunning with a backless or strapless bridal gown!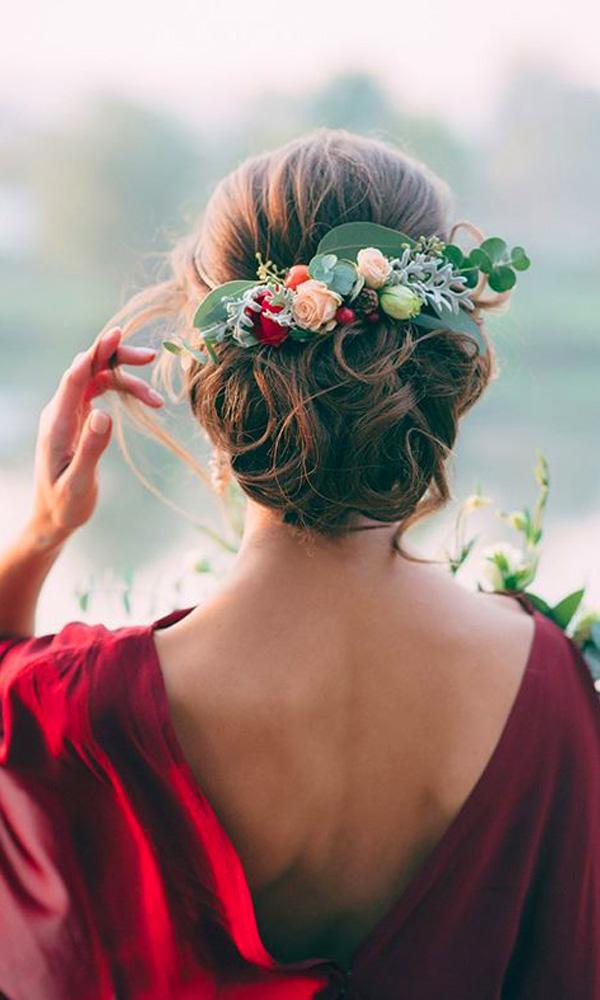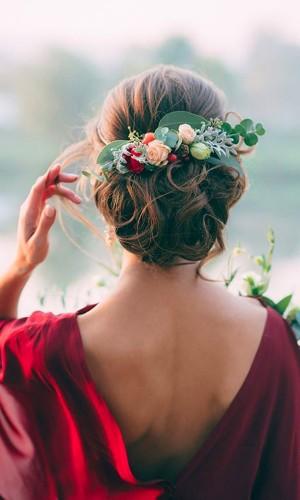 Curly Updo for a Spring or Summer Wedding
With perfectly pinned curls and a few loose tendrils twisted into a floral headband, this sept back updo is lovely for an outdoor wedding!
Photo 19-24: Romantic Bridal Updos With Accessories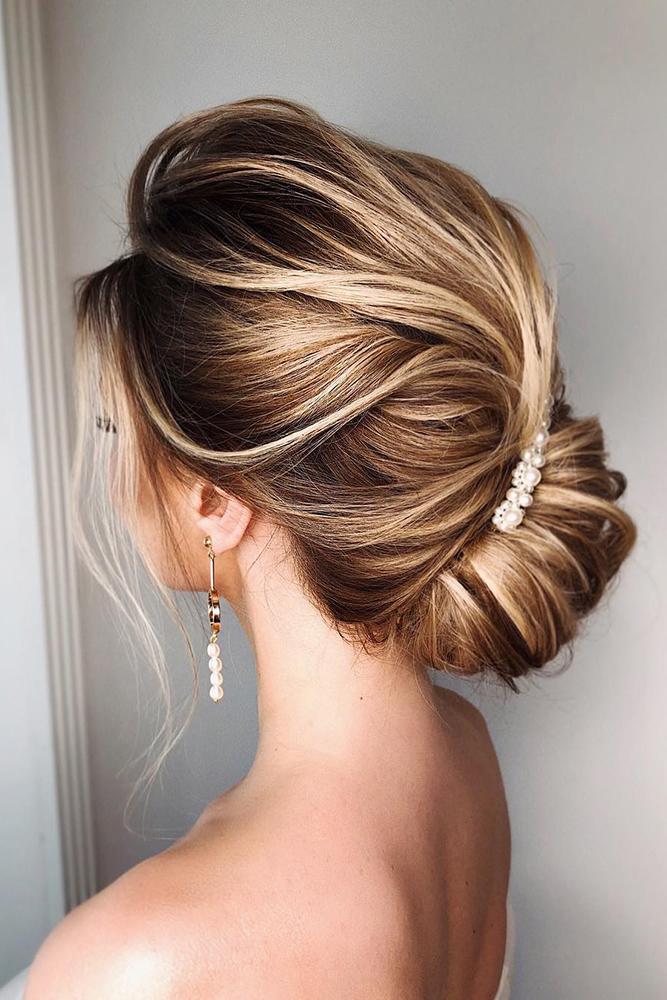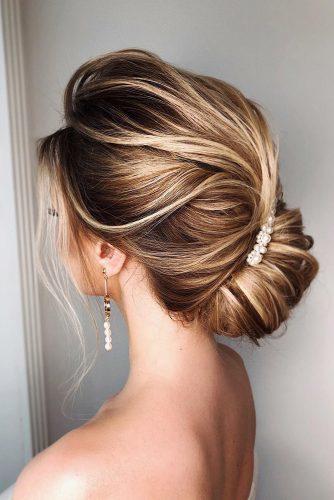 Bun with Texture…and a Side Twist
This piecey twisted bun with a side twist is contemporary and chic. The large bun has a ton of texture and volume for a soft, romantic look.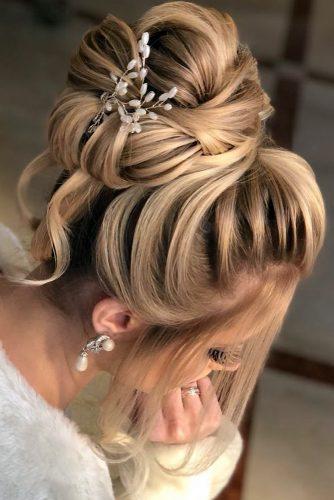 Architecturally Twisted Updo
Do you want a romantic updo with a slightly edgy vibe? This updo with stands that are twisted around a smaller bun is daring yet demure for the avant-garde bride.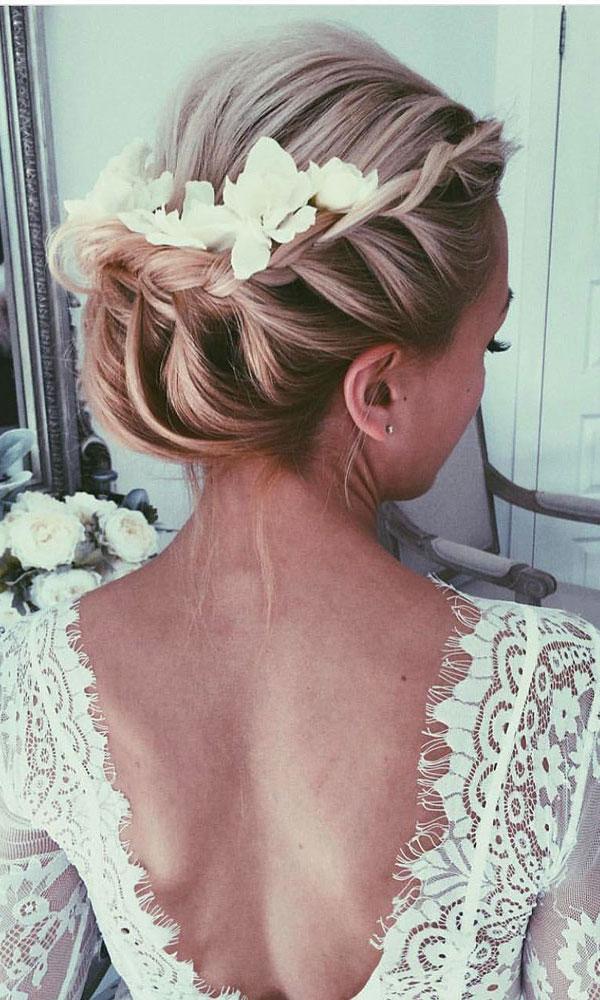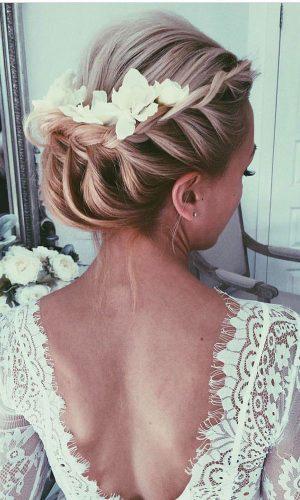 Twisted Dutch Braid with Floral Accents
This Dutch side braid with delicate white flowers woven about is both pure and luxurious. The thick braid is soft and feminne.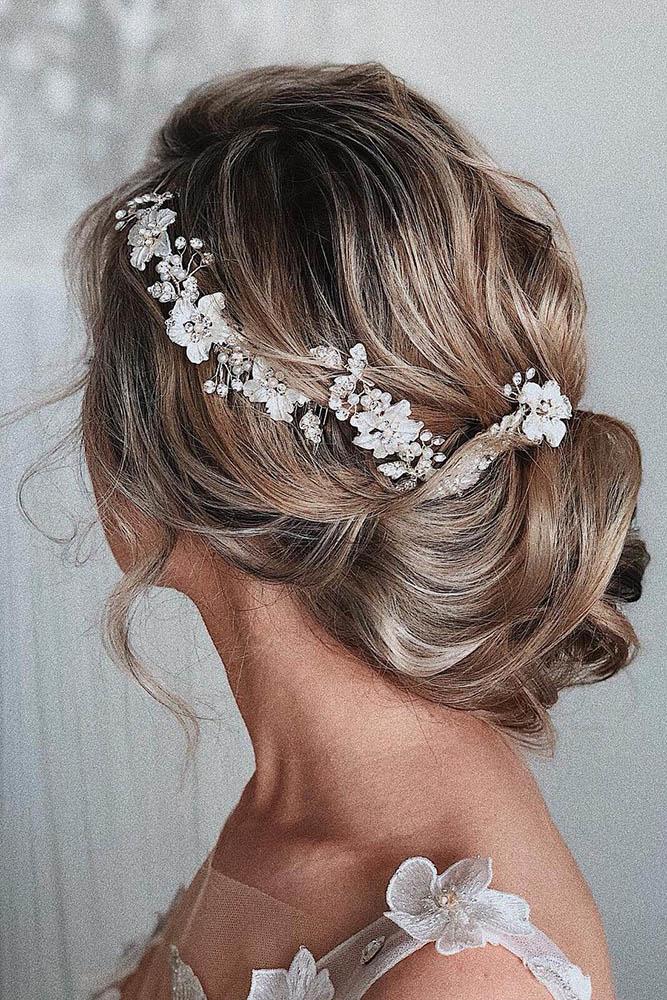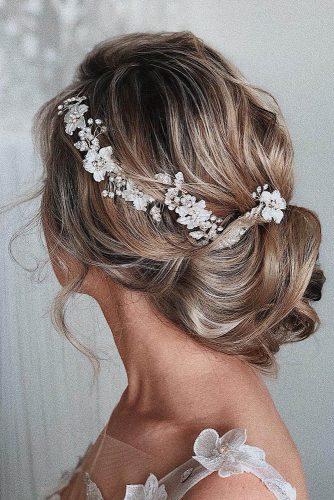 Victorian Romantic Wedding Updo Hairstyle
If you are a fan of all things Victorian, there are plenty of romantic wedding updos for long hair. This modern twist of a Victorian hairstyle is ideal for long curly tresses.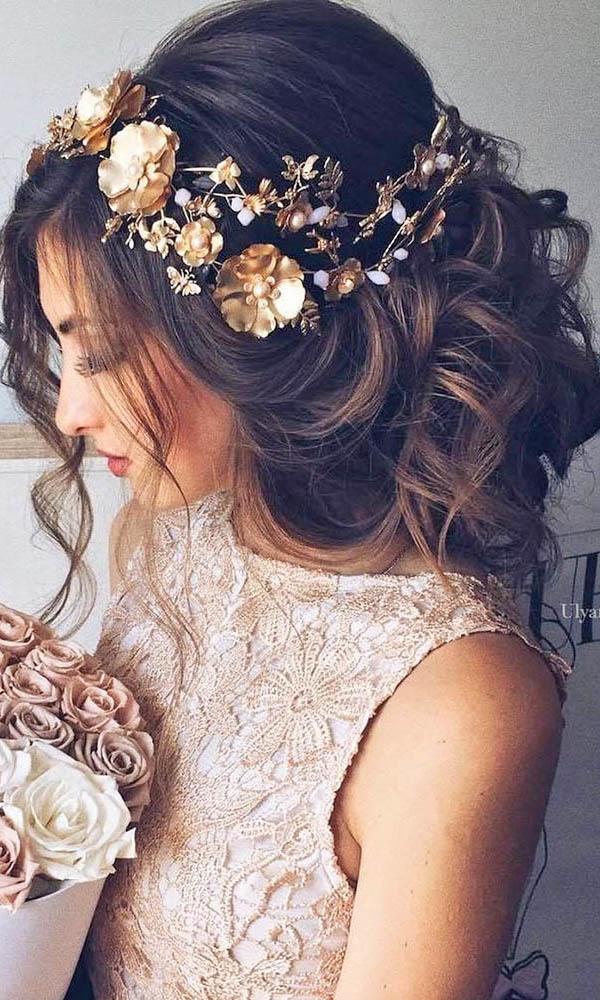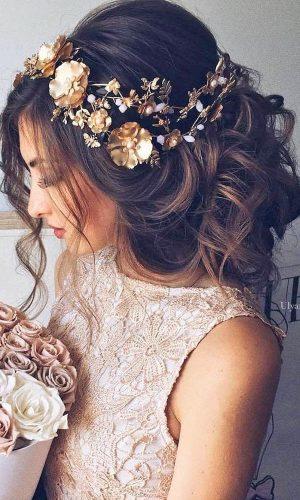 Half Updo Wedding Hairstyle with Floral Headband
Those who prefer romantic half-updos wedding will love this half updo that has been teased and the crown and then delicately threaded through a floral hairband. This look is ideal for beach weddings.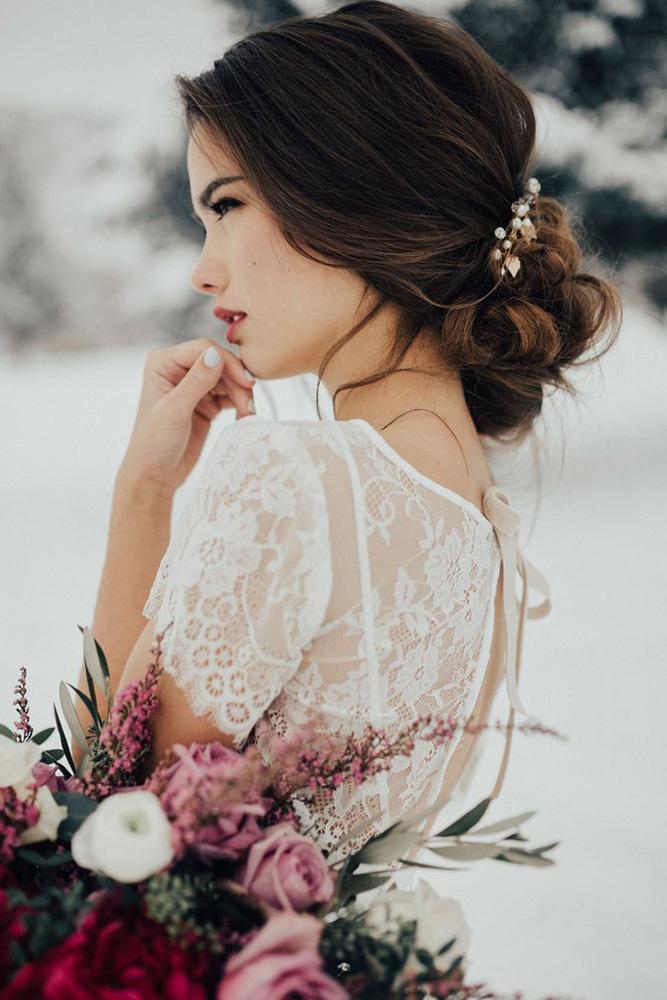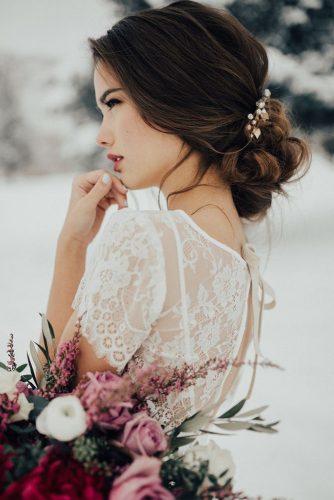 Sleek Romantic Updo Fit a Fairytale Wedding
This updo with sleek pinned up and wrapped curls is the epitome of style and grace. You will truly feel like a princess with this romantic wedding updo!
Photo 25-30: Simple And Elegant Updos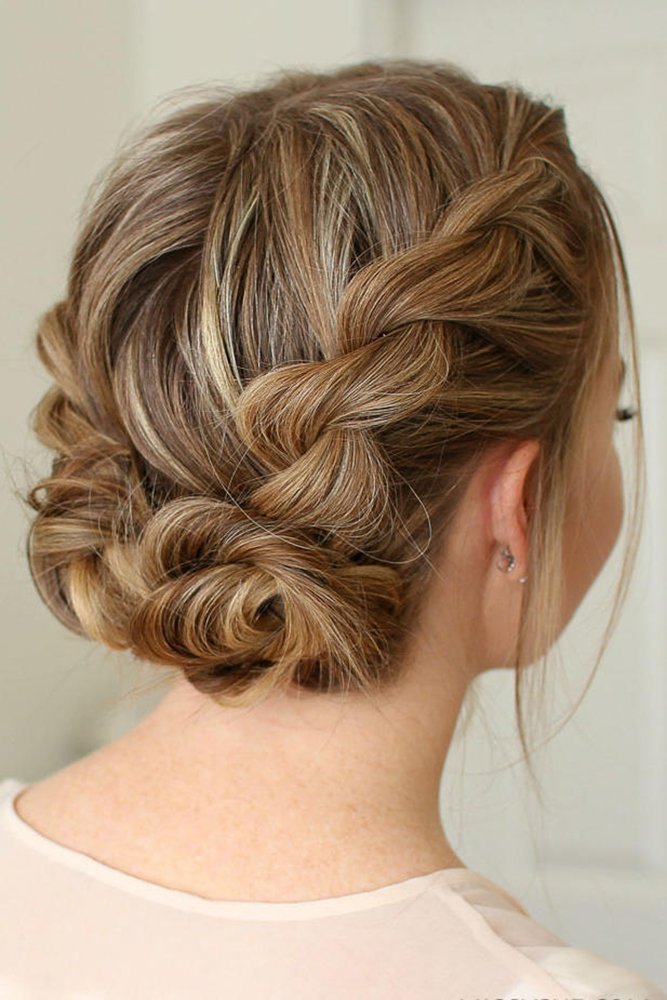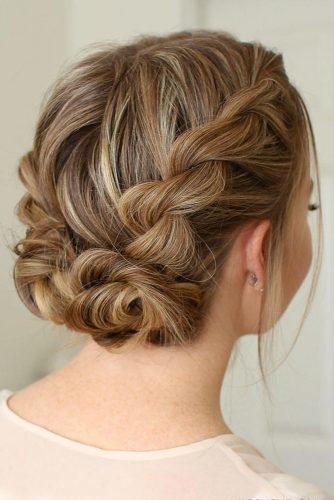 Winding Dutch Braid Wedding Updo
Dutch braids are extremely versatile, which makes them the perfect romantic wedding updo. This braid is full of volume at the crown and melts into an elegant chignon.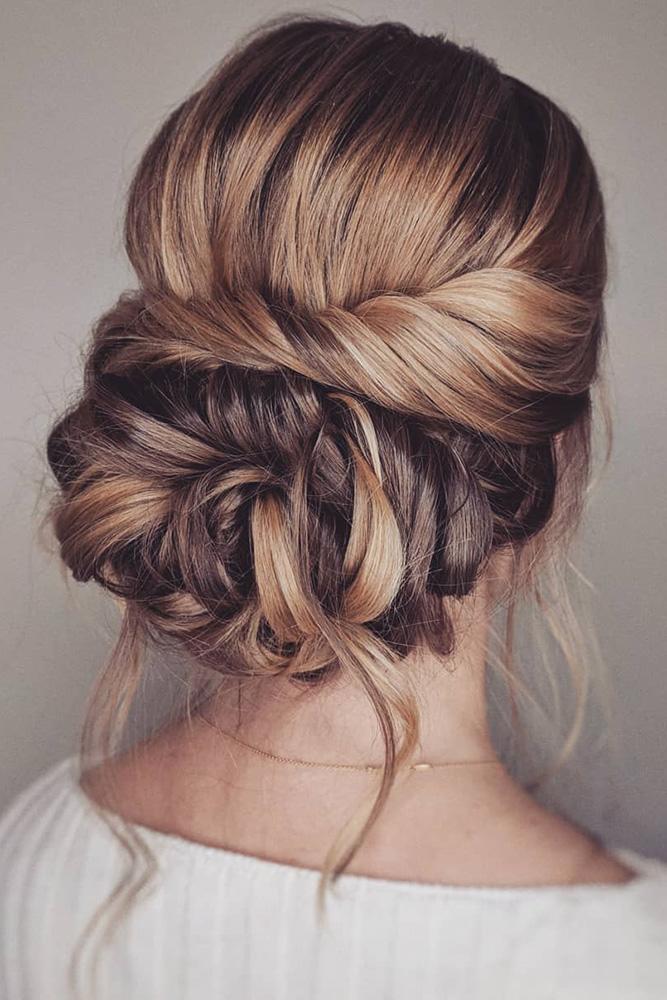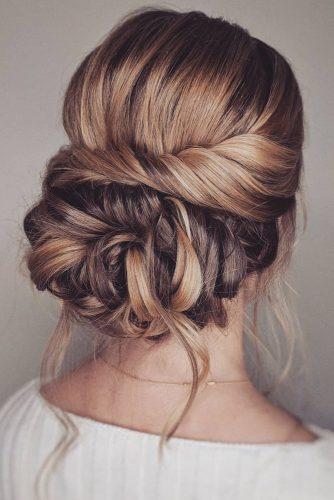 Grecian Wrapped Romantic Updo
If you need an updo for a Grecian themed wedding, this volume udp with twists and curls may be exactly what you are looking for. It is truly multi-dimensional and full of luster!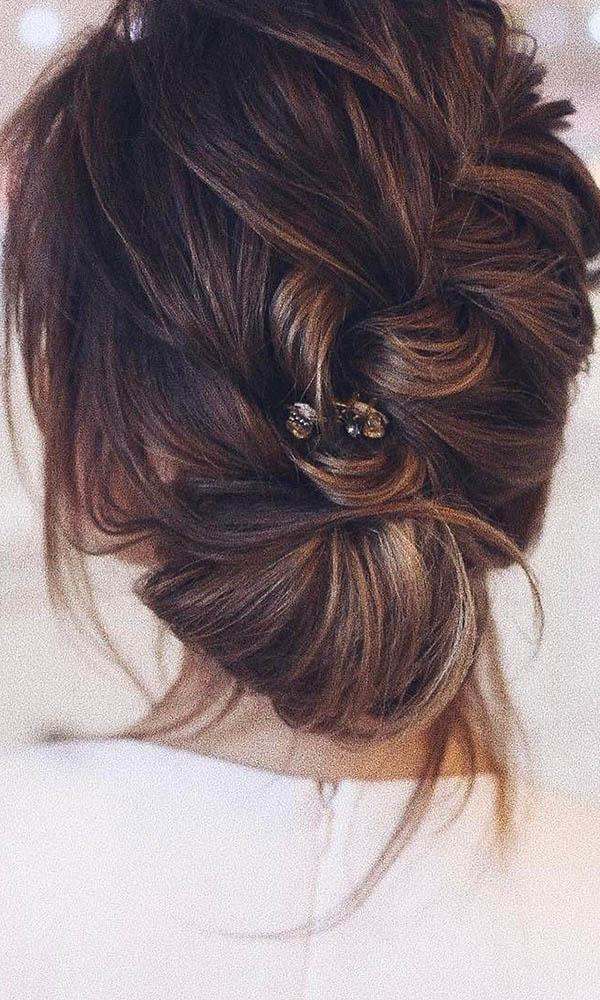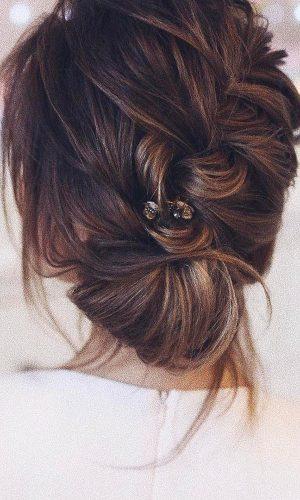 Loose Chignon with Curly Side Braid
Looking for a romantic bridal updo that is fun and festive? This elegant chaconne with a loose curly side braid adds an edgy vibe to a timeless bridal look.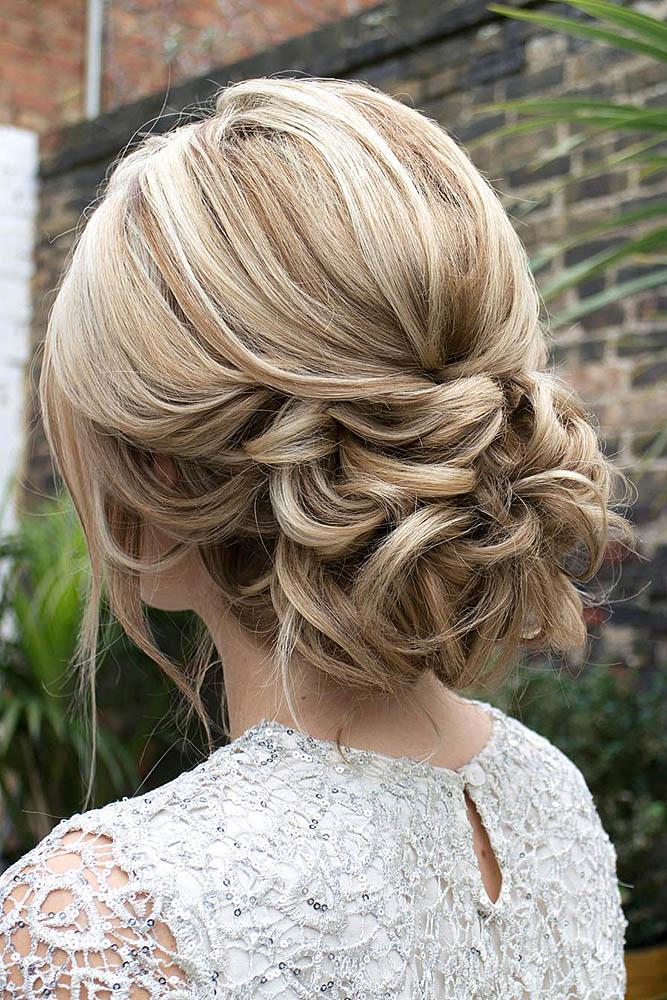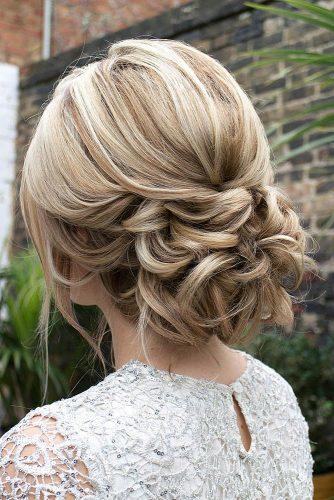 Full Chignon with Loopy Side Twists
The loops and twists on this voluminous chignon are a modern spin on a classic style. You will love this one-of-a-kind romantic bridal updo hairstyle.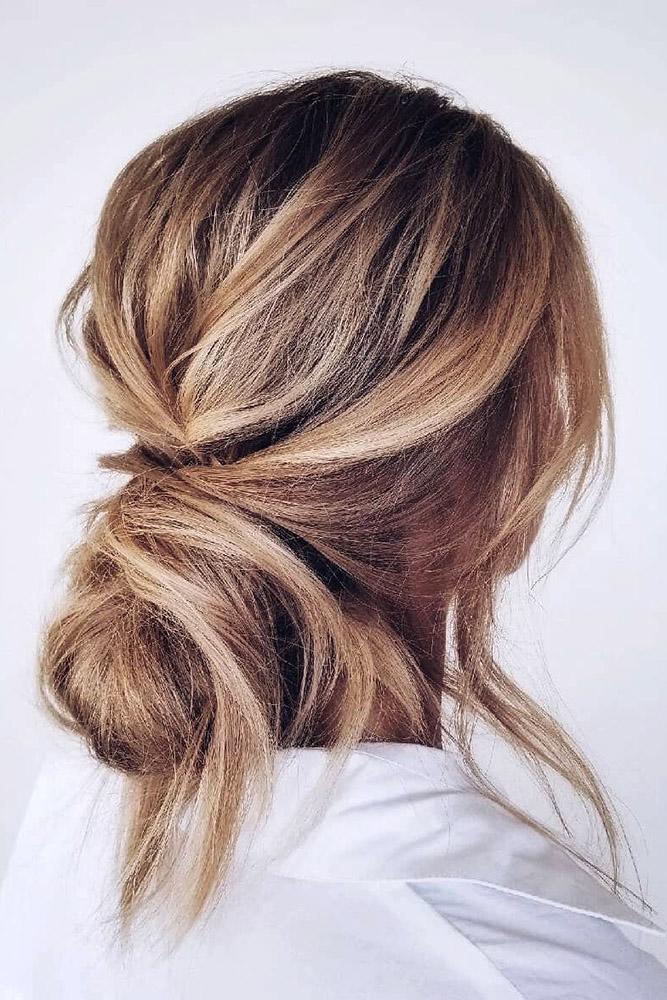 Perfectly Imperfect Chignon
Chignon hairstyles are ideal romantic bridal updos wedding hairstyles. And this textured chignon with a few messy pieces is no exception! We love the slightly unkempt vibe!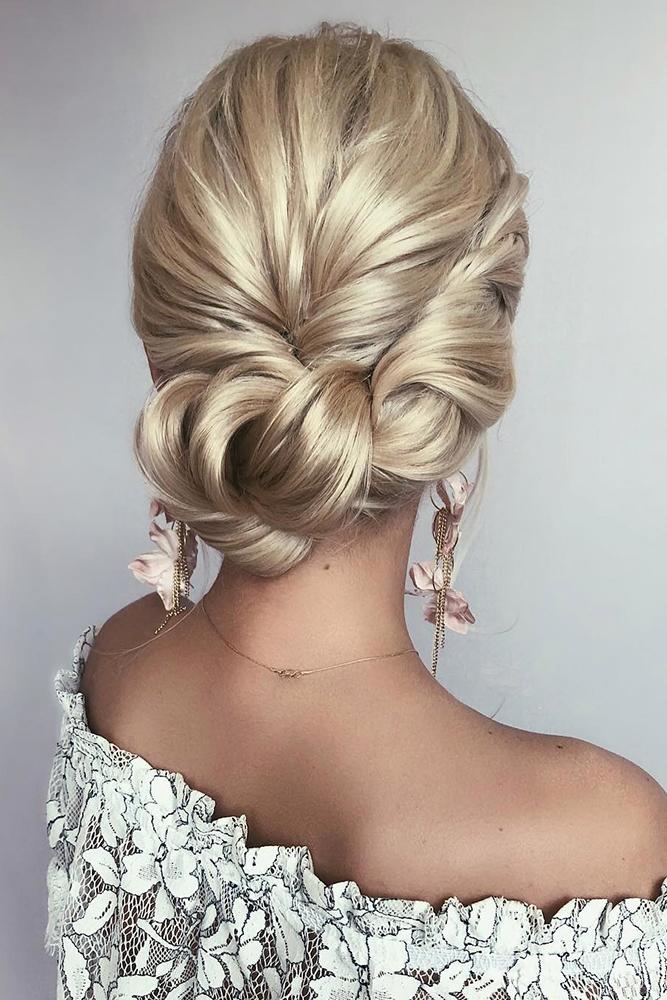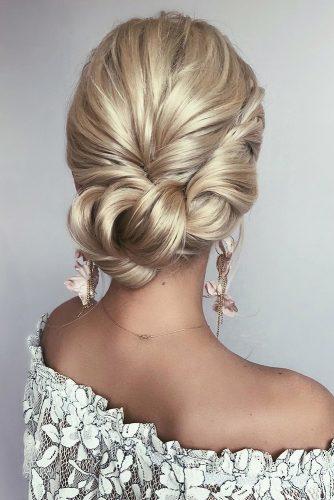 Wrapped Dutch Braid
Another wedding updo that is perfect for the Bohemian bride is the luxe Dutch wrapped braid. The intricate bride is so detailed that it does not require any additional accessories!
Photo 31-36: Stunning Romantic Bridal Updo Ideas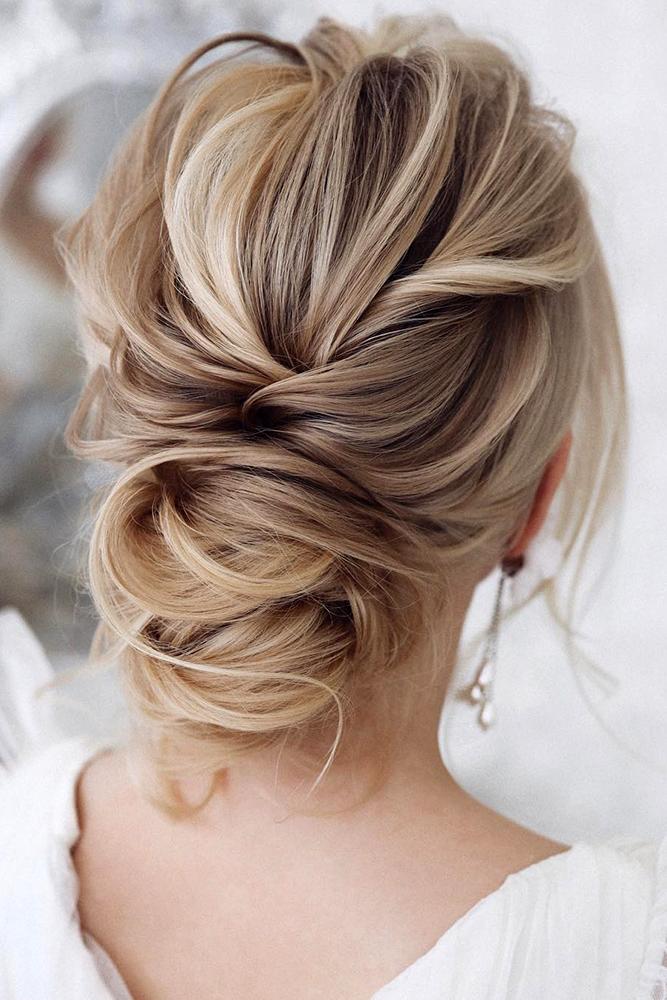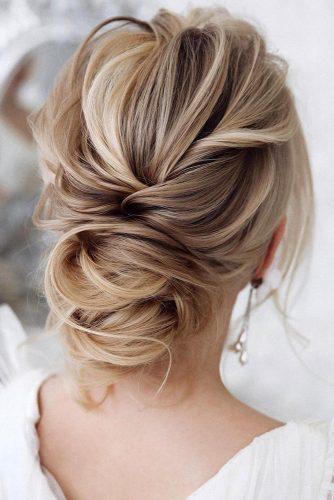 Textured Thick Side Bun
This modern take on a Victorian-style bun is full of texture. Leave a few strands loose to softly frame your face for a dainty finish.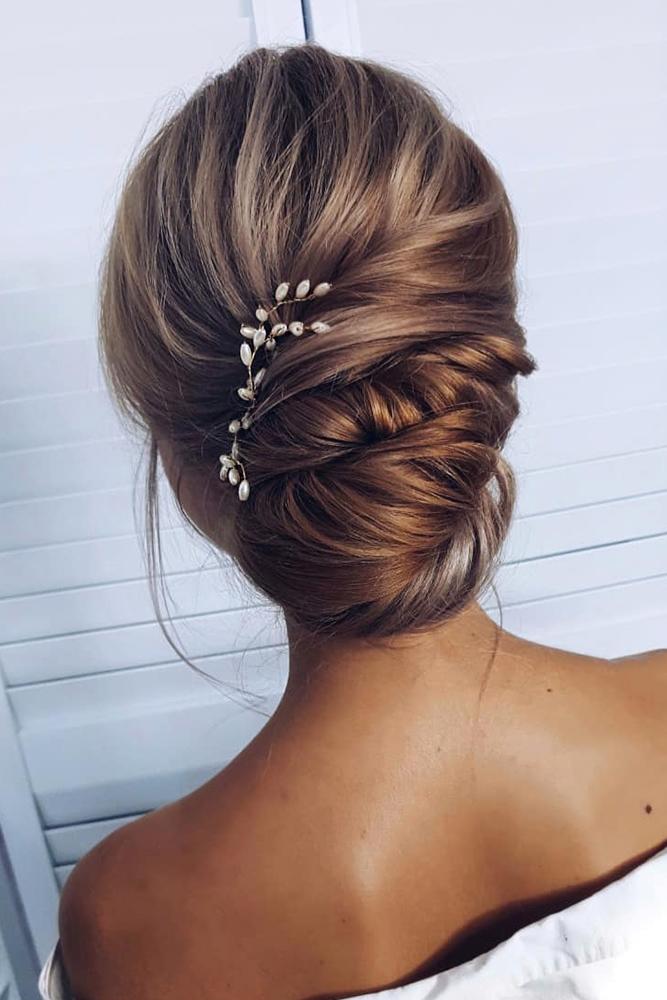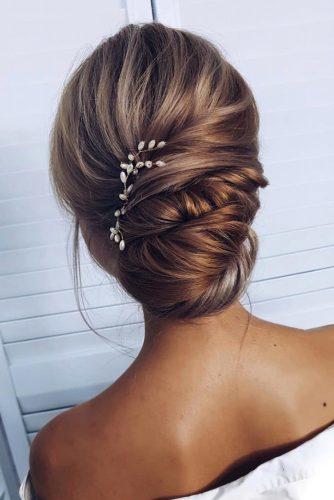 Elegant Twisted Bridal Updo
You will love the way your hair softly gathers at the nape of your neck to create an elegant updo that screams romance and sophistication!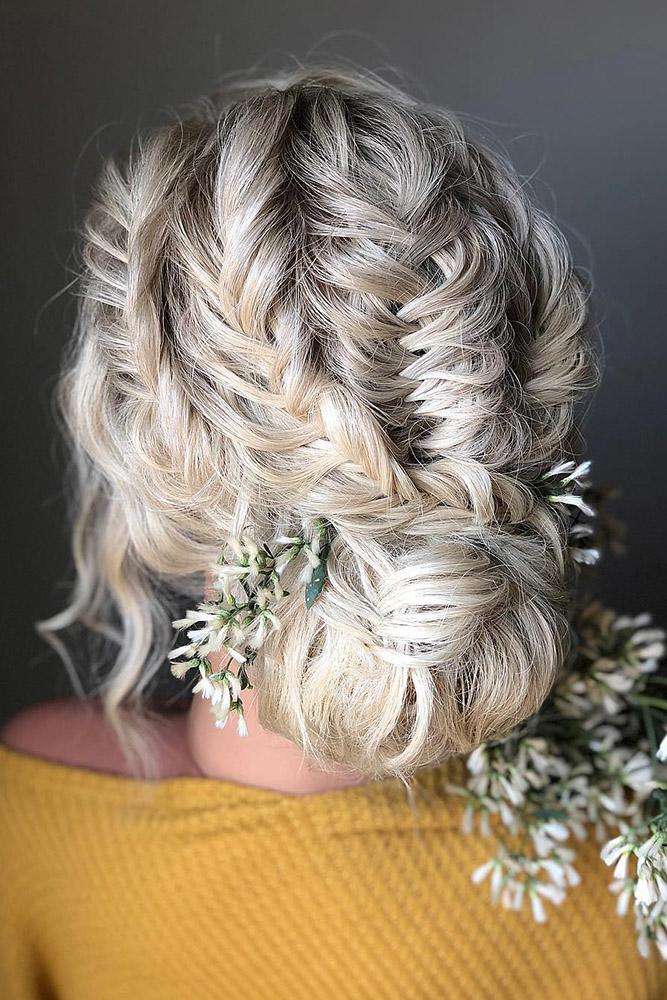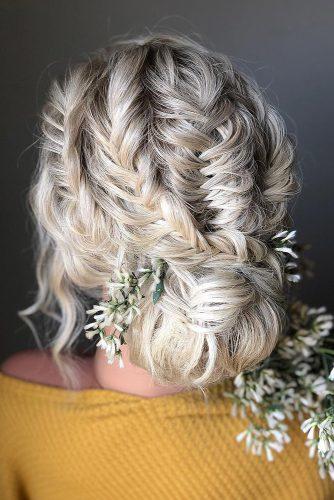 Crown Braid with Three Dutch Braids
Elaborate wedding updos like this one can totally eliminate the need for any hair accessories. Triple Dutch braids surround the crown, creating a royal effect, while a few loose strands soften the look, and a low-slung bun completes the bridal effect.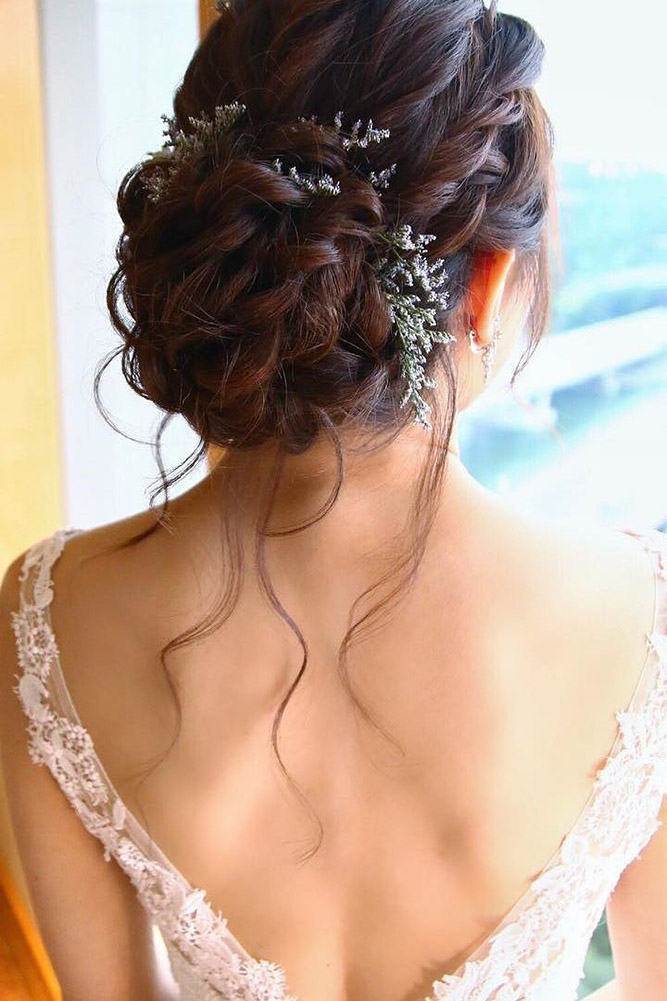 Flowery Bun with Dutch Braid
If you prefer stunningly intricate romantic bridal updos wedding hairstyles, you will love this large Dutch braid that gracefully flows into an oversized bun.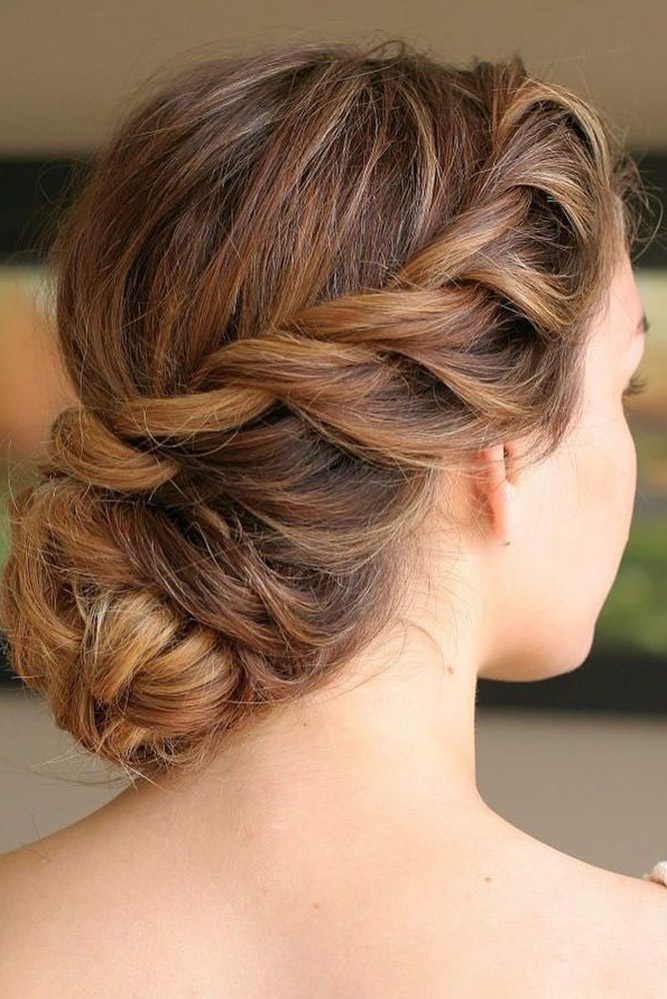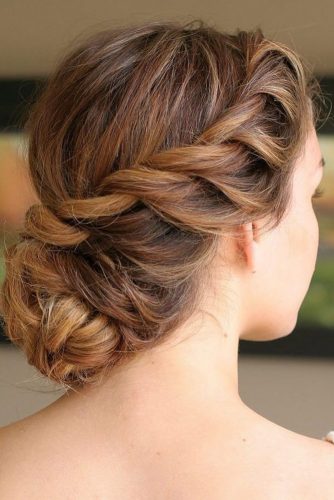 Romantic Bridal Updo with Butterfly Braid
This intricate butterfly braid is breathtakingly beautiful and perfect for a summer wedding. Look for romantic summer wedding updo hair tutorial online to achieve this look.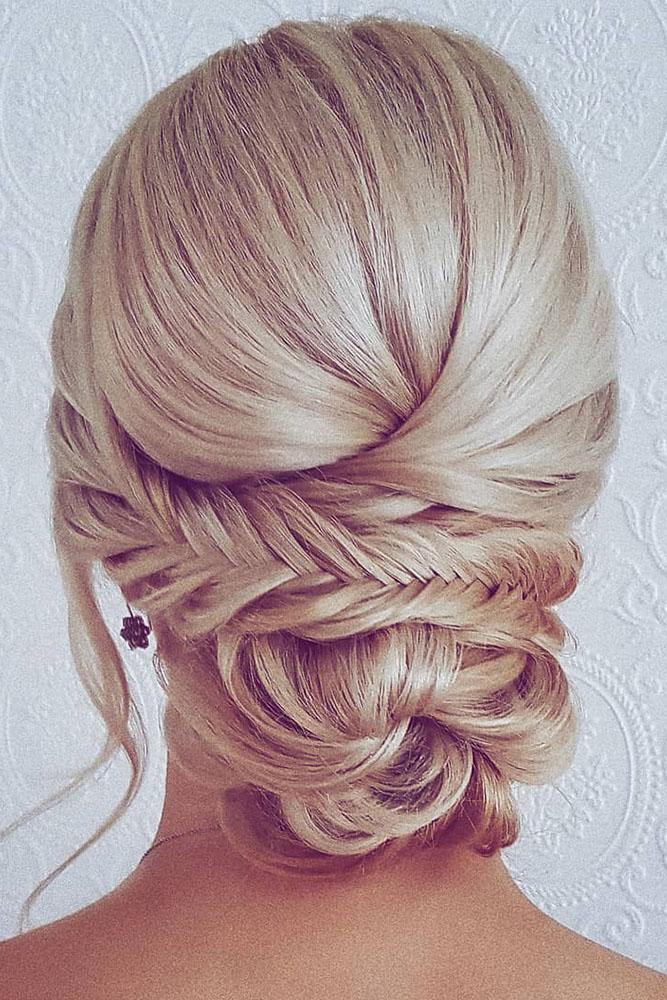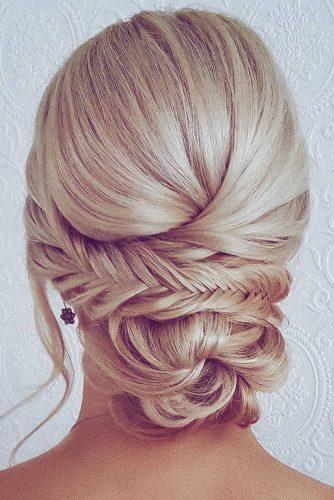 Wrapped Bun with Fishtail Braid
Fishtail braids are all the rage for romantic weddings! A delicate bun wrapped in a fishtail braid is unique and edgy. Check out romantic updo tutorial for wedding braids to complete this look.
Photo 37-42: Gorgeous High Updos For Romantic Look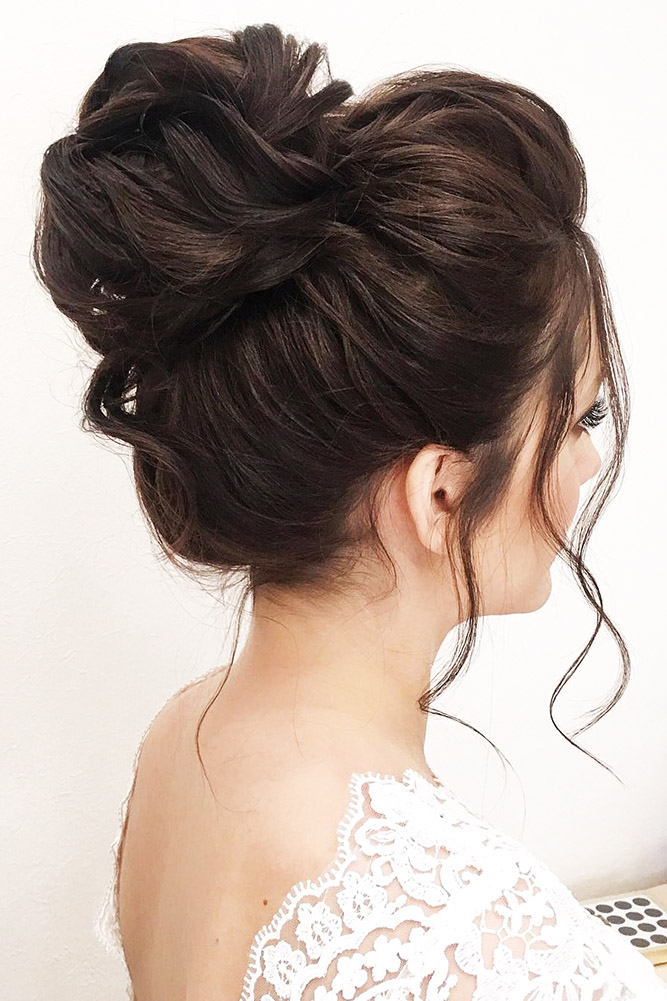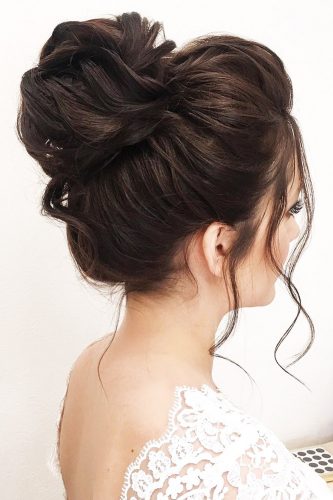 Simple yet Chic Classic High Bridal Bun
Do you prefer a more classic wedding updo? This clean bun leaves just a hint of volume at the crown and is perfect for those with a more refined style.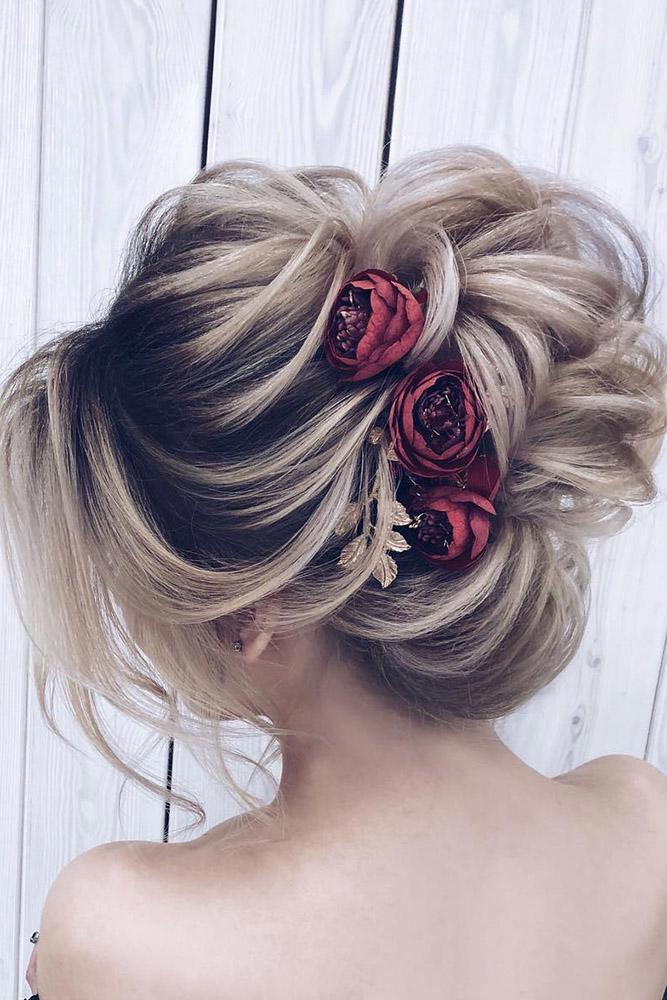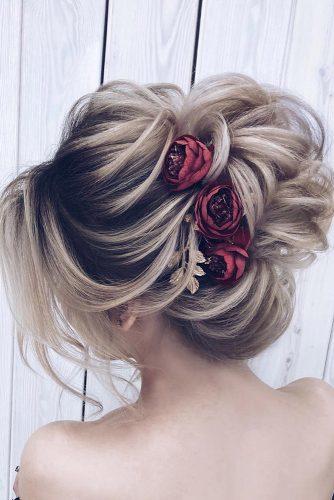 Oversized High Bun
This oversized bun is ideal for the bride who needs wedding hairstyles for long hair updo. Add a floral headband to give the voluminous bun a romantic, demure flair.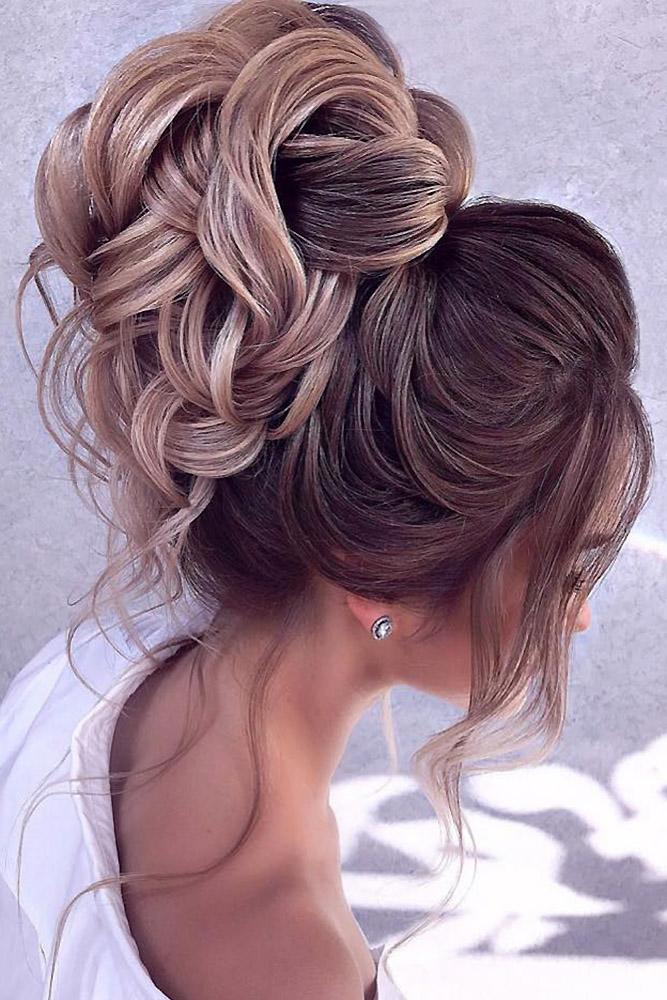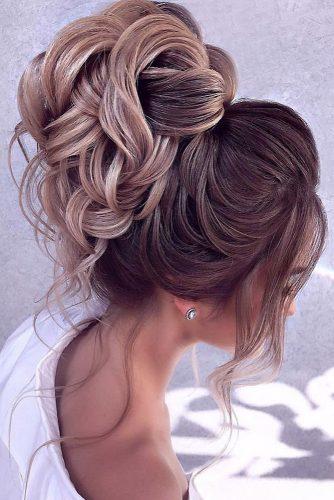 High Bun with Woven Loose Curls
Those seeking soft romantic wedding updos will love this high bun with soft, piecey curls. Leave some pieces loose to give it a slightly messy look.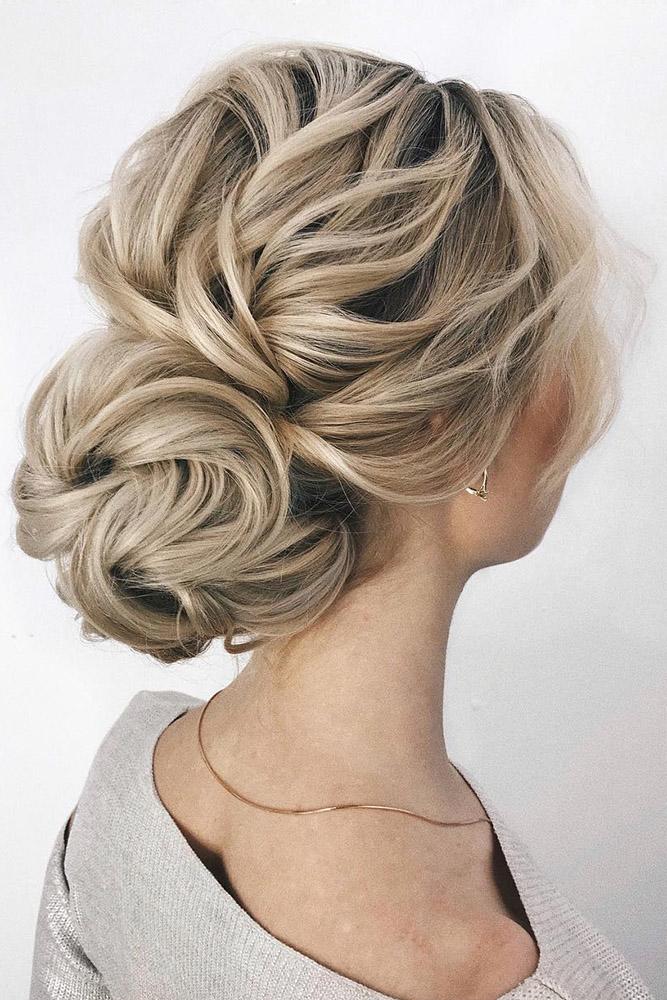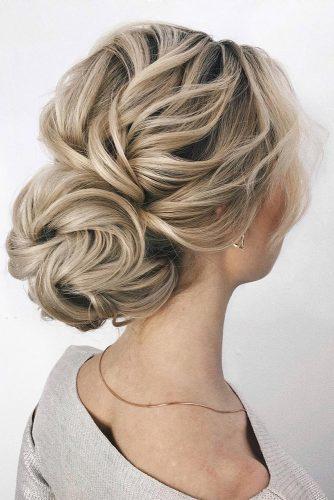 Twisted Romantic Updo With Added Volume
Another suggestion for romantic wedding updos for long hair is this twisted bun. Full of lush curls and maximum volume, it is sophisticated and stylish.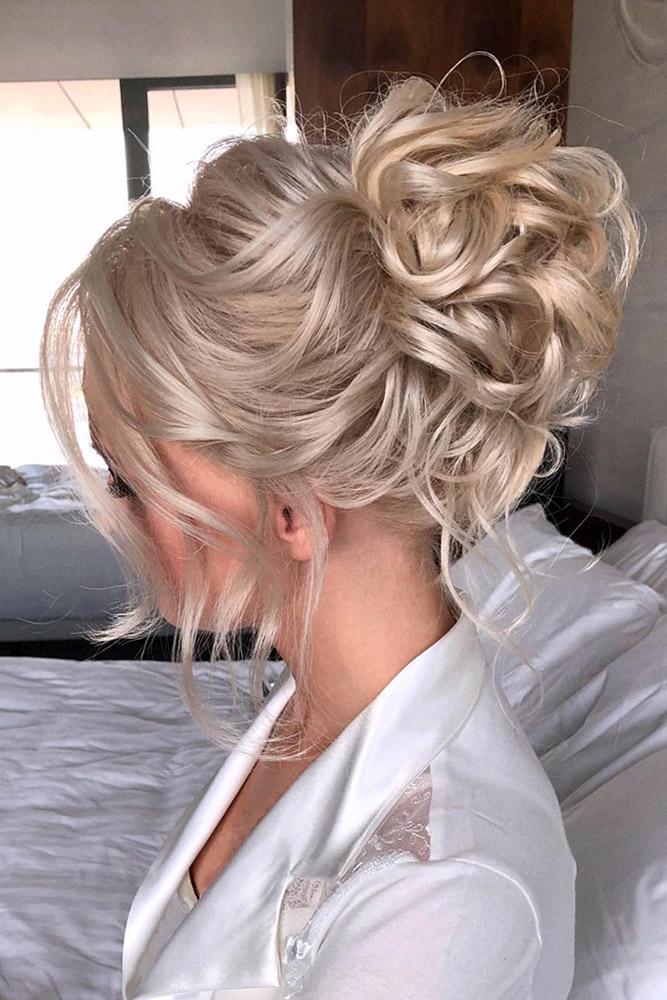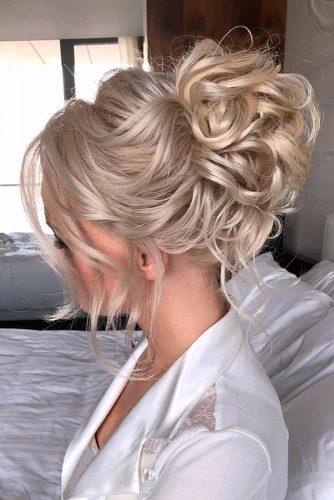 Textured Romantic Wedding Updo Hairstyle with Twists
Those who loved textured hairstyle will love this classic chignon with volume curls and twists. This romantic updo is full of depth and texture and is great for brightly colored hair.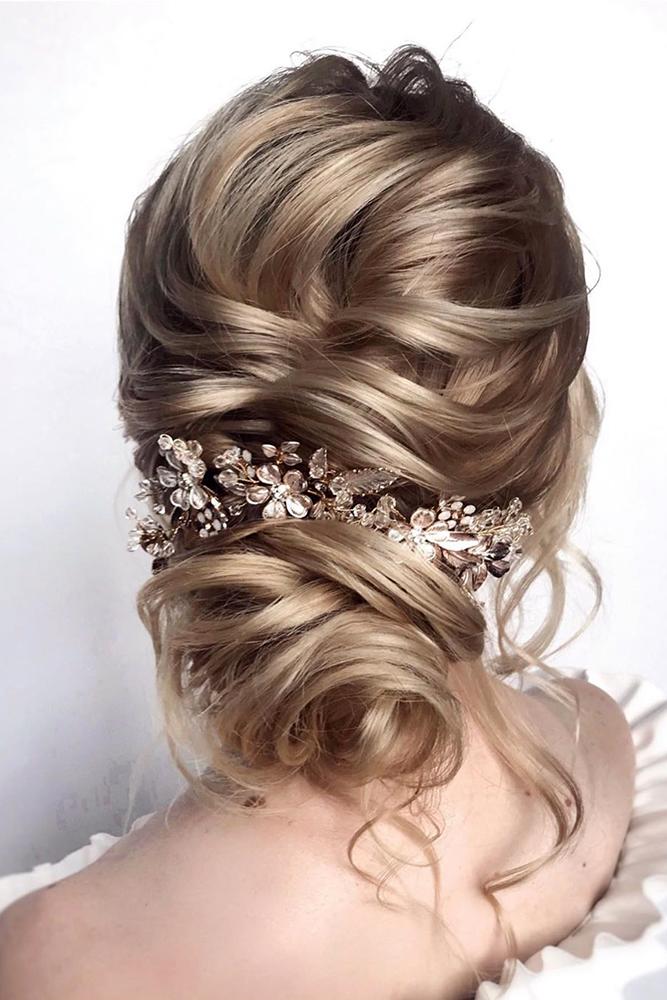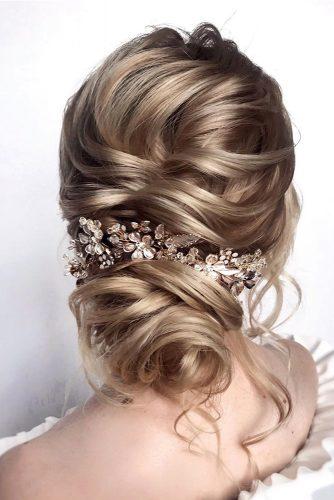 Large Bun with Wrap-Around Decreasing Braid
Large voluminous buns are extremely popular right now, as are wrapped braids. This demure wedding hairstyles updo combines both with a decreasing braid that adds texture and style.
See more:
24 Amazing Wedding Flower Crowns & Hair Accessories